Are Macarons Vegan?
Macarons. You've probably seen the pretty rows of them in Laduree or Selfridges if you've ever visited. They're a popular, luxury sweet treat that are enjoyed by many. But are macarons vegan? Can vegans eat macarons? Keep reading to find out!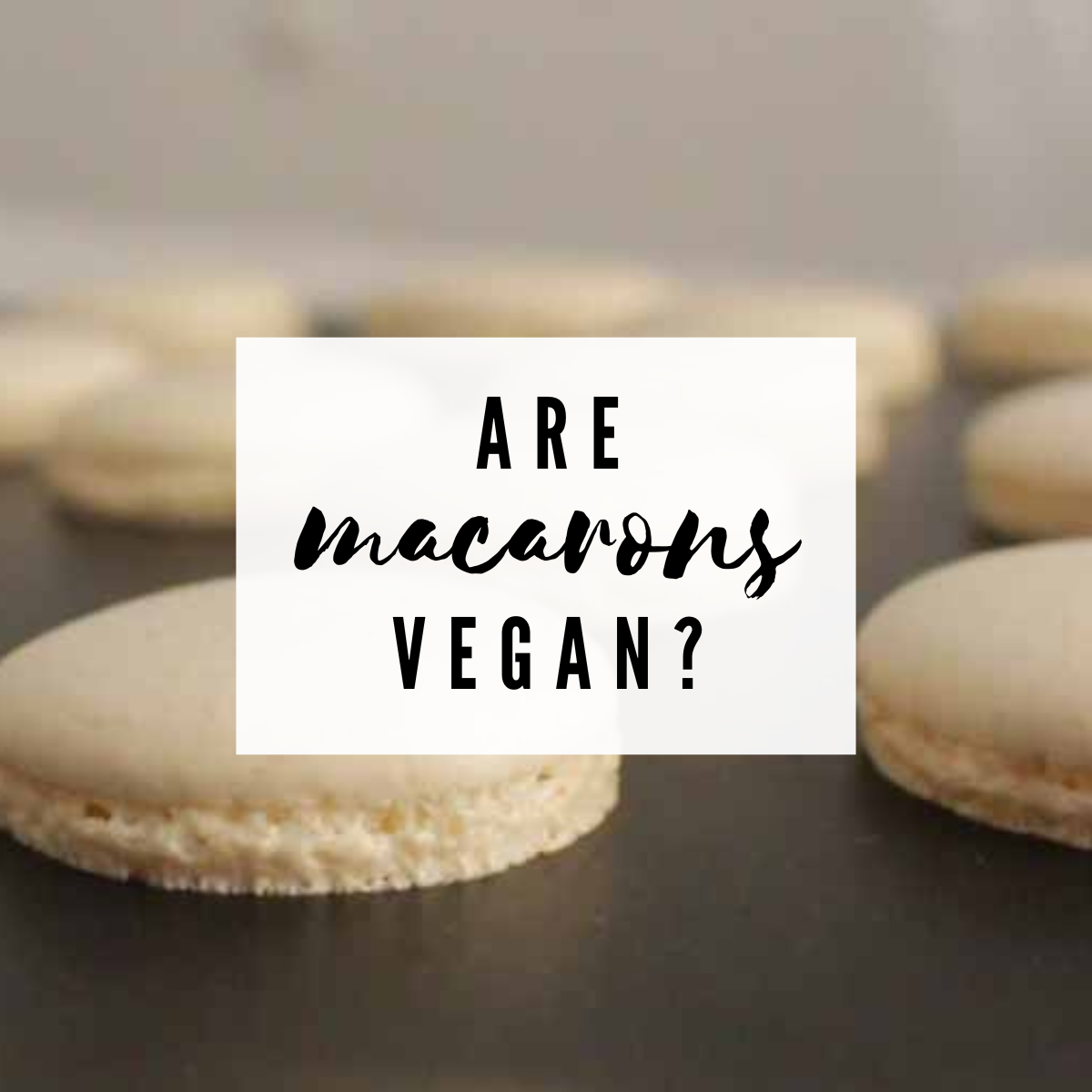 A macaron is a small, round patisserie treat. Macarons are soft and chewy with a slight crunch, made up of two small meringue cookies and a filling, which is typically something like buttercream. Think of them as mini meringue sandwich cookies!
Despite popular belief that they are French, macarons actually have origins in Italy. However, according to Miss Macaroon, the very first Italian macaron was a simple, small sweet with a soft inside and crunchy shell. The macarons that we know and love today are from France, with the 'Macaron Parisian' being invented in the 1830s. Since then, with companies like Laduree making them, macarons have surged in popularity.
Types of macarons
There are two main types of macarons- French and Italian. They taste similar but use different methods. French macarons are a bit easier to make because you don't need to use any heat, although macarons in general are a tricky feat! There are also Swiss macarons, made by heating the egg whites and sugar together, but these are not quite as popular.
Patisserie Macarons are not to be confused with coconut macaroons or Scottish macaroons. Coconut macaroons are soft mounds of coconut- somewhat of a cross between a cake and a cookie. Scottish macaroons are balls or bars of fondant covered with chocolate and toasted coconut. Both are usually gluten-free but not vegan, unless you buy specifically vegan ones or make your own. I have a vegan recipe for Scottish macaroons if you'd like to give them a go!
Are macarons gluten-free?
Macarons are gluten-free because they're made with ground almonds and icing sugar rather than flour. They are suitable for those on a gluten-free diet but anyone with severe allergies should double check before buying them because there may be a risk of cross-contamination. If in doubt, it's best to make your own!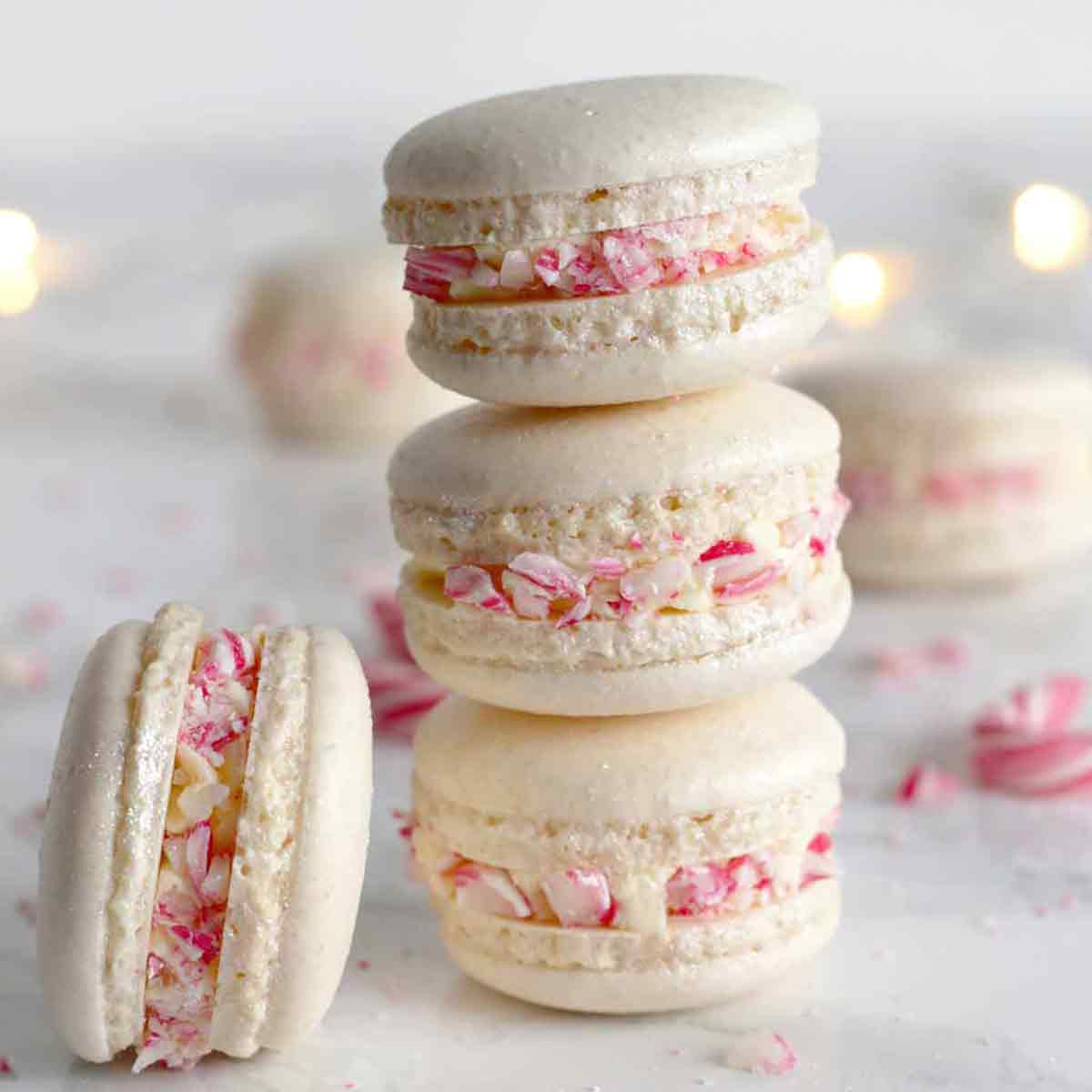 Are macarons vegan?
Traditional macarons are not vegan however, there are vegan macaron recipes and vegan ready-to-eat macarons out there! My vegan macaron recipe has been a great success and once you get the hang of them, you'll never go back to traditional macarons! Even if you're not vegan, they're still great for anyone who has sensitivities to eggs or dairy.
Are Laduree macarons vegan?
The classic Laduree macarons are not vegan but they do have a selection of vegan macaron flavours now.
Why are they not vegan?
Vegans can't eat macarons because they contain a couple of ingredients that make them unsuitable for such a diet. Let's take a look at a typical macaron recipe:
Egg whites. This is the main non-vegan culprit! Since they come from an animal, eggs are not vegan. But don't worry, I'll show you how to replace them with a vegan-friendly alternative further down in this post.
Sugar. Macarons typically use two types of sugar: caster or granulated sugar, and icing sugar. All sugar in the UK is vegan-friendly so no worries for this ingredient! If you're in the US however, some sugar is filtered using animal bone char so you'll need to ensure your sugar is organic to prevent this.
Ground almonds. Ground almonds or almond flour is another vegan-friendly ingredient!
Buttercream filling. A buttercream filling is made up of icing sugar, butter and some kind of flavour extract. Of course, butter is not vegan-friendly because it's a dairy product.
Plant-based alternative ingredients
So taking a look at that list of ingredients above, we can see that it is the egg whites and the dairy in the buttercream that prevent macarons from being vegan. Now let's look at my vegan macaron recipe ingredients:
Aqua faba. For those of you who don't know about aqua faba yet, it's the liquid that comes from canned chickpeas. It's a magical ingredient that is the perfect egg white replacement for macarons! It whips up beautifully smooth and glossy.
Cream of tartar. This is an essential ingredient, acting as an acid to help the aqua faba reach its full volume. Cream of tartar is vegan friendly and most of the time, gluten-free too! You can find it in the baking section of most supermarkets.
Sugar. I used caster sugar in my recipe because it's what I use for all of my baking. You can use granulated sugar if you prefer.
Ground almonds. Almond flour and ground almonds are pretty much the same thing but if you sift them into the bowl before use, it won't matter which one you use.
Vegan buttercream. A super simple swap to vegan butter and you've got yourself a dairy-free buttercream. Check out my recommendations in my best vegan butters for baking post.
Are they vegetarian?
Yes, most of the time, traditional macarons are suitable for a vegetarian diet. They typically don't contain gelatine however, some macaron fillings may use gelatine as a thickener so it's always best to double check. The culprits are most likely to be fruity fillings such as jam or lemon curd.
What else are the fillings made from?
Let's have a look at the most popular macaron fillings:
Where can I buy vegan macarons?
Now that we've established that macarons are only vegan if you make them yourself or buy specifically-made ones, where can you find them? There are a few different places online for you to buy vegan macarons:
Summary- can vegans eat macarons?
Traditional macarons are not vegan, however, vegan macarons do exist! You can buy macarons that have been specifically made to a vegan recipe or you can make your own at home with aqua faba instead of eggs. Macarons tend to be gluten-free and vegetarian most of the time but this can vary, depending on the filling. Some fillings may contain gelatine.
BakedByClo is a participant in the Amazon Services LLC Associates Program, an affiliate advertising program designed to provide a means for sites to earn advertising fees by advertising and linking to Amazon.com. This site may contain some of these links to Amazon.com & other affiliate programs. If you make a purchase through one of those links, BakedByClo will receive a small commission from the purchase at no additional cost to you.