Best Vegan Butter For Baking (UK)
New to dairy-free desserts and wondering what is the best vegan butter for baking? This handy guide will help you out. It includes the best UK vegan block butter and margarine brands, plus a little more information about each one.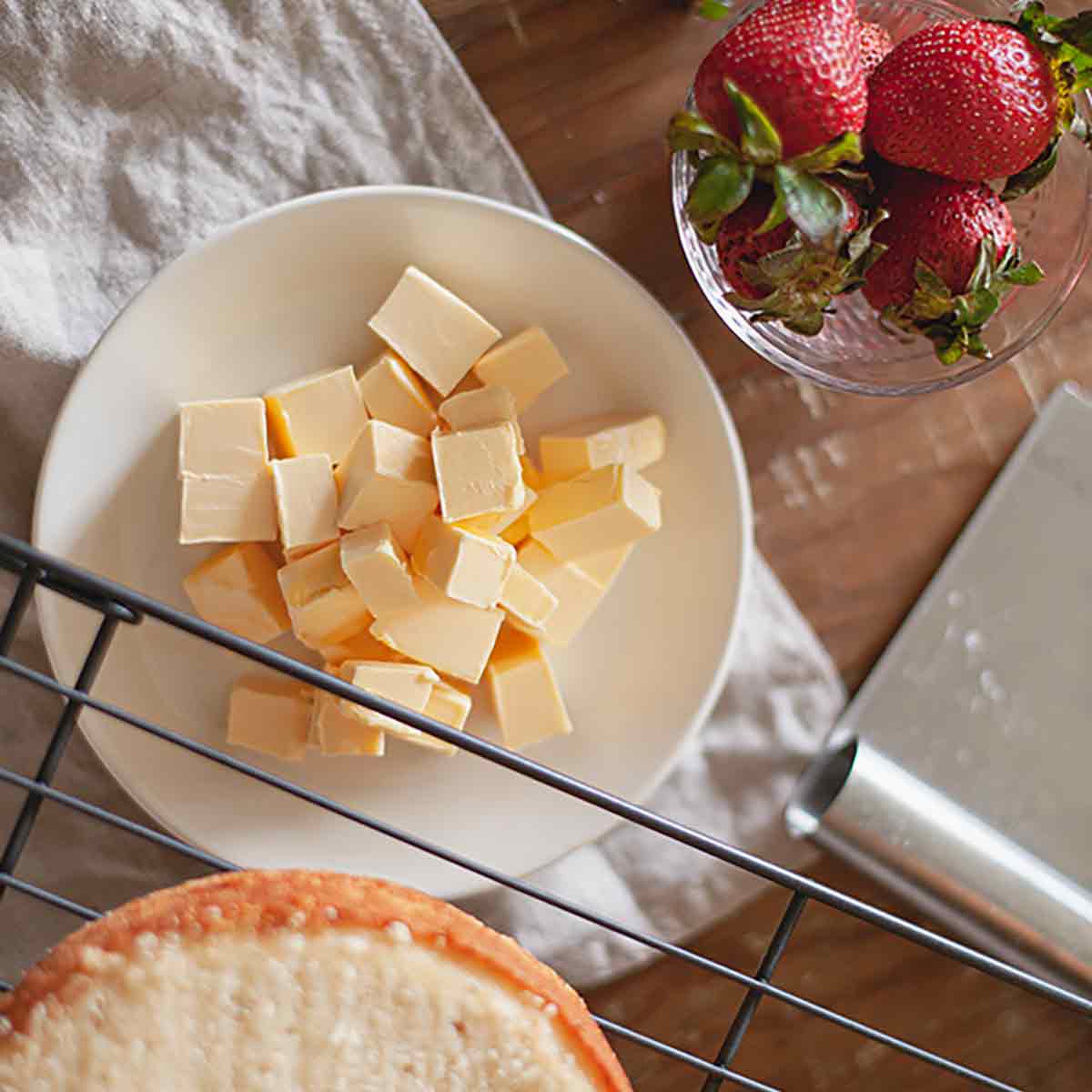 Since I quit dairy, about 8 years ago now, I have tried many types of milk and butter substitutes for baking. Milk was always fairly straight forward but I did struggle a bit with butter replacements at the beginning. Turns out that you can't just skip the fat in a recipe without it crumbling apart, ha ha…
I have created this post for those of you who may be new to vegan baking and want to find out a bit more about dairy-free butter substitutes for baking in the UK. I hope it helps!
Is butter vegan?
No, butter is not vegan because it's made using cow's milk. Dairy of any kind is not vegan-friendly. Luckily, there are many dairy-free butter alternatives available to buy these days so don't worry- you don't have to go without the buttery goodness!
When it comes to baking, butter is usually an essential ingredient. It makes baked goods soft and moist, and often provides extra flavour. So if you're keen to start baking and wondering what butter is vegan, keep reading to find out!
I've only included the vegan butter and margarine brands that are available in UK supermarkets, so that you can pick some up when you're doing your next shop. My blog is all about making vegan baking as easy as possible!
Butter vs margarine: What's the difference?
The main difference between butter and margarine is that butter is made from dairy and margarine is made with oils. It used to be the case that margarine would often have milk added to it, but I see that less and less these days.
Technically, all types of vegan butter are margarine, since they are just blends of different oils with a few extra ingredients added. For reference in this post, I'll be referencing vegan margarine as the soft, spreadable type and vegan butter as the hard, blocky type.
Best vegan margarine for baking
Let's start with the best vegan margarine substitute for baking, shall we? There are a few more margarine options than there are for vegan butter, with some being 'accidentally vegan'.
Vegan margarine is almost exclusively what I use for baking! It was the only type of vegan butter alterative available (at least in my local stores) when I started this blog, so it's what I've gotten used to baking with. I'll occasionally use the blocky butter for specific recipes but for the most part, I'll use margarine. Here are the brands that sell vegan margarine in the UK.
Vitalite is my go-to vegan margarine for baking and I'll only use something else if this is out of stock! It contains 56g of fat per 100g, which I've found to be just perfect in my dessert recipes. It won't necessarily work like-for-like in every traditional baking recipe but it's the best one to use if you're following any Baked by Clo recipes!
Pure have a few different types of dairy-free spreads- sunflower spread, Buttery Taste spread and olive spread. The first two will work well for vegan baking but the olive spread may produce different results due to the slightly lower fat content. I have used the sunflower spread in the past with good results, and I think the Buttery Taste spread would be good for flavour.
Flora have a few different baking spreads suitable for vegans. Their original, buttery and plant spreads are all vegan-friendly and contain between 70% and 80% fat. Flora lighter spread wouldn't be suitable for vegan baking, at just 28g of fat per 100g. This is likely to produce dry, crumbly bakes.
Naturli spreadable margarine is used and recommended by many vegan bakers, although I've never personally used it myself. It has a lovely white colour which is perfect if you want to make a dessert without the classic buttery yellow tinge to it. It's 75% fat so should work well as a vegan butter substitute in most recipes.
Best vegan butter for baking
Next, let's look at the best vegan butter to bake with. Using a vegan block butter is great for recipes that need less liquid and more fat, such as Viennese whirls and buttercream. Making a buttercream with block butter will mean you don't need to use as much icing sugar as you would if you used margarine. Nobody likes overly-sweet icing!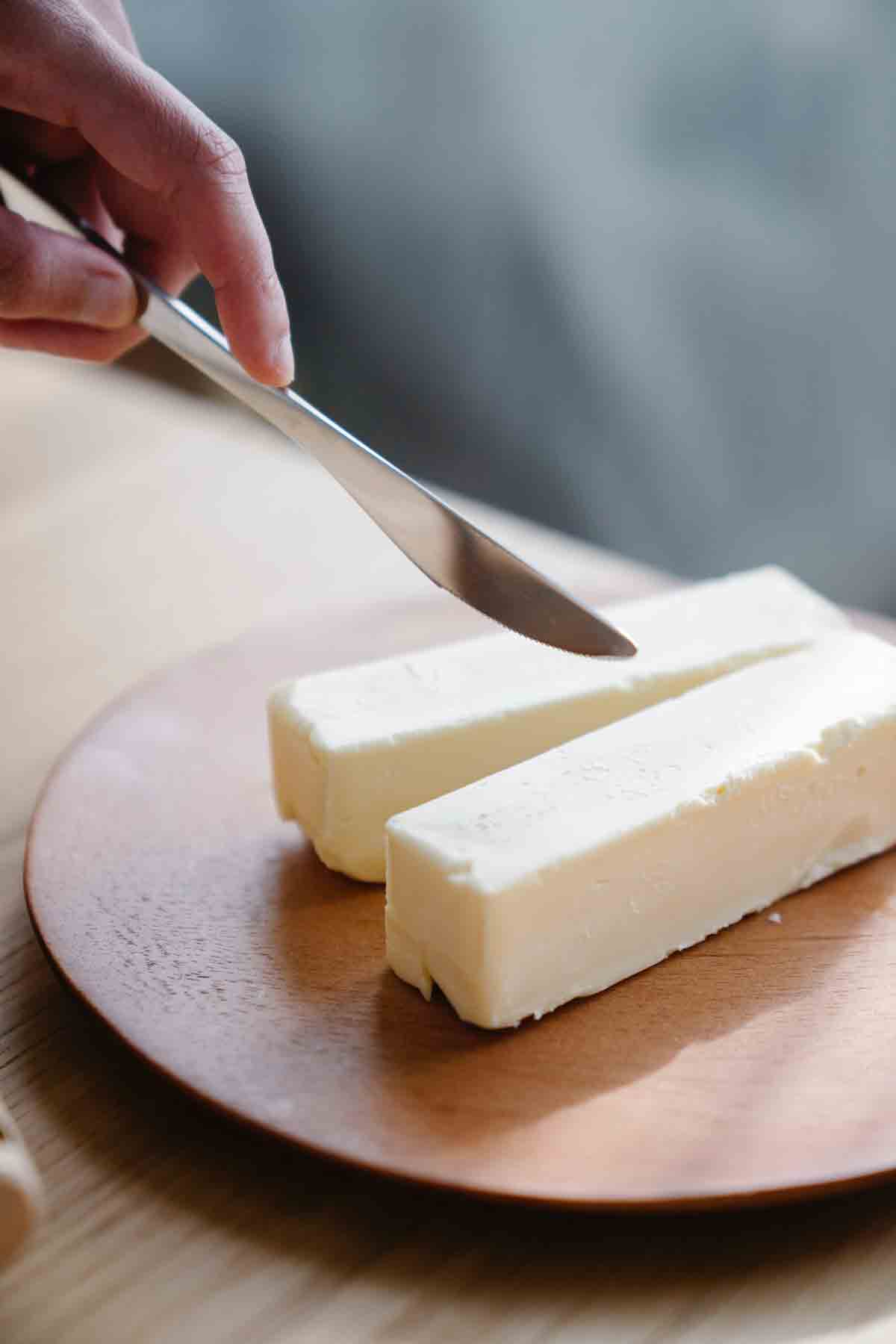 There are 4 vegan block butter brands in the UK, at least the ones that sell in supermarkets. Here are the ones I know of:
When using a vegan block butter for baking, Stork is the one I'll mostly likely go for. It's cheap and is specifically branded as a baking fat. It works really well as a vegan butter substitute. It has 75g of fat per 100g- just slightly less than a typical dairy butter.
Flora plant butter comes in two varieties- salted and unsalted. It's slightly more expensive than the Stork baking block but it's closer in fat to actual butter, at 79%. If your recipe calls for salt, you can skip it and use the salted butter instead.
This is similar to the spreadable version but uses shea butter oil as its main ingredient instead of rapeseed oil. It's 75% fat just like the spread and this one would be great for producing fluffy white buttercream.
This block is also 79% fat, just like the Flora plant butter, but this one comes salted only. It'd work well if your recipe requires salt but otherwise I would recommend using one of the unsalted butters instead. It's made up of a blend of coconut, sunflower and rapeseed oils.
Other butter substitutes for baking
I often use oils in my cakes and cupcakes if I don't have any butter lying around. If you prefer to use a single oil instead of a vegan butter or margarine, the following two oils will work best for baking:
I do not recommend using oils with distinctive flavours, such as coconut oil or sesame oil. Such strong flavours will overpower your bakes. Unless you like sesame flavoured cupcakes then by all means, go for it…
Final notes
My top two recommendations for vegan baking are:
Vitalite.
I am officially crowning Vitalite as the best vegan margarine for baking! At 56g of fat per 100g, it's perfect for making vegan cookies, muffins and brownies. It's priced at £2.25 and available to buy in most UK supermarkets.
Stork baking block
Stork baking block is the best vegan butter to bake with. The clue is in the name! It's especially great for crumbly biscuits and pastries.
I hope this guide to the best UK vegan butters and margarines has been helpful. If you have a favourite or know of any others that I haven't mentioned, please leave a comment to let me know. Happy baking! xo
BakedByClo is a participant in the Amazon Services LLC Associates Program, an affiliate advertising program designed to provide a means for sites to earn advertising fees by advertising and linking to Amazon.com. This site may contain some of these links to Amazon.com & other affiliate programs. If you make a purchase through one of those links, BakedByClo will receive a small commission from the purchase at no additional cost to you.