Vegan Biscoff Buttercream
This vegan Biscoff buttercream is quick, easy and requires just 3 ingredients. It's perfect for topping all kinds of cakes and cupcakes, will hold firm at room temperature and can be frozen if you're making it in advance.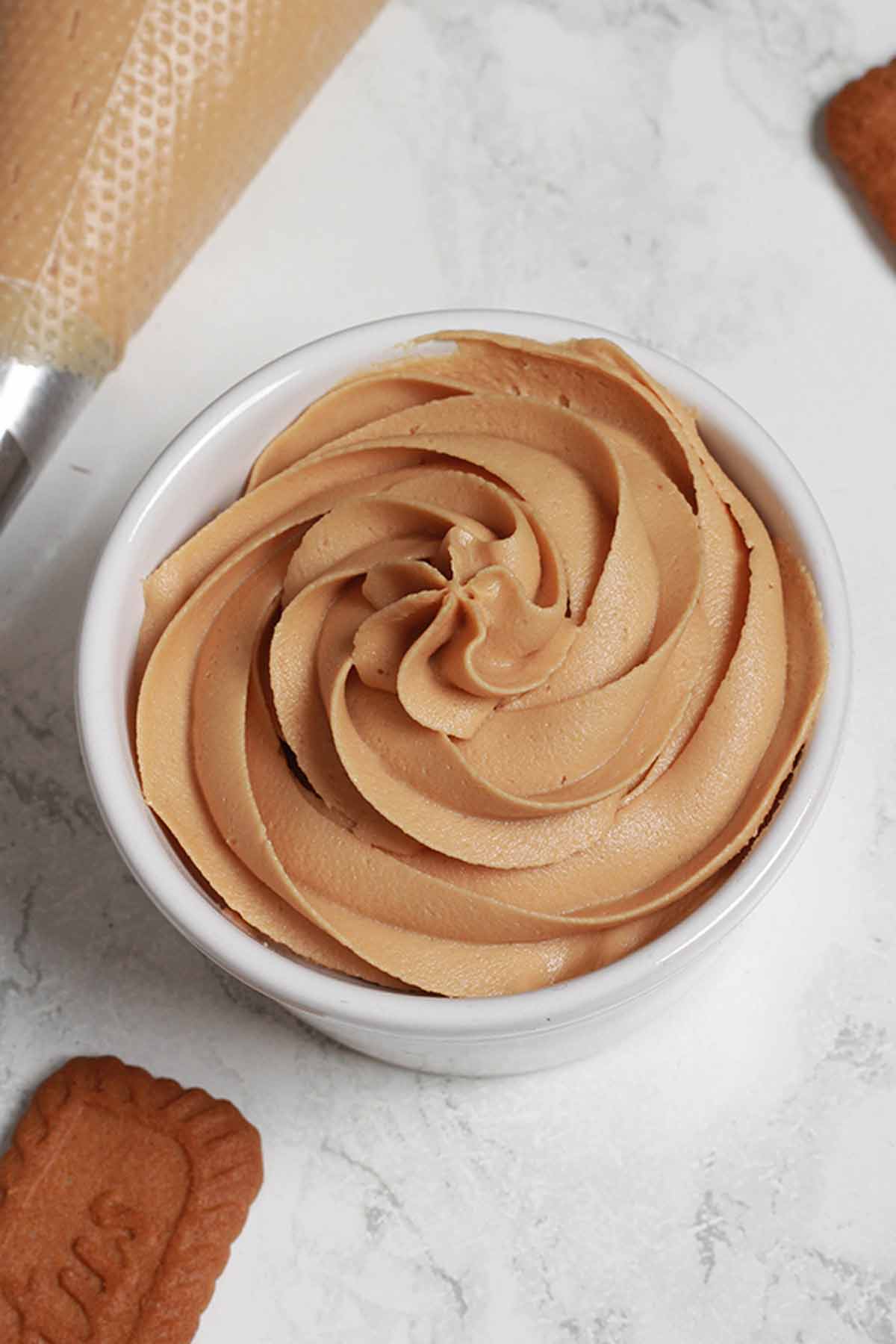 If you've ever had a look through my blog, you'll know I am a huge lover of Lotus Biscoff desserts!
I've made cinnamon rolls, cheesecake, Yule log, fudge, warm cookie dough and so much more! You can check out all of my Biscoff desserts here.
More than anything, I LOVE a good Biscoff cake!
And it turns out I'm not alone… My 3-layer vegan Biscoff cake is one of the most popular dessert recipes that I've posted on my blog so far, with over 10,000 shares and 35+ 5-star reviews.
I use the same buttercream every time I make any type of Biscoff cake because it is just so delicious and easy to make. The consistency is the perfect match for sponges- I recently used it to top my Biscoff traybake.
It consists of just 3 ingredients: dairy-free margarine, Biscoff spread and icing sugar. Depending on which type of vegan margarine or butter you use, you may also need a splash of plant-based milk but that's all! Just 3-4 simple ingredients and you have a tasty, creamy vegan Biscoff buttercream.
Ingredient notes
Biscoff spread. I recommend using the smooth kind for this recipe. If you plan to pipe the buttercream, the biscuit pieces in the 'crunchy' version may end up stuck in the piping tip.
Dairy-free margarine. I recommend the soft, spreadable, margarine style for this buttercream as it'll save the need to add any plant-based milk. I used Vitalite. If you prefer to use the blocky, butter style, make sure to let it sit out at room temperature to soften a little beforehand.
Icing sugar. Also known as powdered sugar.
Plant-based milk. Soy milk is my go-to for vegan baking but any will work fine here. As I mentioned, you will probably only need to use this if you use the blocky style of vegan 'butter'.
How to make vegan Biscoff buttercream
Step 1:
Add 250g of smooth Biscoff spread into a large bowl, along with 250g of vegan margarine. Mix well until smooth.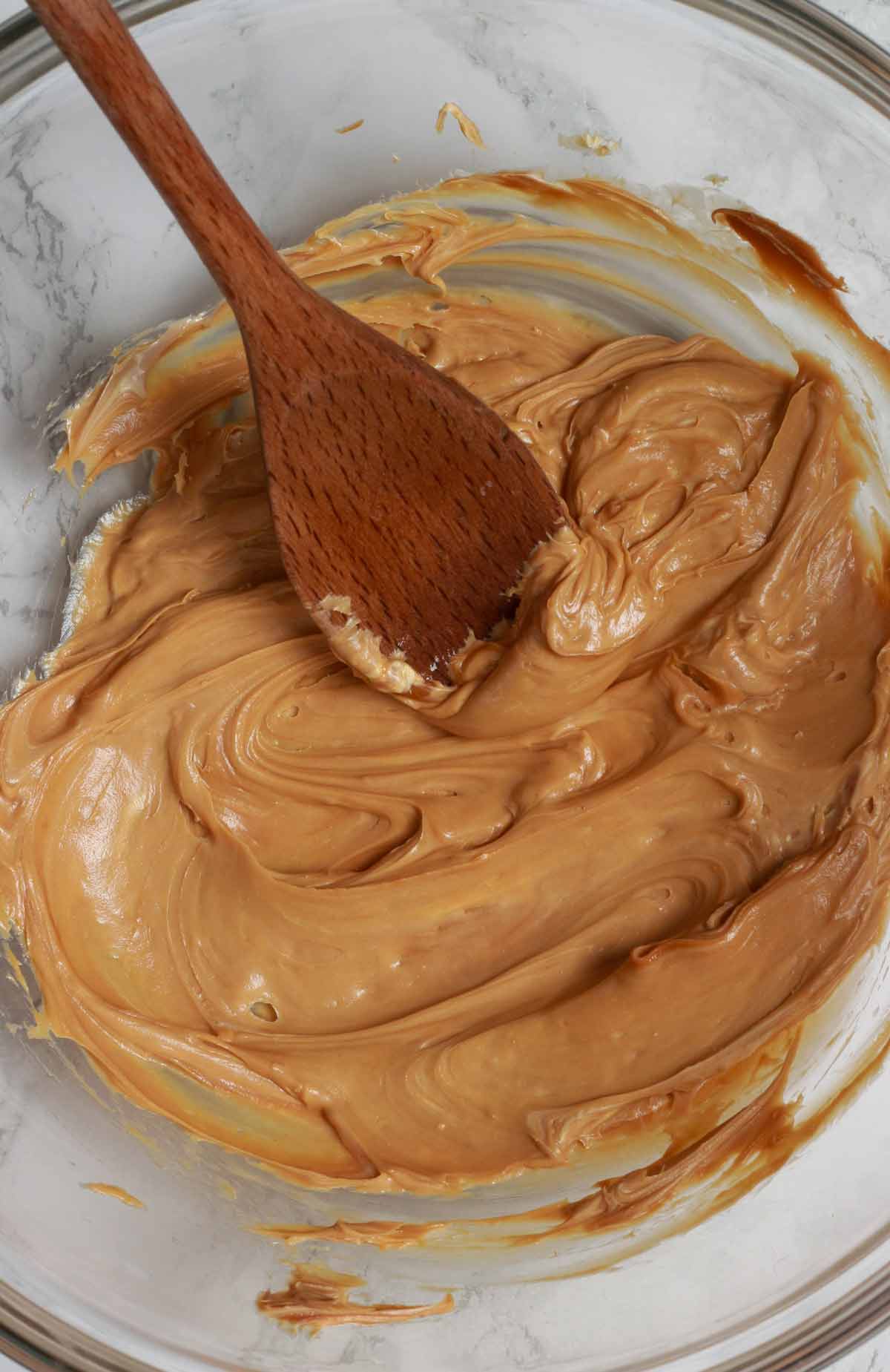 Step 2:
Measure out 500g of icing sugar and mix it into the bowl, a little bit at a time.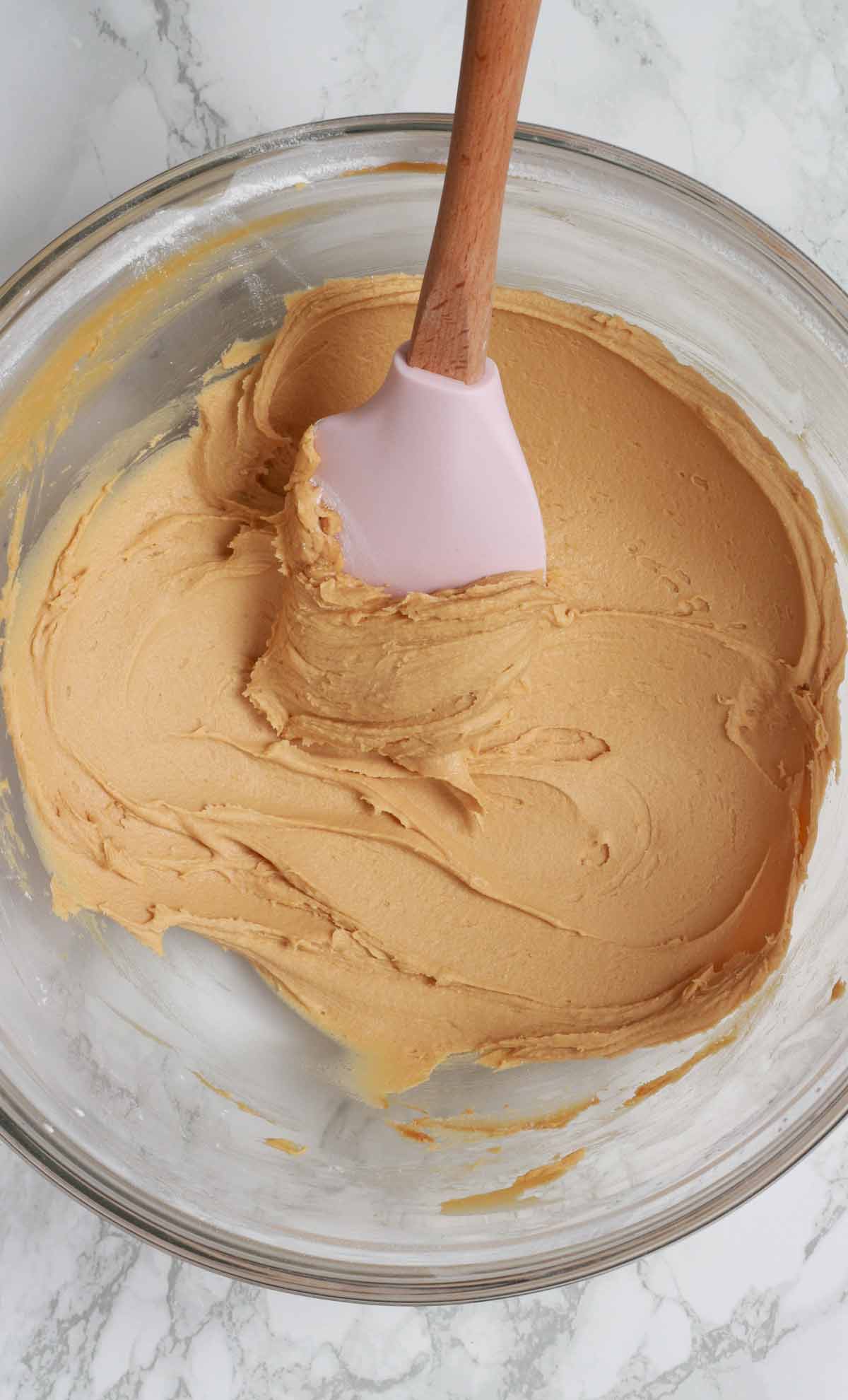 When it's all been added, give the buttercream a quick mix with an electric whisk or stand mixer. This will help it to become light and fluffy.
Step 3:
Use as desired for your cakes! It's great for filling or topping and it holds its shape really well if you want to pipe swirls or other designs.
Tips
If the buttercream is too thick, add some plant-based milk and if it's too thin, add more icing sugar.
Use smooth Biscoff spread if you plan to pipe the buttercream- the biscuits pieces will get stuck if you use the crunchy one.
I recommend dairy-free margarine but if you use the blocky 'butter', make sure to let it soften slightly beforehand.
FAQ
How much Biscoff buttercream does this recipe make?
This makes enough to fill and cover three 7-inch cakes or 8-15 cupcakes, depending on whether you're piping or spreading it on. If you're using it to top a sheet cake/traybake then you can use 1/3 or 1/2 of the recipe, depending on what size the cake is. 1/3 is perfect for an 8×10 inch sheet cake.
How long will it last?
Keep it in an airtight container in the fridge and it'll last for up to 10 days.
Can I freeze it?
Yes. If you plan to keep the buttercream for an extended period of time then I recommend freezing it. You can freeze it in an airtight container for up to 3 months. To defrost, simply transfer it to the fridge the night before you plan to use it. Do not refreeze.
More vegan frosting recipes: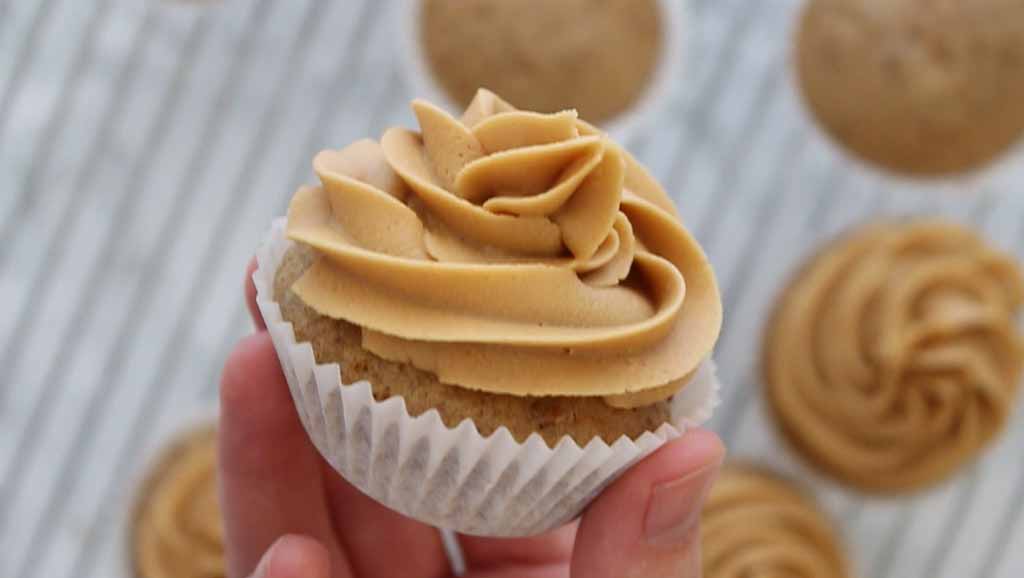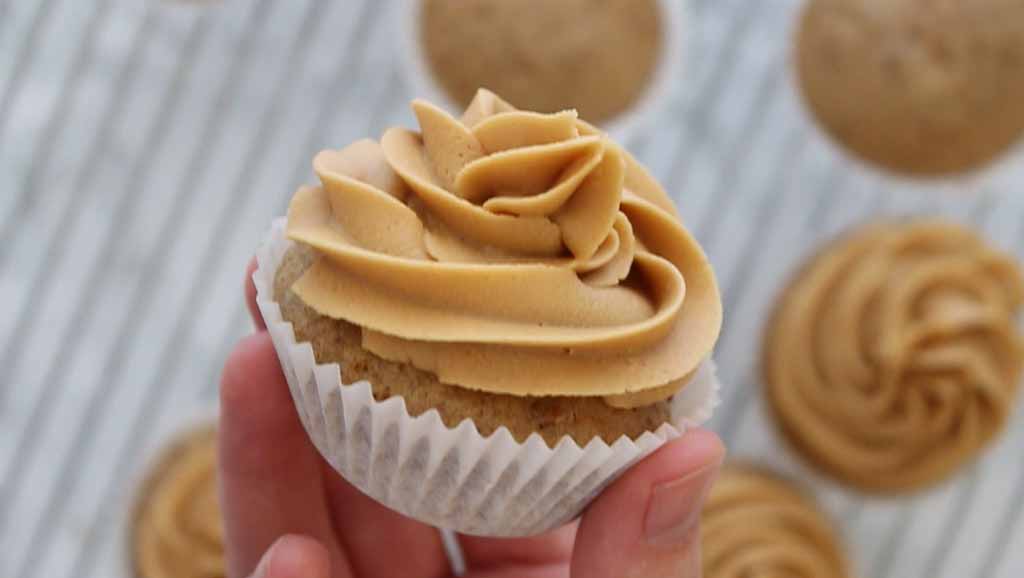 I hope you enjoy this dairy-free Biscoff buttercream recipe. If you make it at home, please let me know how you get on by leaving a comment and rating below! xo

Biscoff Buttercream (Vegan)
Dairy-free Biscoff buttercream that's perfect for covering and filling all kinds of cakes!
Instructions
Mix the Biscoff spread and margarine together until smooth.

Stir in the icing sugar, at little bit at a time.

Give it a quick mix with an electric whisk or stand mixer until light and fluffy. Use to decorate your favourite cake.
Recipe Notes
Store in the fridge in an airtight container for up to 10 days.
I recommend spreadable margarine instead of blocky vegan 'butter'. If you do use the blocky style, you'll need to add some plant-based milk to help it come together. Make sure to let it soften at room temperature before using too.
Nutrition Facts
Biscoff Buttercream (Vegan)
Amount Per Serving (1 /16th)
Calories 297
Calories from Fat 135
% Daily Value*
Fat 15g23%
Sodium 124mg5%
Carbohydrates 40g13%
Protein 1g2%
* All values are an estimate only and will vary depending on the food brands used.
BakedByClo is a participant in the Amazon Services LLC Associates Program, an affiliate advertising program designed to provide a means for sites to earn advertising fees by advertising and linking to Amazon.com. This site may contain some of these links to Amazon.com & other affiliate programs. If you make a purchase through one of those links, BakedByClo will receive a small commission from the purchase at no additional cost to you.