Vegan Strawberry Buttercream
This vegan strawberry buttercream frosting is quick, easy and requires no chilling time! It makes a beautiful pink addition to layer cakes, cupcakes and more.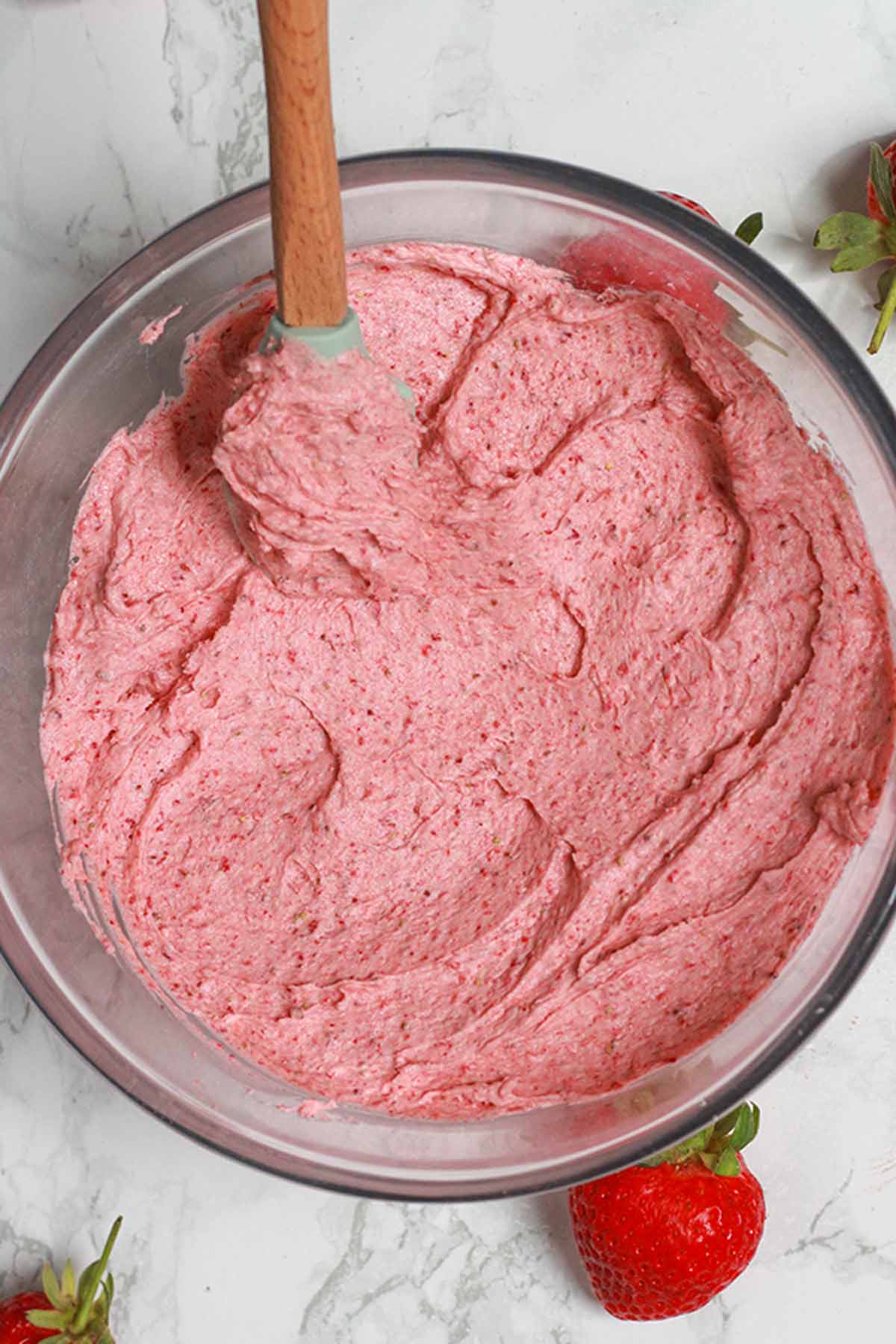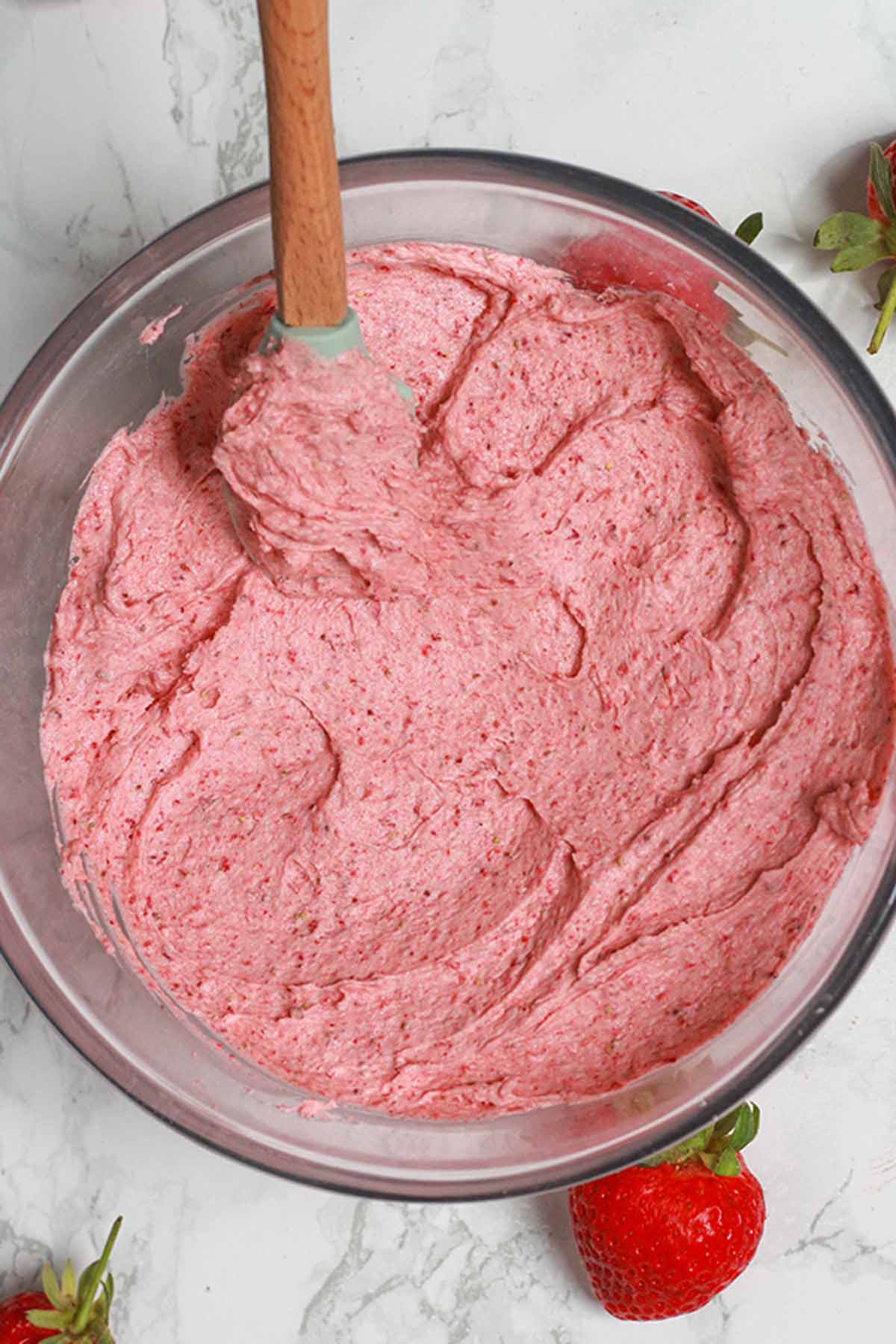 Another day, another buttercream recipe…
I'm growing quite the collection on my blog now but this one to be my favourite one yet: dairy-free strawberry buttercream! I first posted this recipe last year but recently revamped it to make it even better.
I switched the strawberry extract for strawberry powder and I was SO pleased with how it turned out. It's smooth, creamy and perfect for all kinds of desserts. I hope you enjoy it!
More vegan frosting recipes:
The idea of making vegan strawberry buttercream first came to me when I tried to create some chocolate strawberry cupcakes.
I started with a chocolate cupcake and strawberry topping because thought it might be harder to get a strong strawberry flavour to come through in a cupcake.
My first few attempts were less than fabulous. The buttercream split on multiple occasions, and I couldn't get it firm enough to pipe. The one time I did manage, the strawberry I put on top completely crushed all of my hard work and made the frosting crack. Annoying…
I also did a bit of experimenting with strawberry extract but the one I used tasted extremely artificial.
Fresh vs freeze-dried
I really did want to use fresh strawberry juice but I came across a few problems.
As I mentioned above, the buttercream became very runny and split after I added the juice from the strawberries. This happened a few times, despite my best efforts. Even after adding more icing sugar and chilling it for hours on end, it still wasn't firm enough to pipe. Another, bigger problem was that it barely tasted like strawberry!
Because that didn't work, I tried blended strawberries as I figured that would produce a stronger flavour than the juice alone but it actually didn't taste any different from regular buttercream. That is, unless I used so much strawberry that the icing became super watery.
The colour was also a little off too. It wasn't this beautiful pink colour that I'd imagined but rather resembled a salmony, pinky-yellow colour. Not very appetising!
Maybe I was doing something wrong because I've seen other recipes using fresh strawberry juice and their frosting looked a nice pink colour and was smooth. Who knows?!
So with my failed attempts at using fresh strawberries, I chose to use freeze-dried strawberry powder instead. The result was AMAZING.
The strawberry flavour came through perfectly, the consistency was smooth and creamy, and it was a gorgeous pink colour, all without the need for any artificial flavourings or colours.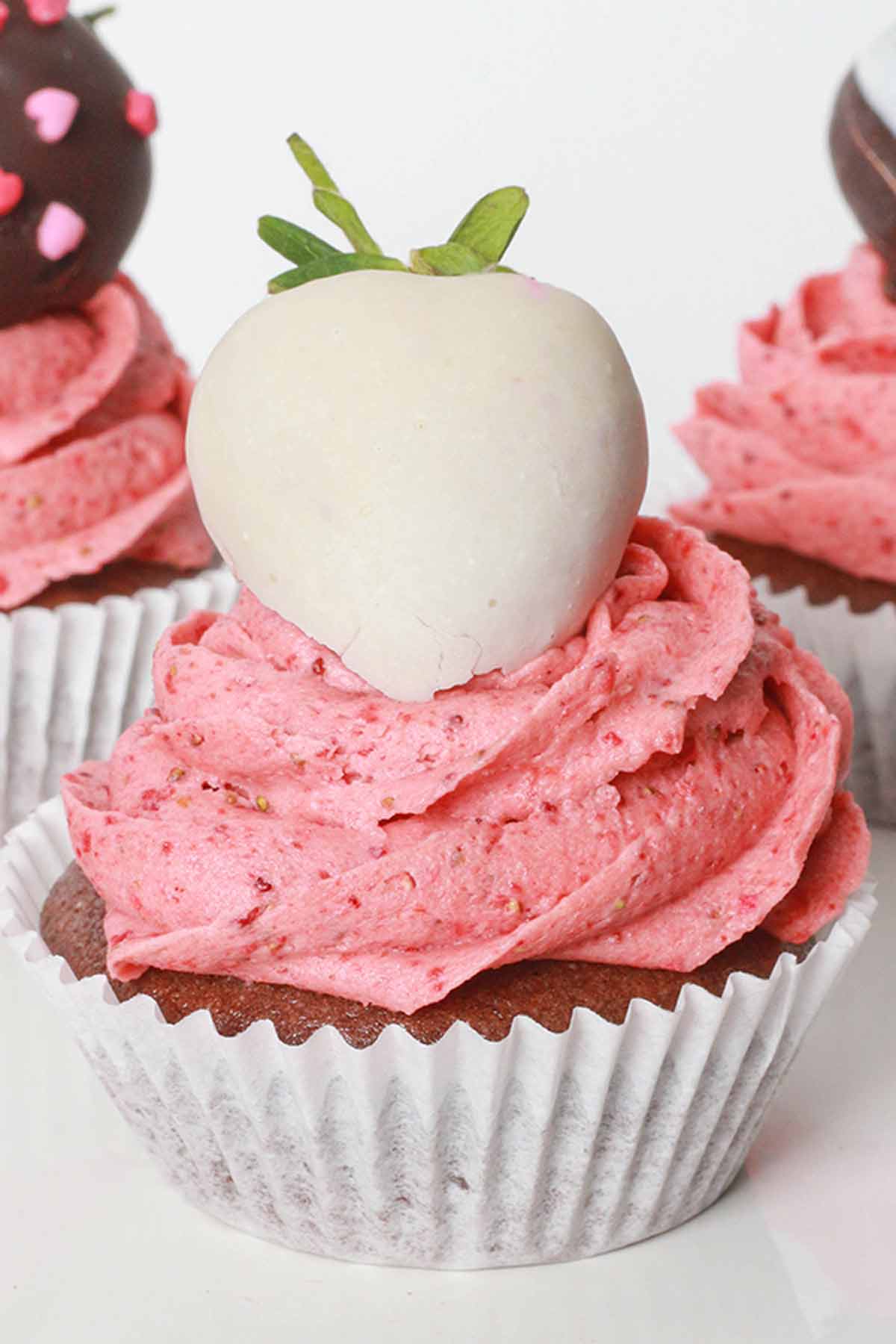 Where to buy freeze-dried strawberry powder
There are a few companies that sell strawberry powder online and I've listed some of them below. You can also use whole/sliced freeze-dried strawberries and grind them up into a powder yourself at home with a blender or food processor.
How to make vegan strawberry buttercream
Basically, you just mix the dairy-free butter and icing sugar, add your strawberry powder and soy milk and BOOM, ready to go! This icing is gluten-free and vegan.
Step 1:
Add 180g of vegan butter to a large bowl. I recommend using the spreadable kind because it's softer and easier to work with. I used Vitalite.
Step 2:
Next, measure out 400g of icing sugar and mix it into the butter, a little bit at a time until smooth.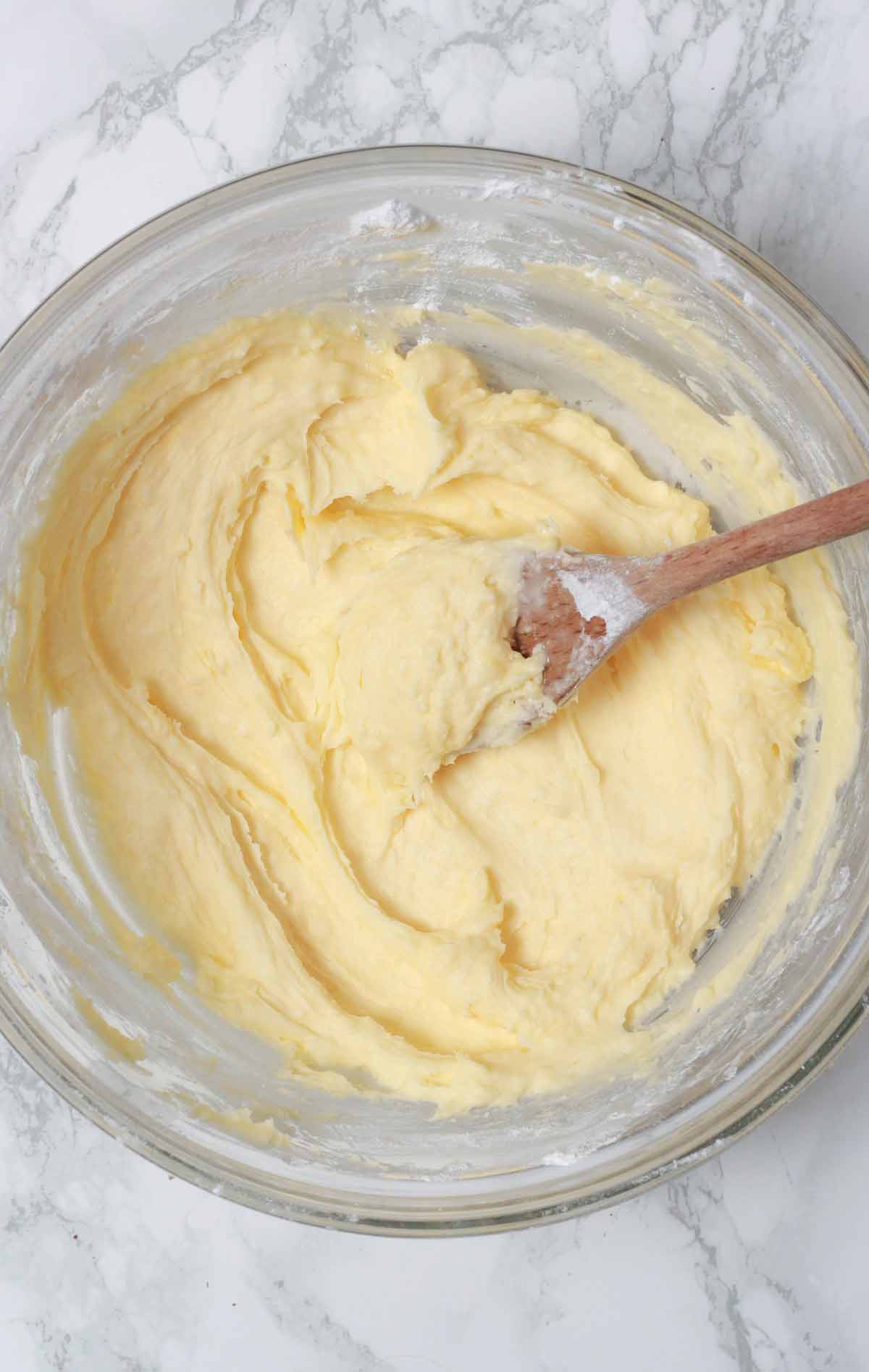 Once that's all mixed in, add 3 tablespoons of soy milk then 45g of freeze-dried strawberry powder. Mix well.
Step 3:
Give the buttercream a quick mix with an electric whisk or stand mixer. Doing this will make it super fluffy.
If the icing is still a little stiff, you can add some more plant-based milk and if it's too runny, just add more icing sugar. The consistency will depend on the type of vegan butter you use and also the temperature of your room. If you're using a blocky style of butter, you'll need to use more plant-based milk to help it come together than if you use the spreadable kind.
FAQ
How much dairy-free strawberry buttercream will this recipe yield?
This makes enough to ice 6-12 cupcakes (depending how much you like to use) or 3 7-inch layer cakes. If you're not using a piping bag to frost the cupcakes, you'll definitely use less. You can spread it on using a spoon and it'll do the trick just fine!

Feel free to multiply or divide the recipe as you see fit. This can be done easily on the recipe card below- just click on the number beside 'servings' and move the slider around to adjust the quantities.

How should I store leftover frosting?
Keep it in the fridge in an airtight container. It'll last at least 10 days in there, although you'll need to give it another mix before using to smooth it out again.
Can I use fresh strawberries?
As I mentioned above, I don't recommend using fresh strawberries as the juice is likely to affect the consistency of the buttercream and/or make it split. Freeze-dried strawberry powder gives a stronger flavour, brighter colour and a smoother texture.
---
I hope you enjoy this dairy-free strawberry buttercream recipe! Do leave a comment below to let me know what you're pairing it with, I love hearing your ideas! xo

Vegan Strawberry Buttercream
Fluffy, pink, dairy-free strawberry frosting for filling and covering cakes.
Ingredients
180

g

Vegan butter

(I recommend the soft, spreadable kind*)

400

g

Icing sugar

3

Tablespoons

Soy milk

(or other plant-based milk)
Instructions
Add the butter to a large bowl and stir in the icing sugar, a little at a time.

Add in the soy milk and strawberry powder. Mix well.

Give the buttercream a quick whisk with an electric whisk or stand mixer until soft and fluffy.

If the icing is still a little stiff, you can add a bit more plant-based milk. If it's too runny, add more icing sugar.
Recipe Notes
Store any leftovers in the fridge in an airtight container for up to 10 days.
*If you use the blocky type of vegan butter, allow it to sit at room temperature to soften before using. You'll probably also need to use slightly more soy milk to help the buttercream come together.
Nutrition Facts
Vegan Strawberry Buttercream
Amount Per Serving (1 /12th)
Calories 225
Calories from Fat 72
% Daily Value*
Fat 8g12%
Sodium 86mg4%
Carbohydrates 35g12%
* All values are an estimate only and will vary depending on the food brands used.
BakedByClo is a participant in the Amazon Services LLC Associates Program, an affiliate advertising program designed to provide a means for sites to earn advertising fees by advertising and linking to Amazon.com. This site may contain some of these links to Amazon.com & other affiliate programs. If you make a purchase through one of those links, BakedByClo will receive a small commission from the purchase at no additional cost to you.