Vegan Lemon Buttercream Frosting
This vegan lemon buttercream frosting is light, airy and perfectly zingy. Use it on cakes and cupcakes as a delicious topping or filling.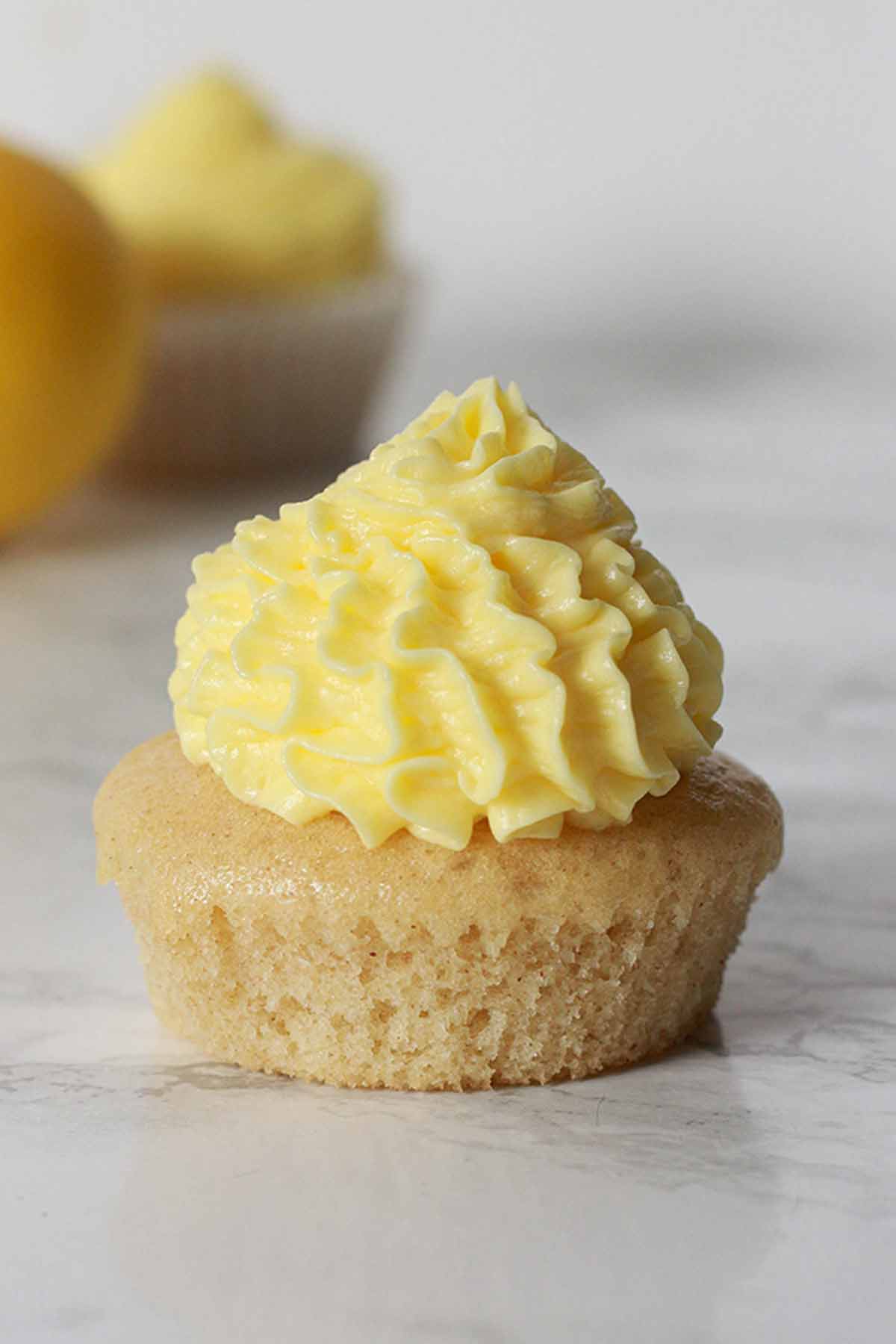 I am on a bit of a buttercream-making roll right now and this one is the most recent addition to my collection! This thick, fluffy, dairy-free lemon buttercream will take your lemon cakes and cupcakes to the next level.
There are only 4 simple ingredients for this recipe and you'll be able to find them all at most supermarkets near you. Or if you're a keen vegan baker, you will probably have them all sitting in your kitchen already!
Ways to use this buttercream
Here are some of my favourite lemon cake recipes to pair with this frosting:
Of course it's perfect for frosting lemon cakes but there are many other ways to use it too! You can use it to pipe in swirls on top of cupcakes or you can use it to fill them instead.
You can mix it into cake crumbs to make cute cake pops, sandwich it between cookies to make cookie sandwiches or spread it over a sheet cake as a tasty topping.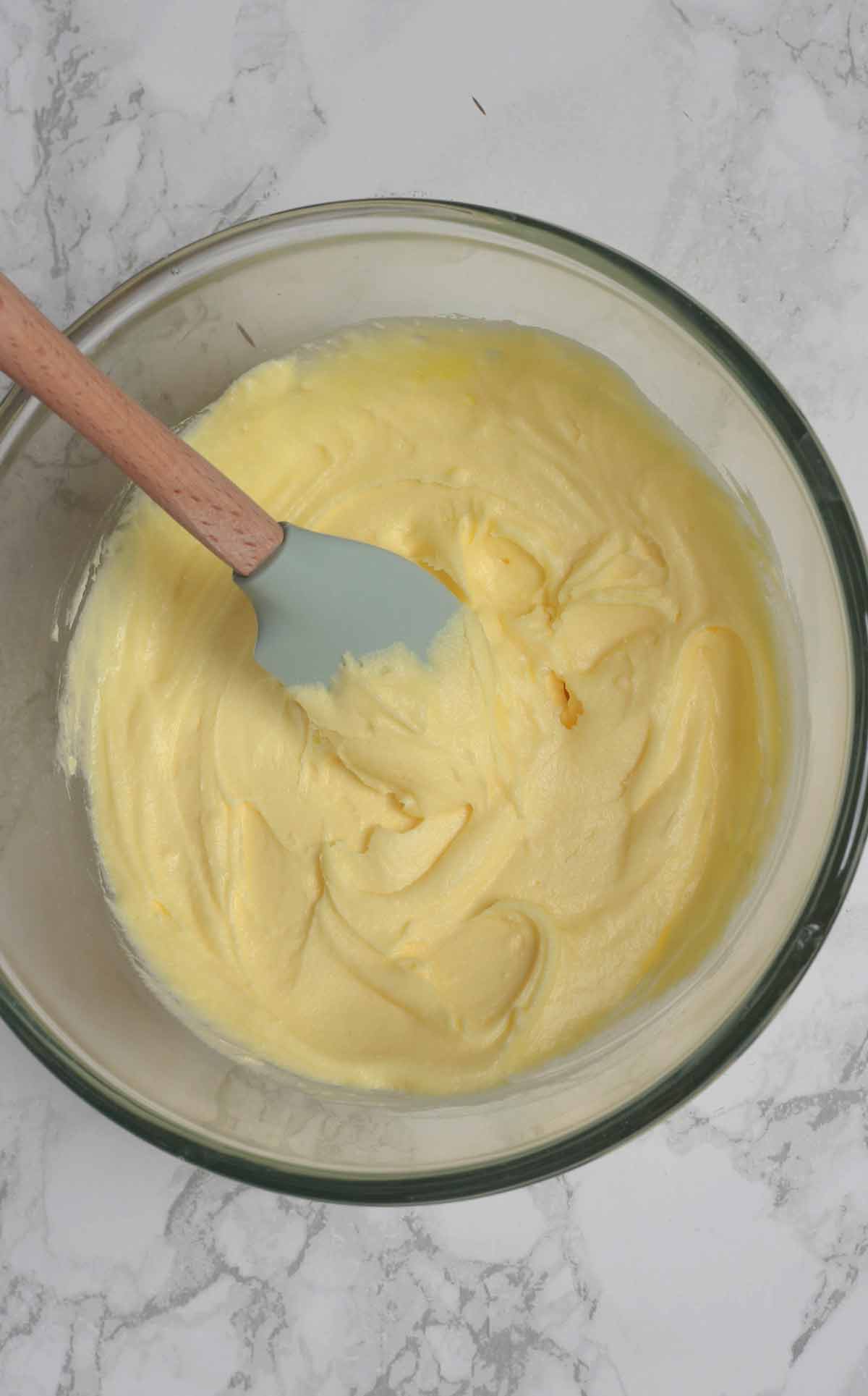 More vegan frosting recipes
If you don't fancy lemon this time, that's OK! Check out one of my other delicious frosting recipes instead:
How to make vegan lemon buttercream
Step 1:
In a large bowl, mix together 150g of vegan butter (I recommend the spreadable kind) with 2 teaspoons of lemon extract.
Step 2:
Measure out 500g of icing sugar and add it into the butter a little bit at a time, mixing as you go. If the buttercream is too thick, add a splash of plant-based milk and if it's too runny, add more icing sugar.
If you choose to use the blocky type of vegan butter then you'll need to add a bit more milk than if you use the spreadable kind. I used Vitalite.
Step 3:
Use the buttercream to fill, top or decorate your favourite cake.
FAQ:
Can I use fresh lemon juice?
I don't really recommend it as the acidity can cause the buttercream to split quite easily. If you want to use fresh lemons then I'd recommend adding lemon zest instead. The bitterness of the zest helps to cut through the sweetness a little and won't cause splitting. Make sure to grate it finely before adding it and use a large piping tip when piping- it may get stuck in the tip otherwise.
How should vegan lemon buttercream be stored?
It's best kept in the fridge in an airtight container or ziplock bag. It will hold fine at room temperature but if it's a hot day then store it in the fridge.
How much does this recipe yield?
This recipe makes enough buttercream to fill and cover a 3-layer 7-inch cake or frost 6-12 cupcakes, depending on how much you want to use on each one. The quantities can be multiplied or divided as needed.
How long will it last for?
If stored appropriately in the fridge, it will last for up to 10 days.
Can I freeze it?
Yes. If you plan to keep it for longer than 10 days then I'd recommend freezing it. It can be frozen in a ziplock bag or airtight container for up to 3 months. To defrost, transfer it to the fridge the night before you plan to use it. Do not refreeze.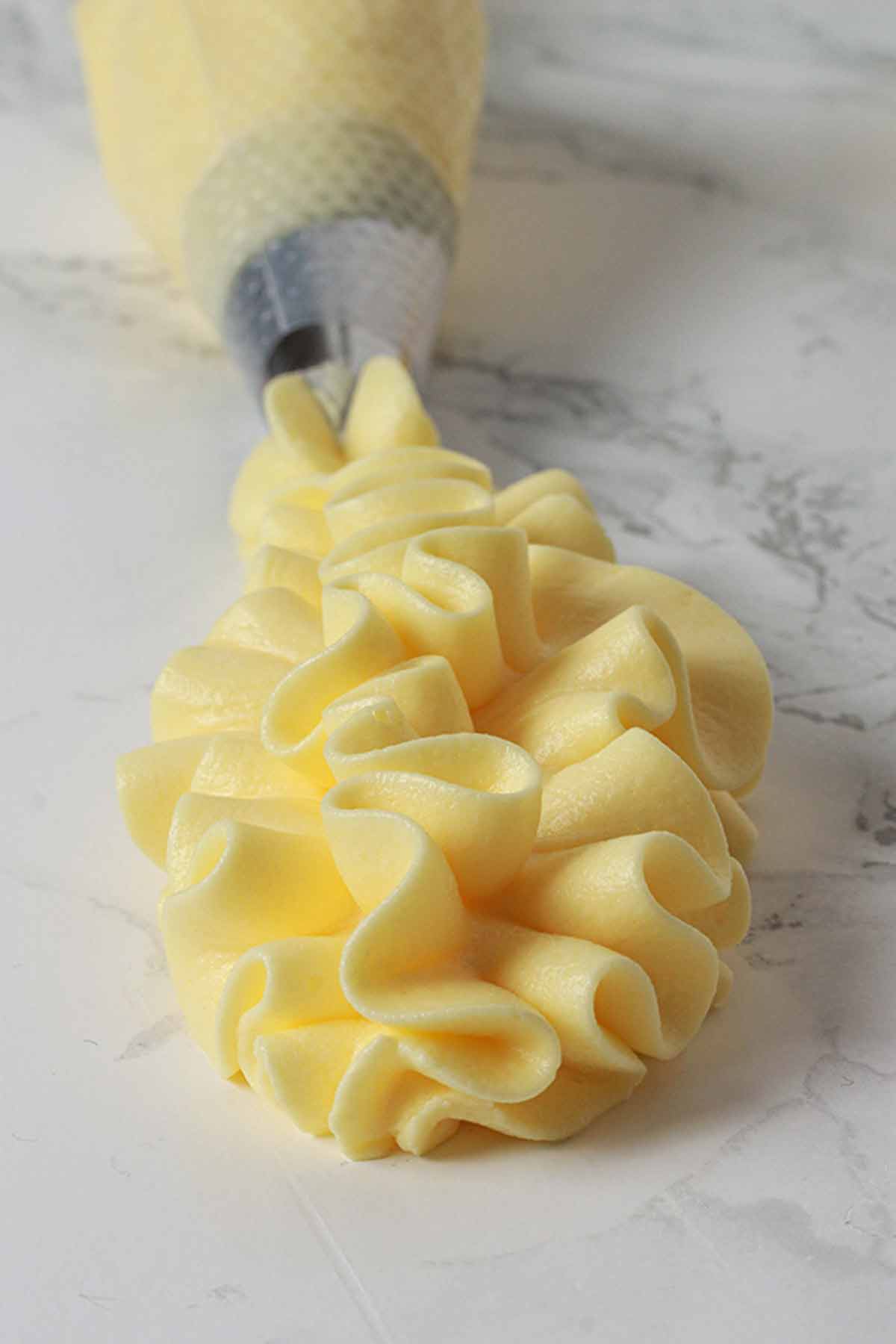 I hope you enjoy this dairy-free lemon buttercream recipe! If you make it at home, please let me know how it goes by leaving a comment and a rating below! xo

Vegan Lemon Buttercream Frosting
Easy, dairy-free lemon buttercream for cakes and other bakes.
Ingredients
150

g

Vegan butter

(see notes)

2

Teaspoons

Lemon extract

500

g

Icing sugar
Instructions
In a large bowl, mix together the butter and lemon extract.

Add the icing sugar, a little bit at a time, until it's all mixed in. If it's too runny, you can add more icing sugar and if it's too thick, add a splash of plant-based milk.
Recipe Notes
I recommend using the spreadable type of vegan butter. If you use the blocky type, you'll need to add some plant-based milk to help it come together.
Store in an airtight container in the fridge for up to 10 days.
Nutrition Facts
Vegan Lemon Buttercream Frosting
Amount Per Serving (1 /12th)
Calories 229
Calories from Fat 63
% Daily Value*
Fat 7g11%
Sodium 71mg3%
Carbohydrates 42g14%
* All values are an estimate only and will vary depending on the food brands used.
BakedByClo is a participant in the Amazon Services LLC Associates Program, an affiliate advertising program designed to provide a means for sites to earn advertising fees by advertising and linking to Amazon.com. This site may contain some of these links to Amazon.com & other affiliate programs. If you make a purchase through one of those links, BakedByClo will receive a small commission from the purchase at no additional cost to you.