24 Vegan Valentine's Candy Recipes
This list of vegan Valentine's Day candy recipes is sure to have something for everyone. It includes truffles, fudge, chocolate bars and more! Simple recipes that can be whipped up easily and are perfect for giving as edible gifts.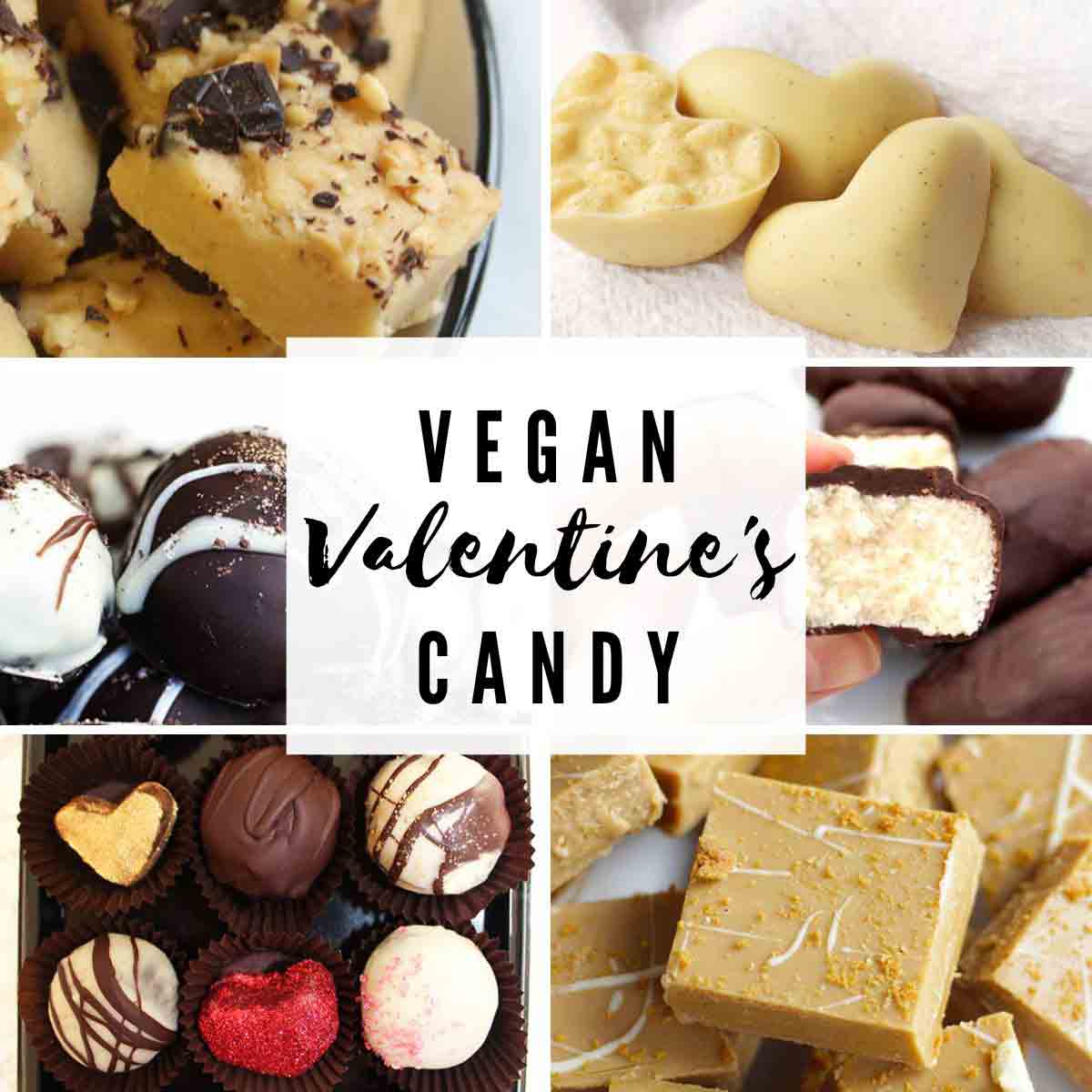 I don't know about you but I just LOVE gifting people with food. It's easy, it's cheap, and you know the receiver will use it…providing they like your cooking/baking, that is!
The best vegan Valentine's Candy recipes
Since Valentine's Day is just around the corner and many of you are likely to be making your loved ones edible gifts, I thought I'd create a round-up to give you some inspiration. With the help of some other fabulous food bloggers, I've gathered 24 of the best easy, giftable recipes. Make sure to go show them some love!
This list of vegan Valentine's candy recipes does include the classics such as truffles and chocolate-covered strawberries, but there are also many other recipes that you may not have considered before. Things like peanut butter cups, cookie dough bites and Twix bars. Yum!
I hope you enjoy the list and if you try any of the recipes, please leave me a comment to let me know how it goes!
Vegan Truffles and bites
Obviously, no vegan Valentine's candy list would be complete without classic chocolate truffles. There are 9 different truffle recipes in this category along with a few other small bite-sized treats.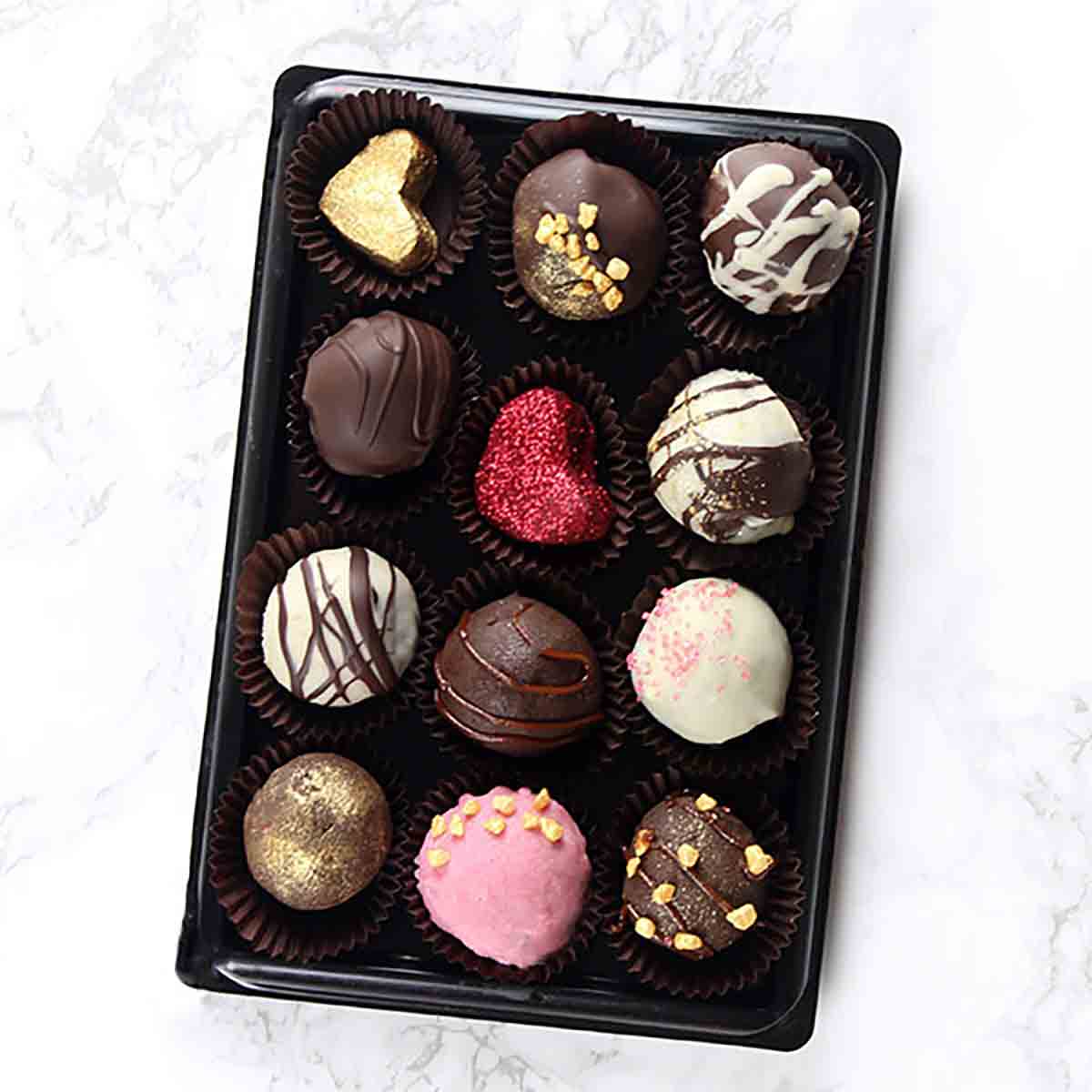 Easy, dairy-free chocolate truffles that can be decorated with chocolate, edible glitter, cake sprinkles and more for an elegant, tasty treat.
3-Ingredient Oreo cheesecake truffle balls. Coat with vegan white for an extra special touch.
Irresistible Lotus Biscoff truffles made with just 3 ingredients. They're rich, creamy and sweetly spiced.
A simple chocolate-covered strawberries tutorial with some cute decorating ideas.
Chocolate covered cookie dough bites that the whole family can enjoy.
You'll be shocked to find out just how easy these decadent Valentine's Day truffles come together!
You'll only need 2 ingredients to make these vegan keto truffles.
These traditional Scottish chocolate truffles are made in homes and bakeries. They're made with digestive biscuits (or Graham crackers) and coconut. The rum can be substituted with orange juice.
A super simple recipe for rich hazelnut truffles that resemble Ferrero Rocher. Creamy and decadent, these truffles are absolutely divine.
Vegan truffles filled with chocolate chip cookie dough? Yes, please! You'll love these healthier treats made with oat flour and peanut butter.
Tootsie rolls are a deliciously rich chocolate candy, and this yummy homemade vegan version is sure to please!
These homemade white chocolate crispy bars are dairy-free, vegan, and better than Nestle! They're also surprisingly fast and easy to make.
Fudge recipes
Vegan fudge is a staple edible gift in my book. It's SO easy to make, requires next to no effort and it looks fabulous wrapped up in a ribbon or string. All of these fudge recipes can be made without condensed milk too which is a bonus!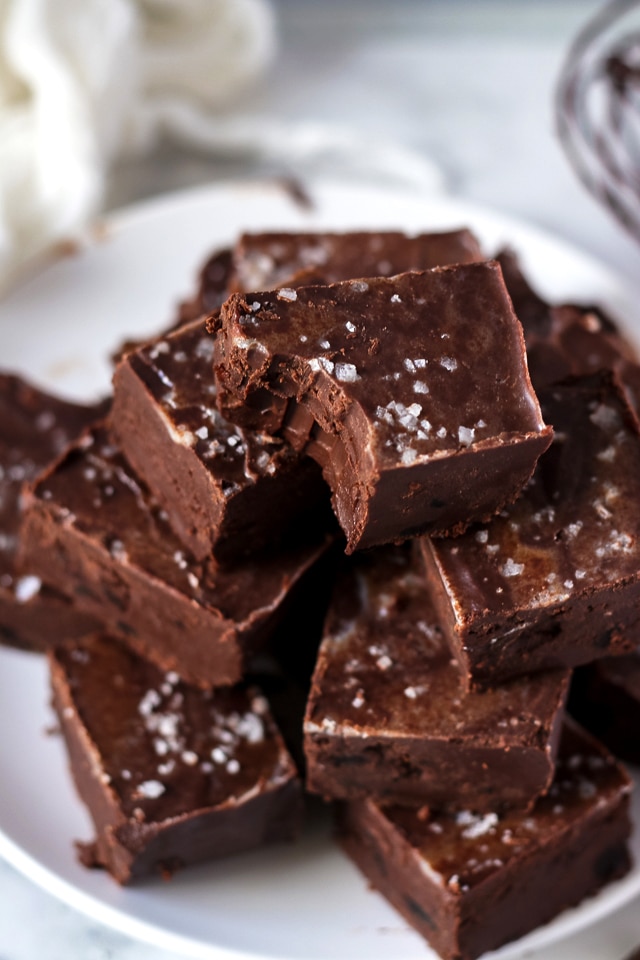 A super easy, 2-ingredient fudge with dairy-free white chocolate and Biscoff. This recipe can be prepared in 5 minutes and is ready to eat in a few hours. This is one of my personal favourite vegan Valentine's candy recipes.
Make this peanut butter fudge easily with just 3 ingredients. No condensed milk is needed!
This traditional Scottish sweet is similar to fudge but is more grainy in texture. It melts in your mouth and is delicious served with a hot cup of tea or coffee.
Rich, chocolatey and decadent, this never-fail fudge will be hard to stop at just one piece!
Wonderfully sweet and delightfully gooey, this chocolate fudge is the best you're ever going to have. It can be made easily without condensed milk or added sugar.
Other candies and bars
This category is a mix of different things that didn't quite fit into the others. Here we have copycat recipes for chocolate bars such as Bounty and Twix, as well as peanut butter cups and traditional Scottish macaroons.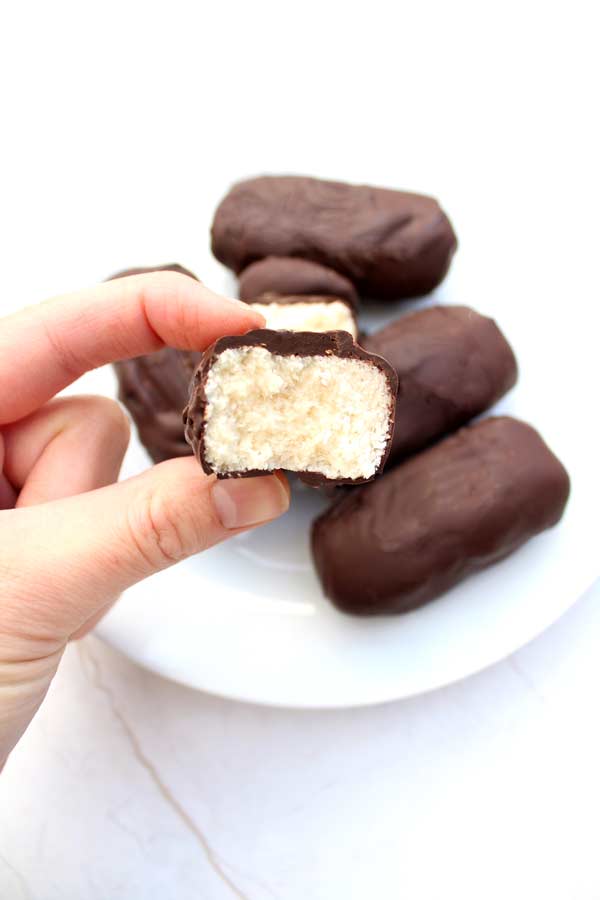 A simple, no-bake version of the classic Bounty bar. A creamy coconut filling coated with dairy-free chocolate.
Another coconutty recipe but different! This one is a traditional Scottish candy recipe that's made with potatoes! A super sweet, semi-solid fondant, coated with chocolate and toasted coconut.
Just like Reece's but without the dairy. These are so easy and quick to make- a must try for all peanut butter lovers.
This dairy-free rocky road uses a sweet and salty combo of popcorn, pretzels, marshmallows and chocolate chips!
These homemade Snickers Bars are chocolatey, crunchy and delicious! They are easy to make, no bake and gluten-free too!
This copycat Cuban lunch bar recipe has the perfect ratio of chocolate to peanuts and is melt-in-your-mouth delicious.
Homemade vegan Twix bar recipe with NO DATES and the closest you'll get to the original! These have a delightful crunchy cookie base, gooey sweet caramel and crisp chocolate.

24 Vegan Valentine's Candy Recipes
Easy vegan Valentine's Day candy.
I hope you enjoy this round-up of vegan Valentine's candy recipes. Let me know which ones you'll be making in the comment below. Have fun! xo
BakedByClo is a participant in the Amazon Services LLC Associates Program, an affiliate advertising program designed to provide a means for sites to earn advertising fees by advertising and linking to Amazon.com. This site may contain some of these links to Amazon.com & other affiliate programs. If you make a purchase through one of those links, BakedByClo will receive a small commission from the purchase at no additional cost to you.