Vegan Chocolate Covered Strawberries
These vegan chocolate covered strawberries are the perfect mix of indulgent and nutritious. They make a beautiful, elegant looking edible gift for Valentine's day and can be decorated to your preference!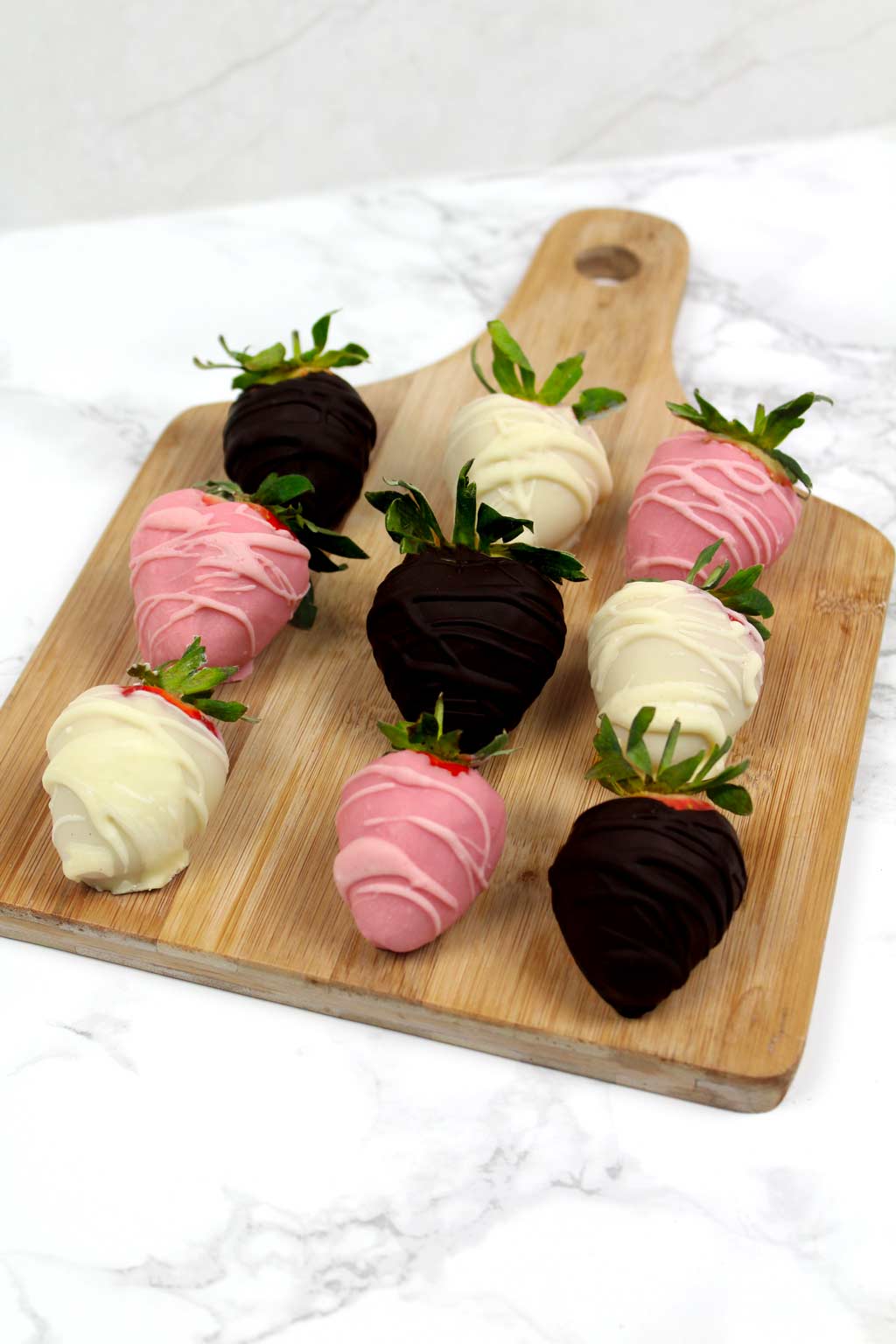 With Valentine's day coming up in a few weeks, I thought it would be a nice time to get started on some romantic-themed desserts.
First up: vegan chocolate dipped strawberries.
Obviously, making chocolate strawberries is pretty self-explanatory… You get the strawberries, dip them in melted chocolate and you're good to go.
But I thought I'd make a little post with some tips to make the process a little smoother for you.
How To Decorate Vegan Chocolate Strawberries
I made 3 different kinds of chocolate strawberries for this post. White chocolate, dark chocolate and pink-white chocolate. I think the colours look so pretty and classy together!
These vegan chocolate covered strawberries can be decorated in all sorts of ways but personally, I just went with a small chocolate drizzle over each one in the same colour. That way, it looks simple and elegant but has an extra bit of texture.
To do this, I just set a couple of squares of chocolate aside before I began the whole process.
After the coating of chocolate on the strawberries had hardened, I melted the leftover chocolate and drizzled over a small amount using a teaspoon then let that dry too.
I also chose to keep the stems on the strawberries because I love the way the green colour contrasts with the brown, white and pink colours of the chocolate.
If you want something a little more extravagant, you can add edible glitter or cake sprinkles, or even pipe fancy patterns onto the strawberries. If using sprinkles or glitters, just make sure to check that they're vegan friendly.
Check out my vegan truffles recipe for some other decorating inspiration.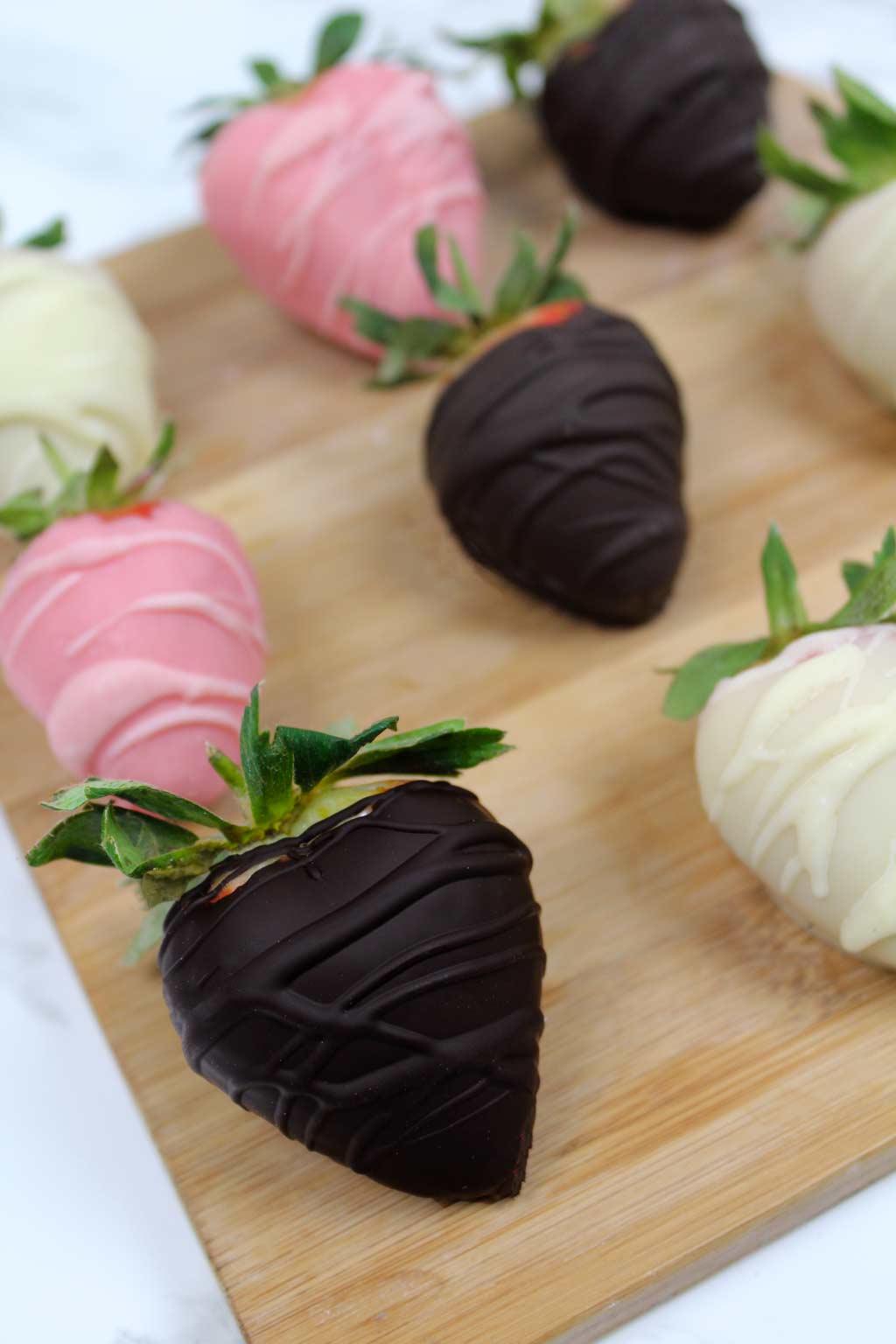 Want More Vegan Dessert Recipes? Try These!
What's The Best Chocolate To Use?
I'd highly recommend using a chopped up bar of chocolate instead of chocolate chips, to keep the chocolate solid at room temperature after it's set. Check out my chocolate guide for all the best vegan options.
I personally LOVE using dark chocolate. Because it's higher in cocoa, it melts easier, stays smooth longer and looks the best (in my opinion) when it's set on the strawberry. It also gives a nice shine!
However, saying that, I do love the sweetness and the colour contrast that white chocolate gives. Vegan white chocolate doesn't stay smooth as long when it's melted though, it tends to clump up or become grainy after 5 minutes or so, so you'll need to work quickly if you're using it!
White chocolate is also the best type to use if you want to use different colours such as pink or red. I would highly recommend using gel colouring over liquid to keep the chocolate as smooth as possible.
And of course, you could also use vegan "milk" chocolate if you're not into dark or white. Taste wise, it's my favorite out of the 3 but it's also the most expensive type here in the UK so I try to limit my use!
Here are some of my favorite chocolate bars to use for baking:
How To Make Chocolate Covered Strawberries: Step By Step
Step 1:
First off, wash your strawberries! The last thing you want is you or your loved ones to be eating dirty strawberries.
After you've given them a good rinse, dry them off using a paper towel. Be very gentle when you do this so as not to squish the strawberries or damage the stems.
Step 2:
Next, line a baking tray with parchment paper.
Now it's time to melt your chocolate of choice. As I said earlier, I used dark chocolate, white chocolate and "pink" chocolate (a.k.a. white chocolate with pink food gel added).
Chop up the chocolate into small pieces and keep a few squares aside for drizzling over at the end.
Step 3:
My favorite method of melting chocolate is by placing a glass bowl over a small pot of boiling water on a low heat (making sure the bowl isn't touching the water). Then, you place the chocolate inside of the bowl and mix gently until it's completely melted.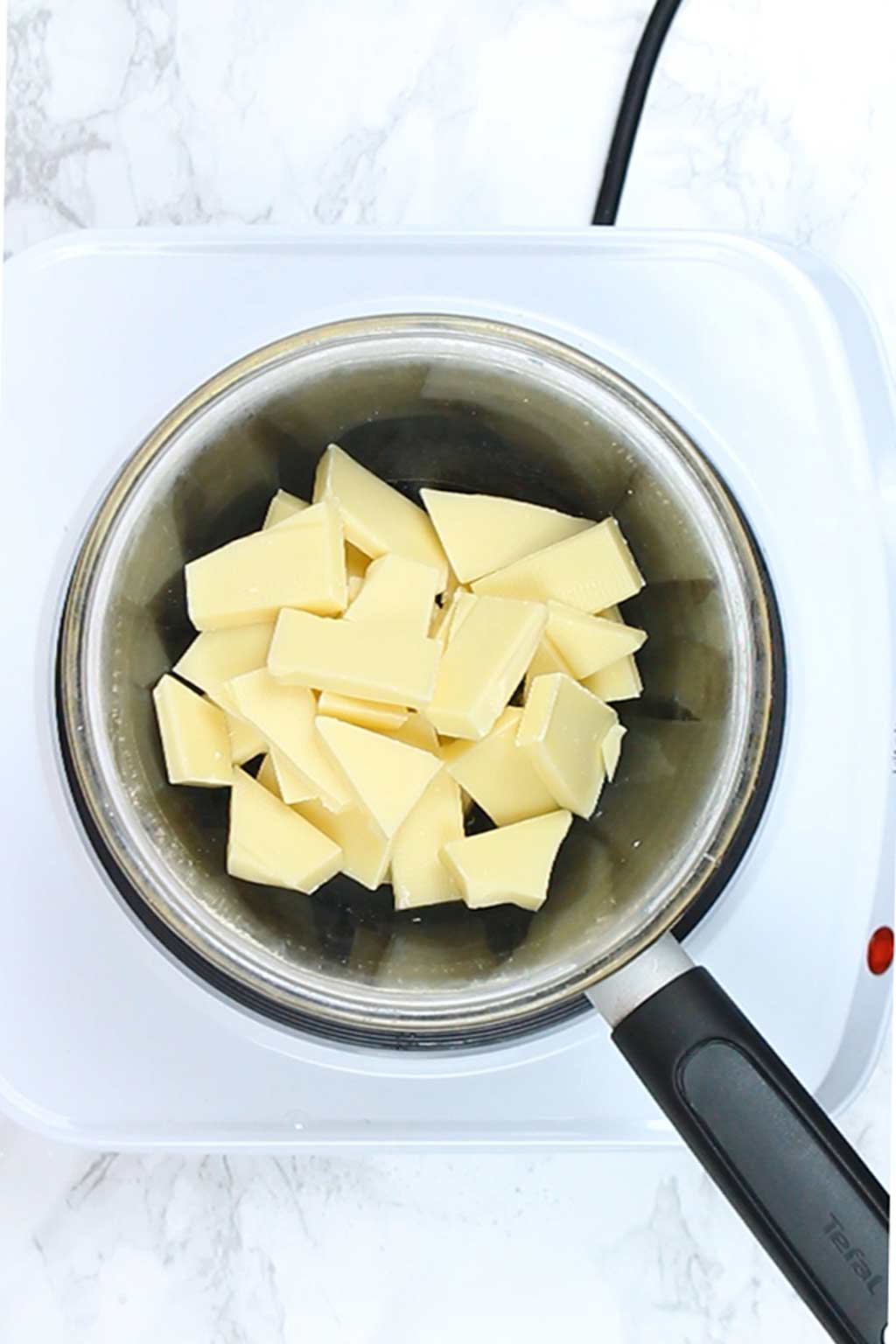 I like this method because it gives me the best control, especially when using white chocolate which tends to burn easily. I've found that when I put chocolate in the microwave, it's always hit or miss- sometimes it burns or becomes grainy.
Melting the chocolate in a pot heats it more evenly, makes it smoother and prevents it from clumping up.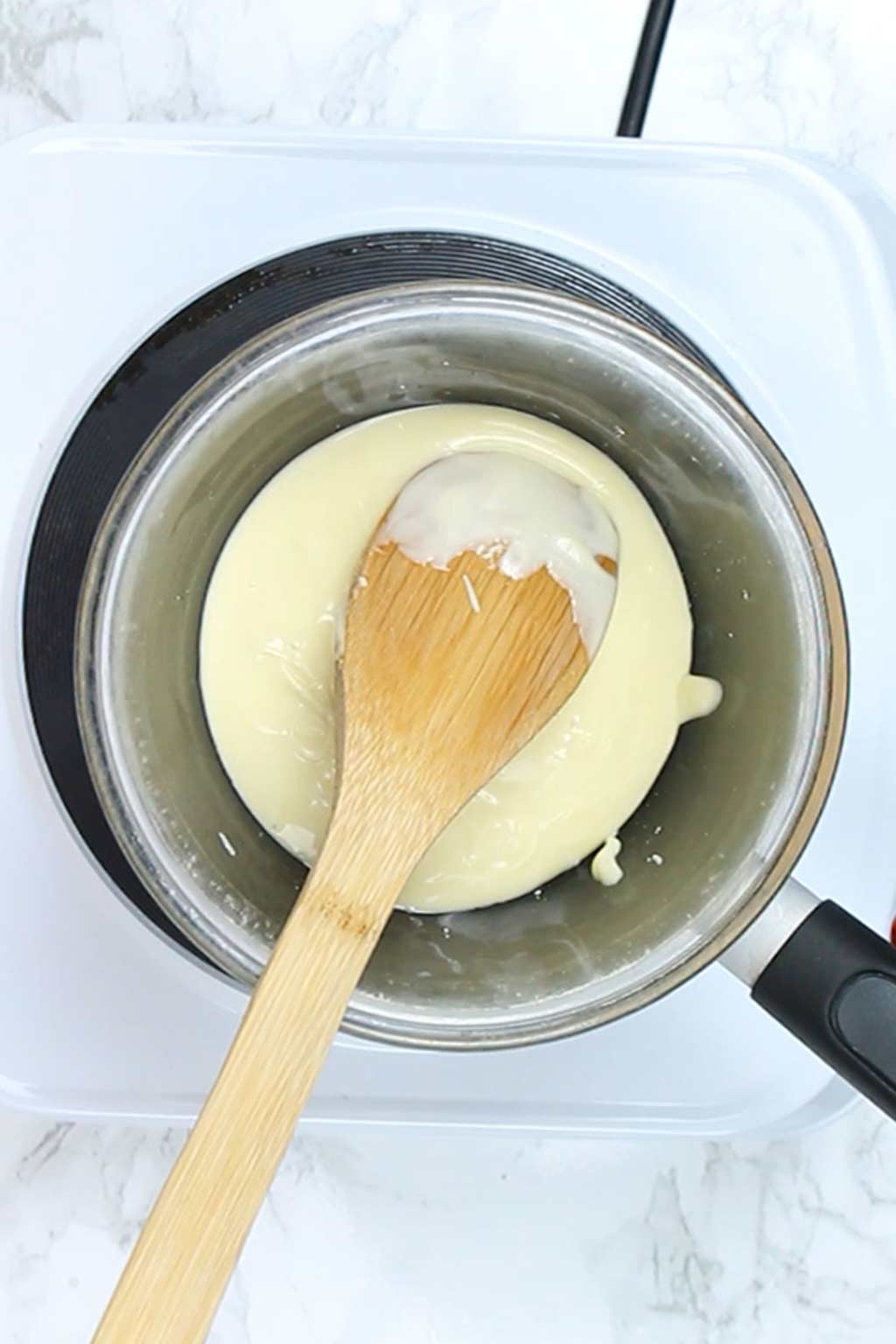 If making pink chocolate, divide melted white chocolate into two bowls. In one of the bowls, add a small amount of pink food gel using a toothpick and stir in gently.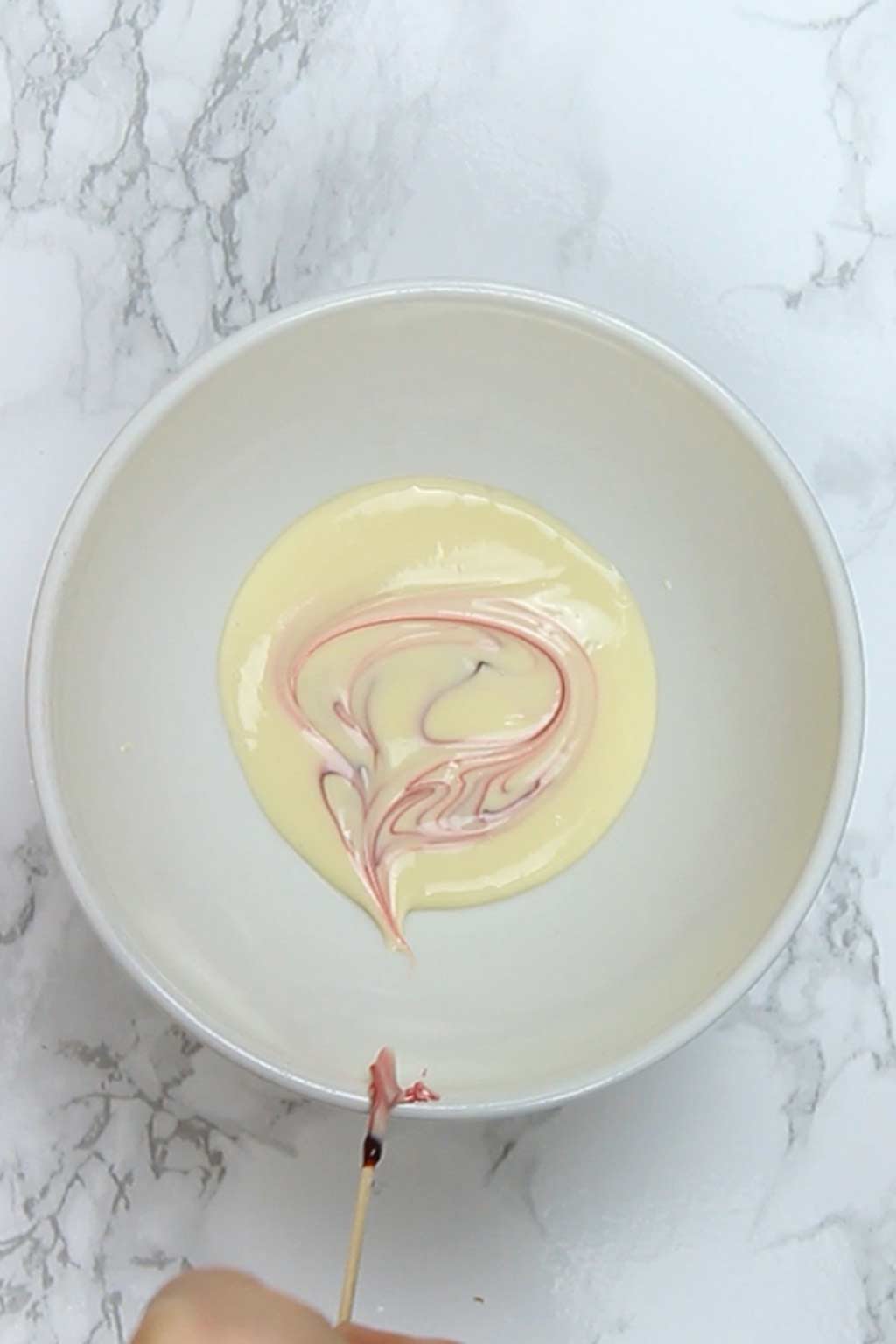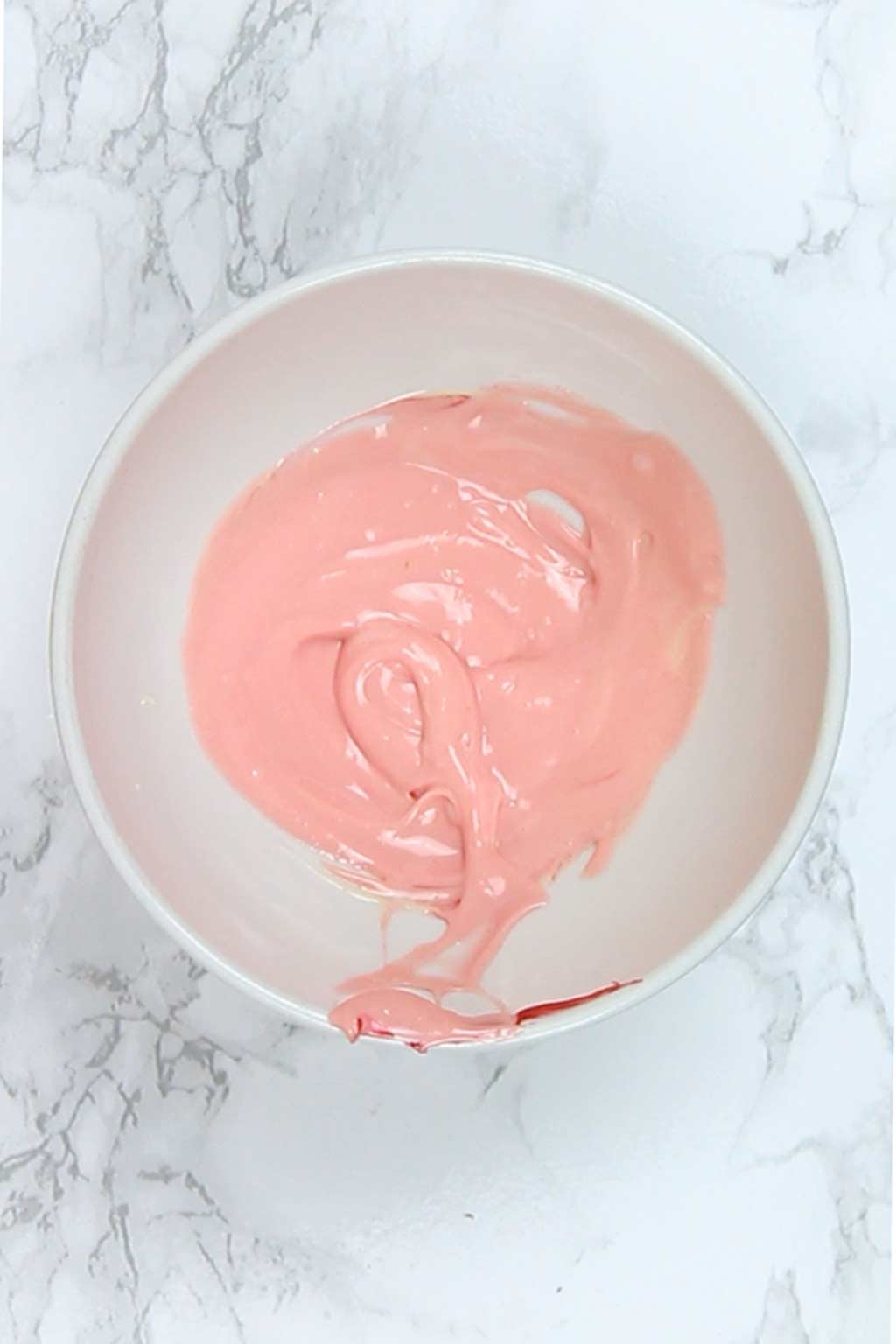 As I mentioned, you need to move quite quickly when working with white chocolate. Make sure you have your washed and dried strawberries ready to go before you start this step.
Step 4:
Grab a strawberry by the stem and dip it into the bowl until most of it is immersed in the chocolate.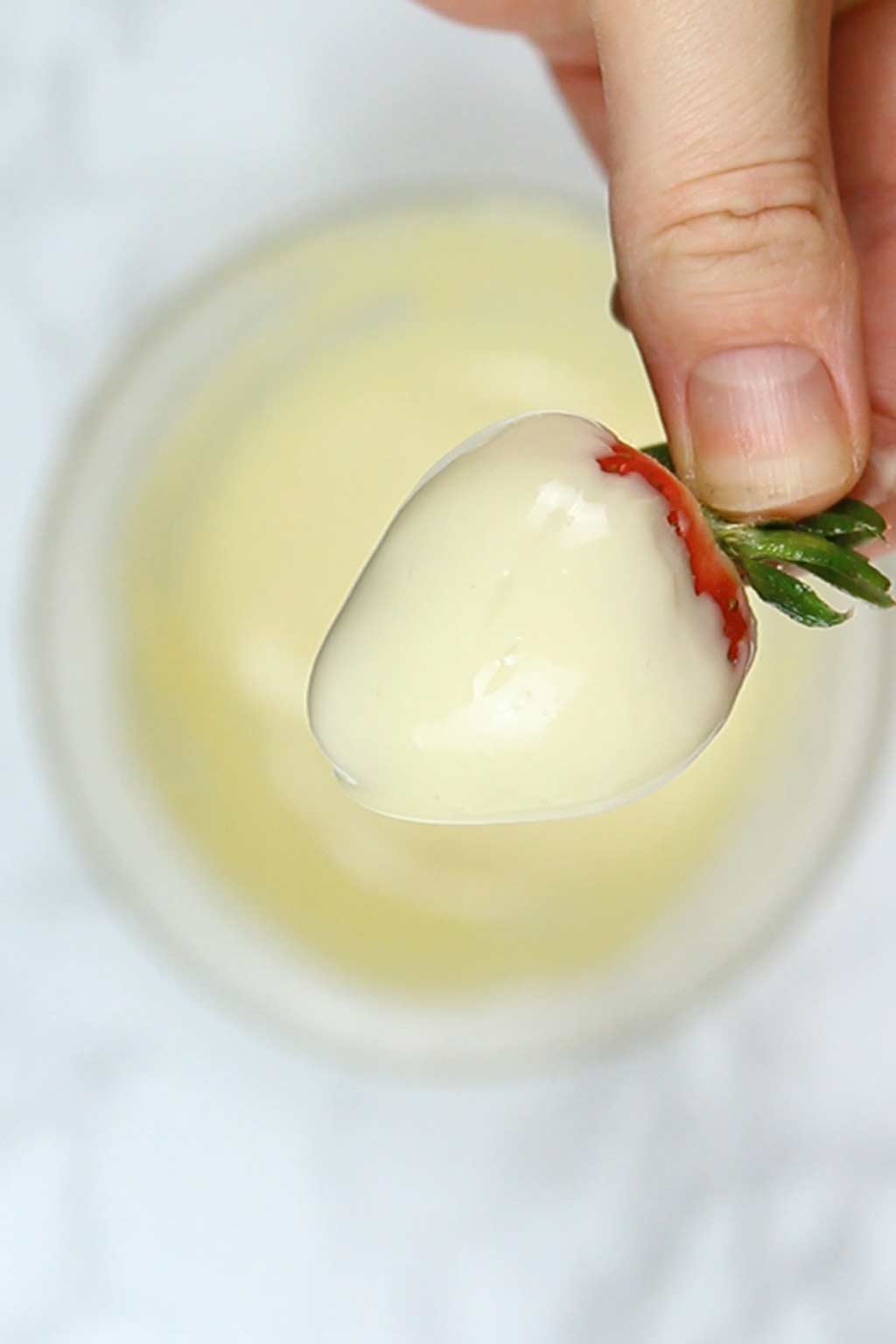 Gently swirl it round a few times to get rid of excess chocolate and place it onto your lined baking tray to set.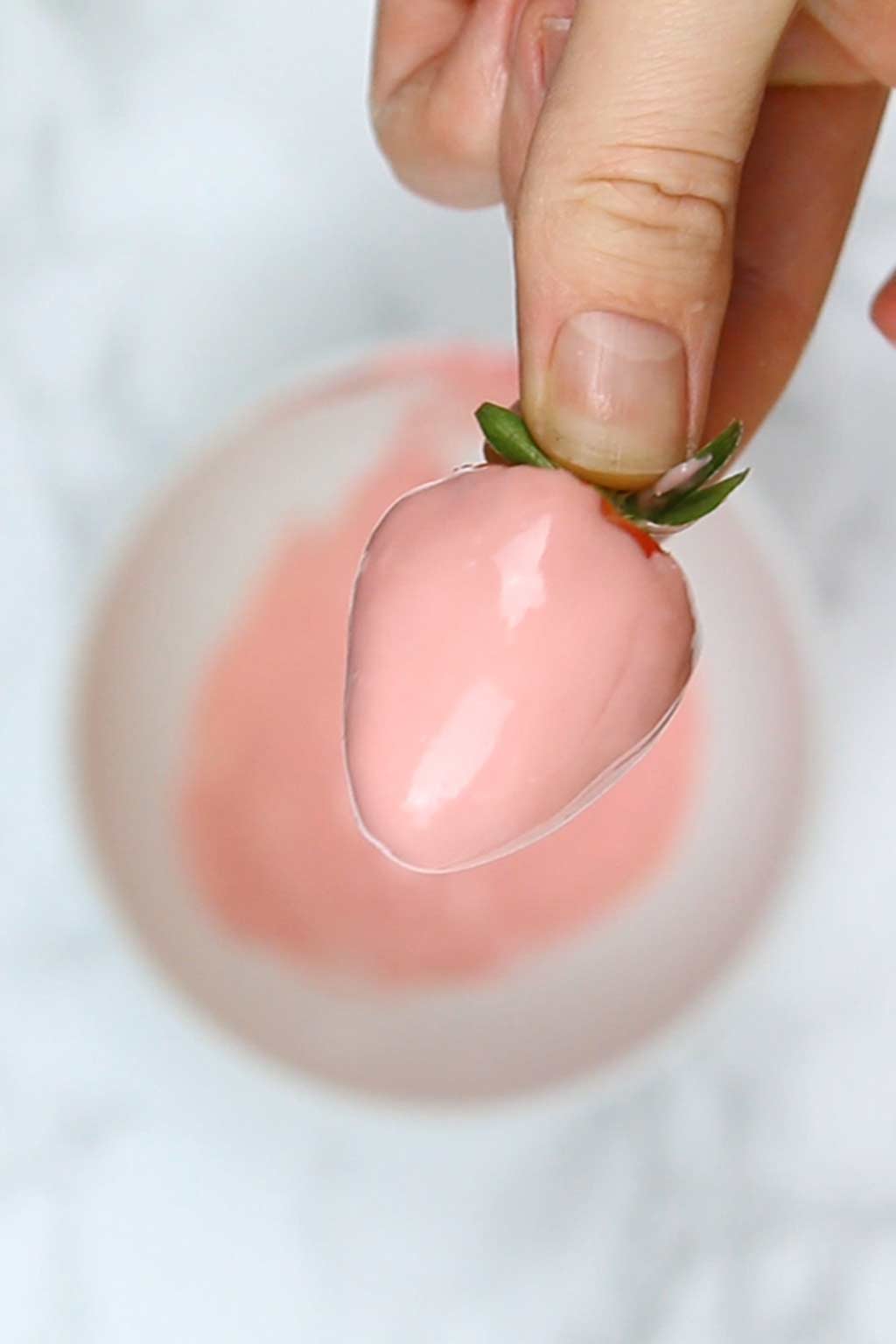 Once you've coated all the strawberries, place them in the fridge for 30 minutes or so to let the chocolate harden.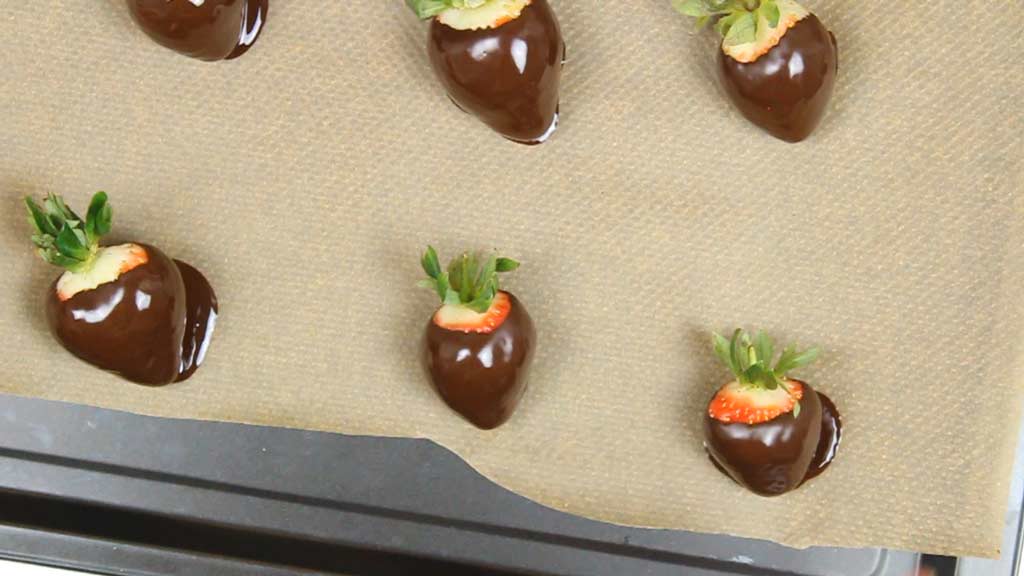 Note that if you're adding any glitter or sprinkles, it's best to do this while the chocolate is still wet.
Step 5:
Once the chocolate has set, melt the remaining chocolate and use a teaspoon to drizzle it over the strawberries.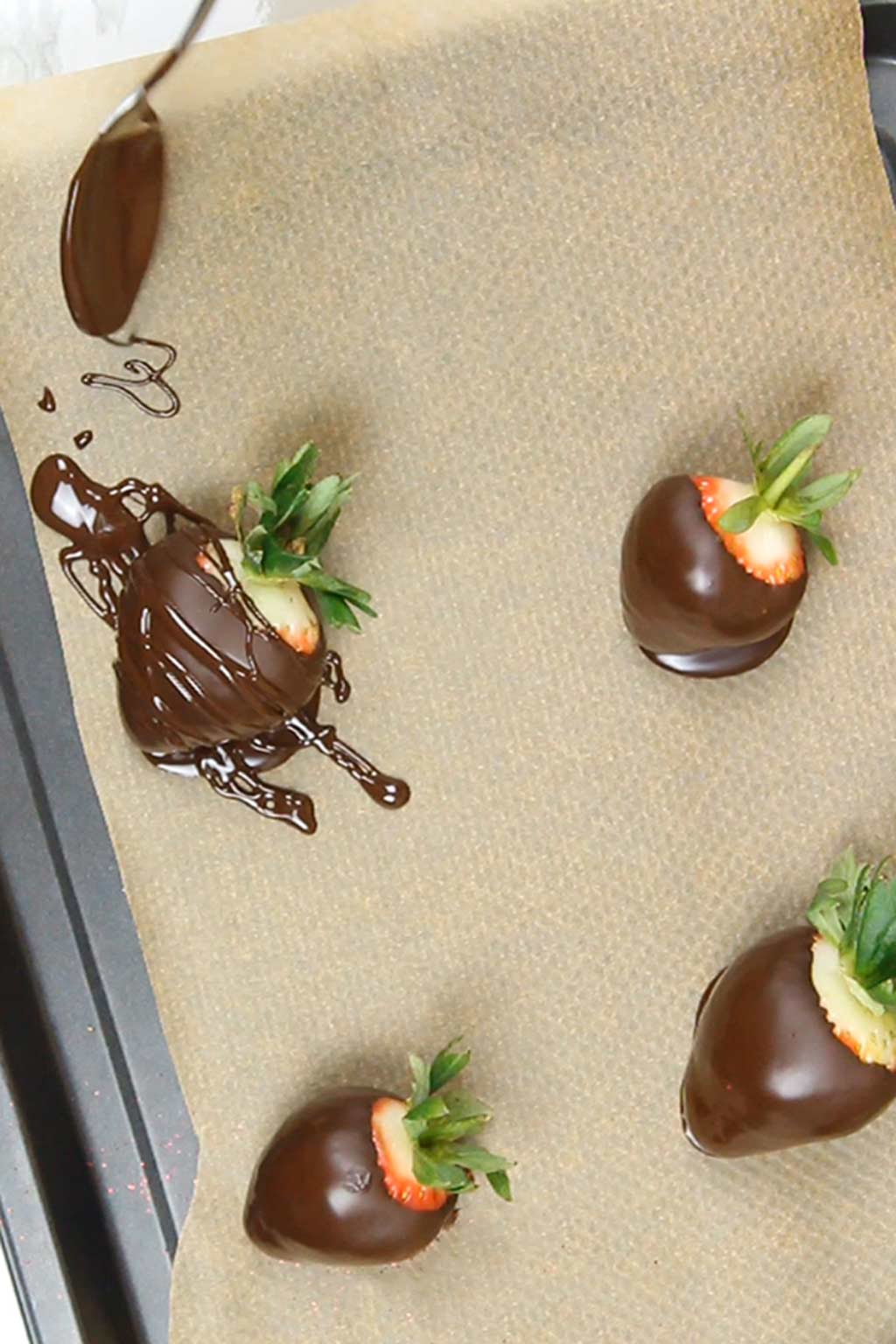 Pop them back in the fridge for another 30 minutes and you're good to go!
How Should You Store Vegan Chocolate Covered Strawberries?
I'd recommend storing your chocolate strawberries, covered, in the fridge for up to 3 days. They will also be fine in an airtight container at room temperature but won't last quite as long due to the fresh fruit being inside.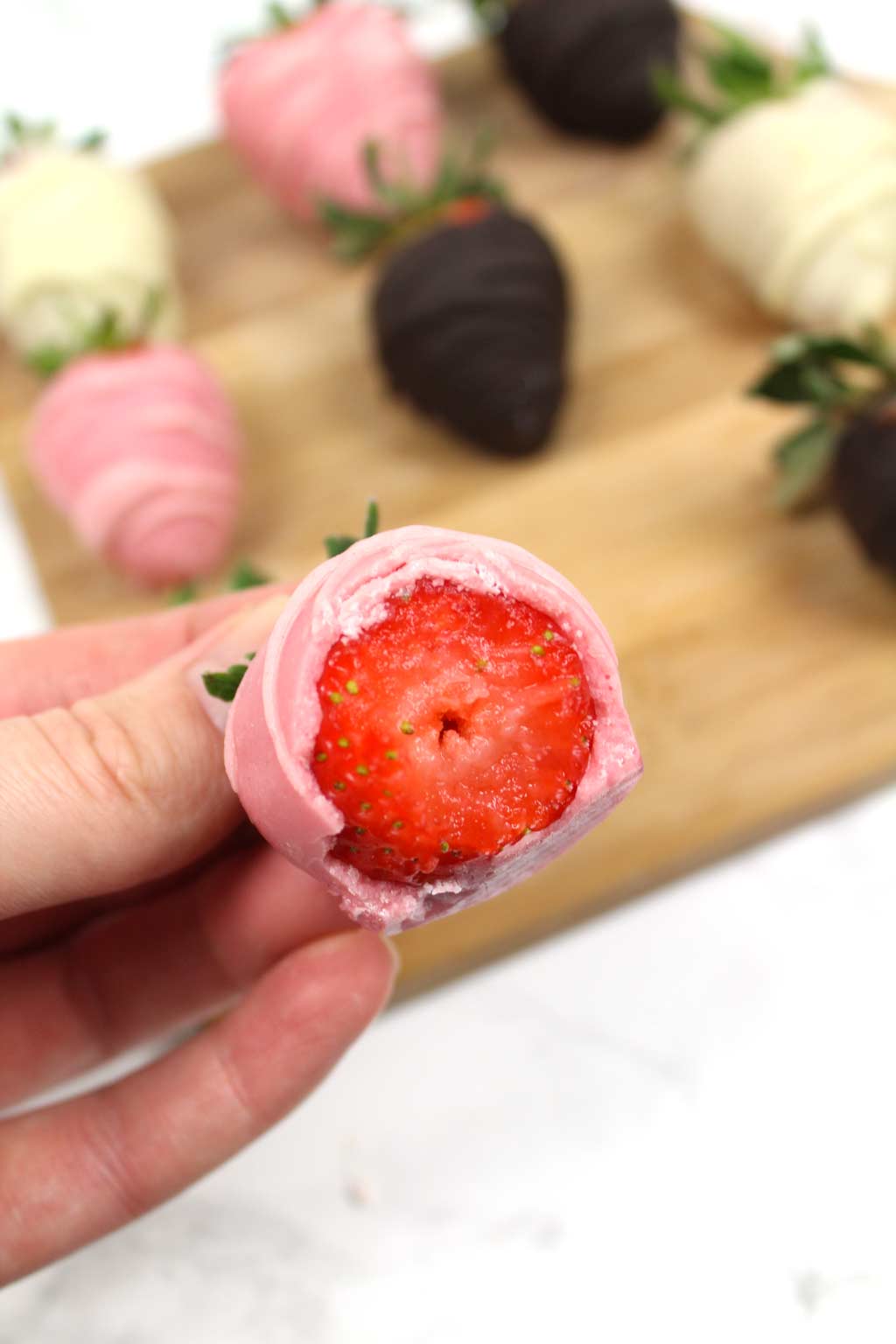 That's it for now! Hope you enjoy this recipe and have fun sharing the homemade chocolate strawberries with your loved ones. (Or, eating them all to yourself… like I did!)

Vegan Chocolate Covered Strawberries
Strawberries dipped in dairy-free chocolate.
Ingredients
16

Medium-sized strawberries

400

g / 14oz

Chocolate of choice

(I used a mix of dark and white)
For pink chocolate:
Pink food gel added to melted white chocolate

(I use PME food gel)
Instructions
Line a large baking tray with parchment paper.

Wash and thoroughly dry the strawberries.

Break the chocolate up into small pieces (keep a few squares aside to drizzle at the end if desired) and place into a heat-proof bowl.

Fill a small pot with 1-2 inches of water and place it onto a low heat on the stove to simmer. Then place the bowl on top of the pot, making sure the bottom of the bowl isn't touching the water.

Stir the chocolate in the bowl until it's completely melted then remove from the heat.

Grab a strawberry by the stem and dip it in the melted chocolate until covered evenly. Gently spin the strawberry round a few times to get rid of any excess chocolate, then place it onto your lined baking tray.

Repeat until all of your strawberries are used up then place them in the fridge for 30 minutes to set.

Melt any remaining chocolate and drizzle it over the set chocolate strawberries. Return to the fridge for another 30 minutes before enjoying.
Recipe Notes
Store in the fridge for up to 3 days.
Pour any unused melted chocolate into cupcake cases to use again at a later date.
Nutrition Facts
Vegan Chocolate Covered Strawberries
Amount Per Serving (1 g)
Calories 130
Calories from Fat 45
% Daily Value*
Fat 5g8%
Carbohydrates 15g5%
Protein 2g4%
* All values are an estimate only and will vary depending on the food brands used.
BakedByClo is a participant in the Amazon Services LLC Associates Program, an affiliate advertising program designed to provide a means for sites to earn advertising fees by advertising and linking to Amazon.com. This site may contain some of these links to Amazon.com & other affiliate programs. If you make a purchase through one of those links, BakedByClo will receive a small commission from the purchase at no additional cost to you.