Vegan Raspberry Muffins
These vegan raspberry muffins are light, fluffy, sweet and full of flavour. They make a tasty breakfast treat, afternoon snack or dessert and with just a few ingredients, can be whipped up in no time!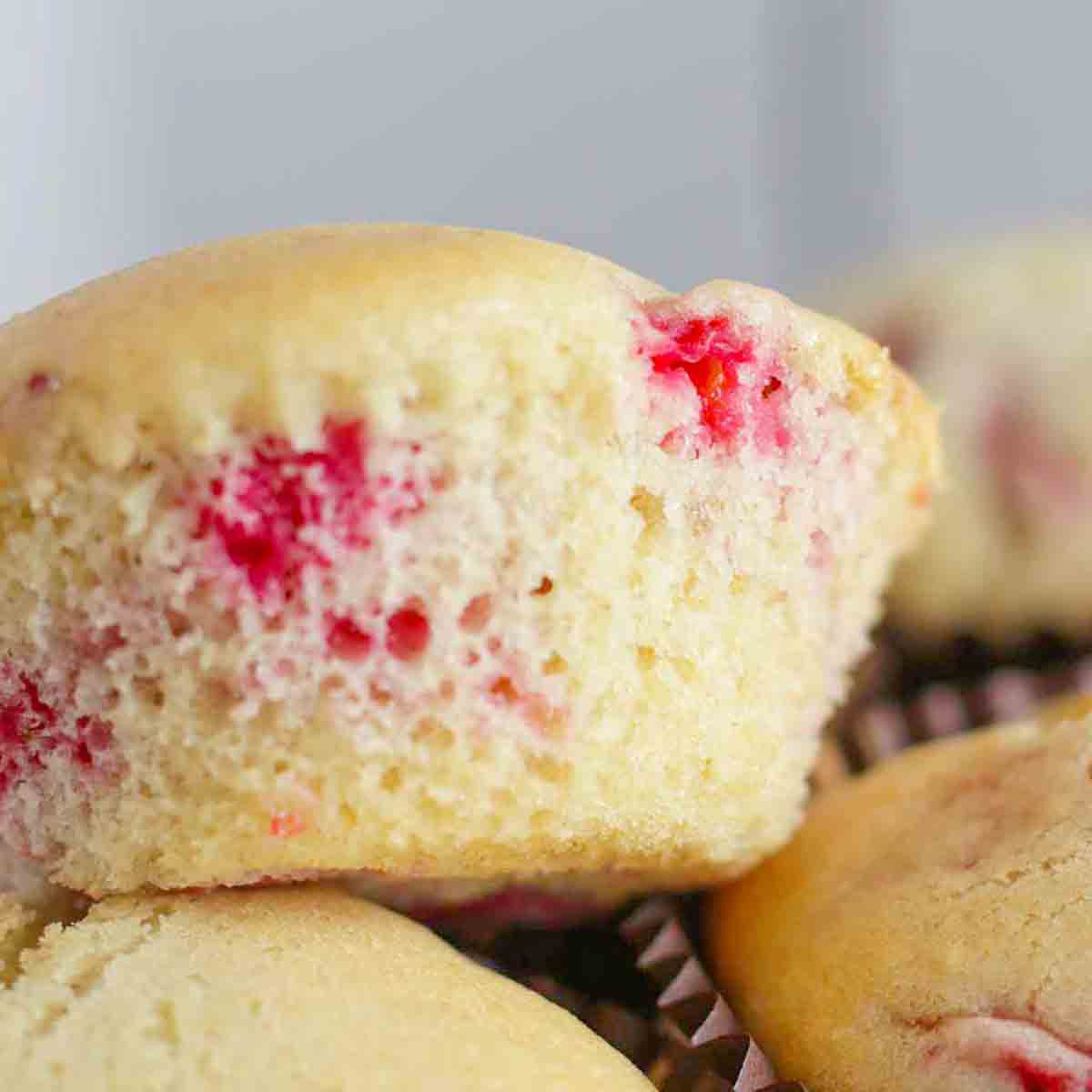 Is there any better combination than dessert and fruit? Raspberries, blueberries, strawberries, apples… It doesn't matter what season it is, there's always a fitting fruit dessert to be enjoyed!
I always seem to forget about raspberries in the Winter, favouring cosy fruits like stewed apples or baked pears instead. But with Valentine's Day coming up (sort of), I thought it'd be a nice time to bake some pink and red treats! So, expect more strawberry and raspberry desserts to come!
I have to admit, I've had this recipe stored away in my drafts for quite some time now. When I first made these muffins, they kept turning green because I had been adding too much raising agents and it took me a while to figure that out! Although they still tasted nice, I wasn't happy with the images but for some reason, I just kept putting off re-doing them and actually getting the post published. Fortunately, today is the day!
Related posts: 68 best vegan desserts.
I've made countless cupcakes for the blog before so it was quite easy for me to turn one of my vanilla cupcake recipes into a muffin recipe. All I needed to do was increase the amount of flour and adjust the amount of soy milk. And of course, add use muffin cases instead of cupcake cases.
Once I figured out I needed to omit the baking soda, the recipe produced super light and fluffy, moist muffins that were slightly firm on top and had just the right amount of sweetness. Impressive for dairy-free and eggless raspberry muffins, right?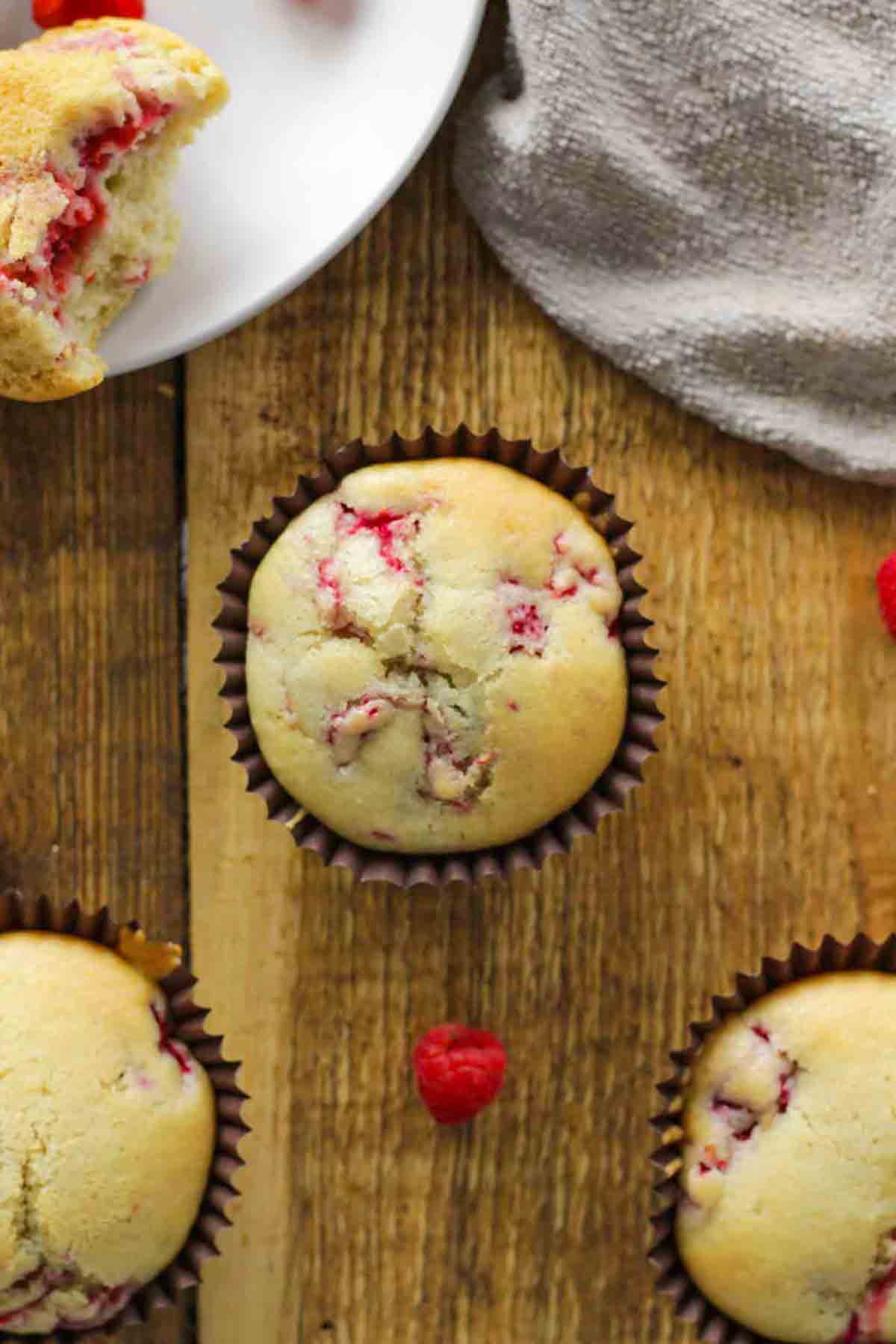 How to make vegan raspberry muffins
Step 1:
The first step is to preheat your oven to 180°C/350°F (or 160°C/325°F if you're using a fan or convection oven).
Next, line a muffin tray with 12 paper liners. I used simple brown ones but you can use the tulip kind if you want them to look super fancy!
Step 2:
In a large bowl, mix together 350g of self-raising flour, 140g of caster sugar and 100g of soft light brown sugar. Technically, sugar is a "wet" ingredient but it works well in this recipe to just mix it in with the dry ingredients. It makes the whole process much quicker and easier too, and it produces less mess. Bonus!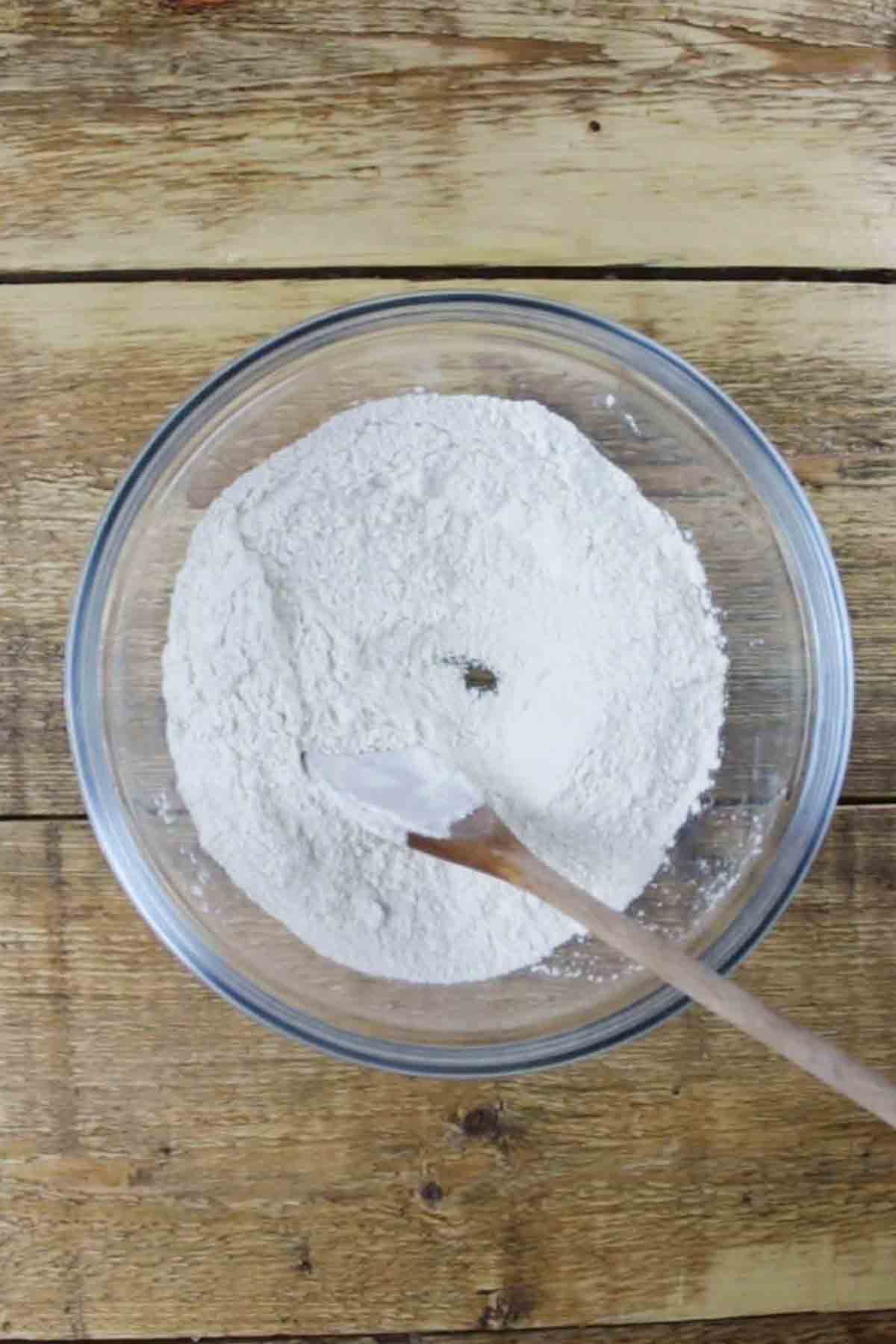 Step 3:
Now add 160ml of melted dairy-free margarine to the bowl, along with 270ml of unsweetened soy milk and 2 teaspoons of vanilla extract. Mix everything together really well, making sure to get any dry mixture from the sides and bottom of the bowl.
Step 4:
Measure out 120g of fresh raspberries and roughly chop them. I used super sweet raspberries.
A top tip to reduce "bleeding" is to coat the raspberries in flour or sugar before adding them to the batter. Make sure it's just a light coating, otherwise it may affect the texture of the muffins.
Add the raspberries to the dairy-free muffin batter and very gently fold them in. I use a rubber spatula to fold them until they are JUST covered.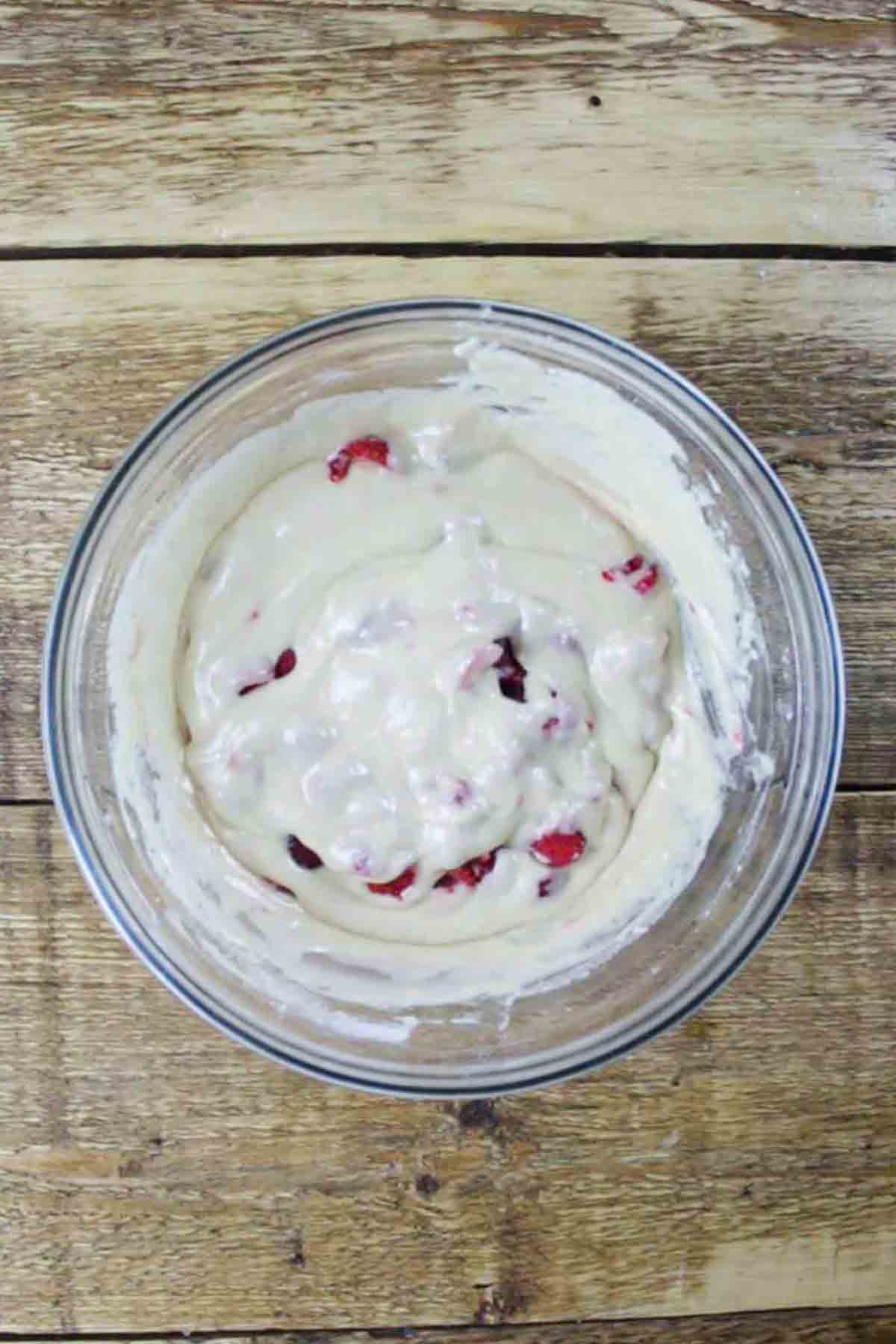 Do not mix or beat them into the batter as the juice from the raspberries will bleed and change the colour. You'll end up with very soggy pink muffins.
Step 5:
Divide the vegan raspberry muffin batter equally between your 12 muffin cases and bake for 20-30 minutes. They should be golden brown on top but you can double-check that they're ready by inserting a toothpick through the centre. If no batter sticks to the toothpick, the muffins are ready to come out of the oven. Transfer them to a wire rack and leave them to cool completely before enjoying.
FAQ:
Can I use frozen raspberries?
I don't recommend that you do so because frozen raspberries will release more water than fresh ones. You want them to be as 'dry' as possible to stop them from bleeding too much and causing soggy muffins!
How should eggless raspberry muffins be stored?
I store them in an airtight container at room temperature. But because raspberries contain a lot of moisture, the muffins will not last very long before going soggy (around 1-2 days). I recommend lining your airtight container with a dishcloth or paper towels to help absorb any moisture.
Can I freeze them?
Yes. I actually prefer vegan raspberry muffins once they have been frozen and defrosted, they're so moist!

To freeze them, I just pop them into an airtight container. I've only ever frozen a few at a time, but if you're freezing a lot at once, I'd recommend either using separate containers or placing a sheet of baking paper in between each layer if you're stacking them. This will prevent them from sticking together as they freeze.

When you're ready to defrost the muffins, just remove them from the container and let them sit at room temperature until fully thawed.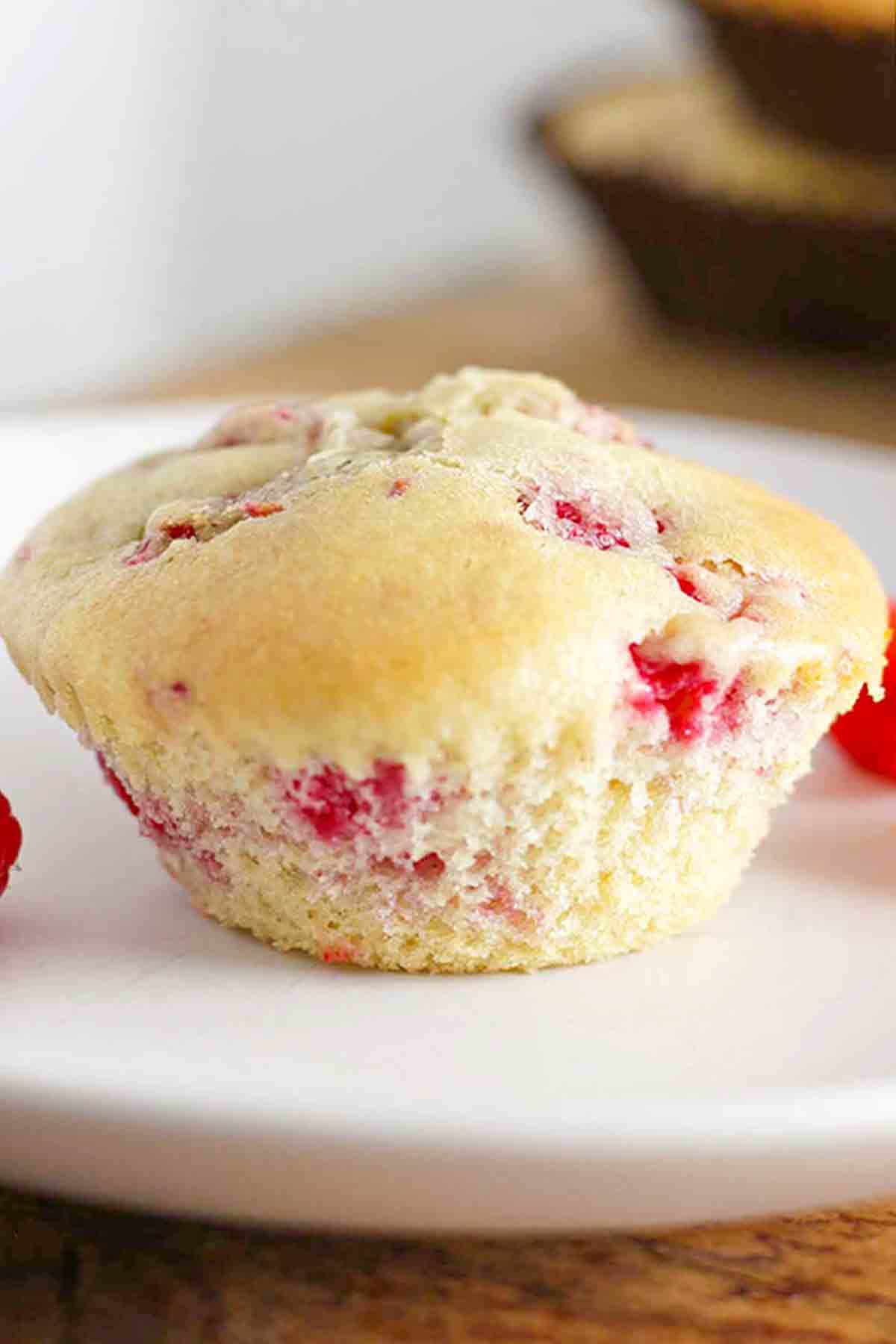 More dairy-free muffins:
I hope you enjoy these eggless raspberry muffins! Please let me know how you get on by leaving a comment and/or a star rating below. Happy baking! xo
Vegan Raspberry Muffins
Moist and fluffy eggless raspberry muffins.
Ingredients
350

g

Self-raising flour

140

g

Caster sugar

100

g

Soft light brown sugar

160

g

Dairy-free margarine, melted

270

ml

Soy milk

2

Teaspoons

Vanilla extract

120

g

Fresh raspberries, roughly chopped
Instructions
Preheat your oven to 180°C/350°F (or 160°C/325°F if you're using a fan or convection oven). Line a muffin tin with 12 muffin cases.

In a large bowl, mix together the flour, caster sugar and brown sugar until there are no lumps left.

Add in the melted margarine, soy milk and vanilla. Mix everything together until you have a smooth batter, making sure to get any dry mixture that may be stuck at the bottom of the bowl.

Add the chopped raspberries to a small bowl and sprinkle over 1/2 tablespoon of flour. Gently mix to combine. This will stop the raspberries from releasing too much moisture into the batter.

Add the raspberries to your muffin batter and gently fold them in. It's important to do this carefully and fold until the raspberries are JUST combined.

Divide the mixture between your muffin cases and bake for 20-30 minutes (this will depend on how deep your tray is). The muffins will rise and become golden brown on top. You can check if they're cooked all the way through by inserting a toothpick through the centre. If it comes out clean, they're ready.

Transfer the muffins to a wire rack and let them cool completely before enjoying.
Recipe Notes
Store at room temperature in an airtight container, lined with a dishcloth or paper towel. This will prevent the muffins from going soggy too quickly.
Nutrition Facts
Vegan Raspberry Muffins
Amount Per Serving (1 muffin)
Calories 266
Calories from Fat 81
% Daily Value*
Fat 9g14%
Sodium 44mg2%
Carbohydrates 41g14%
Protein 4g8%
* All values are an estimate only and will vary depending on the food brands used.
BakedByClo is a participant in the Amazon Services LLC Associates Program, an affiliate advertising program designed to provide a means for sites to earn advertising fees by advertising and linking to Amazon.com. This site may contain some of these links to Amazon.com & other affiliate programs. If you make a purchase through one of those links, BakedByClo will receive a small commission from the purchase at no additional cost to you.