68 Best Vegan Desserts
This huge list of vegan desserts includes something for everyone! We've got layer, sheet and loaf cakes, cupcakes, cookies, candies and more! Whether you're a fully committed vegan or just dabbling in dairy-free and eggless desserts, you'll definitely find a new favourite dessert recipe or two here!
I have been meaning to make this post for THE longest time! I set up this dessert blog a few years ago and since then, I have created hundreds of recipes for vegan desserts. It's about time that all of the best and most popular ones were together in one place!
I've picked out 68 of my favourite vegan desserts for you to try. They are grouped into categories and I've included a table of contents below to help you navigate your way through the page a little easier.
Enjoy!
More dessert round-ups:
Layer Cakes
This is by far my most popular recipe on the blog, and for good reason! It's made up of 3 layers of slightly spiced sponge with Biscoff crumbs throughout, and is topped with the most delicious Biscoff buttercream frosting!
Calling all green tea lovers, this one's for you! This is a super simple 2-layer matcha flavoured cake with vanilla buttercream. It's not overly sweet so is perfect for those seeking a more subtle vegan dessert.
Of course, this classic just had to be included. It's a super moist cake filled with nuts and spices, and it tastes fantastic paired with cream cheese frosting.
This is one of my family's favourite recipes of mine. The chocolate icing is super fudgy and tastes great paired with the fluffy chocolate sponge.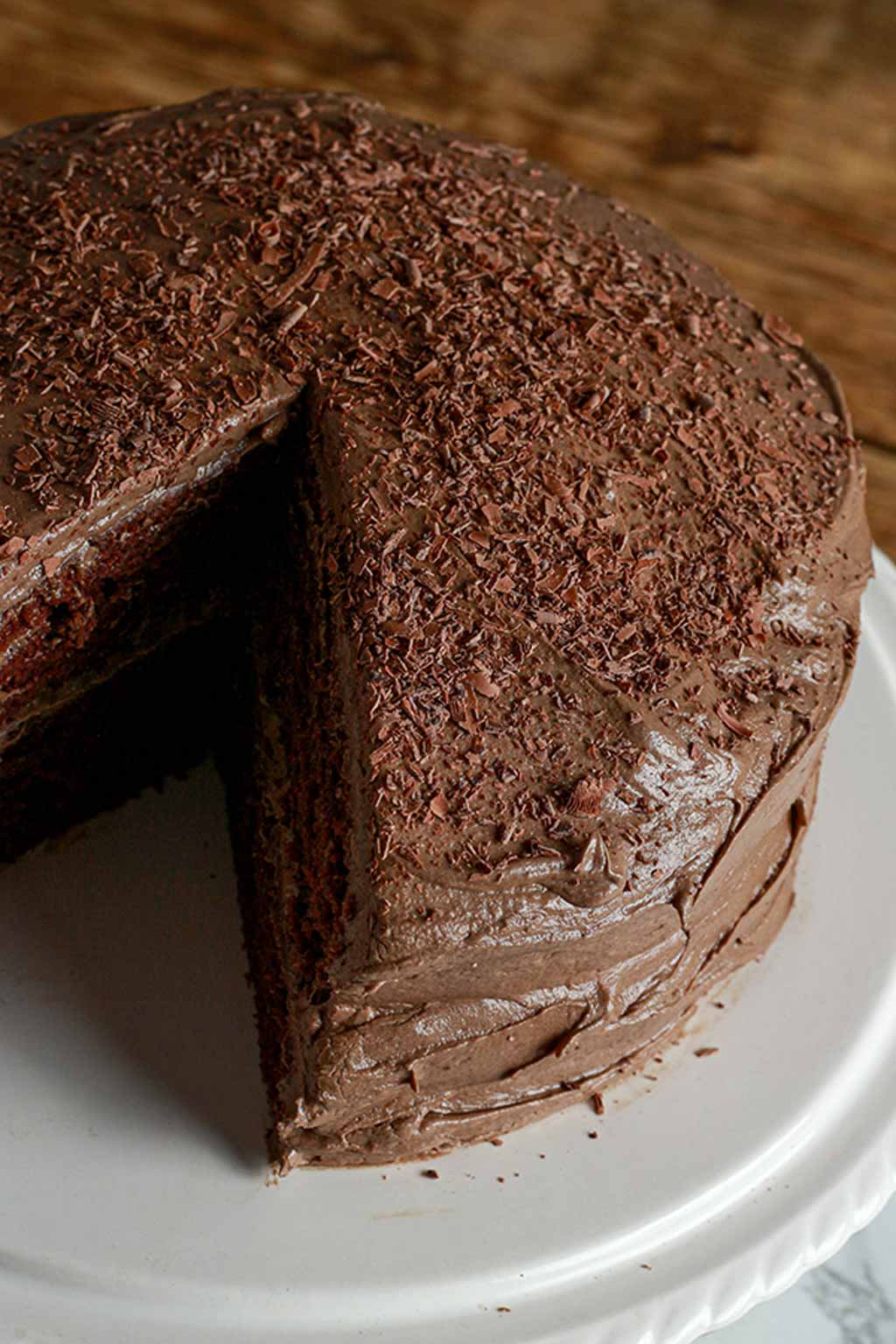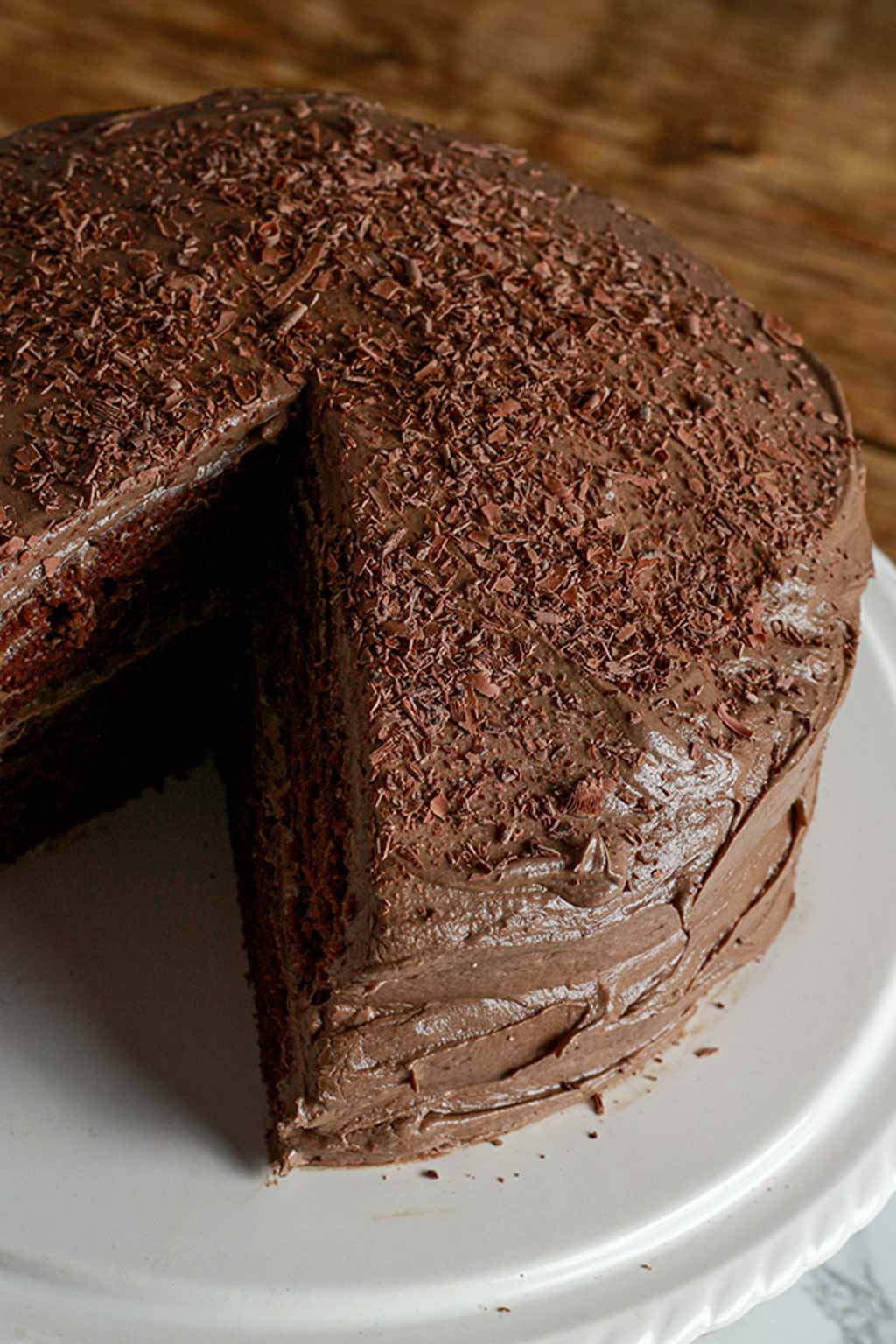 Unlike the streusel version of the cake from the USA that you drink with coffee, this one is flavoured with real coffee. It's filled and topped with a sweet coffee buttercream too.
Another British classic, the Victoria sponge! Fill it with strawberry jam and vanilla buttercream, or try whipped coconut cream as an alternative.
The flavour of red velvet is a mix of vanilla and a slight hint of chocolate. It's also one that goes really well with cream cheese frosting, and the vibrant colour is always a crowd pleaser.
This one is a little Christmassy, but who's to say that you can't eat Yule log all year round?! It's a rolled chocolate sponge cake that's filled with vanilla buttercream and covered with chocolate ganache. I have a vanilla and Biscoff version too!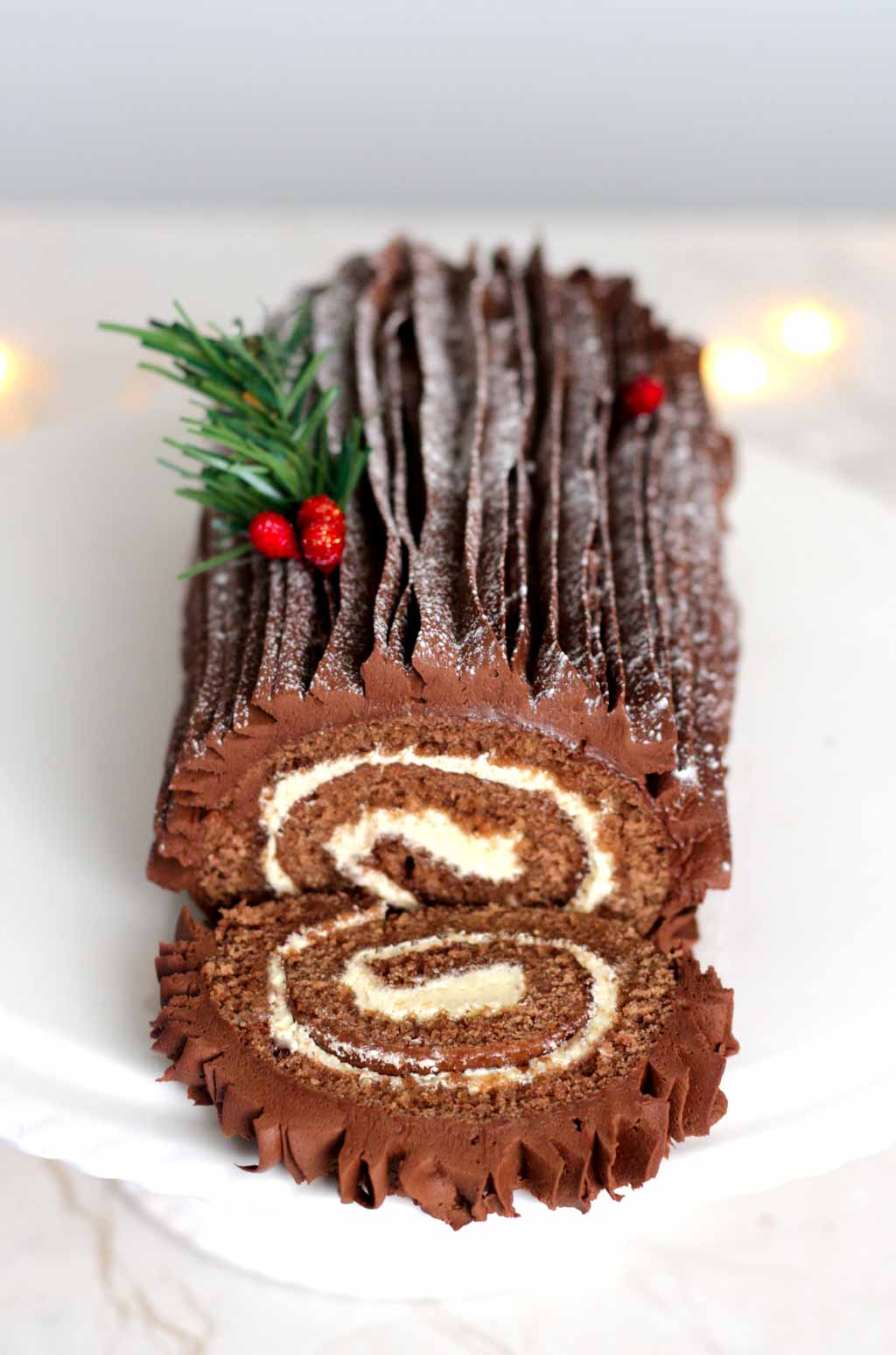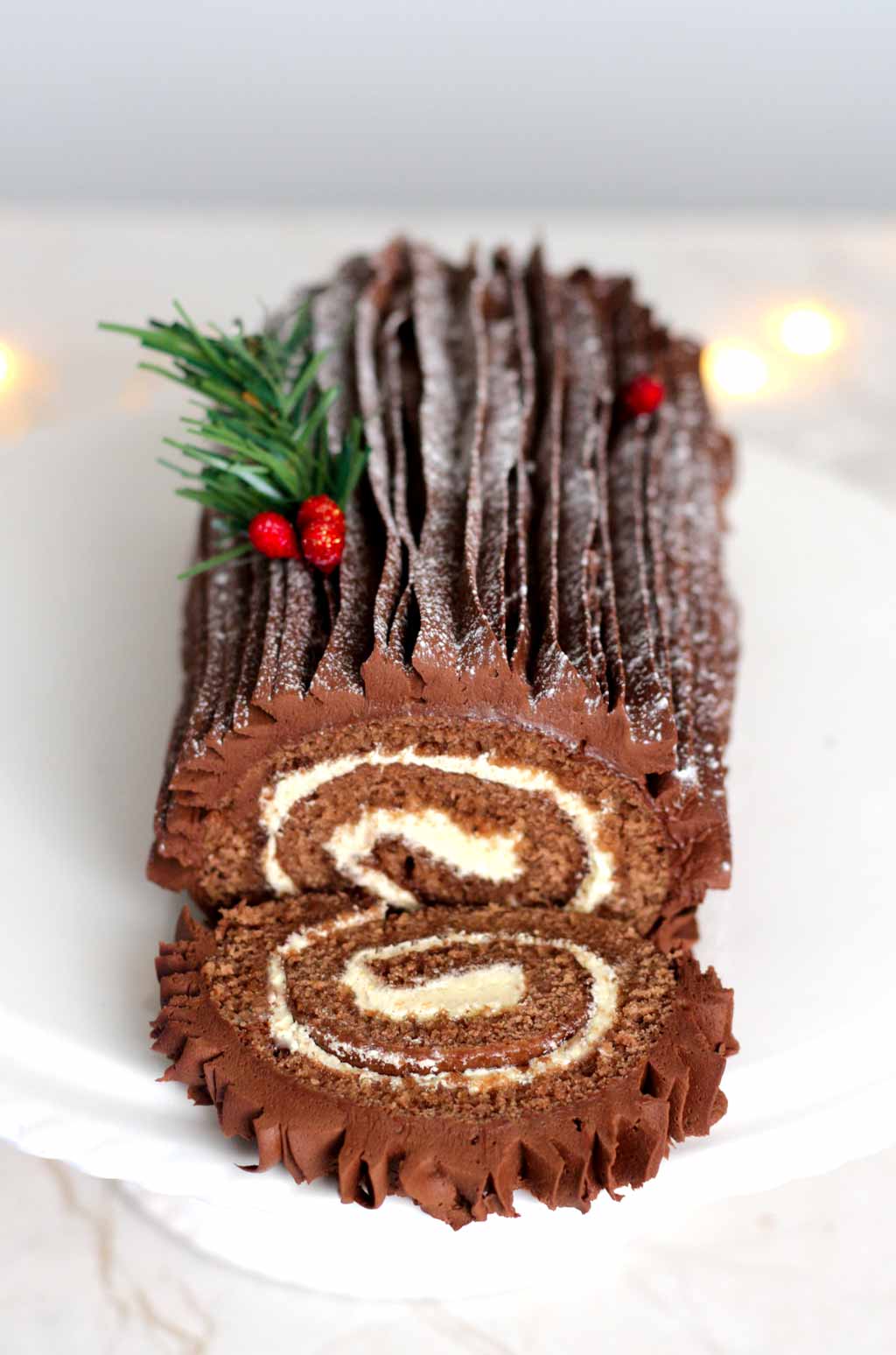 Sheet and loaf cakes
This one is my second most popular recipe on this blog! It's a super moist lemon cake baked in a sheet pan, topped with a lemon-sugar drizzle and icing.
This cake is great all year round but particularly around Autumn/Winter time. Paired with cream cheese icing, this tastes like a richer, more spiced version of carrot cake.
A simple chocolate sheet cake with chocolate ganache frosting.
This vanilla cake is perfect for children's birthday parties. It's so simple but so delicious and it always tends to be a crowd pleaser!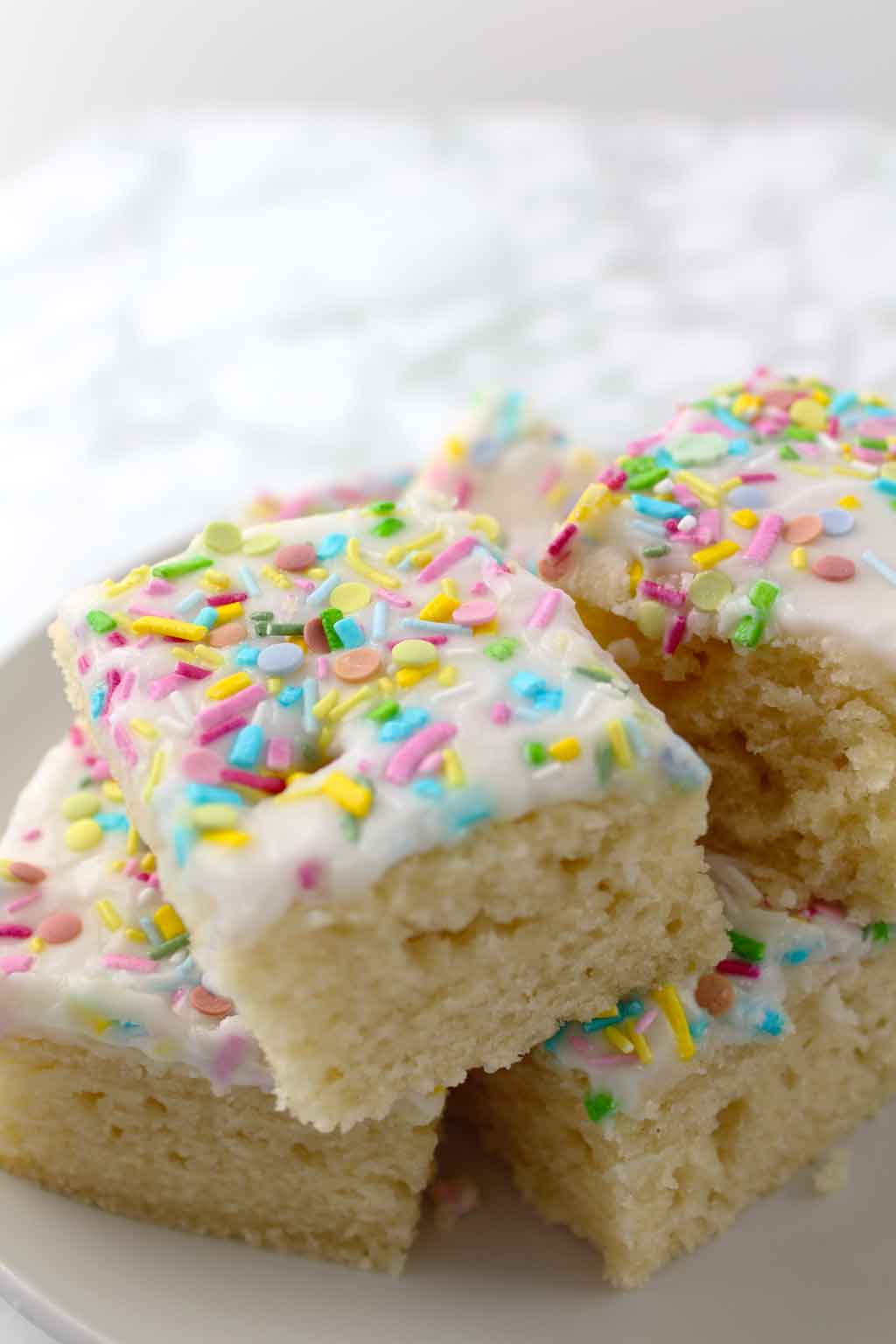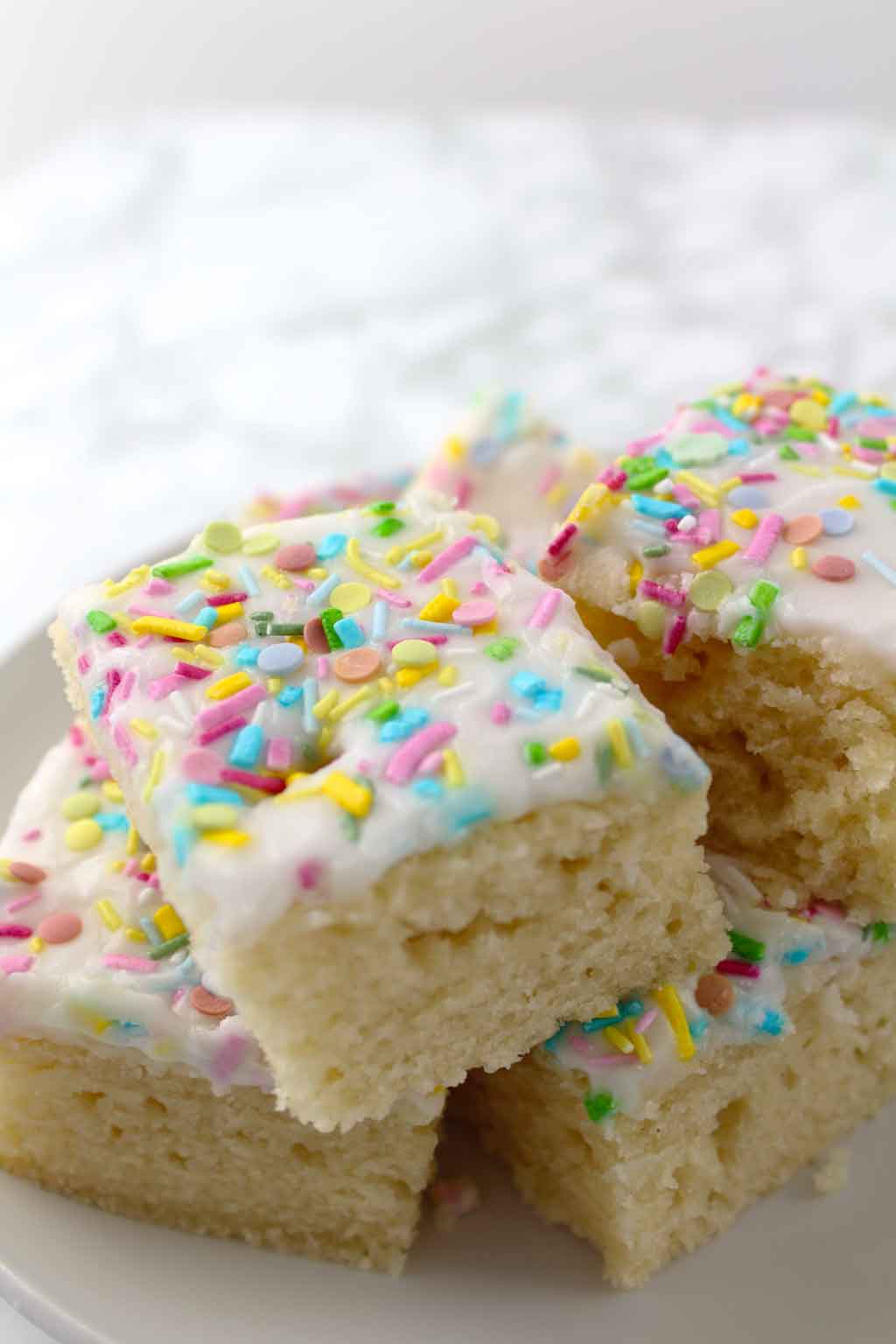 This one is very similar to my lemon drizzle cake but it's made with oranges and baked into a loaf instead!
A vegan, chocolatey twist on the classic banana bread loaf.
See all vegan cakes.
Cupcakes
Light and fluffy vanilla cupcakes with a hint of chocolate and lots of red food colouring! Pair them with cream cheese icing for a beautiful contrast.
Lightly spiced cupcakes topped with creamy Biscoff buttercream.
Rich chocolate cupcakes with Oreo crumbs throughout, topped with vanilla buttercream and mini Oreos.
Light, fluffy chocolate sponge cakes with chocolate buttercream on top. A simple, classic dessert that's super easy to make.
A classic staple that every vegan baker should have in their recipe book! Vanilla cupcakes with vanilla buttercream.
Bite-sized versions of the carrot layer cake!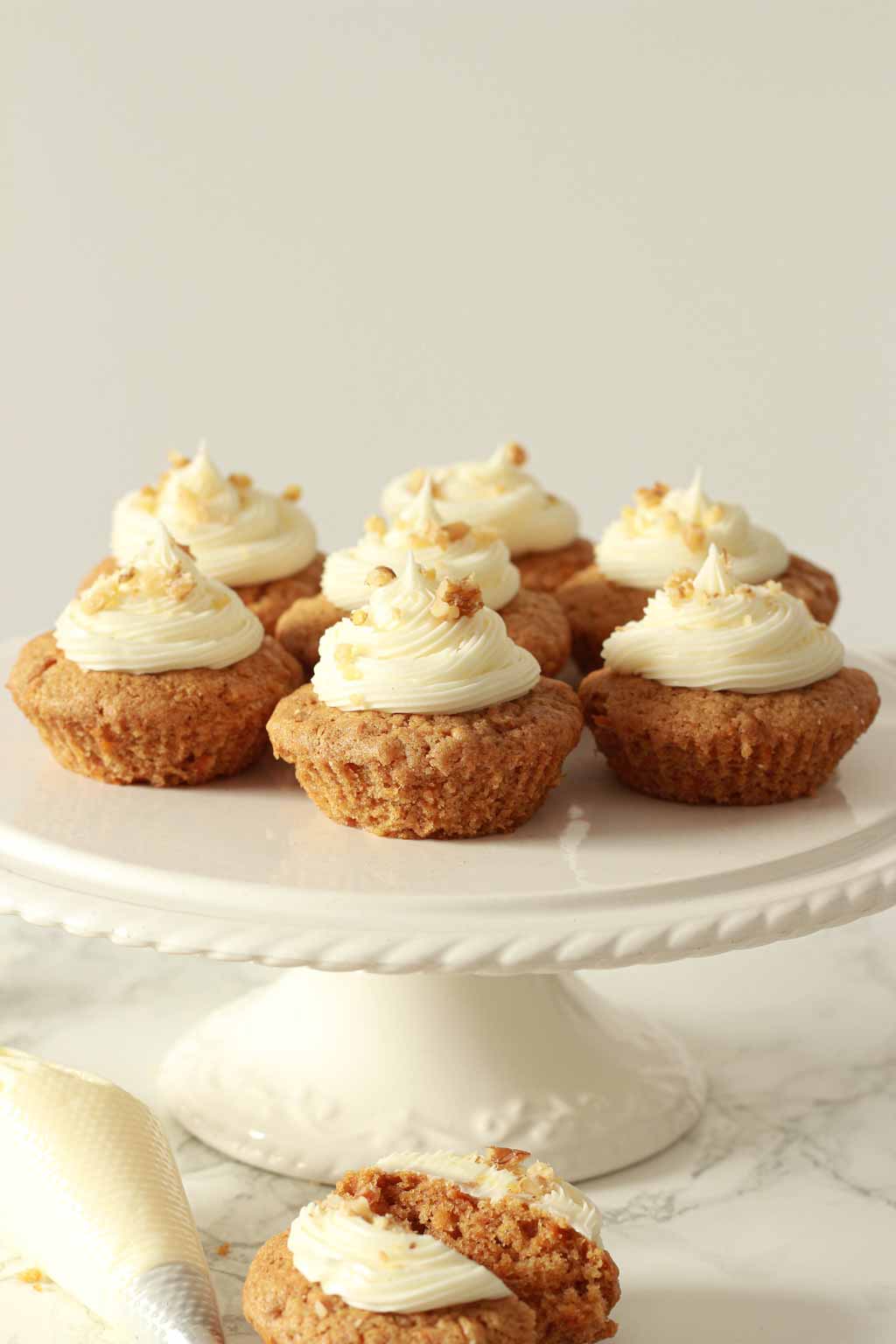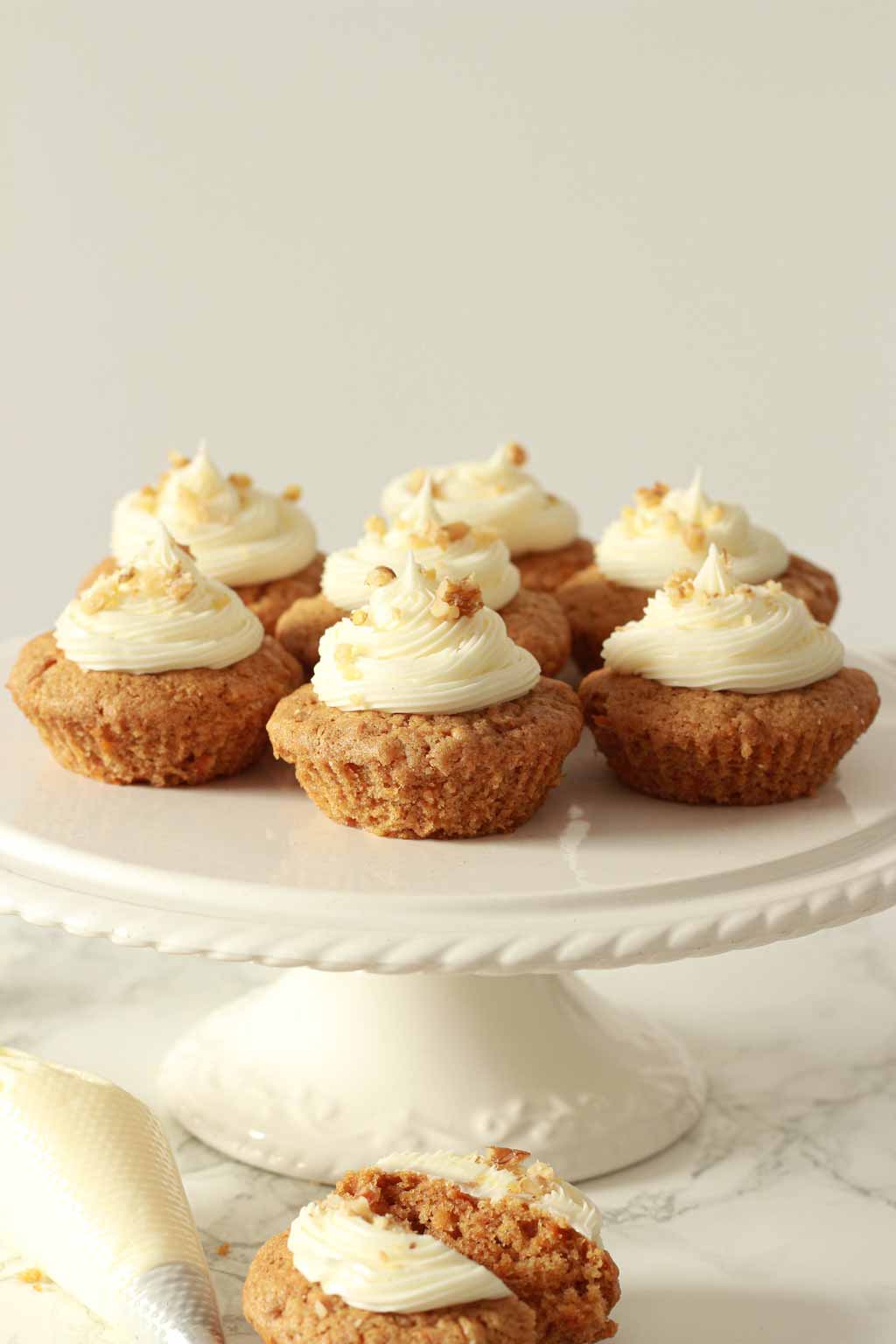 Funfetti or confetti cupcakes are essentially just vanilla cupcakes with sprinkles in them! They're great for birthday parties and other special occasions.
A light, chocolate sponge cake topped with creamy Biscoff buttercream.
Filled with warming spices, these cupcakes are great around the festive period!
See all vegan cupcakes.
Cheesecakes
This cheesecake consists of a sweet Oreo base and a decadent cookies and cream filling.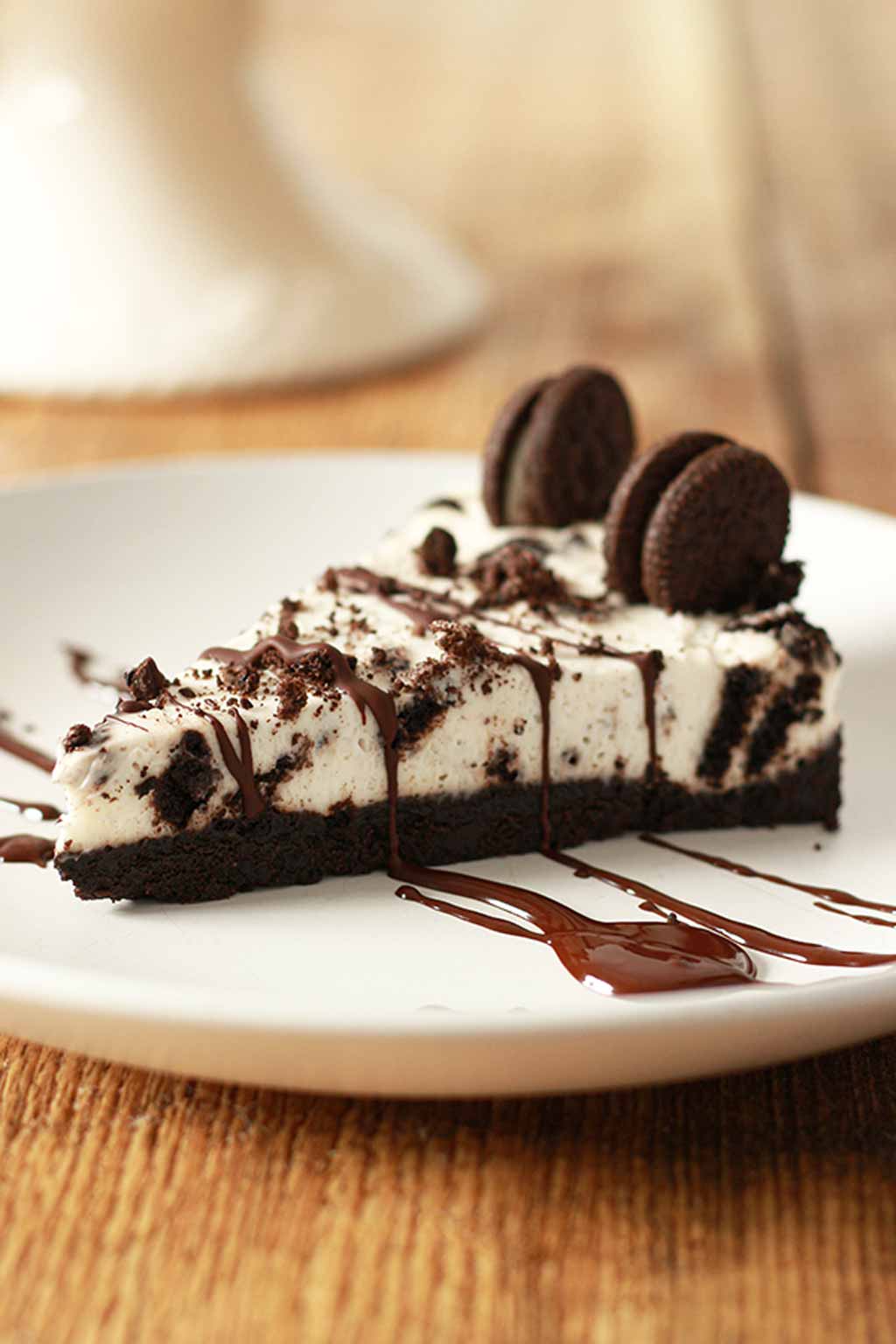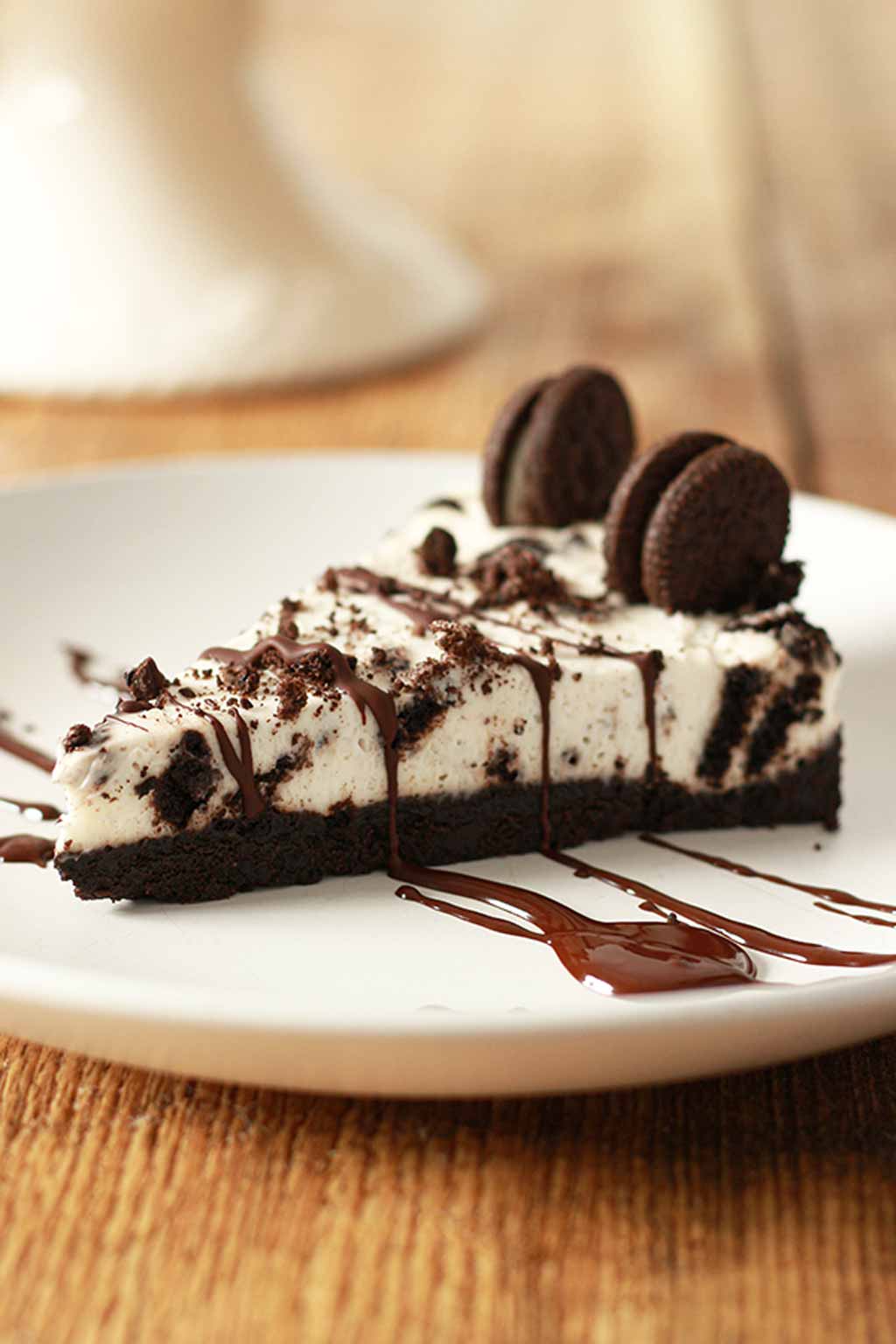 Biscoff is a caramelised cookie flavour also known as speculoos. The base for this cheesecake is made up of Biscoff cookies and melted vegan butter, and it's filled with a sweet, cheesy Biscoff filling.
This one is fun to make with children at Easter! It's a vegan vanilla cheesecake made inside of a chocolate egg shell.
Pies and tarts
This is a British classic that's perfect for any occasion. It's a short-crust pastry base filled with eggless frangipane and cherry conserve.
Also known as Dutch apple pie, this apple pie is covered with crunchy streusel topping!
A no-bake pie with a Digestive biscuit base, a toffee/caramel filling, a layer of bananas and a layer of fresh cream (dairy-free in this case).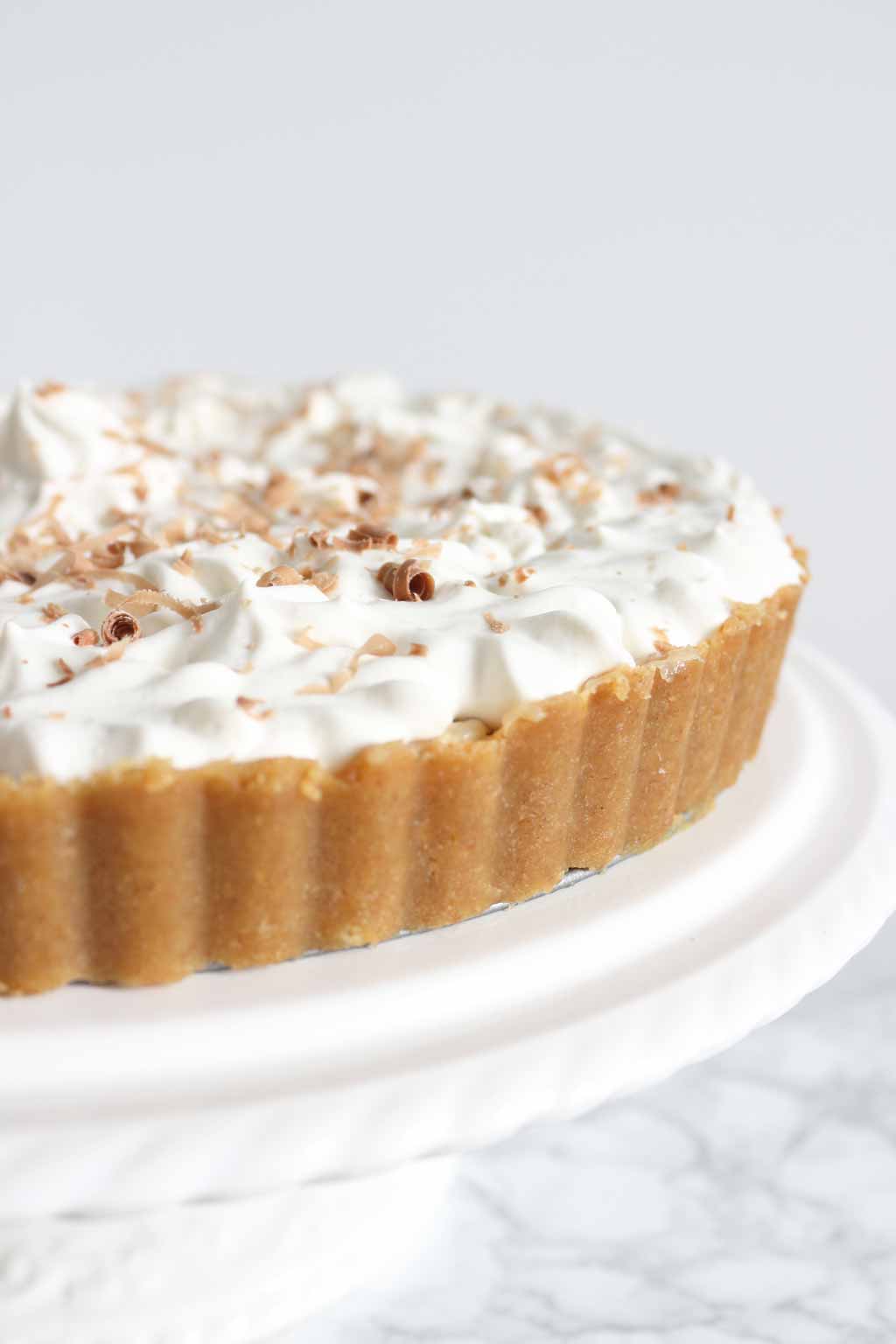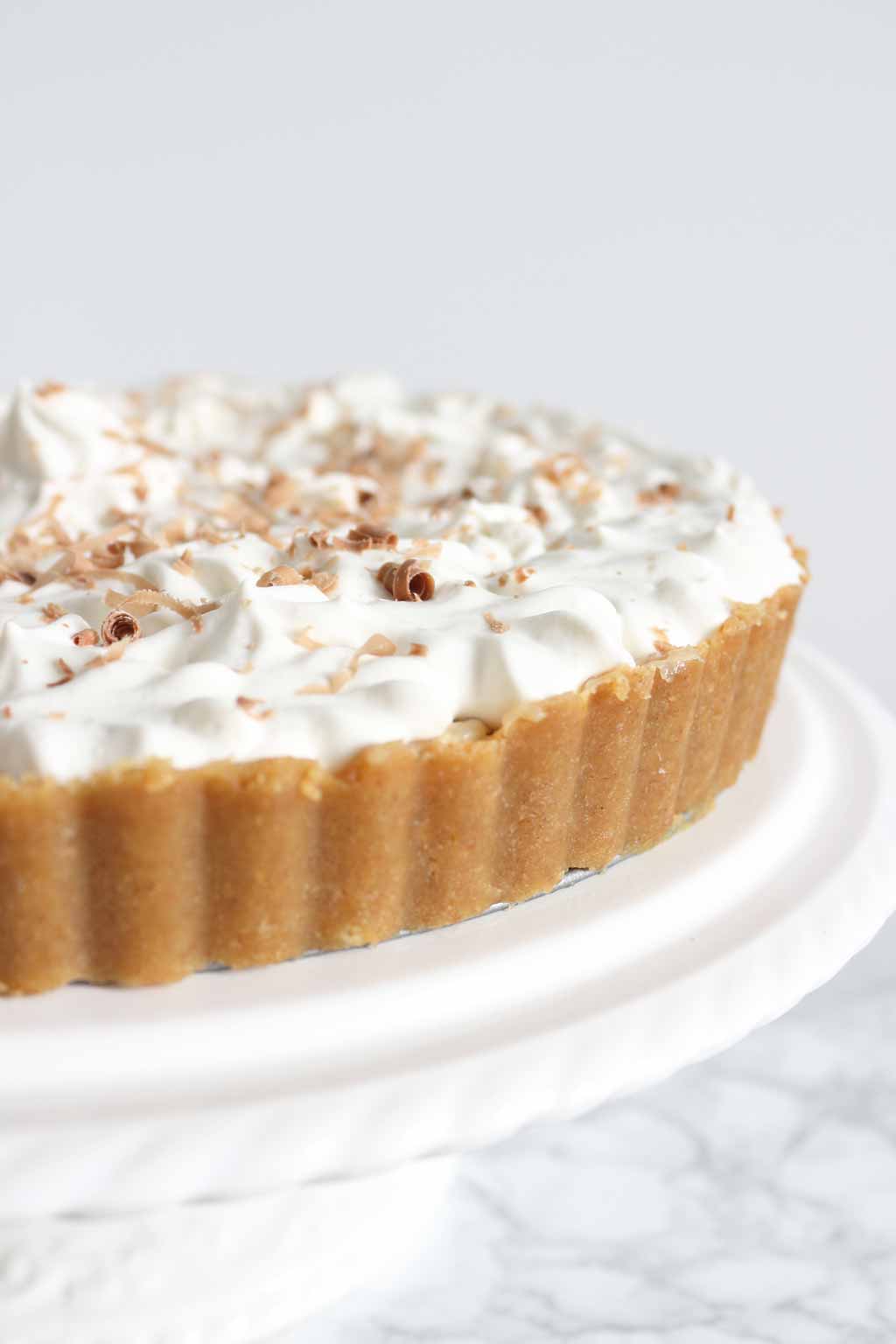 A chocolate orange ganache-filled pastry tart that's super easy to make!
This tart uses "cheat's" caramel to make a dessert similar to the retro school caramel tart!
Strawberry tarts are a Scottish classic. They're so easy to make vegan by using whipped coconut cream and dairy-free butter.
Brownies
These brownies are super fudgy and chewy, with that classic "papery" brownie top. They're filled with a mix of white and dark vegan chocolate chips and you'll never be able to tell they're made without eggs or dairy!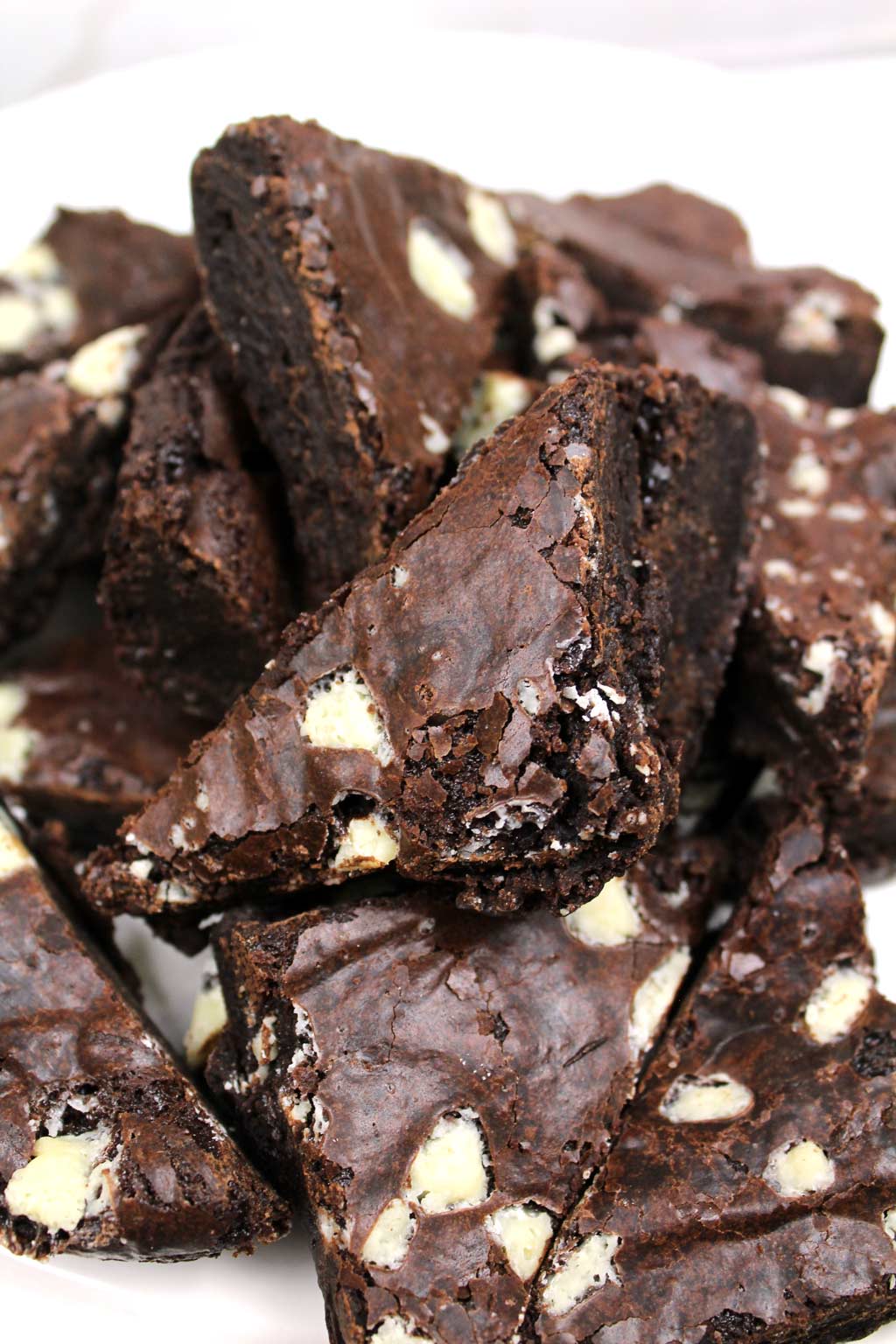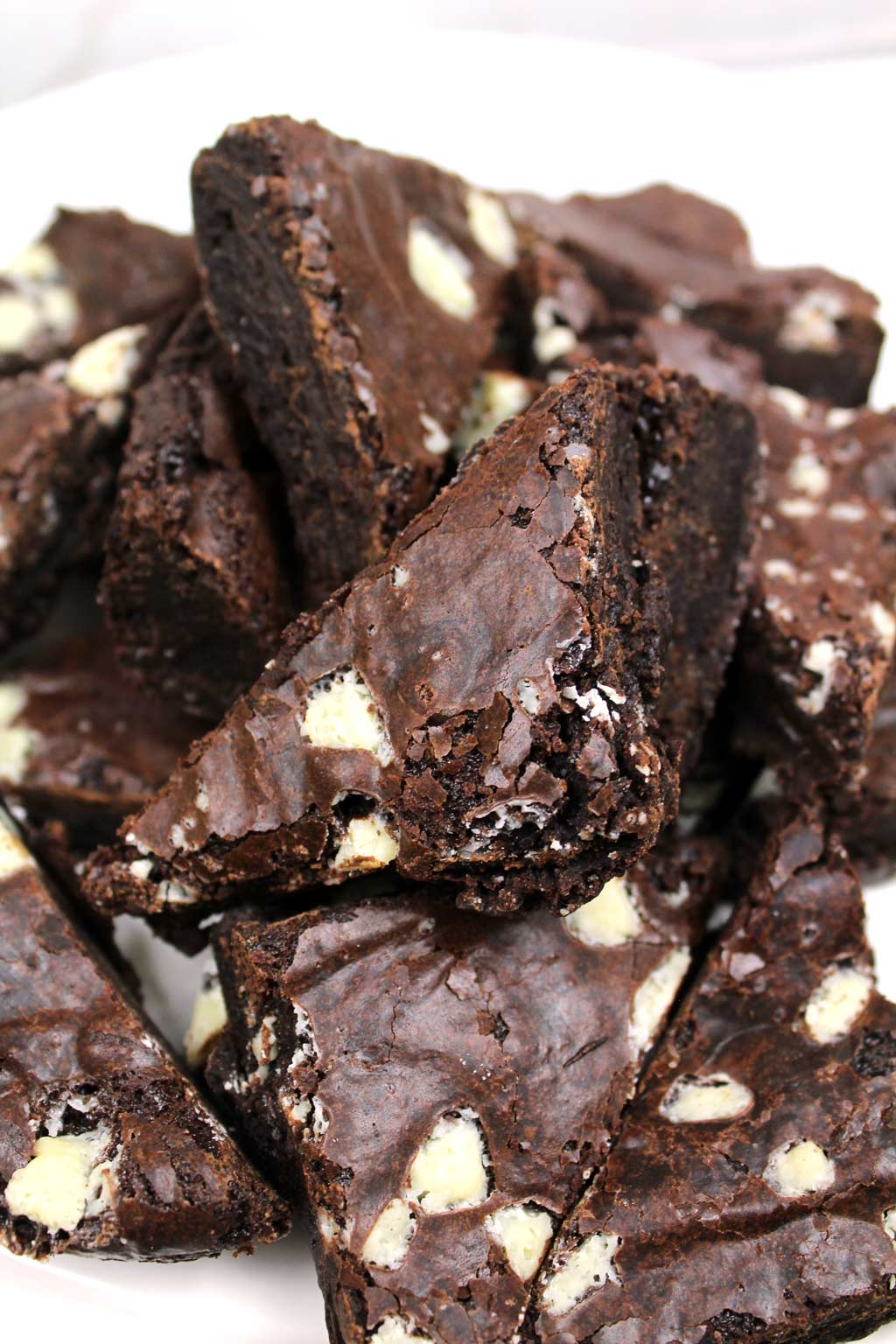 The same as the brownies above, just with a hint of orange!
If you're looking for a healthier version of vegan brownies, this is the recipe for you! These don't have the exact same texture as traditional brownies but they definitely taste delicious enough to fill the brownie-shaped hole in your heart if you're eating healthier.
A quick, single serving brownie that can be made in the oven or a microwave.
A fun and colourful vegan-friendly alternative to Smarties cookies!
These cookie bars are something a little different to the standard cookie. I made them with dairy-free chocolate eggs for Easter but you can swap those for any other mix-in that you like.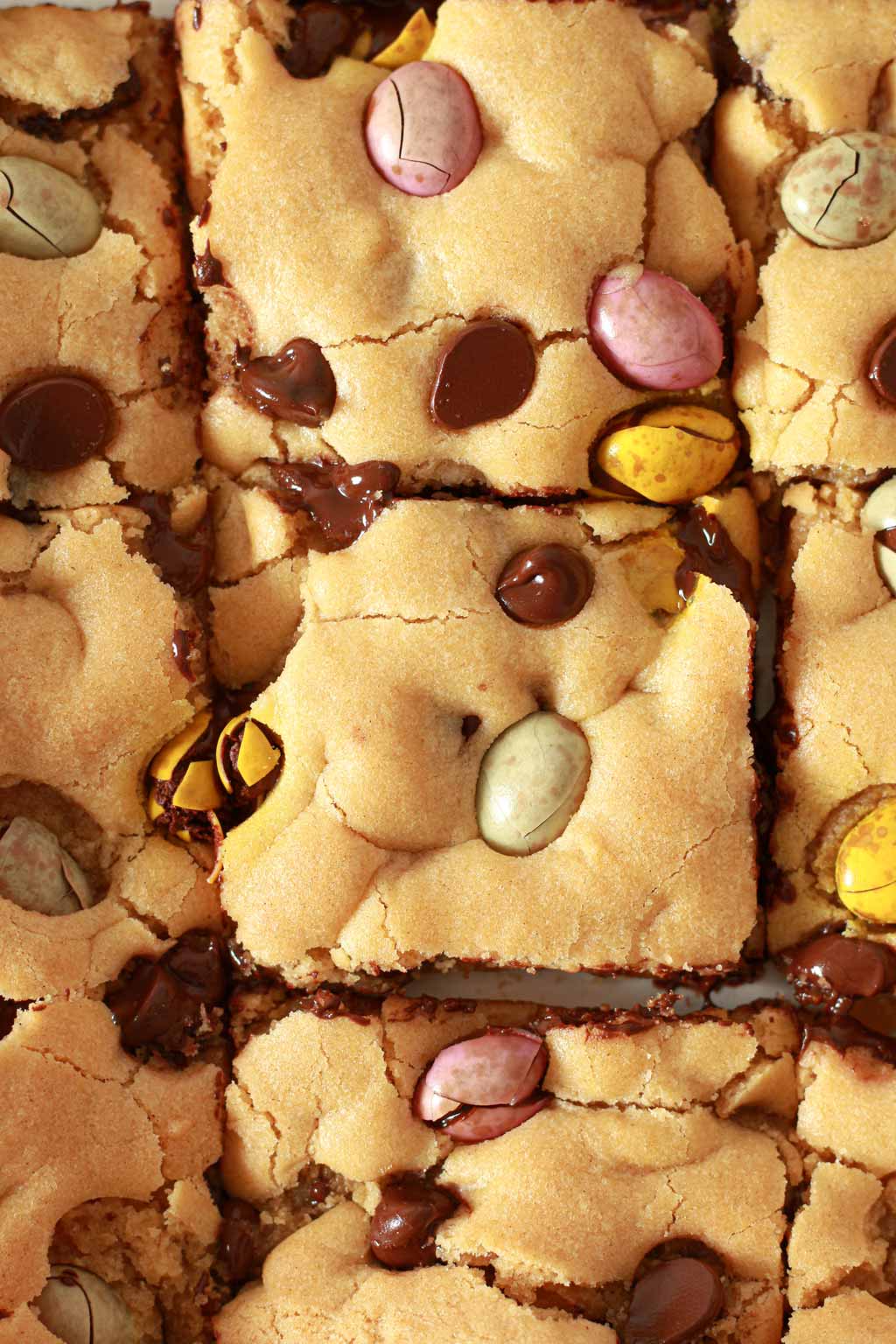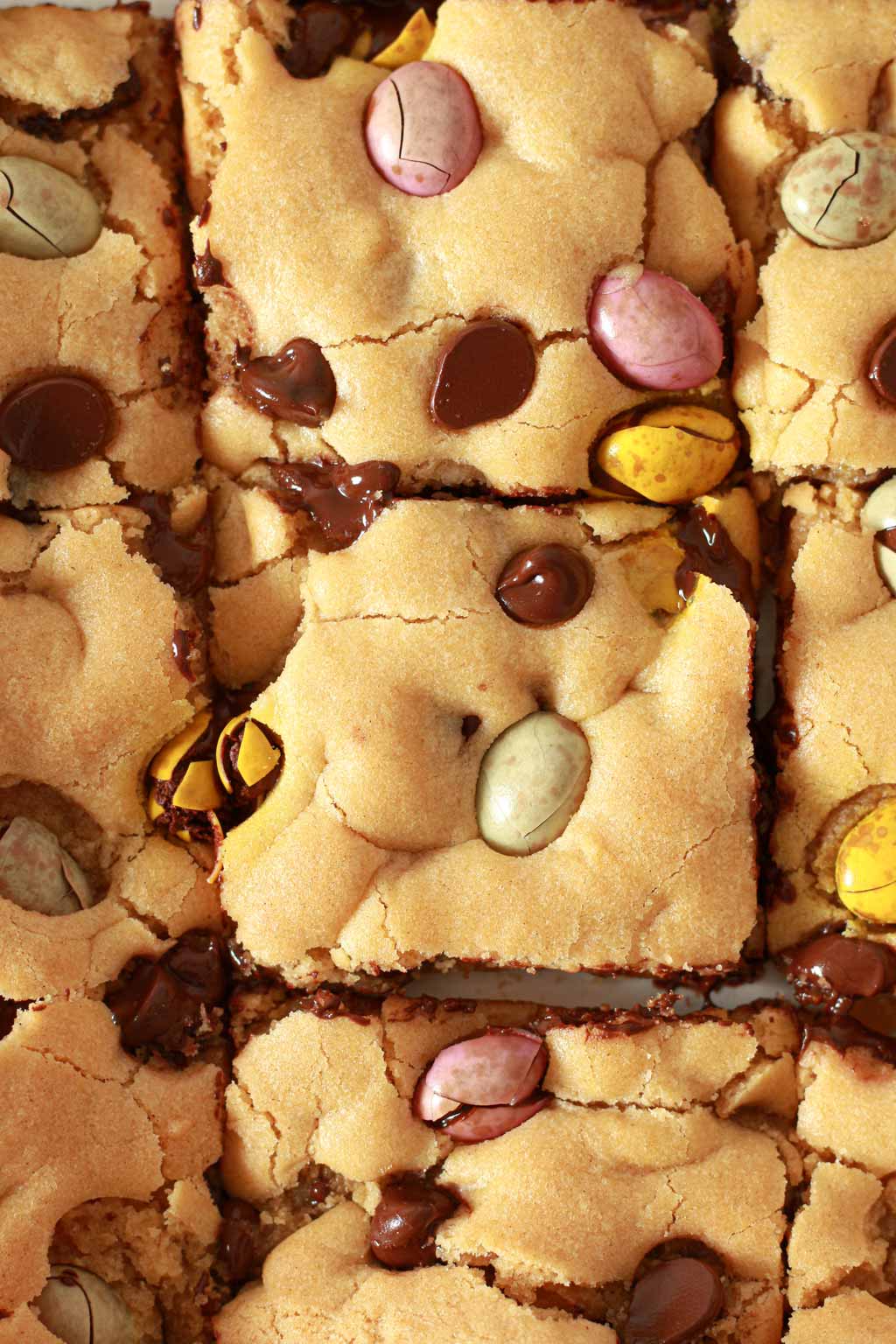 This vegan shortbread is about as close to the traditional version you can get without using dairy. It's crumbly, crunchy and has just the right amount of sweetness.
The most classic vegan dessert out there! Chewy chocolate chip cookies.
Technically, you could call these triple chocolate cookies. These chocolate flavoured cookies are filled with both white and dark chocolate chips.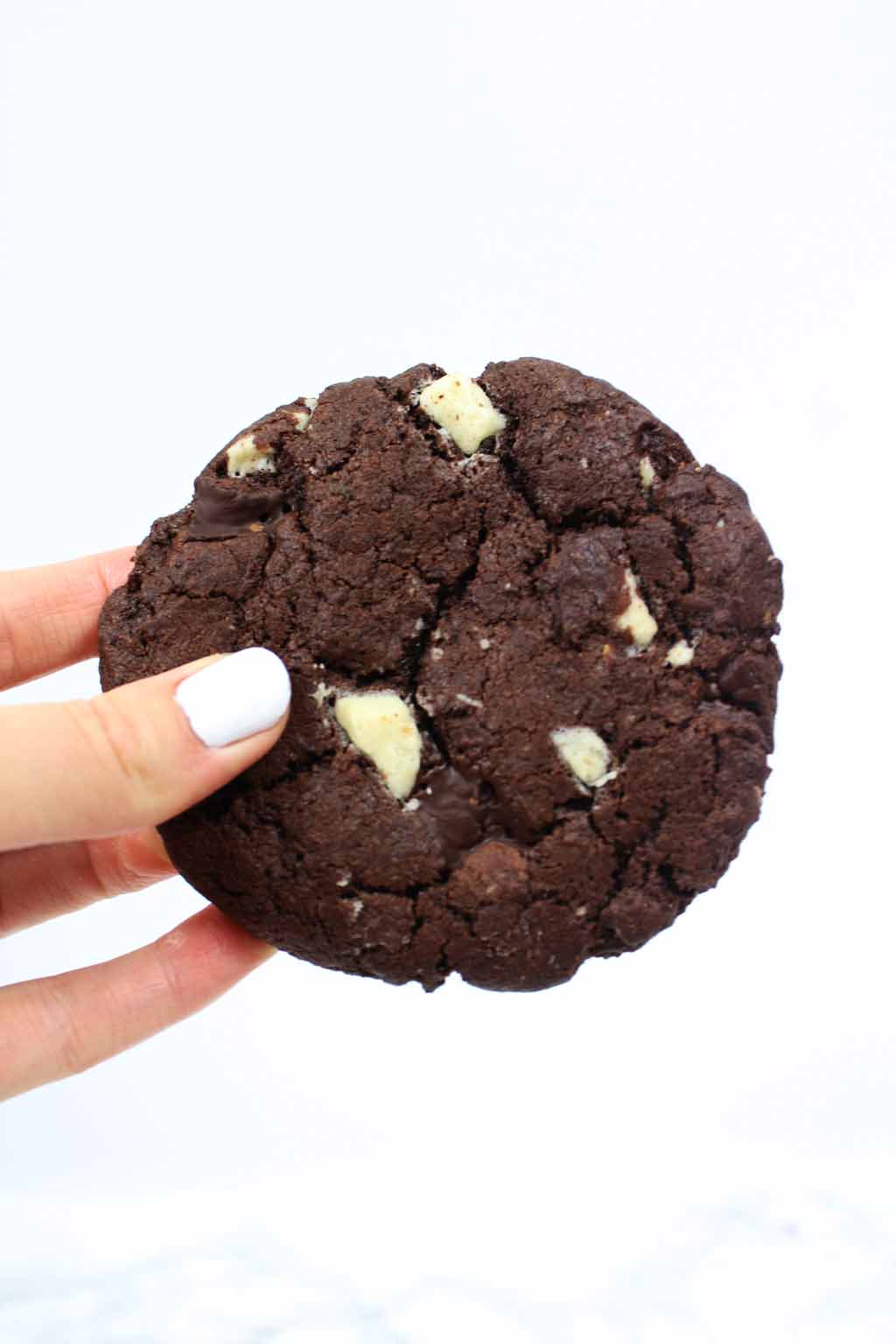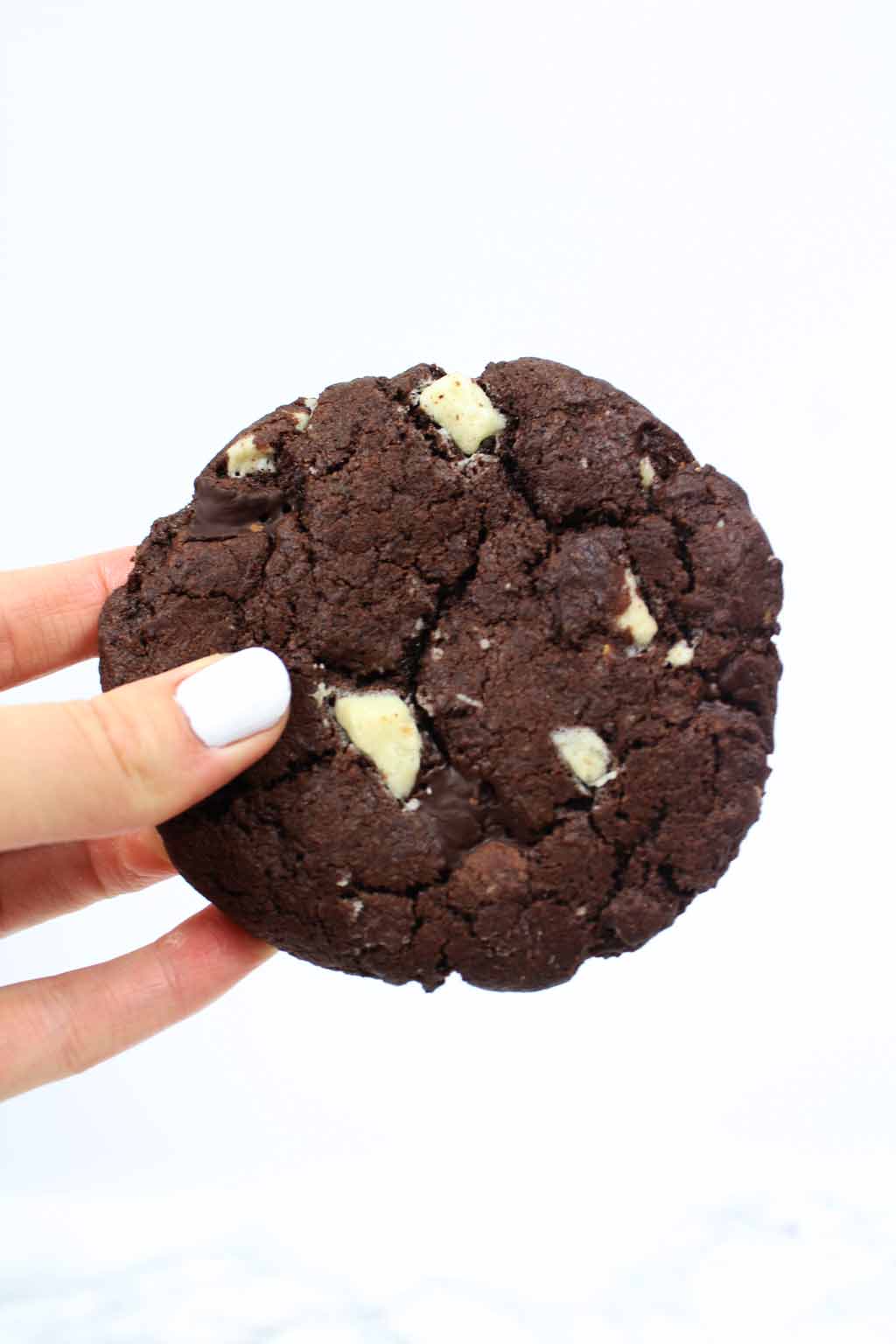 One of my most popular cookie recipes, these white chocolate cookies taste just like the bakery style!
Crunchy cinnamon flavoured cookies that can be rolled and cut into any shape you like.
Soft and chewy ginger flavoured crinkly cookies! Great for ginger lovers.
A chocolatey twist on my classic shortbread recipe.
Another Scottish dessert, Empire biscuits are jam-filled shortbread rounds topped with icing and a jelly sweet.
If you love red velvet desserts, you'll love these cookies! They're packed with white chocolate chips which make a beautiful contrast.
A basic, neutral-tasting cookie that makes the perfect base for decorating with royal icing.
Perfectly sweet peanut butter cookies with a nice chewy bite. These are so easy to make with just 8 basic ingredients.
If you miss Pizza Hut's skillet cookie dough, I've got you covered! Served warm with vanilla (dairy-free) ice cream, this copycat recipe tastes almost identical. And the best part is, when it cools down, it turns into a chewy cookie!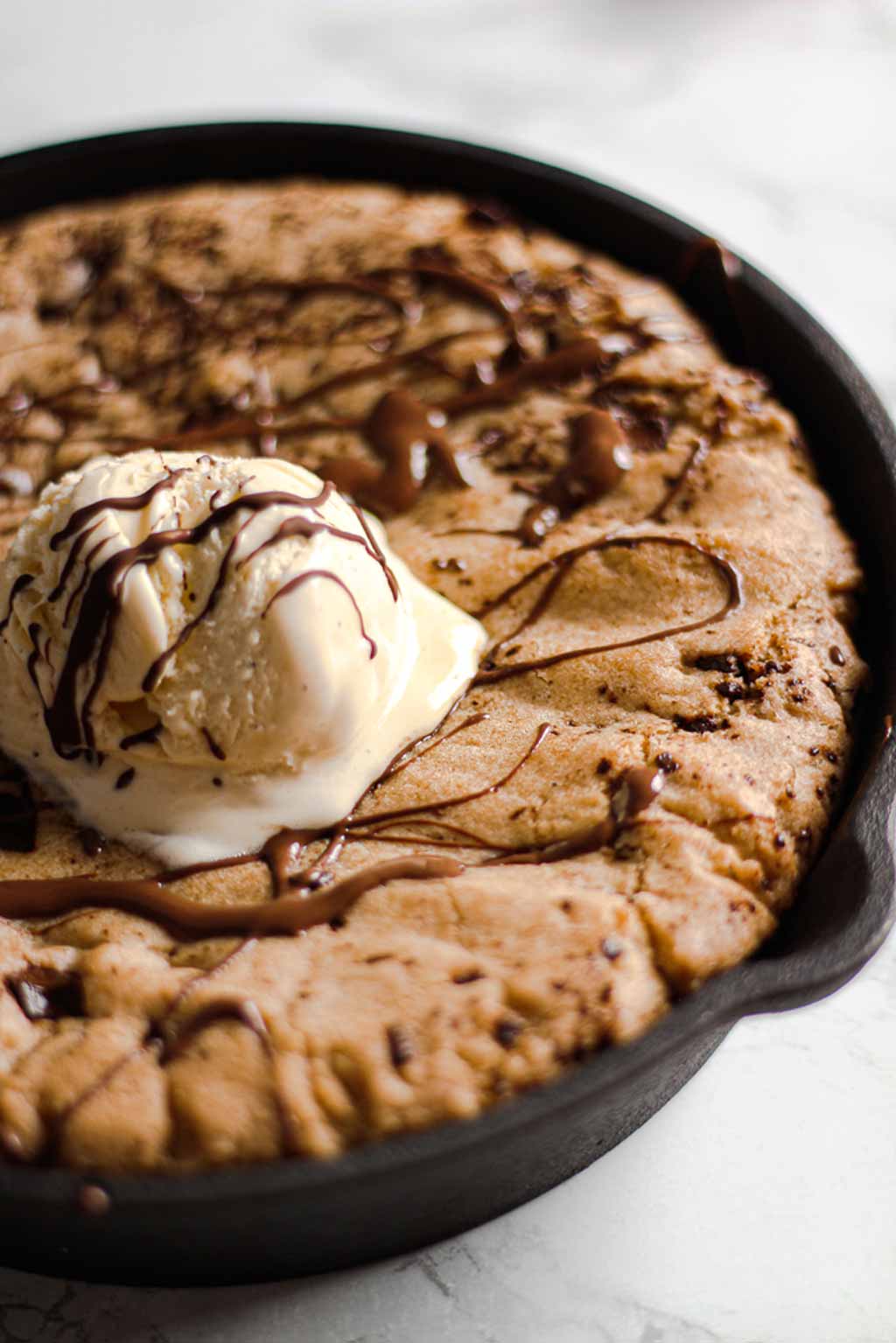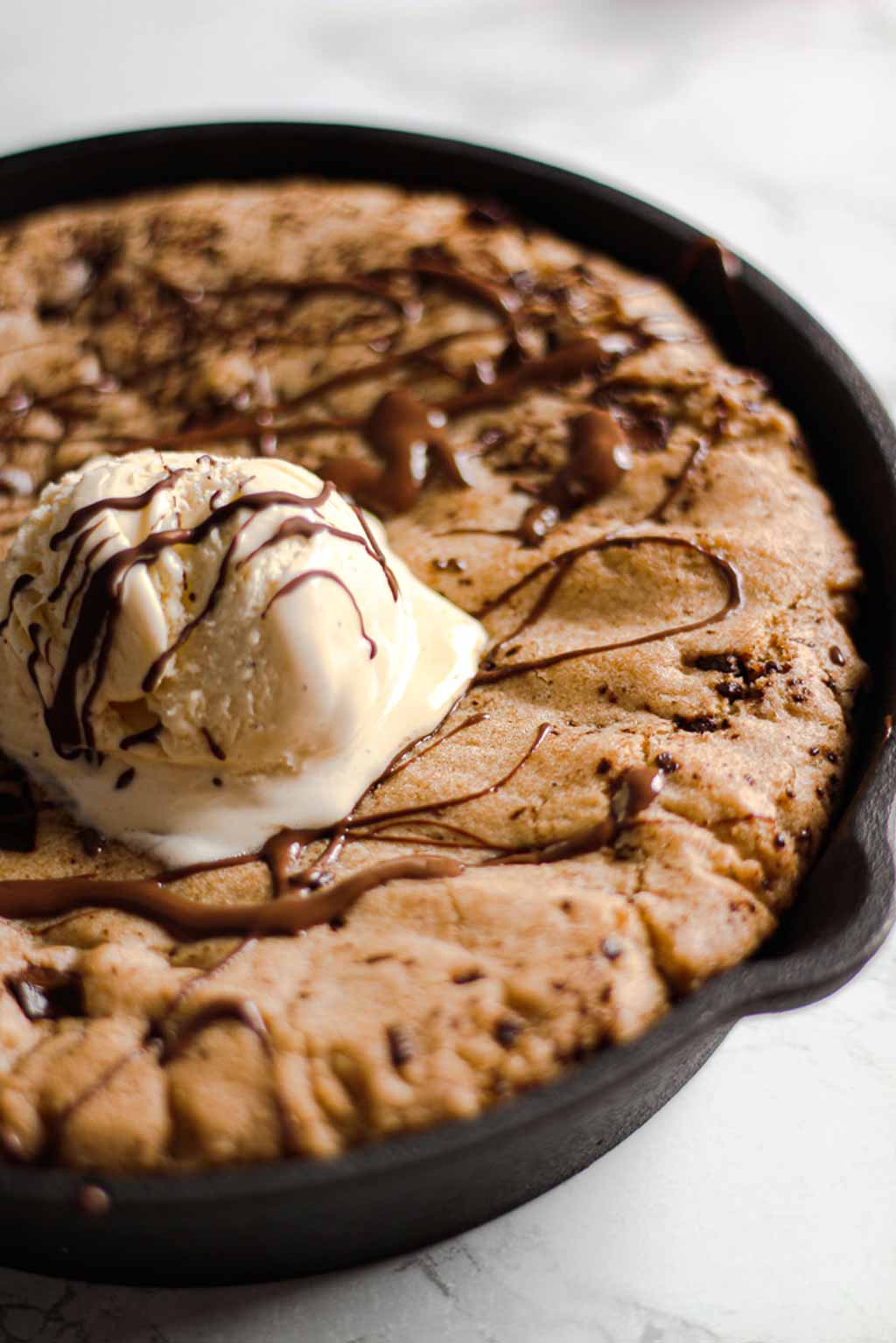 Afternoon-tea style recipes
Basic, fluffy scones that are great for serving with vegan cream and jam.
Filled with chunks of raspberries and drizzled with vegan white chocolate, these scones bring something a little different to an afternoon tea!
If you're looking for oil-free scones, these are the ones for you. They're made only with coconut cream and self-raising flour and they are super easy to make!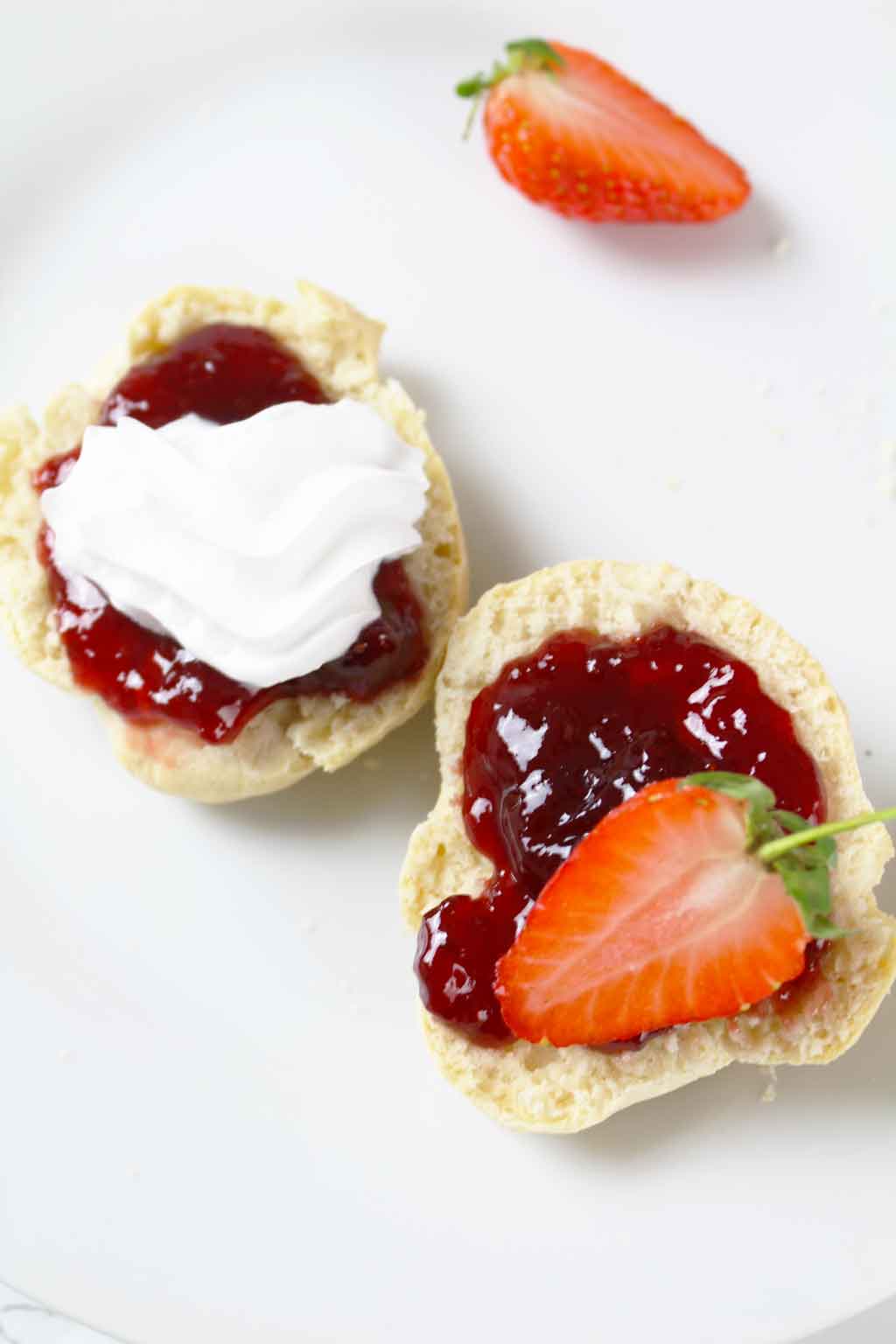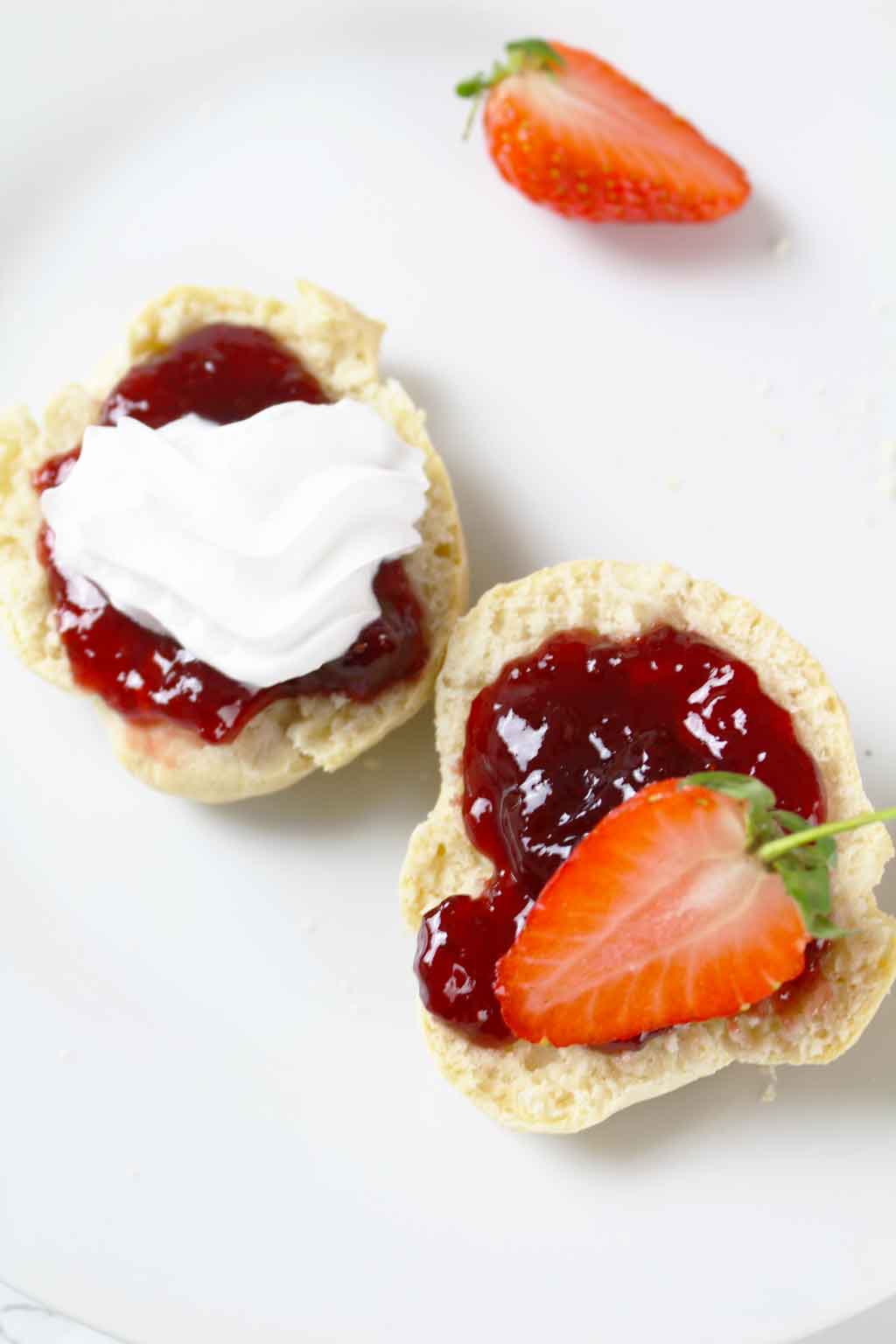 Bite-sized versions of a traditional lemon drizzle loaf.
French-style macarons made with aqua faba instead of eggs. These are tricky to make even the traditional way but these detailed step-by-step instructions will help you get there!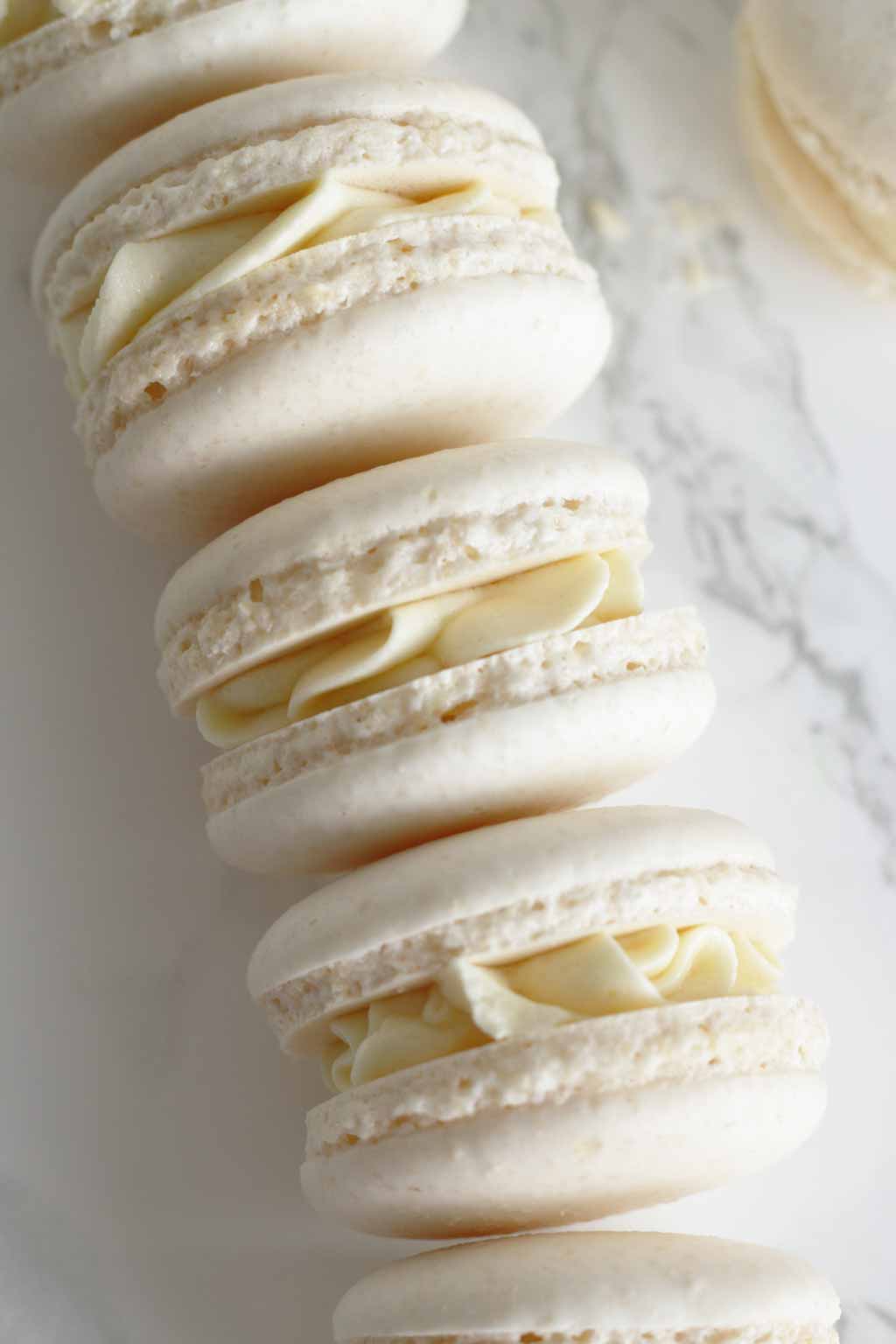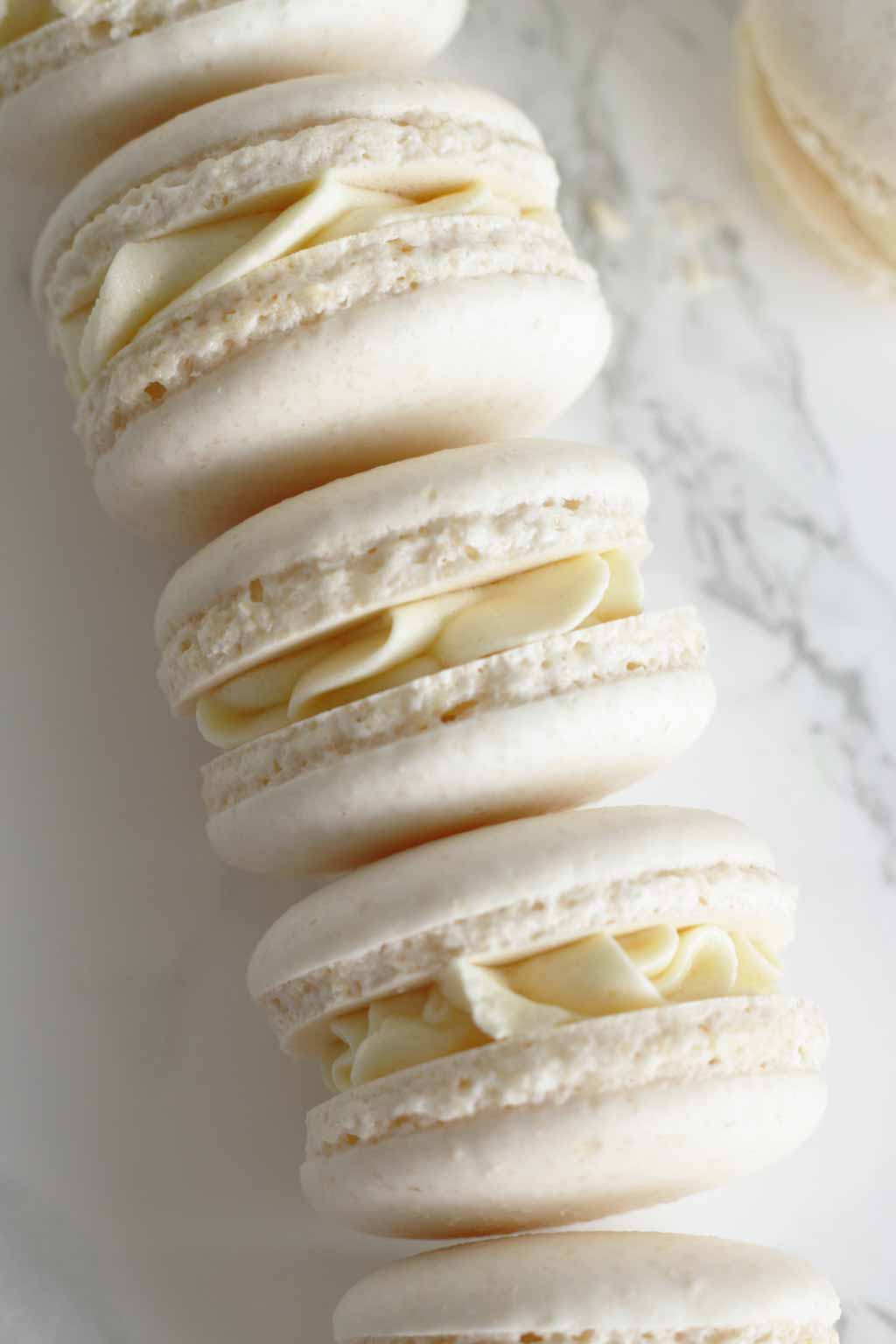 A rich, sticky date pudding with toffee sauce. Tastes delicious served warm with ice cream or whipped cream.
Another aqua faba dessert, this pavlova is crispy on the outside and chewy on the inside. Fill it up with whipped cream and fresh fruit for a real show-stopping vegan dessert!
Fudge, chocolate and candies
All you need for these truffles is Oreo cookies, vegan cream cheese and some chocolate for coating! They're one of the most child-friendly vegan desserts you'll find on this page!
Another super simple recipe, this fudge requires only 2 ingredients!
A Scottish chocolate bar, coated in toasted coconut and filled with fondant made from mashed potatoes! Don't be alarmed though, they don't taste anything like potatoes.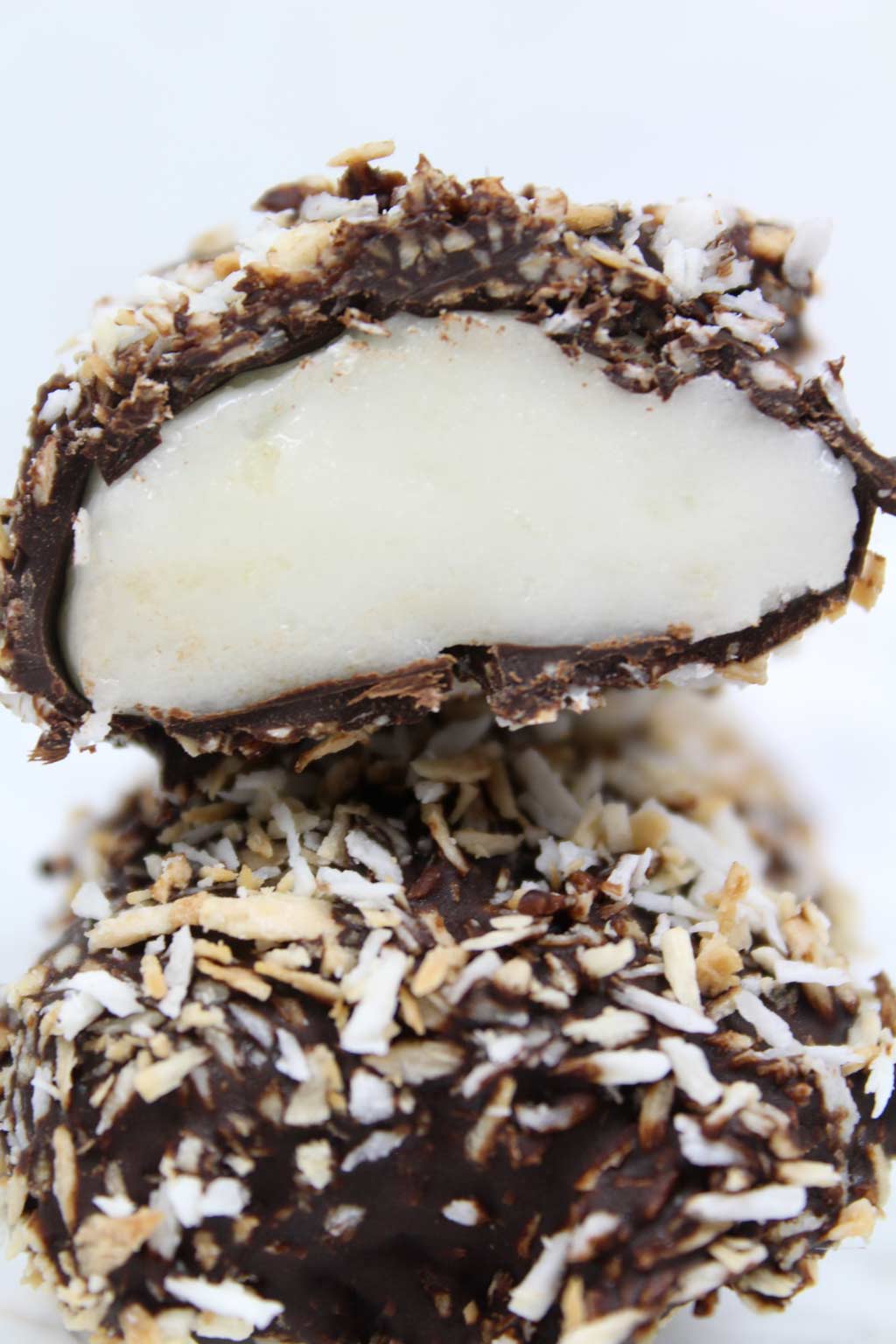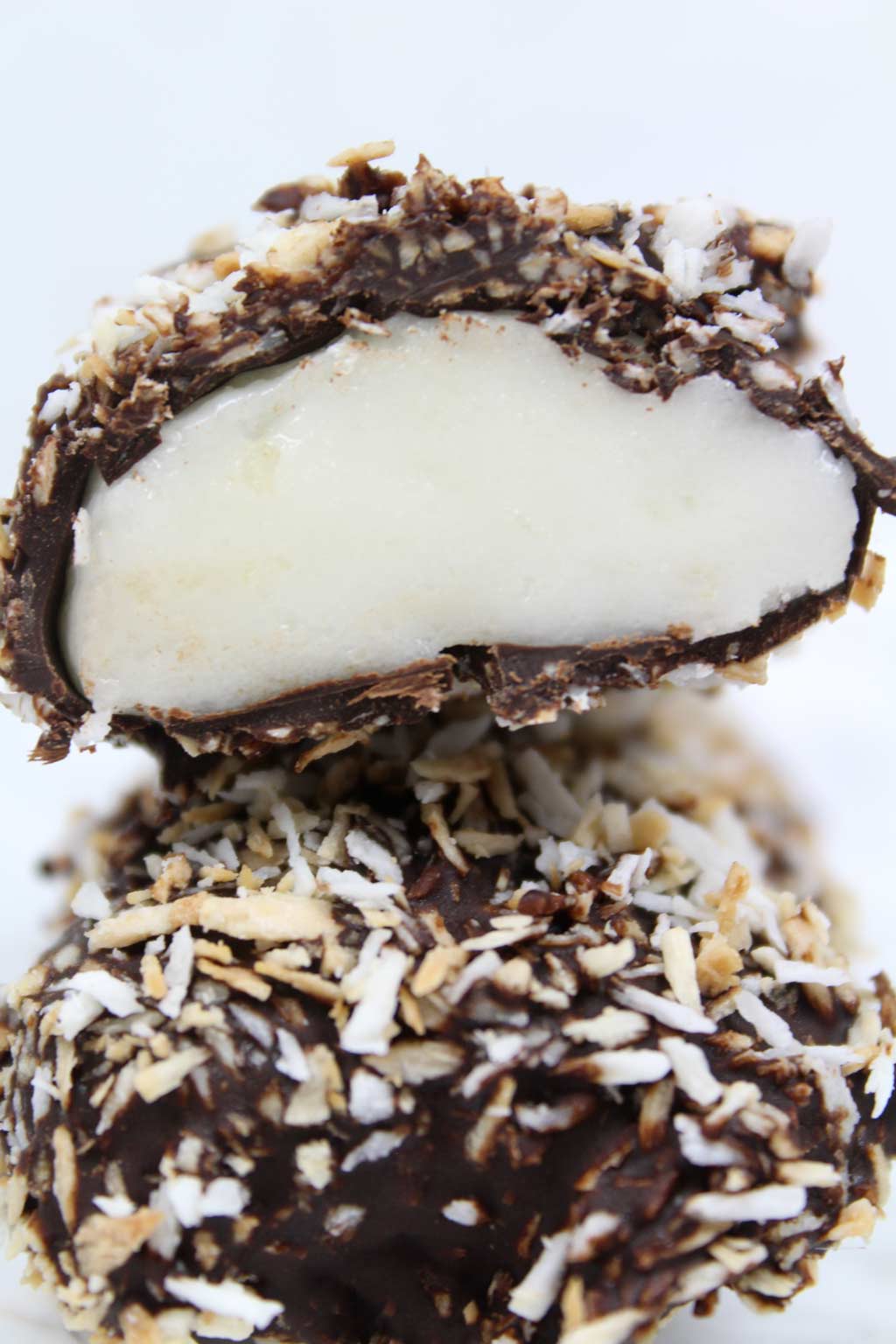 Want a dairy-free version of the Bounty chocolate bar? Try this recipe! It's a creamy, coconut mound covered in chocolate. So tasty!
Chocolate digestive biscuit fridge cake with just 6 ingredients. A great, no-bake tray dessert that everyone will love.
Similar to the dessert above, just made with Oreos instead!
A vegan twist on Cadbury's Creme Eggs. No unusual ingredients needed!
A chocolate fridge cake filled with vegan marshmallows, popcorn, pretzels and more! A sweet and salty delight.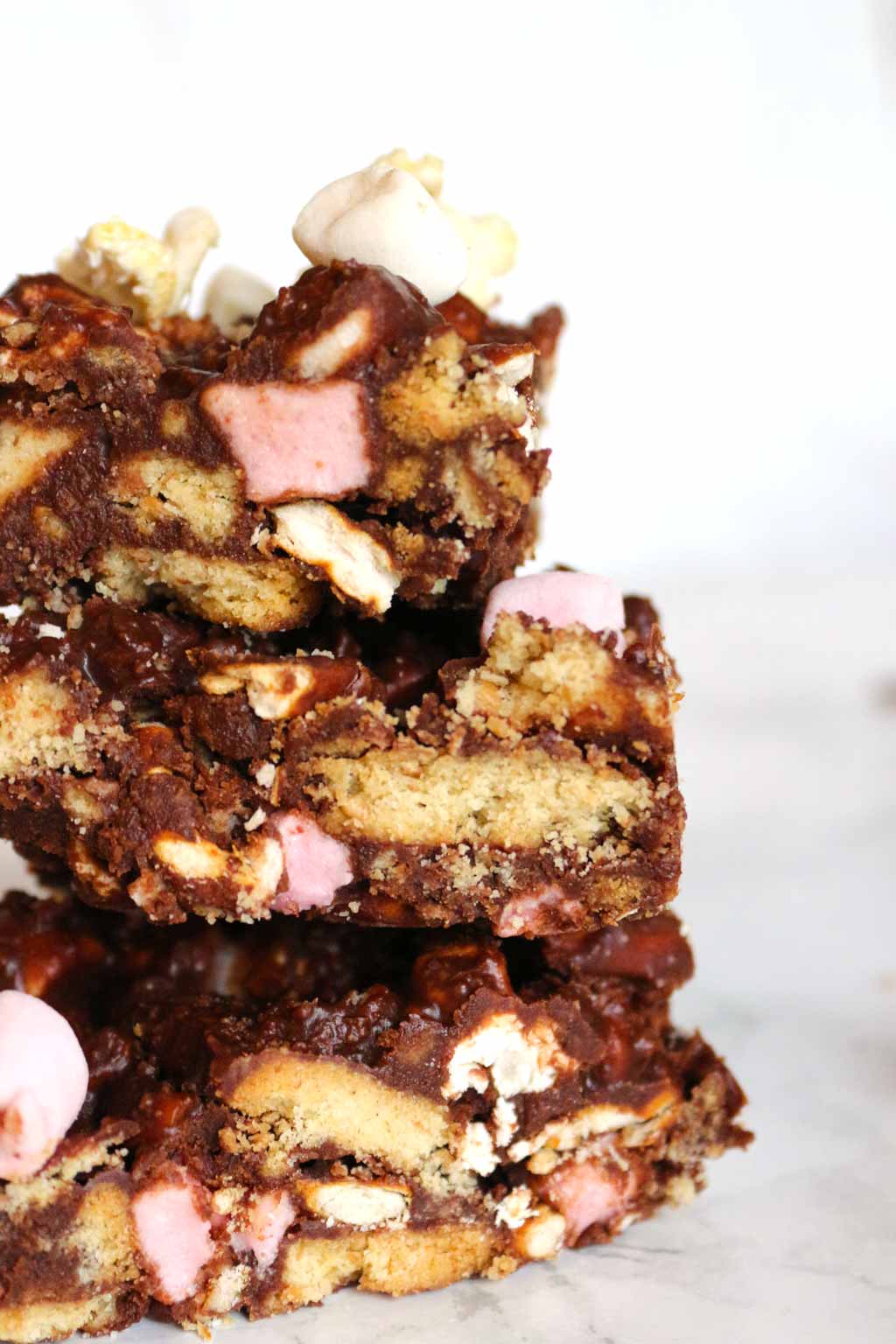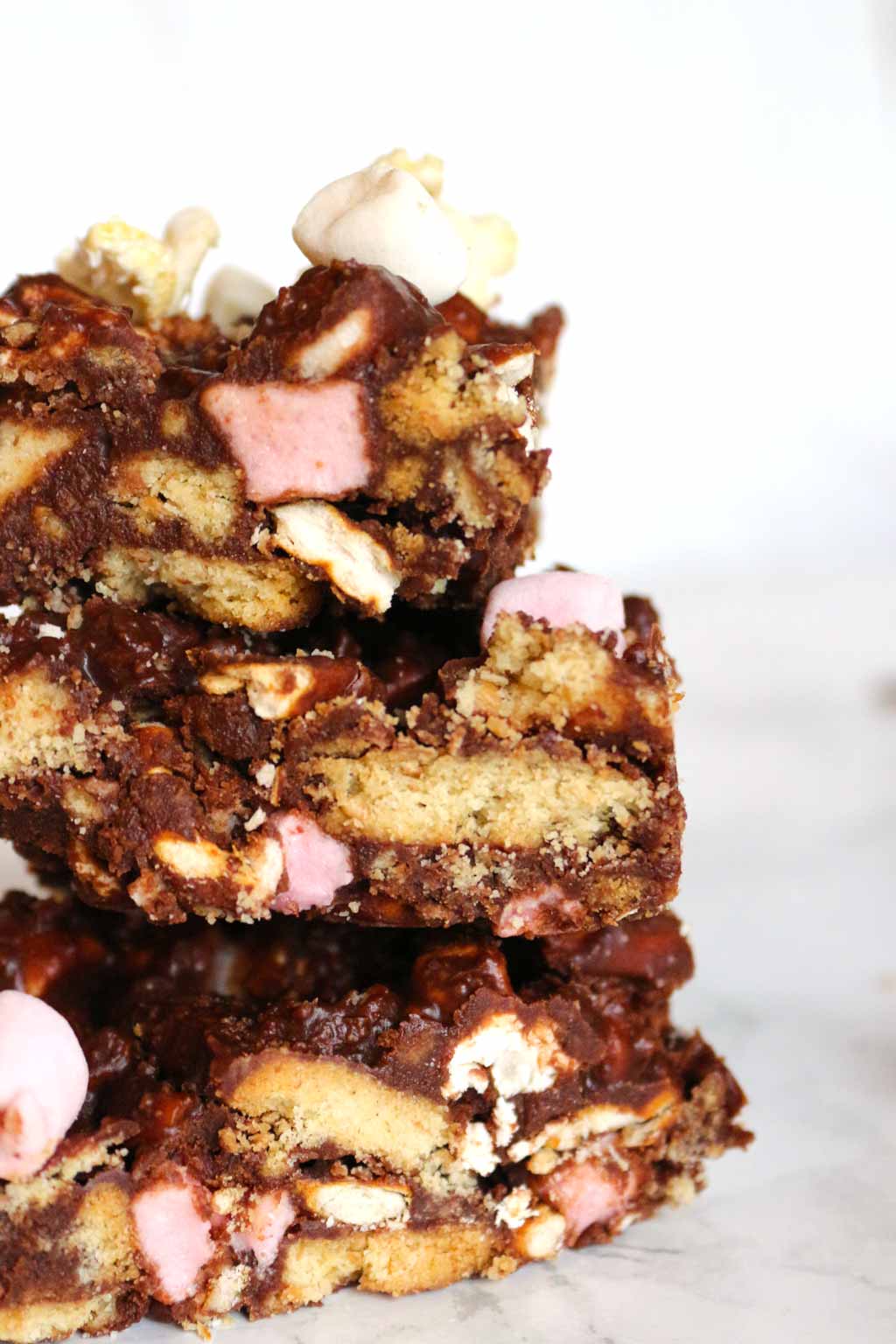 An easy, no-bake peanut butter cup recipe without dairy.
3-ingredient peanut butter fudge that's creamy, soft and flavourful.
These truffles are very similar to the Oreo truffles I mentioned above, just made with Biscoff cookies instead. Another easy child-friendly vegan dessert.
I hope you love my list of vegan desserts! Let me know which is your favourite by leaving a comment below!
If you fancy something healthier that will still satisfy your sweet tooth, check out my healthy vegan desserts round-up post, featuring recipes from some fabulous bloggers!
And for those who like simplicity when it comes to food, or for anyone who has little helpers around, take a look at my easy vegan desserts round-up, where all of the featured recipes contain 5 ingredients or less.
If you make any of the recipes at home, you can tag me in your pictures on Instagram @bakedbyclo. I love seeing your creations!
BakedByClo is a participant in the Amazon Services LLC Associates Program, an affiliate advertising program designed to provide a means for sites to earn advertising fees by advertising and linking to Amazon.com. This site may contain some of these links to Amazon.com & other affiliate programs. If you make a purchase through one of those links, BakedByClo will receive a small commission from the purchase at no additional cost to you.