Vegan Chocolate Orange Tart
This vegan chocolate orange tart is quick, easy and great for feeding a crowd. It contains only 6 ingredients and is of course completely vegan!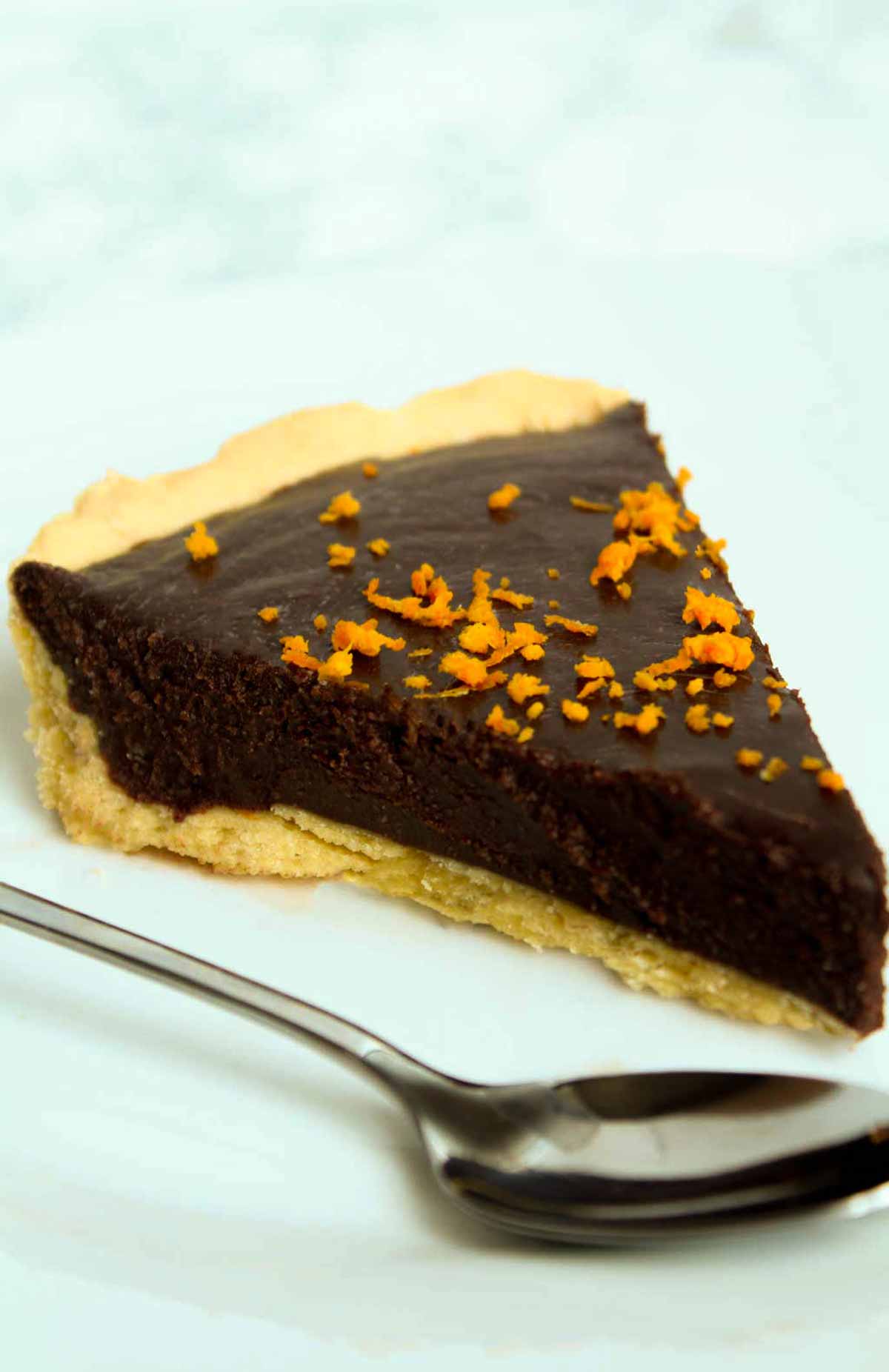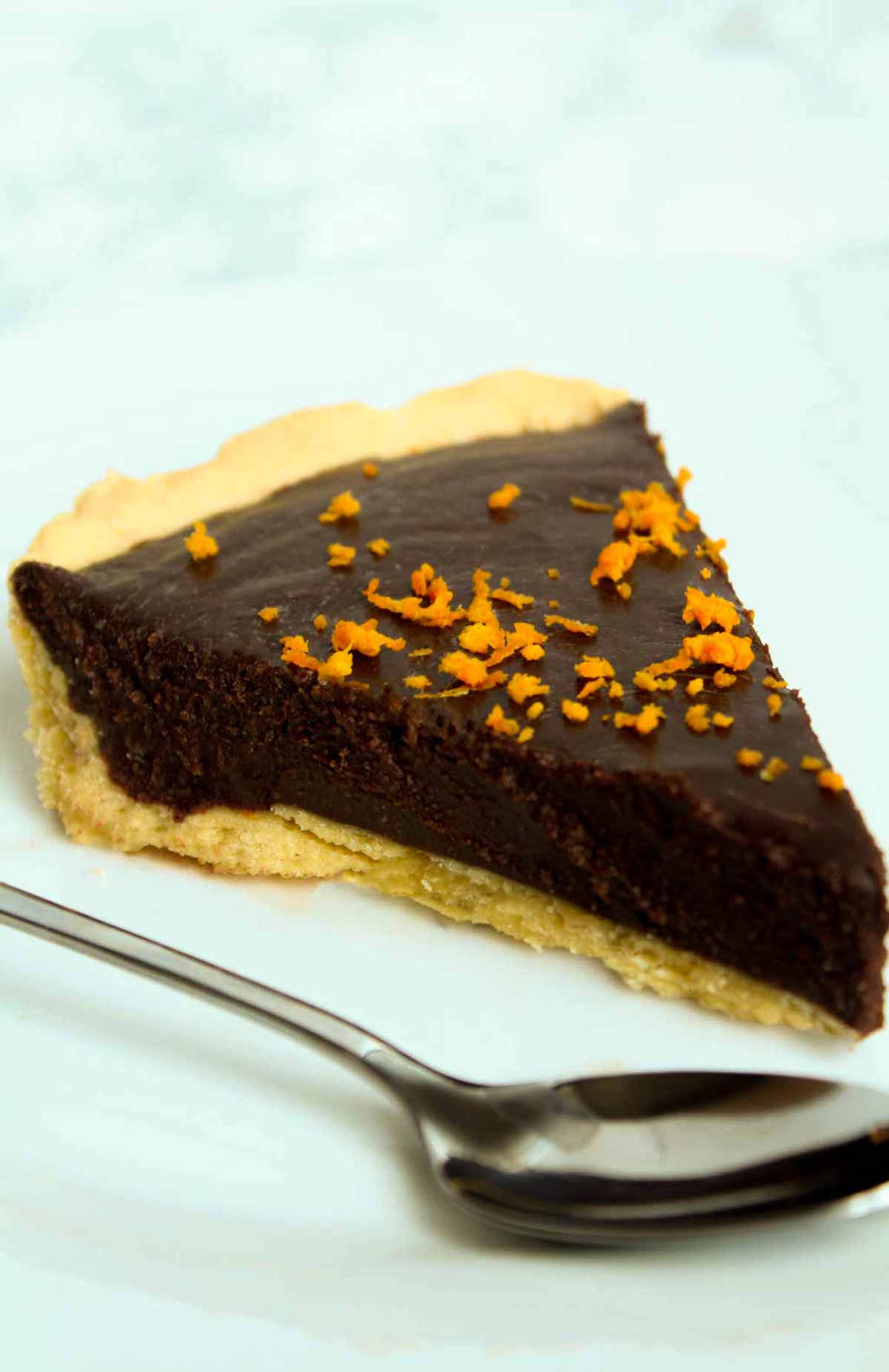 Inspired by my recent chocolate orange cupcakes recipe, I wanted to create another dessert that combined these two delicious flavours.
I have been meaning to remake the chocolate tart that I made when I first started Baked by Clo last year because although it tasted amazing, the photos were… How do I put this…
Horrendous.
I'm by no means an expert food photographer now, I've got lots of room for improvement, but MAN those photos were bad!
Not only were my photography skills poor, but the chocolate tart itself somewhat resembled a chocolate pancake with melted ice cream on top. If you want a real laugh, you can search for it on my blog- it's still there somewhere!
I learned the hard way that nobody cares about how your food tastes (or how easy the recipe is) if it doesn't even look good. They say that people eat with their eyes first, right?
6 Ingredient Chocolate Orange Tart
So this week, I finally got around to remaking it. Except this time, I added a slight twist and made it a chocolate orange tart instead of just a plain chocolate one.
It contains only 6 main ingredients, with the option to add a few extras if you're feeling a lil bit fancy. It's also dairy-free, eggless and of course, vegan.
First, you start off by making and baking a shortcrust pastry crust, then you fill it with melted chocolate orange ganache. Then, pop it in the fridge and wait for the magic to happen! It will firm up to give you a smooth, creamy, velvety chocolate orange tart.
This recipe will serve around 12 people or more, depending on how small you cut the slices. It's a very rich dessert and as much as I love to (and do) eat huge slices, I find that I feel satisfied after just a small piece too.
It makes a great after-dinner dessert and/or a delicious addition to any party table. I mean, who doesn't love chocolate?
How to Make A Chocolate Orange Tart
Step 1:
The first step for this recipe is to prepare the shortcrust pastry. You will need a 23cm/9-inch tart or flan tin.
Start by adding 215g of all-purpose flour into a medium-sized bowl. Next, add in 135g of vegan margarine and use your fingers to rub it into the flour, until it resembles breadcrumbs.
It is very important that you ensure the margarine is cold for this step. Otherwise, it will "melt" into the flour and make your dough soggy.
Next, stir in 15g of icing sugar.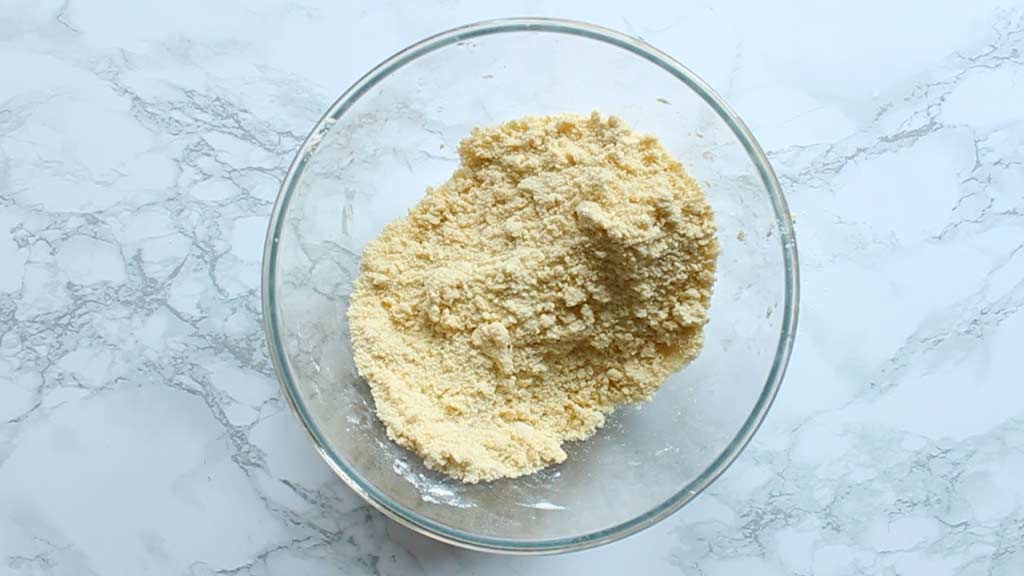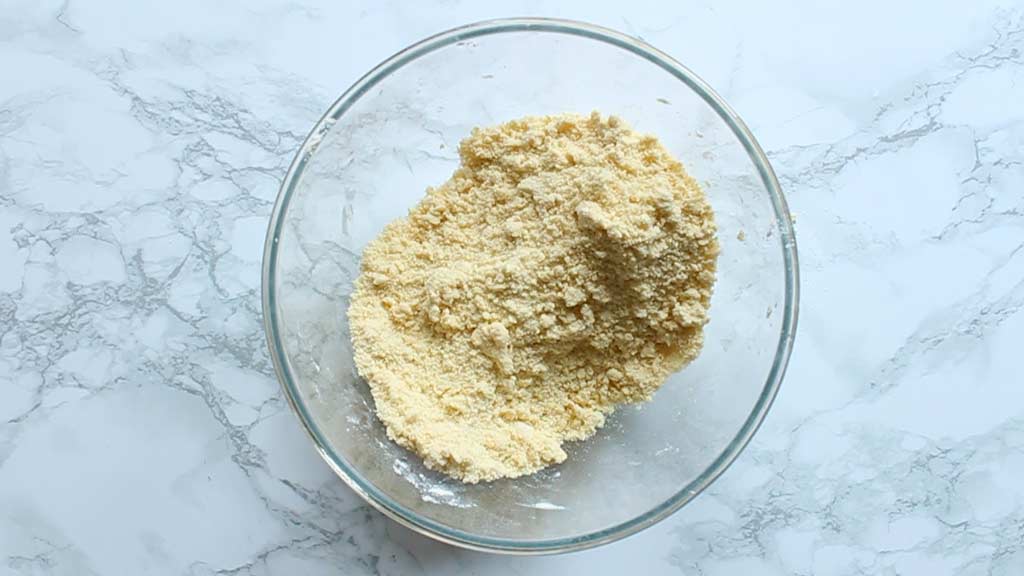 Step 2:
Add 1 tablespoon of cold water into the bowl. Use a spoon to gently stir it until it begins to stick together, then use your hands to press it together into a dough.
Make sure not to overwork it, otherwise the pastry will become too firm and tough after it's been baked.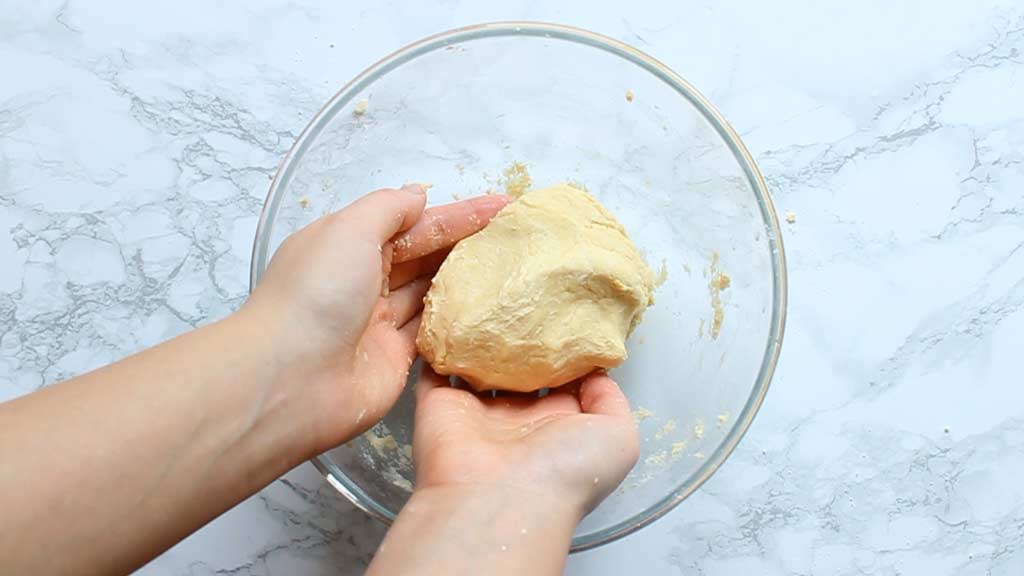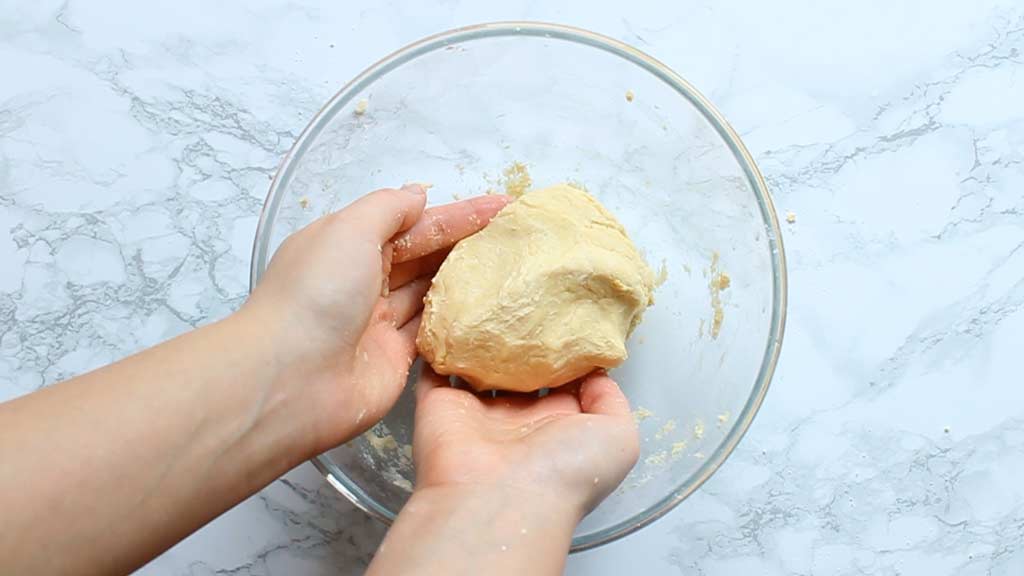 Step 3:
Place the dough in the fridge for 30 minutes.
While the dough is chilling, preheat your oven to 200°C/400°F (or 180°C/350°F for fan or convection ovens), and make sure you have your tart tin ready to work with.
Step 4:
After the dough has chilled for 30 minutes, remove it from the fridge and gently press it in your hands to get rid of any large cracks.
Step 5:
On a floured surface, gently roll out your dough to around 1/2cm thick. It should be just slightly larger than the top of your tart tin.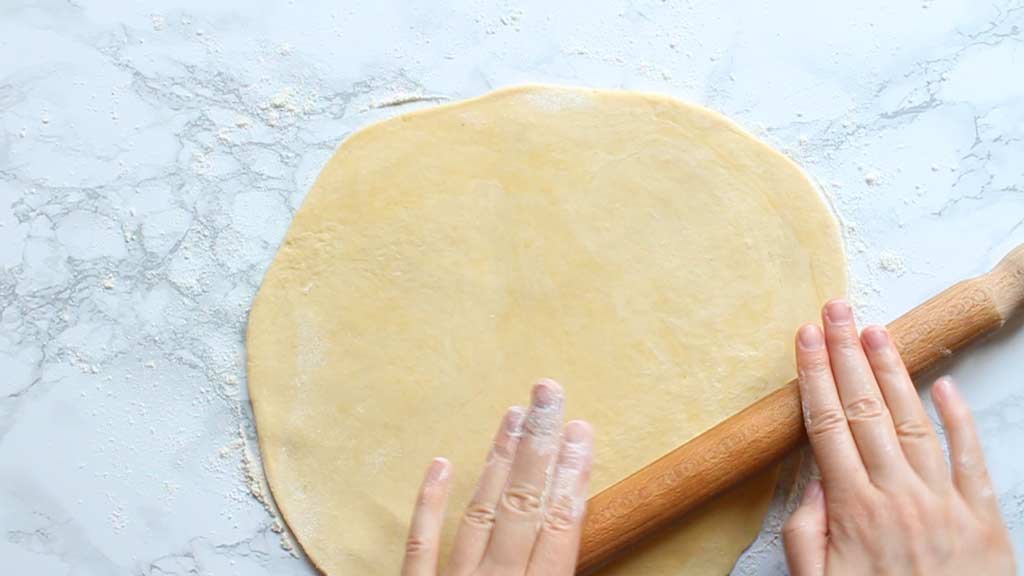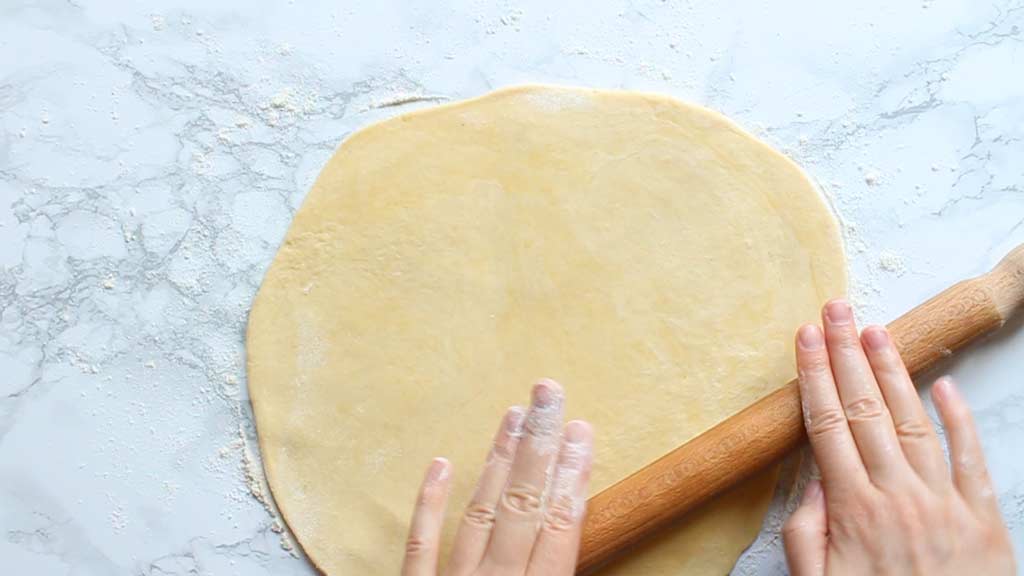 Step 6:
Being super careful not to split the dough, gently lift it and place it over the tart tin.
Now use your fingers to press the dough into the edges of your tin. Cut off any excess dough around the edges with scissors.
You can also flute the edges with your fingers if your tin isn't fluted but this is of course optional. This step isn't essential in any way- I just think it looks really pretty!
Step 7:
Place a piece of parchment paper on top of the dough. Now pour in some baking beans (or you can use uncooked rice as I did) until the bottom of the tin is covered. This is for the next step, known as 'blind baking', and will prevent the pastry from puffing up in the oven while it bakes.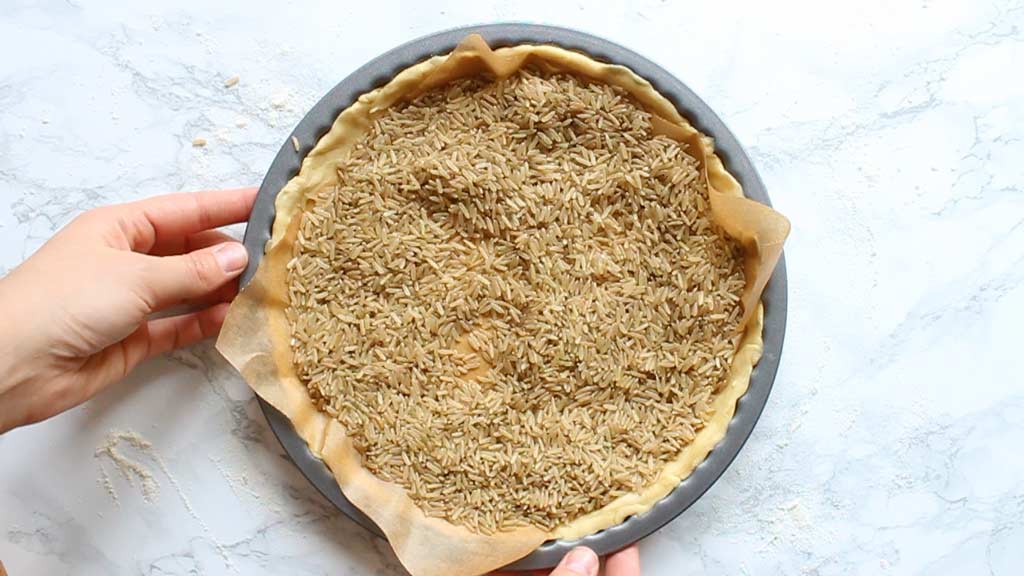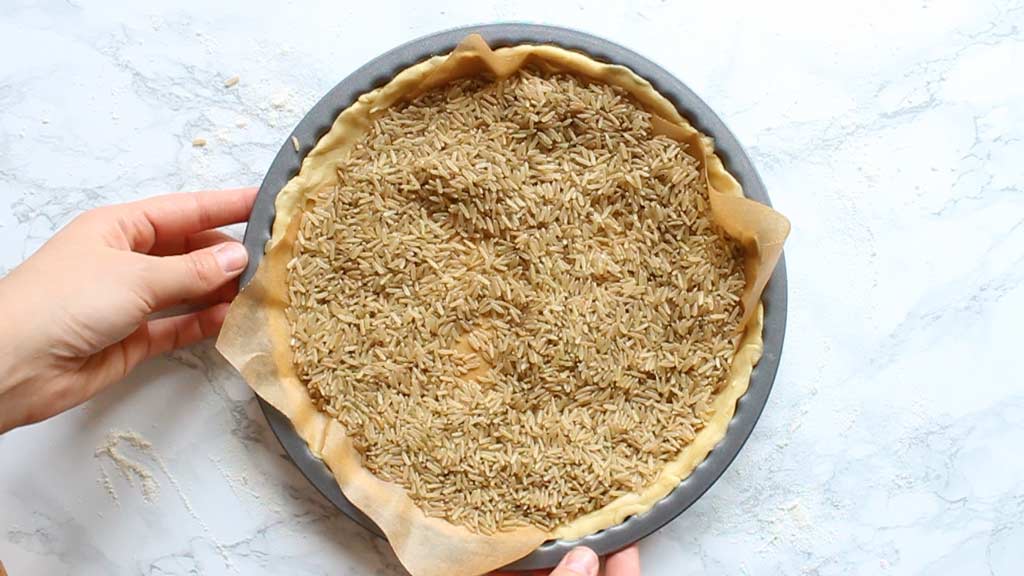 Step 8:
Bake the pastry crust in your preheated oven for 15 minutes. After the 15 minutes are up, remove it from the oven, take out the baking beans/rice and remove the parchment paper and bake for another 15 minutes.
Leave it to cool for 10 minutes, then remove it from the tin and allow it to cool completely.
Step 9:
Now to prepare the chocolate filling!
Over very low heat, melt 500g of dark chocolate in a large pot. I used orange-flavoured dark chocolate but if you can't find this where you live, you can just use plain chocolate and add in 2 teaspoons of orange extract instead.
Once the chocolate is completely melted, remove the pot from the heat and pop it to one side.
Step 10:
In a separate pot, heat up 310ml of soy cream or full-fat coconut milk until bubbles are just beginning to form at the sides.
Remove it from the heat and pour the hot cream over the melted chocolate. Allow the mixture to sit for a few minutes.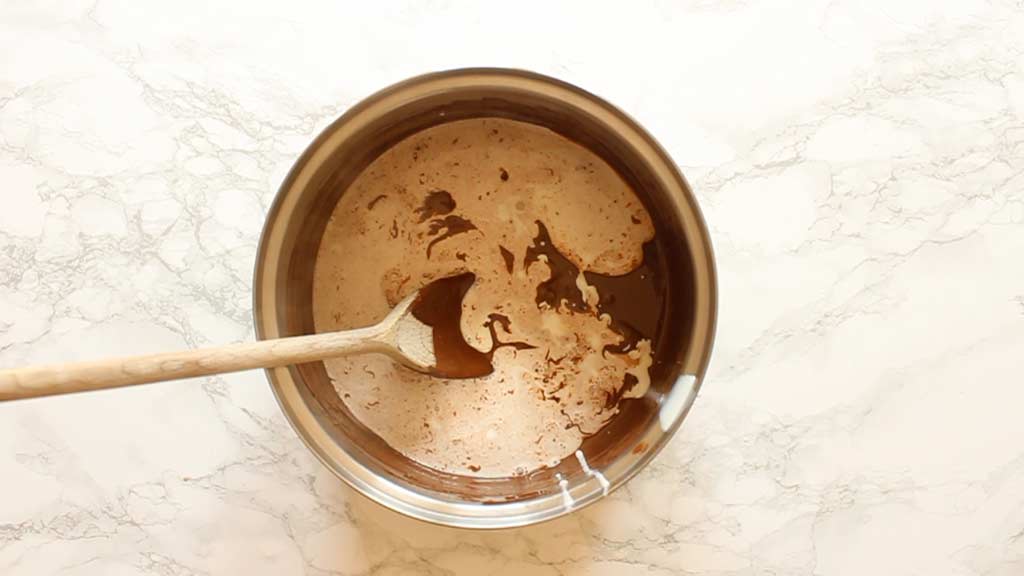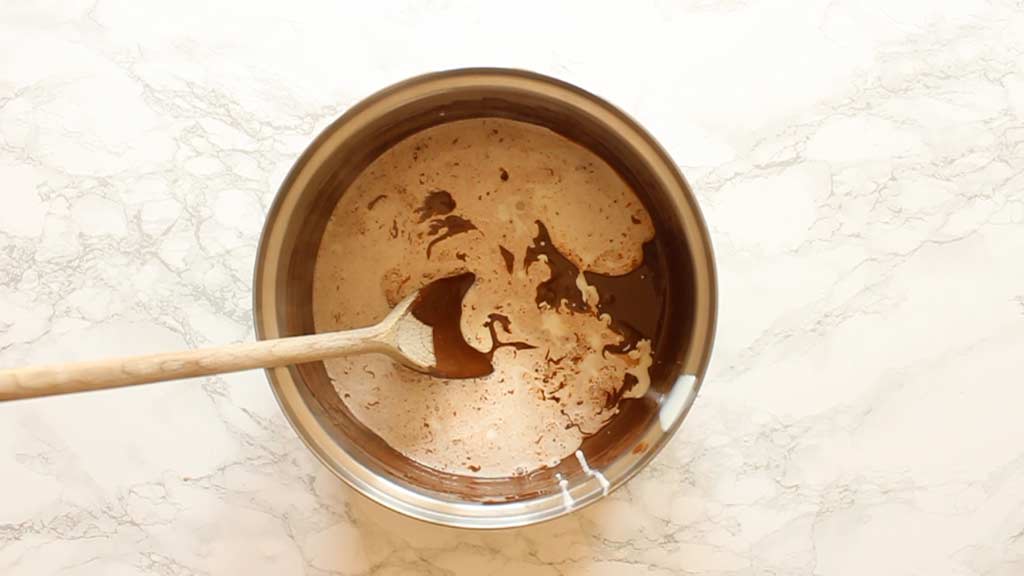 Step 11:
After 2-3 minutes, give the mixture a good stir until the chocolate and the cream are well combined. The mixture should look thick and glossy.
If you're feeling fancy, feel free to add in a few extras. Some ideas would be orange pieces, orange zest, chopped nuts or small chocolate chunks. I personally didn't add any extras as I love the smooth texture of the filling, but if you want to, stir them in now.
Step 12: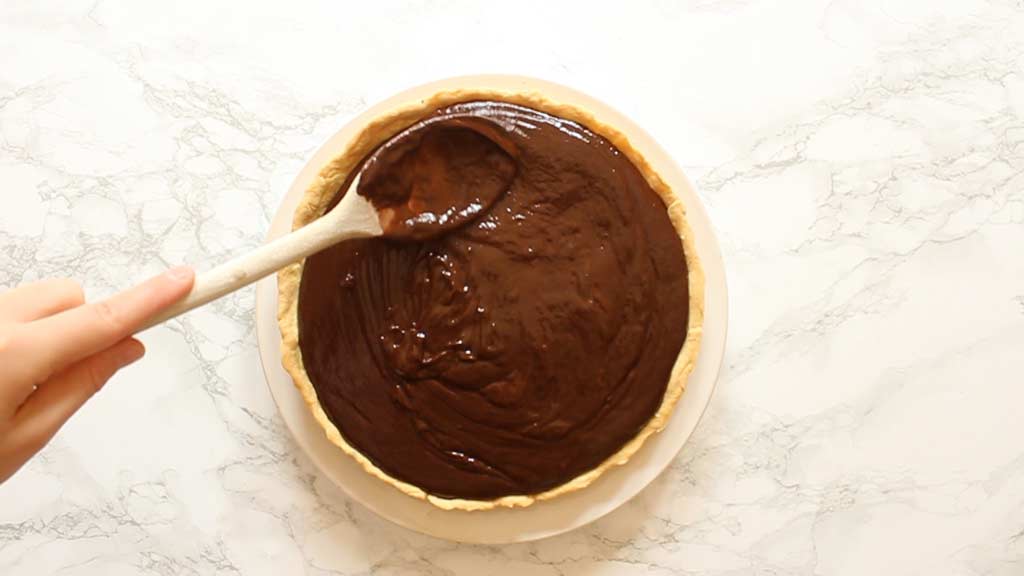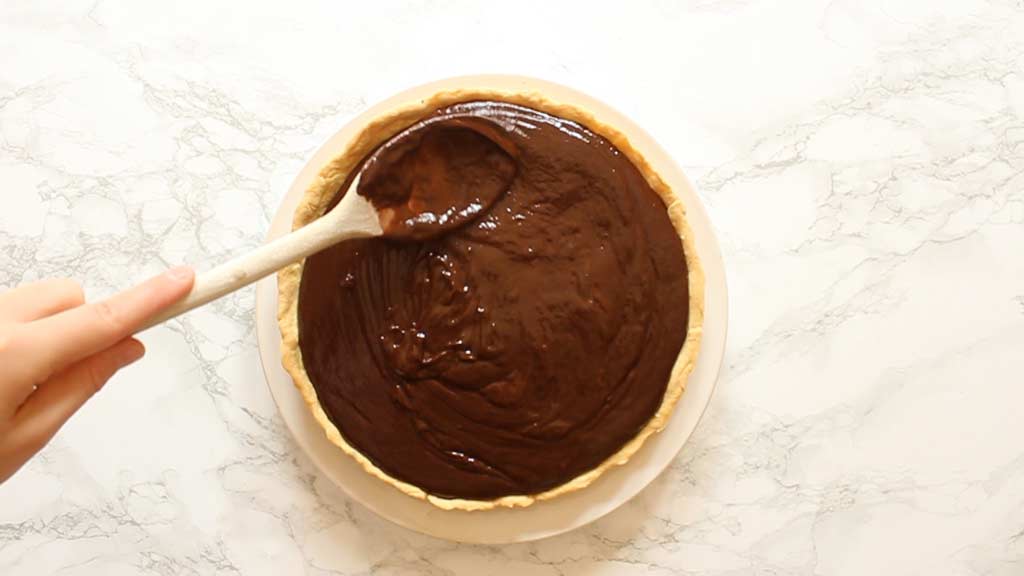 Pour your chocolate filling into your cooled tart crust and place the whole thing into the fridge for 4 hours. You'll know it's ready when the filling has firmed up and doesn't wobble when shaken.
Sprinkle some orange zest over the top of the chocolate filling and you're ready to serve!
Serving suggestions
This tart is absolutely delicious on its own but if you want to take it a step further, here are some serving ideas:
Shortcrust pastry tips
Shortcrust pastry can be tricky but with these tips, and a little love, care and attention, you'll be making perfect pastry in no time.
Resist the urge to overwork the dough! If you handle it too much, it will become stiff and chewy after it's been baked. You want to make sure to combine the ingredients until they JUST come together, then pop the dough in the fridge straight away.
Once it's in the fridge, make sure to take it out as soon as the 30 minutes are up. Otherwise, you risk it becoming too firm which will make it harder to roll out without damaging its delicate balance.
Blind bake the dough first. This will prevent it from "puffing" up or changing shape too much while it bakes. To blind bake, cover the dough with parchment paper then add baking beans on top. Or you can use uncooked rice as a quick alternative!
If you've made the pastry crust in advance, wrap it in plastic wrap and store in the fridge for up to 2 days.
Had Enough Chocolate Orange? Try These Flavour Combos Instead:
This can be done by adding 1/2- 1 teaspoon of peppermint extract to plain chocolate, or by using vegan mint chocolate in place of the orange chocolate.
Make the tart with plain flavored chocolate. Add in some strawberry extract and/or top with freeze-dried strawberries or freshly sliced strawberries.
Last but not least, how about a tasty Nutella-inspired tart? Switch out the orange for plain chocolate and swirl a few spoonfuls of hazelnut butter on top. Alternatively, you can just mix some chopped hazelnuts throughout the filling mixture.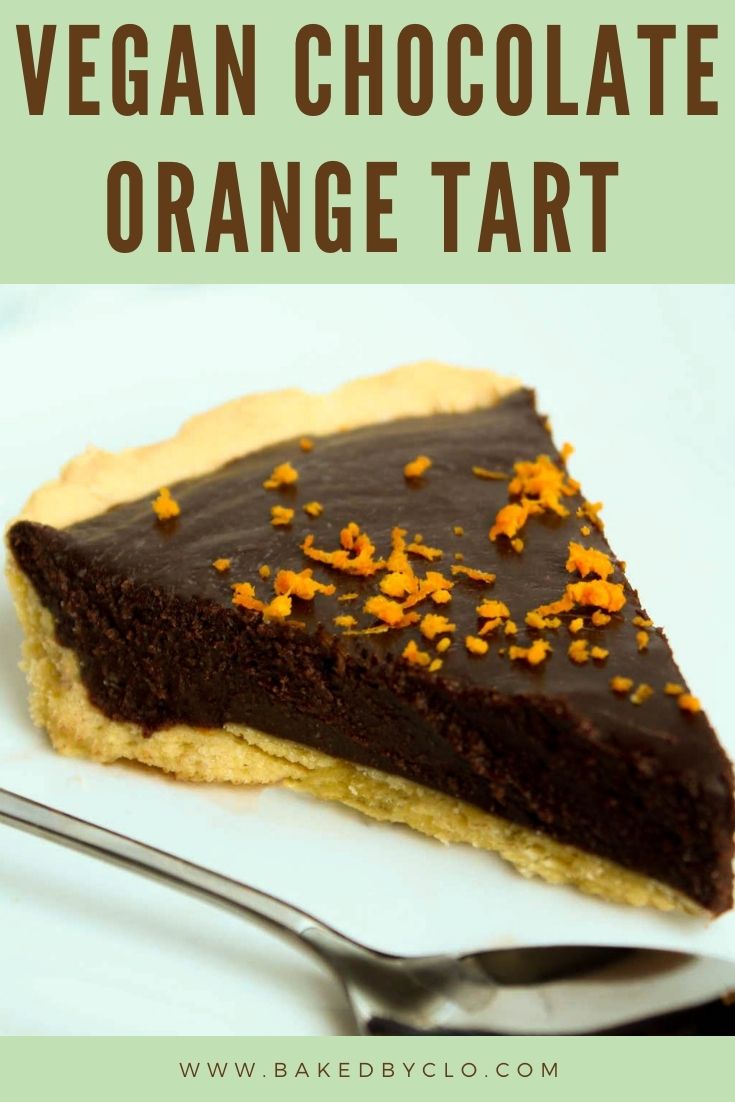 I hope you enjoy this slight twist on the classic chocolate tart! If you make it yourself, please let me know how you get on by leaving a comment or rating below. And make sure to check out my vegan chocolate guide for more chocolate-y goodness. Happy baking! xo

Vegan Chocolate Orange Tart
An easy shortcrust pastry tart with a no-bake chocolate orange filling.
Ingredients
For the shortcrust pastry:
215

g

All-purpose flour

135

g

Vegan margarine*

15

g

Icing sugar

1

Tablespoon

Ice cold water
For the chocolate filling:
500

g

Vegan orange chocolate or semi-sweet dark chocolate

2

Teaspoons

Orange extract

(only use this if not using orange-flavoured chocolate)

310

ml

Soya cream

(or full-fat coconut milk)
Instructions
For the pastry:
Add the flour into a large bowl. Rub the margarine into the flour until it resembles breadcrumbs, then stir in the icing sugar.

Add the water and stir until it starts to stick together. Use your hands to press it together into a dough. It will seem crumbly at first but will come together.

Place the dough in the fridge for 30 minutes to chill.

While the dough is chilling, preheat your oven to 200°C/400°F (or 180°C/350°F if you're using a fan or convection oven) and prepare a 9-inch tart tin.

After the 30 minutes are up, gently press the dough in your hands to get rid of any large cracks. Roll it out on a floured surface to around ½cm thick, until it's just larger than your tin. Rotate after each roll and add more flour as needed to prevent it from sticking.

Drape the dough over your tart tin and gently press it into the sides, making sure to go all the way up. Cut off any excess at the top.

Place a piece of baking paper on top of the tart, then pour some baking beans or uncooked rice over it until the bottom of the tin is covered.

Bake the pastry for 15 minutes, remove the baking beans and parchment paper, then bake for a further 15 minutes.

When the tart is ready, it will be slightly golden brown at the edges. Allow it to cool in the tin for 10 minutes then transfer it to a wire rack to cool completely.
For the filling:
Over very low heat, melt the chocolate in a large pot and add in the orange extract if using. Once it's melted, remove it from the heat and set aside.

In a separate pot, heat the soya cream until bubbles just start to form at the sides. Pour the hot cream into the melted chocolate then cover the mixture and allow it to sit for a few minutes.

After a few minutes, stir the cream and chocolate together. You should end up with a thick, glossy chocolate mixture.

Place the cooled tart crust onto a cake stand or plate and pour the filling in. Use a spoon or spatula to spread it out evenly. Top with orange zest if desired.

Chill the tart in the fridge for 4 hours until firm. Then cut into slices and enjoy!
Recipe Notes
*Use spreadable margarine, not the blocky type.
I used Alpro soya cream
Use ready-made shortcrust pastry if you don't want to make your own. Make sure to check it doesn't contain egg or dairy though- I like Jus Rol.
Keep the tart in an airtight container in the fridge for up to 3 days.
Nutrition Facts
Vegan Chocolate Orange Tart
Amount Per Serving (1 slice)
Calories 360
Calories from Fat 198
% Daily Value*
Fat 22g34%
Sodium 60mg3%
Carbohydrates 33g11%
Protein 4g8%
* All values are an estimate only and will vary depending on the food brands used.
BakedByClo is a participant in the Amazon Services LLC Associates Program, an affiliate advertising program designed to provide a means for sites to earn advertising fees by advertising and linking to Amazon.com. This site may contain some of these links to Amazon.com & other affiliate programs. If you make a purchase through one of those links, BakedByClo will receive a small commission from the purchase at no additional cost to you.