Vegan Shortcrust Pastry
This vegan shortcrust pastry is easy to make with just 4 simple ingredients! It can be made time and time again for dairy-free pies and tarts.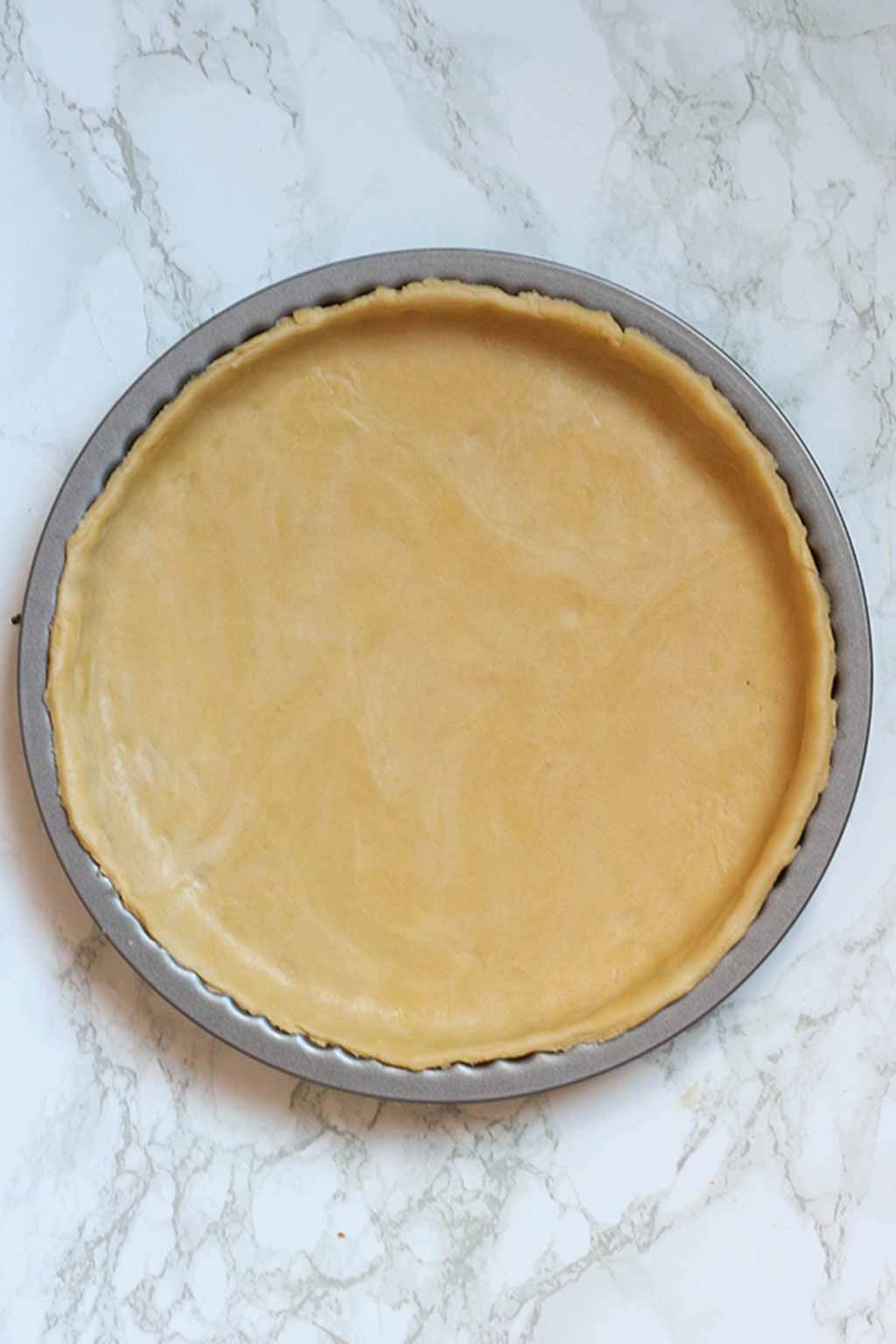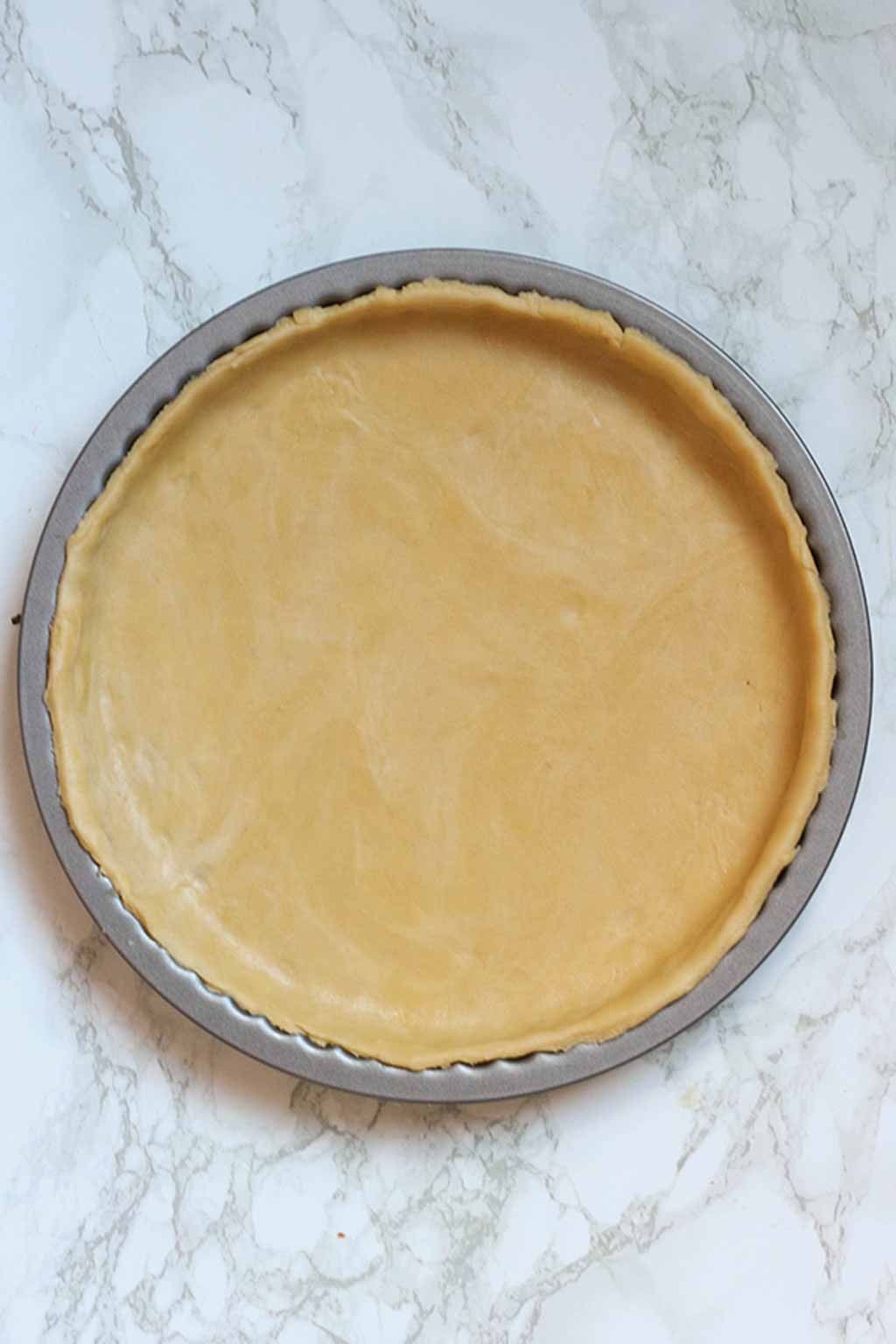 Want to know something funny?
I, as a food blogger (!), spent 27 years of my life thinking shortcrust pastry was called shortcut pastry!
I even wrote loads of recipes on this blog using "shortcut" pastry, which I had to change when I found out last year that it's actually called shortCRUST. My whole baking life has been a lie. LOL.
Anyway, regardless of the name, I've always enjoyed using this pastry recipe whenever I bake pies or tarts. It's so simple and works out every time.
Usually when baking shortcrust pastry, the ratio is either half fat to flour or a 3:2:1 ratio of flour, fat and water. But for vegan shortcrust pastry, because you'll be using dairy-free margarine or butter which is made from oils and water, you have to make some adjustments.
I've found that the pastry is difficult to work with if I use those same ratios with vegan ingredients. I actually found it tastes best when I increased the fat and reduced the amount of flour in the recipe.
You can buy vegan-friendly pre-rolled pastry dough, such as Jus Roll, but this recipe is so easy that you'll never go back!
Sweet vegan pastry
Because I've had a few comments asking for sweet shortcrust pastry, I recently tried substituting some of the flour for icing sugar. I was really happy with the result. With sweet shortcrust pastry, you don't want to add too much sugar because you'll have a sweet filling in your pie or tart. You don't want to go overboard and end up with a sickly-sweet dessert.
But seeing as my whole blog is about desserts, I figured it made sense to post the sweet version of the pastry here. If you prefer a savoury one, just replace the 15g of icing sugar with 15g of flour instead. It works just the same!
Desserts to use this pastry in: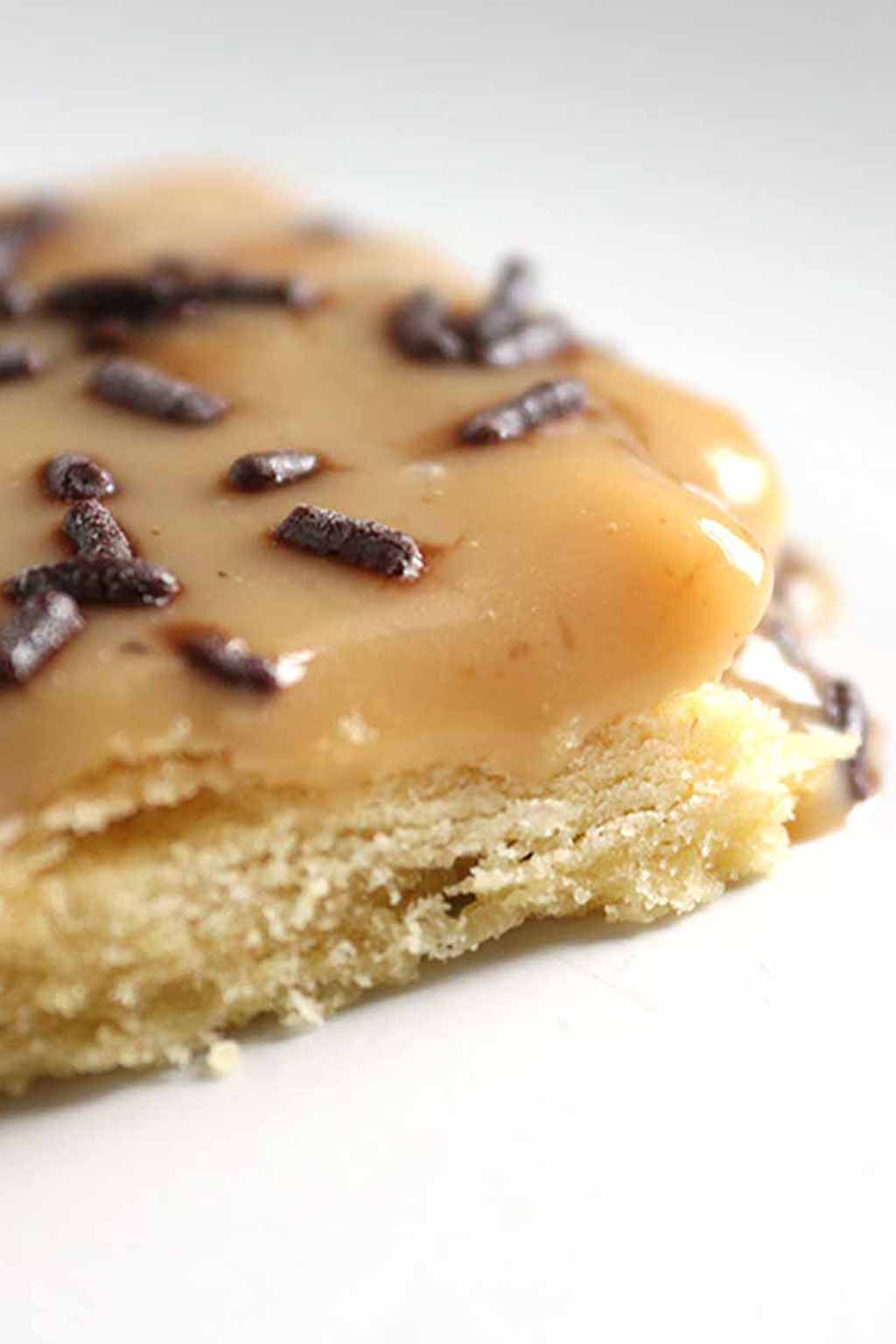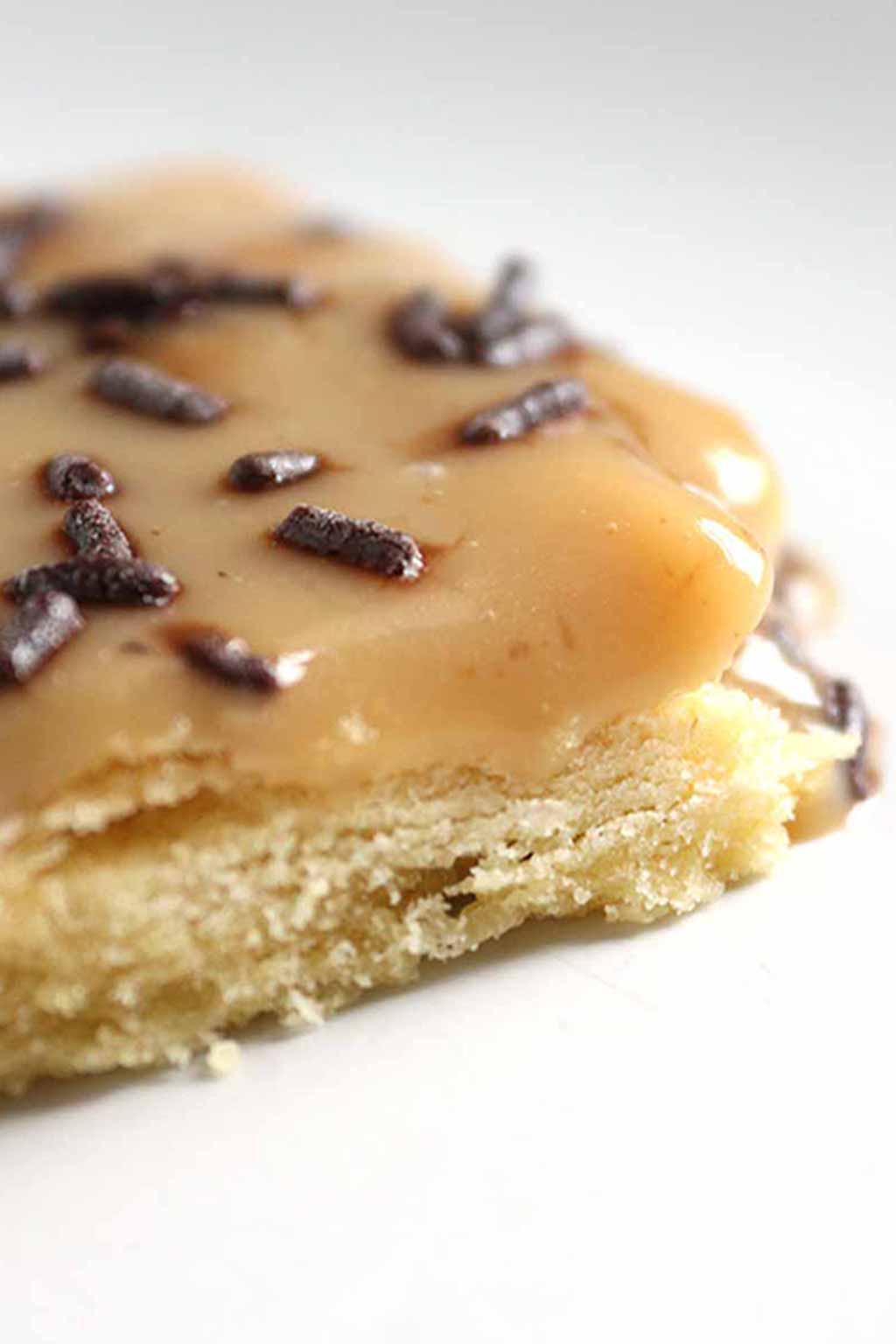 How to make vegan shortcrust pastry
Step 1:
Add 215g of plain/all-purpose flour to a bowl. Next, add 135g of vegan margarine and rub it into the flour, until you have a mixture that looks like breadcrumbs.
I strongly recommend using the spreadable type of vegan margarine instead of the blocky type for best results. I used Vitaite.
Step 2:
Now stir in 15g of icing sugar/powdered sugar. This will help to sweeten the pastry every so slightly.
Step 3:
Next, add 1 tablespoons (15ml) of ice cold water. Stir it in gently with a wooden spoon until it starts to stick together. Then use cold, clean hands to press it into a dough.
The dough will seem a little crumbly at first but will come together. Be careful not to overwork it too much or it'll become tough once baked.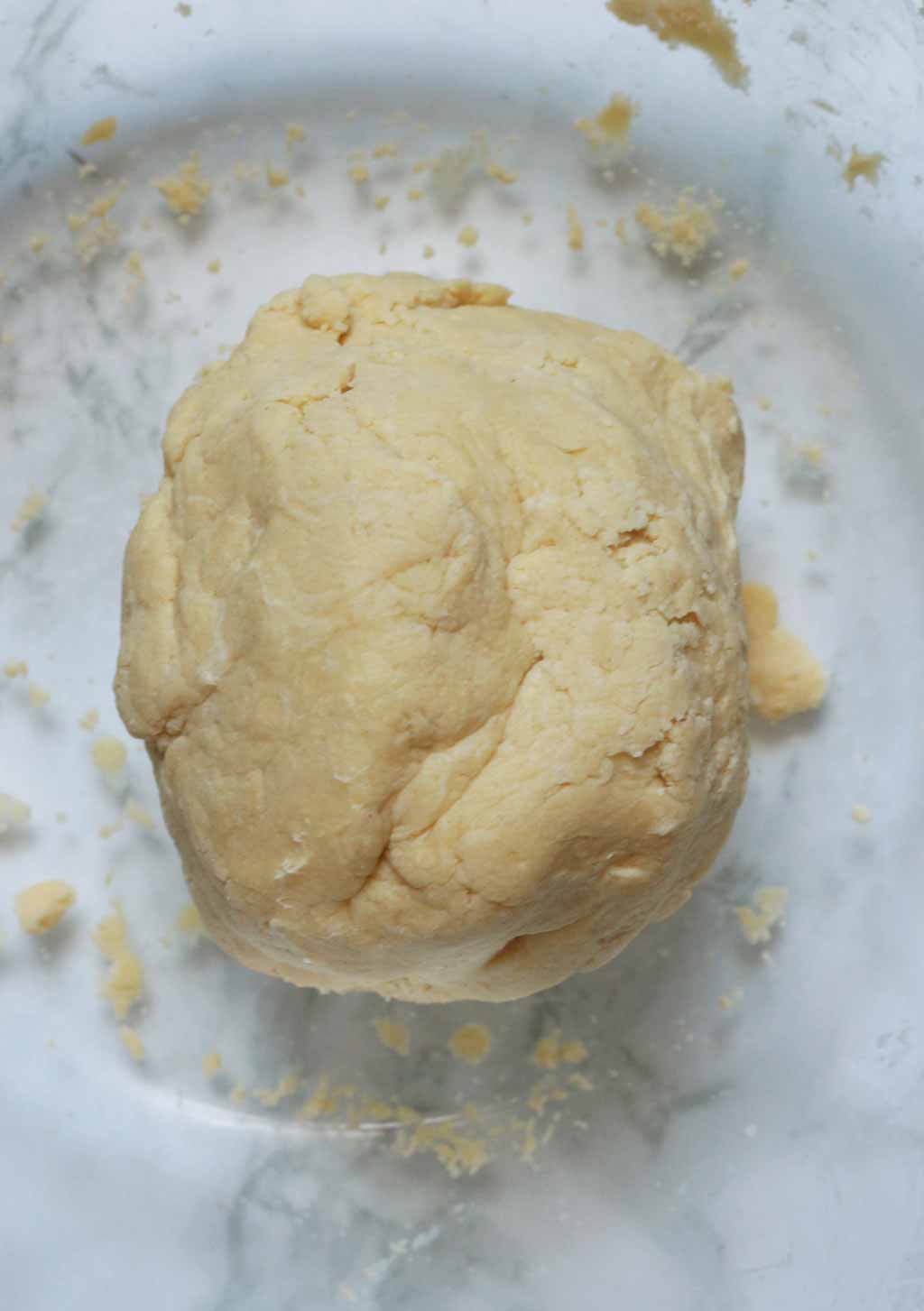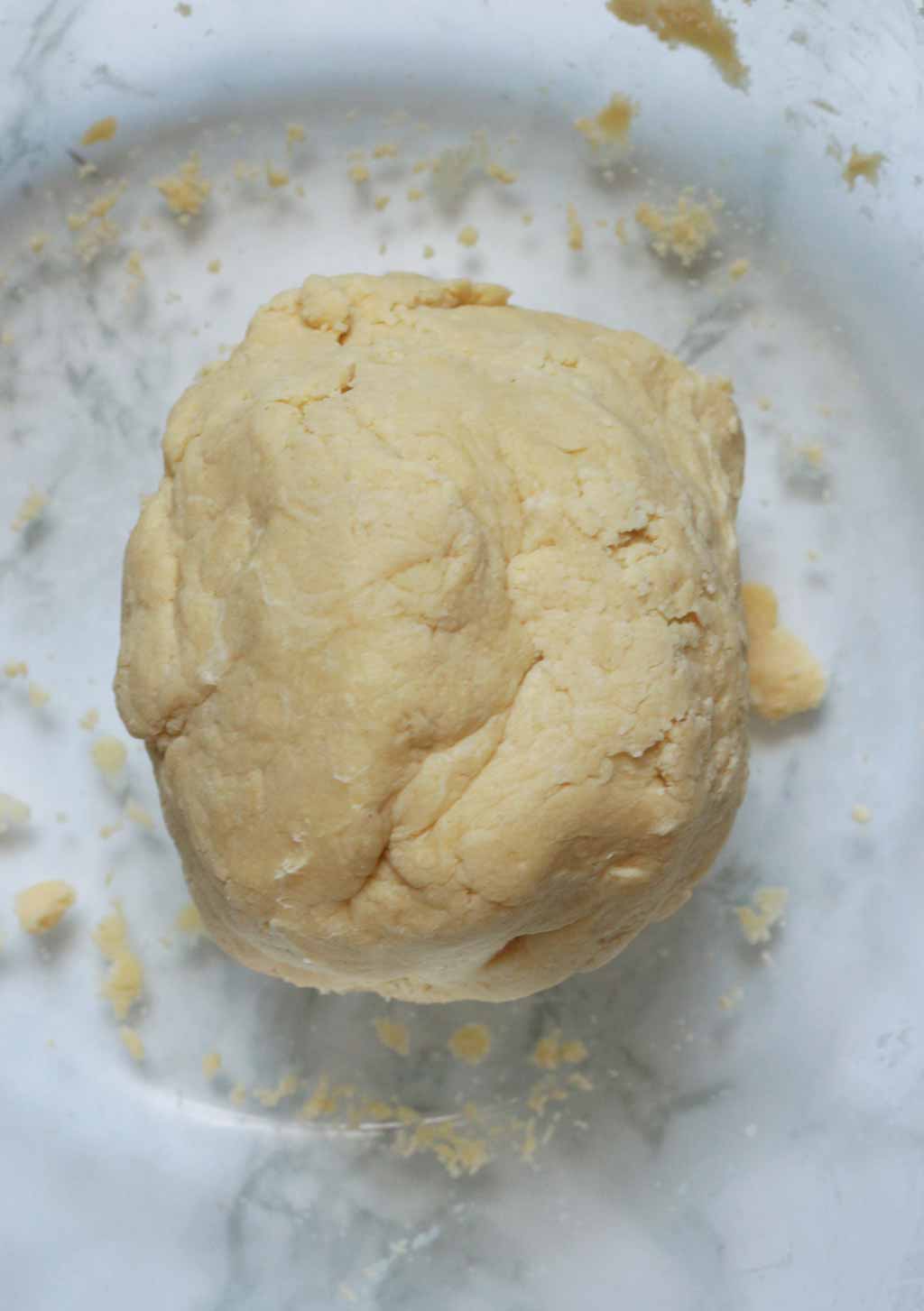 Step 4:
Wrap the dough in plastic wrap or put it in an airtight container then put it in the fridge to chill for 30 minutes. Once chilled, it can be rolled, cut and baked as per your recipe instructions. You'll need to press it in your hands after chilling, to get rid of the cracks, and you'll need to use a floured surface to roll it out.
How to roll and blind bake shortcrust pastry
Please note the following instructions are suitable if you need a cooked pastry shell for a no-bake filling such as chocolate ganache, cream etc.. If you're using a filling that needs to be cooked, such as my Bakewell tart, please follow the baking instructions in that particular recipe.
Step 1:
While the dough is chilling in the fridge for the 30 minutes, preheat your oven to 200°C/400°F (or 180°C/350°F if you're using a fan or convection oven).
Have your tart/pie tin to hand. I used a 9-inch non-stick fluted tart tin with a removable bottom, although I find that this pastry typically doesn't stick to the tin anyway.
Step 2:
Once the dough has come out of the fridge, gently press it in your hands to get rid of cracks or crumbly bits. Be careful not to overdo it, you just need to be able to roll it without it cracking.
Flour your surface and a rolling pin and roll the pastry out until it's slightly larger than the tart tin. It should be around ½ a cm thick. To get an even roll, turn the pastry 90° after every roll. You should be able to lift it off of your surface to do this. Add more flour to the surface/rolling pin as needed.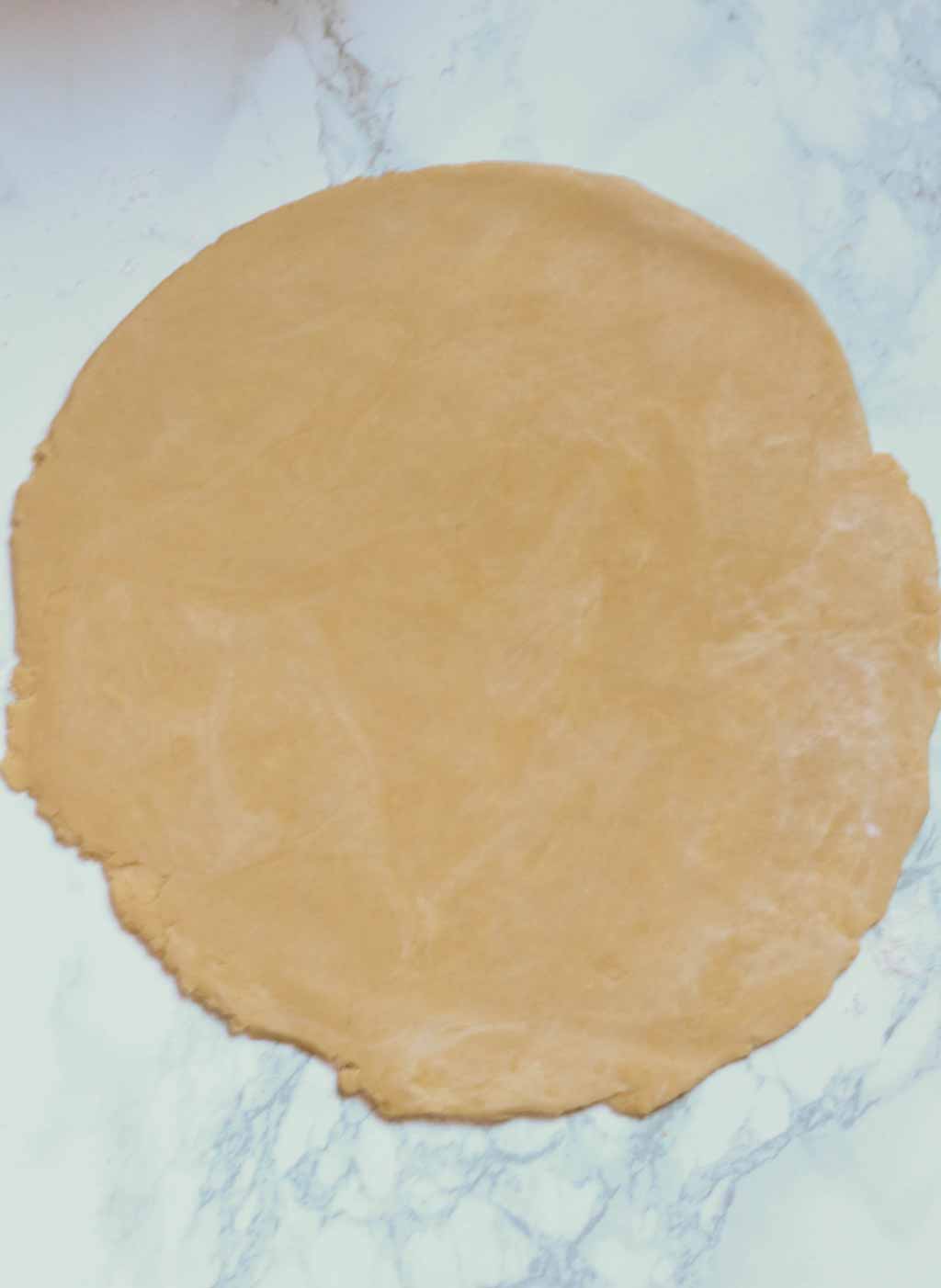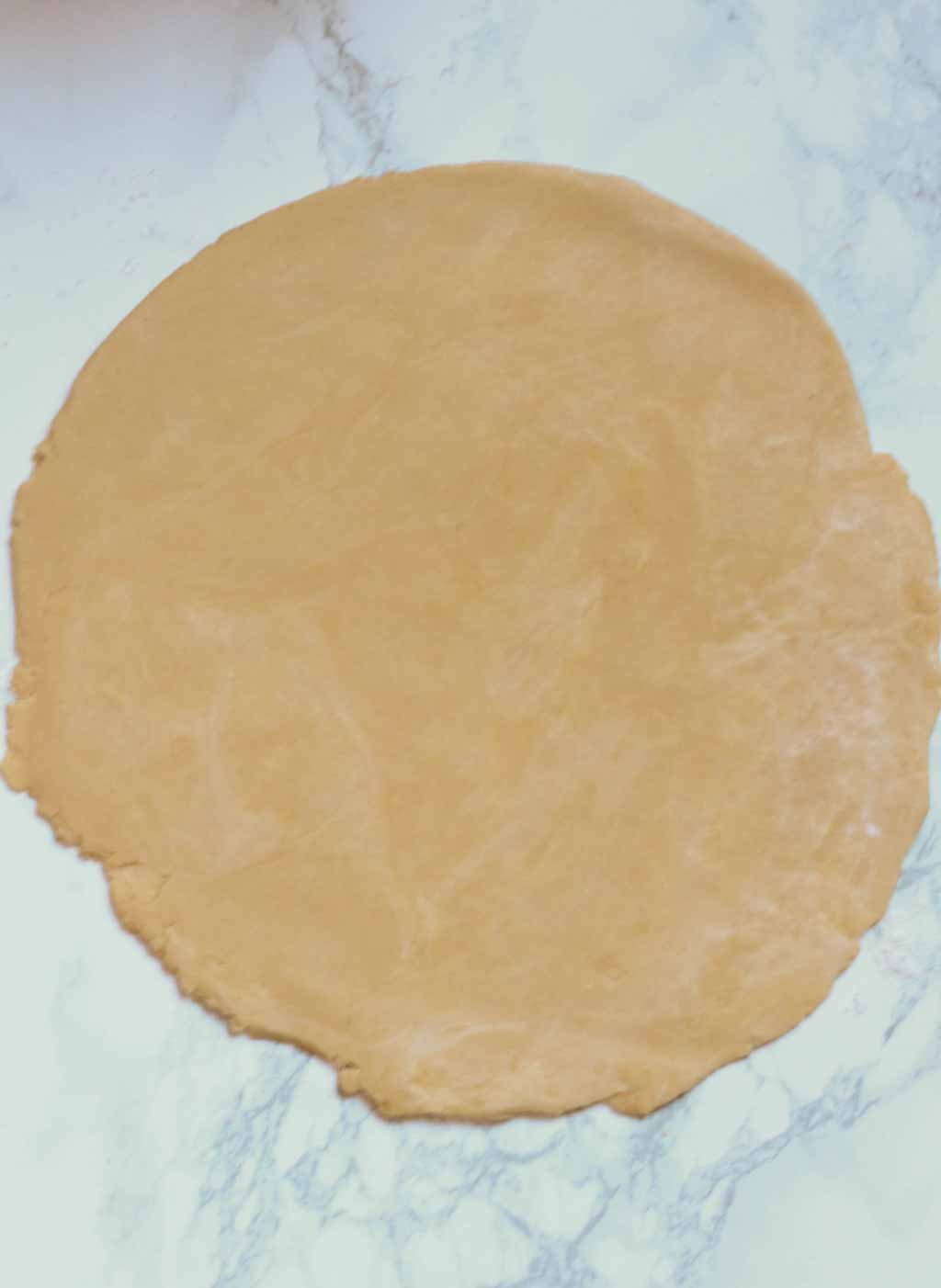 Step 3:
Drape the dough over your tin and press it into place. Cut off the excess around the edges.
Step 4:
For baking, you can either blind bake the pastry or you can dock the dough. Docking means to poke small holes into the bottom of the dough with a fork, which allows steam to escape while baking. This prevents the pastry from puffing up as it bakes.
If you want to blind bake it, all you need to do is cover the bottom of the tart with baking paper and fill it with a "weight". You can use baking beans or uncooked rice as the weight.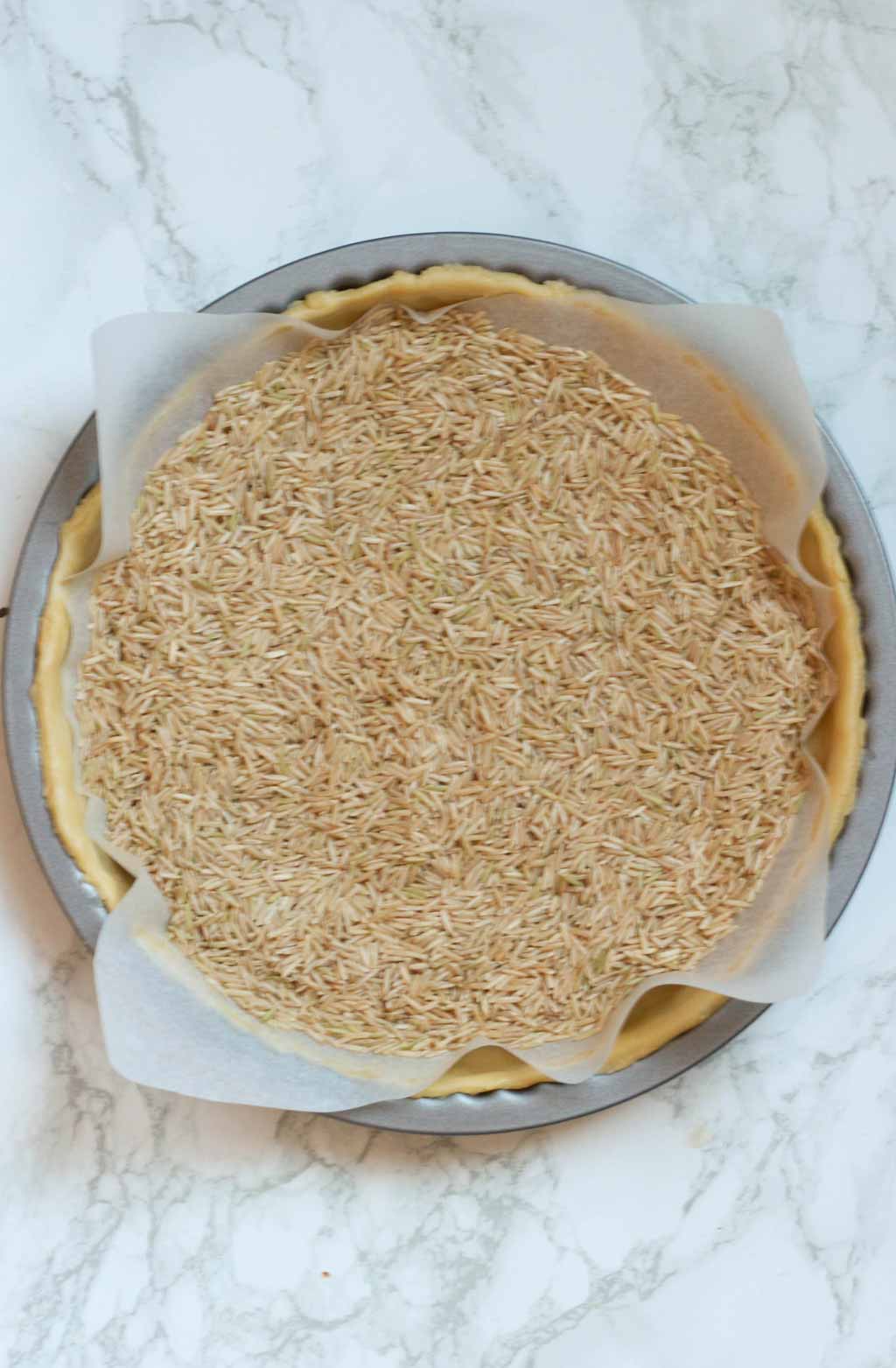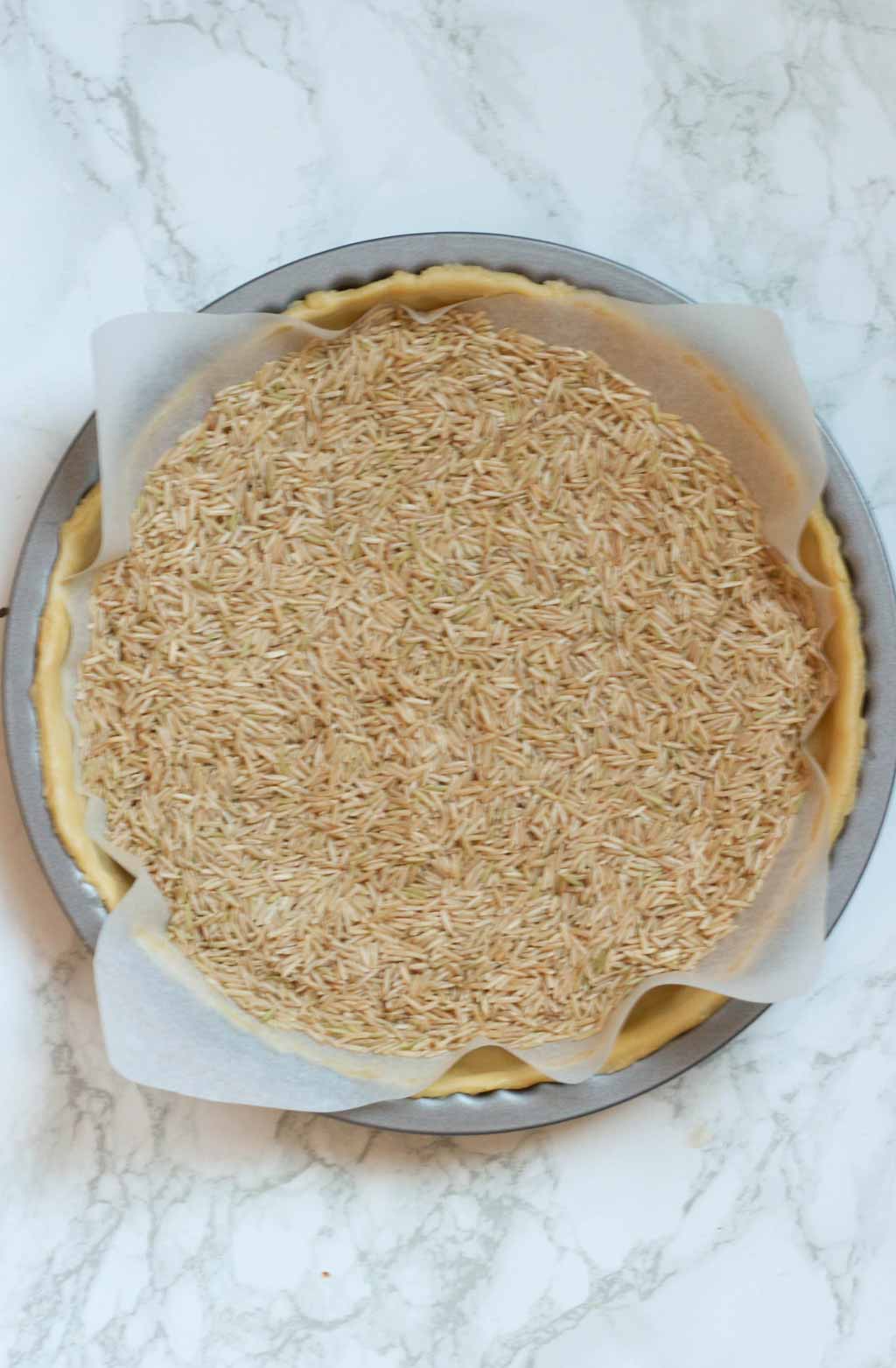 Once you've lined and weighted the dough, bake it for 15 minutes. Then remove the baking beans/rice and the baking paper, and bake for a further 15 minutes.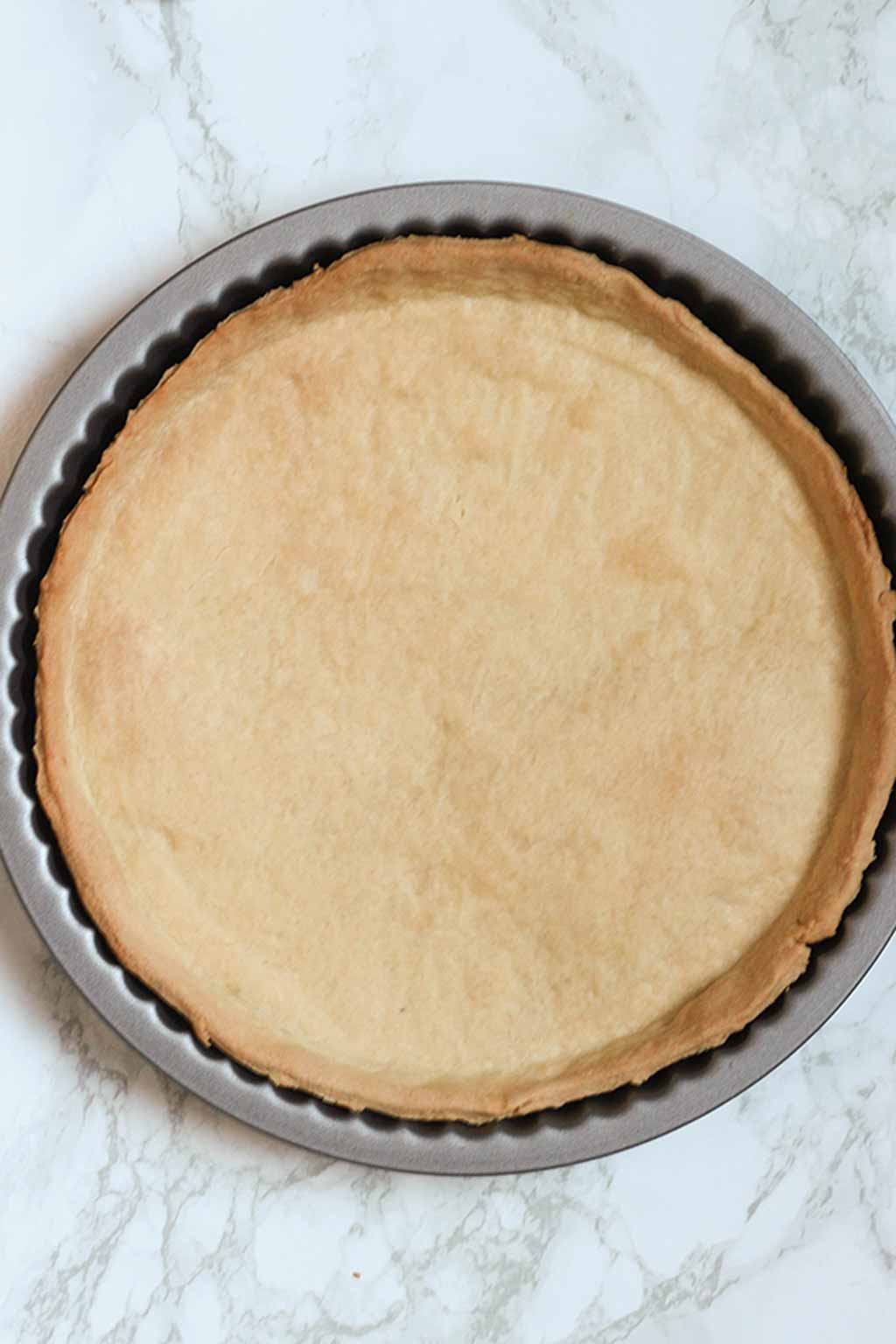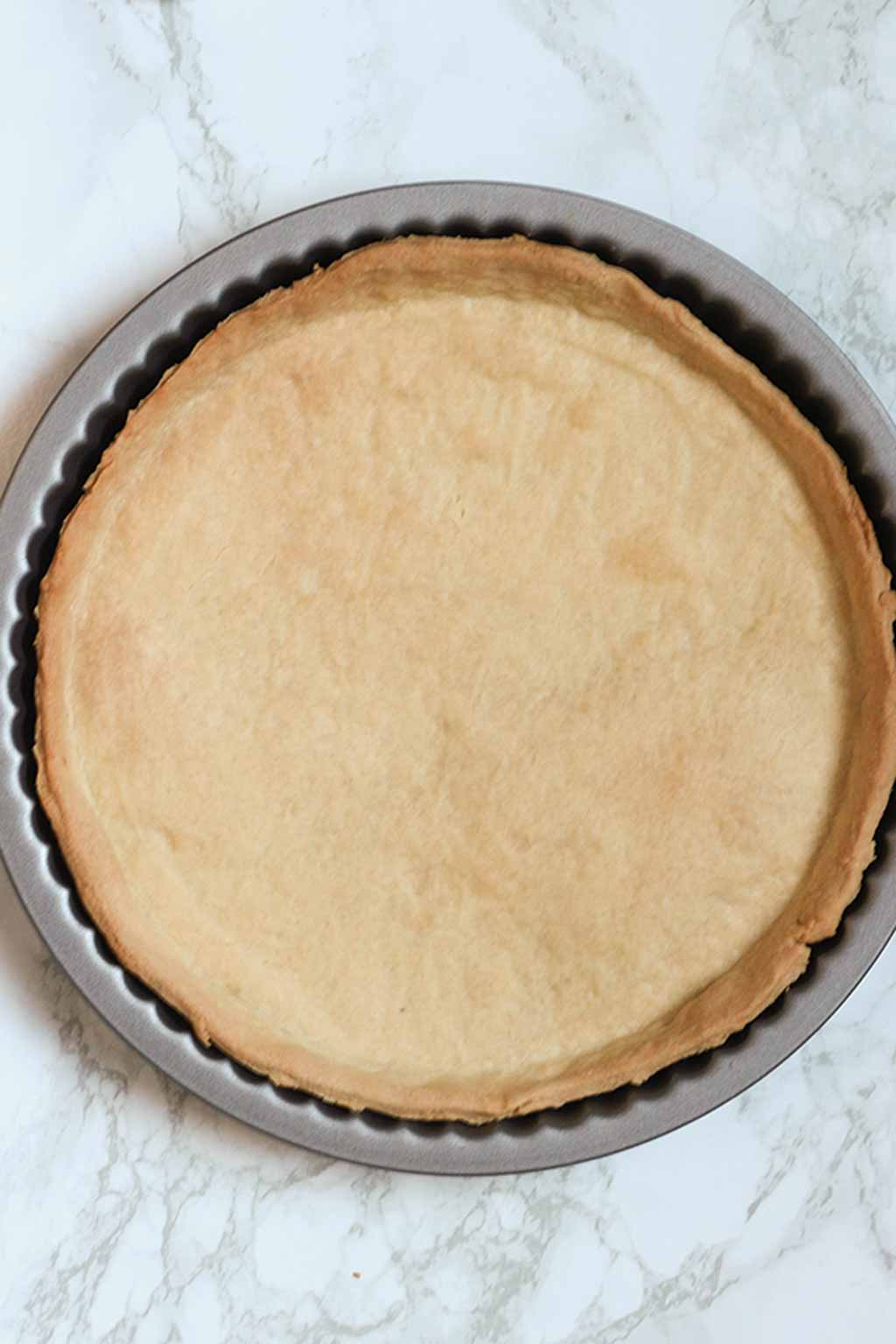 Blind baking is good for "wet" fillings such as fruit, when the filling is done baking before the dough would be. Blind baking ensures that your pastry will be cooked through after the filling is added.
As I said, these instructions are only for the pastry shell if you plan to fill them with a no-bake filling. If blind baking an apple pie or similar, the process will be slightly different so be sure to follow the recipe instructions exactly.
Top tips
Run your hands under very cold water (then dry them) before handling the dough. This will stop heat from your hands melting the fat inside of the dough.
Work gently and press the dough until it just comes together. Overworking the dough will make it tough and chewy after baking.
Use the spreadable type of spread that is similar to margarine rather than the blocky, buttery type.
FAQ:
How many servings does this pastry dough make?
It'll make enough for the base of one 9-inch pie or tart, 12 mini tarts using a cupcake tin, or 6 tartlets using 3-inch tart tins.
Can I use oil instead of vegan margarine?
I don't recommend using oil because it doesn't have that classic "buttery" flavour that you'll get with the margarine. It will also probably change the texture of the pastry, but I haven't tested this recipe with oil.
How long will vegan shortcrust dough last in the fridge?
I recommend using it straight away if possible so that it's easier to handle. If you can't, cover the dough with plastic wrap or put it in an airtight container and it will keep well for 1-2 days. When you're ready to use the dough, take it out of the fridge and let it come to room temperature before rolling.

When it's cooked, you can wrap the pastry in plastic wrap and store it in the fridge for 1-2 days before filling.
Can I freeze it?
The dough can be wrapped in plastic wrap and frozen for up to 2 months. I recommend defrosting it fully before baking as I haven't tested baking it from frozen.

The cooked pastry can also be frozen for up to 2 months, wrapped in plastic wrap. Defrost at room temperature before filling.
I hope you enjoy the recipe. Do let me know in the comments if you try it and what you're filling it with! Happy baking! xo

Vegan Shortcrust Pastry
Easy, 4-ingredient sweet shortcrust pastry dough without eggs or dairy.
Servings
1
batch of dough
Ingredients
215

g

Plain/all-purpose flour

135

g

Vegan margarine*

15

g

Icing sugar

1

Tablespoon

Ice cold water
Instructions
Add the flour to a large bowl and rub in the margarine until you have a mixture that resembles breadcrumbs.

Add the cold water and stir gently until it starts to stick together, then use your (cold and clean) hands to press it into a ball of dough. It will seem crumbly at first but will come together.

Wrap the dough in plastic wrap or put it in an airtight container and refrigerate for 30 minutes.

Once chilled, remove from the fridge and gently press it in your hands to get rid of any cracks or crumbly bits. Use as directed in your pie or tart recipe.
Recipe Notes
*Use the spreadable type that comes in a tub, not the block.

If you want to bake the empty shell for a no-bake filling, please see the detailed post above for details.

You can store the wrapped dough in the fridge for 1-2 days. Bring it back to room temperature before rolling.
Nutrition Facts
Vegan Shortcrust Pastry
Amount Per Serving (1 batch of dough)
Calories 1477
Calories from Fat 684
% Daily Value*
Fat 76g117%
Sodium 828mg36%
Carbohydrates 173g58%
Protein 21g42%
* All values are an estimate only and will vary depending on the food brands used.
BakedByClo is a participant in the Amazon Services LLC Associates Program, an affiliate advertising program designed to provide a means for sites to earn advertising fees by advertising and linking to Amazon.com. This site may contain some of these links to Amazon.com & other affiliate programs. If you make a purchase through one of those links, BakedByClo will receive a small commission from the purchase at no additional cost to you.