Vegan Jam Tarts
These vegan jam tarts are cute, dainty and perfect for Summer time. They are super easy to make, with just 4 ingredients, and would make a lovely addition to any afternoon tea!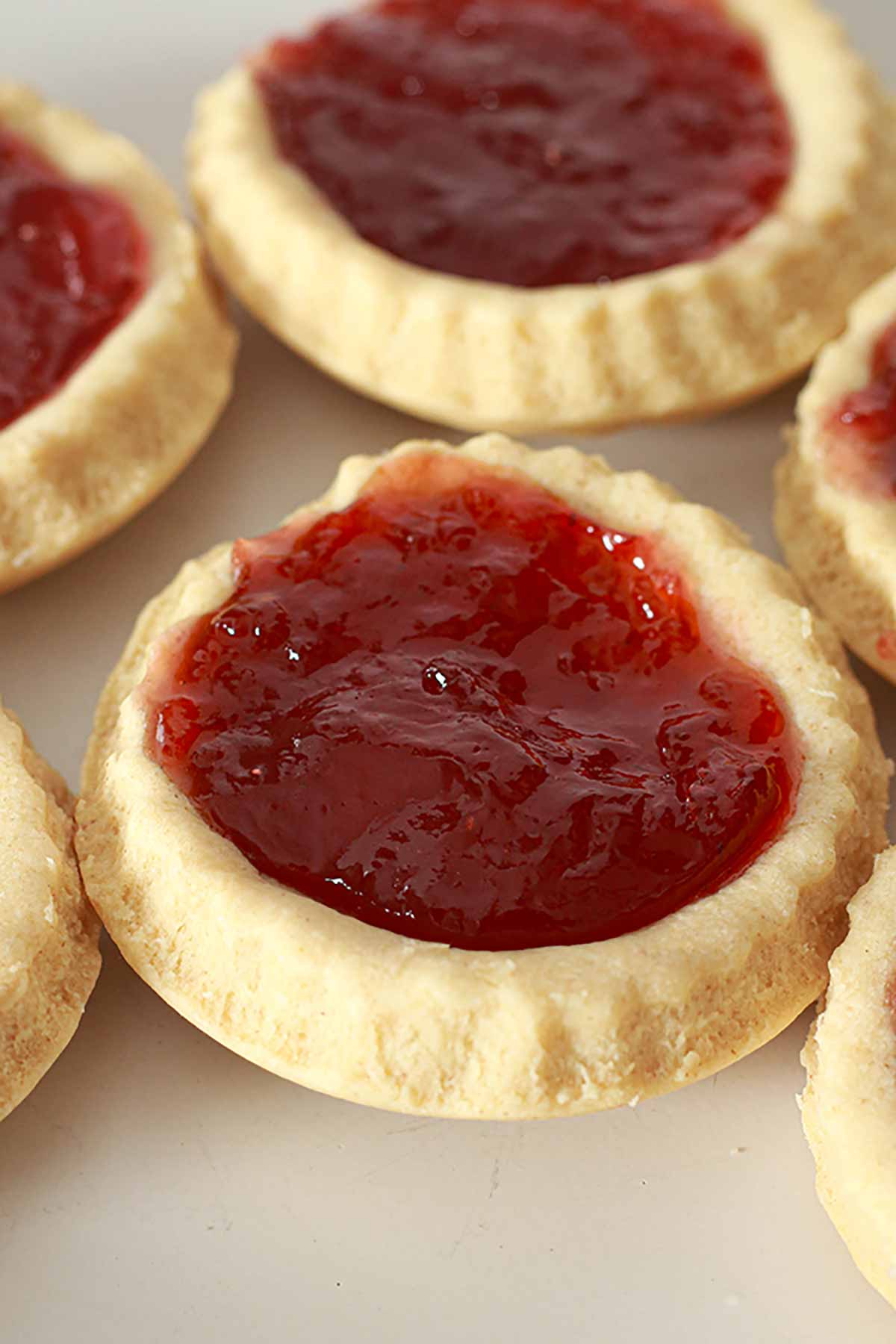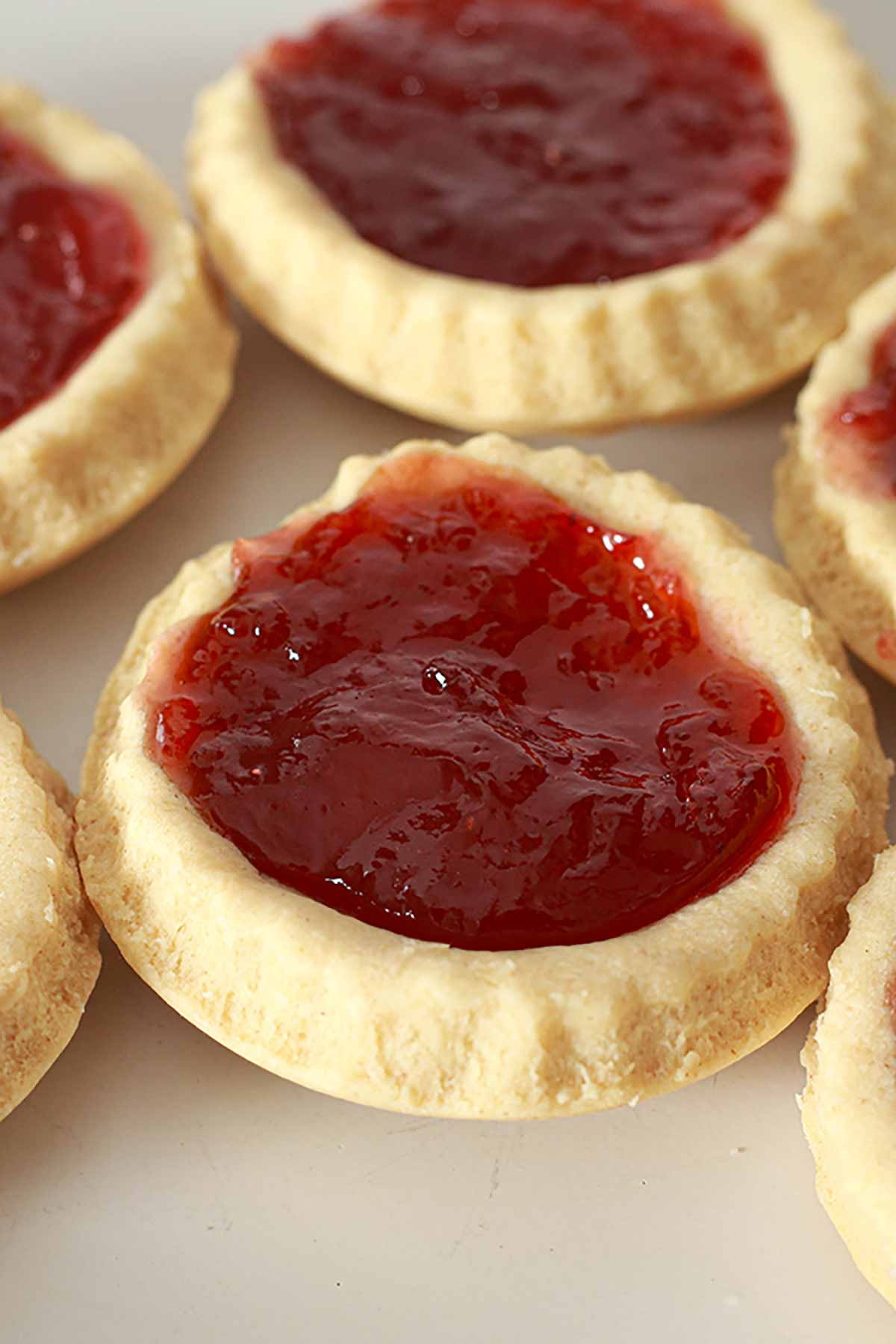 Does anyone else just LOVE miniature desserts?
A while ago, I shared a recipe for mini lemon tarts in my monthly newsletter. It was a super simple recipe made up of short crust pastry and homemade vegan lemon curd.
Because they were so cute and dainty, I wanted to share another variation on the blog itself and I came up with the idea of strawberry jam tarts. In my opinion, anything flavoured with strawberries is just perfect for summer!
I love these because they contain just 5 ingredients, or if you use store-bought pastry instead of homemade pastry, there are only 2 ingredients! You can't get much easier than that, can you?
Aside from the pastry, you'll need some strawberry jam for the filling. It doesn't really matter which type of jam you use here, just use whichever one is your favourite. Do be sure to check the ingredients though- it's rare, but I have seen jams made with non-vegan ingredients before. You can never be too certain!
I tested this recipe with Tesco's own strawberry jam and then again with strawberry conserve, which was a little more on the pricey side. To be honest, I would just go with the cheaper option in the future because both were equally delicious!
So whichever filling you decide to use, I know you will love these mini tarts! If you're ready to bake, let me show you how to make them…
More sweet vegan tart recipes:
How to make vegan jam tarts
Step 1:
Before you begin, preheat your oven to 200°C/400°F. If you're using a fan or convection oven, set the temperature to 180°C/350°F instead.
You'll also need to have a 12-hole cupcake tin to hand, as this is what you'll use to bake the short crust pastry in.
Step 2:
Add 215g of plain flour to a large bowl. Next, add 135g of vegan margarine and rub it into the flour, until you have a mixture that resembles breadcrumbs.
Use the spreadable type instead of the blocky, "buttery" style of vegan margarine.
Next, stir in 15g of icing sugar.
Step 3:
Add 1 tablespoon of ice cold water to the breadcrumb mixture and stir it in. Use your hands to gently press everything together to make a ball of dough.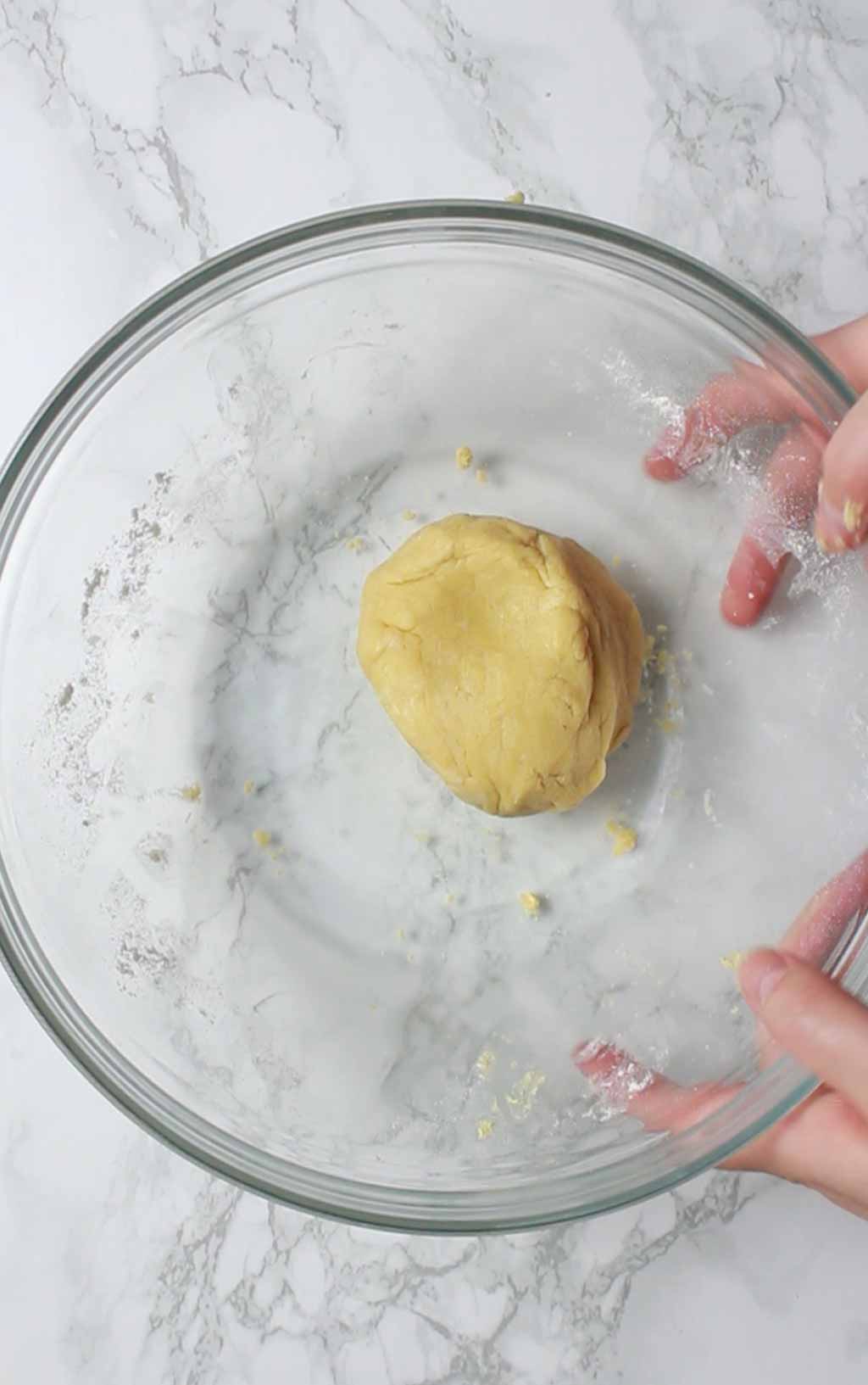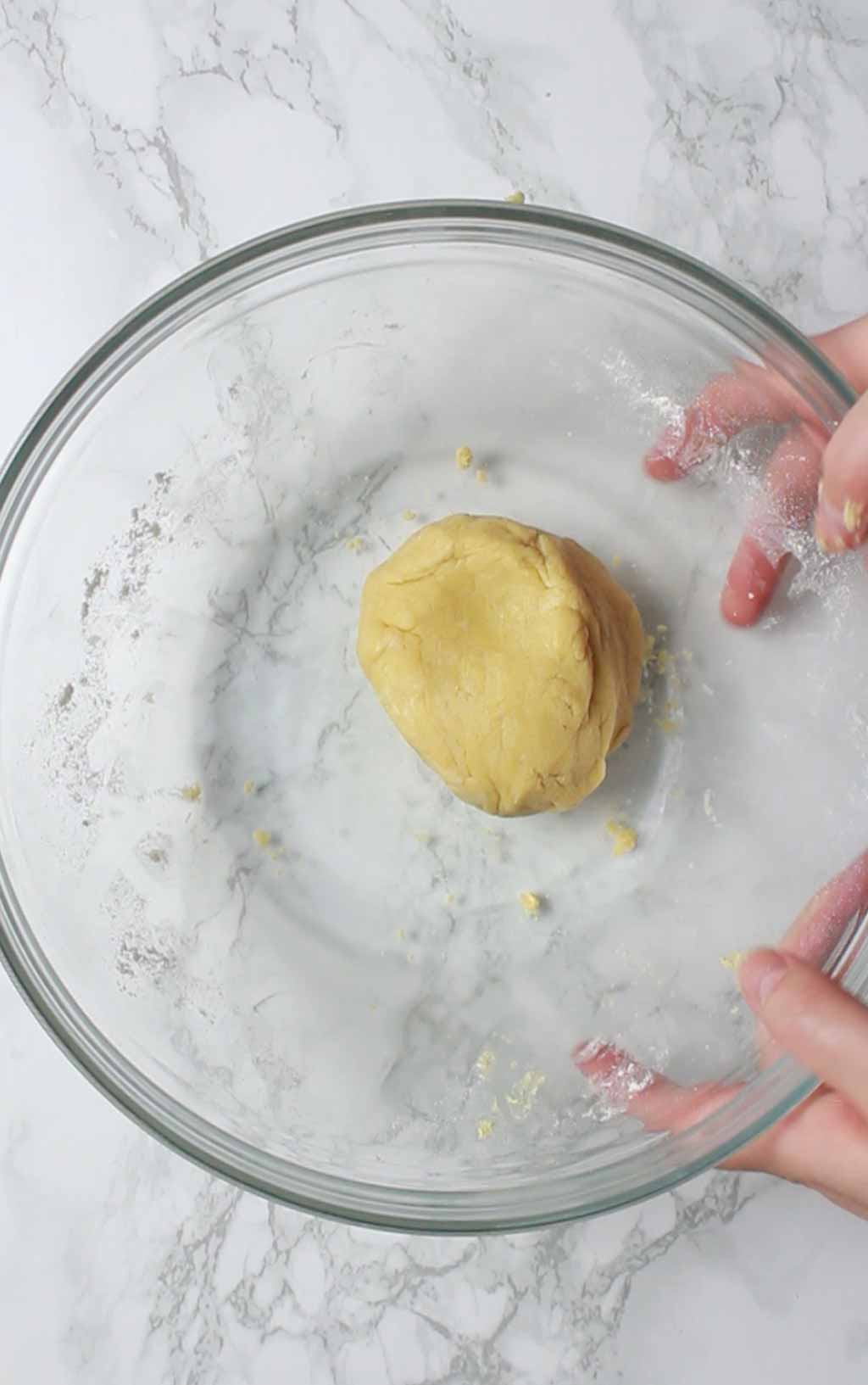 Cover the dough in plastic wrap or put it into an airtight container and place it in the fridge for 30 minutes.
Step 4:
After the 30 minutes are up, unwrap the dough and very gently press it in your hands to get rid of any cracks. Be careful not to overdo it or the pastry will end up tough.
Roll the dough out onto a floured surface until it's around 1/2cm thick. Using a round cookie cutter that is around the same size as the cupcake tin holes, cut out 12 circles. You'll need to re-roll the leftover pieces a few times in order to get 12.
Step 5:
Place the pastry circles into the cupcake tin holes and use your fingers to set it into place. Make sure it goes up the sides, so that it's deep enough to hold the jam filling.
If your tin isn't a non-stick one, you'll need to give it a light spray of cooking oil before you put the pastry in.
Step 6:
Loosen your strawberry jam by giving it a good mix in the jar or in a small bowl. Then place 1-2 teaspoons into the middle of each tart case. Spread it out evenly into the tart.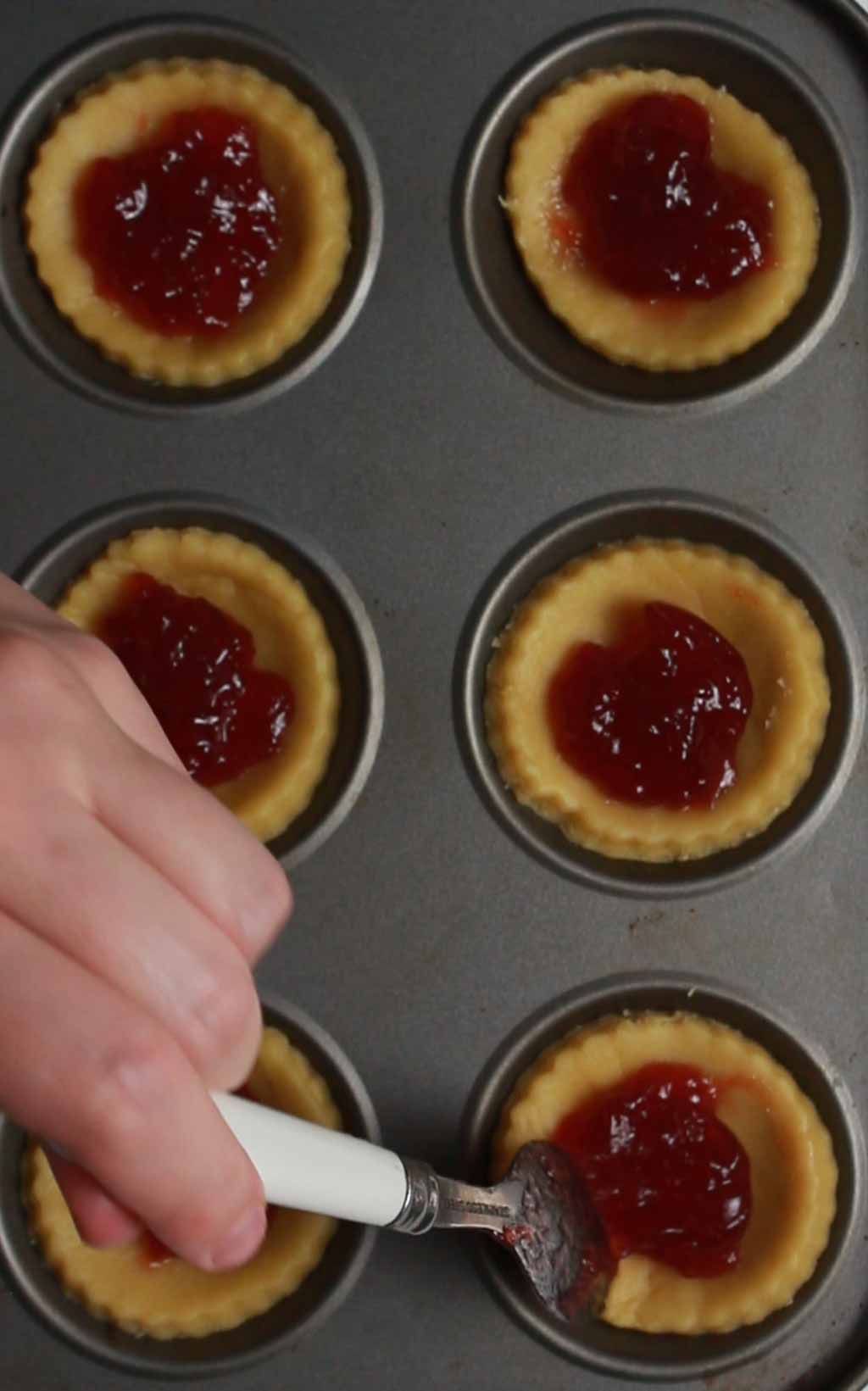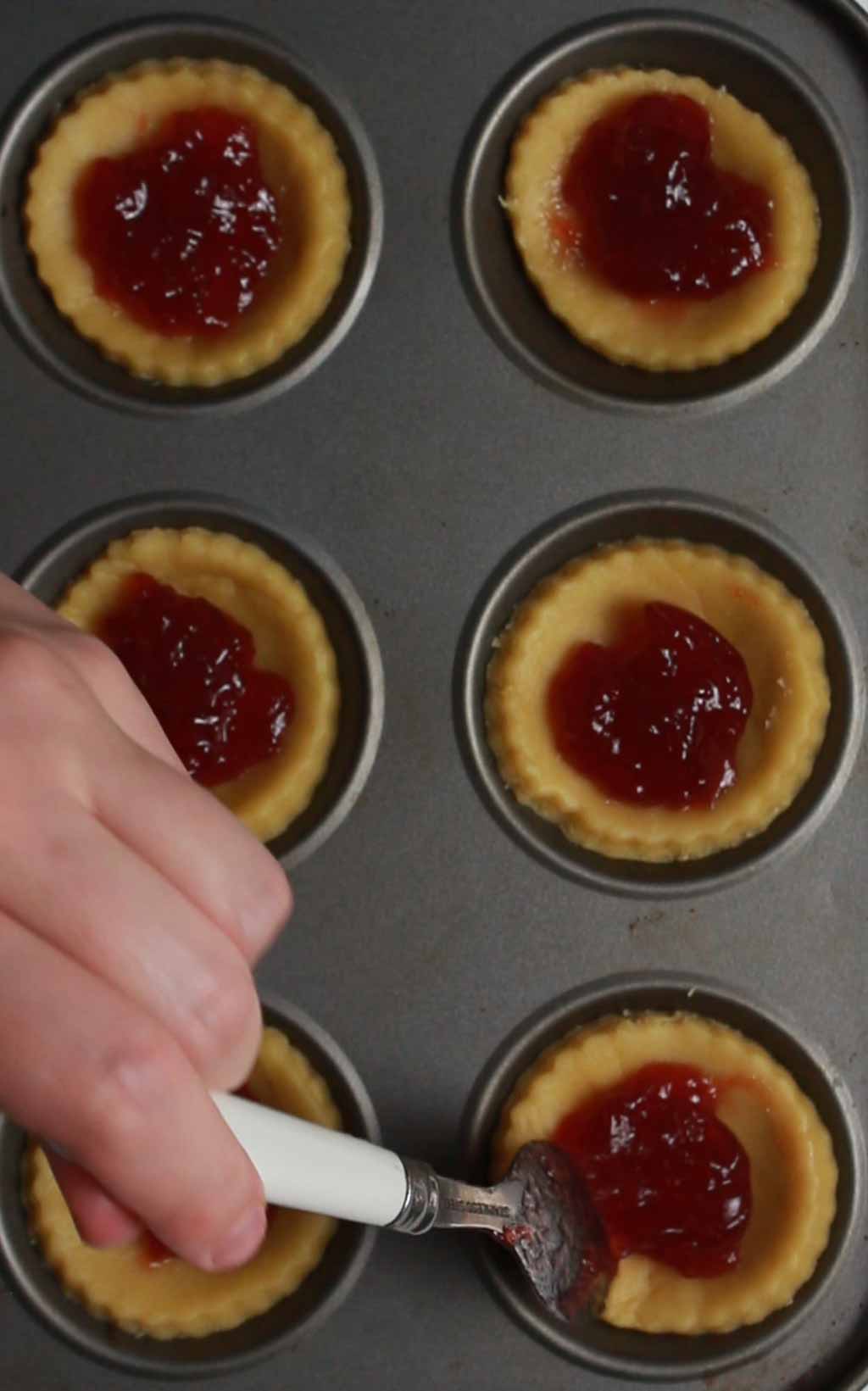 Bake for 20 minutes then remove them from the oven. Be very careful not to touch them as the hot jam can cause burns!
Once the tarts have cooled completely, remove them from the tin and enjoy!
FAQ:
Can I use ready-made shortcrust pastry?
Yes! If you don't feel up to making your own pastry, you can buy a ready-made one. Most of them are accidentally vegan-friendly but do check that there's no butter or milk added just to be on the safe side. The one that I typically like to use is JusRol.
What's the best type of jam to use?
Anything goes for this recipe! I've made this recipe using a supermarket own-brand, super cheap jam and again using a fancy strawberry conserve. Both were equally delicious.

You can also use homemade lemon curd, marmalade, raspberry jam or any other type of jam/conserve that you like.
How long will they last?
These are best enjoyed on the day of baking but will last for 2-3 days if stored in an airtight container in a cool, dry place such as a kitchen cupboard.
Can jam tarts be frozen?
Yes! These mini tarts freeze really well and it's great to just take one when you fancy it, rather than having to defrost a whole dessert for one small piece.

Just pop them into an airtight container, using a sheet of baking paper in between layers if you're stacking them. Then you can freeze them for up to 2 months.

When you're ready to defrost them, transfer them to a wire rack or plate and let them sit at room temperature for an hour or two until completely thawed. I would advise against refreezing after you've defrosted them.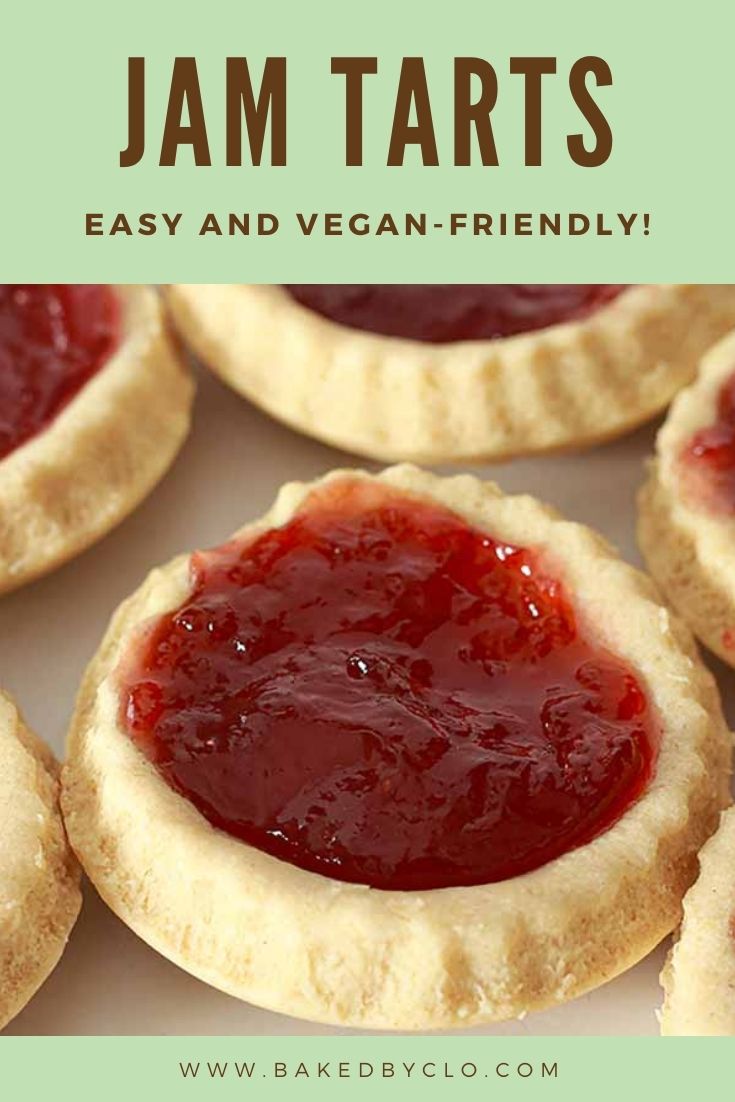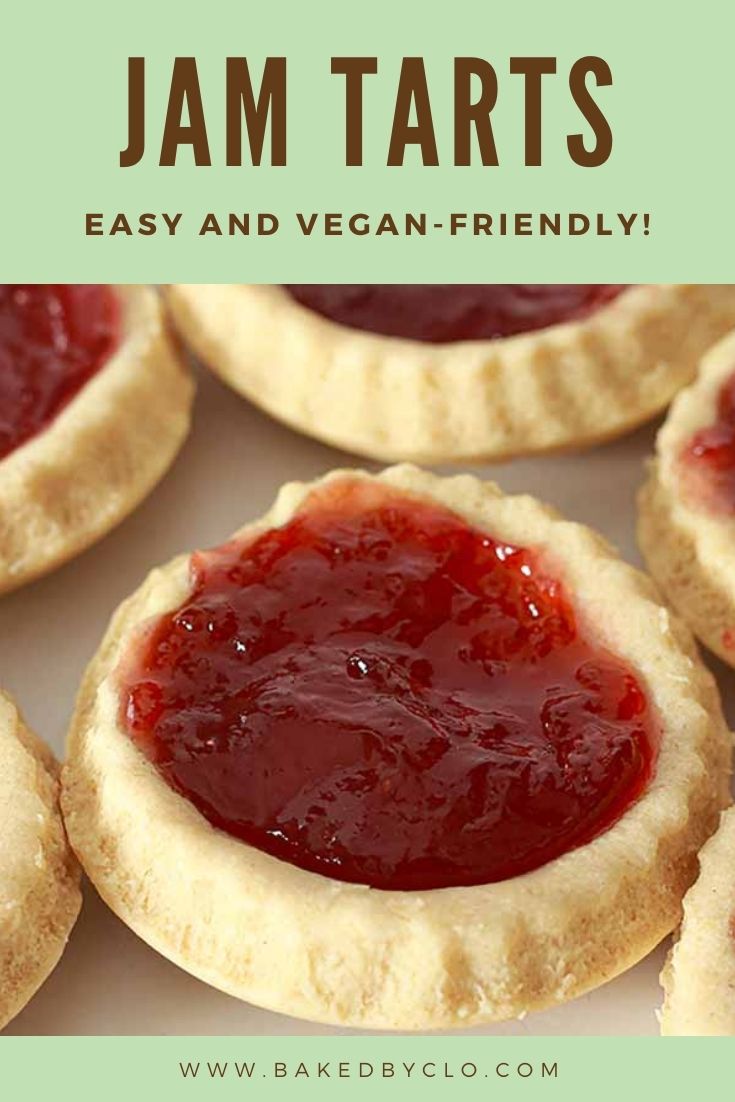 That's all for now! I really hope you enjoy the recipe. If you make the jam tarts at home, please let me know how you get on by leaving a rating and/or a comment below. Happy baking! xo

Vegan Jam Tarts
Mini shortcrust pastry tarts filled with strawberry jam.
Ingredients
215

g

Plain flour

(~1+¾ cups)

135

g

Vegan margarine

(½ cup + 1 tablespoon)

15

g

Icing sugar

(1 tablespoon)

1

Tablespoon

Ice cold water

8

Tablespoons

Jam of choice

(I used strawberry)
Instructions
Preheat your oven to 200°C/400°F (or 180°C/350°F if you're using a fan or convection oven). Have a 12-hole cupcake tray to hand.

Add the flour to a large bowl and rub the margarine in until the mixture resembles breadcrumbs. Stir in the icing sugar.

Add the water to the mixture and stir until it starts to stick together. Then use your hands to press it into a ball of dough. It will seem crumbly at first but will come together.

Cover the dough and place it in the fridge for 30 minutes.

After the 30 minutes are up, remove the dough from the fridge and gently press it in your hands to get rid of any cracks.

Roll the dough out onto a floured surface, until it's around ½ cm thick. Rotate and add more flour as needed.

Use a round cookie cutter to cut out circles that are slightly larger than the cupcake tin holes, re-rolling leftover pieces as required.

Place a circle of dough into each cupcake hole and use your fingers to set it into place.

Mix the jam thoroughly to loosen it up. Then place 1-2 teaspoons into each pastry tart.

Bake for 20 minutes. Be careful not to touch the hot jam.

Leave the tarts to cool completely in the tin before enjoying.
Recipe Notes
Use ready-made shortcrust pastry for an easy, 2-ingredient recipe!
Store in an airtight container at room temperature for up to 3 days.
Nutrition Facts
Vegan Jam Tarts
Amount Per Serving (1 jam tart)
Calories 135
Calories from Fat 54
% Daily Value*
Fat 6g9%
Sodium 7mg0%
Carbohydrates 19g6%
Protein 2g4%
* All values are an estimate only and will vary depending on the food brands used.
BakedByClo is a participant in the Amazon Services LLC Associates Program, an affiliate advertising program designed to provide a means for sites to earn advertising fees by advertising and linking to Amazon.com. This site may contain some of these links to Amazon.com & other affiliate programs. If you make a purchase through one of those links, BakedByClo will receive a small commission from the purchase at no additional cost to you.