Vegan Vanilla Cheesecake
This vegan vanilla cheesecake is quick, easy and best of all, contains no cashews or nuts! It requires just a few simple ingredients and is a no-bake recipe that can be whipped up in less than half an hour. It's perfect for after dinner dessert, taking to parties or just for sharing with your friends with a cup of tea!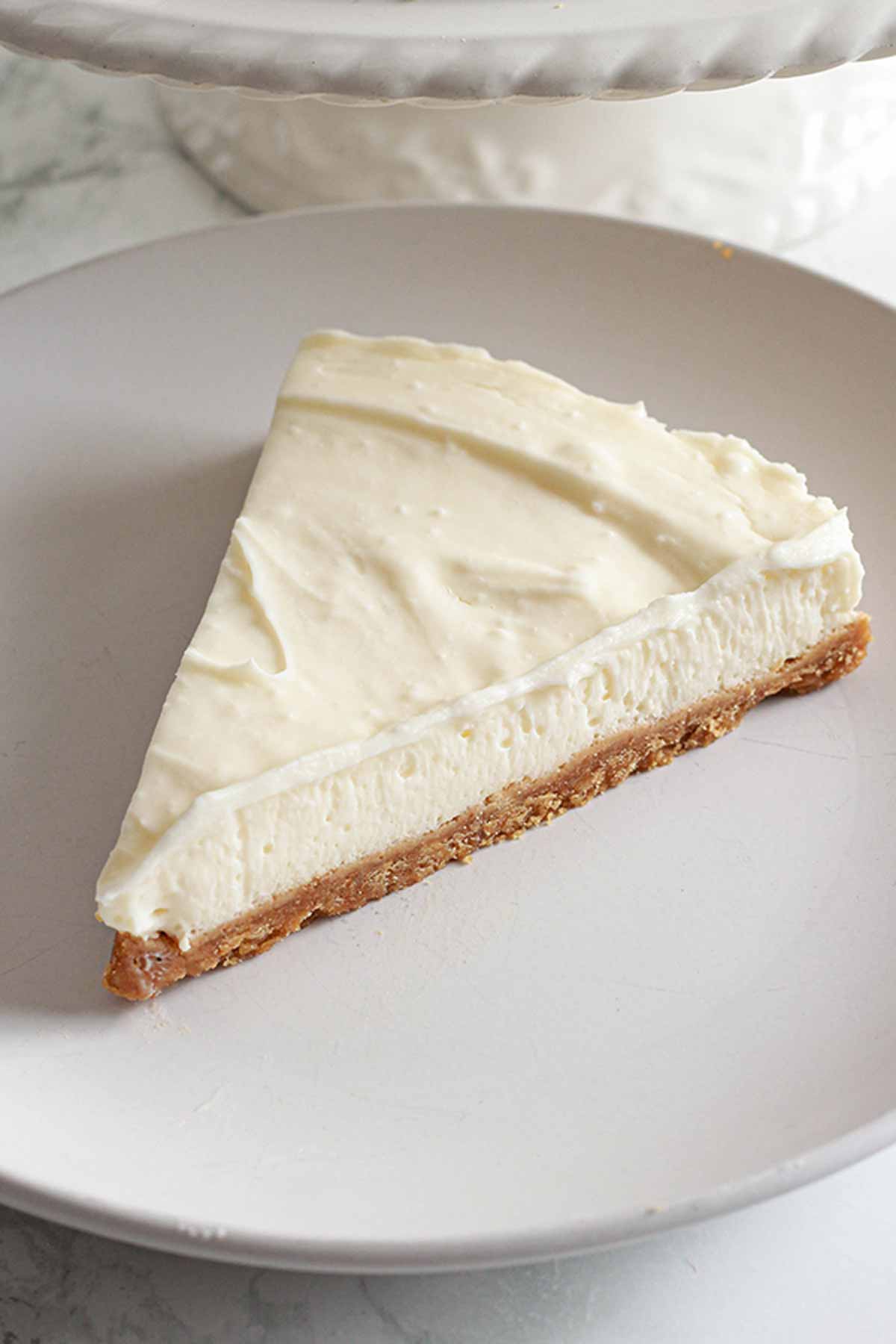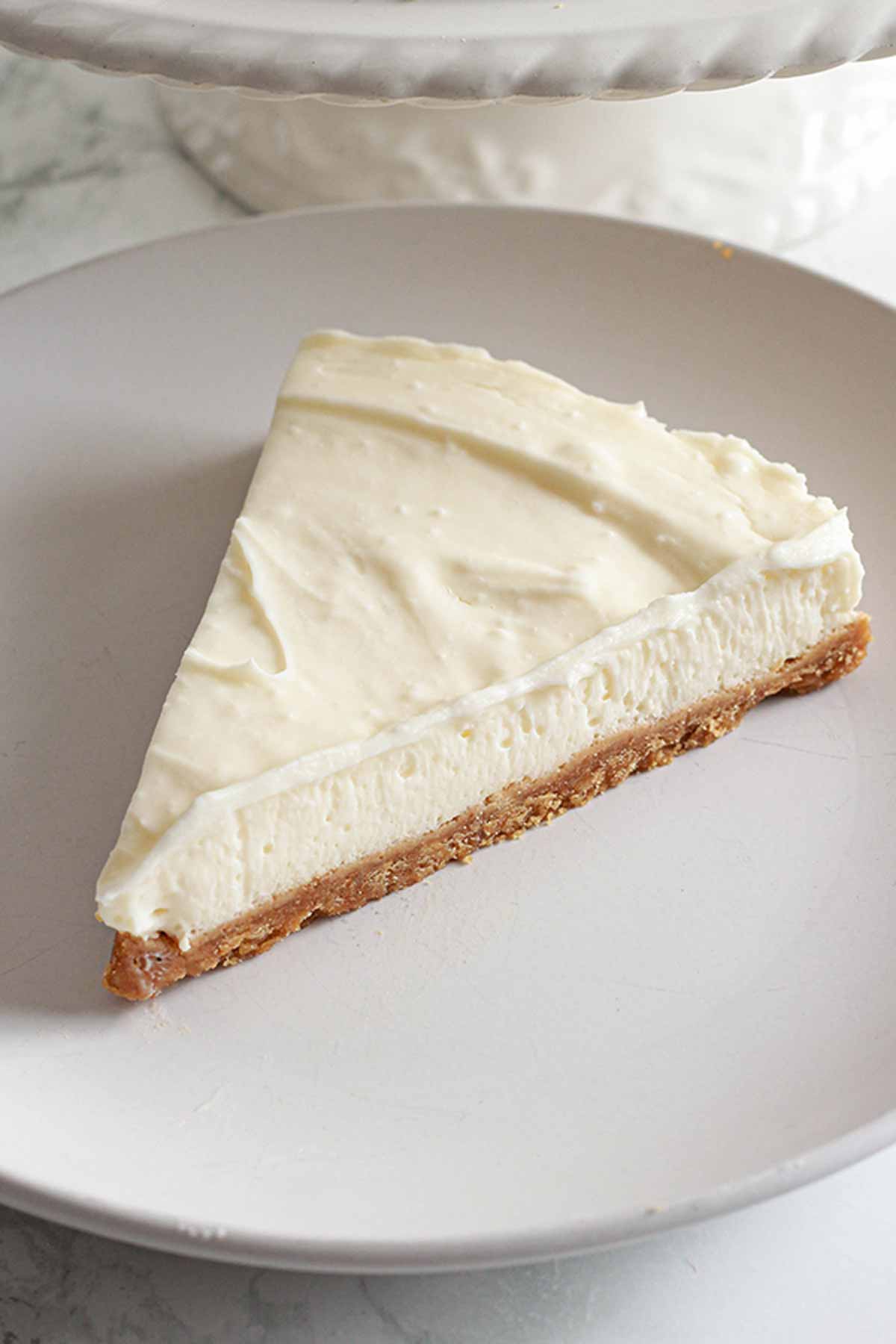 A few months ago now, I made my vegan Biscoff cheesecake and it had rave reviews from all of my family members that tried it.
It was the second vegan cheesecake I'd ever made, only after my Oreo cheesecake, and I promised them there would be more flavours to come!
While the fancy, decadent flavours are obviously great, you just can't beat the classics! I don't have a vegan vanilla cheesecake recipe on the blog yet so I thought it was about time I shared it!
Simple, creamy vanilla cheesecake with a classic Digestive biscuit base. It tastes exactly like the dairy versions of cheesecake you've probably made before and I promise your friends and family will never be able to tell the difference!
Many brands of Digestive biscuits are accidentally vegan-friendly, including McVitie's which is probably the most well-known brand in the UK. Whichever brand you choose to buy, just make sure you're watching out for things like milk and butter in the ingredients list. My go-to is Ms Molly's because they're super cheap, and don't taste any different from the more expensive brands in my opinion.
No nuts!
This vegan cheesecake filling is made up of just 4 ingredients. No cashews or other nuts needed for this one! There's a time and a place for cashew cheesecakes but this ain't it.
The first ingredient, and probably the most obvious one, is vanilla extract. Next is icing sugar and vegan cream cheese.
I almost always use Violife cream cheese for my no-bake cheesecakes because it's the creamiest and always holds firm without fail. It is a little on the pricey side but I promise it's worth paying the extra! Without cashews, you need something sturdy that will create structure in the filling.
Some other brands of vegan cream cheese (especially the cheaper ones) tend to have a very strong flavour that isn't pleasant. They also often contain more water and are likely to produce a floppy, mushy mess of a cheesecake. Not the vibe we're going for here!
I've also heard great things about Sainsbury's cream cheese's ability to produce a firm vegan cheesecake although I've never actually used it myself for this particular recipe. The taste however, is spot on in my opinion!
If you've never worked with vegan cream cheese before, do not be put off by the different texture, smell or taste. I personally don't like the taste of vegan cream cheese on its own but once it's mixed with a little sugar and cream, I honestly cannot tell the difference between that and dairy cream cheese. You have my word!
The last ingredient for the cheesecake is dairy-free whipping cream. I use Elmlea plant cream which is available to purchase in most UK supermarkets. You have to make sure it's the double version you buy and not the single, which doesn't have enough fat to help the cheesecake hold shape.
If you can't get a hold of Elmlea double plant cream, there are a few alternatives you could try. Please proceed with caution though as I have not tested these options and cannot guarantee they will work.
If you do try any of these brands, please leave a comment on this recipe to let me know whether or not you had success. It would be super helpful for other readers when they come to make it.
More vegan cheesecake recipes:
Equipment
For this recipe, you don't need to many pieces of equipment because it's a no-bake recipe that requires very little effort.
For the base, you need to crush the Digestive biscuits into small crumbs. You can do this in a high power blender or food processor for speed or you can do it the old fashioned way with the end of a rolling pin and crush the biscuits in a large bowl. Both work just as well so it's up to you! As long as you can get the biscuit crumbs super fine, you're good to go.
For the filling, you will need a whisk or stand mixer. I highly recommend using an electric whisk at minimum unless you have the patience and arm strength to whip double cream by hand (I definitely do not). Aside from whipping the double cream, you can mix everything else by hand with a wooden spoon.
Lastly, you will need a 23cm/9-inch spring form cake tin. These are the type that have removable bottom, making it super easy to remove the cheesecake once it's set. I use this tin from Tesco.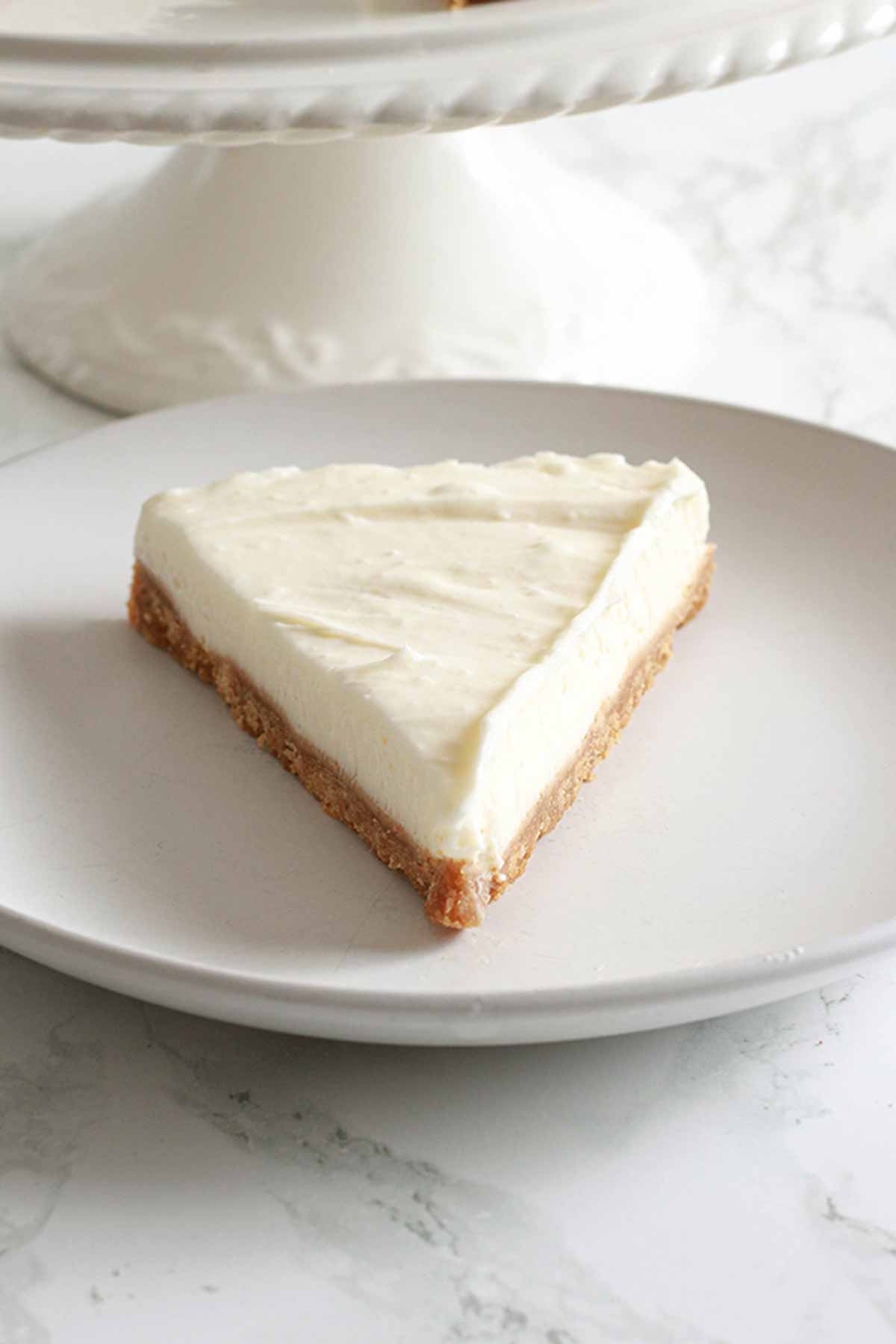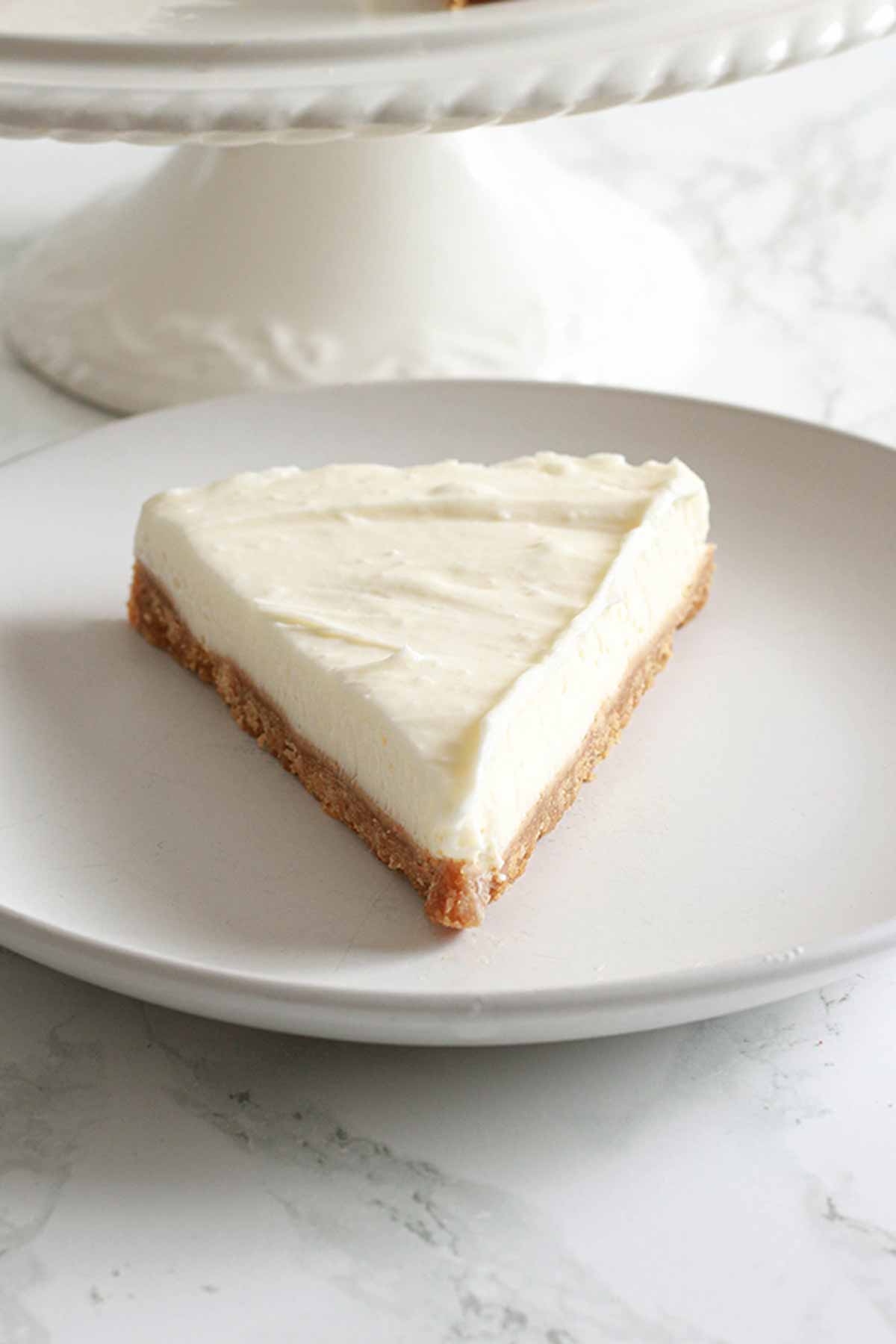 Side note about springform tins…
If you're a beginner baker and struggle to get your cheesecakes off of the bottom of the tin, let me help! This may be the most obvious thing in the world and I may be about to embarrass myself here, but the first few times I ever made cheesecake, I had the base the wrong way round!
I thought I had to slide my cheesecake over the 'lip' of the base and was confused as to why it fell apart every time! So make sure that the 'lip' of the base is facing downwards before you make the cheesecake. That way, you'll be able to smoothly slide the cheesecake right off onto your cake tin.
I had only ever seen people using their springform tins with the lip facing up (and that's the way they come when you buy them) but I guess removing them from the tin is less of an issue with other bakes like sponge cakes. I've also heard of others having the same problem as I did with crumbling cheesecakes, so I'm sorry if that was an obvious tip but I do hope it helps someone out there!
How to make vegan vanilla cheesecake
Step 1:
First, we need to prepare the biscuit base. Make sure you have a 9-inch springform tin to hand for this.
Measure out 300g of Digestive biscuits and crush them up into crumbs. I used my Ninja blender for quickness but you can also use a the end of a rolling pin. Try to get the crumbs as fine as you can. The less lumps, the better.
Step 2:
Melt 100g of vegan margarine in a small pot. Then pour it into a large bowl with the Digestive biscuit crumbs. Give it a good mix until all of the crumbs are well coated in the melted margarine.
Transfer the mixture to your springform tin and press it into place. I use the bottom of a measuring cup to make sure it's firmly and evenly packed in there. If you don't press it in tightly enough, it's more likely to crumble when you try to remove it later on.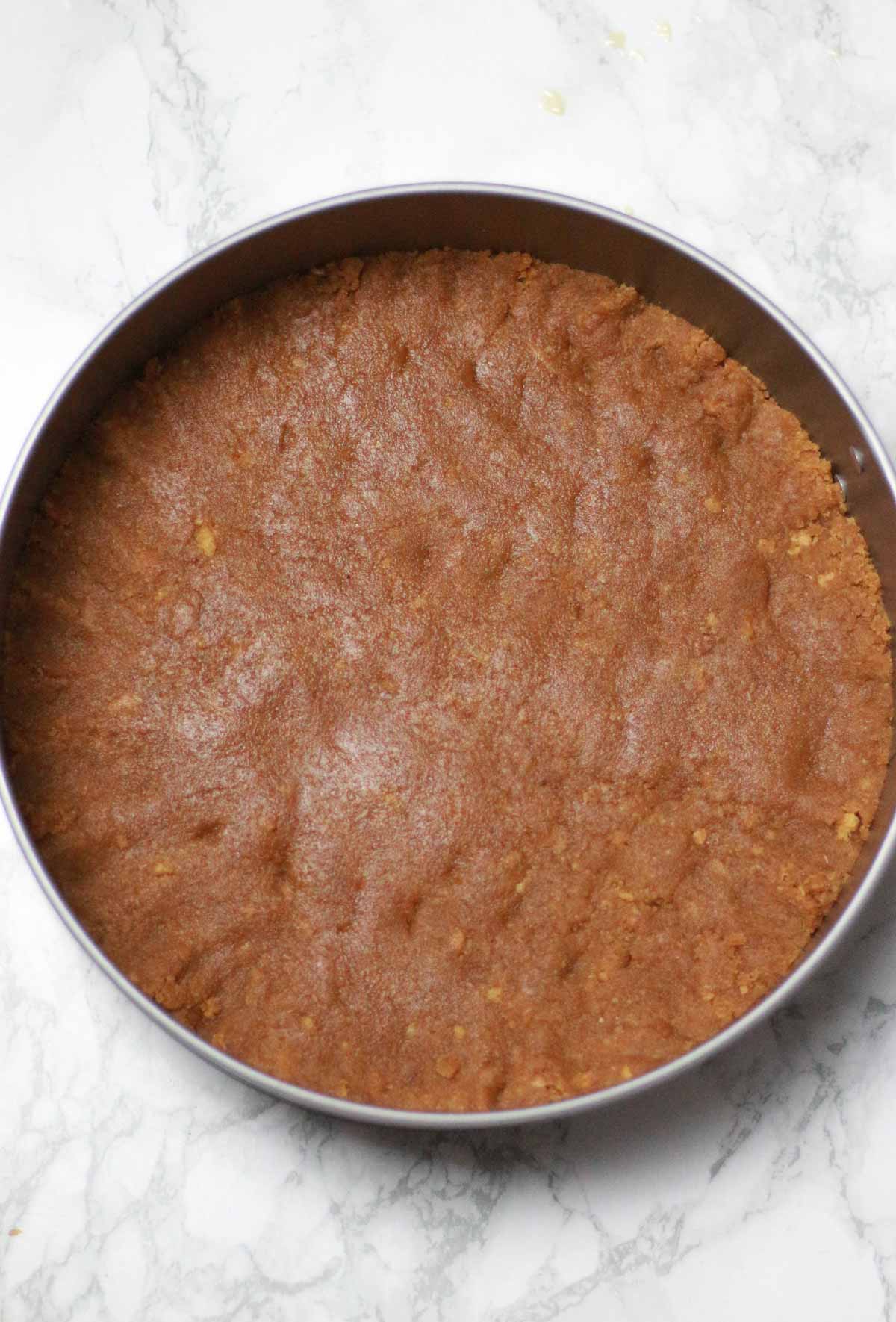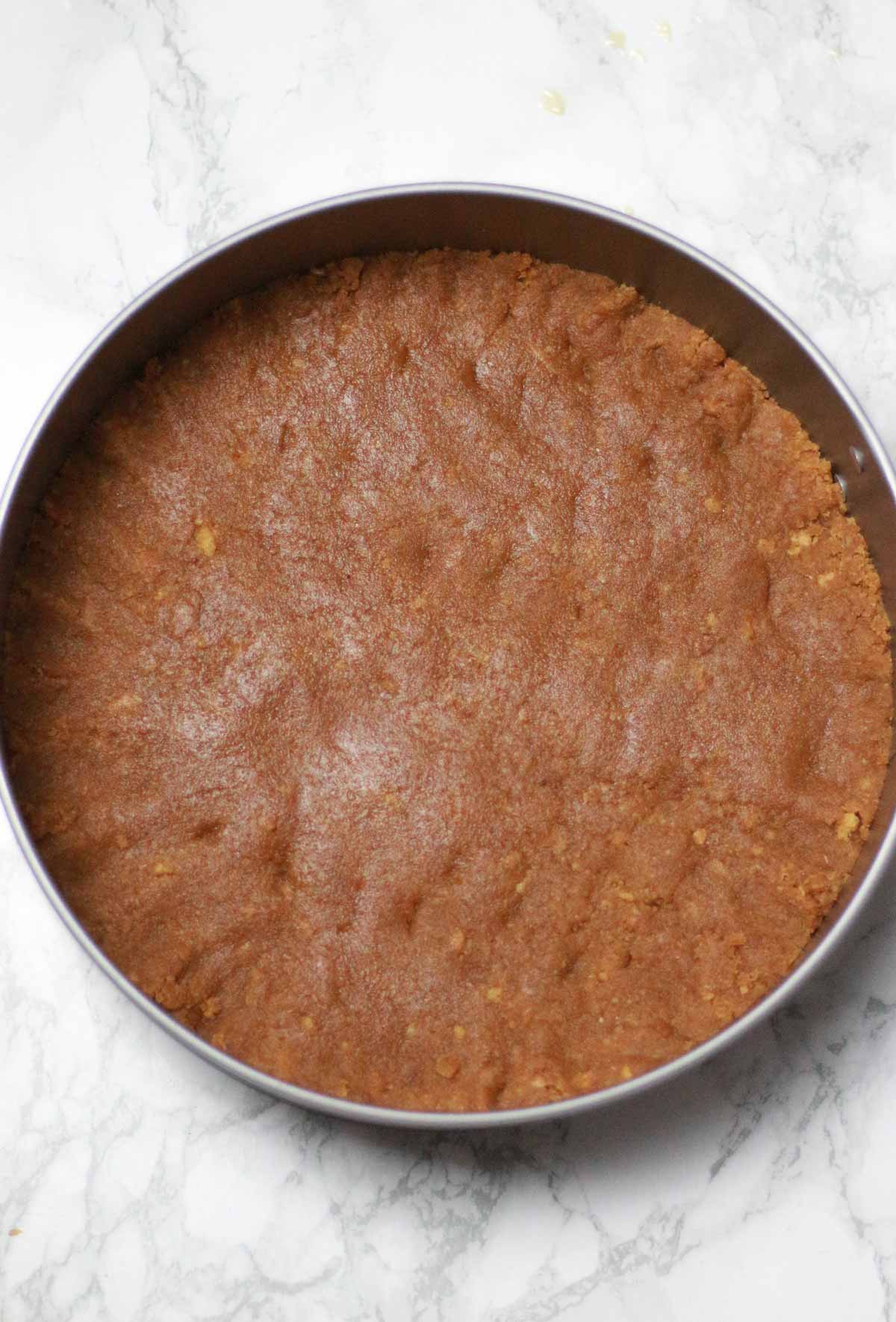 Step 3:
Next, we prepare the filling!
In a large bowl, mix together 400g of vegan cream cheese, 80g of icing sugar and 1 teaspoon of vanilla extract. You can do this with a wooden spoon or an electric mixer. You don't need to make it super soft, as long as the cream cheese is no longer solid.
Step 4:
Add 180ml of vegan double/whipping cream into the bowl and mix. You will need to use an electric whisk or stand mixer for this part.
Whisk it all together until it becomes thick and holds peaks on its own. The mixture won't be completely firm but it shouldn't be runny at all. It should be similar to the texture of a thick Greek yoghurt.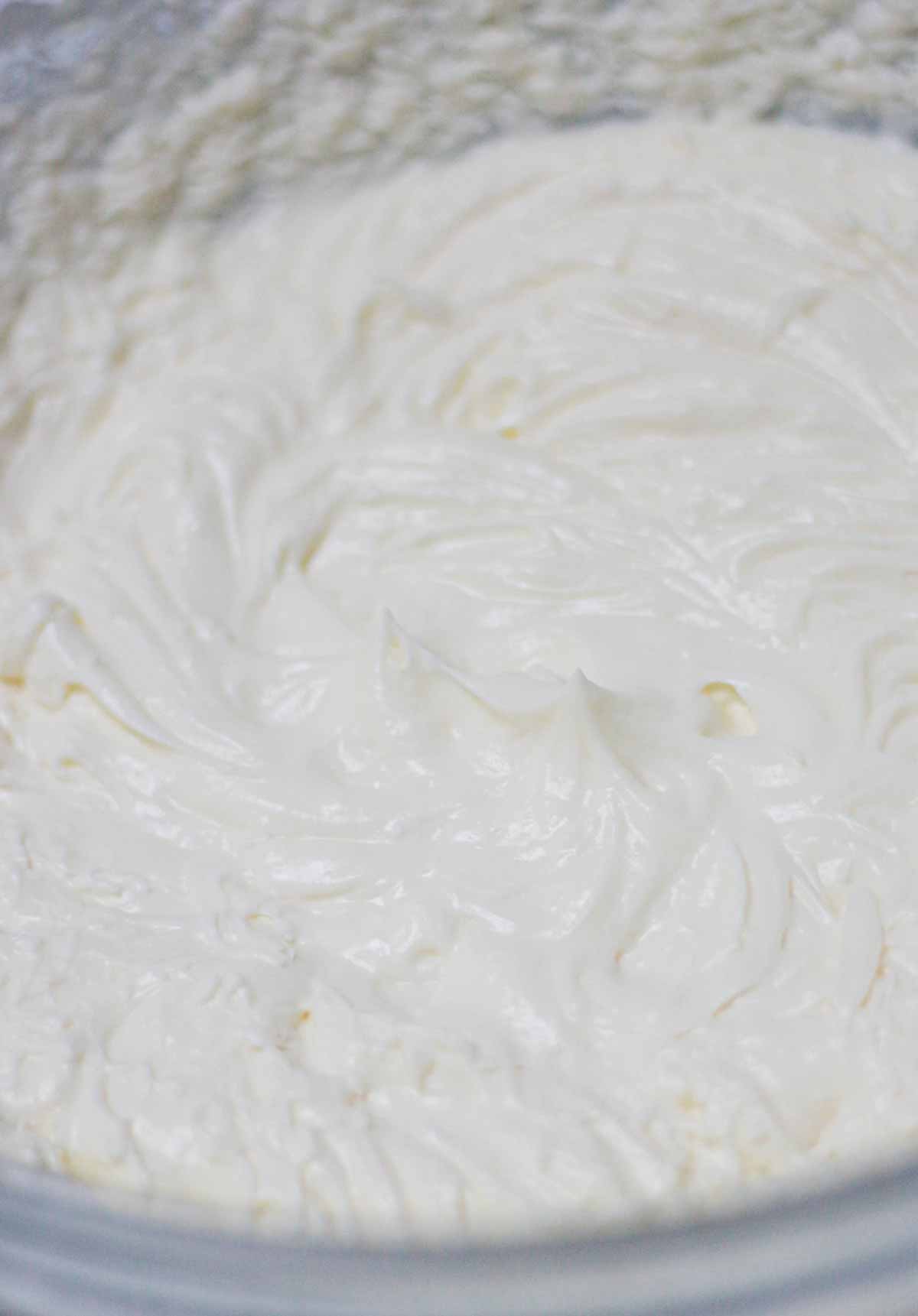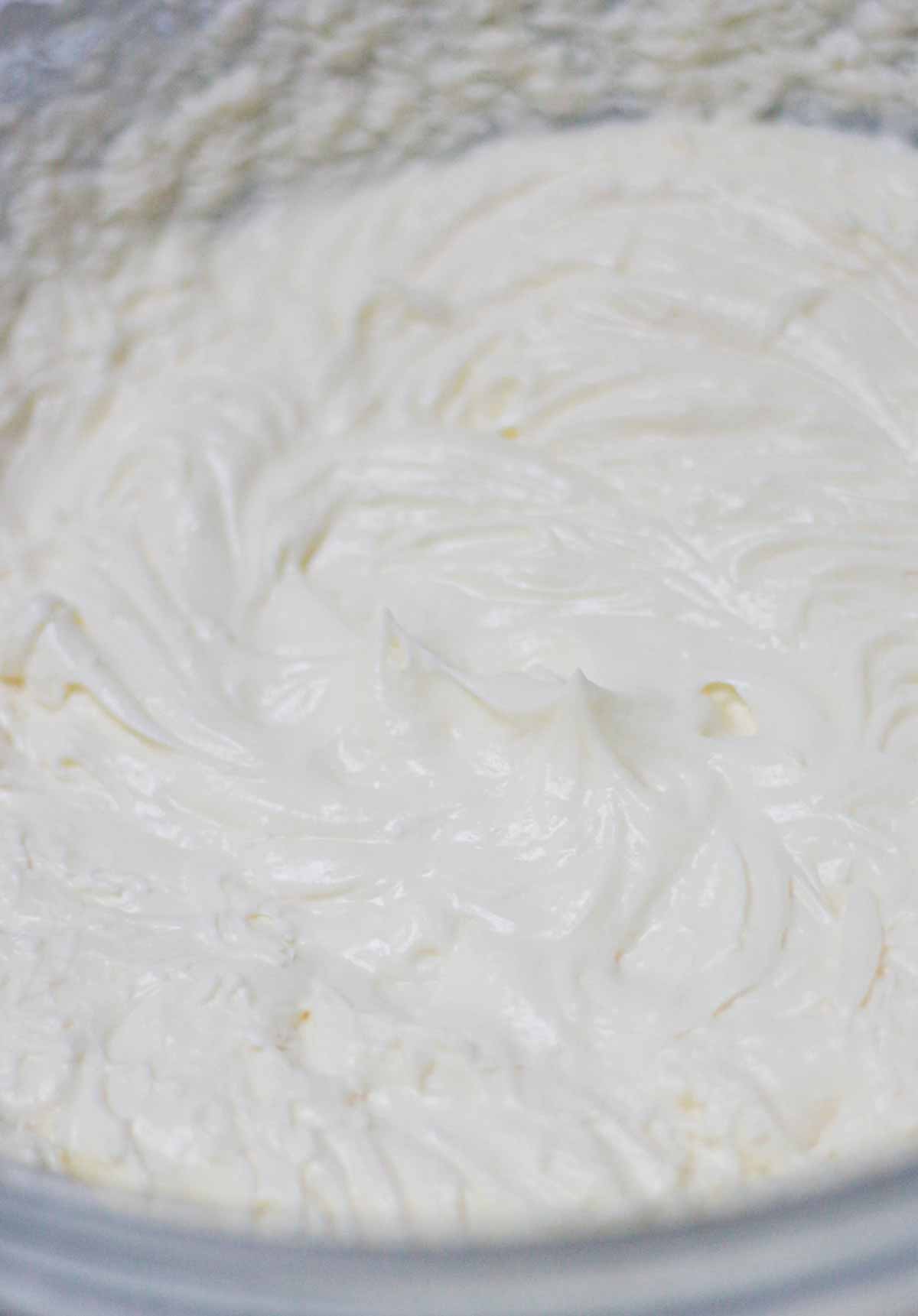 This part is really important. If you don't whisk it enough then it won't set properly in the fridge and you'll end up with a runny cheesecake.
Step 5:
Transfer the filling into your tin on top of the biscuit base and use a spatula to spread it out evenly.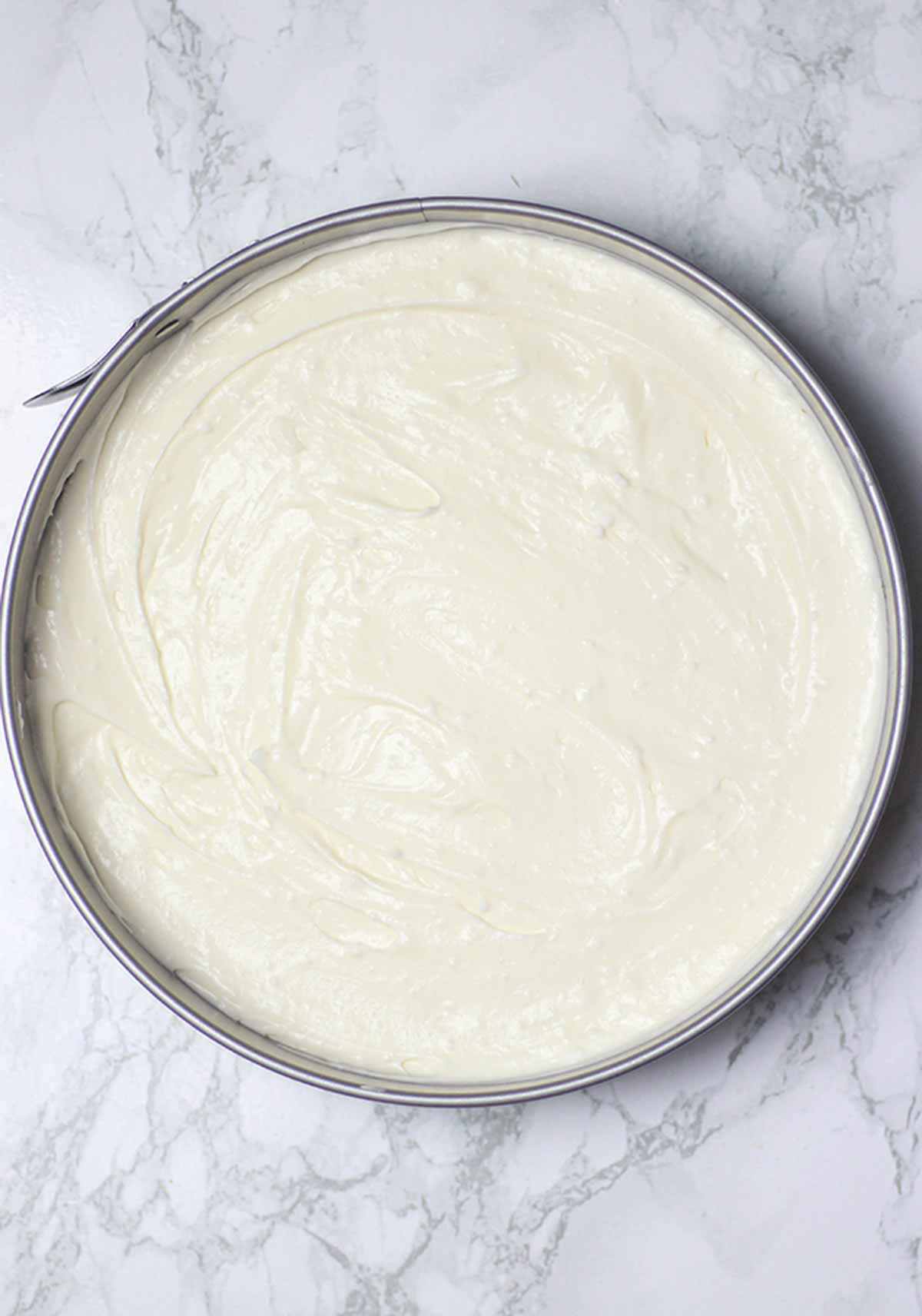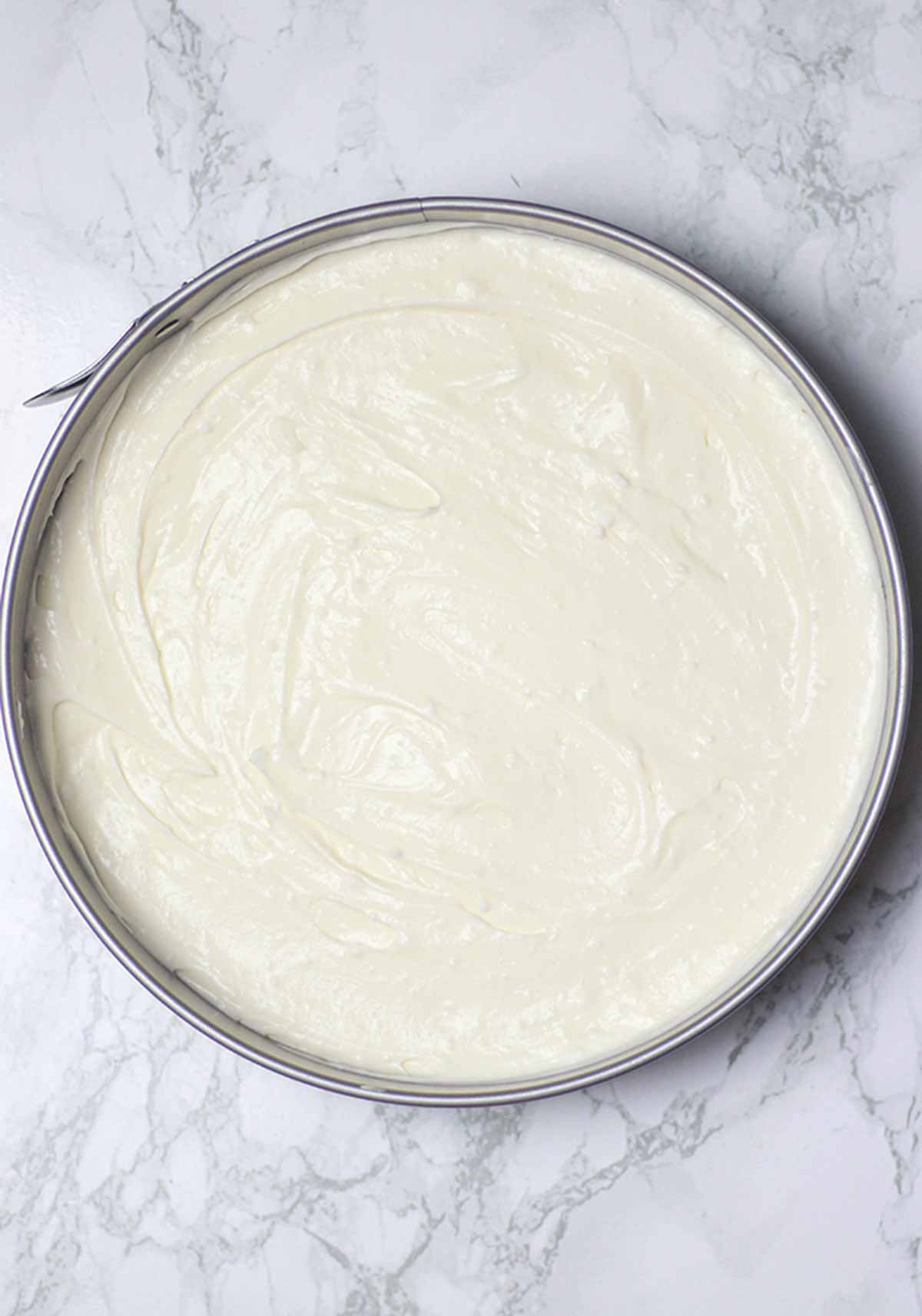 Transfer it to the fridge and leave it for 12 hours to set. I find it's best to make it in the evening so that it's ready in the morning!
Step 6:
Once the 12 hours have passed, carefully remove the springform side from the cheesecake.
To get it off of the base of the tin, gently loosen it all the way round using a cake slice or offset spatula. Then carefully slide it onto a cake stand or a plate.
You can decorate it with some fresh fruit, mint leaves or a dusting of icing sugar if you're feeling fancy but apart from that, you're done!
Now all that's left to do is cut it into slices and enjoy!
FAQ:
How many people will this cheesecake serve?
It depends on how much you love dessert, LOL. If you prefer your slices large, it will serve 6-8 people. If you cut it into smaller slices, it'll serve around 12 people.
What's the best way to store it?
Keep it covered in the fridge, ideally in an airtight container.
How long will it last?
If stored appropriately as above, the cheesecake will be good for around 5 days. It may last longer but I'm unsure as we always eat it long before then!
Can I freeze it for later?
Yes! This cheesecake is great for freezing. I recommend freezing individual slices rather than the whole thing, so that you can just defrost a slice as and when you want it.

Freeze the slices in airtight containers for up to 2 months. Alternatively, you can freeze the slices on a large tray and pop them into a ziplock bag once frozen.

When you're ready to eat them, transfer them to room temperature for around 30 minutes then pop them in the fridge until they're completely thawed.
Can I make the base gluten-free?
I haven't tested this myself yet but I would think you could make it gluten-free by simply switching out the Digestives for gluten-free ones, such as Asda's free-from digestives. You may also need to use a little more or less vegan margarine.

Alternatively, you could use a base made from dates and nuts, such as this one by Chocolate Covered Katie.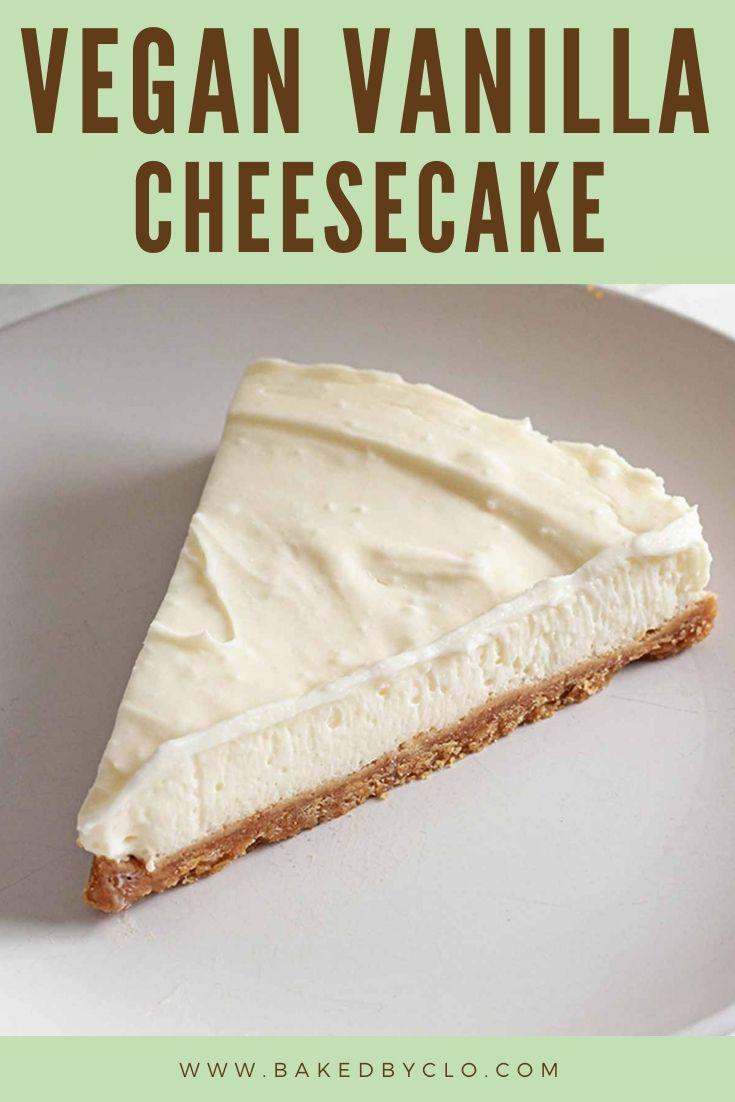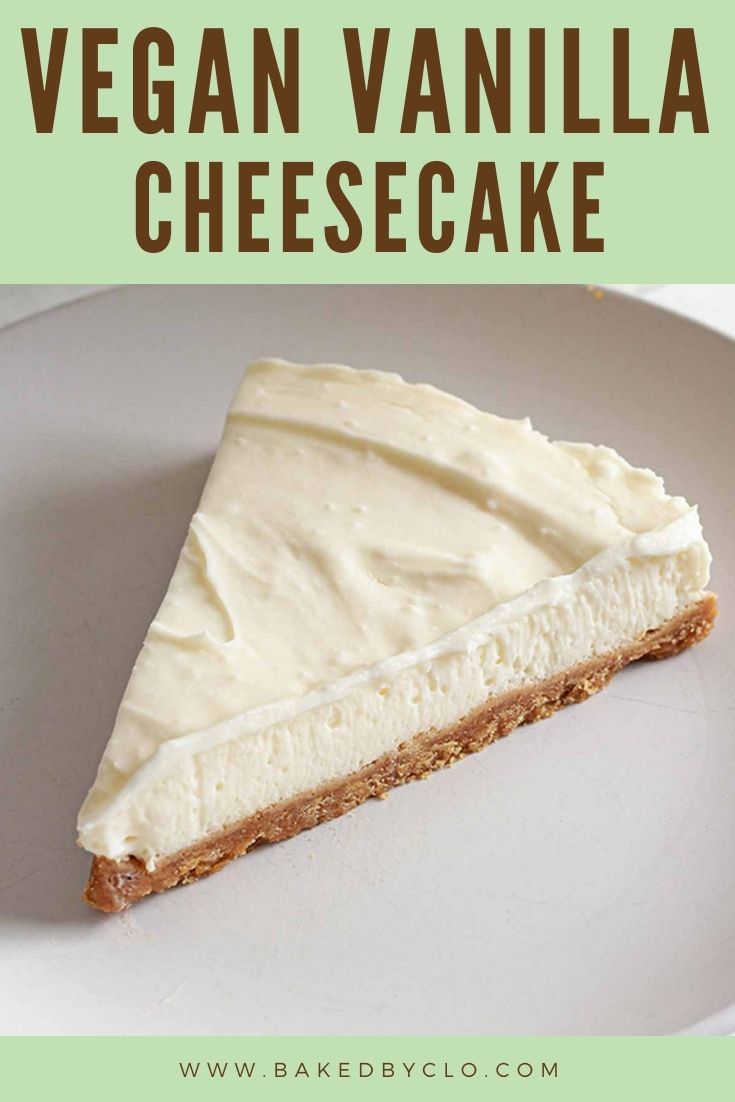 I really hope you love the cheesecake recipe! If you make it yourself at home, I'd love to know what you think of it. Please feel free to leave a rating and/or a comment below. Happy baking! xo

Vegan Vanilla Cheesecake (No Cashews)
Dairy-free vanilla vegan cheesecake made without cashews!
Ingredients
For the base:
300

g

Digestive biscuits

100

g

Vegan margarine
For the filling:
400

g

Violife cream cheese*

80

g

Icing sugar

1

Teaspoon

Vanilla extract

180

ml

Vegan double cream (I used Elmlea plant. Readers have also reported success with Oatly.)
Instructions
For the base:
Using a food processor, high power blender or a large rolling pin, crush the biscuits into fine crumbs.

Melt the vegan margarine then pour it into a bowl with the biscuit crumbs. Give it a good mix until the crumbs are well coated in the melted margarine.

Pour the crumbs into a 9-inch springform tin and press them in very tightly. I like to use the bottom of a measuring cup to do this. Place it in the fridge while you prepare the filling.
For the filling:
In a large bowl, mix the cream cheese, icing sugar and vanilla together until smooth.

Add the double cream to the bowl. Use an electric whisk or stand mixer to whip it into the cream cheese mixture until thick. It should be similar in consistency to Greek yoghurt.

Spoon the filling into the tin over the biscuit base and spread it out evenly. Return to the fridge and leave it to set for 12 hours.

After the 12 hours are up, carefully remove the cheesecake from the tin and transfer it to a cake stand or plate. Then cut into slices and enjoy!
Recipe Notes
Store in an airtight container in the fridge for up to 5 days.
*

I highly recommend using Violife cream cheese for best results. Other brands tend to have a stronger flavour and runnier texture.
Nutrition Facts
Vegan Vanilla Cheesecake (No Cashews)
Amount Per Serving (1 slice (12th))
Calories 304
Calories from Fat 189
% Daily Value*
Fat 21g32%
Sodium 352mg15%
Carbohydrates 27g9%
Protein 2g4%
* All values are an estimate only and will vary depending on the food brands used.
BakedByClo is a participant in the Amazon Services LLC Associates Program, an affiliate advertising program designed to provide a means for sites to earn advertising fees by advertising and linking to Amazon.com. This site may contain some of these links to Amazon.com & other affiliate programs. If you make a purchase through one of those links, BakedByClo will receive a small commission from the purchase at no additional cost to you.