Vegan Strawberry Cheesecake
This vegan strawberry cheesecake is no-bake, easy to make and is sure to be a crowd pleaser. A crunchy Digestive biscuit base topped with a creamy filling, strawberry jam and fresh strawberries.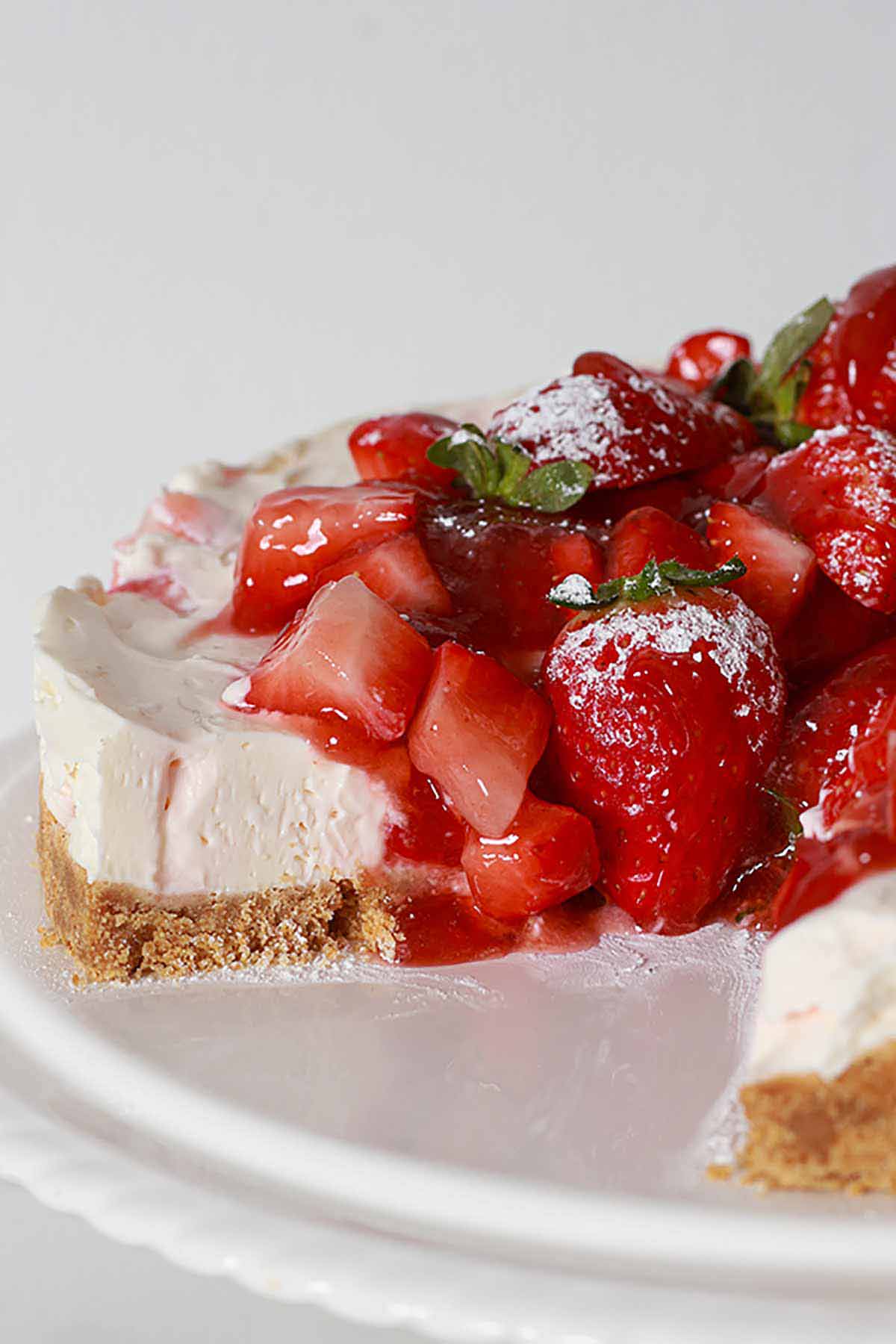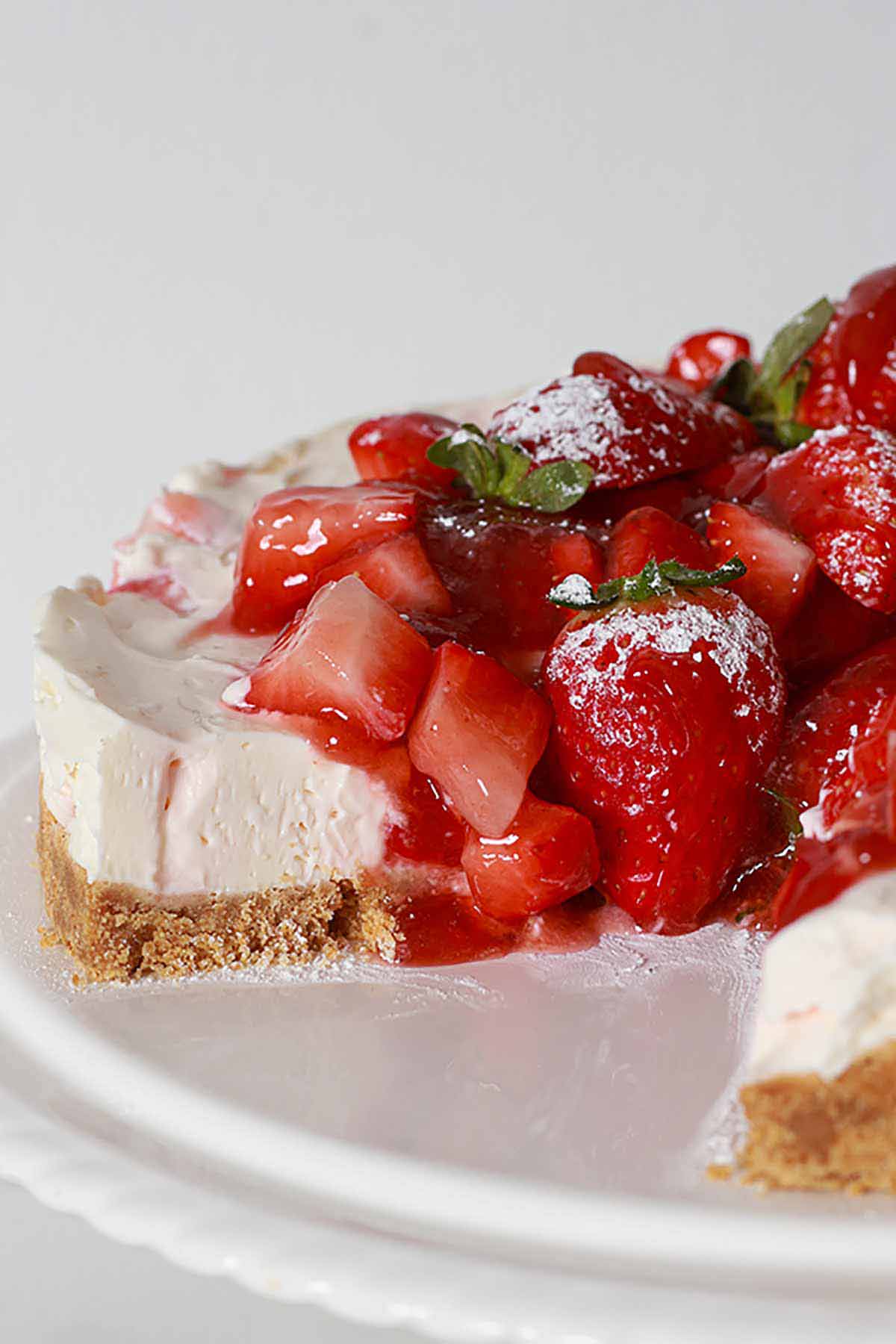 Happy 2022! This is my first post of the year and we're starting off with this fabulous dairy-free strawberry cheesecake.
I have been really getting into cheesecakes lately and have a few more recipes coming your way soon. They are so easy to make; just put the ingredients together in 10 minutes then pop it in the fridge and forget about it until it's ready!
I'd been thinking of making a vegan strawberry cheesecake for a while but didn't quite know how I was going to flavour it with strawberries without upsetting the delicate balance of the dairy-free ingredients.
I knew fresh strawberry puree probably wasn't going to work, and I didn't feel like buying tonnes of expensive vegan cream cheese to play around with it.
I also considered using freeze-dried strawberry powder but then I had a quick look on Google and saw many recipes with fresh strawberry pieces throughout the filling and decided I'd do that too! To be honest, I prefer the red and white contrast over a pink-looking cheesecake. It gives off a strawberries and cream vibe which I love.
I used the filling from my vanilla cheesecake recipe then added some fresh chopped up strawberries to it before leaving it to set. Once it had chilled overnight, I added some more fresh strawberries on top along with some strawberry jam. Using jam is quicker and easier than making a strawberry coulis but tastes pretty much the same.
I was really pleased with how the cheesecake turned out. There was plenty of strawberry flavour coming through and it tasted light and fresh. I'm sure you're going to love it too!
More vegan cheesecake recipes:
Equipment & Ingredients
9-inch springform tin. I used this one. You can use a smaller tin if you want the cheesecake to be thicker.
High power blender, food processor or rolling pin. To crush the biscuits.
Electric whisk or stand mixer. To whip up the filling.
Digestive biscuits. These biscuits create a lovely, neutral cheesecake base for the sweeter filling and topping. Most brands of Digestives are vegan-friendly now but be sure to double check for added milk.
Vegan margarine. I prefer using the spreadable kind of vegan margarine, the one that comes in the tub, because it's easy to find in even the smaller supermarkets. I recommend using margarine, as using vegan block 'butter' may result in a base that doesn't hold together too well.
Dairy-free cream cheese. Whenever I'm making anything with dairy-free cream cheese, Violife wins hands-down every time. It's a little more expensive than some other brands but I promise you, it's worth the investment! The supermarket-own brands tend to have an extremely strong (and unpleasant) flavour. They also usually have a lot more water in them, which isn't good if you're trying to make a sturdy cheesecake. So if you can get your hands on some, I really recommend using Violife!
Icing sugar. Adds a little sweetness to the filling, to balance out the tartness of the soft cheese.
Vanilla extract. Helps to enhance the flavour.
Vegan double cream. I always use Elmlea plant cream so I recommend using that. Make sure to get the double version and not the single, otherwise it won't set properly. Other whippable dairy-free creams will work in this recipe too. Readers have reported good success with Oatly.
Fresh strawberries. Around 500g is perfect.
Strawberry jam or preserve. Adds extra sweetness and strawberry flavour. Try to use a good quality one if you can.
How to make vegan strawberry cheesecake
Step 1:
Prepare your cheesecake base by crushing 300g of Digestive biscuits into fine crumbs. You can do this in a high-power blender or food processor, or you can use the good old-fashioned rolling pin method. Just try to make sure the crumbs are as fine as possible, which will prevent the base from falling apart when cut.
Step 2:
Next, melt 100g of vegan margarine. I used Vitalite. Add it to a large bowl with the biscuit crumbs and mix well until they are all evenly coated.
Step 3:
Transfer the buttery biscuit crumbs to your springform tin and press them down firmly into place. I used the bottom of a cup to press them down, making sure they were packed in tightly.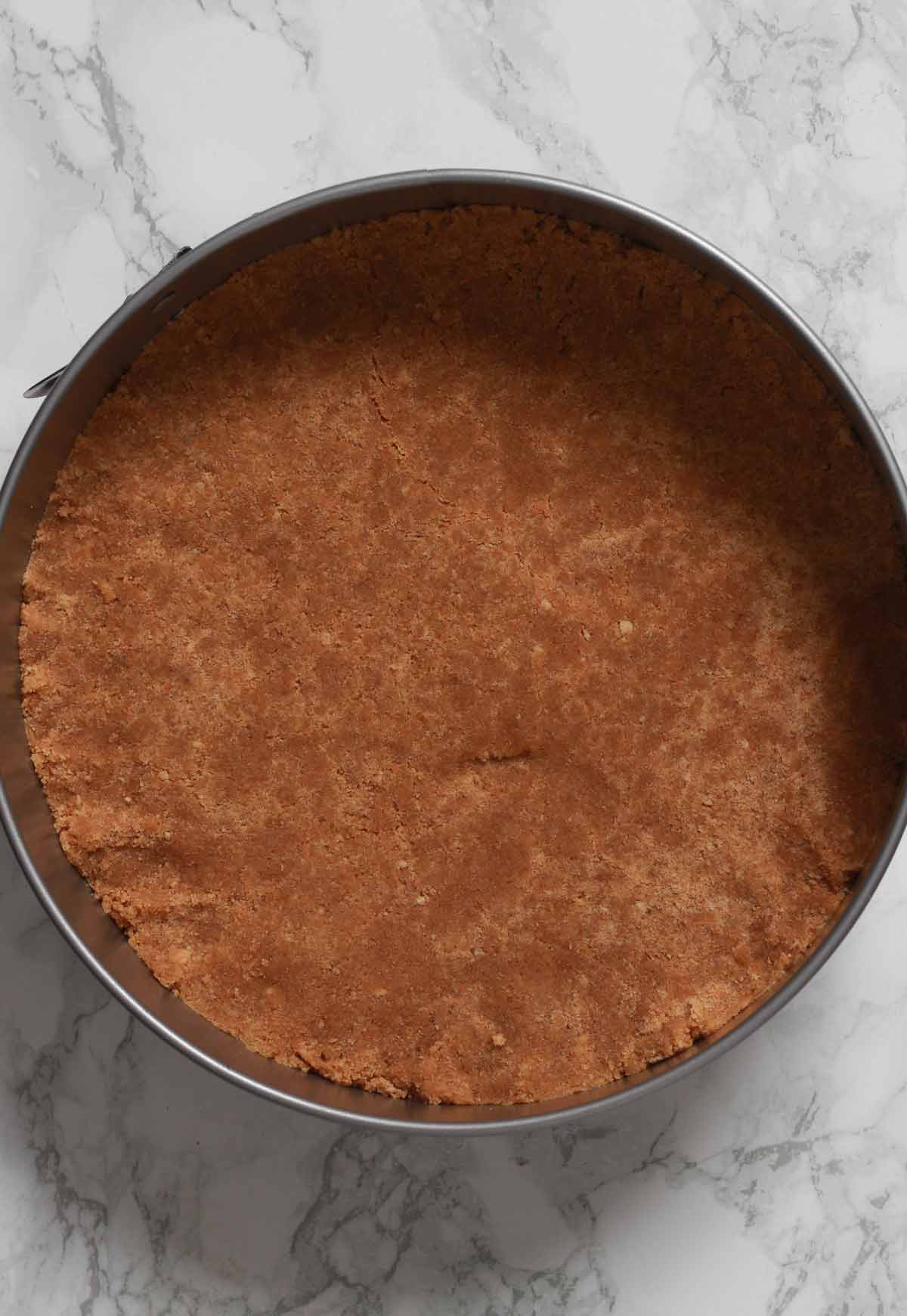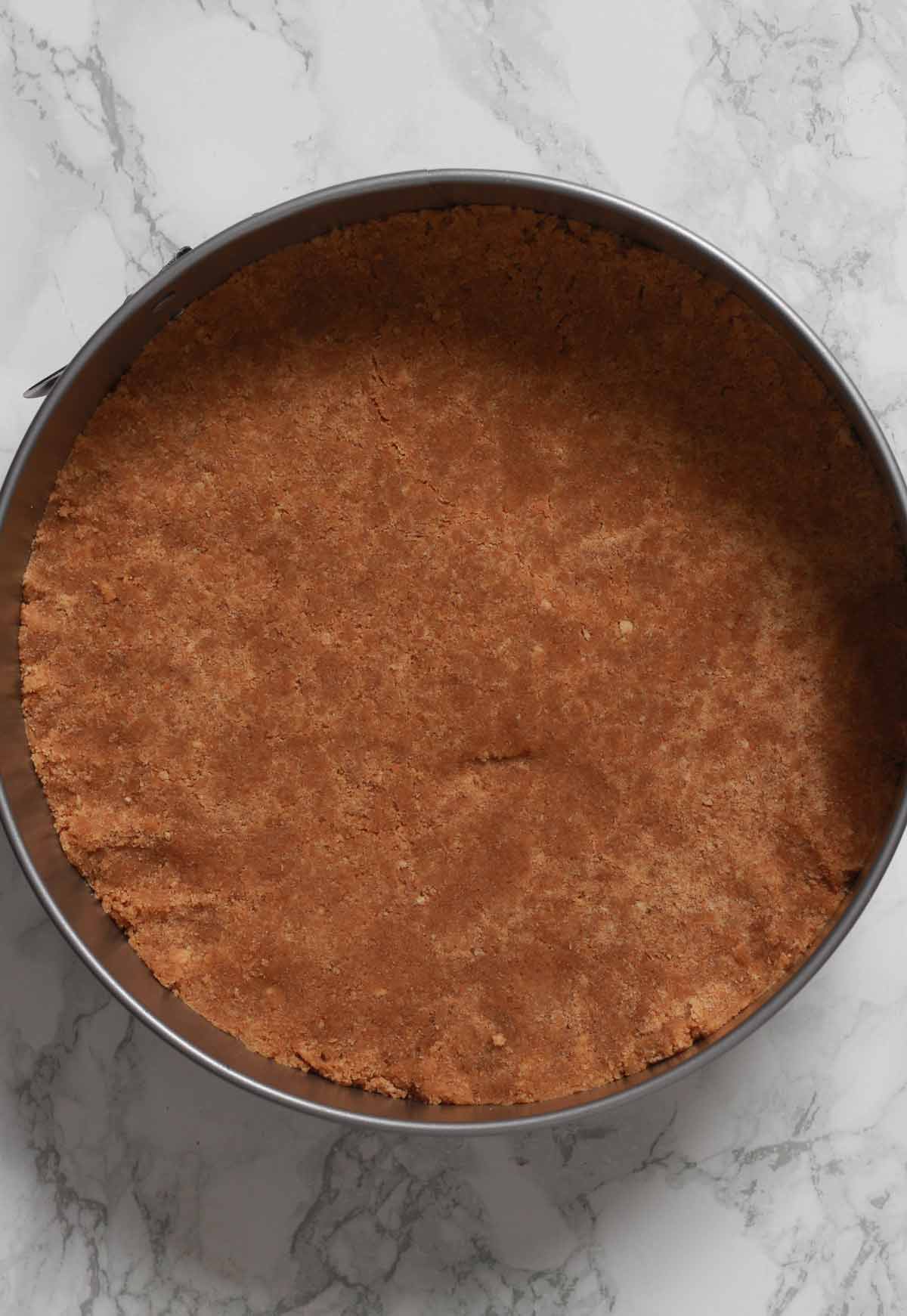 Place the cheesecake base in the fridge while you prepare the filling.
Step 4:
Add 400g of vegan cream cheese to a large bowl, along with 80g of icing sugar and 1 teaspoon of vanilla extract. Mix it all together with a wooden spoon until smooth.
Next, add 180ml of vegan double cream and use an electric whisk to mix it in. Keep whisking for a minute or two more until it becomes thick. It should have the consistency of a thick Greek yoghurt.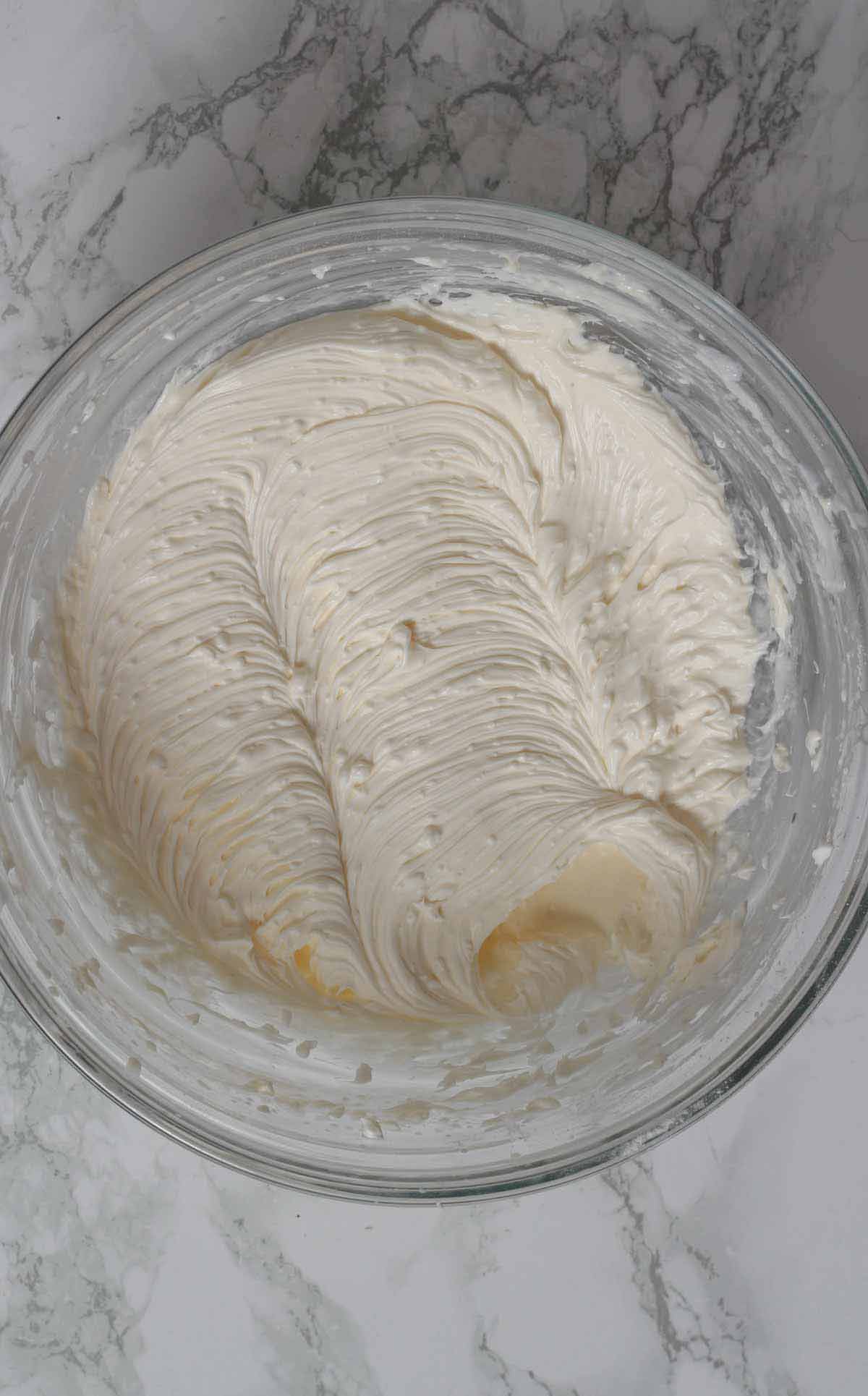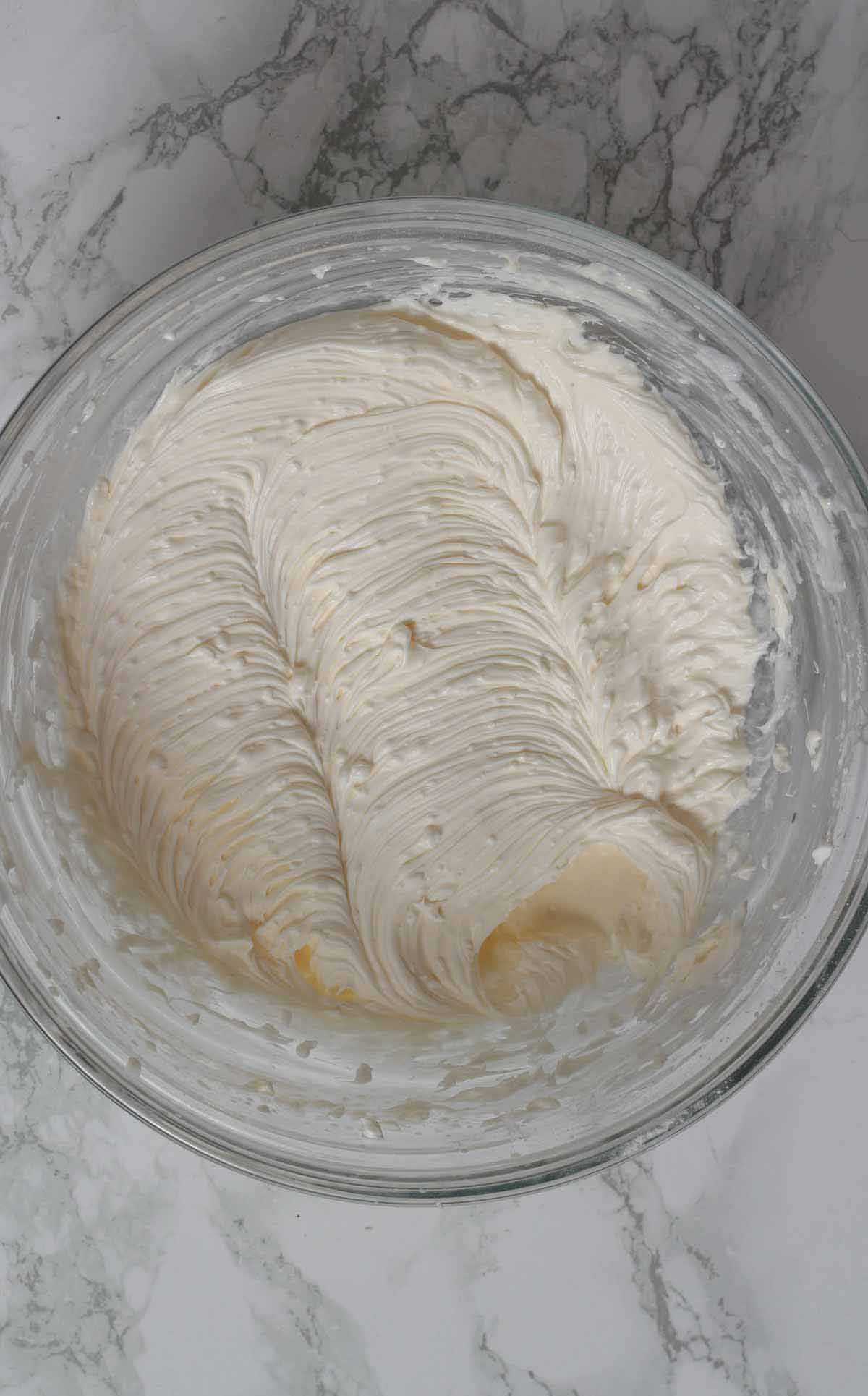 Step 5:
Chop up around 250g of fresh strawberries and fold them into the mixture.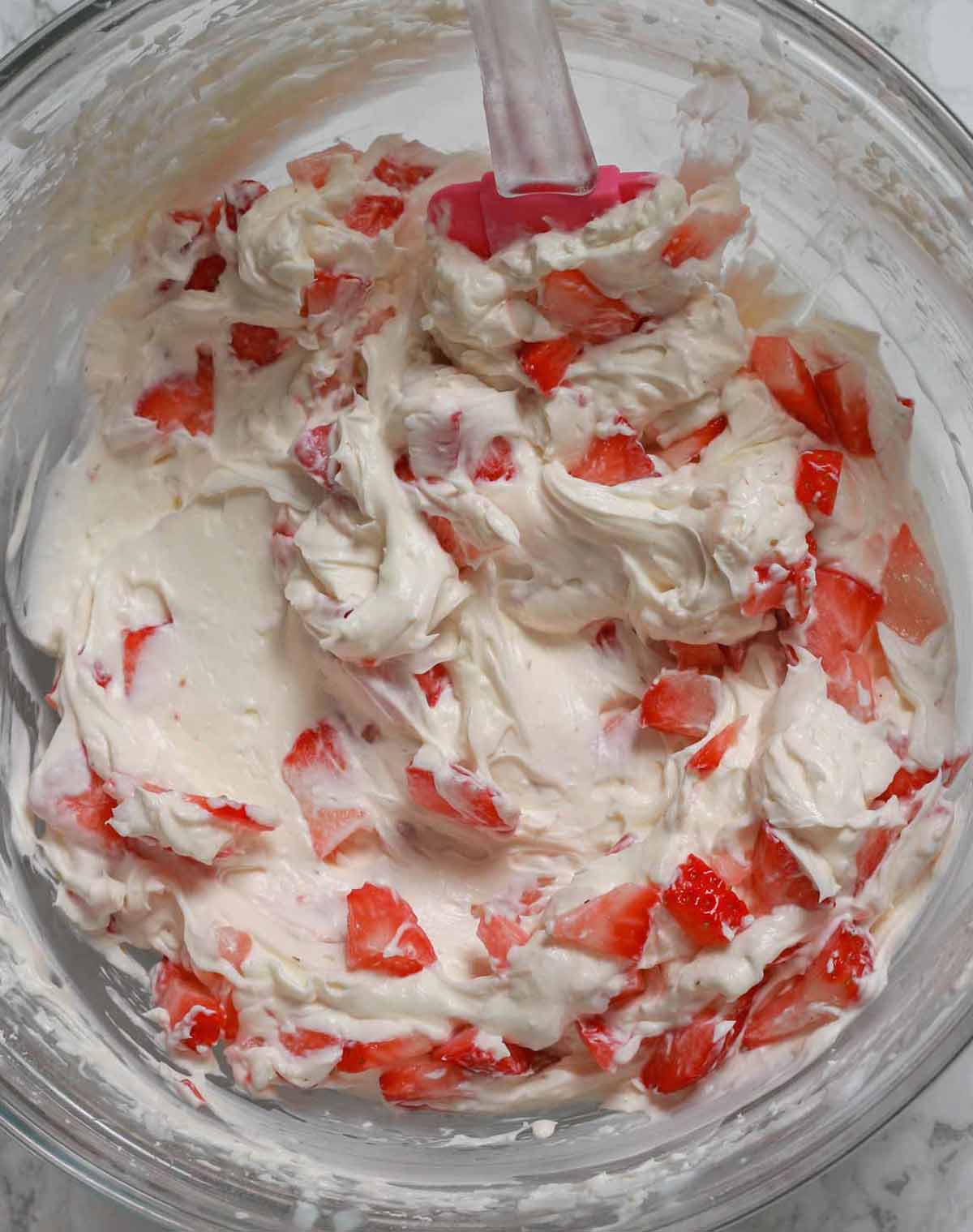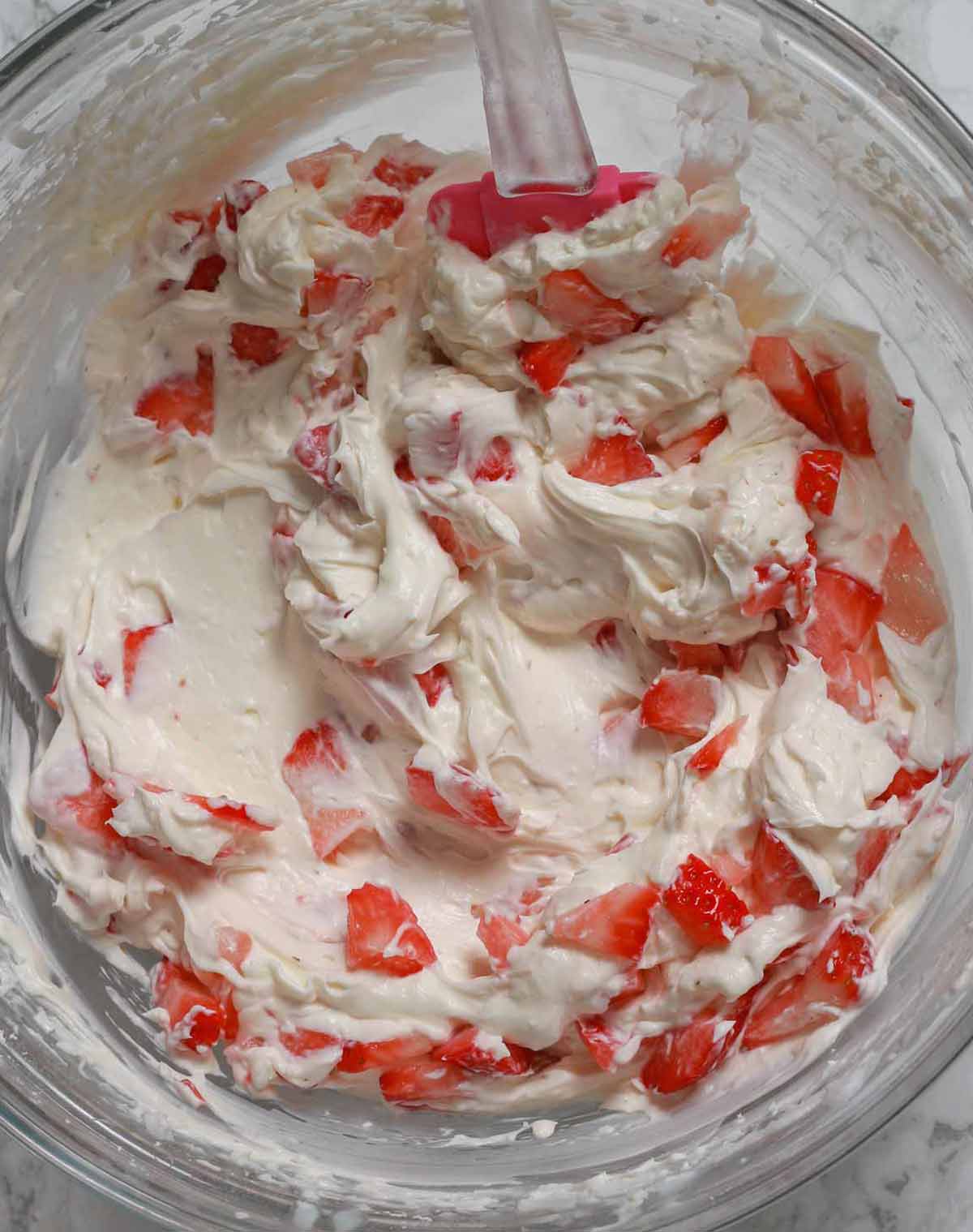 Spread the filling evenly over the cheesecake base and place it back in the fridge overnight to set.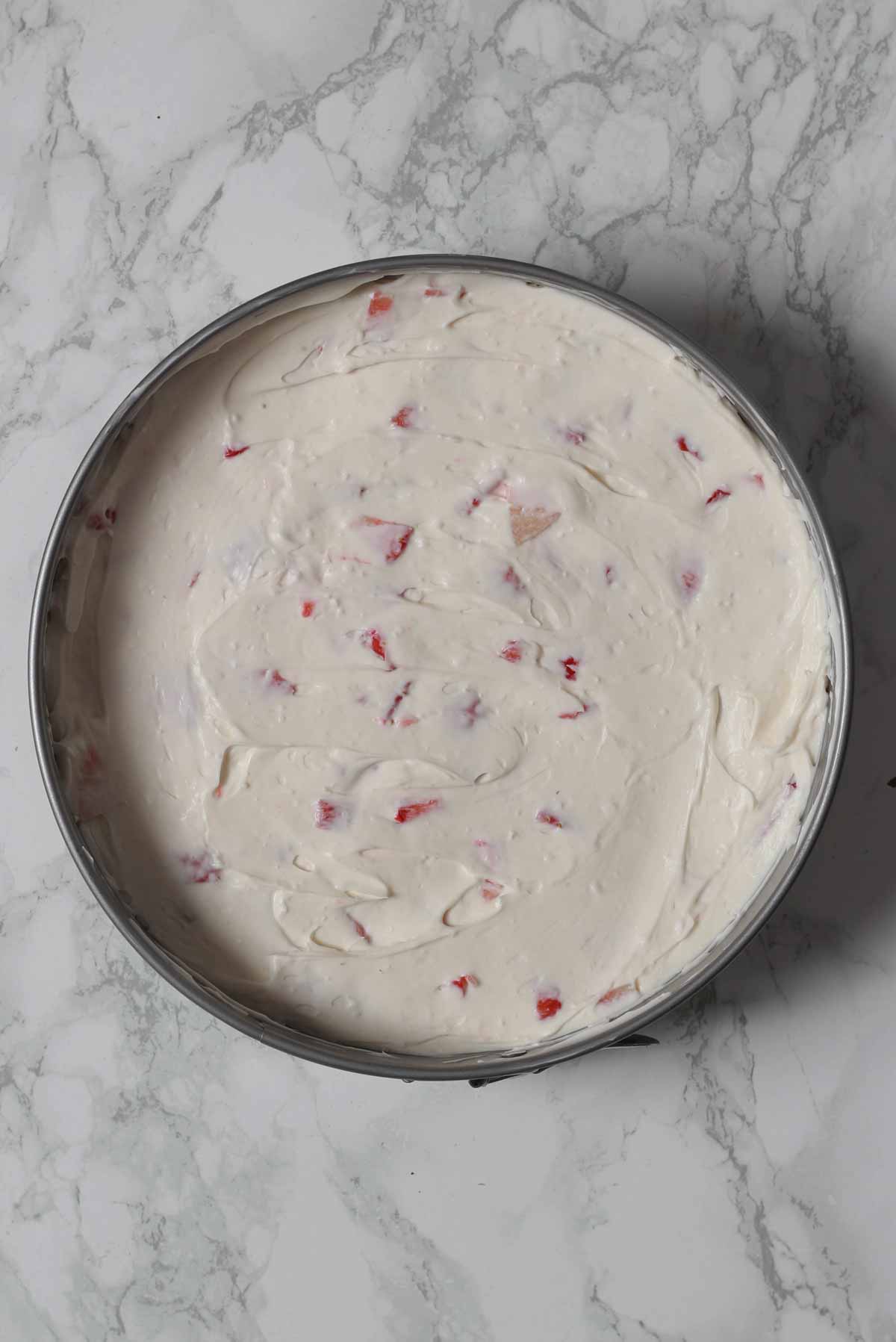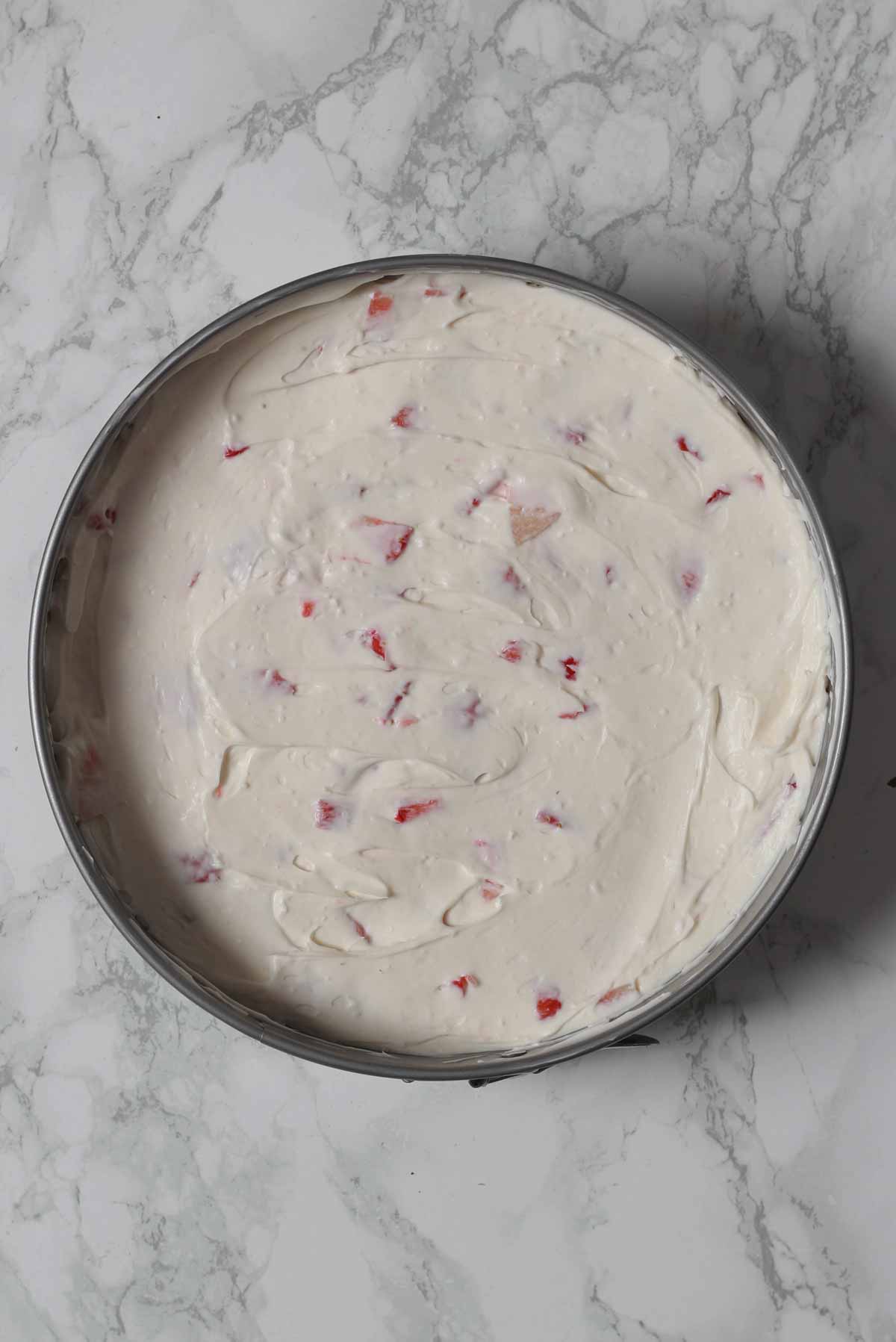 Step 6:
Once the cheesecake has set, gently remove the springform sides and use a cake slice to carefully remove it from the bottom of the tin.
Step 7:
Place 4 tablespoons of strawberry jam or preserve in a bowl and mix well to loosen it. Chop up another 250g of fresh strawberries and mix them into the jam.
Add the jammy topping to your cheesecake and enjoy!
Tips
Use vegan margarine over vegan blocky 'butter' in the cheesecake base.
Make sure whichever vegan cream you're using can be whipped up, otherwise the filling won't set properly.
Violife cream cheese has the best texture and flavour. I highly recommend using this one if you can.
Use a smaller springform pan for a thicker cheesecake.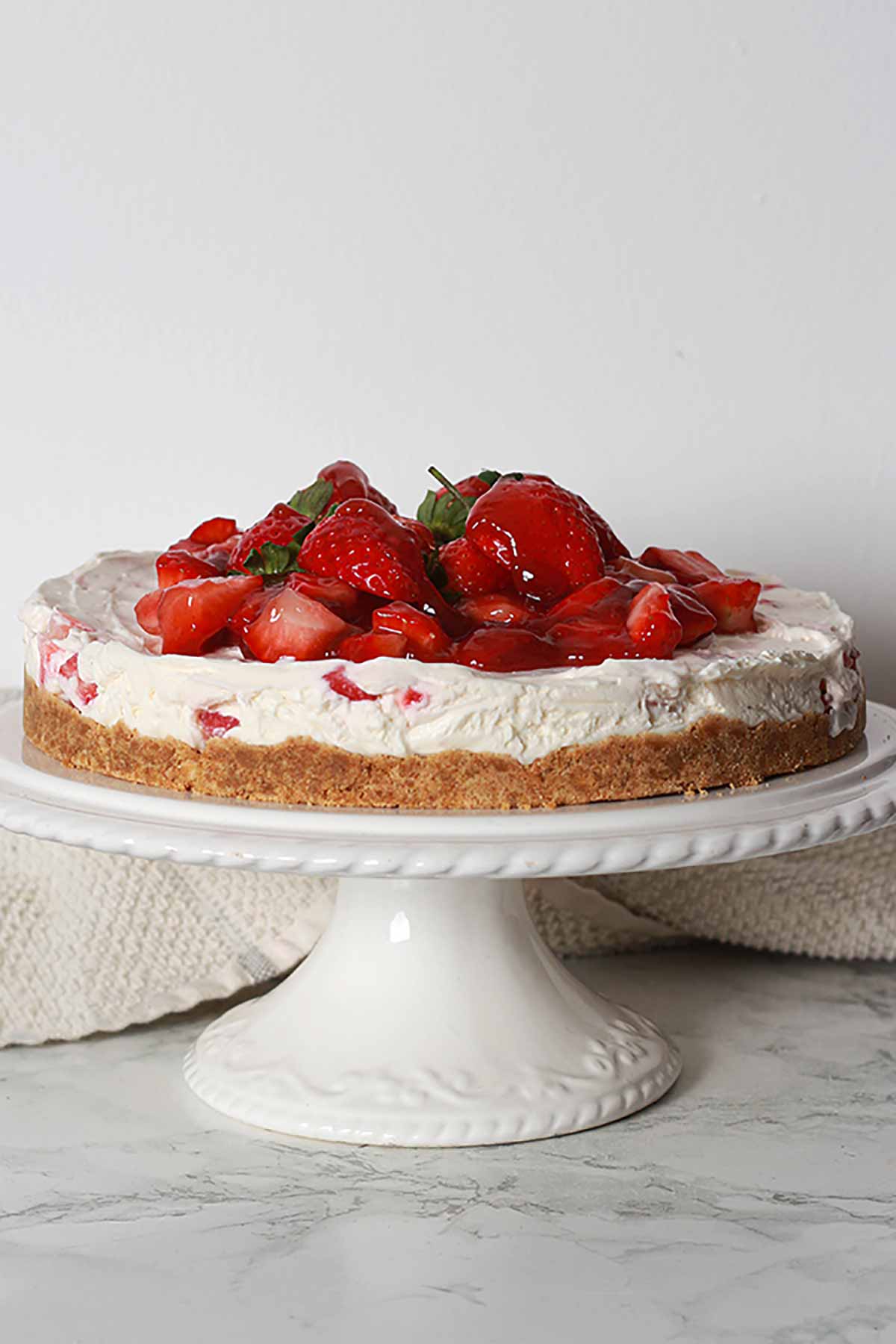 FAQ
How should I store vegan strawberry cheesecake?
It's best kept covered in the fridge. It'll be fine if left out at room temperature for an hour or two at parties etc. but will begin to soften if left out for too long.
How long will it last in the fridge?
Because of the fresh fruit, it's best enjoyed within 48 hours.
Can I freeze it?
Absolutely. My favourite way to freeze cheesecake is in individual slices. I just place the slices onto a lined baking tray and freeze for 2-3 hours. Once they're firm, I wrap the slices up in tin foil or place them into an airtight container before freezing again. I love doing this because you can take just one slice out whenever you want it, instead of having to defrost the whole thing.

To defrost, unwrap and transfer the cheesecake slice to the fridge for a few hours. Do not refreeze.
Why didn't my cheesecake set?
It's likely that you either used a cream that isn't suitable for whipping, or you didn't whisk the filling for long enough. It should be thick and hold firm peaks before you put it in the fridge.
I hope you enjoy this dairy-free strawberry cheesecake recipe. If you make it at home, please let me know how you get on by leaving a rating and/or comment below. Happy baking! xo

Vegan Strawberry Cheesecake (Dairy-Free, No-Bake)
Easy, dairy-free strawberry cheesecake with a Digestive biscuit base. No baking needed!
Ingredients
For the base:
300

g

Digestive biscuits

100

g

Vegan margarine, melted
For the filling:
400

g

Vegan cream cheese

(I recommend Violife for best results)

80

g

Icing sugar

1

Teaspoon

Vanilla extract

180

ml

Elmlea plant double cream (Or other whippable vegan cream such as Oatly)

250

g

Fresh strawberries, roughly chopped
For the topping:
4

Tablespoons

Strawberry jam or preserve

250

g

Fresh strawberries, roughly chopped
Instructions
For the base:
Crush the Digestive biscuits into fine crumbs. You can do this in a high-power blender or food processor, or use a heavy rolling pin. Try to make them as fine as possible.

Add the biscuit crumbs to a large bowl along with the melted margarine. Mix well until evenly coated.

Press the buttery crumbs into the bottom of a 9-inch springform tin. Make sure to pack them firmly into place to prevent crumbling later on.

Place it in the fridge while you prepare the filling.
For the filling:
In a large bowl, mix together the cream cheese, icing sugar and vanilla extract until smooth.

Add in the double cream and use an electric whisk to mix it in. Keep whisking for a minute or two until the mixture becomes thick and holds firm peaks.

Fold in the chopped strawberries.

Spread the filling over the biscuit base then place it in the fridge to set overnight.
For the topping:
Once the cheesecake has set, remove the sides of the springform tin. Use a cake slice or similar to gently dislodge the cheesecake from the bottom of the tin, then carefully transfer it to a cake stand or plate.

Add the jam to a bowl and mix well to loosen it. Stir the chopped strawberries into the jam.

Put the jammy strawberries on top of your cheesecake and enjoy!
Recipe Notes
Store covered in the fridge for up to 48 hours.
Nutrition Facts
Vegan Strawberry Cheesecake (Dairy-Free, No-Bake)
Amount Per Serving (1 slice)
Calories 335
Calories from Fat 207
% Daily Value*
Fat 23g35%
Carbohydrates 30g10%
Protein 2g4%
* All values are an estimate only and will vary depending on the food brands used.
BakedByClo is a participant in the Amazon Services LLC Associates Program, an affiliate advertising program designed to provide a means for sites to earn advertising fees by advertising and linking to Amazon.com. This site may contain some of these links to Amazon.com & other affiliate programs. If you make a purchase through one of those links, BakedByClo will receive a small commission from the purchase at no additional cost to you.