Vegan Lemon Cheesecake (No-Bake)
This no-bake vegan lemon cheesecake is creamy, zesty and perfectly sweet. It's super easy to make and contains just a few simple ingredients. Great for taking to share with friends and family for summer parties or BBQs!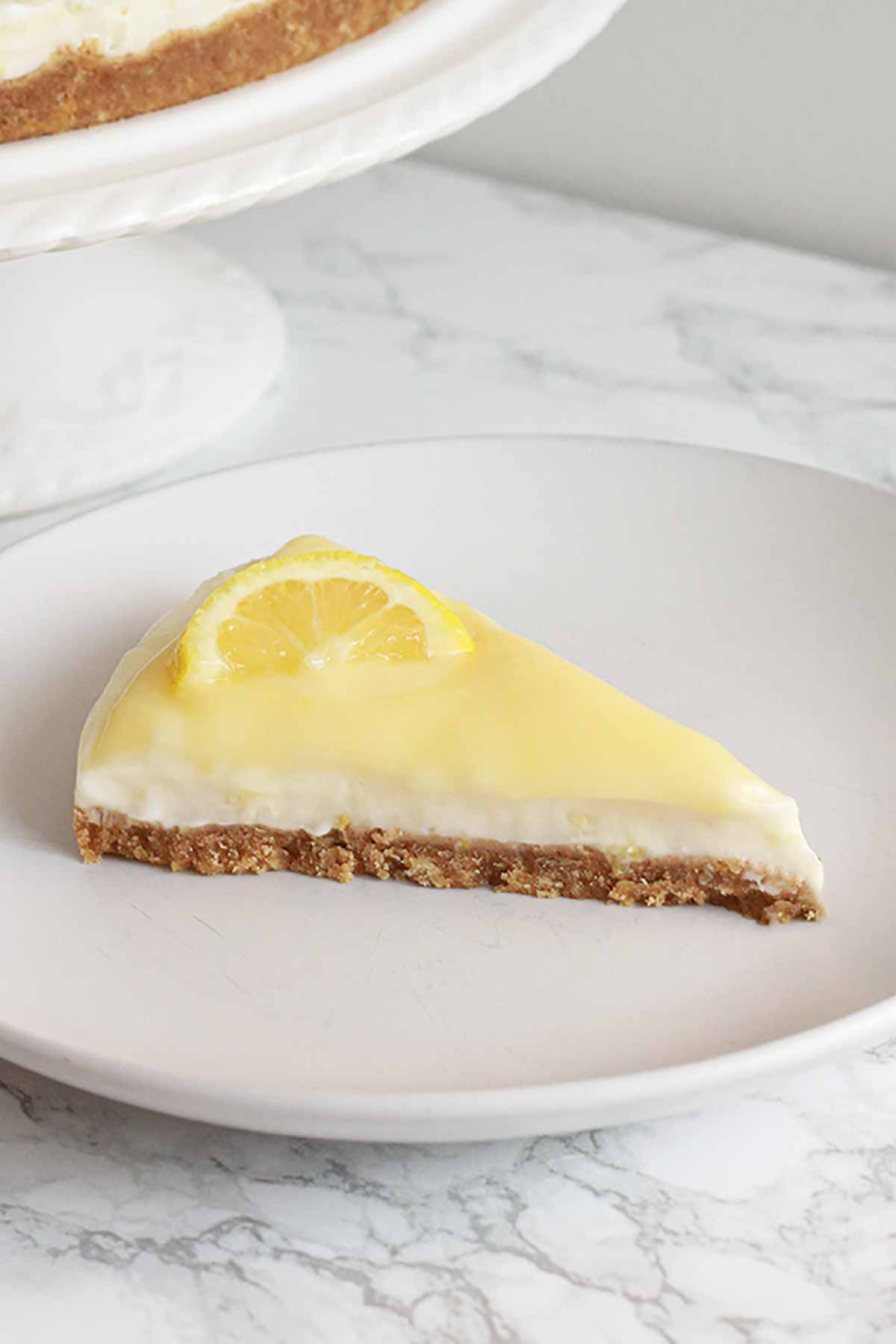 I'm on a bit of a no-bake cheesecake roll at the moment and thought it would be nice to add summery flavour to the list! And I couldn't think of a more summery flavour than lemon!
I've never actually made a lemon cheesecake of any kind before, let alone a vegan one, but it actually didn't take too much testing. Because I'd recently perfected my no-bake vanilla cheesecake, I simply added some lemon zest to the mix which gave me just the subtle flavour I was hoping for. It's the perfect balance of sweet and sour.
To really bring through the lemon flavour, I also added a vegan lemon curd topping. It added a little extra something to the cheesecake and the slight yellow colour made it look more lemon-cheesecake-y than a plain old white one.
The lemon curd is homemade and I highly recommend using it if you can. If you'd rather not, you can add more lemon zest to the filling mixture to make that more lemony. Alternatively, you can buy a ready-made lemon curd- read on to learn more.
The creamy filling is balanced out nicely with the buttery digestive biscuit base but if you want more of a contrast, you could do something like a Gingernut base instead!
I'm planning to make another cheesecake with a ginger-flavoured base very soon, as part of my cheesecake series. So be sure to keep an eye out for that!
Easy, Simple ingredients
This cheesecake contains just a handful of ingredients!
As I mentioned above, it is made with a digestive biscuit base. So to make that, you'll need some vegan butter or margarine, and some digestive biscuits.
Most digestive biscuits are vegan these days but be sure to check because some of them do contain milk, especially the more expensive ones.
I typically use Ms. Molly's digestives which I buy from Tesco. They taste pretty much the exact same as other brands of digestives I've tried but you can buy these particular ones for 31p a pack! Is that a bargain or is that a bargain?!
Aside from the base, you'll need 4 ingredients to make the creamy lemon filling. Don't worry, this recipe contains no cashews or tofu! As great as those ingredients are (and I absolutely LOVE me some raw cheesecake), they're just not my first options for an authentic-tasting, decadent cheesecake.
I like to share my bakes with my non-vegan family and I find that they enjoy them the most when they taste as close to the 'real deal' as possible. Plus, making this lemon cheesecake without cashews means that people with nut allergies can enjoy it too!
I prefer to use vegan cream cheese and double cream instead, which I know aren't the healthiest ingredients but they produce the most authentic flavour in my opinion!
I do plan to make a raw cheesecake in the near future though because I know that some people can't get hold of vegan cream cheese or plant-based whipping cream where they live. So do keep an eye out for that on the blog sometime soon!
Alternatives to vegan double cream
This cheesecake filling contains vegan double cream which is very much a UK thing. So for those of you reading who don't live in the UK, don't worry! There are alternatives out there and I'll share all of the ones I know of right now.
The alternative that is the most similar to vegan double cream is Flora Professional plant cream. This can only be purchased online and is a little on the pricey side, however. Some other alternatives are:
If you can't find any of the creams mentioned above, try having a look at your local health foods store for dairy-free whipping creams. If you can whip it to make it thick, it will probably work in this cheesecake. I saw loads of 'vegetable whip' and soya whipping creams in health food stores when I was travelling around Europe.
Alternatively, you can use coconut cream in place of the double cream. (Or you can just scoop the creamy part from the top of a can of chilled full-fat coconut milk.) You'll find both of these in most supermarkets. When it's cold, it'll whip up nice and thick the same way as any other whipping cream and will work great for this recipe.
For the lemon curd topping
The lemon curd topping really brings out the lemon flavour in this dessert so I don't recommend skipping it!
The ingredients you'll need for this are:
3 Tablespoons cornflour (also known as cornstarch)
75ml of fresh lemon juice
200ml Tinned coconut milk (Full-fat or light is fine and don't worry, you won't taste the coconut flavour at all!)
60g of caster sugar
The zest of 1/2 a large lemon
1 Tablespoon melted vegan margarine or butter
A drop of yellow food colouring or turmeric powder (only necessary if you want a brighter colour)
Mix the cornflour and lemon juice together. This will stop the cornflour from clumping up when it gets heated. Add it to a saucepan with the rest of the ingredients and mix well.
Next, place the saucepan on high heat and stir continuously for a minute or two. It will bubble and thicken.
When the mixture is thick enough to coat the back of a wooden spoon (i.e. it's syrupy rather than watery), remove it from the heat and allow it to cool.
If you like the texture of the zest in your curd, you can leave it in there. Otherwise, strain it through a sieve into a bowl.
And that's it! Cool it in the fridge overnight and it'll become thicker, and is ready to use as your vegan lemon cheesecake topping. Later, you can store any leftovers in a sterilised jar in the fridge for up to 1 week.
Don't want to make your own lemon curd?
If you want to save time and energy by not making lemon curd from scratch, just buy some! This one by Janda Food can be purchased from GreenBay for £2.99, which in my opinion is a bargain considering it's one of the very few egg-free lemon curd options out there just now.
I don't know of any other brands that make it at the moment but please let me know if you do and I'll add it to the post!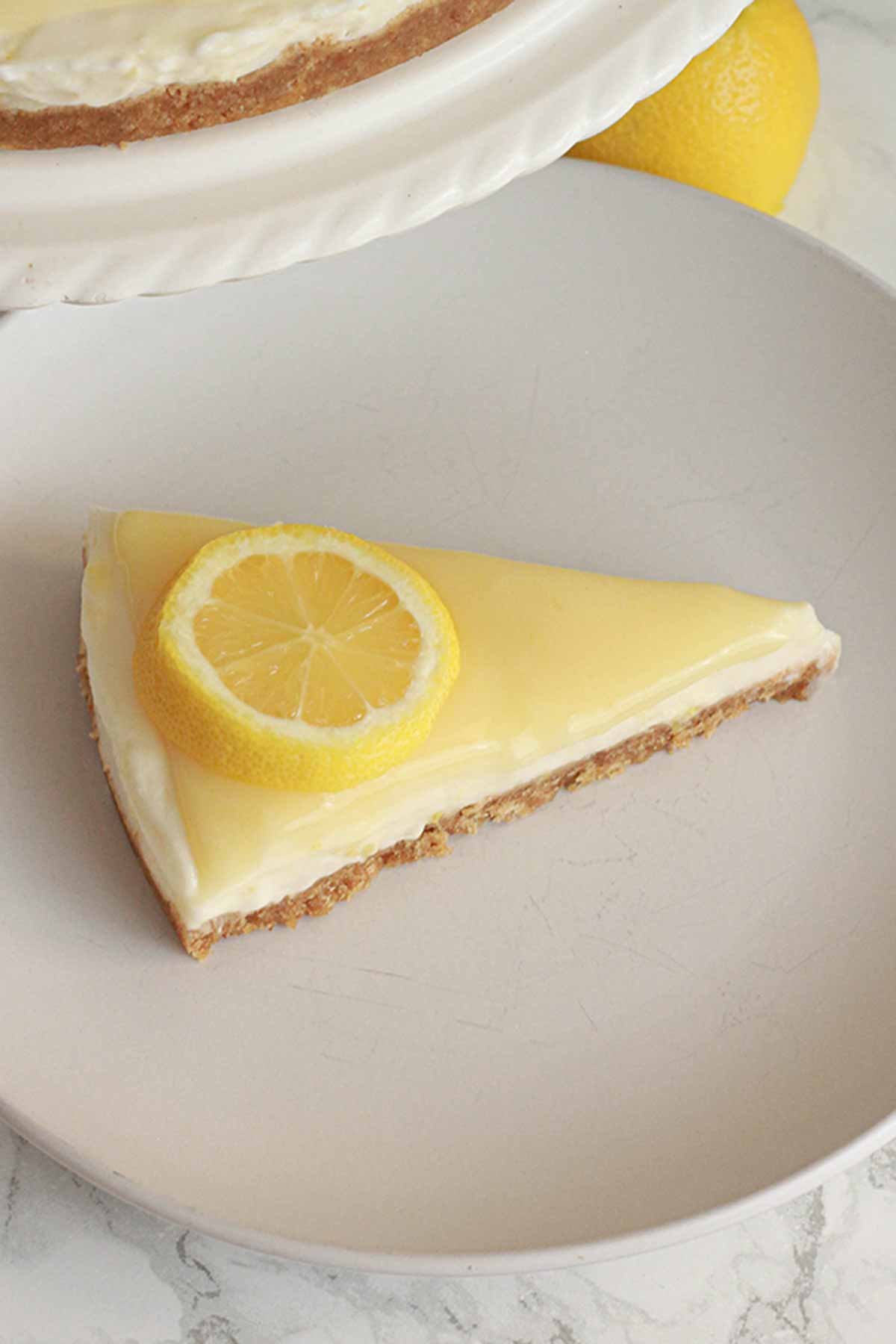 More vegan cheesecake recipes:
How to make vegan lemon cheesecake
Before you begin, you'll need to have a 9-inch spring form tin to hand. You can use a smaller one if you wish to have a thicker cheesecake but I don't recommend using a larger one.
Step 1:
To make the base, pulse 300g of digestive biscuits in a high power blender or food processor until you have fine crumbs. You can do this using the end of a large rolling pin instead but do try to get the crumbs as fine as you can.
Place the crumbs in a large bowl and add 100g of melted vegan margarine. I recommend using the spreadable kind of margarine (instead of the block kind) for the most accurate results, as this is what I tested the recipe with.
Mix it together until the crumbs are well coated in the melted margarine and press it into your springform tin. Use your fingers or the bottom of a cup to press it in tightly and evenly, to prevent it from breaking later on when you try to remove it.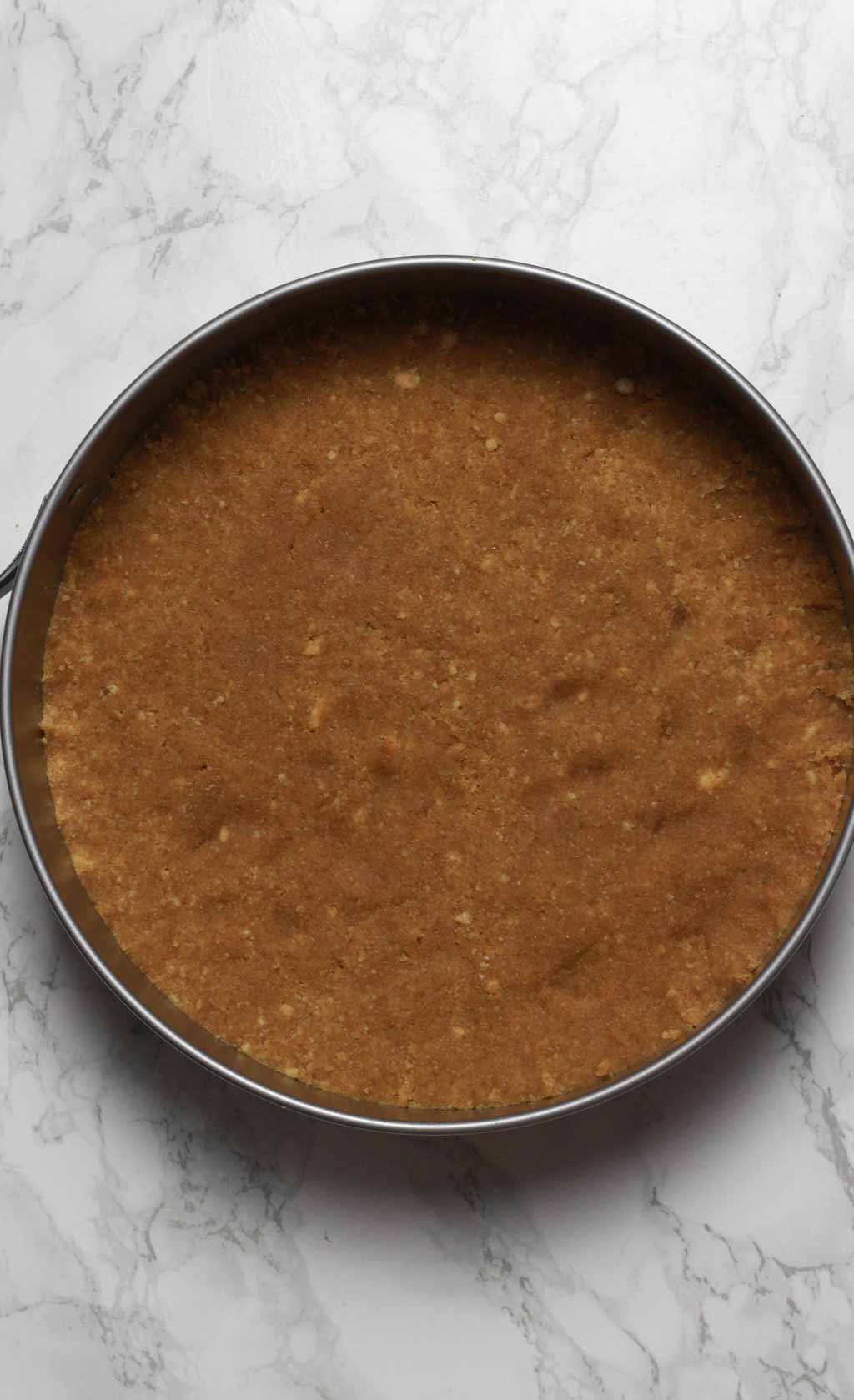 Step 2:
For the no-bake cheesecake filling, mix 400g of vegan cream cheese with 80g of icing sugar until smooth and creamy.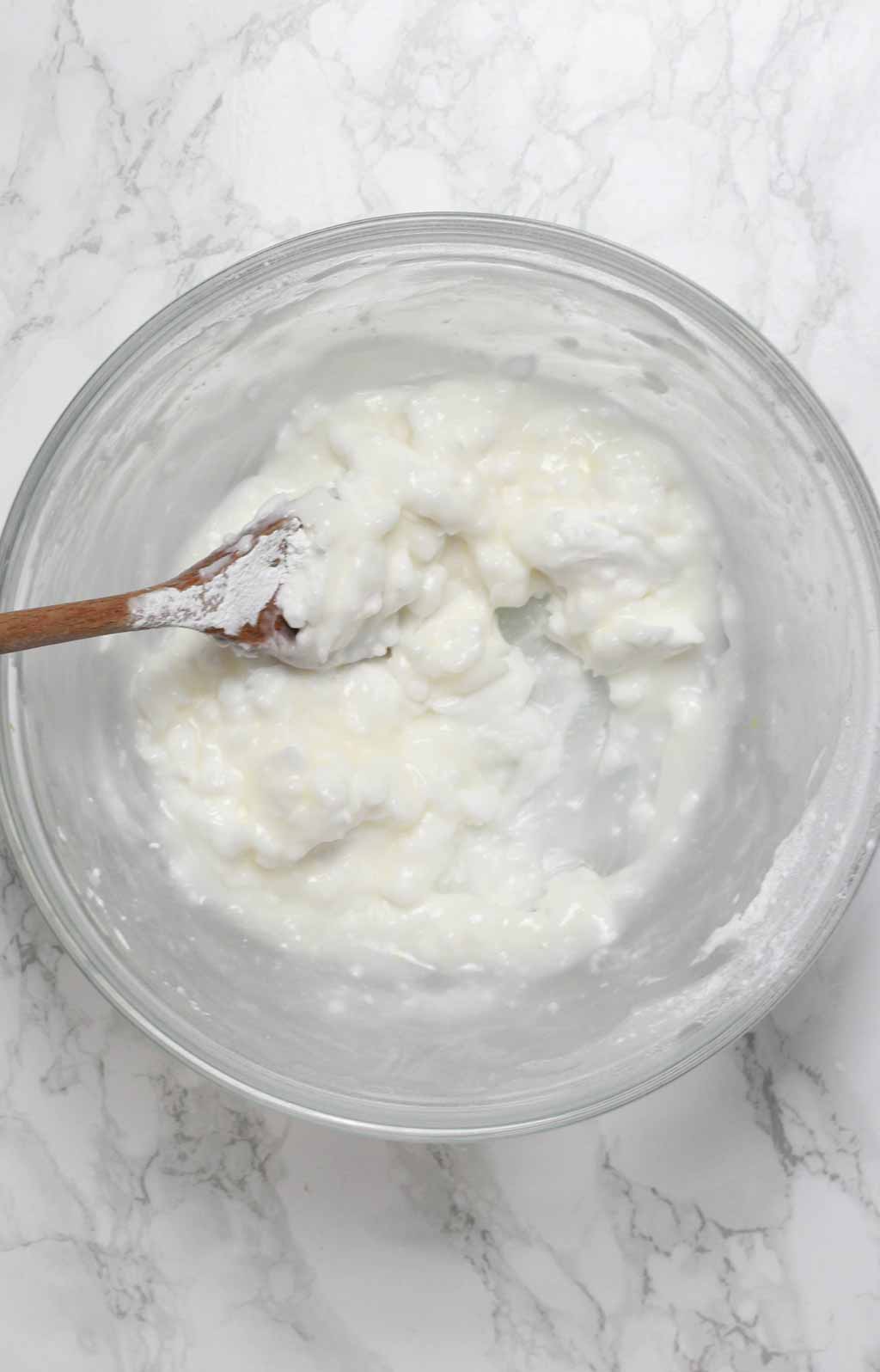 I recommend using Violife cream cheese as it has the most subtle flavour (some dairy-free soft cheeses are not pleasant at all) and the firmest texture. This means it's less likely to deflate when you cut into it, and it'll look, taste and feel more like a traditional cheesecake.
Next, add 130ml of vegan double/whipping cream. Use an electric whisk or stand mixer to whip it up until thick. It should have the same consistency as a thick Greek yoghurt.
Gently stir in 2 tablespoons of lemon zest.
Step 3:
Transfer the filling into the springform tin and spread it out evenly over your digestive biscuit crust. Pop the whole thing in the fridge overnight, for at least 12 hours.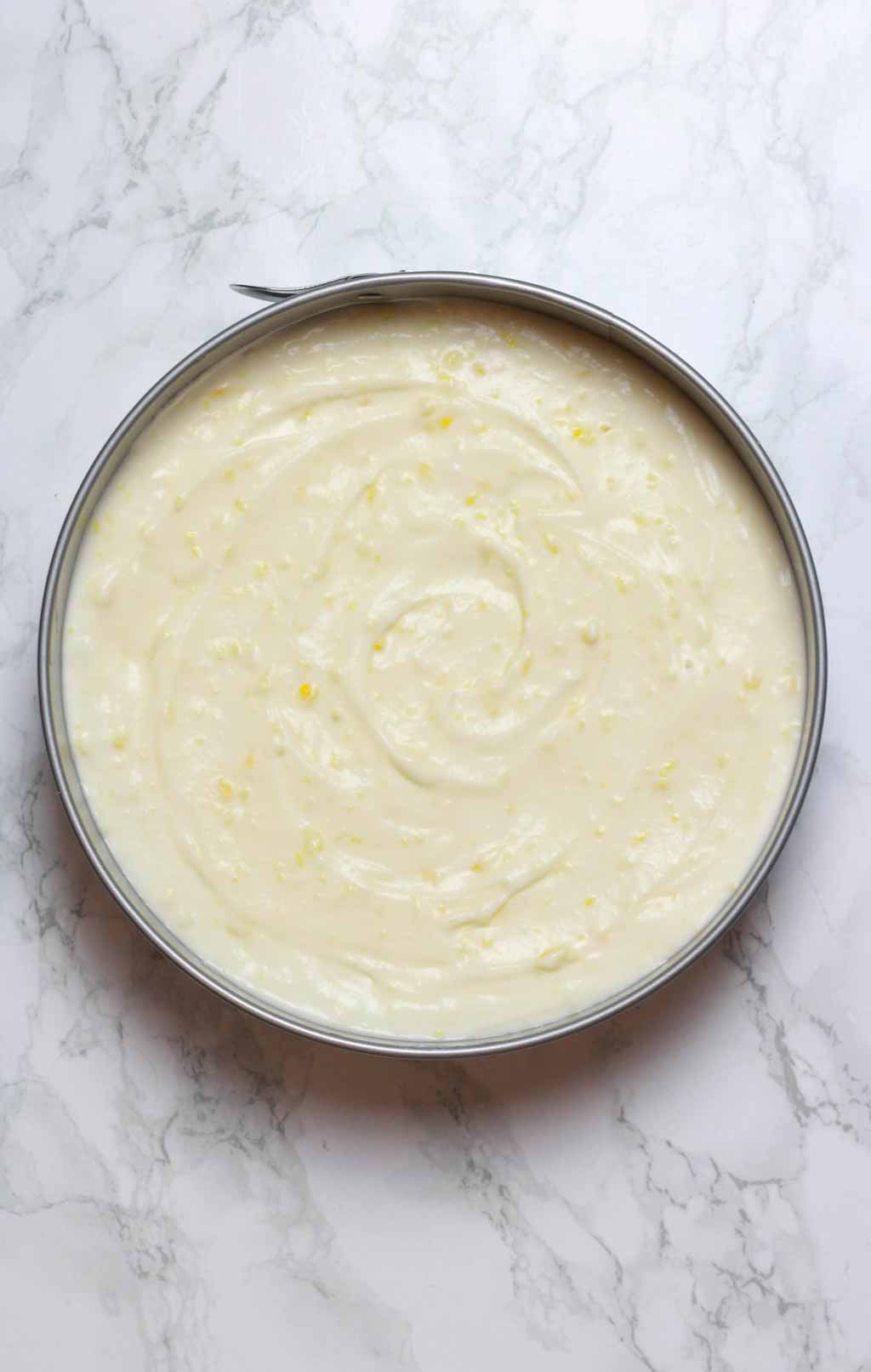 Step 4:
Once chilled, carefully remove it from the tin and transfer it to a cake stand or plate. Carefully spread your chilled lemon curd over the top.
Then just cut into slices and enjoy!
FAQ:
How long does no-bake lemon cheesecake last?
If you keep it covered in an airtight container and store it in the fridge, it will last for at least 5 days. I'm sure it will last longer than this but I've never actually left it that long before eating it all!
Can I freeze it?
Yes. This cheesecake is great for freezing. I recommend freezing it in individual slices so you can just grab a slice whenever you feel like it, rather than having to defrost the whole thing. Just pop them into airtight containers and freeze for up to 2 months. Alternatively, freeze slices on a baking tray and pop them into a ziplock bag once frozen.

To defrost, just transfer the slices to a plate and leave at room temperature for an hour or so, or put in the fridge overnight.
Why didn't my cheesecake set?
If the cheesecake is still runny after the 12 hours, it's likely because you didn't whip it enough before putting it in the fridge. The filling should be of similar consistency to a thick yoghurt before you put it in.

Please note that humidity will also affect the texture. If it's too hot in the kitchen, you may not be able to whip it to the required thickness, meaning the cheesecake will start to droop and melt once you cut it.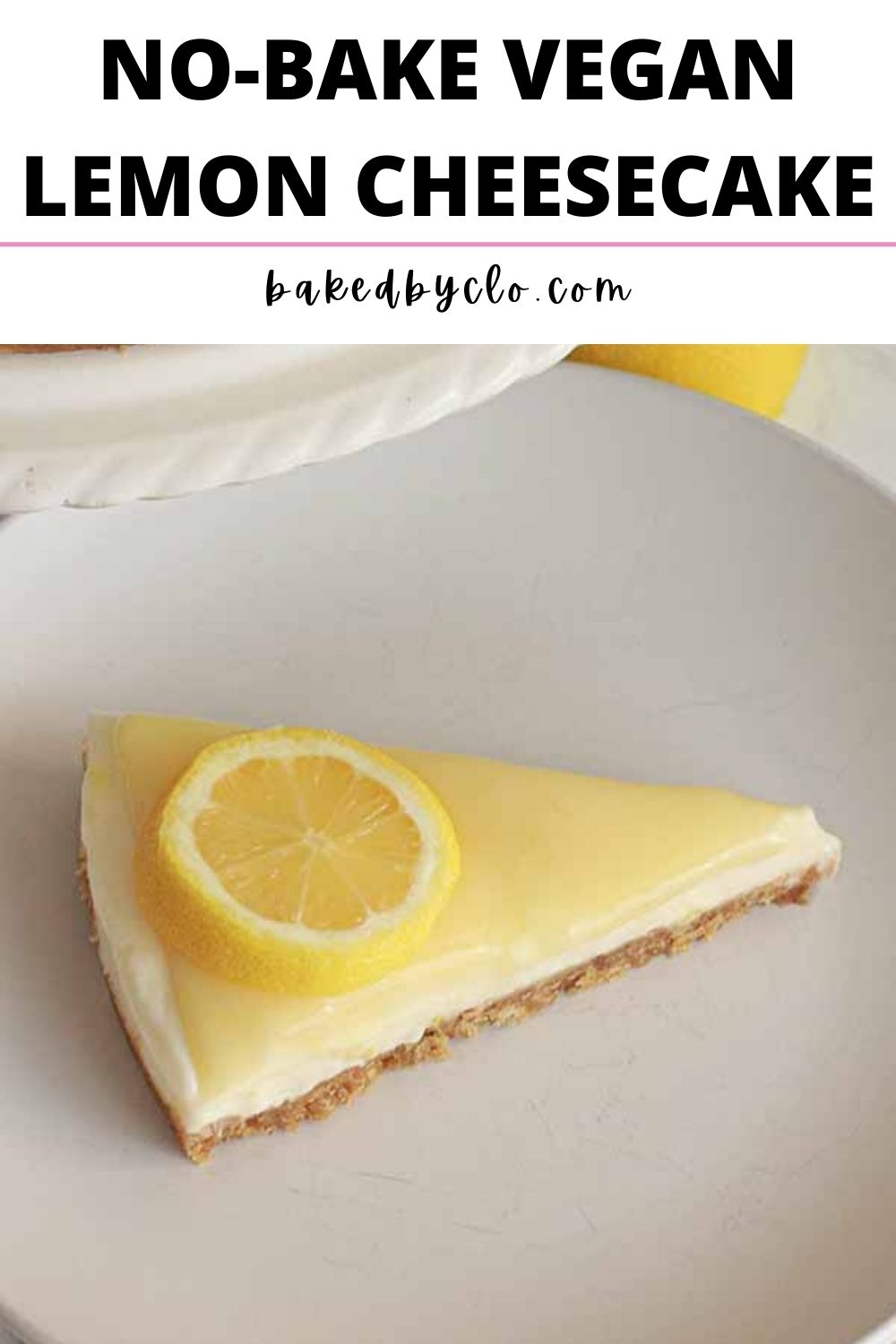 That's all for now! I hope you enjoy this cheesecake recipe. If you make it, please do let me know what you think by leaving a rating or comment below! xo

Vegan Lemon Cheesecake (No-Bake)
Easy lemon cheesecake with a 'buttery' digestive biscuit crust.
Ingredients
For the lemon curd:
3

Tablespoons

Cornflour/cornstarch

75

ml

Fresh lemon juice

200

ml

Tinned coconut milk

(light or full-fat will work, as long as it's the tinned kind)

60

g

Caster sugar

Zest

½

Lemon

1

Tablespoon

Vegan margarine, melted
For the digestive biscuit base:
300

g

Digestive biscuits

100

g

Vegan margarine, melted
For the filling:
400

g

Violife cream cheese

80

g

Icing sugar

130

ml

Vegan whipping cream

(I used Elmlea plant double cream)

2 tablespoons

Lemon zest
Instructions
For the lemon curd:
Prepare the lemon curd first so that it's ready to be chilled at the same time as the cheesecake filling.

Mix the cornflour with the lemon juice and mix until smooth (this will prevent it from clumping up so much when it's heated). Place it into a saucepan with the rest of the ingredients and mix well.

Turn the heat to high and stir continuously until the mixture becomes syrupy and thick enough to coat the back of a wooden spoon, then remove from the heat.

Strain out the lemon zest (and any lumps of cornflour) using a large sieve and leave it to cool. Once cool, cover it and store it in the fridge until the cheesecake is set.
For the biscuit base:
Blitz the biscuits into very fine crumbs using a food processor or high power blender. Alternatively, use the end of a large rolling pin to crush them in a bowl.

Add the melted margarine to the bowl with the biscuit crumbs. Mix until well coated.

Press the biscuit base into the bottom of a 9-inch springform tin, as tightly as you can.
For the filling:
In a large bowl, mix together the cream cheese and icing sugar until smooth.

Add the whipping cream and use an electric whisk or stand mixer to whisk until thick. It should be a similar consistency to a thick Greek yoghurt.

Spread the filling onto the biscuit base a refrigerate overnight for 12 hours.
Assembly:
When the cheesecake has set, carefully remove it from the springform tin and transfer it to a cake stand or plate

Take the lemon curd out of the fridge and loosen it up by giving it a good mix. Carefully spread it over the top of the cheesecake using a palette knife.

Cut into slices and enjoy!
Recipe Notes
I highly recommend using Violife cream cheese for the best flavour and texture.
Store in an airtight container in the fridge for up to 5 days.
Any leftover lemon curd can be stored in a sterilised jar in the fridge for 1 week.
Nutrition Facts
Vegan Lemon Cheesecake (No-Bake)
Amount Per Serving (1 slice)
Calories 362
Calories from Fat 216
% Daily Value*
Fat 24g37%
Sodium 241mg10%
Carbohydrates 35g12%
Protein 2g4%
* All values are an estimate only and will vary depending on the food brands used.
BakedByClo is a participant in the Amazon Services LLC Associates Program, an affiliate advertising program designed to provide a means for sites to earn advertising fees by advertising and linking to Amazon.com. This site may contain some of these links to Amazon.com & other affiliate programs. If you make a purchase through one of those links, BakedByClo will receive a small commission from the purchase at no additional cost to you.