Vegan Oreo Cheesecake
This no-bake vegan Oreo cheesecake is made without cashews or coconut for a simply delicious, straight-forward dessert. The sweet and smooth cookies and cream filling is the perfect match for the crunchy, chocolate Oreo base.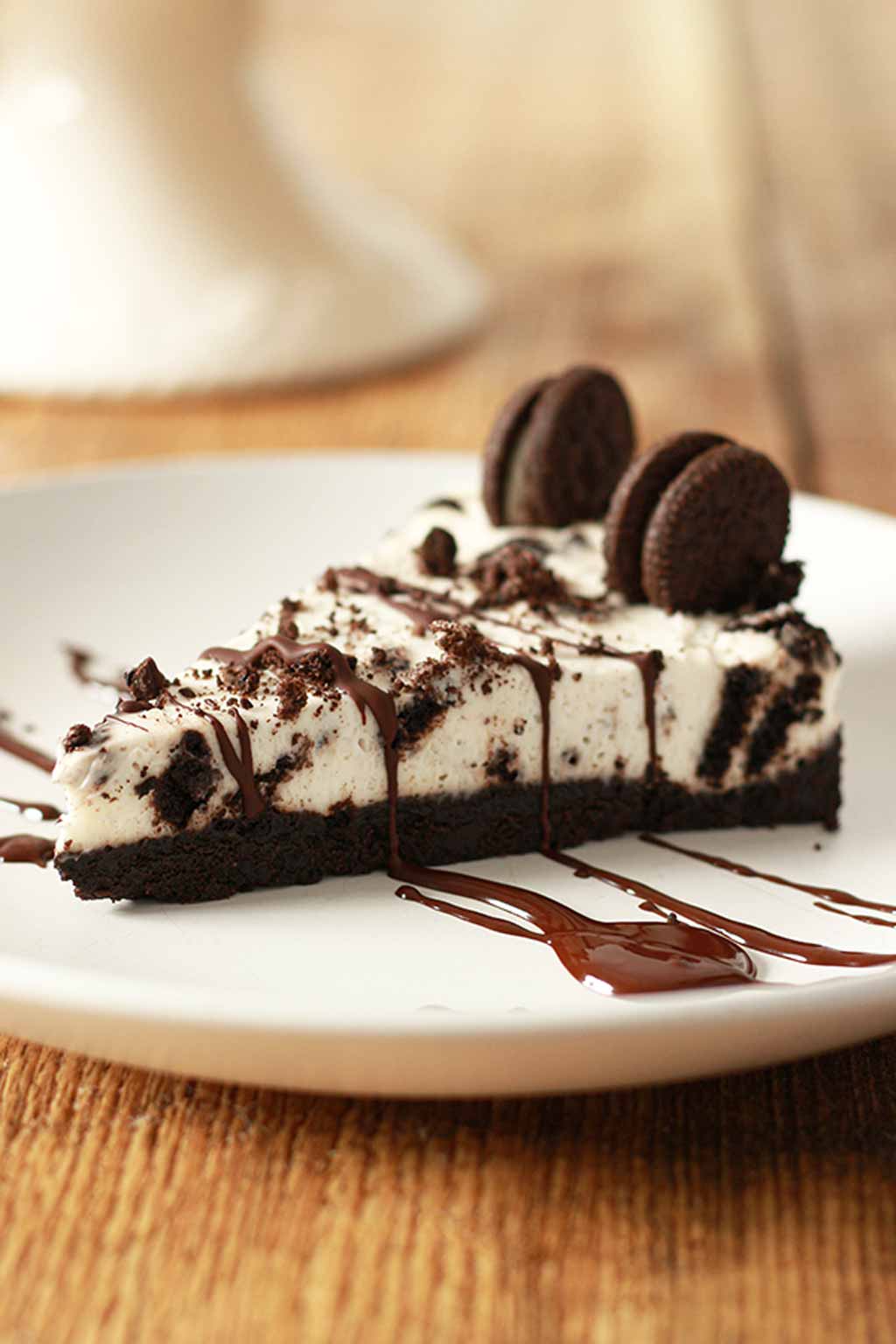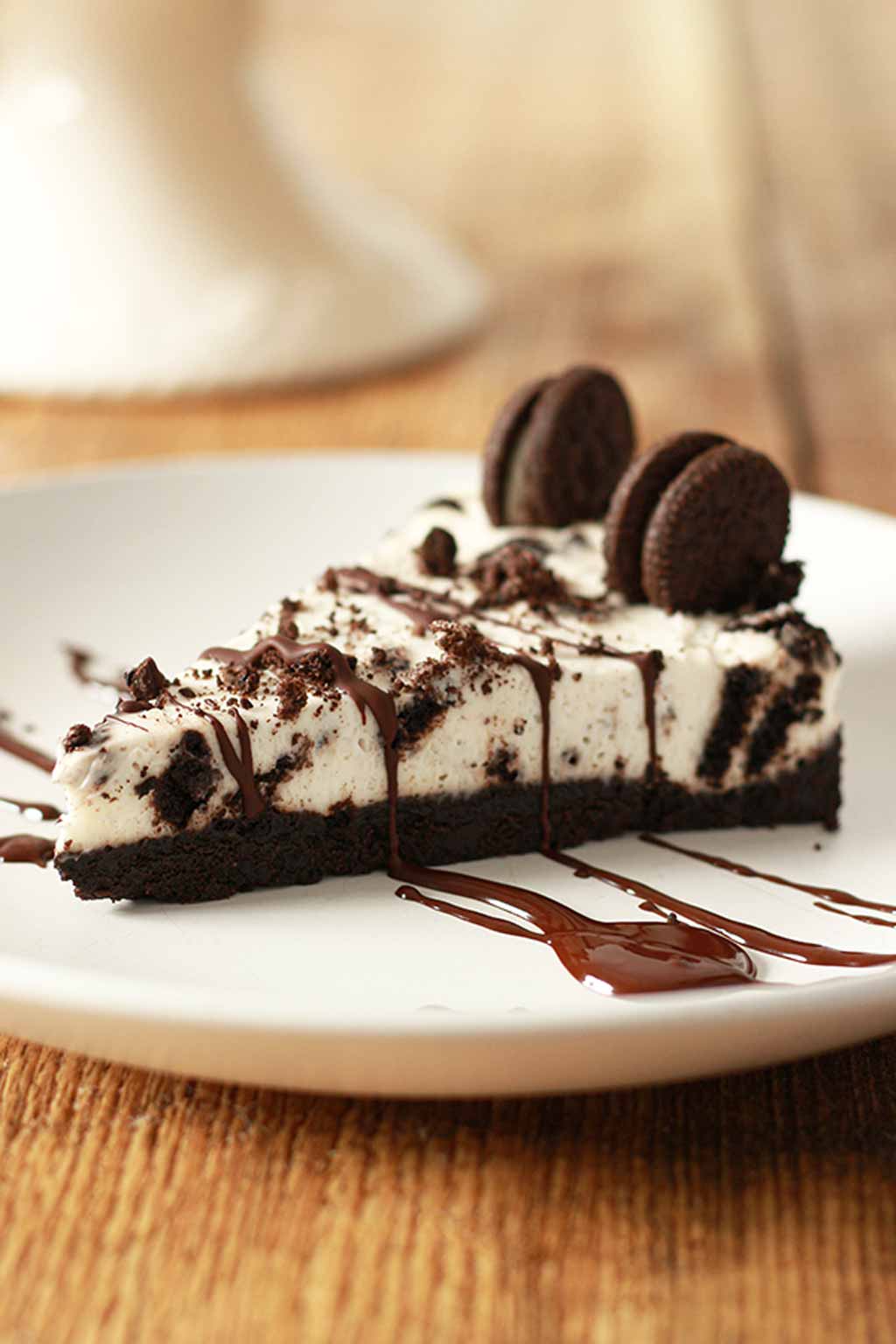 No-bake cheesecake. Before I went vegan, this was the easiest thing in the world to make. Double cream, cream cheese, and some sugar in a bowl made up the perfect cheesecake filling with no fuss.
But after I went vegan? Wow.
I realised how hard it was to find a no-bake vegan cheesecake without cashews!
At the time, I didn't have this blog and I didn't usually create too many recipes myself. I wanted vegan desserts and I wanted to make them without having to purchase any new equipment.
So I tried countless vegan no-bake cheesecake recipes online, all of which called for cashews. But at that time, I had a very cheap, low-quality blender. Which meant no matter how hard I tried, I kept ending up with a lumpy cheesecake filling.
Sigh.
More Oreo desserts:
When I eventually started this blog and began making my own vegan desserts, one of the first things I tried to make was a no-bake Oreo cheesecake.
I was reluctant to try baking a vegan cheesecake because I had never made a dairy-based baked cheesecake before. And as a beginner, I didn't really feel like trying to replace eggs in a dessert that I had never made before.
I just wanted a quick, straight-forward dessert that anyone could make without having to own a powerful blender to pulverise cashews.
I never had any trouble with the cheesecake base at all. It was just the no-bake filling that kept letting me down. I tried replacing the cream cheese for vegan cream cheese and the double cream for coconut cream.
The vegan cream cheese worked great but unfortunately, the coconut cream wasn't strong enough to hold shape once it was removed from the fridge. That is unless I added a ridiculous amount of powdered sugar which made it far too sweet.
Plus, it had that coconut-y taste to it, which is definitely not what I wanted for a non-coconut dessert. I gave up on my Oreo dreams and got to work baking other things. Until recently…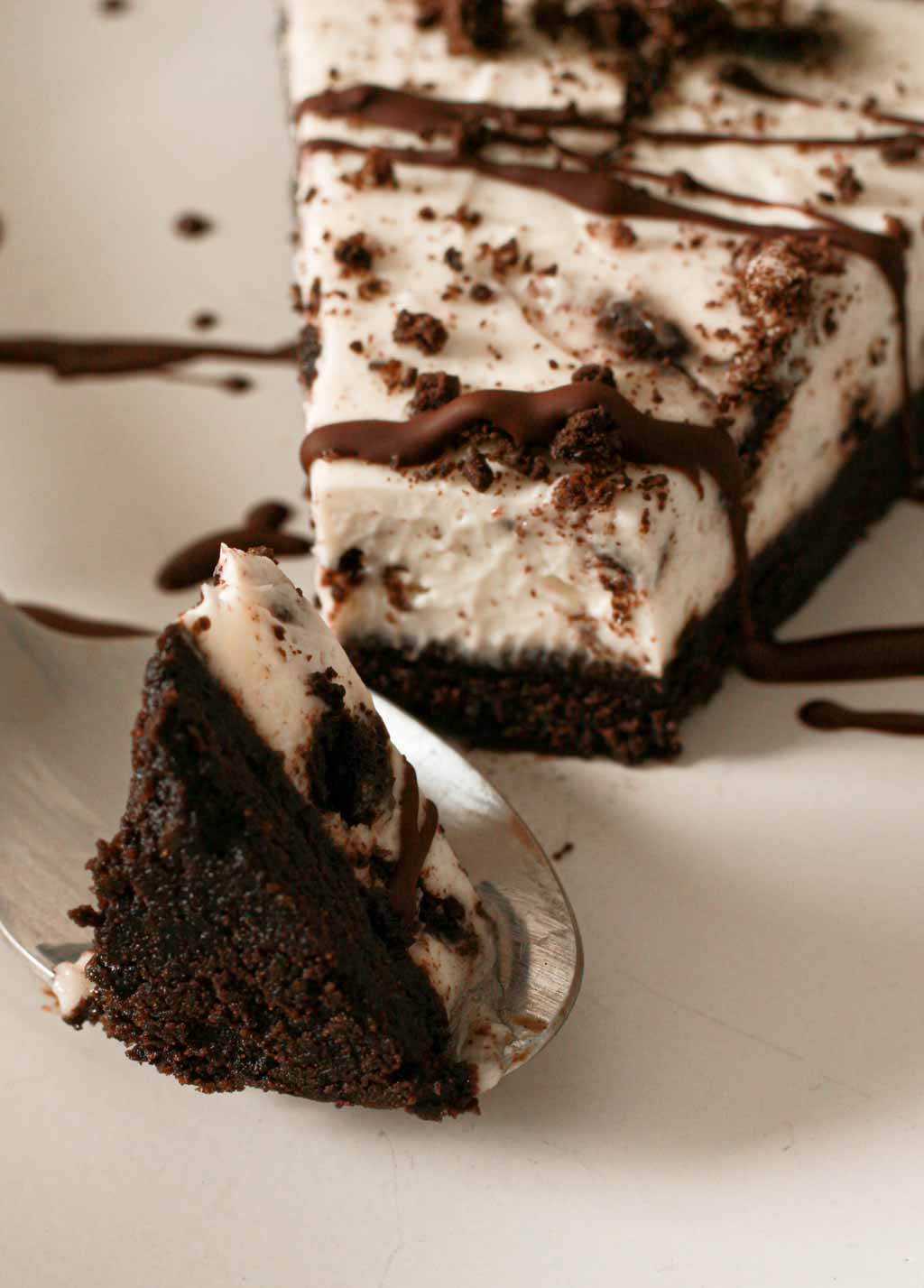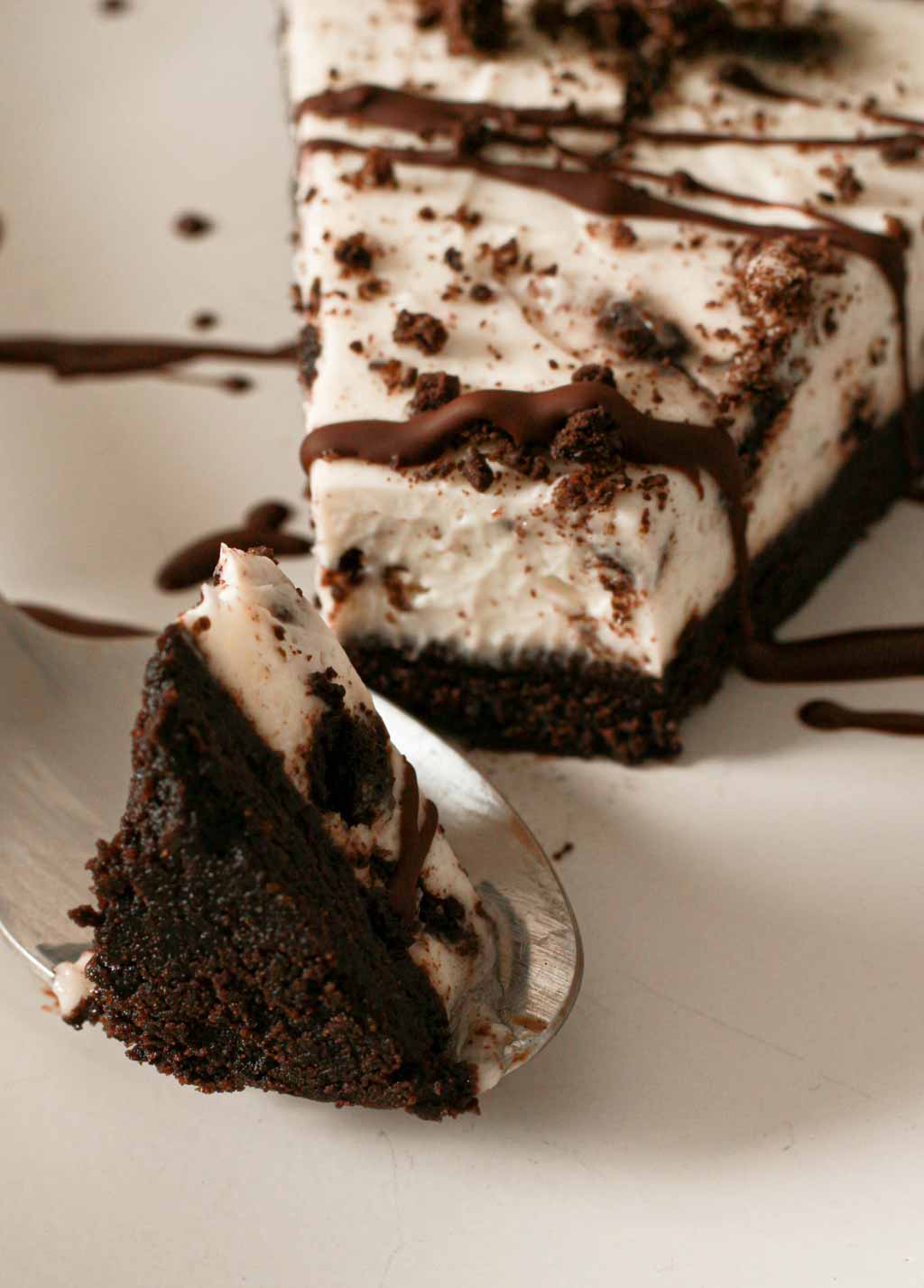 Dairy-free cheesecake filling alternatives
I stuck with the vegan cream cheese for the first part of my filling. Because quite frankly, you can't really replicate the tangy, cheesy taste without it.
I prefer to use Violife cream cheese as I find it produces the best results. It's more thick and creamy than some of the other brands out there.
Instead of the coconut cream this time, I tried the best vegan replacement for double cream, Elmlea double plant cream. This worked SO much better and is my go-to cheesecake cream from now on!
A dairy-free, no-bake Oreo cheesecake without cashews or coconut cream! Perfect for all of you nut/coconut haters out there.
Granted, it does take a bit longer to set than some other cheesecakes. But it's worth it, I promise!
More dairy-free cheesecake recipes: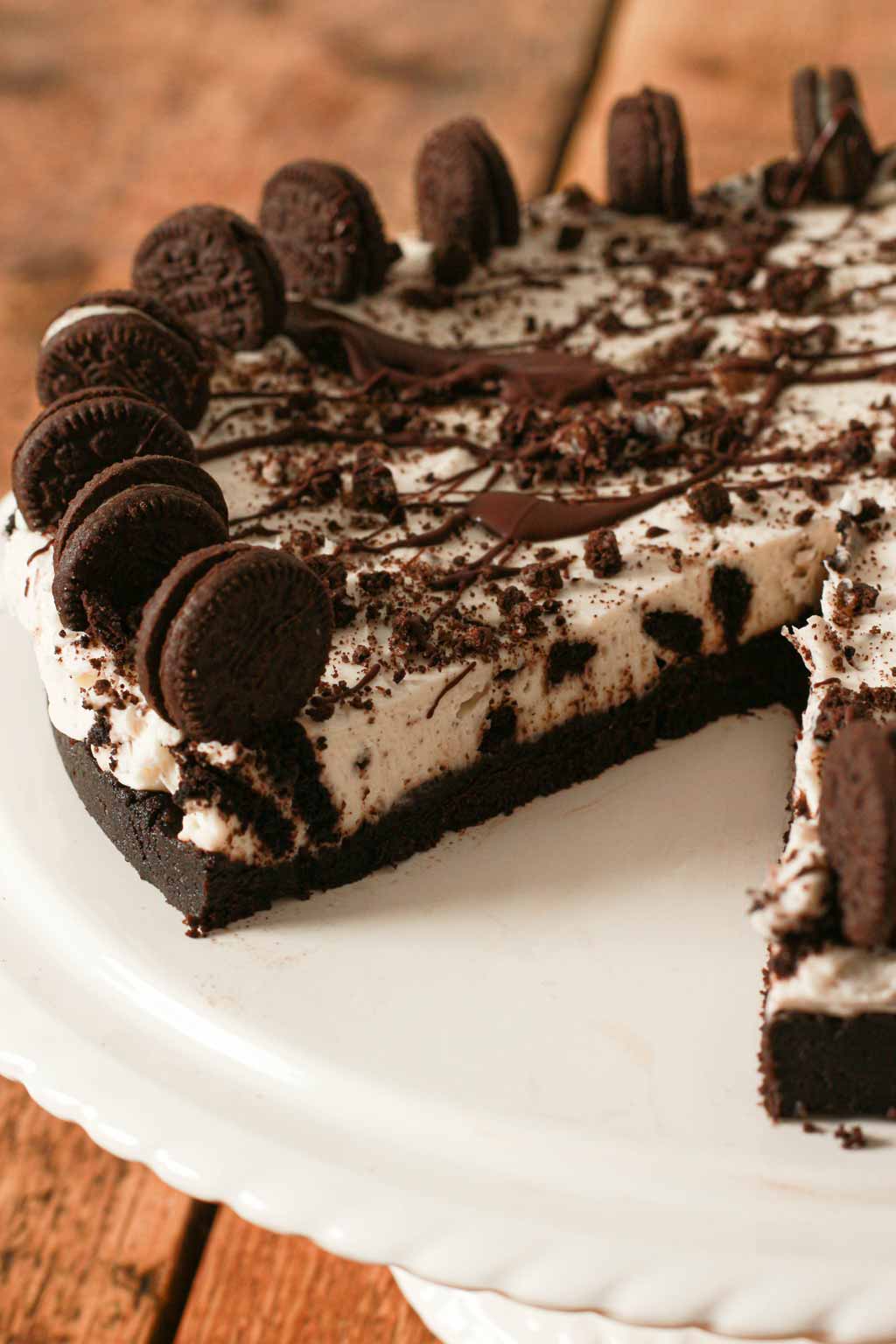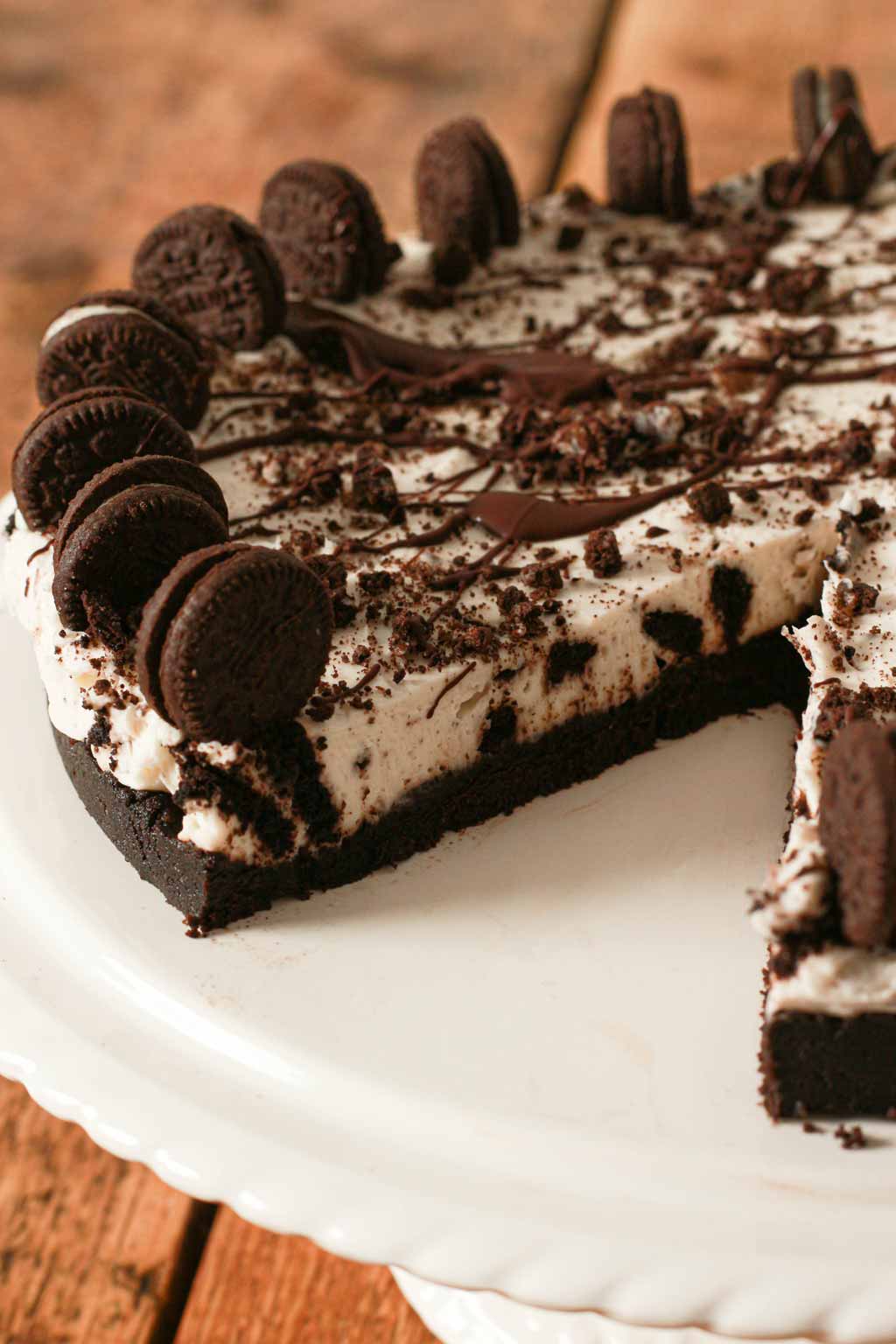 How to Make Vegan Oreo Cheesecake
The first step is to prepare your base.
Make sure you have a 9-inch springform cake tin to hand so that it's ready to use.
Step 1:
First, crush 400g/14oz of Oreo cookies using the end of a rolling pin or a food processor. Keep going until you have fine crumbs with no large lumps.
Add in 100g of melted vegan margarine (3/4 cup + 1 tablespoon) and mix everything together until all the crumbs are evenly coated.
Spoon the cookie base into the pan and press it down firmly using the back of a spoon or your fingers. Make sure it's tightly in there so that it doesn't break apart when set.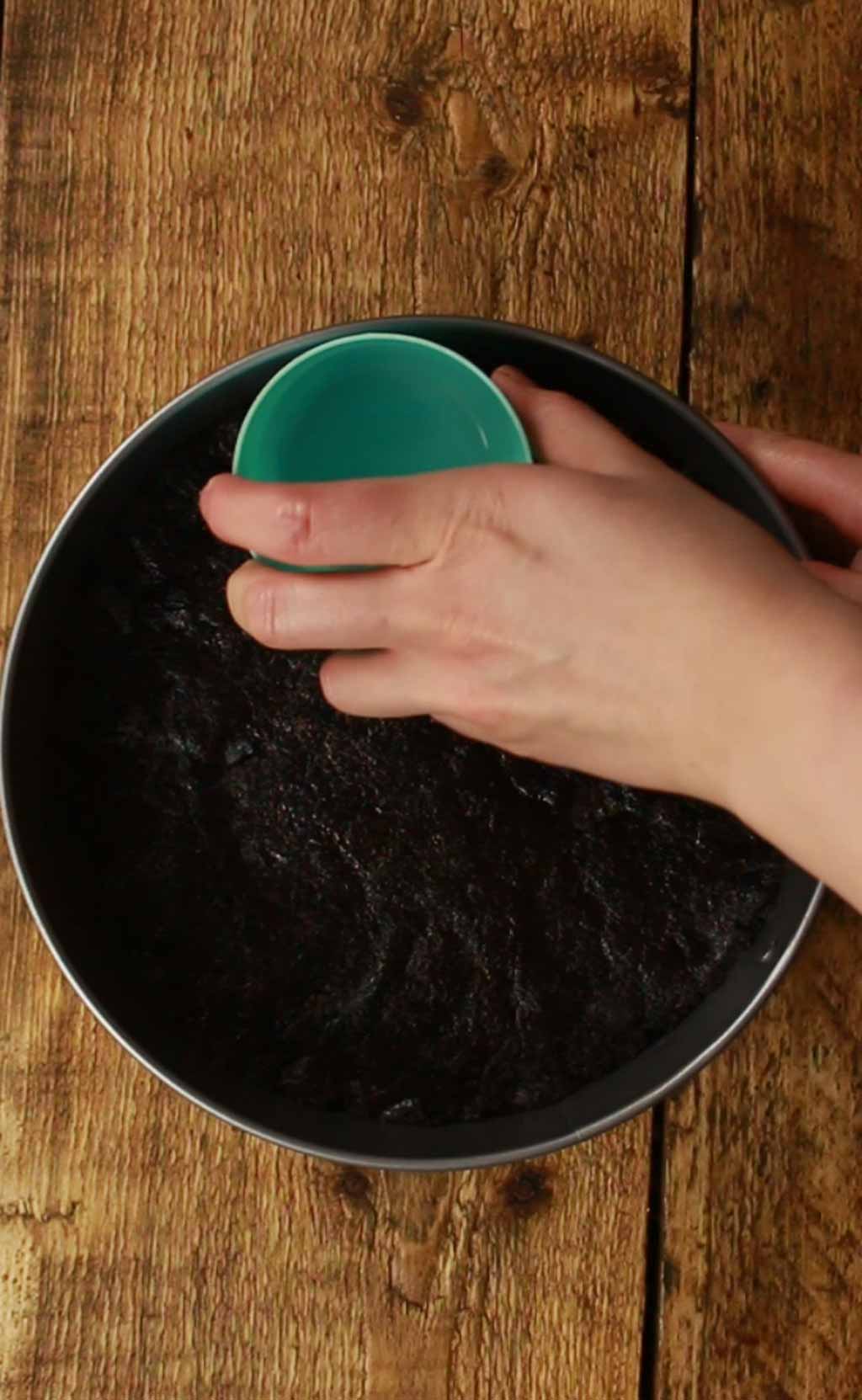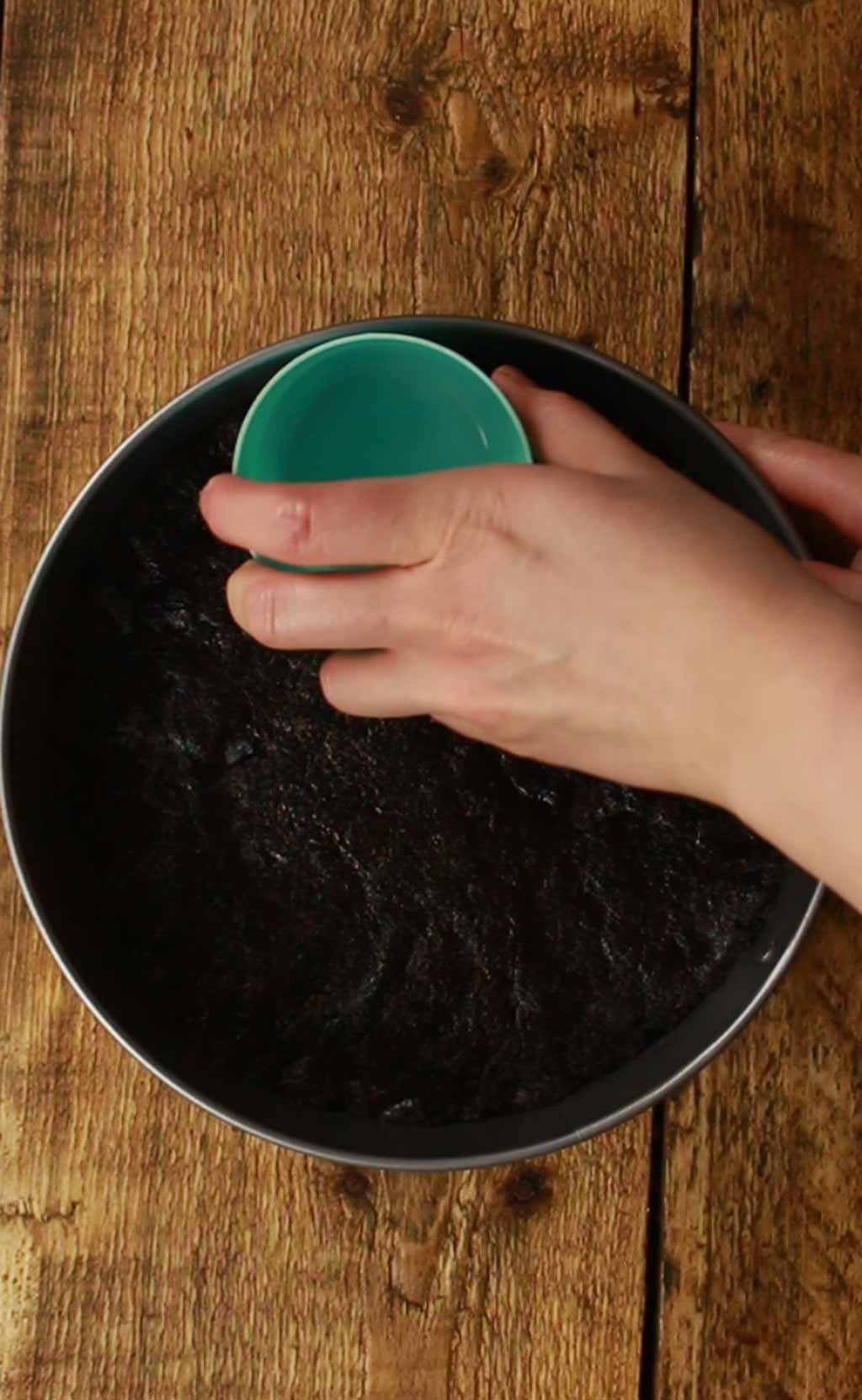 Place this in the fridge while you prepare your filling.
Step 2:
Place 400g/14oz of vegan cream cheese in a bowl with 100g of icing sugar (3/4 cup). Mix well until smooth.
Add in 1/2 a teaspoon of vanilla extract and stir it in.
Step 3:
Next, add 130ml Elmlea plant double cream (1/2 cup) to the bowl. You can substitute this for any other vegan heavy whipping cream, such as the Silk brand that's available in the USA.
Using an electric whisk or stand mixer, whisk everything together until it becomes thick and the peaks hold on their own.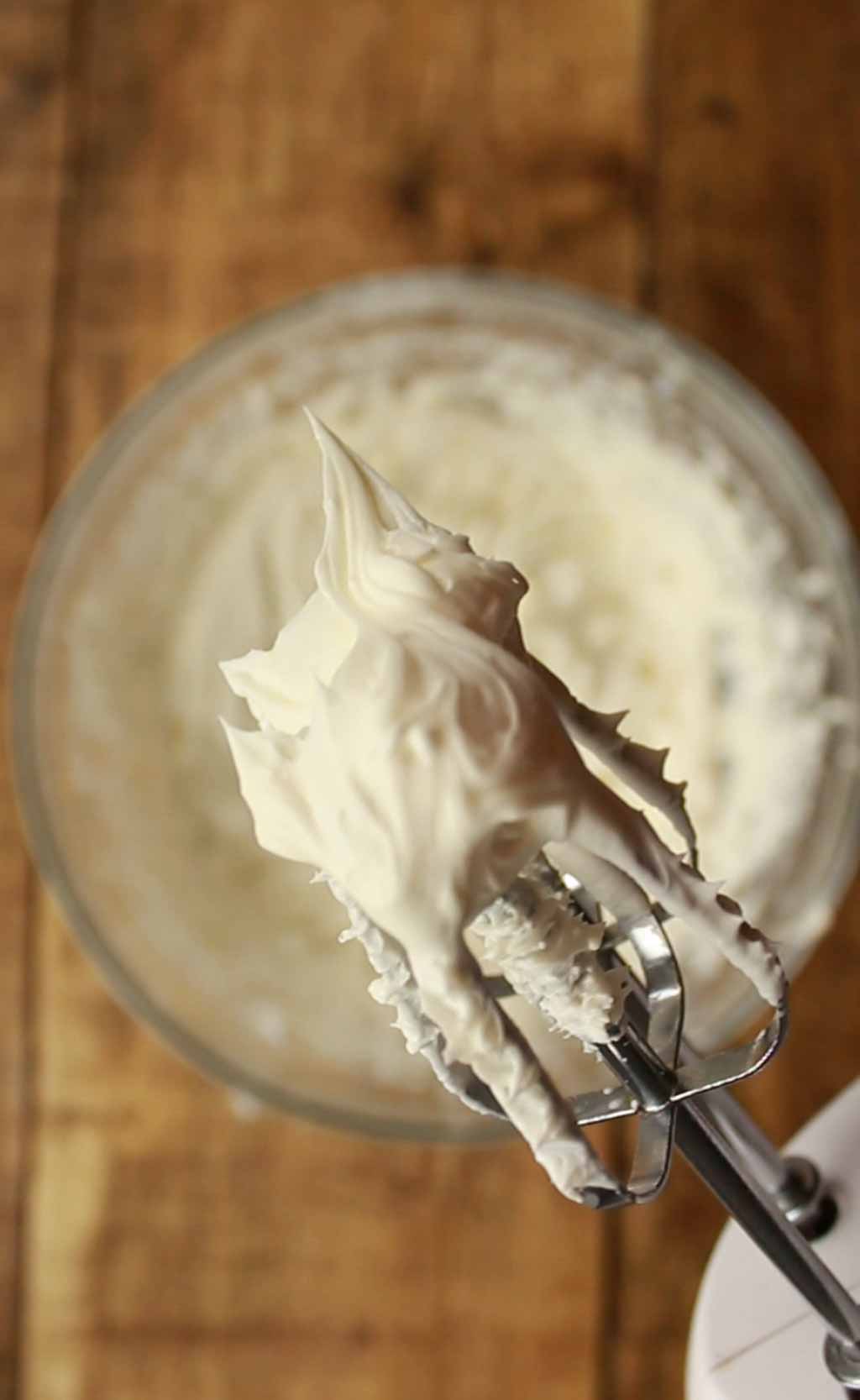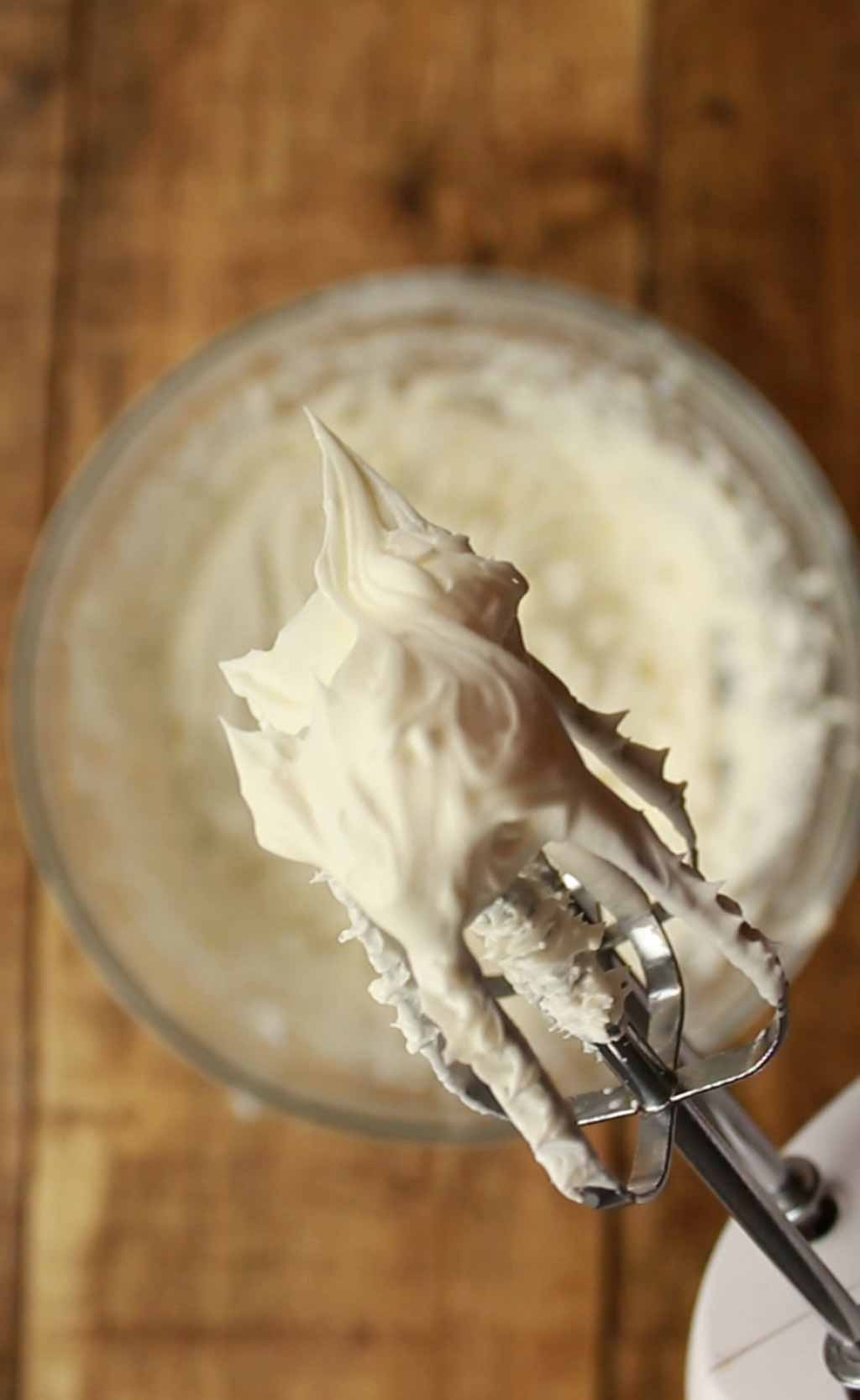 Step 4:
Roughly crush 100g/3.5oz of Oreos. It's OK if there are larger pieces this time, you want them to be chunky rather than crumby.
Add them to the filling mixture and gently fold them in.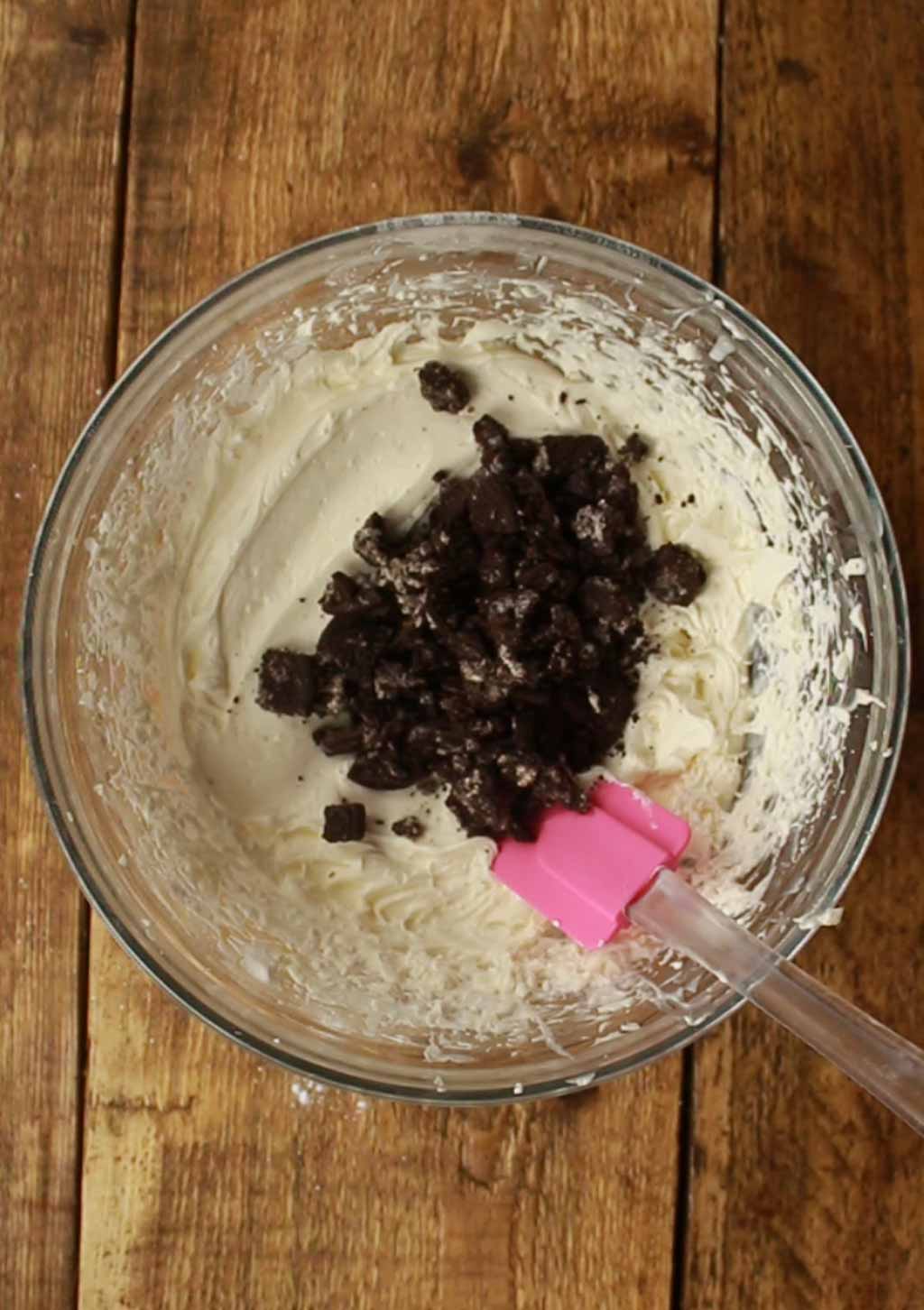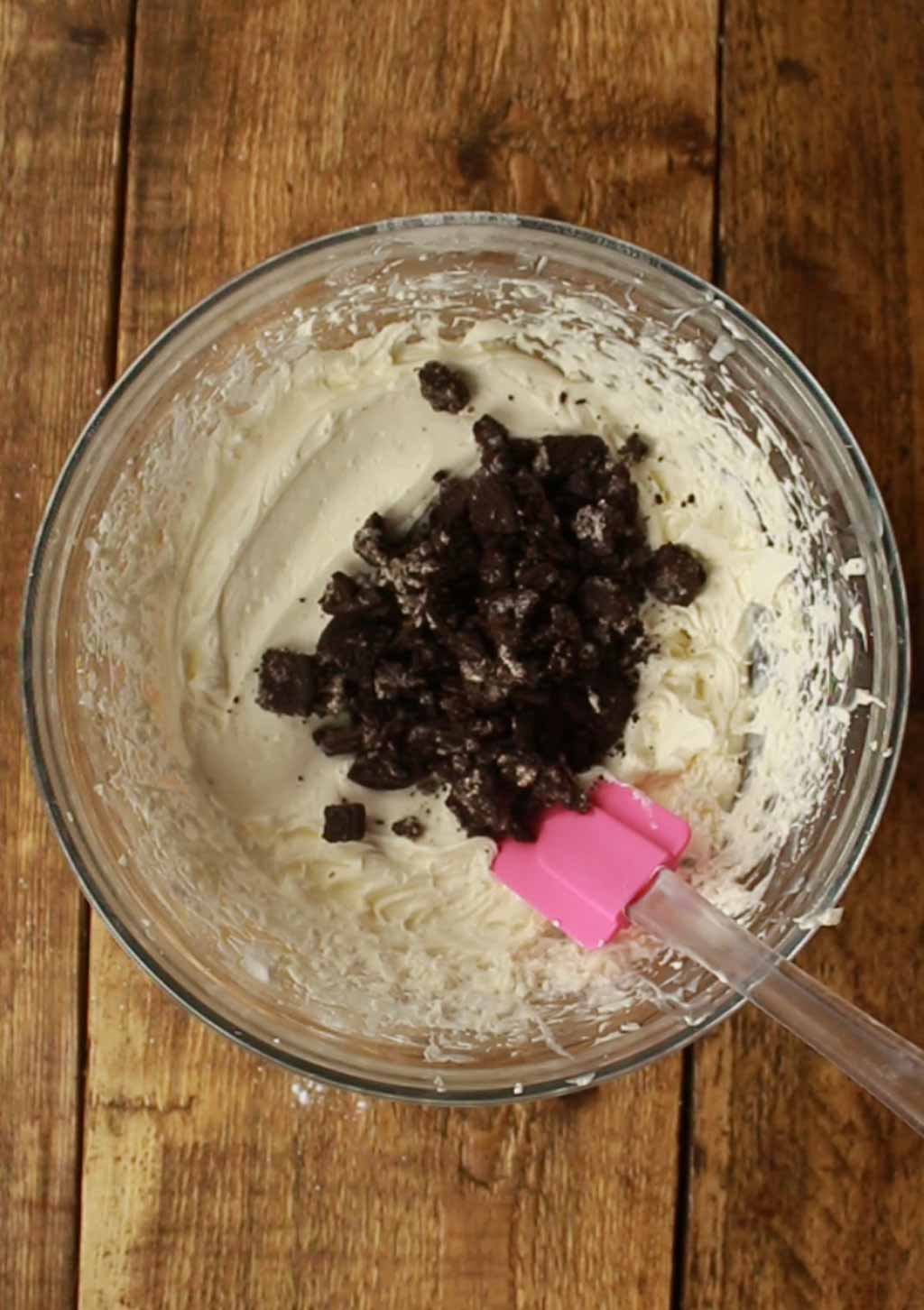 Step 5:
Pour the filling onto the base you prepared earlier.
Return the whole thing to chill in the fridge for 12 hours. It should be slightly firm to the touch when it's ready. The longer you leave it to set, the firmer the texture will be.
Once your Oreo cheesecake is ready, gently transfer it from the springform pan onto a plate or cake stand. I find it's best to gently loosen the base with a knife all the way around before attempting to move it.
Step 6:
Decorate your cheesecake with more Oreos (crushed or whole) if desired. I used mini Oreos and melted chocolate.
Slice it up and enjoy! Store in the fridge for up to 5 days.
FAQ:
How should it be stored?
Keep it covered in the fridge for up to 5 days.
Can Oreo cheesecake be frozen?
Yes! You can freeze this no-bake Oreo cheesecake in the tin wrapped in clingfilm for up to 2 months. Then when you're ready to eat it, just move it to the fridge for an hour or two until defrosted.

I would personally recommend freezing it in slices so that you can just pull out the exact amount you need while keeping the rest frozen.

To do this, follow the recipe as normal and make sure the cheesecake is set before cutting it into slices. Place the slices in airtight containers and pop them in the freezer for up to two months.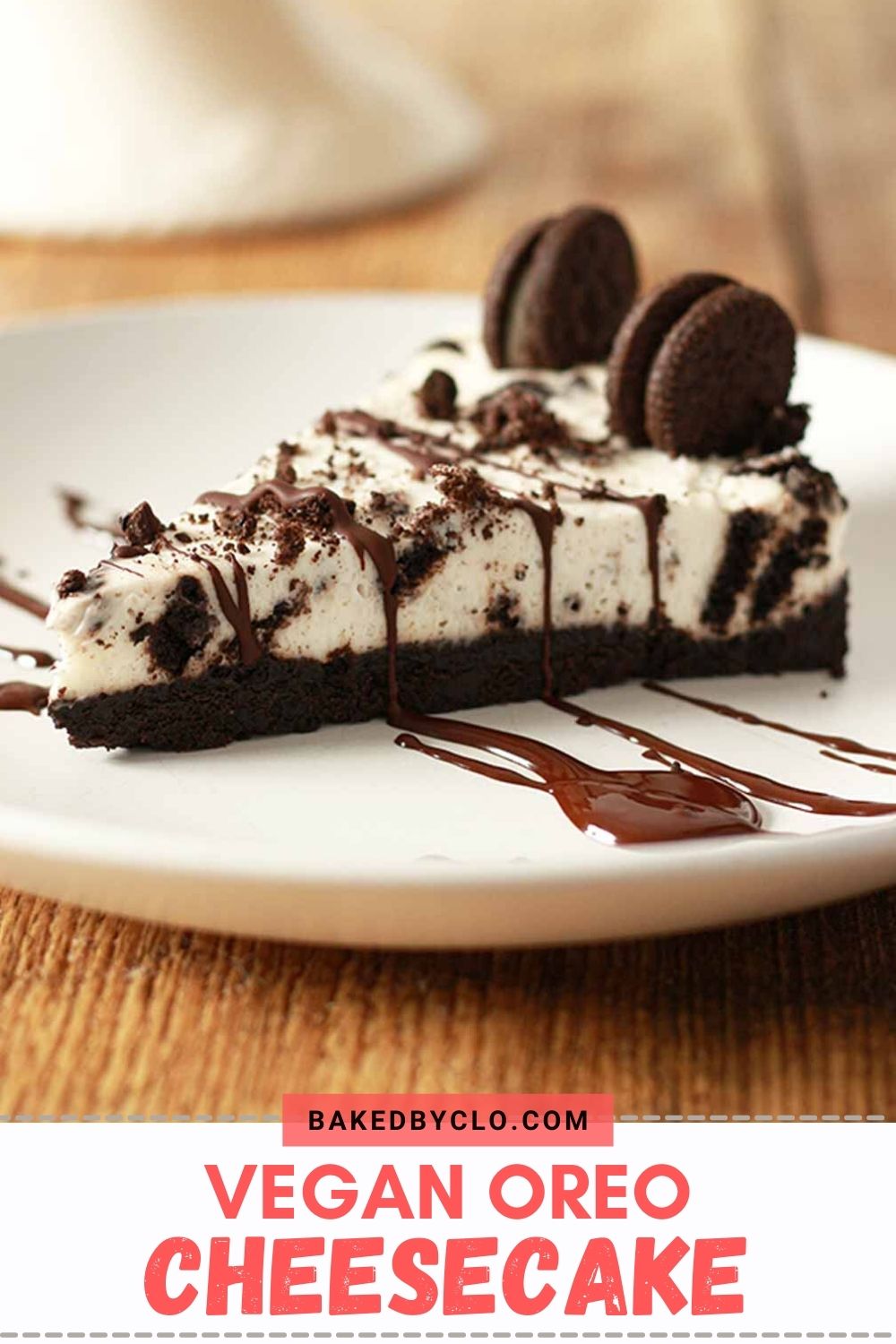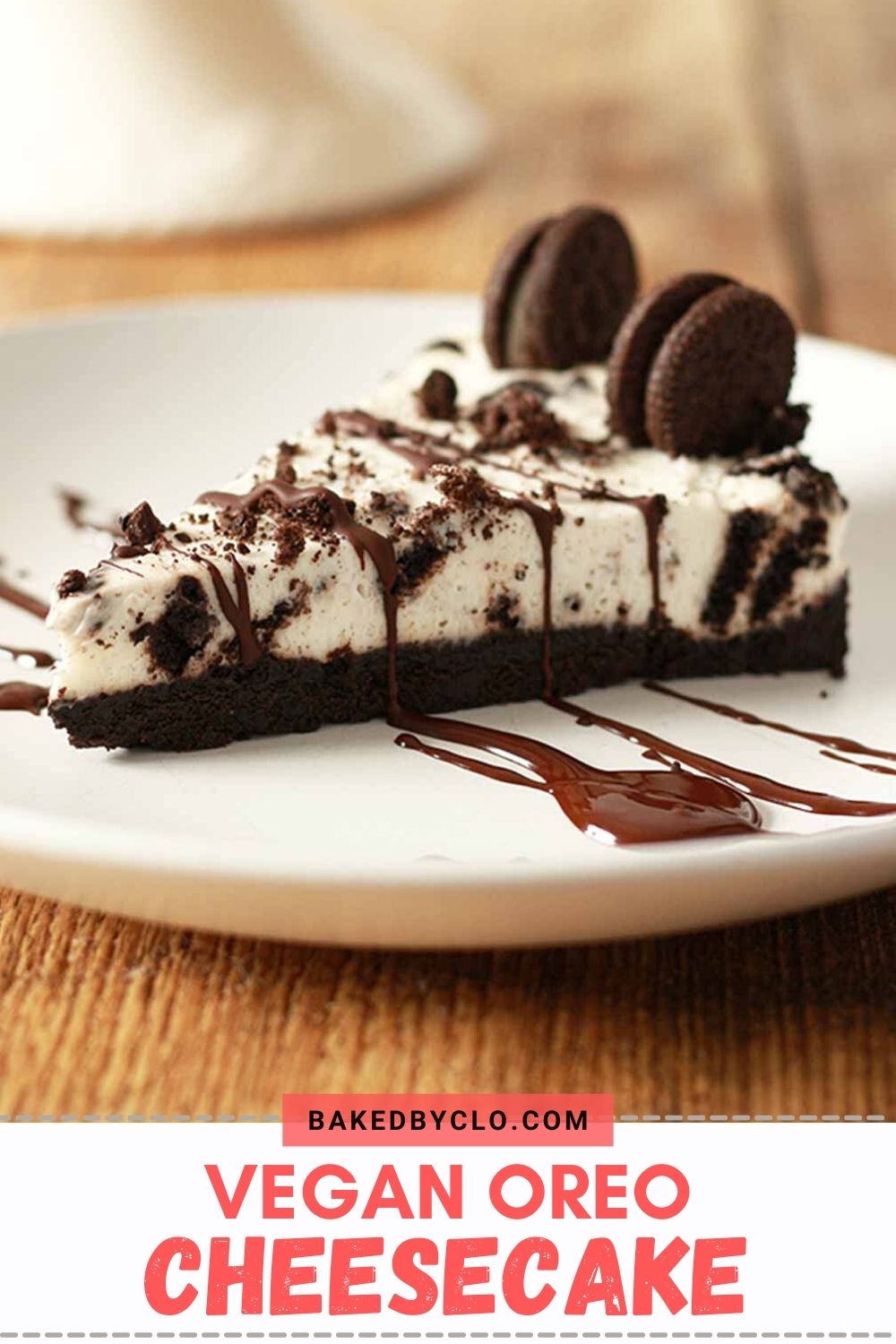 I hope you enjoy this recipe! Give it a go and let me know what you think by leaving a review or comment below.
Happy baking!
xo

Vegan Oreo Cheesecake
A no-bake Oreo cheesecake without cashews. A crunchy, chocolate base topped with a smooth cookies and cream filling.
Ingredients
For the base:
400

g

Oreo cookies

(14oz)

100

g

Vegan margarine, melted

(1/3 cup + 1 tablespoon)
For the filling;
400

g

Vegan cream cheese*

(14oz)

100

g

Icing sugar

(¾ cup)

½

Teaspoon

Vanilla extract

130

ml

Elmlea plant double cream

(½ cup)

100

g

Roughly crushed Oreos
To top:
Melted dairy-free chocolate
Instructions
For the base:
Crush the Oreos using a food processor or the end of a large rolling pin until they become fine crumbs.

Pour over the melted vegan margarine and mix until all the crumbs are coated. Spoon this mixture into your pan and press down very firmly using your fingers or the bottom of a cup. Place it in the fridge while you prepare the filling.
For the filling:
Mix the cream cheese and icing sugar in a bowl until smooth. Add the vanilla extract and mix again.

Add the plant double cream and whisk for a few minutes using an electric whisk or stand mixer. It should be thick and the peaks should hold themselves.

Add the roughly crushed Oreos and gently fold them into your filling mixture.

Spoon the filling onto your base and spread it out evenly. Place it in the fridge for 12 hours to set.

After the cheesecake has set, remove the springform and decorate with melted chocolate and mini Oreos. Then just cut into slices and enjoy!
Nutrition Facts
Vegan Oreo Cheesecake
Amount Per Serving (1 slice)
Calories 380
Calories from Fat 216
% Daily Value*
Fat 24g37%
Sodium 375mg16%
Carbohydrates 41g14%
Protein 1g2%
* All values are an estimate only and will vary depending on the food brands used.
BakedByClo is a participant in the Amazon Services LLC Associates Program, an affiliate advertising program designed to provide a means for sites to earn advertising fees by advertising and linking to Amazon.com. This site may contain some of these links to Amazon.com & other affiliate programs. If you make a purchase through one of those links, BakedByClo will receive a small commission from the purchase at no additional cost to you.