Mini Vegan Biscoff Cheesecakes
These mini vegan Biscoff cheesecakes are a super cute alternative to larger a cheesecake. A crunchy, 'buttery' biscuit base and a smooth, creamy filling, made inside muffin cases or small jars! They are perfect for parties and other special occasions.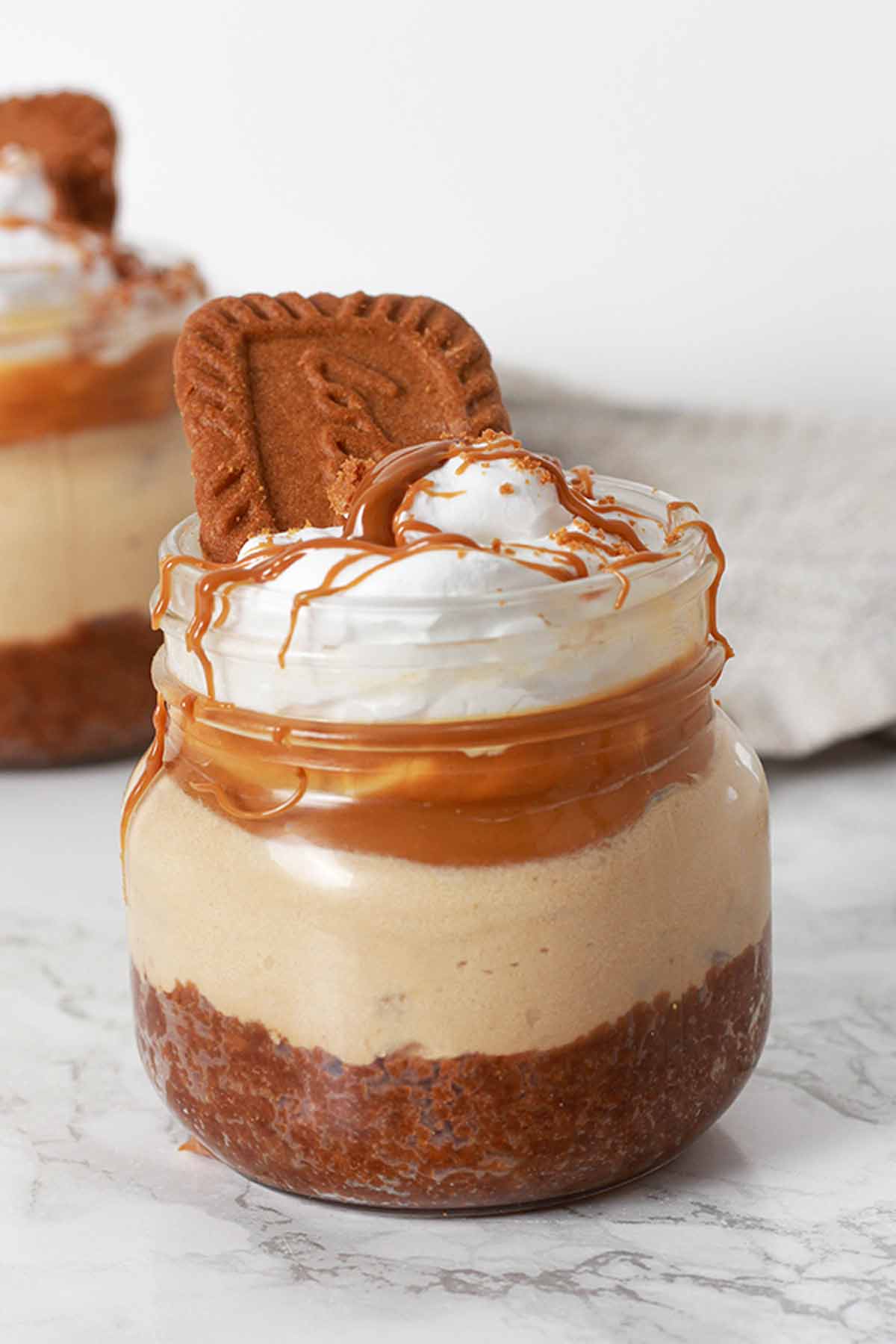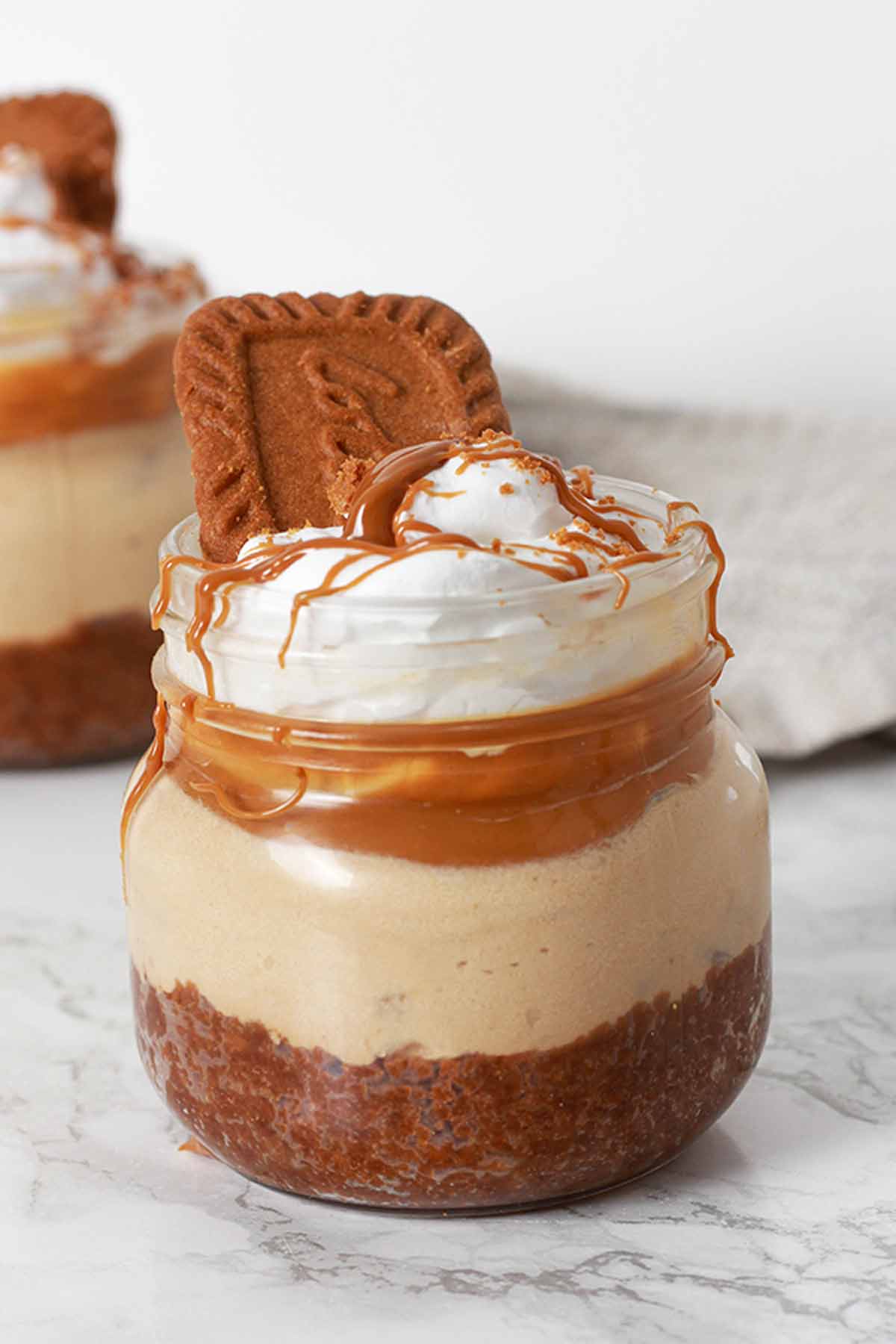 I was looking at the open rate of my newsletter the other day and noticed just how much you all LOVE a cheesecake recipe! Without fail, every time I mention 'cheesecake' in the heading, my email open rate increases quite noticeably! So I decided to give the people what they want and add to my collection of no-bake cheesecake recipes.
I still have many, many more cheesecake flavours to work my way through but I figured since I already had the ingredients lying around gathering dust, I'd make Biscoff cheesecake.
I already have a Biscoff cheesecake recipe on my blog so this time I made mini vegan Biscoff cheesecakes instead. They taste just as delicious but are way cuter! I think they'd make a perfect addition to a party table or any gathering where you'll be sharing food.
Muffin cups or cheesecake pots
I made these mini Biscoff cheesecakes in two different ways. The first was in small glass jars, to make Biscoff cheesecake pots, which I thought looked very aesthetically pleasing! To do this, I just used mini jam jars.
I added some vegan whipped cream to help fill the jars all the way to the top, then drizzled over some melted Biscoff spread and biscuit crumbs. I have to say the combination of the filling, the Biscoff spread and the whipped cream was unbelievably good!
The second way you can make them is by using a muffin tray and paper liners. I did consider buying a special muffin tray with a removable bottom, to save the need to use paper cases to help get the cheesecakes out. But when I tested them with the paper cases, I actually loved how they looked!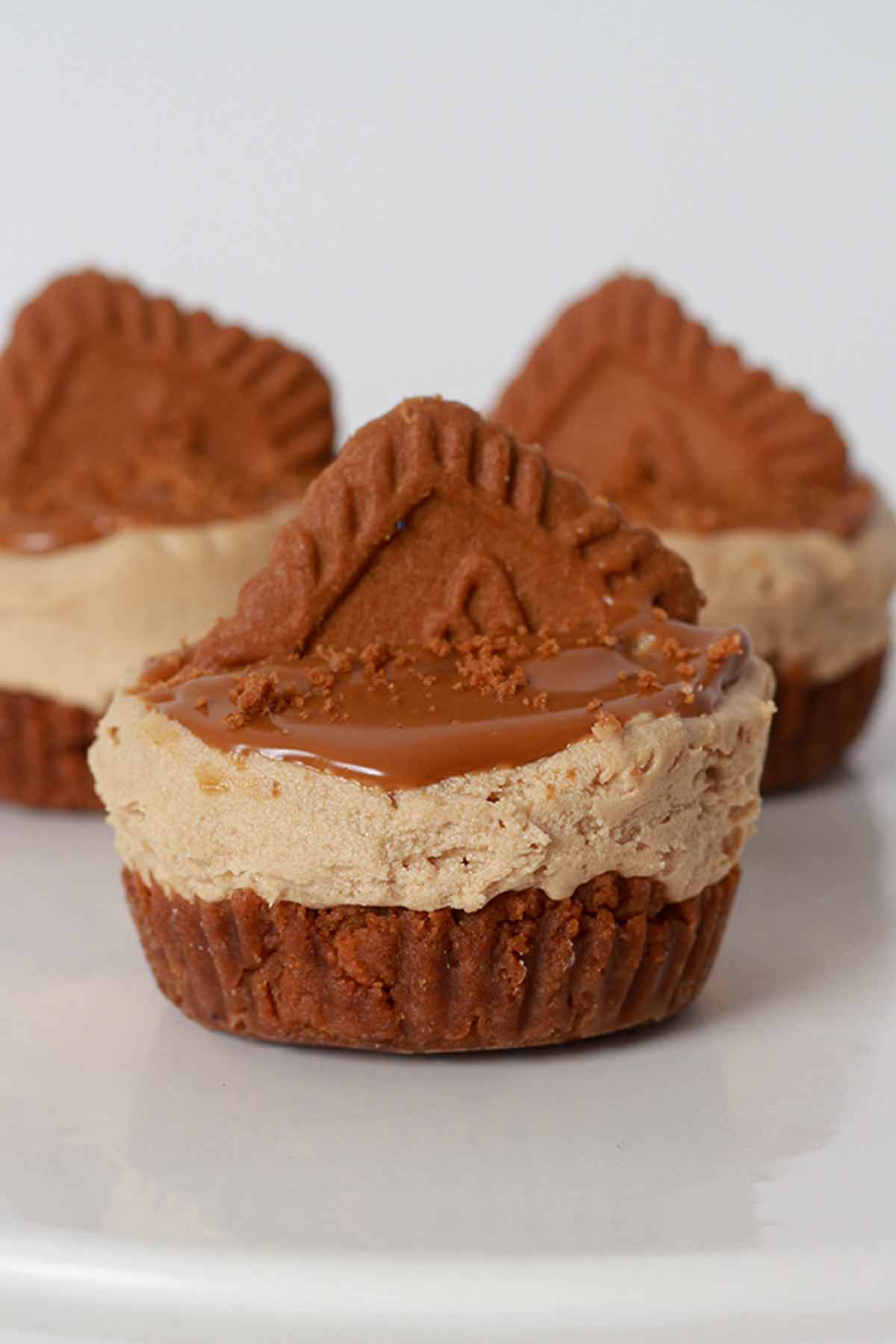 To be honest, I don't think it's worth paying £10-15 for a removable-bottomed tray if you already have a regular muffin tray at home. The lines weren't as deeply imprinted as I thought they'd be so I don't think there would be a huge difference in how they look without the liners. They taste the same either way so it's totally up to you!
The great thing about the muffin cup style cheesecakes is that they are much easier to display at parties or events than the cheesecake pots. You can pop them onto a cake stand and they'll sit out nicely at room temperature for at least a couple of hours.
More dairy-free cheesecake recipes:
If you like these mini cheesecakes, why not try making them with one of my other cheesecake recipes? I've listed my favourites below.
Ingredients and equipment you'll need for this recipe
Biscoff biscuits. Instead of a traditional Digestive biscuit base, I made the base out of Biscoff biscuits. I also kept a few aside for decorating the cheesecakes when they were finished.
Dairy-free margarine. Use the soft, spreadable style of vegan 'butter', not the blocky kind. The margarine will give the perfect consistency for the base- not too crumbly and not too wet.
Vegan cream cheese. I recommend Violife cream cheese for best results. Other cream cheeses I have tried were quite watery and had an unpleasant flavour. It's best to let it soften slightly at room temperature before using, to prevent it from becoming lumpy.
Icing sugar. For a little extra sweetness.
Biscoff spread. I recommend using the smooth version so the cheesecake filling is soft and creamy.
Vegan whipping cream. I used Elmlea plant double cream but you can use any type of vegan cream that whips up firm. Oatly is another good one to use in this recipe.
A food processor or powerful blender. To pulse the biscuits into fine crumbs. You can also do this by crushing them up in a large bowl using the end of a heavy rolling pin.
An electric whisk or stand mixer. In order for the cheesecake filling to set properly, you need to whisk it up into peaks. This is much quicker to do using an electric whisk rather than by hand.
Mini jam jars (for Biscoff cheesecake pots) or a muffin tin and muffin liners. The muffin tin with help the cheesecake set in place, making it easy to remove the liners once they're done chilling.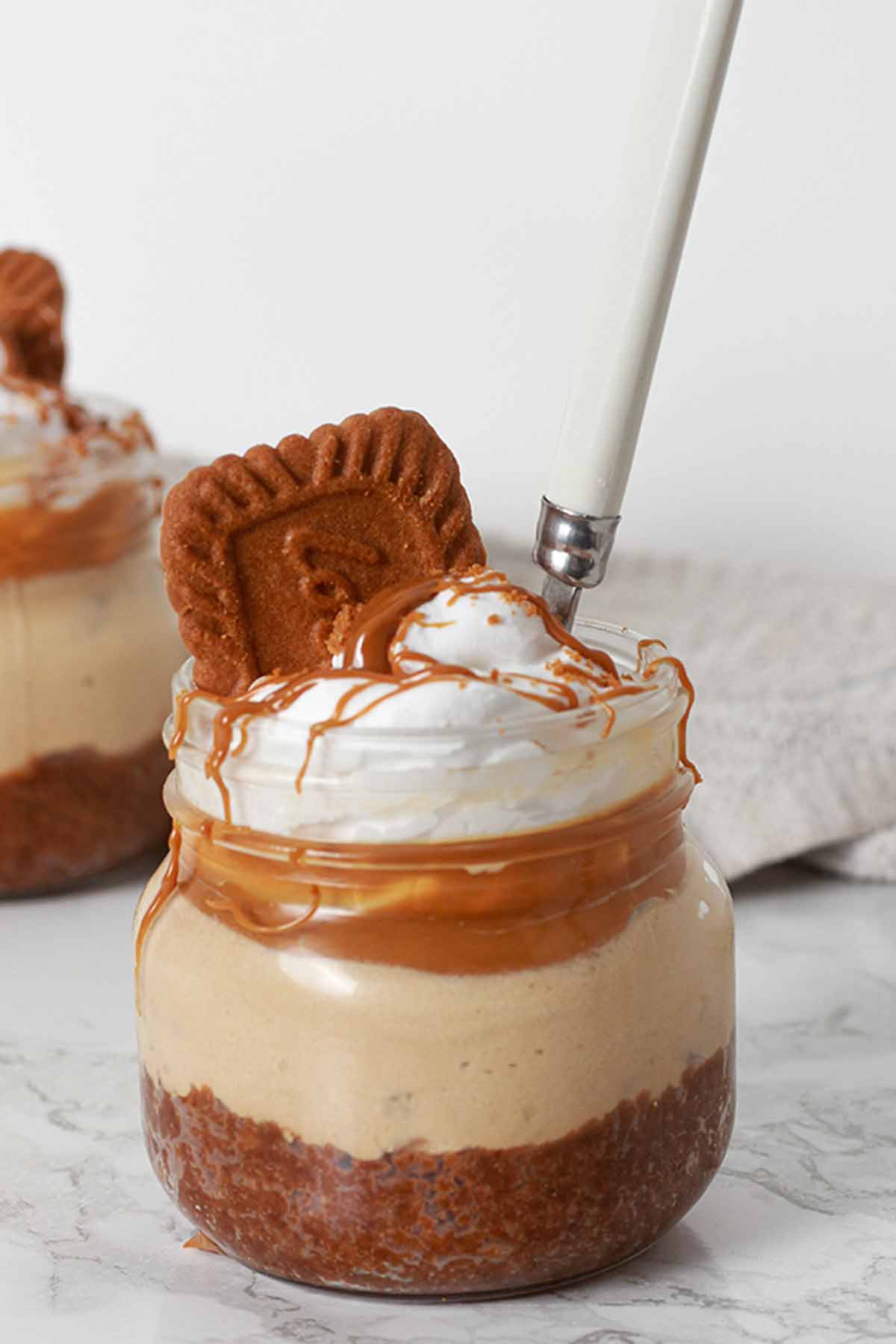 How make mini vegan Biscoff cheesecakes
Step 1:
Line a muffin tray with 8 muffin liners or ensure you have 8 small jars to hand.
Step 2:
Place 265g of Biscoff biscuits into a food processor or high-speed blender and crush them up into fine crumbs. Run your fingers through to make sure there are no large lumps left behind. If you don't have a food processor or blender, just crush them up in a bowl using a rolling pin.
Step 3:
Melt 80g of vegan margarine and leave it to cool for a minute or so. Add it into a large bowl along with the biscuit crumbs and mix well until all of the crumbs are evenly coated.
Step 4:
Divide the biscuit mixture between your muffin liners or jars and press firmly into place. Put them in the fridge while you prepare the filling.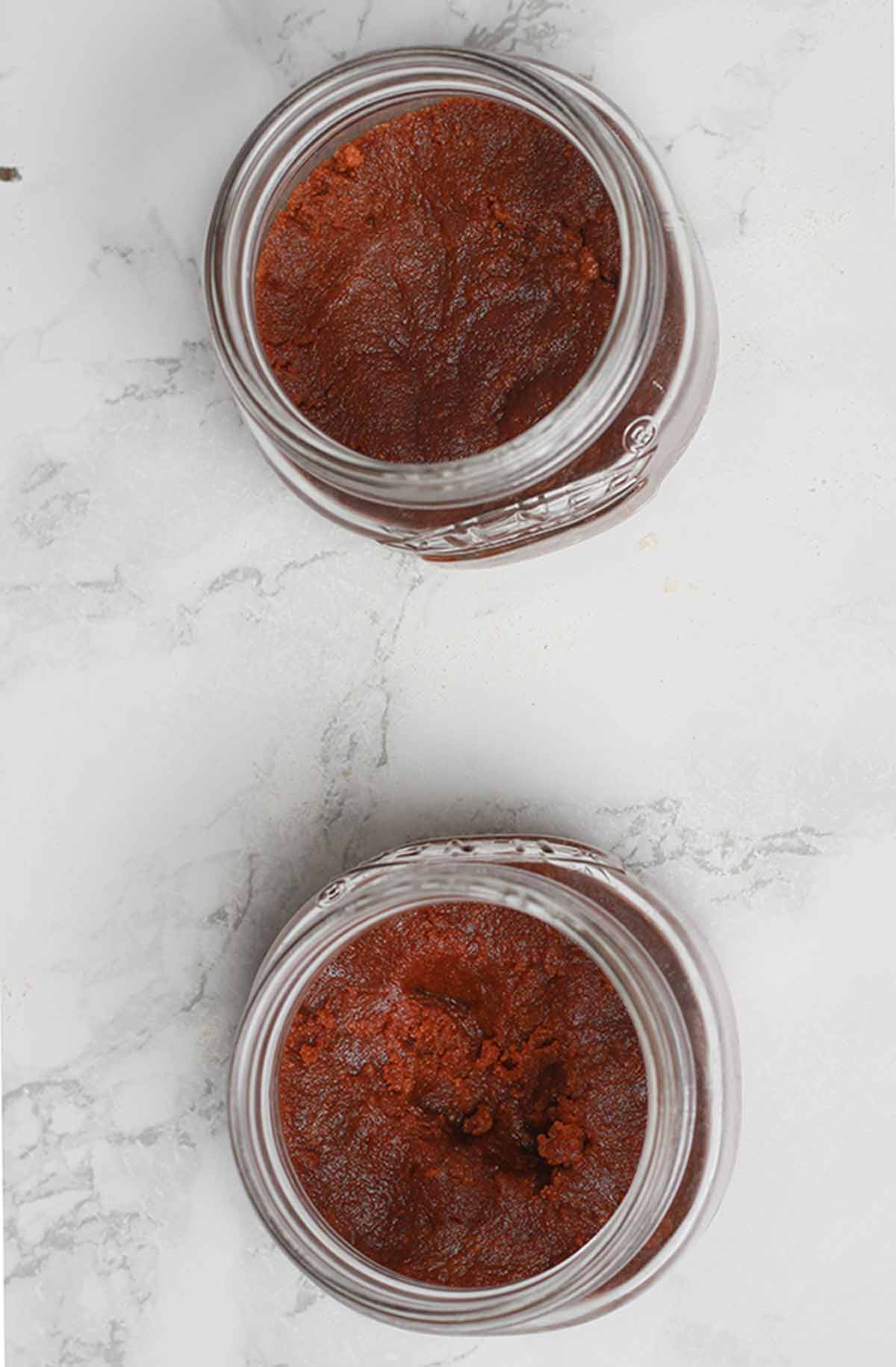 Step 5:
Add 265g of vegan cream cheese to a bowl along with 130g of smooth Biscoff spread and 50g of icing sugar. Mix with a wooden spoon until smooth.
Step 6:
Add 100ml of vegan whipping cream to the bowl. Use your electric whisk or stand mixer to whisk it in until the mixture is thick and holds shape on its own.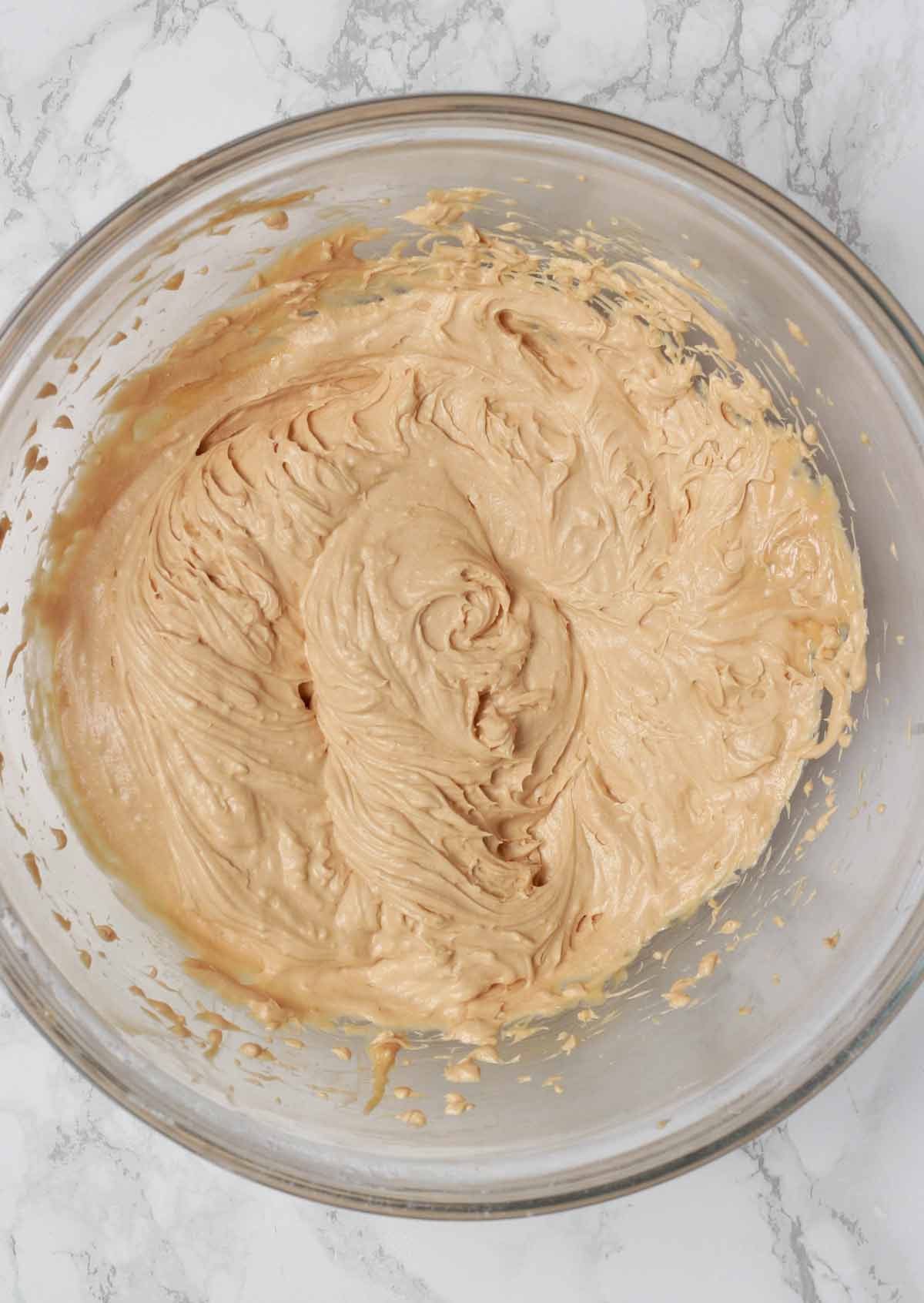 Step 7:
Divide the filling between your muffin cups or jars and use a teaspoon to spread it out evenly. Place the mini cheesecakes in the fridge to chill for 12 hours. I usually just make them the evening before and they're ready by the morning.
Step 8:
Remove the cheesecakes from the fridge. If you're using muffin cups, carefully remove the liners. Top the cheesecakes with extra Biscoff spread and biscuit crumbs if desired.
FAQ:
How long will mini Biscoff cheesecakes last for?
Keep them in an airtight container in the fridge and they'll last for around 4 days.
Can I freeze them?
The cheesecake pots are best enjoyed fresh but the muffin cup ones are great for freezing! Pop them into an airtight container and freeze for up to 1 month. You can also freeze them on a baking tray then put them in a freezer bag once frozen, to save space. To defrost them, just transfer them to the fridge the night before you plan to eat them. Do not refreeze.
Why didn't my cheesecake filling set properly?
This is probably because you either used an unsuitable type of cream or you didn't whisk it for long enough. The cream you use must be suitable for whipping, and the filling should be whisked until thick.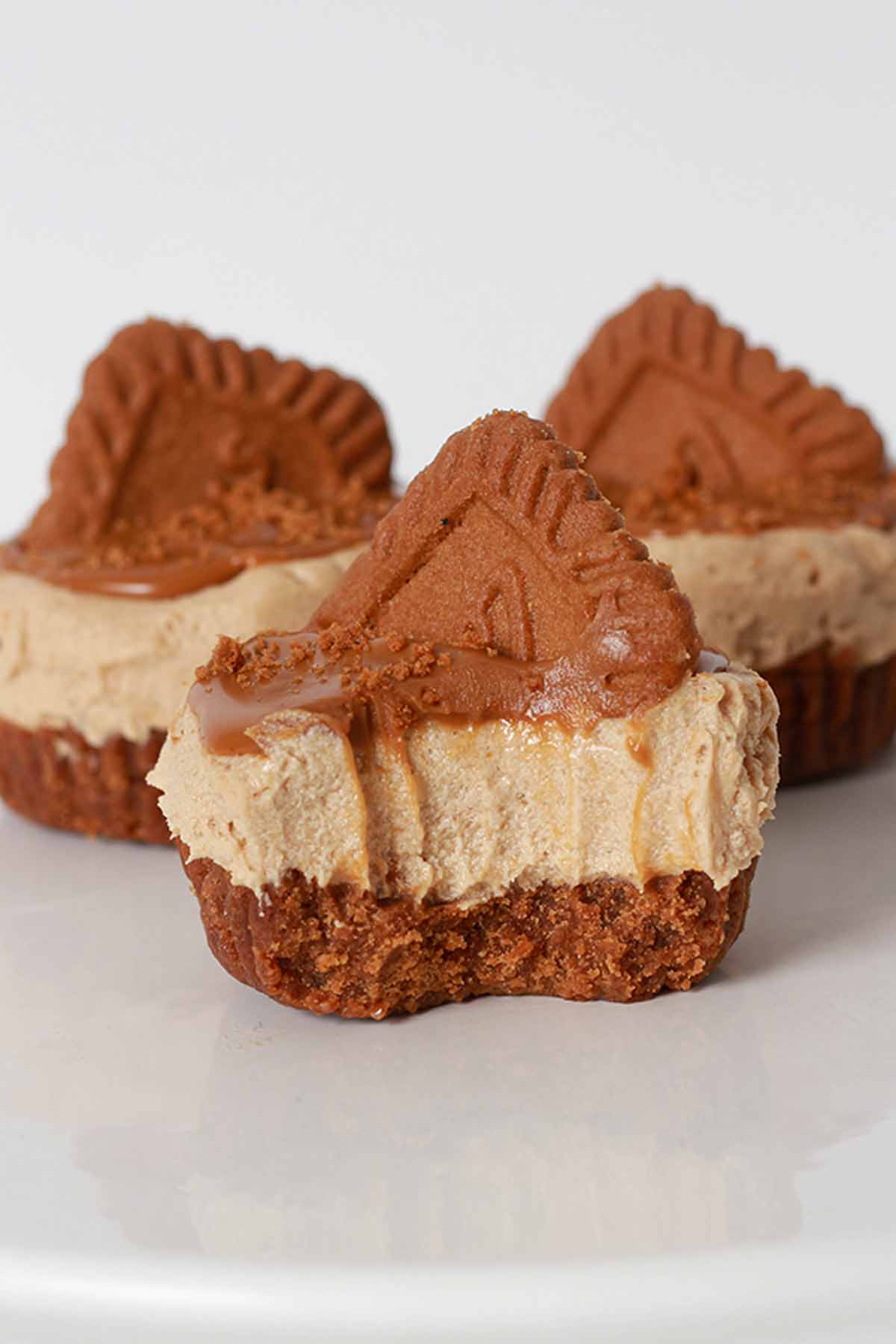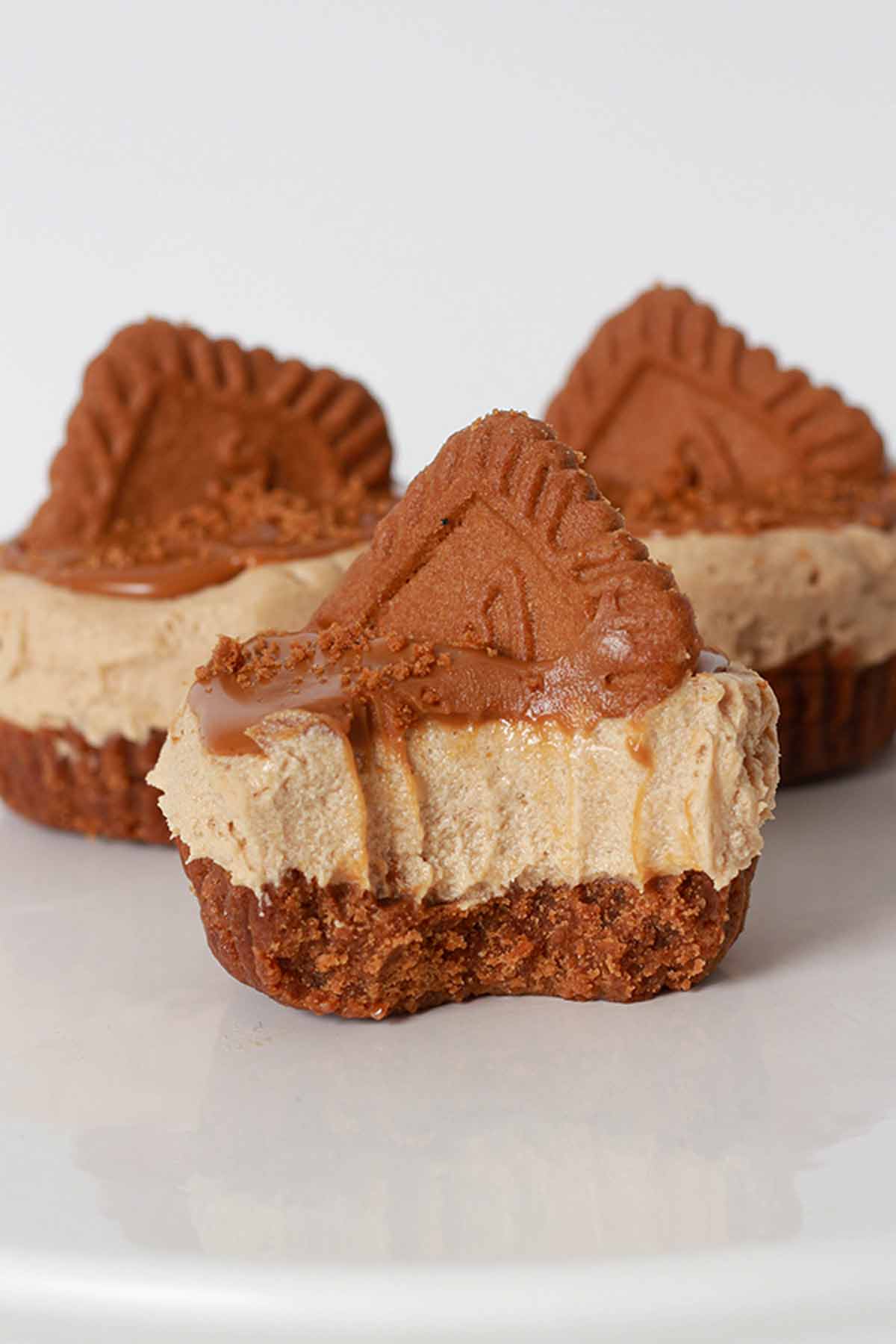 I hope you enjoy these mini dairy-free Biscoff cheesecakes! If you make them at home, please let me know how you get on by leaving a rating or comment below. Happy baking! xo

Mini Vegan Biscoff Cheesecakes
Mini dairy-free Biscoff cheesecakes that can be made in cheesecake pots or muffin cases.
Servings
8
mini cheesecakes
Ingredients
Base:
265

g

Biscoff biscuits

80

g

Vegan margarine

(the spreadable type, not the block)
To top:
Extra whipped cream

(optional)

Biscoff biscuits and crumbs

Melted Biscoff spread
Instructions
For the base:
Line a muffin tray with 8 muffin liners or for cheesecake pots, have 8 small jars to hand.

Crush the biscuits into fine crumbs using a food processor, high power blender or rolling pin.

Melt the margarine and let it cool for a minute or so. Pour it into a large bowl with the biscuit crumbs and mix well, until the crumbs are evenly coated.

Divide the buttery crumbs between your muffin liners or pots and press firmly into place. Pop them in the fridge while you prepare the filling.
For the filling:
In a large bowl, mix together the cream cheese, Biscoff spread and icing sugar until smooth.

Add the whipping cream to the bowl. Use an electric whisk or stand mixer to whisk everything together until thick. The mixture should hold its shape.

Divide the filling between your mini cheesecakes and use a teaspoon to spread it out evenly.

Place the cheesecakes in the fridge to chill for 12 hours.

If using muffin liners, carefully remove them. Top the cheesecakes with whipped cream, Biscoff spread and biscuits.
Recipe Notes
Store leftover mini cheesecakes in an airtight container (or put the lid on the pots) in the fridge for up to 4 days.
Nutrition Facts
Mini Vegan Biscoff Cheesecakes
Amount Per Serving (1 cheesecake)
Calories 479
Calories from Fat 297
% Daily Value*
Fat 33g51%
Sodium 386mg17%
Carbohydrates 44g15%
Protein 3g6%
* All values are an estimate only and will vary depending on the food brands used.
BakedByClo is a participant in the Amazon Services LLC Associates Program, an affiliate advertising program designed to provide a means for sites to earn advertising fees by advertising and linking to Amazon.com. This site may contain some of these links to Amazon.com & other affiliate programs. If you make a purchase through one of those links, BakedByClo will receive a small commission from the purchase at no additional cost to you.