Vegan White Chocolate Buttercream
This vegan white chocolate buttercream is smooth, creamy and perfect for piping. Use it on layer cakes, cupcakes or sheet cakes for a delicious, elegant finish.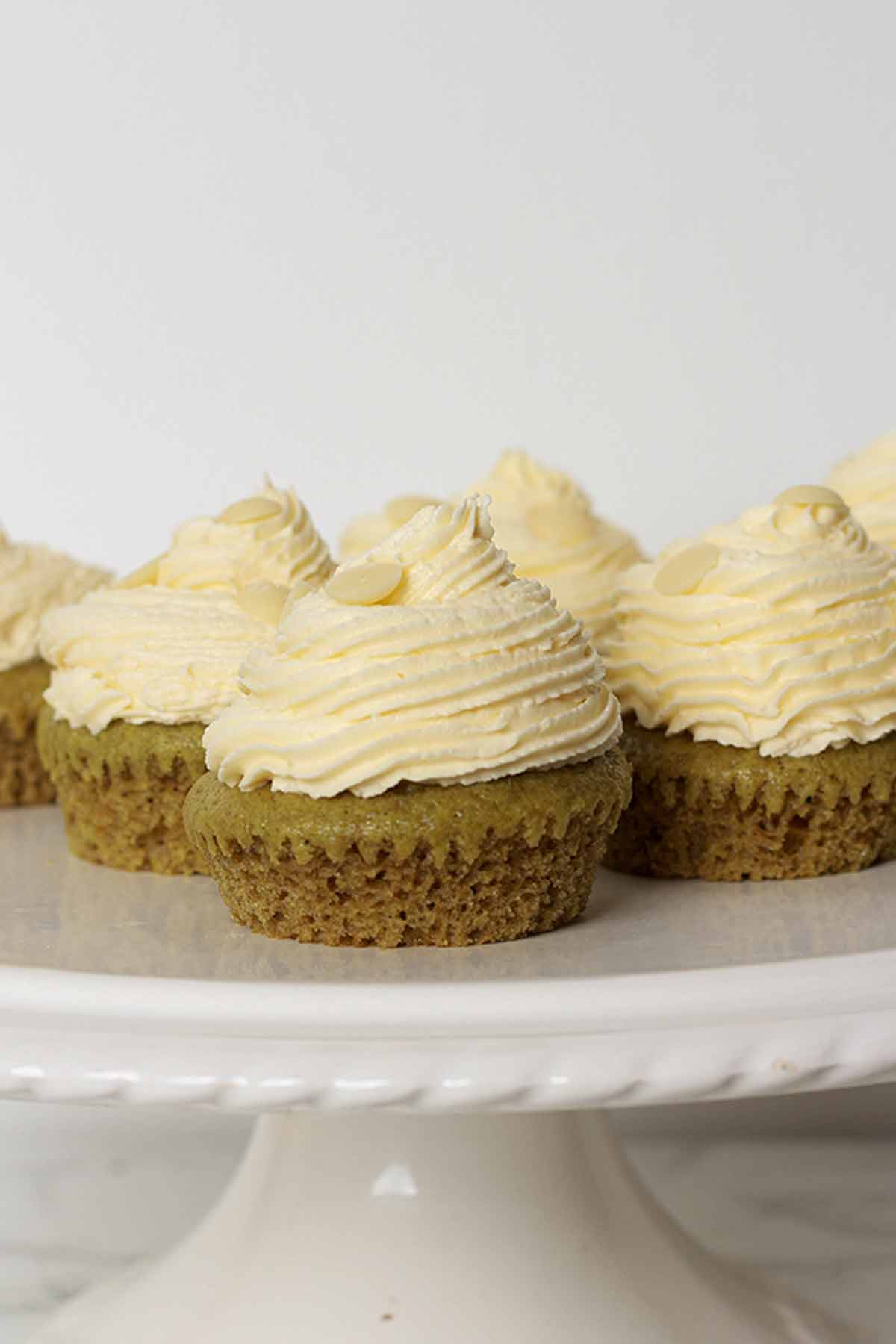 A while ago, I created a recipe for white chocolate ganache and it worked brilliantly… for a while. I had used a specific brand of cream that had, unbeknownst to me, changed their recipe and I soon started receiving comments saying the ganache wasn't working anymore.
I am still testing that recipe with different brands and methods to come up with something a little more fool-proof. So in the meantime, I decided I'd make a white chocolate buttercream instead! It's much easier to make and it's less prone to splitting.
Vegan white chocolate buttercream is perfect to use in any recipe where you'd usually use vanilla or chocolate buttercream. You can top cupcakes with it, use it to fill layer cakes or use it as a topping for traybakes. The choice is yours!
Ingredients you'll need for this recipe
Dairy-free butter. I recommend that you use the blocky type of vegan 'butter' as it's what I tested this recipe with. It helps the buttercream set better than the margarine style as it contains less water. I used Stork baking block but I like Flora plant too.
Icing sugar. I used slightly less icing sugar in this recipe than I'd usually use for buttercream because the white chocolate adds the extra sweetness.
Vegan white chocolate. There are many different white chocolate brands out there now that you can use but I used The Free From Kitchen Co. The most important thing to note is that it must be fully cooled after melting. Otherwise, it will melt the buttercream.
Soy milk. This will only be needed if you want to make the buttercream runnier. The consistency will depend on which brand of white chocolate you use. Do be careful not to add too much as the buttercream will set firmer than it originally appears.
Best dairy-free white chocolate to use
As noted above, I used The Free From Kitchen Co. white chocolate. It's one of the few brands that makes larger-sized bars so I find it more convenient and affordable. Here are some other vegan white chocolate brands that I like:
How to make vegan white chocolate buttercream
Step 1:
To a large bowl, add 200g of softened vegan block butter and 300g of icing sugar. Mix well until smooth.
Step 2:
Melt 150g of vegan white chocolate and leave it to cool completely. Do not add it to the buttercream while it's still warm!
Step 3:
Once the chocolate has cooled, pour it into the bowl with the buttercream. Use an electric whisk or stand mixer to mix it all together, until smooth and fluffy.
If the buttercream is too soft, you can pop it in the fridge for 30-60 minutes until it's firmed up a little. If it's too stiff, add a splash of soy milk to help loosen it.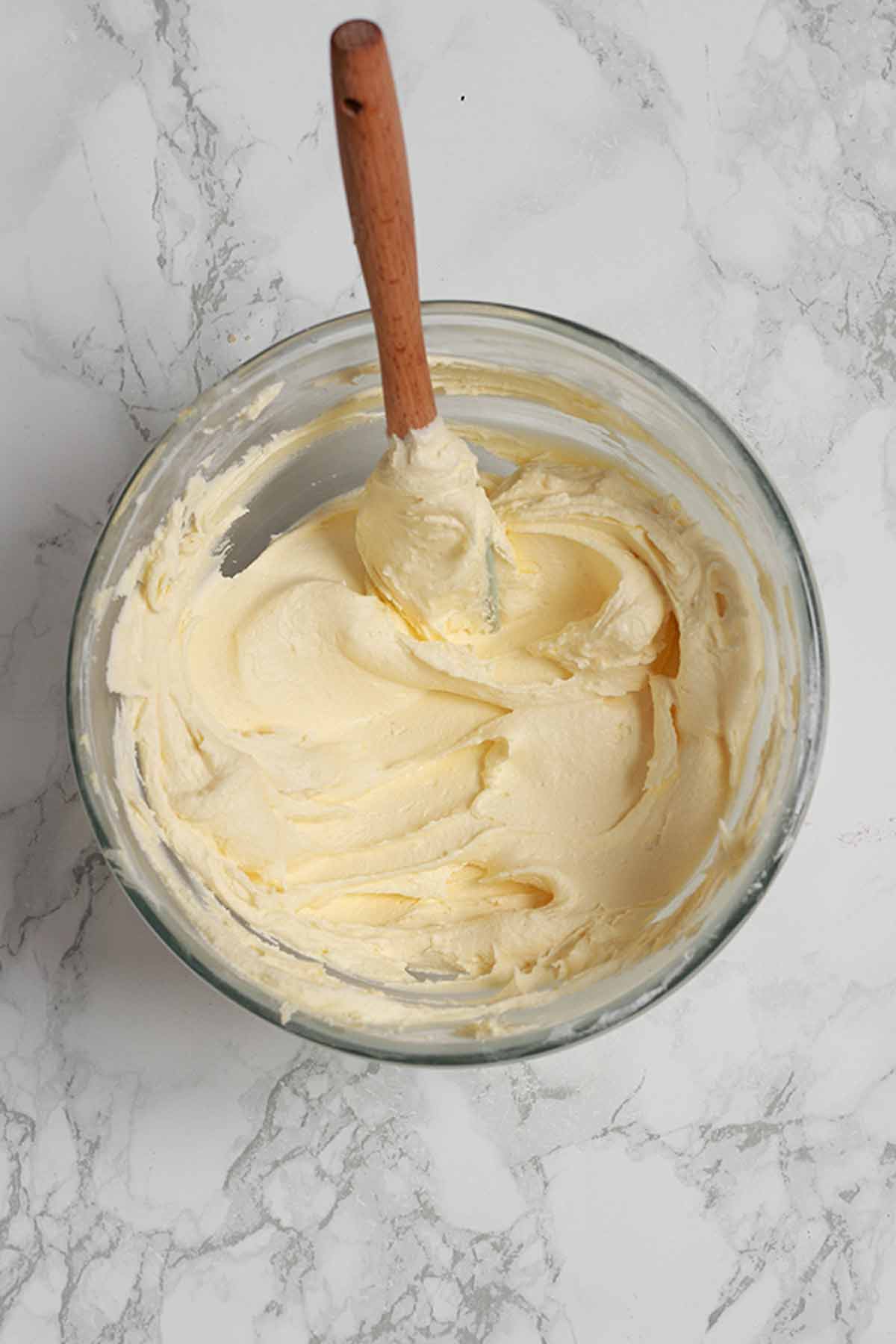 Ways to use this buttercream
Use dairy-free white chocolate buttercream in any of the following recipes:
FAQ:
How long will white chocolate buttercream last for?
If you store it in the fridge in an airtight container, it'll last for around 7 days. It'll set quite firm so if you need to loosen it, add some plant-based milk and whisk it up until soft and fluffy again.
Does it hold up at room temperature?
Yes, I actually prefer the texture of this buttercream when it's left at room temperature. It won't last quite as long though, so if you want to store cakes or cupcakes for a while once you've added the buttercream, I'd recommend storing them in the fridge.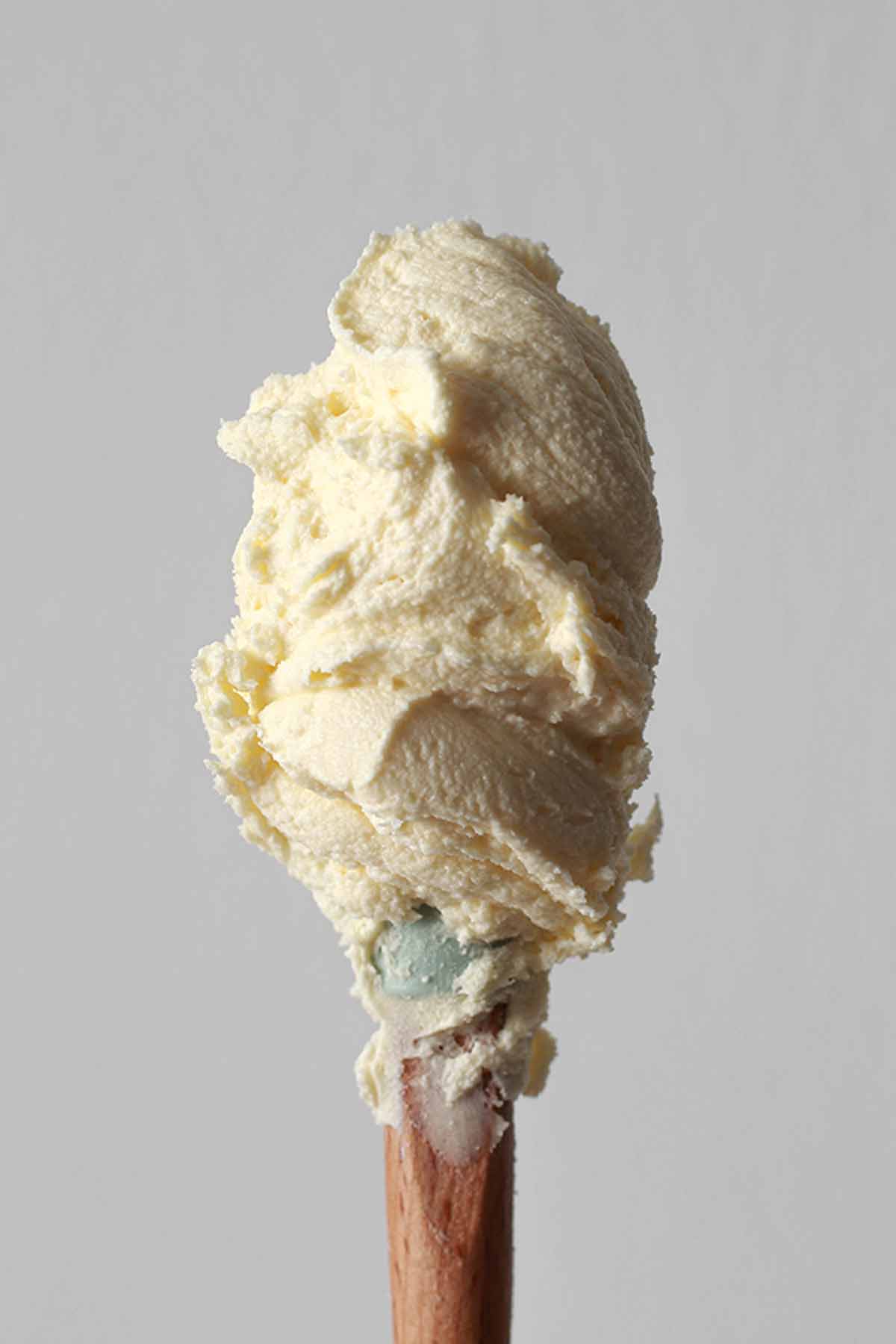 I hope you enjoy this dairy-free white chocolate buttercream recipe! If you make it at home, please let me know how you get on by leaving a rating and comment below! xo

Vegan White Chocolate Buttercream
White chocolate flavoured buttercream without dairy.
Instructions
Melt the white chocolate over low heat and set aside to cool completely.

Place the butter into a large bowl and mix in the icing sugar, a little bit at a time.

Add in the cooled melted chocolate and use an electric whisk or stand mixer to whisk it in until light and fluffy. If it's too thick, add a splash of plant-based milk and if it's too runny, place it in the fridge for 30-60 minutes to help it firm up.
Recipe Notes
The chocolate must be completely cool before adding. It will split the buttercream otherwise.
The buttercream will set firmer than it first appears. I find the texture best at room temperature but it can also be stored in the fridge.
Nutrition Facts
Vegan White Chocolate Buttercream
Amount Per Serving (1 /12th)
Calories 282
Calories from Fat 153
% Daily Value*
Fat 17g26%
Sodium 99mg4%
Carbohydrates 33g11%
* All values are an estimate only and will vary depending on the food brands used.
BakedByClo is a participant in the Amazon Services LLC Associates Program, an affiliate advertising program designed to provide a means for sites to earn advertising fees by advertising and linking to Amazon.com. This site may contain some of these links to Amazon.com & other affiliate programs. If you make a purchase through one of those links, BakedByClo will receive a small commission from the purchase at no additional cost to you.