Vegan Raspberry Scones
These vegan raspberry scones are light, fluffy and topped with dairy-free white chocolate. They make a delicious addition to any afternoon tea.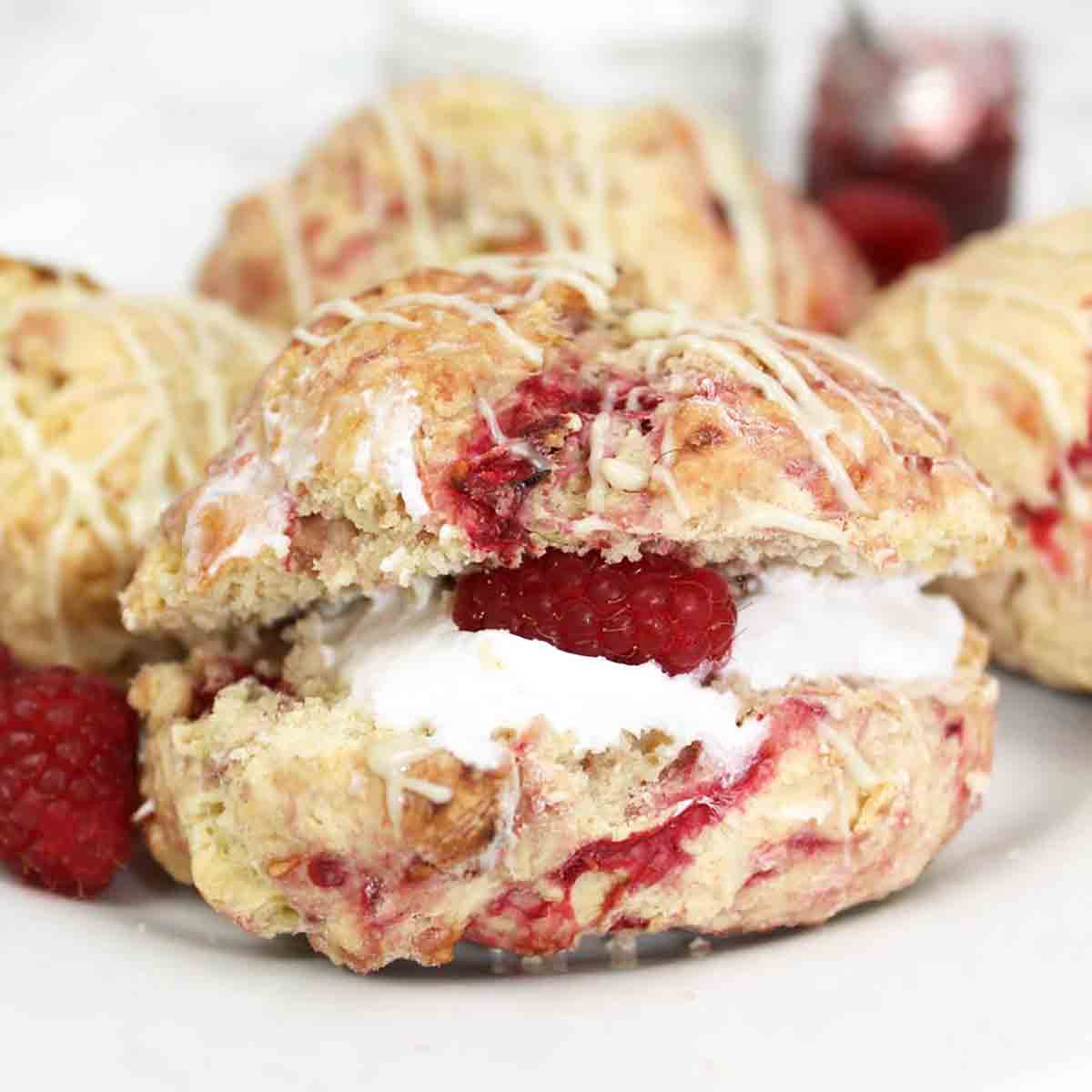 Seeing as my first dairy-free scones recipe was a big hit, I decided to make some more. Except this time, with a twist.
This time, I made vegan raspberry scones. They are basically like classic British scones, except with chunks of fresh raspberries throughout the dough. I also added a dairy-free white chocolate drizzle on top because I think the combo of fresh raspberries and white chocolate is a match made in heaven!
This classic British dessert also makes the perfect addition to a vegan afternoon tea. I served my dairy-free raspberry scones with raspberry jam and vegan whipped cream but they are MORE than good enough to eat just the way they are. The sugar from the fruit and the white chocolate makes them super sweet anyway.
Ingredients you'll need for this recipe
Self-raising flour. I use self-raising flour in my scones for an extra light and fluffy texture. You'll notice this is often the case with scone recipes that don't use eggs.
Baking powder. Much like the flour, this used for a little extra lift.
Vegan butter. Make sure to use the blocky type of vegan butter, not the spreadable one that comes in a tub. I like Flora Plant butter.
Caster sugar. Scones are not supposed to be super sweet on their own so you don't need a lot of sugar for this recipe. Once you fill them with jam and cream there will be plenty of sweetness.
Soy milk. I recommend using unsweetened soy milk for best results. I like Tesco organic soy milk for baking.
Fresh raspberries. I have not tested this recipe with frozen raspberries yet so I cannot say whether or not they'll work.
Dairy-free white chocolate. This is optional but highly recommended! I popped a drizzle on top after the scones were done baking.
How To Make Vegan Raspberry Scones
Step 1:
The first step to making perfect dairy-free raspberry scones is to add 360g of self-raising flour and 1 teaspoon of baking powder into a medium-sized bowl.
Add in 90g of vegan butter and rub it into the flour until your mixture resembles breadcrumbs. It's important that your butter is cold at this stage as warm butter might melt slightly and make the mixture soggy.
Step 2:
Once you've got your breadcrumb mixture, stir in 50g of caster sugar.
Step 3:
Next, add in 150ml of soy milk and gently mix everything together. At this point, you want to end up with a lumpy, doughy mixture that hasn't quite come together yet.
Step 4:
Add 60g of chopped fresh raspberries to the mix.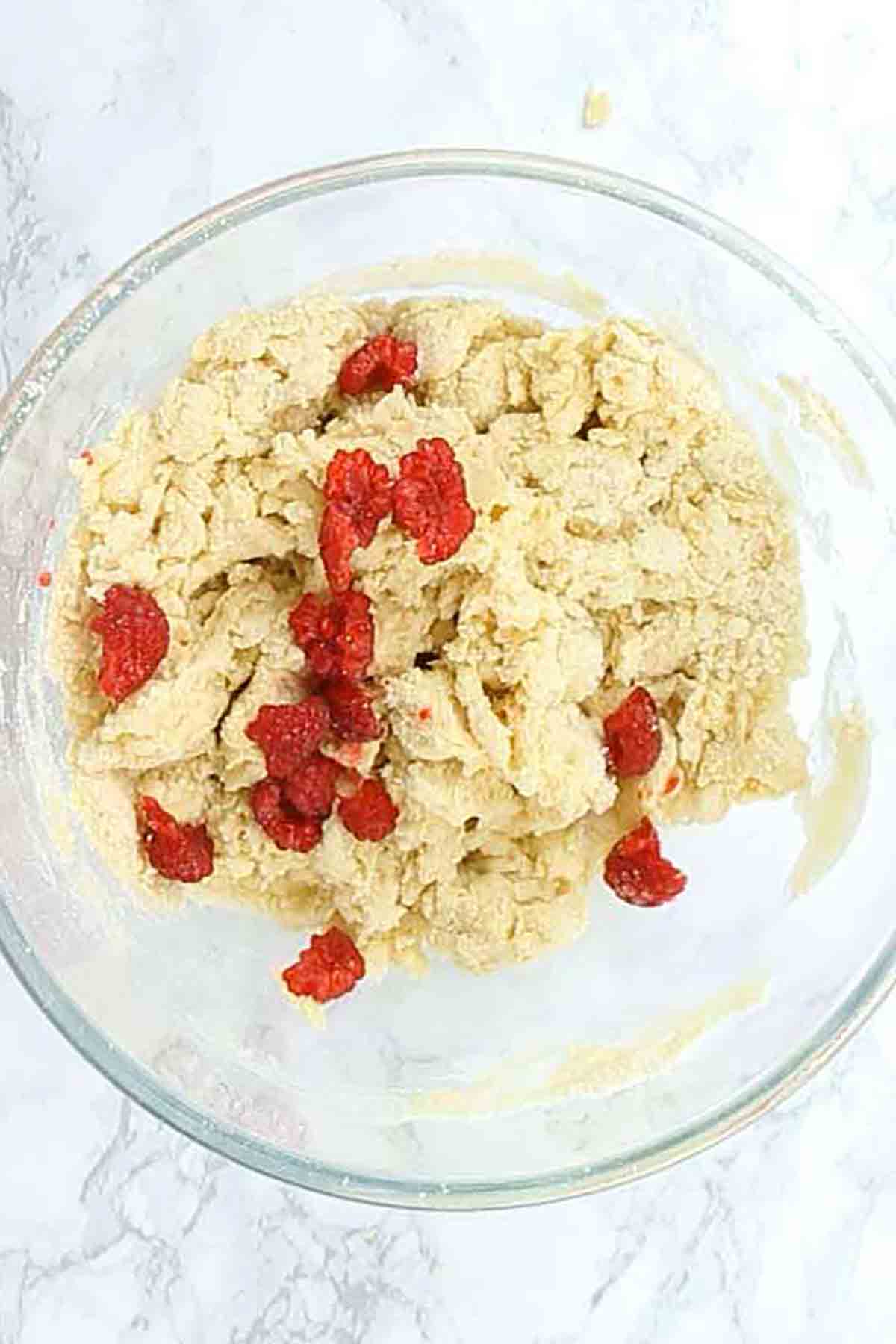 Very gently use your hands to combine everything, until a dough JUST comes together. Not overworking the dough will help you get that tender scone texture that you're after.
It's important to be super gentle. You want to prevent the raspberries from releasing their juices and making the dough too wet.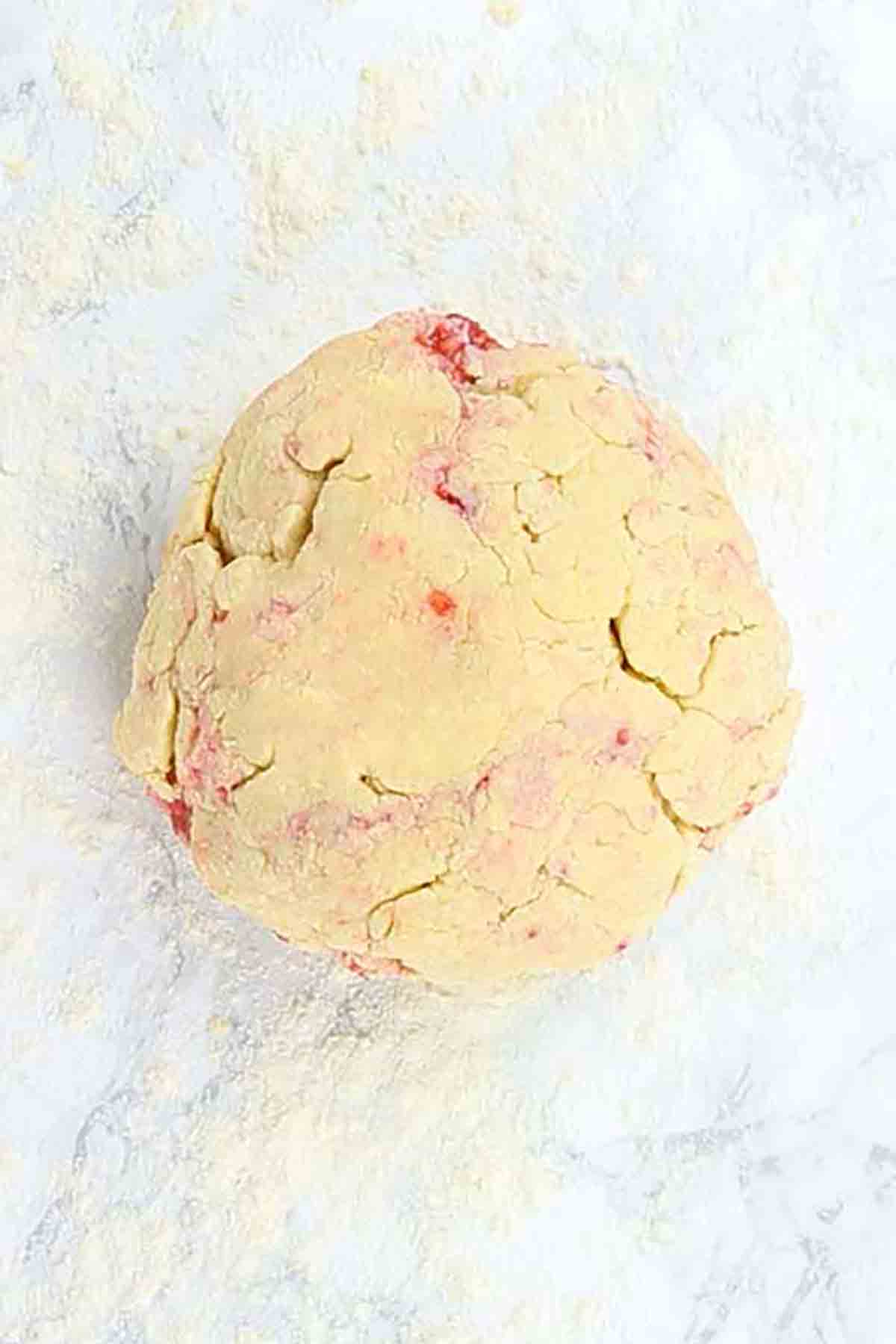 Step 5:
Once you've combined the raspberries into the dough, gently roll it out on a lightly floured surface, to about 2cm thick.
Using a 3-inch scone cutter, cut out your scone shapes. This amount of dough will make around 6-8 scones but you can totally double the recipe if you want more!
Step 6:
Lightly brush the scones with soy milk then place them on a lined baking tray.
Bake for around 12-15 minutes until they become light golden brown on top. Transfer them to a wire rack and allow them to cool completely.
Step 7:
The next step is to drizzle some melted white chocolate over your dairy-free raspberry scones. You can add as much or as little as you like.
You can get a hold of some dairy-free white chocolate from Tesco, Sainsbury's, Asda or Amazon. Check out my chocolate post for more.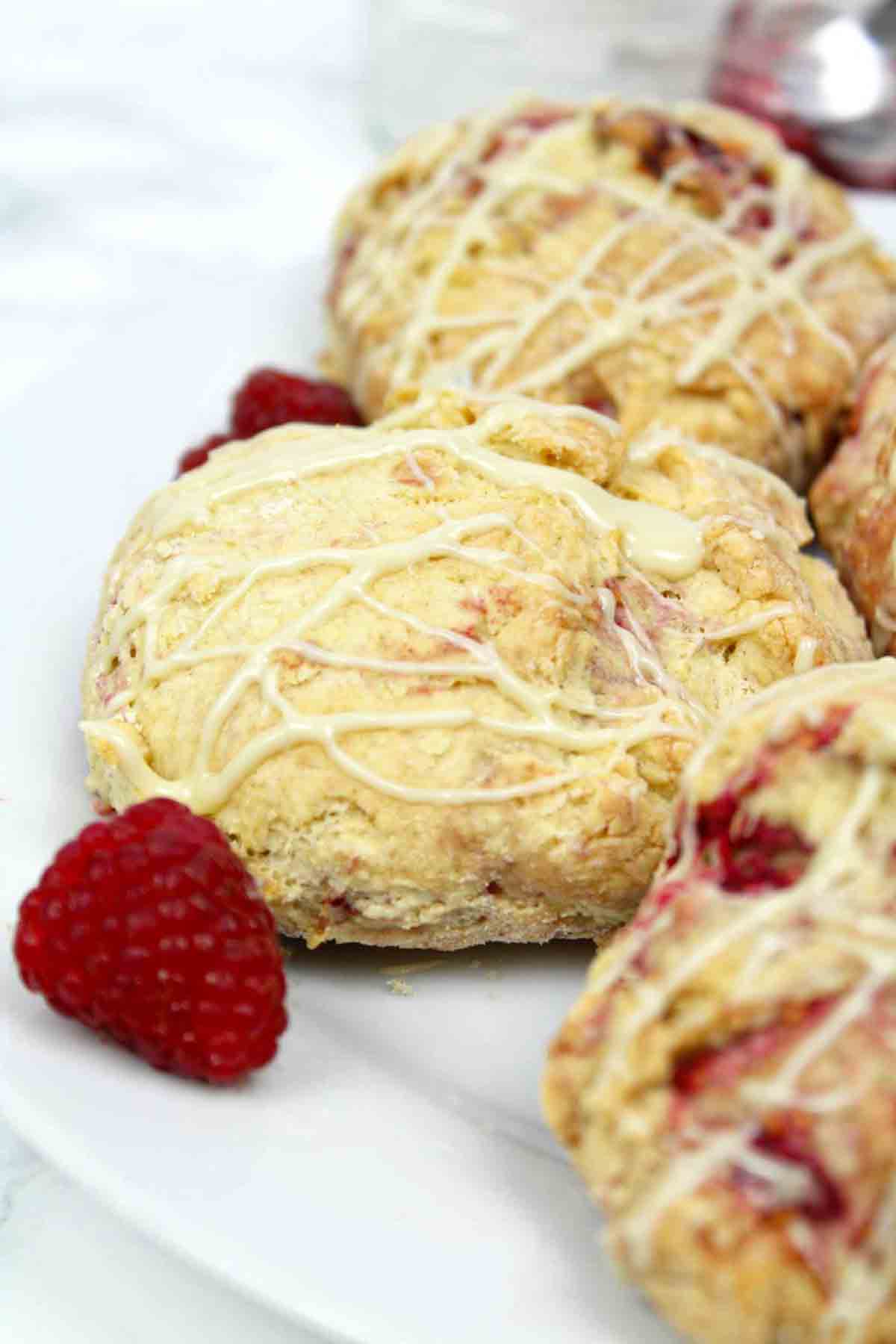 Vegan Scones Troubleshooting
If your scones didn't quite turn out the way you expected, here are some tips to help you get it right next time.
It's very important to be SUPER gentle with the dough when making dairy-free raspberry scones. The juice from the raspberries will start to leak so you have to work quickly but carefully. If you use too much pressure when combining or rolling the dough, the raspberry juices will make it go soggy!
Dough that is too dry may mean that you have used too much flour or might need some more milk. If your dough won't come together, add 1 teaspoon of plant-based milk at a time until it does. Using a food scale to measure your flour, rather than measuring cups, will help with accuracy too.
Your Scones Didn't Rise Properly
If your vegan scones didn't rise, make sure you used self-raising flour and not plain flour- a lack of raising agent is likely to cause flat scones. Placing them close together on the baking tray will also help them to rise.
Your Scones Are Too Tough or Chewy
If the texture it too tough, this probably means that you overworked the dough. To produce a light, fluffy texture, make sure to gently press the dough together until it's JUST combined and no more.
FAQ:
How long will vegan raspberry scones last for?
These scones will taste their very best on the day that they are baked. Each day that goes by, the scones will become more stale.
Saying that though, they will still taste fine for up to 2 days if they are stored at room temperature in an airtight container.
Can they be frozen?
They sure can. Just allow them to cool completely first, and make sure that the white chocolate has completely set.
Then, pop them in an airtight container and freeze for up to 1 month. To defrost, remove the scones from your container and allow them to sit at room temperature for an hour or two.
Again, the texture won't be quite as nice as it will be immediately after you've baked them, but they'll still be delicious!
What can I serve them with?
Anything you like! They taste great with butter, jam, cream or just on their own, especially if you add the dairy-free white chocolate drizzle. You can also make your own vegan coconut cream or lemon curd to go with them.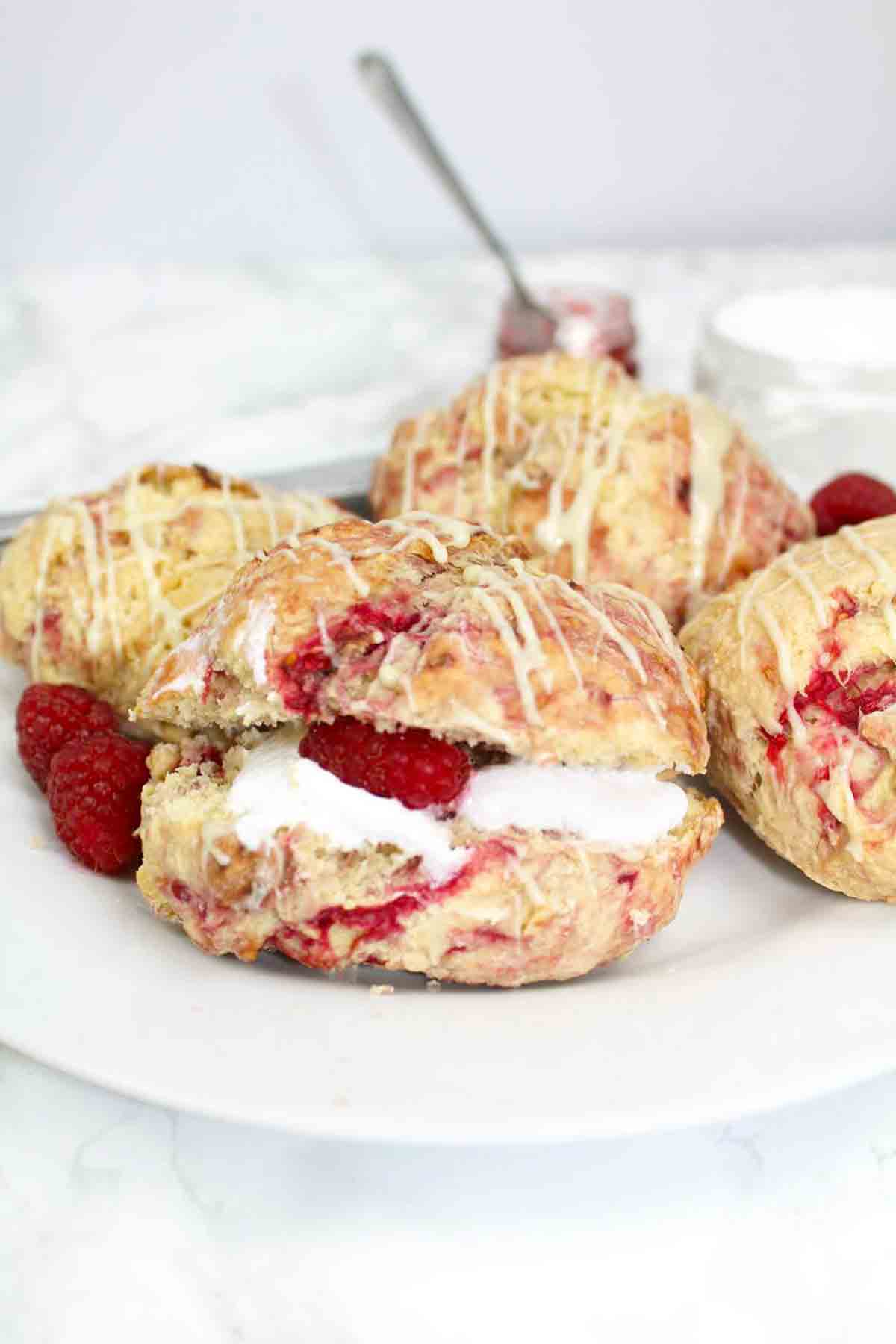 More vegan scone recipes:
I hope you enjoy these vegan raspberry scones. If you give them a go, let me know if you're serving them with jam and cream or eating them all alone! Happy baking! xo

Vegan Raspberry Scones (Dairy-Free)
A fluffy vegan scone recipe with raspberry chunks and a white chocolate drizzle.
Ingredients
360

g

Self-raising flour

1

Teaspoon

Baking powder

90

g

Cold vegan butter

(the type that comes as a block)

50

g

Caster sugar

150

ml

Unsweetened soy milk

(plus extra for brushing)

60

g

Raspberries, cut in half

50

g

Dairy-free white chocolate

(optional)
To serve:
Raspberry jam

Dairy-free whipped cream
Instructions
Preheat your oven to 220°C (200°C for fan ovens) and line a tray with baking paper.

Mix the flour and baking powder together in a bowl.

Rub the butter into the flour/baking powder, to make a mixture that resembles breadcrumbs. Stir in the caster sugar.

Add in the soy milk and use a fork to stir it in gently. When the mixture starts clumping together, stop mixing and add your raspberries.

Gently use your hands to combine the dough until it JUST comes together (see image in post for reference). Be very careful not to use too much pressure or force, or the juice from the raspberries will make your dough too sticky and wet.

Gently roll the dough out on a floured surface to around 2cm thick.

Use a 3-inch cookie cutter to cut out 6-8 scones, re-rolling leftover pieces as needed.

Place the scones close together on the baking tray so the sides are just touching. Use a pastry brush to lightly brush the tops with soy milk.

Bake for 12-15 minutes until they are golden brown on top then transfer to a wire rack to cool completely.

When they are completely cooled, melt your white chocolate and drizzle some on top of each scone. Allow the chocolate to harden before enjoying with some jam and vegan whipped cream!
Recipe Video
Recipe Notes
Best served on the day of baking but will keep well in an airtight container at room temperature for up to 2 days.
Nutrition Facts
Vegan Raspberry Scones (Dairy-Free)
Amount Per Serving (1 scone)
Calories 294
Calories from Fat 90
% Daily Value*
Fat 10g15%
Sodium 132mg6%
Carbohydrates 46g15%
Protein 5g10%
* All values are an estimate only and will vary depending on the food brands used.
BakedByClo is a participant in the Amazon Services LLC Associates Program, an affiliate advertising program designed to provide a means for sites to earn advertising fees by advertising and linking to Amazon.com. This site may contain some of these links to Amazon.com & other affiliate programs. If you make a purchase through one of those links, BakedByClo will receive a small commission from the purchase at no additional cost to you.