Vegan Scones
These fluffy vegan scones are the perfect addition to any afternoon tea. They are light, airy, and taste delicious served with vegan whipped cream and strawberry jam.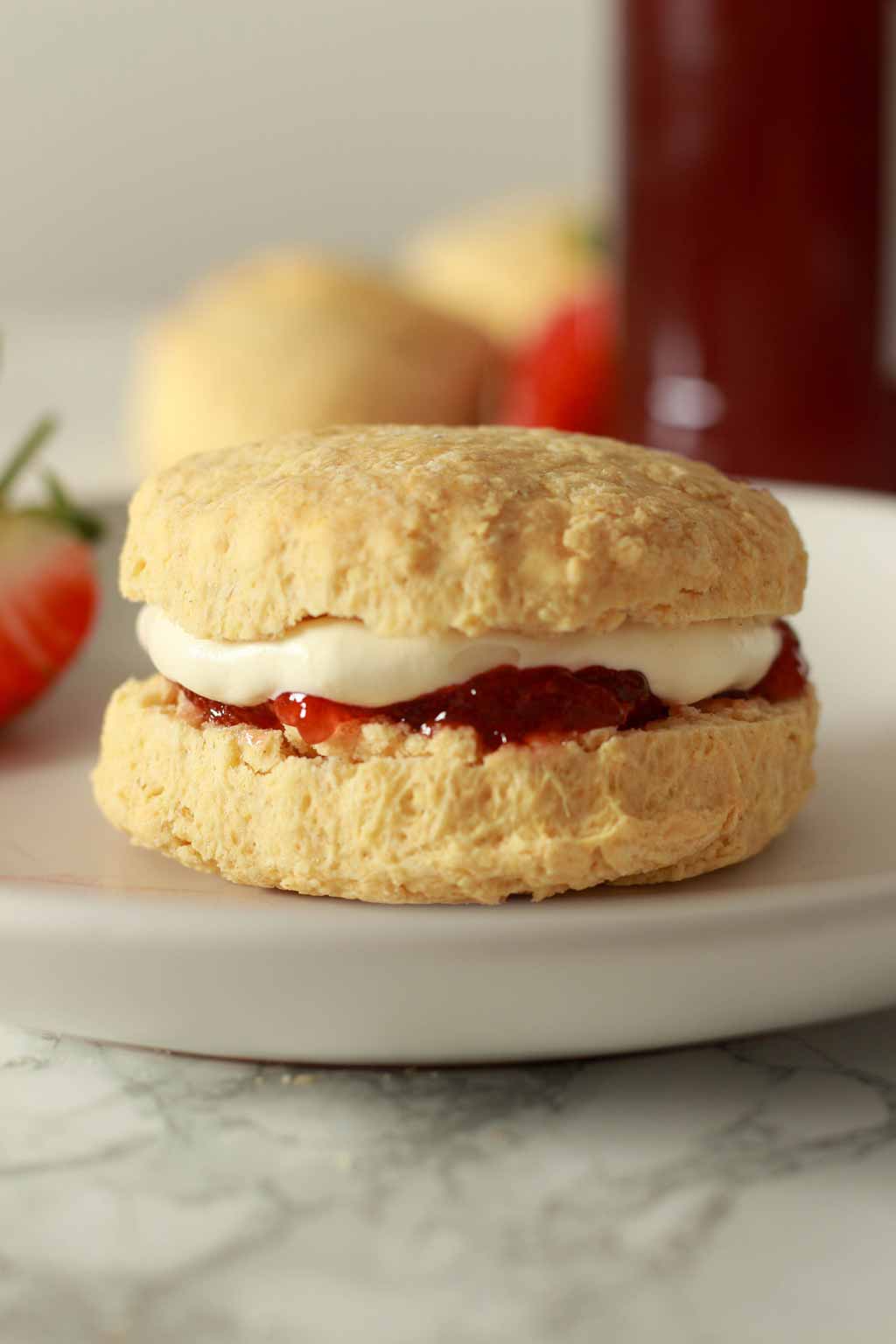 Mother's Day is coming up here in the UK so I thought it'd be nice to share my own fluffy scone recipe.
I'm more of a foodie kinda gal when it comes to giving and receiving gifts. So I always try to make some kind of sweet treat for any celebration.
I think these scones would make the perfect addition to a lovely afternoon tea along with some other baked goods and sandwiches to celebrate with mum!
I adapted this vegan scone recipe from the coconut scones I used to make when I was younger. But this recipe for plain scones is just as delicious, if not even better!
The recipe requires just 4 ingredients and they take just 15 minutes to bake!
They're great served warm with vegan butter but my personal favourite scone topping is strawberry jam and some delicious dairy-free whipped cream.
How To Make Vegan Scones
Step 1:
Place 300g of self-raising flour into a large bowl (2+1/4 cups) and mix in 1/2 a teaspoon of baking powder.
Next, add in 60g of vegan butter (1/4 cup). Rub it into the flour until it looks like breadcrumbs.
It's best that your vegan spread is cold rather than room temperature as this will prevent it from melting into the flour.
Step 2:
Stir in 60g of caster/ super-fine sugar (~1/4 cup + 1 tablespoon).
This adds a touch of sweetness without overpowering the flavour of the scones.
Step 3:
Add 120ml (1/2 cup) of soy milk.
I use soy milk for scones as I feel it gives the softest texture but you can also use almond milk or oat milk if you wish.
Stir the milk into your dry ingredients mixture until JUST combined. Then use your hands to press it into a dough.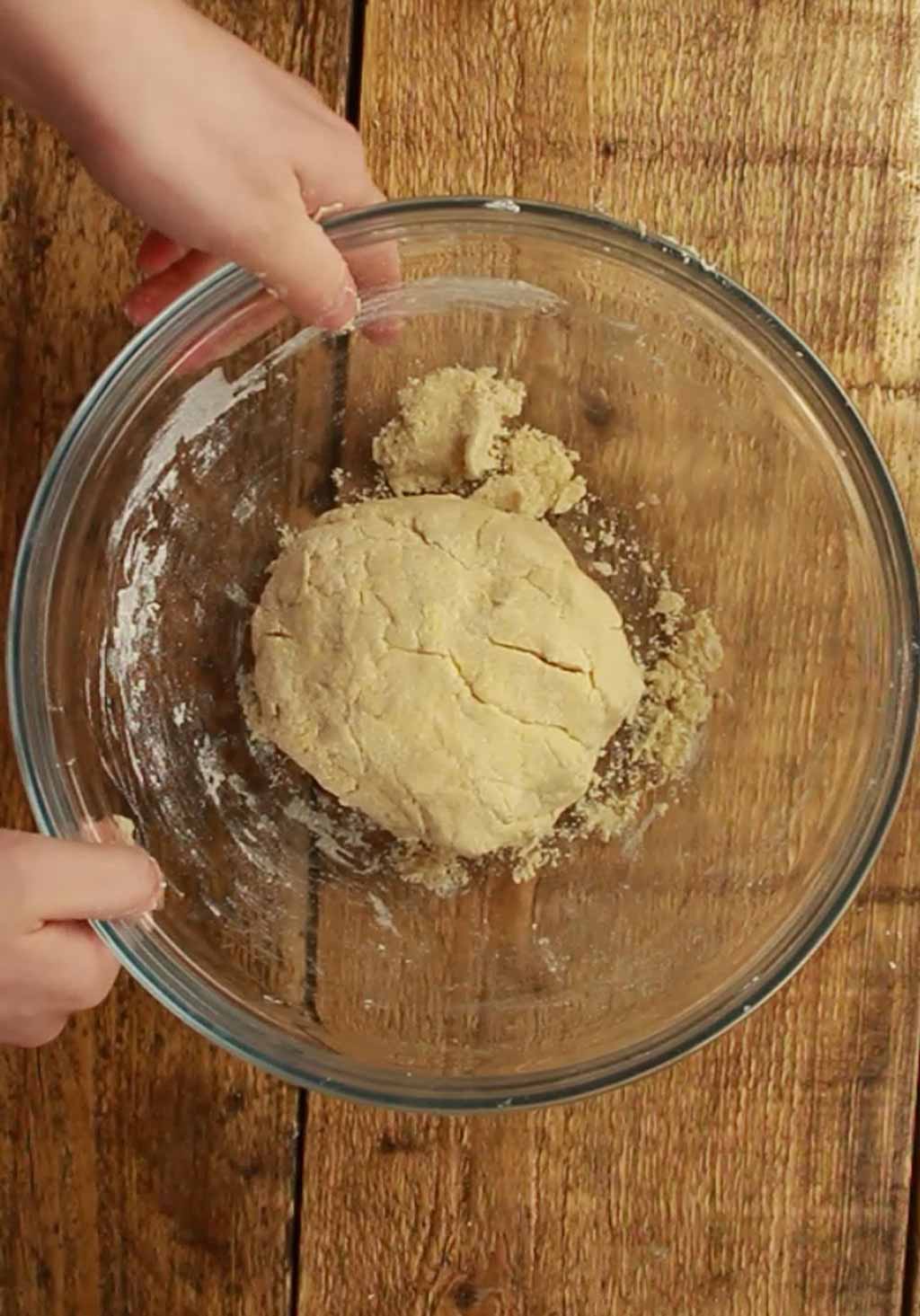 If you're not used to baking scones, this is the most crucial part! It's very important not to overwork or knead the dough.
Doing so will activate the gluten in the flour and cause your scones to be hard and chewy instead of light and fluffy.
As you can see in the image above, there should be some lines and bumps in the dough. It doesn't need to be smooth like a cookie dough.
Step 4:
Very lightly flour your surface, then roll out your dough to about 1 inch thick.
Use a 3-inch round cookie cutter to cut your scone shapes before placing them on a lined baking tray. You should end up with 6-7 scones.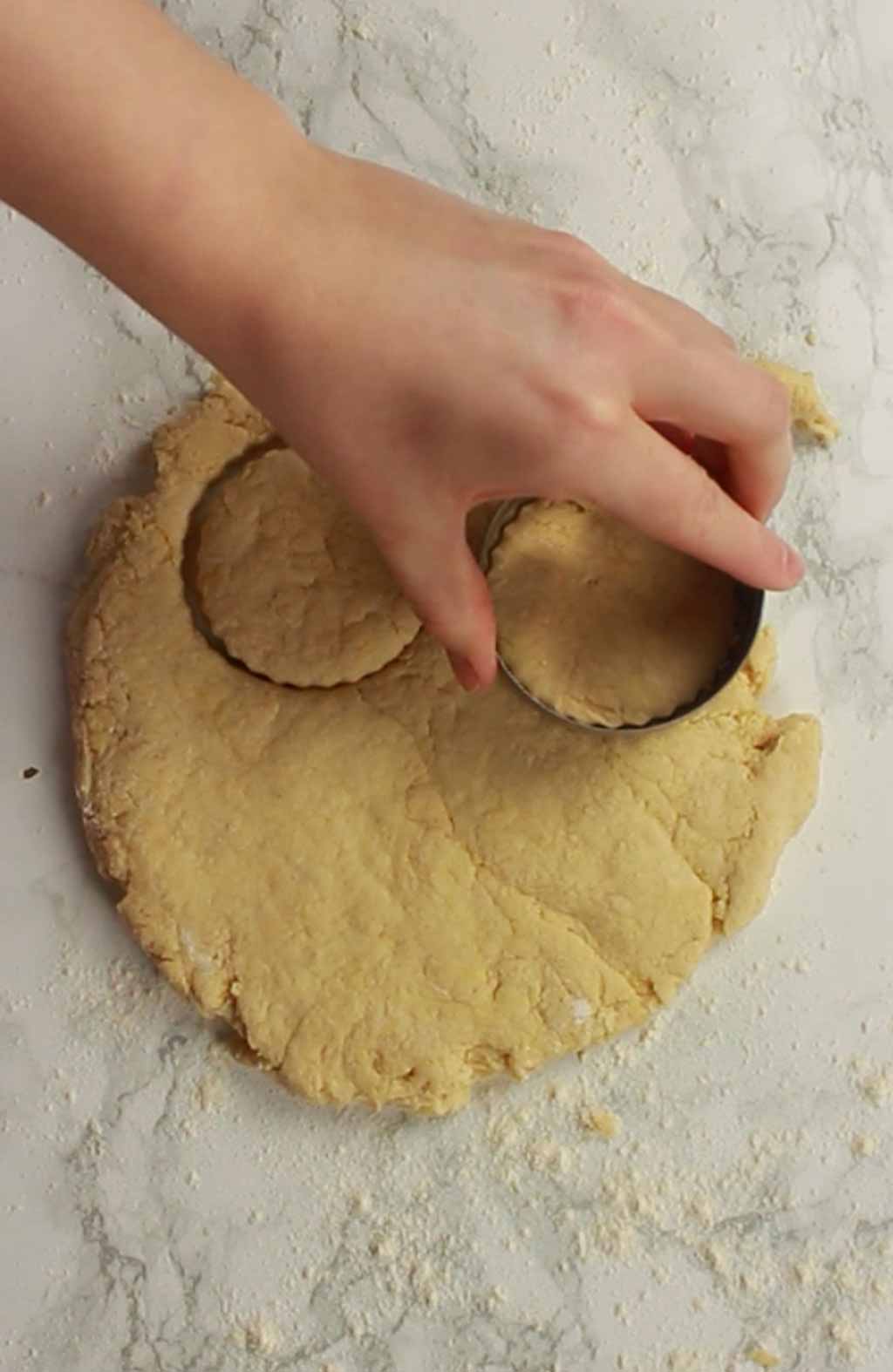 Place the scones very close together on the tray to keep them fluffy. Or if you prefer your scones to have a slightly crunchy top, you can space them out a bit more.
Step 6:
Bake the scones for 25 minutes at 180°C/350°F. Transfer them onto a wire rack and allow them to cool completely.
Once cooled, serve with vegan whipped cream and strawberry jam.
Top tips
I have tested this recipe using soy milk and almond milk and much prefered the soy milk version.
I don't often work with almond milk so it could just be the particular brand I've been using, but in my experience, almond milk creates a more dense scone. They still tasted good but they were slightly more crunchy on top.
I mostly stick to baking with unsweetened organic soy milk as it's free from thickeners and other additives that may interfere with the baking process.
When pressing the dough together, be very gentle. If you press too hard or knead the dough at all, the scones will end up tough after they've baked.
Bake the scones close together
Place the scones very closely together on your tray so that they're slightly touching. This will help them to rise properly and prevent them from becoming hard on top.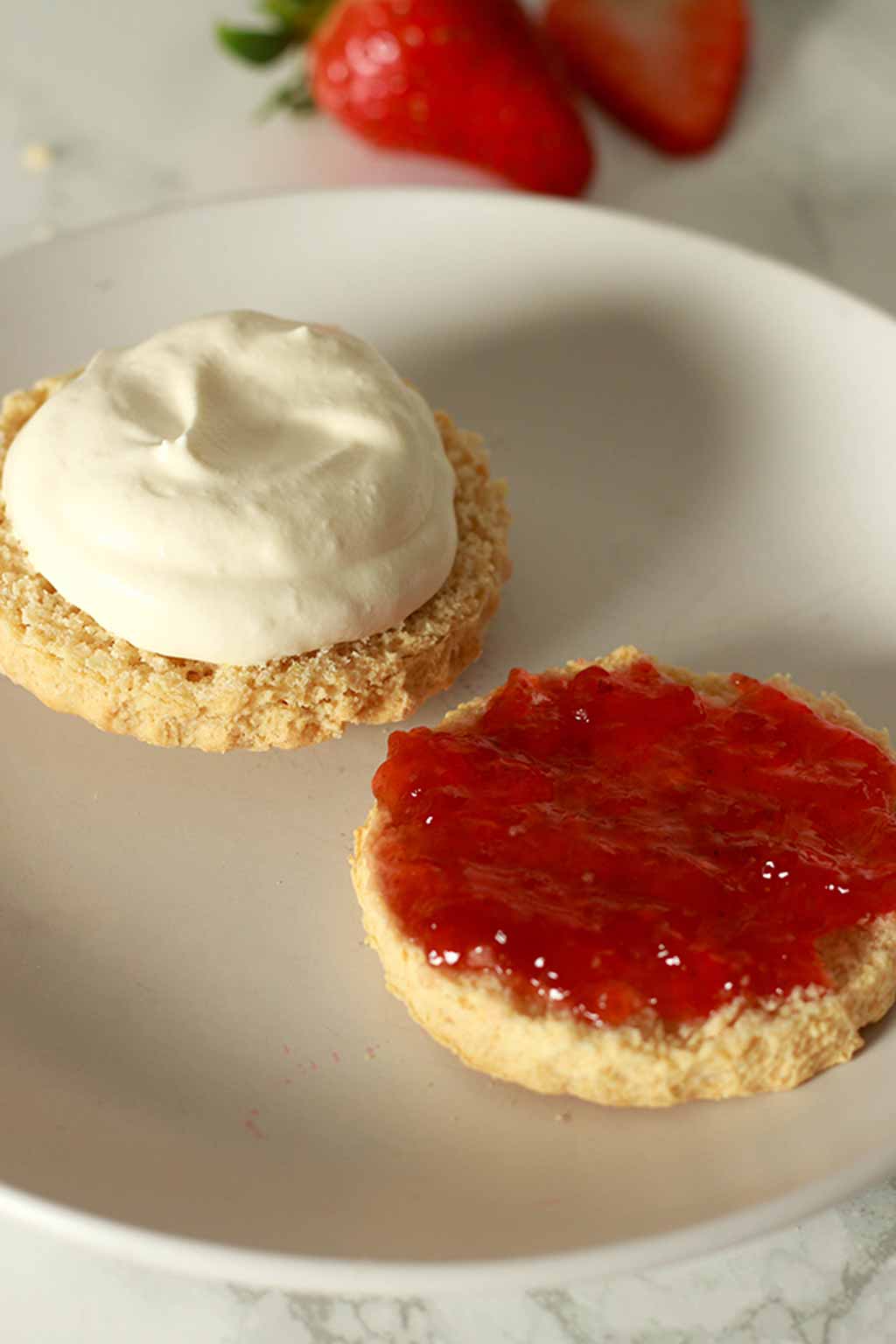 FAQ:
How should scones be stored?
Keep them in an airtight container at room temperature. You can add the toppings immediately before serving them.
How long will they keep?
They are best eaten fresh but will keep for up to 2 days if stored appropriately as above.
What can I top the scones with?
In the UK, sweet scones are typically served either with butter or with jam and clotted cream.

I did really want to find a way to create my own vegan clotted cream for these scones but I haven't quite mastered it yet. So I used dairy-free whipped cream instead.

The cream I used in the images was Elmlea double plant cream with a little bit of icing sugar added but I also really like Food Heaven spray cream.

I also used strawberry jam as I think it creates a great combo with the cream.
Can I use gluten-free flour?
I haven't tested this recipe with gluten-free flour yet but I do have a 2-ingredient scone recipe that has been tested for gluten-free!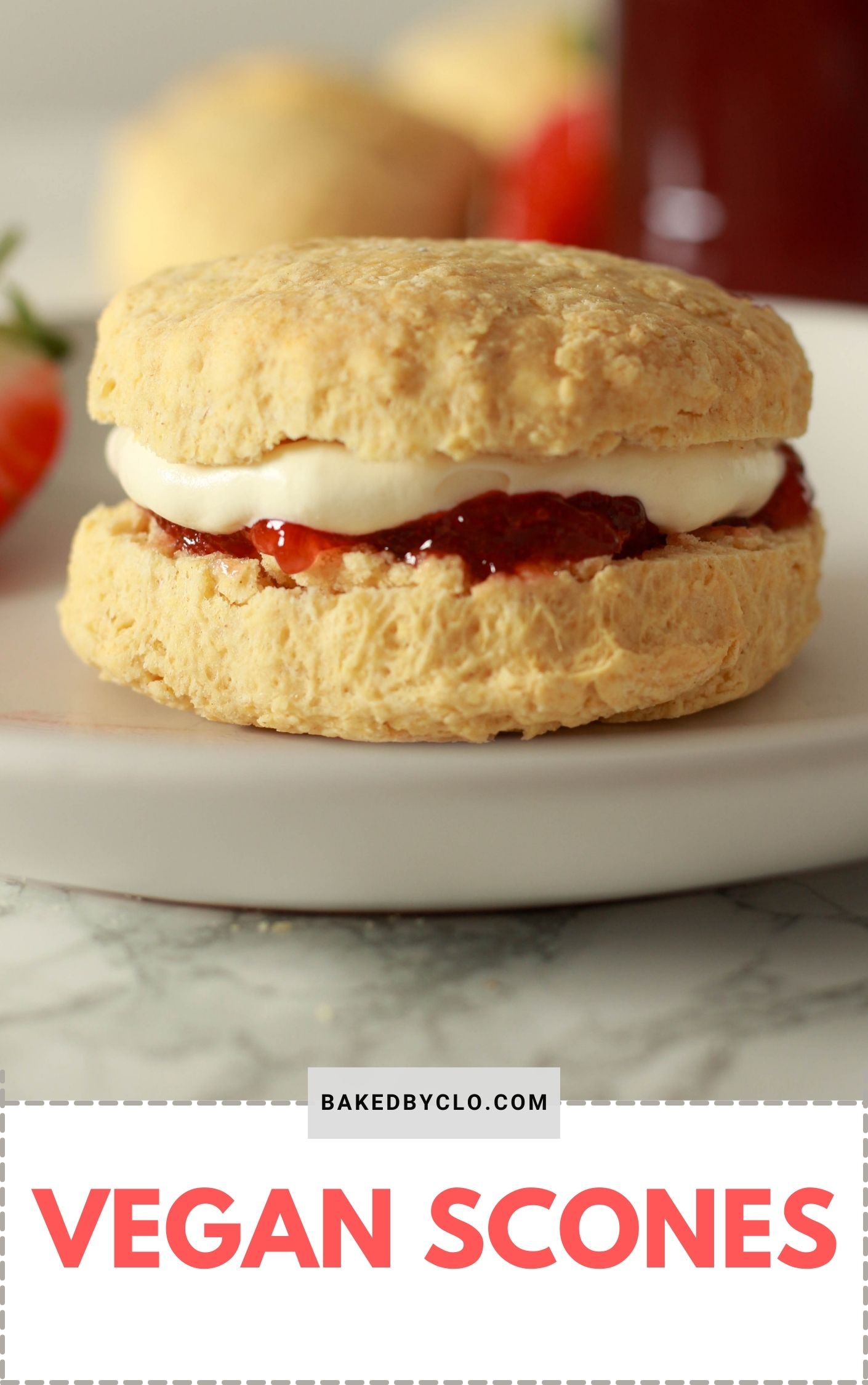 I hope you enjoy the scones! If you make them yourself, please let me know by leaving a comment or rating below. Or tag me on Instagram @bakedbyclo.
Happy baking! xo

Vegan Scones
An easy recipe for plain scones that taste lovely served with vegan whipped cream and strawberry jam.
Ingredients
For the scones:
300

g

Self-raising flour

(2 + ¼ Cups)

½

Teaspoon

Baking powder

60

g

Vegan butter

(¼ cup)

60

g

Caster sugar

(¼ Cup + 1 tablespoon)

120

ml

Unsweetened soy milk

(½ Cup)
To serve:
Strawberry jam

Dairy-free whipped cream
Instructions
For the scones:
Preheat the oven to 180°C/ 350°F (or 160°C/325°F if you're using a fan or convection oven). Line a baking tray with parchment paper.

Place the flour in a large bowl and mix in the baking powder.

Add the vegan butter and rub it into the flour to make a breadcrumb consistency.

Stir in the caster sugar.

Add in the milk. Mix until it just starts to stick together then use your hands to form a loose dough. It's important to be very gentle and make sure you don't knead or overwork the dough as this will result in tough scones.

Roll the dough out to around 1 inch thick on a very lightly floured surface. Cut out 6 circles using a 3-inch round cookie cutter.

Place the scones closely together onto your baking tray and bake for 25 minutes. Transfer them to a wire rack to cool.

Serve with strawberry jam, vegan whipped cream and of course, a nice afternoon cup of tea!
Recipe Notes
The scones can be stored without toppings, in an airtight container at room temperature for up to 2 days
Nutrition Facts
Vegan Scones
Amount Per Serving (1 scone)
Calories 264
Calories from Fat 63
% Daily Value*
Fat 7g11%
Sodium 57mg2%
Carbohydrates 45g15%
Protein 6g12%
* All values are an estimate only and will vary depending on the food brands used.
BakedByClo is a participant in the Amazon Services LLC Associates Program, an affiliate advertising program designed to provide a means for sites to earn advertising fees by advertising and linking to Amazon.com. This site may contain some of these links to Amazon.com & other affiliate programs. If you make a purchase through one of those links, BakedByClo will receive a small commission from the purchase at no additional cost to you.