Vegan Buttermilk Pancakes
These vegan buttermilk pancakes are light, cakey and super easy to make. Stack them up and drench them in maple syrup for the perfect Sunday brunch.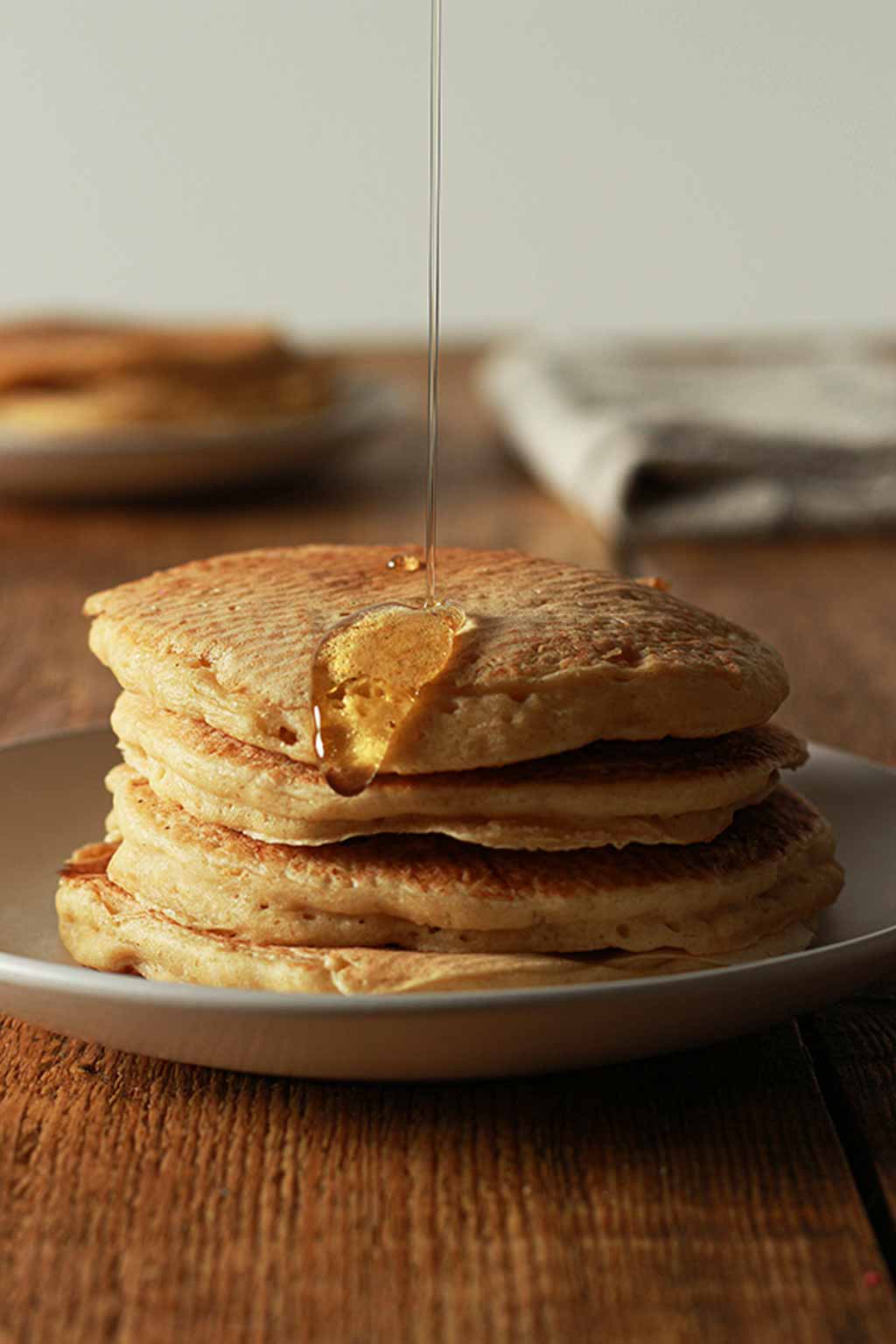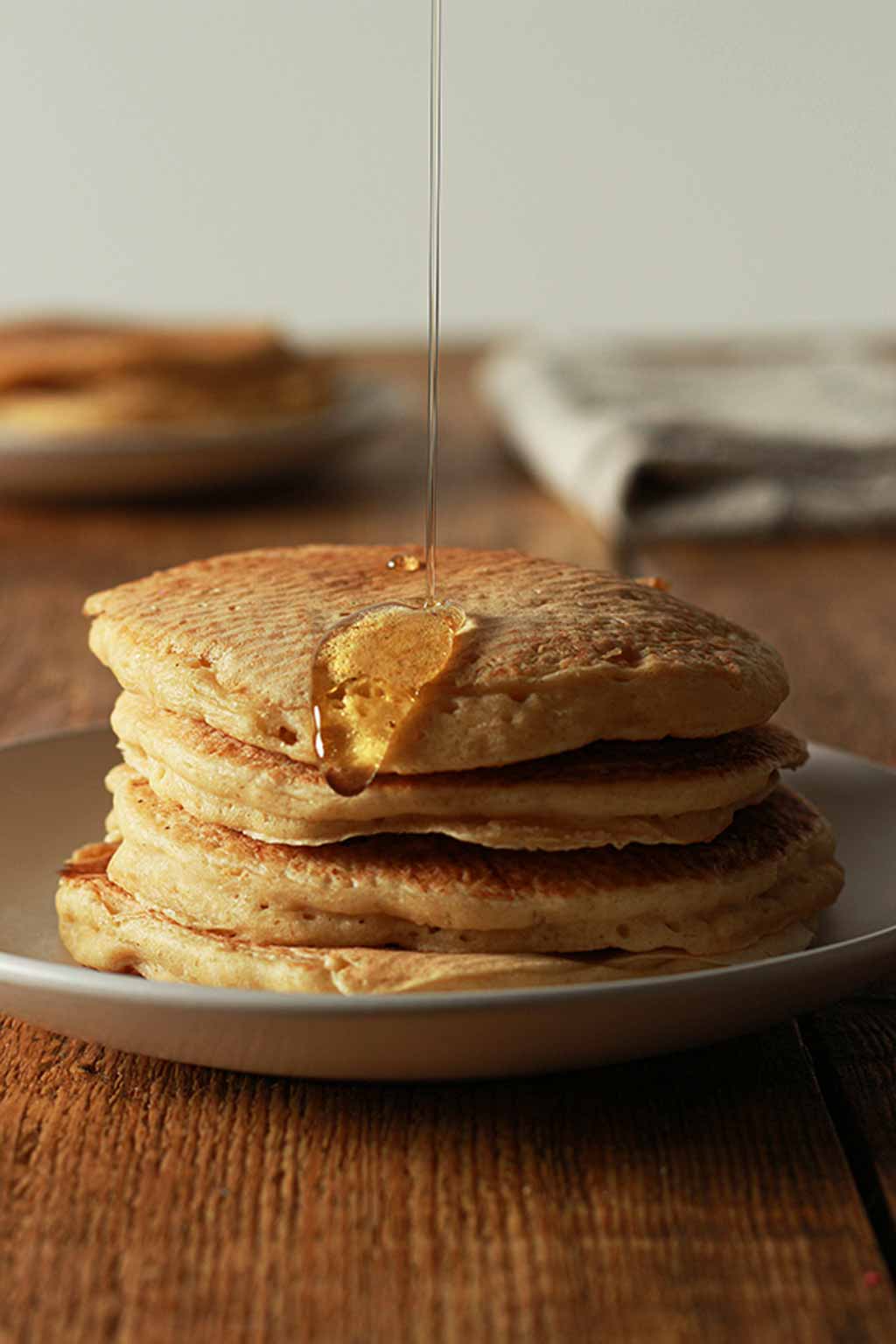 Pancake day has just passed here in the UK so it was only right for me to write up a recipe for my fluffy pancakes!
I'm not sure, so correct me if I'm wrong, but I think pancake day is a British thing. If you celebrate it from elsewhere in the world, let me know! I'm super interested.
According to English Heritage, pancake day originates from the Christian religion. On the Tuesday before their 6-week fast for Lent (also known as Shrove Tuesday), they would use up their food items such as eggs, fats and milk. And one of the easiest ways to do this was to make pancakes!
Of course, for vegan pancakes, you can't use any eggs or dairy. Let me show you how to do it with just a few ingredients.
I chose to make buttermilk pancakes because they are a bit thicker and fluffier. You can totally omit the vinegar in the recipe if you wish though. They'll still turn out delicious.
See: Is buttermilk vegan?
More vegan breakfast recipes:
See more vegan dessert recipes.
I first created this recipe when attempting to recreate my great gran's (aka the pancake QUEEN) pancakes. I had no idea how to do it but I just knew I wanted them to be very thick and fluffy.
I ended up using Anna's recipe from BBC Good Food as a guide so full credit to her!
I'd made many an attempt to make my great gran's fluffy pancakes in the past, as did many members of my family, but we always ended up with a plate full of mush. Her original pancakes included milk, butter and eggs but trying to omit those ingredients wasn't what was causing the problem.
My mistake was that I kept trying to make them healthier by using oat flour, almond flour, buckwheat flour and coconut flour.
Related post: Vegan Mother's Day brunch recipes
As great as those ingredients may be, they have no place in this recipe. The truth is, you NEED the wheat flour for that light and airy texture.
As soon as I switched to using self-raising flour, I immediately got the result I had been after for so long.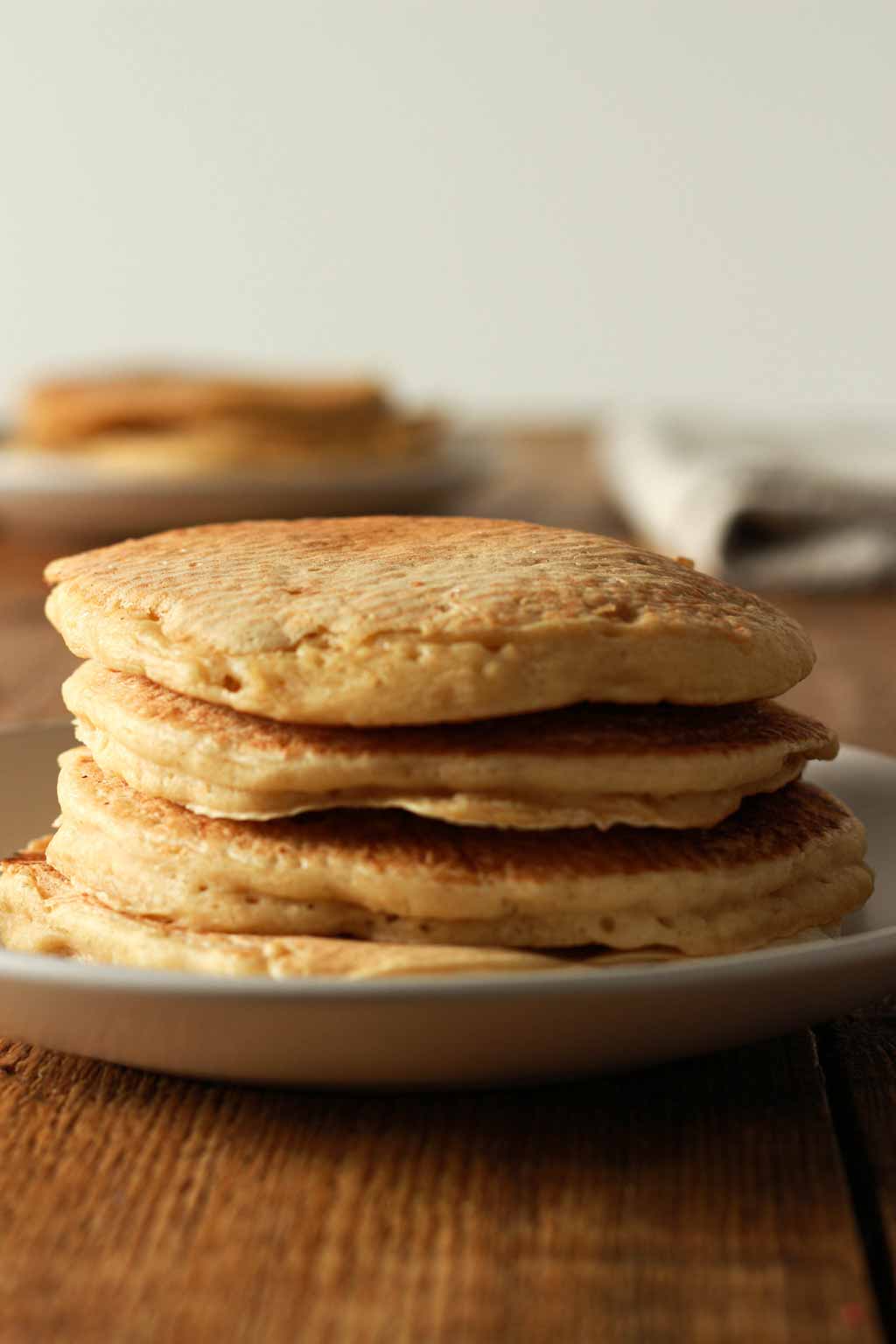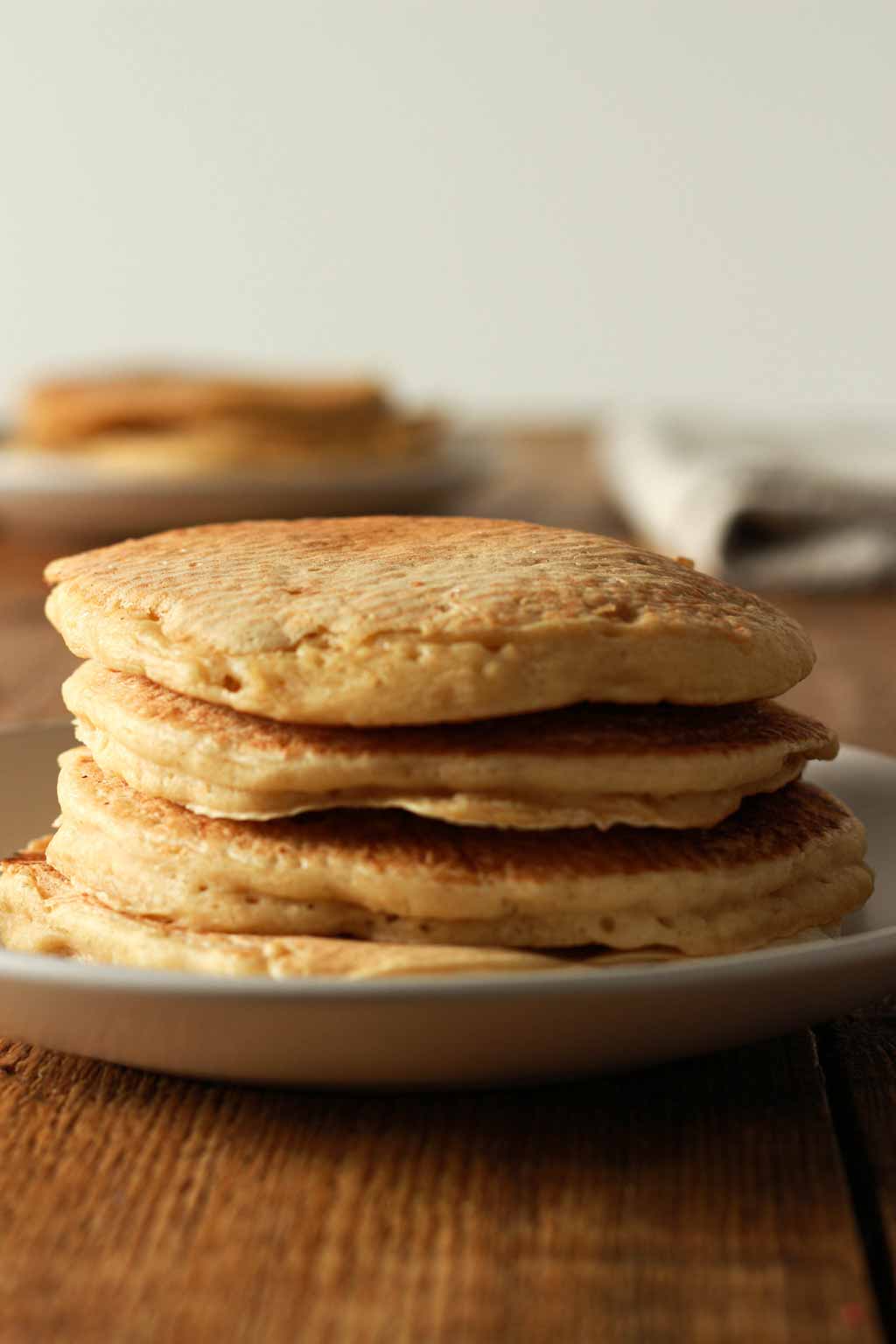 How to make vegan buttermilk pancakes
These fluffy pancakes require only 5 basic ingredients and there's no fancy method involved here.
Just mix all ingredients together and fry over medium-high heat. There's no guessing when they need to be flipped either because the air bubbles in the centre of the pancake will let you know!
Step 1:
To make your vegan buttermilk, mix together 300ml of soy milk and 1 tablespoon of apple cider vinegar. This will create your vegan buttermilk.
If you don't have apple cider vinegar to hand, you can substitute it for fresh lemon juice instead.
Step 2:
In a large bowl, mix together 150g of self-raising flour, 1 teaspoon of baking powder and 2 tablespoons of caster sugar.
Create a well at the bottom of the bowl using your spoon.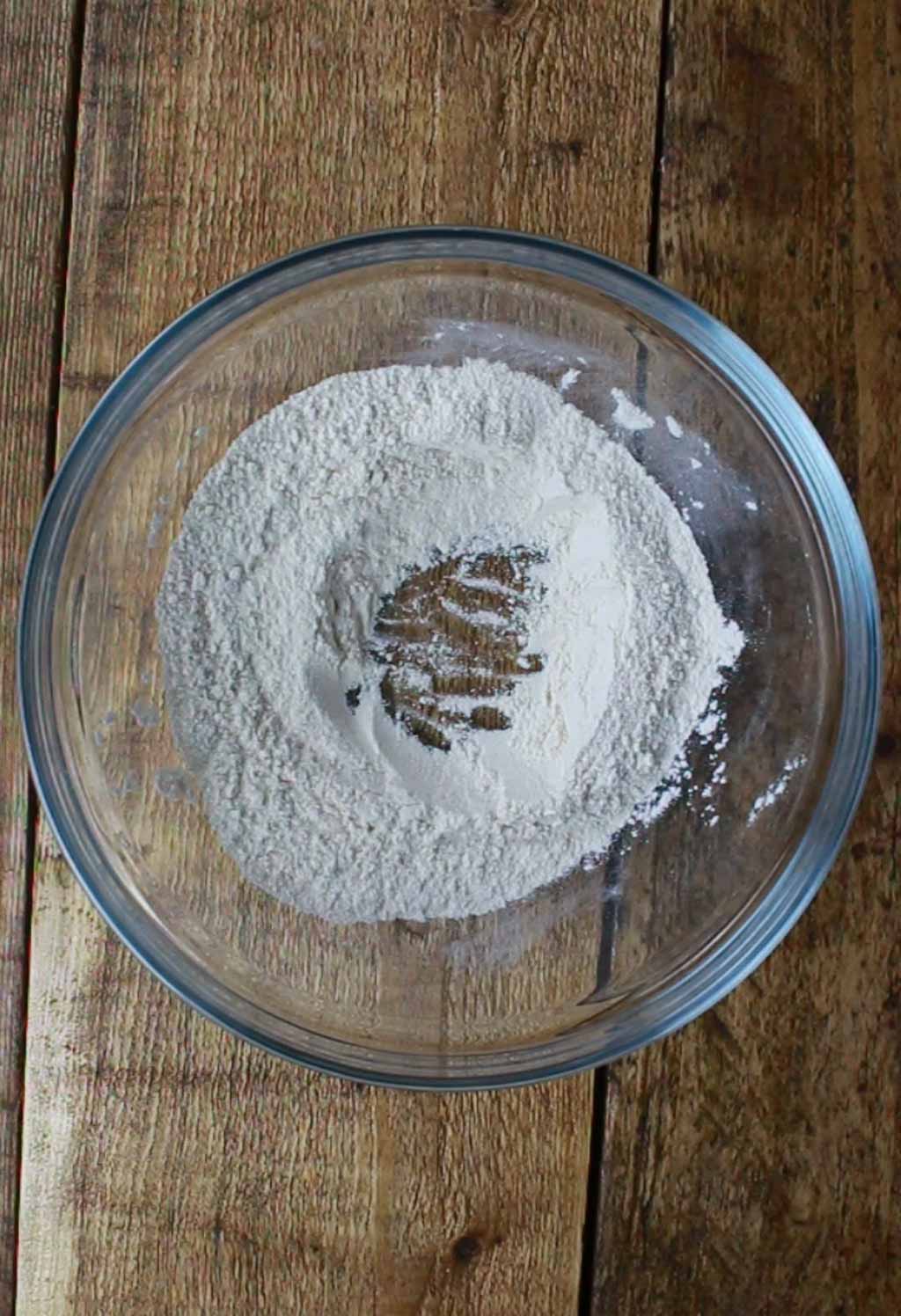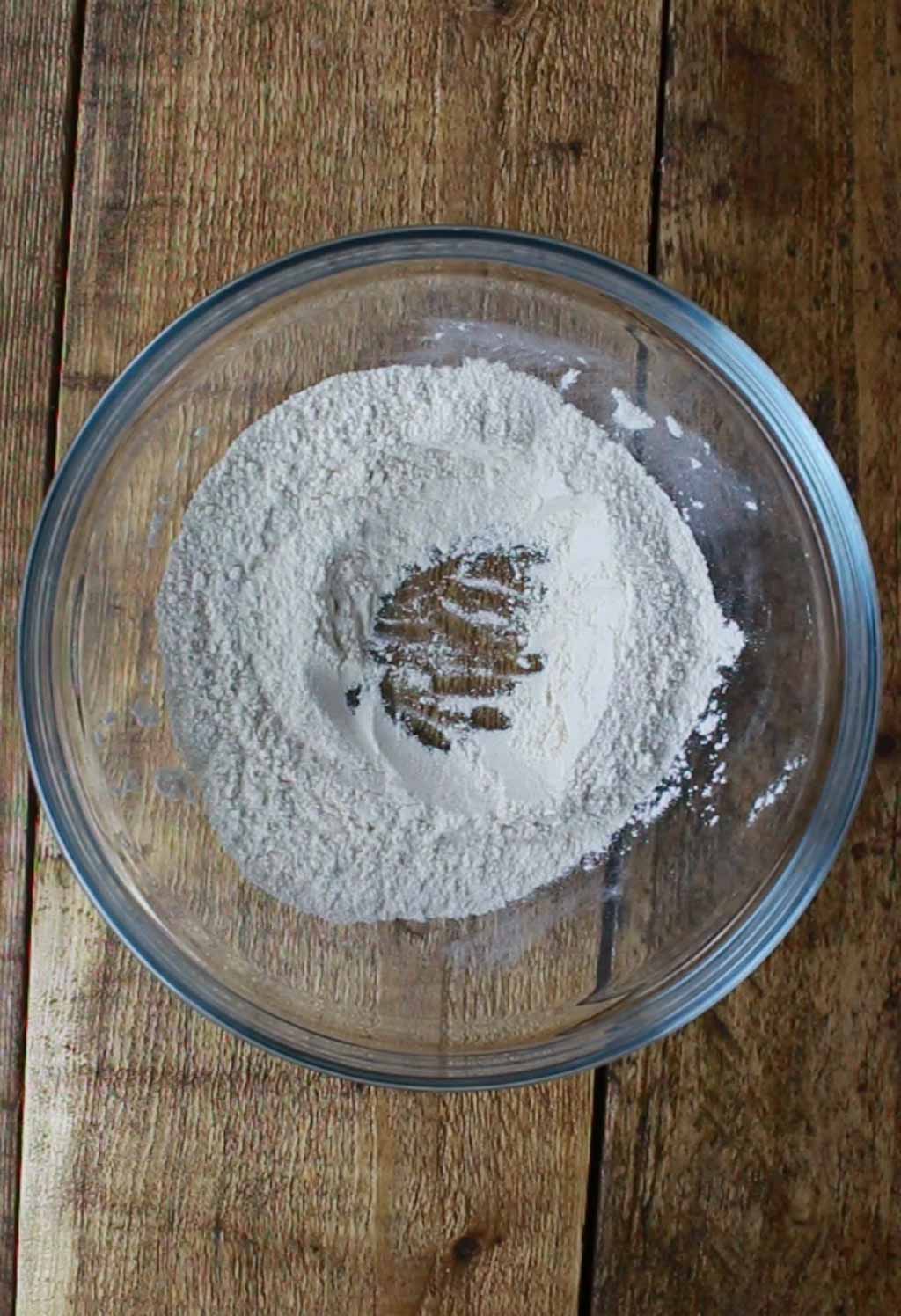 Step 3:
Add the buttermilk from earlier into the bowl with your dry ingredients and mix until just combined.
Do not overmix or the pancakes won't be fluffy. The batter will still be lump and that's OK! It helps to create little air pockets when frying.
Step 4:
Leave the pancake batter to sit for 5 minutes or so at room temperature. This gives the flour a good chance to absorb some of the liquid and create a nice, thick batter.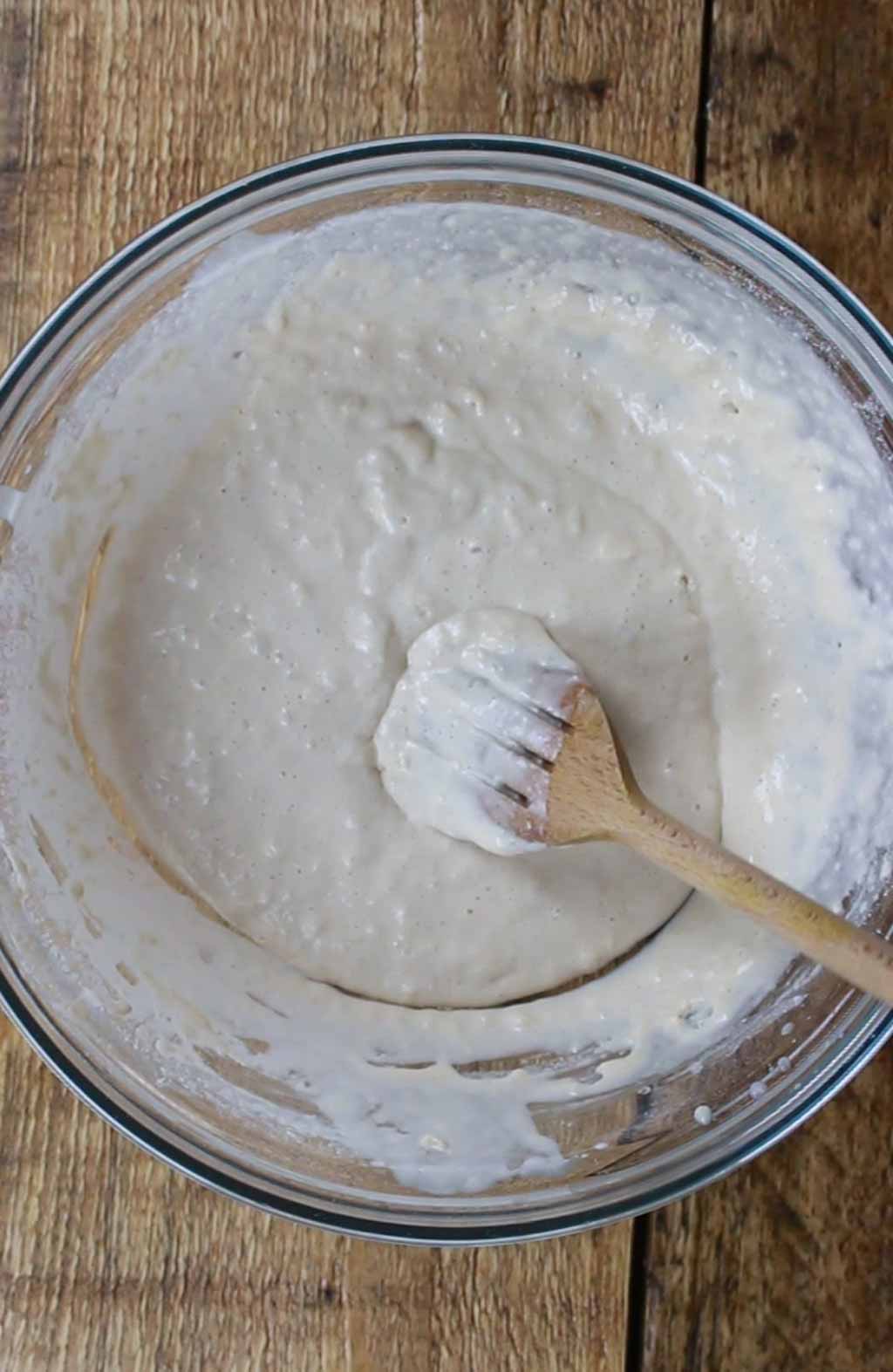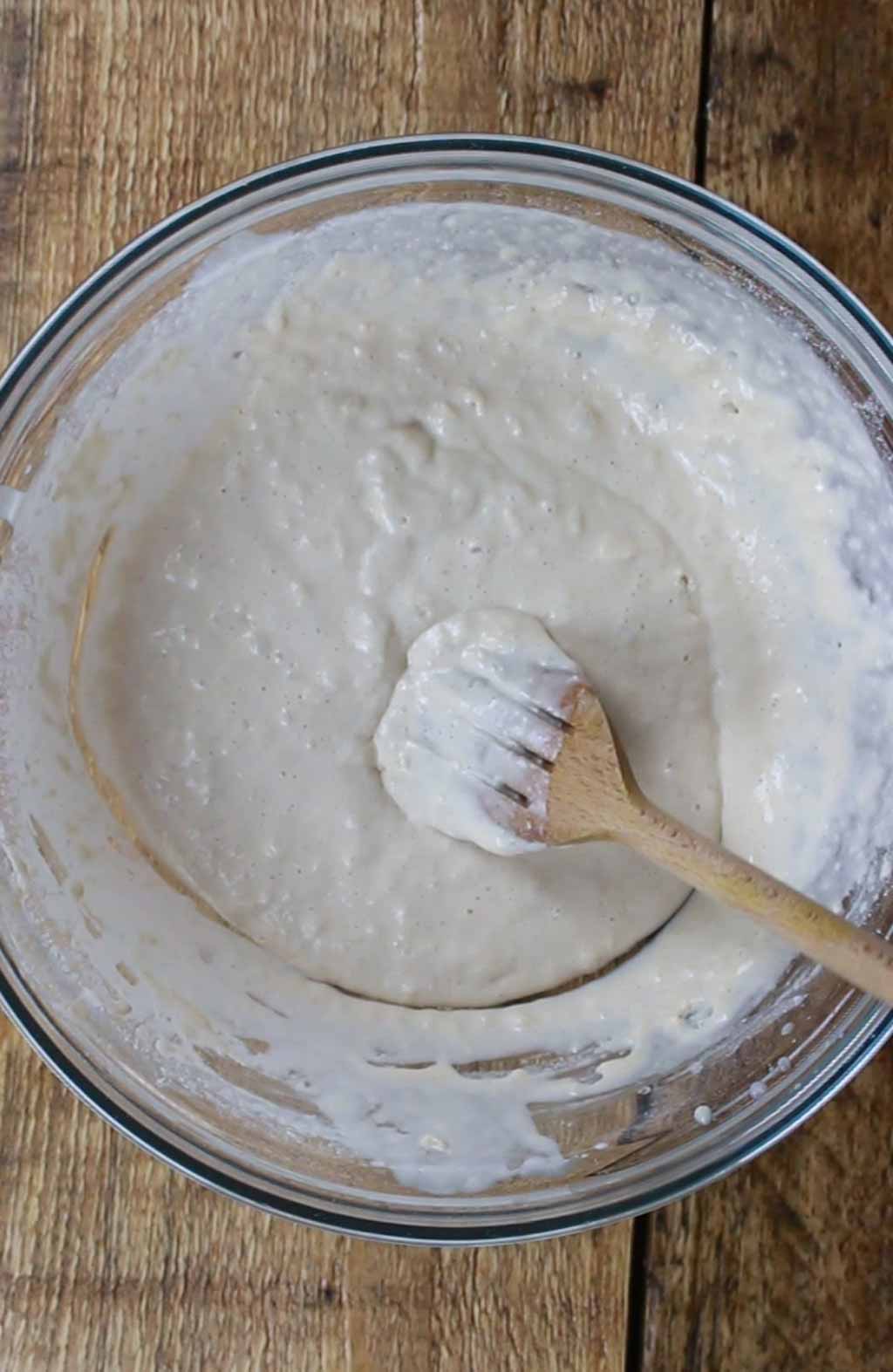 Step 5:
Heat up some oil in a non-stick pan.
Once the pan is hot enough, drop around 2-4 tablespoons of batter in (depending on how big you want your pancakes to be).
When the edges of the pancake become thick and you start to see air bubbles on the surface, flip them over and fry for another minute or so.
Repeat until you've used up all your pancake batter.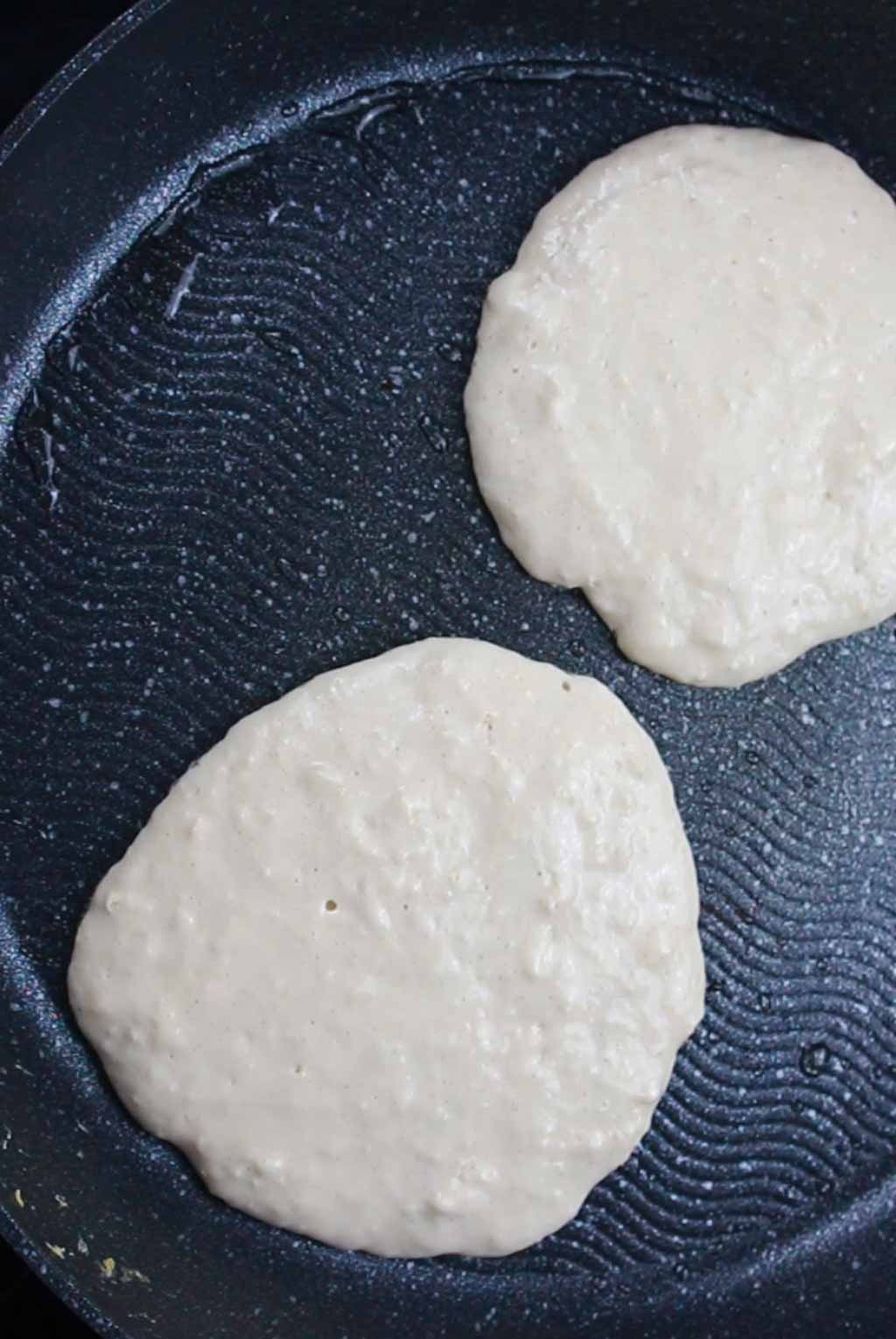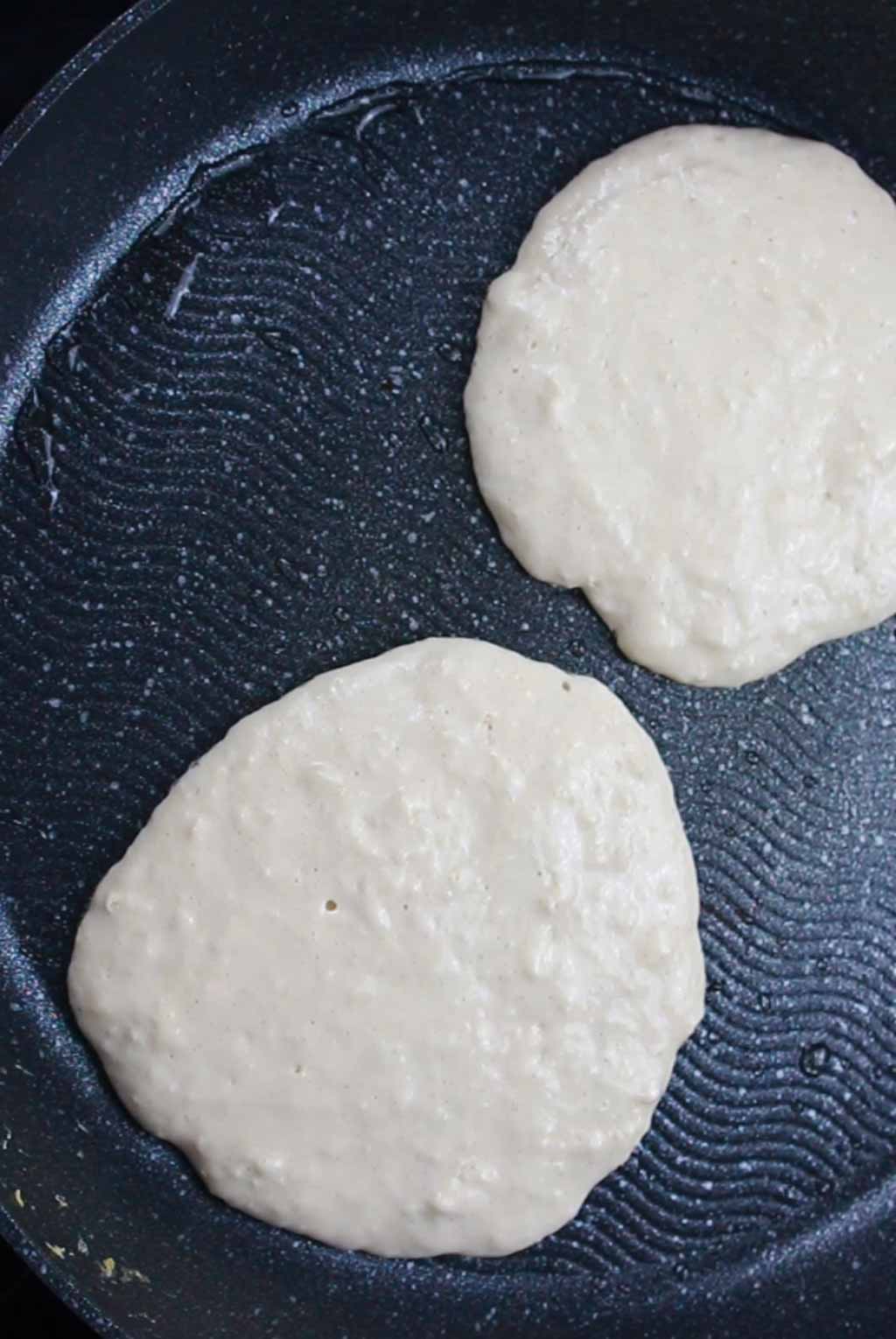 Step 6:
Top with whatever topping you like and serve immediately with maple syrup or agave nectar.
I decided to flavour mine with cinnamon, banana and walnuts but like I say, these fluffy pancakes go with anything! You can get as creative as you want with your toppings. Go crazy!
Topping ideas
If you're feeling adventurous and want to top your pancakes with more than just syrup, here are some ideas for you.
Biscoff and banana
Biscoff is one of my favourite things to top everything with, ever. Their smooth Biscoff spread paired with a sliced banana is DIVINE on pancakes.
"Nutella" and strawberry
I have recently discovered Nature's Store chocolate hazelnut spread that is very similar to Nutella! I purchased it from Tesco but it's also available from The Vegan Kind Supermarket.
Another option would be Vego chocolate hazelnut spread which I've yet to try but have heard very good things about!
Lemon and sugar
A classic for a good reason! Simply sprinkle over some sugar and add a squeeze of fresh lemon juice.
Ice cream and sprinkles
If you have the taste buds of a four year old like me, have your pancakes with ice cream and sprinkles! My partner and I did this not long ago for breakfast and it reminded me of childhood birthday parties.
We used Morrison's own strawberry and chocolate ice creams, and Dr. Oetker rainbow sprinkles.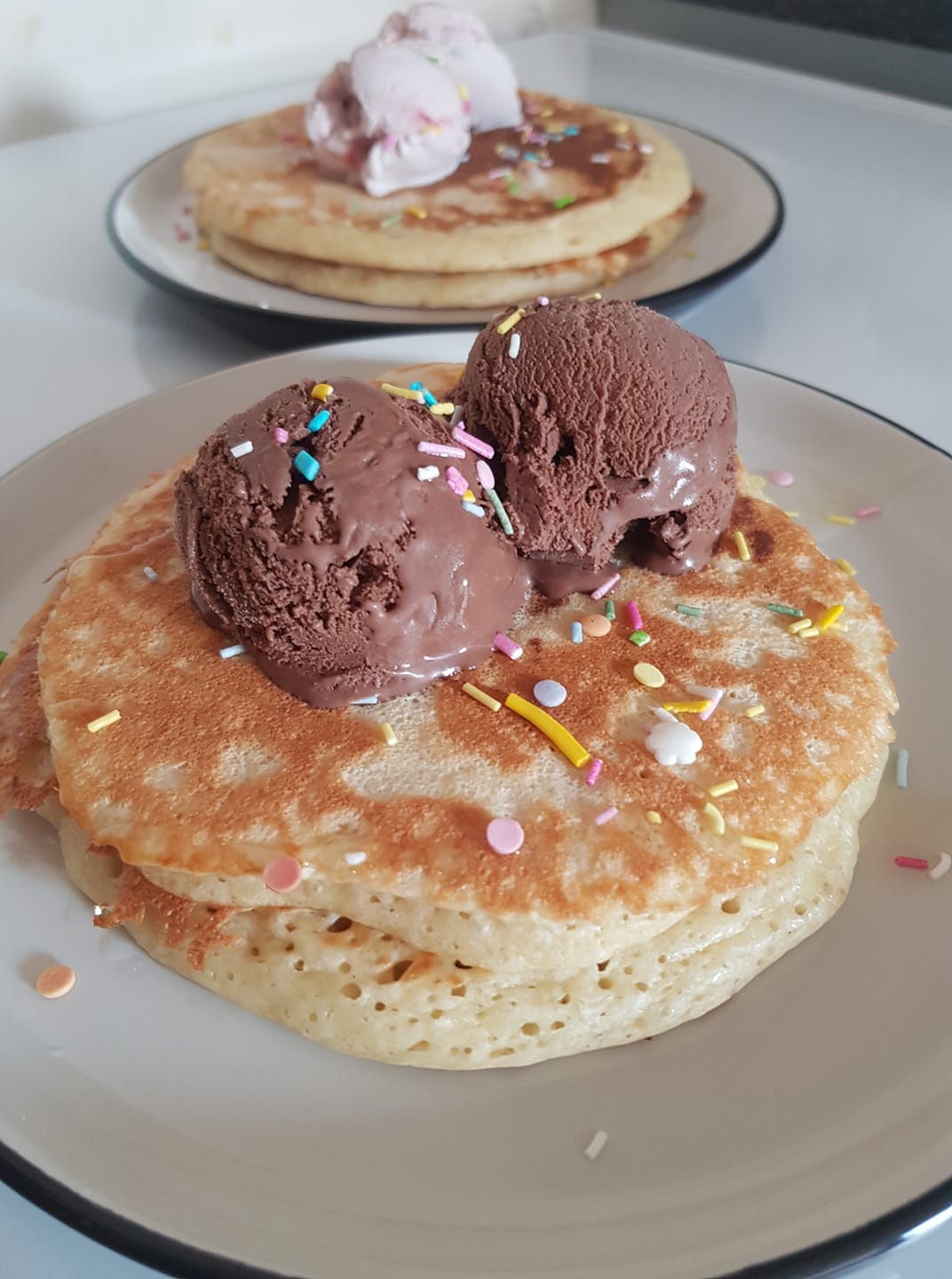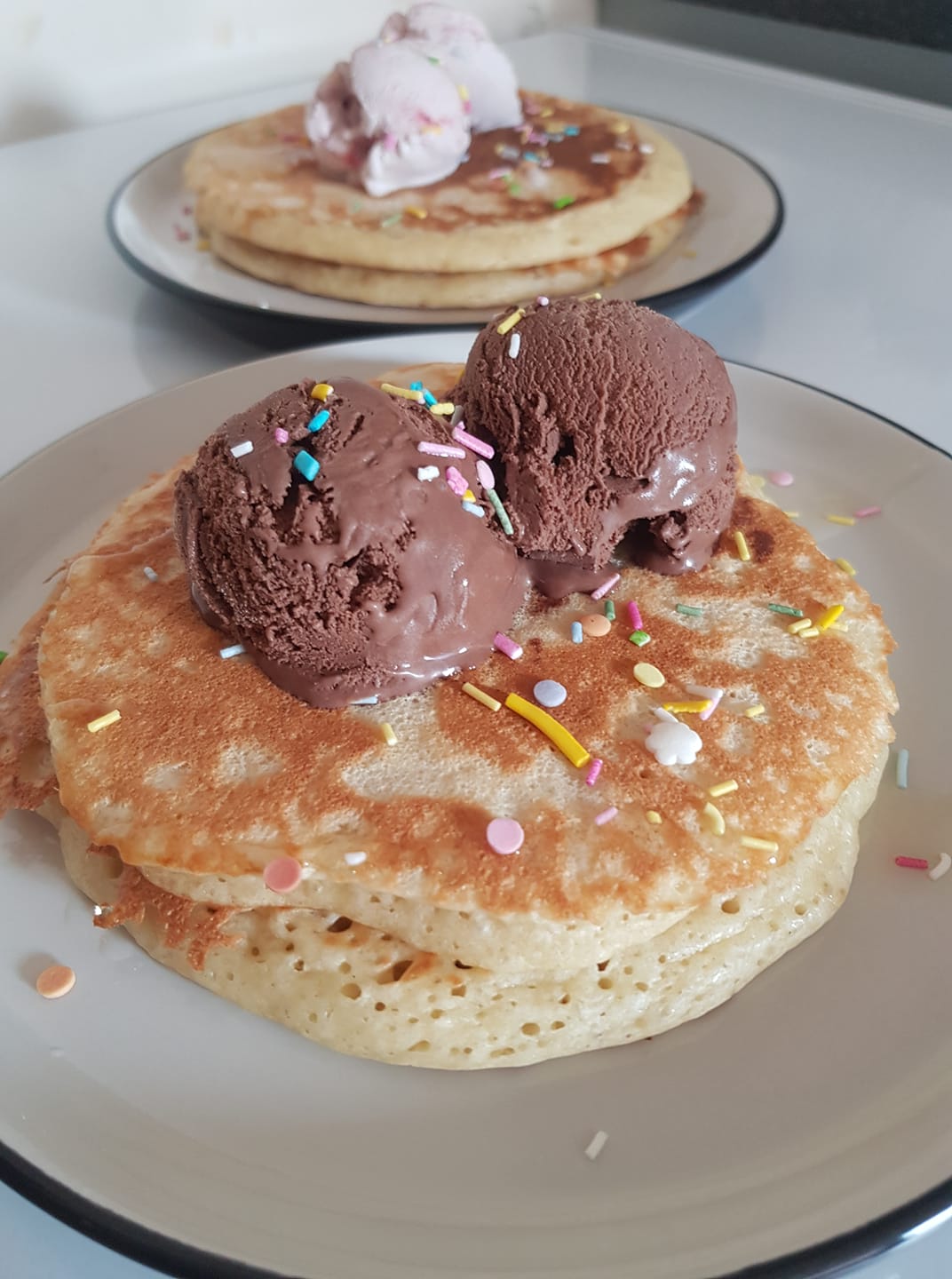 FAQ
Can I use gluten-free flour?
I haven't tried this myself but if you'd like to experiment, I recommend using a gluten-free flour blend that contains xanthan gum. This will help to thicken up the batter and make them easier to flip.
Do I have to use the vinegar?
No! If you don't have apple cider vinegar, you can use fresh lemon juice instead.

You can also omit it altogether if you're not too bothered about the buttermilk part of the pancakes. The image of the ice cream pancakes above are what they'll turn out like without the acid added. A little thinner but still super delicious and fluffy.
Can I use almond milk?
I didn't have great results using almond milk but I don't often use it so it may have just been the particular brand I used.

I also had to use much less milk when I used almond milk because it didn't react properly with the vinegar, making the batter runny. I recommend starting with 240ml (1 cup) and adding more if you need it. The batter should be at dropping consistency, otherwise you'll end up with really thin pancakes.

A better substitute for soy milk may be oat milk as it's a lot creamier than almond but I haven't tested that one out yet.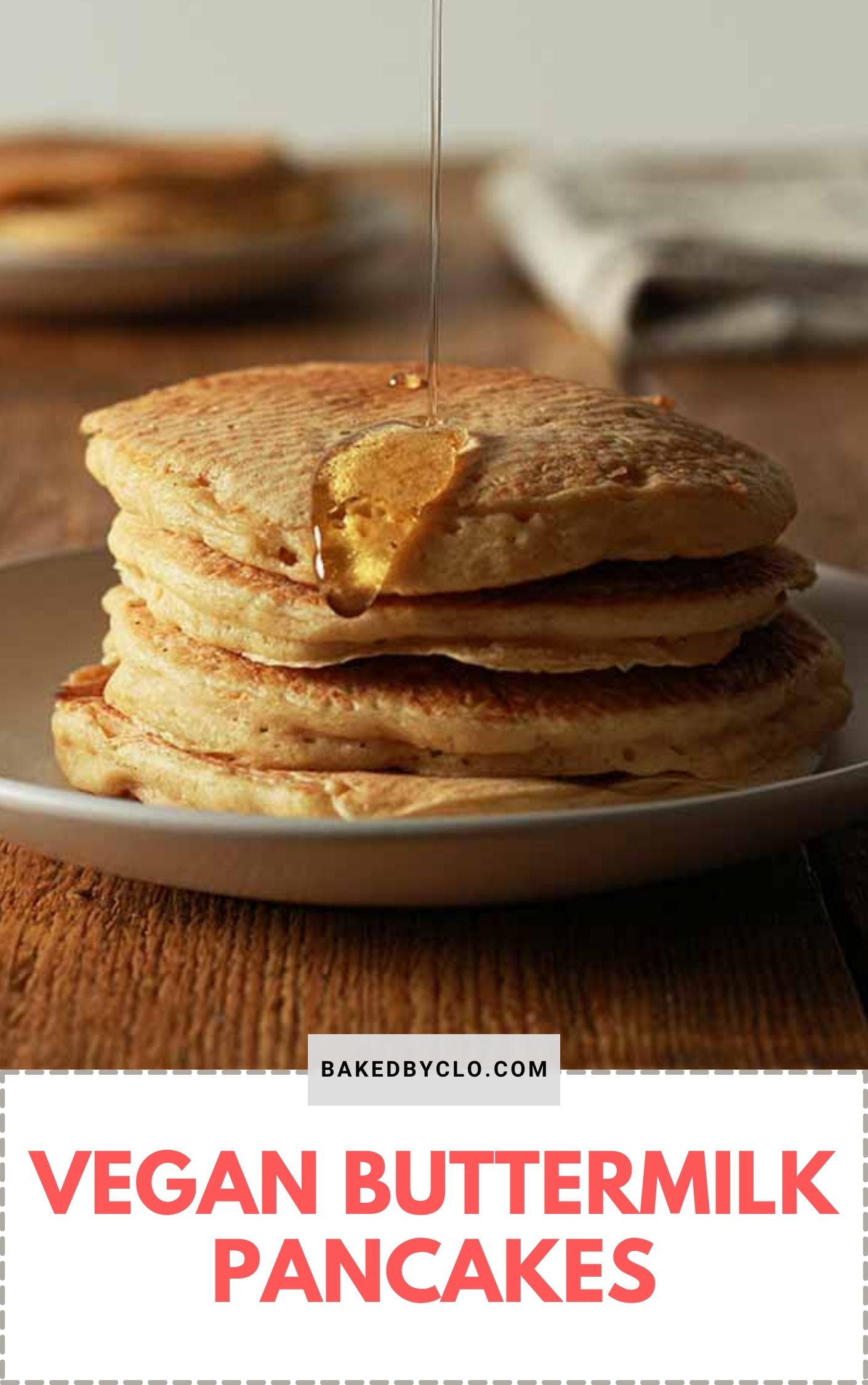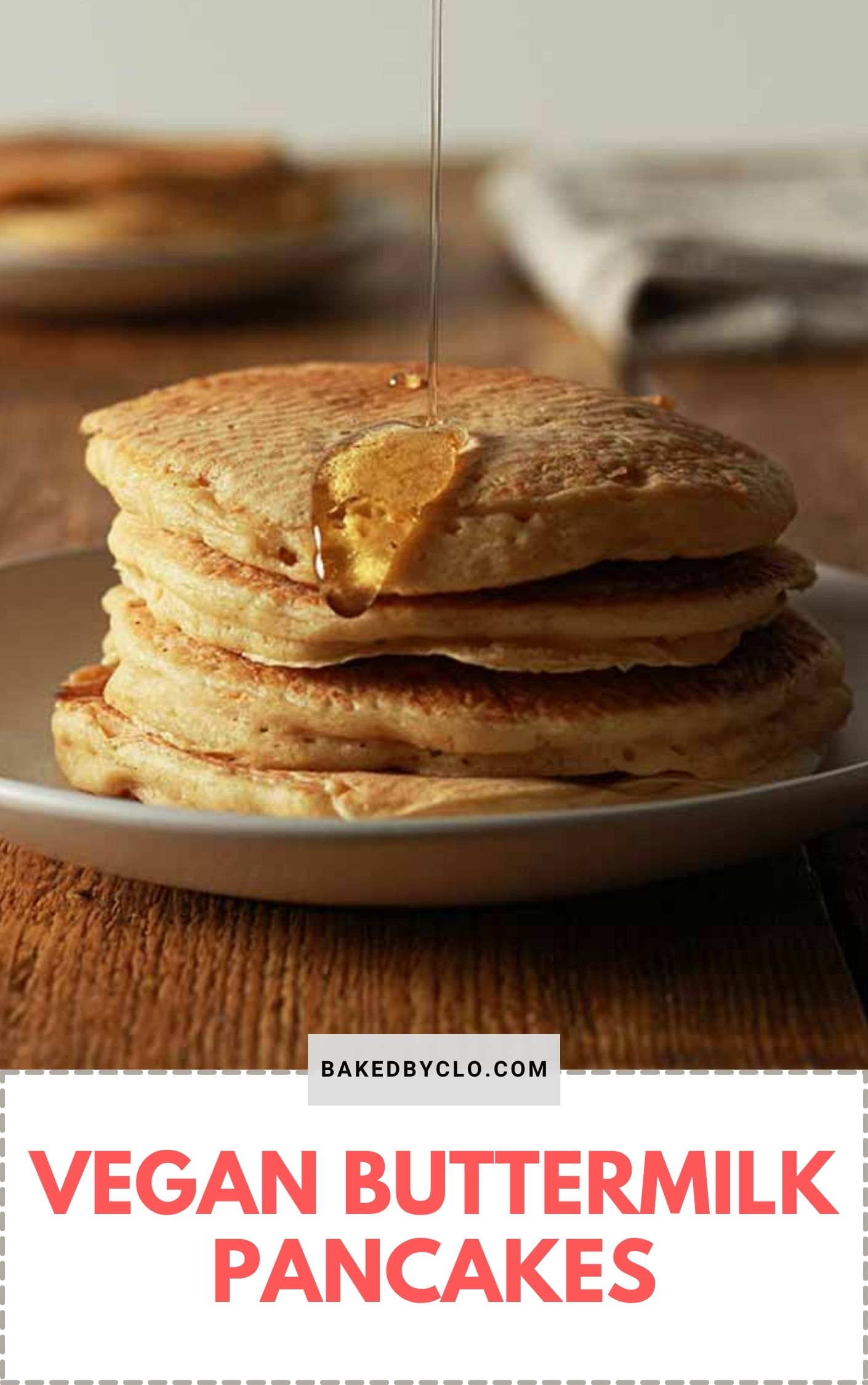 I hope you love this pancake recipe! If you make these at home, please let me know how you get on by leaving a comment or rating below. Happy baking. xo
Related posts:

Vegan Buttermilk Pancakes
Light and fluffy eggless pancakes that make a perfect lazy-day brunch.
Ingredients
300

ml

Unsweetened soy milk

(1 cup + 3 tablespoons)

1

Tablespoon

Apple cider vinegar

(or lemon juice)

150

g

Self-raising flour

(1 cup + 2 tablespoons)

2

Tablespoons

Caster sugar

1

Teaspoon

Baking powder

Oil for frying
To top:
Maple syrup or agave nectar
Instructions
In a small bowl or mug, mix the milk with the apple cider vinegar. Give it a whisk with a fork and set aside for 5 minutes. This will act as your vegan buttermilk.

In a larger bowl, mix the flour, sugar and baking powder together. Use your spoon to create a small well at the bottom of the bowl.

Add your vegan buttermilk. Stir until just combined to form a lumpy batter. Do not over mix.

Let the batter sit at room temperature for 5 minutes to allow the flour to absorb the liquid. This will make your pancake batter slightly thicker.

Heat up a small amount of oil or vegan butter in a non-stick pan. Fry the batter, a little at a time, over medium-high heat. Flip the pancakes when air bubbles start to form on the top.

Add any desired toppings and serve with maple syrup or agave nectar.
Recipe Notes
I always use unsweetened organic soy milk for this recipe as it creates a thick, creamy buttermilk. Results with other milks may vary. If using another type of milk, I recommend starting with ~240ml (1 cup) and adding more if you need it.
Nutrition Facts
Vegan Buttermilk Pancakes
Amount Per Serving (4 pancakes (1/2 the batter))
Calories 405
Calories from Fat 99
% Daily Value*
Fat 11g17%
Sodium 245mg11%
Carbohydrates 63g21%
Protein 12g24%
* All values are an estimate only and will vary depending on the food brands used.
BakedByClo is a participant in the Amazon Services LLC Associates Program, an affiliate advertising program designed to provide a means for sites to earn advertising fees by advertising and linking to Amazon.com. This site may contain some of these links to Amazon.com & other affiliate programs. If you make a purchase through one of those links, BakedByClo will receive a small commission from the purchase at no additional cost to you.