Easy Vegan Banana Pancakes (4 Ingredients)
Looking for the best vegan banana pancakes? Try this easy vegan banana pancakes recipe. They taste light and fluffy just like regular pancakes, except they have added health benefits!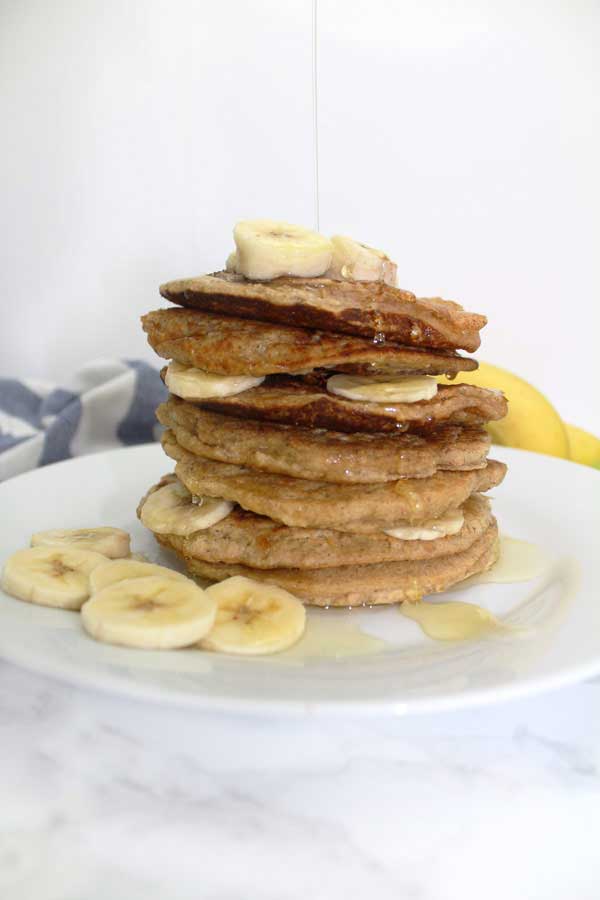 New year, new me.
That's what I told myself.
After going vegan, and starting this blog, my intake of cakes, cookies and other sugary foods increased a little bit .
By the end of 2018 it left me feeling gross and bloated.
So, I vowed to get healthier this year.
But when you run a dessert blog, it isn't that easy…
I like to taste EVERYTHING I bake. And taste it again. And again.
You know, just to make sure it's perfect…
I realised that if I was to have any chance of sticking to my goals in 2019, I'd need to make healthier recipes.
That way, I can eat more of what I bake for this blog without turning into a baby elephant.
I'm not saying I'll never bake unhealthy treats ever again. Because those tend to be the cheapest (and easiest) for you guys.
But I want most my recipes to be at least a little healthy from now on.
And the great thing about healthy desserts is that you can eat them for breakfast too!
To continue with my healthy Veganuary recipes, I recently made these easy, fluffy vegan banana pancakes.
Don't like bananas? Try these other breakfast recipes:
4 ingredient vegan banana pancakes
These eggless, milkless pancakes are gluten-free, oil-free and naturally sweetened with fruit.
Woah.
How's that for a healthy breakfast?
Even better, they contain only 4 ingredients! Banana, oats, plant milk and baking powder.
But although these pancakes contain only good-for-you ingredients, you won't taste the difference.
I promise you; they taste INCREDIBLE.
You will love them because they are:
Dairy-free
Eggless
Healthy
Fluffy
Easy
Gluten-free
Oil-free
Naturally sweetened
Easy eggless pancakes
When I first made vegan pancakes, I really struggled to get them "fluffy" without using eggs.
They would either be too dense and chewy, or they'd turn to mush and stick to the pan.
But after finally cracking the code with the first vegan pancake recipe I posted, I've been able to make all kinds of adaptions.
And I finally figured out how to make them healthy!
Healthy vegan banana pancakes
What makes these vegan pancakes healthy?
Mainly the oat flour, which replaces bleached white flour in this recipe.
Making your pancakes with oat flour is basically just like having a fancy bowl of oatmeal.
Healthy and delicious.
I used to think oat flour was an expensive, hard to find ingredient.
But then I realised it's just ground up oats.
Doh!
I used to buy big bags of oats from the supermarket and grind them up into flour using my blender.
But now I like to use these oats from Bulk Powders for quickness and convenience.
I also like the fact these pancakes contain no refined sugar. Just the natural sweetness of the banana!
But if you don't like bananas that's OK!

Healthy vegan pancakes without banana
It's SUPER easy to change this pancake recipe to one without bananas.
All you need to do is sub the banana for 2 tablespoons of applesauce. I'd recommend making your own for healthiness but most supermarkets also sell it at a reasonable price.
Top tips for making healthy vegan pancakes:
Work quickly! Oat flour is a lot more absorbent than regular flour so will turn mushy if left for too long.
Use a medium to low heat! I made the mistake far too many times of having the heat too high and ending up with burnt pancakes. *cries*
Look out for bubbles when you're cooking the pancakes. These bubbles will form when it's time to flip.
Get creative with the toppings. Some of my favourites include peanut butter, berries or chocolate sauce.
Don't forget the maple syrup! What is the point in pancakes without syrup?
So there we have it: 4 ingredient healthy vegan pancakes.
If you like this recipe, be sure to sign up to my mailing list for more recipes just like this!
As a thank you for signing up, I'll send you a free vegan baking cheat sheet to make your vegan bakes so much simpler!

Vegan Banana Pancakes
Vegan Banana Pancakes (Banana Optional), easy, fluffy and healthy!
Ingredients
For The Pancakes
150

g

Oats (Gluten-free if necessary)

Ground into a flour

1

tsp

Baking Powder

300

ml

Plant Based Milk

1/2

Mashed Banana

or 2 Tbsp apple sauce
Instructions
Mix the oat flour and baking powder together in a bowl.

Add the milk and banana and mix together to make a thick batter.

Fry the pancakes, 1/4 cup at a time, over medium-low heat. Bubbles will form on the surface when it's time to flip.

Stack the pancakes and serve with maple syrup and sliced banana.

Recipe Notes
For these vegan pancakes the banana is purely optional. Mix and match your favourite toppings!
Nutrition Facts
Vegan Banana Pancakes
Amount Per Serving
Calories 350
* All values are an estimate only and will vary depending on the food brands used.
Looking for more breakfast inspiration? Try this Healthy Vegan Banana Granola by the lovely Sarah at SarahsVeganGuide.
BakedByClo is a participant in the Amazon Services LLC Associates Program, an affiliate advertising program designed to provide a means for sites to earn advertising fees by advertising and linking to Amazon.com. This site may contain some of these links to Amazon.com & other affiliate programs. If you make a purchase through one of those links, BakedByClo will receive a small commission from the purchase at no additional cost to you.