4 Ingredient Vegan Banana Pancakes With Oats
Light and fluffy 4 ingredient vegan banana pancakes with oats. They're light and fluffy just like regular pancakes, except they have added health benefits. An easy, dairy-free breakfast that will keep you full until lunchtime.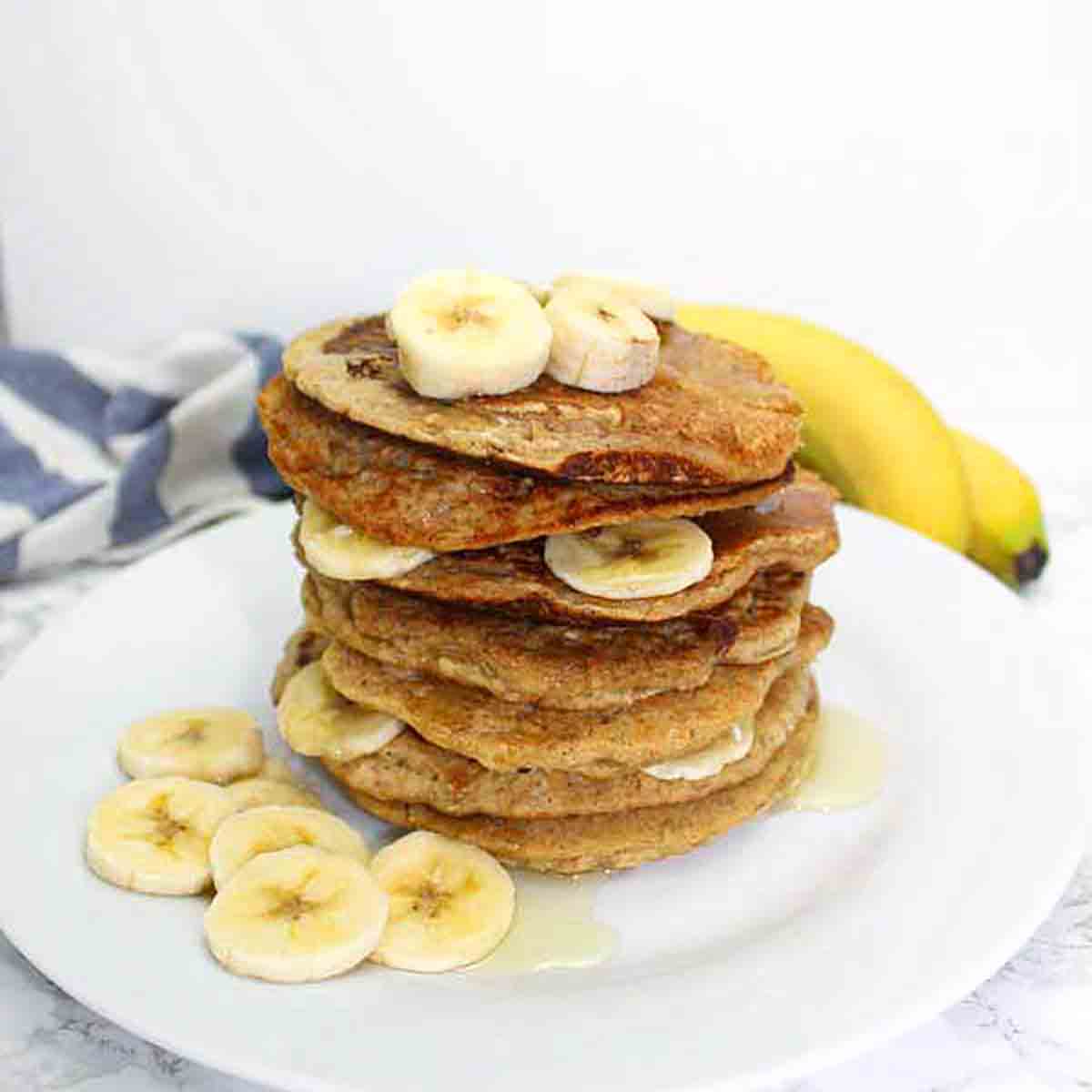 If you love bananas, you're going to love these vegan banana oat pancakes. With just 4 ingredients, you'll be able to whip up a healthy and delicious breakfast in less than 30 minutes.
I first created this recipe a few years ago, during my New Year's, when I was trying to convince myself that I would never eat sugar or wheat ever again…LOL.
As you all know, I run a dessert blog, so it should be no surprise that my super strict health-kick lasted about 2 days before I returned to baking with my usual ingredients! Healthy baking is a lot trickier and more expensive than I was used to!
But while the decadent desserts are delicious and great for a treat every now and then, I do try to stick to healthy recipes most of the time in my personal life. Especially in the morning! There's nothing worse than a mid-morning blood sugar crash after a sugar-laden breakfast.
These 4 ingredient vegan banana oat pancakes are just the perfect thing to have in the morning. They're full of fibre and complex carbs, meaning they keep me satisfied until lunch. They're dairy-free and eggless, and they don't leave me feeling bloated the way that regular pancakes do.
More vegan breakfast recipes: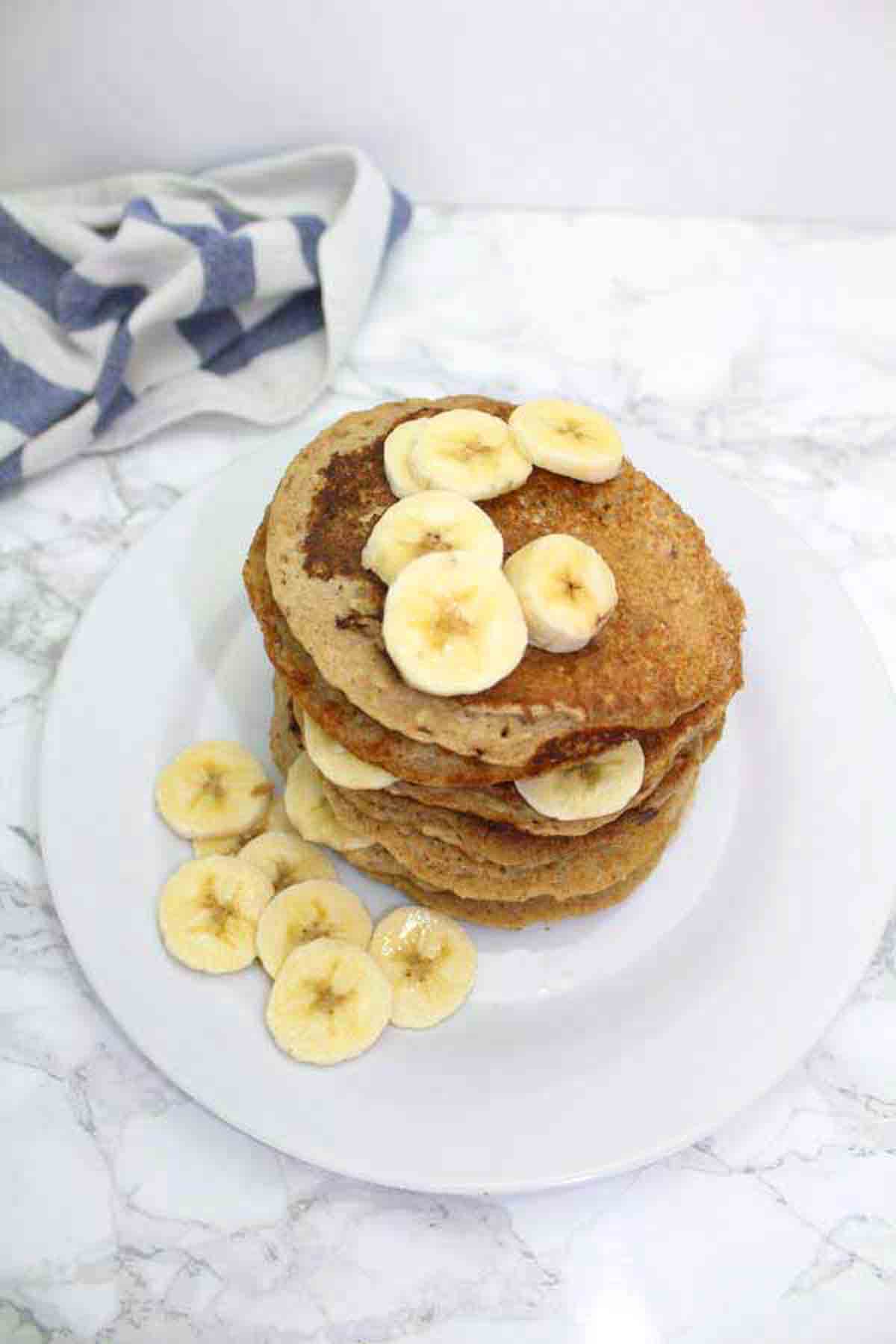 Easy eggless pancakes
When I first made dairy-free pancakes, I really struggled to get them "fluffy" without using eggs. They would either be too dense and chewy, or they'd turn to mush and stick to the pan.
But after finally cracking the code with the first dairy-free pancake recipe I posted, I've been able to make all kinds of adaptions. And I finally figured out how to make them healthier!
What makes these eggless pancakes healthy, I hear you ask? Mainly the oat flour, which replaces bleached white flour in this recipe. Making your vegan banana pancakes with oats is basically just like having a fancy bowl of oatmeal.
Healthy and delicious.
I used to think oat flour was an expensive, hard to find ingredient. But then I realised it's just ground up oats. Doh!
You can either buy big bags of oats from the supermarket and grind them up yourself in a blender, or you can buy them already ground up. The latter is obviously more convenient but if you want to save money, just grind them up yourself.
I also like the fact these pancakes contain no refined sugar. Just the natural sweetness of the banana, and maple syrup for the topping.
How to make 4 ingredient vegan banana oat pancakes
Step 1:
Measure out 150g of rolled oats and grind them up into a flour in a food processor or blender. If you have pre-made oat flour, place 150g into a large bowl.
Step 2:
Add 1 teaspoon of baking powder and mix it into the oat flour.
Step 3:
Mash 1/2 a medium-sized banana in a small bowl. Add it to the bowl with the dry ingredients, along with 300ml of soy milk. Mix well to make a lumpy batter.
I recommend using unsweetened soy milk for best results. This is highest in protein and works best to replicate the eggs that pancakes usually contain.
Step 4:
Fry your dairy-free banana pancakes over a medium-low heat. Around 1/4 of a cup at a time is the perfect pancake size!
Once bubbles begin to form on the surface of the pancakes, it's time to flip them! Fry for another few minutes on the other side until golden brown.
Step 5:
Stack your eggless banana oat pancakes with the other half of your banana from earlier, maple syrup, and any other desired toppings.
Top tips:
Work quickly! Oat flour is a lot more absorbent than regular flour so will turn mushy if left for too long.
Use a medium to low heat! I made the mistake far too many times of having the heat too high and ending up with burnt pancakes. *cries*
Look out for bubbles when you're cooking the pancakes. These bubbles will form when it's time to flip.
Get creative with the toppings. Some of my favourites include peanut butter, berries and chocolate sauce.
Don't forget the maple syrup! What are vegan banana oat pancakes without syrup?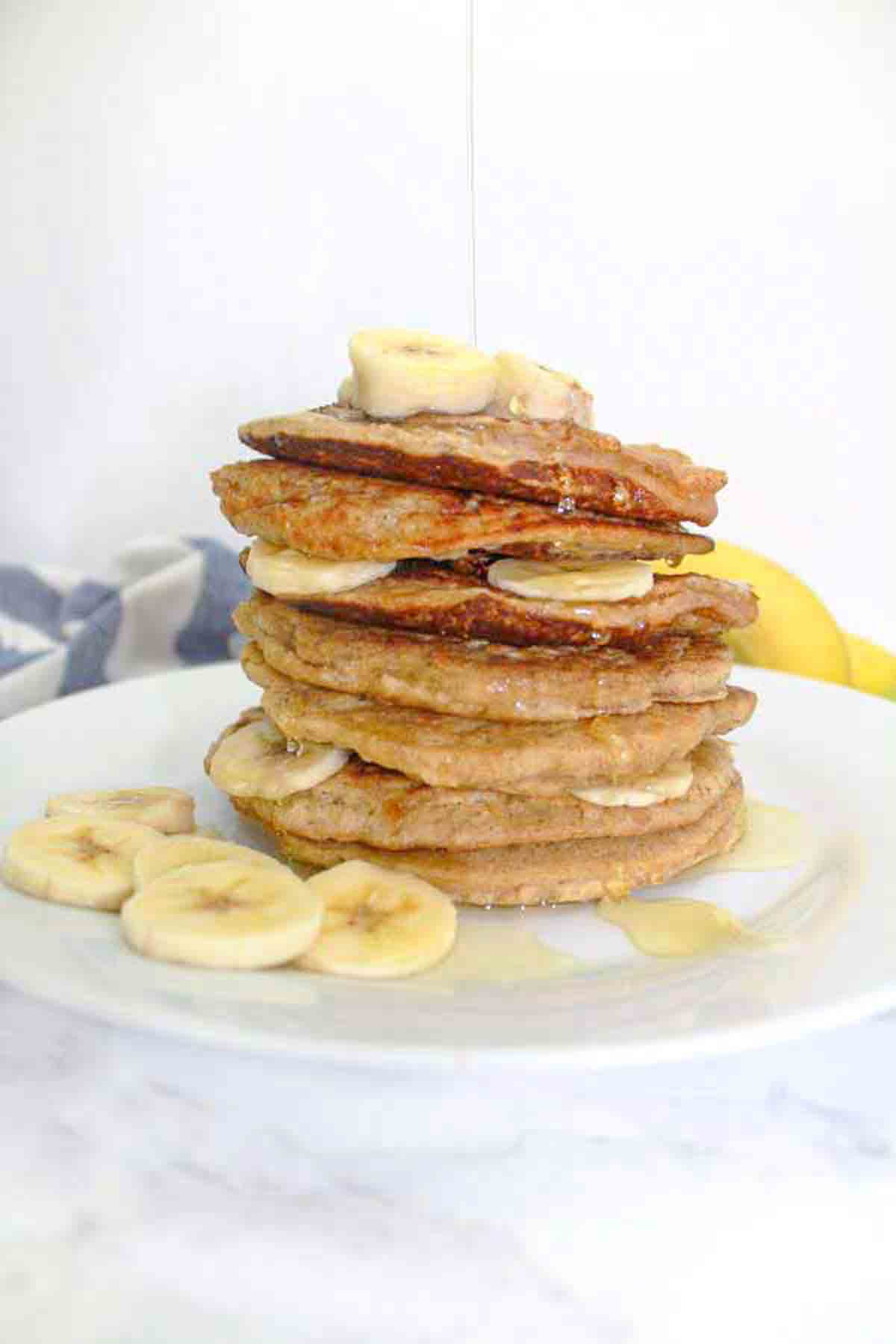 I hope you love these 4 ingredient vegan banana pancakes with oats. If you make them yourself, please let me know how you get on by leaving a comment or rating below. Enjoy! xo

Vegan Banana Oat Pancakes (4 Ingredients)
4 ingredient banana pancakes with oats.
Ingredients
For The Pancakes
150

g

Oats (Gluten-free if necessary)

Ground into a flour

1

tsp

Baking powder

300

ml

Unsweetened soy milk

1/2

Mashed banana
Toppings
Remaining

½

Banana

Maple Syrup
Instructions
Mix the oat flour and baking powder together in a bowl.

Add the milk and mashed banana to the bowl. Mix everything together to make a lumpy batter.

Fry the pancakes, 1/4 cup at a time, over medium-low heat until golden brown on both sides. Bubbles will form on the surface when it's time to flip.

Stack the pancakes and serve with maple syrup and sliced banana.

Recipe Notes
These banana oat pancakes are best enjoyed immediately but can be stored in an airtight container for up to 24 hours.
Nutrition Facts
Vegan Banana Oat Pancakes (4 Ingredients)
Amount Per Serving (2 pancakes)
Calories 221
Calories from Fat 54
% Daily Value*
Fat 6g9%
Sodium 246mg11%
Carbohydrates 31g10%
Protein 10g20%
* All values are an estimate only and will vary depending on the food brands used.
BakedByClo is a participant in the Amazon Services LLC Associates Program, an affiliate advertising program designed to provide a means for sites to earn advertising fees by advertising and linking to Amazon.com. This site may contain some of these links to Amazon.com & other affiliate programs. If you make a purchase through one of those links, BakedByClo will receive a small commission from the purchase at no additional cost to you.