Vegan Protein Pancakes (No Banana)
These 5-ingredient vegan protein pancakes are quick, easy and fuss-free. They're perfect for breakfast or dessert, and taste delicious topped with fresh fruit and syrup. Best of all, there's no banana needed for this recipe!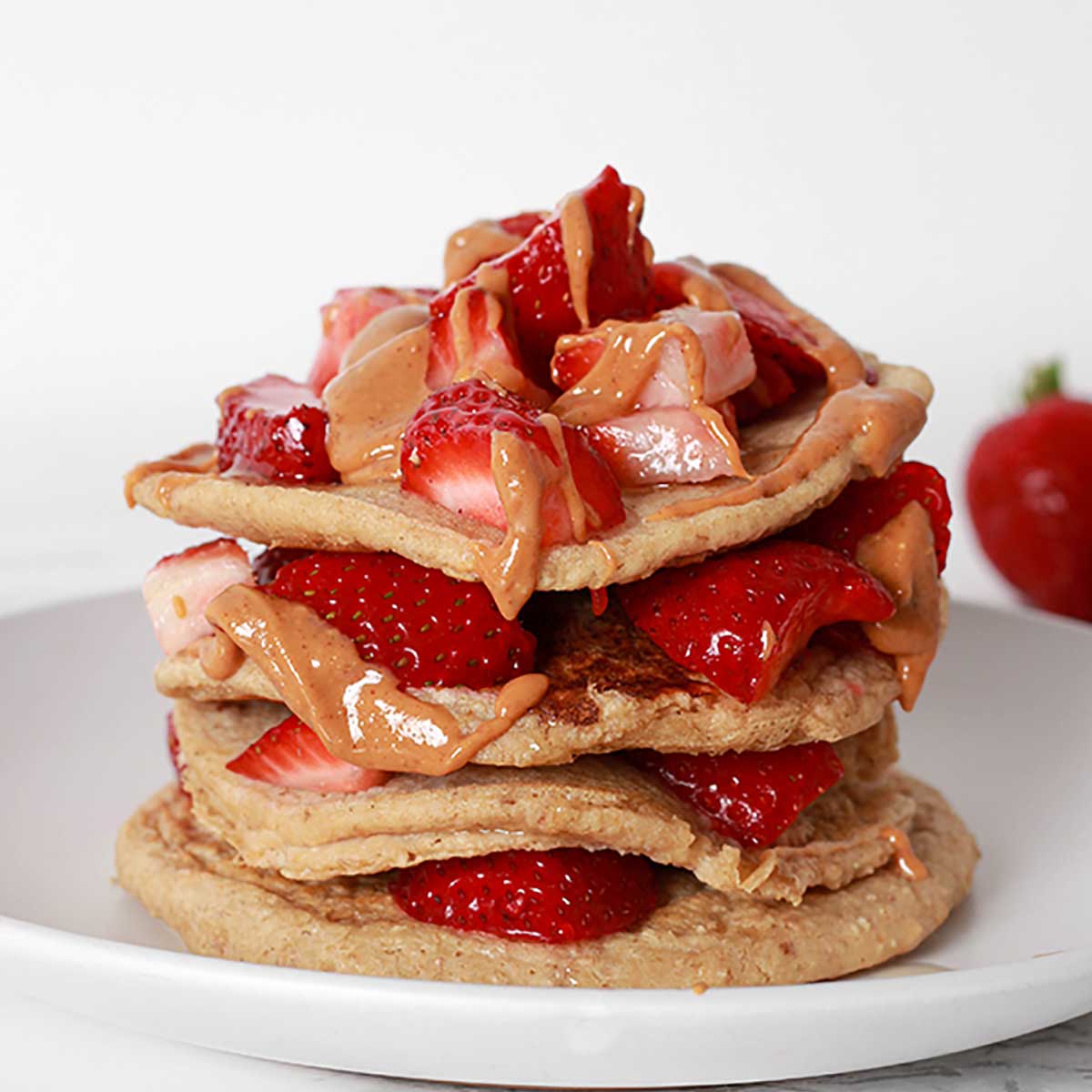 I'm visiting the south of Portugal right now and I have been craving pancakes like nobody's business since last week. There are a few nice cafes close by that sell vegan-friendly pancakes but whenever I've visited, they have either been closed or very busy!
Because I've had a protein pancake-shaped hole in my heart this week, I thought it would be the perfect time to write up my recipe for high protein vegan pancakes without banana. I make these almost every week back home because they are so quick and easy. They can be made in one bowl so they don't make a huge amount of mess.
And not only are these pancakes delicious, fluffy and high-protein, they are a lot healthier than regular pancakes! I prefer to use oat flour rather than white flour because it keeps me fuller for longer and doesn't spike my blood sugar. Obviously, I'm all for a sweet-treat but I always try to have a more balanced breakfast that will help to keep me focused throughout the day.
I hope you love these pancakes just as much as I do. Let me show you how to make them!
Ingredients you'll need for this recipe
Aside from the oat flour, the only other ingredients are unsweetened soy milk, baking powder, vanilla extract and protein powder. And no, there's no bananas needed! This is one of the very few recipes you'll find for vegan protein pancakes without banana. Sometimes you just don't want banana-flavoured pancakes, you know?!
Oat flour. You can make this yourself at home by grinding up porridge oats in a high-power blender until it becomes fine like a flour. I do not recommend adding whole oats to a blender along with the other ingredients to make the batter. It's best to make the oat flour first, then add the other ingredients. I tried making blender pancakes with this recipe but the whole oats didn't absorb the liquid as well as when I pre-ground them.
Unsweetened soy milk. I used unsweetened soy milk because my protein powder was sweetened. If you have an unsweetened protein-powder, you can use a sweetened soy milk to balance it out. I recommend using soy milk for extra protein, but also because I have not tested this recipe with any other plant-based milks. Almond and oat milk will work a bit differently in recipes like this one so proceed with caution!
Baking powder. Oat flour is quite dense so I added baking powder to help lift the pancakes while they fry, making them lighter and fluffier. Make sure to use baking powder and not baking soda (bicarbonate of soda).
Vanilla extract. This is optional but I like the added flavour it gives. You can omit it if you like.
Protein powder. I've made the pancakes with PhD salted caramel plant protein and Amazing Grass vanilla protein. Both worked great but I slightly preferred the texture when I used the PhD protein. Both were purchased from my local Holland and Barrett store.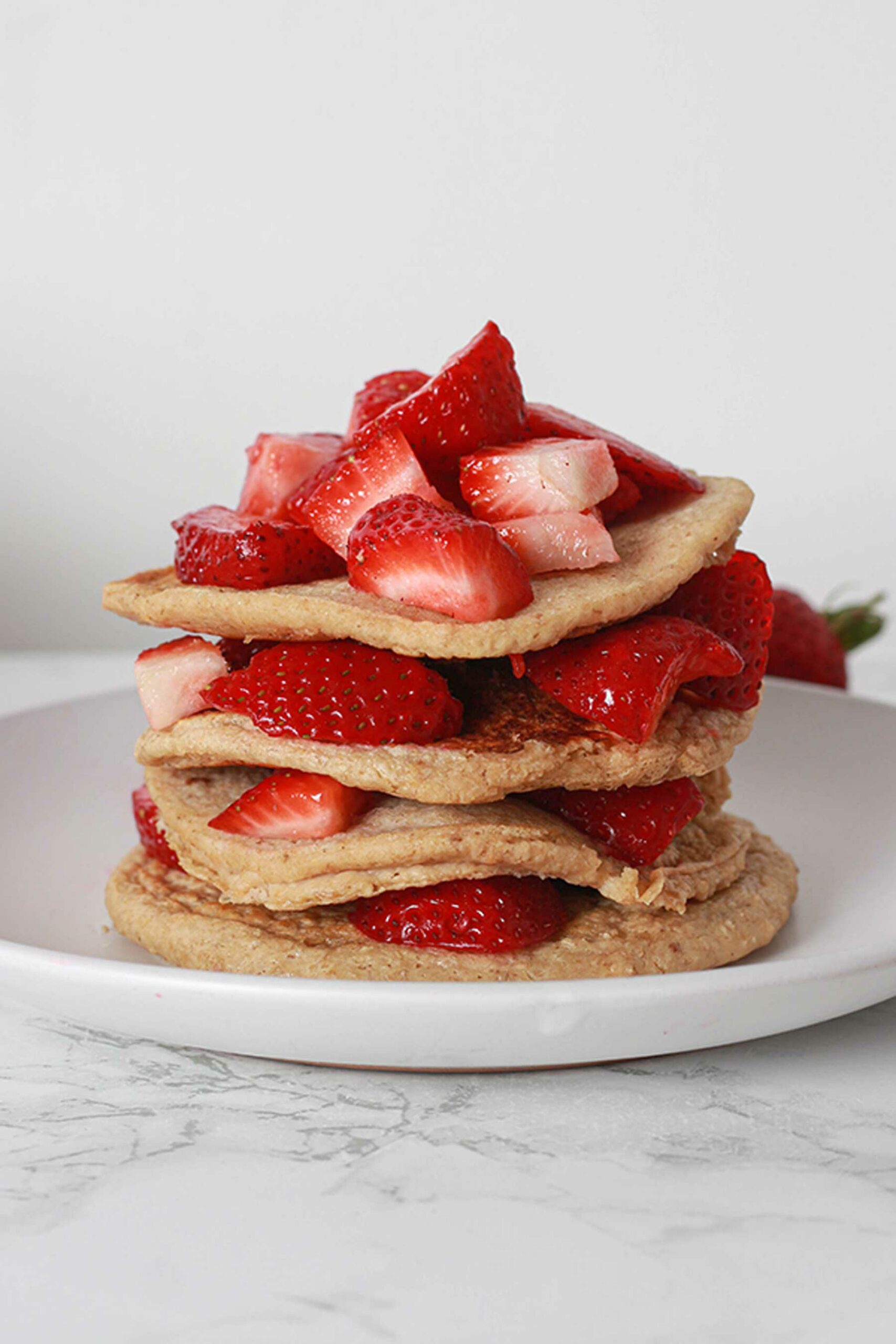 What is the best vegan protein powder for pancakes?
As noted above, I have tested this recipe with PhD plant protein and Amazing Grass protein. I had slightly better results with the PhD plant protein, which is a blend of pea and soya protein. The Amazing Grass one worked well too though, a blend of pea and rice protein (it also has added fruit and vegetable powders). I have listed some other similar protein powders below:
Personally, I find that vanilla and salted caramel flavours taste best in pancakes.
Please note that all protein powders will work differently according to their particular blend so you may need to add more or less liquid. The consistency (after resting for 10 minutes) should be thick but still relatively easy to pour. They should hold shape nicely while frying. If the batter is too thick, add more soy milk.
If the pancake mix spreads out too much while frying, this probably means the pan isn't hot enough or that there is too much liquid. Try heating the pan some more and if this doesn't resolve the problem, you can let the batter sit out at room temperature for a little longer so the oat flour absorbs some more liquid. Alternatively, you can add a little bit of extra oat flour- I would recommend that you start with a teaspoon and add more if needed.
Related posts:
If you use an unsweetened protein powder, I'd recommend adding 1 or 2 tablespoons (or more, to taste) of agave nectar or maple syrup to the batter, or using sweetened soy milk instead of unsweetened. They might taste quite bitter otherwise.
How to make vegan protein pancakes
Step 1:
Measure out 60g of porridge oats and place them into a blender to make a fine flour. You can use ready-made oat flour instead if you prefer, but this way is usually cheaper!
Step 2:
Add the oat flour to a large bowl along with 1/2 a teaspoon of baking powder and 20g of protein powder. Mix well.
Step 3:
Next, add 180ml of unsweetened soy milk and 1 teaspoon of vanilla extract to the bowl. Mix well to make a lumpy batter.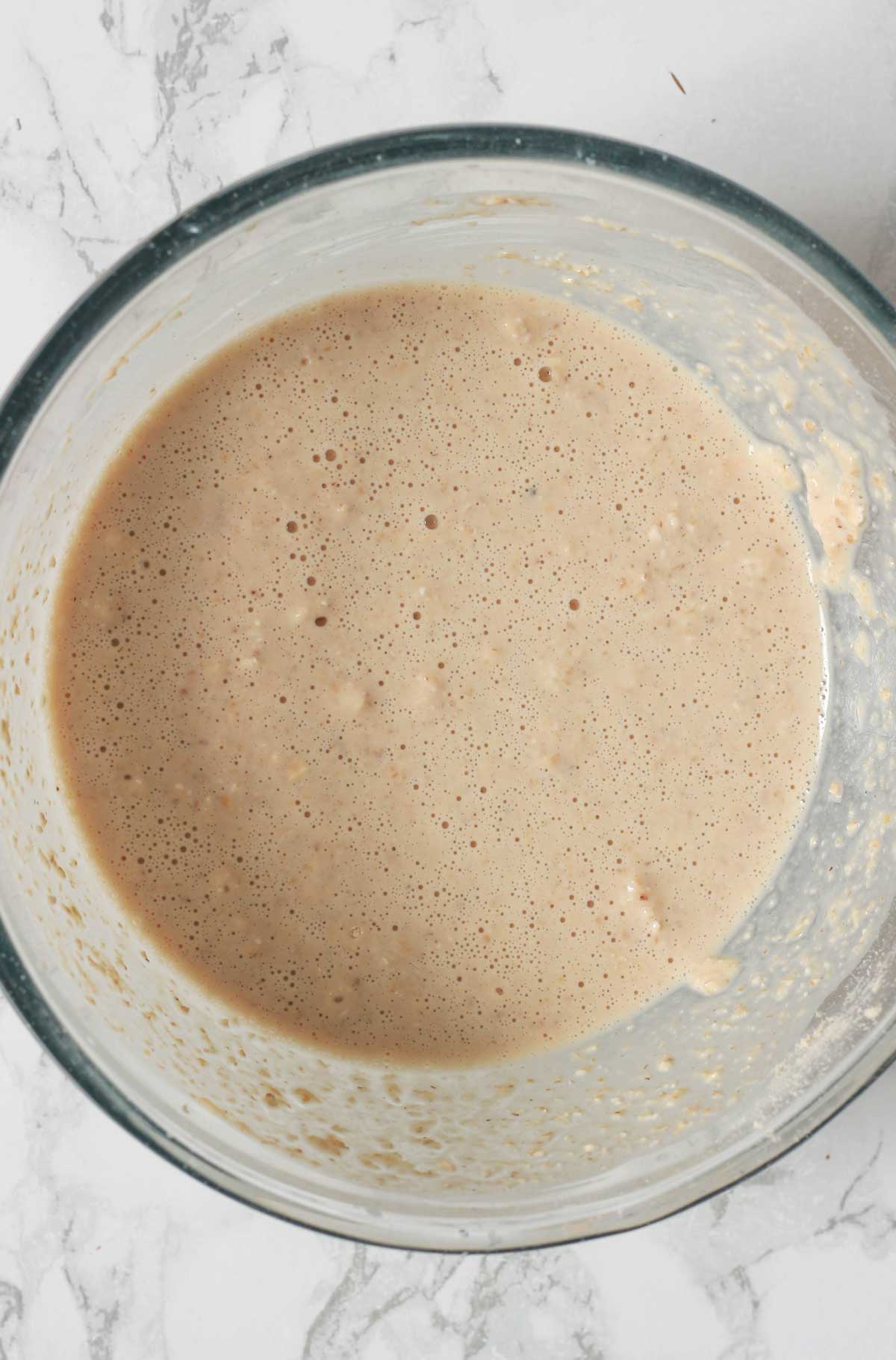 Step 4:
Leave the protein pancake batter in the bowl to sit at room temperature for 10 minutes. By this time, it should be thick. If it's still a little on the runny side, leave it for a little longer.
Step 5:
Heat a little bit of oil in a pan over medium-high heat. You can test with a small amount of batter to see if the pan is hot enough. It should lightly sizzle as soon as you place the batter into the pan.
Step 6:
Fry the batter (you should get 4 pancakes out of this mixture). You'll know they are ready to flip when small bubbles appear on the surface and the outer edges change colour/texture slightly.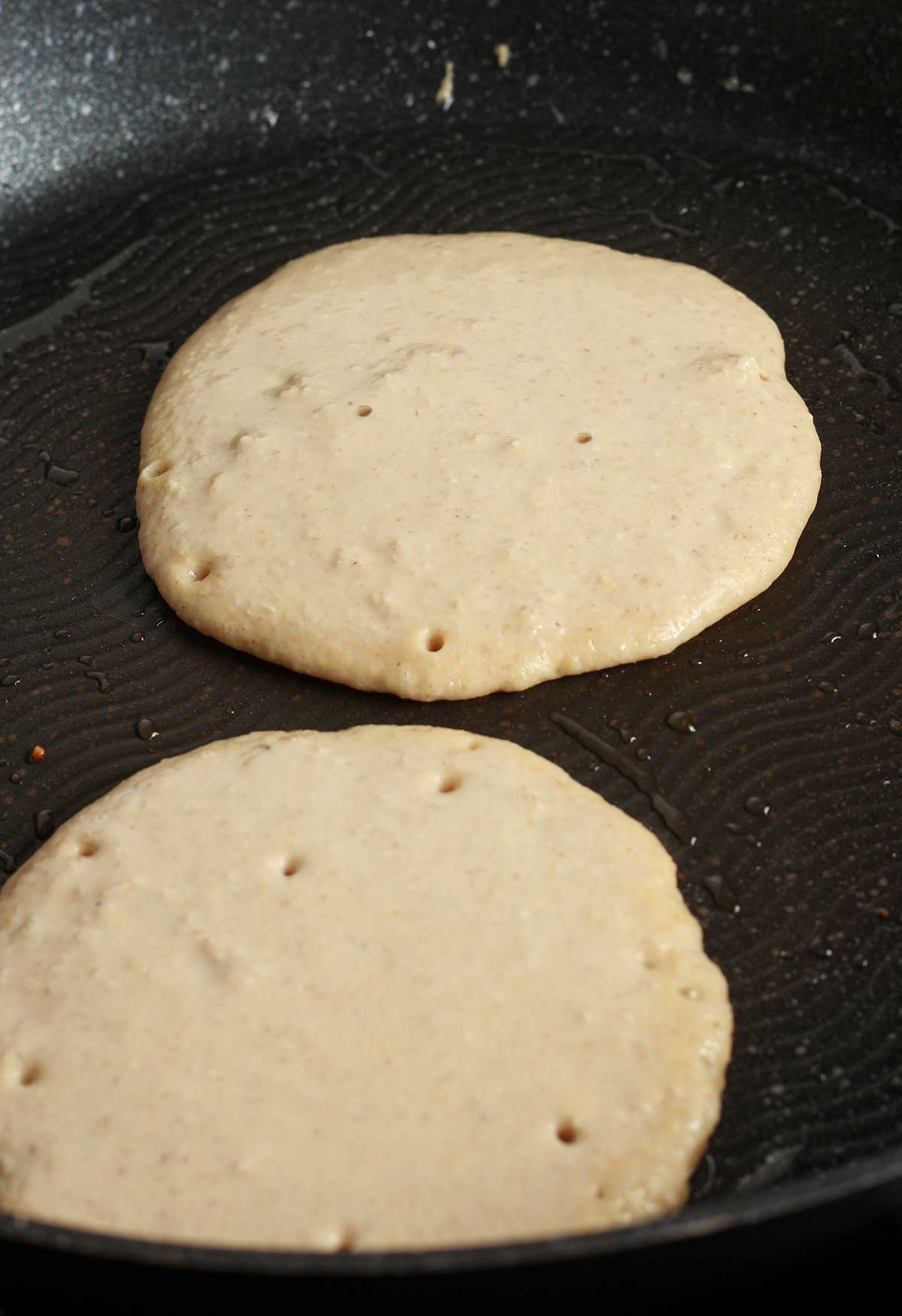 Step 7:
Once fried, place the pancakes onto a piece of kitchen cloth to absorb any excess oil.
Step 8:
Top with your desired toppings and enjoy straight away!
Protein pancake topping ideas
You can top these pancakes with whatever your heart desires but if you're not sure, here are some ideas:
Maple syrup or agave nectar- a must for pancakes!
Peanut butter or almond butter (adds an extra 4-5g protein per tablespoon)
Fresh fruit (I love adding strawberries to mine)
Broken-up protein bars
Plant-based yoghurt
Protein crispies
Chocolate chips
FAQ
How many pancakes does this recipe yield?
This will serve 4 medium-sized pancakes which is a suitable serving-size for 1 person. Feel free to multiply the recipe as needed.
How many grams of protein does 1 serving provide?
These pancakes are protein-packed with 30g per serving! And that's without toppings. This will vary a few grams either way, depending on which type of protein powder you use. I calculated the protein content using PhD Smart plant protein.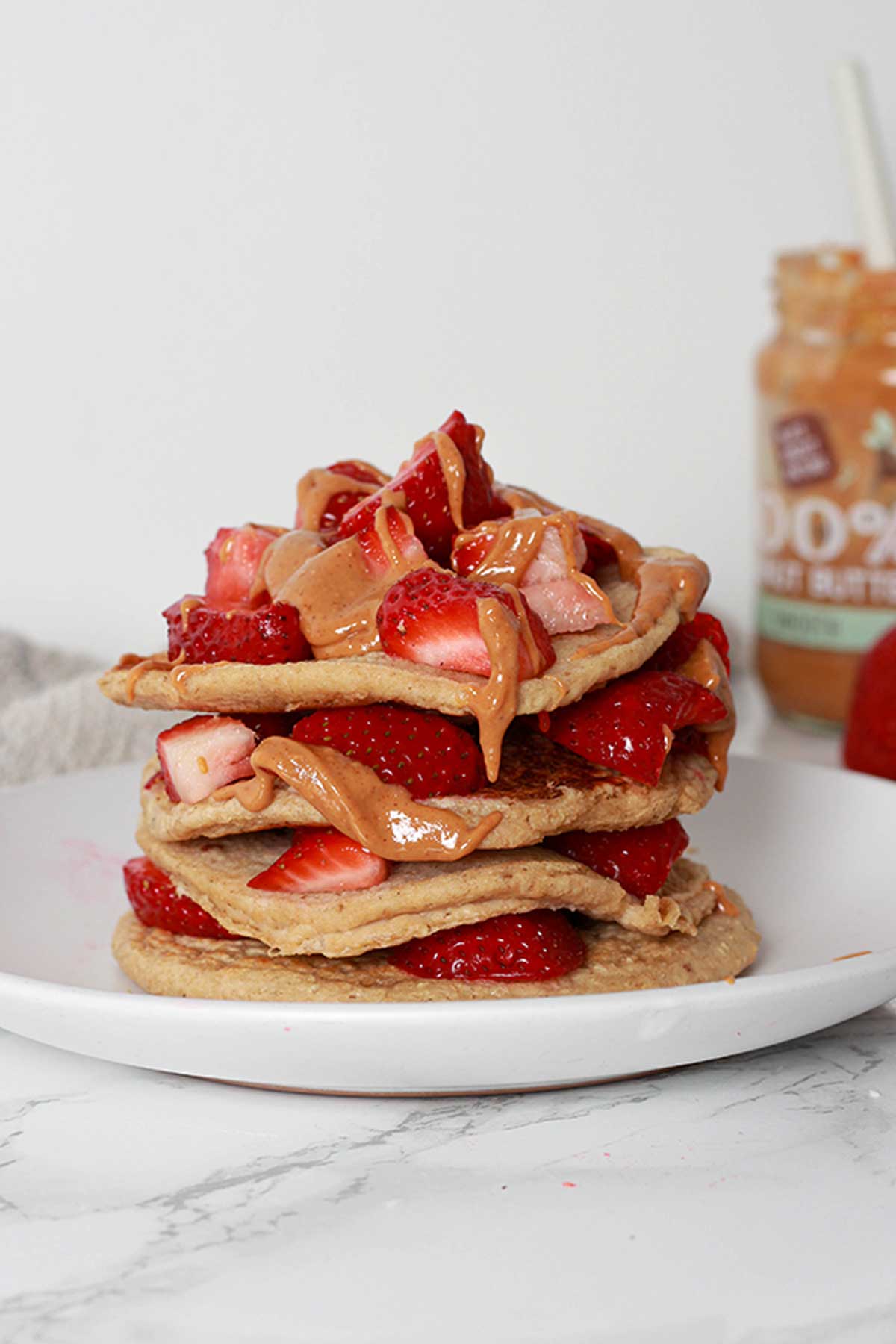 More sweet vegan breakfast recipes:
I hope you enjoy the recipe! If you make the pancakes at home, please let me know what you think by leaving a comment and rating below! xo

Vegan Protein Pancakes Without Banana
Easy 5-ingredient protein pancakes. No banana, dairy or eggs needed!
Ingredients
60

g

Oats

½

Teaspoon

Baking powder

20

g

Vegan protein powder

(I used PhD plant protein in salted caramel flavour)

180

ml

Unsweetened soy milk

(use sweetened soy milk if your protein powder is unsweetened)

1

Teaspoon

Vanilla extract

(optional)

Oil

for frying
To top:
Fresh fruit and/or nut butter

(or any other toppings you like)

Agave nectar or maple syrup
Instructions
Add the oats to a blender and pulse until it becomes fine like a flour.

Add the oat flour to a large bowl along with the baking powder and protein powder. Mix well.

Add the soy milk and vanilla extract and mix again to make a lumpy batter.

Let the pancake batter sit in the bowl for 10 minutes to thicken.

Heat some oil in a pan over medium-high heat. You can test if it's hot enough by placing a small amount of pancake batter into the pan- it should lightly sizzle and hold its shape.

Fry the pancakes (you should get around 4). You'll know they are ready to flip when bubbles appear on the surface and the outer edge looks firmer.

Once fried, place the pancakes onto some kitchen towel to absorb any excess oil.

Stack the pancakes and top with your desired toppings. Enjoy immediately.
Recipe Notes
I do not recommend adding all of the ingredients to a blender to make the batter. Make sure the oats are ground into a flour before adding the liquid.
If your batter is still runny after 10 minutes, let it sit for a bit longer or add some extra oat flour. If it's too thick, add more soy milk.
I have only tested this recipe with soy milk. I cannot guarantee it will work with other plant milks.
Nutrition Facts
Vegan Protein Pancakes Without Banana
Amount Per Serving (1 serving (without toppings))
Calories 362
Calories from Fat 81
% Daily Value*
Fat 9g14%
Sodium 246mg11%
Carbohydrates 36g12%
Protein 30g60%
* All values are an estimate only and will vary depending on the food brands used.
BakedByClo is a participant in the Amazon Services LLC Associates Program, an affiliate advertising program designed to provide a means for sites to earn advertising fees by advertising and linking to Amazon.com. This site may contain some of these links to Amazon.com & other affiliate programs. If you make a purchase through one of those links, BakedByClo will receive a small commission from the purchase at no additional cost to you.