This vegan Victoria sponge is light and fluffy, and filled with strawberry jam and dairy-free buttercream. It's a British classic that everyone will love!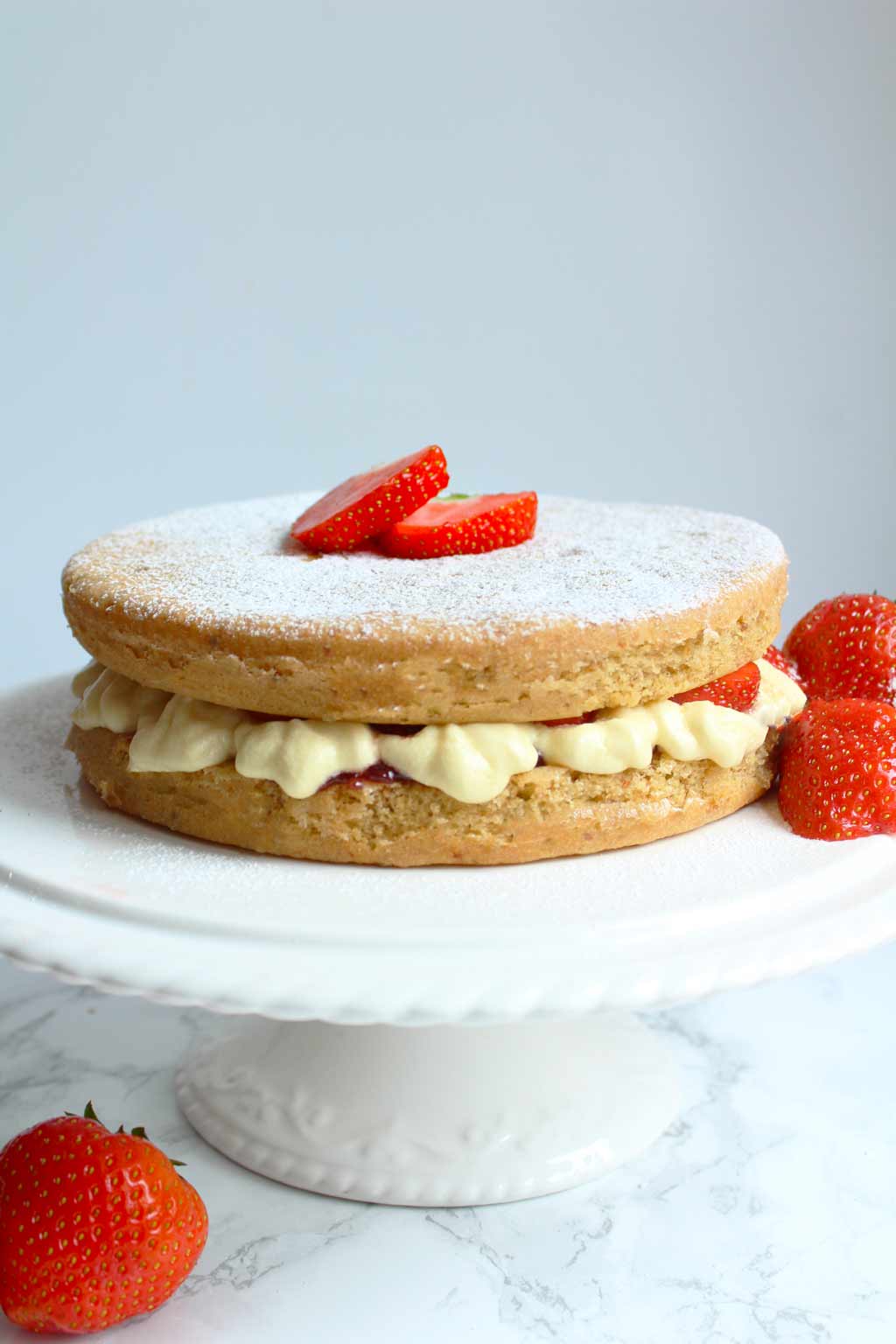 I've been meaning to add a vegan Victoria sponge cake recipe to my blog for the longest time! And this week I finally got around to doing just that.
It wasn't exactly plain-sailing though. I first attempted it earlier this week but sadly, I ended up with a flimsy sponge and an overpowering coconut whipped cream.
Then, my replacement whipped cream spilled out of the edges and the cake totally collapsed when I cut into it. Sad times.
As frustrating as that was, I really, really wanted to perfect my vegan Victoria sponge because it is a lovely, traditional British cake that every vegan should get to enjoy at least once.
Vegan Victoria Sponge With Flax "Eggs"
To save myself the trouble of another few possible failed attempts, I took my old classic sponge cake recipe (the one I first shared on my Vegan Party Rings cupcakes post) and adapted it to make enough for a 7 inch 2-layer cake.
That recipe has never failed me.
However, that recipe also contains flax seeds. And while it doesn't affect the taste at all, it does sometimes add a "speckled" sort of effect.
I was a bit unsure how it would look- I didn't want a Victoria sponge with bits of flax seeds pieces poking through the top. But you could barely tell, and I absolutely loved how it looked in the end!
Plus, you dust powdered sugar on top to complete the cake which hides any flax seeds bits that may be showing anyway.
When baking cakes recently, I've been using milk as a substitute for eggs instead of flax seeds because I've wanted to go for a smoother-looking outward appearance. But while it does definitely get rid of the "speckled" look, it tends to make the cakes a lot more fragile and tricky to handle.
Using flax seeds was great for this recipe because traditionally, Victoria sponge consists of two sturdy and thick cakes. Strong enough to hold up a layer of cream in the middle.
My vegan Victoria sponge cake held together perfectly. The taste, texture, and fluffiness were all just absolutely perfect.
NOTE: Flax seeds don't have to be expensive. Lidl and Aldi sell bags of pre-ground flax seeds for less than £2.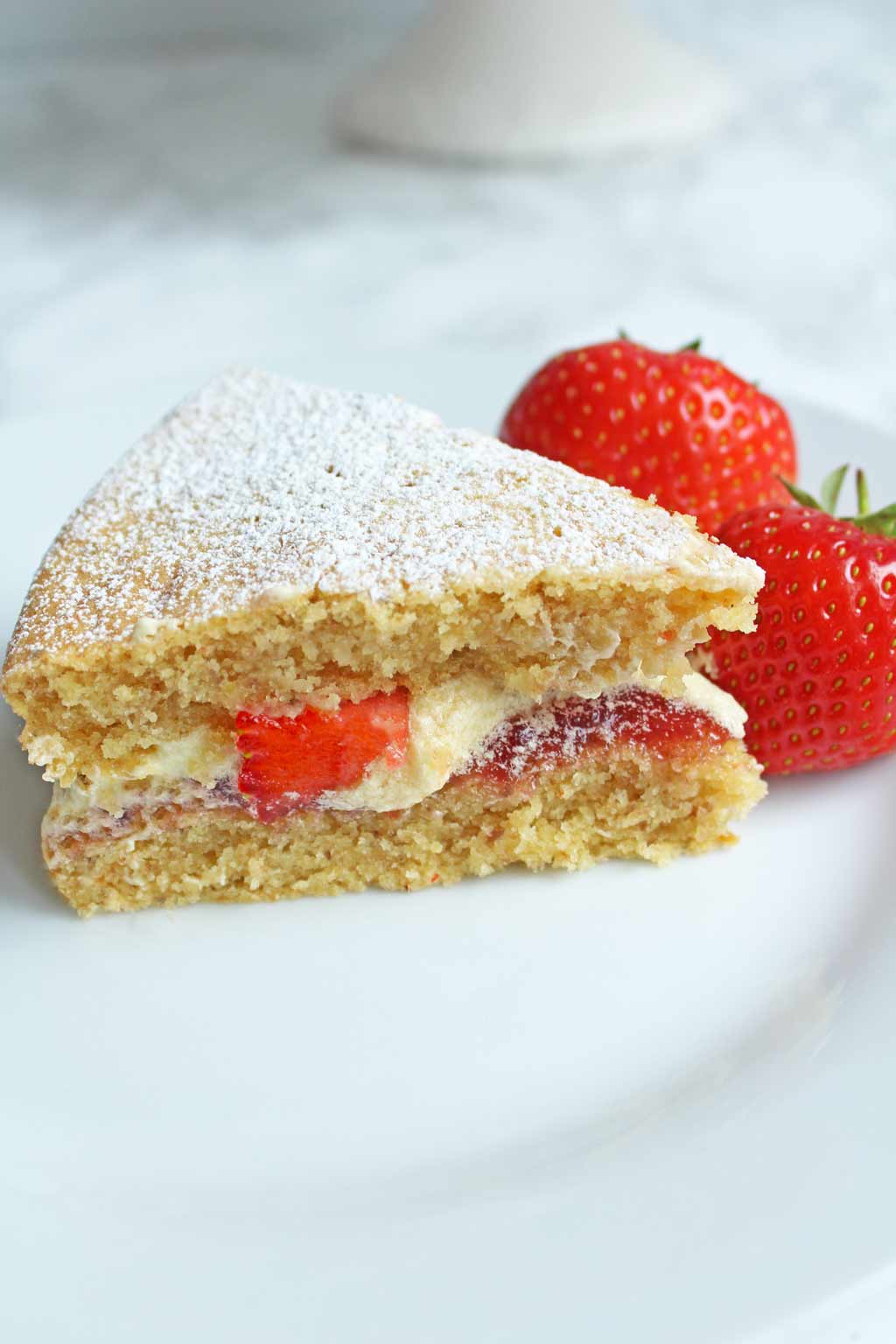 Buttercream Filling For Vegan Victoria Sponge
The only adaption I made from a classic Victoria sponge is that I used buttercream with the jam. Traditionally it's made with fresh whipped cream.
I tried using whipped coconut cream but I found the coconut taste way to be way too strong for this particular recipe. It completely overpowered the taste of the sponge cake and the jam. It tasted more like coconut cake than Victoria sponge.
I then tried to use vegan soy-based whipped cream from a can (the spray kind) but like I said earlier, it spilled out of the sides and eventually melted when I layered the cakes because it was too thin and airy. Doh!
But the buttercream held up perfectly. It tasted really nice with the jam, wasn't too overpowering and was thick enough to pipe into pretty little swirls. Win-win!
How To Make Vegan Victoria Sponge
Step 1
Preheat your oven to 180C (160C fan)/ 350F.
Grease and line two 7 inch cake tins and set aside for later.
Step 2
Now, prepare your flax "eggs" by mixing 4 tablespoons of ground flax seeds with 12 tablespoons of water. Gently stir until combined and allow it to sit for 5 minutes or so. It should become thicker and a little bit gloopy.
Using flax seeds instead of eggs will help your sponge stick together while retaining a nice amount of moisture.
Step 3
The next step to making the best vegan Victoria sponge is creaming the butter and sugar.
Mix 200g of vegan butter and 200g of caster sugar together until light and fluffy, until all of the sugar has dissolved. I used an electric whisk this time for quickness but you can also do it by hand if you want to.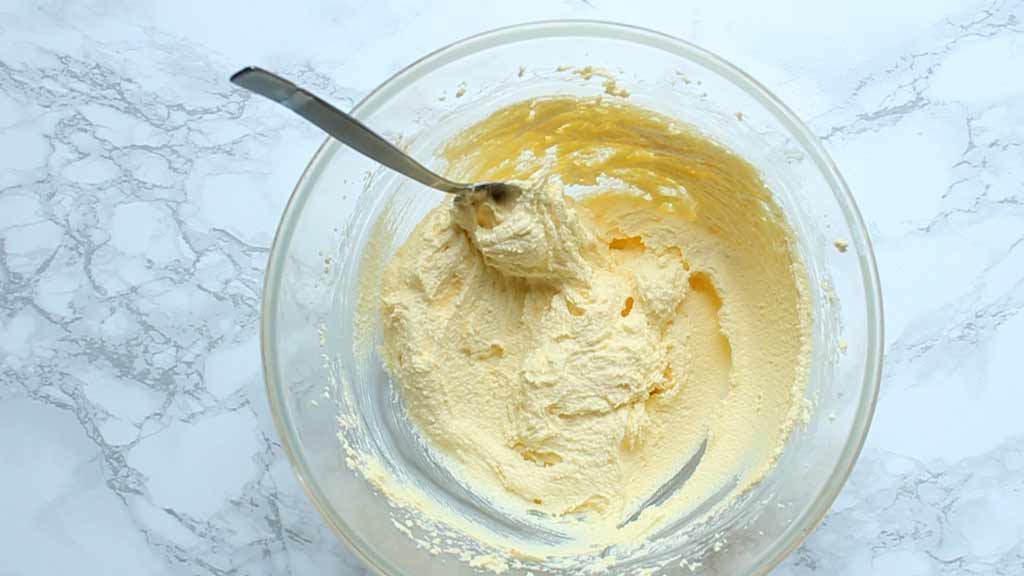 Once it's nice and pale and fluffy, add in two teaspoons of vanilla along with the flax eggs you prepared earlier and mix it all together.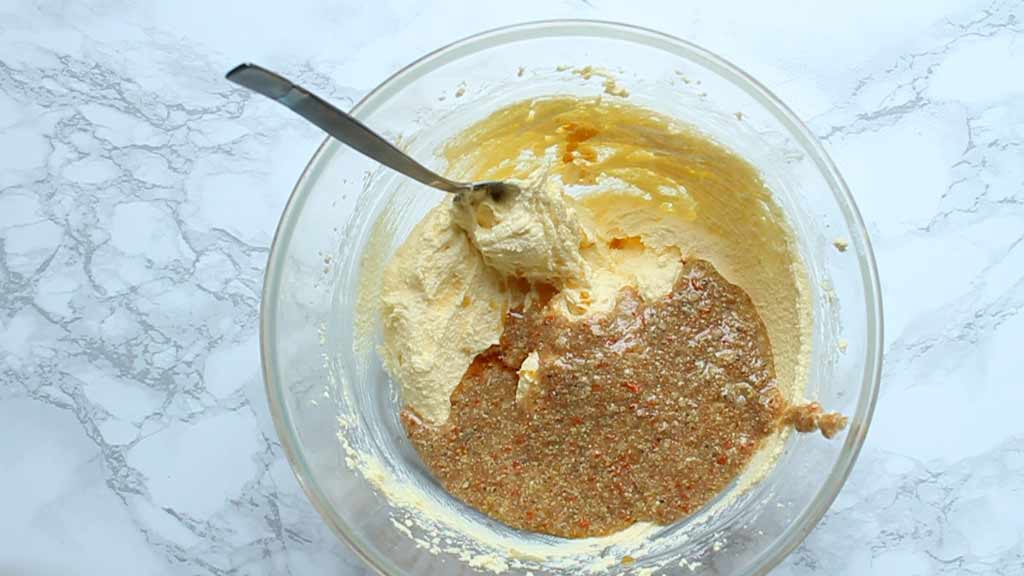 Step 4
Sift 200g of self-raising flour and two teaspoons of baking powder into the bowl. Then add 5 tablespoons of plant-based milk (any will work fine).
Fold gently, until everything is well combined and you have a smooth cake batter.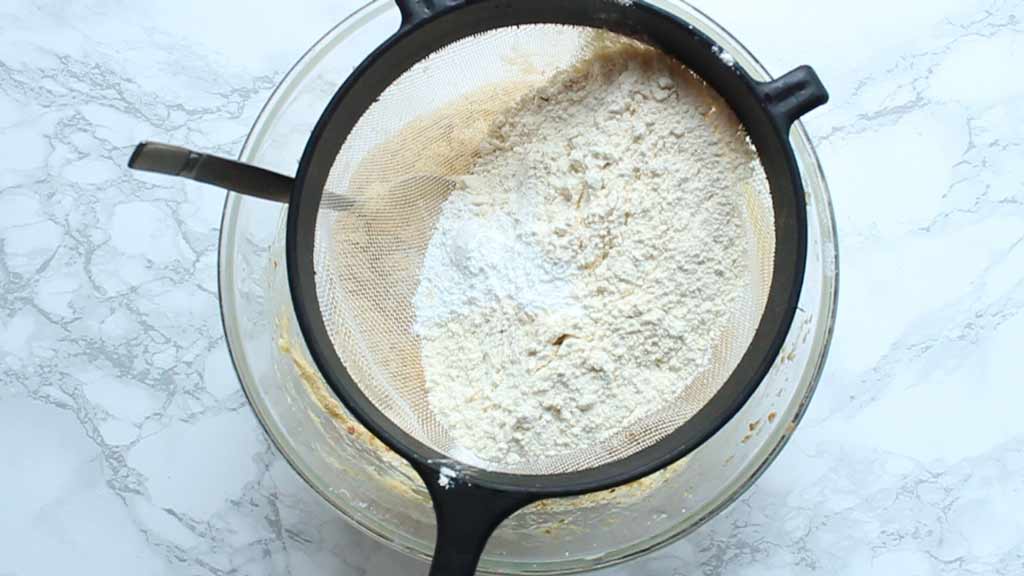 Step 5
Add half a teaspoon of white vinegar (or apple cider vinegar) to the bowl and fold it in. This will react with the raising agents in the batter to help create a fluffier sponge cake.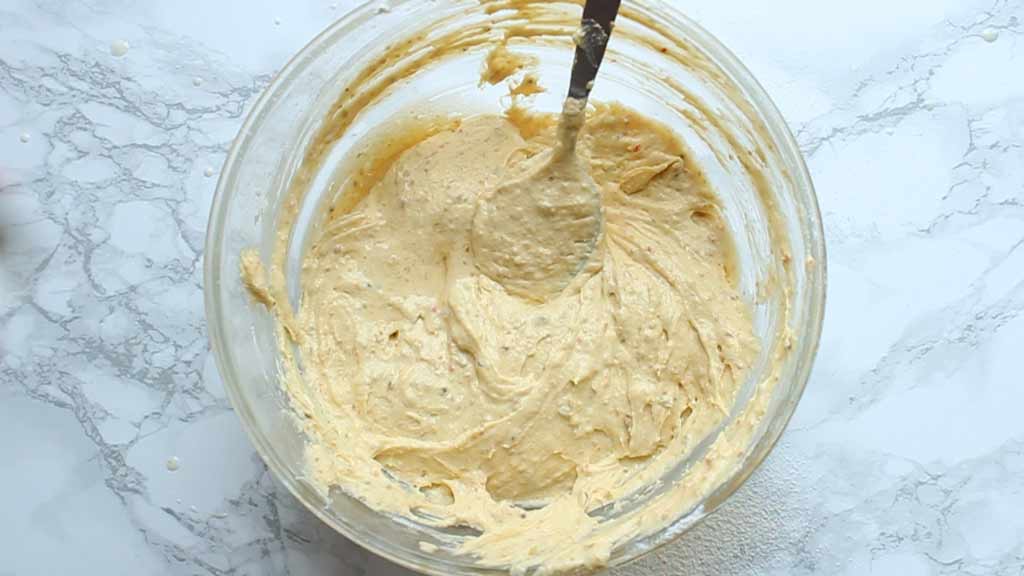 Step 6
Divide the cake batter between the two tins and use the back of a spoon or a spatula to smooth it out evenly to the edges.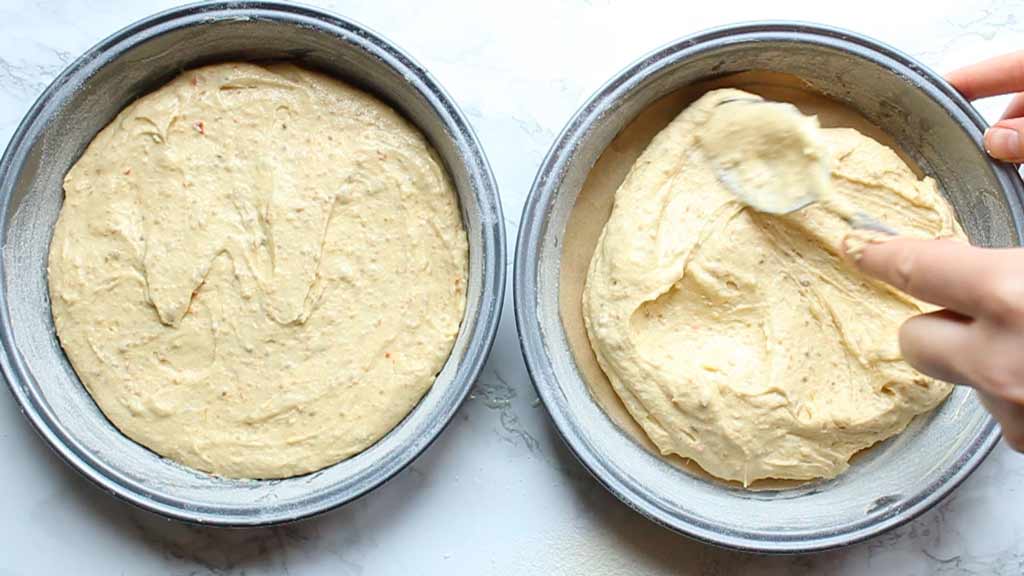 Bake for around 35 minutes until the cakes are golden brown on top. If you're unsure whether or not they're done, you can insert a toothpick through the centre of each cake, which will come out clean when they're baked properly.
Leave the cakes in the tins for 10 minutes then flip them out onto a wire rack and leave to cool completely.
Step 7
While the cakes are cooling, you can begin preparing your buttercream.
Add 250g of powdered sugar, 120g of vegan butter and 1 teaspoon of vanilla into a bowl. Mix until it starts to come together.
Add in 1 tablespoon of plant-based milk and continue mixing until a soft buttercream is formed. Add another tablespoon of milk if your buttercream is too thick.
Store it in the fridge until you're ready to use it so that it doesn't become too warm or runny.
Step 8
Place one of your cooled cakes onto a plate, with the bottom facing upwards. Spread 3-4 tablespoons of strawberry jam onto the cake.
Next, pipe or spread your buttercream on top of the jam. You can also add some slices of strawberries on top of the buttercream if you wish.
Place the second cake on top with the domed/top side facing upwards (don't worry if your "dome" isn't very high- the flatter, the better).
Step 9
Sift some powdered sugar onto the top of the cake, top with more fresh strawberries if desired, and enjoy!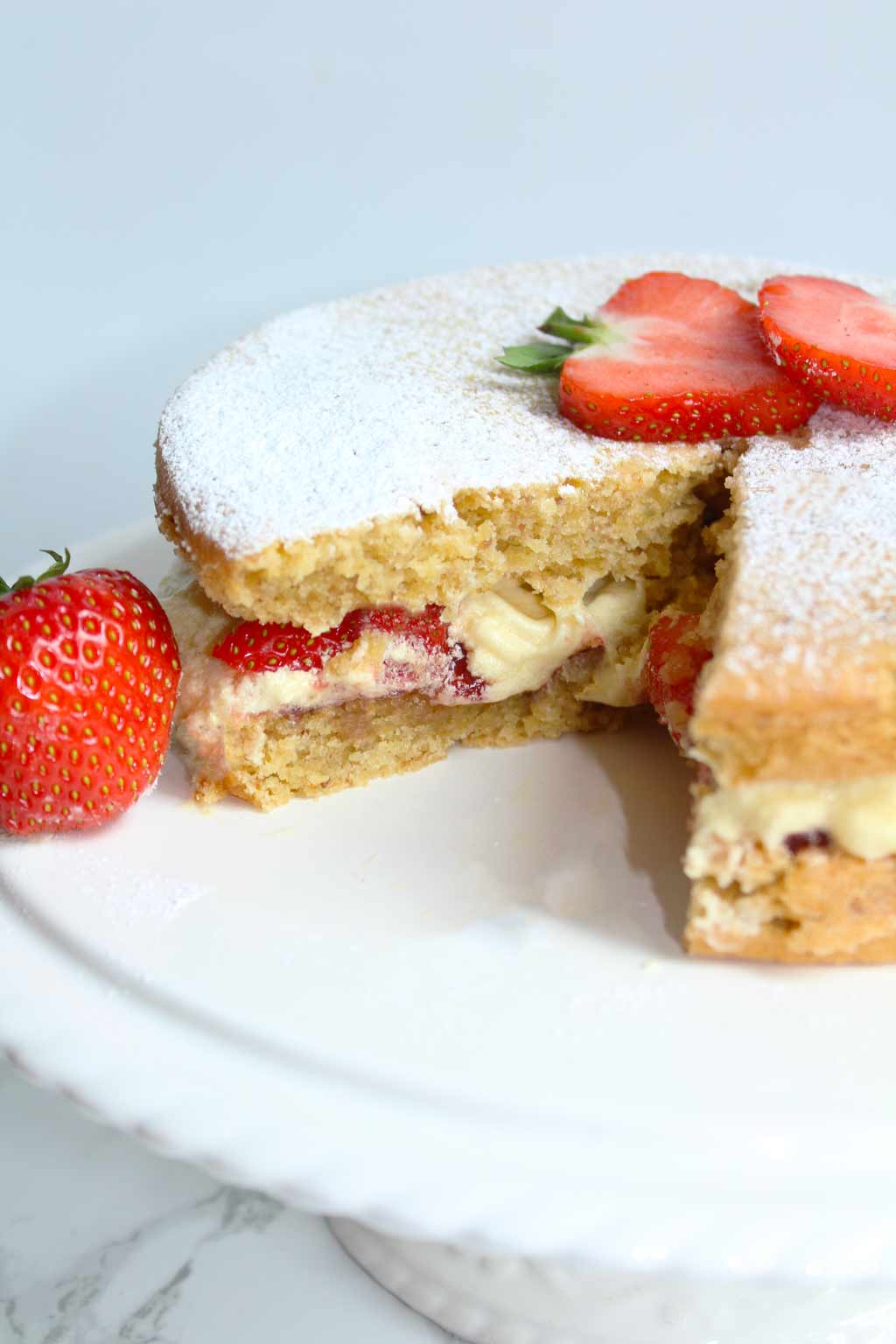 How Should I Store Vegan Victoria Sponge Cake?
This vegan Victoria sponge is best enjoyed fresh, on the same day that you bake it, but it will last another 24 hours stored at room temperature in an airtight container.
If you don't add any fresh fruit, it will last for a total of 3-4 days.
If you're planning to freeze it, I'd recommend freezing the sponge cakes only and preparing the filling on the day you plan to serve it.
To freeze the sponge cakes, allow them to cool completely then individually wrap them tightly in cling film or large ziplock bags. Defrost at room temperature for 2-3 hours then add your buttercream and jam.
Want more classic vegan cake recipes? Try these:
Let me know how you enjoy this recipe. If you make it yourself, please leave a rating below to let me know what you think.
Happy baking!
xo

Vegan Victoria Sponge Cake
A dairy-free and egg-free version of a classic British sponge cake, filled with buttercream and strawberry jam.
Keyword:
vegan victoria sponge
Ingredients
4

Tablespoons

Ground flax seeds

¾

Cup + 2 tablespoons

Vegan butter

(200g)

1

Cup

Caster sugar

(200g)

2

Teaspoons

Vanilla essence

1+½

Cups

Self raising flour

(200g)

2

Teaspoons

Baking powder

5

Tablespoons

Plant-based milk of choice

½

Teaspoon

White or apple cider vinegar
For the filling:
2

Cups

Powdered sugar

(250g)

½

Cup

Vegan butter

(120g)

1

Teaspoon

Vanilla essence

1-2

Tablespoons

Plant-based milk

3-4

Tablespoons

Strawberry jam

Handful of sliced fresh strawberries

(optional)
Instructions
Preheat your oven to 350°F / 180°C and line and grease two 7 inch cake tins.

Mix the ground flax seeds with ¾ cup (175ml) of water and set aside for 5 minutes to thicken.

Cream your vegan butter and sugar together until pale and fluffy, making sure all of the sugar is dissolved.

Add the vanilla and flax seed mixture from earlier. Mix well.

Sift in the self-raising flour and baking powder, then add the plant-based milk. Fold gently until combined, to form a smooth cake batter.

Add the vinegar and fold in.

Divide the cake batter between the two tins and bake for 35 minutes until golden brown. A toothpick through the centre should come out clean.

Leave the cakes in the tins for 10 minutes then gently flip them out onto a cooling rack and let them cool completely.
For the buttercream:
Mix the vegan butter, powdered sugar and vanilla until it starts to come together. Add in 1 tablespoon of plant-based milk and mix to form a smooth buttercream. You can add an additional tablespoon of milk if the buttercream is too thick.
To assemble:
Place one of the cakes face down on a plate or cake stand. Spread the strawberry jam over it.

Pipe or spoon your buttercream on top of the jam. Add slices of fresh strawberries on top of the buttercream if desired, then gently place your second cake on top (domed side up).

Sift a small amount of powdered sugar over the top of the cake, cut into slices and enjoy!
Recipe Notes
*Best enjoyed on the day of baking.
*If using fresh strawberries, the cake will last 24 hours in an airtight container at room temperature. Without the strawberries, it will last 3-4 days.