Vegan Sponge Cake
This vegan sponge cake is light and fluffy, and tastes just like the a traditional British sandwich cake! Filled with strawberry jam and dairy-free buttercream, it's a simple, staple cake recipe that will be loved by all!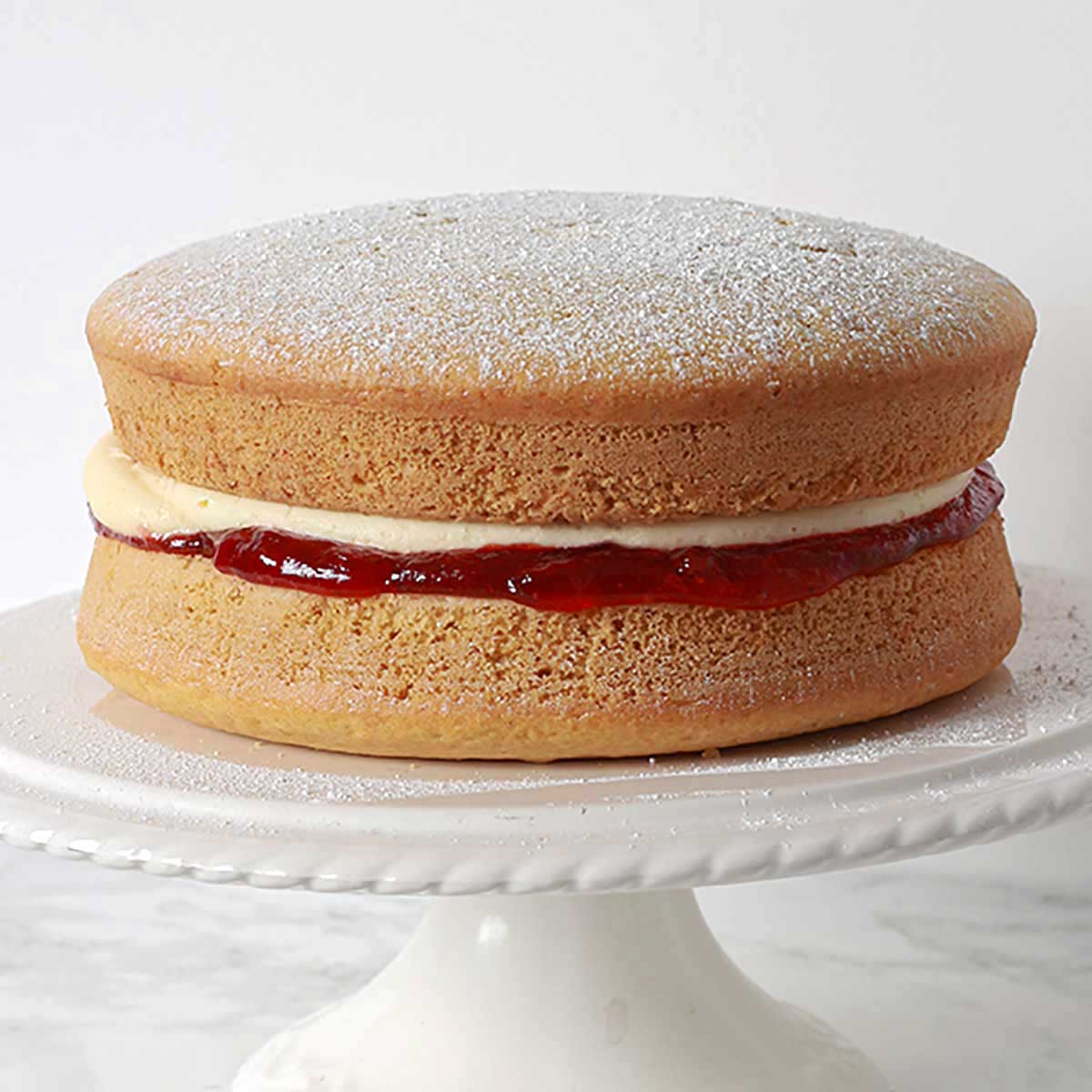 I've been meaning to update my sponge cake recipe on my blog for the longest time! And this week I finally got around to doing just that.
I always loved the taste of my original recipe but wasn't completely happy with the method or the way it looked. The addition of flax "eggs" made it more complicated than it needed to be, and altered the look of the finished product.
The all in one method
After many, MANY attempts at making a light and fluffy eggless sponge using the traditional British "creaming" method, I gave up.
I know that creaming the butter and sugar together first is supposed to create a light, fluffy sandwich cake but this method doesn't work every time for vegan desserts!
No matter how much I adjusted the ratios, I just couldn't get the cakes to taste good and hold together without the flax seeds. They always ended up too wet, dense or crumbly, or just tasted unpleasant.
I had two cakes that ended up gummy inside, two that completely fell apart after I removed them from the tin, and two that held together nicely but tasted like cardboard…
This baking malarkey can be hard sometimes!
So instead of making another 6 cakes and potentially still failing, I decided to just go back to basics and stick with my usual cake recipe. That meant using melted butter instead and basically just throwing everything else into the bowl at once.
Want more vegan cake recipes? Try these:
This vegan sandwich cake may not be made the "traditional" way but there are absolutely no flax seeds involved and the sponge cakes hold together really well. And bonus, they don't taste like cardboard! Hurrah!
This method is much easier if you're a beginner and it also results in a much tastier cake. If you're used to using pre-made cake mixes, I promise this will be just as easy.
A dairy-free filling alternative
Traditionally, this type of sponge cake is filled with strawberry or raspberry jam and whipped cream. Obviously, whipped cream contains dairy so I needed to use a vegan alternative.
I tried using my whipped coconut cream but the coconut taste was a bit too strong for this particular recipe. It overpowered the taste of the sponge cake and the jam.
Next, I tried using Elmlea's plant-based double cream but that, although delicious, spilled out of the sides when I layered the cakes. It's a great double cream alternative but was too light for this recipe.
Instead, I used a quick buttercream recipe which tasted really nice with the jam and was thick enough to hold up between the cake layers. Win-win!
How To Make Vegan Sponge Cake
Step 1
Preheat your oven to 180°C/350°F (or 160°C/325°F if you're using a fan or convection oven).
Grease and line two 7-inch cake tins and set aside.
Step 2
Prepare some vegan buttermilk by mixing together 350ml unsweetened soy milk and 1 tablespoon of apple cider vinegar. Let it sit for 5 minutes or so and it'll curdle slightly.
You can switch to another plant-based milk if you'd prefer but I have had best results using soy. You can substitute the apple cider vinegar for white vinegar or lemon juice instead.
Set the buttermilk aside.
Step 3
The next step is to mix your dry ingredients.
To a large bowl, add 400g of self-raising flour and 225g of caster sugar*. Mix it all together using a wooden spoon. If you don't have self-raising/self-rising flour to hand, you can use all-purpose flour instead and add 2 teaspoons of baking powder to it.
*Caster sugar is also known as superfine sugar. It can be substituted for granulated sugar but may result in a slightly more grainy texture.
Step 4
Melt 200g of vegan margarine in the microwave or on the stove.
Add the melted margarine to the dry mixture along with 2 teaspoons of vanilla extract and the buttermilk that you made earlier. Mix everything together really well and make sure there are no lumps of flour sticking to the bottom of the bowl.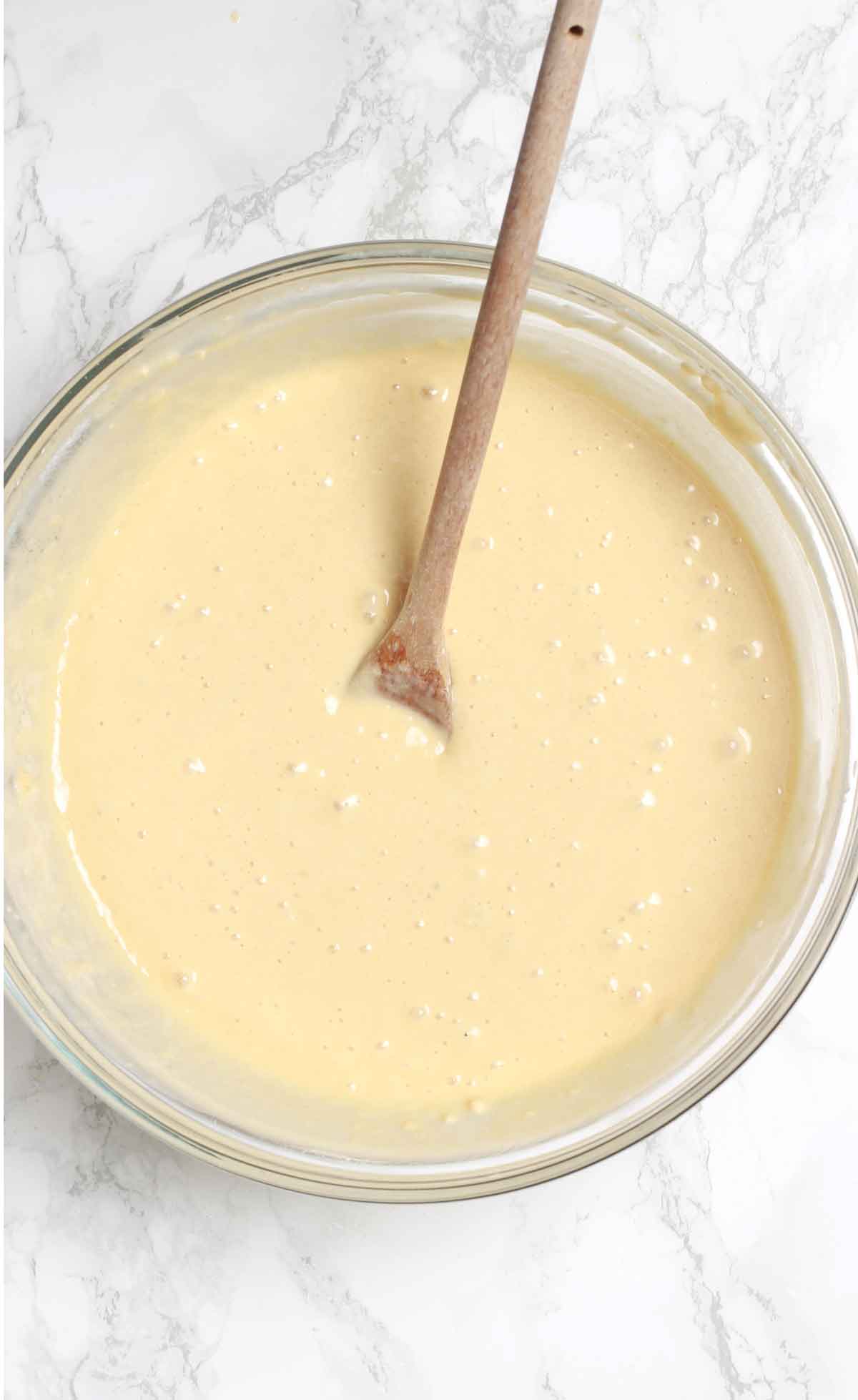 Step 5
Divide the cake batter between the two lined tins and use the back of a spoon or a spatula to smooth it out evenly to the edges.
Step 6
Bake for 25-30 minutes, or until a toothpick through the centre comes out clean.
Leave the cakes in the tins for 10 minutes then flip them out onto a wire rack, remove the paper lining from the bottom and leave them to cool completely.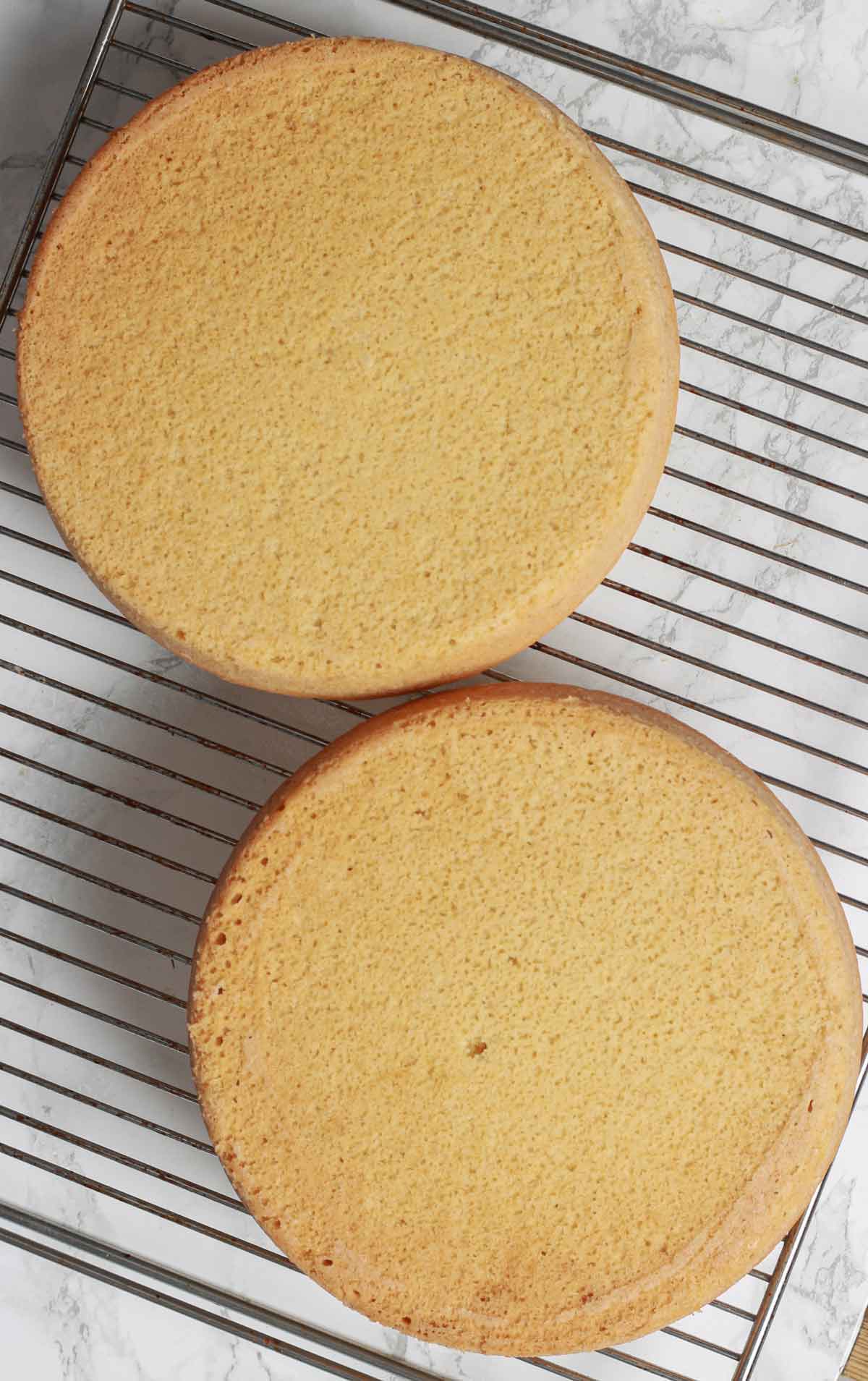 Step 7
While the cakes are cooling, you can begin preparing your buttercream. If you prefer something lighter and don't mind a coconut flavour, you can use whipped coconut cream instead.
To a large bowl, add 100g of vegan margarine and mix it gently to soften it. Measure out 250g of icing sugar and add it to the bowl, mixing it in a little bit at a time.
If your buttercream is too stiff, you can add a splash of plant-based milk to help loosen it. If it's too soft, you can just add more icing sugar.
Finally, add 1 teaspoon of vanilla for extra flavour. Mix well.
Step 8
Measure out 200g of strawberry jam and beat it in a small bowl to loosen it.
Step 9
Place one of your cooled cakes onto a plate or cake stand. You can place it upside-down or you can level it out with a knife.
Spread the jam onto it then gently spread the buttercream icing on top. I find it's easier to pipe the buttercream on top of the jam so they don't bleed into one another. Make sure to leave a small gap around the edges so that the filling doesn't spill out too much.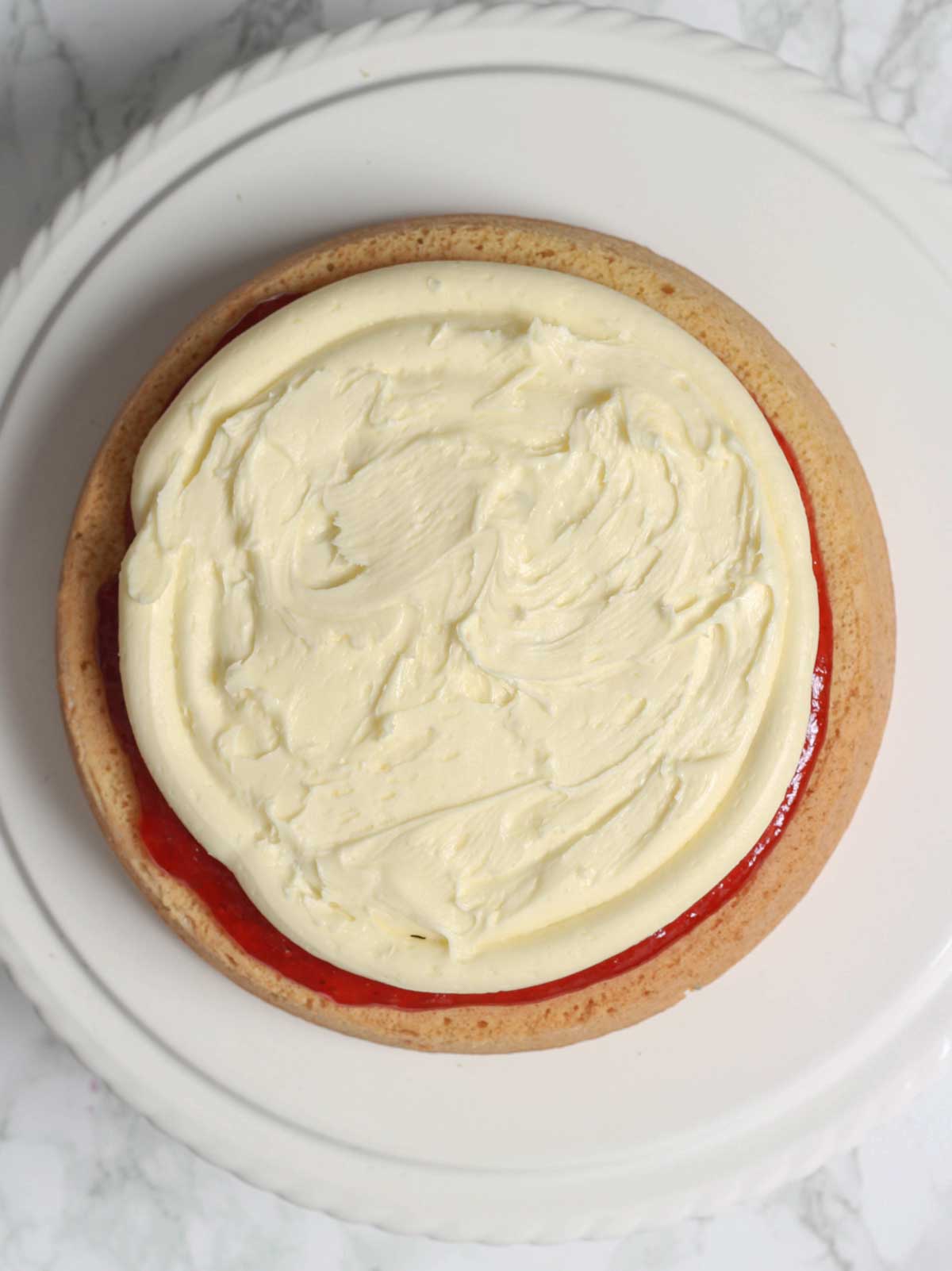 Step 10
Place the second cake on top of the buttercream then use a sieve to cover the top with a light dusting of icing sugar.
Check out more British dessert recipes:
FAQ:
How should vegan sponge cake be stored?
This eggless sandwich cake is best enjoyed fresh, on the same day that you bake it, but it will last around 3 days if stored in an airtight container. It holds up well at room temperature but can also be stored in the fridge.

If you add vegan cream of any sort to the filling instead of the buttercream, I'd recommend serving it on the same day that you make it. After a day or so, the cream will make the sponge layers soggy.

Can I freeze Victoria sponge?
Yes! I'd recommend freezing the sponge cakes only and preparing the filling on the day you plan to serve it.

To freeze the sponge cakes, allow them to cool completely then wrap them individually in cling film or place them in separate airtight containers. Defrost at room temperature then add your buttercream and jam. Do not refreeze.
Will this recipe work with gluten-free flour?
I am not sure as I have never tested this particular recipe with anything other than self-raising flour. Sadly, with vegan baking, it's usually not just as straight forward as a 1:1 swap for regular flour. I would recommend using a cake recipe that's already been tested with gluten-free flour, such as my lemon drizzle cake.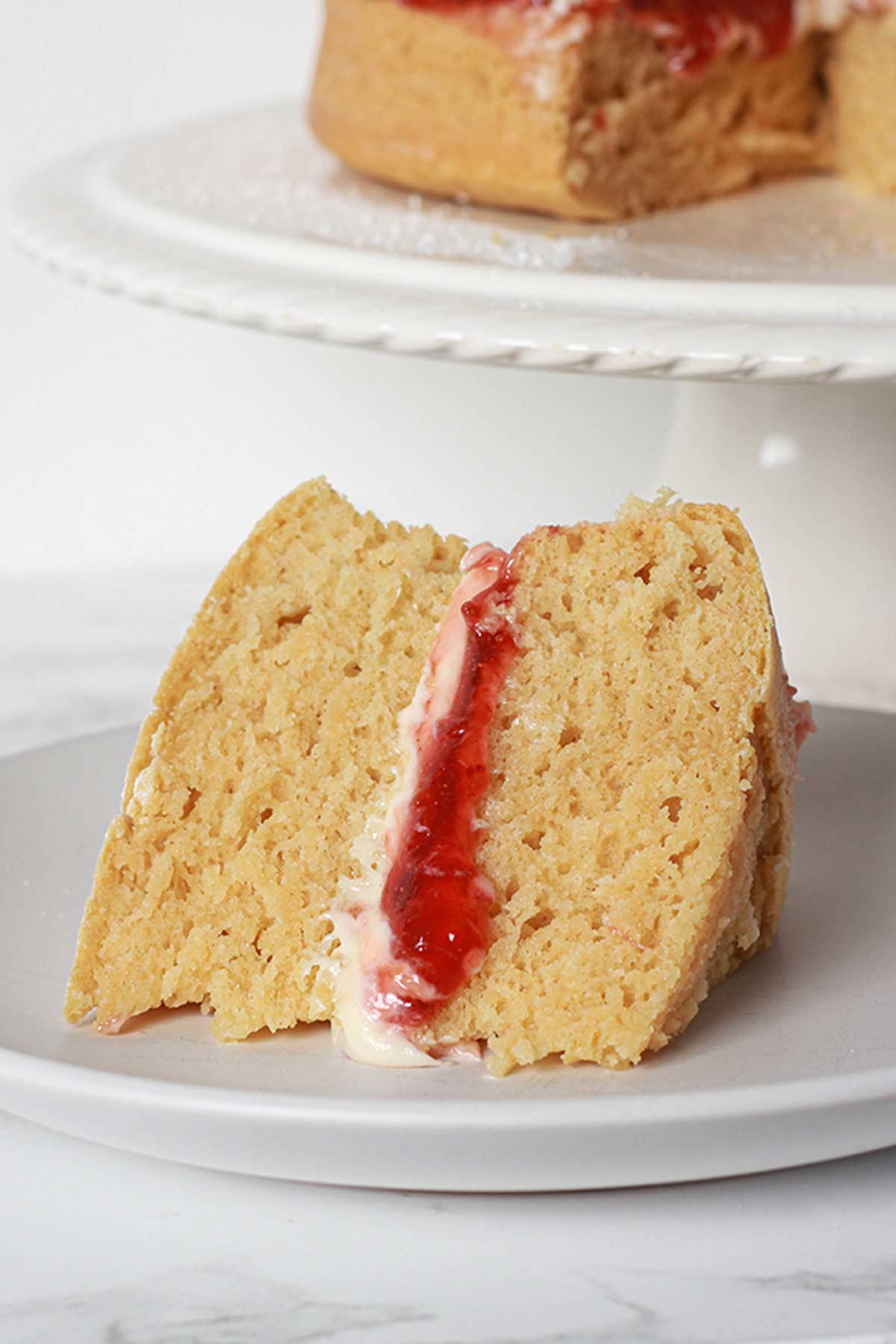 Let me know how you enjoy this vegan sponge cake recipe! If you make it yourself, please leave a comment and rating below to let me know how you get on. Happy baking! xo

Vegan Sponge Cake
A vegan sandwich cake, filled with dairy-free buttercream and strawberry jam.
Ingredients
350

ml

Unsweetened soy milk

1

Tablespoon

Apple cider vinegar

(sub for white vinegar or lemon juice)

400

g

Self-raising flour

225

g

Caster/superfine sugar

200

g

Vegan margarine, melted

2

Teaspoons

Vanilla extract
For the filling:
100

g

Vegan margarine

250

g

Icing sugar

(plus extra for dusting)

1

Teaspoon

Vanilla extract

200

g

Strawberry jam
Instructions
Preheat your oven to 180°C (160°C if you're using a fan oven). Line and grease two 7-inch cake tins.

Mix the soy milk and vinegar together and set aside to thicken. This will act as vegan buttermilk.

In a large bowl, mix together the flour and caster sugar.

Add the melted margarine to the bowl, along with the vanilla extract and your vegan buttermilk. Mix well using a wooden spoon, making sure there is no dry mixture stuck to the bottom of the bowl.

Divide the cake batter between the two tins and bake for 25-30 minutes. A toothpick through the centre will come out clean when they're ready. Baking time will vary if you use larger/smaller tins.

Leave the cakes in the tins for 10 minutes then gently flip them out onto a cooling rack and let them cool completely.
For the buttercream:
Add the margarine to a bowl and gently mix, to soften it a little. Add the icing sugar, a little bit at a time then stir in the vanilla extract. You can add a splash of soy milk if the buttercream is too thick or add more icing sugar if it's too soft.
To assemble:
Place the first cake layer upside-down on a plate or cake stand (or level it out with a knife). Mix the strawberry jam to loosen it, then spread it over the cake.

Pipe or spoon your buttercream on top of the jam and use a palette knife to smooth it out, leaving a small gap around the edges to prevent it from spilling out. Gently place the second cake layer on top, right side up.

Sift a small amount of icing sugar over the top of the cake, cut into slices and enjoy!
Recipe Notes
Best enjoyed on the day of baking. Will last around 3 days if stored in an airtight container.
Instead of buttercream, you can use whipped coconut cream if you don't mind the flavour. Store the cake in the fridge and eat it within 24 hours if you use cream of any kind.
Nutrition Facts
Vegan Sponge Cake
Amount Per Serving (1 slice)
Calories 430
Calories from Fat 126
% Daily Value*
Fat 14g22%
Sodium 127mg6%
Carbohydrates 71g24%
Protein 4g8%
* All values are an estimate only and will vary depending on the food brands used.
BakedByClo is a participant in the Amazon Services LLC Associates Program, an affiliate advertising program designed to provide a means for sites to earn advertising fees by advertising and linking to Amazon.com. This site may contain some of these links to Amazon.com & other affiliate programs. If you make a purchase through one of those links, BakedByClo will receive a small commission from the purchase at no additional cost to you.