Vegan Gluten-Free Lemon Muffins
These vegan gluten-free lemon muffins are perfect for those who can't eat wheat. They're just as delicious, fluffy and zesty as regular muffins, with a drizzle of icing on top for extra sweetness. An easy bake that's perfect for beginner gluten-free bakers.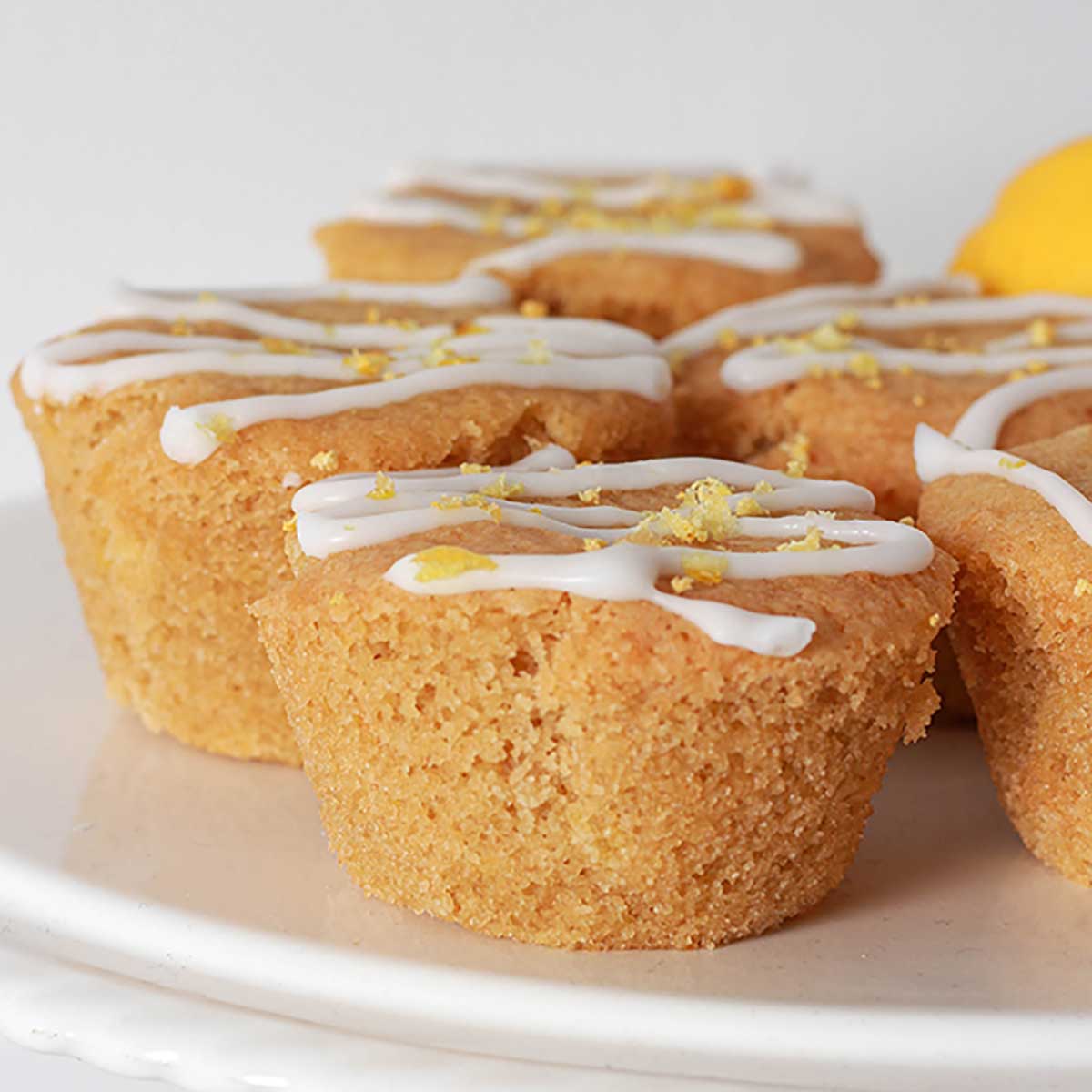 A month or two ago, I received a couple of emails from readers, asking for more gluten-free dessert recipes.
I have posted a couple of gluten-free desserts on my blog in the past and I have many that are accidentally gluten-free, like macarons, flapjacks and pavlova. But I have to admit, gluten-free baking on purpose is NOT my strong point. So it is something I've been trying to get better at!
Previously, I haven't had much luck using things like coconut or almond flour (unless you count hockey-puck-like cakes as a success) so I usually prefer to stick to a gluten-free flour blend.
That seems to produce the most reliable results for me but I do find the flavour a little overpowering. For this reason, I decided to make lemon muffins because lemon is a strong flavour. I was correct in thinking that it'd do a good job of masking the taste of the flour!
I used my gluten-free lemon drizzle cake recipe to make these muffins, with a few tweaks to make the sponge sturdier. I'm really happy with how they turned out and I hope that you will love them too!
Ingredients you'll need for this recipe
Soy milk. I recommend using unsweetened, organic soy milk because it produces a really creamy buttermilk when mixed with the lemon juice. The buttermilk is what will keep the muffins moist and also helps them to rise a little bit more. I have not tested this recipe with any other types of plant-based milks so I can't say for certain if they will work.
Lemon juice. To help create the buttermilk, as noted above.
Gluten-free self-raising flour. For this recipe, I used Dove's Farm gluten-free self raising blend. I highly recommend using this one if you can as it will give the most accurate results. If you can't, make sure your blend contains xanthan gum, as this will prevent crumbly muffins!
Bicarbonate of soda (a.k.a. baking soda). Gives the flour a boost to help the muffins rise. Is bicarbonate of soda gluten-free?
Sugar. I used a combination of caster sugar and soft light-brown sugar.
Vegan margarine. You'll need to use the spreadable type of vegan 'butter' here, not the blocky type, which contains less water and will result in drier muffins. I recommend using Vitalite.
Vanilla extract. For flavour and to help mask the gluten-free flour taste.
Lemon zest. This is the main flavour in this recipe. I use about 1/2 a lemon worth of zest per 6 muffins.
Icing sugar. Mix some icing sugar with a little bit of lemon juice to create an icing drizzle, which will add extra flavour and sweetness. It also makes the muffins look super cute!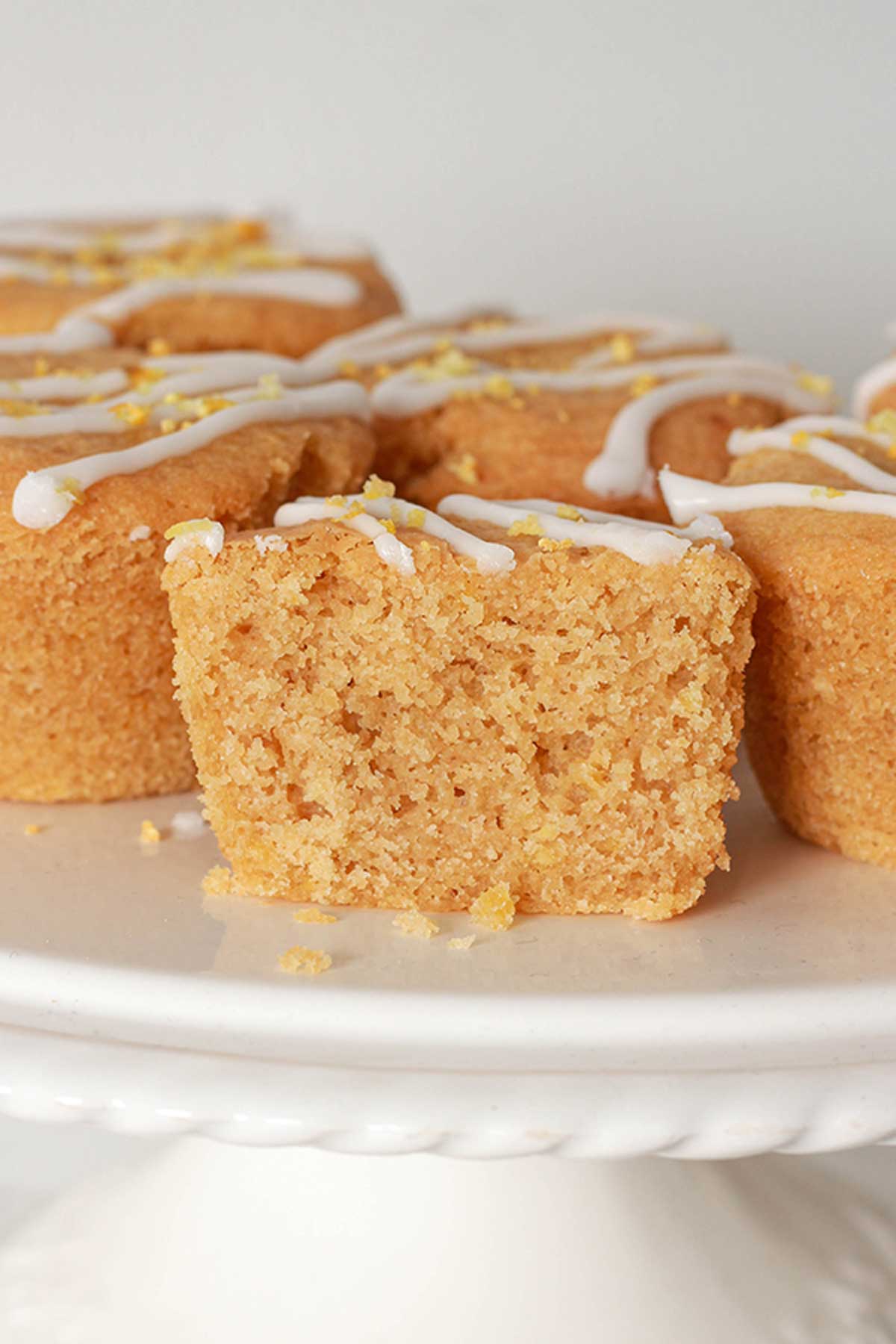 More gluten-free vegan desserts:
How to make vegan gluten-free lemon muffins
Step 1:
Preheat your oven to 180°C/350°F (or 160°C/325°F for fan or convection ovens). Line a muffin pan with 6 muffin liners.
Step 2:
Add 125ml of unsweetened soy milk and 1/2 a tablespoon of fresh lemon juice to a small bowl or mug. Mix it briefly with a whisk or fork and set it aside for 5 minutes or so to thicken- it should curdle slightly. This will act as your vegan buttermilk and will help to keep the muffins moist.
Step 3:
To a large bowl, add 190g of gluten-free self-raising flour blend, 1/4 teaspoon of bicarbonate of soda, 90g of caster sugar and 65g of soft light brown sugar. Mix together briefly, ensuring there are no lumps in there.
Step 4:
Measure out 115g of vegan margarine (the spreadable one) and pop it in the microwave in 10-second bursts until melted.
Step 5:
Add your vegan buttermilk to the bowl along with the melted margarine and 1/2 a teaspoon of vanilla extract. Mix well until you have a smooth batter, making sure to scrape the bottom of the bowl so there are no dry bits leftover.
Add the zest of half a lemon and gently fold it into the batter.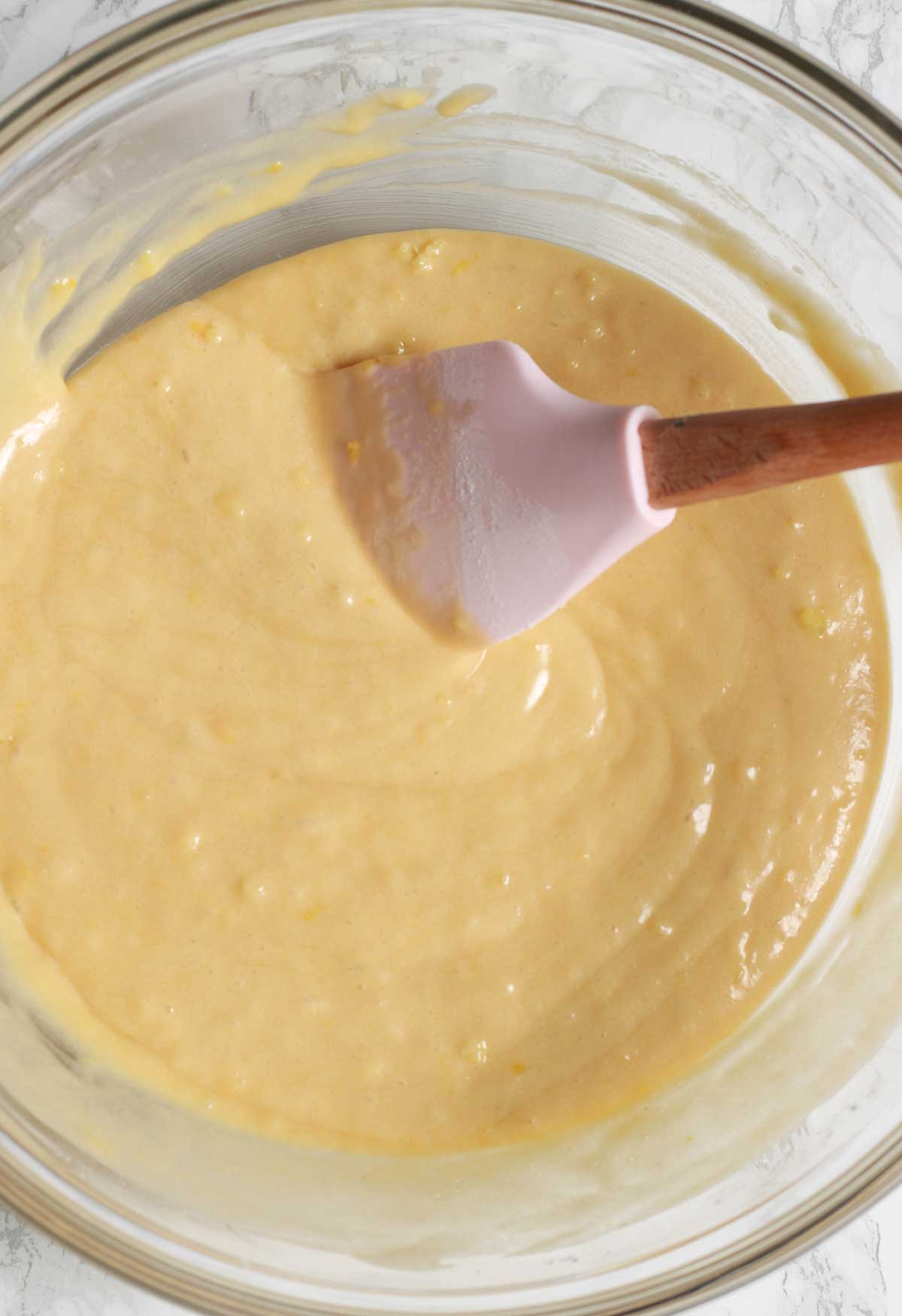 Step 6:
Divide your muffin batter equally between the 6 muffin liners. I used a piping bag with the end snipped off to help me do this- it was much quicker and neater!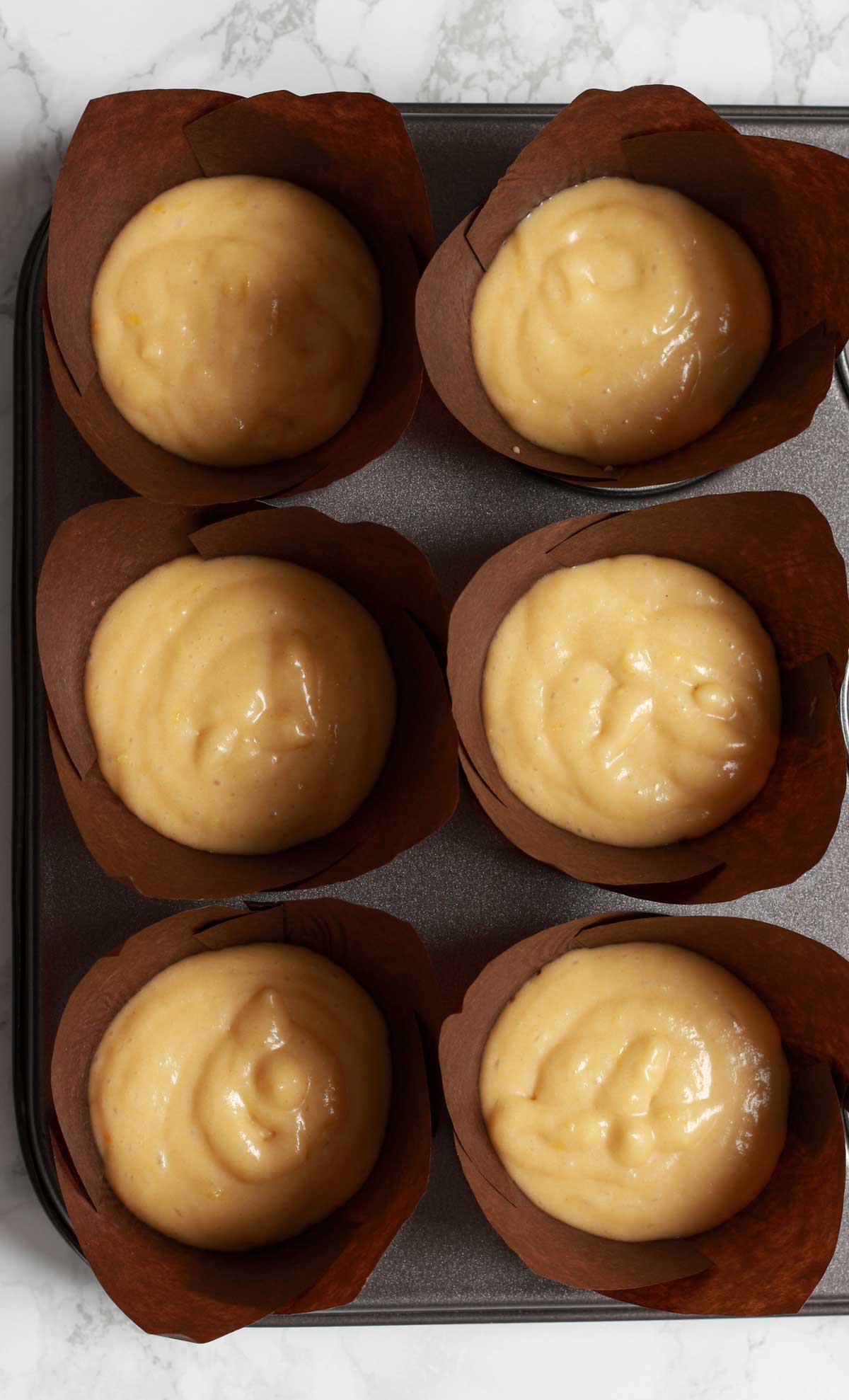 Bake the muffins for 20-30 minutes. The baking time will depend on how big your muffin cases are but you'll know there ready when you can stick a toothpick or knife through the centre without any batter sticking to it.
Step 7:
Let the muffins cool in the tin for 10 minutes or so, then transfer them to a wire rack and leave to cool completely.
Step 8:
Once the muffins have cooled down, you can prepare the lemon drizzle.
In a medium-sized bowl, mix together 125g of icing sugar and 1 tablespoon of fresh lemon juice. If you want thicker icing, just add more icing sugar and if you want it thinner, add more lemon juice or water.
Step 9:
Use a small spoon or piping bag to drizzle some of the icing on top of each cooled muffin. Top with extra lemon zest if desired and enjoy!
FAQ:
What is the best gluten-free flour to use?
I recommend Dove's Farm gluten-free self-raising flour blend for this recipe. This is the blend that I used so it will give the most accurate results. I haven't experimented much with other types of gluten-free flour so I cannot guarantee that they will work. If you do want to test using a different flour blend, make sure to double check that it has xanthan gum in it, as this will prevent your muffins from falling apart.
How should gluten-free lemon muffins be stored?
Keep them in an airtight container at room temperature for up to 2 days. I recommend lining your container with some kitchen towel, which will keep them tasting fresher for longer.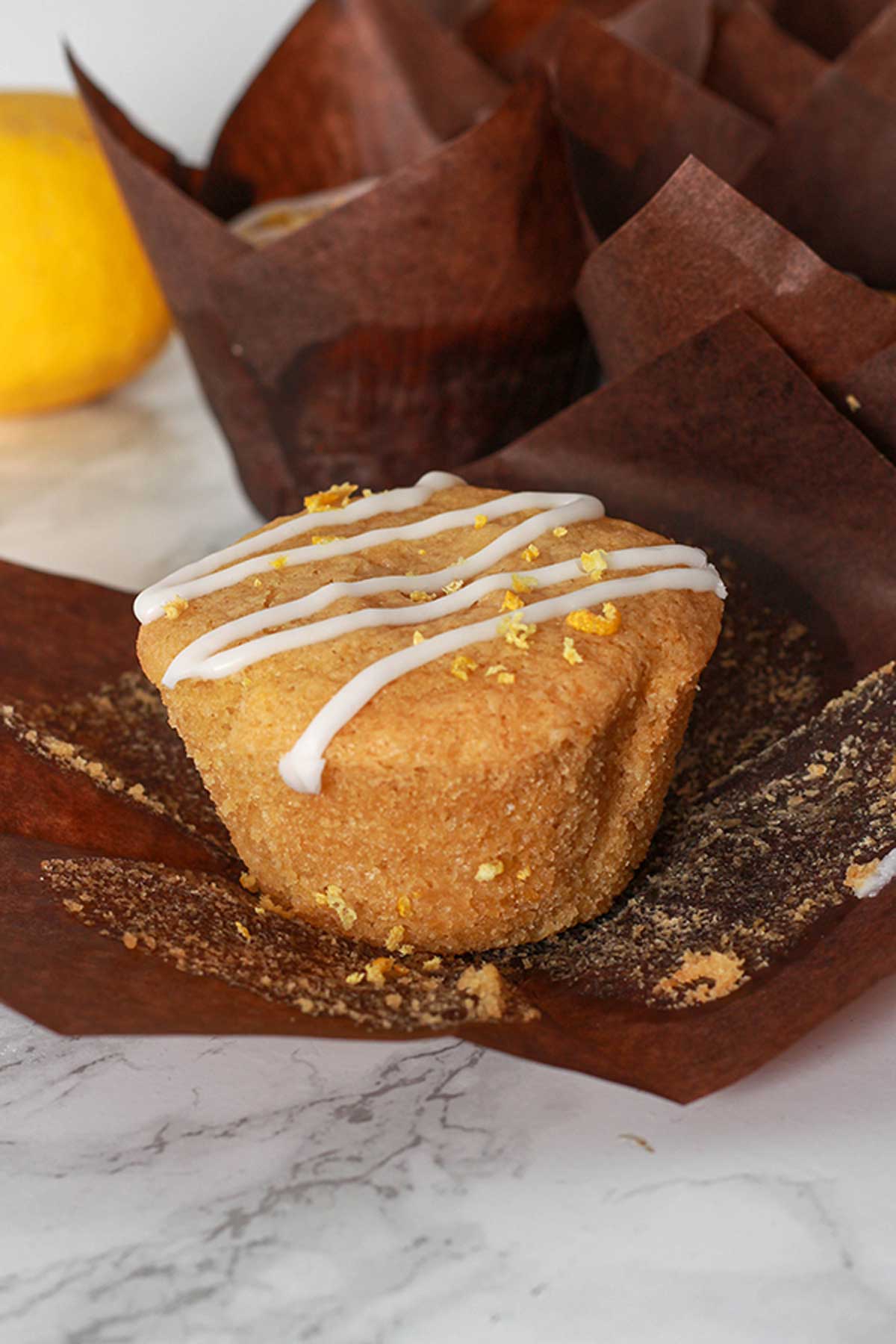 That's all for now! I hope you enjoy these vegan gluten-free lemon muffins. If you make them at home, please let me know how you get on by leaving a rating and/or comment below. Happy baking! xo

Vegan Gluten-Free Lemon Muffins
Lemon drizzle muffins that are dairy-free, eggless and gluten-free!
Ingredients
125

ml

Unsweetened soy milk

½

Tablespoon

Fresh lemon juice

¼

Teaspoon

Bicarbonate of soda

65

g

Soft light brown sugar

90

g

Caster sugar

115

g

Vegan margarine, melted

½

Teaspoon

Vanilla extract

Zest of

½

Lemon

(plus extra for decoration if desired)
For the icing:
125

g

Icing sugar

1

Tablespoon

Fresh lemon juice
Instructions
Preheat your oven to 180°C/350°F (or 160°C/325°F if you're using a fan or convection oven). Line a muffin tin with 6 muffin cases.

Mix the soy milk and lemon juice together and set aside for 5 minutes. This will act as your vegan buttermilk.

In a large bowl, mix together the flour, bicarbonate of soda, brown sugar and caster sugar.

Add the buttermilk to the bowl, along with the melted margarine and vanilla extract.

Divide the muffin batter equally between your 6 cases and bake for 20-30 minutes. Baking time will depend on the size of your muffin liners, but you can tell they're done when a toothpick through the middle comes out clean.

Transfer the muffins to a wire rack until completely cool.
Icing:
Mix the icing sugar and lemon juice together until smooth. Add more icing sugar if you want it to be thicker, or more lemon juice if you want it to be runnier.

Drizzle a small amount of icing over each cooled muffin. Sprinkle with extra lemon zest.

Let the muffins sit at room temperature until the icing has set then enjoy!
Recipe Notes
Store in an airtight container at room temperature for up to 2 days.
Nutrition Facts
Vegan Gluten-Free Lemon Muffins
Amount Per Serving (1 muffin)
Calories 399
Calories from Fat 99
% Daily Value*
Fat 11g17%
Sodium 257mg11%
Carbohydrates 72g24%
Protein 2g4%
* All values are an estimate only and will vary depending on the food brands used.
BakedByClo is a participant in the Amazon Services LLC Associates Program, an affiliate advertising program designed to provide a means for sites to earn advertising fees by advertising and linking to Amazon.com. This site may contain some of these links to Amazon.com & other affiliate programs. If you make a purchase through one of those links, BakedByClo will receive a small commission from the purchase at no additional cost to you.