These vegan double chocolate chip cookies are soft, chewy and chunky. They taste just like the cookies that come fresh from the bakery!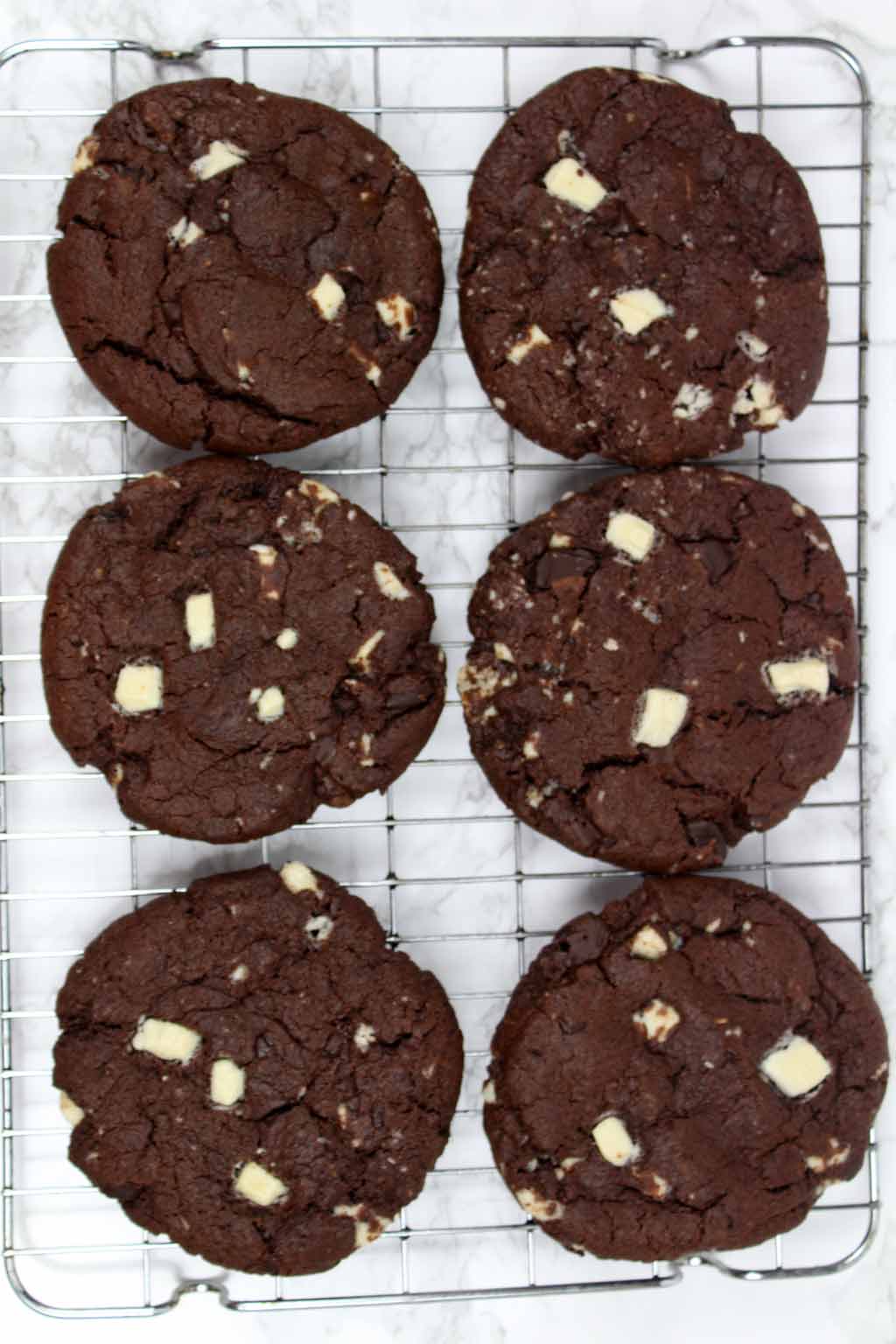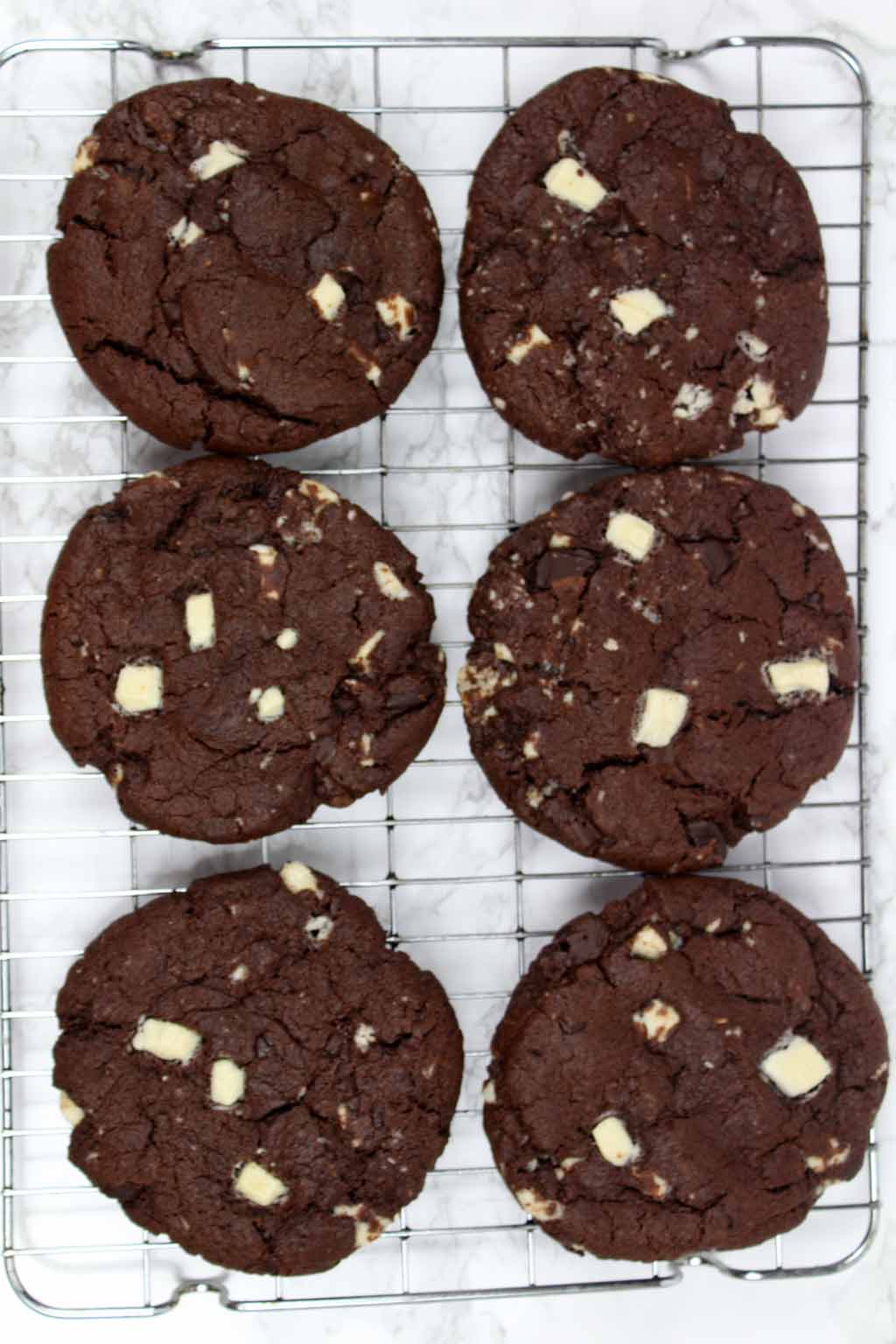 Does anyone else go through random spells of having the memory of a goldfish? Because me too.
I had originally planned to post this double chocolate chip cookies recipe last week. I bake the cookies, filmed a video and took lots of pictures of the finished product.
And then I lost my memory card. Or at least I misplaced it because I have no idea if I stashed it somewhere or dropped it outside on the street.
One minute I was thinking to myself "don't put it there because you might forget about it" and the next I was turning the house upside down and calling the café I had visited earlier to see if anyone had handed it in.
So, I can safely assume that it's either still in some super secret "safe" place in my house or lying on the street somewhere.
If it is on the street and anyone happens to find it, I hope you enjoy the video clips on it of me singing out loud as I folded chocolate chips into the cookie dough.
ANYWAYS…
After that escapade, I got myself a new memory card and decided to film the whole thing again. Because these cookies are TOO good for me not to share.
They are super soft and chewy, with big chunks of white and dark chocolate inside. They remind me a lot of the freshly-made cookies you get from bakeries.
I have to warn you that these cookies are not for the faint of heart! They are very large and very indulgent.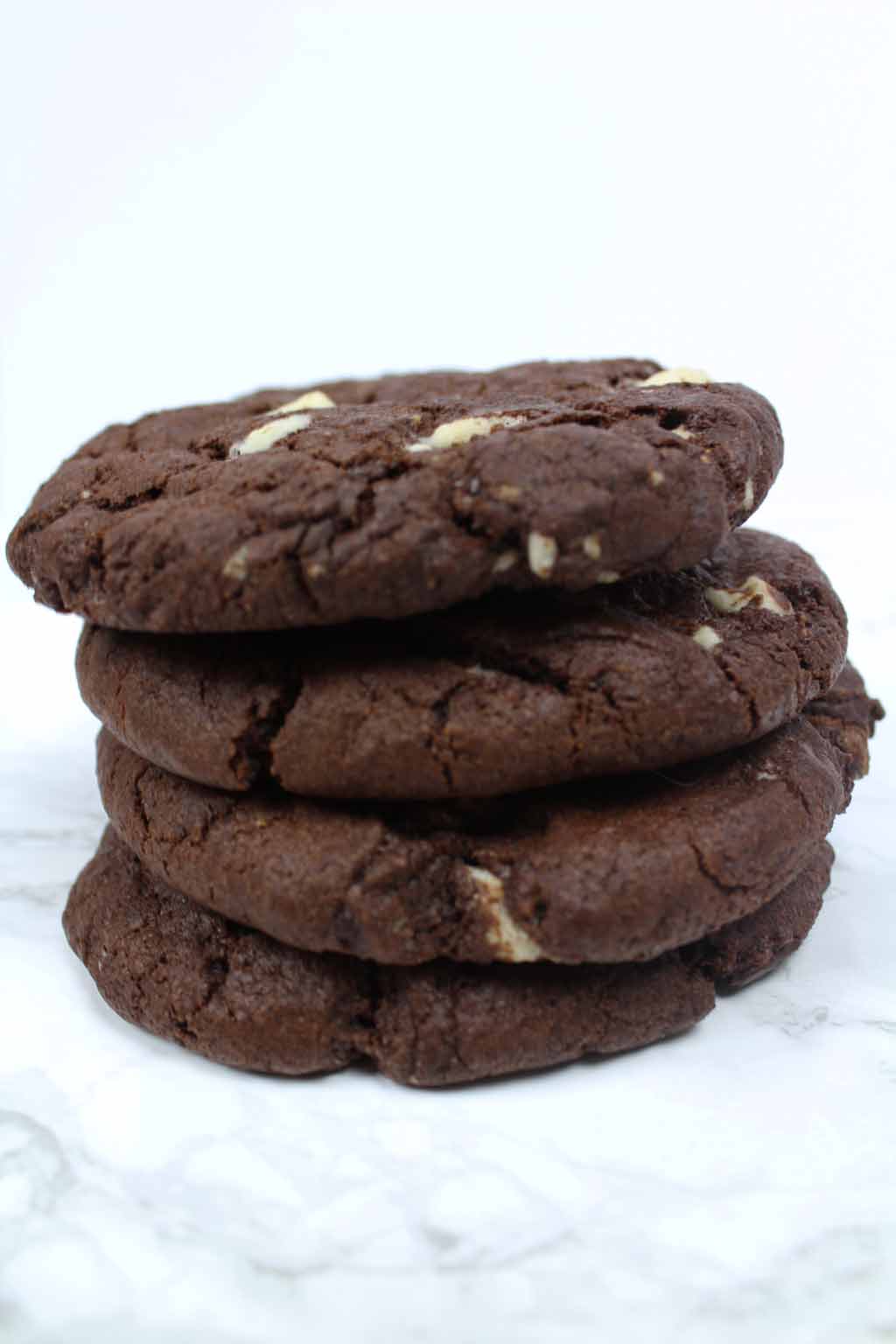 Double Chocolate Chip Cookies Without Eggs or Dairy
I used to make these cookies all the time before I went vegan. I wondered what they would taste like if I veganised them and I'm glad to say that they taste exactly the same!
They still have that classic bakery style "chewiness" to them- turns out the dairy and eggs were totally unnecessary. Instead, I used dairy-free butter and milk replacements, and flax seeds in place of eggs.
What Makes These Double Chocolate Chip Cookies Chewy?
Using a little bit of brown sugar mixed in with the white will help provide chewiness to your cookies due to the increased moisture brown sugar contains.
A chewy cookie also heavily relies on a shorter baking time. These double chocolate chip cookies will look under-baked and might be a bit wobbly when they come out of the oven. But they'll soon firm up as they cool, resulting in a soft and chewy cookie.
What Chocolate Should I Use?
You can use any chocolate you like. Dark, milk or white will all taste lovely in this recipe. I used vegan white and dark chocolate.
I personally prefer cutting up bars of my favourite chocolate instead of using small chocolate chips from a bag. This allows me to get really chunky chocolate pieces throughout, which is great because these cookies are very large and chunky themselves!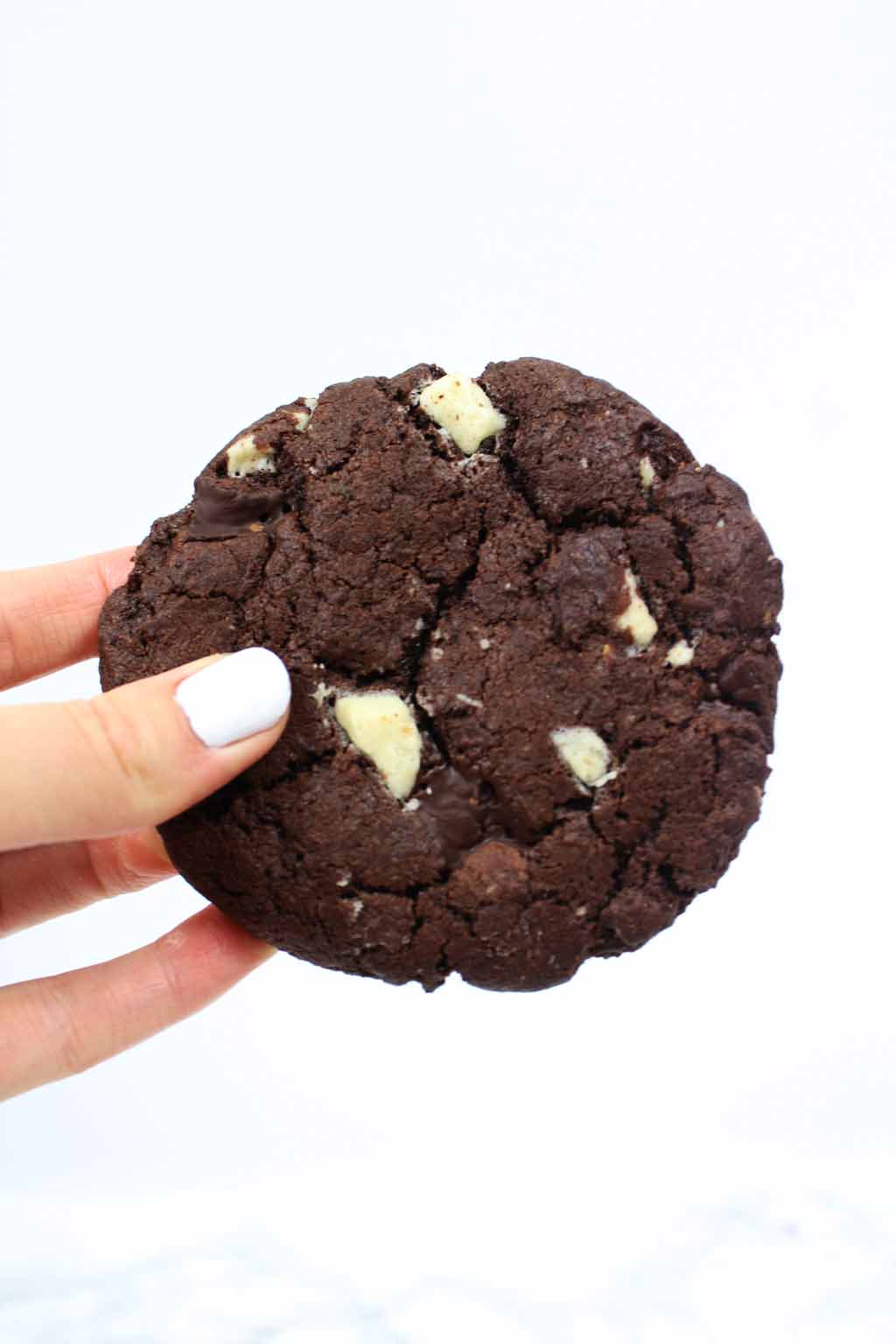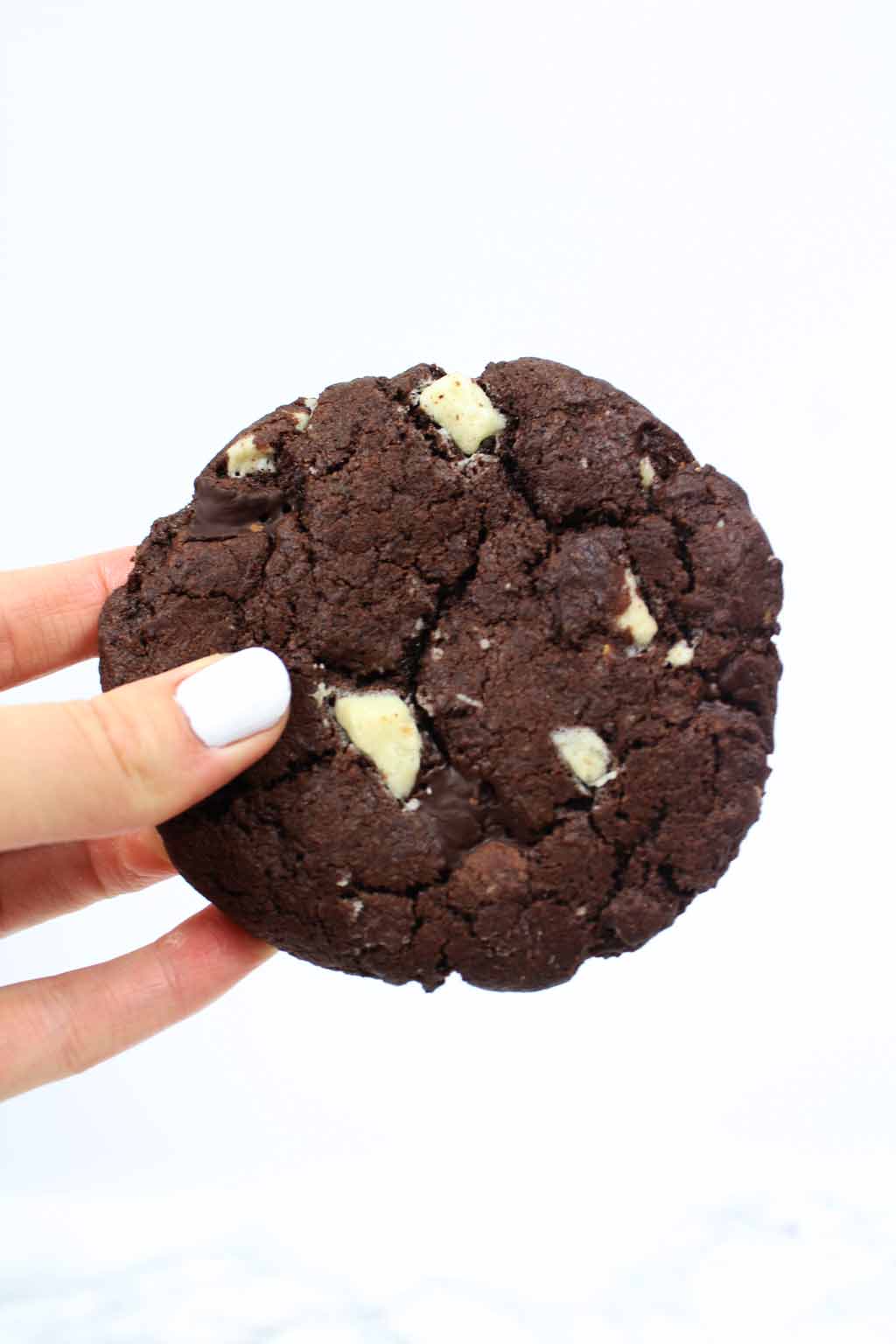 Where Can I Find Vegan White Chocolate?
I bought mine from Tesco, the one made by The Free From Kitchen Co. But there are a few great vegan white chocolate brands out there! Two of my other favourites are Sainsbury's free from and iChoc.
If you can't get access to any of these, I'd recommend trying your local health foods store. Or, you can just skip the white chocolate and use more dark chunks instead.
Can Double Chocolate Chip Cookies Be Frozen?
I would actually recommend that you freeze the cookie dough rather than the finished cookies. They turned out a little "stale" tasting when I tried to defrost them.
If you want to make the dough in advance, wrap it tightly in plastic wrap before freezing. You can store it in the freezer for up to 2 months.
When you're ready to bake the cookie dough, remove it from the plastic wrap and place it in the fridge for a few hours until it's thawed. Then just bake as per instructions.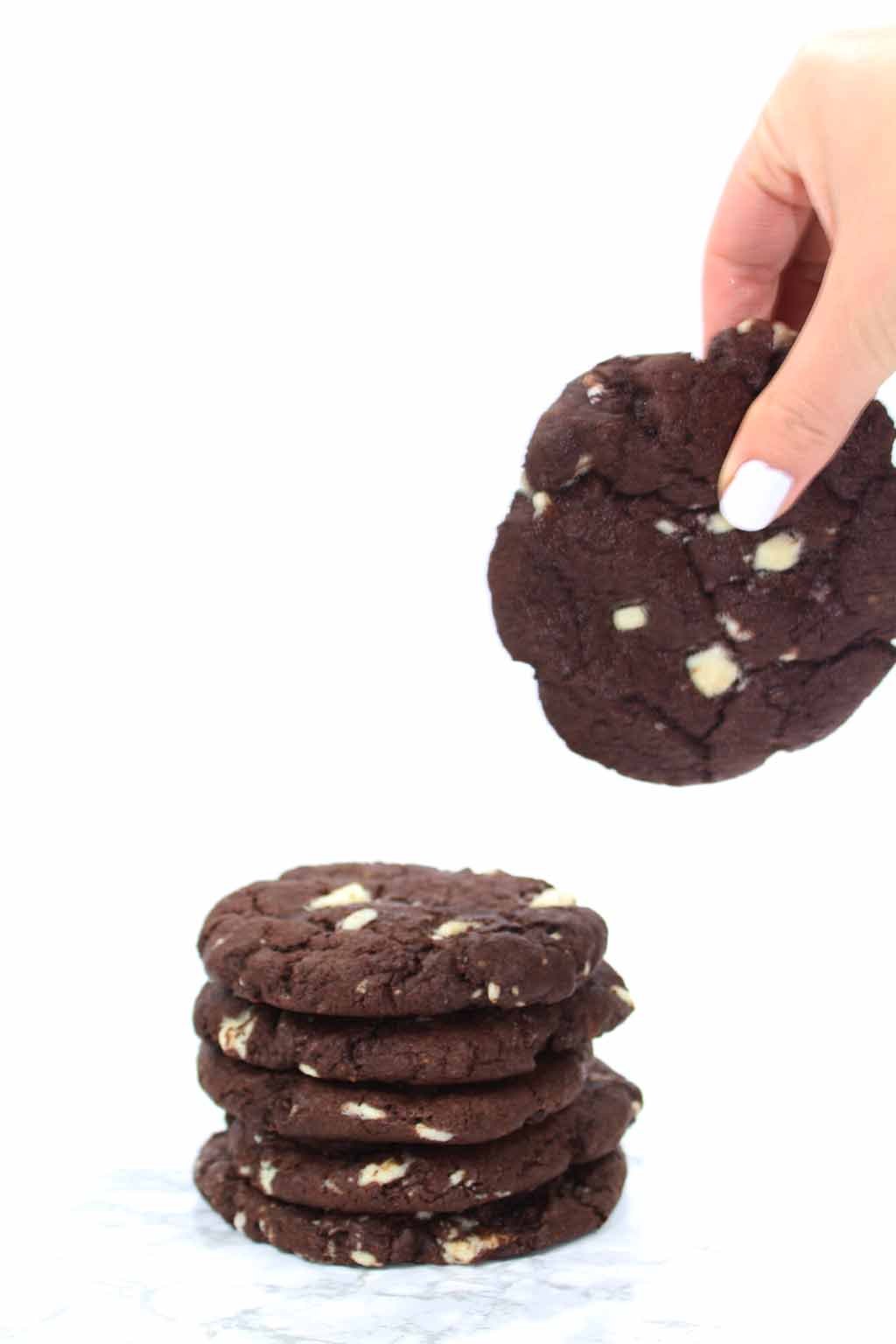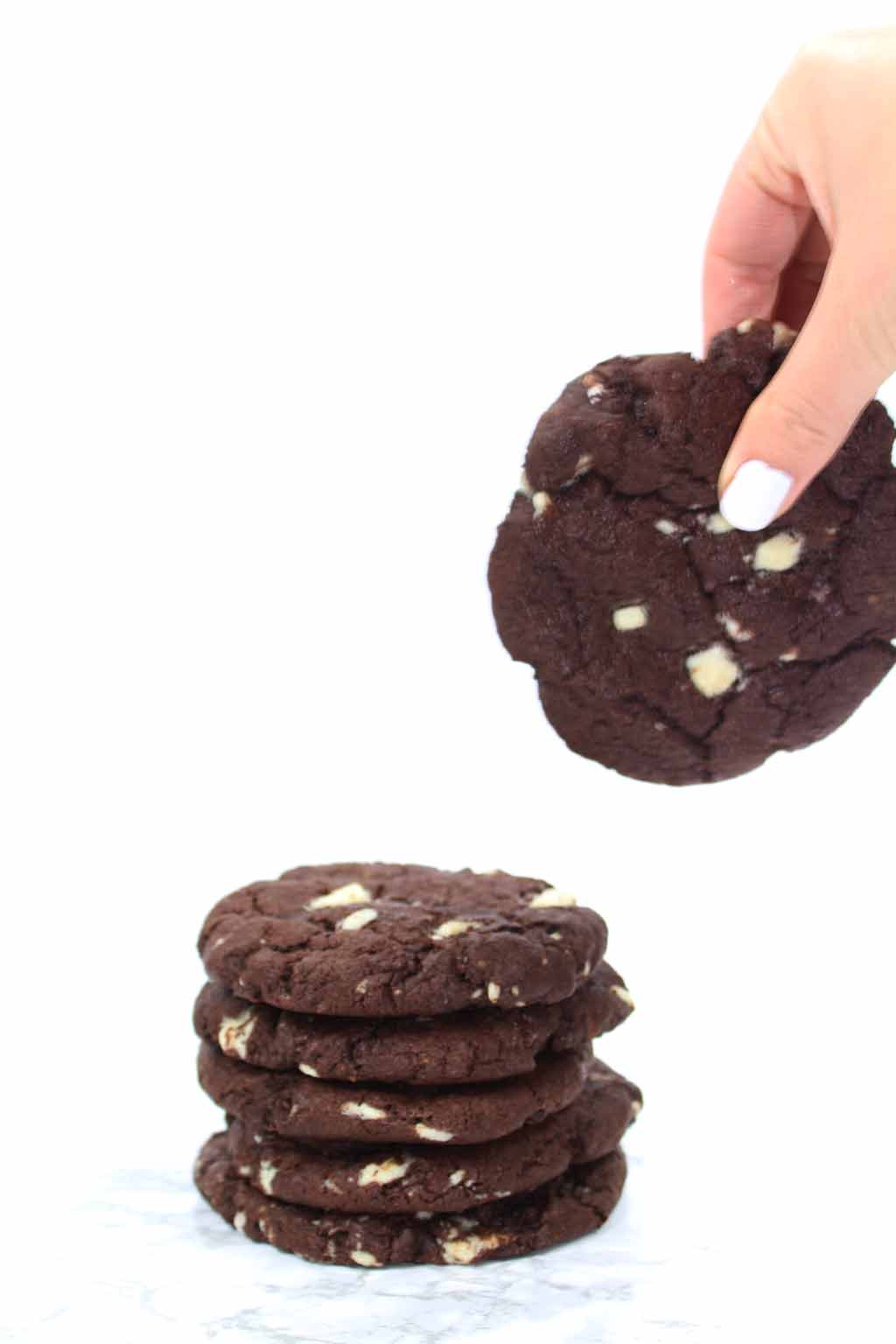 How To Make Double Chocolate Chip Cookies
Step 1:
First, prepare your vegan egg replacement by mixing 1 tablespoon of ground flax seeds with 3 tablespoons of water. Let the mixture sit for 5 minutes or so and it should become gelatinous.
This will help to bind the cookies together and prevent them from becoming too crumbly.
Step 2:
Next, in a separate bowl, cream the butter together with the brown and white (caster) sugar. You want it to become smooth with an almost "fluffy" texture. Doing this will prevent the cookies from becoming too dense and flat.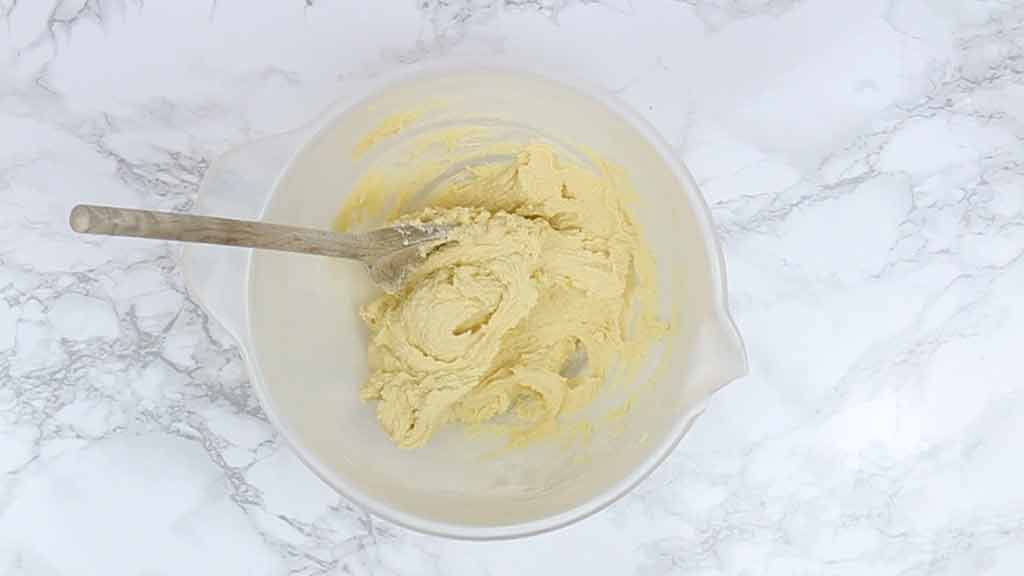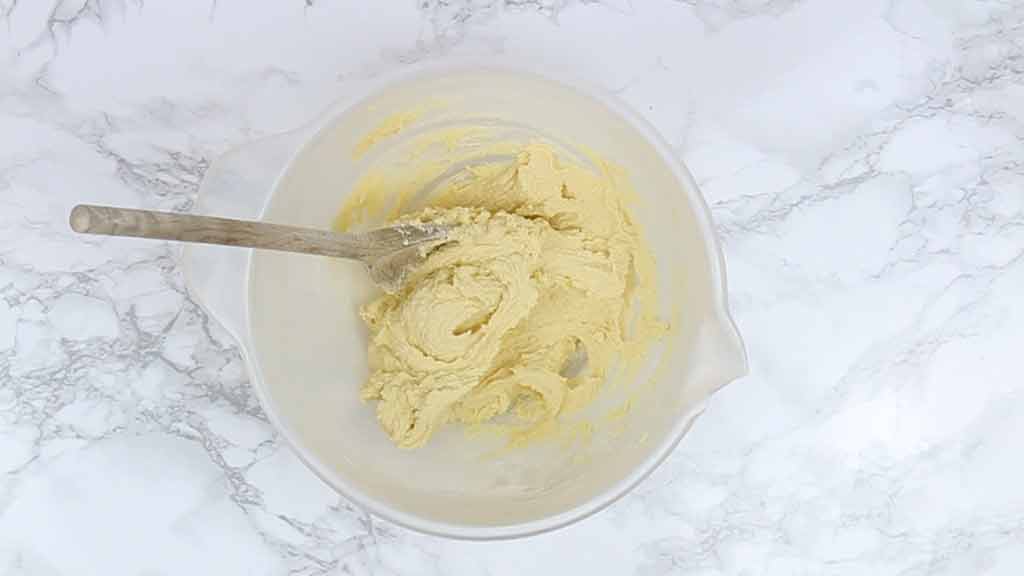 Step 3:
To the same bowl, add your flax "egg" from earlier along with the plant-based milk, flour, and cocoa powder. Mix everything lightly with a spoon, then get your hands in there! (note: this part is very messy)
Using your hands, form a dough. If it's too wet, add a little more flour and if it's too dry, add a little more milk. You want to be able to roll the dough into balls without it sticking everywhere or falling apart.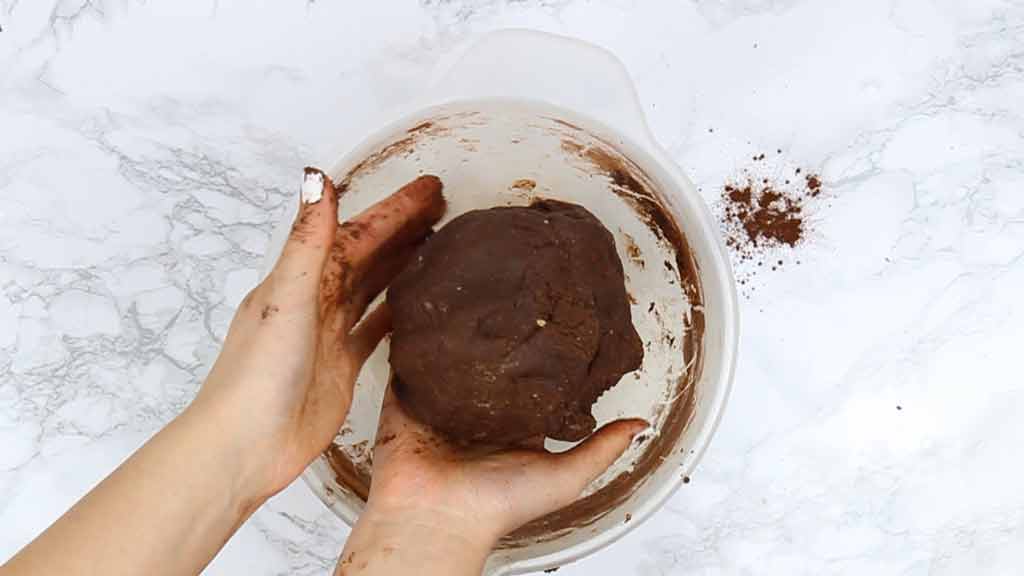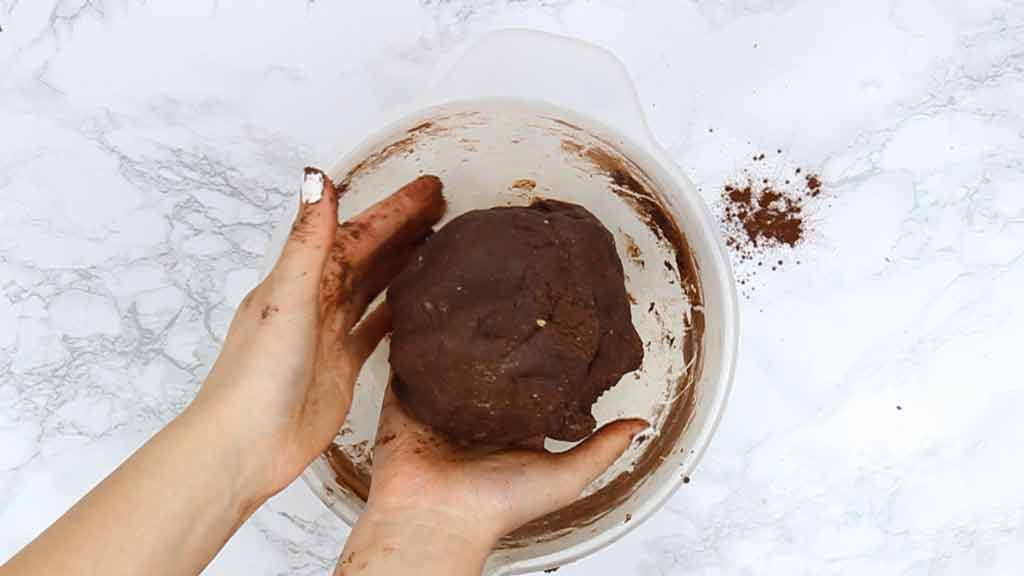 Step 4:
Chop up some chocolate of your choosing into chunks. You can make them small or large, it's up to you. I personally love having big chunks in my cookies.
Pour the chocolate chips onto your cookie dough and use your hands to combine everything.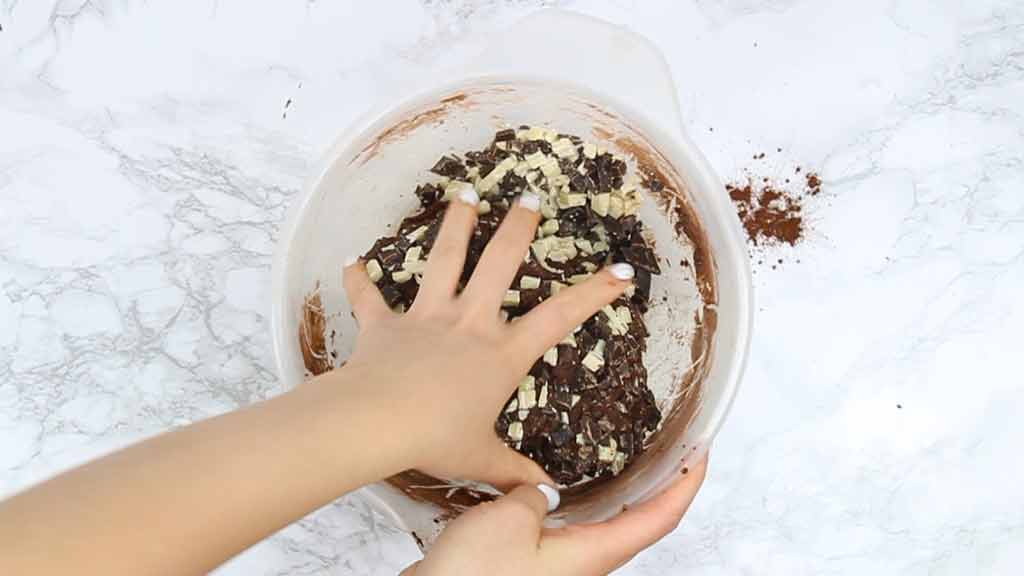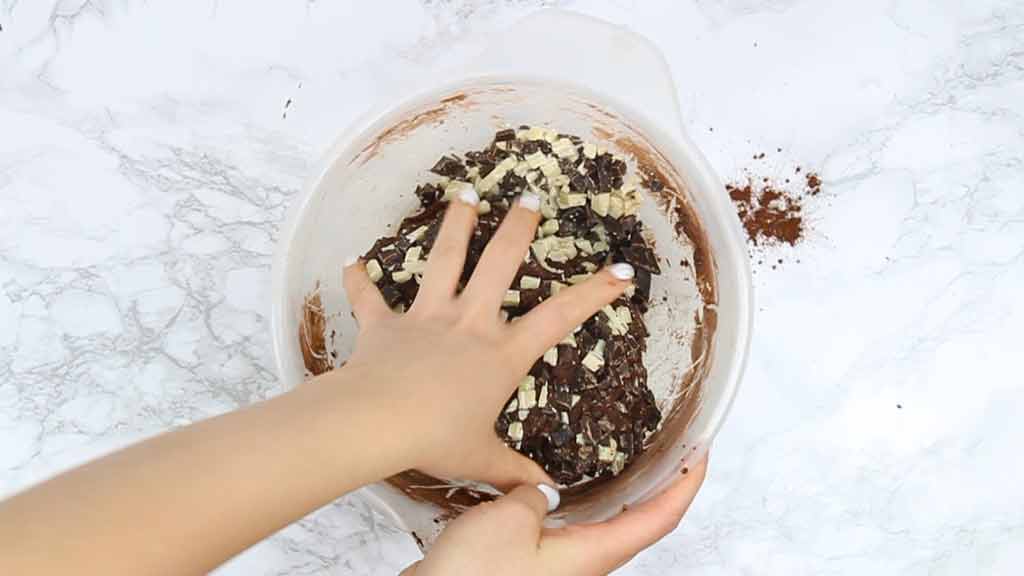 Step 5:
Divide the batter into 10-12 equal pieces and roll into balls. Place the balls on some large lined baking trays and gently press down on the cookies to flatten them a little.
Be careful not to put them too close together because they will expand quite a bit in the oven. You don't want them to stick together! I've found that 5 or 6 per large baking tray is perfect.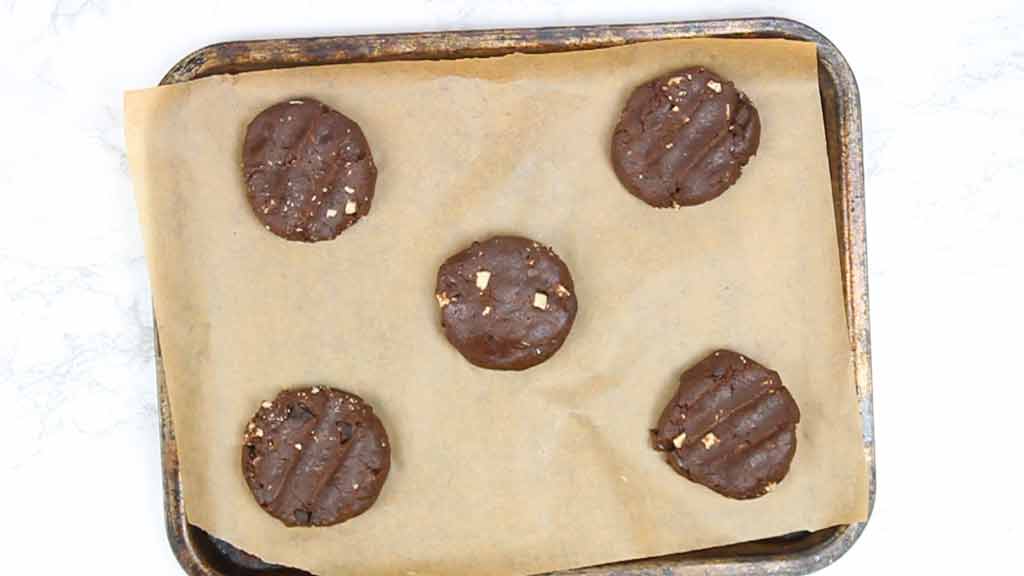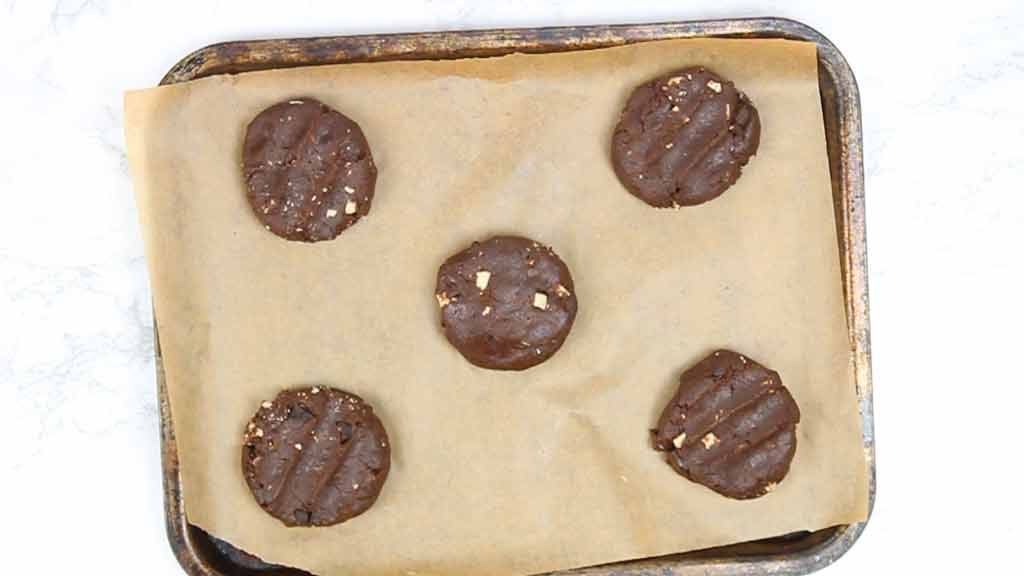 Step 6:
Bake the cookies on the middle shelf of your oven for 10 minutes. They will be a bit wobbly and look underbaked when they come out but that's what we want here! As they cool, they will firm up nicely and become chewy.
If you prefer a slight crunch to your cookie, leave them in for 3-5 minutes longer. But be warned that if you leave them in for longer than this, they'll become dense and crispy.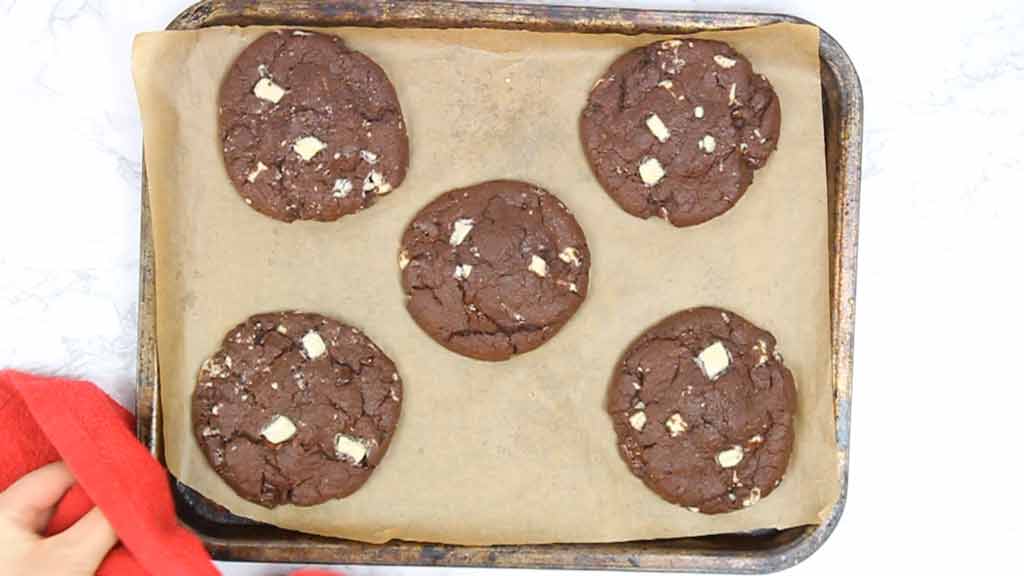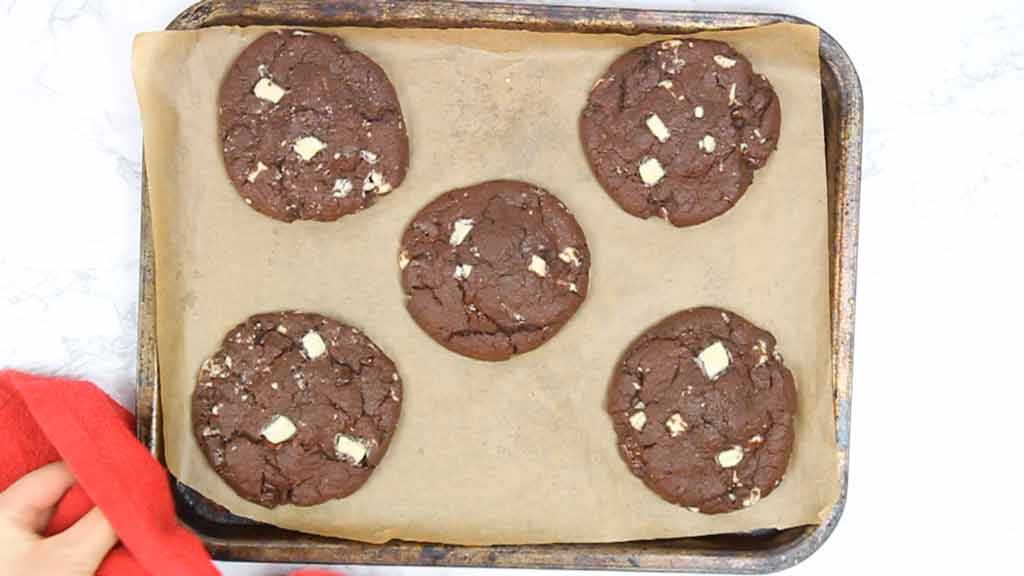 Can I Make These Cookies Gluten-Free?
I haven't tried this myself yet but I don't see why it wouldn't work. You may need to add a little more liquid and they may not turn out quite as chewy but I think they'll still taste great!
If you give it a go, please let me know how it goes for you! Otherwise, you can check out these other gluten-free cookies:
Happy baking!
xo

Vegan Double Chocolate Chip Cookies
Chewy bakery-style cookies with big chunks of white and dark chocolate.
Keyword:
double chocolate chip cookies
Ingredients
1

Tablespoon

Ground flax seeds

200

g

Vegan butter

7/8 cup

200

g

Caster sugar

1 cup

50

g

Soft brown sugar

1/3 cup

2

Tablespoons

Plant-based milk of choice

260

g

Self-raising flour

2 cups

75

g

Unsweetened cocoa powder

3/4 cup

100

g

Dark chocolate chunks

3/4 cup

100

g

Vegan white chocolate chunks

3/4 cup
Instructions
Preheat your oven to 200C (180C fan)/ 400F / Gas mark 6. Line or grease two large baking trays.

Prepare your flax egg by mixing the flax seeds with 3 tablespoons of water. Set aside for 5 minutes to allow it to thicken.

In a large bowl, cream the butter with the caster sugar and brown sugar until light and fluffy.

Add the flax "egg" from earlier, along with the plant-based milk, self-raising flour, and cocoa powder.

Mix everything lightly, then use your hands to form a dough. Add your dark and white chocolate chunks, then use your hands again to incorporate them into the dough.

Divide the dough into 10-12 pieces and roll them into balls. Place the balls on the baking trays and use your hands to flatten them slightly. Make sure to leave 2-3 inches in between the cookies as they will expand as they bake.

Bake for 10 minutes then remove them from the oven. They will still be wobbly but will firm up as the cool.

Leave to cool completely before removing them from the tray.
Recipe Video
Recipe Notes
*For a crunchier cookie, bake for just under 15 minutes.
*Store in an airtight container for up to 5 days.
Nutrition Facts
Vegan Double Chocolate Chip Cookies
Amount Per Serving
Calories 345
Calories from Fat 135
% Daily Value*
Fat 15g23%
Sodium 140mg6%
Carbohydrates 40g13%
Protein 5g10%
* All values are an estimate only and will vary depending on the food brands used.