Vegan Rainbow Cookies
Posted on - Last updated: This post may contain affiliate links
These vegan rainbow chip cookies are soft and chewy with a slighty crispy edge. They're filled with vegan "Smarties" and chocolate chunks, and taste just like the type of cookies that come fresh from the bakery.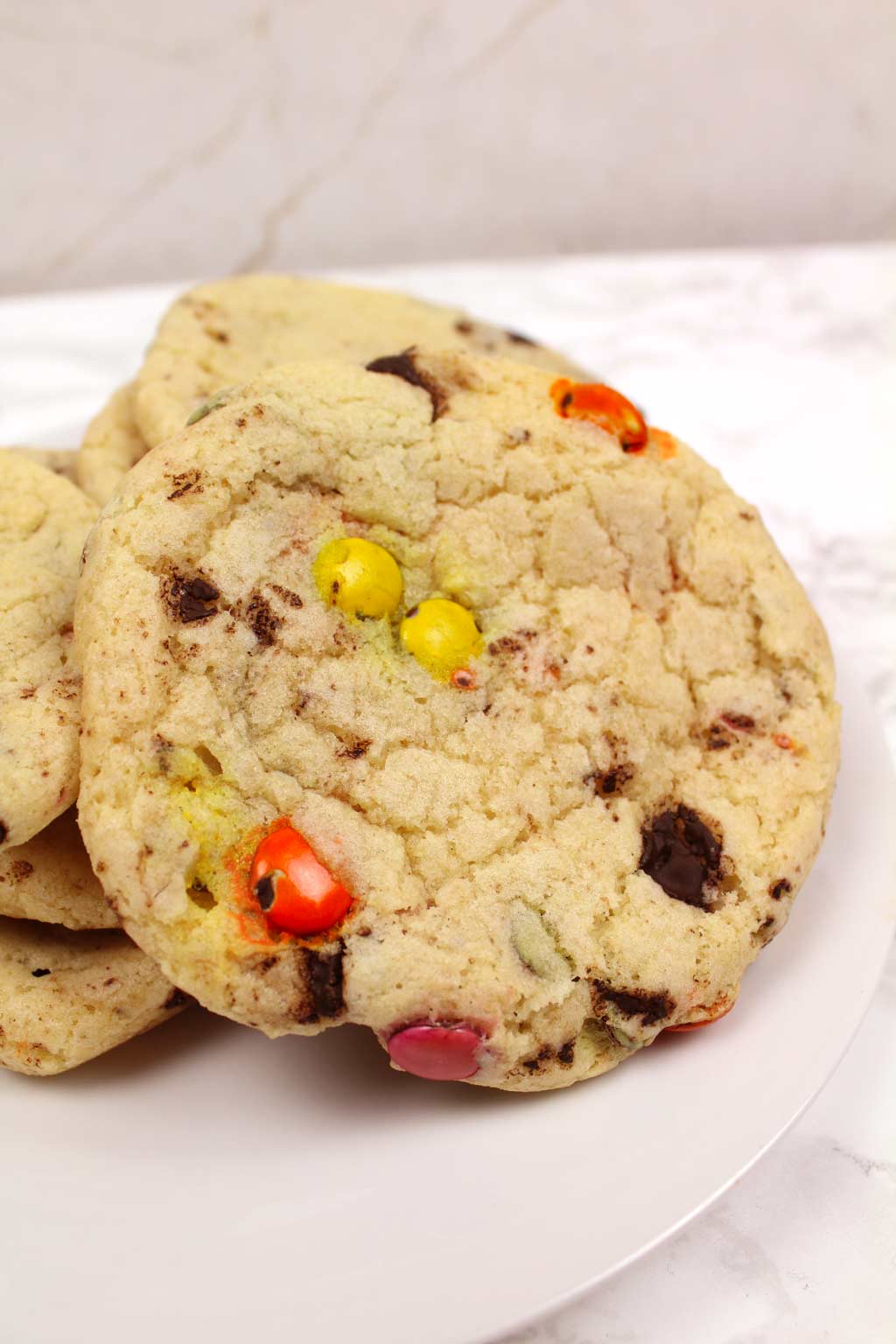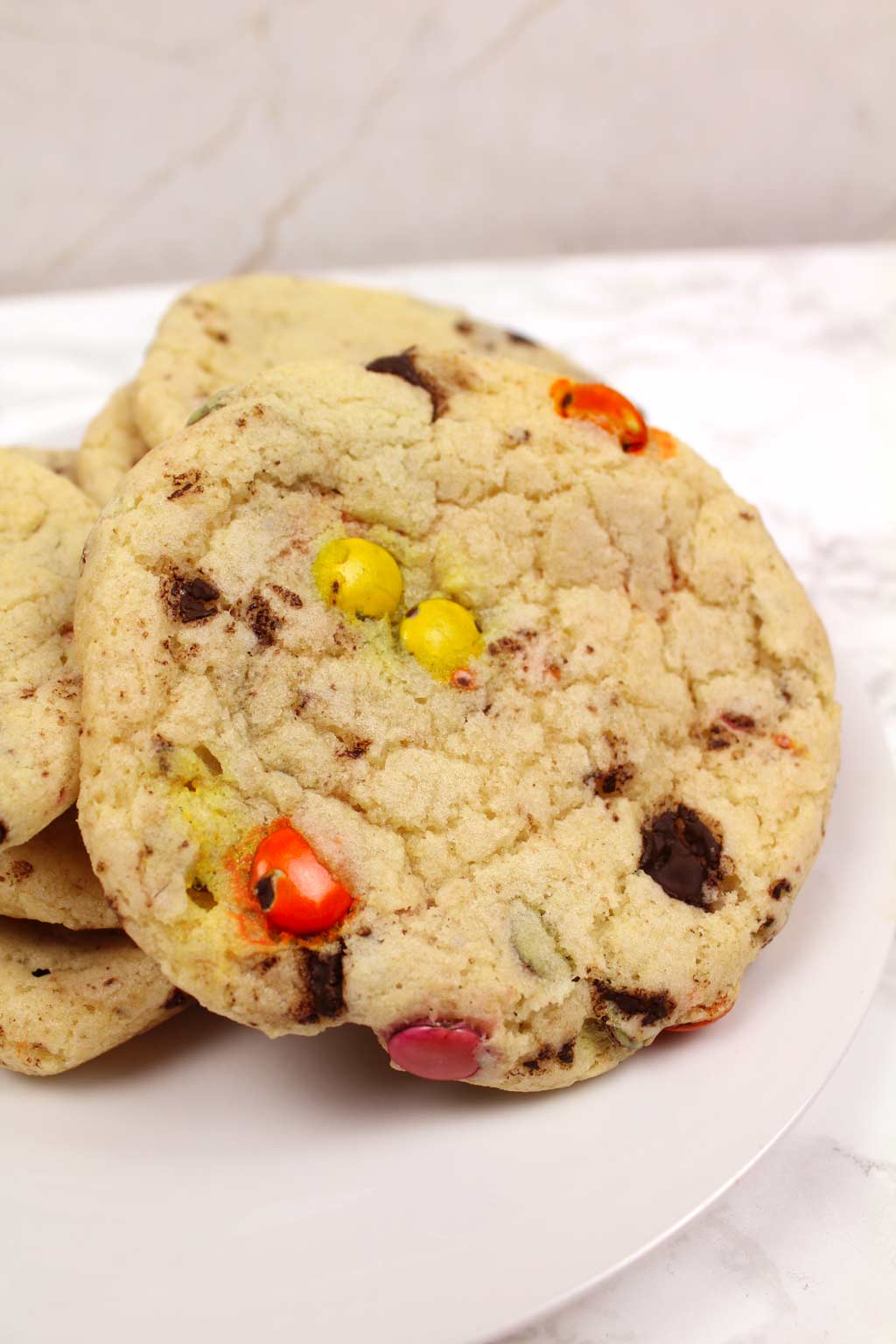 You know those soft, chewy, sort-of crispy cookies they sell at Subway? That's what I was going for when creating my cookie recipe.
And although I'm not usually one to toot my own horn, I'd say they are pretty darn close.
Using the same recipe and adapting it slightly, I've made double chocolate chip cookies, white chocolate chip cookies and now: these vegan rainbow cookies.
I'm sure there will be many more varieties to come because I crave these cookies ALL THE TIME. They are just so perfectly chewy and melt in your mouth.
Looking for more vegan cookie recipes?
Where To Buy Vegan Rainbow Chips
I did want to name them "vegan Smartie cookies" at first, to replicate the Subway cookies exactly. But since Smarties aren't actually vegan, I decided to go with "rainbow chip".
If you don't know, Smarties in the UK are different to the type that you'll find in the US. In the UK they're small, round-shaped pieces of chocolate with a crunchy and colourful candy coating.
Unfortunately, they contain milk and beeswax, meaning they are not suitable for a vegan diet. So instead, I used some cute little chocolate drops from Doisy and Dam, which can be bought in Holland & Barrett if you're in the UK.
For those of you not in the UK or those who are unable to get hold of Doisy and Dam, I'd recommend using either of the following:
Choco No Nos, which are available on Amazon US or directly from the No Whey Chocolate's website.
Clarana chocolate Beans, which can be purchased from The Vegan Kind. This website ships to many countries around the world.
And if you're really in a pinch, you can always use a mix of vegan sprinkles and chocolate chunks. You'll get the same rainbow chip effect and the cookies will still taste chocolatey and delicious!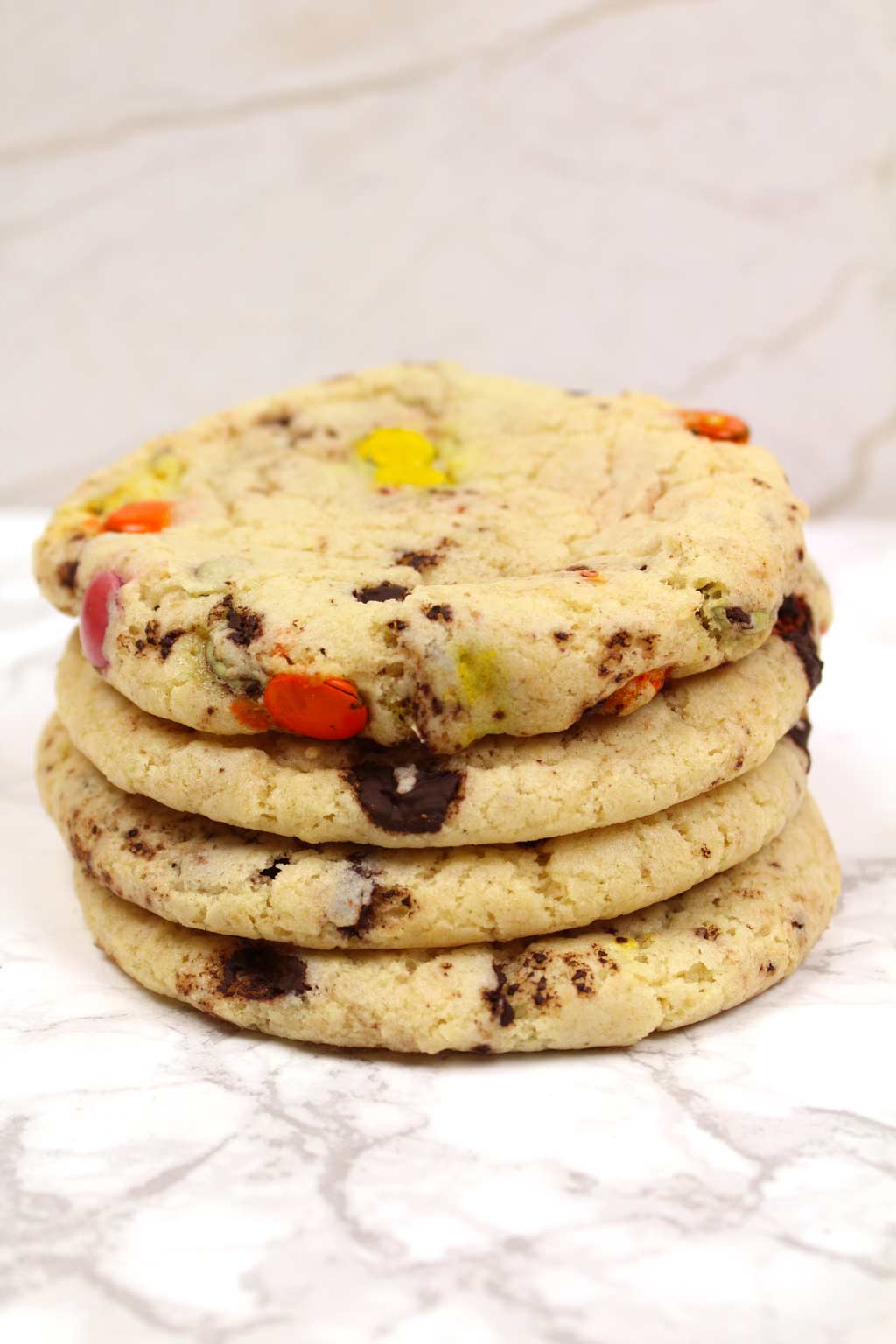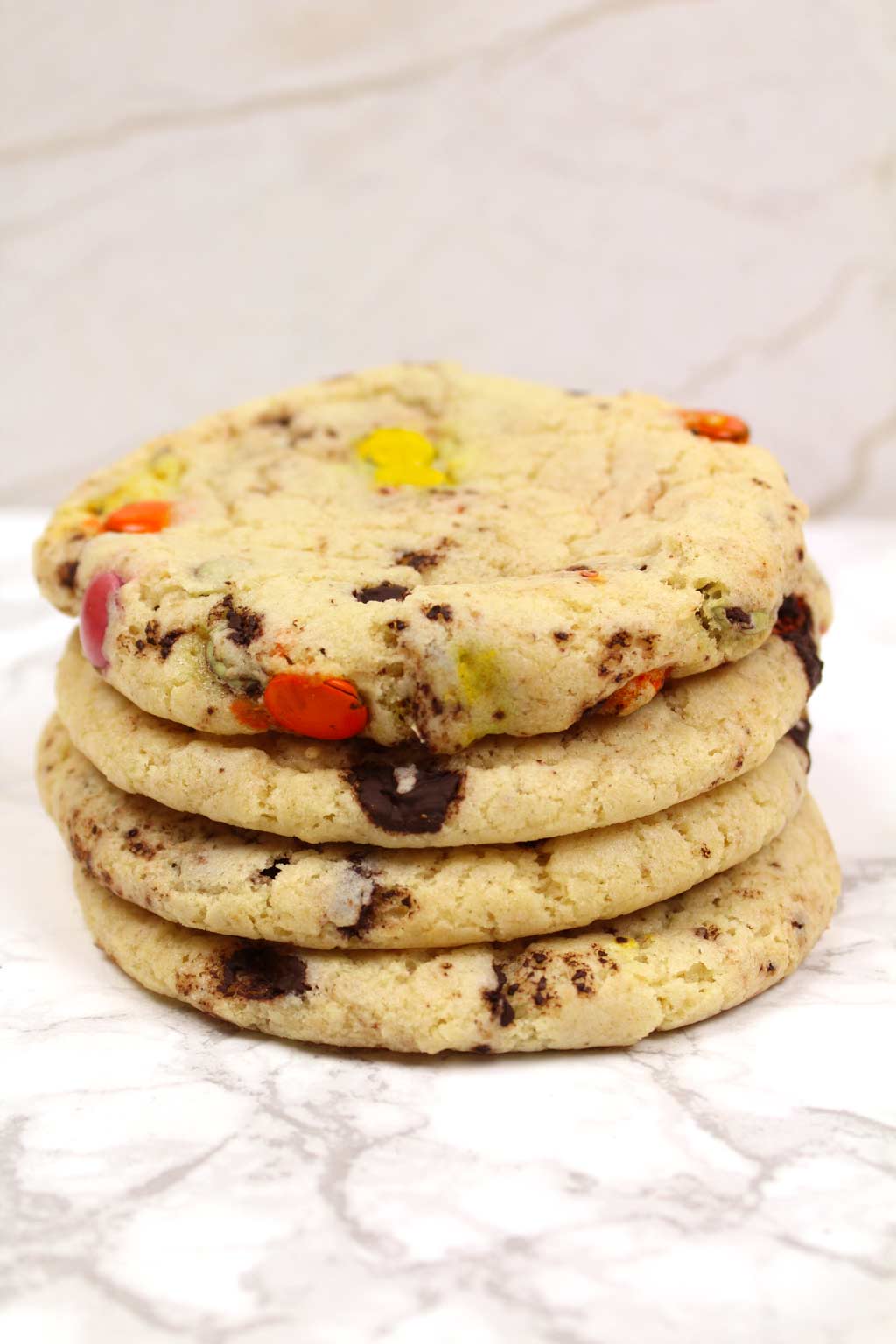 How To Make Vegan Rainbow Chip Cookies
Step 1:
Preheat your oven to 200C/ 400F and line 2 large baking trays with parchment paper.
You'll need quite a bit of space as the cookies spread a lot which is why I recommend using 2 trays. But if you only have 1, just bake the cookies in batches.
Step 2:
For this recipe, you'll need a flax "egg" to hold the cookie mixture together and prevent it from crumbling.
If you're not familiar, ground flax seeds are often used in vegan baking to replace the binding effect that eggs have.
To make a flax egg, mix 1 tablespoon of ground flax seeds with 1 tablespoon of cold water. Set it aside for 5 minutes or so and you should have a mixture that's gloopy and thick.
Step 3:
In a large bowl, mix together 200g (3/4 cup + 1 tablespoon) of vegan margarine, 200g (1 cup) of caster/superfine sugar and 1 teaspoon of vanilla extract.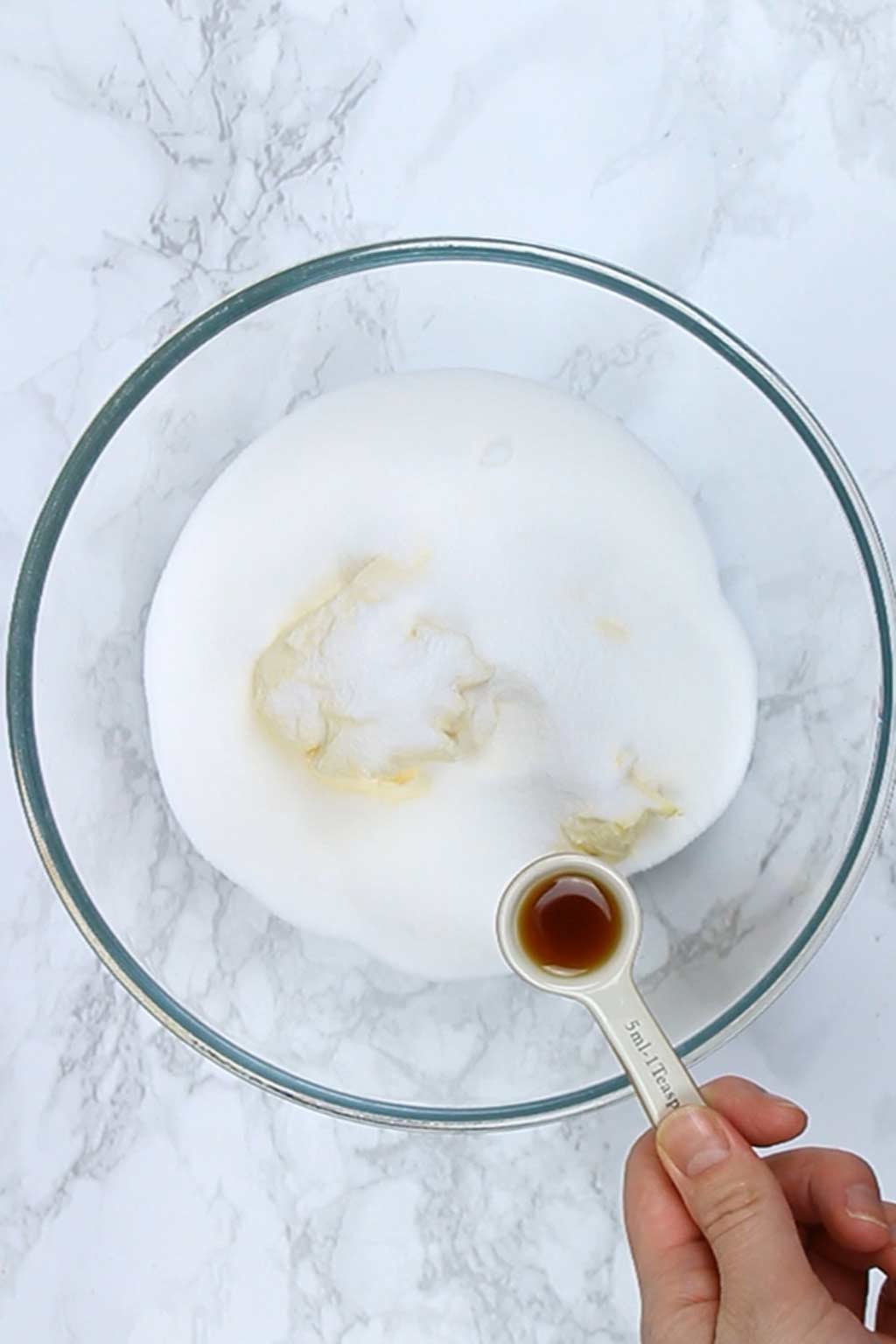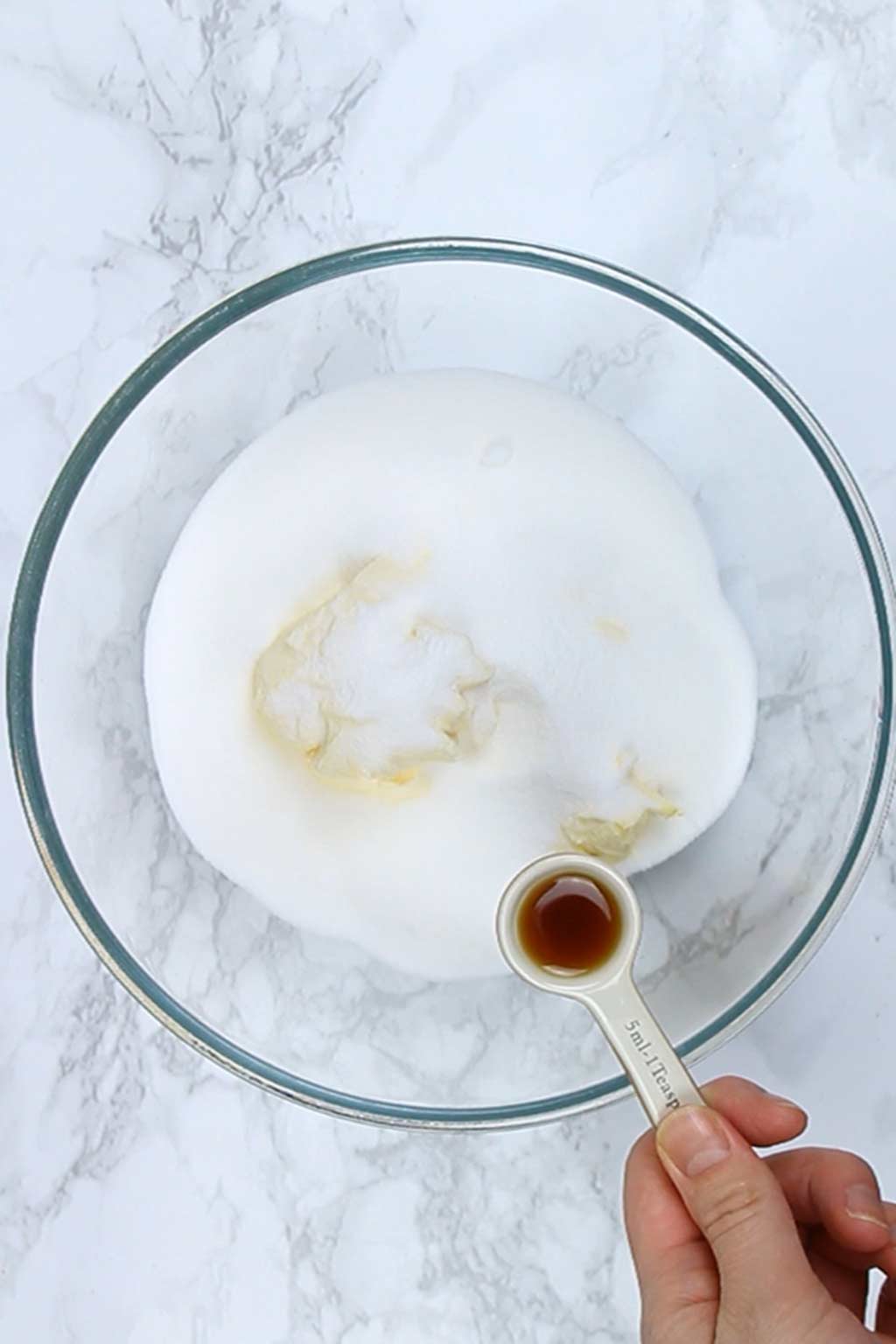 Cream it well using a wooden spoon until it becomes light and fluffy.
Step 4:
Add your flax seed "egg" from earlier and mix it in.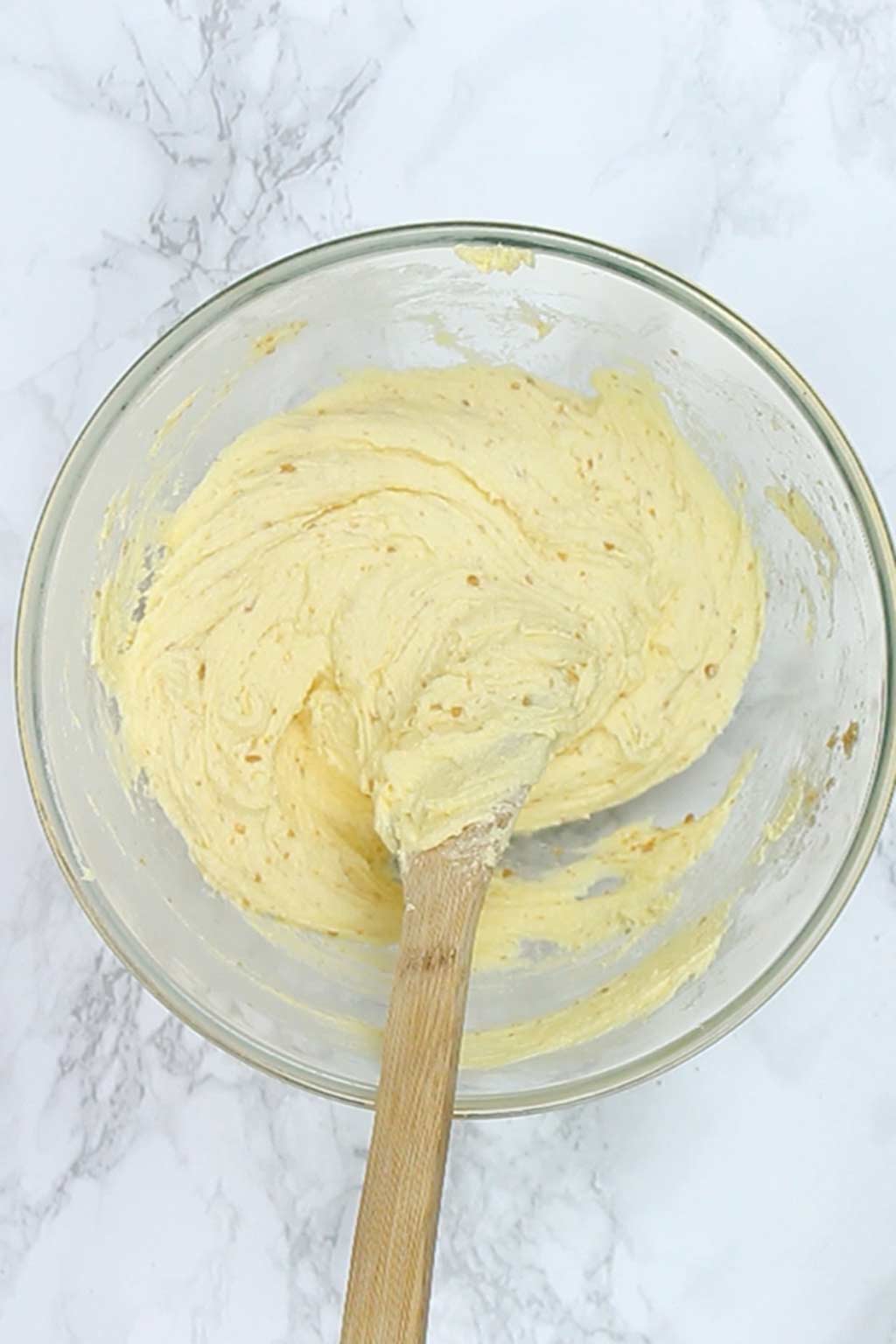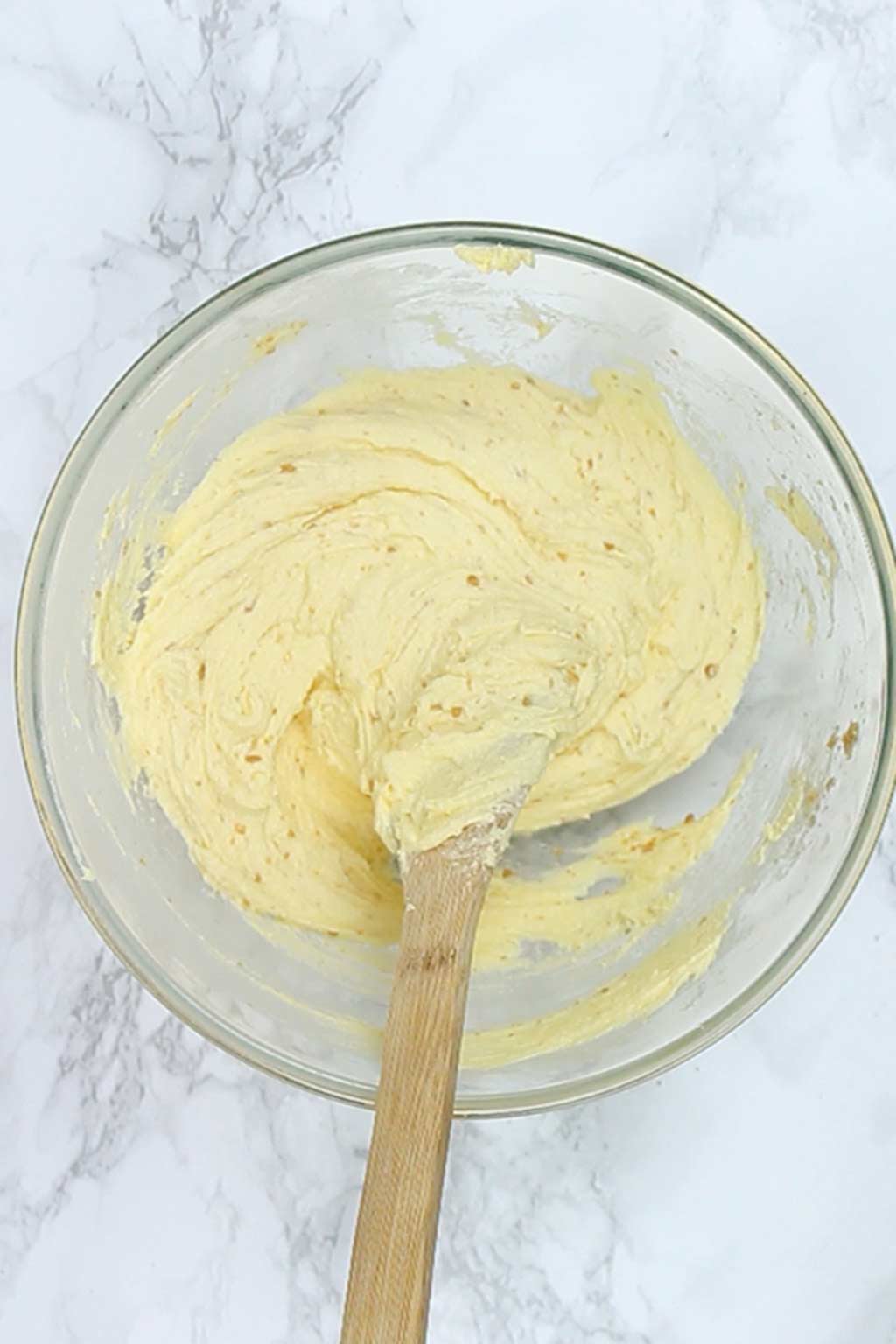 Step 5:
Now add 320g (2+1/2 cups) of self-raising flour to the bowl. Use your spoon to mix it in until everything starts to stick together. Then use your clean hands to push it together to form a ball of dough.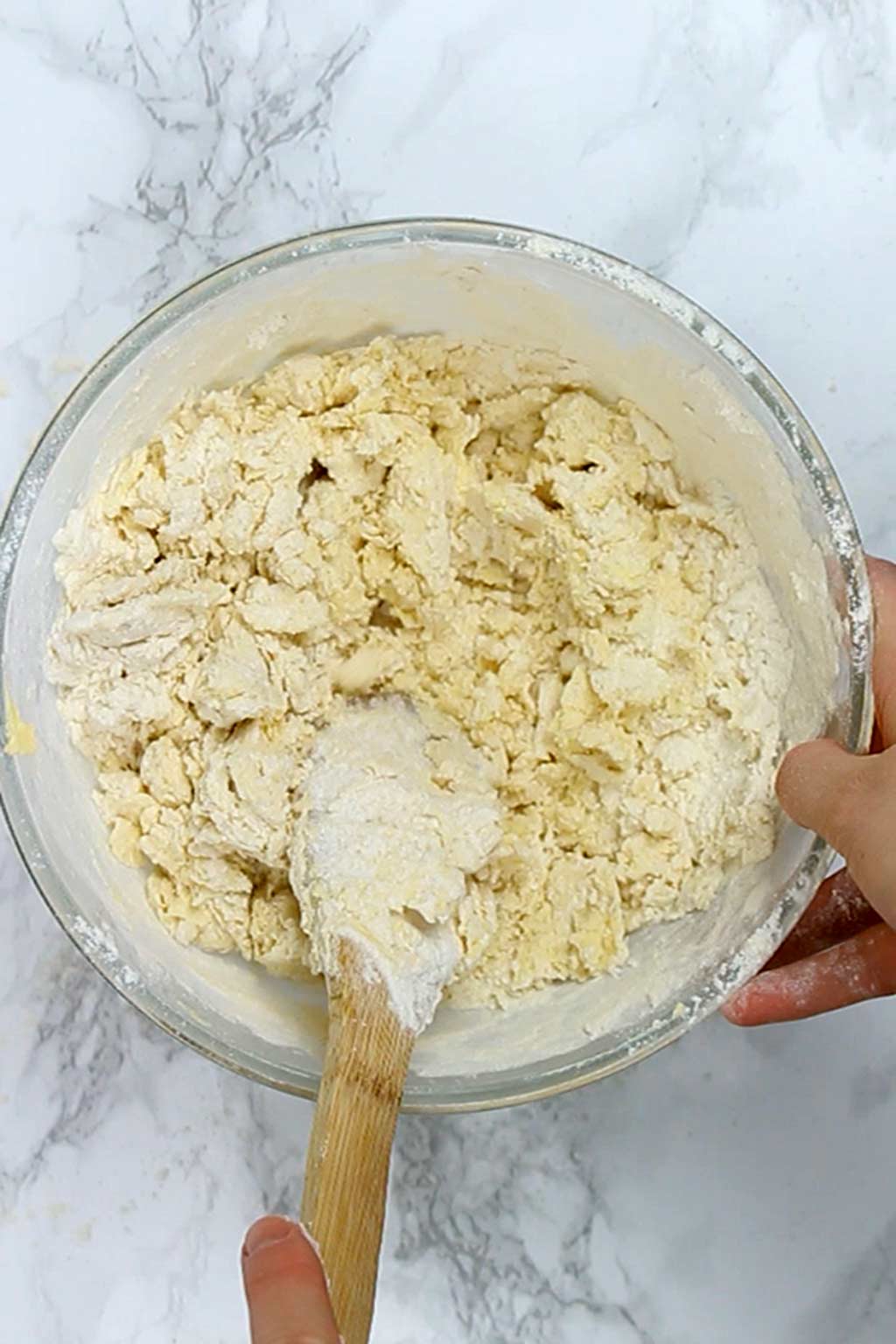 Step 6:
Add 80g (around 1/2 a cup) of your rainbow chips of choice along with 75g (1/2 cup) of vegan chocolate chunks and use your hands to work them into the cookie dough.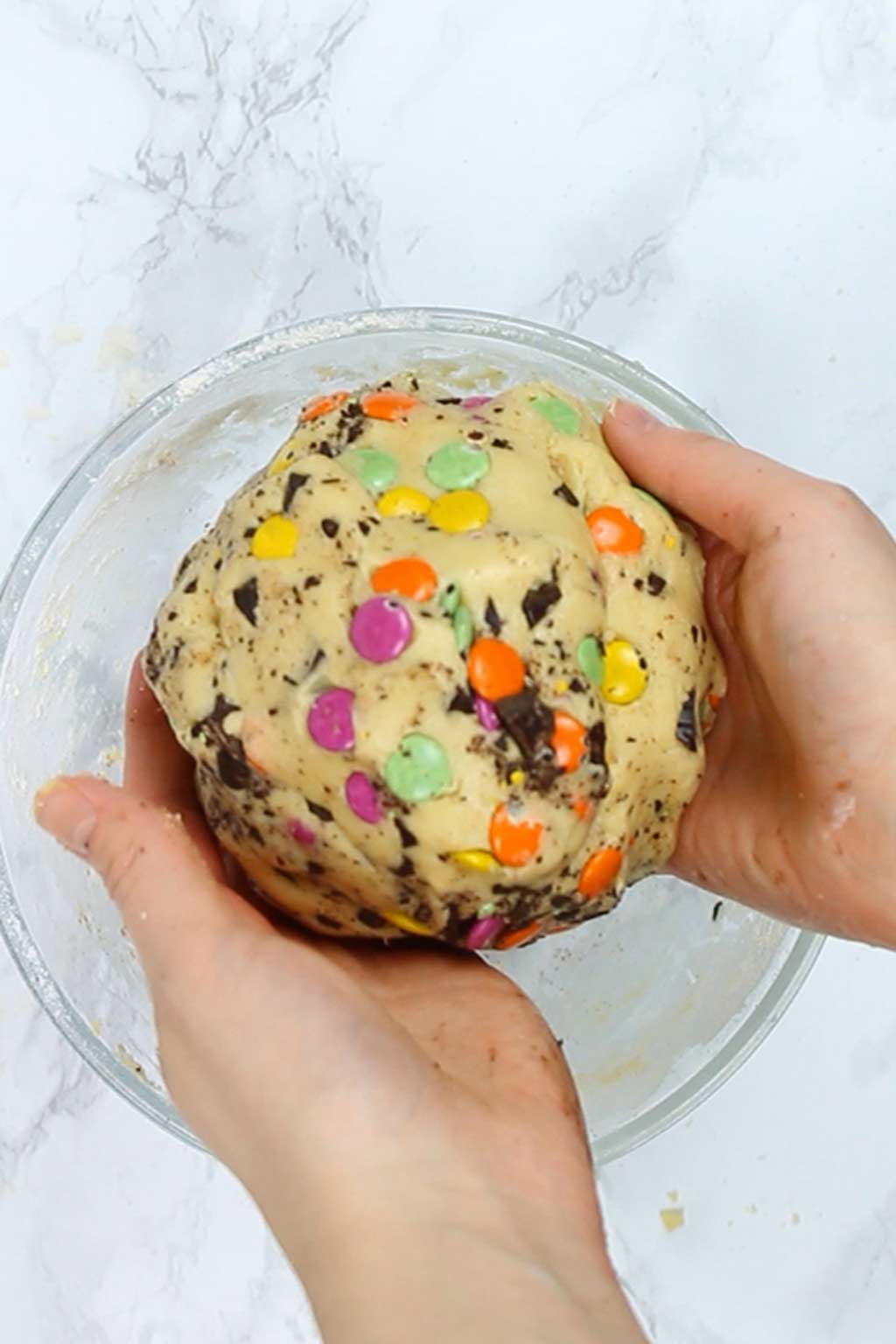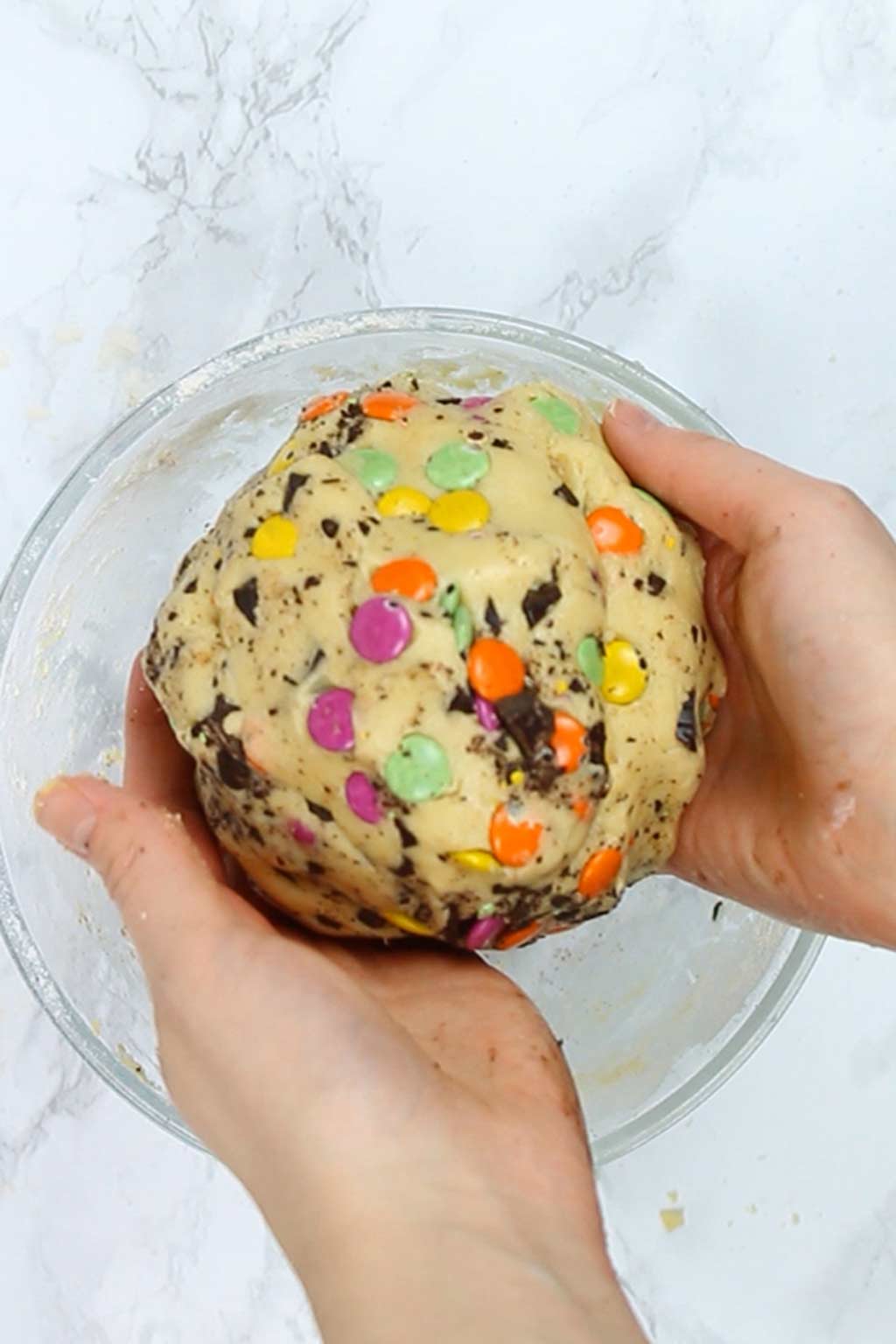 Step 7:
Divide the dough into 12 equal pieces and roll each piece into a ball.
Place the cookie dough balls onto your tray and flatten them slightly using your fingers. Make sure to leave at least a 2 inches between the cookies as they will spread when baking.
Step 8:
Bake the cookies for 12 minutes. The may look under-baked when they come out but they will firm up and become chewy once they're cooled. If you bake them for any longer, the cookies will be crunchy when they cool down.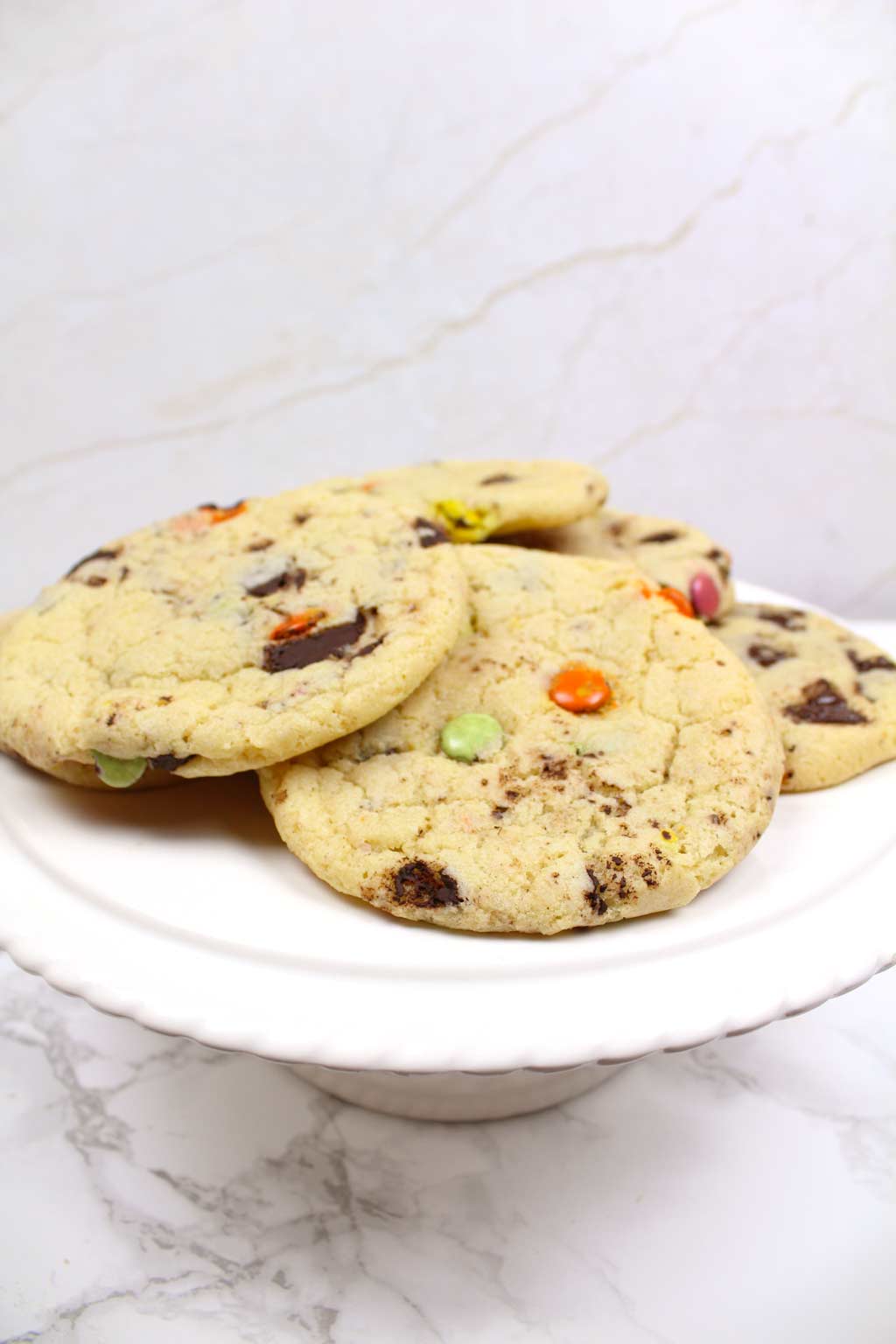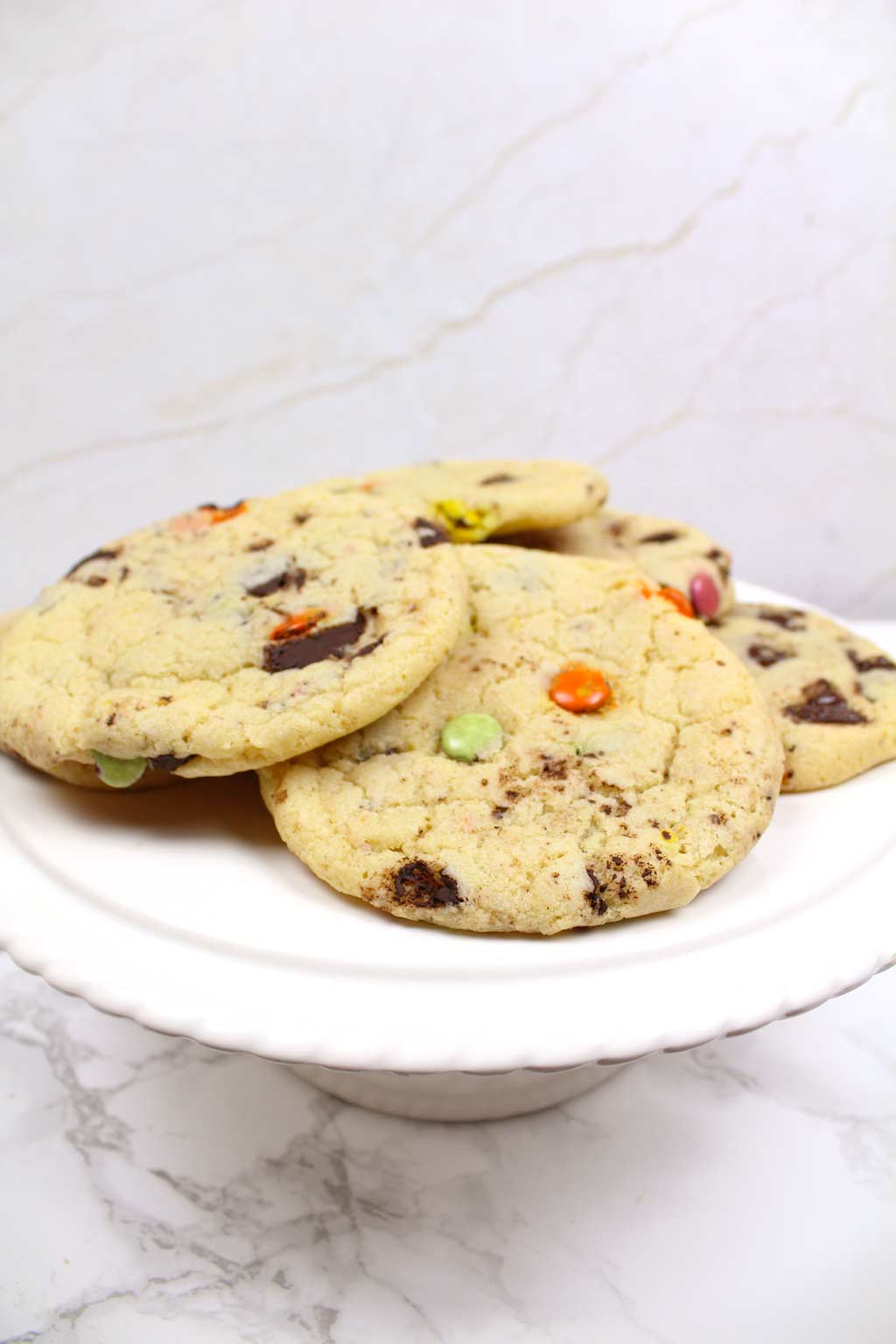 Top Tips For Perfect Cookies
I've tried this recipe using coconut oil instead of the margarine but it just didn't work. It didn't hold together very well and the flavour of the coconut was overpowering.
I prefer the more authentic buttery flavour that using the margarine gives and it also makes for a good sturdy cookie dough that's easy to shape. I recommend using the spreadable type of margarine over the block type, which may cause the cookies to become too thin and crispy.
The raising agent in self-raising flour helps the cookies to rise as they bake and fall as they cool. This results in beautiful crinkle-top cookies that have a chewy middle and a crispy edge.
If you don't have self-raising flour, you can use an equal amount of all-purpose flour and add 1 teaspoon of baking powder instead.
Add chunks of dark chocolate
This step isn't essential but highly recommended. I love the contrast that the bitter chocolate gives to a super-sweet cookie.
Most importantly- don't overbake!
When you first remove the cookies from the oven, it'll be tempting to want to bake them a little longer. But I've tested this recipe lots of times and can confirm 15 minutes is the perfect baking time.
They'll still be really soft when they're warm, so don't try to lift them off of the tray until they're completely cool.
FAQ:
How Do You Store These Cookies?
Vegan rainbow cookies are best stored in a cool, dry place (such as a cupboard) in an airtight container. They will taste best if eaten within 2-3 days.
Can they be frozen?
Yes! I freeze these cookies all the time. It's so handy to have a batch ready to eat when you're really craving one!

I place the cookies together in an airtight container and freeze for a few weeks at a time. To defrost, I sit them out at room temperature for 2-3 hours and they're just as tasty and chewy!

You can also freeze the cookie dough in advance for even fresher tasting cookies. I usually wrap the dough in cling film or place it in an airtight container to freeze.

I've never tried baking the cookie dough from frozen- I always just let it sit out at room temperature to thaw first then bake as per the instructions. They turn out perfect every time!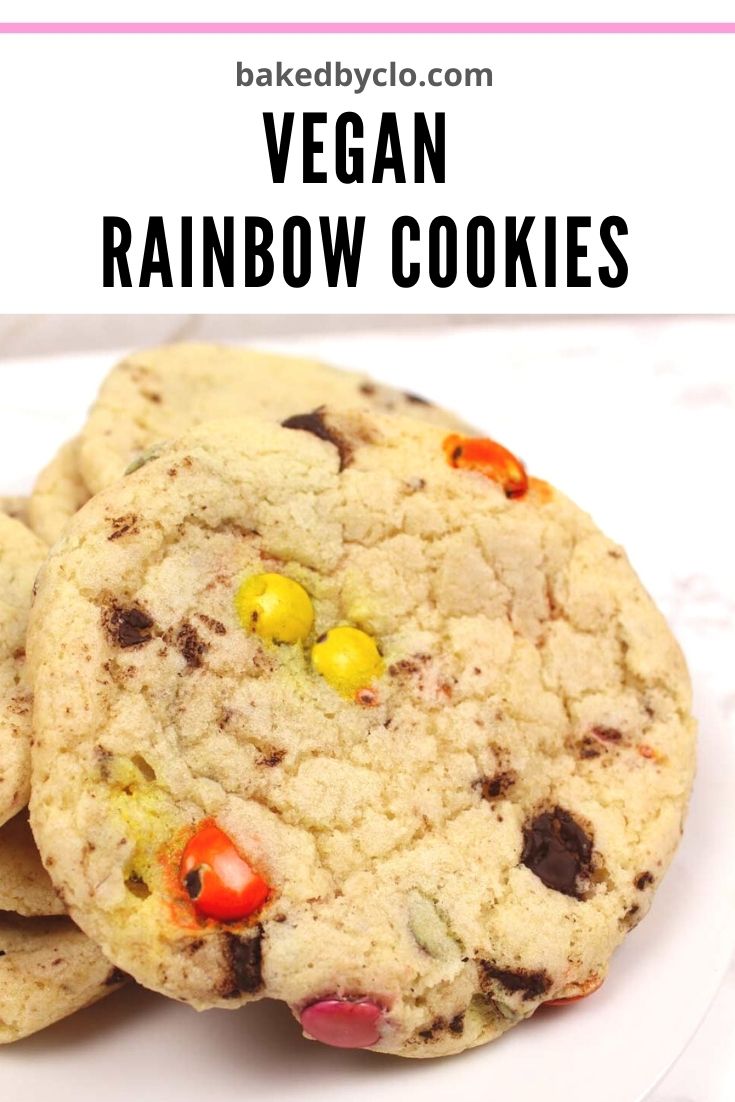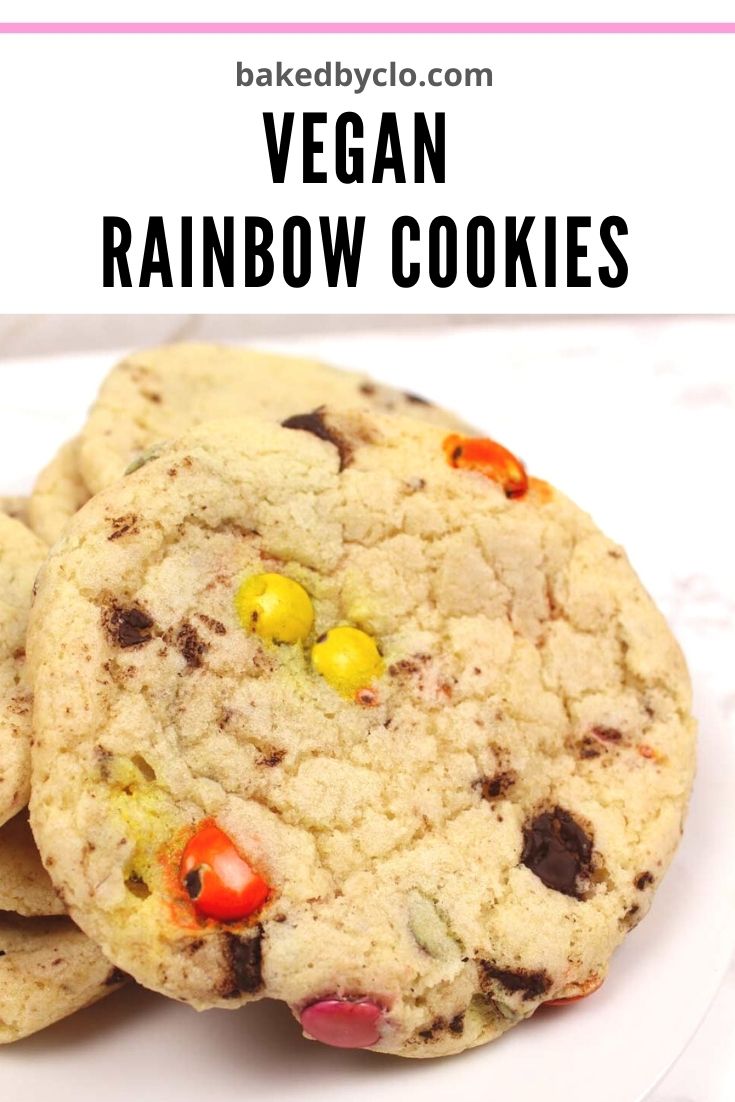 That's all for now. I hope you enjoy this recipe! If you make it at home, please leave a comment or rating to let me know what you think.
Happy baking! xo

Vegan Rainbow Chip Cookies
Chewy vegan cookies with added "Smarties" and chunks of dark chocolate.
Keyword
vegan rainbow cookies
Ingredients
1

Tablespoon

Ground flax seeds + 1 tablespoon cold water

200

g

Vegan margarine

(¾ Cup + 1 Tablespoon)

200

g

Caster/ super fine sugar

(1 cup)

1

Teaspoon

Vanilla extract

320

g

Self-raising flour

(2 + ½ cups)

75

g

Dark chocolate chunks

(½ cup)

80

g

Vegan rainbow candies*

(½ cup)
Instructions
Preheat your oven to 200°C / 400°F (or 180°C / 350°F if using a fan or convection oven) and line 2 large baking trays with parchment paper.

Mix the ground flax seeds with the water and set aside to thicken.

In a large bowl, cream together the vegan butter, sugar and vanilla until light and fluffy.

Add the flour and use your spoon to stir until the mixture starts to stick together. Then use clean hands to press it together into a large ball of cookie dough.

Add the rainbow candies and use your hands to fold them into the dough.

Divide the dough into 12 equal pieces and roll each one into a ball.

Place the balls onto your baking tray and flatten them slightly using your fingers. Make sure to leave at least 2 inches between the cookies as they will spread as they bake.

Bake for 12 minutes and leave the cookies on the tray to cool completely. Do not try to remove them from the tray while warm as they will fall apart.
Nutrition Facts
Vegan Rainbow Chip Cookies
Amount Per Serving (1 cookie)
Calories 313
Calories from Fat 126
% Daily Value*
Fat 14g22%
Sodium 99mg4%
Carbohydrates 42g14%
Protein 3g6%
* All values are an estimate only and will vary depending on the food brands used.
BakedByClo is a participant in the Amazon Services LLC Associates Program, an affiliate advertising program designed to provide a means for sites to earn advertising fees by advertising and linking to Amazon.com. This site may contain some of these links to Amazon.com & other affiliate programs. If you make a purchase through one of those links, BakedByClo will receive a small commission from the purchase at no additional cost to you.