Gluten Free Spiced Christmas Biscuits
Posted on - Last updated: This post may contain affiliate links
These vegan and gluten-free spiced Christmas biscuits are flavoured with warming spices and soft brown sugar. They can be rolled out and cut into any shape you like. Just decorate them with some icing and you've got the perfect festive treat!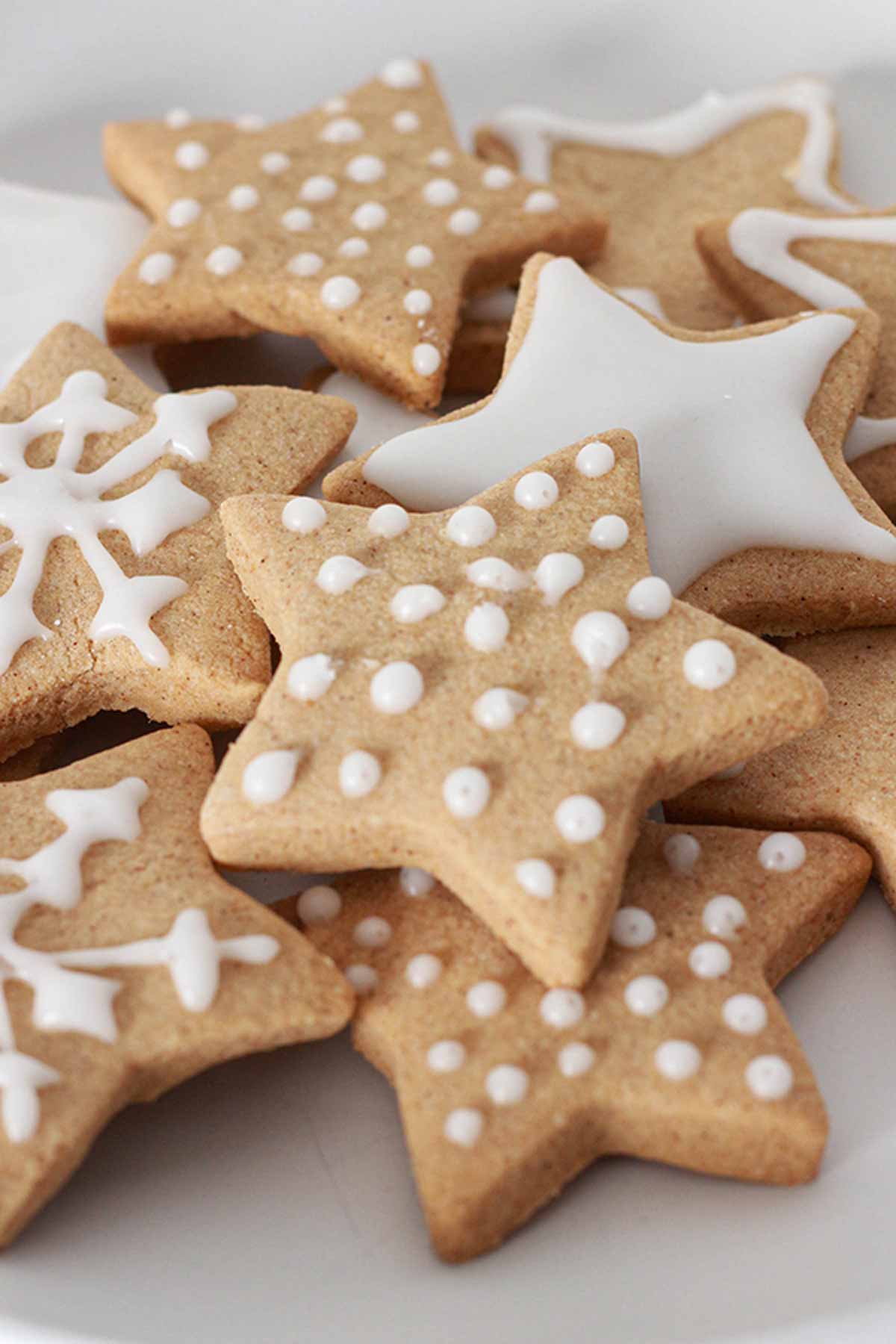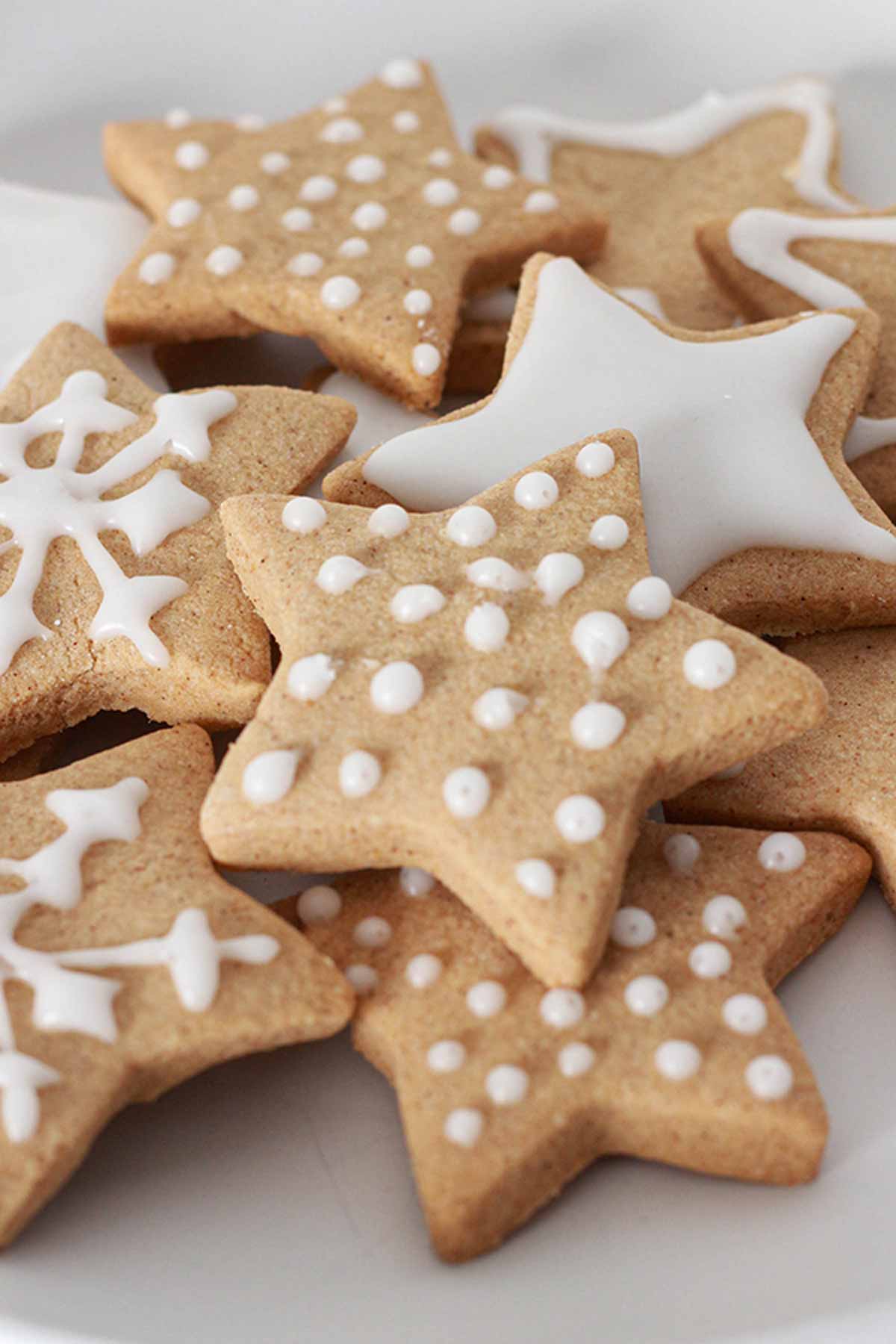 It's day 6 of my 12 days of vegan Christmas cookies series!
To be honest, I'm surprised I've lasted this long- baking and photographing a recipe then writing a blog post every single day is no easy feat. But it feels good to be sharing all of my favourite festive recipes! Today, I've got these tasty gluten-free spiced Christmas biscuits.
I made a similar batch of cookies last year, my crunchy cinnamon cookies. But I thought it would be nice to include a gluten-free version too!
I had to adapt the recipe slightly but apart from a few small changes it's pretty much the same. The first change I made was adding a little bit more flour than before, because it didn't come together quite so easily when using the gluten-free flour.
I also added a bit of xanthan gum to help give the dough a slight 'elasticity'. Without it, the dough tears and falls apart when you try to roll it out. I'm still learning my way around gluten-free baking and have a few more things to test for providing the elasticity, such as flax seeds and cornflour. Keep an eye out for my future gluten-free recipes to see how I get on.
Lastly, I added some ginger and all-spice (also known as mixed-spice) alongside the cinnamon. I just felt like mixing it up a bit and making these biscuits a little more flavourful. And honestly, I'm glad I did this because I forgot how strong gluten-free flours can be! I don't enjoy the flavour of the GF flours usually (at least the ones I've tried) and the mix of spices combined with the icing on top disguised that nicely. I'm really happy with how they turned out!
Ingredients you'll need for these biscuits
Vegan margarine. Use the spreadable style that looks like traditional margarine, not the blocky style that looks like butter. The latter contains less water and won't work as well.
Soft brown sugar. Usually I use a combination of brown and white sugar in my cookie recipes but I used only soft light brown sugar for this one. I think it pairs really nicely with the spices.
Vanilla extract. For extra flavour. This helps to cover the strong taste of the gluten-free flour.
Gluten-free plain/all-purpose flour blend. It's important to use a blend here and not a single flour that happens to be gluten-free, such as almond or coconut flour, which will not work. I used Dove's Farm.
Xanthan gum. This helps to add a bit of elasticity to the dough and prevents it from crumbling when rolled out. You can find this in most large UK supermarkets, in the 'free-from' section. I purchased mine from Tesco.
Christmas spices. I used a mix of ginger, cinnamon and all-spice. If there are any other sweet spices that you like, feel free to add them in too.
Icing sugar. Because these biscuits are not super sweet on their own, I like to add some icing on top. Simply mix the icing sugar with some water until smooth and pipe it onto your biscuits!
More gluten-free vegan cookies:
How to make gluten-free Christmas spiced biscuits
Step 1:
In a large bowl, mix together 100g of vegan margarine, 60g of soft brown sugar (both dark and light brown sugar will work) and 2 teaspoons of vanilla extract.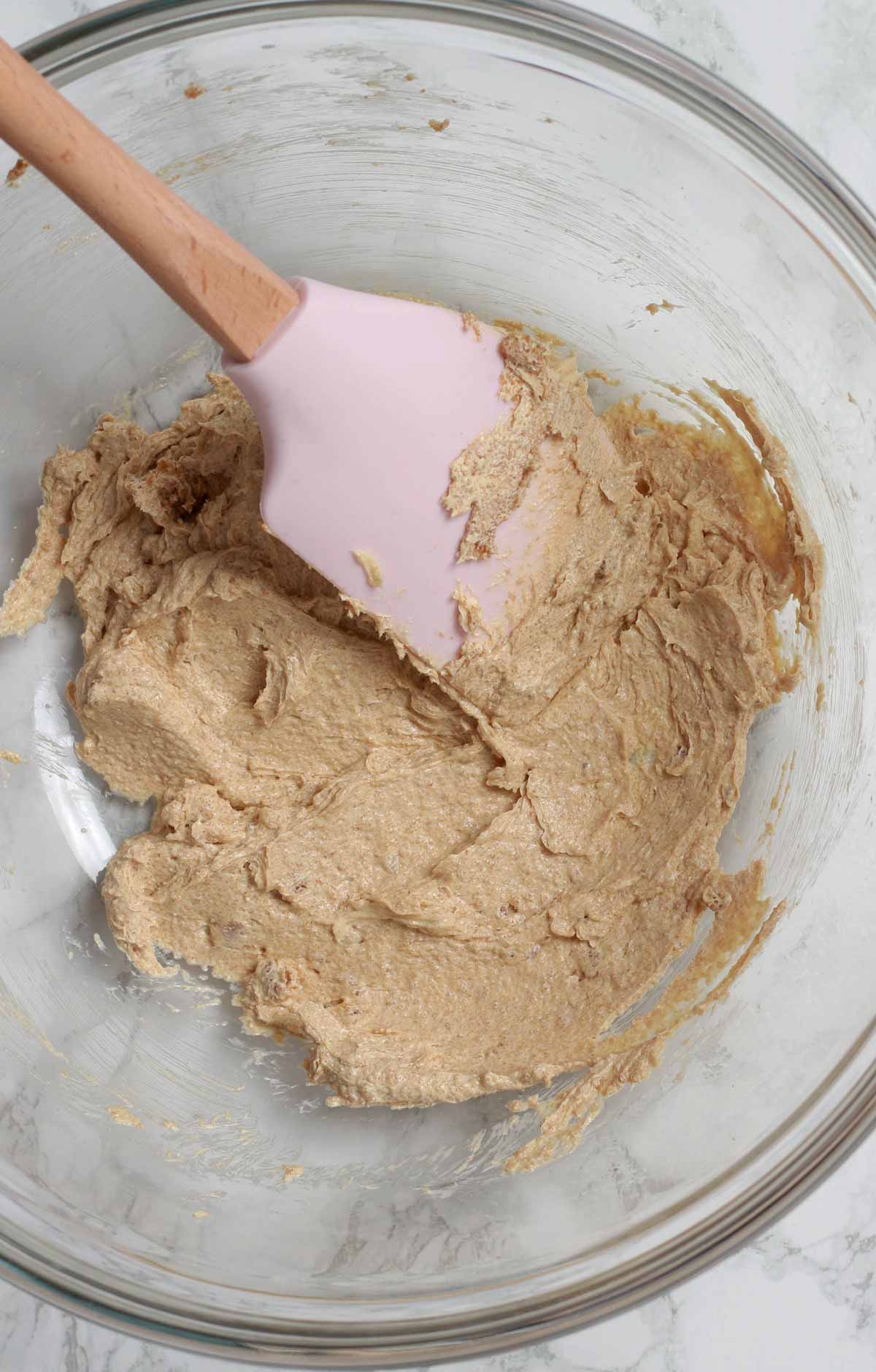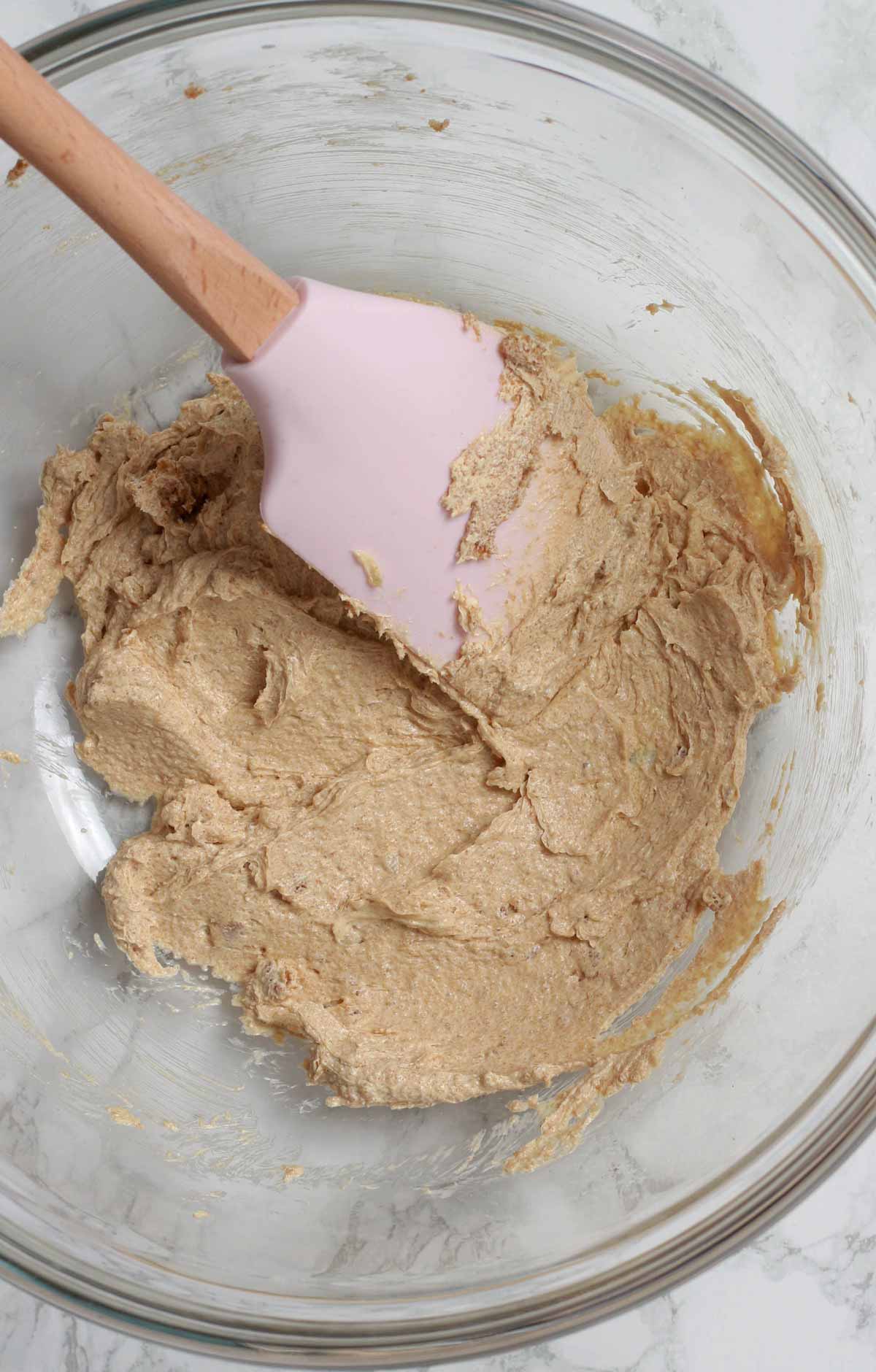 Step 2:
Measure out 170g of gluten-free plain/all-purpose flour. You'll need to use a flour blend for this recipe. I recommend Dove's Farm.
Add half of the flour to the wet mixture, along with 1/4 teaspoon of xanthan gum, 1 teaspoon of cinnamon, 1 teaspoon of ginger and 1/4 teaspoon of all spice (also known as mixed spice). Mix well.
Make sure to omit the xanthan gum if your flour already contains in. This acts as a thickener and binds the biscuit dough together so if you have too much, the biscuits will end up gummy and tough.
Step 3:
Add the rest of the flour, a little at a time, until you can press it into a firm ball of dough without it sticking to your hands. You may need to use more or less flour than the recommended 170g. This will depend on which type of flour blend that you're using.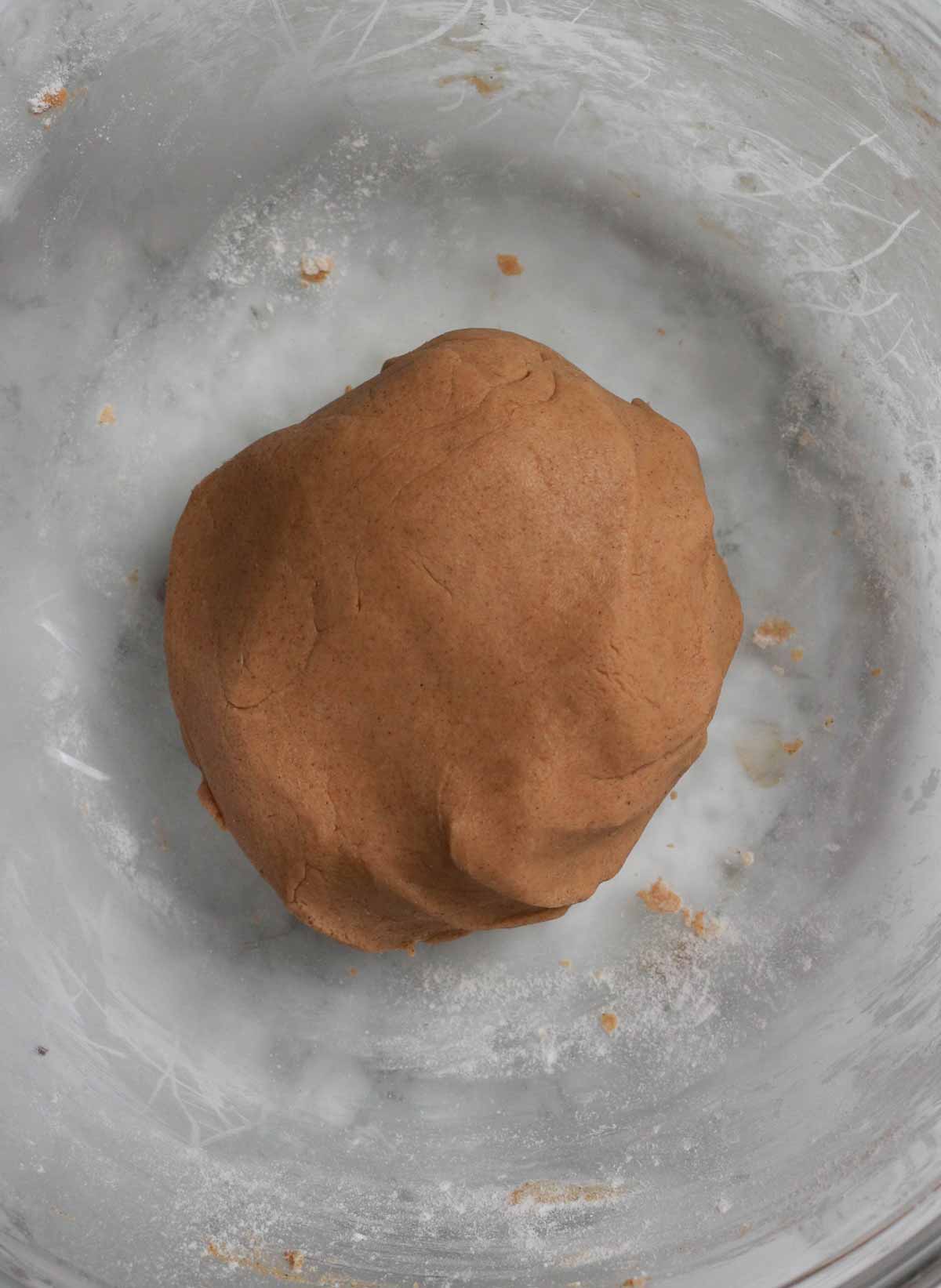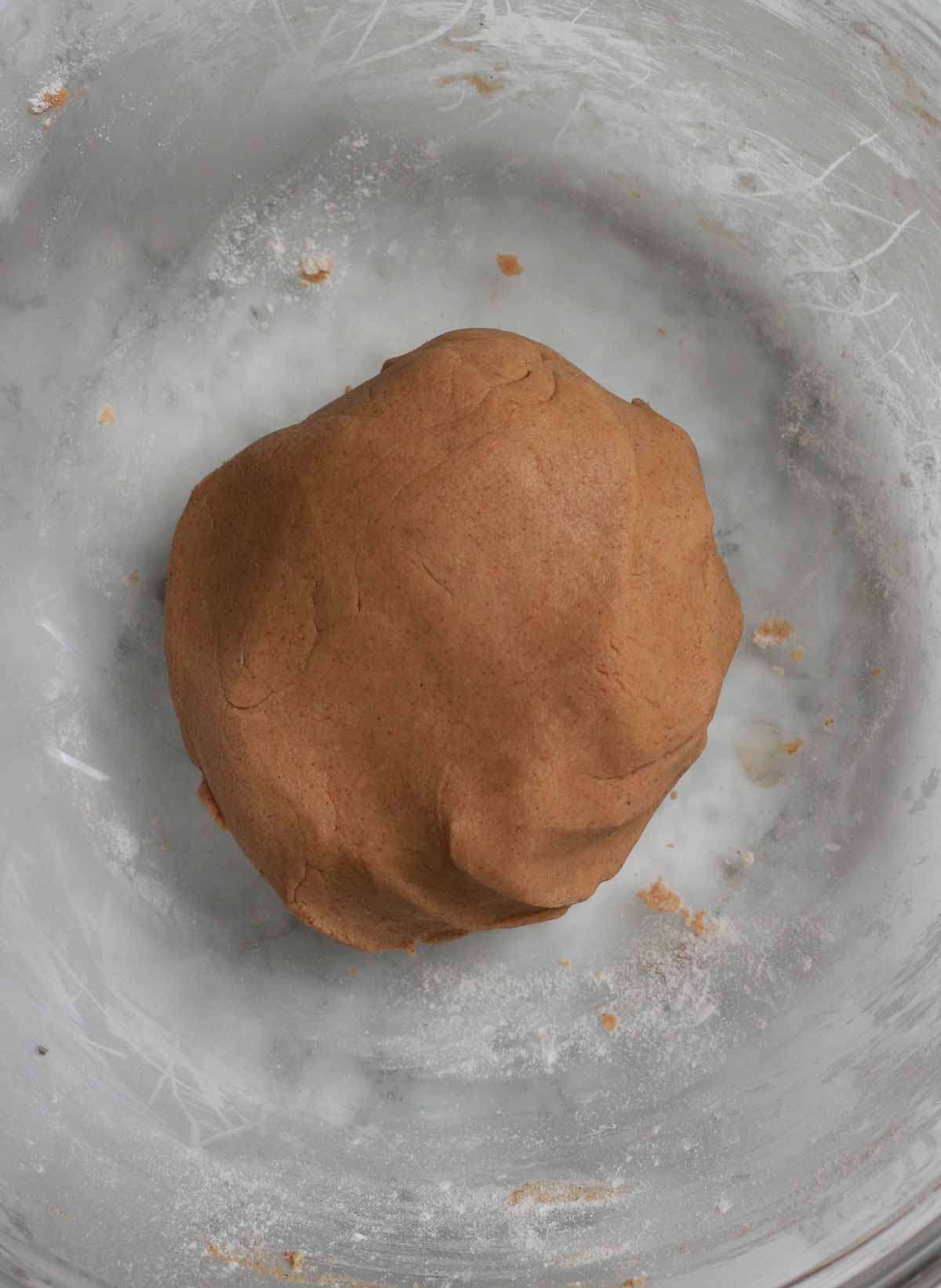 Step 4:
Place the dough into the fridge for 30 minutes. This will help the fat to become firm, which will prevent the biscuits from spreading out while they bake.
In the meantime, preheat your oven to 180°C/350°F (or 160°C/325°F if you're using a fan or convection oven).
Step 5:
Once the dough has been chilled, roll it out on a floured surface (using the same flour blend as before) until it's around 1/4 inch thick. Make sure to rotate the dough after each roll so that it doesn't stick to your surface.
Step 6:
Use a star-shaped cookie cutter to cut out shapes from the dough and carefully place them onto your baking tray. Reroll the scrap pieces until all of the dough is used up.
I used a 2.5-inch cutter. If you use a larger/smaller cutter than I did, please note that baking time will vary. You'll know they're done when they are firm to the touch.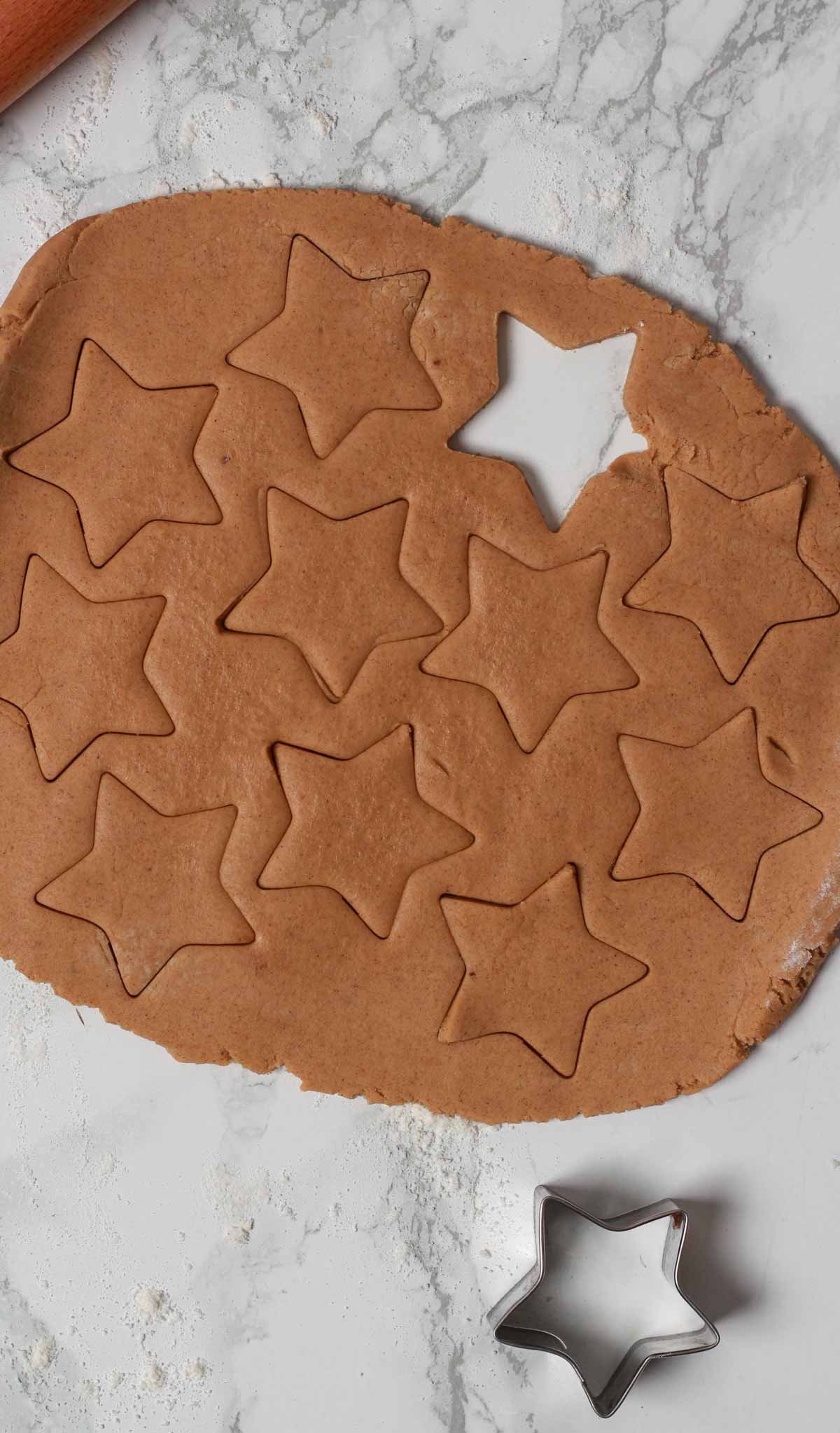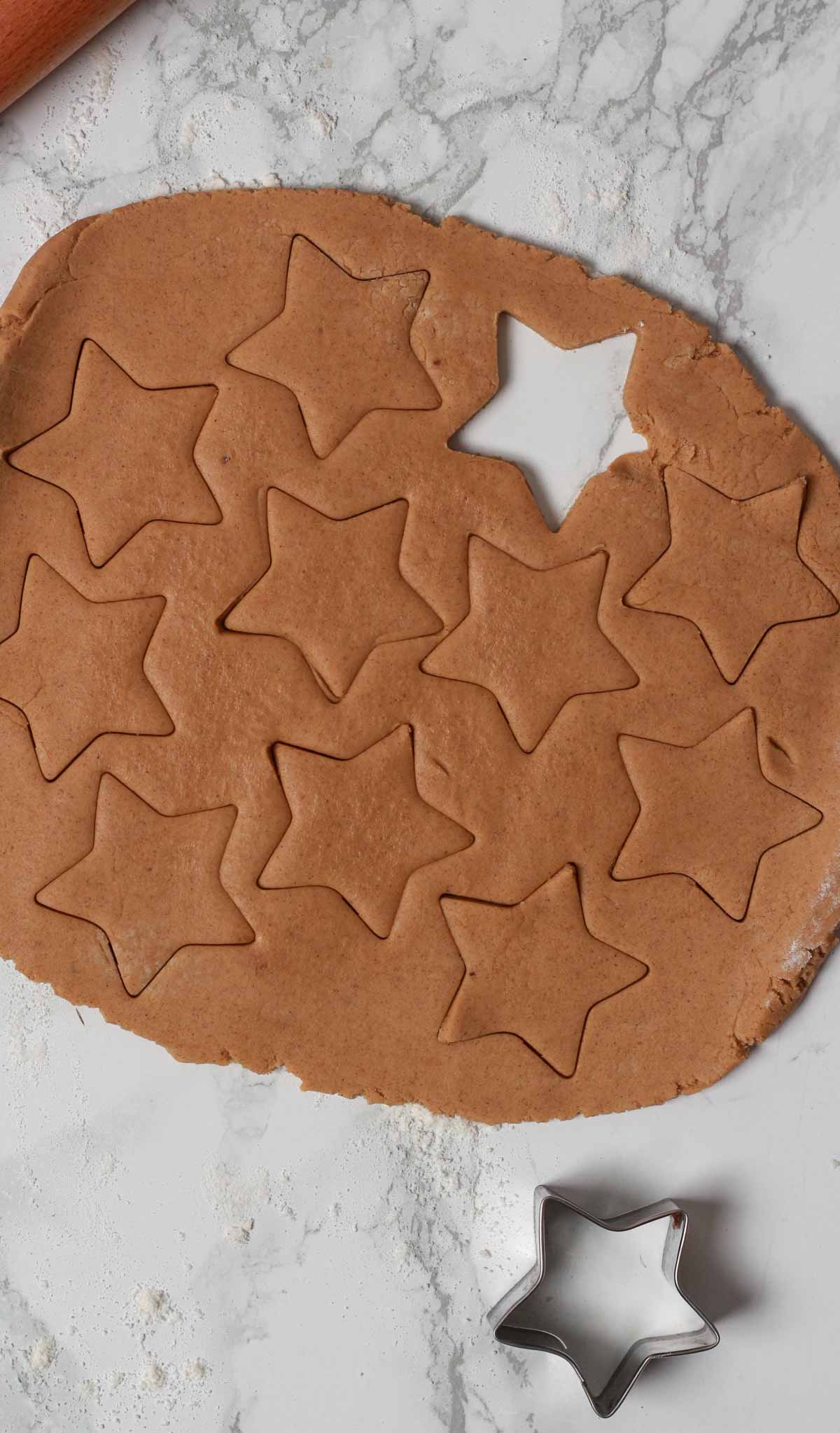 Step 7:
Bake the biscuits for 15 minutes and leave to cool completely before removing them from the tray.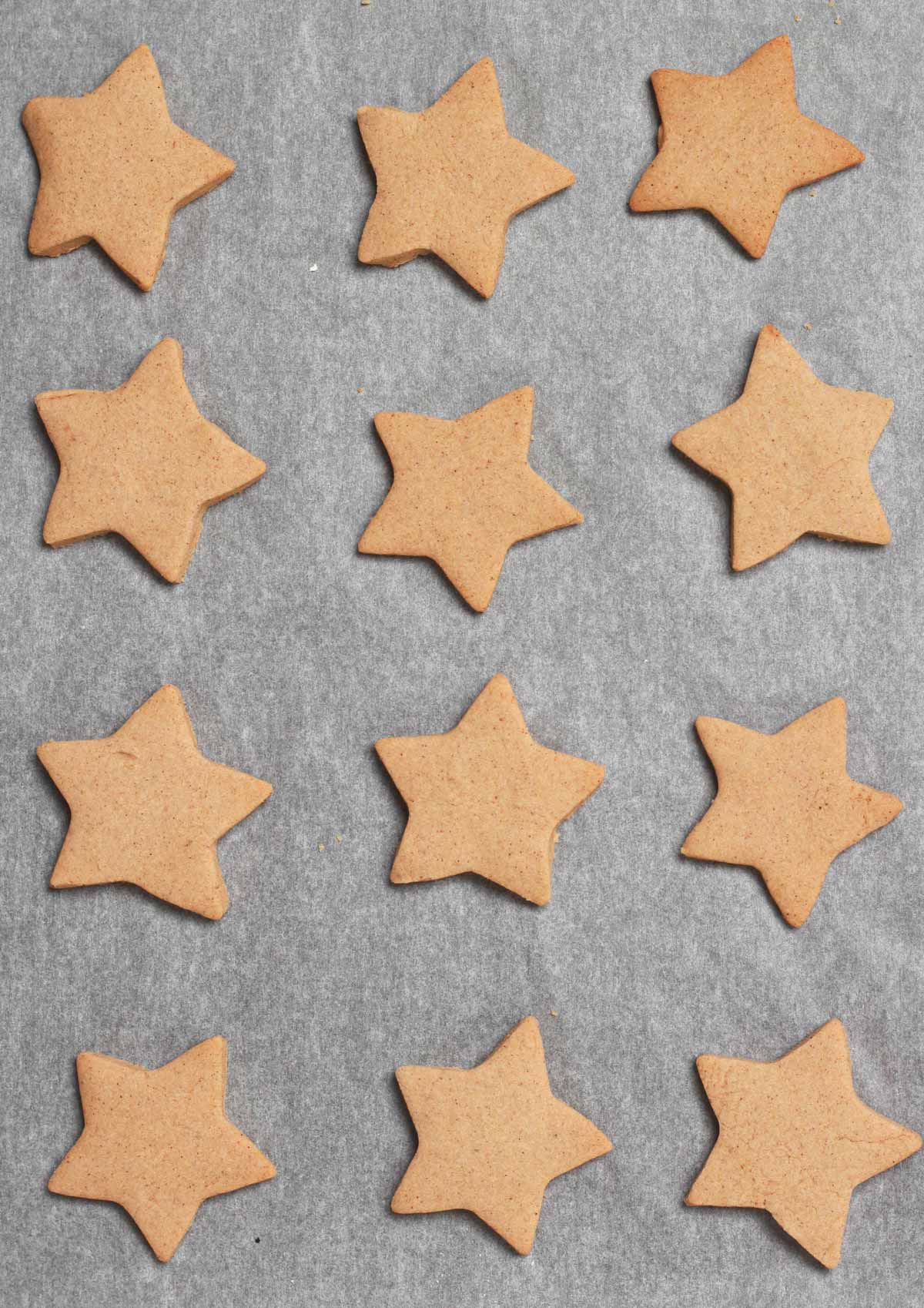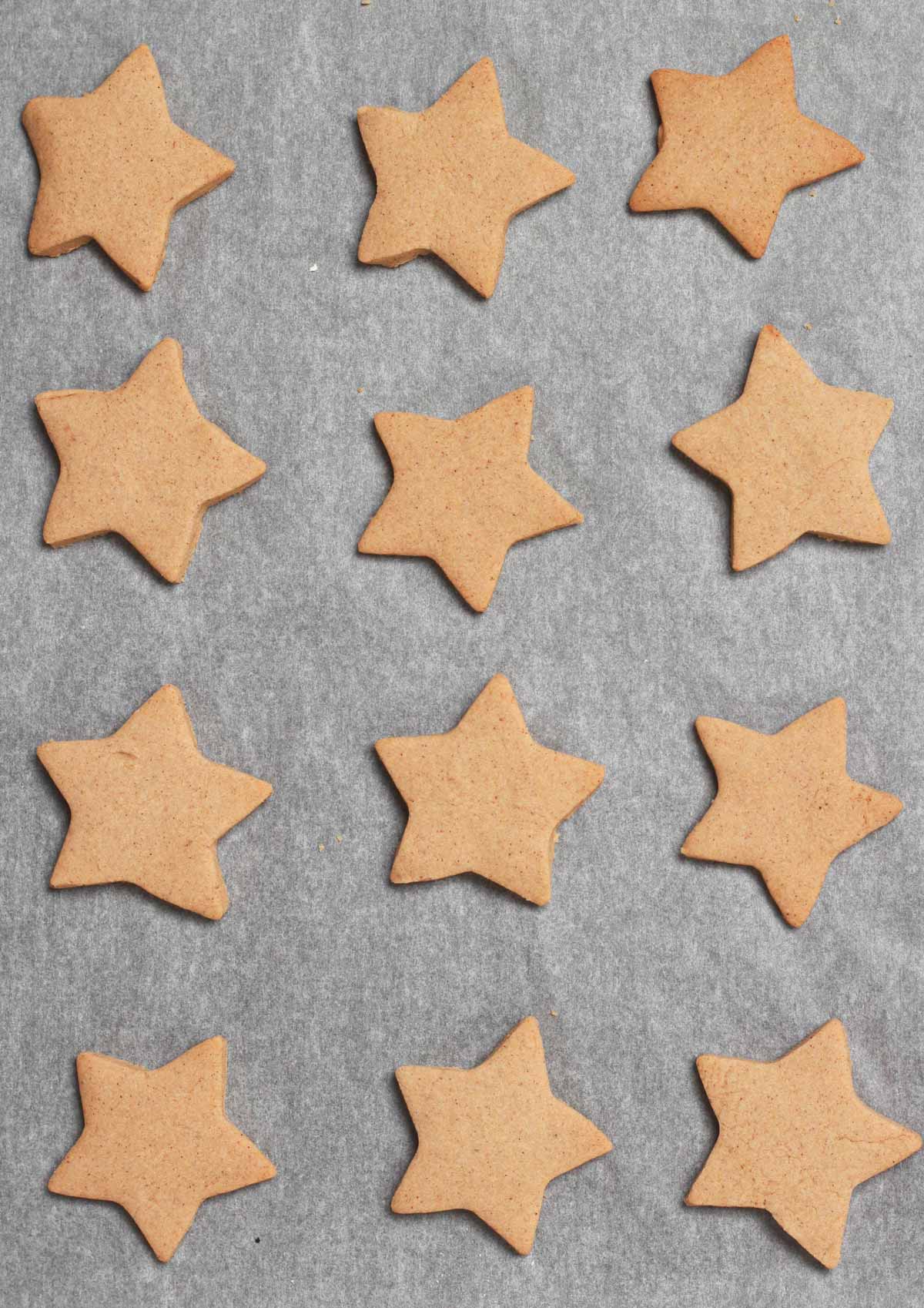 For the icing
Mix together 200g of icing sugar and 3 tablespoons of cold water until smooth. If you want to add a bit of extra flavour, you can use lemon juice or even something like spiced rum!
Transfer the icing into a piping bag with a small round nozzle and decorate. You can decorate the biscuits with small designs or you can cover them completely in icing. It's totally up to you! I did a mix of both.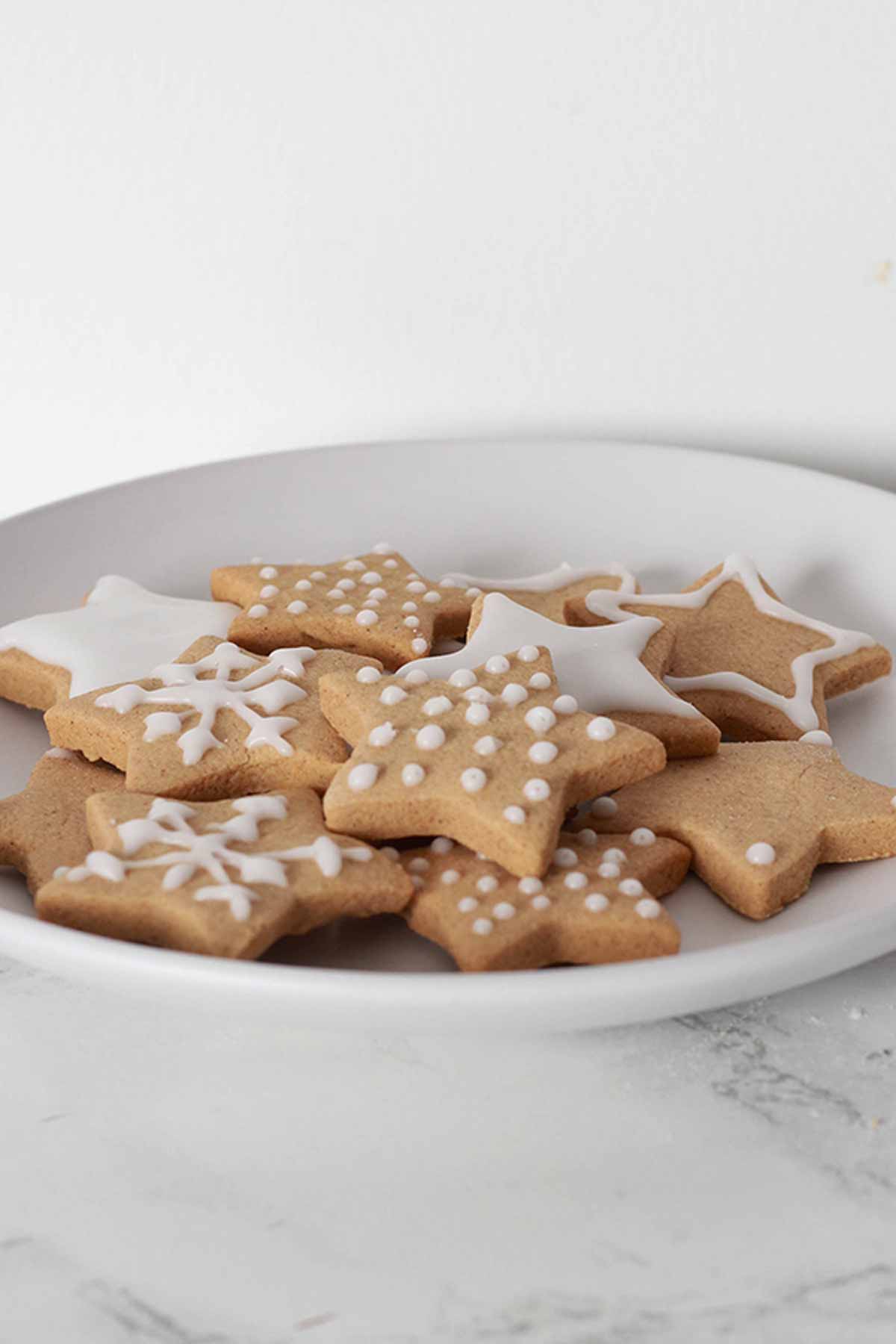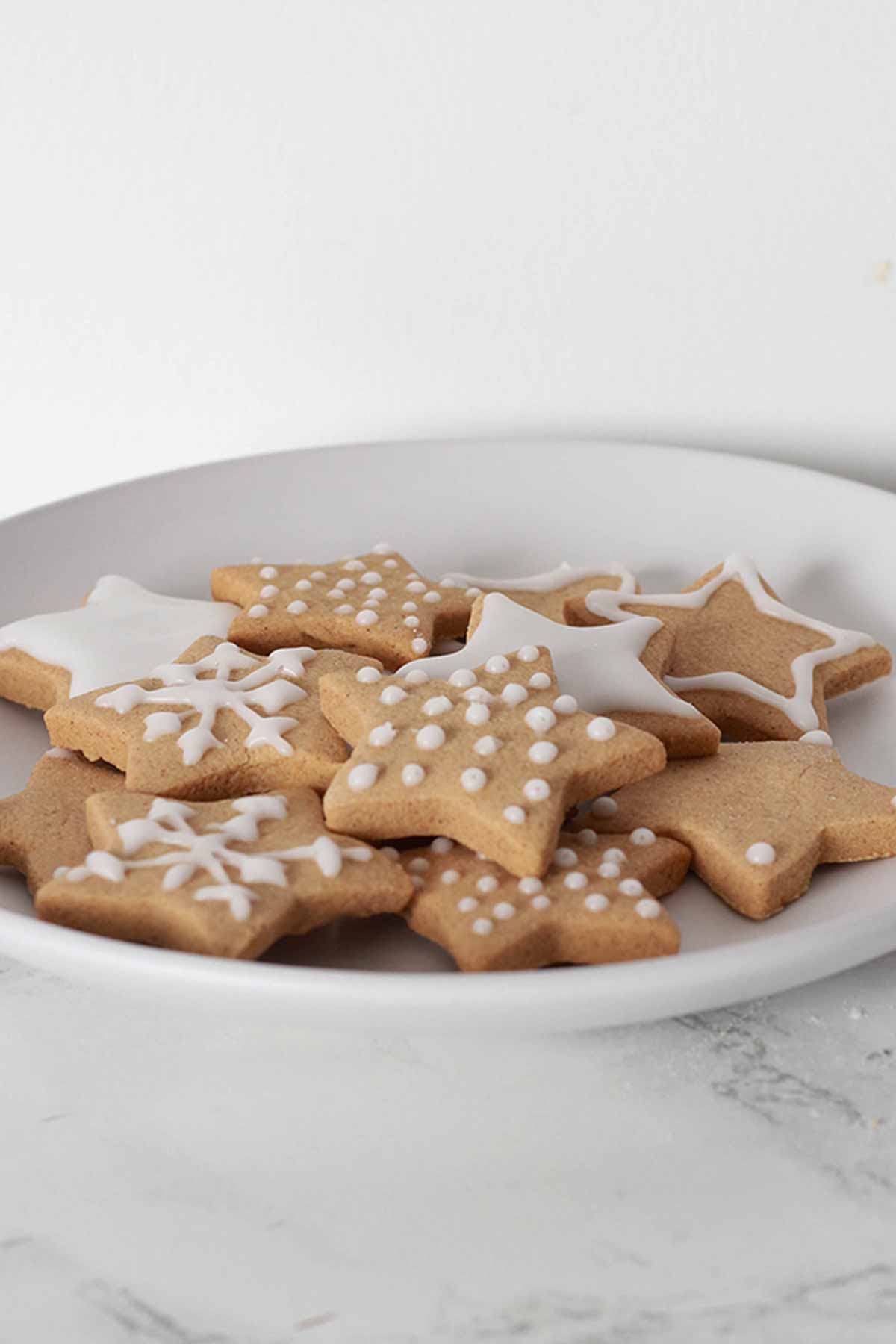 That's all for now! I hope you enjoy the recipe. If you make these spiced Christmas biscuits at home, please let me know how you get on by leaving a rating and/or comment below. Happy baking! xo

Gluten Free Spiced Christmas Biscuits (Vegan)
Eggless and dairy-free spiced biscuits that are perfect for the festive season.
Keyword
spiced christmas biscuits
Ingredients
60

g

Soft brown sugar

(5 tablespoons)

100

g

Vegan margarine

(6+½ tablespoons)

2

Teaspoons

Vanilla extract

175

g

Dove's Farm gluten-free flour blend see notes (1+⅜ cup)

¼

Teaspoon

Xanthan gum

(omit if your flour blend already contains this)

1

Teaspoon

Cinnamon

1

Teaspoon

Ginger

¼

Teaspoon

All spice
For the icing:
200

g

Icing sugar

(~1+⅔ cup)

3

Tablespoons

Cold water

(can be subbed for lemon juice for extra flavour)
Instructions
In a large bowl, cream together the sugar, margarine and vanilla.

Add the flour, xanthan gum and spices. Mix it into the wet mixture until it starts to stick then press it together into a ball of dough. The dough should not be sticky nor crumbly.

Place the dough in the fridge for 30 minutes to chill. This will help the biscuits hold shape as they bake.

In the meantime, preheat your oven to 180°C/350°F (or 160°C/325°F for fan or convection ovens). Line a large tray with baking paper.

Once chilled, roll the dough out onto a floured surface until it's ¼ of an inch thick. Rotate with each roll to prevent sticking.

Use a 2.5-inch star cutter to cut out the biscuits. Reroll the leftover pieces of dough until it's all used up.

Place them onto your tray, baking careful not to break them as you pick them up.

Bake for 15 minutes. Leave to cool completely before icing.

Mix the icing sugar and water together until smooth. Pipe or spoon it onto your biscuits, leave it to set, then enjoy!
Recipe Notes
Use a GF blend for this recipe. If using a different brand of flour to Dove's Farm, you may need less or more. Add the flour in a little bit at a time until you can press it into a ball without it sticking to your hands.
If you use a non-stick cookie sheet instead of a lined tray, bake them for a few minutes less. You'll know they're done when they're firm to the touch.
Bigger biscuits will need longer to bake and smaller ones will need less.
Store in an airtight container at room temperature for up to 1 week.
Nutrition Facts
Gluten Free Spiced Christmas Biscuits (Vegan)
Amount Per Serving (1 biscuit)
Calories 72
Calories from Fat 18
% Daily Value*
Fat 2g3%
Sodium 24mg1%
Carbohydrates 12g4%
* All values are an estimate only and will vary depending on the food brands used.
BakedByClo is a participant in the Amazon Services LLC Associates Program, an affiliate advertising program designed to provide a means for sites to earn advertising fees by advertising and linking to Amazon.com. This site may contain some of these links to Amazon.com & other affiliate programs. If you make a purchase through one of those links, BakedByClo will receive a small commission from the purchase at no additional cost to you.