Vegan Almond Flour Cookies
These vegan almond flour cookies are chewy, chocolatey, and full of good fats. They're lower in sugar than traditional cookies and make the perfect on-the-go, guilt-free snack.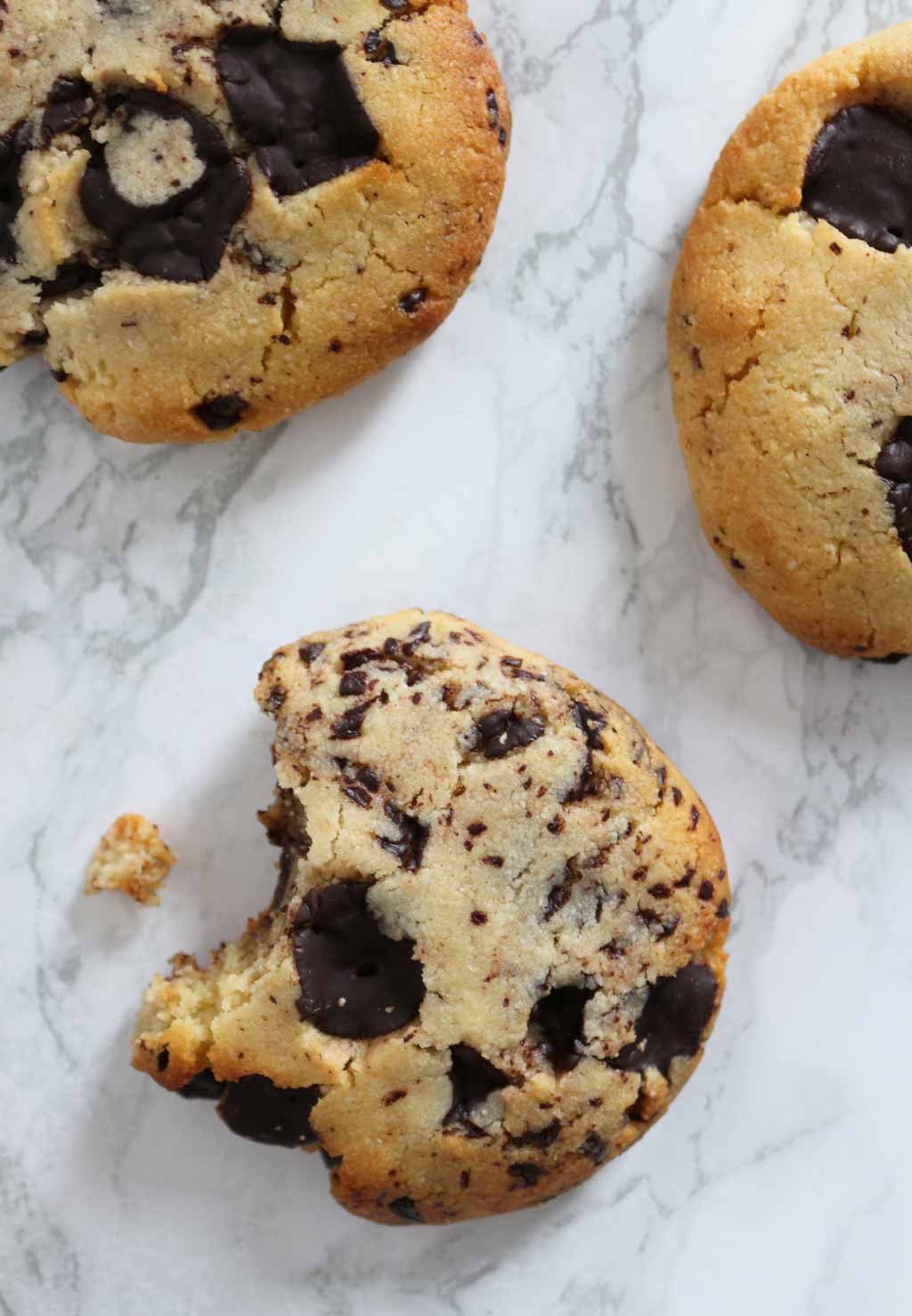 If you're looking for a tasty alternative to traditional wheat and sugar-filled cookies, look no further!
Introducing…
Naturally sweetened, lower-carb, gluten-free, PALEO almond flour chocolate chip cookies.
Woah.
I love these cookies because they taste just as good as the regular kind but are filled with mostly wholesome ingredients.
These little bites of delight were a staple during my avid gym-going days, for the days when I craved something sweet but didn't want to ruin my goals.
I won't try to claim that they're a health food, but they are free from refined sugar and flour. That means they won't spike your blood sugar quite so much due to the low glycemic sweetness, which comes from ground almonds and agave nectar.
A brilliant recipe for lazy bakers
The number one reason why I love these cookies so much, aside from the taste?
You can make them in just one bowl! There's hardly any mess to clean up afterward AND they only take 10 minutes to bake, making them perfect for lazy people like me.
Is there anything worse than having to clean up stacks of dishes before tucking into your baked creations?
They take next to no effort to make and can be whipped up in 15 minutes from start to finish.
What's not to love?
Searching for more vegan cookie recipes? You'll love these: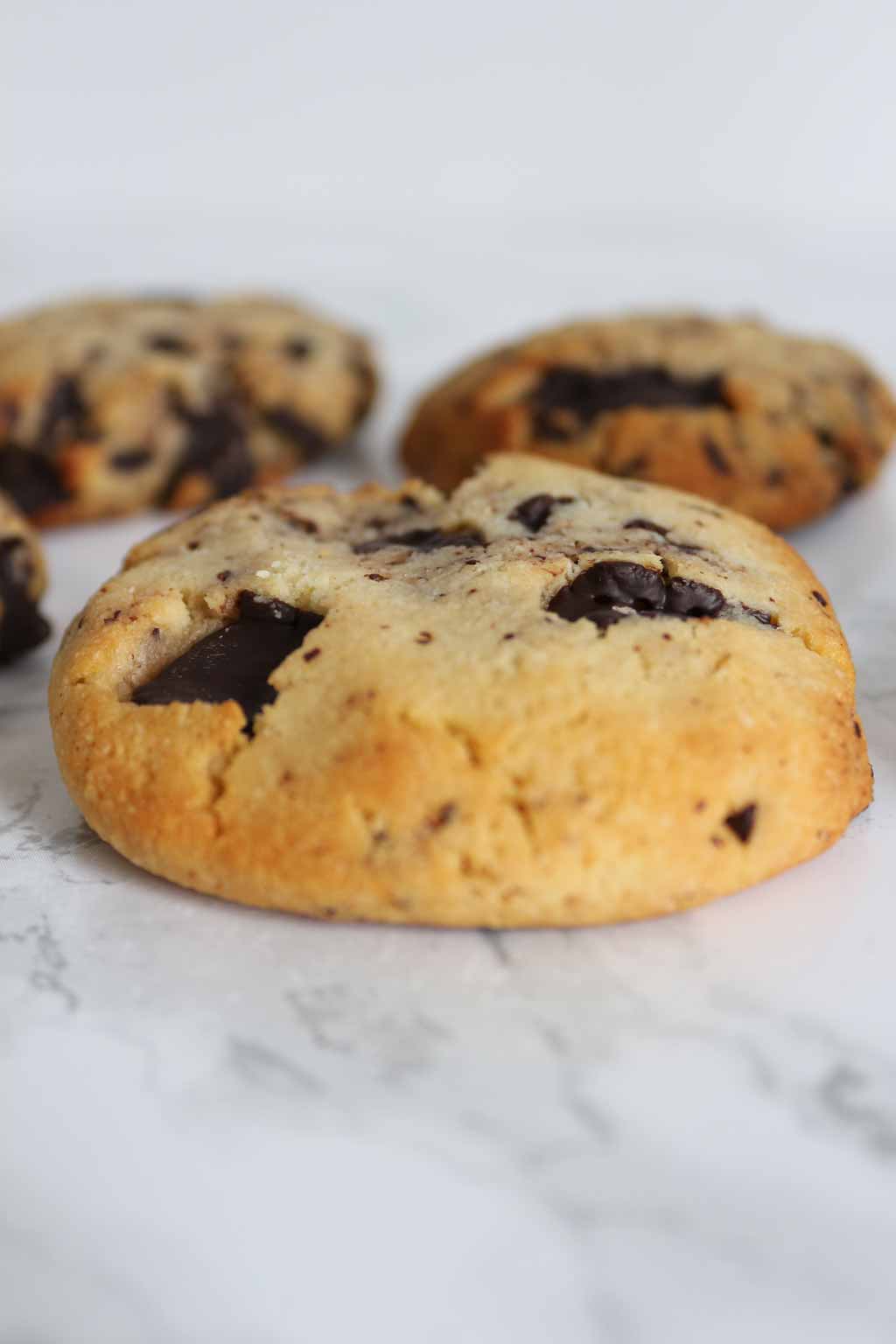 How to make vegan almond flour cookies
Step 1:
The first step, as in every baking recipe, is to preheat your oven. Set it to 180°C/350°F and line a tray with baking paper.
Step 2:
Next, measure out 4 tablespoons of vegan butter then melt it over the stove or in the microwave. I recommend using the spreadable type of 'butter' for best results.
Leave it to cool down for a couple of minutes. It doesn't need to be completely cold, just make sure it's not boiling hot.
Step 3:
To a large bowl, add 200g (2 cups) of almond flour/ground almonds and 1 teaspoon of baking powder. Mix together until well incorporated and there are no lumps in the mixture.
Step 4:
Now add the vegan butter that you melted earlier, along with 1 teaspoon of vanilla extract and 3 tablespoons of liquid sweetener.
I used agave nectar but you can use maple syrup or anything else you like as long as it's a liquid.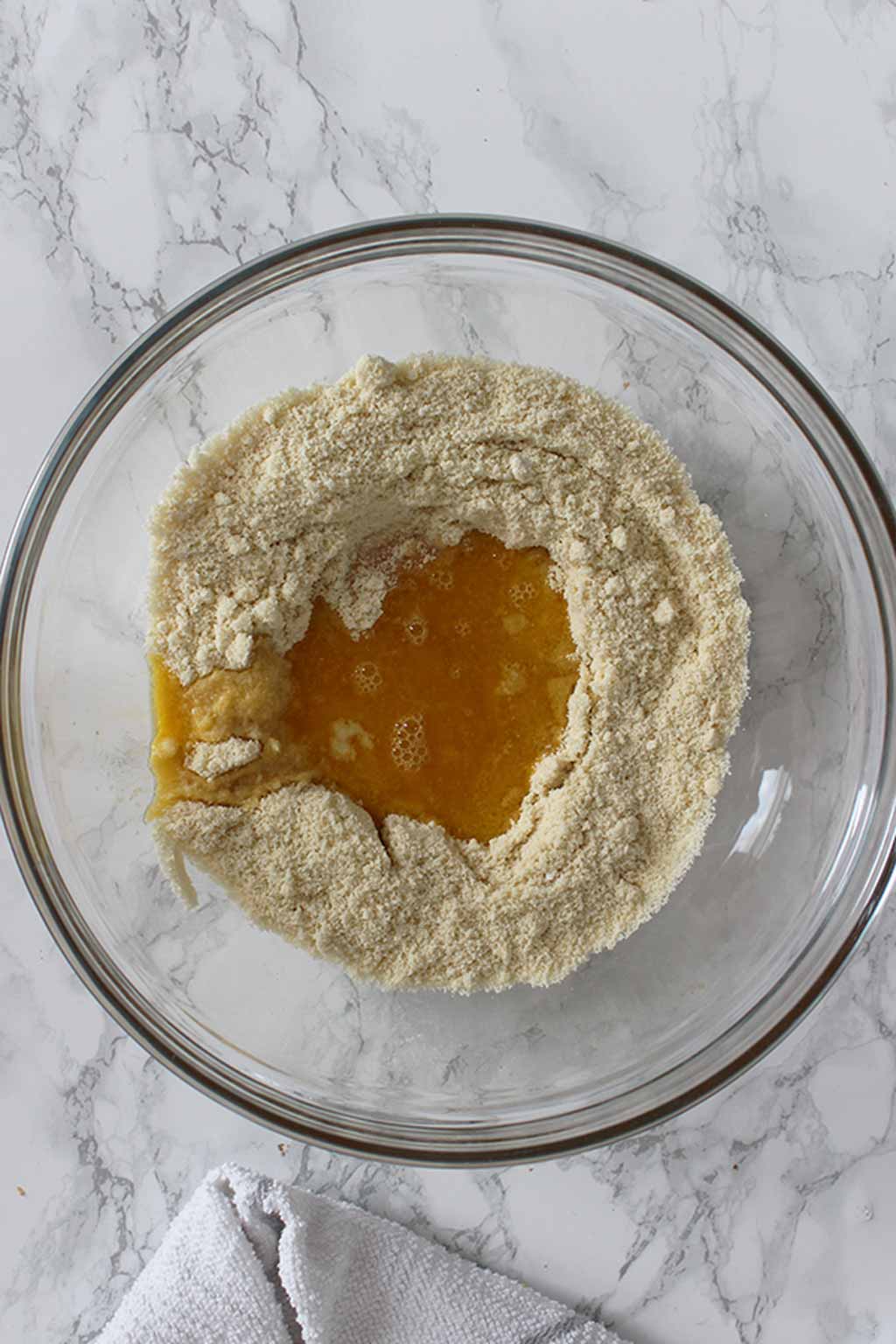 Mix everything together well. Once it starts to stick together, use your hands to form a soft dough.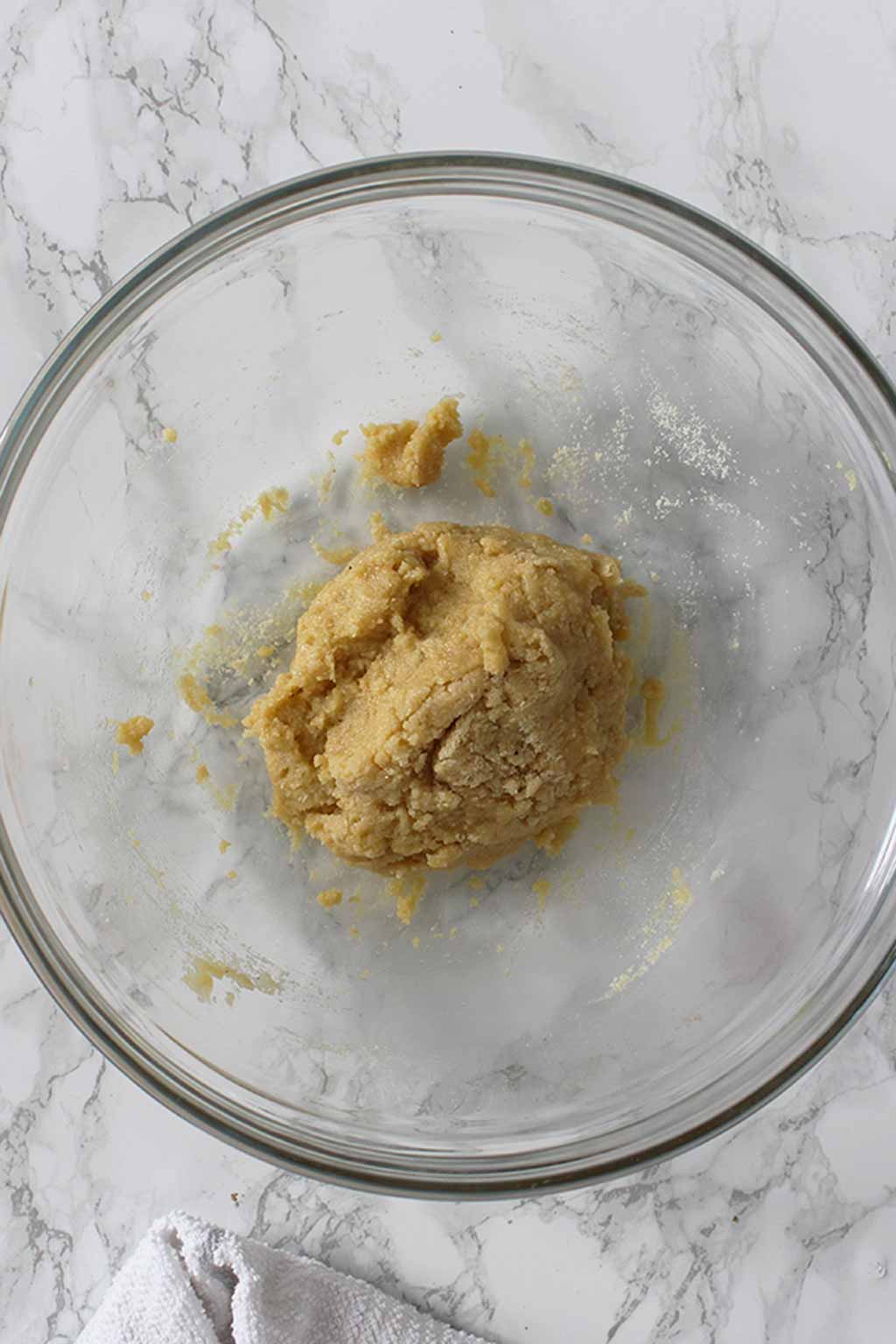 Step 5:
Add 90g (around 1/2 a cup) of vegan-friendly chocolate chips and use your hands to fold them into the dough.
If you can't find suitable chocolate chips where you shop, you can just cut up any bar of vegan chocolate to make chunks instead. They taste just as great!
Step 6:
Divide the cookie dough up into 8 equal pieces and roll each piece into a ball. Flatten the balls into cookie shapes and place them onto your lined baking tray.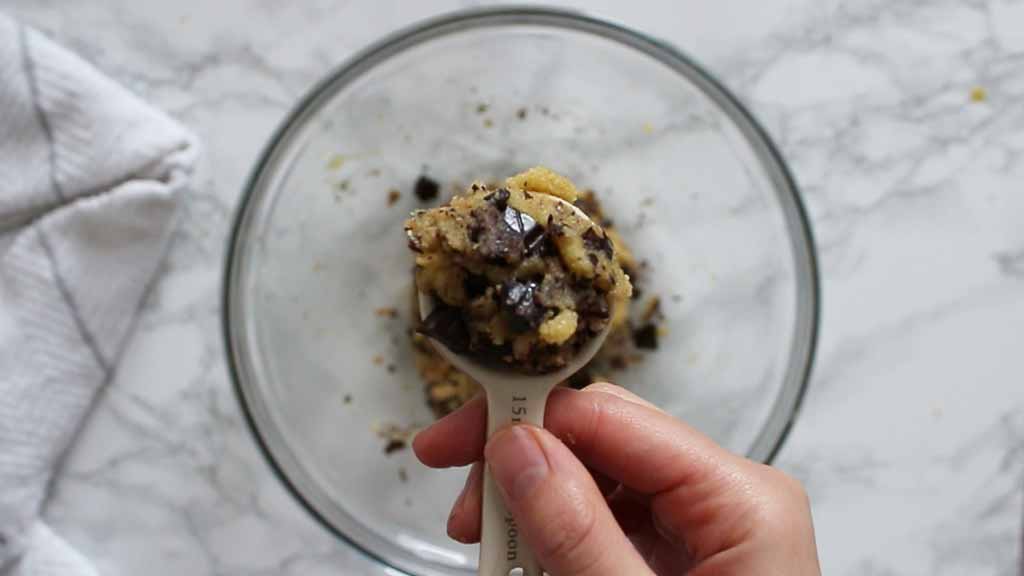 Bake for 10 minutes until the edges of the cookies turn golden brown.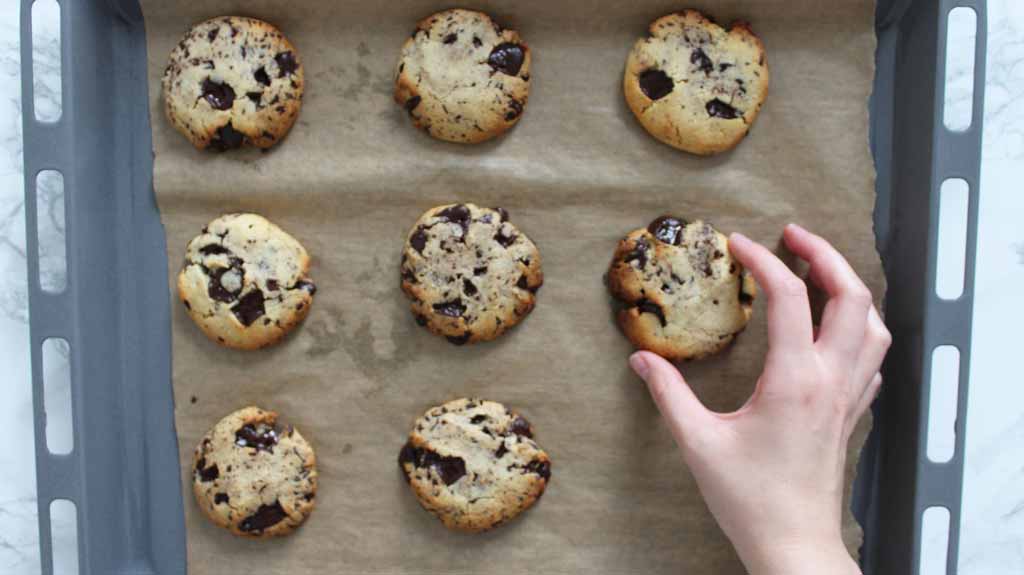 Allow them to cool down completely before removing them from the tray as they will be quite tender when hot.
FAQ:
Where can I find vegan chocolate chips?
Dairy-free chocolate chips can be quite hard to come by in some places. In the UK, I know that Asda sells their own-brand vegan dark chocolate chips, and if you're in the States, my US friends tell me that Enjoy Life semi-sweet chips are great for baking with. Check out my chocolate guide for an extensive list.

And of course, if you can't get your hands on chocolate chips, just buy a bar of dairy-free dark chocolate and chop it up into small chunks. Many brands of dark chocolate are vegan-friendly but just make sure to double-check the ingredients before buying.
Can I use coconut oil instead of vegan butter?
Yes, you can! I much prefer the flavor that the vegan butter gives but I have made this recipe a few times with coconut oil.

If using coconut oil, do not melt it as the cookie dough will end up too wet. You'll need to use extra virgin coconut oil at room temperature, so it's in a semi-solid state rather than liquid.
My cookie dough is too wet/dry. What should I do?
As different brands of vegan butter vary in ingredients, the brand you use can determine the texture of your cookie dough. If the dough is too wet, add more almond flour in gradually until it becomes manageable and doesn't stick to your hands.

If it's too dry on the other hand, you can just add more liquid sweetener or a splash of plant-based milk to help it stick together.
Are there any alternative cookie mix-ins?
Some of my favourite things to add to the cookie dough instead of chocolate chips are chopped or flaked almonds, raisins, lemon zest and orange zest. You can get creative and add anything you want, really! Next on my list of things to try is pretzel almond flour cookies.
How should I store vegan almond flour cookies?
For best results, I'd highly recommend storing them in an airtight container in the fridge. They will keep OK at room temp too but are firmer and have more "bite" when they're kept cooler.
Can they be frozen?
Yes but I have to admit that they taste better fresh. To be honest, I don't often need to freeze them because they keep so well. They'll last around a week in the fridge which is usually much longer than I can resist them.

If you do want to freeze them, place them in an airtight container and freeze for up to 2 months. To defrost, just transfer them to a plate and let them sit at room temperature until thawed.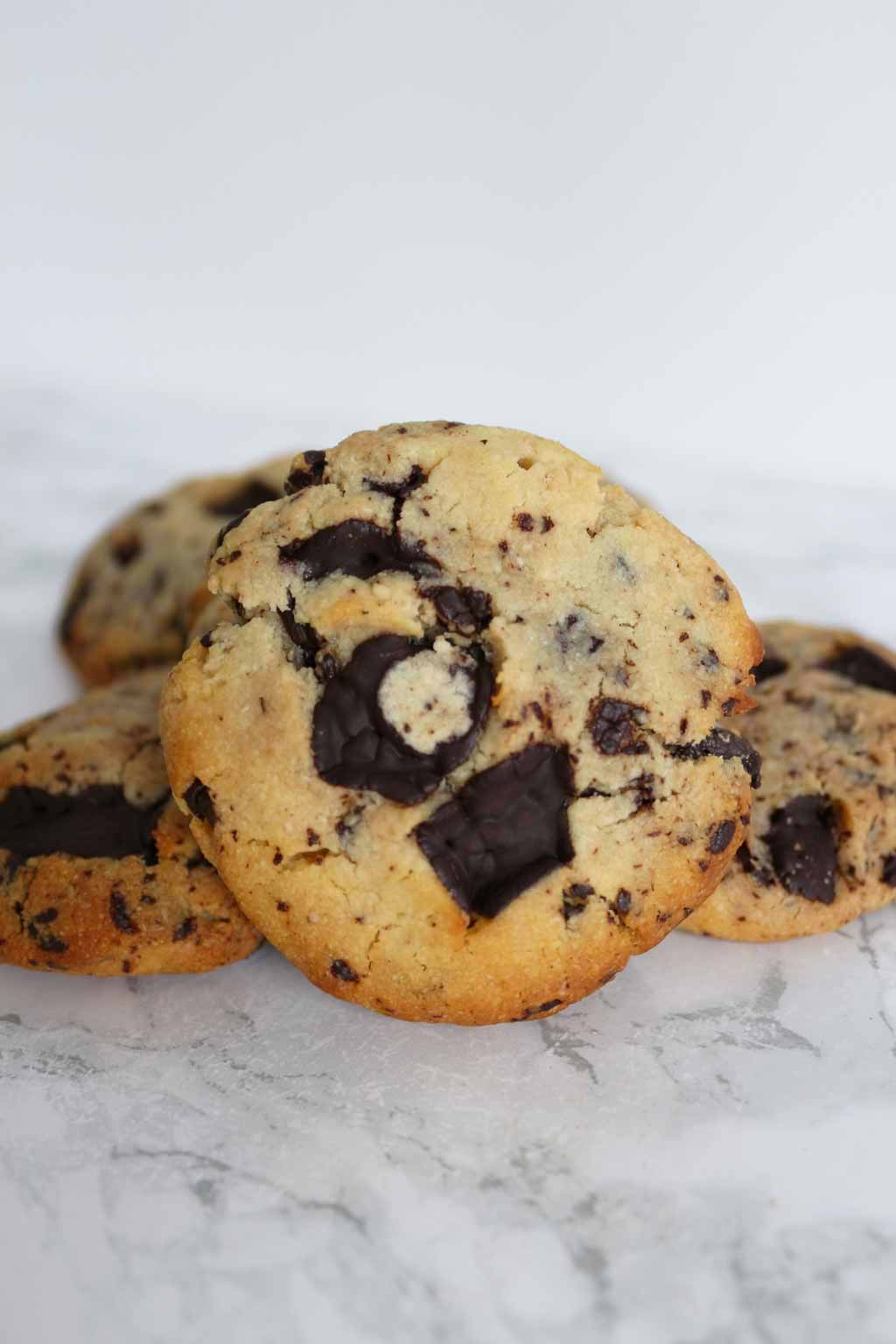 I hope you enjoy these almond flour cookies! If you love the recipe, please leave me a comment and a rating below to let me know!
Happy baking!
xo

Vegan Almond Flour Cookies
A low carb, gluten-free version of the classic chocolate chip cookie!
Ingredients
200

g

Almond flour

60

g

Vegan butter, melted

3

Tablespoons

Agave nectar or maple syrup

1

Teaspoon

Vanilla essence

½

Teaspoon

Baking powder

90

g

Dark chocolate chips or chunks
Instructions
Preheat oven to 180°C/350°F (or 160°C/325°F for fan or convection ovens) and line a tray with baking paper.

Mix all ingredients except the chocolate chips in a large bowl to form a soft dough.

Fold in the chocolate chunks and divide the dough into 8 small balls.

Press each ball onto the baking tray to form a small cookie shape. Bake them 10 minutes until they are golden brown at the edges.

Leave to cool completely before enjoying!
Recipe Notes
If the dough is too wet (this depends on what brand of vegan butter you use) just add more almond flour until you get the desired consistency. If it's too dry, add more agave or maple syrup.
Store in an airtight container in the fridge for up to 7 days.
Recipe adapted from Zanna Van Dijk's healthy chocolate chip cookie recipe.
Nutrition Facts
Vegan Almond Flour Cookies
Amount Per Serving (1 cookie)
Calories 271
Calories from Fat 198
% Daily Value*
Fat 22g34%
Sodium 73mg3%
Carbohydrates 9g3%
Protein 8g16%
* All values are an estimate only and will vary depending on the food brands used.
BakedByClo is a participant in the Amazon Services LLC Associates Program, an affiliate advertising program designed to provide a means for sites to earn advertising fees by advertising and linking to Amazon.com. This site may contain some of these links to Amazon.com & other affiliate programs. If you make a purchase through one of those links, BakedByClo will receive a small commission from the purchase at no additional cost to you.