Dairy-Free Bounty Bars
These dairy-free Bounty bars taste just like the classic version but with some added healthy fats! You can make them easily with just a few ingredients and there's no baking required! Perfect for an on-the-go snack or dessert.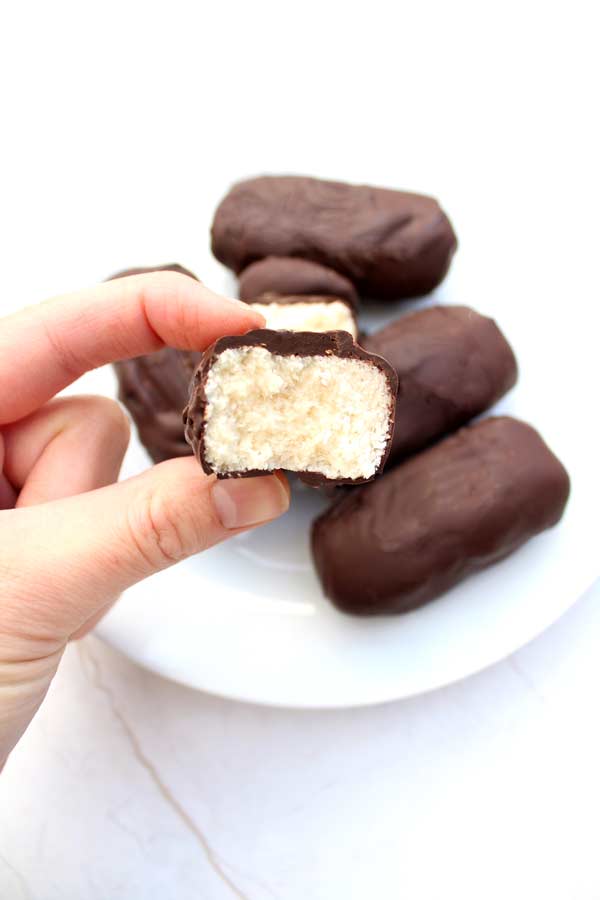 Whether you're cutting out animal products all together, going dairy-free, or just simply chocolate mad, these vegan chocolate coconut bars are for you.
Before I went fully vegan a few years ago, I tried out the classic "dairy-free" diet. I missed sweets and chocolate terribly at first, especially chocolate bars like Snickers, Mars bars and Bounty bars. I was totally addicted.
I'm not exaggerating when I say there was a point in my teenage life where I ate an average of 4 full-sized chocolate bars a day! I remember offering one of my school teachers a Snickers and when she replied "no thanks, I already ate some chocolate today", I spent the rest of the day confused as to why anyone would limit themselves to one a day.
I started my dairy-free journey before veganism really took off, so I wasn't able to go to any old store and pick up some vegan chocolate bars, unless it was a plain bar of dark chocolate, which was no fun! So I decided I'd try to make my own Bounty bars.
Turns out it was way easier than I first anticipated!
I whacked together some dark chocolate along with a few coconutty ingredients I had in my cupboard at the time. I didn't really know what I was doing, except hoping the result would be tasty and somewhat resemble my beloved Bounty.
Luckily, it was a success. And although I didn't realise it at the time, my dairy-free Bounty bars were totally vegan-friendly!
So today I'm sharing that recipe with you. And they're not just your regular vegan chocolate coconut bars either… These are slightly healthier, gluten-free Bounty bars! And they taste just how I remember the original tasting.
Are Bounty bars vegan?
Traditionally, no, they are made with milk chocolate. I did get my hopes up when I saw there were dark chocolate Bounty bars available to buy in stores but sadly, they also contain milk!
So if you want a dairy-free version at a reasonable price, you'll have to make your own. But don't worry, the whole process is super easy. Let me show you how to do it!
Ingredients you'll need
Desiccated coconut. I used fine-grade desiccated coconut for this recipe. If you only have the regular kind, you can blend it first or just reduce the amount of liquid in the recipe to form a patty consistency.
Coconut oil. You'll need to use extra-virgin coconut oil, not the runny kind that comes in a bottle. To make things easier for yourself, be sure that your coconut oil is not cold. It should be semi-solid and easy to scoop.
Coconut milk. Light coconut milk or full-fat will work in this recipe, as long as it's the tinned kind, not the drinkable one that comes in a carton.
Agave nectar. I used this as an alternative to refined sugar. You could use maple syrup if you prefer but I would think the flavour would be a little overpowering.
Vanilla extract. This is totally optional, so feel free to skip it if you like, but I think it adds a nice additional flavour.
Dairy-free chocolate. I used Tesco 74% dark chocolate as I like the slightly bitter contrast with the sweet filling. Most dark chocolate is vegan but be sure to double check for added milk or milk powder. If you prefer a sweeter chocolate, you can use a vegan 'milk' chocolate such as Nomo or Moo-Free.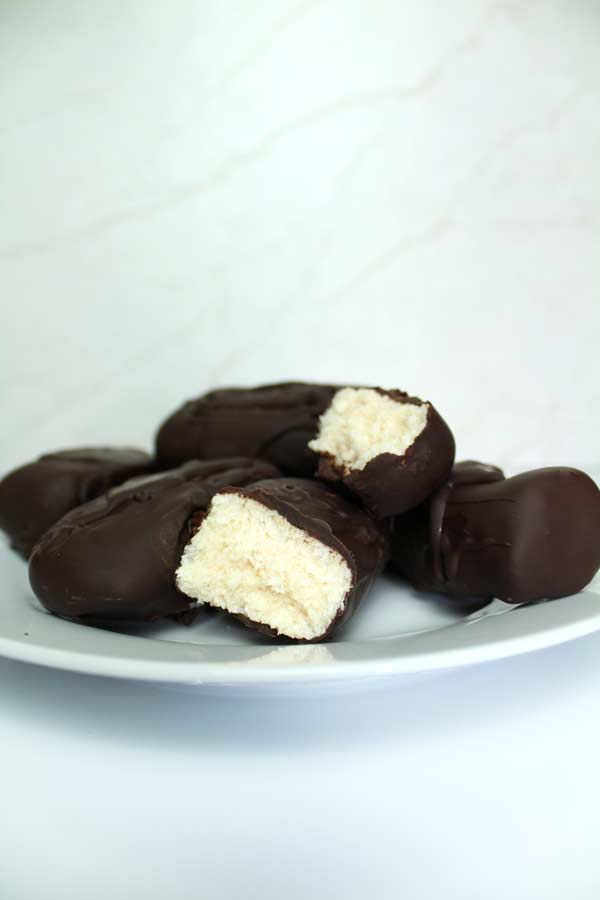 How to make dairy-free Bounty bars
Step 1:
Add 160g of fine-grade desiccated coconut to a large bowl. Add in 4 tablespoons of semi-solid extra virgin coconut oil, 2 tablespoons of coconut milk, 1 teaspoon of vanilla extract and 2 tablespoons of agave nectar.
Mix it all together and when it starts to stick, use your hands to form it into 6 patties.
Step 2:
Use your hands to shape each coconut patty into a small bar shape.
Place your chocolate coconut bars on a lined tray or plate and freeze for 20 minutes.
Step 3:
Melt 250g of vegan chocolate and dip each bar into it, making sure they are completely coated. Place them on a wire rack with a piece of baking paper underneath- this will help the excess chocolate drip off instead of pooling around the bottom of the bar.
Step 4:
Place the bars into the fridge for 1-2 hours, to let the chocolate set completely. Then all that's left to do is enjoy!
FAQ:
How should I store vegan Bounty bars?
Keep them in an airtight container in the fridge. They should last for up to 10 days this way.
Can I freeze them?
Yep! You can pop them into airtight containers and freeze for up to 3 months. When you're ready to enjoy them, just transfer them to the fridge and leave them there overnight to defrost. Do not refreeze.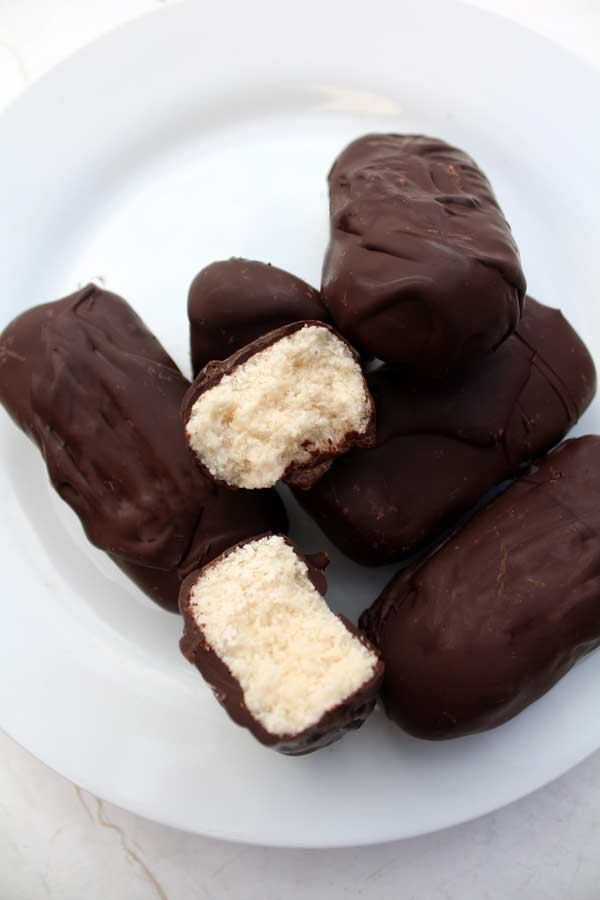 More vegan dessert recipes:
If you like these vegan chocolate coconut bars, let me know! And if you make them yourself, please leave a comment and rating below to let me know how it goes! Happy baking. xo

Dairy-free Bounty Bars (Vegan Chocolate Coconut Bars)
A vegan remake of the classic, coconut chocolate Bounty bars. No-bake, dairy-free and gluten-free.
Chill time
1
hour
15
minutes
Ingredients
160

g

Fine grade unsweetened desiccated coconut

(1 + ⅓ cups)

4

Tablespoons

Semi-solid extra virgin coconut oil

2

Tablespoons

Coconut milk

(light or full-fat will work, as long as it's the tinned kind)

2

Tablespoons

Agave nectar

1

Teaspoon

Vanilla extract

(optional)

250

g

Dairy-free chocolate

(7oz)
Instructions
Mix all ingredients except the chocolate together in a large bowl. Use your hands to divide the mixture into 6 small patties.

Shape the patties into bars. Place them on a tray or plate lined with baking paper and freeze for 20 minutes.

Melt the chocolate over a low heat and allow it to cool for a few minutes. You want it to be cool to the touch, otherwise it'll melt the coconut bars.

Dip the bars into the chocolate, one at a time. Place them onto a cooling rack with a piece of baking paper underneath. This will prevent the chocolate from pooling underneath the bars.

Transfer the bars to the fridge for 1-2 more hours, until the chocolate has set completely.
Recipe Notes
Store in the fridge in an airtight container for up to 10 days.
Nutrition Facts
Dairy-free Bounty Bars (Vegan Chocolate Coconut Bars)
Amount Per Serving (1 bar)
Calories 507
Calories from Fat 351
% Daily Value*
Fat 39g60%
Sodium 12mg1%
Carbohydrates 19g6%
Protein 6g12%
* All values are an estimate only and will vary depending on the food brands used.
BakedByClo is a participant in the Amazon Services LLC Associates Program, an affiliate advertising program designed to provide a means for sites to earn advertising fees by advertising and linking to Amazon.com. This site may contain some of these links to Amazon.com & other affiliate programs. If you make a purchase through one of those links, BakedByClo will receive a small commission from the purchase at no additional cost to you.