Vegan Chocolate Chip Banana Bread
This vegan chocolate chip banana bread is sweet, cakey and super moist. It makes a delicious afternoon snack and tastes great served with nut butter.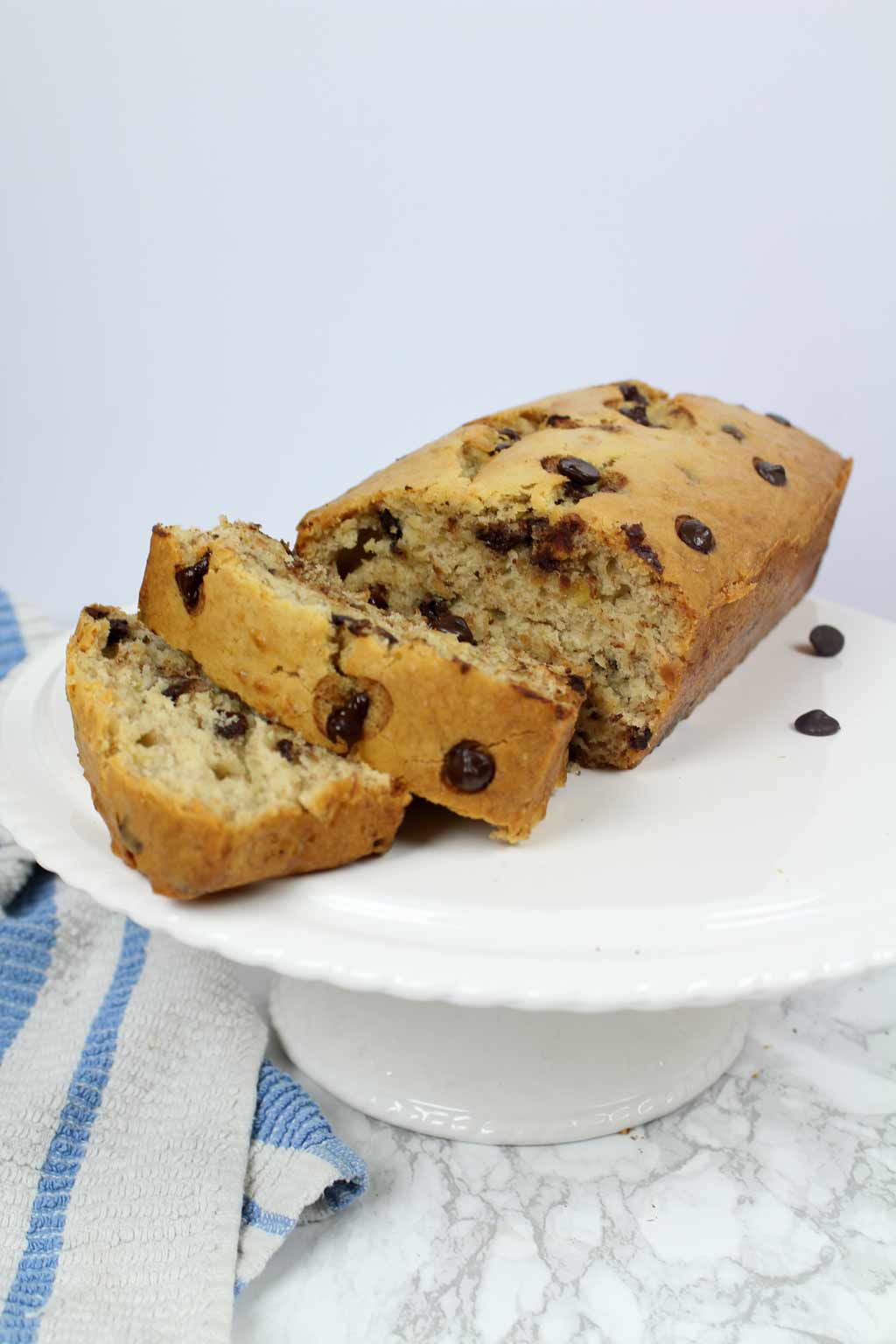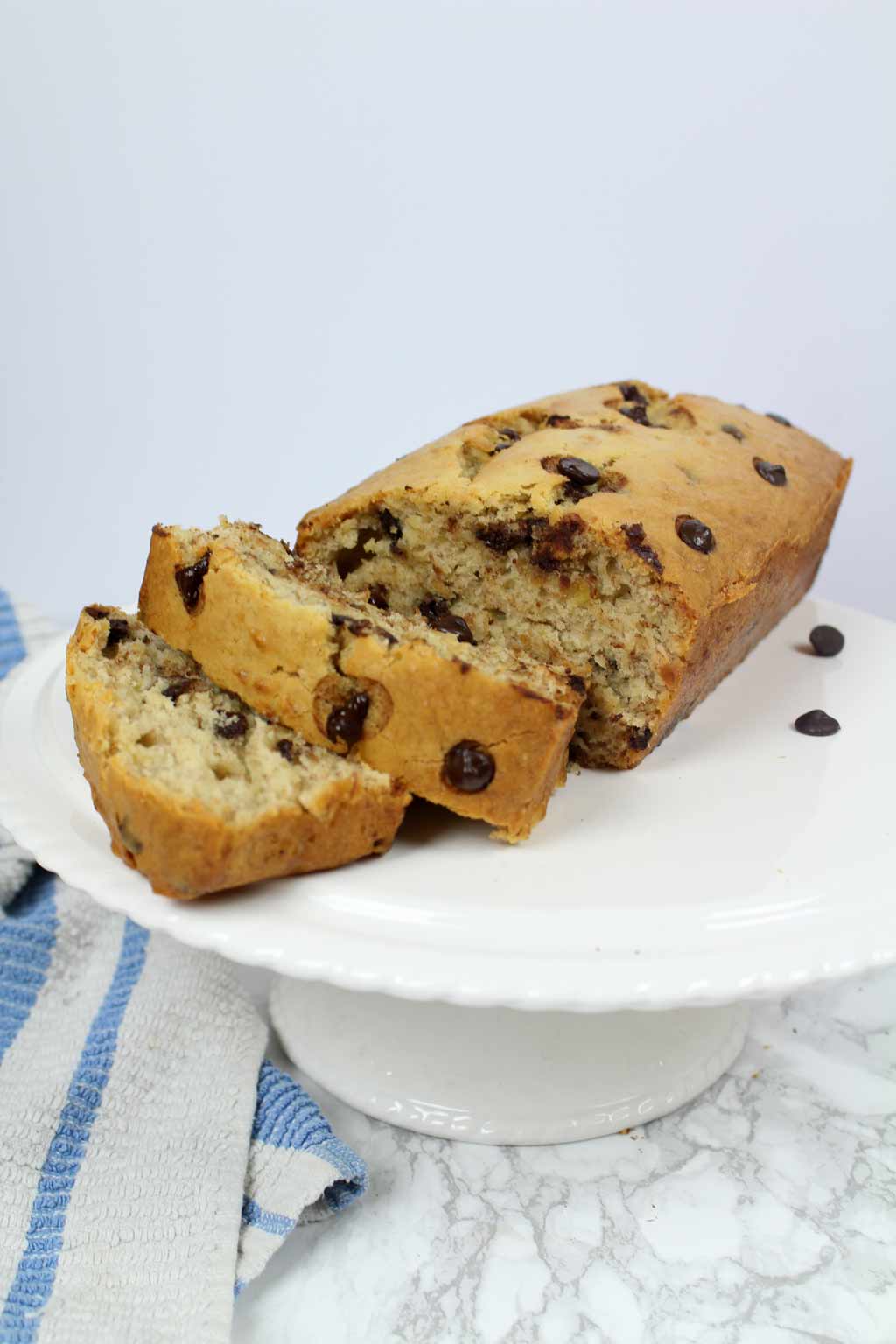 What could possibly be better than banana bread, I hear you ask?
Let me tell you…
Chocolate chip banana bread.
Honestly, yesterday was actually my first time ever TASTING, let alone baking banana bread with chocolate chips in it. But I was not disappointed!
I've always loved the flavour of chocolate more than anything else, so I'll take any opportunity I can get to add it to my dessert recipes.
I don't mess around when it comes to chocolate.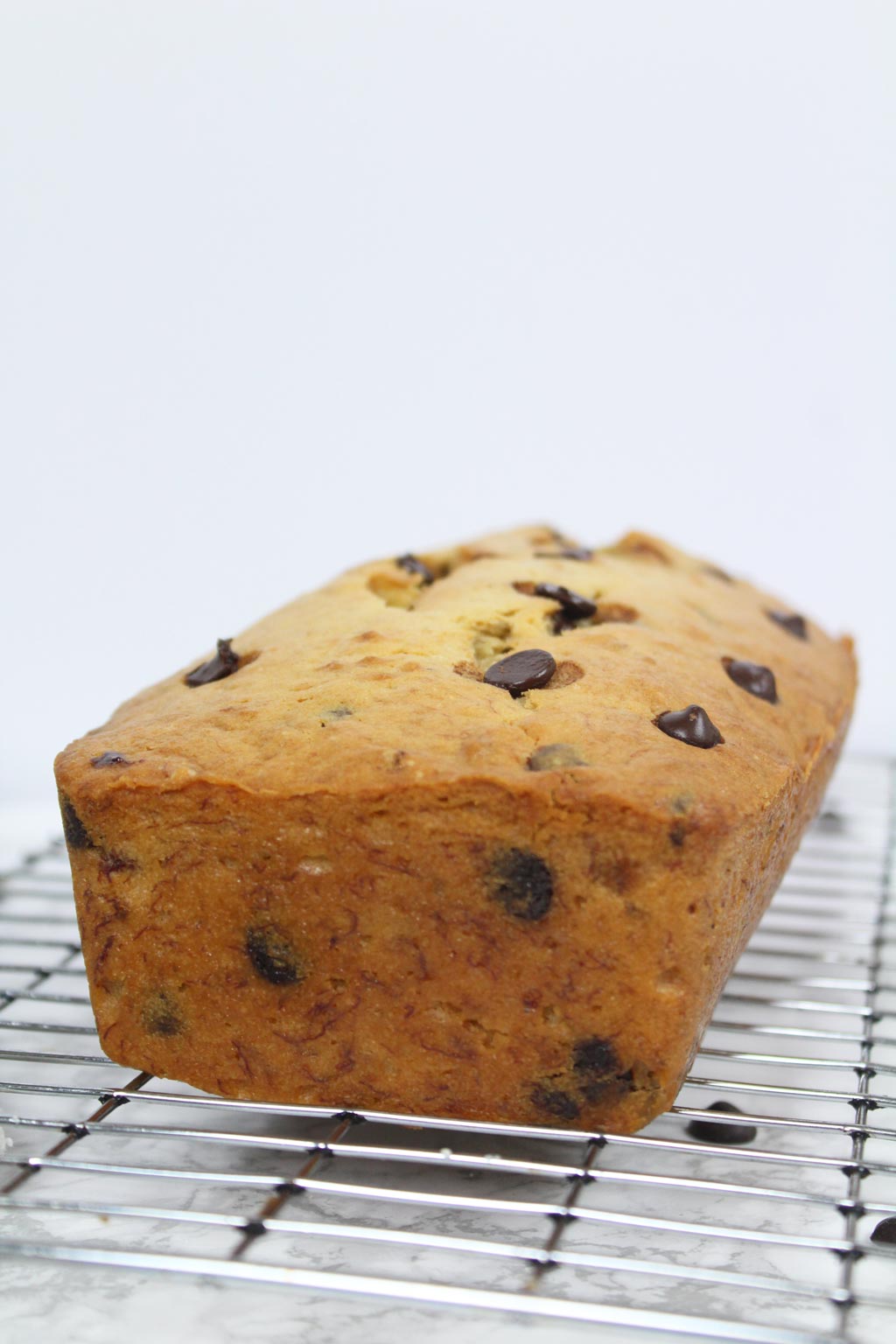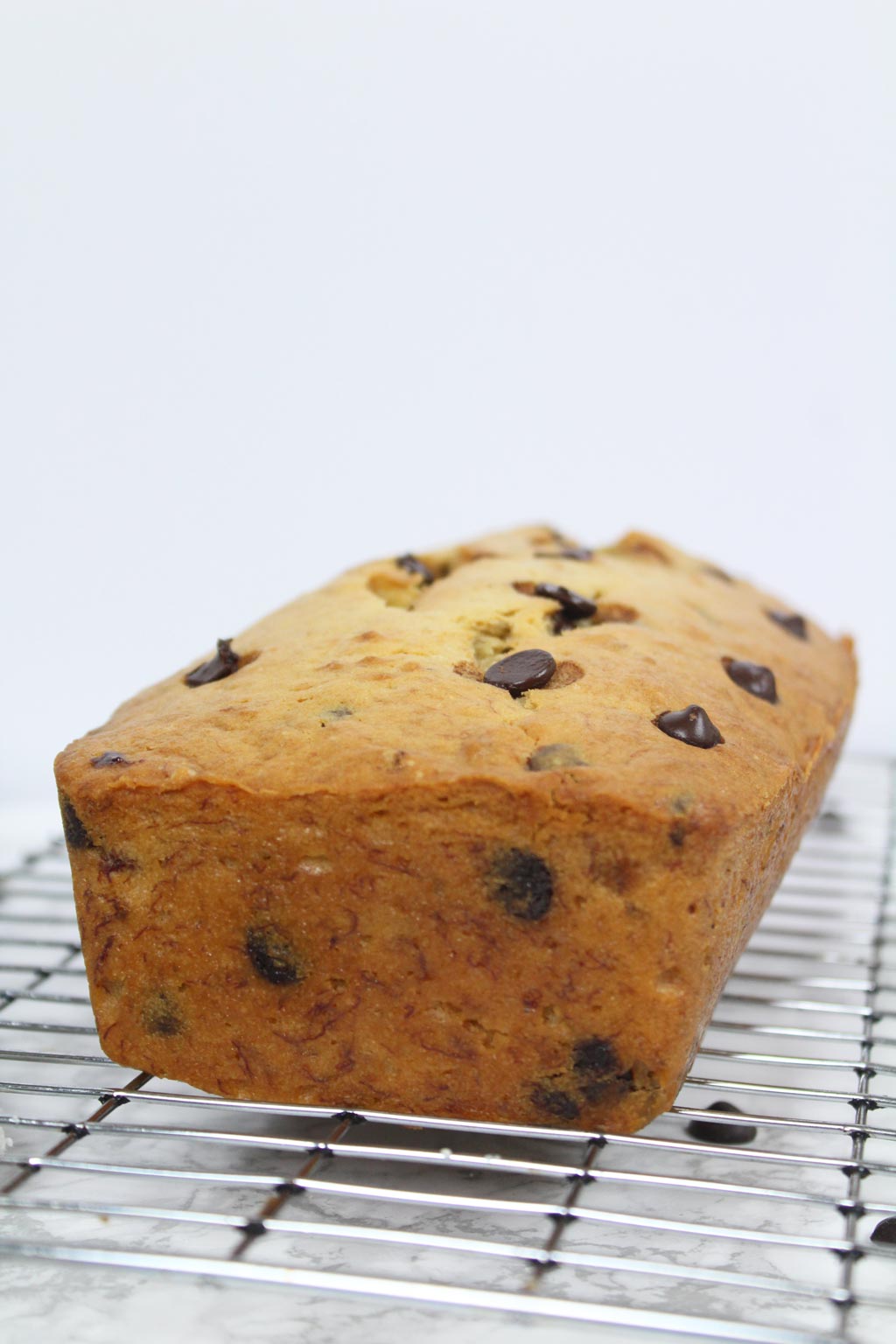 Banana Bread With Chocolate Chips
I've been really craving banana bread lately but since I've already made plain vegan banana bread hundreds of times, I thought I'd switch my old recipe up a bit, and also add some chocolate chips while I was at it.
Not to toot my own horn, but it was amazing.
The inside was nice and moist but also a little bit cakey and light, which is something I had struggled to achieve with my old recipe.
I managed to do this by reducing the number of bananas, switching from plain flour to self-raising flour, and adding a pinch of baking powder.
Perfection.
Adding in some dark chocolate chips also gave a lovely texture and rich flavour, making it even more enjoyable.
Is banana bread vegan?
Traditionally speaking, no. Usually you'll find that most chocolate chip banana bread recipes call for eggs and dairy.
But because bananas act as a very simple egg replacer, there was absolutely no need to include eggs in this recipe.
Because this recipe uses self-raising flour, it leavens beautifully on its own. And the moisture of the bananas helps to hold it together really well, meaning you don't get that crumbly mess you can sometimes end up with when baking eggless desserts!
And the dairy part? I simply switched traditional butter for vegan butter. It gives the same taste, same texture, and results in beautifully moist chocolate chip banana bread.
This vegan baking thing ain't as hard as you might think.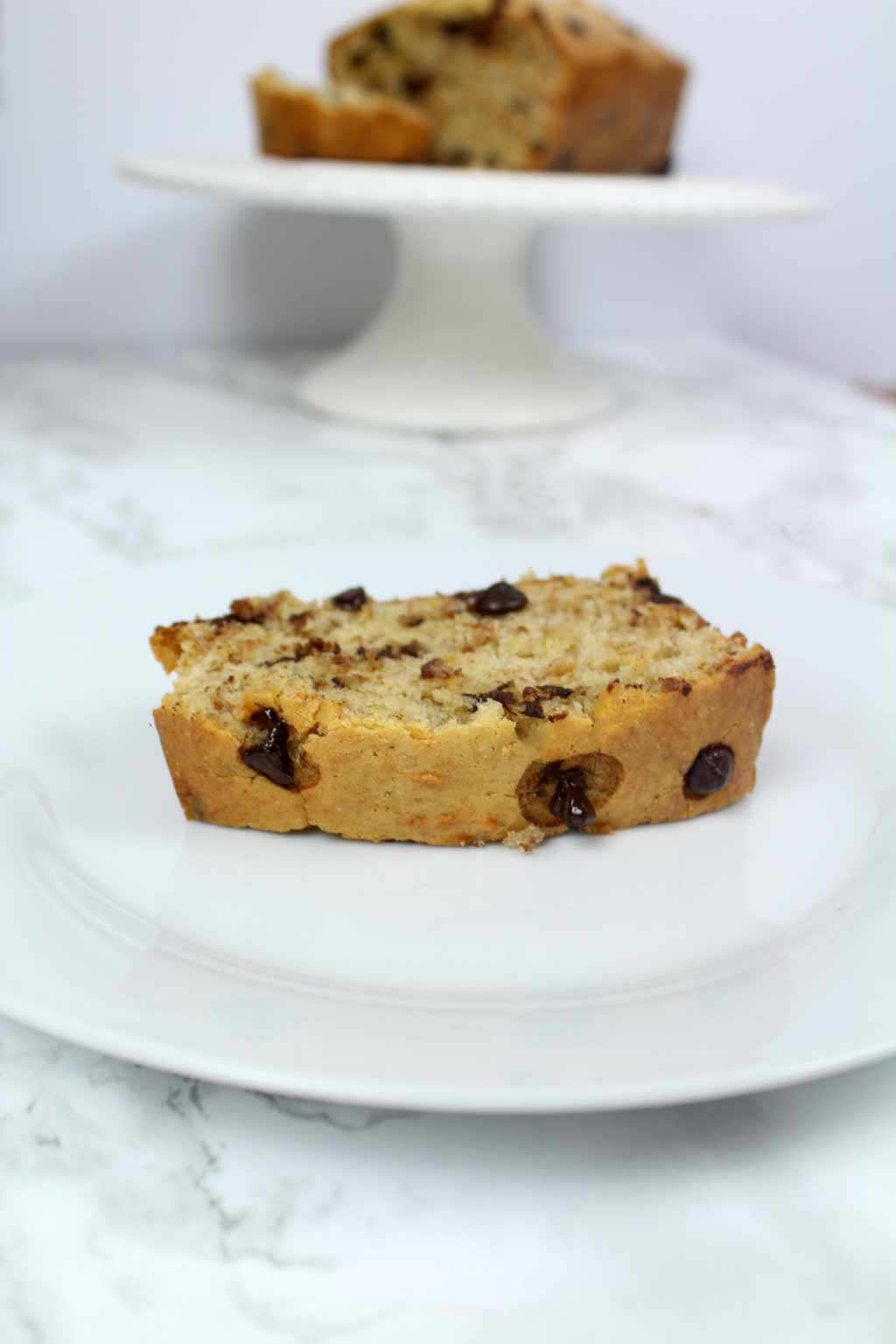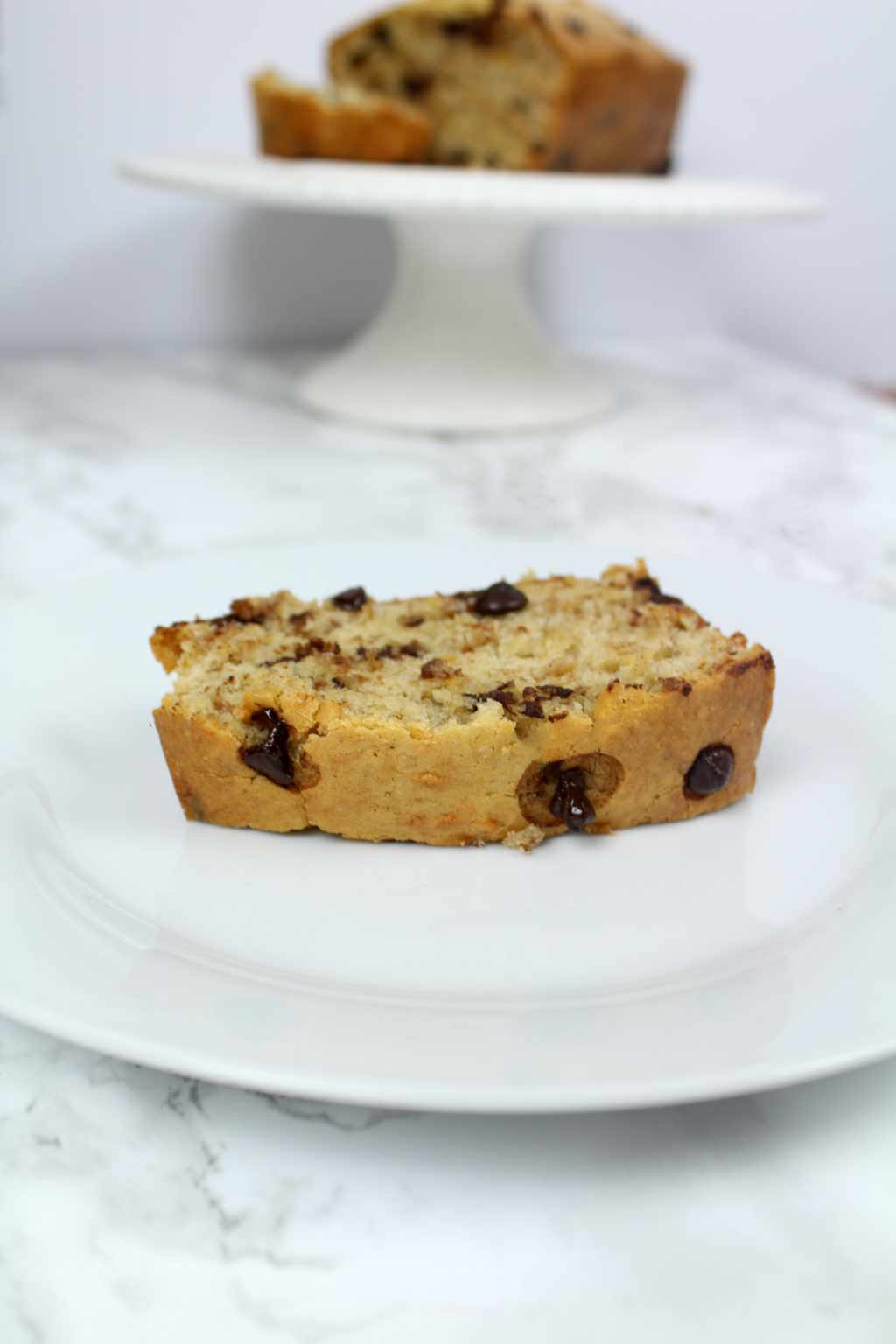 What kind of chocolate chips are vegan?
Quite a lot of the dark chocolate chips you'll find in the baking section at supermarkets are "accidentally vegan". This just means that they contain no animal products but aren't necessarily targeted at vegans.
Some of my favourites are:
Silver Spoon dark chocolate chips from B&M stores (I can't find the link online but they have them in store).
Check out this vegan chocolate guide for info about other brands that may be available near you.
And if all else fails, just grab a bar of your favourite vegan chocolate, cut it up and use chocolate chunks instead of chips.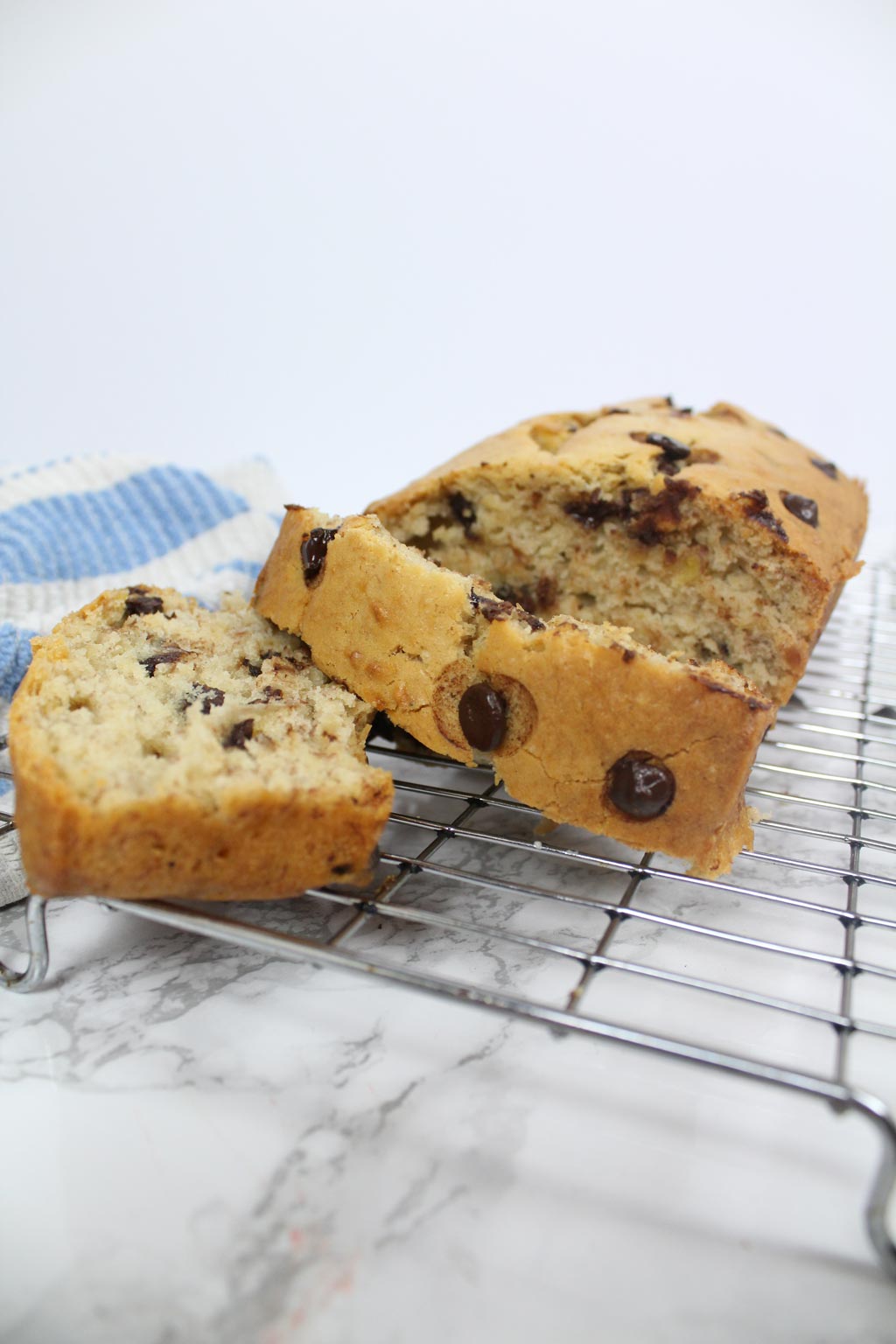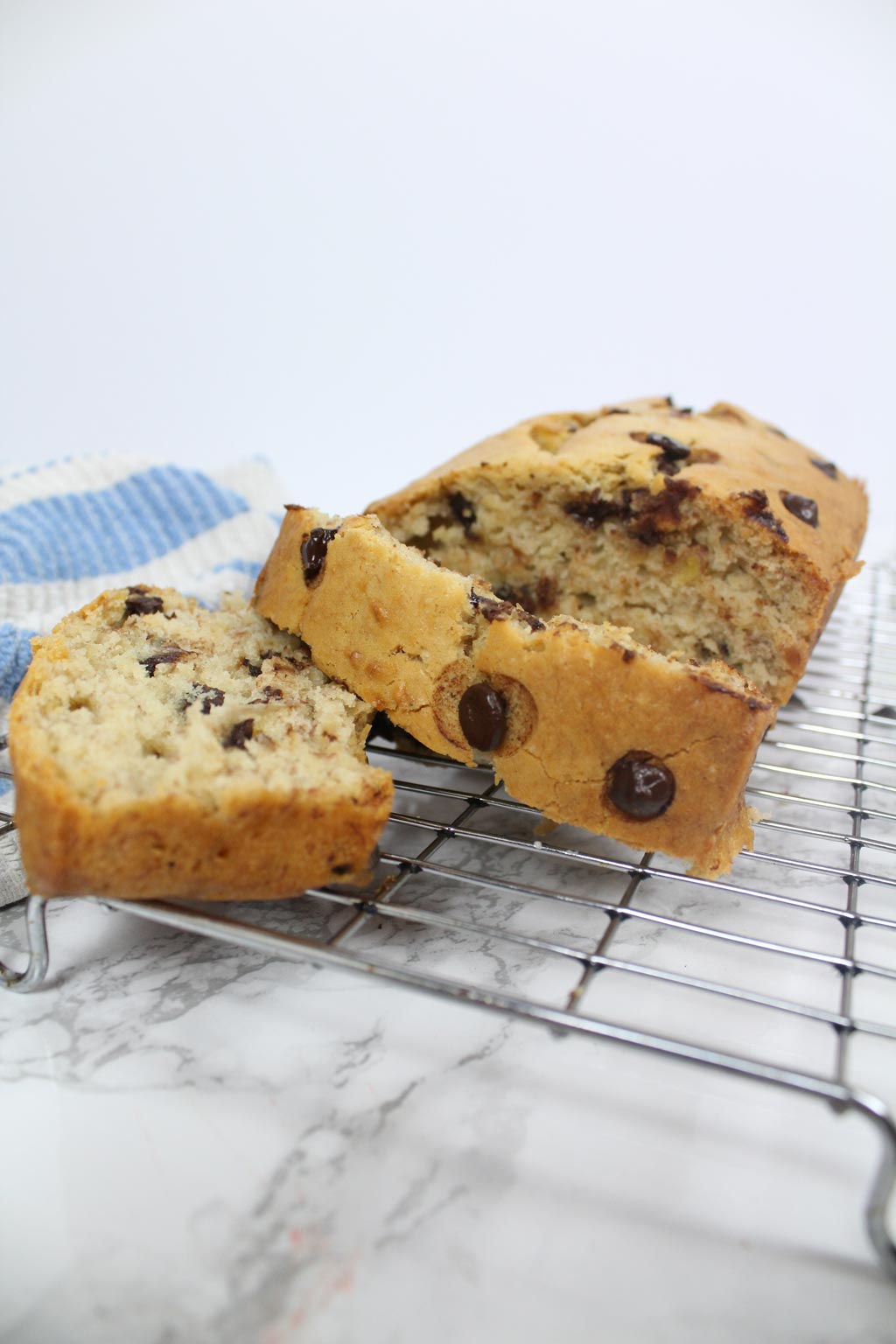 Can I make this chocolate chip banana bread gluten-free?
I would recommend simply switching the self-raising flour for a gluten-free self-raising flour blend. I have had great success swapping regular flour for Doves Farm gluten-free blend (ratio 1:1) in baking recipes.
If you do decide to use gluten-free flour, be sure to add another mashed banana for more moistness. My mum tried the original recipe with gluten-free flour and reported that it was a bit crumbly. So the extra banana will solve this issue.
There are, of course, many other gluten-free flour alternatives. But I find that things like oat flour or buckwheat flour change the taste and/or texture a little too much for it to still taste like traditional banana bread.
If you give it a go with the gluten-free blend, let me know how you get on!
How ripe should bananas be for bread?
For the perfect chocolate chip banana bread, you want your bananas to be super spotty and brown.
If they're not ripe enough, a.k.a. if they are still completely yellow or green, your finished banana bread will lack sweetness.
On the other hand, if your bananas are completely black on the outside, they should be discarded as they may contain harmful bacteria.
You want something that looks a little like this: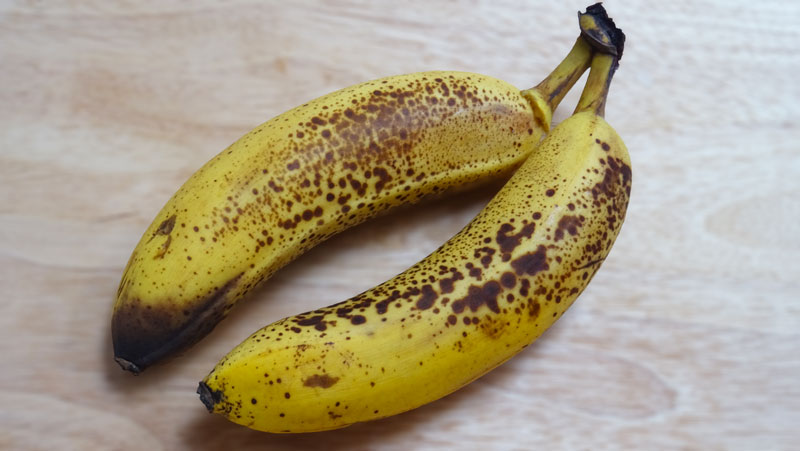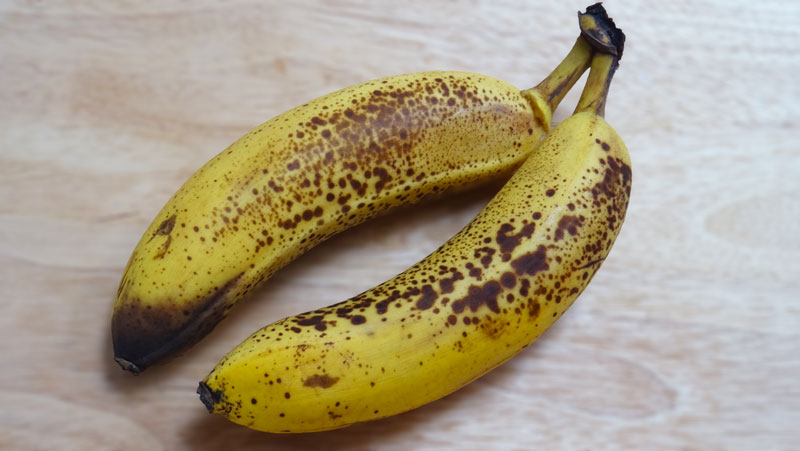 Not too black, but definitely ripe and spotty.
But what about those times when you don't have ripe bananas to hand, but absolutely NEED to make banana bread this very second?
How to ripen bananas quickly in the oven
Ever wondered, how do I make bananas ripen faster? If your bananas are still pale and nowhere near ready to bake with, let me share an easy trick…
All you have to do is pop them in the oven for a bit!
I find that 180C/ 350F for around 5-10 minutes or so works best. The skin will be black when you take them out, but note that this isn't the same as the black bananas that I just told you that you should discard. They should be brown and squishy inside.
Doing this actually makes them a lot easier to mash too.
How to make chocolate chip banana bread
Step 1:
The first step for this recipe is to preheat your oven to 180C / 350F. You'll also need to line or grease a 2lb loaf tin.
Step 2:
Next, cream your vegan butter and sugar together in a large bowl. This simply means to beat air into the butter/sugar to help the banana bread stay nice and fluffy.
You'll need 180g of caster (superfine) sugar and 110g vegan butter. Feel free to use dairy butter if you aren't vegan.
If you're in the US, this is around 3/4 cup + 1 tablespoon of sugar and 1 stick (or 1/2 cup) of butter.
Using a wooden spoon, "smear" the butter and sugar along the sides of the bowl until completely combined. Keep doing it for a little longer until it becomes fluffier and turns a pale yellow colour.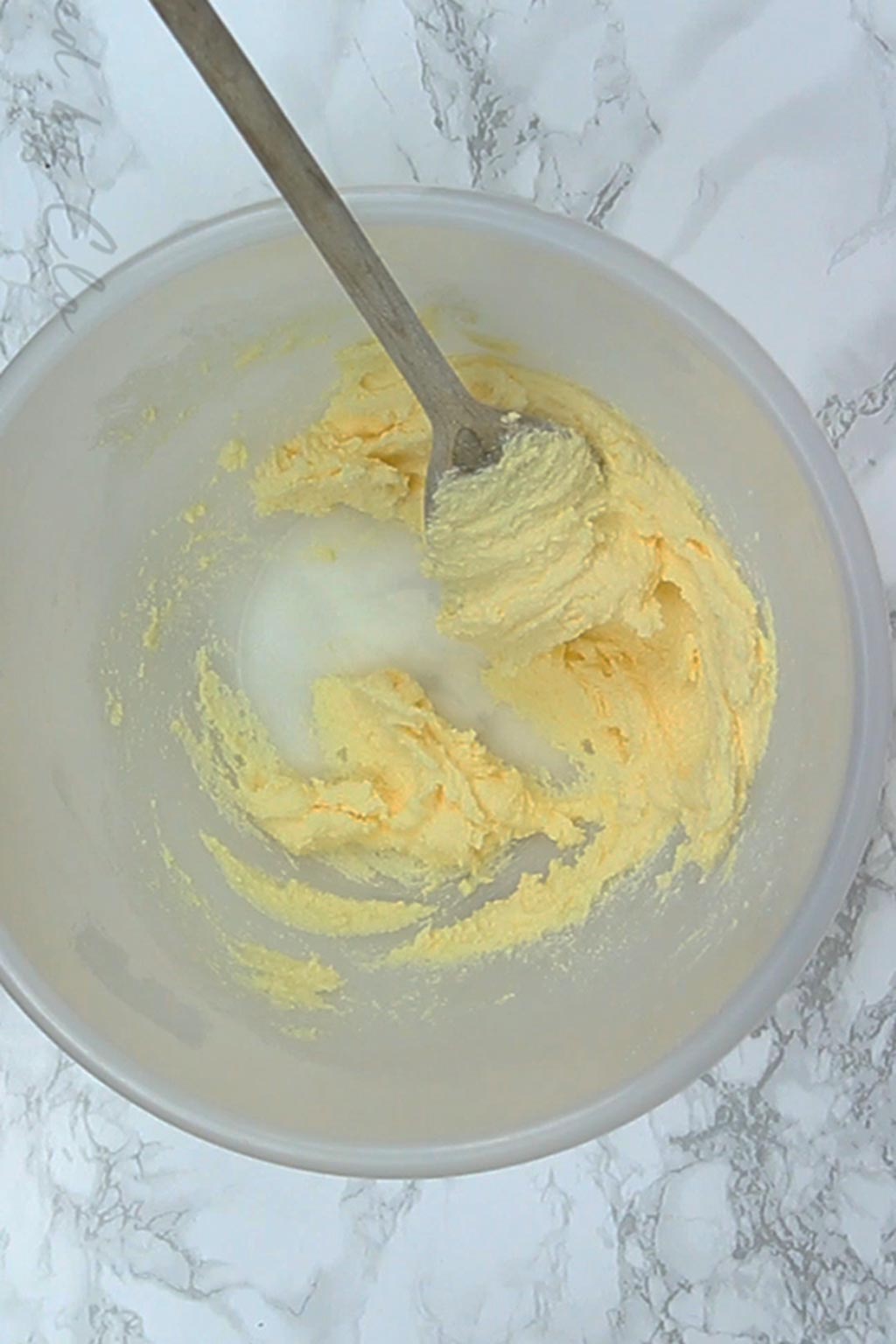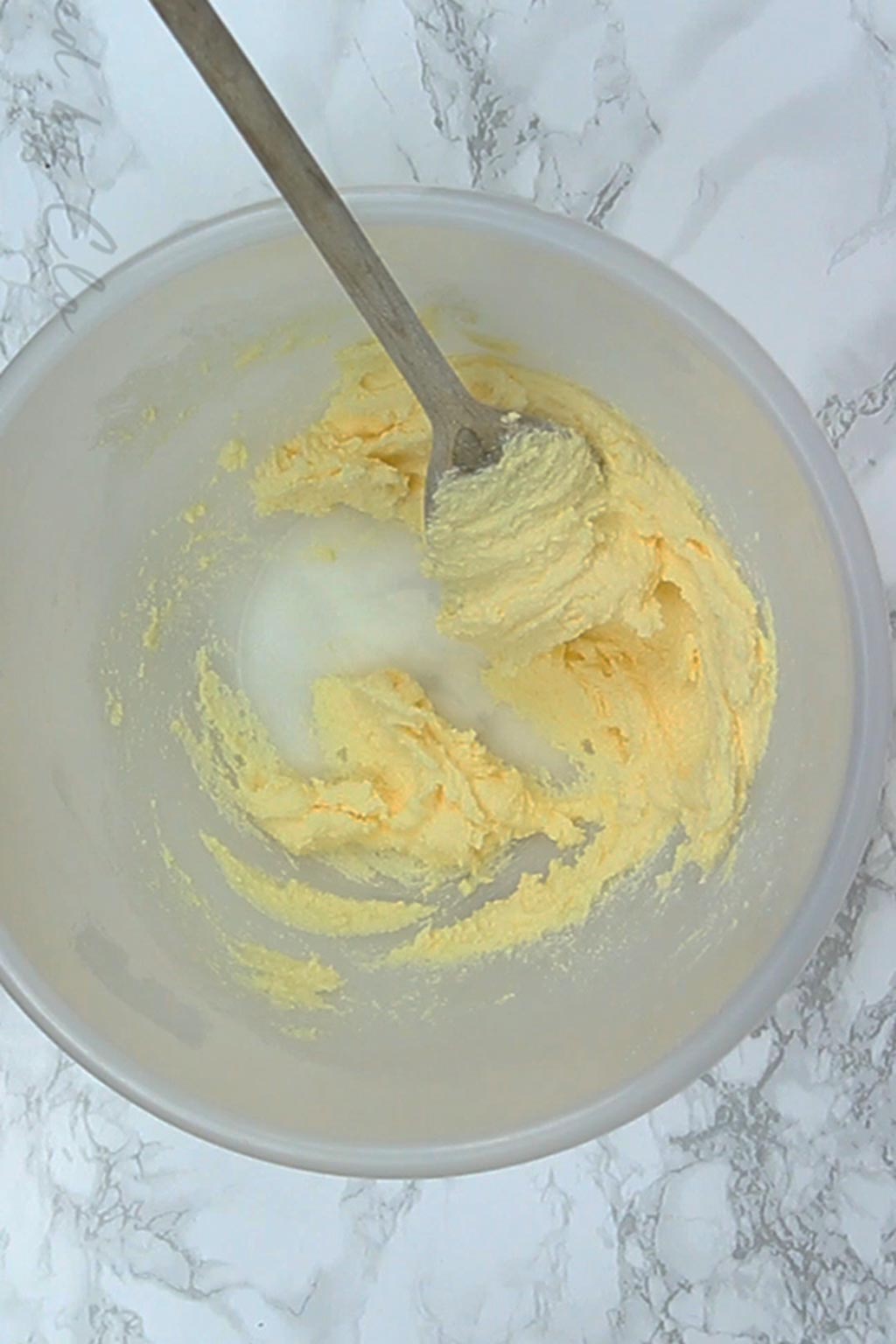 Step 3:
Mash your ripened bananas. I personally like using a fork to do this because I enjoy the slightly chunkier texture it gives in the finished product. But if that's not for you, feel free to use a blender or food processor to get a smoother texture.
Once you're done mashing your bananas, add them to the bowl with your butter and sugar mix.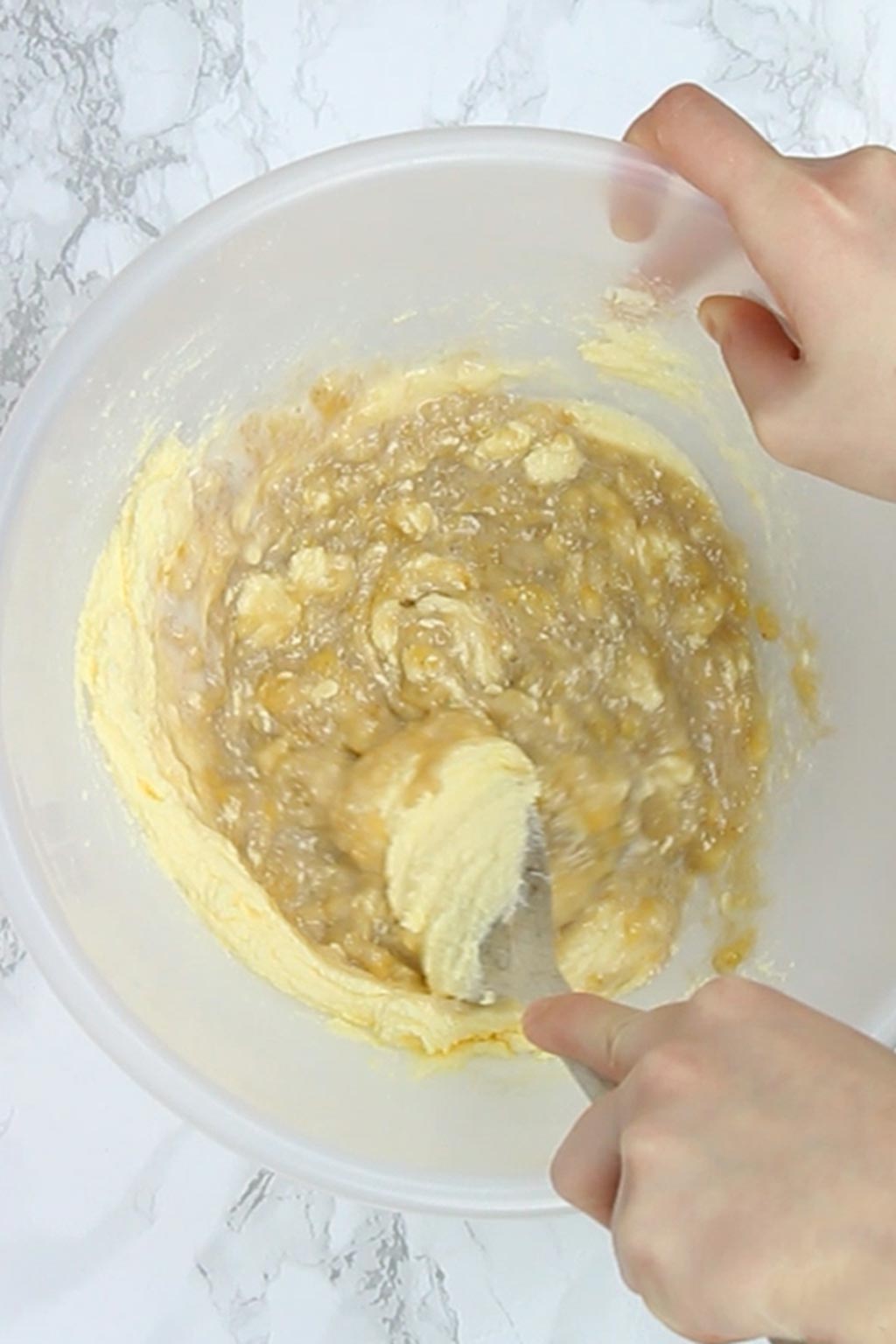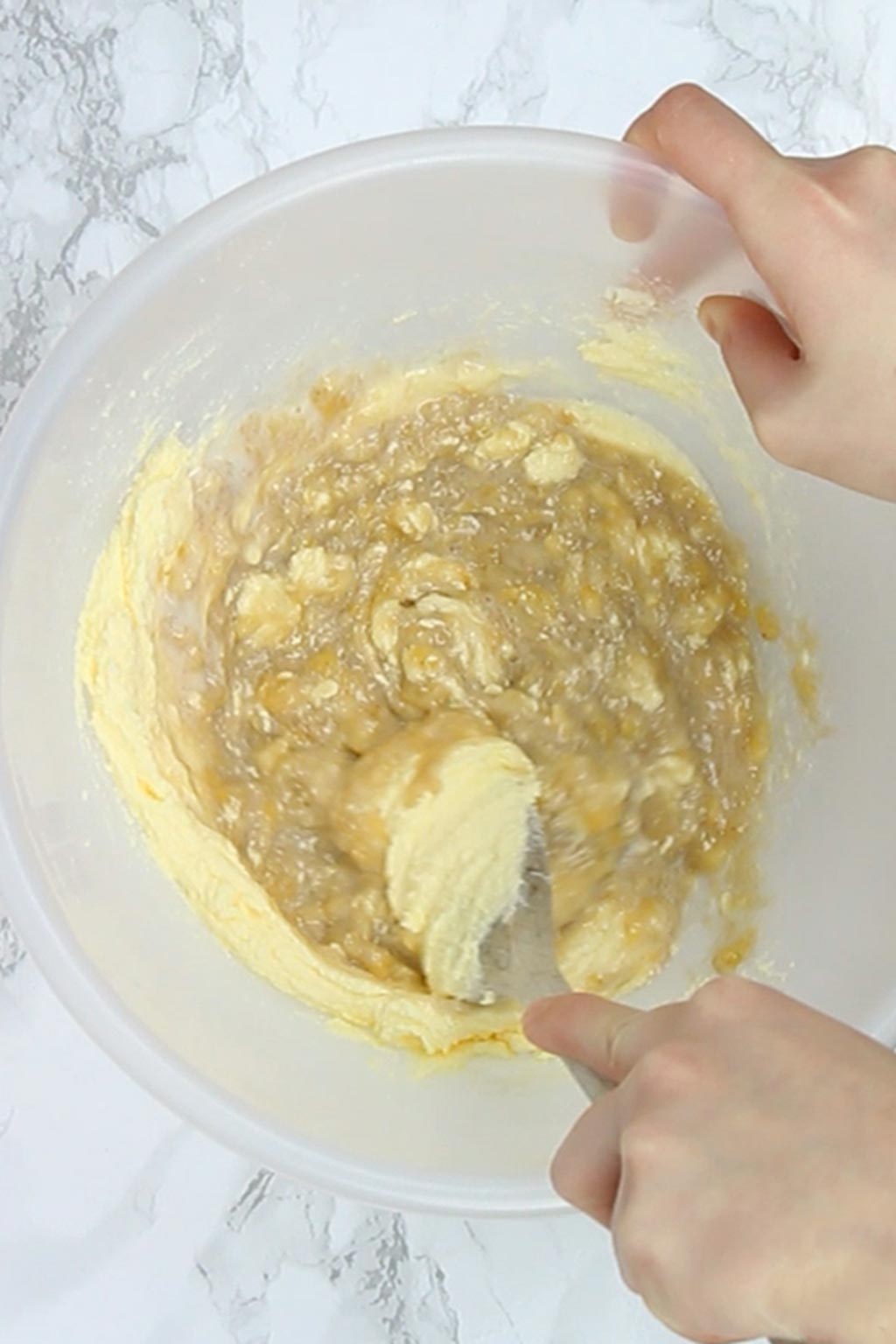 Step 4:
Add 6 tablespoons of plant-based milk to the bowl. I used almond milk for this but feel free to use soy milk, rice milk, oat milk… or just whichever milk you like best.
Mix everything together using a wooden spoon.
Step 5:
Add in 240g (just under 2 cups) of self-raising flour, plus 1 teaspoon of baking powder.
Fold this into your wet mixture. You can "fold" by tracing a figure of 8 with your spoon until everything is JUST combined. Be careful not to overmix the batter otherwise your banana bread might end up with tough or crispy edges.
The batter should be slightly thicker than a sponge cake mix would be.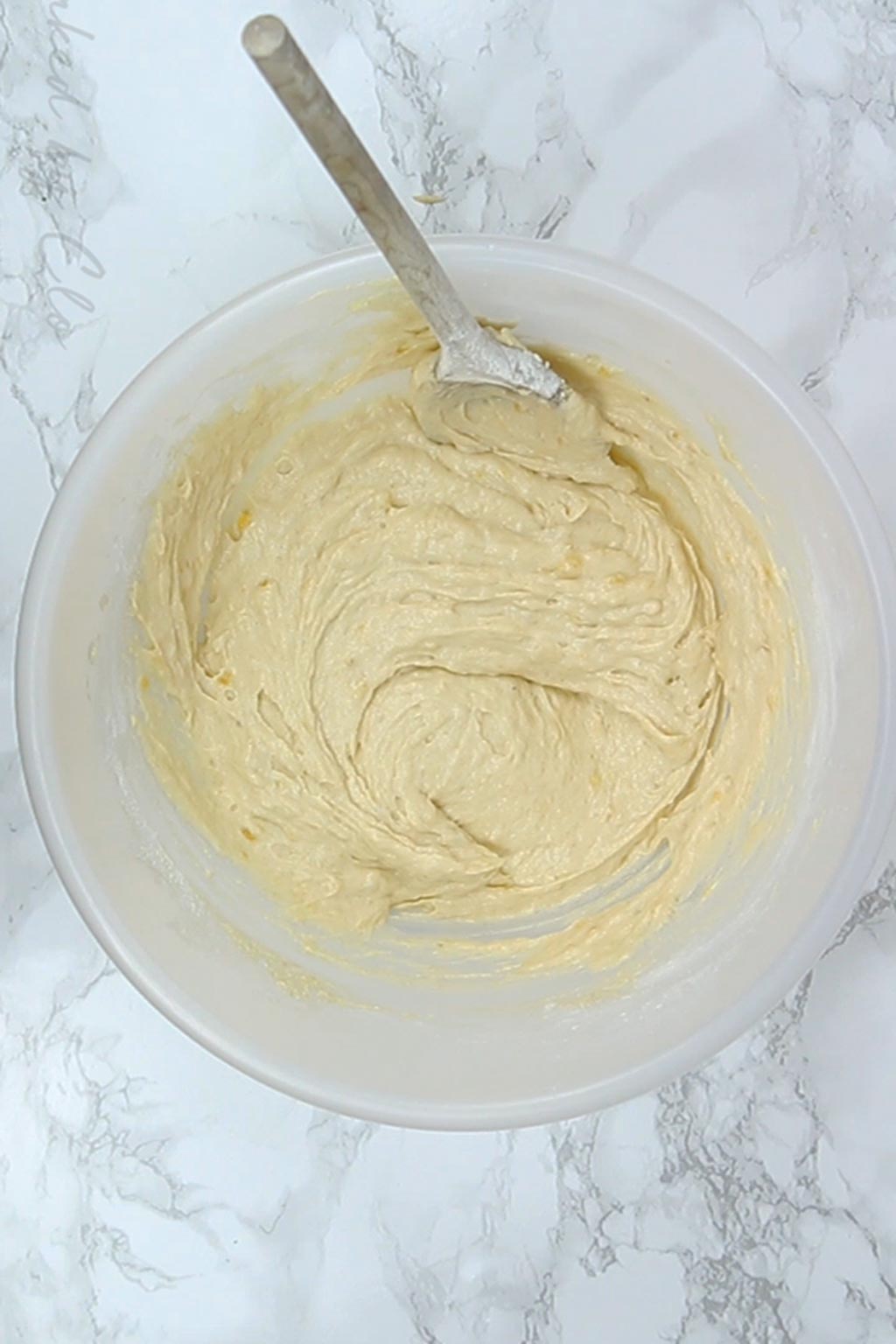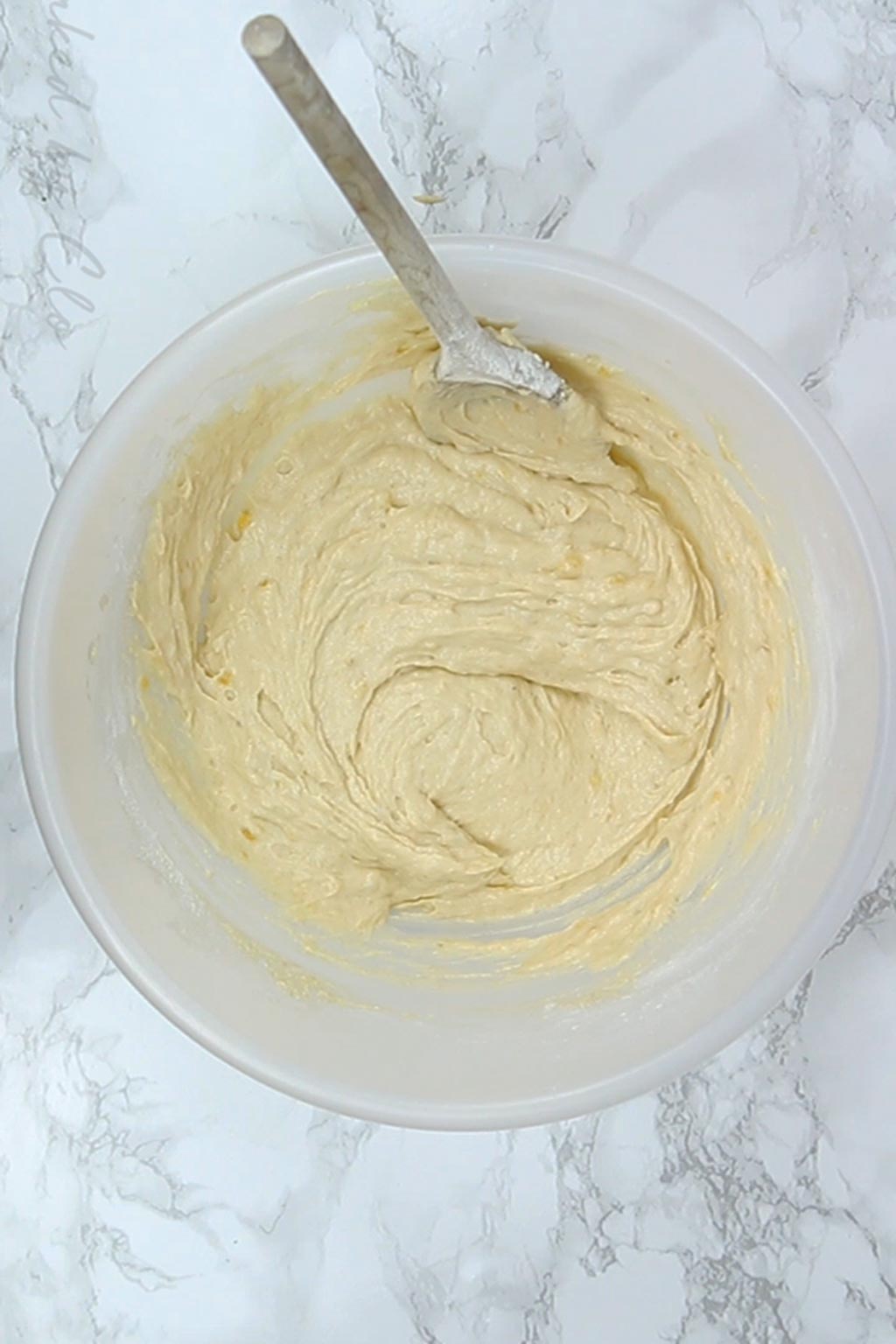 Step 6:
The most crucial step to chocolate chip banana bread: the chocolate chips!
Add in 100g (3/4 cup) of vegan chocolate chips, or more if you're so inclined, and gently fold in.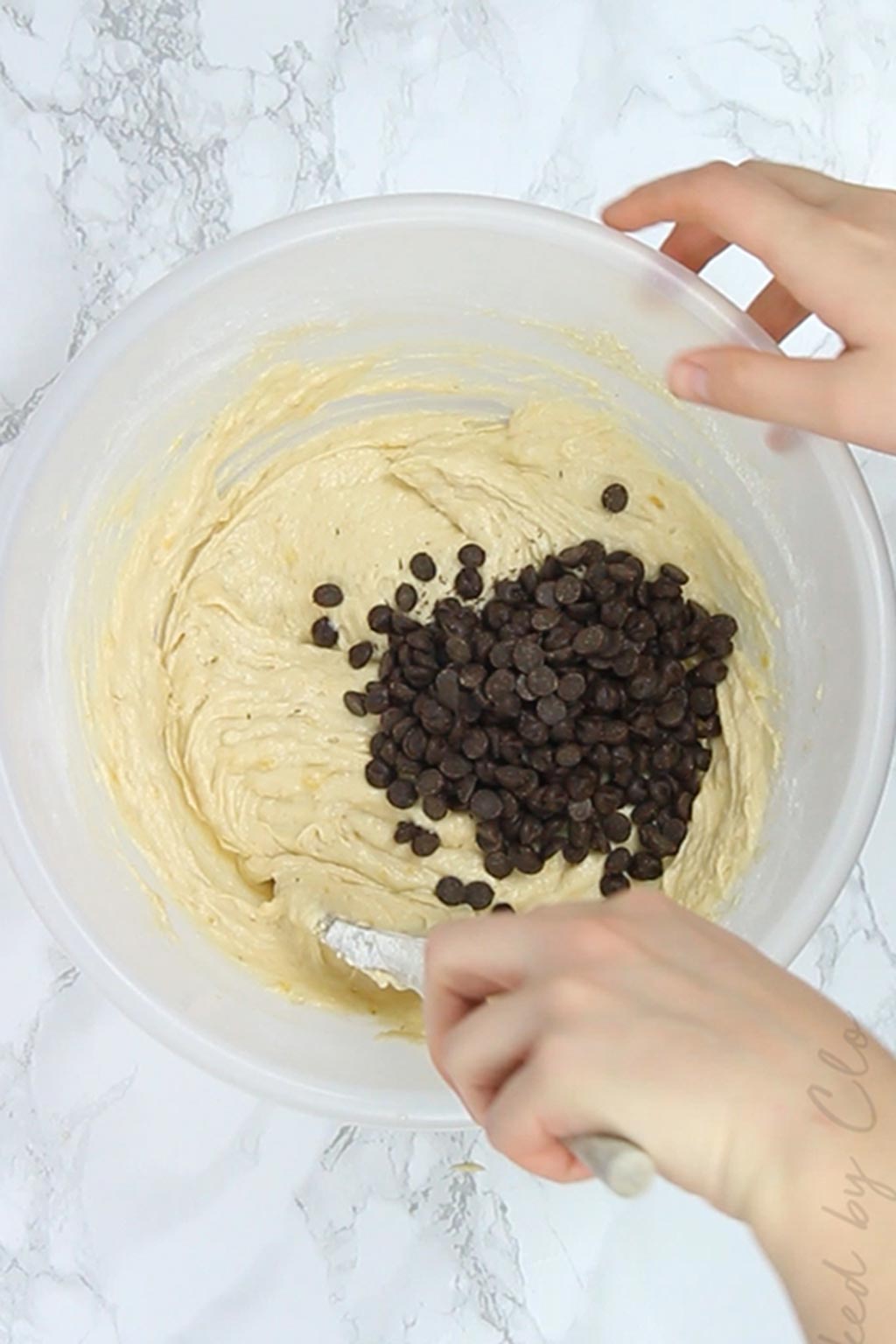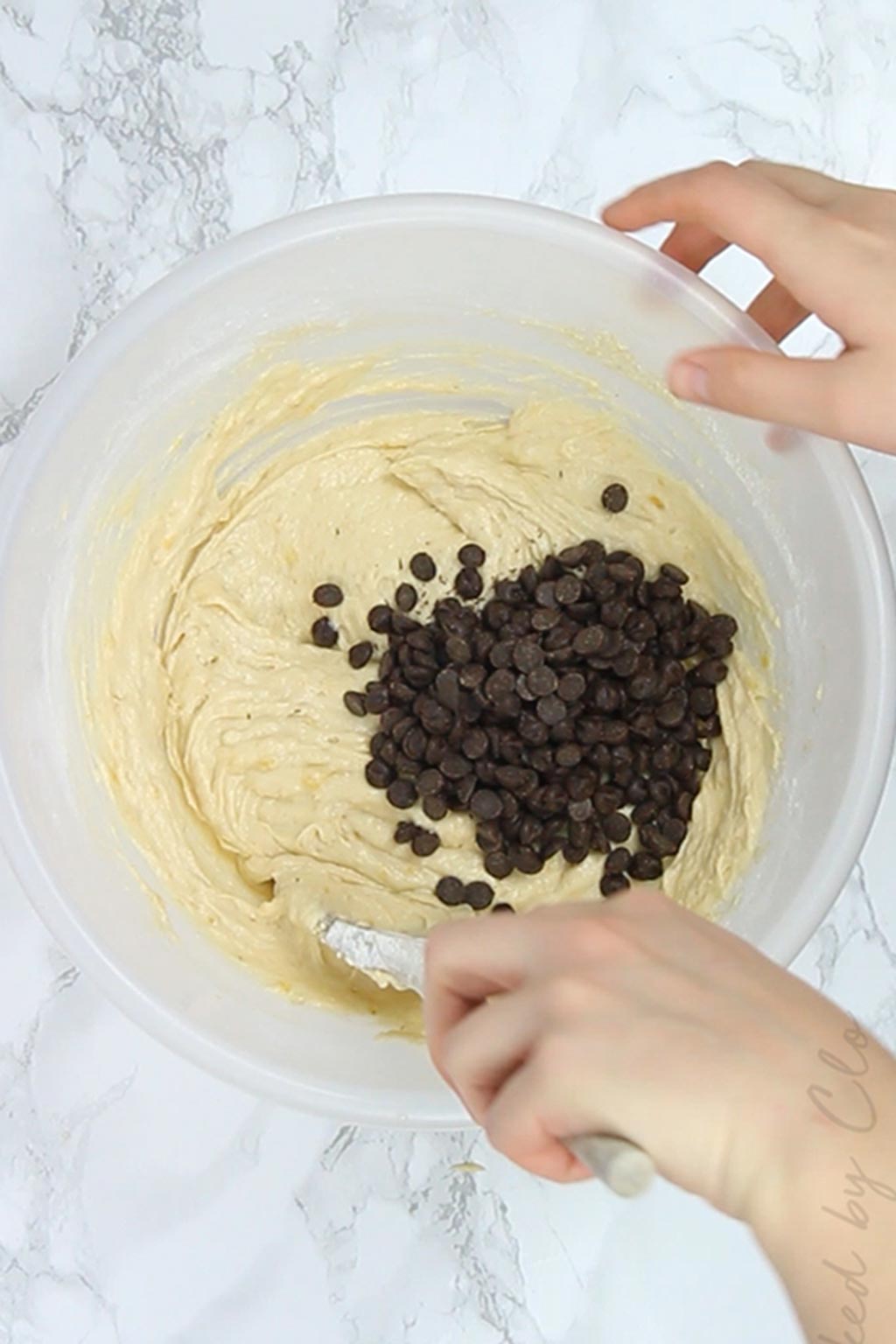 Step 7:
Spoon your batter into your pre-prepared loaf tin.
Bake for around 1 hour and 10 minutes.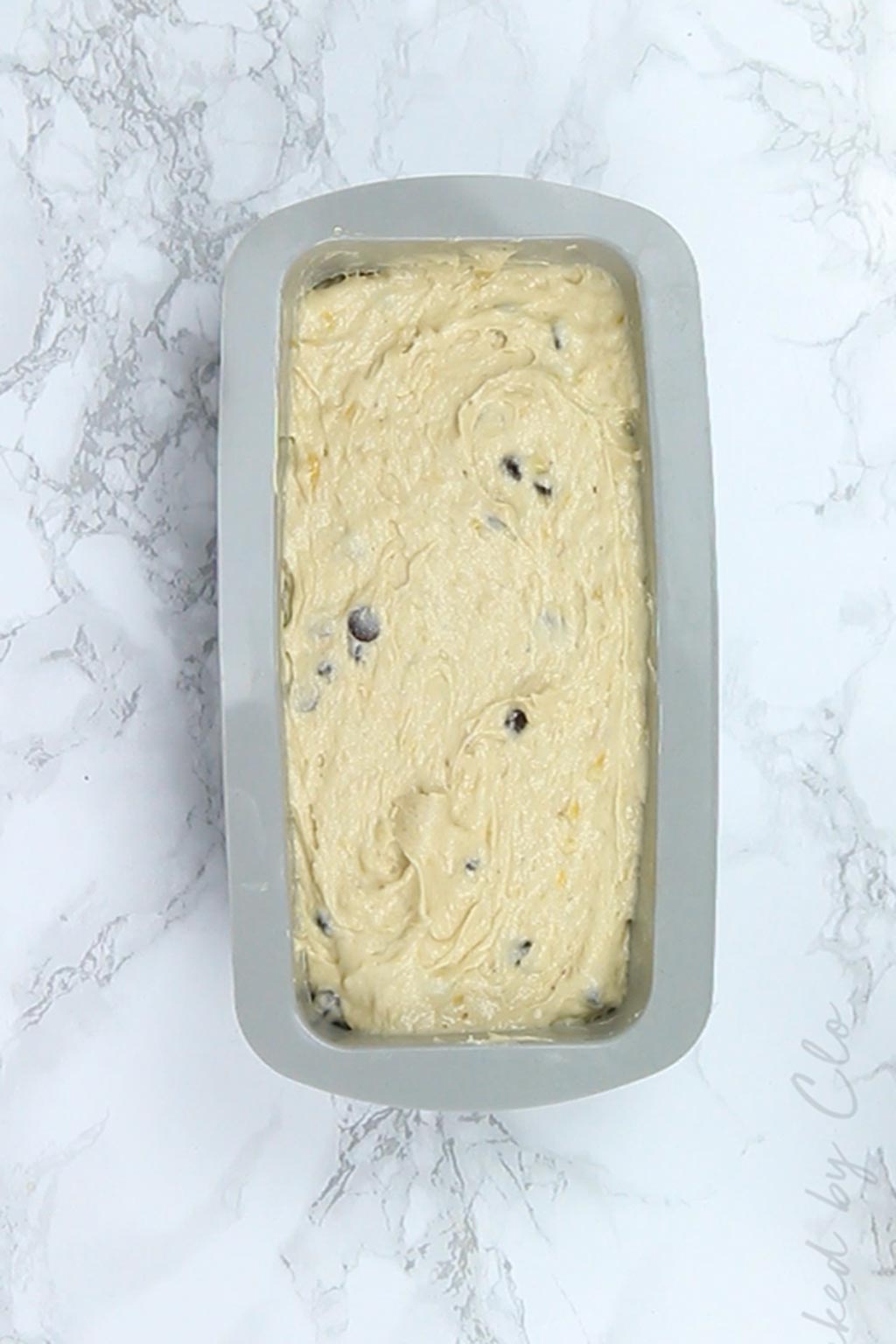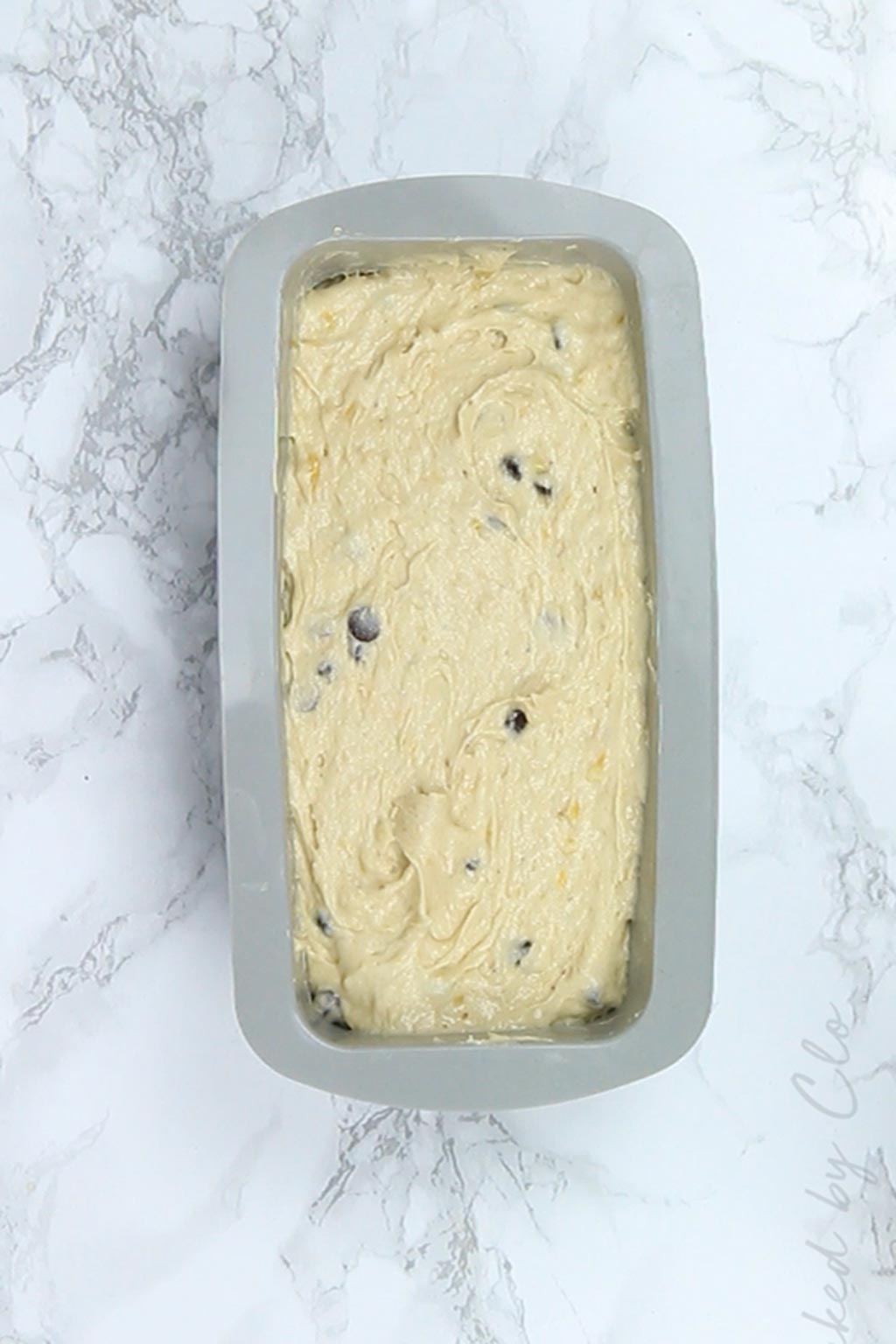 How do I know when my banana bread is done?
You can check if it's ready by inserting a skewer or small knife into the middle. It may have a few crumbs stuck to it but it should come out clean without any batter sticking to it.
If the skewer comes out with batter stuck to it, put your banana bread back into the oven and recheck it every 5 minutes or so until the skewer comes out clean.
When it's done, leave it out to rest for around 10 minutes, then transfer it to a wire rack until it's completely cool.
Once cooled, cut into slices and serve! And try not to eat the whole thing at once- it's seriously that good!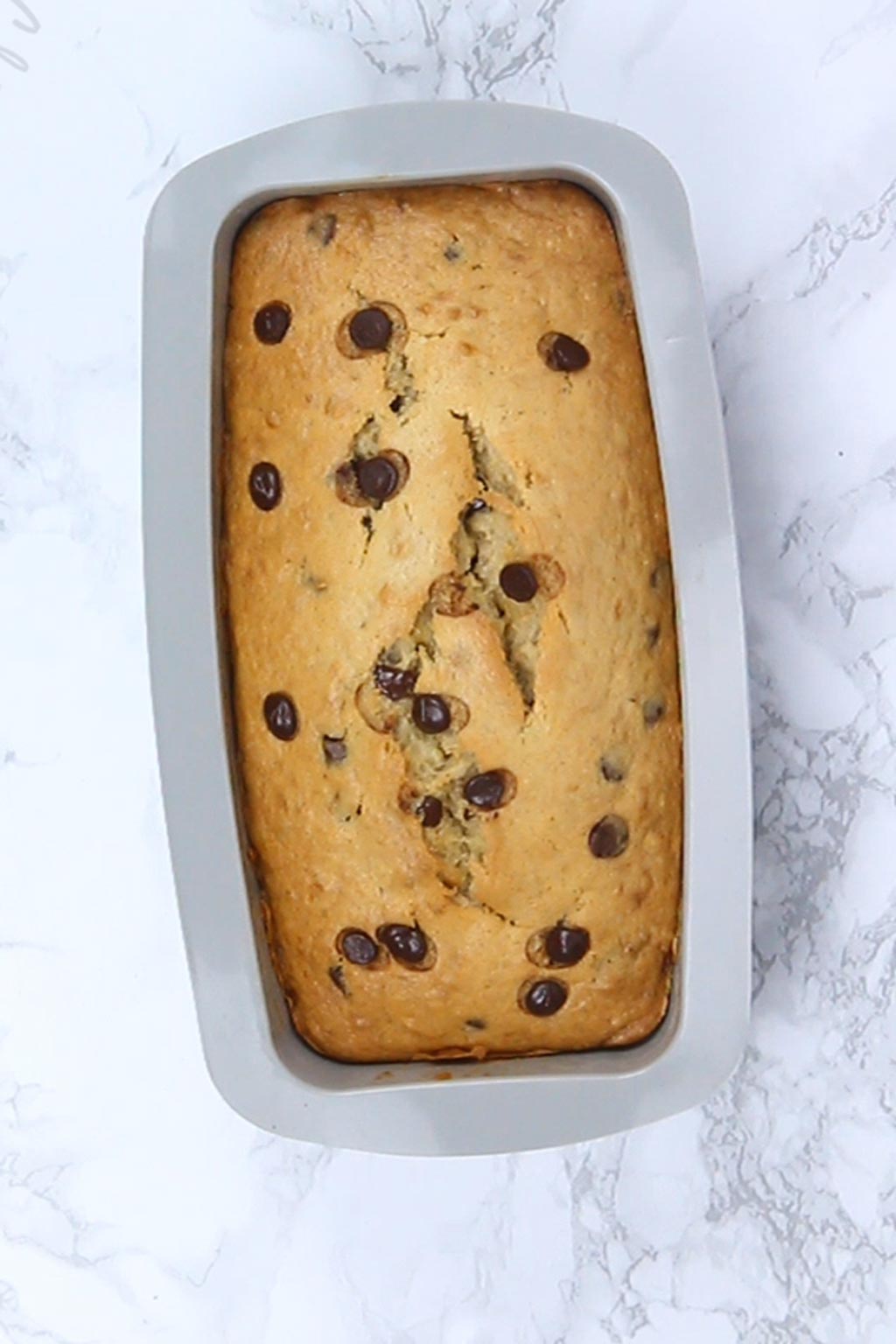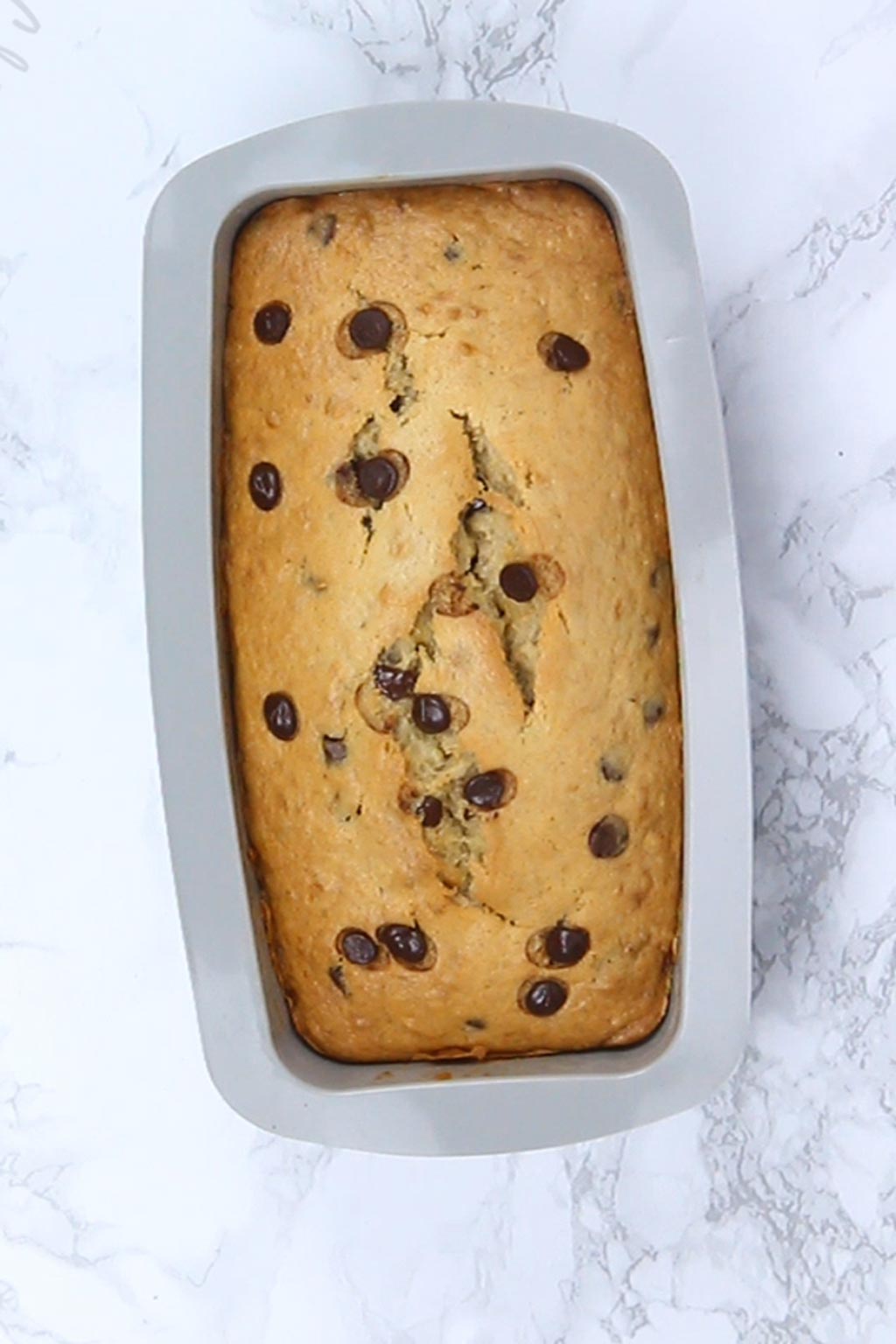 How to store banana bread
I find that banana bread keeps best when stored in an airtight container in a cool, dry place. You can also wrap it in clingfilm or tin foil to retain even more moisture. It should last for around 2-3 days this way.
I personally think it tastes better the day after it's been baked but it never stays around much longer than that. We always eat it right up!
Of course, there's also the option to store it in the fridge for a longer shelf-life, but it will lose its softness faster and might become a little denser.
Can banana bread be frozen?
Yes! To freeze, wrap the cooled banana bread tightly with tin foil or plastic wrap. It will keep well in the freezer for 3-4 months.
When you're ready to eat, unwrap it and leave it on a wire rack at room temperature. After about 3-4 hours, it will be thawed and you can enjoy as normal!
What to eat with chocolate chip banana bread
While this dessert is delicious on its own, you can add some toppings when you serve it if you want to be extra fancy. Some of my favourites are:
Nut butter (cashew, almond, peanut…)
Dairy-free butter
Vegan chocolate spread (Vego is incredible)
Coconut yoghurt
Strawberry jam
Top tips for making banana bread:
Use super ripe bananas for a sweet, moist centre.
Freeze ripe bananas if you want to save them for baking at a later date. Defrost at room temperature before mashing.
Use a fork to mash bananas for a chunky texture, or a food processor if you like it smooth.
Fold in the flour using a figure of 8 motion with your spoon for a light, cakey texture.
Combine the batter gently and don't overmix.
Try using white chocolate for white chocolate chip banana bread. IChoc is a great brand.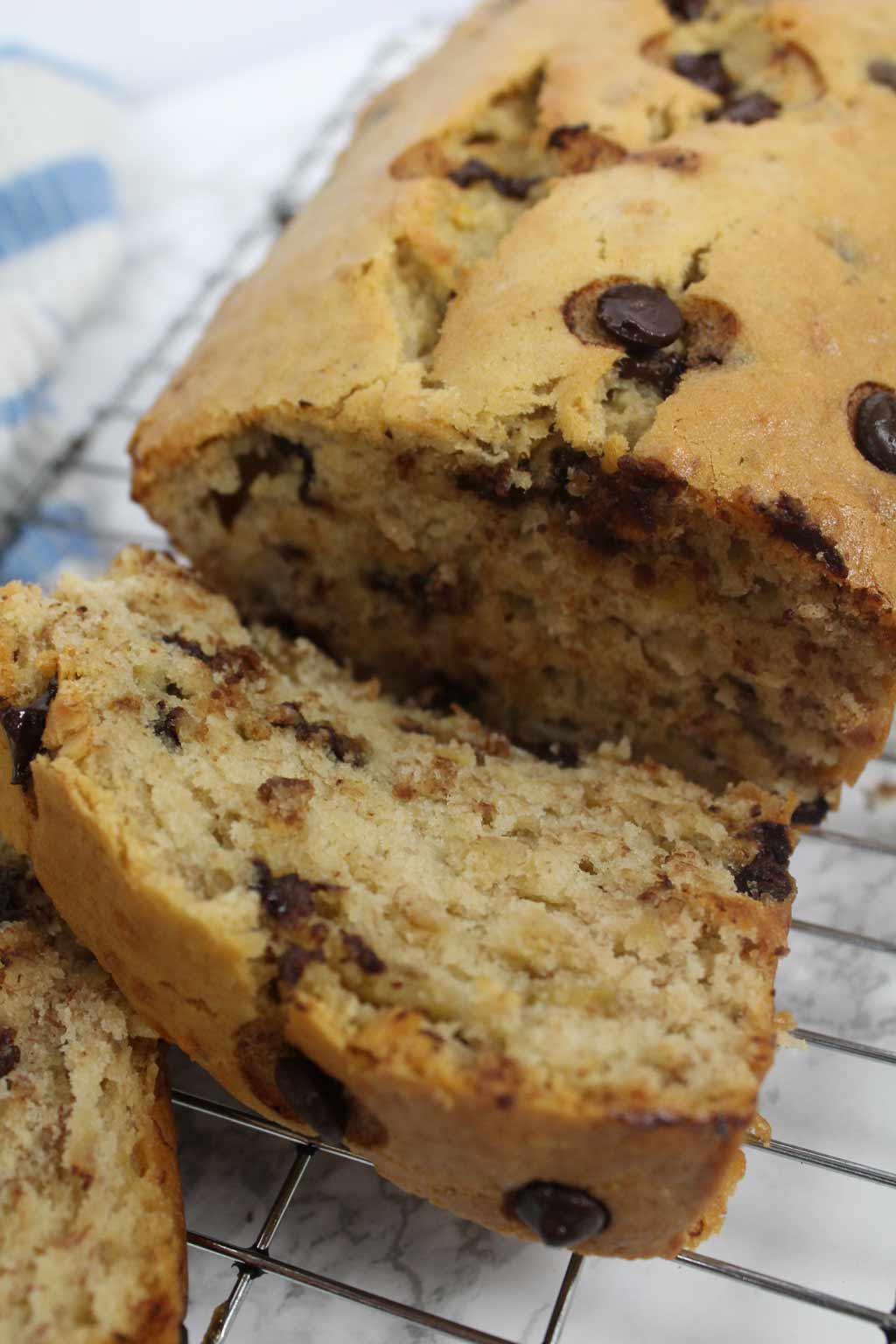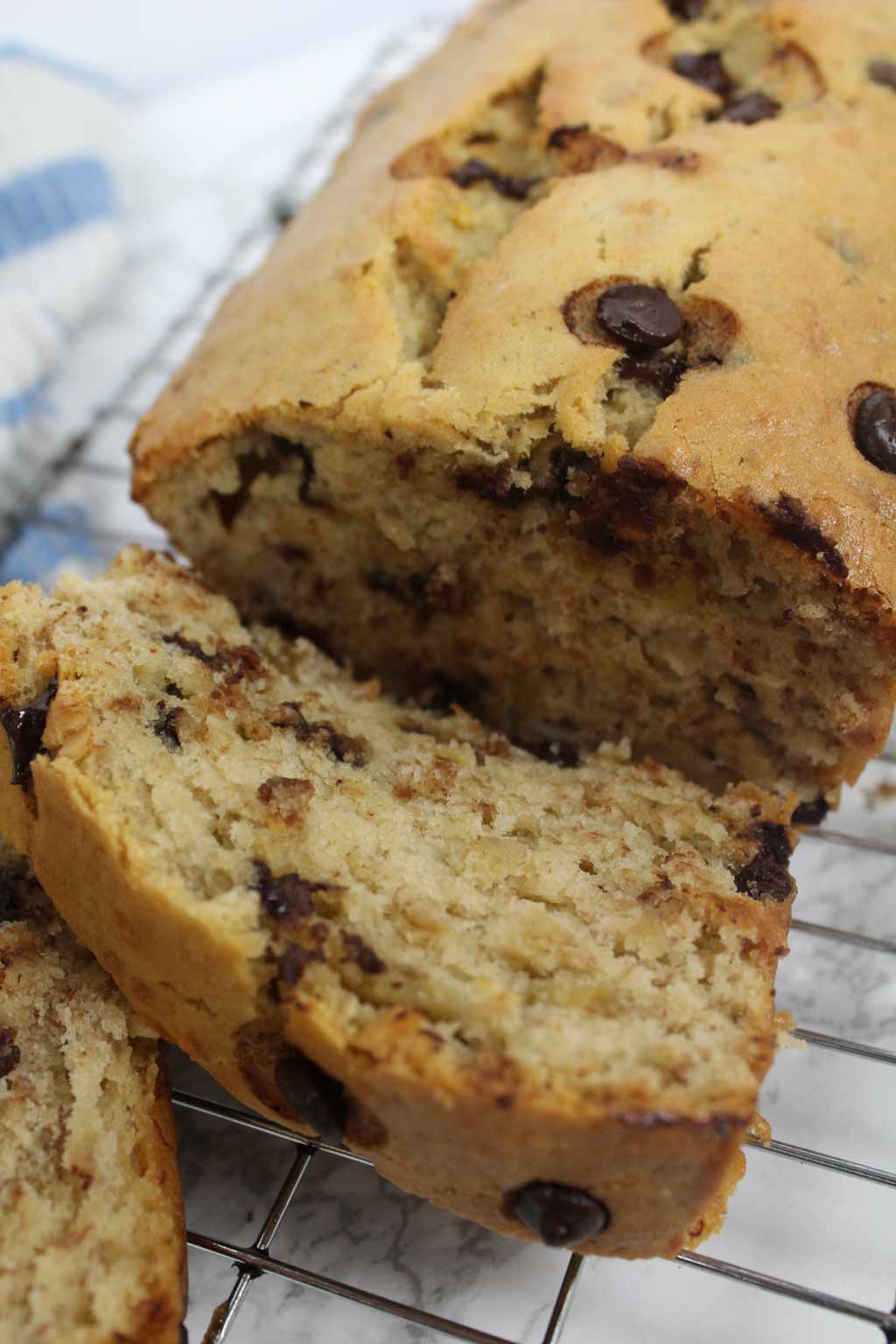 I hope you enjoy this recipe! If you give it a go, please leave me a comment to let me know what you think.
Happy baking!
xo

Chocolate chip banana bread (vegan)
A classic chocolate chip banana bread recipe that's eggless and dairy free!
Cook Time
1
hour
15
minutes
Total Time
1
hour
30
minutes
Ingredients
180

g

Caster sugar

3/4 Cup + 2 Tablespoons

110

g

Dairy free spread

1/2 Cup

3

medium

Ripe bananas, mashed

180

ml

Almond milk

(3/4 cup)

250

g

Self-raising flour

2 Cups

100

g

Dark chocolate chips

3/4 Cup
Instructions
Preheat oven to 180C/ Fan 160C/ 350F/ Gas mark 4. Grease or line a 2lb loaf tin.

Cream together the dairy-free spread and sugar in a large bowl.

Mash the bananas with a fork or food processor and add them to the bowl. Add the milk and mix well.

Add the flour. Gently fold in, being careful not to overmix the batter.

Fold in the chocolate chips.

Spoon the slightly thick batter into the loaf pan and place on the middle shelf of the oven. Bake for around 1 hour 10 minutes, or until a skewer through the middle comes out clean.
Recipe Video
Recipe Notes
*You can use gluten-free self-raising flour for this recipe if desired, but be sure to add another mashed banana to prevent it from crumbling.
Nutrition Facts
Chocolate chip banana bread (vegan)
Amount Per Serving
Calories 290
Calories from Fat 81
% Daily Value*
Fat 9g14%
Sodium 8mg0%
Carbohydrates 48g16%
Protein 3g6%
* All values are an estimate only and will vary depending on the food brands used.
BakedByClo is a participant in the Amazon Services LLC Associates Program, an affiliate advertising program designed to provide a means for sites to earn advertising fees by advertising and linking to Amazon.com. This site may contain some of these links to Amazon.com & other affiliate programs. If you make a purchase through one of those links, BakedByClo will receive a small commission from the purchase at no additional cost to you.