Vegan Egg Substitutes For Baking
New to baking without eggs? This vegan egg replacement guide will help get you on your way! I've compiled a short list of my favourite egg substitutes for baking, including how to make a chia seed egg and more handy tips.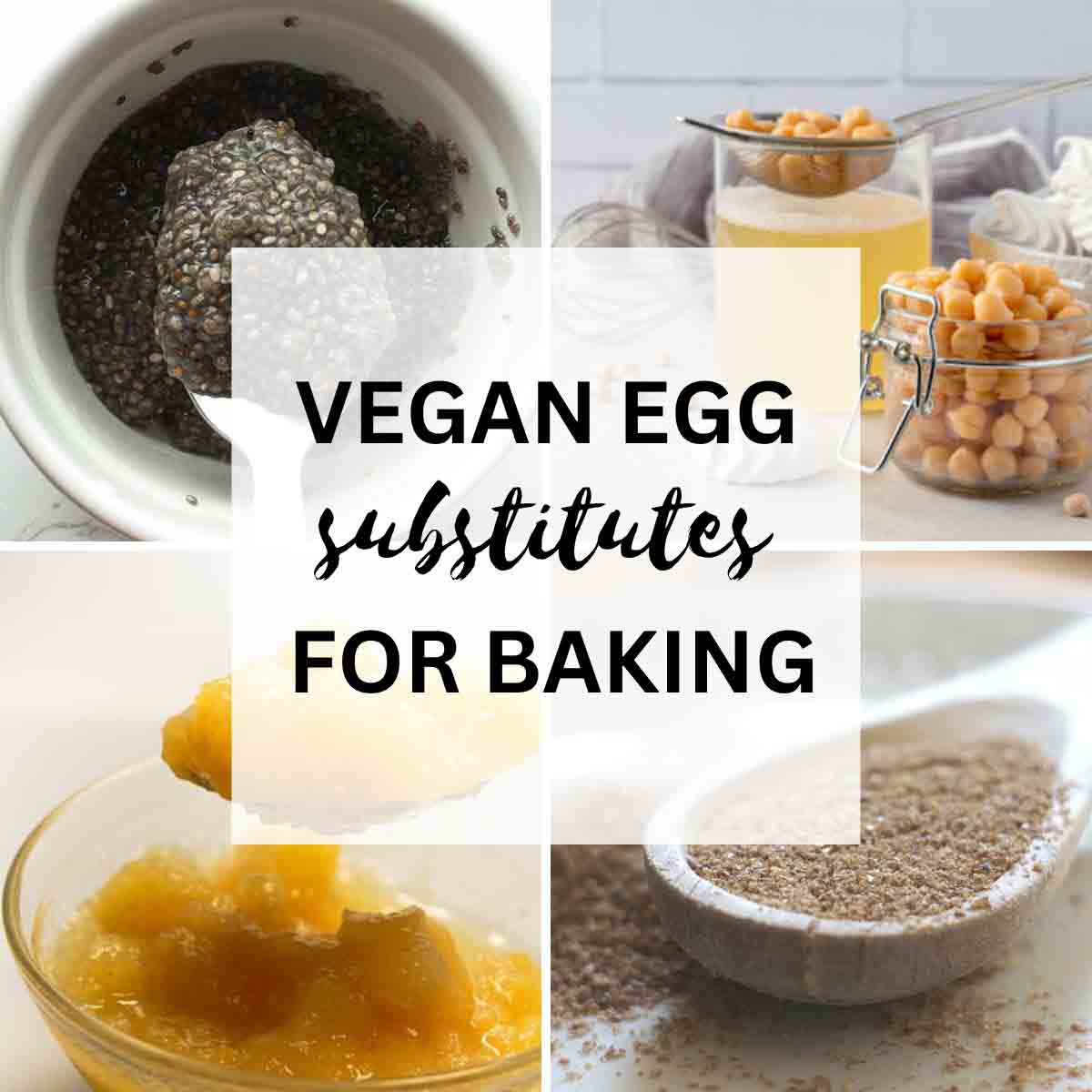 Baking without eggs is no easy feat, especially if you're a beginner.
When I first started to experiment with vegan cooking and baking, eggs were the thing I struggled with the most. Dairy was pretty straight forward. I could simply use my usual soy milk in place of cow's milk, and because of the invention of vegan margarines and butters, that was never a problem either.
I'd read briefly online about flax eggs and amateur me just shoved them into any baking recipe I tried. I also tried my fair share of chai seed egg replacements. The result was usually a sad, soggy, seedy mess and I couldn't figure out where I was going wrong.
It turns out that there's more to it than that! It took me a while, but I eventually learned about what egg substitutes do in specific recipes. In cookies they act as a binder, in cakes, they help to lift the sponge, and in brownies they help to add moisture.
Each of them act in a different way and have a different purpose, which means that it's particularly important to choose the correct one for the recipe you're trying to veganise.
So without further ado, here are my favourite vegan egg substitutes for baking. If you're having a hard time figuring out what to replace eggs with in vegan baking, I've written a little bit about what each one does in a recipe, and included some desserts that you can use them in. Hope you enjoy!
Vegan buttermilk
I know what you're thinking, isn't this a dairy replacement? But I promise it works! It's one of my favourite egg substitutes for baking, especially in vegan cakes and other fluffy baked goods.
Have you ever tried to make a vegan cake and it came out gummy, dense or worse… dry and crumbly. Well, no more! Using dairy-free buttermilk is a brilliant hack that will produce moist yet light and fluffy bakes that taste exactly the same as the ones with eggs. I would go as far to say that this is the best vegan egg substitute for baking cakes- none of the others match it in my opinion.
I must note that in order for this to work correctly, the recipe must also contain an alkaline ingredient such as baking soda. This is needed to create a chemical reaction with the acidity of the buttermilk and this is what will make the cake fluffy.
If you're using self-raising flour, you don't need to add any baking soda to the recipe as the flour already contains baking powder which will work similarly. But I like to add around 1/2 teaspoon of baking soda to my cake recipes along with the self-raising flour, to make them extra fluffy.
How much buttermilk for 1 egg?
My general rule of thumb is 125ml-250ml of vegan buttermilk per 1 egg (1/4 to 1/2 cup) but please note this is not exact for every recipe. I typically make 1 cup (250ml) of buttermilk then add it to the recipe, a little bit at a time, until it looks similar to a traditional cake mix. Usually 1/2 a cup is just the right amount.
To make dairy-free buttermilk, add 2 teaspoons of apple cider vinegar to 250ml (1 cup) of plant-based milk. Whisk it briefly with a fork and let it sit at room temperature. After a few minutes, it should be a bit thicker and slightly curdled. Give it another quick mix and it's ready to use!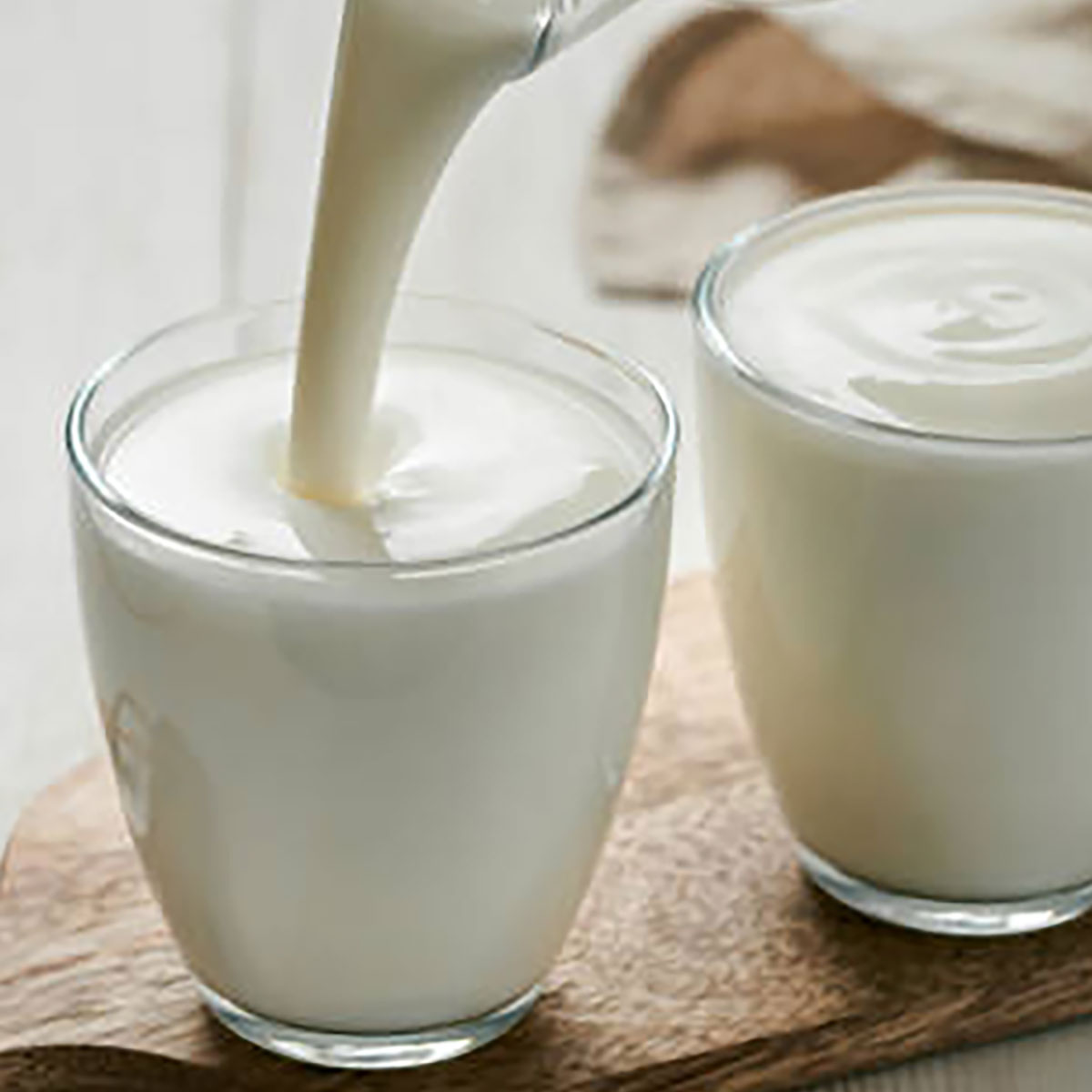 I recommend using unsweetened, organic soy milk for the creamiest buttermilk. It gives the best texture because there's no extra additives that will interfere with the curdling process. If you're allergic to soy milk, oat milk is a close second but it won't thicken quite as well.
Apple cider vinegar is the best acid to use in my experience but equal amounts of white vinegar or lemon juice (great for lemon cakes) will work too. And don't worry, you won't taste the vinegar AT ALL in the final product, promise!
How to use vegan buttermilk as an egg replacement
As I mentioned above, this one is best for fluffy baked goods like cakes and cupcakes but I also use it in brownies sometimes. Here are some of my favourite dessert recipes that you can making using buttermilk instead of eggs:
Flax eggs
Next, we have another of my favourites, flax eggs! As I mentioned earlier in this post, after I learn how to make chia eggs and flax eggs, I used to always use them in my cakes. But I was always a little disappointed, and I didn't really enjoy the cakes with seeds all the way through them.
I've since found that flax seeds and chia seeds work as the best vegan egg replacement for binding cookies. I always (and probably exclusively) use them in my cookie recipes now. It works well every time and the seedy texture is not noticeable at all. They taste exactly like regular cookies!
When making a flax egg, it's important that you use ground flax seeds. The seeds need to be ground in order to absorb the water. You can buy them pre-ground, also known as milled flax seeds, milled linseeds or 'flaxmeal', or you can buy them whole like I do and grind them up yourself at home in a high power blender. I recommend using golden flax seeds if possible as they will blend in nicely with your baked goods and not show up like brown ones would.
How to make a flax seed egg
To make a flax egg, mix 1 tablespoon of ground flax seeds with 1 tablespoon of cold water. Mix it together and let it sit at room temperature for 5 minutes or so. It will become thick and gloopy, sort of gelatinous like an egg (hence the name). It's best to add your flax egg in with the wet ingredients. When I use them in my cookie recipes, I add them in with the vanilla extract once I've creamed the margarine and sugar together. 1 flax egg will replace 1 egg.
I used to recommend using 1 tablespoon of flax seeds with 2 tablespoons of water and sometimes even 3. But now, I've found that they add too much moisture to cookie recipes and you'll usually end up needing to compensate with extra flour. I typically use 1 flax egg per recipe but for gluten-free cookies, you'll probably need to double it for the extra binding power.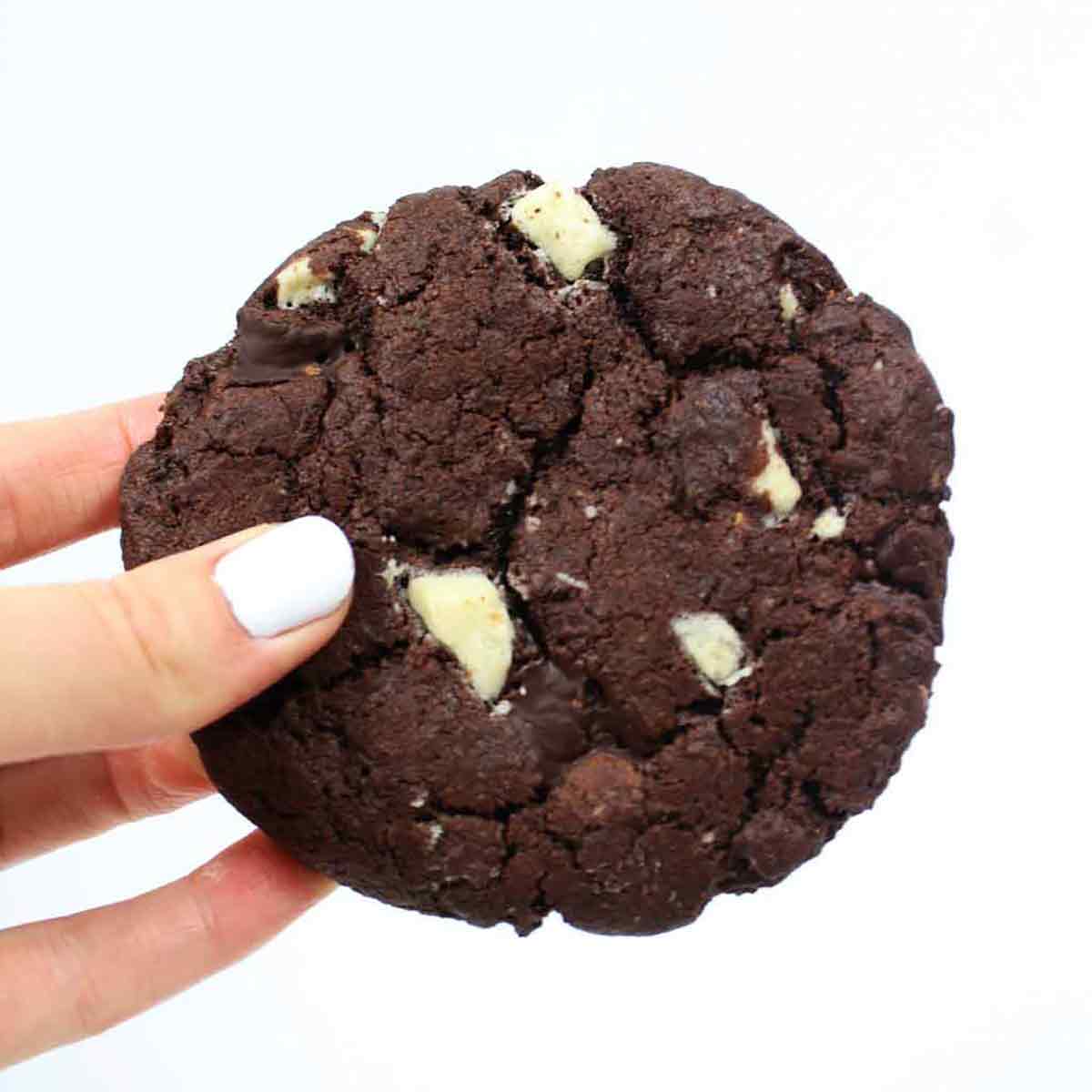 Ways to use a flax egg in vegan baking
As noted above, I mostly only recommend using a flax egg in cookie recipes. Here are some of my favourite recipes to use them in:
Aquafaba
What the heck is aquafaba, I hear you ask? It's the leftover liquid from canned chickpeas (although you can make it yourself when cooking them from scratch).
I know it doesn't sounds like the most appetising thing in the world but hear me out! Aqua faba makes an excellent vegan substitute for egg whites and can be used to make all sorts of delicious vegan treats.
Ways to use aquafaba as an egg substitute in baking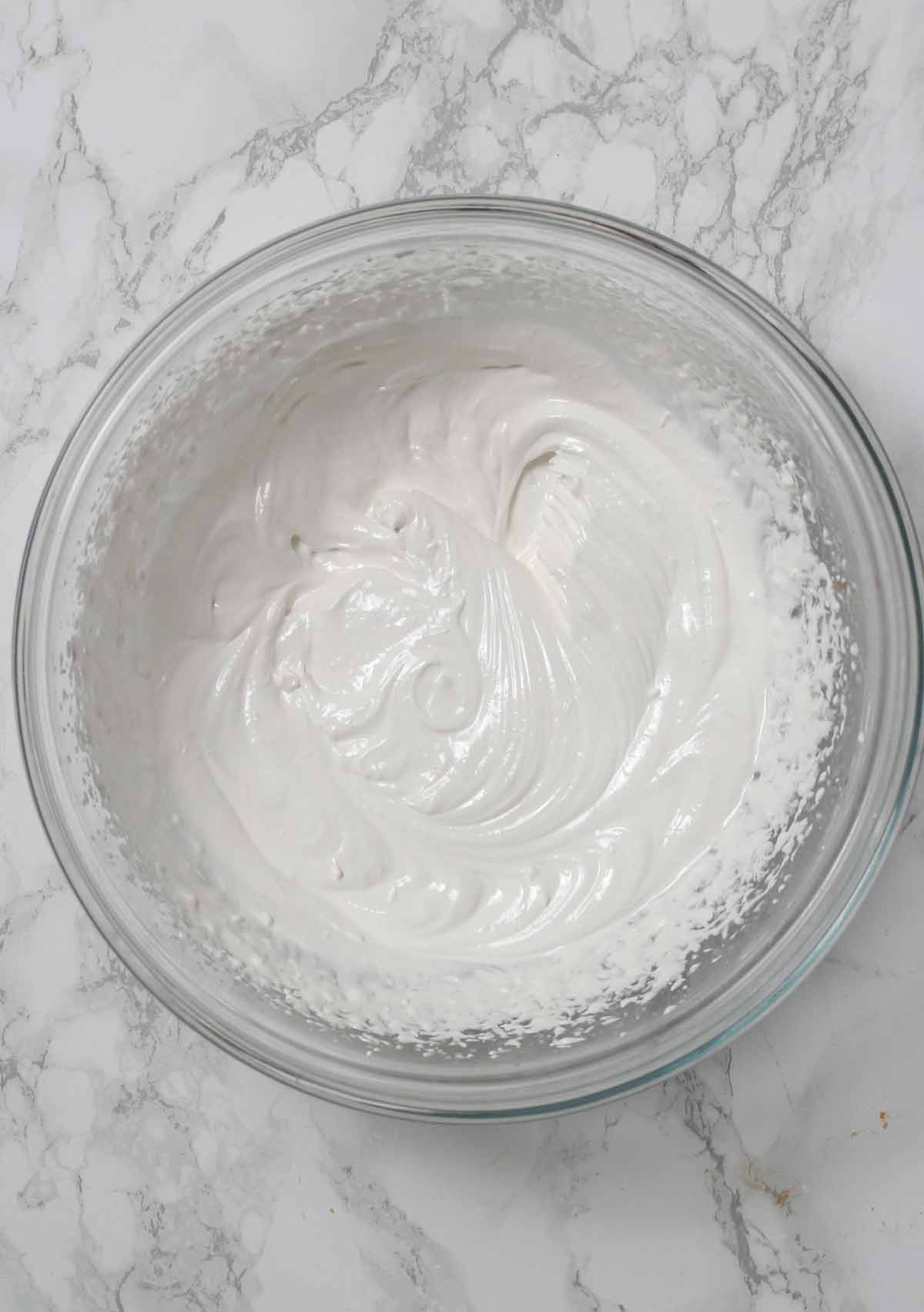 I typically use aquafaba for meringue-based recipes or as a vegan egg white replacement. You can use it in cakes or other desserts if you like but I recommend using a recipe that is already vegan and has been tested with the correct quantities. In most cases, 3 tablespoons (45ml) of aquafaba will replace 1 egg. Here are some of my favourite recipes to use aquafaba in:
The three egg substitutes I've listed so far are the ones I use most often for baking and you won't typically see me using any others in my recipes. But I wanted to include some other goods ones to give you some more options, especially those who are just starting to experiment with vegan baking.
Chia eggs
Chia eggs are very similar to flax eggs, in that they become thick and gelatinous when mixed with water. I don't use these very often in baking as the texture is less subtle than flax eggs. I tried them in brownies back in the day but you could definitely tell that the chia seeds were in there.
Saying that though, they are great for thickening things like overnight oats and chocolate puddings. And I would imagine they work in cookies similarly to flax eggs but I haven't tried that with my updated cookie recipe yet.
Chia eggs are a little different to flax eggs- they are more absorbent and therefore you need to use slightly more liquid. If you'd like to know how to make a chia seed egg, I've included a recipe for them at the bottom of this page.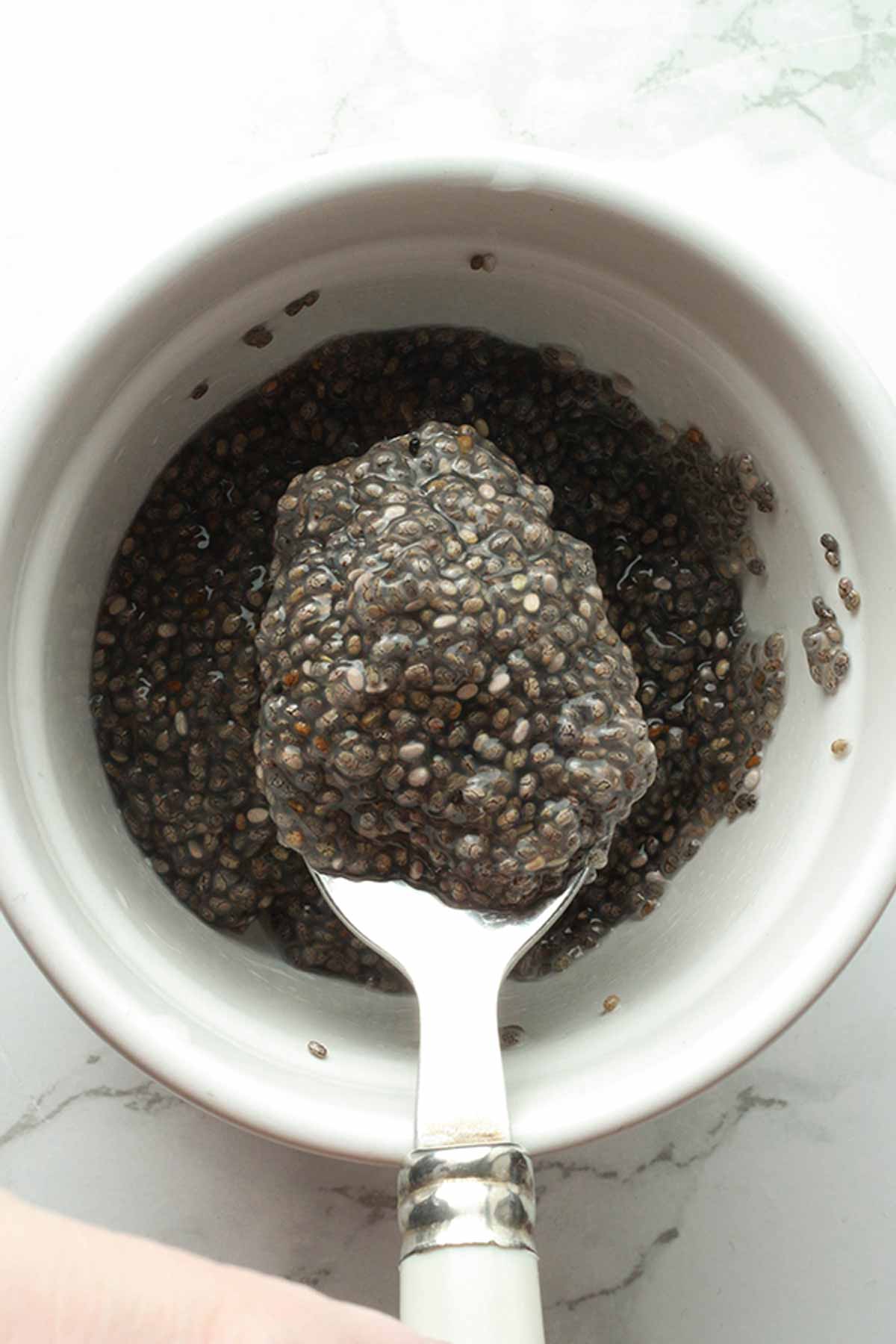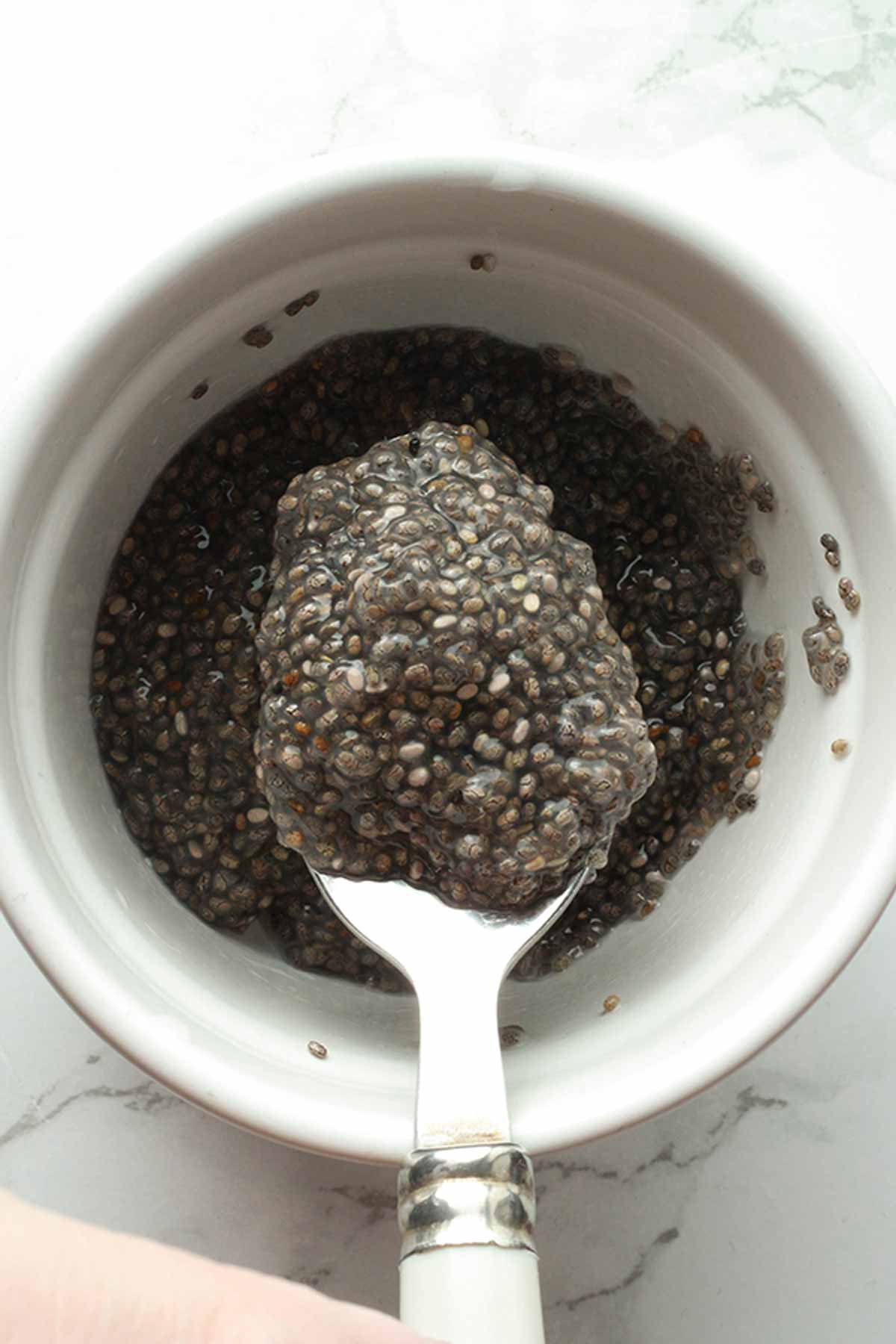 Silken tofu
Tofu might sound like a bit of a strange one but it's often used to thicken things like chocolate mousses or puddings. To replace 1 egg, use approximately 1/4 cup or 60g of silken tofu (not firm). Silken tofu has a soft, fragile texture that will blend and puree easily and become undetectable in your desserts.
Dairy-free yogurt, apple sauce and mashed banana
These are some other vegan baking egg substitutes I used to use frequently before I discovered buttermilk and I do actually like them. I recommend the yoghurt over the fruit purees unless you're making apple or banana flavoured desserts. These egg replacements are great for using in recipes that require the egg yolk only, as opposed to the whole egg. They're more suited to dense, moist baked goods like muffins, sweet breads and banana pancakes.
1 egg =
1/2 a mashed banana
1/4 cup (60g) of apple sauce
1/4 cup (60g) of dairy-free yogurt.
My go-to applesauce is Tesco Bramley apple sauce and my favourite vegan yogurt is Alpro no sugars.
Cornflour
Cornflour (also known as cornstarch) can be used in some vegan baking recipes such as custard. When mixed with a bit of plant-based milk, cornflour acts as a great egg substitute for baking recipes that use eggs for thickening. 1 tablespoon of cornflour mixed with 2 tablespoons of plant-based milk or water is equal to 1 egg.
It's important to mix the cornflour into this small amount of liquid, especially before heating, so that it doesn't clump up when mixed with the rest of the ingredients.
Important notes about eggs substitutes for baking:
Not all baking recipes will work with a simple egg substitute. The swap you need will heavily depend on the purpose of the eggs in the original recipe. For example, if eggs are being used in a recipe to make a cake light and fluffy, and you substitute them for flax eggs which only act as a binder, it won't work. I've written some baking suggestions beside each egg substitute but please note that it's not guaranteed to work in every recipe you try (unless it's one of my recipes that I have linked to).
Most of the egg replacements listed on this page are best to use if you are trying to veganise a recipe with only 1 egg. If there are multiple eggs in a recipe, I would recommend that you follow a recipe that is already vegan as it can take a lot of experimenting to get right.
Ready-to-use egg replacements
If you want an egg substitute that you can use over and over without preparing one every time, you can use a ready-made egg replacement. The packaging will tell you the exact amount to use for 1 egg. Here are the ones I'm aware of:
I hope this guide on vegan egg substitutes for baking has been helpful. If you make any of the recipes mentioned in this post, please let me know how you get on by leaving a comment below. Happy baking! xo

9 Best Vegan Egg Substitutes For Baking
An easy egg substitute for baking made with chia seeds.
Instructions
Mix the chia seeds and all of the water together. Let it sit at room temperature for 5 minutes until it becomes thick and gloopy.

Use as a replacement for 1 egg*.
Recipe Notes
*Chia seed eggs are best used in dense desserts such as muffins or sweet breads. They are also great for thickening things like overnight oats and puddings.
Nutrition Facts
9 Best Vegan Egg Substitutes For Baking
Amount Per Serving (1 chia egg)
Calories 58
Calories from Fat 33
% Daily Value*
Fat 3.7g6%
Sodium 2mg0%
Potassium 49mg1%
Carbohydrates 5g2%
Protein 2g4%
* All values are an estimate only and will vary depending on the food brands used.
BakedByClo is a participant in the Amazon Services LLC Associates Program, an affiliate advertising program designed to provide a means for sites to earn advertising fees by advertising and linking to Amazon.com. This site may contain some of these links to Amazon.com & other affiliate programs. If you make a purchase through one of those links, BakedByClo will receive a small commission from the purchase at no additional cost to you.