Best Vegan Milks For Baking
What's the best vegan milk for baking? If you'd like to try plant-based milk alternatives for making cakes, brownies and more, this post will tell you everything you need to know!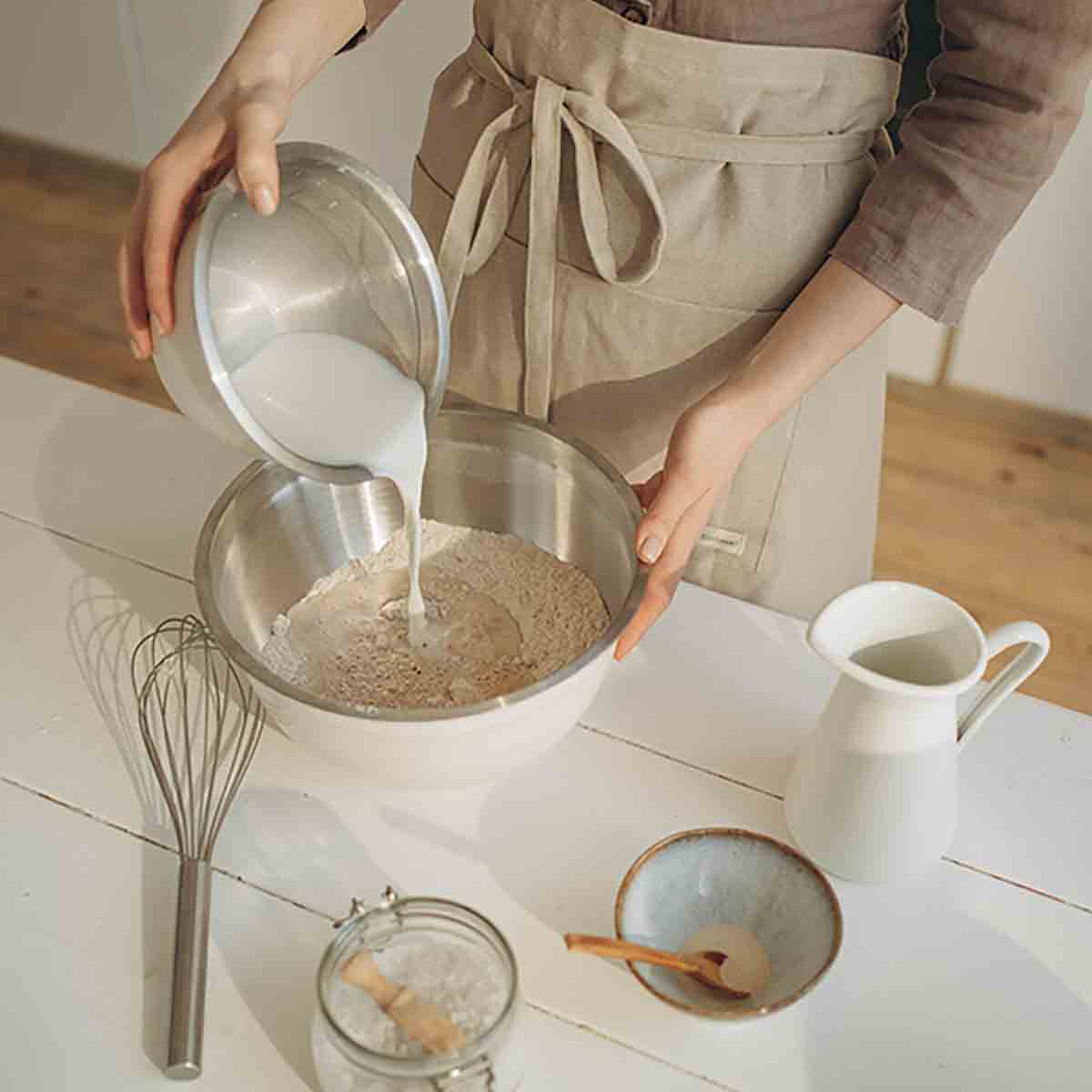 New to your vegan baking journey? You may be wondering about the different types of milk alternatives and how to use them in dessert recipes. There are so many options out there and they don't all work the same way. I've written this post to help you avoid making the same mistakes that I did, and I hope you find it useful!
What is a good substitute for milk when baking?
Let's take a look at the different types of plant-based milk alternatives there are out there. These are a few of the most popular options that you'll find in your local supermarket, with some of them being better for baking than others.
Soy milk
Soya, or soy milk is made from soya beans, which are mostly imported to the UK from South America. Soy milk's main benefits are its creamy texture and its fairly high protein content. It has around 3.5g of protein per 100ml which is on par with most types of cow's milk! A downside to soy milk is that many people have allergies or sensitivities to it. It also has quite a distinctive taste and can curdle if used in tea.
Soy milk is by far the best vegan milk for baking. It's the only milk that truly works 1:1 with cow's milk. It creates soft, light, fluffy desserts and it's what I use in all my cake recipes. It's also great for making creamy, dairy-free buttermilk.
Oat milk
Oat milk is growing to be the most popular vegan milk alternative! It's smooth and creamy, making it perfect for adding to cups of tea, and it has a sweet, oaty flavour that is pleasant even to those who are used to drinking cow's milk. A downside to oat milk is that it has less than 1g of protein per 250ml glass so if you're looking for a high protein vegan milk, this is not the one for you.
Oat milk generally works quite well in baking, for cakes, muffins and other light and fluffy baked goods. This is because of its thick, creamy consistency. However, if you're using oat milk instead of soy milk, you may need to use an extra binder such as flax seed, due to its lower protein content.
Almond milk
Almond milk is made by blending almonds and water together then straining the pulp out. It has a nutty flavour and has quite a watery consistency in comparison to soy and oat milk. It has 0.4g of protein per 100ml. It's also quite low in fat.
Almond milk can be used in baking but because of its lower fat content, your dessert will be slightly drier and therefore more fragile. You can make up for this by adding extra fat to the recipe but in general, almond milk is not the best milk alternative for baking cakes or other moist baked goods. It works well in baking recipes that don't require a lot of liquid, such as cookies and biscuits.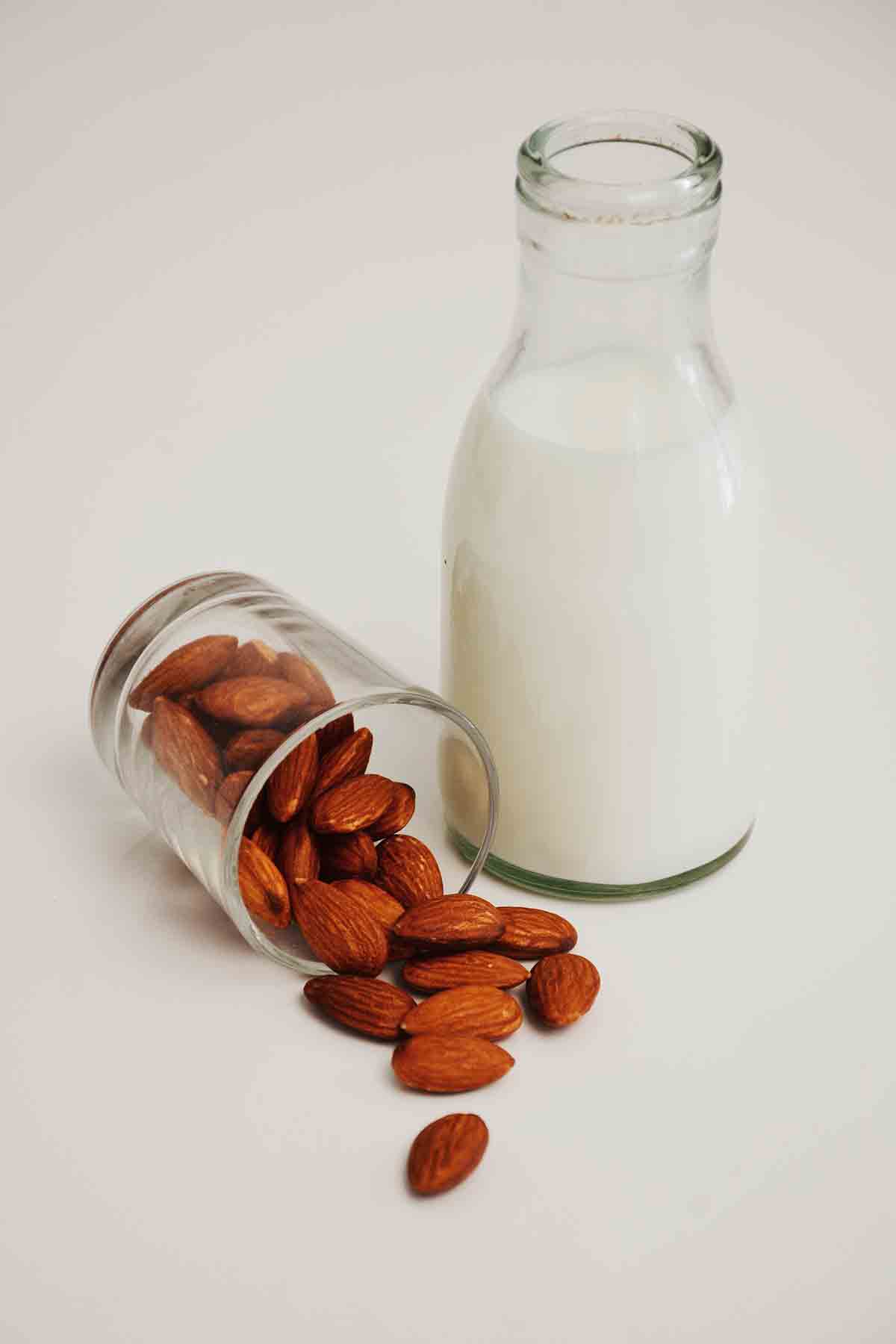 Coconut milk
There are two types of coconut milk. The first is the watered-down, drinking type of coconut milk that comes in a carton. This is a great milk to use if you just fancy just straight up drinking it, thanks to it's naturally sweet flavour. It's lower in fat that regular coconut milk so this is a good option if you love the flavour but don't want a lot of fat in your diet.
The second type of coconut milk is the coconut milk that you'll find in a tin. This is very high in fat, with around 9g of fat per 100ml, compared to just 1.2g per 100ml in the carton coconut milk.
Coconut milk drink is best avoided for baking because it has an unusual consistency. However, full fat coconut milk makes a great alternative to cream in baking recipes, such as in a cheesecake or chocolate ganache. If you pop it in the fridge overnight and let the cream rise to the top, you can even whip up to make dairy-free whipped cream.
Full fat coconut milk can also be used in coconut-flavoured recipes, like coconut and lime cupcakes. It's important to note that if you use coconut milk as a substitute for another type of milk, you'll also need to reduce the amount of fat in the recipe, to avoid greasiness.
Rice milk
Rice milk is made by blending boiled rice and water together then straining. It has a sweet, creamy flavour and is quite a popular milk alternative for drinking.
Rice milk is not great for baking because it's very thin. It won't work well in baking without adding a thickener to the recipe. It's also very hard to find a low sugar rice milk, and all the extra sugar can change or spoil the texture of your final baked good.
Other types of plant-based milks
The other types of plant-based milks you'll find in the supermarkets are cashew milk, pea milk, hemp milk and hazelnut milk. After 5 years of vegan baking, I don't recommend any of these milk alternatives for baking in particular. They will work OK in a pinch but they are not the best by any means, unless your recipe specifically calls for them.
So, which vegan milk is best for baking?
The best vegan milk for baking is soy milk, hands down! Its high protein content means it works well in almost any baking recipe at a 1:1 ratio for cow's milk. It has a neutral flavour and is great for making creamy dairy-free buttermilk.
For other bakes, oat milk and almond milk come in a close second. They are best used in recipes that specifically call for them, or for recipes that only require a small amount of liquid, such as cookies. They're also good for desserts that don't require the milk to be used for binding, like custard.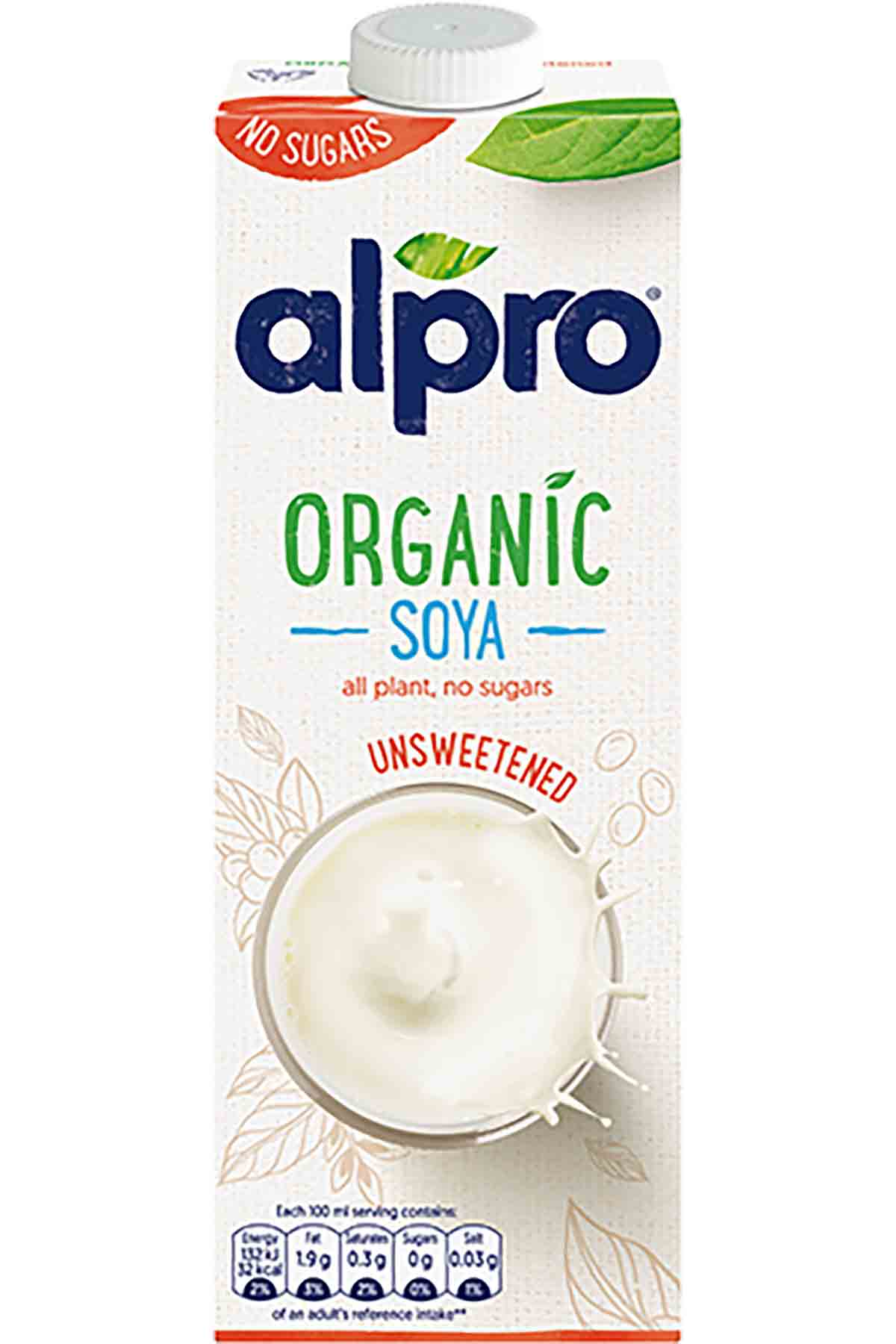 Desserts to try with soy milk:
Tips for choosing a milk alternative for baking
Always use unsweetened milk. The added sugar in plant-based milks can really mess with the end result of your dessert. Vegan brownies, for example, will split and become greasy if there's too much sugar in the batter. My go-to vegan milk for baking is Tesco unsweetened organic soy milk or Alpro unsweetened organic soy milk.
Use organic if possible. Using organic plant-based milks will help to minimise the amount of extra additives in the recipe- additives that may interfere with the texture of your baked goods. It's an especially good idea to go organic if you're using soy milk, to avoid GMO soy.
Follow the recipe closely. You can't simply switch soy milk for almond milk and expect it to work the same way. It's important to use whatever the recipe calls for, to avoid errors and get the best outcome for your bakes.
Related posts:
BakedByClo is a participant in the Amazon Services LLC Associates Program, an affiliate advertising program designed to provide a means for sites to earn advertising fees by advertising and linking to Amazon.com. This site may contain some of these links to Amazon.com & other affiliate programs. If you make a purchase through one of those links, BakedByClo will receive a small commission from the purchase at no additional cost to you.