This super moist, rich vegan red velvet cake will wow your friends and family! It's topped and sandwiched with dairy-free cream cheese frosting and is a decadent dessert that everyone will love.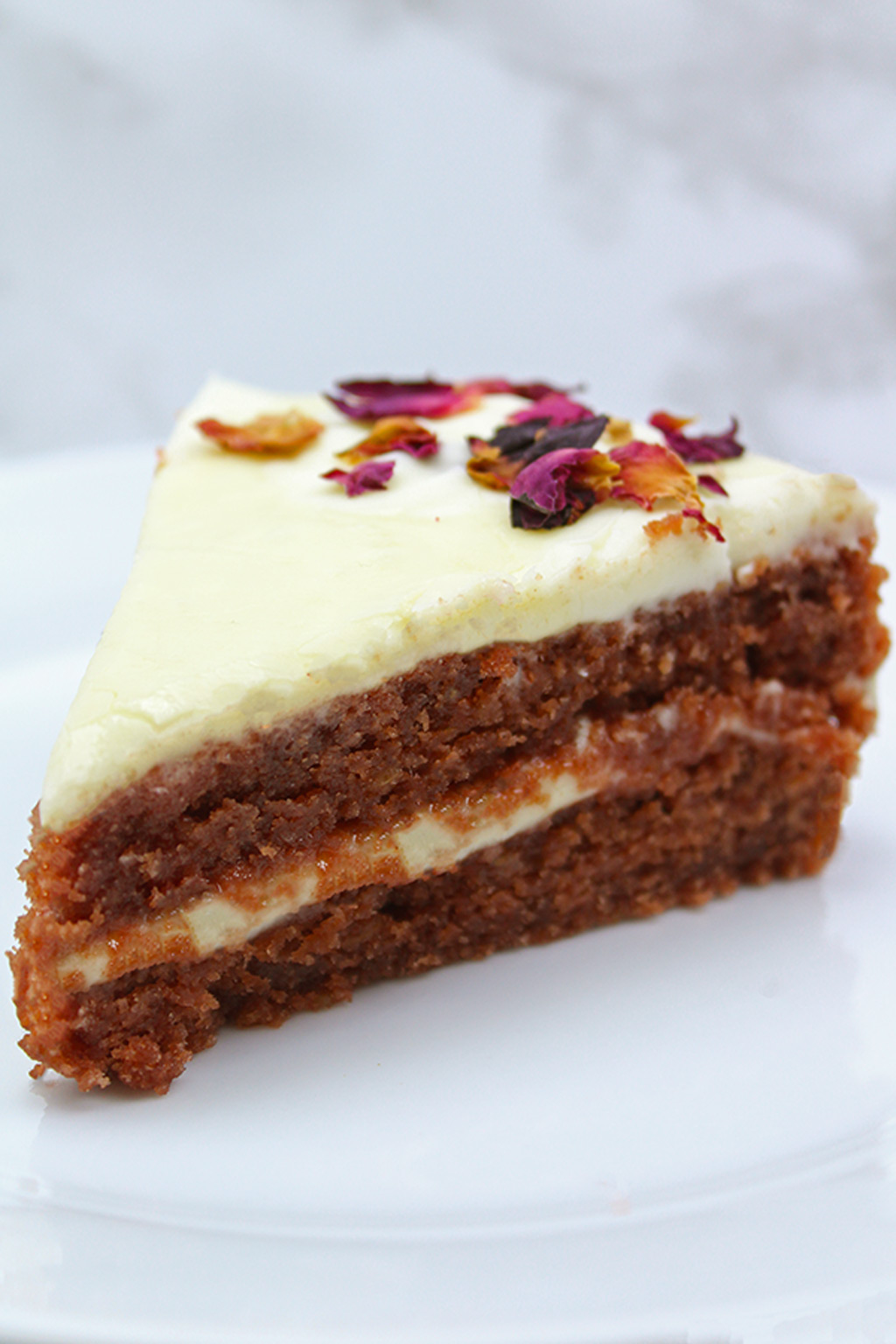 Red velvet cake first came around sometime in the Victorian era and is named so for two reasons. Number one: For its beautiful red color. And number two: its rich, velvety texture. Yum.
If I had to describe how it tastes, I would say it is sort of a mix between a vanilla and a chocolate cake. And because it's super moist and topped with cream cheese frosting, the texture reminds me a little of carrot cake.
What Makes Vegan Red Velvet Cake Red?
Traditionally, red velvet cake didn't contain any food coloring. The red color was much more subtle and happened because the acidity of the vinegar reacted with the anthocyanin-rich cocoa powder to bring out its red undertones.
In my vegan red velvet cake though, I used a teaspoonful of red food coloring to make it a little more visually appealing. Of course, this isn't necessary- the cake will taste exactly the same without it.
I also didn't add any buttermilk to my cake. I tested it with and without, and I couldn't taste a difference, so I left it out in the end. My recipe contains both plant-based milk and vinegar which gives a similar taste and saves the need for buttermilk!
Making Vegan Red Velvet Cake Without Eggs Or Dairy
Like I do in a lot of my other cake recipes, I used ground up flax seeds as my vegan egg replacer for this one. I tried to make it without the flax seeds and while it still tasted nice, it fell apart when I tried to sandwich the two sponge cakes together. Sigh.
The flax seeds help make this vegan red velvet cake a little sturdier, but they don't affect the flavor or texture of it one bit. And I found that if you use golden flax seeds, you can't even tell they're in there at all!
I also removed the dairy butter that traditional red velvet cakes call for and switched it out for vegan butter instead. It's such an easy vegan baking replacement as you can use it 1:1 without compromising the taste or texture.
How To Make Vegan Red Velvet Cake
Step 1:
Before anything else, preheat your oven to 180°C (160°C fan/ 350°F/ Gas mark 4) and make sure to line two 7-inch round cake tins with parchment paper.
Step 2:
Prepare your flax seed "eggs", which will act as a binder and prevent the cakes from crumbling after they've baked.
To do this, mix 4 tablespoons of ground flaxseeds with 175ml (3/4 cup) of water and set it aside for 5 minutes.
I used to buy my flax seeds pre-ground for ease, but they would always leave little brown specks in my cakes. So recently, I purchased golden linseed and ground them up myself in my Nutri Bullet.
It worked really well, and I no longer have that "spotty" look to my cakes. It probably sounds like a pretty obvious solution but it was a revelation for me, and it works out much cheaper doing it this way too!
Step 3:
Next, place 200g (3/4 cup + 2 tablespoons) of vegan butter, 200g (1 cup) of caster/superfine sugar and 2 teaspoons of vanilla extract into a large bowl.
Mix everything together using a wooden spoon until it becomes pale, fluffy and smooth.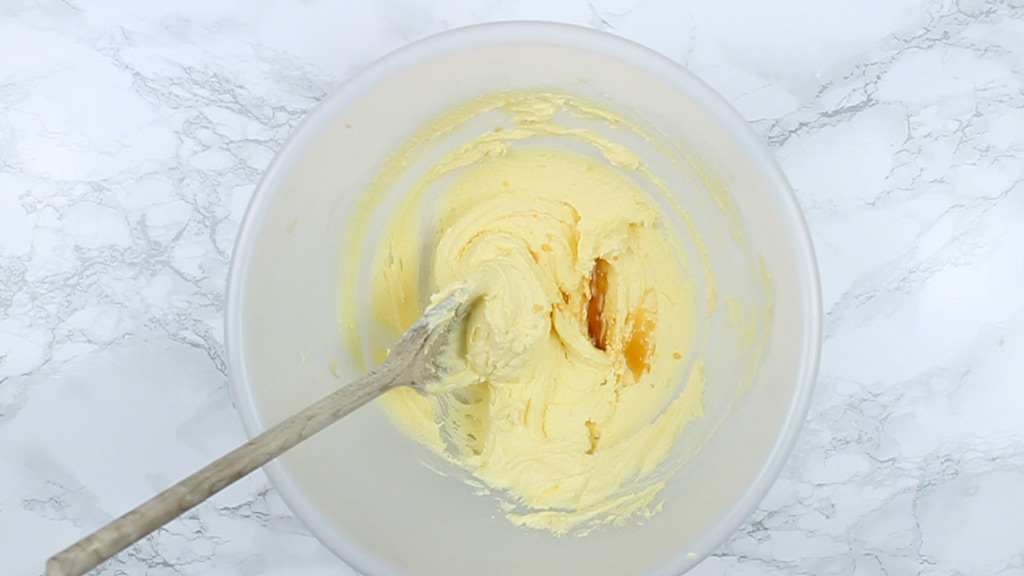 Step 4:
Now add in the flax seed mixture that you just prepared and give everything another stir. The mixture may look a little curdled at this point, but don't worry- it will smoothen out nicely when the rest of the ingredients are added.
Step 5:
Into the same bowl, add in 200g (1 +1/2 cups) of self-raising flour, 2 teaspoons of baking powder, 4 tablespoons of plant-based milk (I used soy) and 1 tablespoon of unsweetened cocoa powder. Fold it in gently until you have a smooth batter.
Add in 2 teaspoons of white vinegar and give the batter another stir.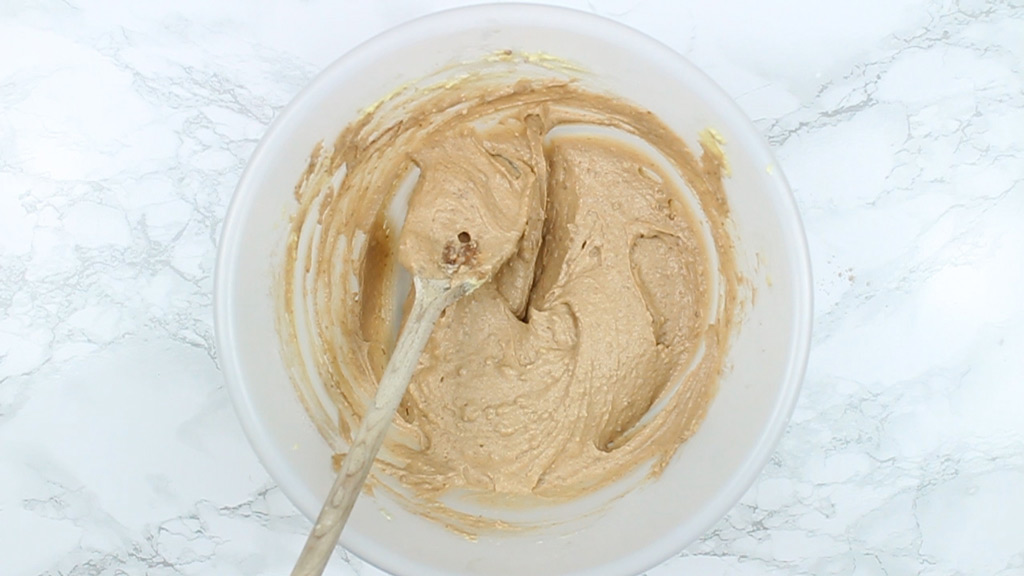 Step 6:
If you wish to use red food coloring, now is the time to add it!
The only thing to note is that quite a lot of the red food colorings out there contain E120 which is not vegan-friendly as it's made from insects (weird, I know). Rainbow Dust has a great vegan-friendly red gel and I would highly recommend it. I used 1 teaspoon which gave a beautiful color.
I have also tried making this cake with liquid red food coloring but it didn't hold its color quite as well when it was baking- it just ended up looking like chocolate cake!
I'd personally recommend using a gel or a paste if possible, but I've also seen other recipes that use beetroot powder for the color. So feel free to just use whatever works best for you!
Step 7:
Divide the cake batter between your two cake tins and bake for 30 minutes. After 30 minutes, insert a toothpick into the middle of the cakes and if it comes out clean, then you'll know the cakes are fully baked.
Leave the cakes in their pans for around 10 minutes before flipping them out onto a wire rack to cool completely.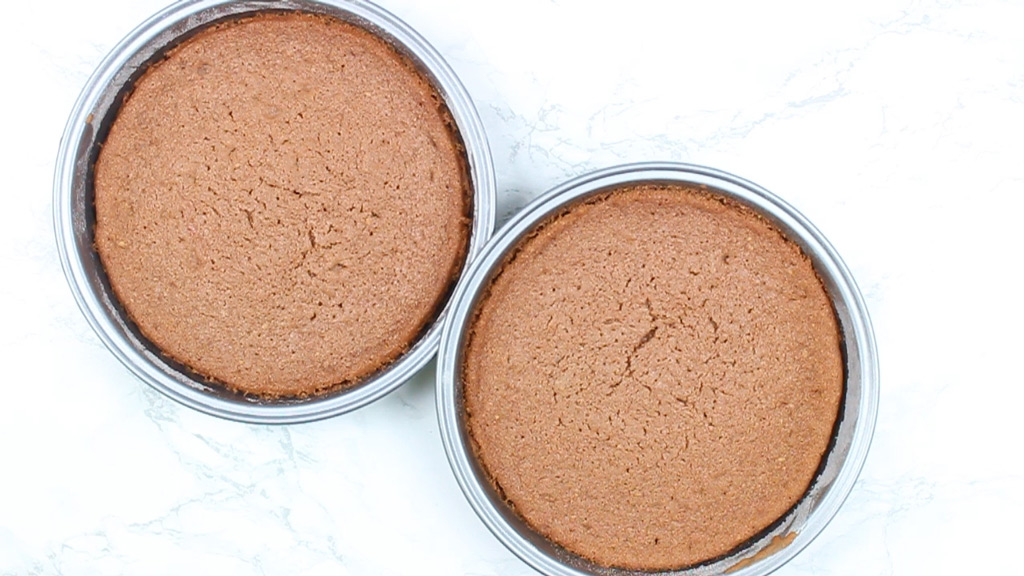 Step 8:
While the cakes are cooling, prepare your cream cheese frosting and place it in the fridge for an hour or so.
Step 9:
Place one of your cakes onto a plate or cake board, then pipe or spoon your frosting all over the top of it. Place your second cake on top and spread some more frosting on top!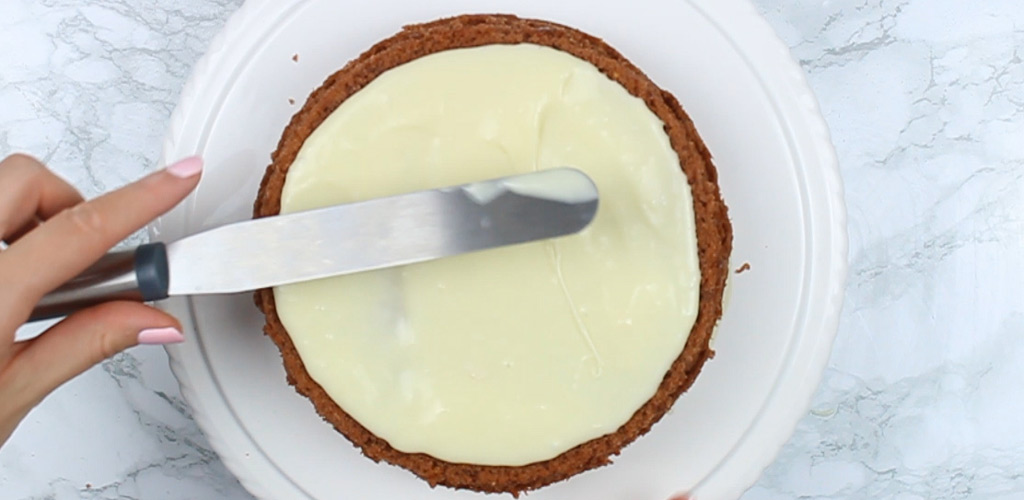 To make it extra pretty, I added some edible flower pieces around the edges of my cake. Feel free to add whichever decorative touches you like.
Step 10:
Place the cake into the fridge for 20 minutes (or leave at room temperature for 1 hour) to allow the frosting to become firm again. Then, cut into slices and share with your family and friends.
This cake can be stored, covered, in the fridge for up to 5 days.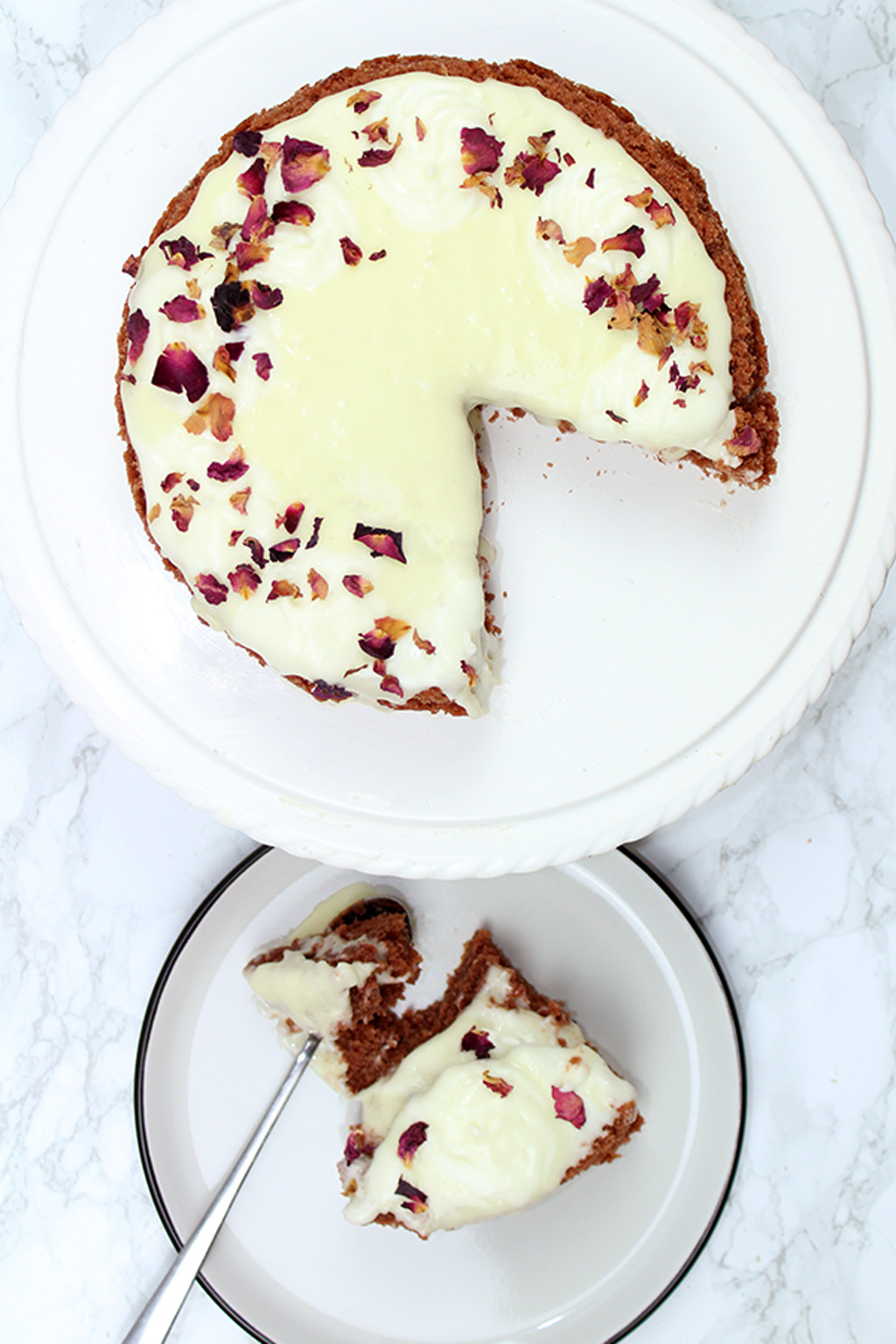 Can I Freeze Vegan Red Velvet Cake?
I haven't actually got around to freezing it myself yet (mainly because it was all gone before I got the chance). But I'd say you can definitely freeze it!
As I said before, the moistness and texture of this cake reminds me of my vegan carrot cake which froze and defrosted beautifully. So there's no reason why this wouldn't too!
I would recommend freezing the cake in slices, in airtight containers for up to 1 month. To defrost, just transfer the slices onto a plate and leave them at room temperature for around 2 hours until they are completely thawed.
I hope you love this vegan red velvet cake as much as my family and I did. Please leave a review or comment below if you make it yourself!
Happy baking! xo

Vegan Red Velvet Cake
An eggless, dairy-free take on the Victorian classic!
Keyword:
vegan red velvet cake
Ingredients
For the red velvet cake:
4

Tablespoons

Ground flaxseeds

¾

Cup

Water

(175ml)

¾

Cup + 2 Tablespoons

Vegan butter

(200g)

1

Cup

Caster sugar

(200g)

2

Teaspoons

Vanilla extract

1½

Cups

Self-raising flour

(200g)

2

Teaspoons

Baking powder

4

Tablespoons

Plant-based milk

(I used soy)

1

Tablespoon

Unsweetened cocoa powder

2

Teaspoons

White vinegar

1

Teaspoon

Red gel food coloring

(optional)
Instructions
For the cakes:
Preheat your oven to 350°F (180°C/ 160°C fan/ Gas mark 4) and line two 7-inch round cake tins with parchment paper.

Mix the ground flax seeds with the water and set aside for 5 minutes.

In a large bowl, mix together the vegan butter, caster sugar and vanilla until smooth. Add the flax seed mixture and stir again.

Add in the self-raising flour, baking powder, plant-based milk and cocoa powder. Fold everything in gently to form a smooth cake batter. Add in the vinegar and gently mix again.

Stir in the food coloring if you are using it, then divide the batter between your two cake pans.

Bake for 30 minutes. Make sure that the cakes are cooked all the way through by inserting a toothpick through the center. It will come out clean if the cakes are done.

Leave the cakes in their pans for 10 minutes to cool a little, then flip them onto a wire rack and let them cool completely.
For the cream cheese frosting:
Add the vegan soft cheese, vegan butter, powdered sugar and vanilla into a large bowl. Mix by hand or use an electric mixer to combine everything. If the frosting looks a little runny, either add more powdered sugar or place it in the fridge for around an hour to help it firm up.

Place your first cake onto a board or stand and pipe or spoon the frosting over it. Place the second cake on top and repeat, using a spatula to spread the frosting out if necessary.

Leave the cake to sit at room temperature for 1 hour (or place it in the fridge for 20 minutes) to allow the frosting to set before enjoying.
Recipe Notes
*Can be stored in the fridge covered for up to 5 days.
Nutrition Facts
Vegan Red Velvet Cake
Amount Per Serving
Calories 275
Calories from Fat 108
% Daily Value*
Fat 12g18%
Sodium 80mg3%
Carbohydrates 40g13%
Protein 2g4%
* All values are an estimate only and will vary depending on the food brands used.