Vegan Pizza Hut Cookie Dough Copycat
This Pizza Hut cookie dough vegan copycat is soft and gooey, filled with chocolate chunks. It's nice and crispy on the outside with a soft, melt-in-the-mouth centre. Delicious served with dairy-free ice cream!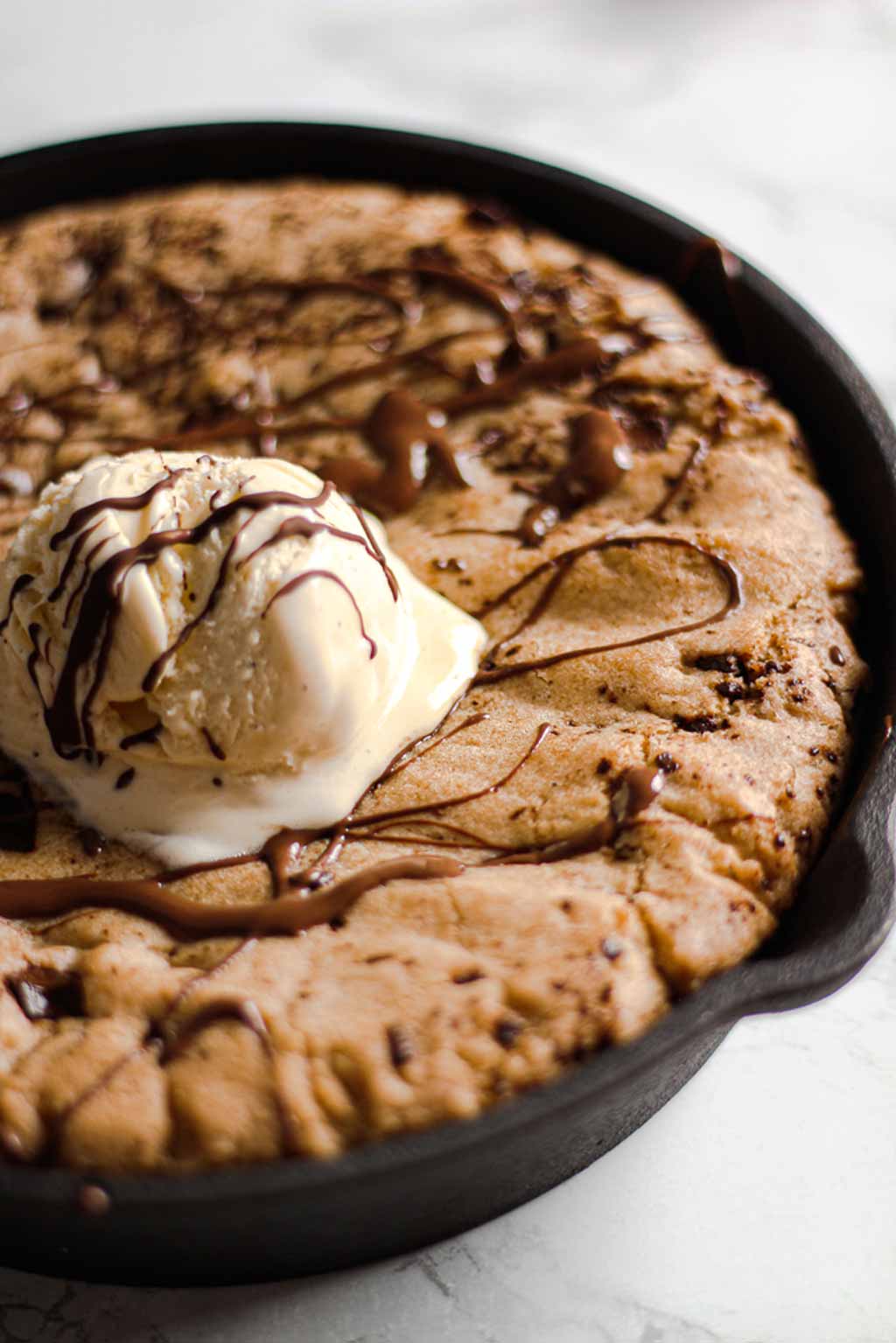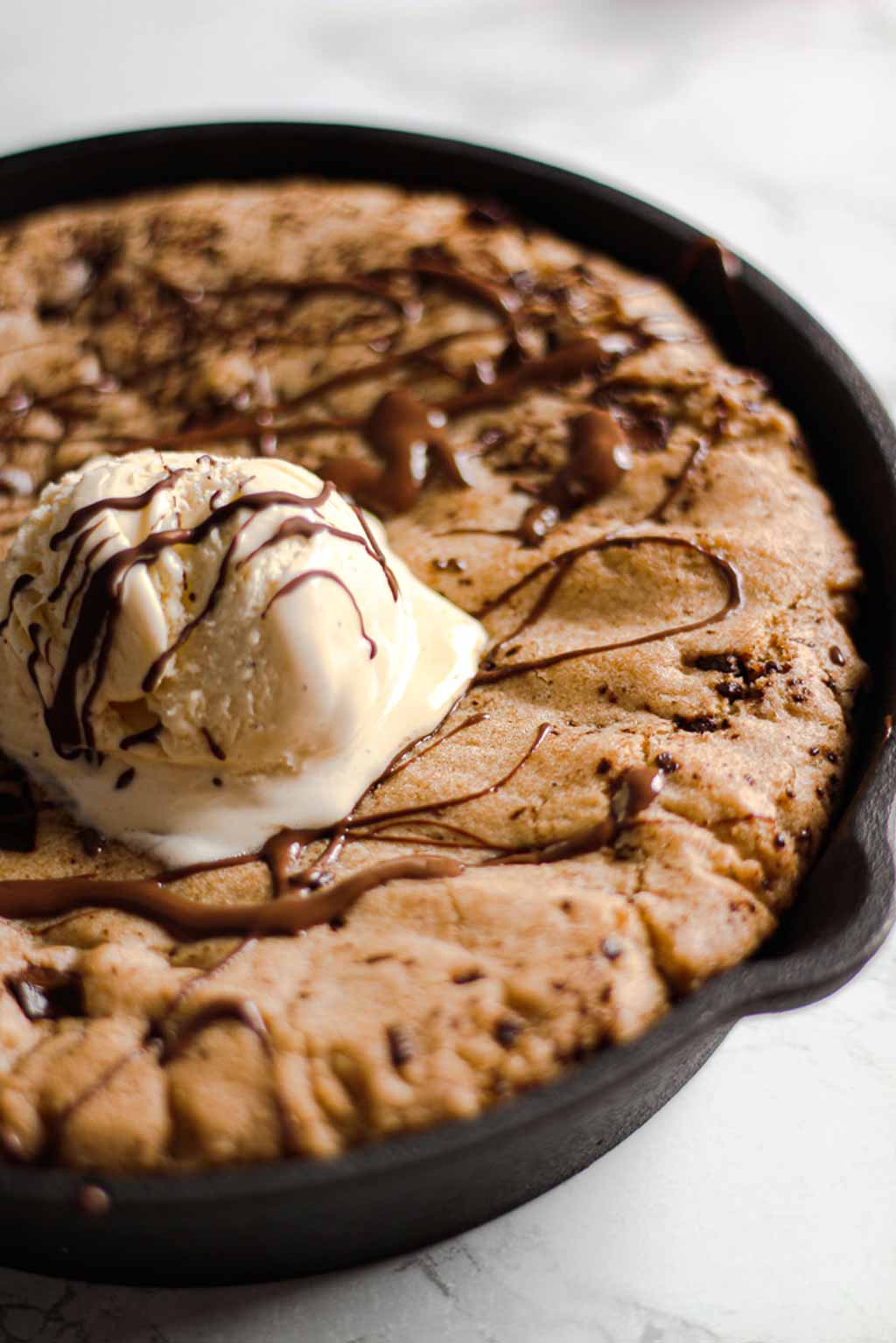 Since I first created this recipe in 2018, vegan food options have come a LONG way!
Most fast-food restaurants now have a range of vegan mains and sides on offer, which is more than could be said a few years ago.
Something that does seem to be lacking in most cases though, is the desserts!
At the moment, Pizza Hut does have a vegan cheesecake on their menu which is amazing. But I think I can speak on behalf of all vegans when I say a dairy-free/eggless version of their cookie dough is what we really want!
Hot Cookie Dough?
I have been made fun of quite a few times for naming the recipe this way! Because if it's hot, doesn't that just make it a cookie?
Technically yes…but no.
It's a half-baked cookie that's still soft on the inside. You take it out of the oven just before it's ready and it will continue baking (slowly) once it's out of the oven.
So if you eat it warm, you get a soft, gooey cookie "dough" dessert that's great with ice cream and if you let it cool, you'll end up with a chewy giant cookie!
That's a win-win in my opinion!
No Eggs and no Flax Seeds!
When I first made this recipe, I used ground up flax seeds as an egg replacer.
I did that a lot because I was just starting out with vegan baking and didn't know a lot about the science-y stuff.
Without eggs, I thought flaxseeds were my only option!
I sometimes use them in my other cookie recipes, because it acts as a great binder and stops them from falling apart.
But someone recently commented on my YouTube video asking if they could make this recipe without flax seeds.
I figured that since this cookie is supposed to be eaten warm with a spoon, it wouldn't matter too much if it didn't have a super strong binder.
So I completely changed the recipe to (almost) match my more recent cookie recipes, removed the flax seeds and added a tiny splash of plant-based milk.
To my absolute delight, it worked really well! So there's no need for any seeds in the recipe now!
Of course, that meant a complete revamp of the whole post, images and video too but I really hope you'll enjoy the changes to the recipe!
It may not taste exactly like the Pizza Hut version but as far as I can remember (it's been about 5 years!), it's pretty close. Let me know your opinion!
Either way, it's definitely a lot tastier than my previous recipe. After all, it's a skillet cookie! It's going to be delicious either way!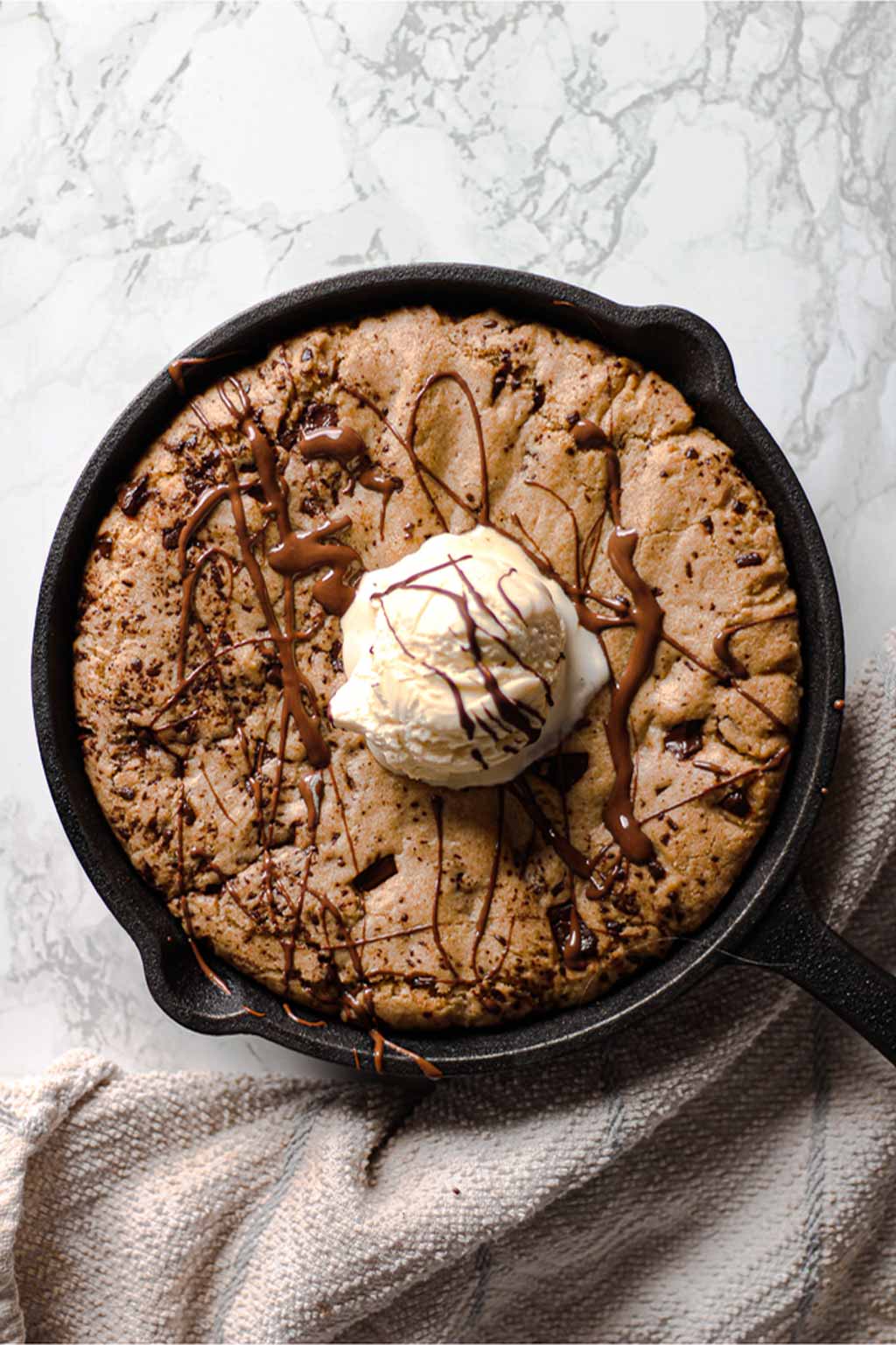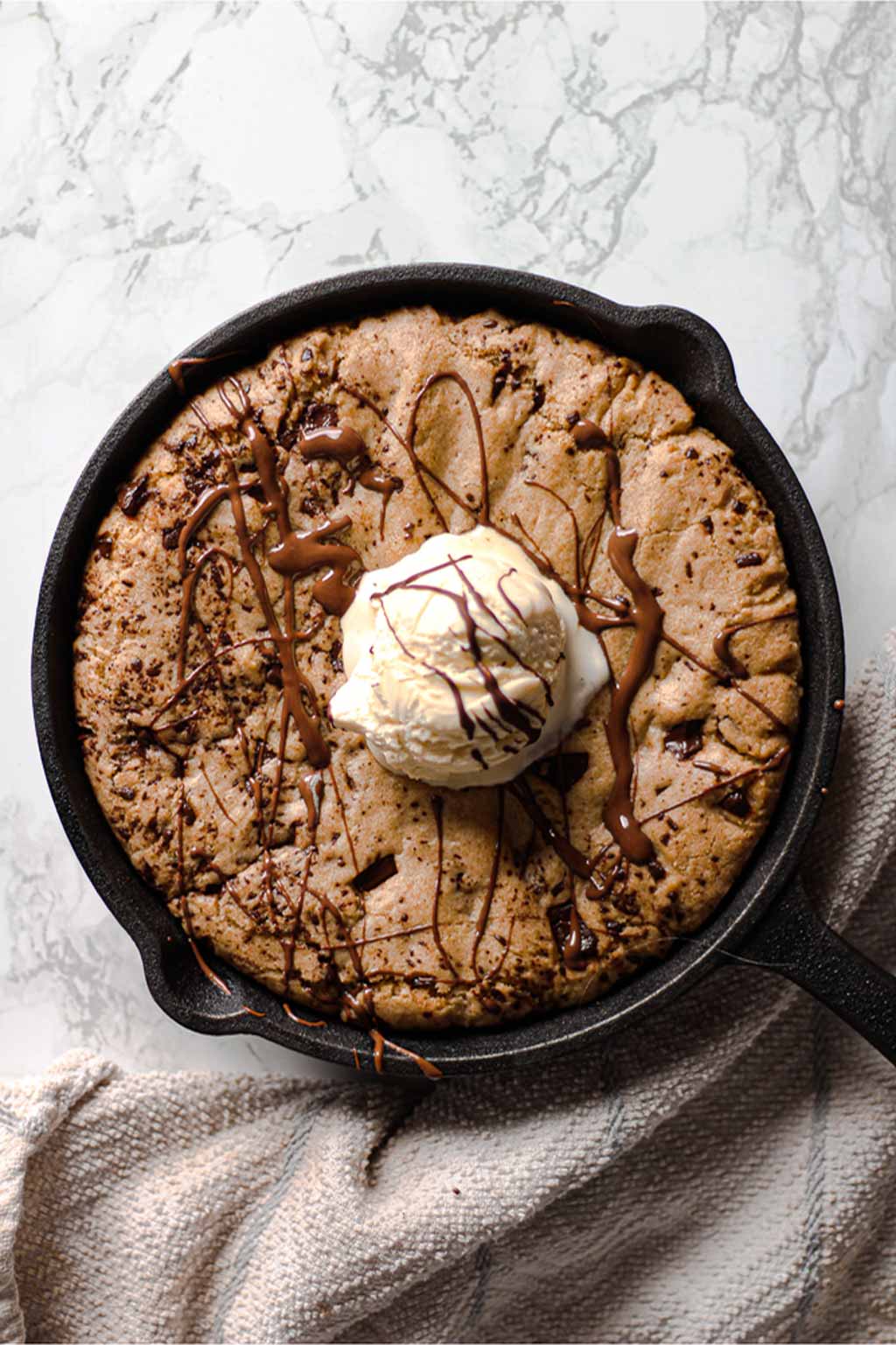 Want more vegan cookie recipes? Try these:
Check out my round-up post of the best ever vegan desserts.
This recipe is the perfect amount for 4-8 people (depending on your serving size).
I say sharing because it tastes the best when it's still warm, fresh from the oven.
So unless you have a HUGE sweet tooth, make sure you've got a few people to help you eat it!
How To Make A Vegan Pizza Hut Cookie Dough Copycat
Before you begin, you'll need to make sure you have roughly the correct sized pan or tin to make this.
I've tested this recipe using a 6.5-inch cast iron skillet and also a 7-inch sandwich cake tin.
The skillet looked a lot prettier but to be very honest, I think the one I made in the tin tasted slightly better!
Whichever you decide to use, make sure it's roughly 7-inches. If you use a larger or smaller one skillet/tin, you'll need to keep an eye on it as the baking time may change.
You don't need to line or grease the tin or skillet before adding the dough. The cookie will come out super easily!
Step 1:
Preheat your oven to 200°C/400°F (or 180°C/350°F if using a fan or convection oven).
Step 2:
In a large bowl, mix together 130g of vegan margarine (1/2 cup + 1 tablespoon) with 100g of caster sugar (1/2 cup) and 75g of soft brown sugar (3/8 cups).
Step 3:
When the margarine and sugar are well mixed, add in 1 teaspoon of vanilla extract and mix again.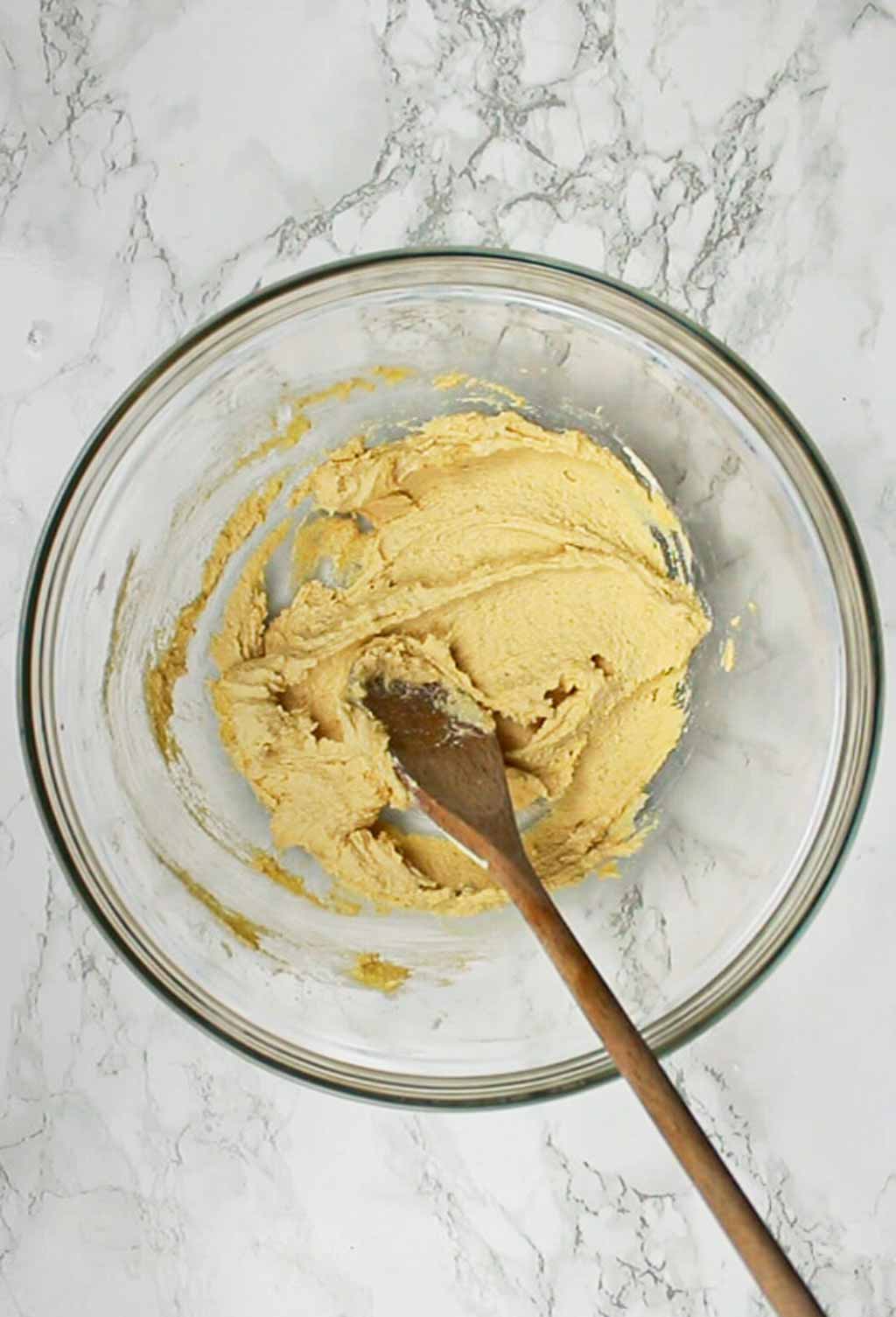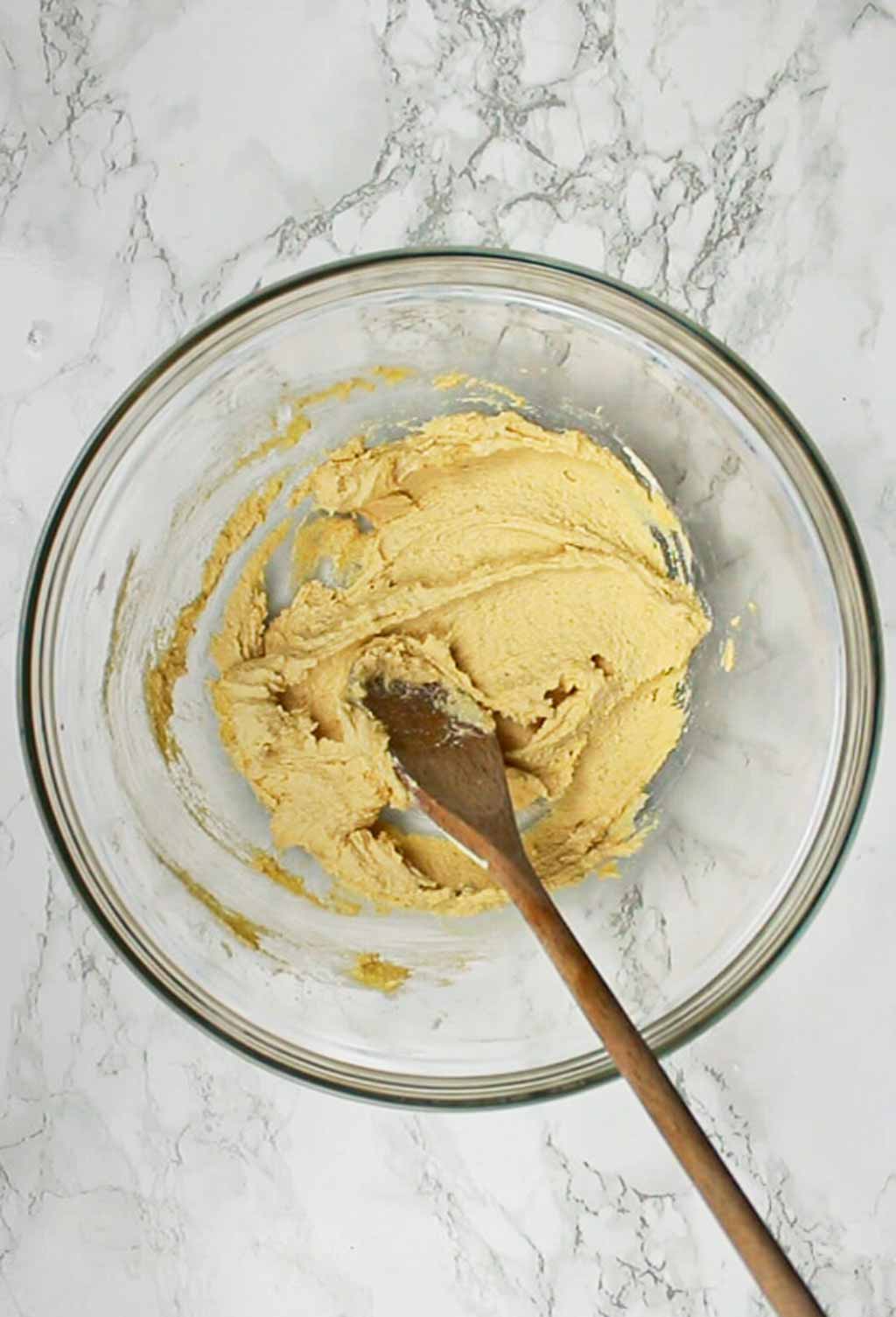 Step 4:
Now add 215g of self-raising flour (1+2/3 cups) to the bowl. Mix it in with your spoon and when it starts to stick together, use your hands to press it into a ball of dough.
Add a splash of plant-based milk if you need it, to help the dough stick together. I find 1 tablespoon to be the right amount but this will depend on the type of vegan margarine you use.
If you don't have self-raising flour, you can use an equal amount of all-purpose/plain flour and add in 1/4 of a teaspoon of baking soda and 1/2 a teaspoon of baking powder.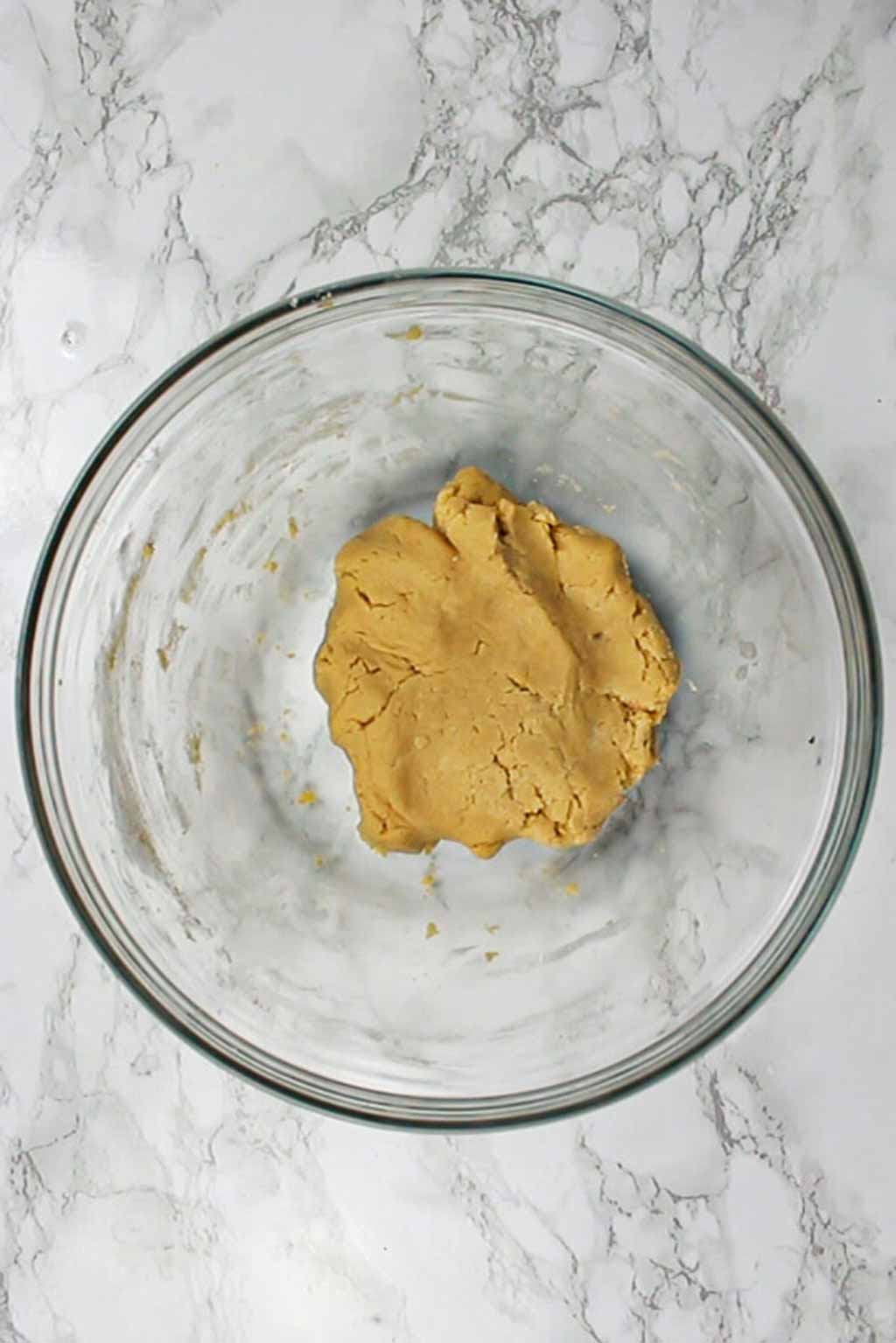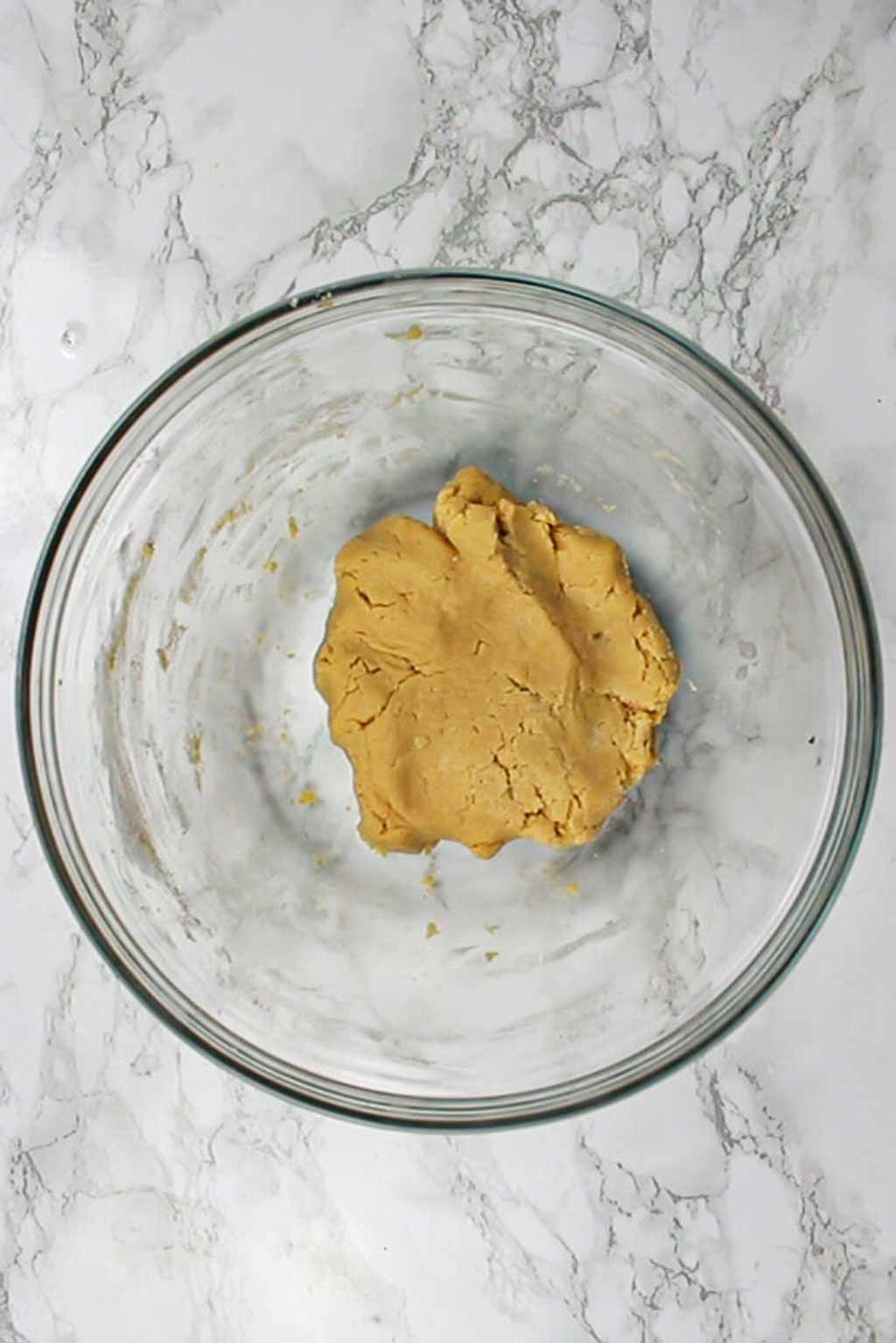 Step 5:
Add in 100g of vegan chocolate chips (~2/3 cups) to the dough and gently knead them in. Check out my vegan chocolate post for a list of chocolate chip options.
Alternatively, you can use an equal amount of a vegan chocolate bar chopped into small chunks like I did. I love Nomo creamy chocolate.
Step 6:
Gently press your cookie dough into your cake tin or skillet until it almost touches the edges.
The cookie will spread and rise at the edges quite a lot so it doesn't need to be pressed all the way out.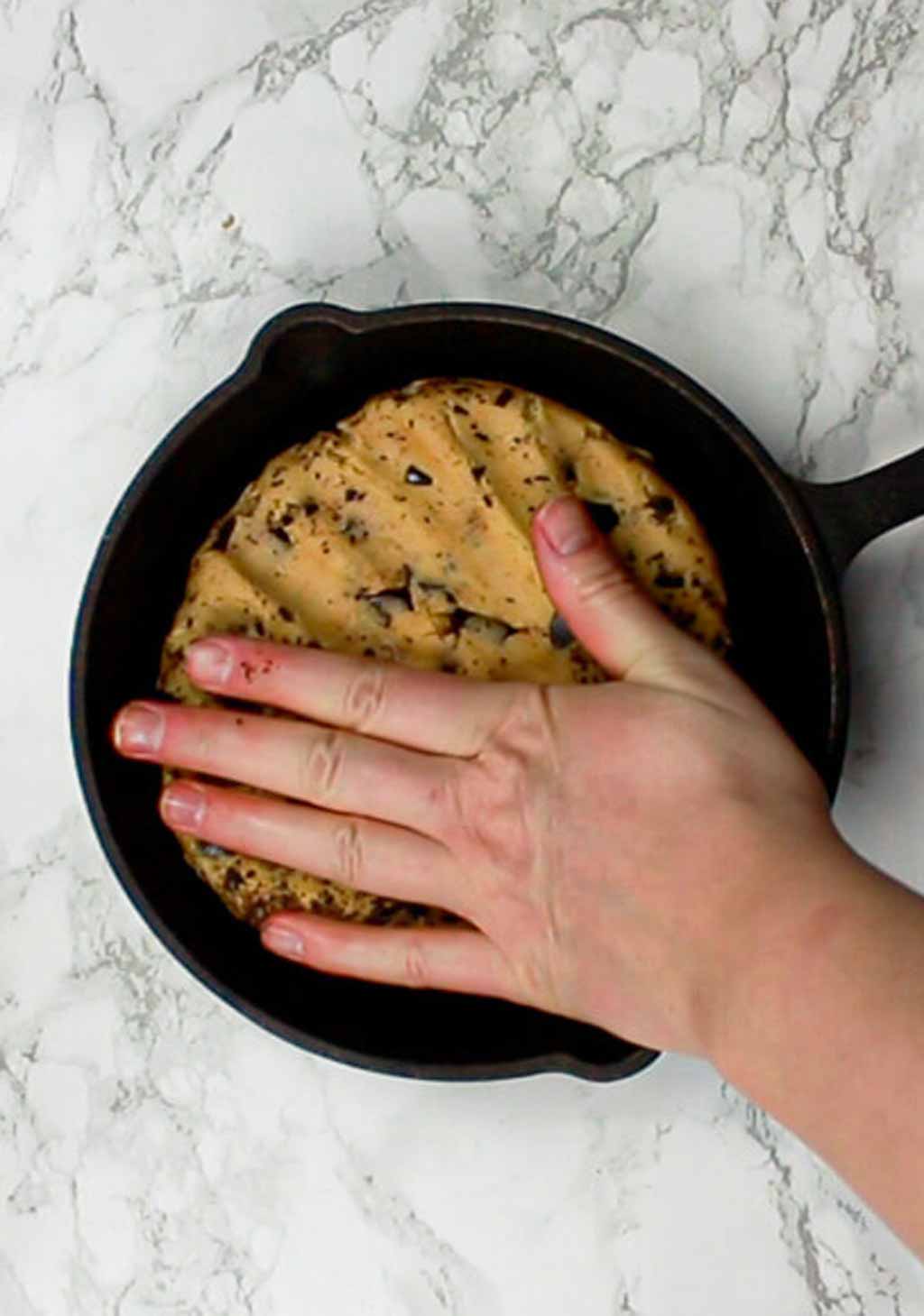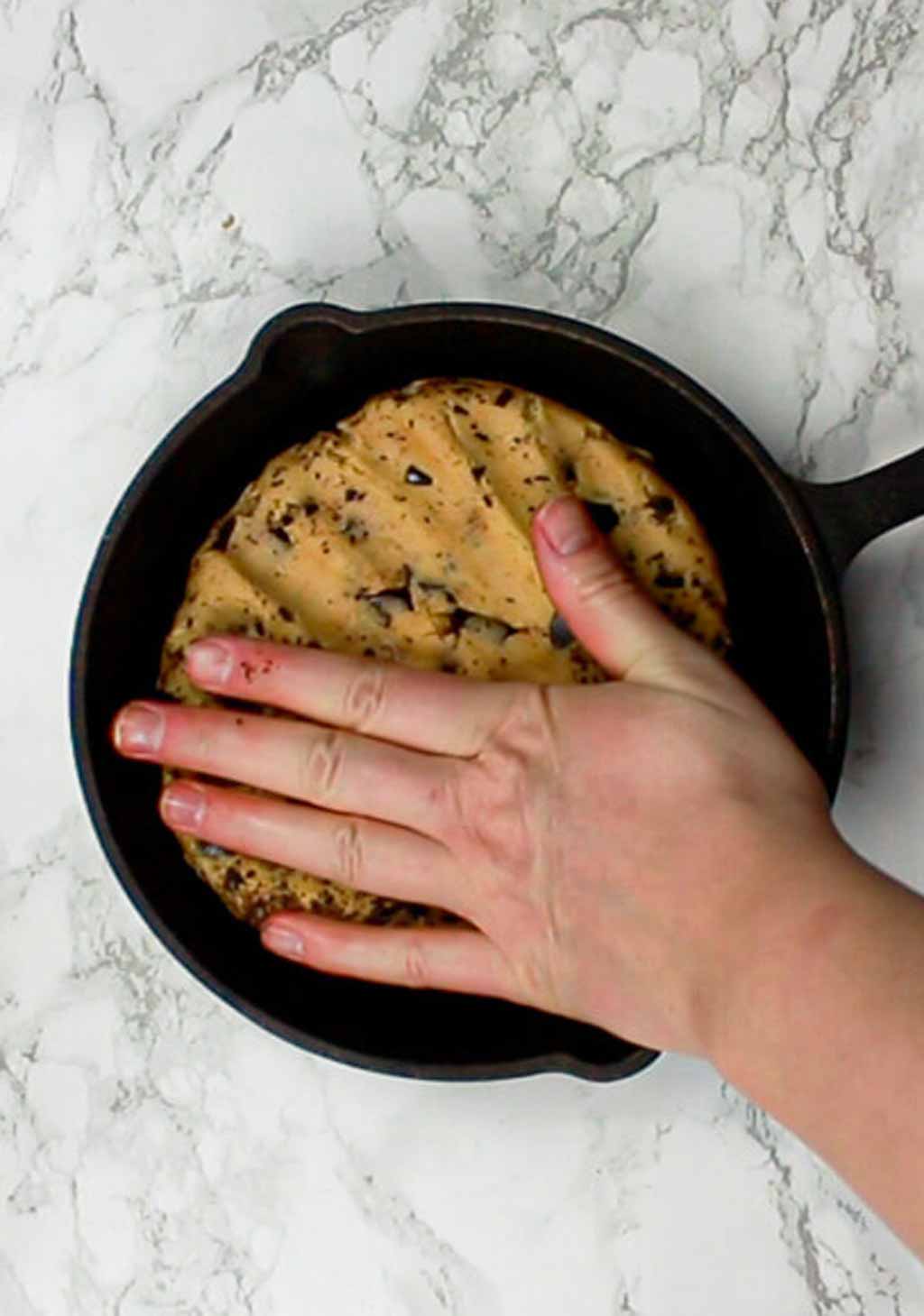 Step 7:
Place your skillet or cake tin into the oven and bake for 20-25 minutes.
You'll know it's done when it's golden brown on top with a slight wobble in the middle.
Note that it's better to take it out too soon rather than too late. You can always put it back in if needed but once it's overdone, there's no way to make it soft again.
Let the cookie cool down slightly, for around 5 minutes or so, before enjoying it warm with ice cream.
FAQ:
Can it be eaten cold?
Yes! The whole point of the cookie skillet is to enjoy it hot while it's still gooey, but any leftovers will turn into a chewy cookie once completely cold. Best of both worlds!
Can I store leftovers?
Yes! Just pop the remainder of your cookie in an airtight container at room temperature. Just make sure the bits you save don't have any melted ice cream on them!
Can I half the recipe?
Yes, but you'll need to reduce the baking time accordingly. Keep an eye on it and take it out when it's just gone golden brown all over.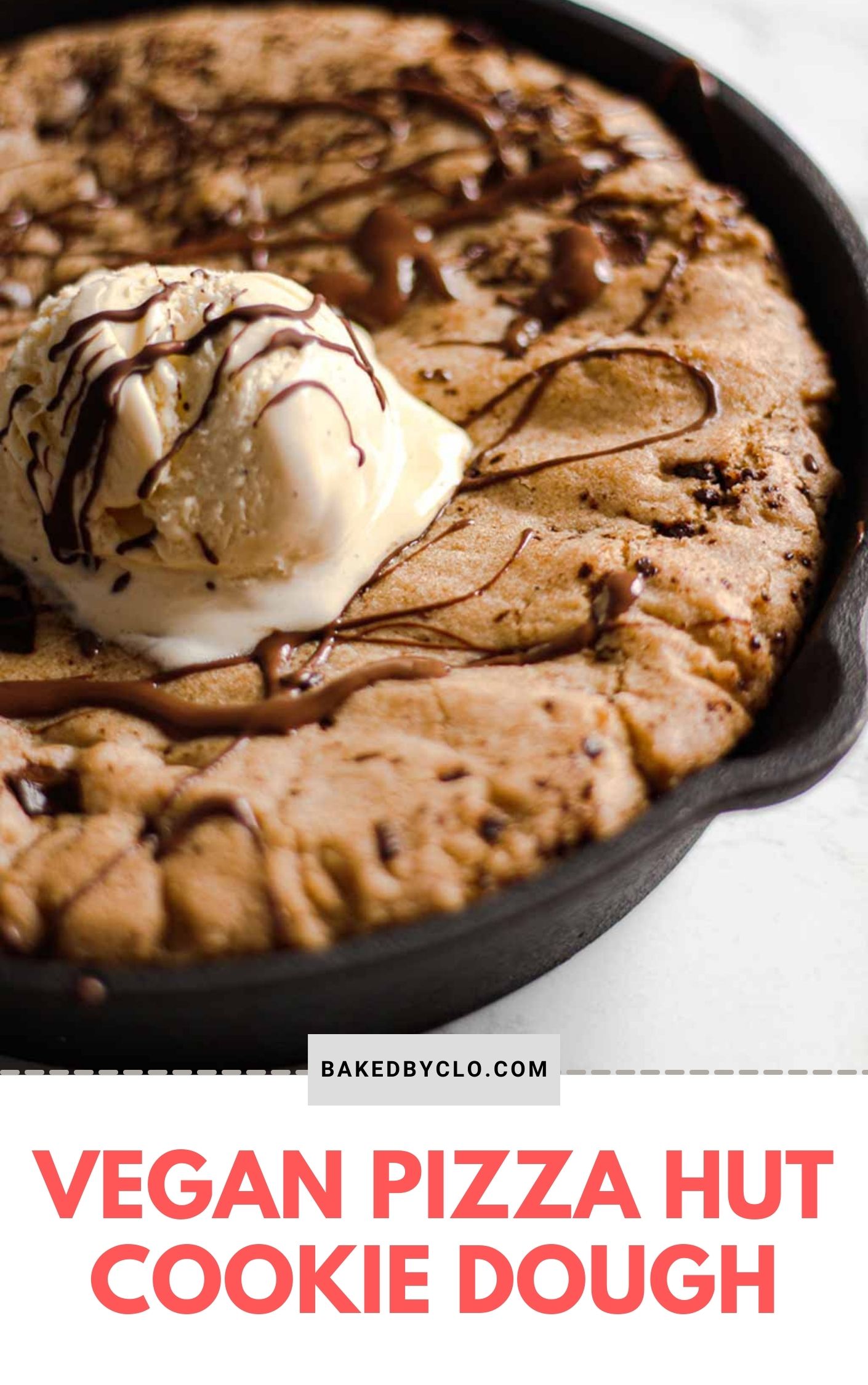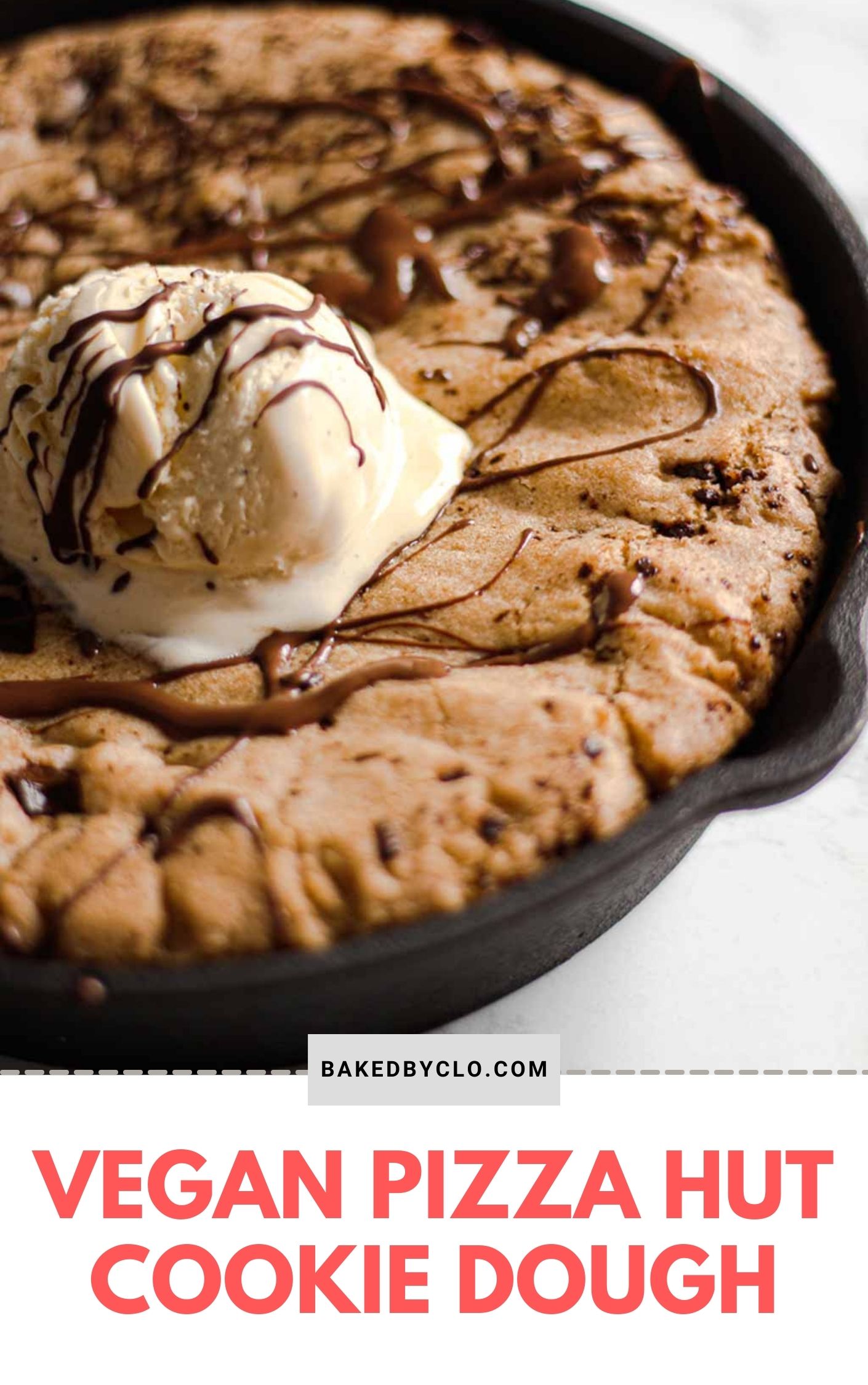 I hope you enjoy this new and improved recipe! Let me know what you think by leaving a rating and/or comment below. Or tag me on Instagram @bakedbyclo with your pictures!
Happy baking! xo

Vegan Pizza Hut Cookie Dough Copycat
An eggless and dairy-free replica of the classic Pizza Hut cookie dough. Soft, warm and gooey.
Ingredients
130

g

Vegan margarine

(½ cup + 1 tablespoon)

100

g

Caster sugar

(½ cup)

75

g

Soft brown sugar

(3/8 cups)

1

Teaspoon

Vanilla extract

215

g

Self-raising flour

(1 + ⅔ cups)

1

Tablespoon

Plant-based milk

(I recommend oat or soy)

100

g

Vegan chocolate chunks or chips

(~½ cup)
To serve (optional)
Melted vegan chocolate of choice
Instructions
Preheat oven to 200°C/400°F (or 180°C/350°F if you're using a fan or convection oven). Have a 7-inch cake tin or cast-iron skillet to hand, no need to grease or line.

In a large bowl, mix together the vegan margarine, caster sugar and brown sugar. Add in the vanilla and mix again.

Add the flour to the bowl and mix. Add the plant-based milk if you need it, to help the dough stick together in a firm ball.

Add in the chocolate chunks/chips and gently knead them into the dough.

Place the dough into the centre of the cake tin/skillet and press gently with your fingers until it almost reaches the edges. It will spread and rise in the oven so don't worry about pressing it too much.

Bake for 20-25 minutes. You'll know it's ready when it's golden brown on top with a slight wobble in the middle. It's better to take it out too early than too late, as you can always put it back in to bake for longer if needed.

Leave your cookie dough to stand for 5 minutes before enjoying it warm with vegan ice cream and melted chocolate.
Recipe Notes
Best served warm, fresh from the oven.
Nutrition Facts
Vegan Pizza Hut Cookie Dough Copycat
Amount Per Serving (1 8th)
Calories 329
Calories from Fat 126
% Daily Value*
Fat 14g22%
Sodium 100mg4%
Carbohydrates 47g16%
Protein 3g6%
* All values are an estimate only and will vary depending on the food brands used.
BakedByClo is a participant in the Amazon Services LLC Associates Program, an affiliate advertising program designed to provide a means for sites to earn advertising fees by advertising and linking to Amazon.com. This site may contain some of these links to Amazon.com & other affiliate programs. If you make a purchase through one of those links, BakedByClo will receive a small commission from the purchase at no additional cost to you.