Pizza Hut Cookie Dough Recipe
Last updated: 4th March 2019
This vegan Pizza Hut cookie dough recipe is soft, gooey and delicious. It's nice and crispy on the outside with a soft, melt-in-the-mouth centre.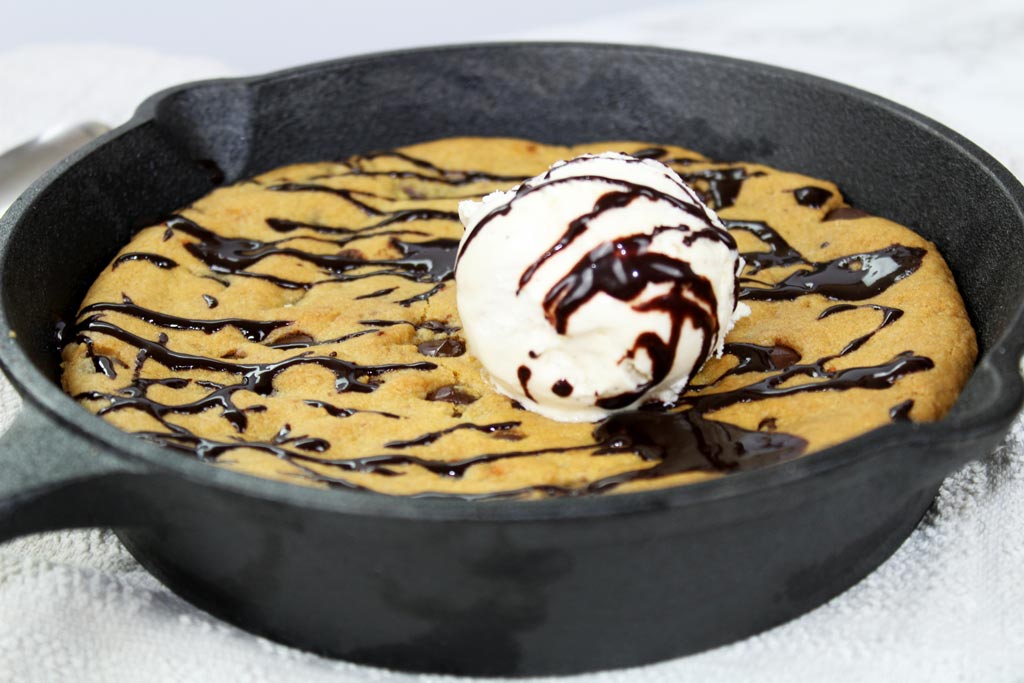 Do you ever dream about the day when all takeaway food is vegan-friendly?
Since going vegan, I've missed nothing more than my old favourite takeaway desserts. In particular, the Pizza Hut cookie dough. It was always my first choice of dessert whenever I ate out.
I'm so happy that they've started to include more vegan options on their menu now, and I LOVE their vegan pizzas, but I'm still missing their sweet stuff a lot.
I'd accepted the fact it was just one of those things I'd have to learn to live without. Until recently… I realised I could make my own vegan replica.
And trust me when I say… it is DELICIOUS.
It's crisp and firm on the outside but soft and gooey on the inside. The way the chocolate chips and ice cream melt together with the cookie is unbelievable.
This recipe is the perfect size for 4 people, and it's best enjoyed straight from the skillet, fresh out of the oven.
Because it's fully vegan, this recipe contains no dairy and no eggs!
Pizza Hut Cookie Dough With No Eggs?
That's right! To make this eggless cookie dough, I used ground flax seeds instead of eggs.
Mixing the flax seeds with water creates a gloopy consistency similar to eggs, and this helps the ingredients bind together.
Using flax seeds as a vegan egg replacer doesn't alter the texture at all and I promise you won't taste the difference! I bet whoever you share it with will have no idea that it's eggless cookie dough!
It took several attempts to get it right but the recipe I present to you today is nothing less than delicious.
It's best served with ice cream and drizzled with melted chocolate, and this Pizza Hut cookie dough makes the perfect sharing dessert for after dinner. I say sharing because it tastes the best when it's still warm, fresh from the oven. So unless you have a HUGE sweet tooth, make sure you've got a friend or two to help you eat it!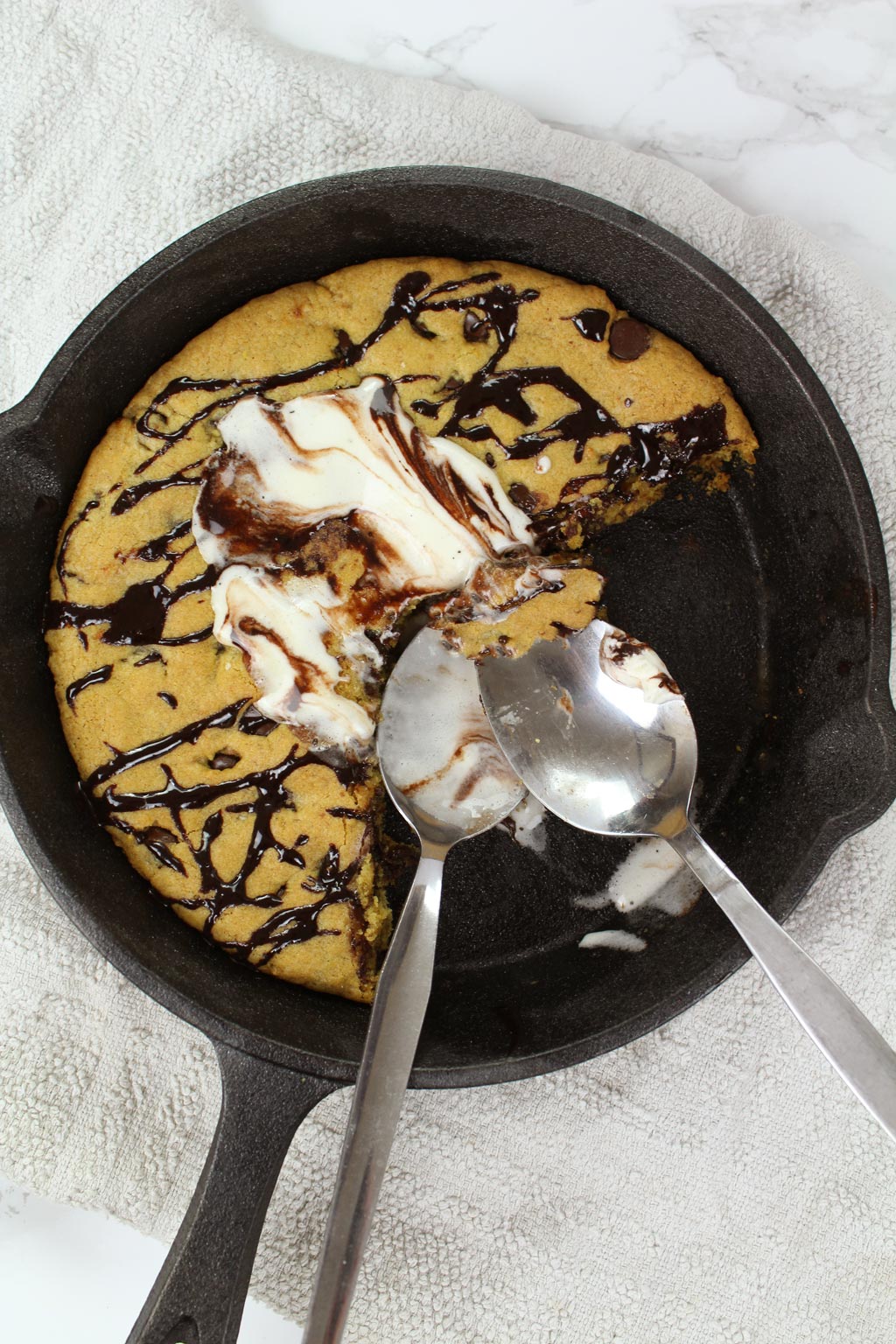 Looking for more easy vegan dessert recipes? Try these:
How To Make Pizza Hut Cookie Dough
Step 1:
First, you'll need to create your vegan egg replacement.
You can do this by mixing 1 tablespoon of ground flax seeds with 2 tablespoons of water. Leave it to sit for around 5 minutes, until it becomes "gloopy", a bit like eggs would be.
Step 2:
Next, melt your butter and add it into a bowl along with your brown sugar and caster sugar. Brown sugar will give it a lovely rich flavour and caster sugar helps balance it perfectly.
Melting the butter will make the cookie chewier when cool, and gooier when warm.
Mix this together and add your flax egg from earlier.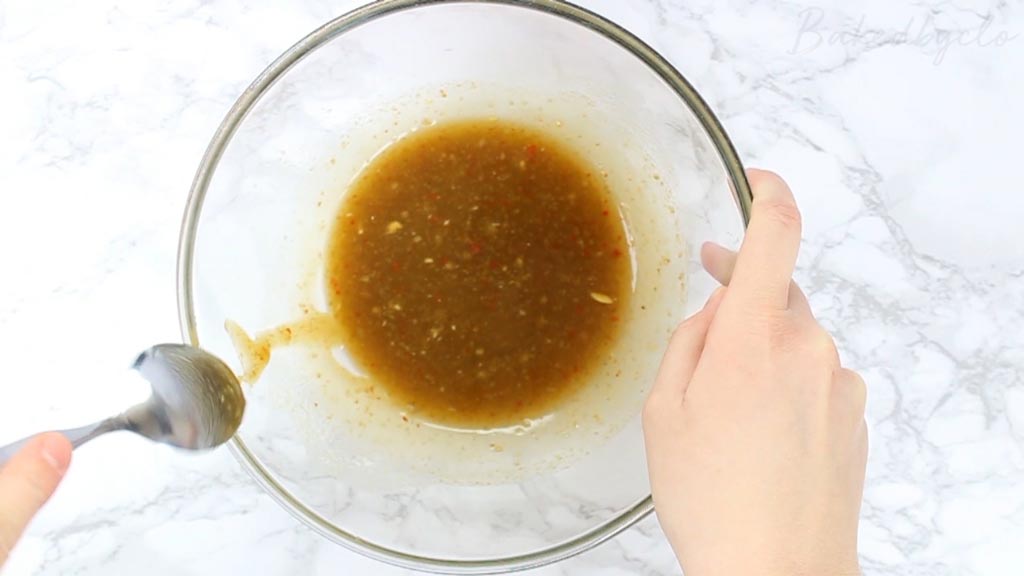 Step 3:
Add in your baking soda, then add in the flour a little at a time. Mix together gently until a sticky dough has formed.
Add your chocolate chips (I love the Silverspoon dark chocolate ones) and mix again.
Now, put it in the freezer for 20 minutes until firm. This will prevent the cookie from spreading too much and becoming completely flat in the middle.
If you like, you can put the dough in the fridge instead, for about 1 hour, but I like to freeze it for quickness.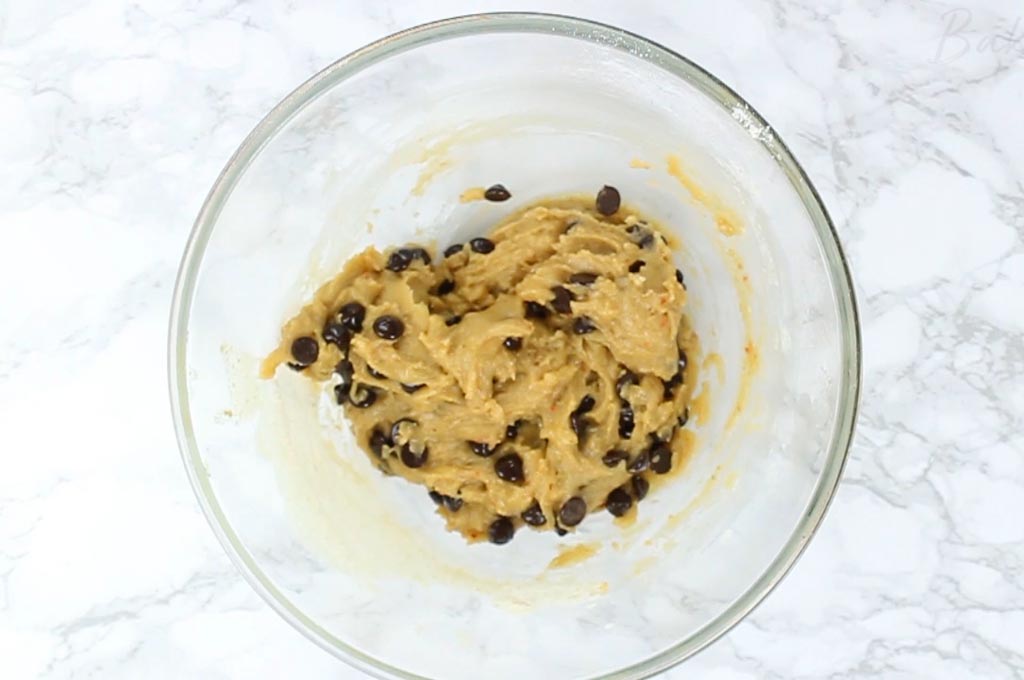 Step 4:
Once your dough has been chilled, it should be firm and easily malleable.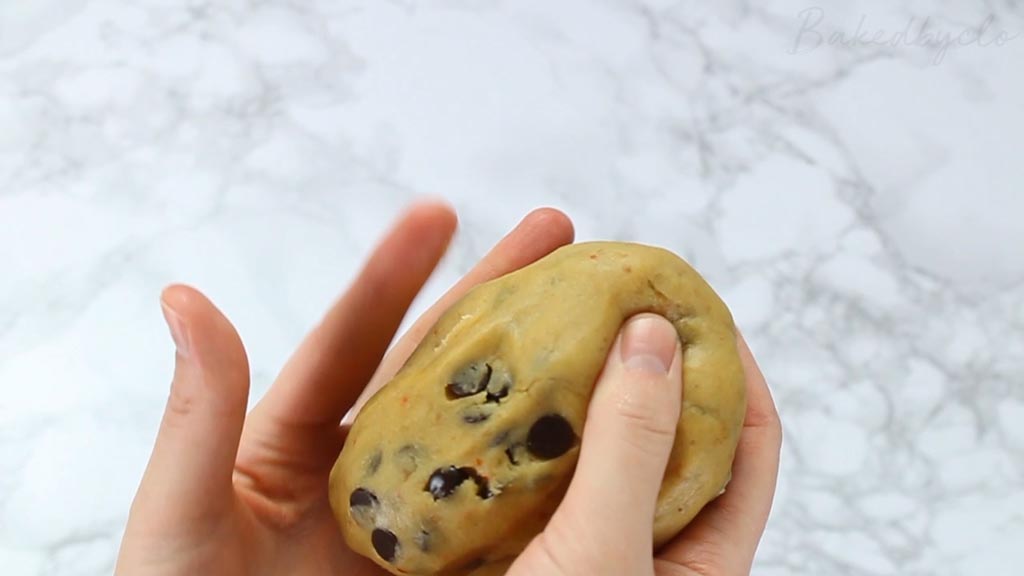 Press it into a greased 16cm cast iron skillet and flatten it with your hands until it almost touches the edges.
If you don't have access to a cast iron skillet, you can use a small cake tin instead. I tried this in the past and it works just as well. I just think the skillet makes it look nicer.
The cast iron skillet I used is a miniature one from TK Maxx which was perfect for serving 4 people. I can't find the exact one that I bought online but here is a link to a very similar one.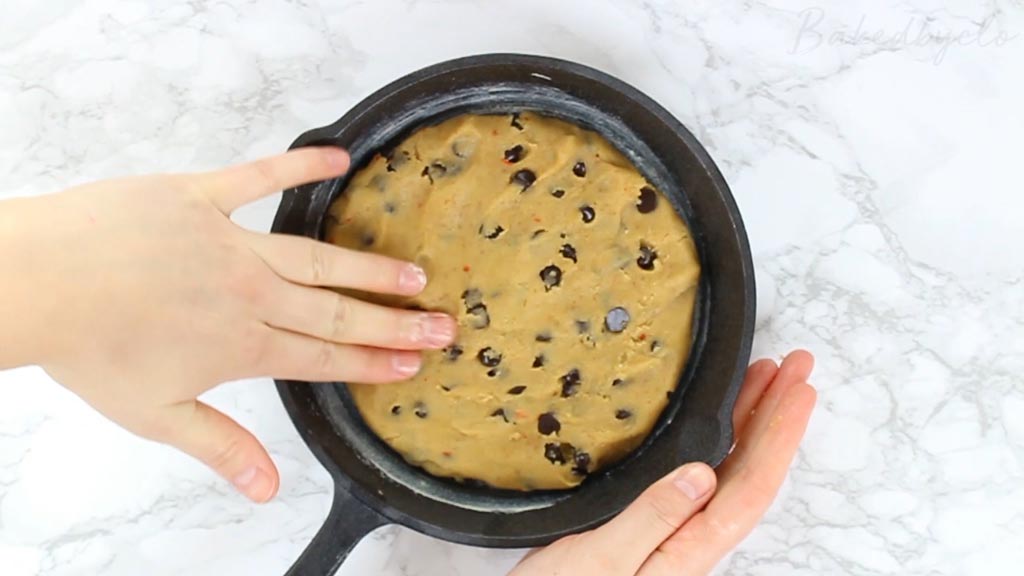 Step 5:
Place your skillet or cake tin into the oven and bake for around 10 minutes.
When it's done, it should be under-baked and gooey on the inside but firm and crispy on top.
I recommend eating this soon after it comes out of the oven, before it cools down. That's when it's at it's best.
You can reheat it later if you want to by popping it back in the oven at 180C for 5 minutes. It'll still taste nice but won't have the same texture as it does straight from the oven the first time.
So, unless you have a super sweet tooth, make sure you have someone to share it with!
Serve it with some vegan vanilla ice-cream (Swedish Glace is my favourite) for a true Pizza Hut cookie dough copycat.
And if you want to add some chocolate sauce (which I highly recommend), you can do this by mixing some cocoa powder and agave nectar.
You could also use maple syrup or date syrup instead of agave, or honey if you're not vegan.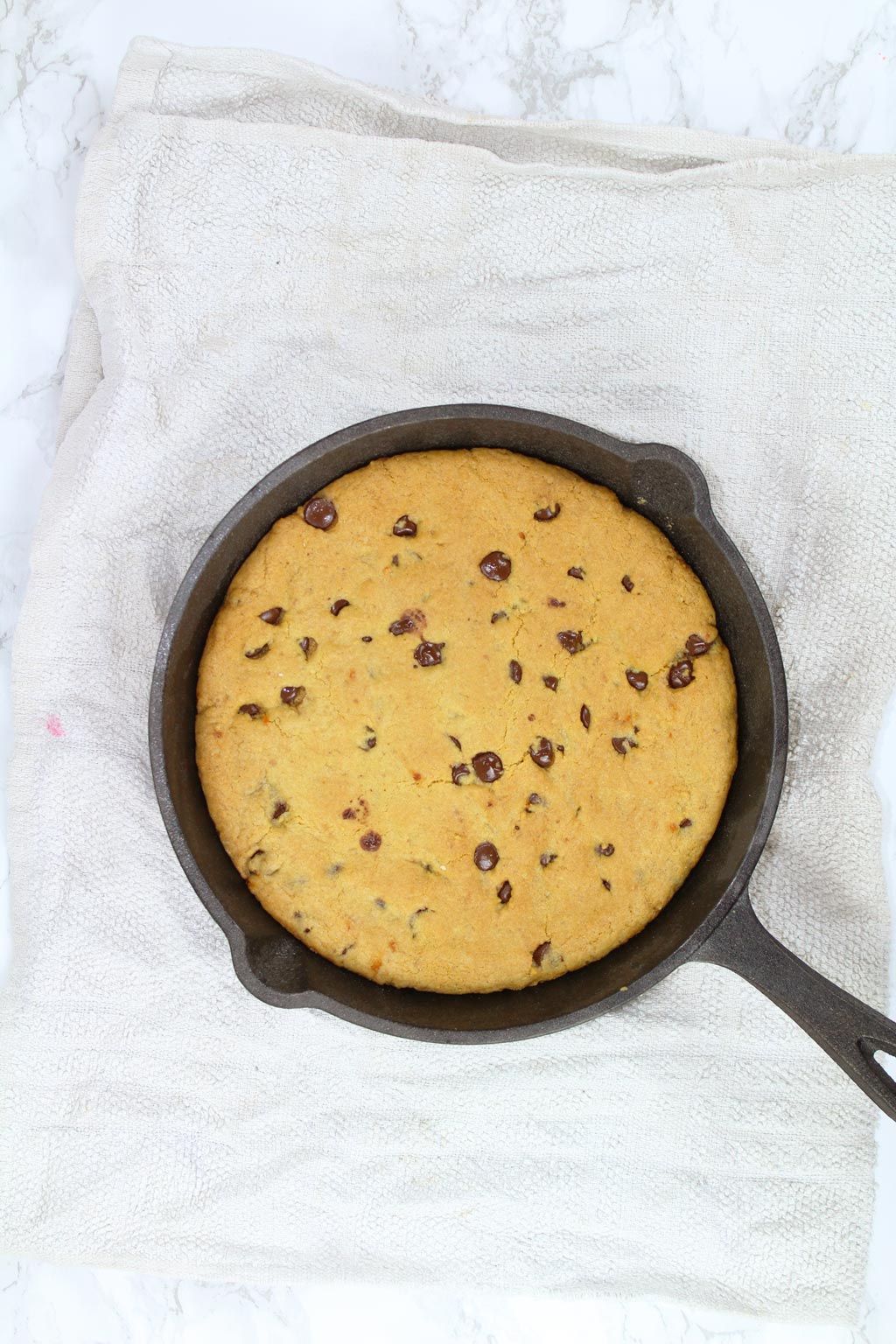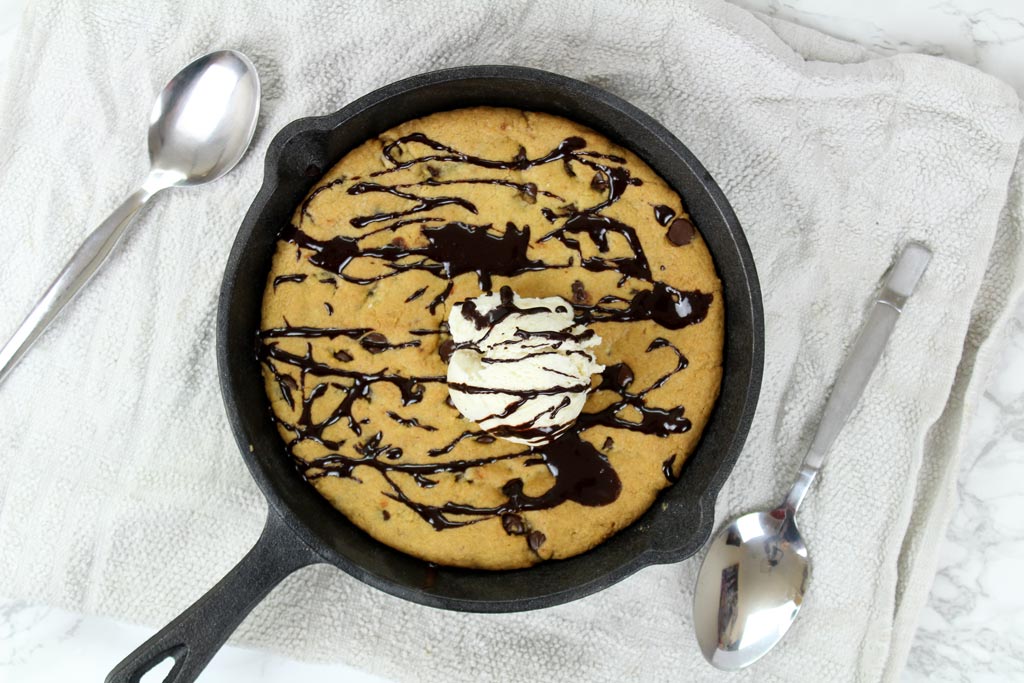 Enjoy!
xo

Vegan Pizza Hut Cookie Dough Recipe
A vegan replica of the classic Pizza Hut cookie dough. Soft, warm, gooey and chocolatey!
Keyword
pizza hut cookie dough
Ingredients
1

Tablespoon

Ground flax seeds

60

g

Vegan butter, melted

(4 Tablespoons)

50

g

Dark brown sugar

25

g

Caster sugar

1

Teaspoon

Vanilla extract

100

g

Plain flour

1/2

Teaspoon

Baking soda

100

g

Vegan chocolate chips
For the chocolate sauce:
3

Tablespoons

Cocoa powder

1

Tablespoon

Agave nectar or maple syrup
To serve (optional)
Instructions
Preheat oven to 200°C/400°F and grease a small 6 inch cast iron skillet (or shallow cake pan).

Prepare your flax egg by mixing the flax seeds with 2 tablespoons of water and set aside to thicken.

In a large bowl, mix together the melted butter, brown sugar, and caster sugar. Add the vanilla and flax egg.

Add the flour and baking soda and gently combine to form a sticky dough.

Fold in the chocolate chips and cover the bowl with cling film. Freeze for 20 minutes.

Place the chilled dough into the center of the skillet and press gently with your fingers until it almost reaches the edges. (it will spread slightly in the oven)

Bake for 10-12 minutes. It will be golden brown on top and gooey inside.

While the cookie dough is baking, prepare your chocolate sauce by mixing the cocoa powder and agave nectar together. Add a splash of water to thin it out if desired.

Leave your cookie dough to stand for 5 minutes before enjoying it warm with ice cream and chocolate sauce.
Recipe Notes
Best served warm, fresh from the oven
Nutrition Facts
Vegan Pizza Hut Cookie Dough Recipe
Amount Per Serving
Calories 360
Calories from Fat 126
% Daily Value*
Fat 14g22%
Sodium 180mg8%
Carbohydrates 45g15%
Protein 4g8%
* All values are an estimate only and will vary depending on the food brands used.