Vegan Baking Tips For Beginners
New to vegan baking? Let me help you out with these simple vegan baking tips. Whether you have a little experience with egg and/or dairy-free baking or you're a complete beginner starting from scratch, these tips will make life easier.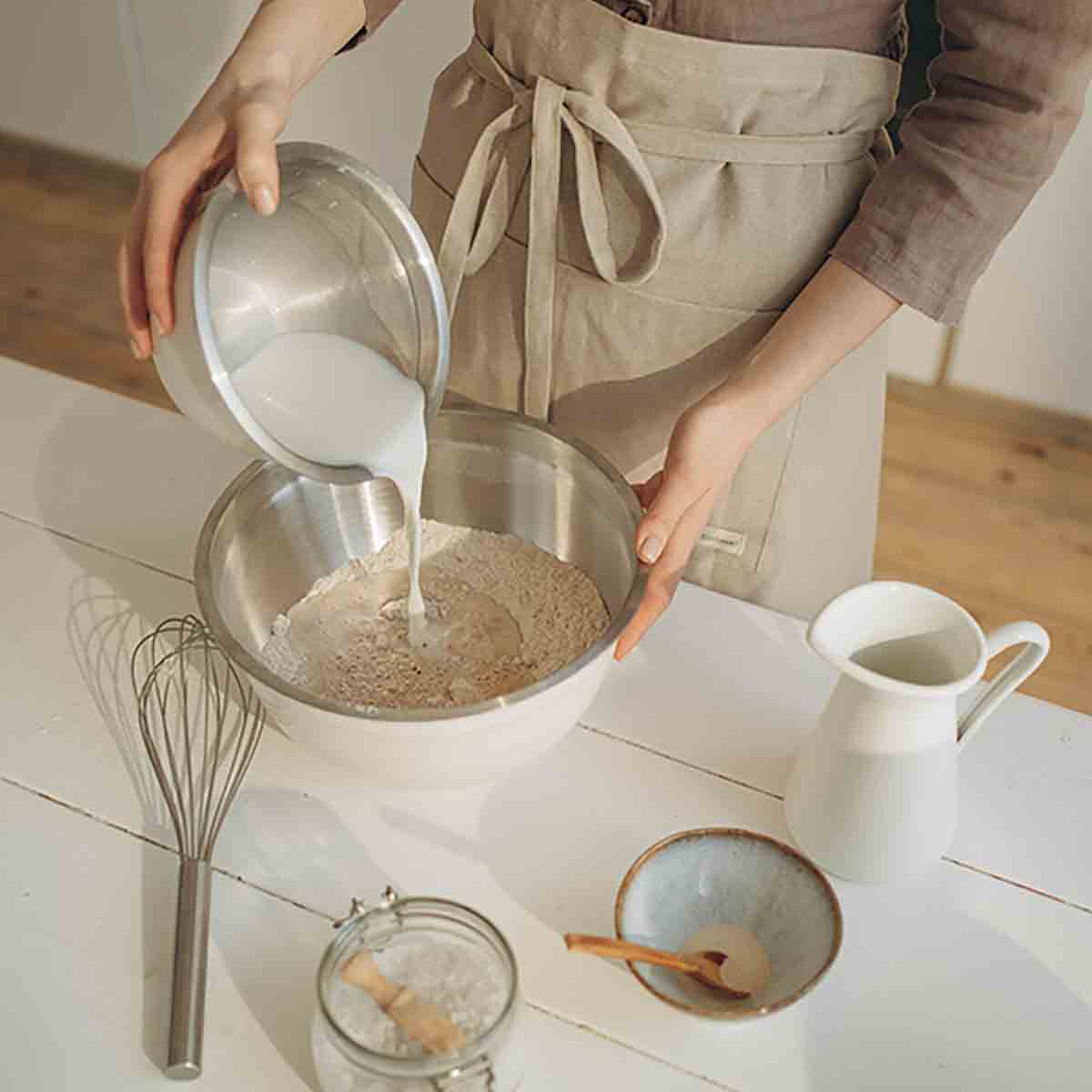 If you're new to my blog, welcome! Baked by Clo is a vegan baking blog that focuses on simple, easy vegan baking and desserts. I always try to use cheap, accessible ingredients in my recipes as much as I can, so that everyone can give vegan baking a go!
If your only experience of vegan desserts is boring, dense or crumbly bakes, I promise that it doesn't have to be this way. You CAN make delicious, light, fluffy cakes, chewy cookies and fudgy brownies without the need for any eggs or dairy products.
I'm not a professional baker by any means but I have almost 5 years of experience experimenting with vegan baking so I thought it'd be helpful to share what I've learned along the way.
I hope these vegan baking tips will help you get started on your baking journey. If there's anything else you need help with, just leave a comment at the bottom of this page and I'll get back to you as soon as I can.
Best vegan baking tips
Here are my 12 top tips for beginner vegan bakers. You can scroll through the page or use the handy table of contents below to click straight to the desired section.
1. Buttermilk is your friend!
This is my number one vegan baking tip! I recommend using buttermilk in most of my recipes because it acts so well as a milk and egg replacement at the same time.
Yes, I am of course referring to the dairy-free version, which you can make yourself using this easy vegan buttermilk recipe. It's a mixture of soy milk (preferably) and an acid such as apple cider vinegar or lemon juice.
The reason I advise using soy milk for baking is because it mimics milk and eggs better than any other plant milk, due to its higher protein content. Unsweetened, organic soy milk is always best if you can get a hold of it.
Vegan buttermilk is especially good for cakes, scones and muffins- anything that you need to be light and fluffy. It creates a chemical reaction with the baking powder or bicarbonate of soda, making gas bubbles that help to make your bakes tall and fluffy. This is my secret ingredient to prevent dry, gummy or dense vegan cakes.
2. Know your butters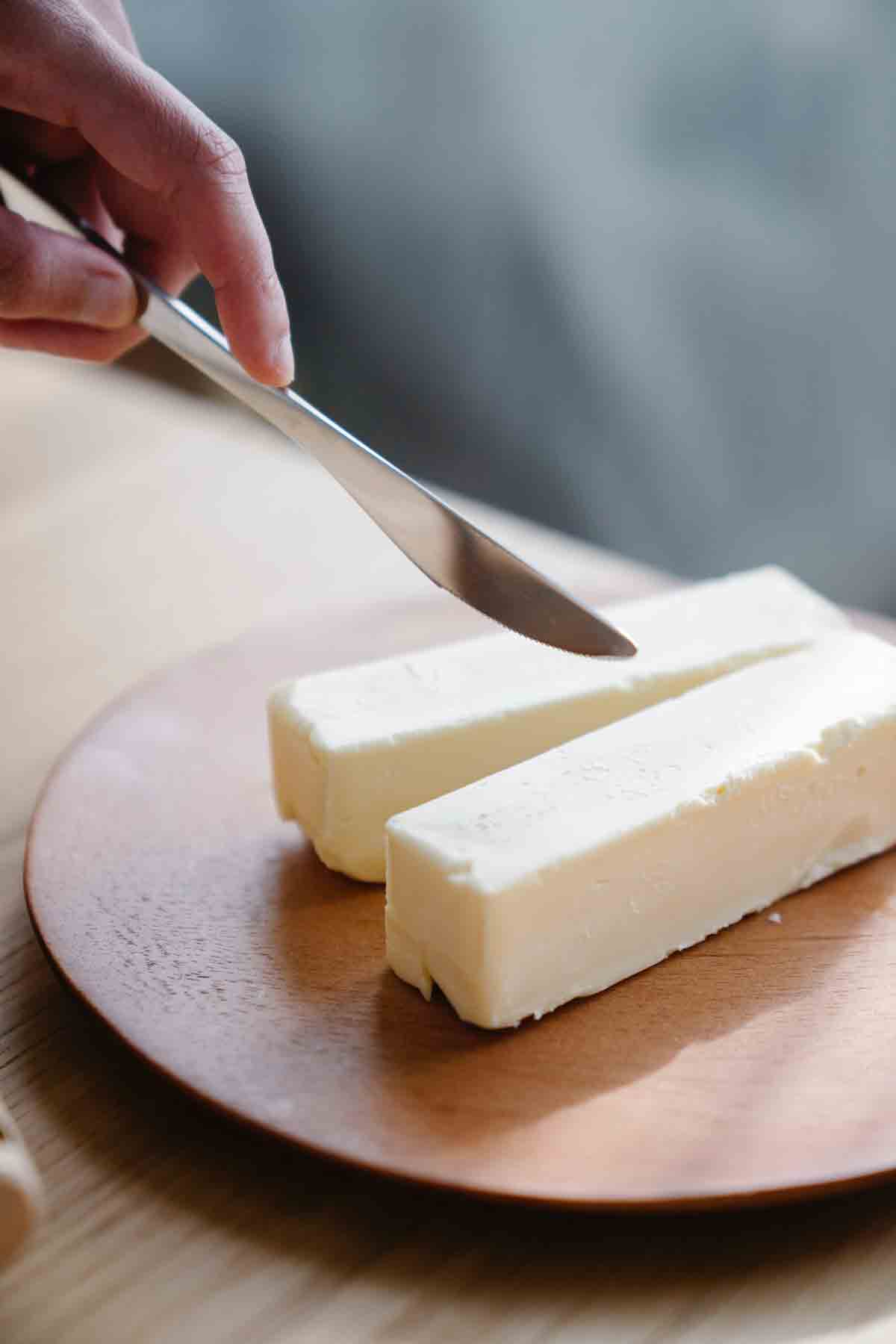 I recently wrote a post all about UK vegan butters and I recommend giving it a read if you're new to vegan baking.
Firstly, it's important to note that there are two types of vegan 'butter': the soft, spreadable margarine type and the stiff, blocky butter type. Although they can work similarly in some recipes, it's important to make sure you choose the correct one.
Vegan margarine is 'wetter' than the blocky butter so you can't always switch them out 1:1 without adjusting the amount of liquid you use in the recipe too.
I almost always use margarine in my dessert recipes because it's what I'm used to. If you switch it out for blocky butter, you'll probably need to use a little bit less butter (because it's higher in fat) and more vegan milk, to make sure the texture stays the same.
Alternatively, you can switch vegan butter for vegan margarine by using more margarine and more flour or less liquid. This can be tricky to do if you're a beginner baker so to be on the safe side, always go with whatever the recipe states. Experimenting can take a lot of time!
Blocky vegan butter is good for things that need to hold firm or hard. Buttercream is a great example of this. By using block butter, you won't need to use as much icing sugar to absorb the extra liquid margarine would provide. This prevents the buttercream from becoming too sweet or sticky. Again, if you're unsure, just go with what the recipe says.
3. Follow your recipe to the tee!
I often get comments from readers saying that a recipe failed and I can't figure out why, until they tell me they made some ingredient substitutes and quantity adjustments. Vegan baking is not like regular baking- it is a lot more finicky and things have to be exact in order to work.
If you're following a recipe that uses wheat flour and you're trying to use gluten-free flour instead, chances are the recipe will fail if you haven't adjusted the other ingredients appropriately. Reducing the amount of sugar in a recipe, or switching it for a liquid sweetener, will also change the texture and taste. These are just some examples but I recommend that you search for the specific recipe you're looking for (because it has been tested with your desired ingredients), rather than trying to substitute ingredients.
4. Use the correct tin
Following on from the tip above, make sure your tin size is correct to ensure best results. If you use a cake tin that's too big, your cake will be over-baked and thin. If you use one that's too small, it's likely that the top will burn before the middle is baked through. This post about converting cake tin sizes is super helpful.
5. Self-raising flour works best for fluffy bakes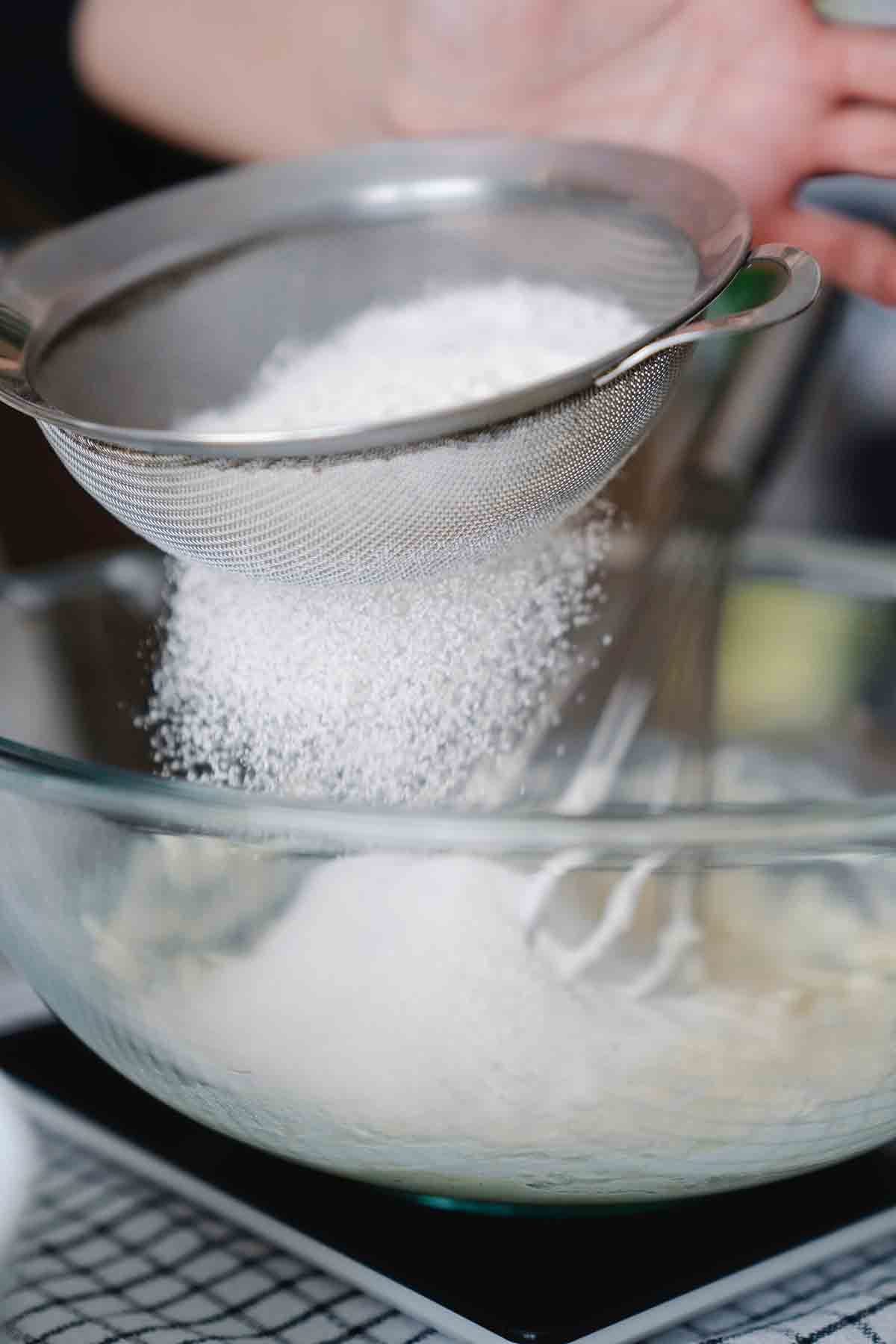 Because we're not using eggs, it's important to find other ways to help your bakes rise as much as possible.
When I started out baking without eggs or dairy, I used plain flour and baking powder because that's what other vegan bakers seemed to be doing. When I got a little better at baking, however, I realised that self-raising flour produces much better results than using plain flour and baking powder. I can't explain it but the self-raising flour works so much better!
I typically use self-raising flour plus a little extra baking powder or bicarbonate of soda, depending on the recipe. This helps to give a nice, fluffy texture without affecting the flavour at all.
6. Use a scale and oven thermometer
I mentioned earlier in this post that vegan baking can be quite fussy so to ensure best results, try to be as accurate as you can. This is probably one of the most important vegan baking tips for beginner bakers.
Using measuring cups is not going to give you consistent results. My 1 cup of flour is probably going to be a different weight to your 1 cup of flour. If you can, use a food scale to make sure you're measuring precisely.
Likewise, it's important that your oven is at the correct temperature. A small difference in temperature can mean your desserts end up under or overbaked, and it's not always easy to tell if you're trying a new recipe. I use this thermometer from Amazon and it hangs nicely inside of my oven. Even with a brand new oven, the dial doesn't always exactly match the true temperature.
Another important thing to note is if you're using a fan or convection oven, you'll need to adjust the temperature accordingly. My printable oven temperature conversion chart will help with this. Typically, a fan oven should be around 20°C cooler than a static oven to prevent burning.
7. Egg replacements
I mentioned in vegan baking tip number 1 that I use buttermilk most of the time as an egg and/or dairy replacement. However, there are a few exceptions to this rule.
For a recipe like cookies, where you wouldn't typically use any liquid, I recommend a flax or chia egg instead. Other recipes that use egg whites such as pavlova or macarons work best with aqua faba. I have a whole post about vegan egg replacements and which ones are best to use for specific desserts.
8. Watch out for sneaky ingredients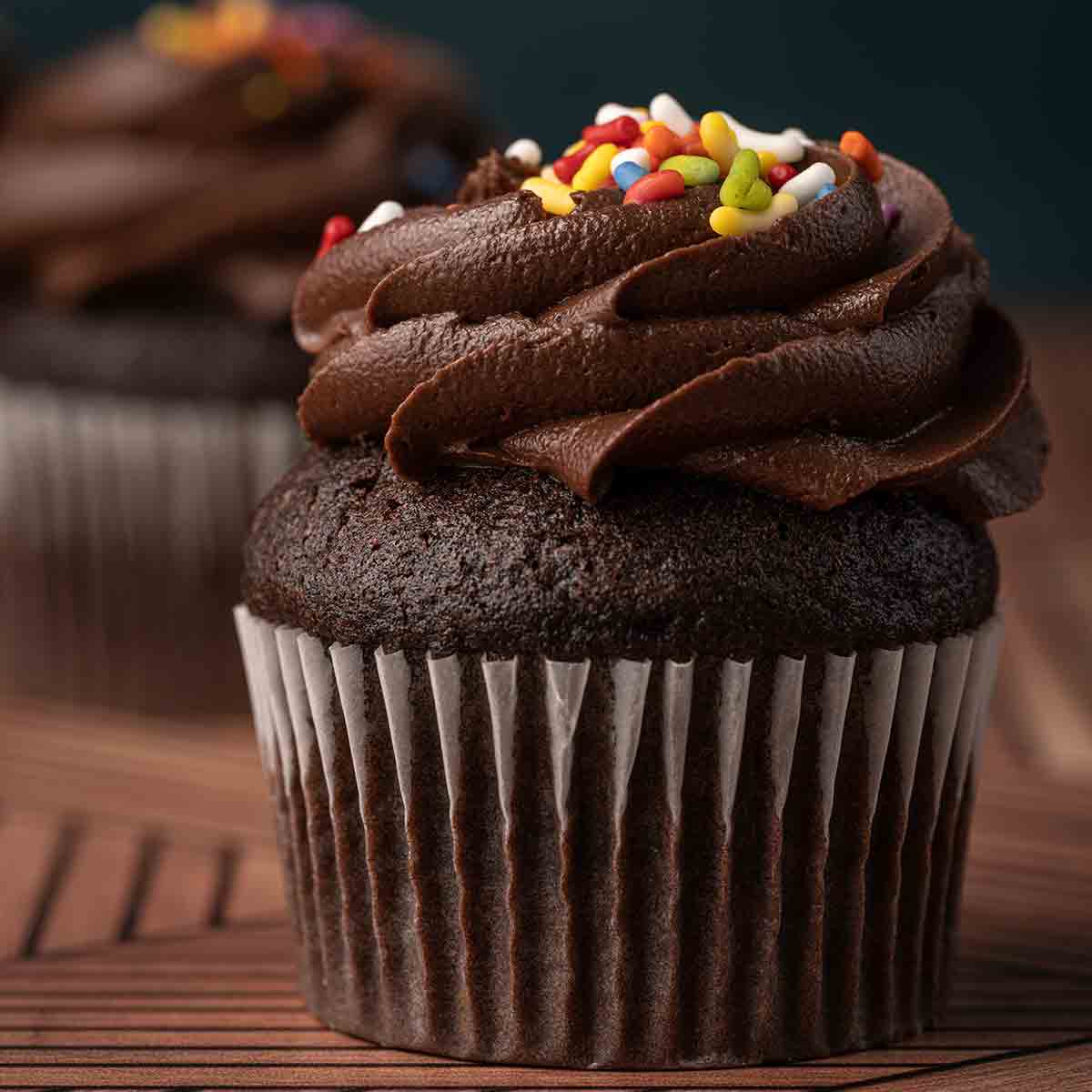 If you're new to vegan baking, you'll probably know not to use milk or egg products but there are some other non-vegan ingredients that like to sneak their way into baking products.
Some ingredients to watch out for are carmine (e120), shellac (e904), bone phosphate (e542), beeswax (e901), lanolin (e913), gelatine and honey. These are most commonly found in food colourings, cake sprinkles, and some icings. My vegan e-numbers post can help you out with this if you get stuck!
9. Learn the basics
Another one of my top vegan baking tips is to learn the basics first. Once you master simple vegan desserts, you will have a bit more knowledge and be able to better experiment with substituting ingredients in non-vegan recipes. Here are some basic recipes I recommend mastering at the beginning:
10. To refrigerate or not to refrigerate?
Chilling cookie or pastry dough will help the fat (butter or margarine) to slightly solidify, meaning it won't melt as quickly in the oven.
I always recommend chilling pastry dough before baking to prevent a greasy tart or pie bottom. The same goes for cut-out cookies that need to hold their shape, such as sugar cookies. It's best to refrigerate them before baking because you don't want them to spread at all. Around 30-60 minutes in the fridge usually does the trick.
If you're making the soft, chewy style of cookies, the dough shouldn't be refrigerated first. Just pop them straight in the oven! We need the butter to stay soft to help the cookies spread out.
11. Stock up on the staples
If you have the basic staple ingredients, you'll be ready to make most simple recipes! My top staple vegan baking items are:
Unsweetened soy milk
Apple cider vinegar or lemon juice
Self-raising flour
Baking powder and bicarbonate of soda
Caster sugar
Soft light brown sugar
Vegan margarine (I use Vitalite)
Vegetable or sunflower oil
Icing sugar
Vanilla extract
Ground flax seeds
Dairy-free chocolate (great for adding to cookies, muffins and other desserts)
12. Storing
Most vegan desserts can be stored for at least a few days. If you're using any kind of biscuits, fresh fruit or whipped cream as a topping, I recommend waiting to add them just before you serve them. This will help your dessert last a bit longer.
I store all of my desserts in an airtight container, either at room temperature or in the fridge, depending on what it is.
Vegan muffins, cakes, flapjacks, cheesecake and cookies (without fruit) typically last for 3-5 days. Cheesecakes, cakes topped with buttercream, or any dessert with whipped cream, should be stored in the fridge. Otherwise, you can store your dessert at room temperature. Brownies, fudge, buttercream and truffles will last for at least a week and are best kept in the fridge.
Most vegan desserts can be frozen for 1-2 months and thawed at room temperature or in the fridge. An exception would be delicate desserts such as meringues, which should not be frozen.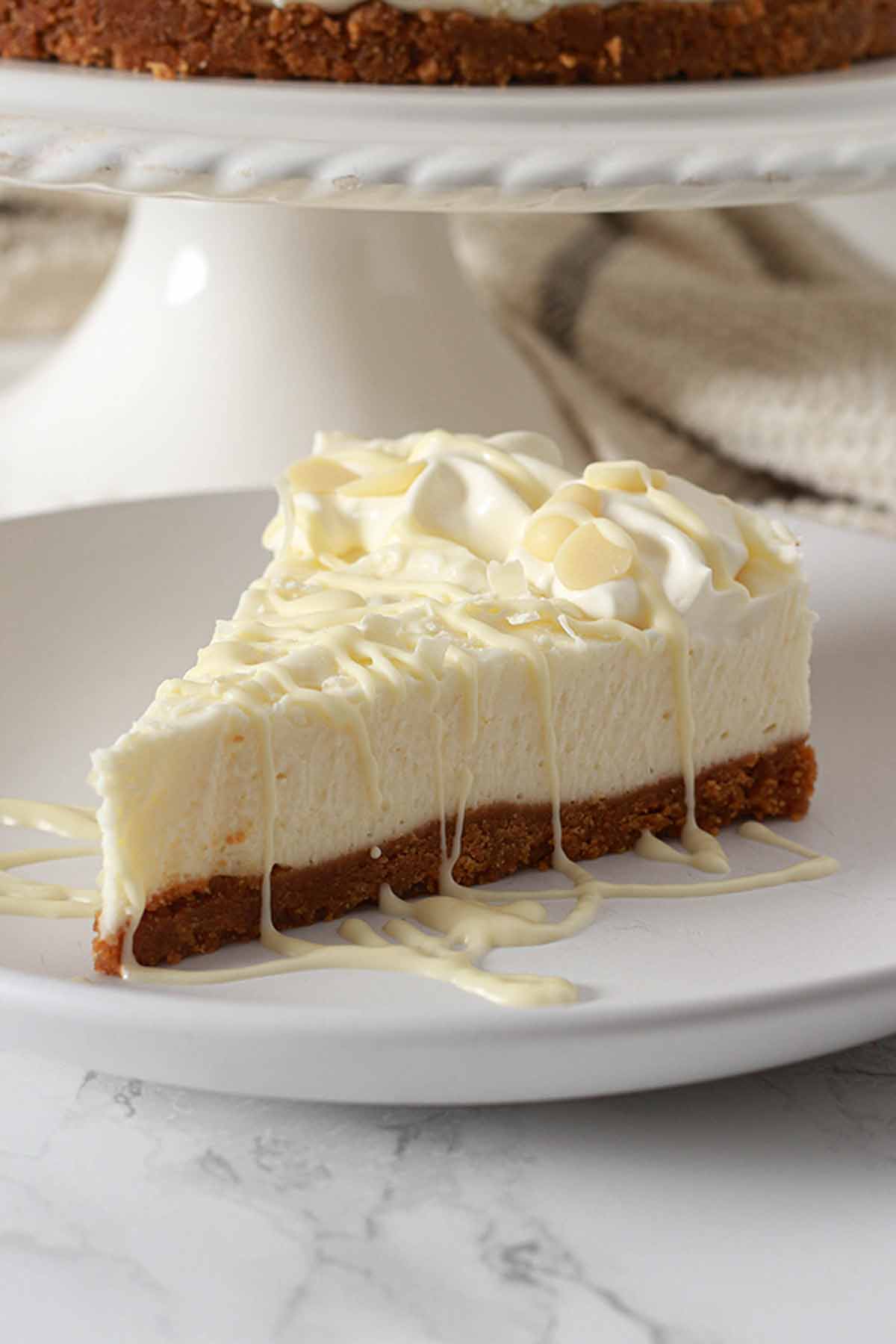 More beginner baker resources:
I hope these vegan baking tips are helpful! If there's anything else you need help with, please just let me know and I'll do my best to assist. Happy baking! xo
BakedByClo is a participant in the Amazon Services LLC Associates Program, an affiliate advertising program designed to provide a means for sites to earn advertising fees by advertising and linking to Amazon.com. This site may contain some of these links to Amazon.com & other affiliate programs. If you make a purchase through one of those links, BakedByClo will receive a small commission from the purchase at no additional cost to you.