Vegan Dark Chocolate Ganache
This vegan dark chocolate ganache is smooth, creamy and perfect for topping cupcakes, filling layer cakes and pouring into tarts. It's a great staple recipe for all vegan bakers and is super simple to make!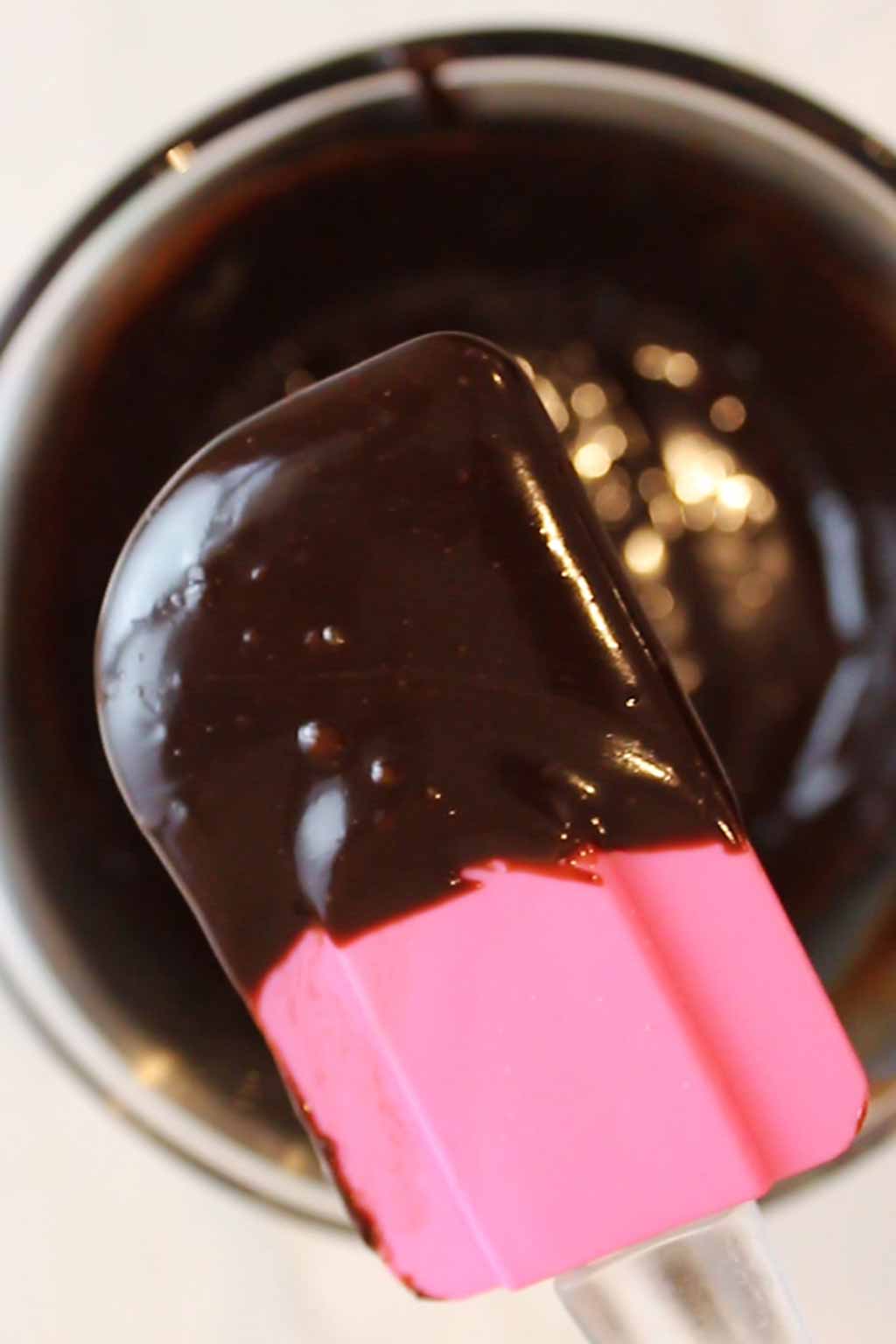 I had so much fun baking (and eating) my vegan chocolate sheet cake last week. It was of course topped with this beautiful dark chocolate ganache.
It was so delicious that I decided the ganache deserved a post all of its own!
I have experimented with ganache a few times in the past since going vegan but I've never actually posted any recipes with it until recently. I guess you could include my chocolate truffles recipe, which is kind of similar, but that one isn't suitable for piping or filling cakes with like this one is.
Now that I've perfected my recipe for the creamiest, smoothest dark chocolate ganache, I plan to post some more recipes using it in the future. Think chocolate tarts, donuts and cheesecakes!
Yum, I'm drooling just thinking about it.
What type of chocolate works best?
The chocolate you use for this recipe is very important. For the best texture and smoothness, use a semi-sweet chocolate with around 40% (giving 5% either way) cocoa content.
Please note that chocolate with a higher cocoa percentage will not work for this recipe as the extra cocoa butter will cause it to split and become grainy or greasy.
I used Cadbury's Bournville while testing this ganache. It got rave reviews from my family as it's just the right amount of "darkness" without being overly bitter.
Update: Unfortunately, Bournville is not vegan anymore! Another sweeter dark chocolate you could use for this recipe is Lovett's . Check out my vegan chocolate post for more.
How to make vegan dark chocolate ganache
Before you begin chopping, mixing or melting anything, make sure you've got the correct equipment.
You'll need a small or medium-sized saucepan as well as a heat-proof bowl that sits neatly on the rim.
You want the bowl to be slightly inside of the pan but not all the way in. There should be a gap between the bottom of the bowl and the bottom of the pan.
Step 1:
The first step is to chop 300g (10.5 oz) of your semi-sweet dark chocolate.
A quick note about making creamy ganache is that it's important to chop the chocolate super finely. This will help it to melt easier and prevent it from burning or splitting.
Step 2:
Pour an inch or 2 of boiling water into your saucepan then place the bowl on top. If the water is touching the bottom of the bowl, just pour a little out until it's no longer touching.
Step 3:
Place the saucepan with the bowl on top over the stove and turn the heat to low.
Step 4:
Add the chopped chocolate into the bowl along with 120ml (1/2 cup) of soy milk.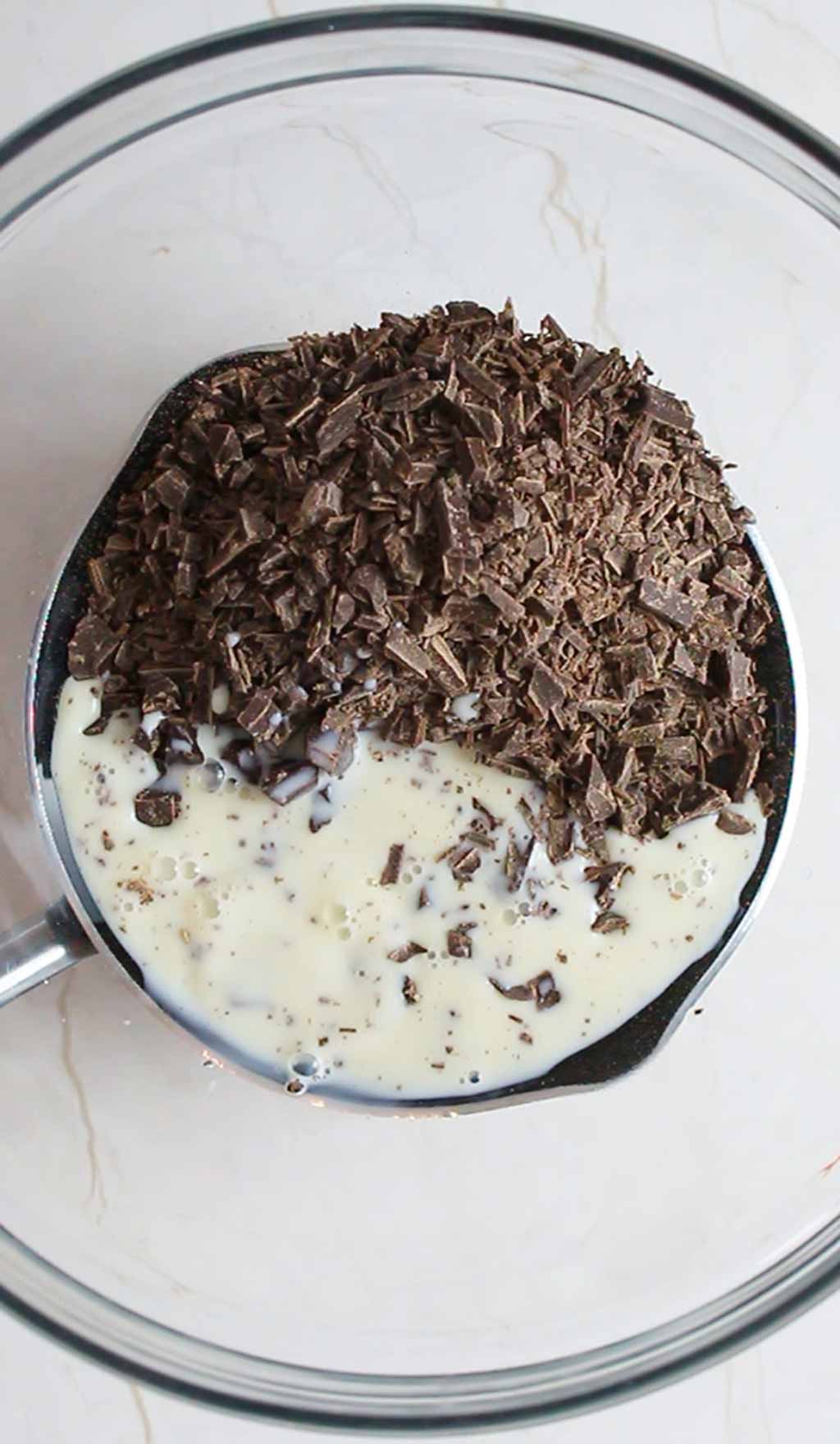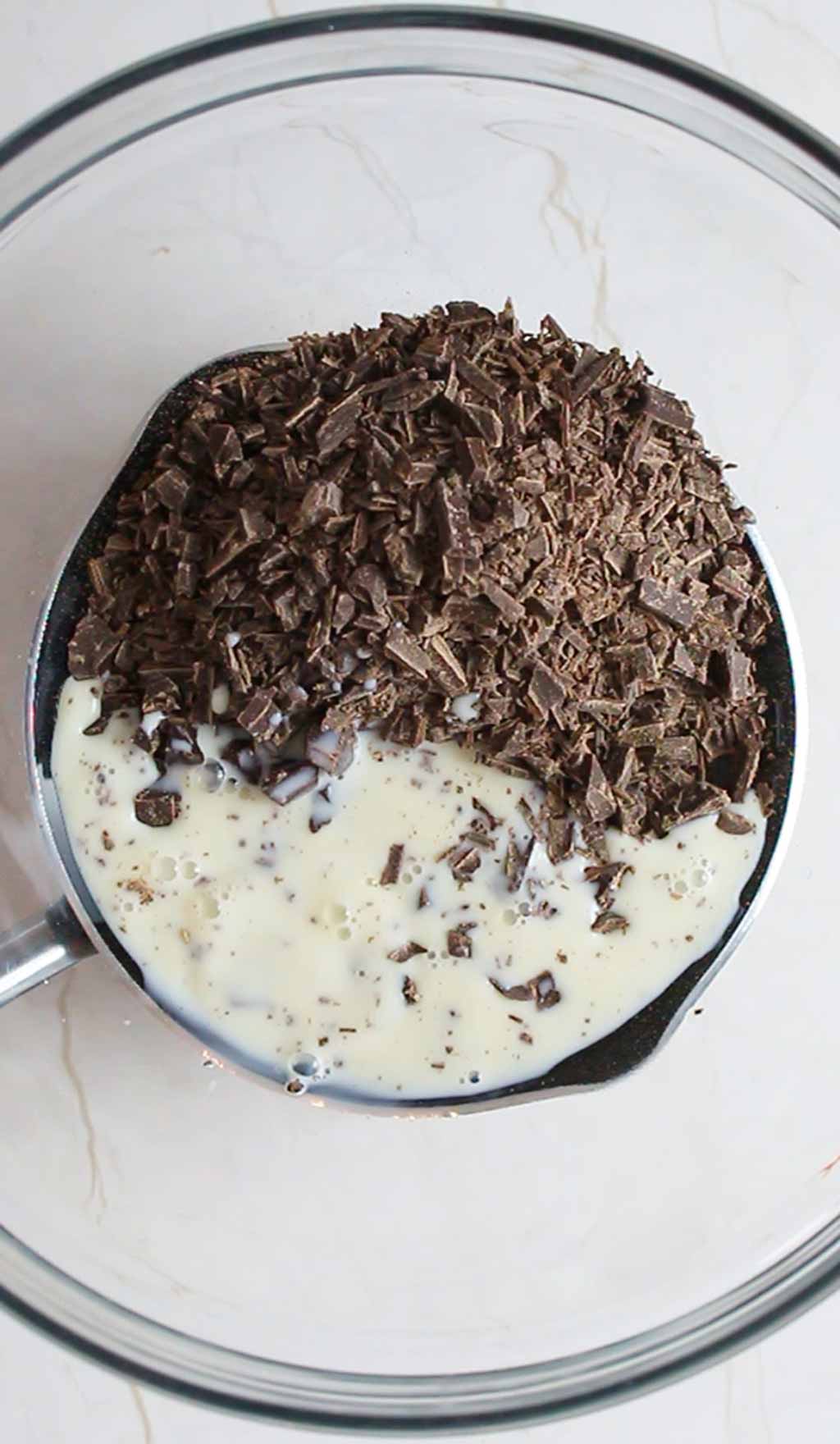 As the chocolate begins to melt, stir occasionally until there are no lumps of chocolate left.
Remove it from the heat and take the bowl out of the pan.
Step 5:
Leave the bowl of ganache at room temperature to firm up. After 60 minutes, it should be firm enough to pipe or spread on top of a cake.
If it's not quiet as firm as you'd like after this time, just pop it into the fridge for 30-60 minutes until you've got the desired consistency.
Once it's firm enough to pipe or spread, use it straight away. It will continue to firm up as more time passes. It may become too hard to use if left for too long.
You can also whip it up (after chilling) using an electric whisk for a super light and fluffy texture!
FAQ:
Can I use another type of milk?
I have only tested this recipe with soy and coconut milk but I would guess that it would work fine with most other plant-based milks.

If using full-fat coconut milk (the kind that comes in a tin), you will need to increase the amount as it sets firmer. So for every 300g (10.5 oz) of chocolate, use around 240ml (1 cup) of full-fat coconut milk.
How should vegan dark chocolate ganache be stored?
Store any leftovers in an airtight container in the fridge.
How long does this recipe keep?
If stored correctly, it should last a few weeks. It has never actually lasted that long in my house because it's so delicious but I know for sure it will last at least 1 week!
How much does this recipe yield?
It will produce enough ganache to frost two 7-inch cakes or one 9-inch cake, and will yield enough to frost roughly 10-12 cupcakes.
What can I use dark chocolate ganache for?
You can whip it up and pipe it onto my vegan chocolate cupcakes, smother it in between chocolate cake layers, use it to make chocolate truffles or fill some shortcrust pastry with it to create a delicious chocolate tart!
Can I use this for chocolate ganache drip?
Yes! You'll need to leave it to firm up ever so slightly but not as long as if you're using it as frosting.

After around 10-15 minutes, pop it in a piping bag and do a quick test on the side of an upside-down bowl to check it's the correct consistency. If so, you can go ahead and pipe it onto your cake.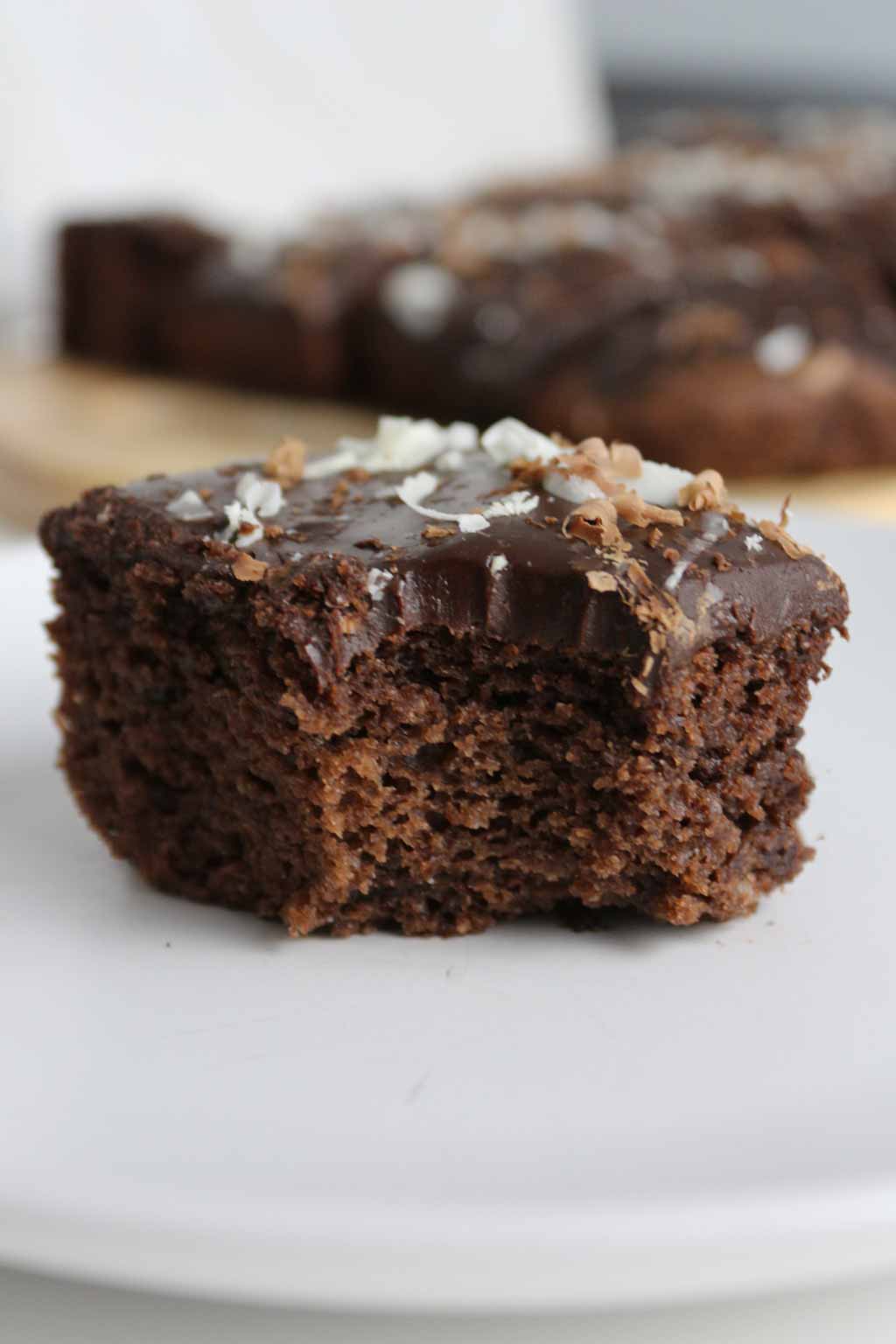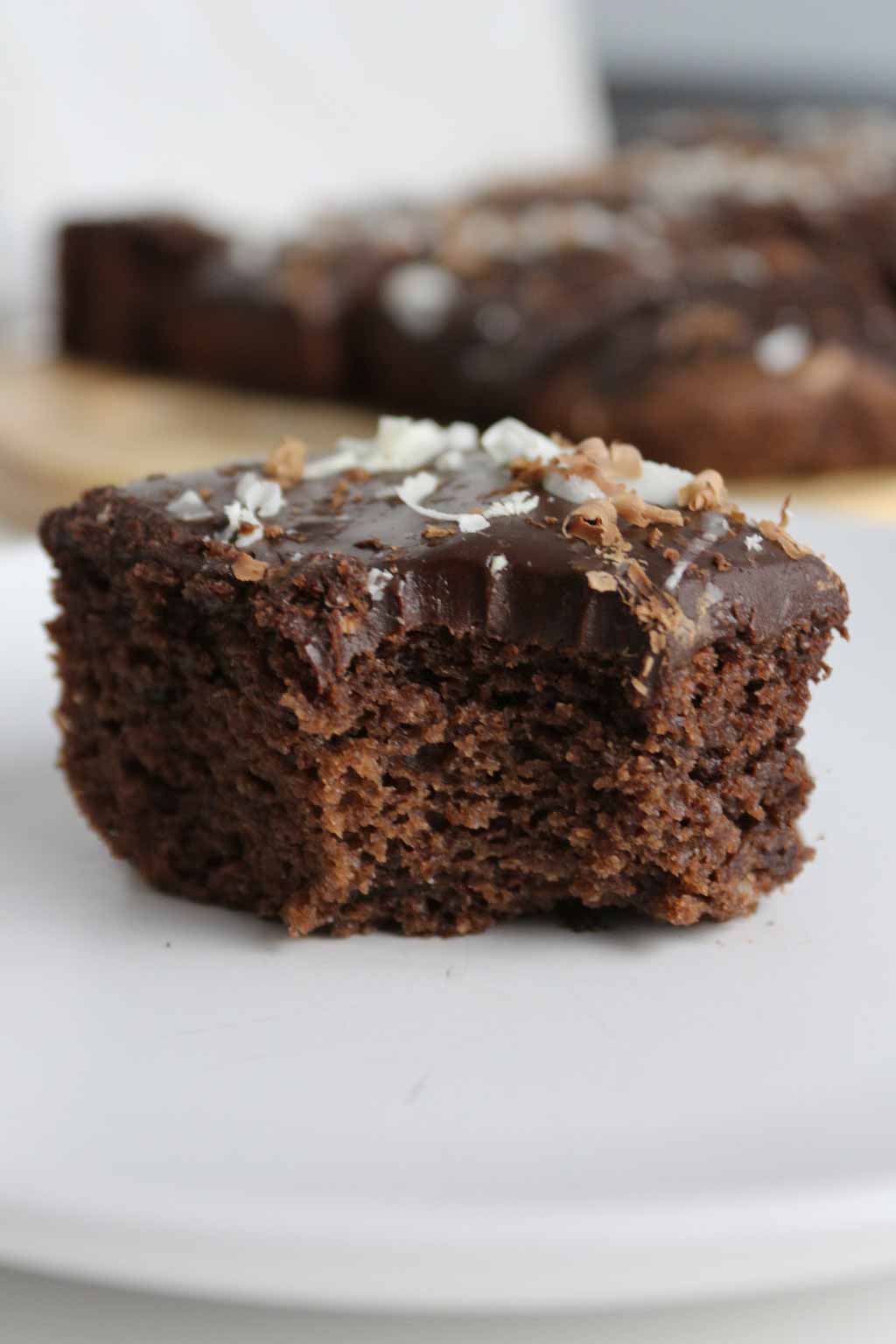 I hope you love this recipe as much as I do! Let me know what you think of it and what dessert recipes you're going to use it in.
If you enjoy it, please leave a rating and/or comment below to let me know! xo

Vegan dark chocolate ganache
A smooth, creamy ganache that's great for topping all kinds of desserts.
Instructions
Pour a couple of inches of boiling water into a small saucepan. Place a slightly larger bowl over the saucepan so that it sits nicely on the rim. Make sure the water isn't touching the bottom of the bowl.

Place the pan onto the stove on a low heat.

Add the chopped chocolate and the soy milk into the bowl. Stir gently until the chocolate has completely melted and there are no lumps left. Remove from the heat.

Allow the bowl of ganache to sit at room temperature for around 1 hour until firm. If it's still too soft to pipe, just pop it into the fridge until it has reached your desired consistency.
Recipe Notes
Store leftovers in an airtight container in the fridge for 1 week.
*Use a semi-sweet chocolate with around 45% cocoa content. Chocolate with a very high cocoa content will not work.
**I have only tested this recipe using soy and full-fat coconut milk (the tinned kind). If using coconut milk, increase the amount to 240ml (1 cup) as it will set firmer than soy milk.
Nutrition Facts
Vegan dark chocolate ganache
Amount Per Serving (1 whole batch)
Calories 1600
Calories from Fat 882
% Daily Value*
Fat 98g151%
Sodium 1mg0%
Carbohydrates 168g56%
Protein 16g32%
* All values are an estimate only and will vary depending on the food brands used.
BakedByClo is a participant in the Amazon Services LLC Associates Program, an affiliate advertising program designed to provide a means for sites to earn advertising fees by advertising and linking to Amazon.com. This site may contain some of these links to Amazon.com & other affiliate programs. If you make a purchase through one of those links, BakedByClo will receive a small commission from the purchase at no additional cost to you.