Vegan Chocolate Cupcakes
These failproof vegan chocolate cupcakes should be a staple in every baker's household! They are soft, light and fluffy with just the right amount of sweetness, and they taste delicious served with dark chocolate buttercream frosting. The perfect basic bake for any special occasion!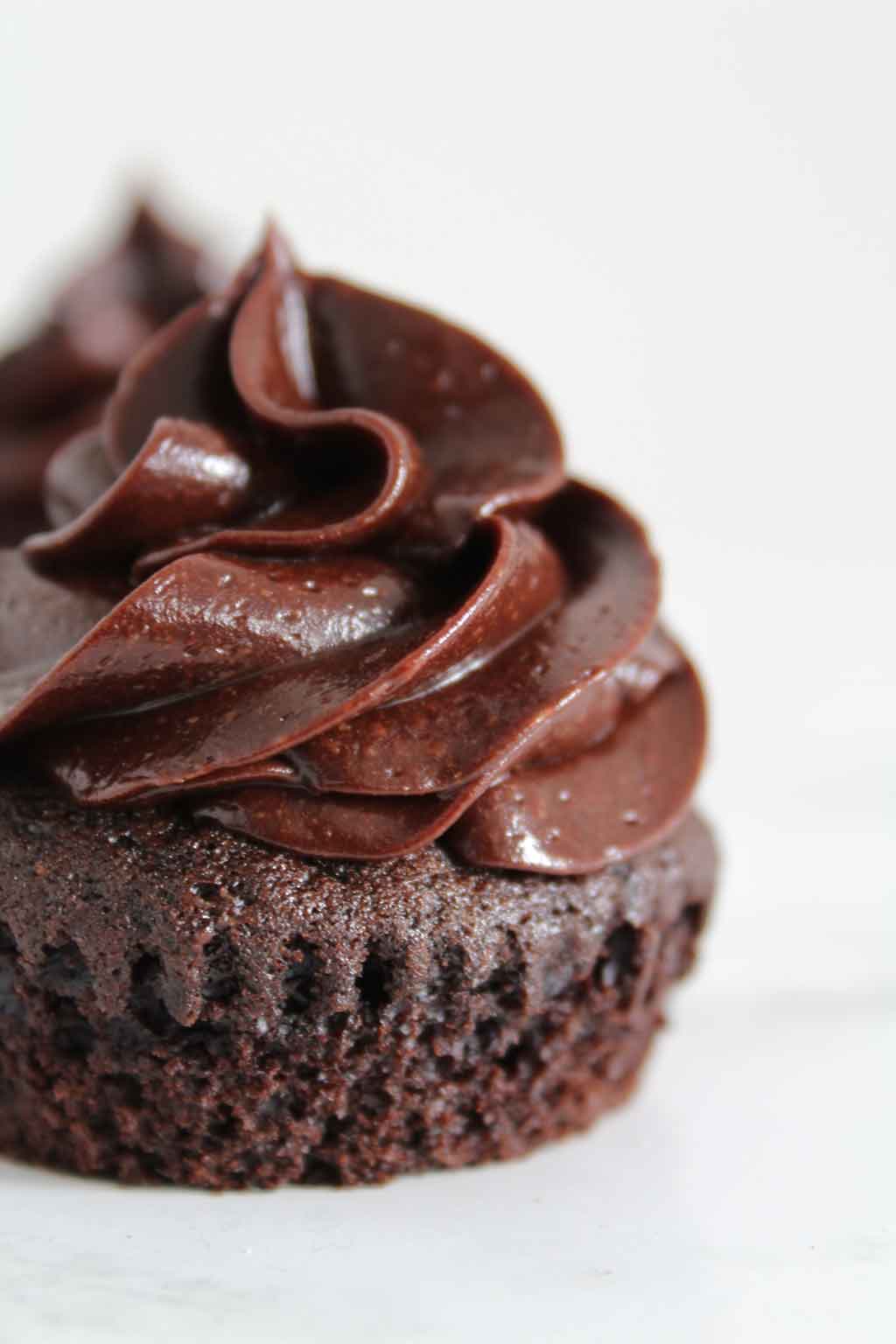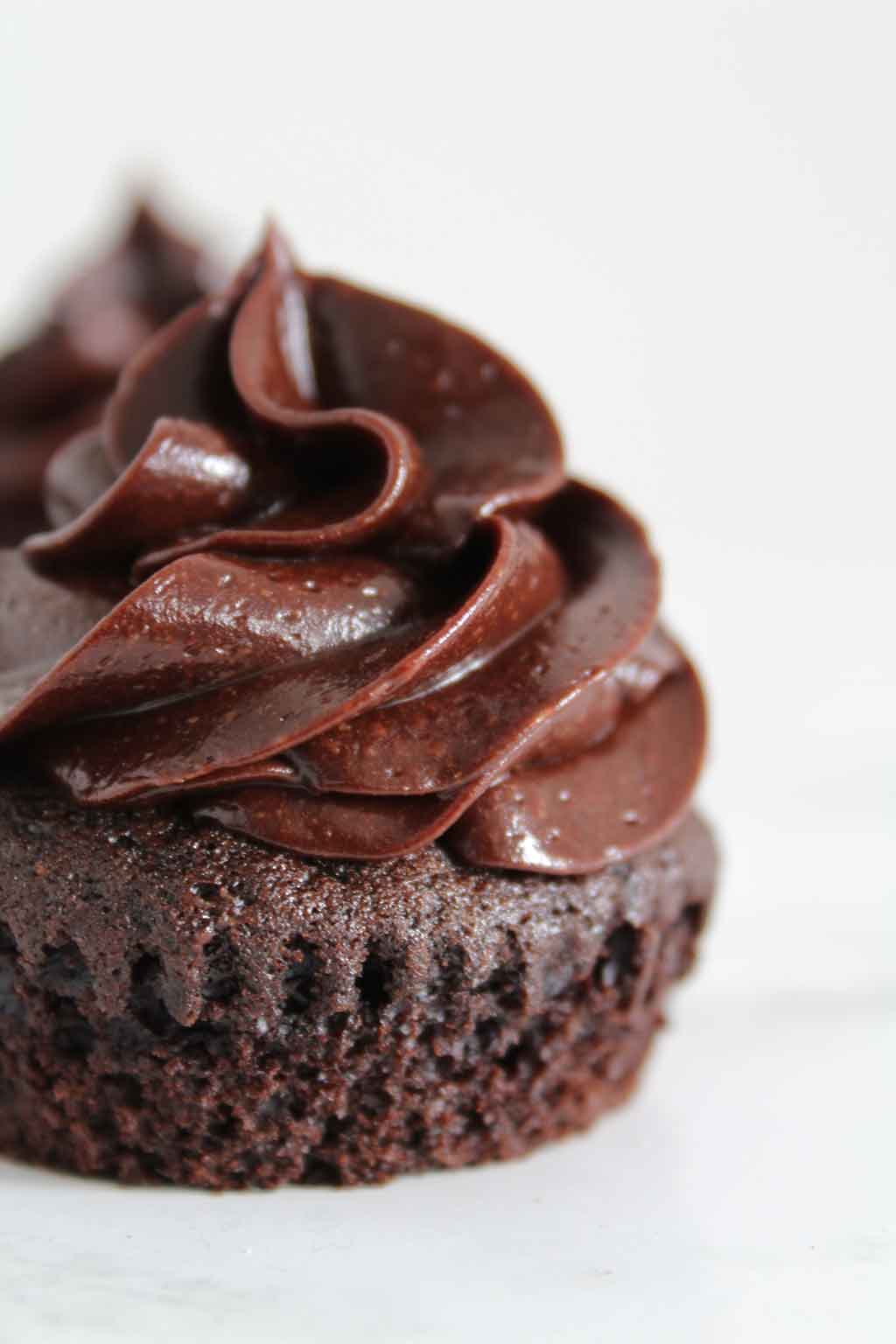 Chocolate cupcakes. There's nothing better.
In case you couldn't tell from a quick scroll through my blog, I am a HUGE chocolate lover. Brownies, cakes, truffles, tarts…
You name it, I'll eat it if it contains chocolate.
But one thing I haven't made for the blog yet? Some basic chocolate cupcakes! After perfecting my vanilla cupcakes, I thought it was time to start focusing on more basic/staple recipes and get my chocolate cupcake recipe up too.
I've been making these cupcakes for a while now, and you may have noticed I've used a similar recipe for my Oreo cupcakes and candy cane cupcakes. But because they are so simple and versatile, I thought they deserved a post of their own! So here we are.
A basic, staple recipe!
I love this recipe because it's so simple. They are the most failproof chocolate cupcakes you'll ever find, topped with chocolate buttercream. There's no vegan butter, no flax eggs and no seeds of any kind required to make these cupcakes.
When I first started vegan baking, I added chia seeds to everything I baked.
EVERYTHING.
The results were always alright, but I always hated that gummy texture the seeds left behind. Plus, they always got stuck in my teeth. Yuck.
When baking my Biscoff donuts one day, I accidentally forgot to include the chia seeds my recipe called for. And I was pleasantly surprised to find that the donuts still held together, and were even lighter and fluffier than they were with the seeds added.
So from then on, I skipped chia seeds in baking altogether.
And for the recipes that don't have quite the same texture without an egg replacement, such as my double chocolate chip cookies, I use flax eggs instead. I find the taste and texture way more subtle!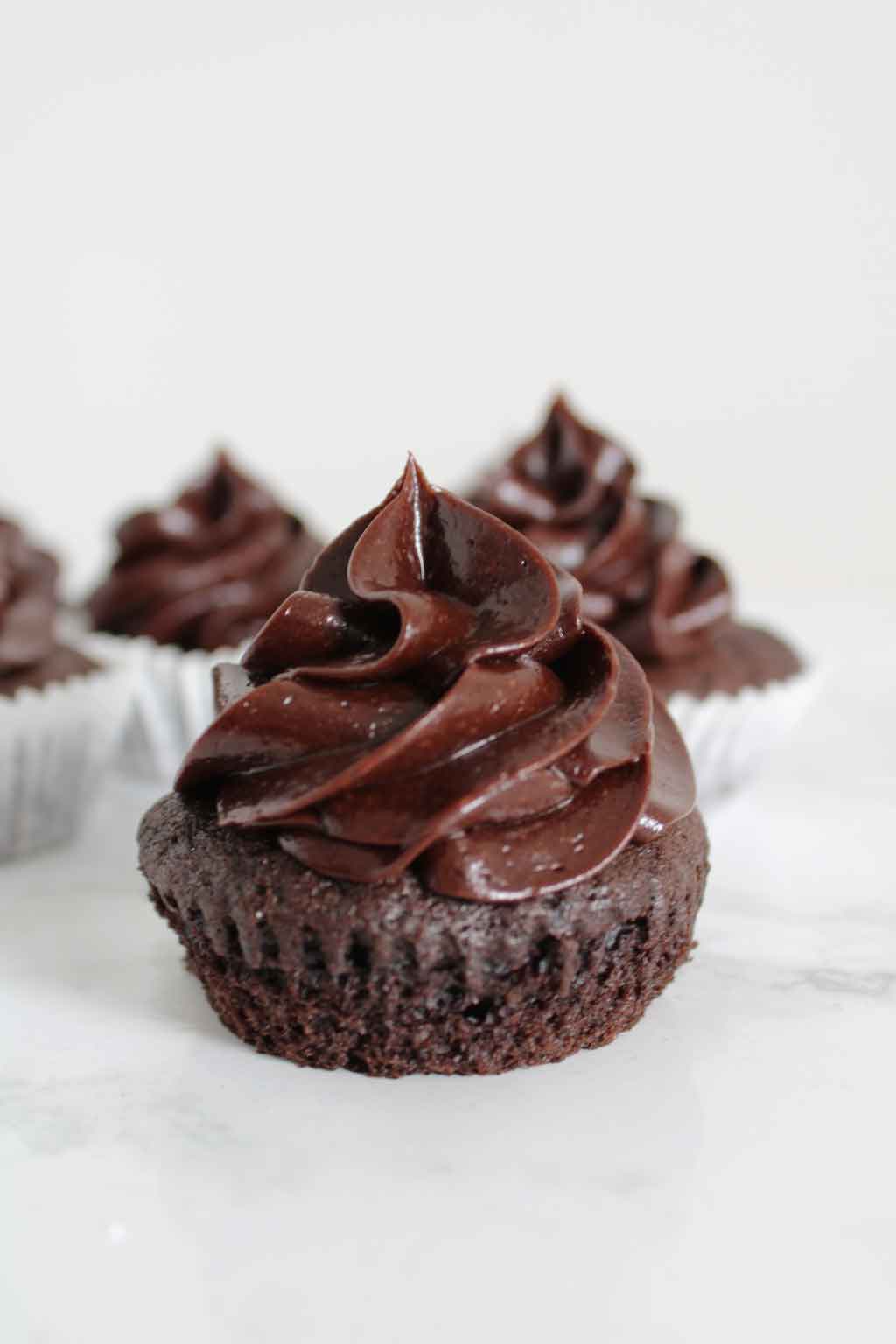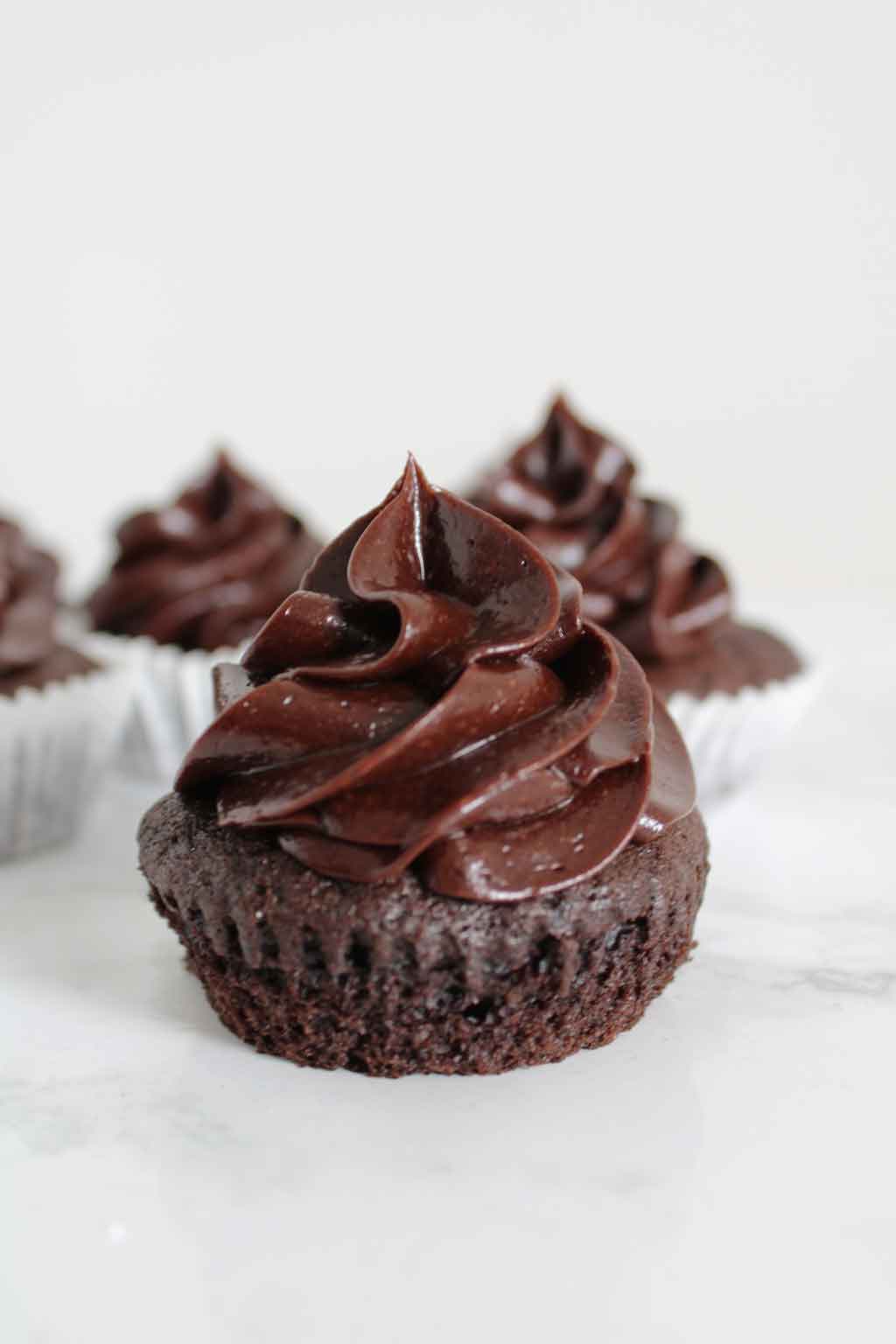 Want more vegan cupcake recipes? Try these:
How to make vegan chocolate cupcakes
Step 1:
Preheat your oven to 180°C / 350°F and line a cupcake tray with 12 paper liners.
Step 2:
In a small bowl or mug, mix together 280ml (1 cup + 2 tablespoons) of soy milk with 1 teaspoon of apple cider vinegar. Set it aside for a few minutes and allow it to curdle. This will act as a vegan buttermilk substitute.
Step 3:
To a large bowl, add 200g (1+1/2 cups) of self-raising flour, 1/2 teaspoon of bicarbonate of soda, 4 tablespoons of unsweetened cocoa powder and 200g (1 cup) of caster sugar.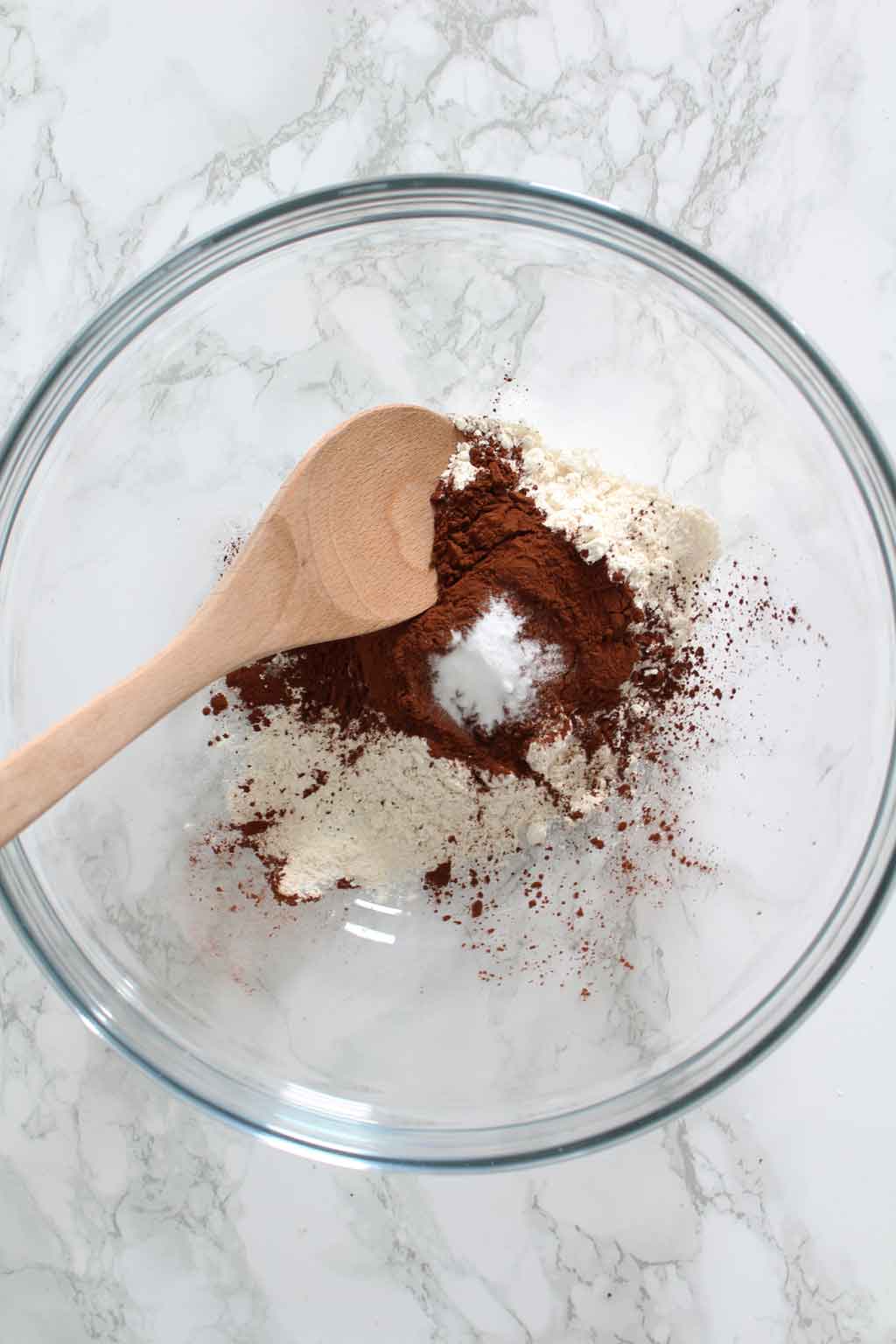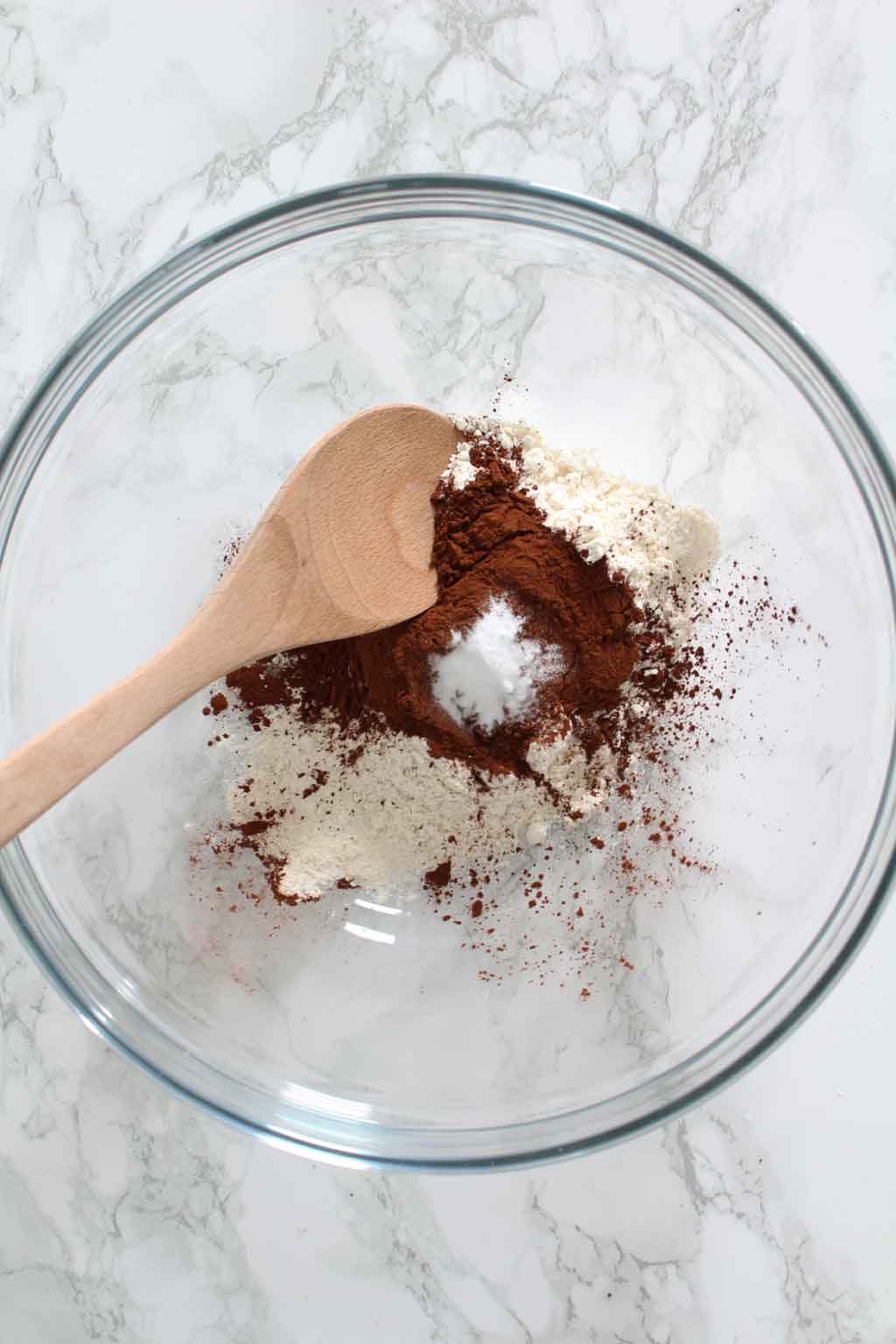 Mix everything together until there are no lumps of flour or cocoa powder left.
Step 4:
Now add in the buttermilk you made earlier along with 6 tablespoons of oil and 2 teaspoons of vanilla extract. Mix well until smooth, making sure none of the dry mixture is stuck at the bottom of the bowl.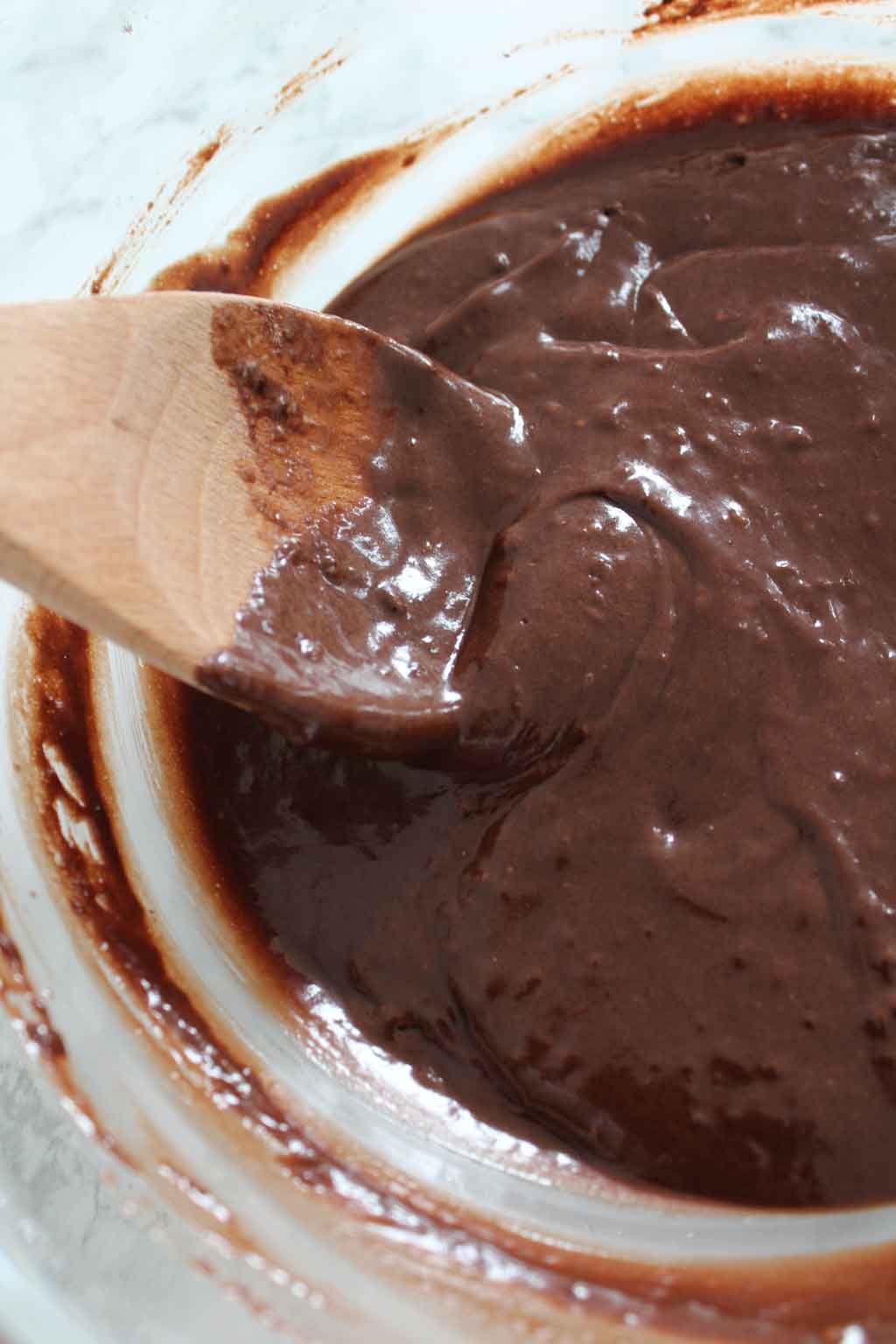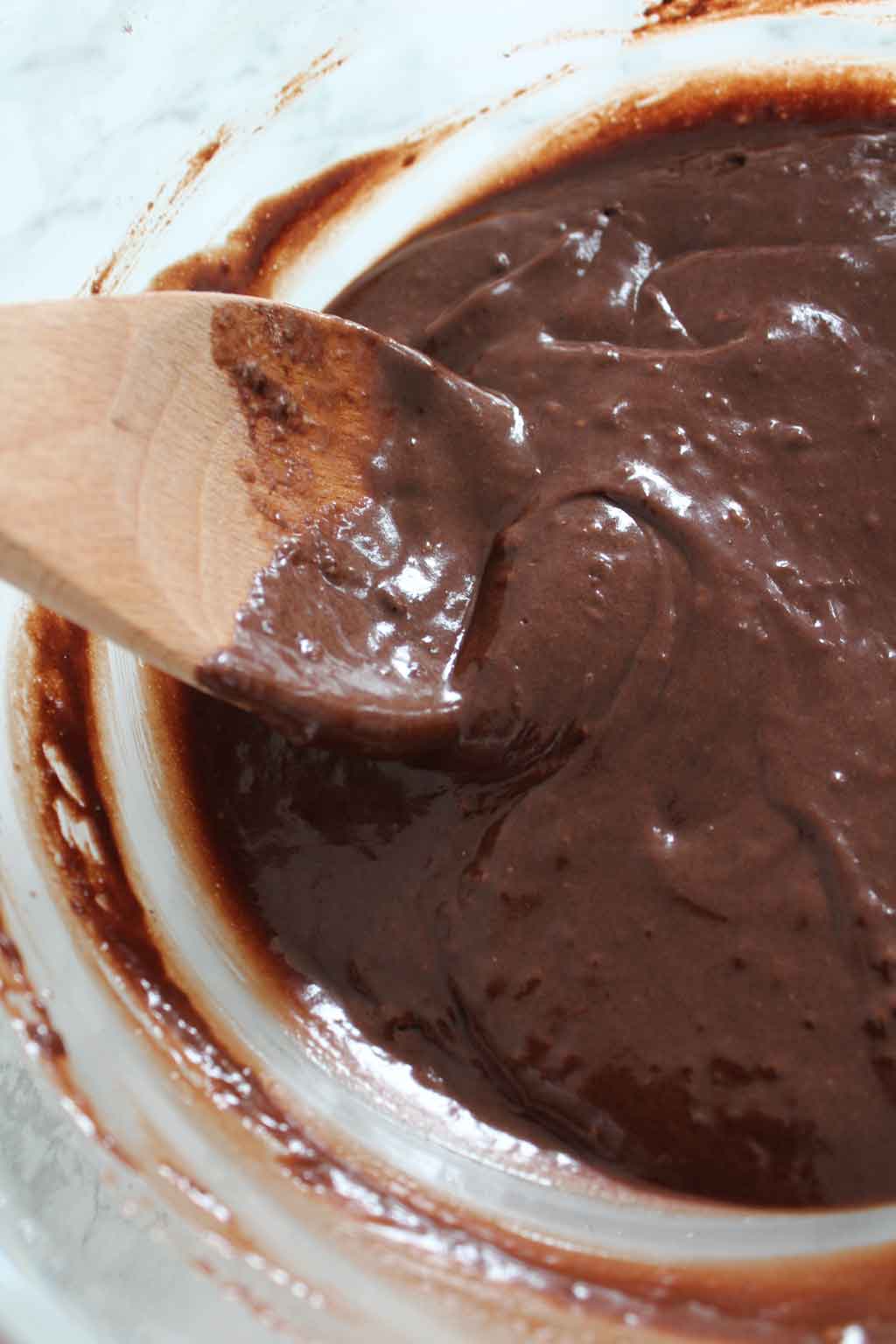 I prefer to use a neutral-tasting oil such as rapeseed/canola because it allows the chocolate flavour to shine through. I find stronger oils such as coconut or olive oil to be a little overpowering.
Step 5:
Spoon the cake batter into your cupcake cases and bake for 18-20 minutes. You can double-check that they're ready by inserting a toothpick through the middle. If it comes out clean, they're ready!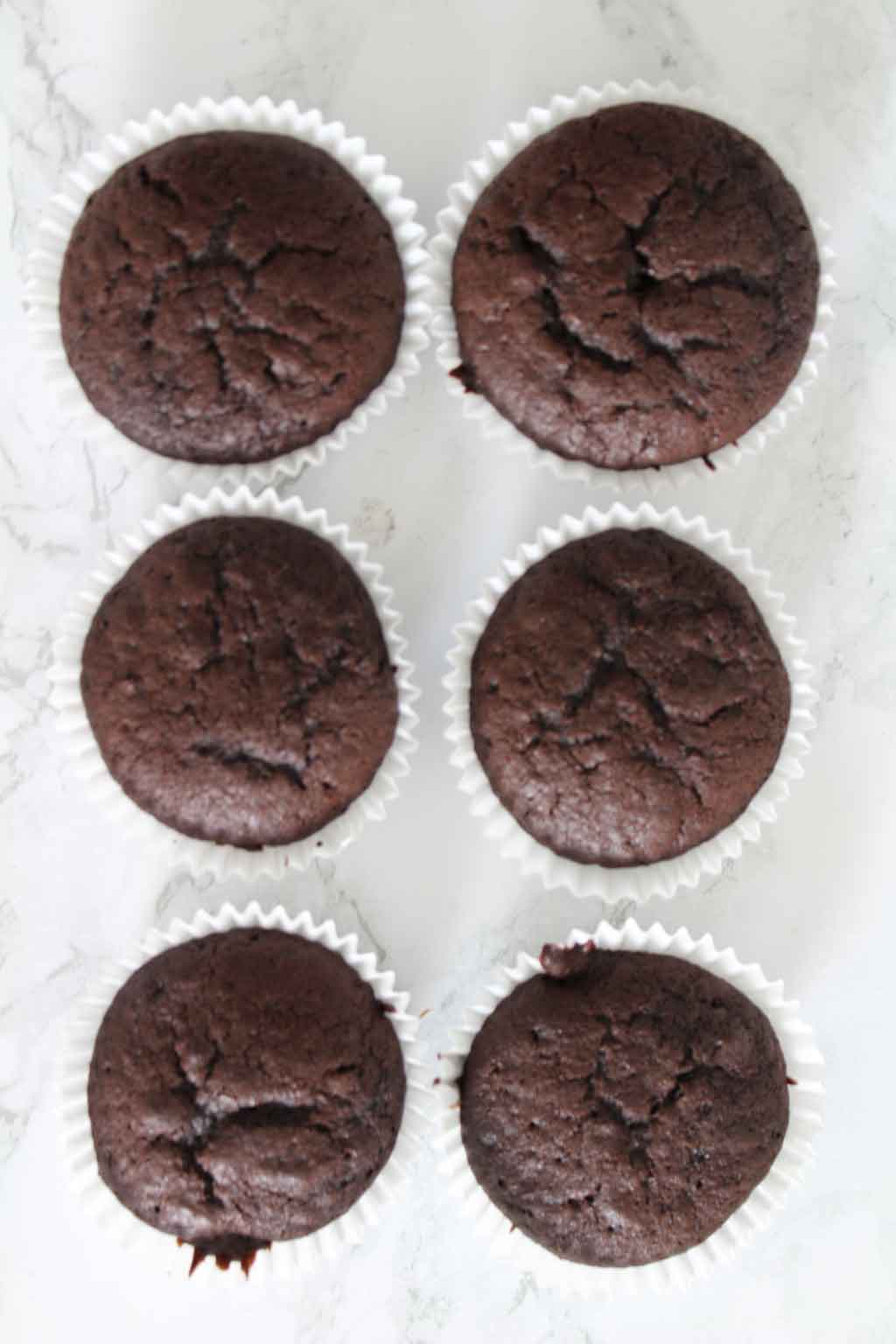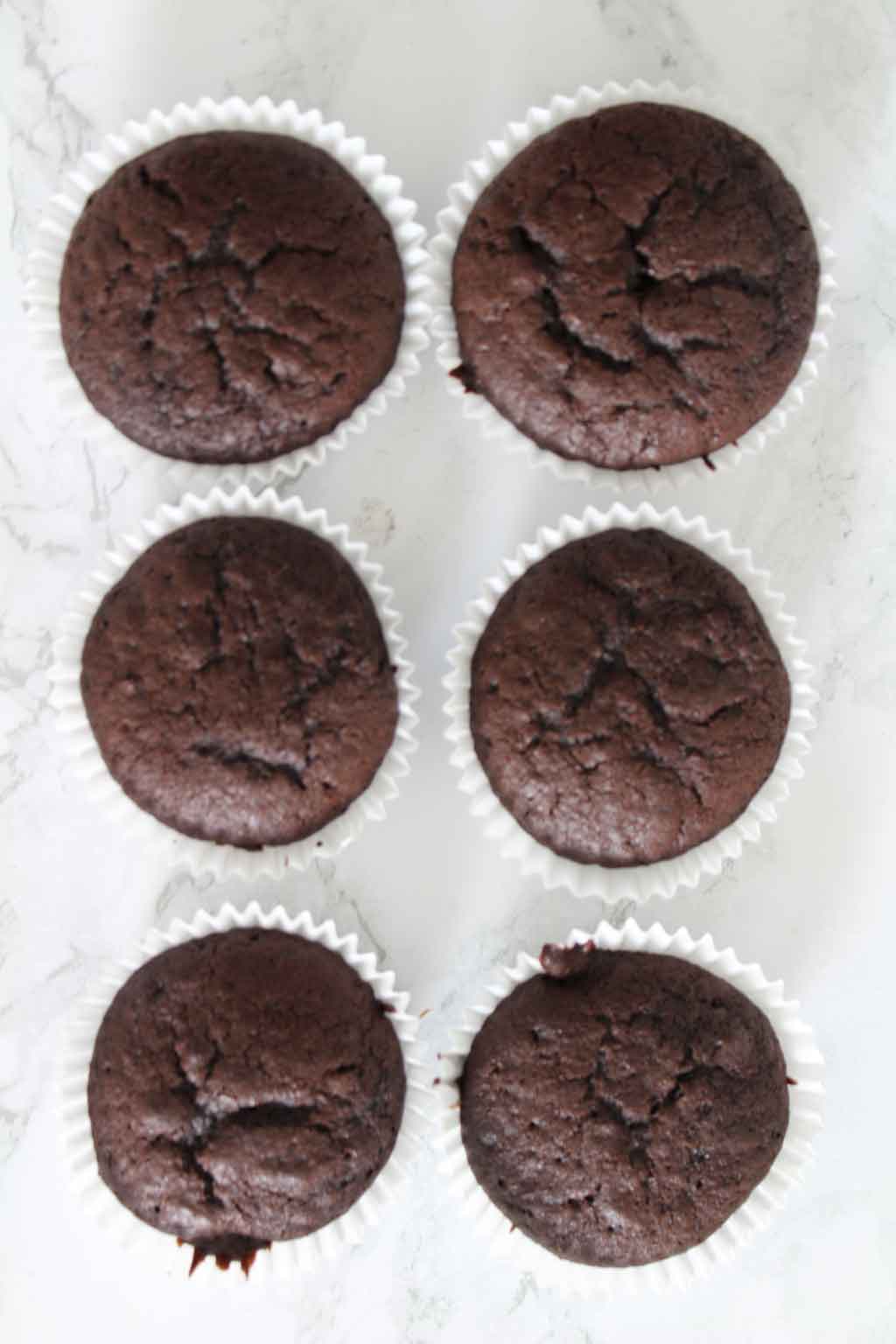 After the cupcakes have been out of the oven for 5 minutes or so, transfer them to a wire rack and leave them to cool down completely.
What to top the cupcakes with
You can eat the cupcakes just on their own or you can add some frosting for a more indulgent dessert. If you don't fancy the chocolate buttercream in this post, here are some other ideas:
A quick and easy chocolate buttercream recipe
For the frosting in the pictures, I used Betty Crocker's accidentally vegan chocolate fudge frosting for convenience. But I thought I'd include an easy buttercream recipe in this post in case you can't/don't want to use ready-made frosting.
All you'll need is 300g icing/powdered sugar, 1 teaspoon vanilla extract, 180g vegan butter, 80g cocoa powder and some soy milk.
This recipe will give you enough frosting to pipe onto all 12 cupcakes. If you plan to spread on the frosting instead of piping it, you'll need a lot less. I'd say you could probably half the recipe.
In a large bowl, soften the vegan butter until it's easy to mix then stir in the vanilla. Add in the icing sugar and cocoa powder, a little at a time, mixing as you go. Use as much soy milk as needed to loosen it.
Once you've mixed it all in, it should have a nice, creamy consistency that will stand firm when piped onto the cakes.
However, if it's too thick, you can add more soy milk to loosen it a bit. Likewise, if it's too thin or runny, you can fix it by adding more icing sugar until you get your desired consistency.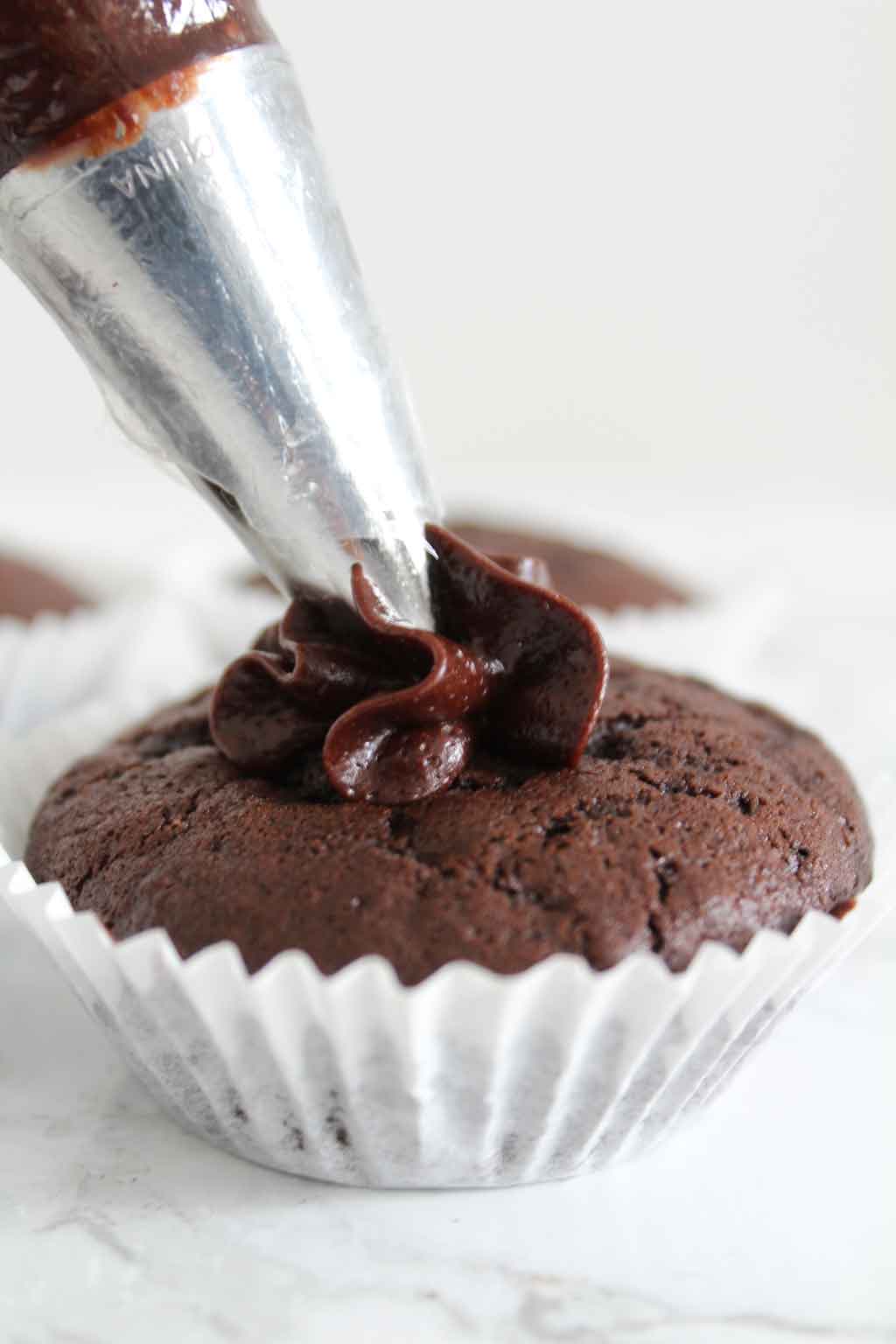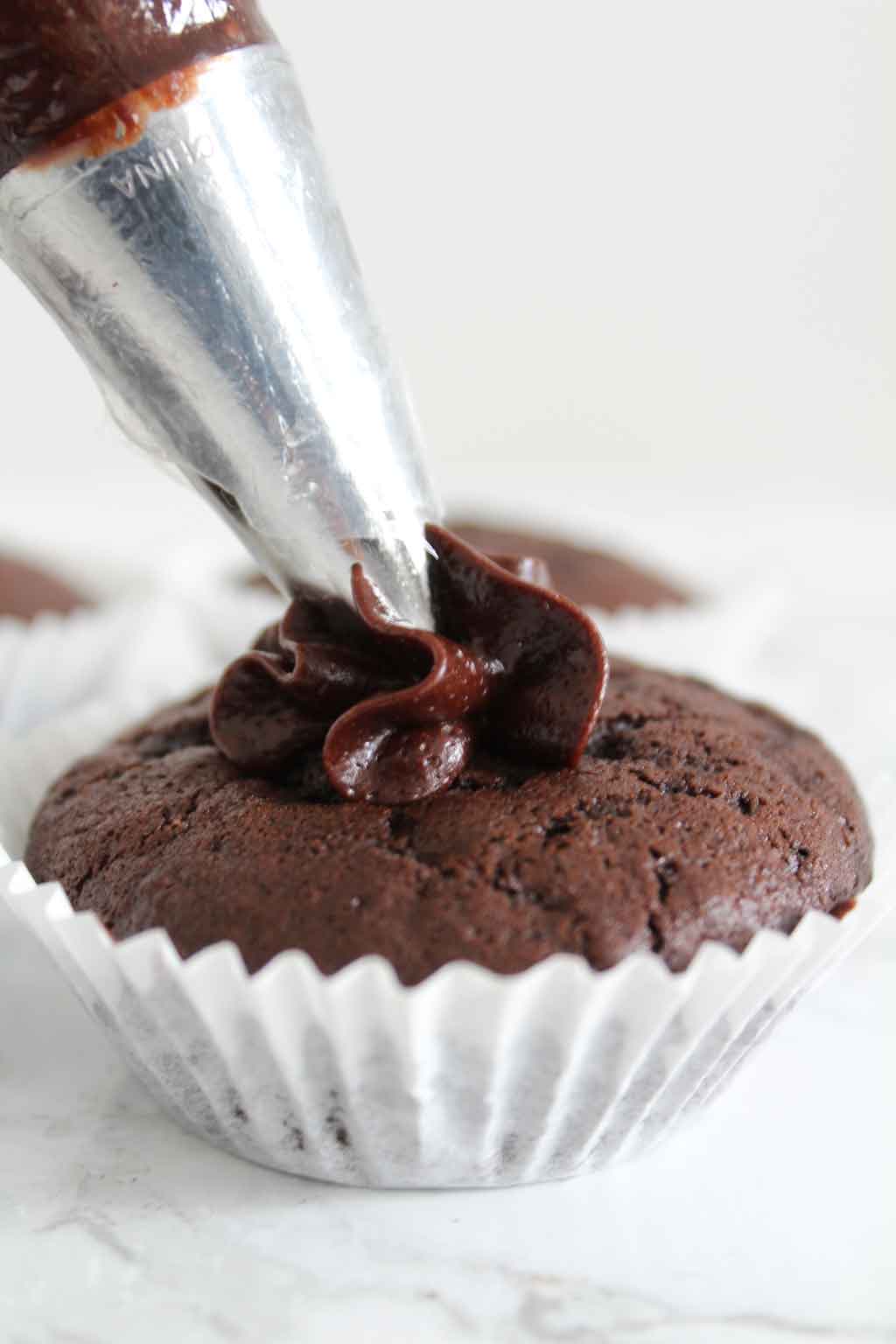 Love chocolate? Check out these posts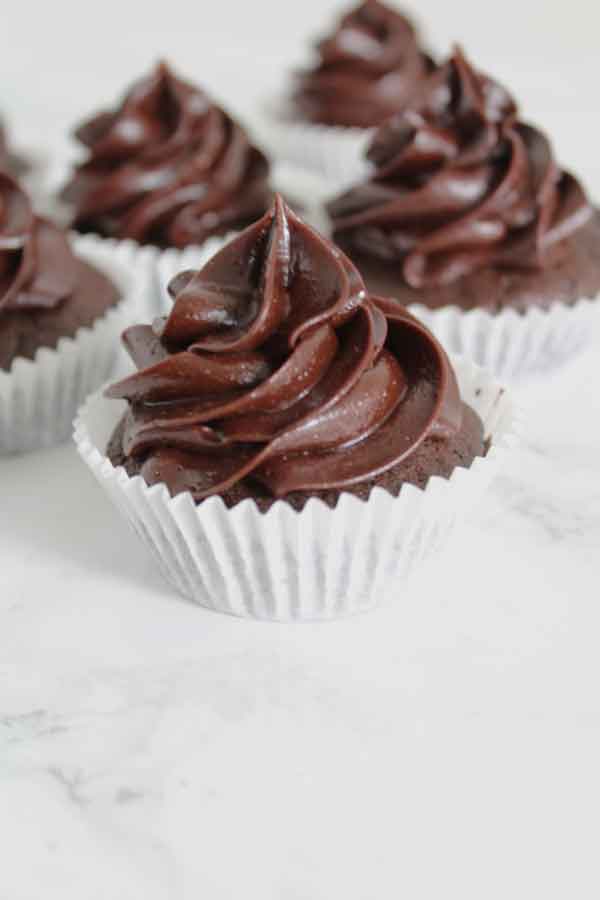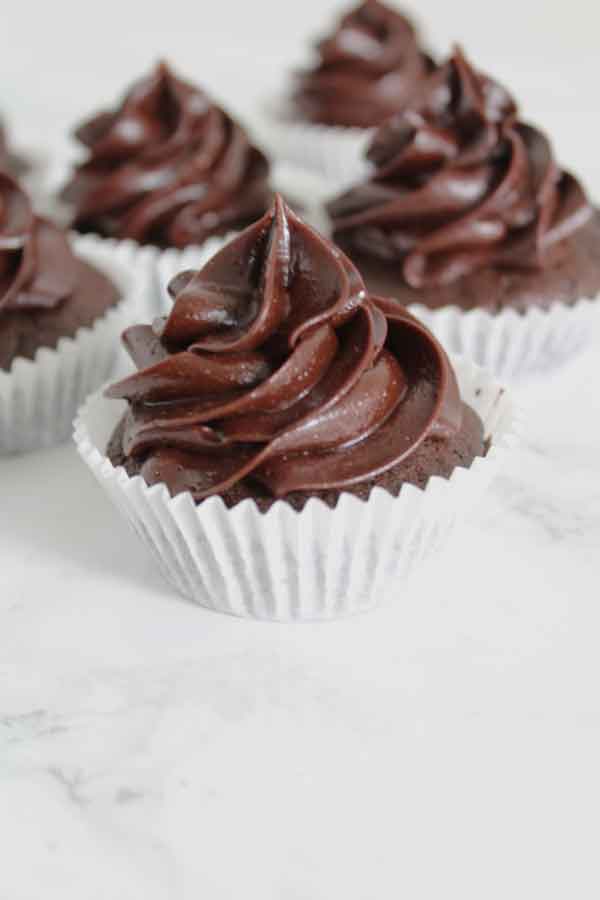 FAQ:
How should leftover cupcakes be stored?
This recipe will make around 12 averaged-sized cupcakes so unless you're baking for a party, you might have some leftover!

For cupcakes without frosting, you can just pop them into an airtight container and keep them at room temperature in a cool, dry place such as the kitchen cupboard. They will last around 4-5 days this way.

If you have added any type of frosting to the cakes, they may need to be refrigerated depending on what you used. Vegan buttercream usually holds up quite well at room temperature but things like chocolate ganache and cream cheese frosting will need to be refrigerated.
Can these cupcakes be frozen?
Yes! These cupcakes are great for freezing in advance and defrost nice and fluffy, the same way as they are before going into the freezer!

If you'd like to freeze them, you can just place them all into an airtight container and freeze for up to 2 months. I'd recommend freezing them without frosting for best results- this will taste nicer if you add it on the day that you plan to eat them!

To defrost, just transfer the cupcakes onto a plate or wire rack and allow them to sit at room temperature for a few hours until soft and fluffy.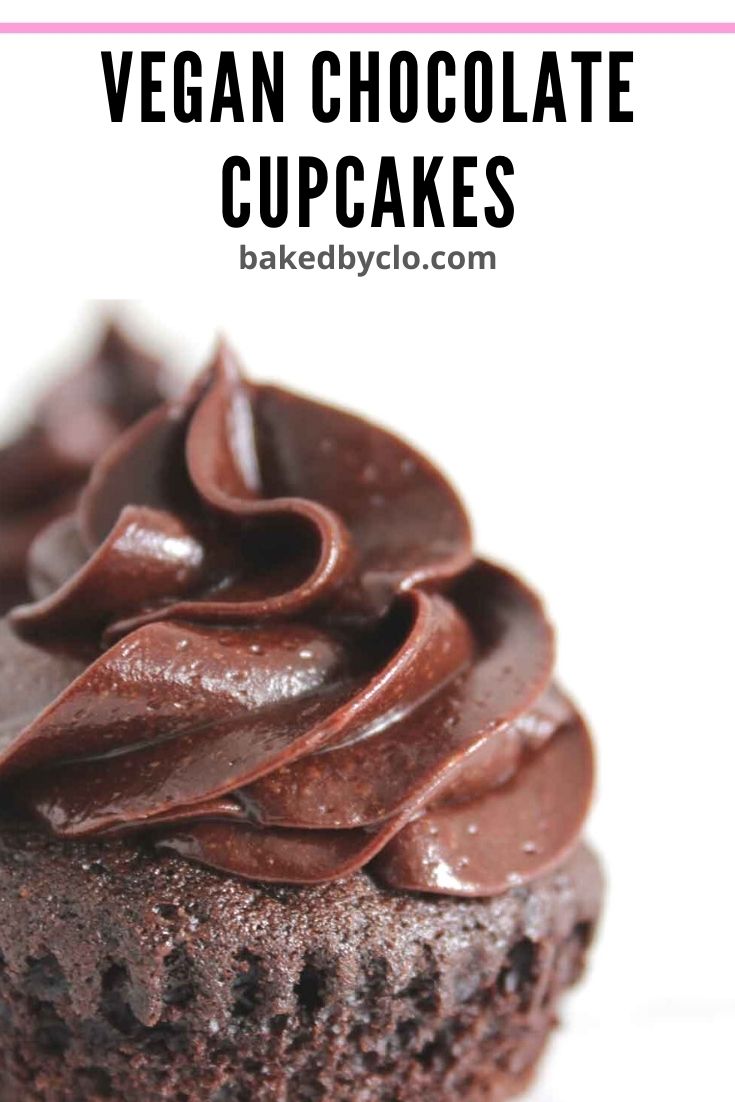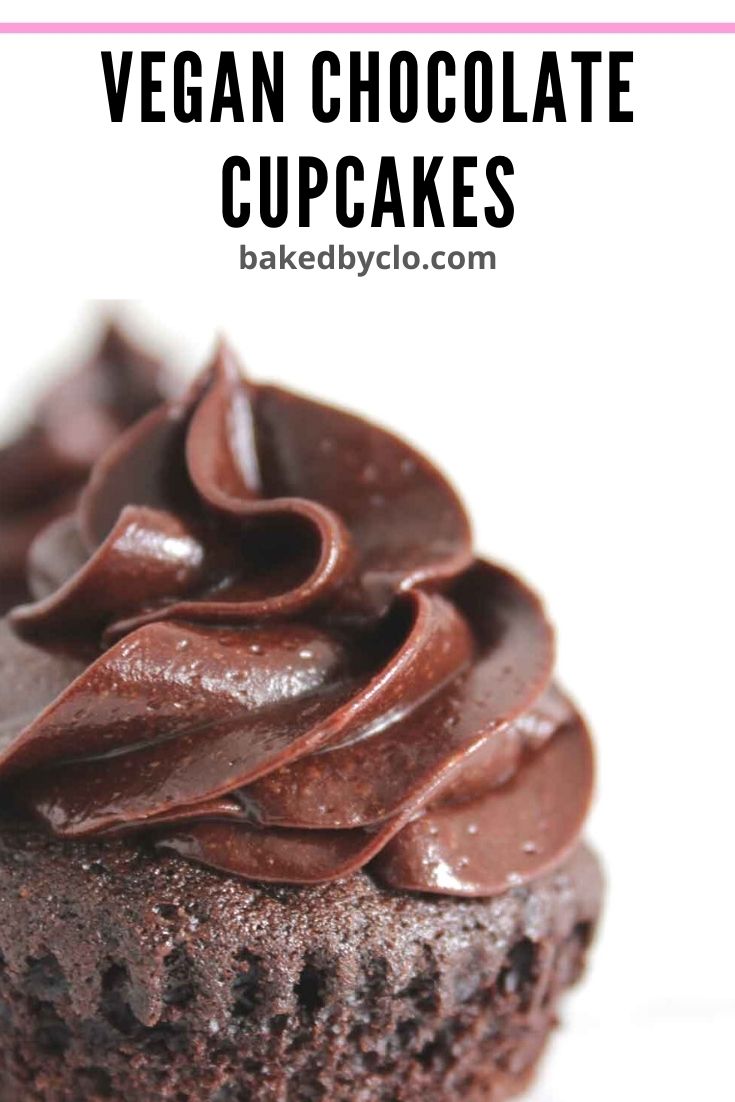 I hope you enjoy these failproof cupcakes as much as I do! Let me know what you think by leaving a comment and rating below.
Happy baking! Xo

Vegan Chocolate Cupcakes
A basic vegan chocolate cupcake recipe for light and fluffy sponges! No fancy ingredients and super easy to make.
Ingredients
280

ml

Soy milk

(1 cup + 2 tablespoons)

1

Teaspoon

Apple cider vinegar

(sub for white vinegar)

200

g

Self-raising flour

(1+½ cups)

½

Teaspoon

Baking soda

4

Tablespoons

Unsweetened cocoa powder

200

g

Caster / superfine sugar

(1 cup)

2

Teaspoons

Vanilla extract

6

Tablespoons

Vegetable oil
Chocolate buttercream:
180

g

Vegan butter

(¾ cup)

1

Teaspoon

Vanilla extract

80

g

Cocoa powder

(¾ cup)

300

g

Icing/powdered sugar

(~2+½ cups)

~5-7

Tablespoons

Soy milk

to loosen as needed
Instructions
Preheat your oven to 180°C/350°F (160°C/325°F if using a fan or convection oven) and line a 12-hole cupcake tray with paper cases.

Mix the soy milk and apple cider vinegar together and set aside. This will become your vegan buttermilk.

In a large bowl, mix together the flour, baking soda, cocoa powder and sugar until well combined.

Now add in the vegan buttermilk along with the oil and vanilla extract. Mix well until you have a smooth cake batter.

Divide the batter between your 12 cases and bake for 18-20 minutes. Check they're ready by inserting a toothpick through the centre- if it comes out dry, they're done.

Transfer the cupcakes to a wire rack and allow them to cool completely.
For the chocolate buttercream:
In a large bowl, beat the vegan butter until it's slightly soft. Stir in the vanilla.

Add in the icing sugar and cocoa powder, a little at a time, mixing as you go. Use as much soy milk as you need to help loosen it. The amount you need will depend on which type of butter you're using so add it in slowly as you might not need it all.

If the buttercream is too thick, add some extra soy milk. If you want it thicker, add more icing sugar.
Recipe Notes
Can be stored in an airtight container for up to 5 days

The frosting recipe will produce enough to pipe onto all 12 cupcakes. If you plan to spread on a thin layer of the frosting instead of piping it, half the recipe.
Nutrition Facts
Vegan Chocolate Cupcakes
Amount Per Serving (1 cupcake with buttercream)
Calories 425
Calories from Fat 126
% Daily Value*
Fat 14g22%
Sodium 57mg2%
Carbohydrates 70g23%
Protein 3g6%
* All values are an estimate only and will vary depending on the food brands used.
BakedByClo is a participant in the Amazon Services LLC Associates Program, an affiliate advertising program designed to provide a means for sites to earn advertising fees by advertising and linking to Amazon.com. This site may contain some of these links to Amazon.com & other affiliate programs. If you make a purchase through one of those links, BakedByClo will receive a small commission from the purchase at no additional cost to you.