You're going to LOVE these cinnamon flavoured vegan Biscoff donuts with frosting to match! Baked and not fried, they are light and fluffy while also a sweet, indulgent treat. Serve them at parties, give them as gifts or have them as an after-dinner dessert!

Vegan Biscoff Donuts Recipe
Do any other vegans get overly excited when they find another accidentally vegan food? And eat it all in one go? No? Just me?
As a relatively new vegan, I'm still getting to grips with which "junk foods" are okay for me to eat and which are not. Much to my delight, I recently discovered that Lotus Biscoff biscuits AND their caramelised spread are both on the "yes" list because neither contain any animal products! Yipee! (God bless Lotus)
Of course, you can just eat these two delicious things as they are (Biscoff spread with a spoon straight from the jar, anyone?) but there are SO many other delicious desserts you can make. I've seen cheesecakes, pies, cupcakes and loads of other genius recipe ideas but best of all…Biscoff donuts.
As my brother's birthday was coming up I decided I'd make him some. He loves biscoff and he loves donuts so this would make the perfect gift! I had a look online and there were many recipes for Biscoff donuts but not as many for a vegan-friendly version. I had a very exact image of how I wanted my final donut to look, and none of these recipes matched that. So, I decided to take it upon myself to create the vegan donut of my dreams.
These vegan Biscoff donuts are:
Light
Cinnamon-y
Cakey
Sweet
Easy
Indulgent
A treat to look at!
Baked, not fried.
I wanted my donuts to be light and cakey, not heavy and dense. This is purely because the heaviness is something that has always put me off eating donuts in the past. To achieve this, I used a slightly adjusted vegan cake recipe to make the batter and decided to bake them, rather than fry them in oil.
My kitchen is also relatively small and I didn't fancy messing around with hot oil. I'm typically not any good at frying anything other than pancakes so I decided that baking them would be my best option. I purchased some donut pans from Amazon and they were totally worth the money because I've been making donuts constantly ever since. And if you bake donuts instead of frying them, that totally makes them healthy… amirite? For real though, using a donut pan makes preparation and clean up way easier!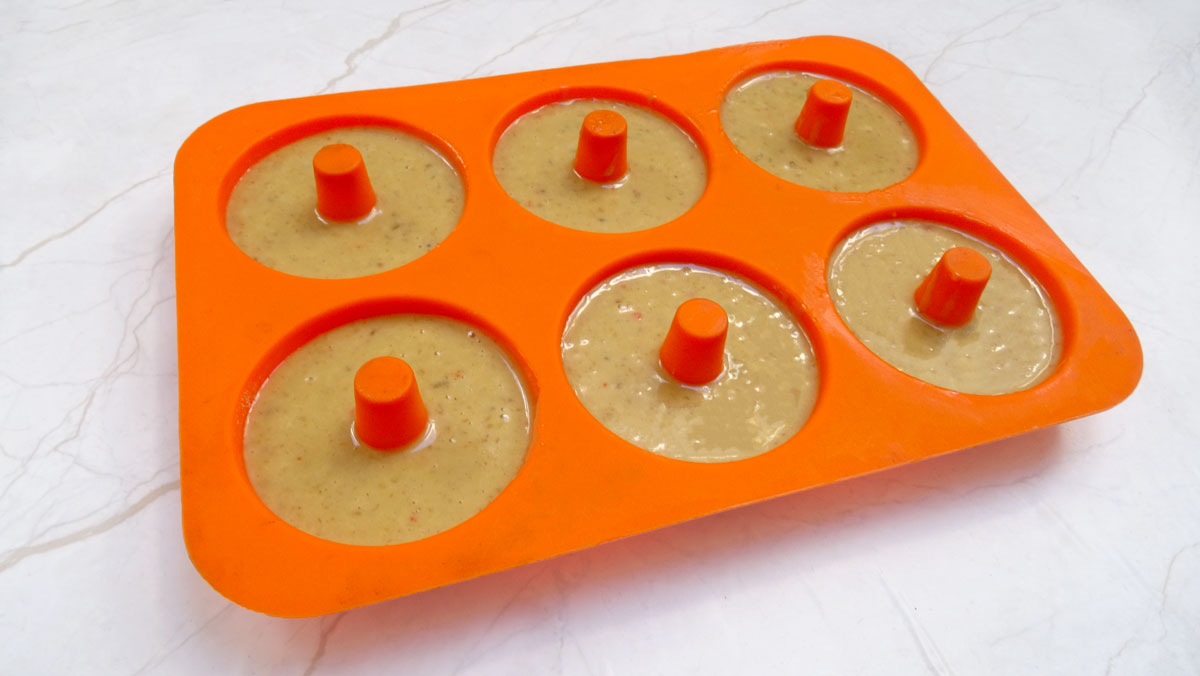 Here's what you'll need to make these delicious vegan biscoff donuts
A donut pan
Chia seeds
Plain flour
Baking power
Cinnamon
Sugar
Any plant based milk
Vegan friendly butter
Lemon juice
Vanilla essence (optional)
Icing sugar
Biscoff spread
Biscoff biscuits (optional)
The ingredients list may look long but these are super easy to make and there are no wildly unusual ingredients in there. I do believe Biscoff is now sold worldwide so you should be able to get your hands on the spread no problem. To compliment the cinnamon flavour from the Biscoff frosting, be sure to add a little cinnamon powder to the donut batter too. This is one thing that is NOT optional. The subtle spice which contrasts so well with the sweetness and I just looove it!
If you decided to give these a go, I promise you'll love them!
Enjoy.
xo

BAKED VEGAN BISCOFF DONUTS
Baked, cinnamon flavoured donuts that are delicious and light in texture.
Ingredients
For the donut batter:
2

Tablespoons

Chia seeds

200

g

Plain flour

1

Teaspoon

Baking powder

1/2

Teaspoon

Cinnamon

150

g

Sugar

60

g

Vegan butter

200

ml

Soy milk

or other plant-based milk

1

Teaspoon

Lemon juice

1

Teaspoon

Vanilla essence
For the Biscoff frosting:
5

Tablespoons

Lotus Biscoff spread

smooth version

5

Tablespoons

Soy milk

1

Tablespoon

Powdered sugar

10

Biscoff biscuits
Instructions
Set your oven to 180°C and prepare two 6-hole donut pans.

Make chia "eggs" by mixing the chia seeds with 6T water. Set aside.

In a large bowl, mix the flour, baking powder, cinnamon and sugar together.

Melt the butter and add it to the bowl along with the soy milk, chia eggs, lemon juice and vanilla. Mix well.

Divide the mixture into the donut pan holes (it should make 10). Bake for around 17 minutes, until golden brown.

Prepare the frosting by mixing the Lotus Biscoff spread, soy milk and icing sugar together. Spread this onto the donuts once they are completely cooled.

Top each donut with a Biscoff biscuit if desired. (Do not add until you are ready to serve, they will go soggy otherwise.)