Vegan Biscoff Donuts
You're going to LOVE these cinnamon-flavored vegan Biscoff donuts with frosting to match! Baked and not fried, they are light and fluffy while also a sweet, indulgent treat. Serve them at parties, give them as gifts or have them as an after-dinner dessert!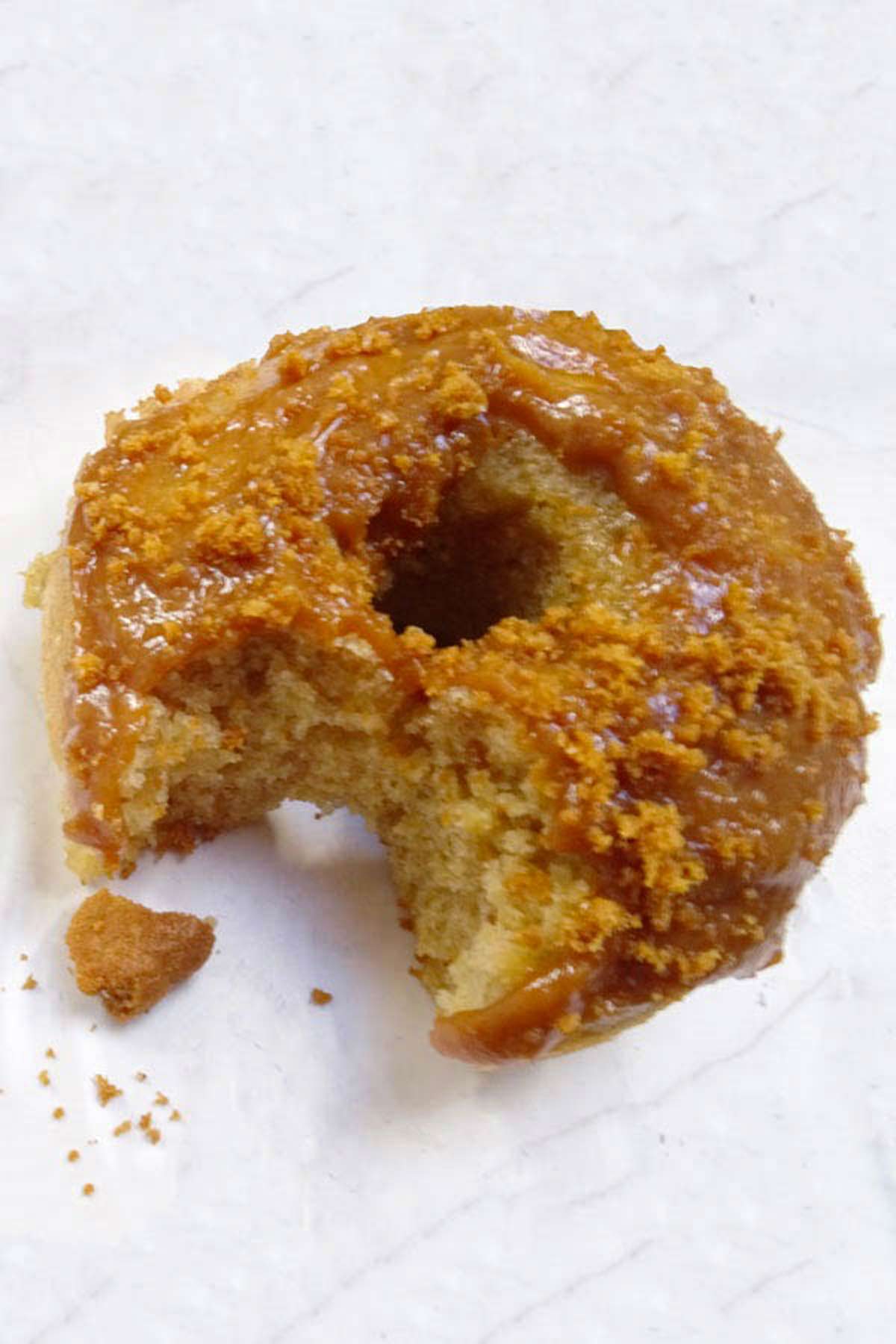 Do any other vegans get overly excited when they find another accidentally vegan food? And eat it all in one go? No? Just me?
When I first went vegan, it took me quite a while to get to grips with which "junk foods" were okay for me to eat and which were not. Much to my delight, I discovered that Lotus Biscoff biscuits AND their caramelized spread were both on the "yes" list because neither contains any animal products! Yipee!
Of course, you can just eat these two delicious things as they are (Biscoff spread with a spoon straight from the jar, anyone?) but there are SO many other delicious desserts you can make. I've made quite the collection of Biscoff desserts on my blog since I wrote this post, so I figured I would come back and update it.
I had a look online and there were many recipes for Biscoff donuts but not as many for a vegan-friendly version. I had a very exact image of how I wanted my final donut to look, and none of these recipes matched that. So, I decided to take it upon myself to create the vegan donut of my dreams.
These vegan Biscoff donuts are:
Light
Cinnamon-y
Cakey
Sweet
Easy
Indulgent
A treat to look at!
Baked, not fried
I wanted my donuts to be light and cakey, not heavy and dense. This is purely because the heaviness is something that has always put me off eating donuts in the past. To achieve this, I used a slightly adjusted vegan cake recipe to make the batter and decided to bake them, rather than fry them in oil.
My kitchen is also relatively small and I didn't fancy messing around with hot oil. I don't really fry anything other than pancakes so I decided that baking them would be my best option. If you would like a fried donut recipe, check out this post.
Ingredients and equipment
A donut pan. I purchased my donut pans from Amazon and they were totally worth the money because I've been making donuts constantly ever since. And if you bake donuts instead of frying them, that totally makes them healthy… amirite? For real though, using a donut pan makes preparation and clean up way quicker! I'd recommend a silicone one for ease.
Plain flour. For structure. As I said, these donuts are more cake-like so I didn't use yeast in my recipe, just flour and raising agent!
Baking powder. To help the donuts rise and become fluffy.
Cinnamon. To complement the cinnamon flavor from the Biscoff frosting, be sure to add a little cinnamon powder to the donut batter too. This is one thing that I do not recommend omitting. The subtle spice contrasts so well with the sweetness and I just looove it!
Sugar. I used caster sugar for this recipe.
Dairy-free margarine. I recommend using margarine here, not the kind of vegan butter that comes as a block. It contains less water and will result in drier donuts.
Soy milk. I recommend using unsweetened soy milk for best results. I have not tested this recipe with any other kind of plant-based milk so cannot say if it will work as well as the soy milk.
Vanilla extract. For additional flavour.
Biscoff icing. A mix of icing sugar, soy milk and Biscoff spread!
Biscoff biscuits. These are for decoration on top. You can crush them into crumbs if you prefer.
The ingredients list may look long but these are super easy to make and there are no wildly unusual ingredients in there. Biscoff spread is widely available in UK stores and online if you're elsewhere in the world.
How to make vegan Biscoff donuts
Step 1:
Preheat your oven to 180°C/350°F and have two 6-hole silicone donut pans to hand.
Step 2:
In a large bowl, mix together 200g of plain flour, 1 teaspoon of baking powder, 1/2 a teaspoon of cinnamon and 150g of caster sugar.
Step 3:
Next, add 60g of melted vegan margarine, 200ml of soy milk and 1 teaspoon of vanilla extract. Mix well until you have a smooth batter.
Step 4: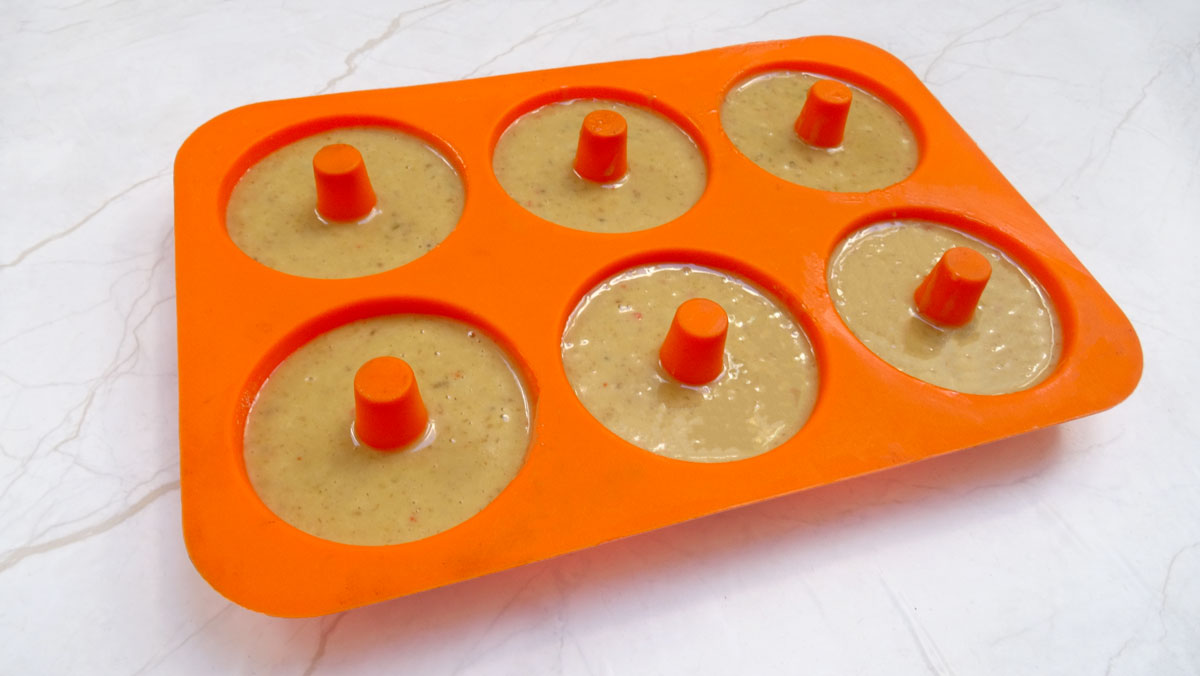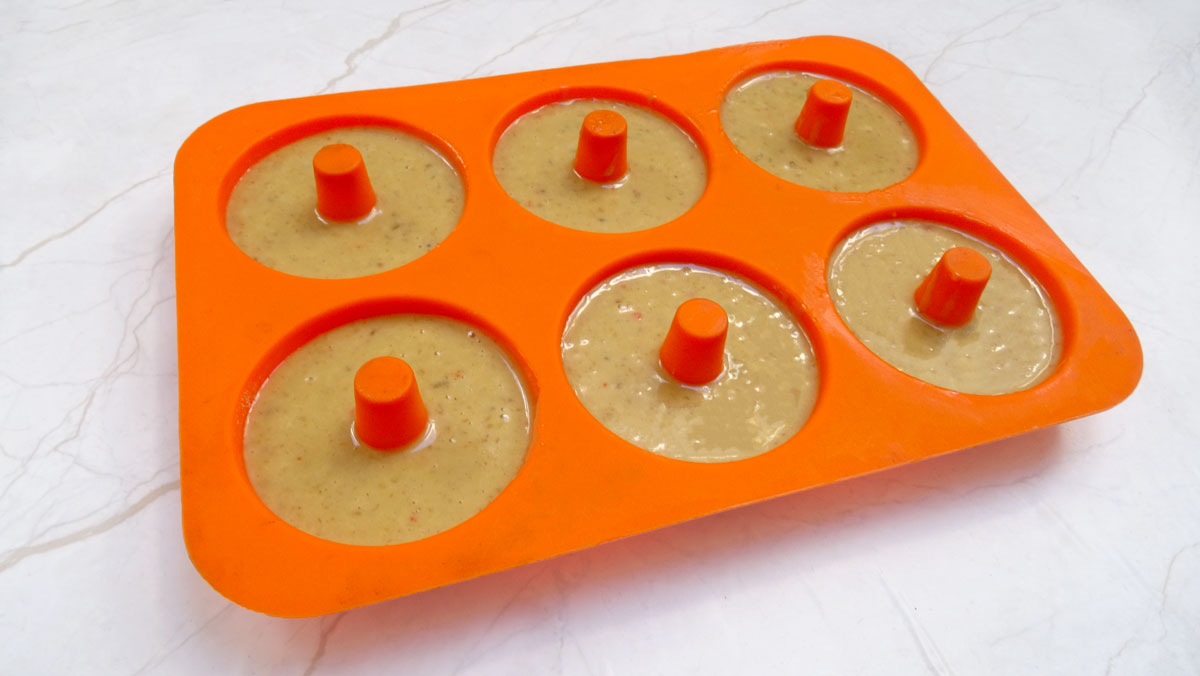 Divide the batter between 10 of the donut holes and bake for 20-25 minutes. You'll know they are ready when they're golden brown on top and a toothpick through the centre comes out clean.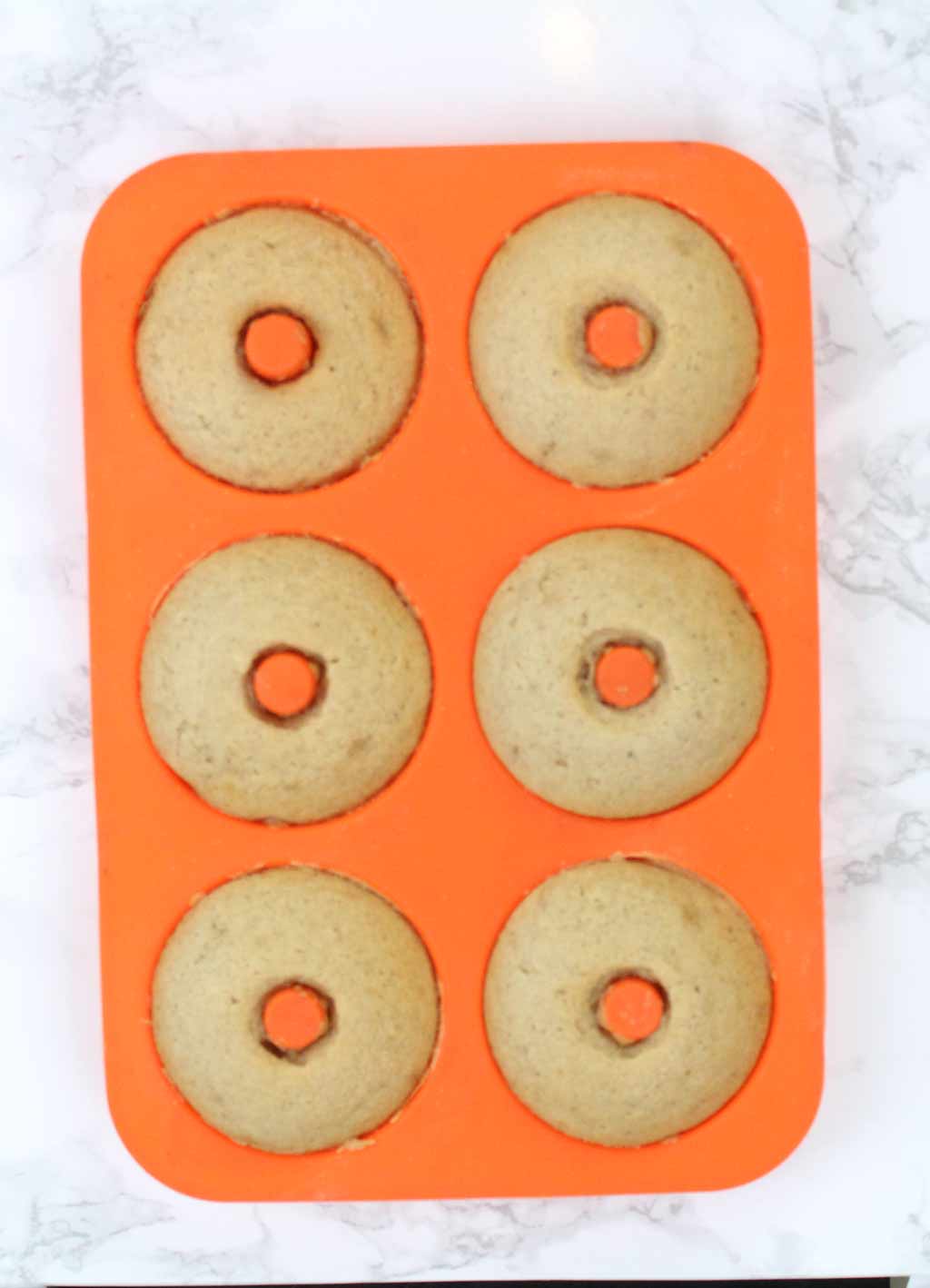 Let the donuts cool completely before removing them from the pan.
Step 5:
Prepare the icing by mixing 5 tablespoons of smooth Biscoff spread with 5 tablespoons of soy milk and 1 tablespoon of icing sugar. Spread it on top of the cooled donuts.
Step 6:
Top each donut with a Biscoff biscuit (or biscuit crumbs) and enjoy!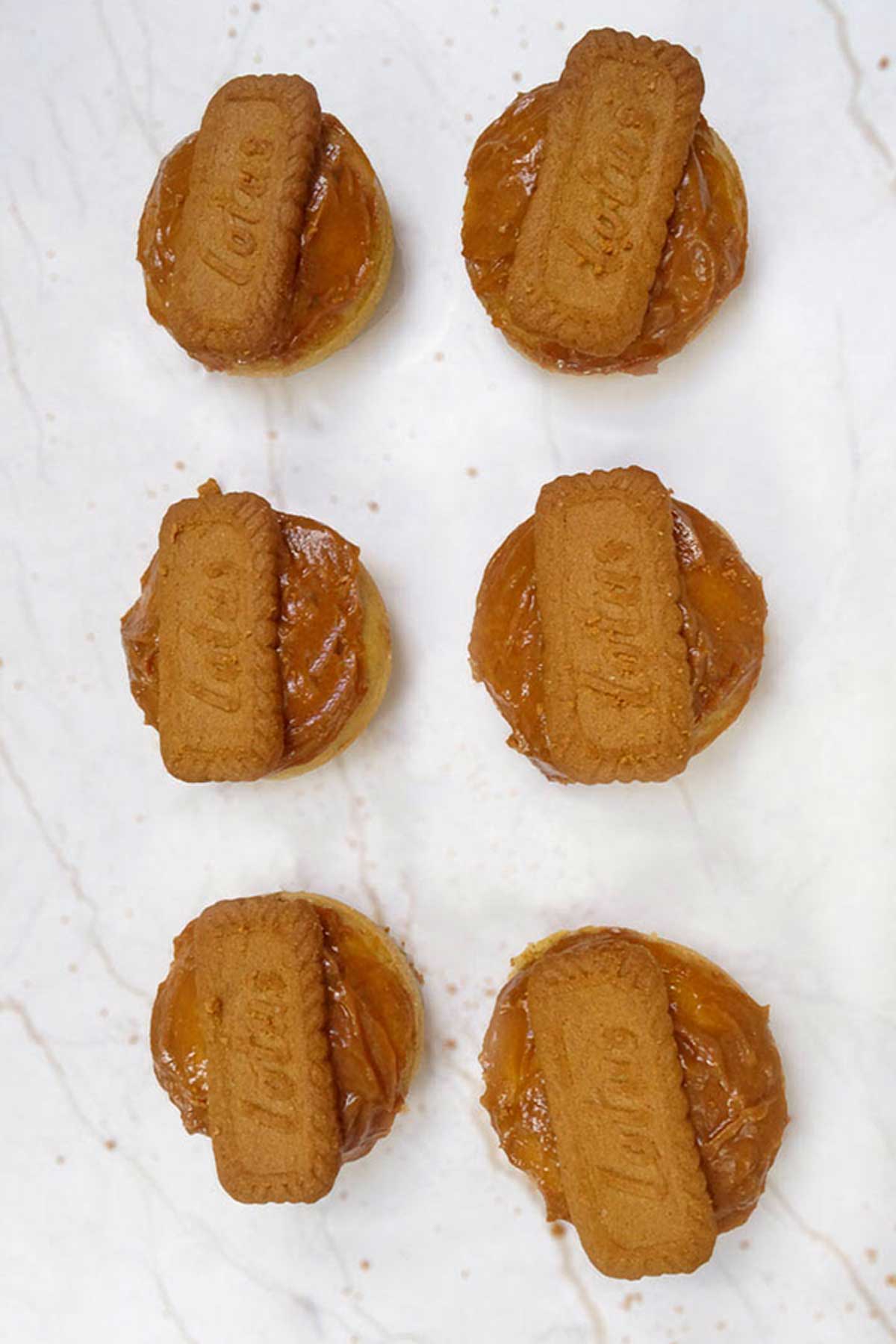 More vegan Biscoff desserts:
I hope you enjoy these dairy-free Biscoff donuts! If you make them at home, please let me know what you think by leaving a comment and rating. Happy baking! xo

Baked vegan Biscoff donuts (Cakey)
Baked, cakey cinnamon donuts covered with Biscoff icing.
Ingredients
For the donut batter:
200

g

Plain flour

(1 + ¼ cup)

1

Teaspoon

Baking powder

1/2

Teaspoon

Cinnamon

150

g

Caster sugar

(¾ cup)

4

Tablespoons

Vegan margarine, melted

(melt after measuring)

200

ml

Unsweetened soy milk

(¾ cup)

1

Teaspoon

Vanilla extract
For the Biscoff icing:
5

Tablespoons

Lotus Biscoff spread

(smooth version)

5

Tablespoons

Unsweetened soy milk

1

Tablespoon

Icing sugar
Instructions
Set your oven to 180°C/350°F (160°C/325°F for fan or convection ovens) and make sure you have two 6-hole silicone donut pans to hand.

In a large bowl, mix the flour, baking powder, cinnamon and sugar together.

Add the melted margarine to the bowl along with the soy milk and vanilla extract. Mix well until smooth.

Divide the mixture into the donut pan holes (you'll get around 10).

Bake for around 20-25 minutes, until golden brown on top and a toothpick comes out clean. Wait until they are completely cool before removing them from the donut pan.

Prepare the icing by mixing the Biscoff spread, soy milk and icing sugar together. Spread this onto the donuts once they are completely cooled.

Top each donut with a Biscoff biscuit if desired. (Do not add until you are ready to serve, they will go soggy otherwise.)
Nutrition Facts
Baked vegan Biscoff donuts (Cakey)
Amount Per Serving (1 donut)
Calories 256
Calories from Fat 81
% Daily Value*
Fat 9g14%
Sodium 88mg4%
Carbohydrates 40g13%
Protein 4g8%
* All values are an estimate only and will vary depending on the food brands used.
BakedByClo is a participant in the Amazon Services LLC Associates Program, an affiliate advertising program designed to provide a means for sites to earn advertising fees by advertising and linking to Amazon.com. This site may contain some of these links to Amazon.com & other affiliate programs. If you make a purchase through one of those links, BakedByClo will receive a small commission from the purchase at no additional cost to you.