This vegan cream cheese frosting is super sweet, slightly tangy and beautifully creamy. It tastes just like the real deal and can be made quickly and easily. Perfect for topping cakes, brownies and other sweet treats!
Who doesn't love cream cheese frosting?
It's sweet, tangy and a perfect match for any baked treat. And this one tastes just like the traditional version except it's dairy free!
It's a super simple recipe and only requires 3 ingredients:
Vegan cream cheese
Vegan butter
Powdered sugar
Anything with sweet cream cheese on top is the epitome of an amazing dessert to me. I could literally eat it on its own by the spoonful, and I may or may not have actually done this on more than one occasion…
Guilty!
Following on from my vegan red velvet cupcakes post, I wanted to make a completely new post for this vegan cream cheese frosting recipe because I use it in quite a few of my recipes.
The best thing about this is that it goes with almost any cake flavor you can imagine. It would even taste great spread on top of cookies!
And depending on what you're having it with, you can add any sort of flavorings to the frosting itself such as lemon or strawberry. So easy and adaptable!
What To Have Vegan Cream Cheese Frosting With?
Here are some of my favorite recipes to pair it with: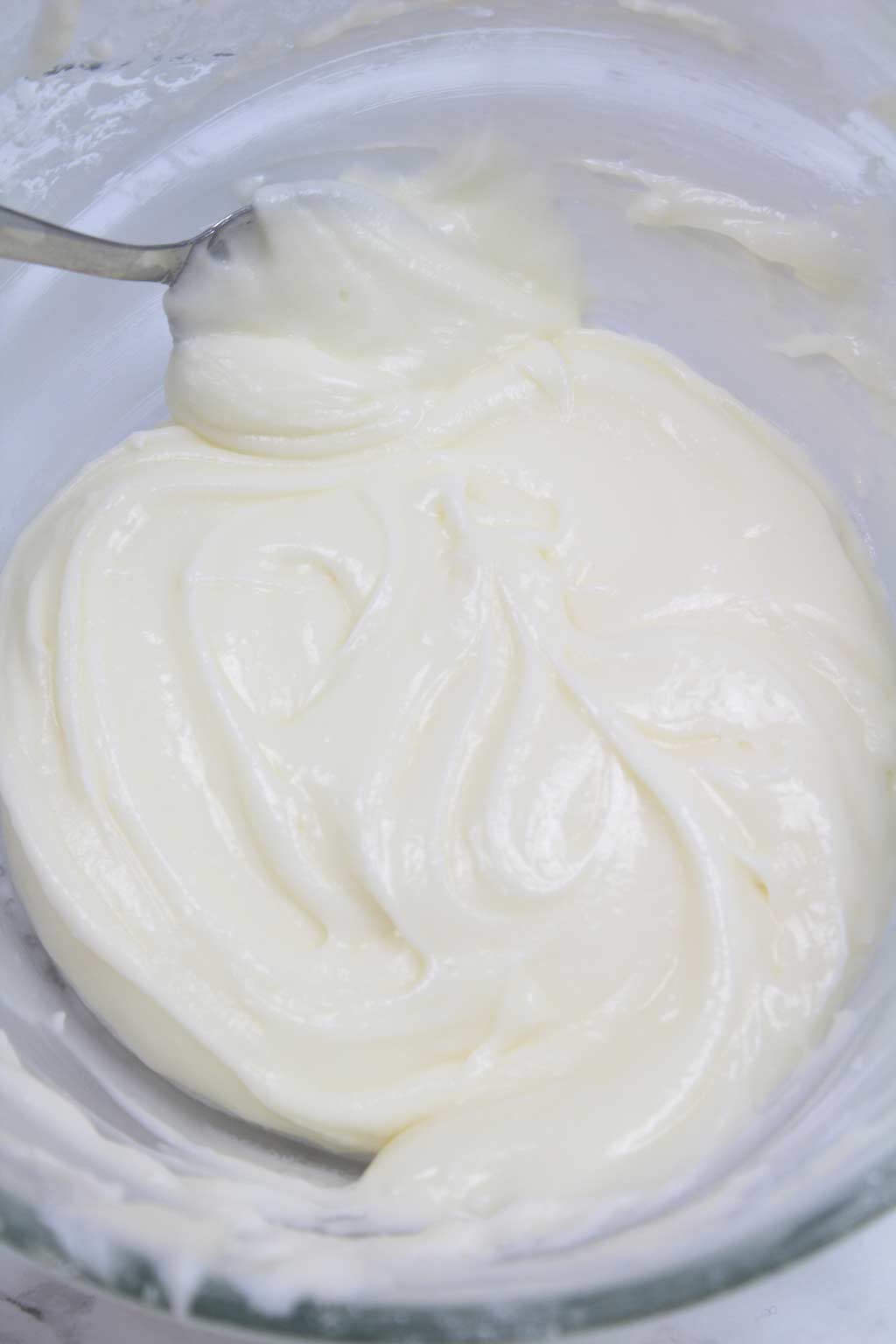 How to Make Vegan Cream Cheese Frosting:
Before you start, you'll (obviously) need some vegan soft cheese. Homemade or store bought is fine- just whatever you prefer!
In my opinion, Violife is the best vegan cream cheese for frosting as it tastes delicious, perfectly smooth and has given me great results every time!
I like it because it's coconut based, meaning that it firms up when cold, but it doesn't have that overwhelming coconut taste that a lot of vegan cheeses do. It's the closest thing taste-wise that I've found so far.
Step 1:
In a large bowl, add 1/2 a cup or 115 grams of vegan soft cheese along with 2 tablespoons of vegan butter. Mix it together well using a wooden spoon.
Be careful not to over-beat it at this point or the finished icing will be super runny. It's best to mix it until it's JUST combined.
Step 2:
Now add 2 + 1/2 cups (300 grams) powdered sugar a little bit at a time. Make sure to mix it little by little so that it doesn't become super difficult to mix.
You can sift the sugar first if you prefer but I've found it's not really necessary. After a good mix, the lumps usually disappear completely.
Note: Do not attempt to immediately whisk the powdered sugar into the other ingredients. You will end up covered head-to-toe in powdered sugar (can you tell I'm talking from experience?!).
It's best to mix the ingredients together gently with a wooden spoon first then give it a whisk at the end if you so desire.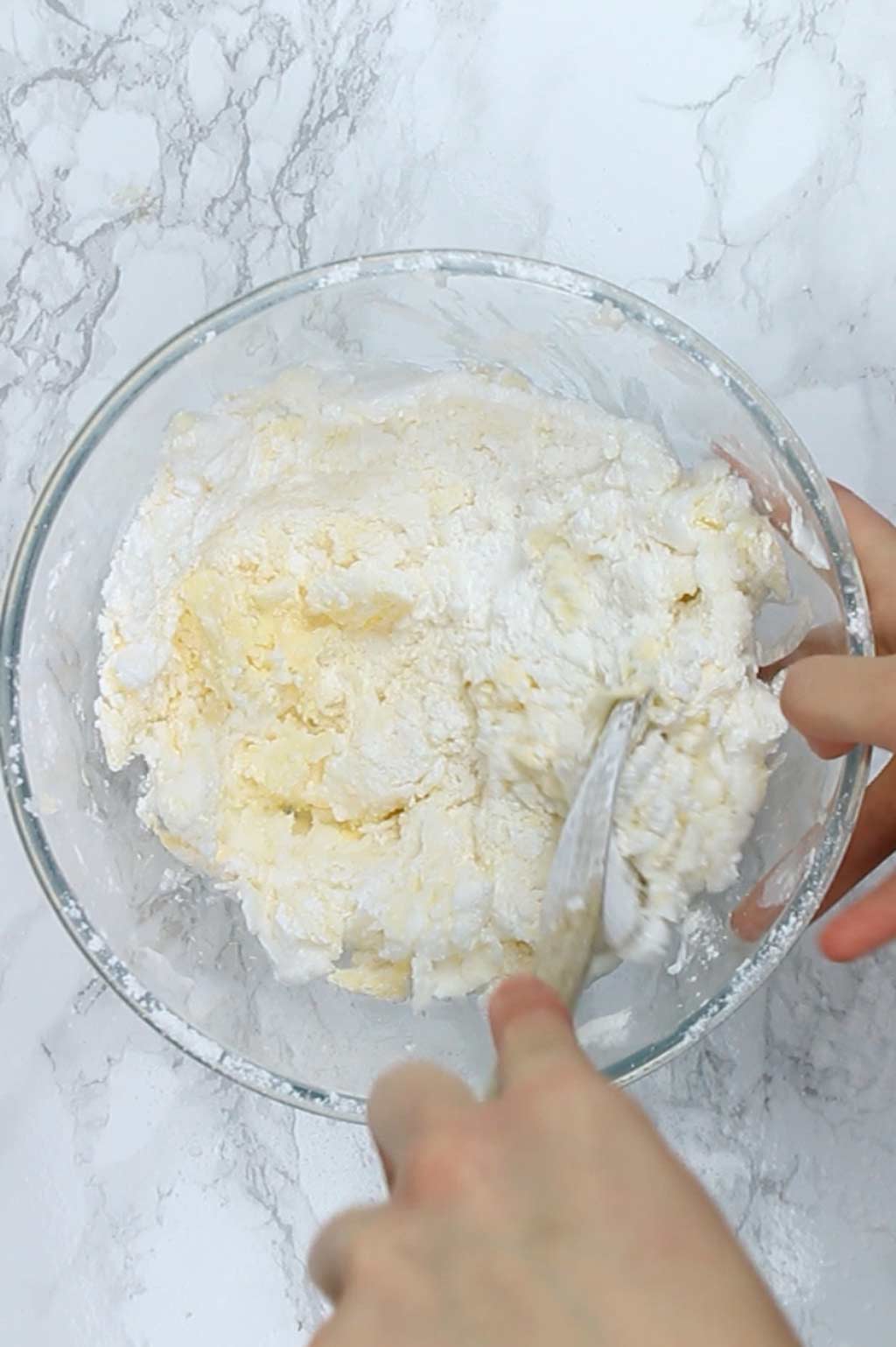 Step 3:
Once all of the ingredients are combined, pop the frosting into the fridge for an hour or two. This part isn't essential but it will make it easier to work with.
After mixing, the wet ingredients become a bit softer and sort of runny. But as they firm back up in the fridge, the frosting will become more stable.
Refrigerating the frosting before using it will prevent your cakes from sliding as you stack them and will also allow you to pipe it without it losing its shape.
How to use this frosting for cupcakes
After you finish making the frosting, either place the whole bowl in the fridge or transfer it to a piping bag before refrigerating.
When it is firm enough, pipe it onto your cupcakes and return them to the fridge to prevent the frosting from melting.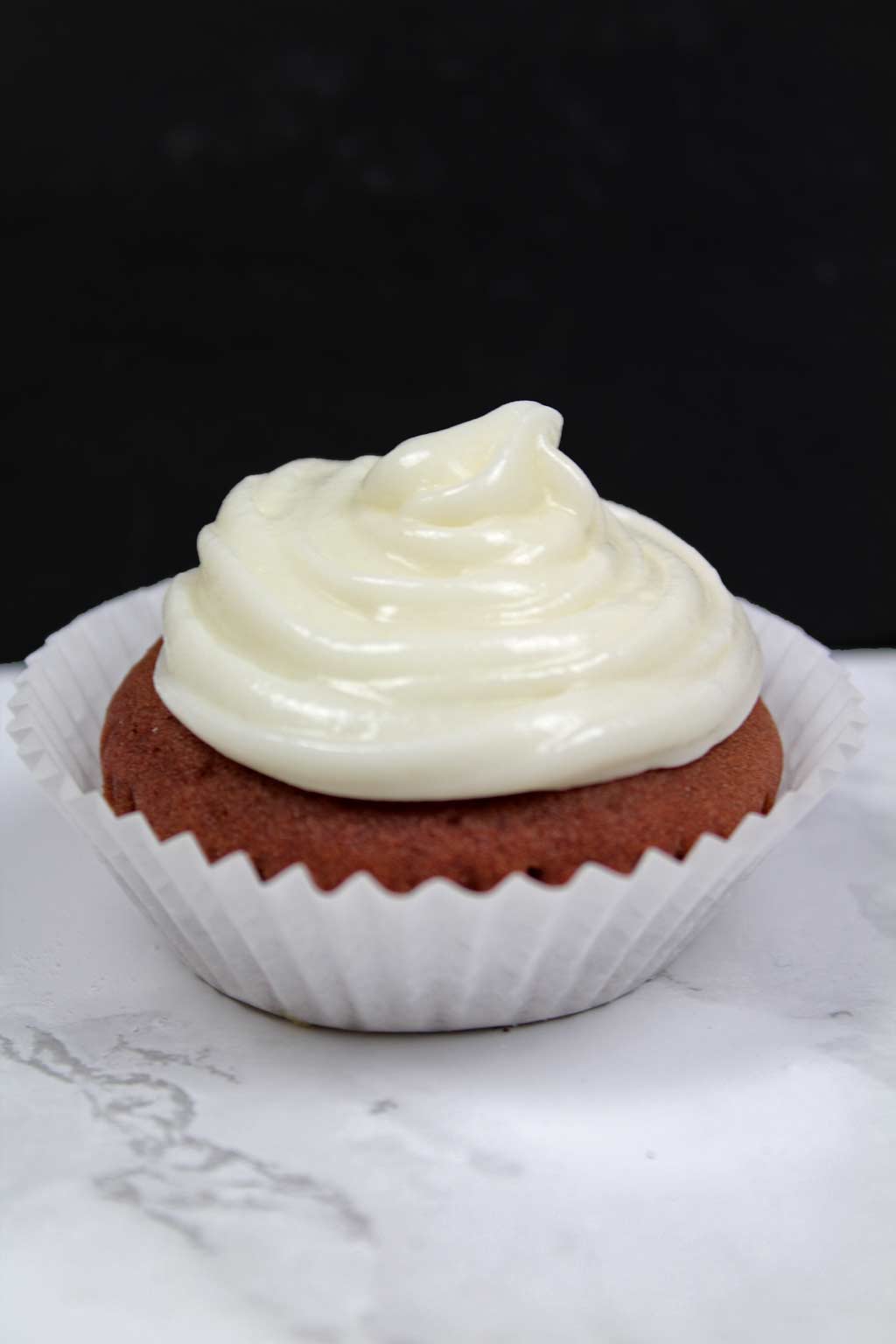 How to use it for layer cakes
To stack larger cakes with vegan cream cheese frosting, you can pre-refrigerate it then add it on as normal, returning it to the fridge to set before serving.
You can add it to your cake before refrigerating but it is very likely that it will drip down the sides rather than providing a firm, spreadable consistency.
My top tips for the best frosting
Here are my best tips for perfect cream cheese frosting every time:
Use a coconut oil based cream cheese such as Violife for best results
Use the cream cheese and vegan butter while cold, straight from the fridge, rather than at room temperature- they will soften as you mix them
Refrigerate the frosting for an hour or two to let it firm up and make it easier to work with
When spreading or piping it onto your cakes, work in a cool room if possible to prevent it from melting
After frosting, store the cakes in the fridge. This recipe doesn't hold up very well at room temperature.
Different brands of cream cheese can yield different results. If the frosting is still runny after an hour of refrigeration, add more powdered sugar until you get your desired consistency.
How much frosting does this recipe make?
This recipe will frost 12-15 cupcakes (depending if you're piping or spreading it) or the center and top of two 8″ cakes.
For larger layer cakes that might need it spread up the sides, simply double the recipe.
How to store vegan cream cheese frosting
Any leftovers can be stored in an airtight container in the fridge for at least a week.
Well, to be really honest, it probably lasts longer- I just tend to use it all up within that time frame!
Once it's piped or spread onto your cakes, it will only last a few days before the cake starts to become a little soggy. So just to be on the safe side, I'd recommend frosting your cakes on the day or the day before you plan to serve them.
–
That's it for now! I hope you enjoy this recipe. If you make it yourself, please leave a comment to let me know what you think- I love hearing from you!
xo
Vegan Cream Cheese Frosting
Fluffy, tangy frosting made with dairy-free ingredients. Perfect for topping cakes with!
Keyword:
vegan cream cheese frosting
Ingredients
½

Cup

Vegan soft cheese

(115g)

4

Tablespoons

Vegan butter

2½

Cups

Powdered sugar

(300g)
Instructions
In a large bowl, mix together the vegan cream cheese with the butter using a wooden spoon. It's best to use these ingredients straight from the fridge.

Add in the powdered sugar, mixing it in a little at a time, until well combined.

Place the frosting into the fridge for at least 1 hour to firm up. This is not essential, you can use it straight away, but refrigerating it first will help it to hold its shape and prevent it from dripping down the sides of your cake.
Recipe Notes
* Store in an airtight container in the fridge for up to 1 week.
* Store any cakes that have been frosted in the fridge as the frosting will become soft at room temperature.

* For thicker frosting, add more powdered sugar.

* This recipe will frost 12-15 cupcakes or the center and top of two 8 inch cakes.