Vegan Cream Cheese Frosting
This vegan cream cheese frosting is super sweet, slightly tangy and beautifully creamy. It tastes just like the real deal and can be made quickly and easily. Perfect for piping onto cupcakes, layer cakes and other sweet treats!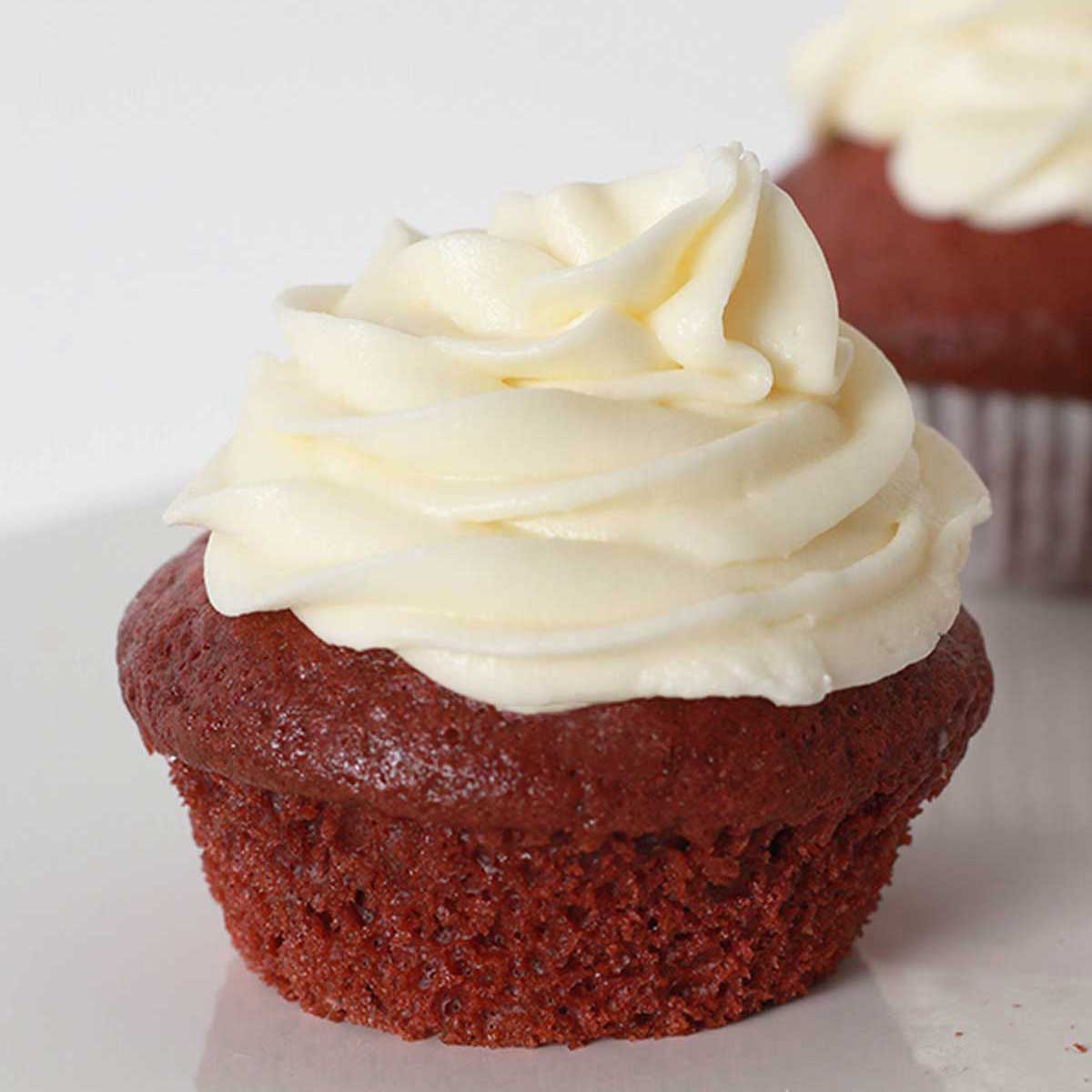 Who doesn't love cream cheese frosting?
Anything with sweet cream cheese on top is the epitome of an amazing dessert to me. I could literally eat it on its own by the spoonful, and I may or may not have actually done this on more than one occasion…
Guilty!
It's sweet, tangy and a perfect match for any baked treat. This one tastes and pipes just like the traditional version, except it's dairy free! It's a super simple recipe and only requires 4 ingredients.
Ingredients you'll need for this recipe
Dairy-free cream cheese. The star of the show! Some brands are better than others so I recommend paying a little extra and going for Violife if you can! This is what I use in all of my cream-cheese-based recipes and it gives great results every time. If you want something a little cheaper, I have heard great things about Sainsbury's free-from cream cheese too.
Vegan margarine. Use the soft, spreadable kind rather than the blocky types of vegan 'butters' out there. I've tried with both and found that the blocky ones tend to cause the icing to split more often than not. I recommend Stork baking spread or Vitalite.
Vanilla extract. This is for extra flavour but is totally optional. Use as little or as much as you like!
Icing sugar. Also known as powdered sugar. Sugar is vegan and gluten-free but make sure to use the organic version if you're in the USA to ensure it's vegan.
Related post: Is Betty Crocker frosting vegan?
I first made this icing recipe around the same time I posted my vegan red velvet cupcakes recipe. Because I often use the icing in many of my other recipes too, I thought it would be best to make a completely new post for it.
I recently remade it with a few tweaks and am much happier with this version that I'm sharing today. It's much thicker, pipes beautifully and is ready to use in under 10 minutes.
The best thing about this is that it goes with almost any cake flavour you can imagine. Chocolate, vanilla, strawberry, banana… You name it! io
And depending on what you're having it with, you can add any sort of flavourings to the frosting itself such as lemon or strawberry. It's so easy and adaptable!
Want more vegan frosting recipes? Check these out:
How to Make Vegan Cream Cheese Frosting
Before you start, you'll (obviously) need some dairy-free cream cheese. As noted above, I have to recommend that you use Violife dairy-free cream cheese for best results. It has less water in it than other cream cheeses, which helps to create a thick cream cheese frosting.
It also has the best flavour in my opinion! Although it's coconut based, it doesn't have that overwhelming coconut taste that a lot of vegan cheeses do. Taste wise, it's the closest thing to non-vegan cream cheese that I've found so far. It's a little more pricey than some of the other brands but I promise it's worth it!
Step 1:
In a large bowl, add 120g of dairy-free cream cheese along with 60g of vegan margarine and 1 teaspoon of vanilla extract. Use an electric whisk to whisk it until it's smooth and well combined.
I recommend using the ingredients straight from the fridge- this will prevent the need to refrigerate the frosting before using it.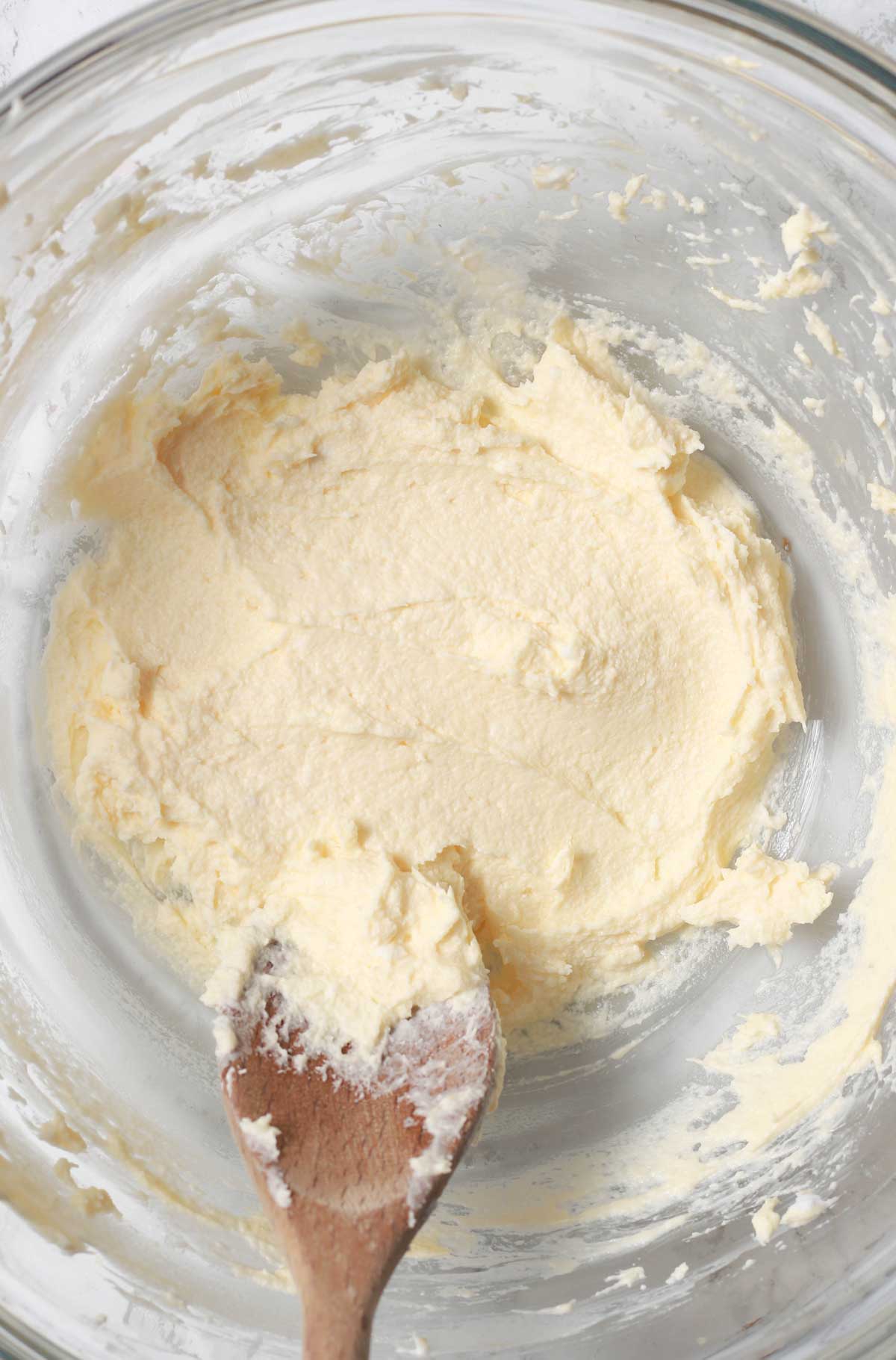 Step 2:
Now add 450g of icing sugar to the bowl. Mix it in using a wooden spoon, a little bit at a time to avoid mess. You can sift the icing sugar first if you prefer but I've found it's not really necessary.
Note: Do not attempt to immediately whisk the icing sugar into the other ingredients. You will end up covered head-to-toe in icing sugar (I am talking from experience LOL!).
Step 3:
Once all of the ingredients are roughly combined, give it another mix with your electric whisk. If your vegan cream cheese icing is too thick, you can add a splash of plant-based milk or water to loosen it. If it's still a little runny, you can add more icing sugar or pop it in the fridge for an hour or so until it's firmer.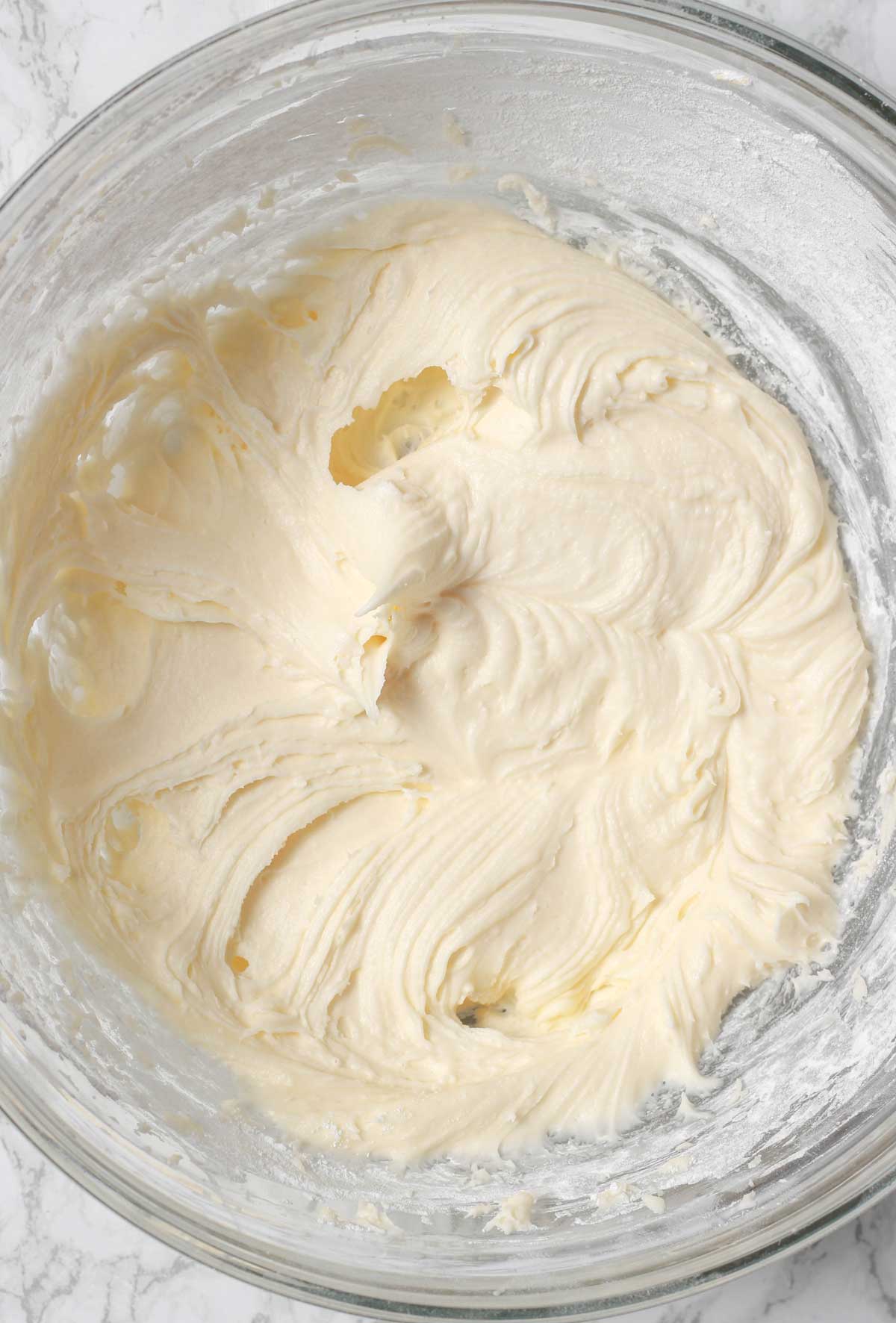 Top tips
Use Violife cream cheese for best results. It contains less water than other brands and has the best flavour!
Use vegan margarine, not the blocky, butter style. The latter may result in lumpy icing! I recommend Stork baking spread– this is what I used and it produced a nice white cream cheese icing.
Use the ingredients while they are still cold, straight from the fridge, rather than at room temperature- they will soften as you mix them.
If the icing is too thick, you can loosen it by adding a small splash of water or plant-based milk. If you want it to be thicker, you can add more icing sugar. To thicken it without increasing the sweetness, you can refrigerate it for an hour or two to help the ingredients set firmer.
After frosting, store the cakes in the fridge.
Ways to use dairy-free cream cheese icing
Here are some of my favourite recipes to pair it with:
FAQ:
How much cream cheese frosting does the recipe yield?
This recipe will frost 12+ cupcakes (or more if you're not piping it on). You can also use it to fill and cover a 7-inch layer cake. For larger layer cakes, simply multiply the recipe ingredients as required.
How should I store it?
Any leftovers can be stored in an airtight container in the fridge for at least a week. To be honest, it probably lasts a lot longer. I just tend to use it all up within that time frame!

If you've used it to ice any baked goods, make sure to keep them in the fridge too, to prevent the icing from deflating.
Can I freeze it?
Yep. Just pop it into an airtight container and freeze for up to 1 month. Transfer it to the fridge and let it sit there overnight to defrost.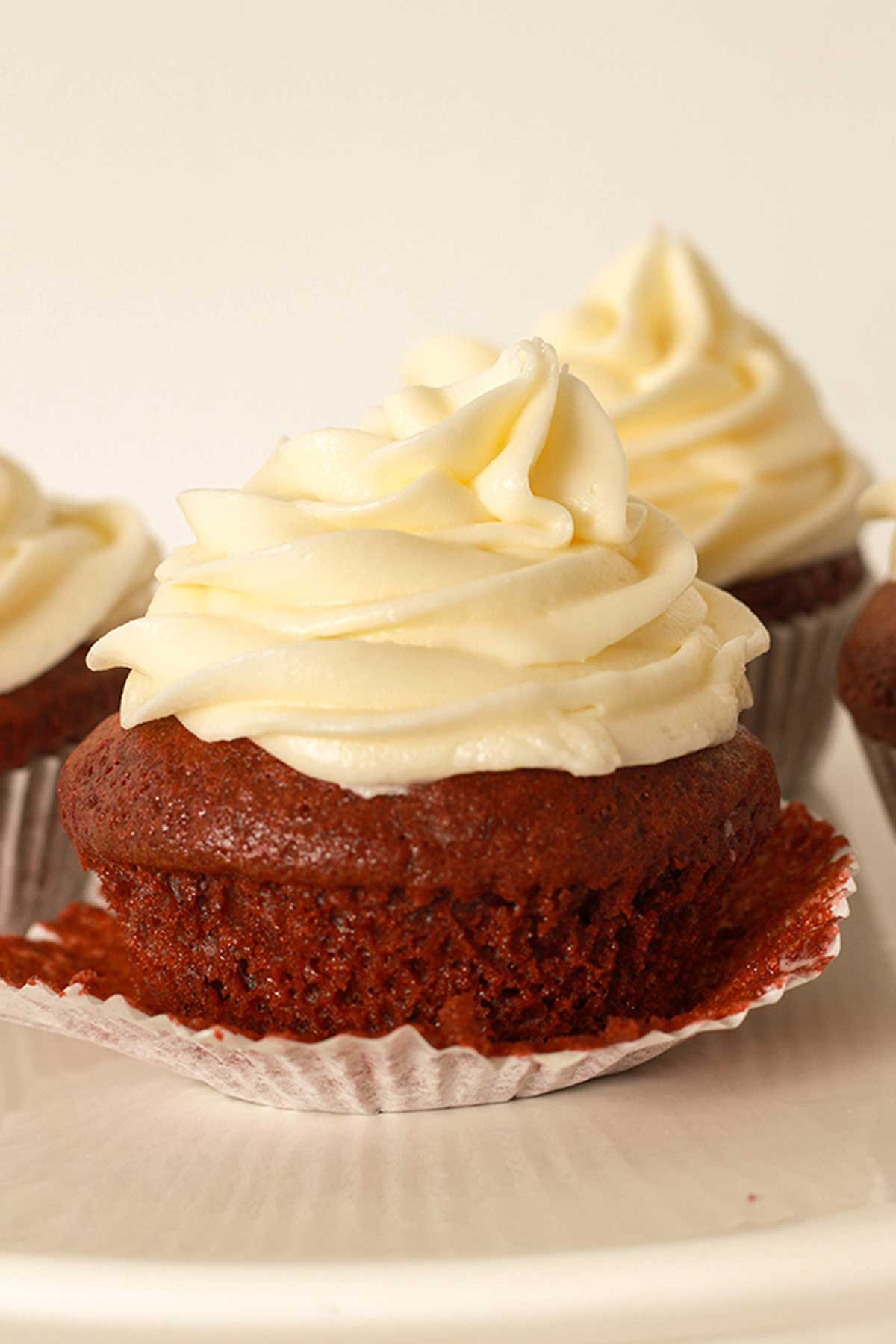 That's it for now! I hope you enjoy this dairy-free cream cheese frosting recipe. If you make it yourself, please leave a comment to let me know what you think- I love hearing from you!
xo

Vegan Cream Cheese Frosting (Dairy-Free)
Fluffy vegan cream cheese icing made with 4 simple ingredients. Perfect for topping cakes with!
Servings
1
batch (will ice 12 cupcakes)
Ingredients
120

g

Vegan cream cheese

(Use Violife for best results)

60

g

Vegan margarine*

(I used Stork baking spread)

1

Teaspoon

Vanilla extract

450

g

Icing sugar
Instructions
Add the cream cheese, margarine and vanilla extract to a large bowl. Use an electric mixer to whisk it until smooth and well combined.

Add in the icing sugar, mixing it in a little bit at a time with a wooden spoon. Once it's all mixed in, whisk again with your electric mixer until thick and creamy.

If the frosting is too thick, add a splash of plant-based milk or water. If you want it to be thicker, refrigerate it for an hour or two, or add more icing sugar until you get the desired consistency.
Recipe Notes
*Use a spreadable margarine rather than a blocky vegan 'butter'.
This recipe will frost 12+ cupcakes or a 3-layer 7-inch cake.
Store leftover frosting in an airtight container in the fridge for up to 1 week. Store any cakes that have been frosted in the fridge as the frosting will become softer at room temperature.
Nutrition Facts
Vegan Cream Cheese Frosting (Dairy-Free)
Amount Per Serving (1 /12th)
Calories 204
Calories from Fat 54
% Daily Value*
Fat 6g9%
Sodium 70mg3%
Carbohydrates 38g13%
* All values are an estimate only and will vary depending on the food brands used.
BakedByClo is a participant in the Amazon Services LLC Associates Program, an affiliate advertising program designed to provide a means for sites to earn advertising fees by advertising and linking to Amazon.com. This site may contain some of these links to Amazon.com & other affiliate programs. If you make a purchase through one of those links, BakedByClo will receive a small commission from the purchase at no additional cost to you.