These puff-pastry vegan cinnamon rolls are sweet, sticky, buttery and crispy. Cut into bite-sized rolls, they make a super fast, easy and a low-calorie treat.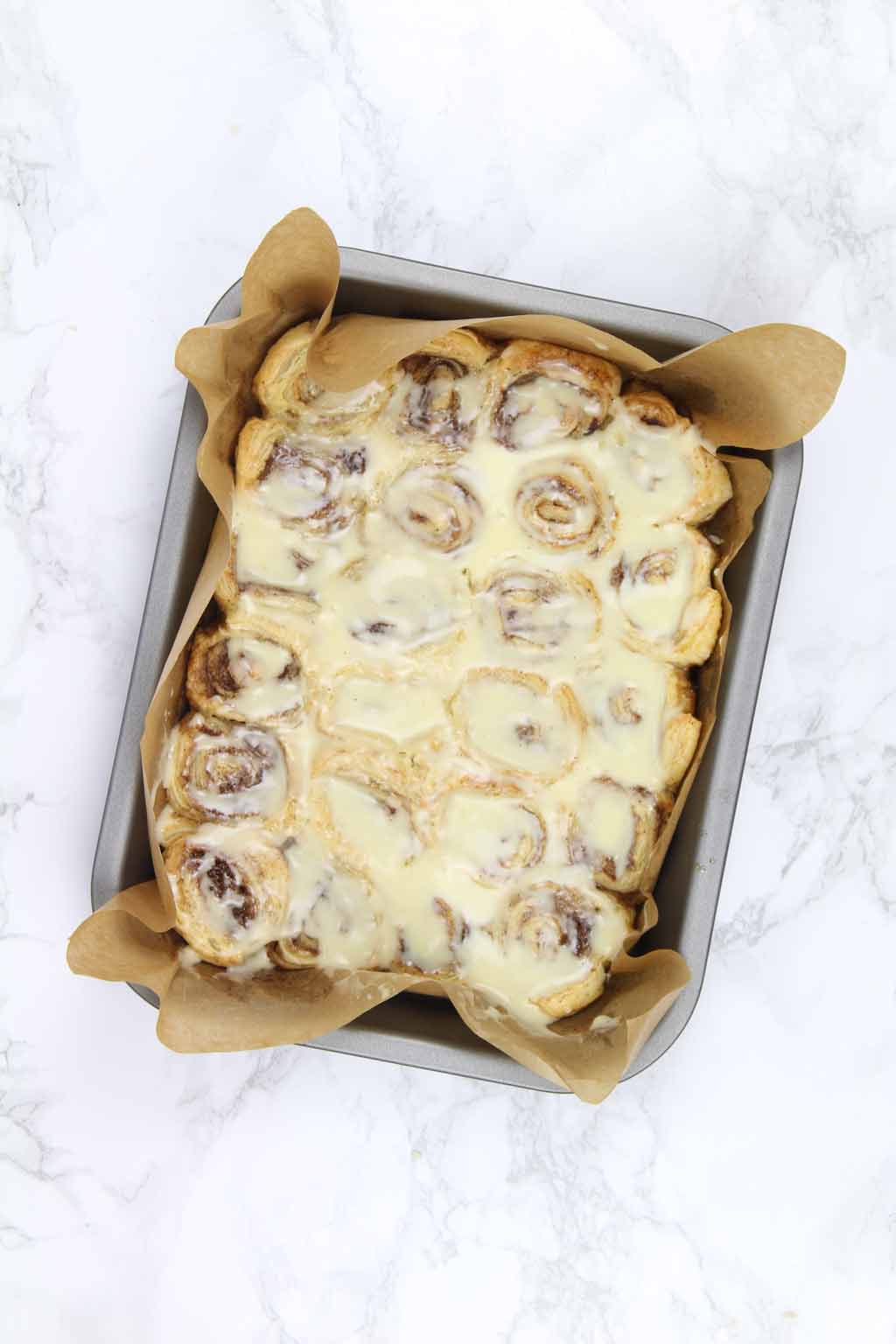 Easy Vegan Cinnamon Rolls
As I mentioned in my apple turnovers post, I am in LOVE with pastries but find it hard to find ready-made ones in the stores near where I live.
Luckily veganism is becoming more and more popular so here's hoping it will happen soon! But in the meantime, I'm more than happy to make them because they are just so damn delicious.
The latest addition to my puff pastry recipe collection? Vegan cinnamon rolls with cream cheese icing.
I love these cinnamon rolls because they taste way more indulgent than they actually are. They are super sticky and buttery tasting, topped with a really rich vanilla cream cheese icing.
So it feels like you're eating something super calorific and sugar-laden but in reality, each serving contains just 90 calories and 4 grams of sugar. That's not bad for something as delicious as vegan cinnamon rolls, right?
If you roll the puff pastry from the long side rather short side, you'll end up with over 25 mini cinnamon rolls! I think the mini version is a great way to "treat yo'self" without going overboard.
Of course, you can roll the puff pastry from the short side if you like your cinnamon rolls bigger. You'll end up with fewer cinnamon rolls and a lot more calories/sugar per serving, but if a big cinnamon roll is what you're after (I get it), go for it!
Puff Pastry Makes For Quick Vegan Cinnamon Rolls
Having never made cinnamon roll pastry from scratch before, I decided to stick with what I know. I made these puff pastry cinnamon rolls countless times before I went vegan and they never let me down.
Just a few simple changes, mainly switching dairy products for vegan alternatives, made them vegan-friendly without sacrificing any of the taste.
Plus they're super easy this way- there's no need for fussing around trying to make your own pastry. Just roll n' go.
Vegan Cinnamon Roll Cream Cheese Icing
I topped my cinnamon rolls with brown sugar glaze pre-baking, then a thick cream cheese icing post-baking. This helps to give them that "sticky" element I was talking about. Oh my gosh… So good.
This easy vegan cinnamon roll icing is quite similar to the cream cheese icing I used in my vegan carrot cake recipe. It contains 4 ingredients: vegan cream cheese, vegan butter, vanilla essence, and powdered sugar. All I did to change it was alter the quantity of each ingredient to make it slightly runnier and easier to spread.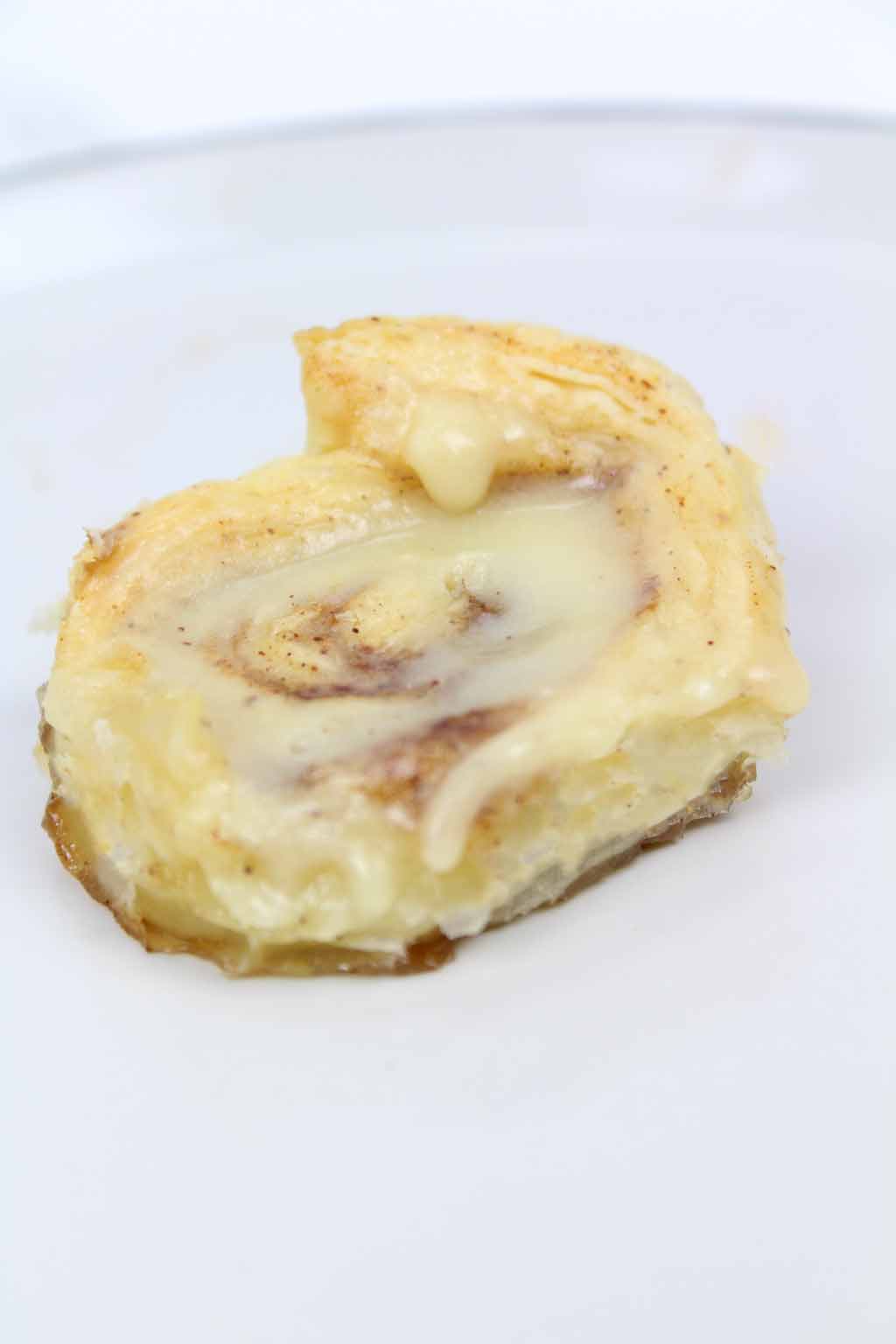 How To Make Vegan Cinnamon Rolls
Step 1:
The first step is to roll your puff pastry. I used the pre-rolled puff pastry from Asda which made things even easier. But any vegan ready-to-roll puff pastry will do.
It's best to roll the pastry at room temperature, which helps prevent cracks. This will also make it easier to roll and shape.
Step 2:
Once your puff pastry has been unrolled (or rolled out to around 1/2 an inch thick), spread some vegan butter on it, all the way to the edges.
This will help the brown sugar and cinnamon filling stick. It also gives the cinnamon rolls that classic "buttery" pastry taste and texture.
When you do this, make sure the butter is softened to prevent tearing the pastry, but not melted, which will make the pastry soggy.
Step 3:
For the sweet part of the filling, mix some brown sugar and a pinch of cinnamon together in a bowl. Then sprinkle it over the buttery pastry.
I'd also recommend rubbing it in ever so slightly with your fingers to prevent it from all falling out when you roll the pastry up.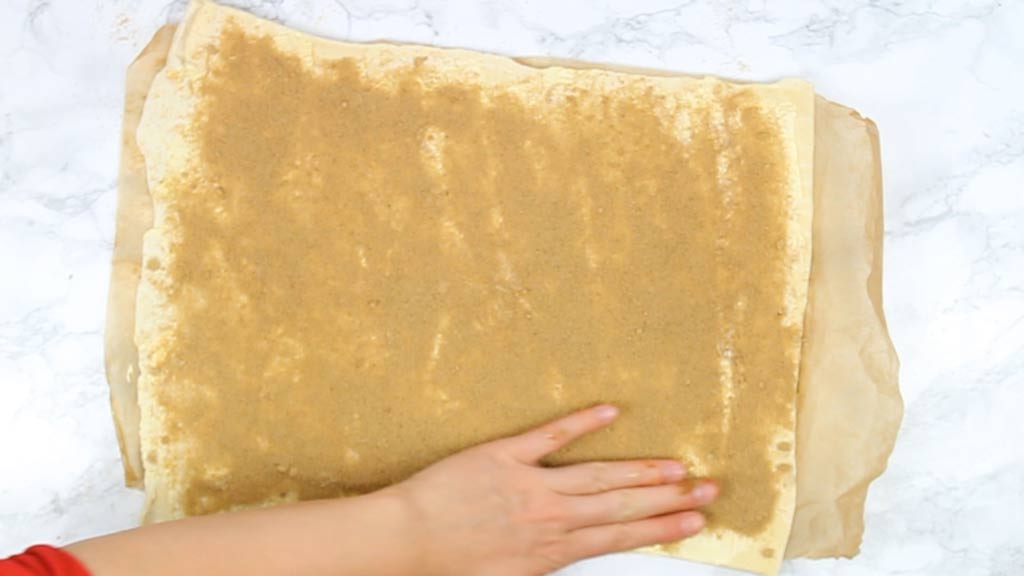 Step 4:
Now for the fun part- rolling up the pastry!
You can start the roll from the longest side as I did for lots of mini cinnamon rolls. Or you can roll from the short side which makes fewer but larger cinnamon rolls.
Place your cinnamon rolls in an ovenproof dish or tin lined with baking paper. Using baking paper will prevent the rolls from ripping or sticking to the dish after baking.
I place mine super close together just because I like the way it looks. It becomes more of a tear 'n' share sort of thing. But feel free to do whatever you prefer- just be mindful that they will expand while baking.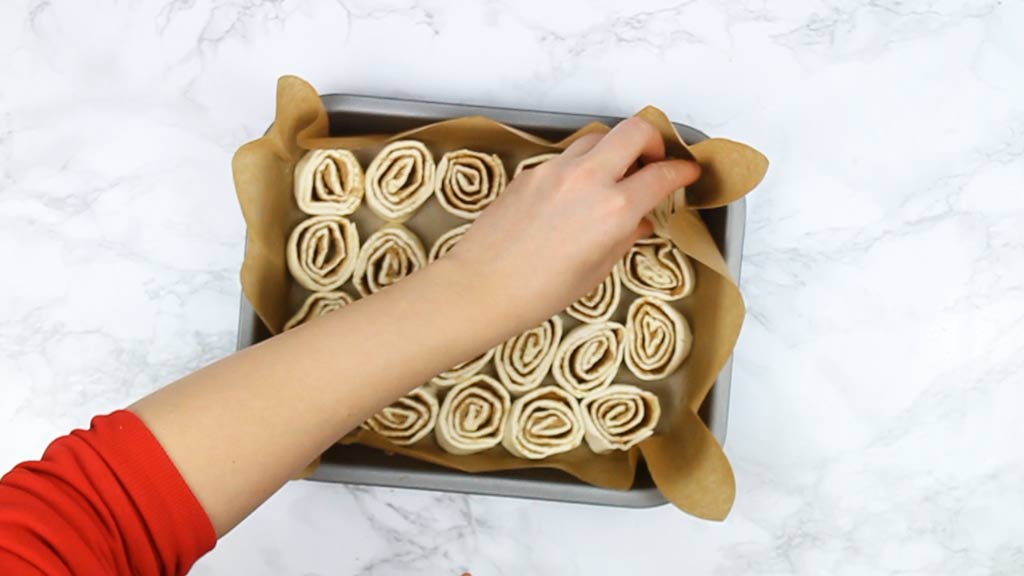 Step 5:
The next step, adding a glaze, is optional but HIGHLY recommended. It gives so much extra flavour and stickiness.
Prepare the glaze by mixing together melted vegan butter, brown sugar and cinnamon. Then, using a pastry brush, coat the top of each cinnamon roll in the dish.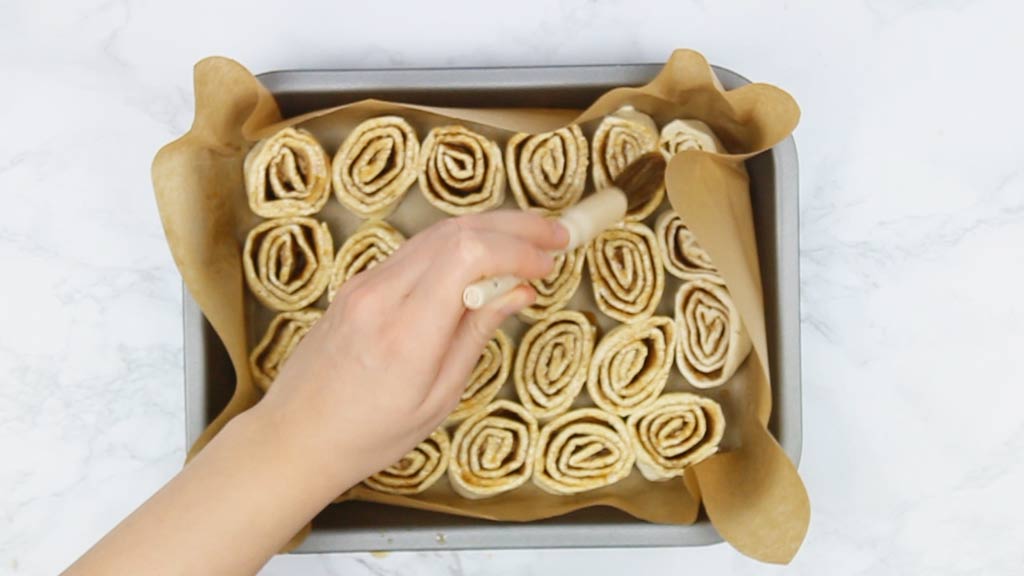 Step 6:
Bake according to the instructions on your puff pastry package. Typically, this will be around 200C/ 350F for 10-20 minutes.
You want to keep baking them until they are nice and golden brown on top. Your whole house will also smell like cinnamon at this point, which is one of the main reason I love baking these vegan cinnamon rolls!
Once they're done, leave them to cool in the tin completely.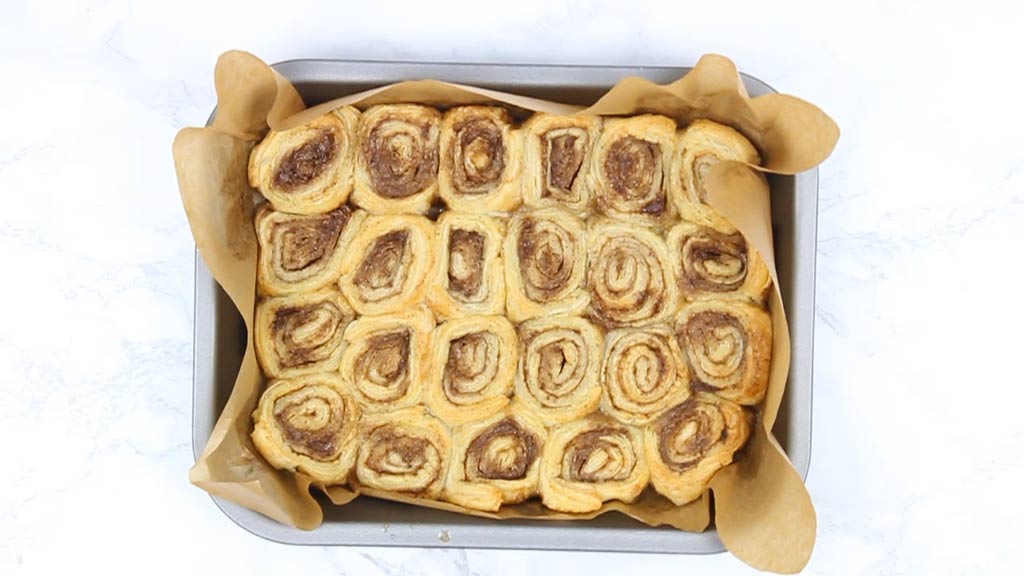 Step 7:
The cinnamon rolls are fine just as they are but I like to go a step further and add some cream cheese icing on top.
To do this, you just need mix dairy-free soft cheese, vegan butter, vanilla essence, and powdered sugar together until it forms a slightly runny icing.
Spread it over the cold cinnamon rolls then leave it to set for around 30 minutes before eating.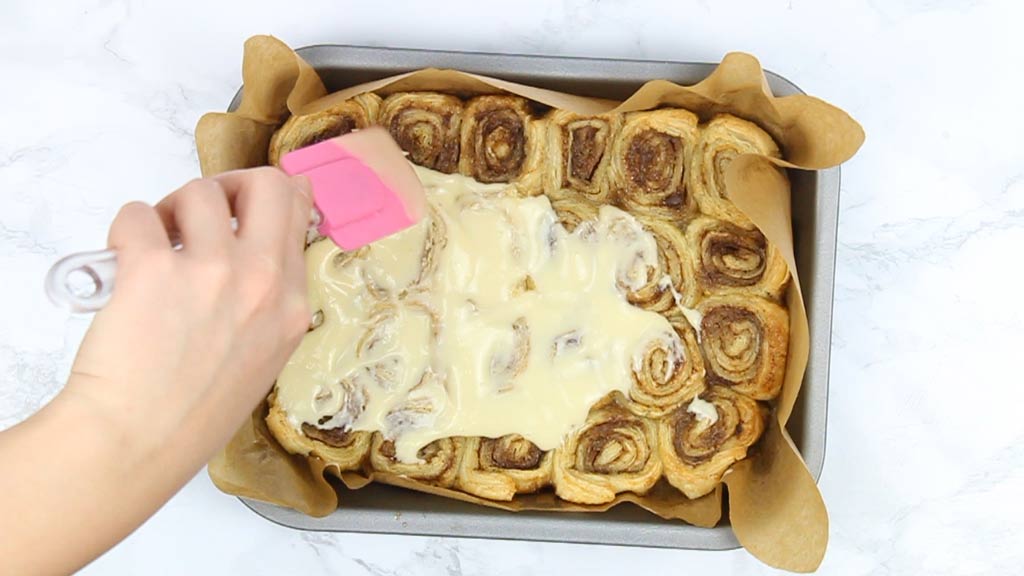 Tips For Making Cinnamon Rolls:
Use pre-rolled puff pastry at room temperature
This is not only faster and easier but also saves you from having to work out how thin or thick the dough should be. Using room temperature puff pastry dough rather than cold prevents it from cracking and falling apart.
Use a wet knife to cut the pastry into rolls 
In the past, no matter how sharp my knife was, I would sometimes end up tearing the uncooked pastry, or squishing the shapes completely and ending up with "cinnamon squares" instead of rolls.
Using a wet knife enables you to cut the dough with ease while retaining the beautiful roll shapes.
Glaze the rolls before baking 
The glaze is almost absorbed into the pastry while baking which makes them sticky inside. Paired with the cream cheese icing, it's a match made in heaven.
I hope you enjoy this recipe! If you make these vegan cinnamon rolls yourself, please leave me a comment to let me know what you think.
Happy baking!
xo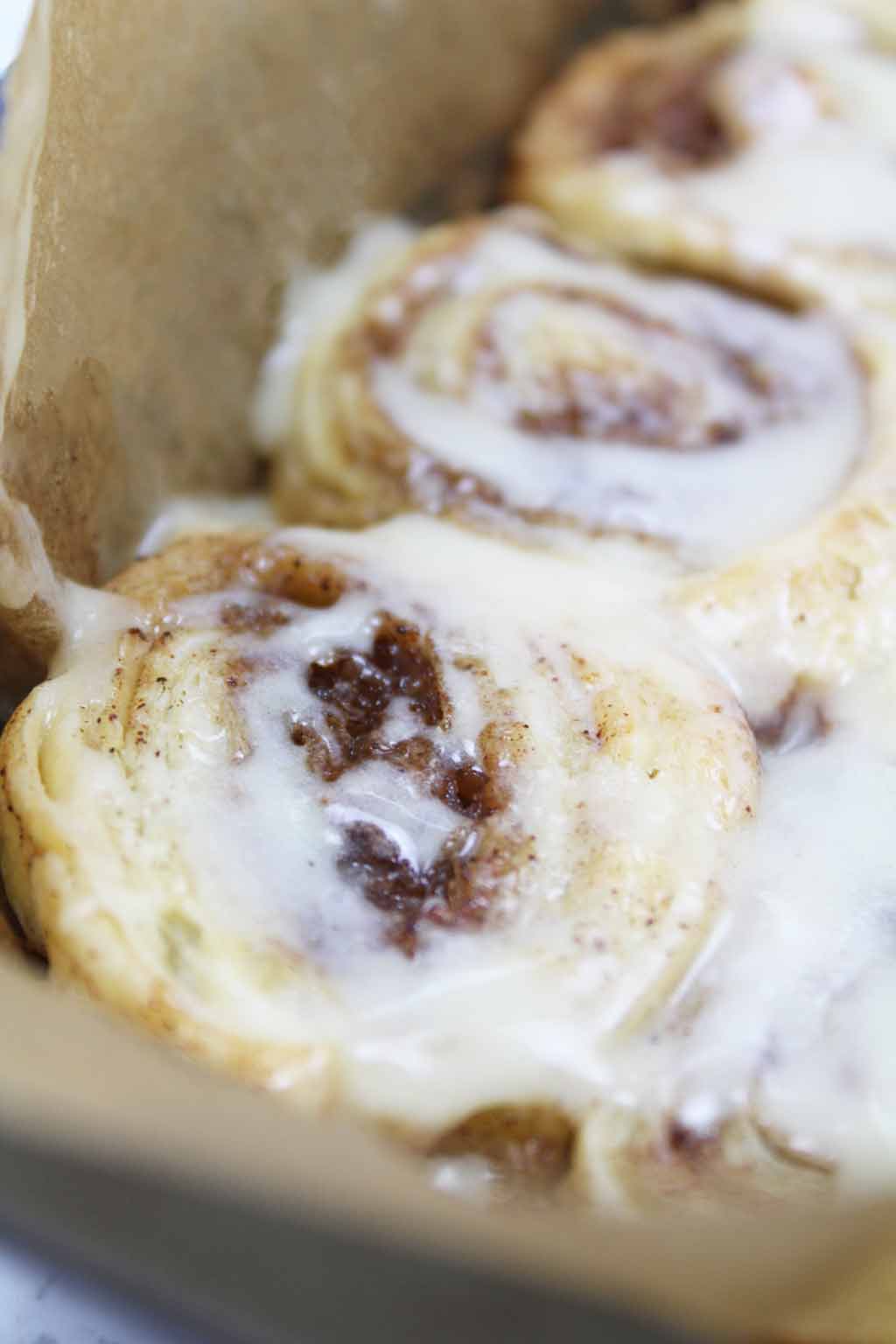 Vegan Cinnamon Rolls
A sweet, sticky cinnamon roll recipe without dairy or eggs!
Keyword:
vegan cinnamon rolls
Ingredients
375

g

Ready rolled puff pastry

(13.2 oz)

2

Tablespoons

Vegan butter, softened

50

g

Soft brown sugar

(1/4 cup)

1

Tablespoon

Ground cinnamon
For the glaze:
2

Tablespoons

Vegan butter, melted

1

Tablespoon

Caster sugar

1

Teaspoon

Ground cinnamon
For the cream cheese icing:
3

Tablespoons

Vegan soft cheese

1

Tablespoon

Vegan butter

1

Teaspoon

Vanilla essence

4

Tablespoons

Powdered sugar
Instructions
Preheat the oven according to the instructions on your puff pastry packaging. Line an ovenproof dish with baking paper.

Allow the puff pastry to come to room temperature before unrolling. If using a puff-pastry block, roll it out to 1/2 inch thick.

Gently spread the vegan butter over the pastry using a butter knife, all the way to the edges.

Mix the brown sugar and cinnamon together, then sprinkle it over the buttery dough. Slightly rub the sugar mix into the butter using your fingers.

Slowly roll up the dough as tight as you can. Cut into rolls using a sharp knife with a wet blade. Place the rolls into your baking dish.
For the glaze:
Mix together the melted butter, caster sugar and cinnamon. Using a pastry brush, coat the tops of the cinnamon rolls with the glaze.

Bake according to the timing on your puff pastry packaging, or until golden brown on top. After baking, leave in the dish to cool completely.
For the cream cheese icing:
Mix the soft cheese, butter, vanilla, and powdered sugar together. Gently spread it over the cooled cinnamon rolls and leave to set for around 30 minutes before enjoying.
Recipe Video
Recipe Notes
*Store in a cool, dark place in an airtight container for up to 3 days.
Nutrition Facts
Vegan Cinnamon Rolls
Amount Per Serving
Calories 90
Calories from Fat 54
% Daily Value*
Fat 6g9%
Sodium 56mg2%
Carbohydrates 8g3%
Protein 1g2%
* All values are an estimate only and will vary depending on the food brands used.