Vegan Cinnamon Rolls
These vegan cinnamon rolls are soft and fluffy, topped with a sweet, sticky glaze and dairy-free cream cheese frosting. They are perfect served with a warm drink on a chilly day!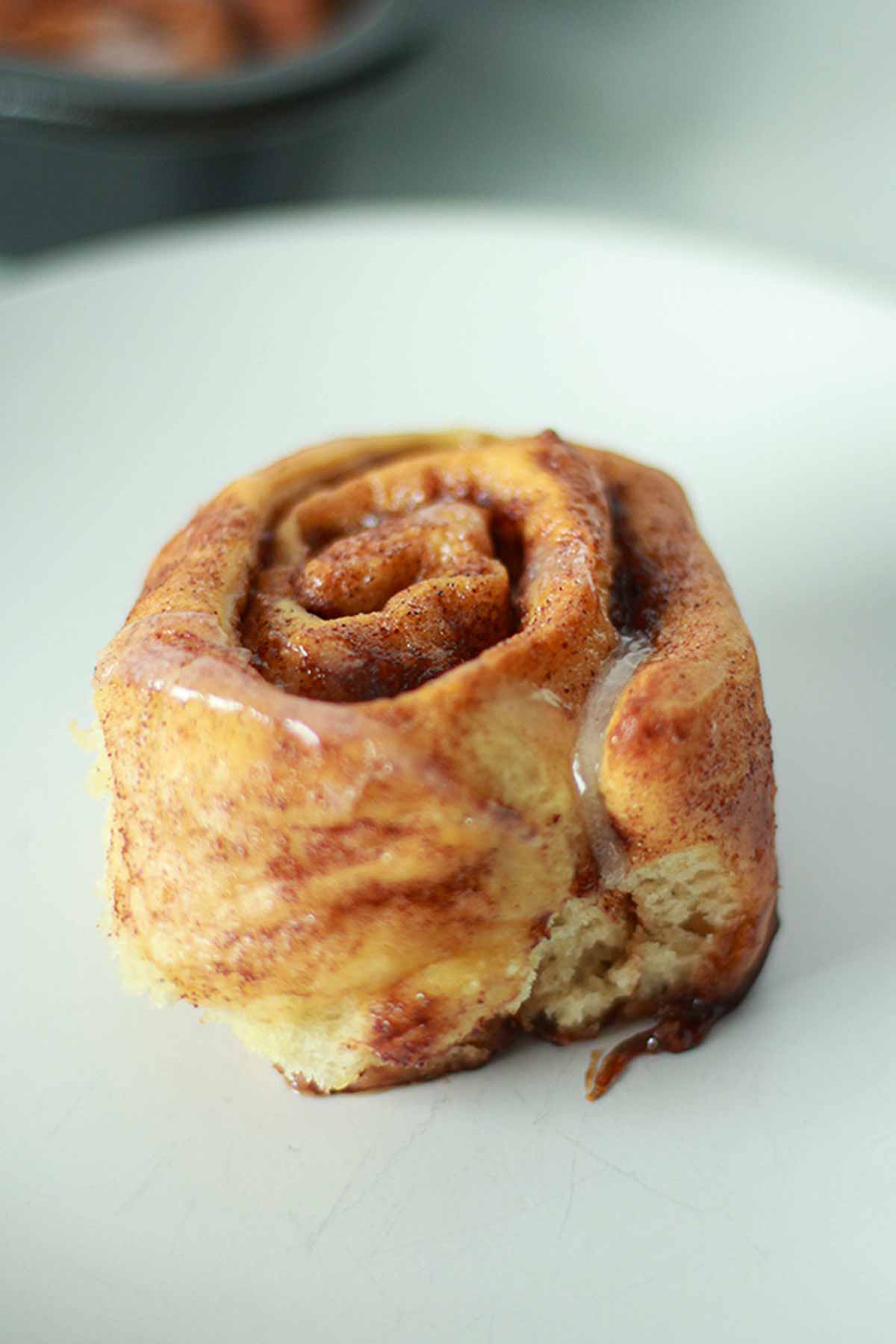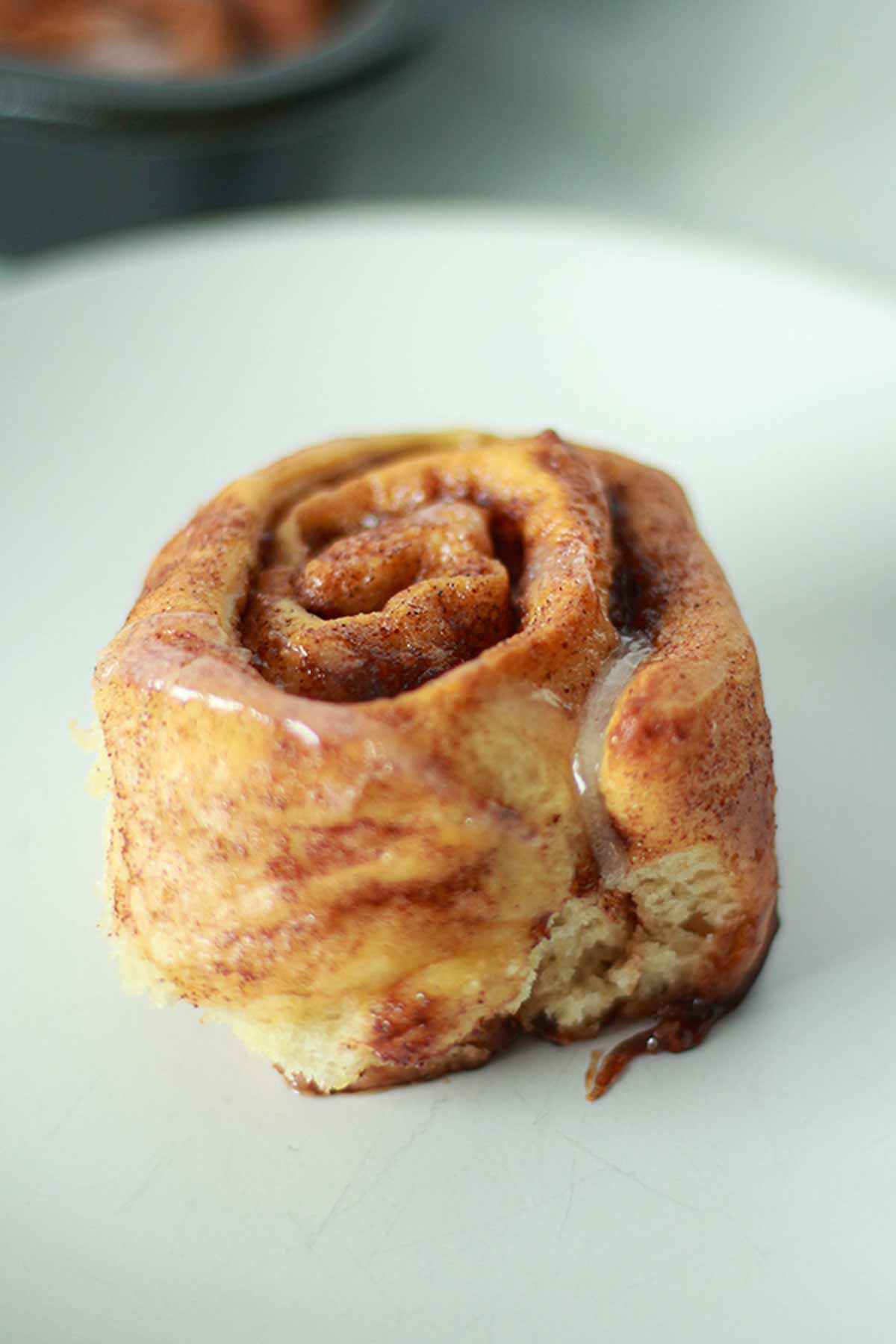 I'm revamping a lot of my older recipes and next on my list are these sticky cinnamon rolls!
I had originally made them with puff pastry because the thought of using yeast and making my dough from scratch sounded way too complicated. I didn't even know where to buy yeast (I realise that as a baker, this is shocking) and I was afraid that I'd mess up the dough somehow.
But actually, since I got over my fears, I realised it is MUCH easier than I anticipated. Yeast can be easily found in the baking aisle at most supermarkets and as long as you follow the instructions carefully, these are pretty much guaranteed to turn out beautiful.
They require a little more time, yes, but the end result is SO much tastier. Fresh, fluffy cinnamon rolls will win for me every time now over puff pastry rolls.
I love these because they really are about as decadent as you can get. I added an extra glaze underneath a drizzle of classic cream cheese frosting, which makes them comes out super sticky and gooey.
More vegan dessert recipes:
You'll get around 12 decently-sized, indulgent cinnamon rolls out of this recipe, if you roll the dough from the long side rather short side.
If you do fancy making these with puff pastry (my old recipe), you can do so. Just switch out the dough for ready-to-roll puff pastry (make sure it's vegan-friendly!) use half of the filling, and keep the glaze and topping the same. Bake them according to the instructions on your puff pastry pack.
How To Make Vegan Cinnamon Rolls
Step 1:
The first step is to prepare your cinnamon roll dough.
In a small saucepan, gently melt 60g of vegan butter or margarine with 250ml of unsweetened soy milk and 2 tablespoons of caster sugar. Once melted, remove it from the heat and leave it to cool for around 5 minutes. You want it to be slightly warm but not hot, otherwise it may damage the yeast in the next step.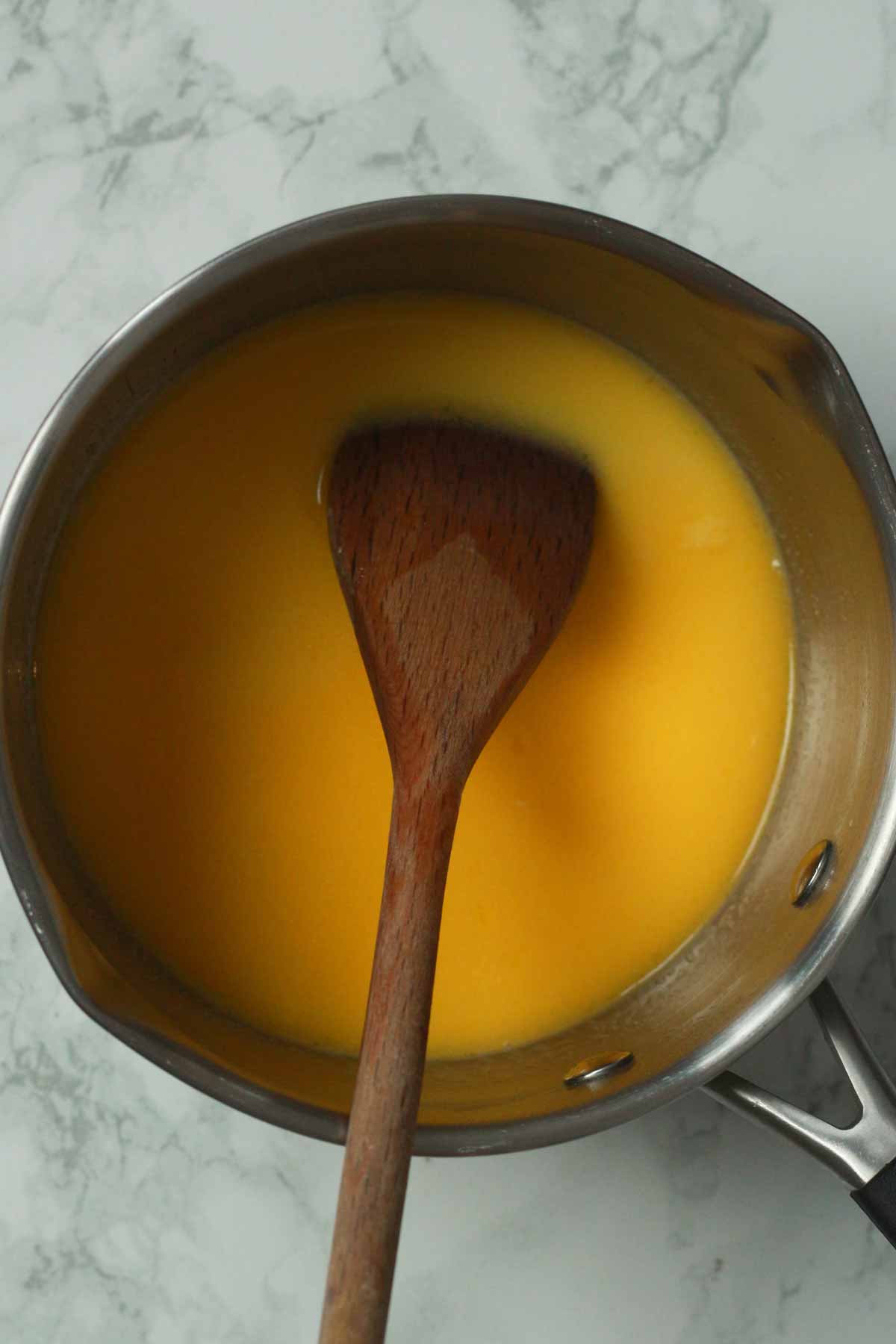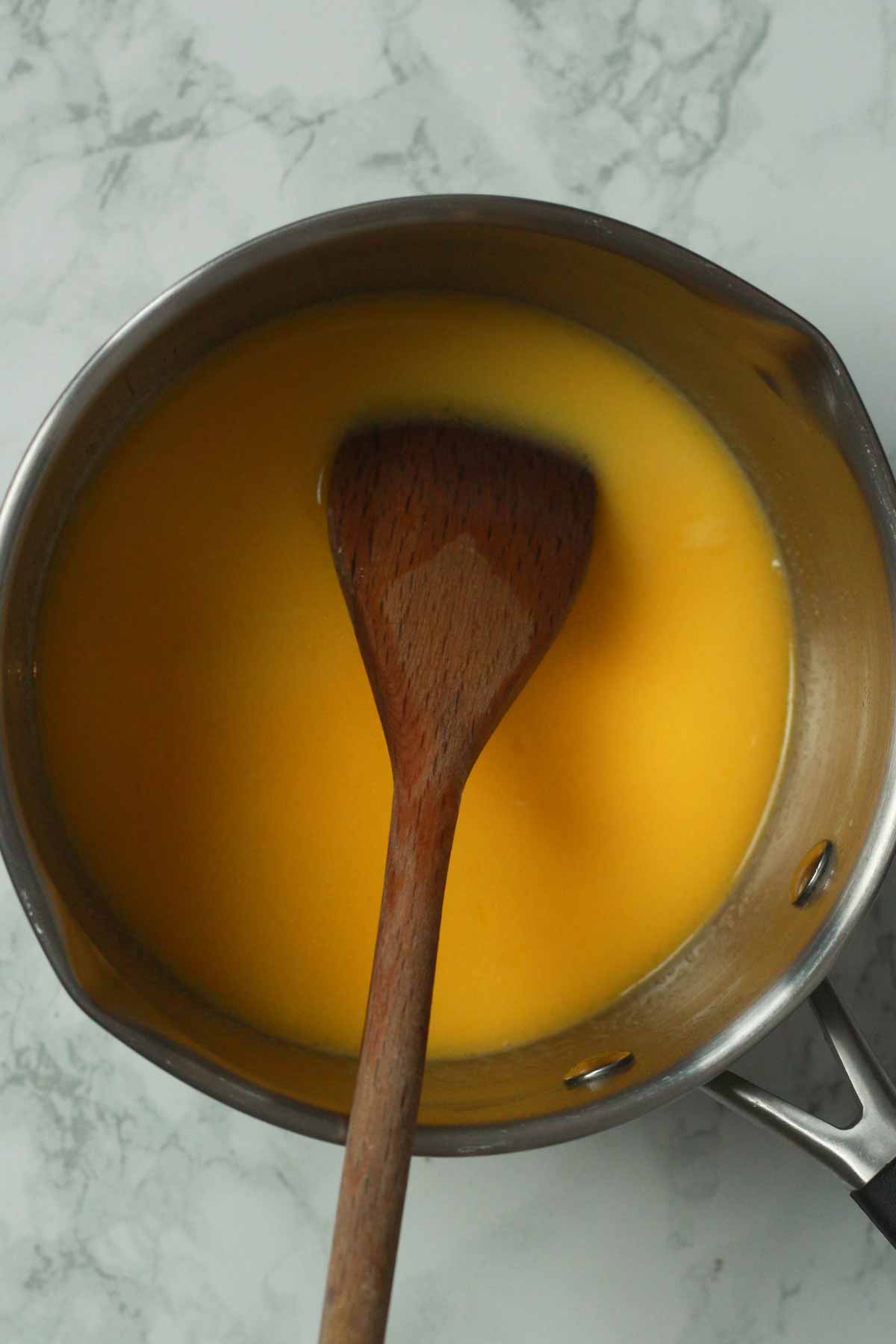 Step 2:
In a large bowl, mix together 380g of self-raising flour and 2 teaspoons of instant yeast. Add in all of the warm liquid mixture, mixing it a little bit at a time. You will end up with a super sticky mixture.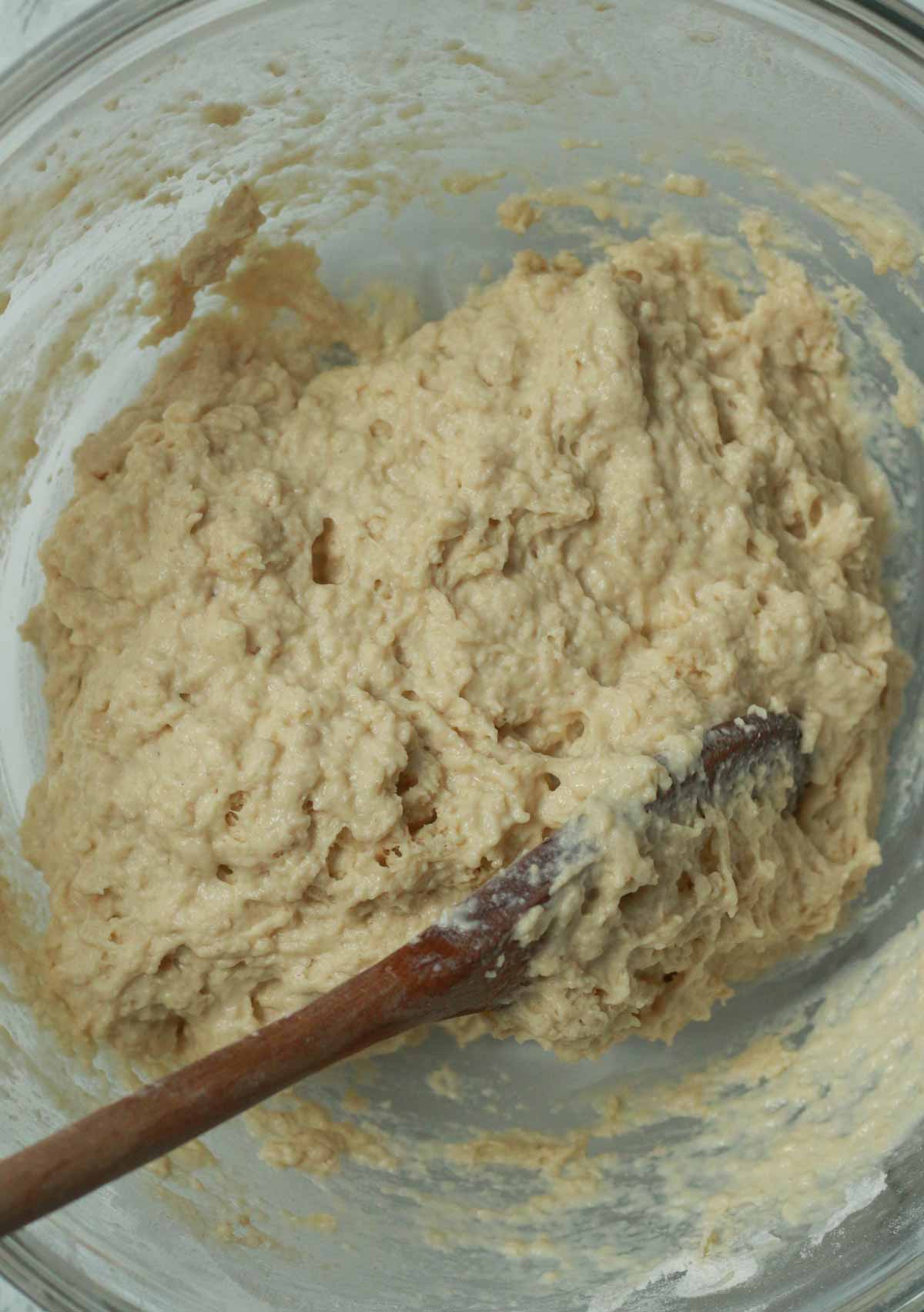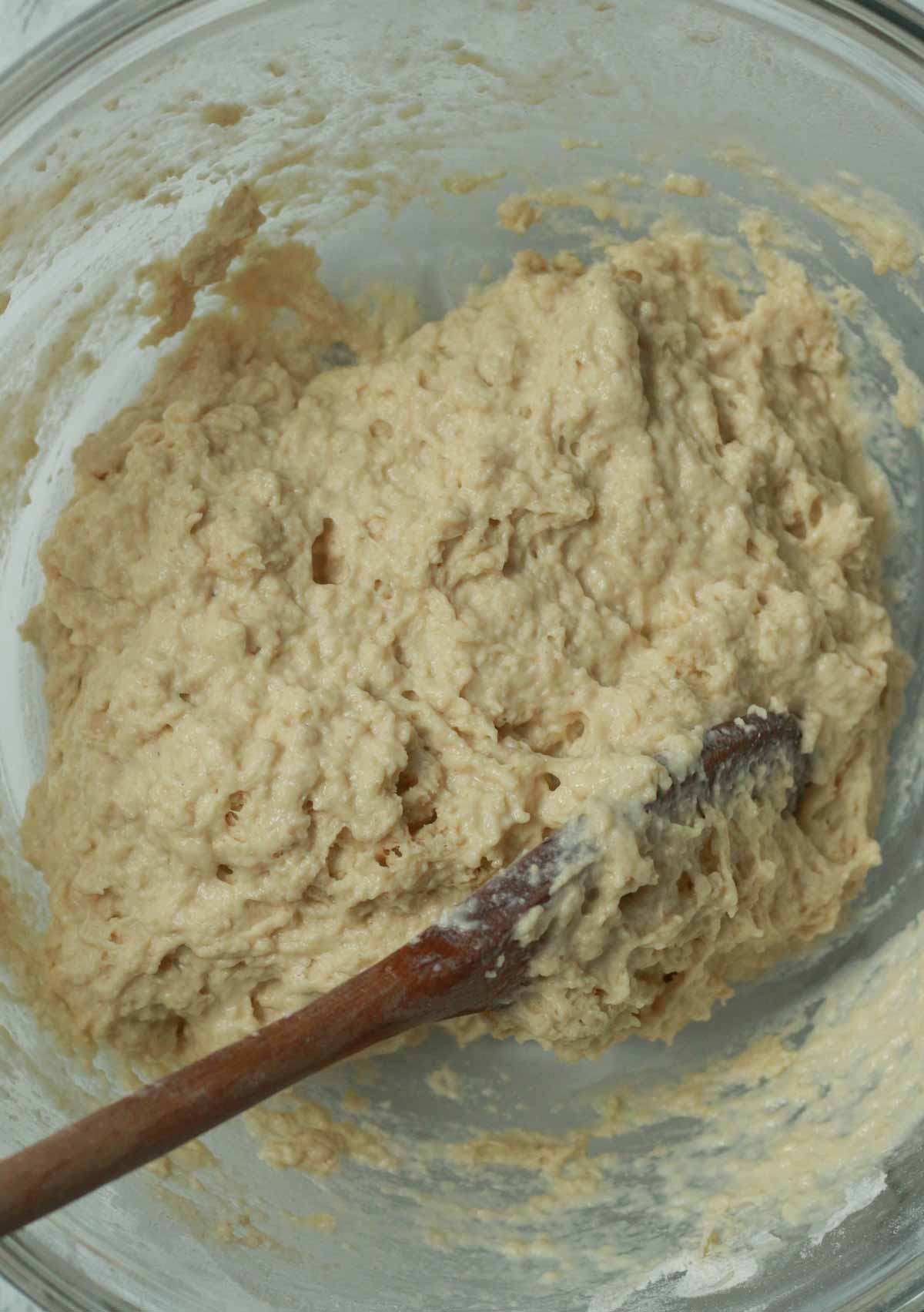 Transfer the sticky mixture to a floured surface and knead for 5 minutes or so until it is no longer sticky. This will be messy but stick with it. You can use a stand mixer if you have one. You can also add a little more flour if you need to.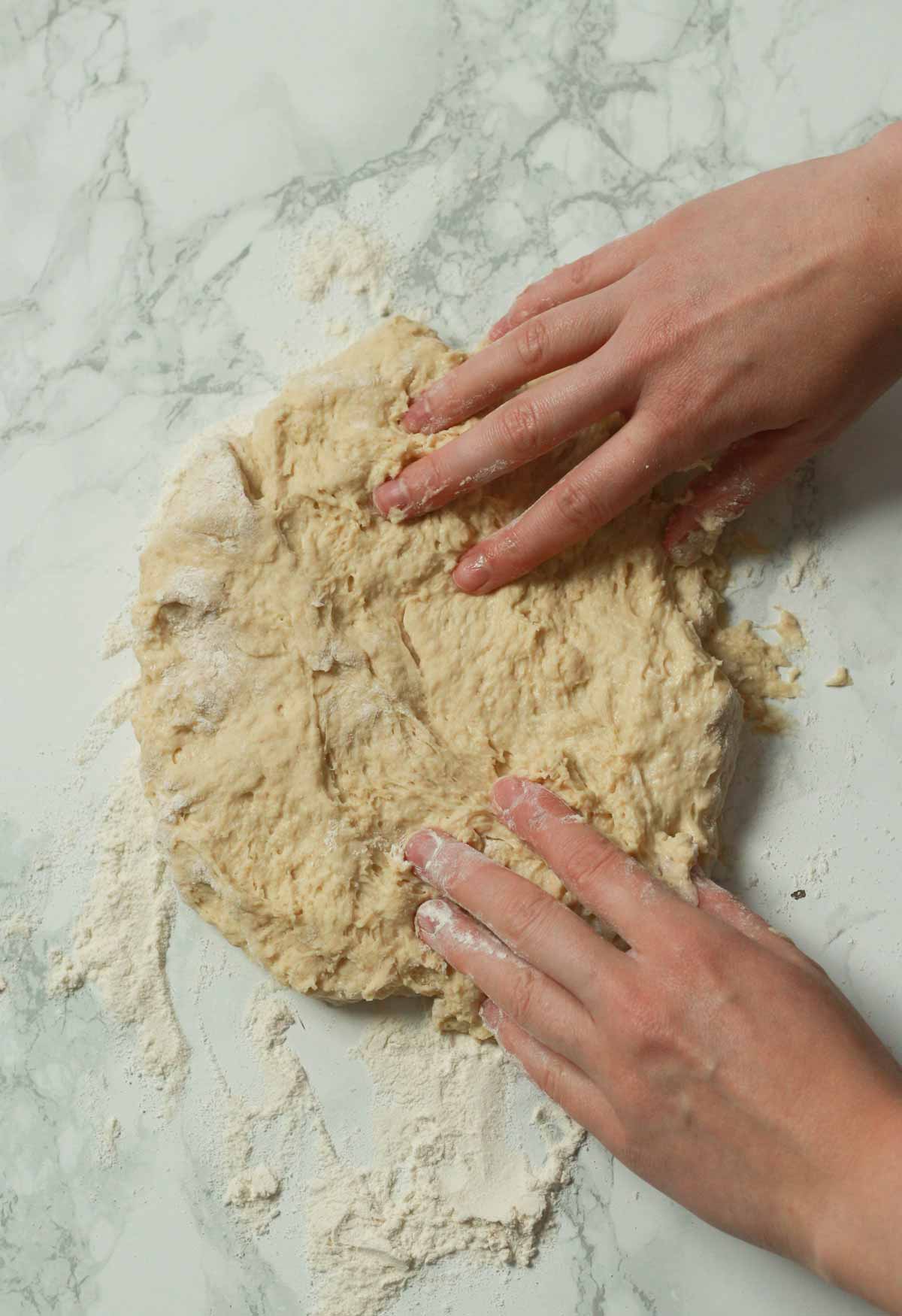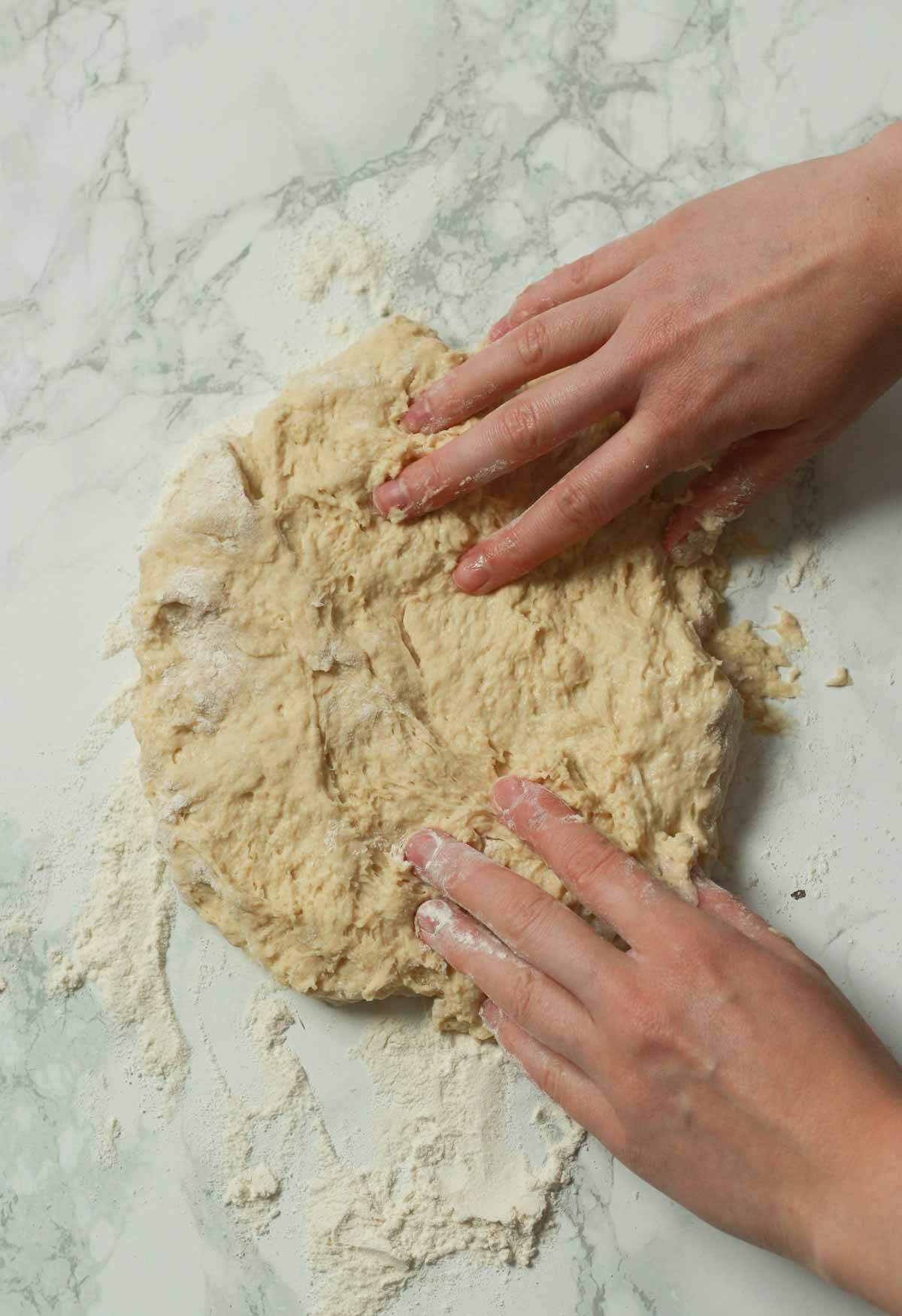 Once you're done kneading, you should have a ball of soft dough that springs back when touched.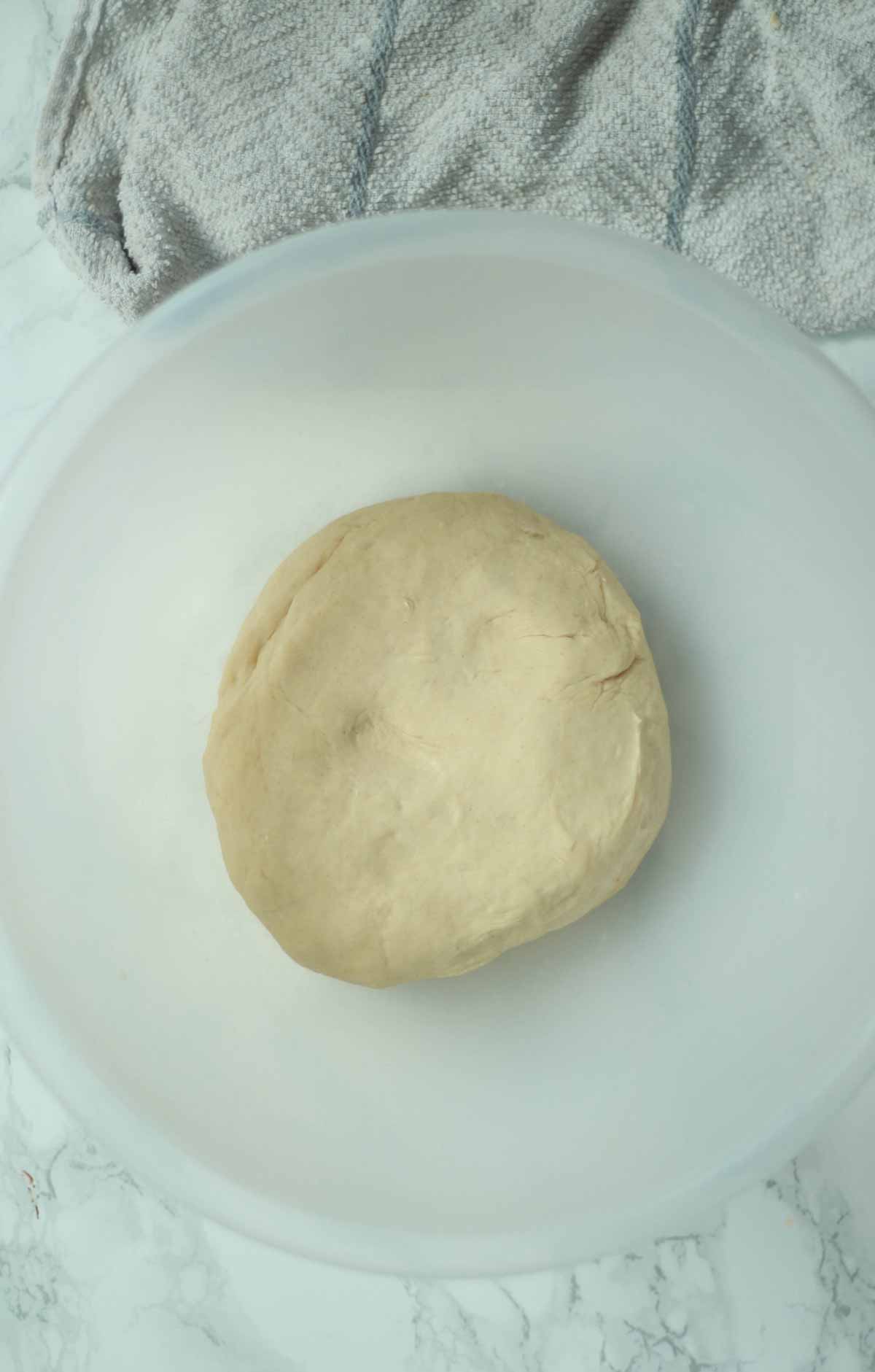 Step 3:
Lightly oil your bowl using baking paper, then place the dough back into the bowl. Cover it with a dishcloth and leave in a warm(ish) place to rise for around 1 hour. I place mine in a turned-off oven with the light on and that works perfectly for me.
Step 4:
After the hour is up, your dough should have doubled in size. Gently roll it out in a rectangle(ish) shape, on a floured surface, until it's around 1/4 of an inch thick.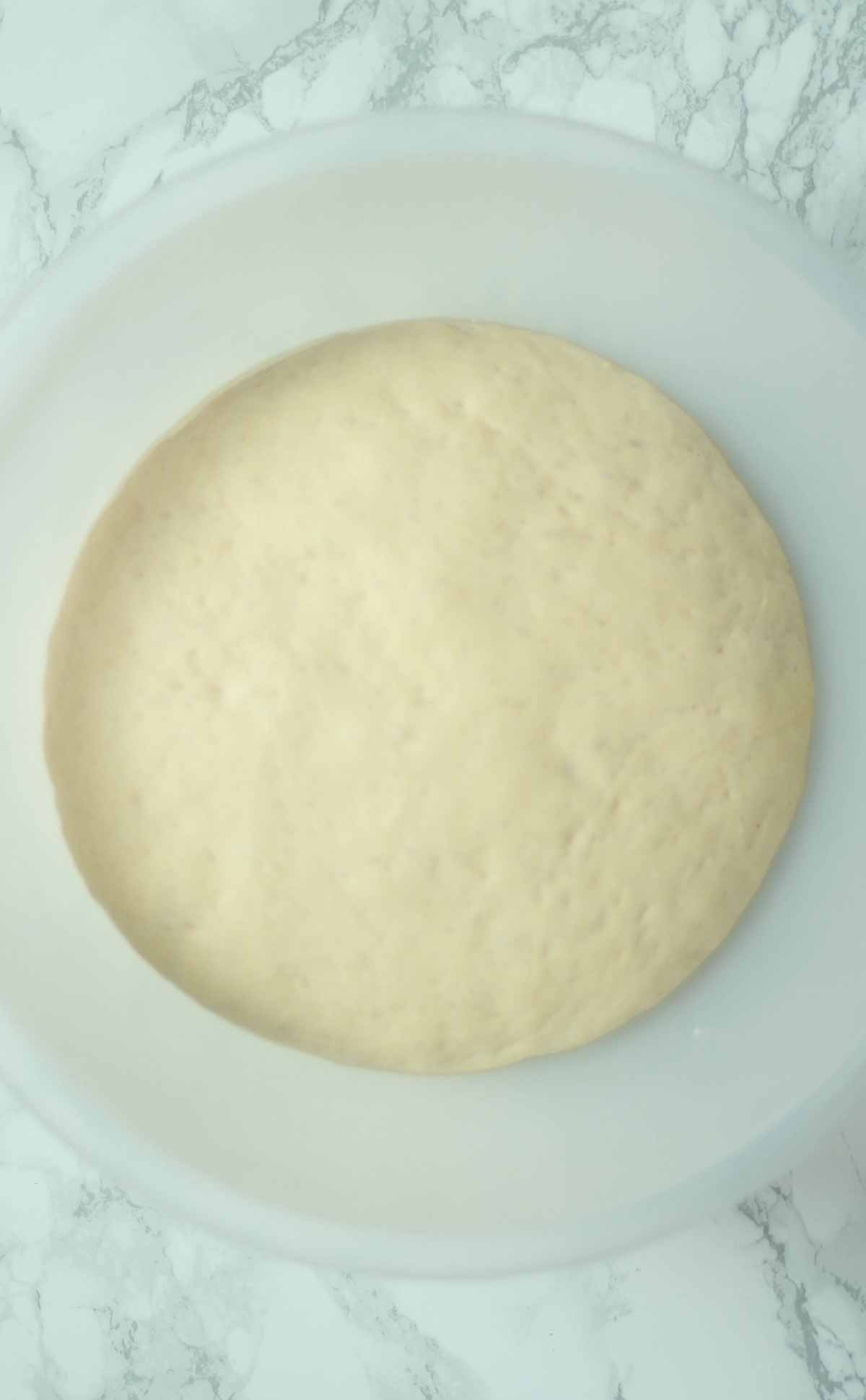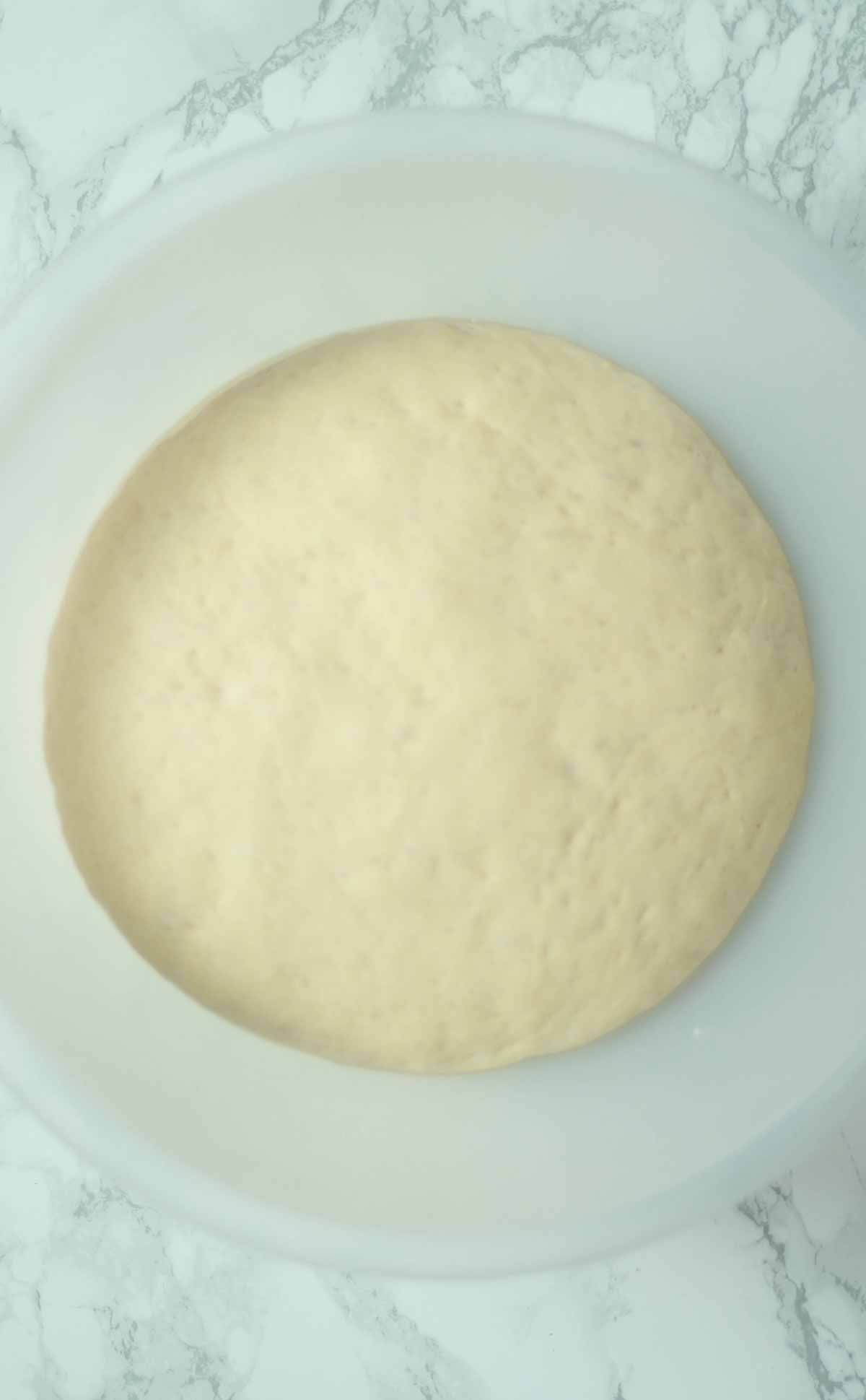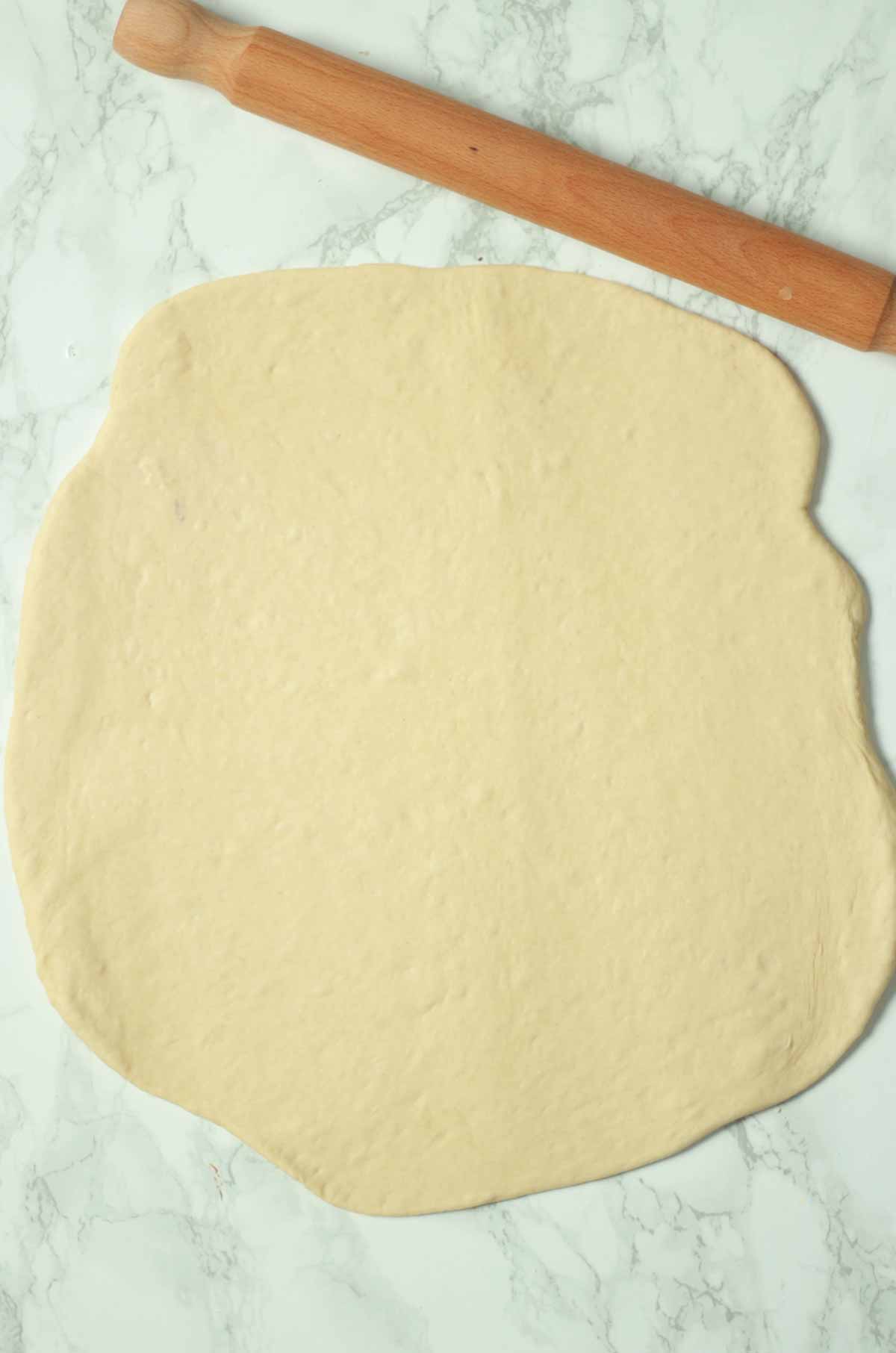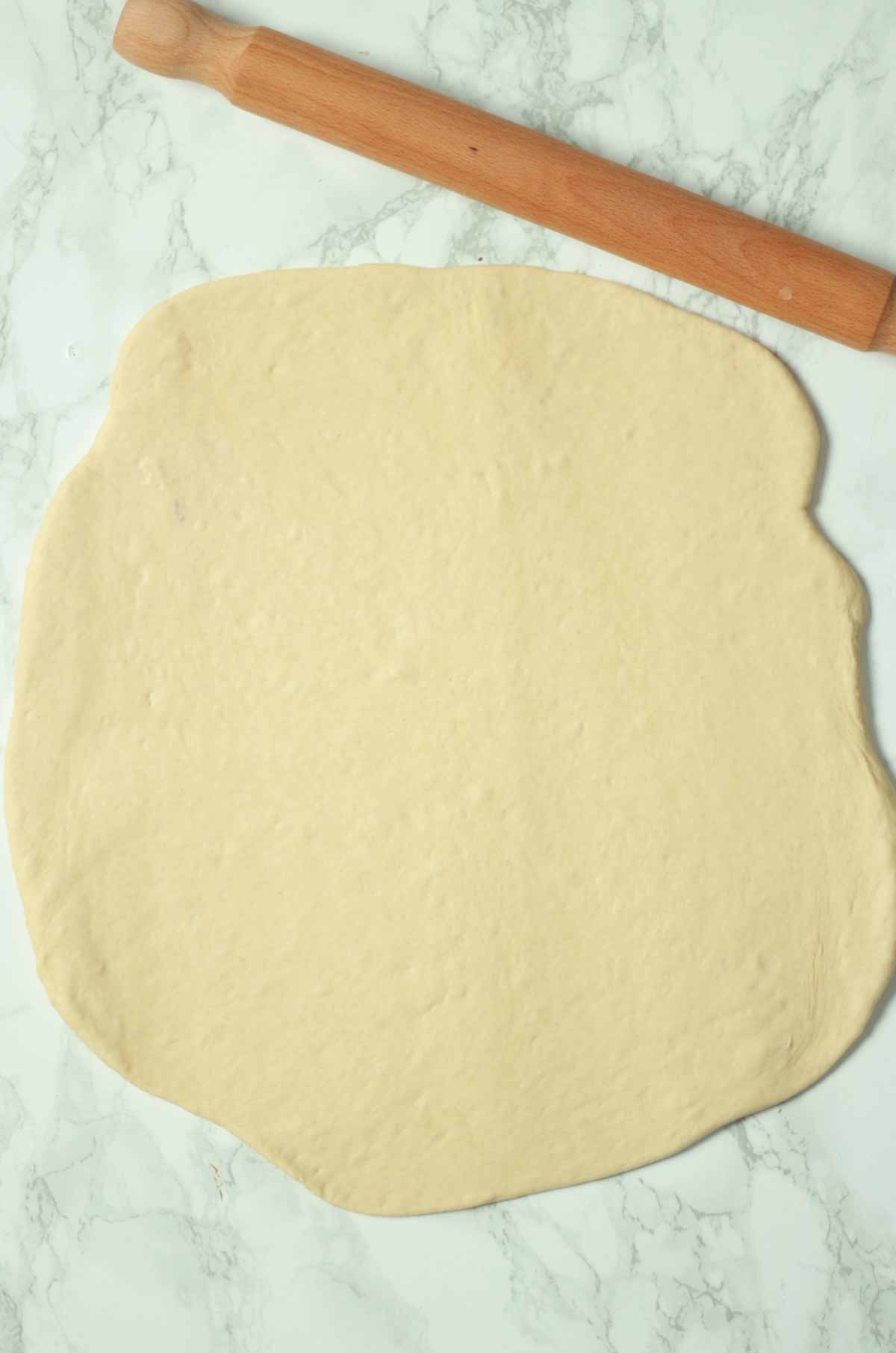 Step 5:
Prepare your filling by mixing together 90g of vegan butter, 150g of soft light brown sugar and 1 tablespoon of cinnamon. Spread the filling over your dough.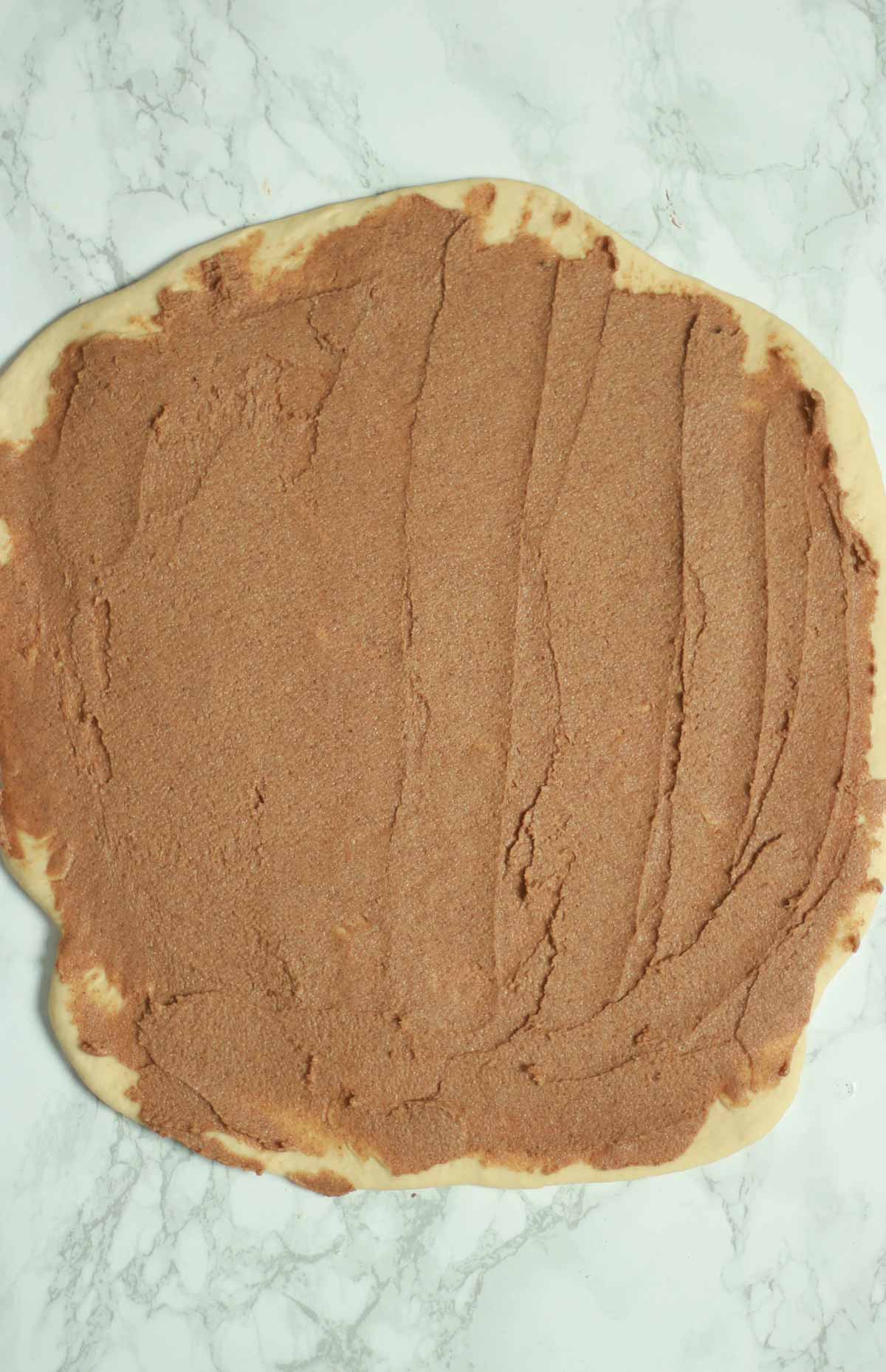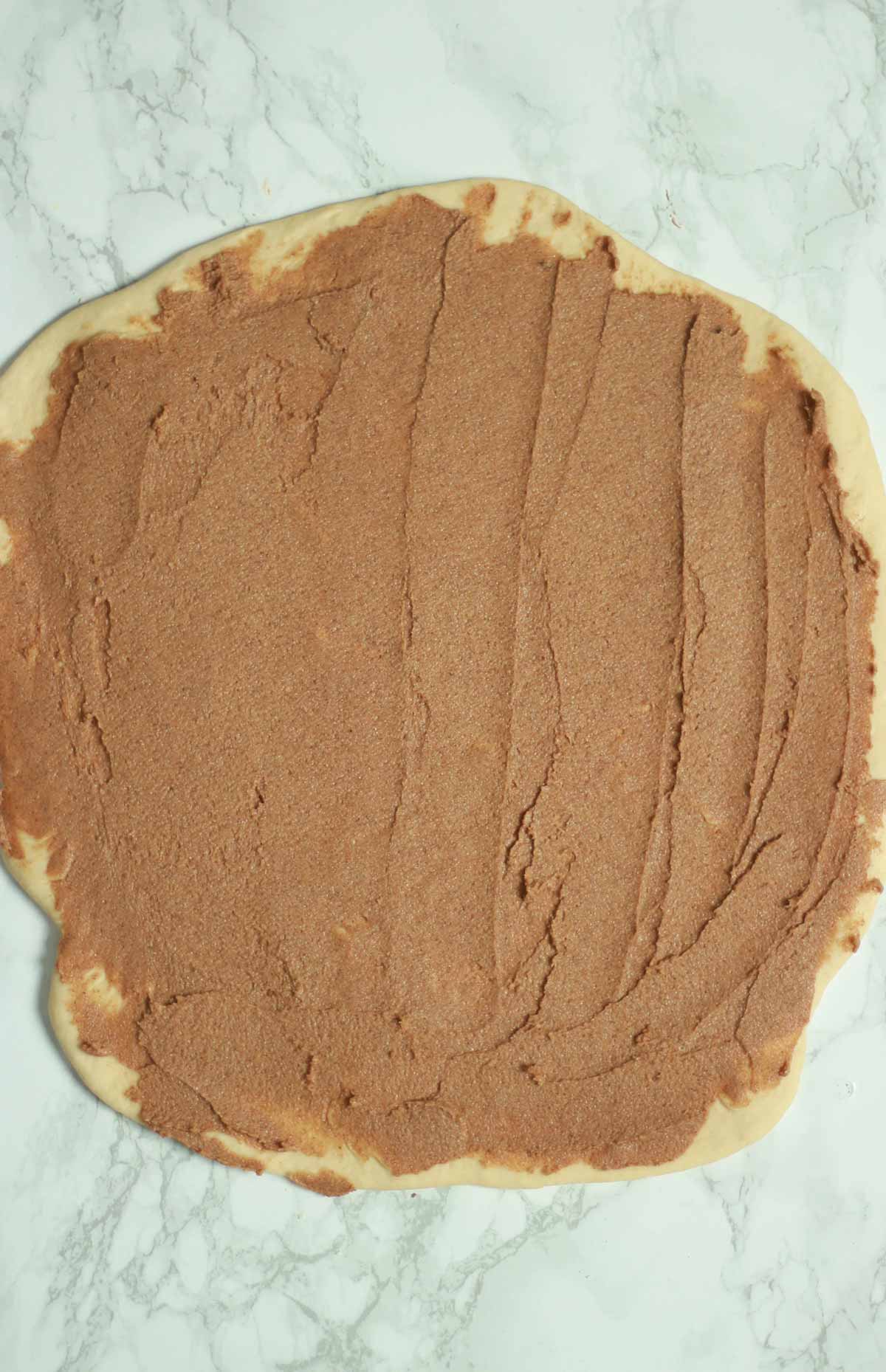 Starting with the long side facing you, tightly roll up the dough and place seam-side down to help seal the edge. Cut the dough into 12 rolls using a serrated knife (or floss if you want a cleaner cut).
Step 6:
Place your cinnamon rolls in an 8×10-inch ovenproof dish lined with baking paper. Using baking paper will prevent the rolls from ripping or sticking to the dish after baking.
I place mine super close together just because I like the way it looks. It becomes more of a tear 'n' share sort of thing. But feel free to do whatever you prefer- you can use a larger dish and space them apart, but just be mindful that they will expand while baking.
Preheat your oven to 180°C/350°F.
Step 7:
While the oven is heating, prepare the glaze. This step is HIGHLY recommended. It gives so much extra flavour and stickiness.
Mix together 1 tablespoon of melted vegan butter, 1 tablespoon of caster sugar and 1 teaspoon of cinnamon. Use a pastry brush to coat the tops of the cinnamon rolls with the glaze.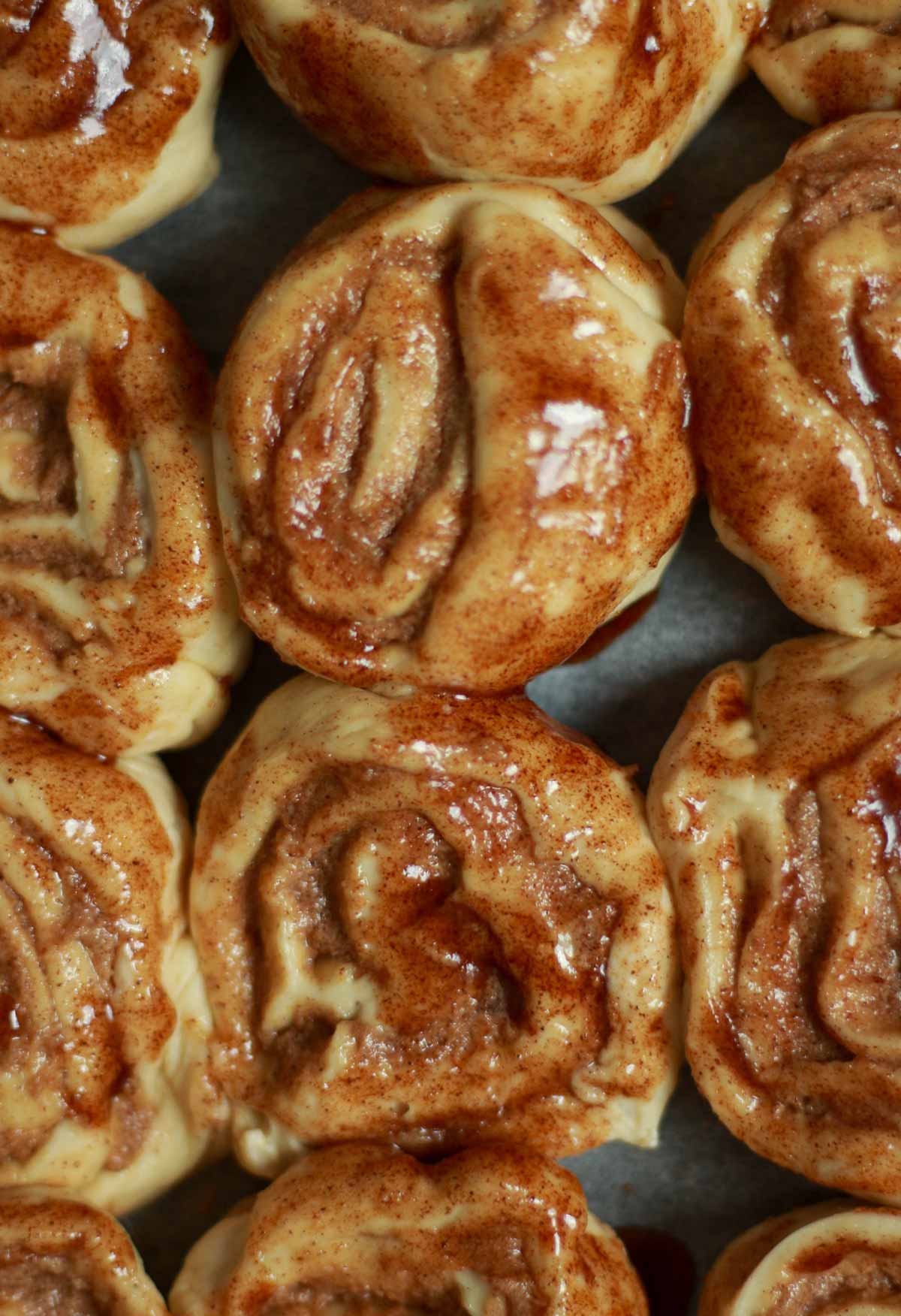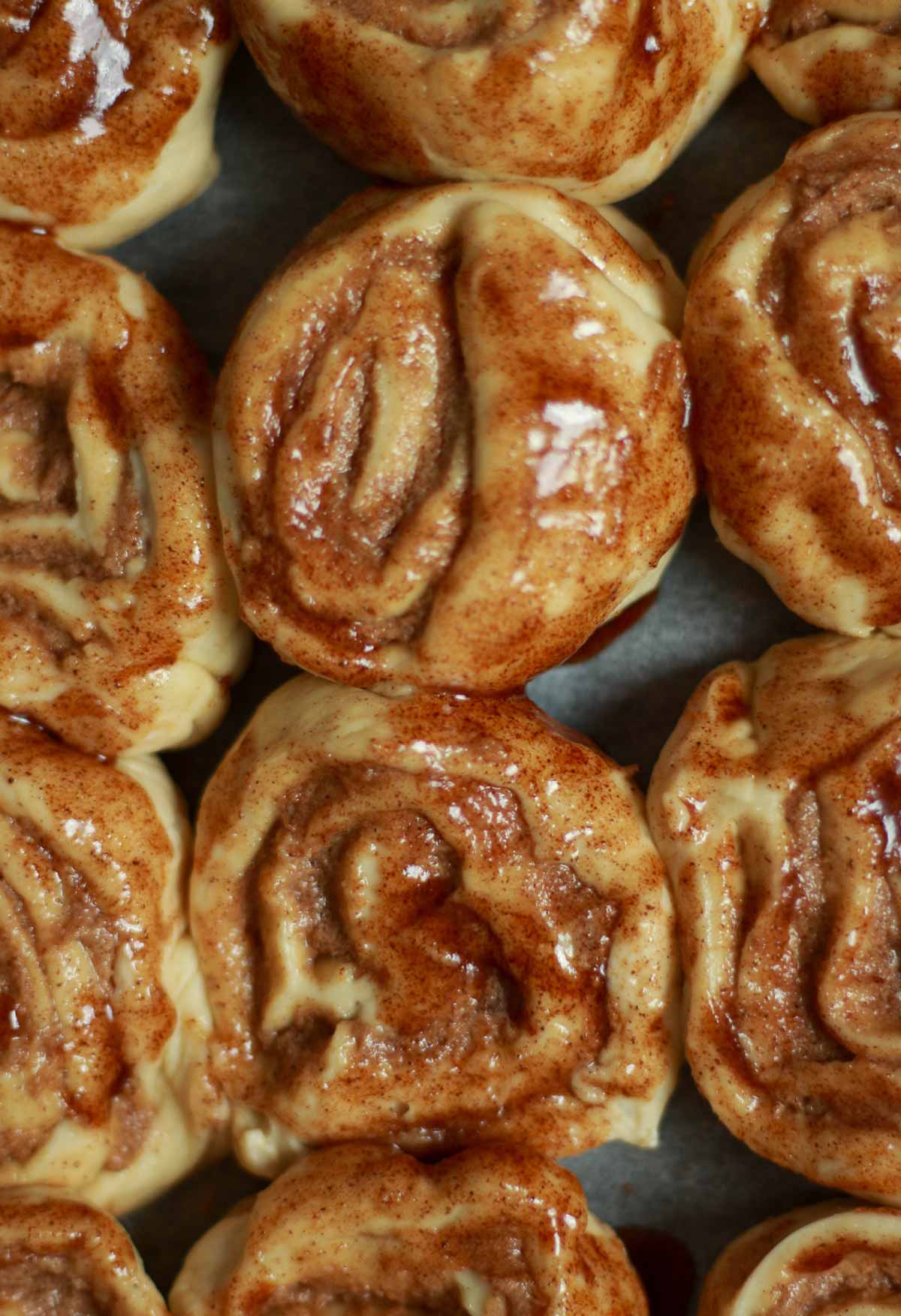 Bake for around 20-25 minutes. You can test if they're done by pulling apart the centre roll using a fork- if it still looks a bit raw, pop them back into the oven.
Once baked, they will be golden and sticky on top. Your whole house will also smell like cinnamon at this point, which is one of the main reason I love baking these vegan cinnamon rolls!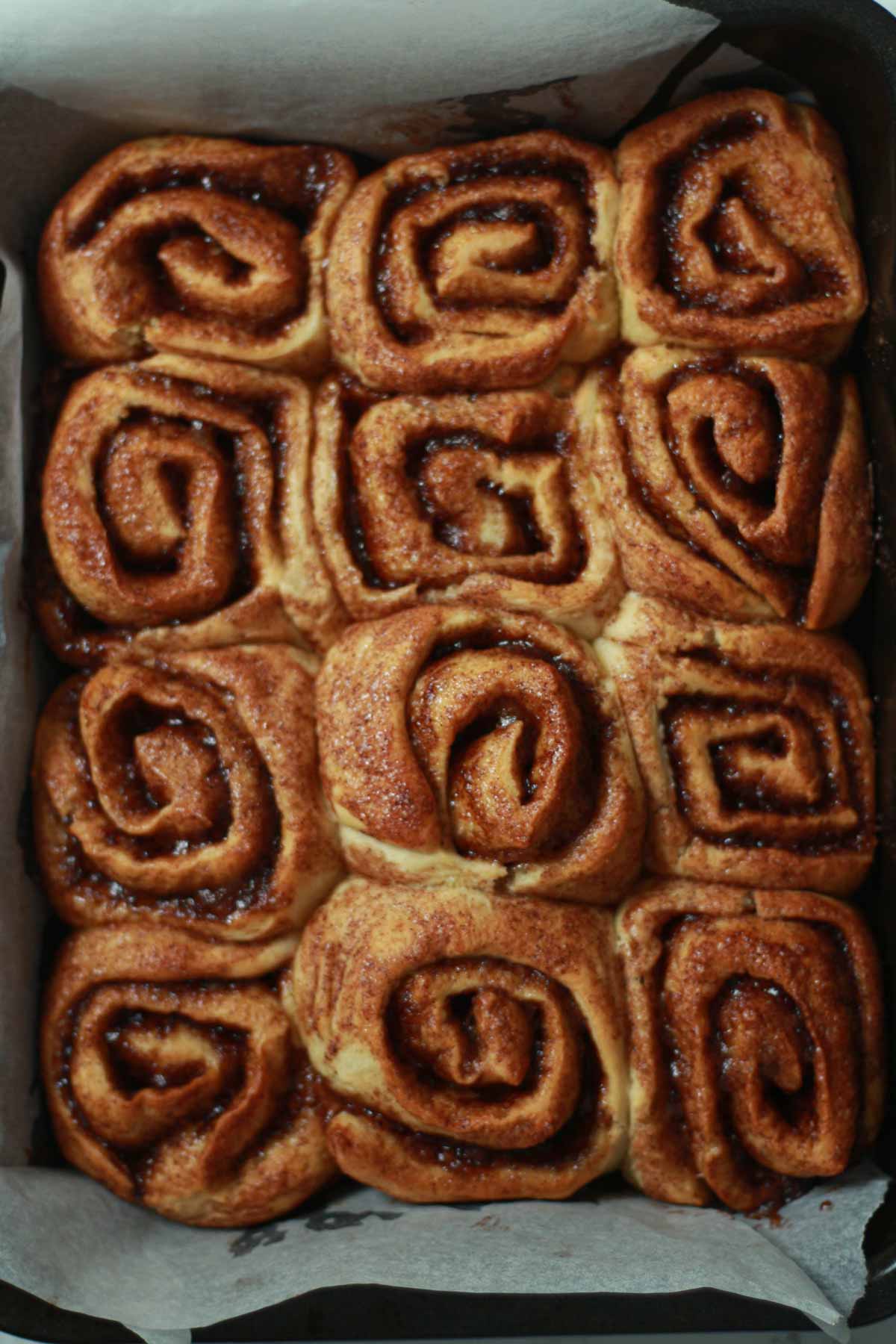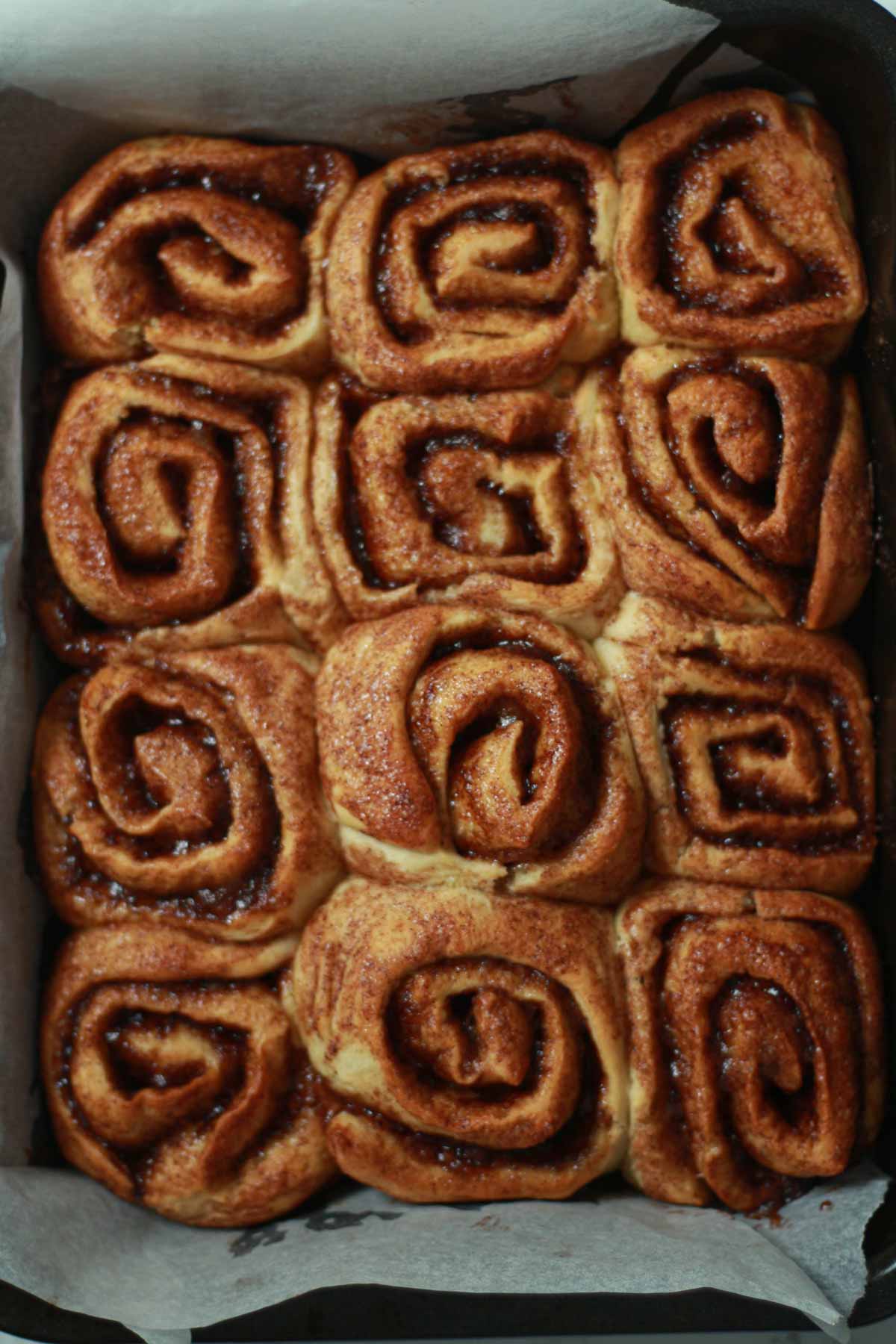 Dairy-free cream cheese icing
The cinnamon rolls are delicious just as they are but I like to go a step further and add some cream cheese icing on top.
This easy vegan cinnamon roll icing is quite similar to the cream cheese frosting I use for my other baked goods. It contains 4 ingredients: vegan cream cheese, soy milk, vanilla extract, and icing sugar. All I did to change it was alter the quantity of the ingredients to make it runnier and easier to drizzle.
To make it, mix together 60g of vegan cream cheese, 2 tablespoons of plant-based milk, 1/2 teaspoon of vanilla extract and 30g of icing sugar.
Once mixed, drizzle it over your cinnamon rolls using a teaspoon or piping bag. I like to add the frosting while the rolls are still a little warm (not hot, as this will cause the icing to split).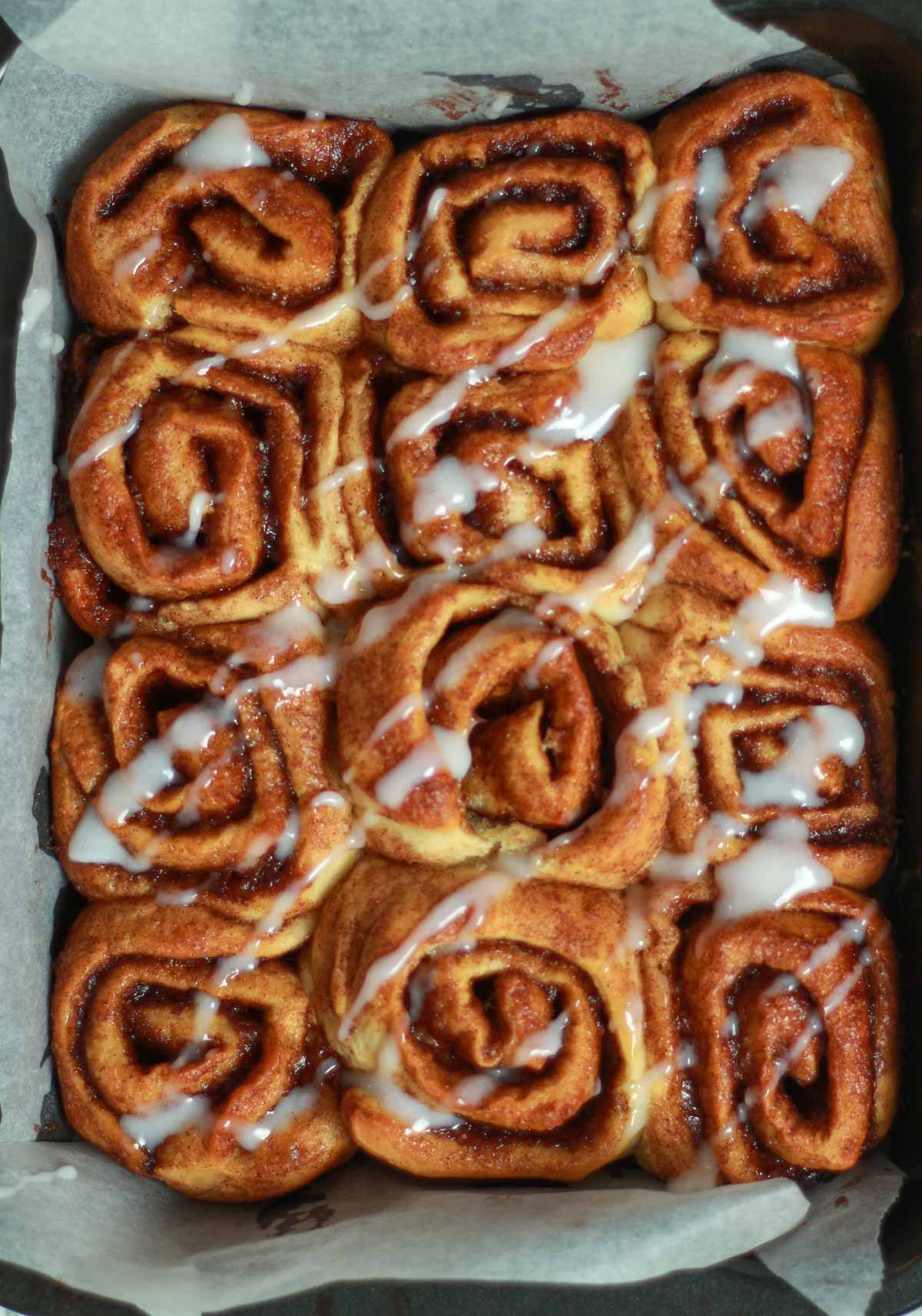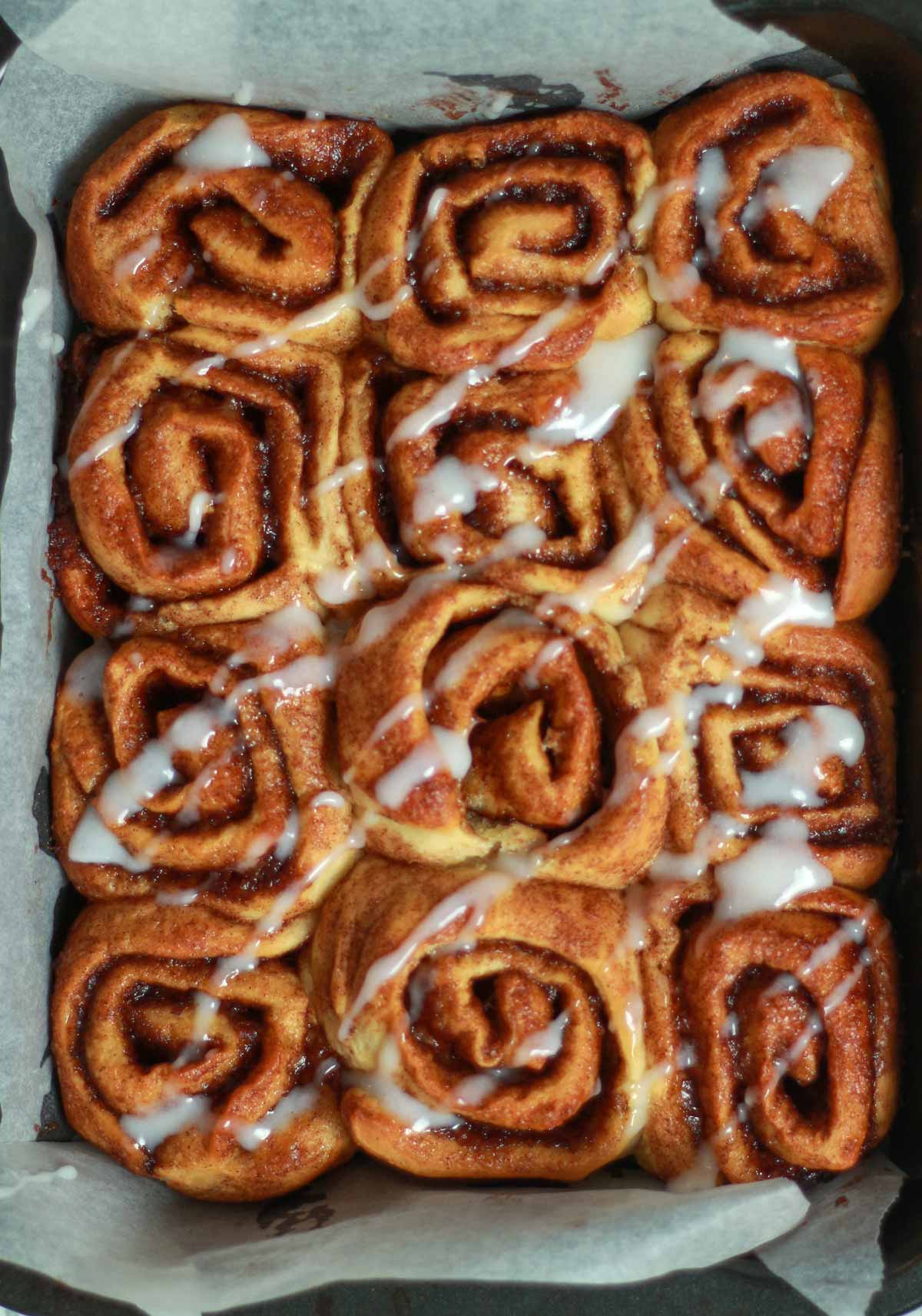 FAQ:
Why didn't my dough rise?
This could be because you added the yeast while the mixture was too hot, or that your yeast has expired or been open for too long. It may also be that you didn't leave the dough in a place that was warm enough. Try placing your bowl, covered with a dishcloth, in a turned-off oven with the light on for around 1 hour.
How should I store them?
Once cooled, the cinnamon rolls should be stored in an airtight container. They'll last for around 2 days at room temperature and 3-4 days in the fridge.
Can you freeze vegan cinnamon rolls?
Yes. Once baked, place them in an airtight container and freeze for up to 2 months. When you're ready to eat, transfer them to a wire rack and let them sit at room temperature until thawed. Do not refreeze.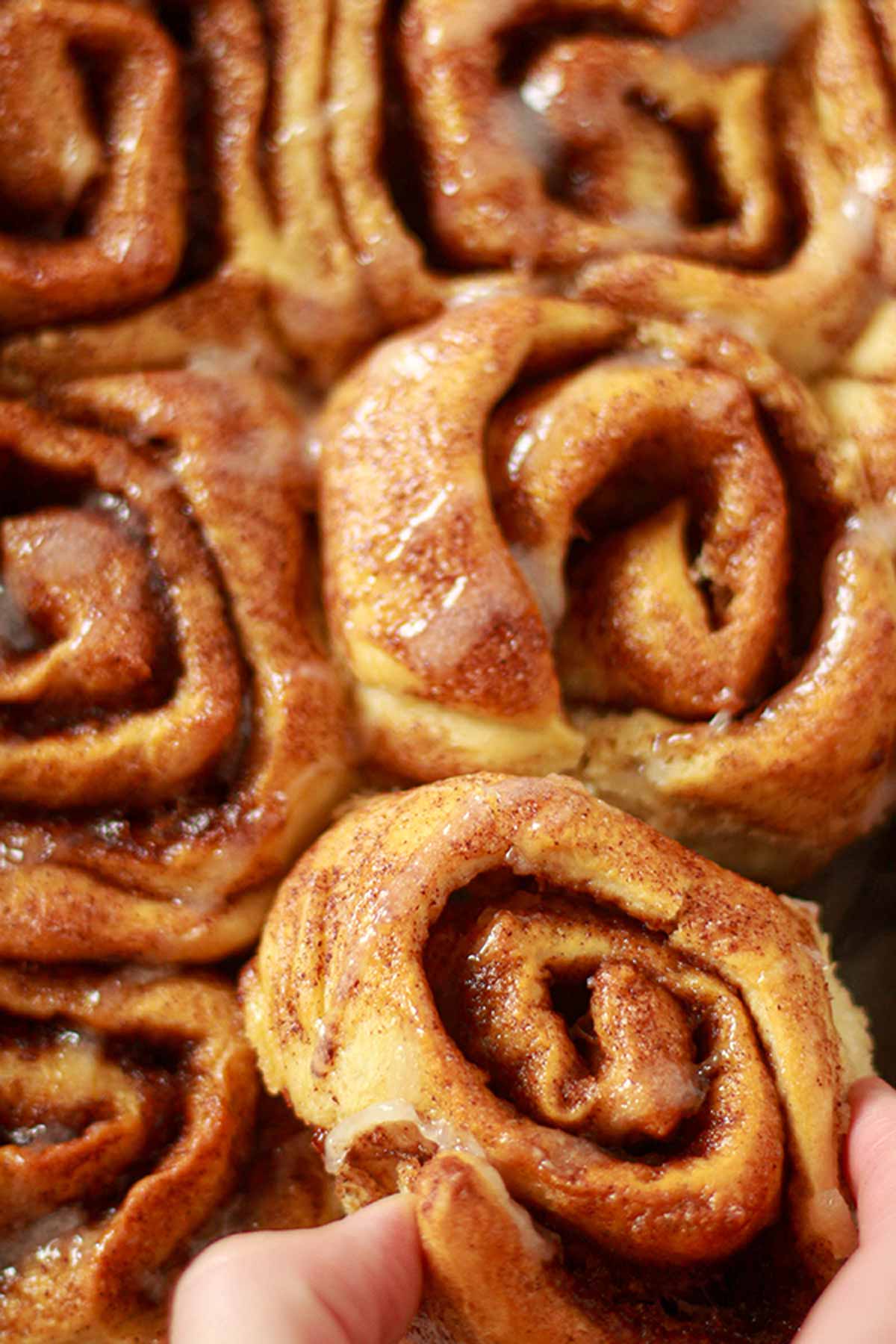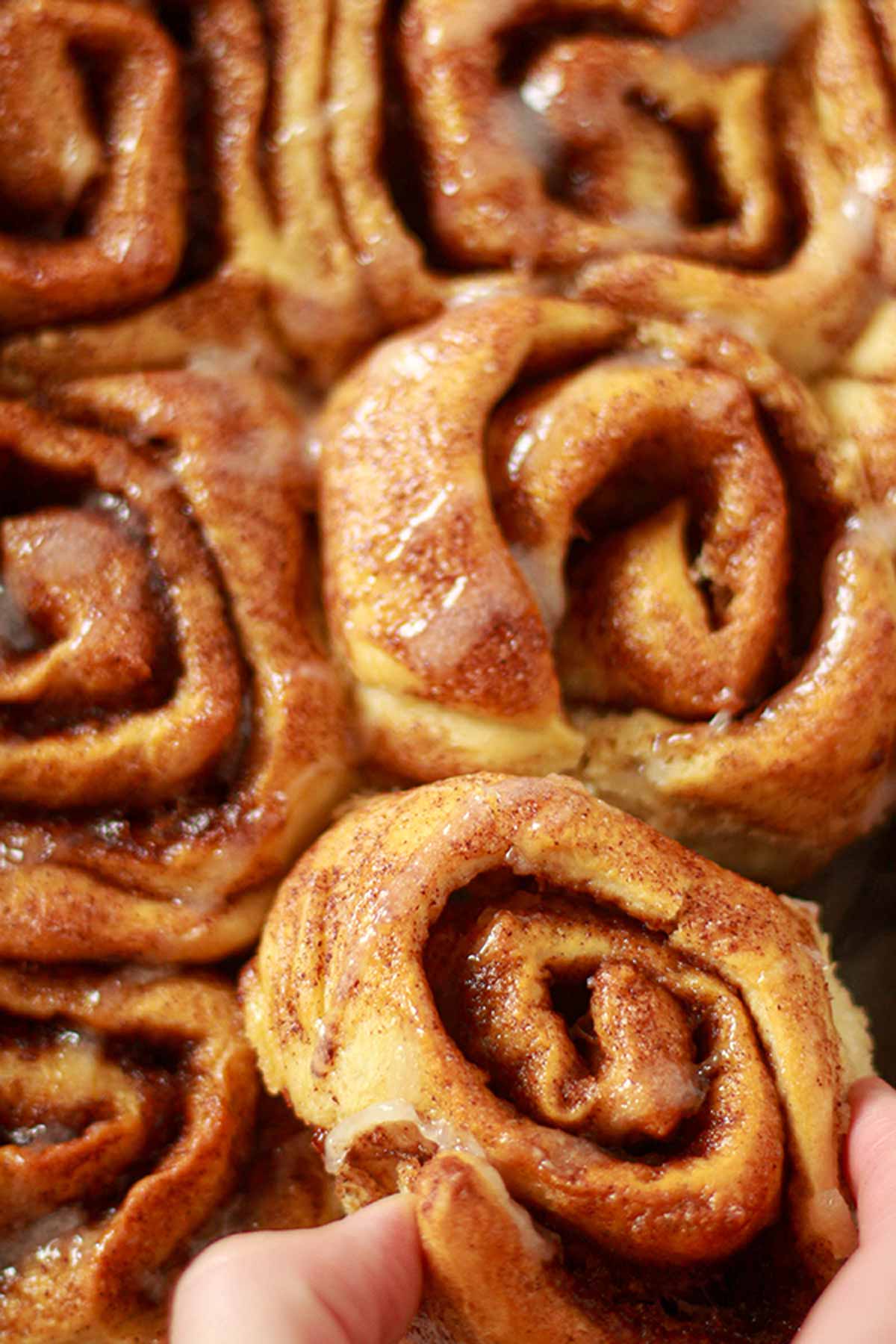 I hope you enjoy this recipe. If you make these cinnamon rolls yourself at home, please let me know how it goes by leaving a rating and/or comment below. Happy baking! xo

Vegan Cinnamon Rolls
A sweet, sticky cinnamon roll recipe without eggs or dairy.
Ingredients
For the dough:
60

g

Vegan butter or margarine

(4 tablespoons)

250

ml

Unsweetened soy milk

(1 cup)

2

Tablespoons

Caster sugar

380

g

Self-raising flour

(2 + ¾ cups)

2

Teaspoons

Instant/fast action yeast

(I used Allinson Easy Bake yeast)
For the filling:
90

g

Vegan butter or margarine

(6 tablespoons)

150

g

Soft light brown sugar

(¾ cup)

1

Tablespoon

Ground cinnamon
For the glaze:
1

Tablespoon

Melted vegan butter or margarine

1

Tablespoon

Caster sugar

1

Teaspoon

Ground cinnamon
For the cream cheese icing:
60

g

Vegan cream cheese

(⅛ cup (I recommend Violife))

2

Tablespoons

Soy milk

½

Teaspoon

Vanilla essence

30

g

Icing sugar

(~5 tablespoons)
Instructions
For the dough:
In a small saucepan over low heat, gently melt the vegan butter with the soy milk and caster sugar. Once melted, remove from the heat and allow it to cool for around 5 minutes or so. You want it to be warm for the next step but not hot.

In a large bowl, mix the self-raising flour and the yeast together. Add in the liquid mixture, a little bit at a time, until thick and sticky.

Knead the sticky mixture for around 5 minutes on a floured surface until you have a soft ball of dough. It should spring back when touched. This step gets very messy so you can use a stand mixer if you prefer. You can also use a little extra flour if you need it towards the end.

Place the ball of dough into a clean, lightly oiled bowl. Cover the bowl with a dishcloth and leave for 1 hour to rise.

After 1 hour, the dough should have doubled in size. Gently knead it in your hands for a few seconds so it's ready to roll.
Filling:
Roll the dough out onto a floured surface until it's around ¼ inch thick. Try to keep the shape as rectangular as you can. You can cut off uneven edges if you need to.

Mix the vegan butter, brown sugar and cinnamon together then spread it evenly over your dough.

Starting with the long side facing you, tightly roll the dough up and place it seam down to help seal it. Cut into 12 equal-sized rolls.

Place the rolls closely together into an 8×10-inch dish lined with baking paper.

Preheat your oven to 180°C/350°F (or 160°C/325°F for fan or convection ovens).
Glaze:
While the oven is heating, mix together the melted vegan butter, caster sugar and cinnamon. Use a pastry brush to coat the top and sides of the rolls with it.

Bake for 20-25 minutes, until the cinnamon rolls are golden brown and sticky on top. You can see if they're done by pulling apart the centre roll with a fork and checking for any rawness.
Icing:
Prepare the icing by mixing together the cream cheese, butter, vanilla and icing sugar.

Let the cinnamon rolls sit at room temperature for 5-10 minutes before drizzling over the cream cheese icing and enjoying.
Recipe Notes
Store in an airtight container at room temperature for up to 2 days or in the fridge for up to 4 days.
Nutrition Facts
Vegan Cinnamon Rolls
Amount Per Serving (1 vegan cinnamon roll)
Calories 255
Calories from Fat 81
% Daily Value*
Fat 9g14%
Sodium 90mg4%
Carbohydrates 39g13%
Protein 4g8%
* All values are an estimate only and will vary depending on the food brands used.
BakedByClo is a participant in the Amazon Services LLC Associates Program, an affiliate advertising program designed to provide a means for sites to earn advertising fees by advertising and linking to Amazon.com. This site may contain some of these links to Amazon.com & other affiliate programs. If you make a purchase through one of those links, BakedByClo will receive a small commission from the purchase at no additional cost to you.