Vegan Double Chocolate Muffins
These vegan double chocolate muffins are soft, fluffy and of course, full of chocolatey goodness. They are easy to make, with fuss-free ingredients, and taste even better the next day!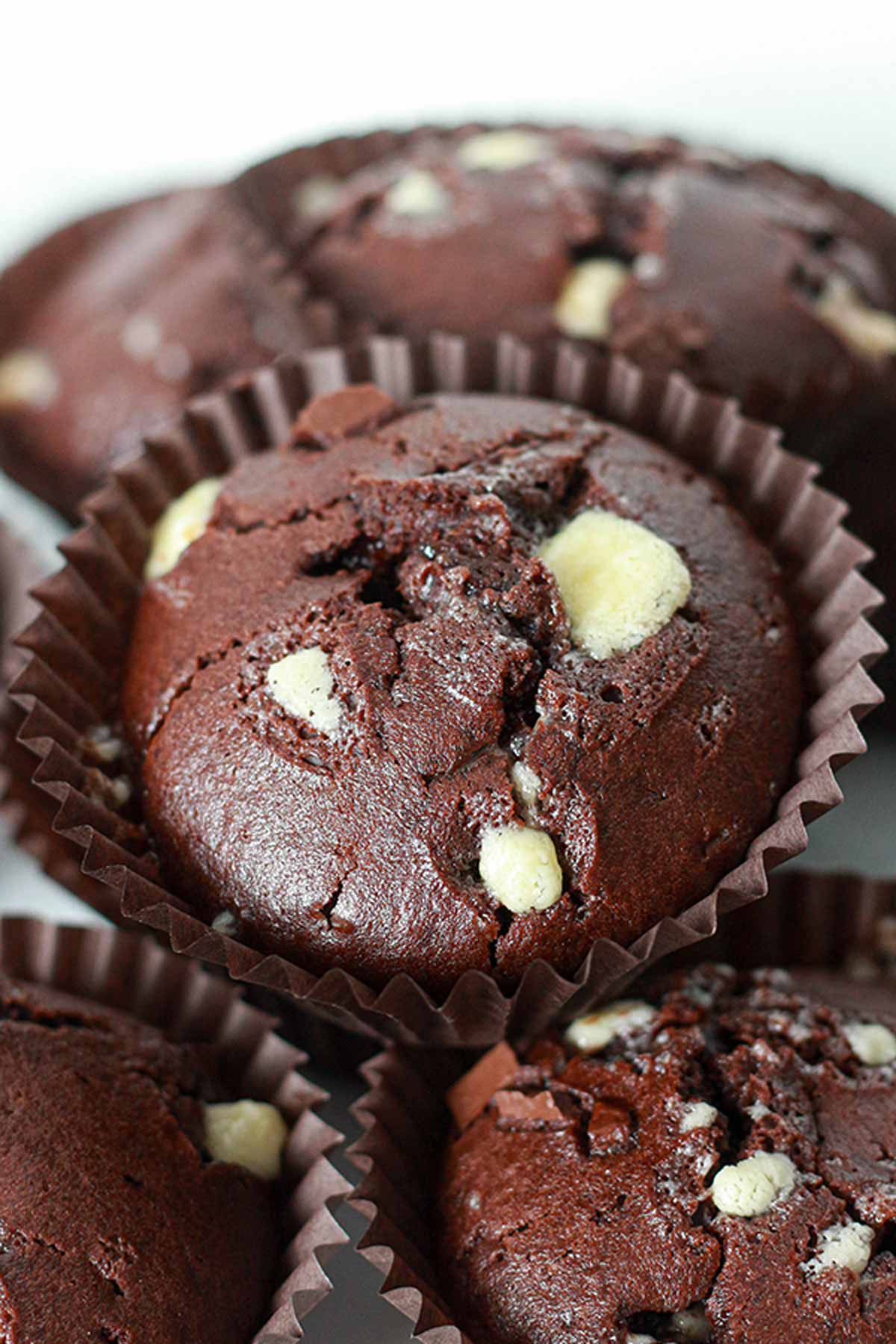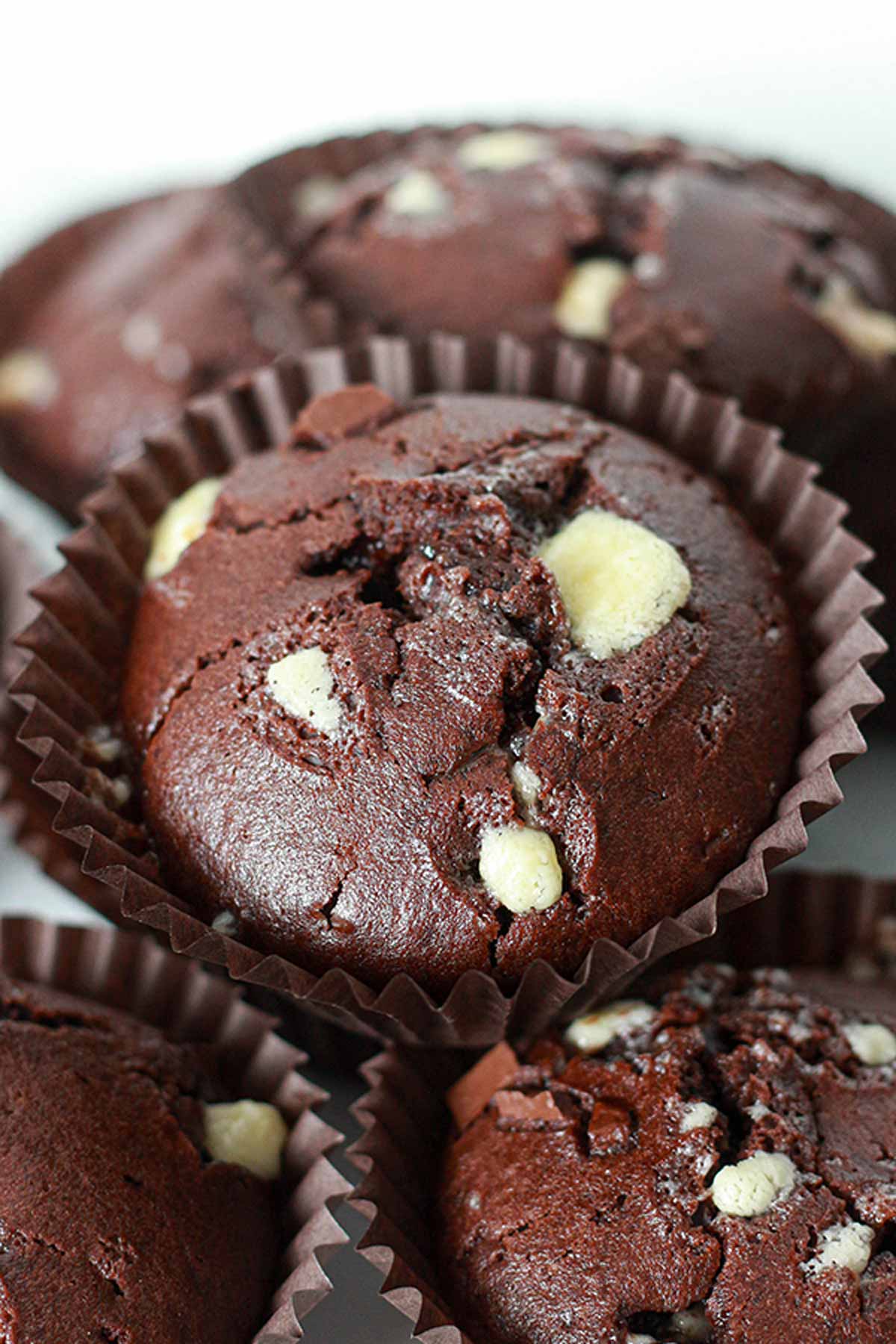 Is there anything better than a soft, fluffy chocolate muffin? A soft, fluffy double chocolate muffin, perhaps?
The weather has been super dull and cold in Scotland lately so I've been really enjoying making more decadent, comforting desserts. After I recently made my pumpkin spice muffins with great success, I knew I had to try my hand at some other muffin recipes.
And of course, I just had to start with chocolate chip! Chocolate will always trump every other flavour for me, especially when it comes to cakes and muffins, so this recipe was a no-brainer.
I used to buy double chocolate chip muffins from the bakery section at my local supermarket and I've missed them so much since I went vegan. There doesn't seem to be anything similar out there for vegans at the moment but hopefully that will change soon! In the meantime, I hope this recipe can fill that muffin-shaped hole in your heart!
Ingredients you'll need
I love these muffins because they're made up of super simple ingredients. If you're a dairy-free or egg-free baker, I can almost guarantee you already have these ingredients in your kitchen!
Self-raising flour. Gives the muffins structure and just the right amount of fluffiness. I like to use self-raising flour in all of my bakes as it gives me better results than when I use plain flour and baking powder.
Cocoa powder. The main component! This provides the chocolate flavour.
Baking soda. Also known as bicarbonate of soda. This works to give the muffins an extra lift.
Caster sugar. Provides just the right amount of sweetness and gives a slightly crispy top.
Soy milk. Adds moisture and, along with the oil, helps to bind the dry ingredients together.
Vegetable oil. Add moisture and keeps the muffins soft. This can be substituted for melted vegan butter if you prefer.
Vanilla extract. Helps add an extra touch of flavour.
Chocolate chips (or chunks). I used a mixture of white and semi-sweet chocolate chunks.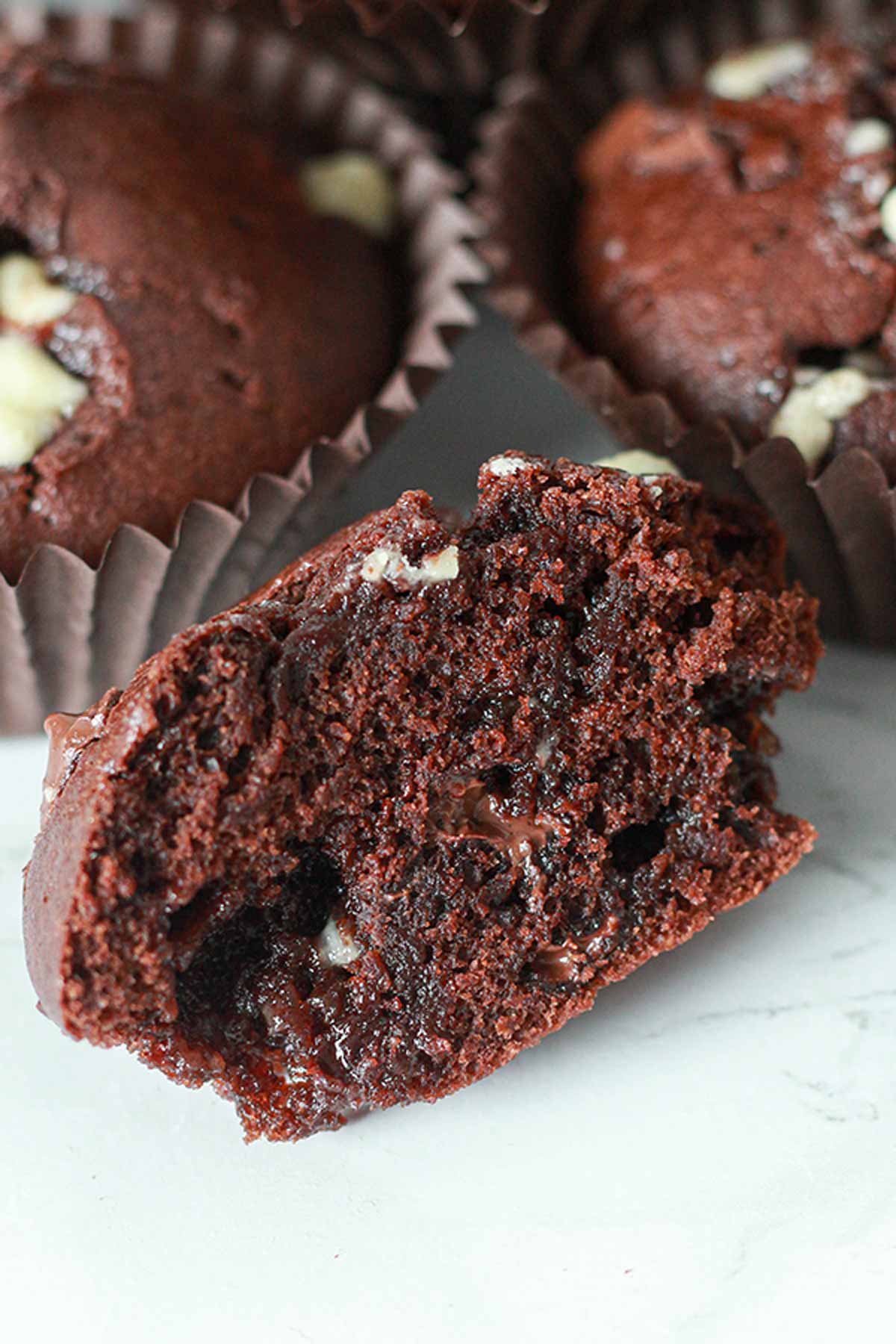 Best vegan chocolate chips to use
For this recipe, I used chocolate chunks because my local supermarket was out of stock of my favourite "milk" chocolate chips. I'm not one to mix my chips and chunks so I decided I'd just use chopped up chocolate bars for both.
I chopped up some Cadbury's Bournville, which is a semi-sweet dark chocolate, and a Free From Kitchen Co. white chocolate bar. I actually really enjoyed the bulky bites of chocolate in the end!
If you prefer to use the traditional type of chocolate chips, I highly recommend Moo-Free. They have both milk chocolate and white chocolate versions. They're reasonably priced (compared to some other brands) and they are very dainty, meaning you get a lot more chocolate chips for the same weight. For more chocolate chip options, please see my vegan chocolate guide.
More easy vegan dessert recipes:
How to make vegan double chocolate muffins
Step 1:
Preheat your oven to 180°C/350°F. Or if you're using a fan or convection oven like I did, set it to 160°C/325°F instead.
Line a muffin tray with 12 muffin liners. It's important to use muffin liners because if you use regular cupcake liners, the baking time will vary and you'll end up with way too much batter!
Step 2:
In a large bowl, mix together the "dry" ingredients (although sugar is technically a wet ingredient, you get the idea). You'll need 290g of self-raising flour, 1/4 teaspoon baking soda, 50g of cocoa powder and 215g of caster sugar.
I recommend using unsweetened cocoa powder for best results. I used this one from Tesco.
Step 3:
Next, we add the wet ingredients to the same bowl. Add in 300ml of soy milk, 1 teaspoon of apple cider vinegar, 115ml of oil and 1 teaspoon of vanilla extract. Give everything a really good mix until you have a smooth muffin batter, making sure that there are no dry bits stuck to the bottom of the bowl.
I recommend using unsweetened, organic soy milk for best results. I say this because it is free from extra ingredients that can sometimes change the texture of the end product.
If you don't have apple cider vinegar, you can use an equal amount of white vinegar or lemon juice instead. The addition of this acid helps to create a reaction with the raising agents which gives the muffins more lift.
You can use any type of oil you like for this recipe but I recommend using a neutral-tasting one such as sunflower, rapeseed or canola. Olive oil and coconut oil will work but will really take away from the chocolate flavour we want here.
Step 4:
Once you've got your smooth muffin batter, mix in your chocolate chips or chunks. I used 75g of white and 75g of semi-sweet. I also saved a few to sprinkle over the top before baking.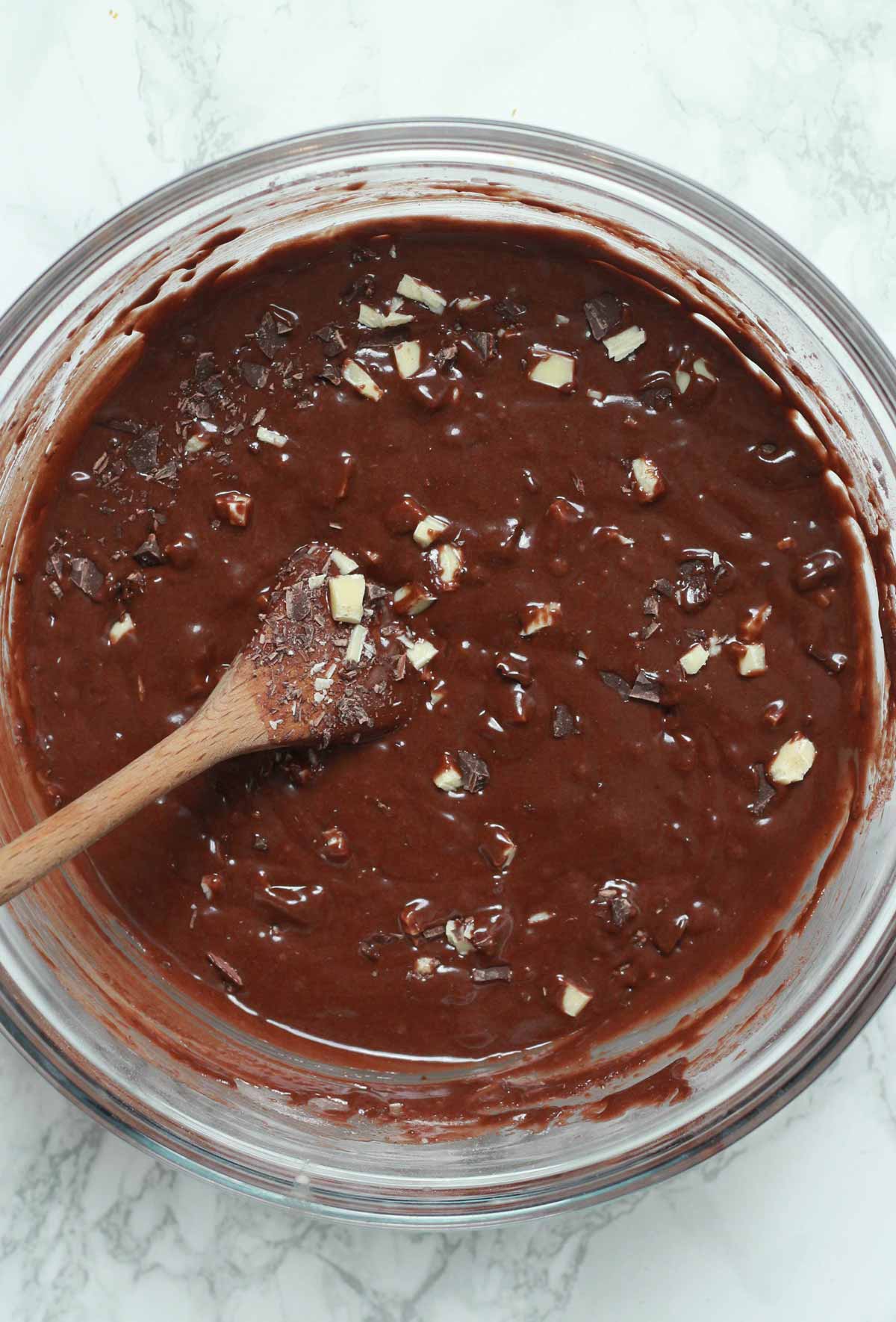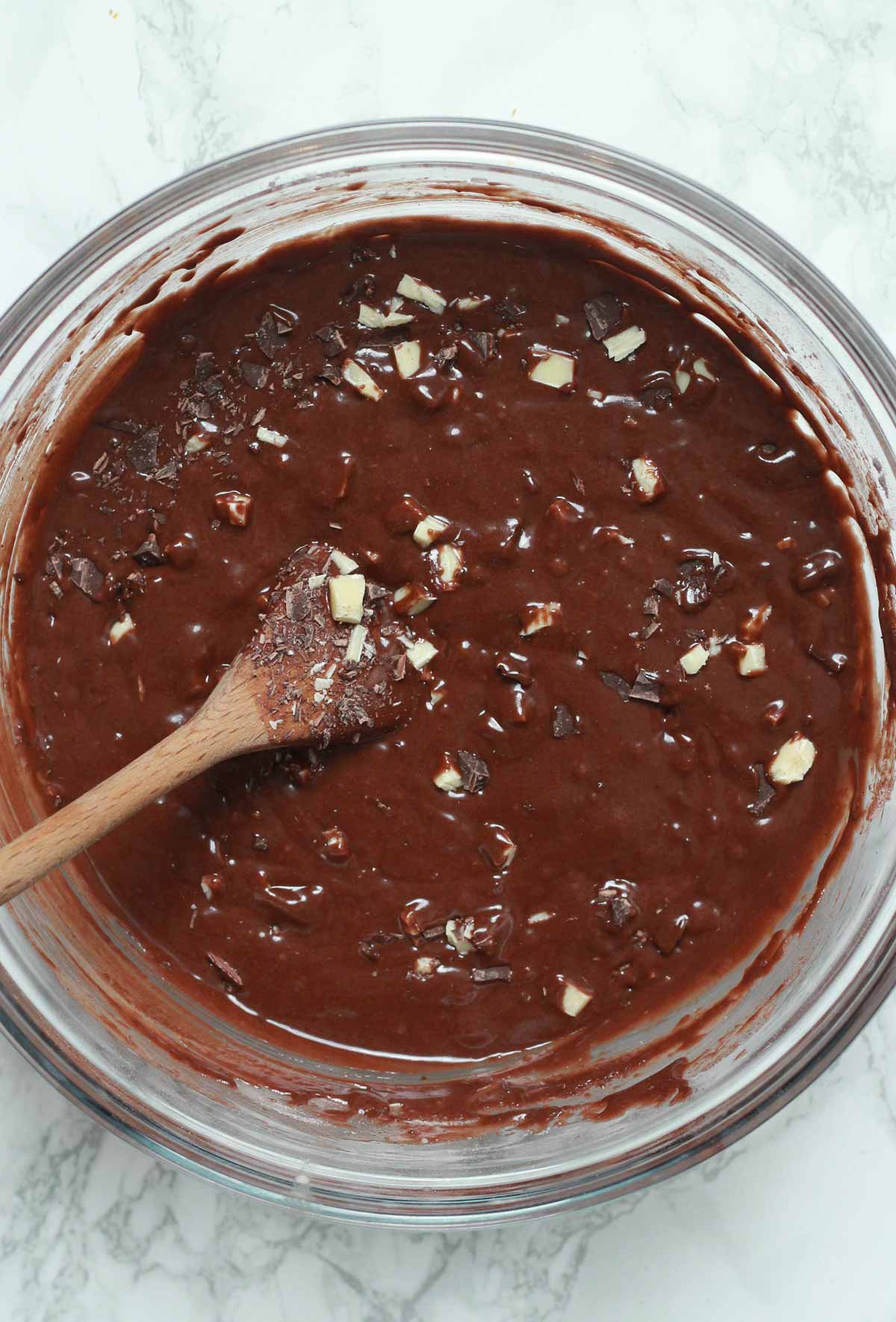 Step 5:
Divide the batter equally between your 12 muffin cases and bake for 20-30 minutes, or until a toothpick through the centre comes out clean.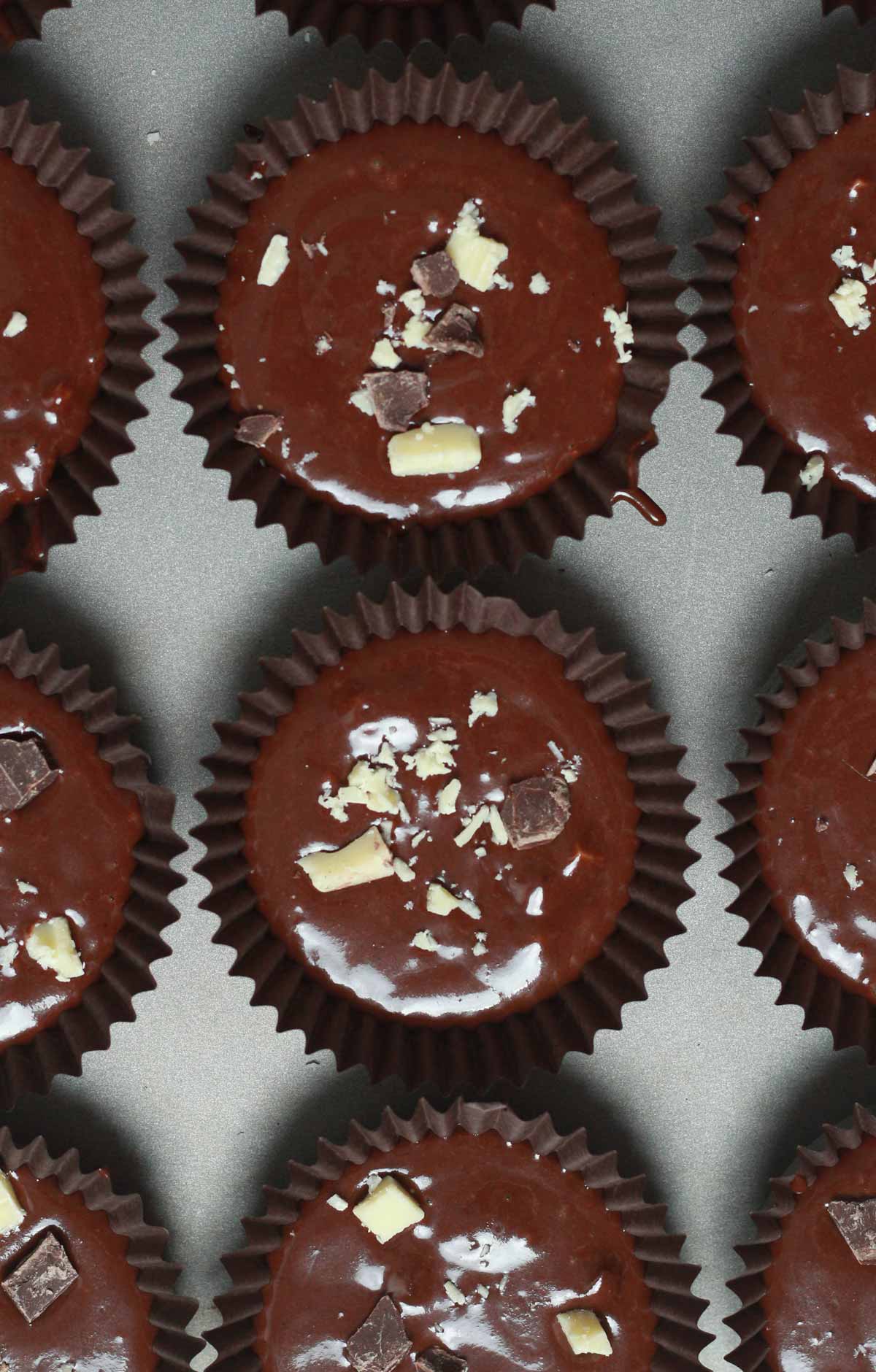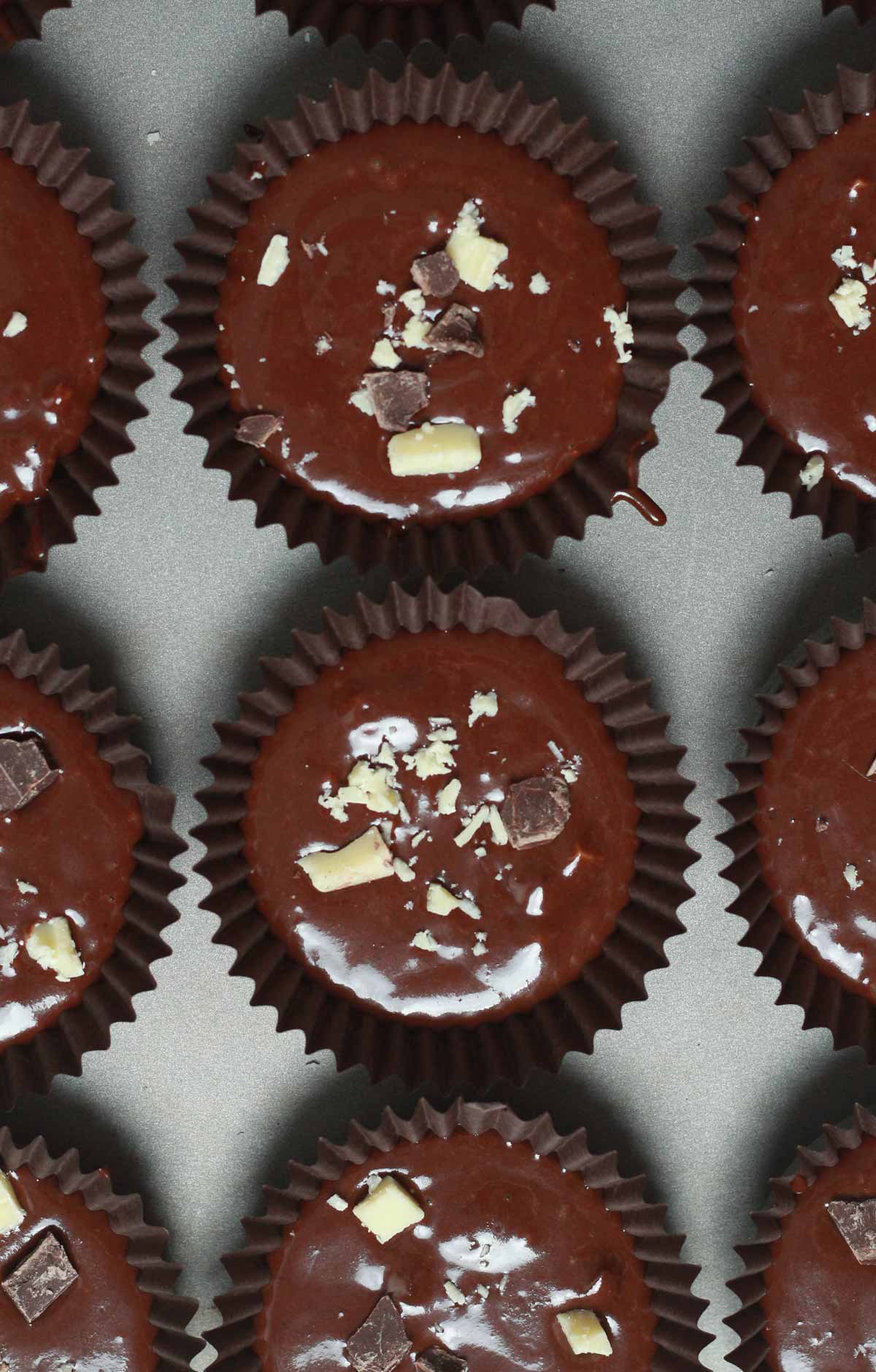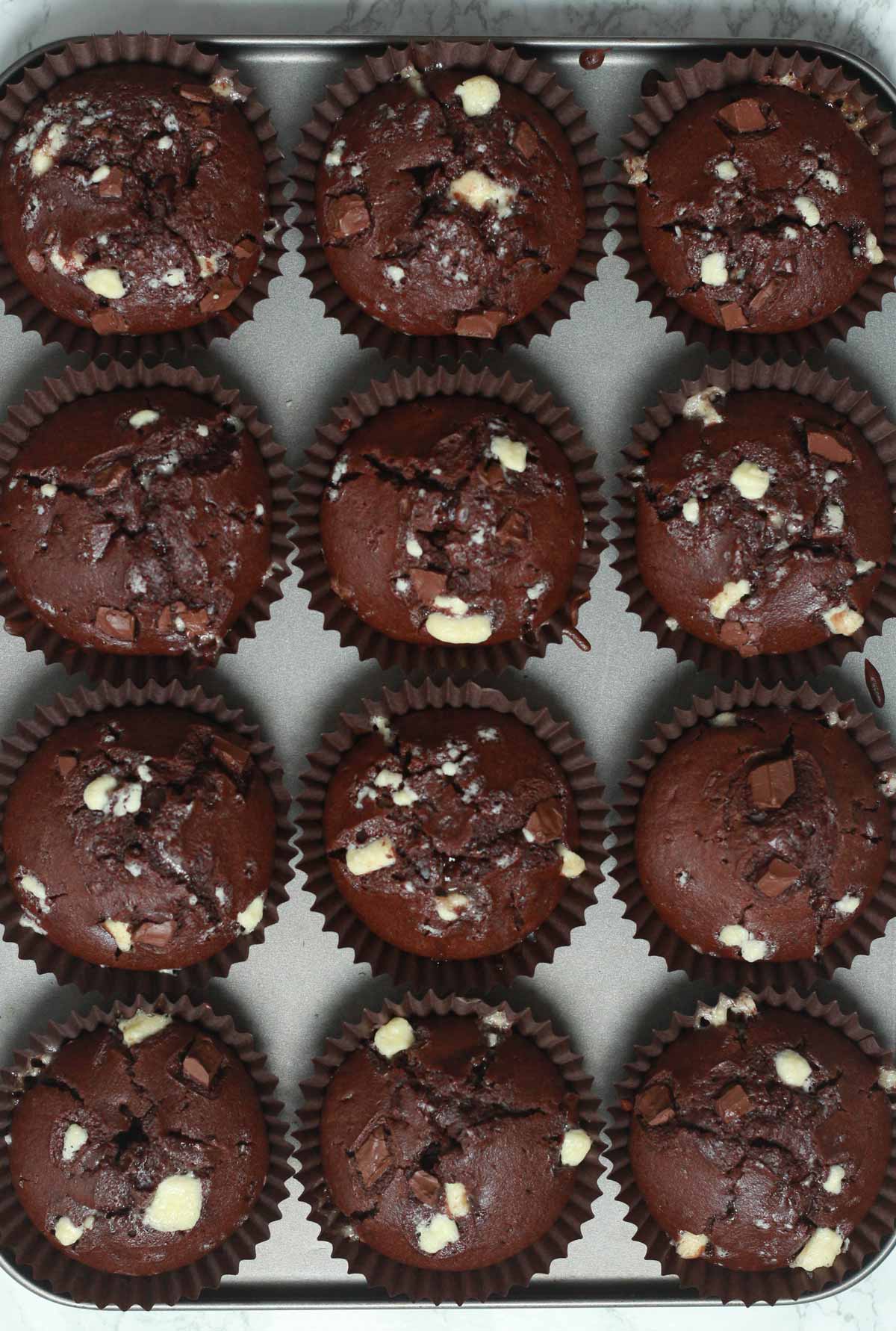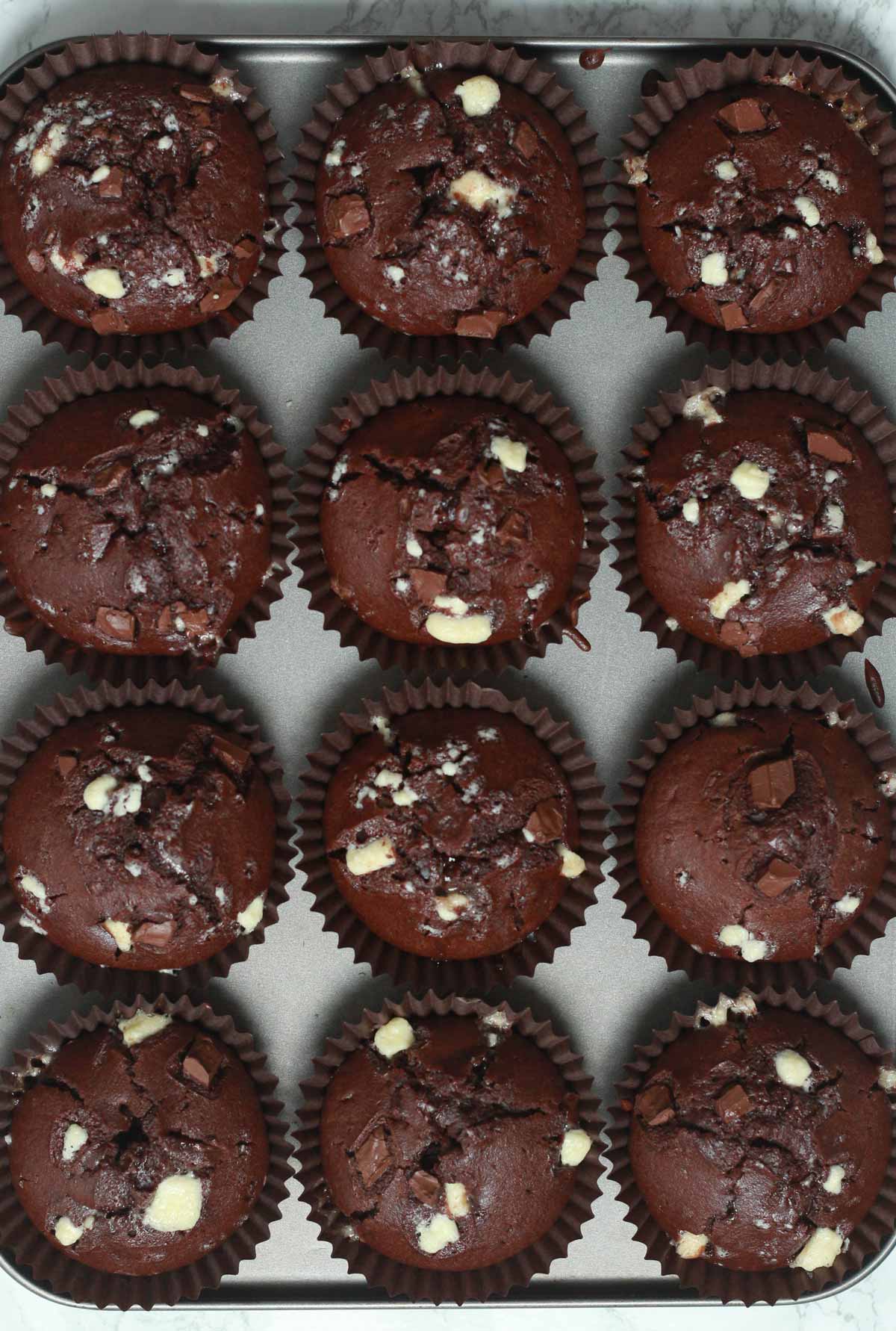 Once baked, let the muffins cool in the tray for 5-10 minutes, then transfer them to a wire rack to cool completely. Then all that's left to do is enjoy!
FAQ:
How should this recipe be stored?
Keep the muffins in an airtight container in a cool, dry place such as a kitchen cupboard. They'll taste best if eaten within 2-3 days. You can place a piece of kitchen towel underneath the muffins to stop them from going soggy.
Can I freeze vegan double chocolate muffins?
Yes! The muffins can be frozen in ziplock bags or placed in an airtight container for up to 1 month. When you're ready to defrost them, just transfer them to a wire rack and let them sit at room temperature for an hour or two until fully thawed.
See more vegan chocolate cakes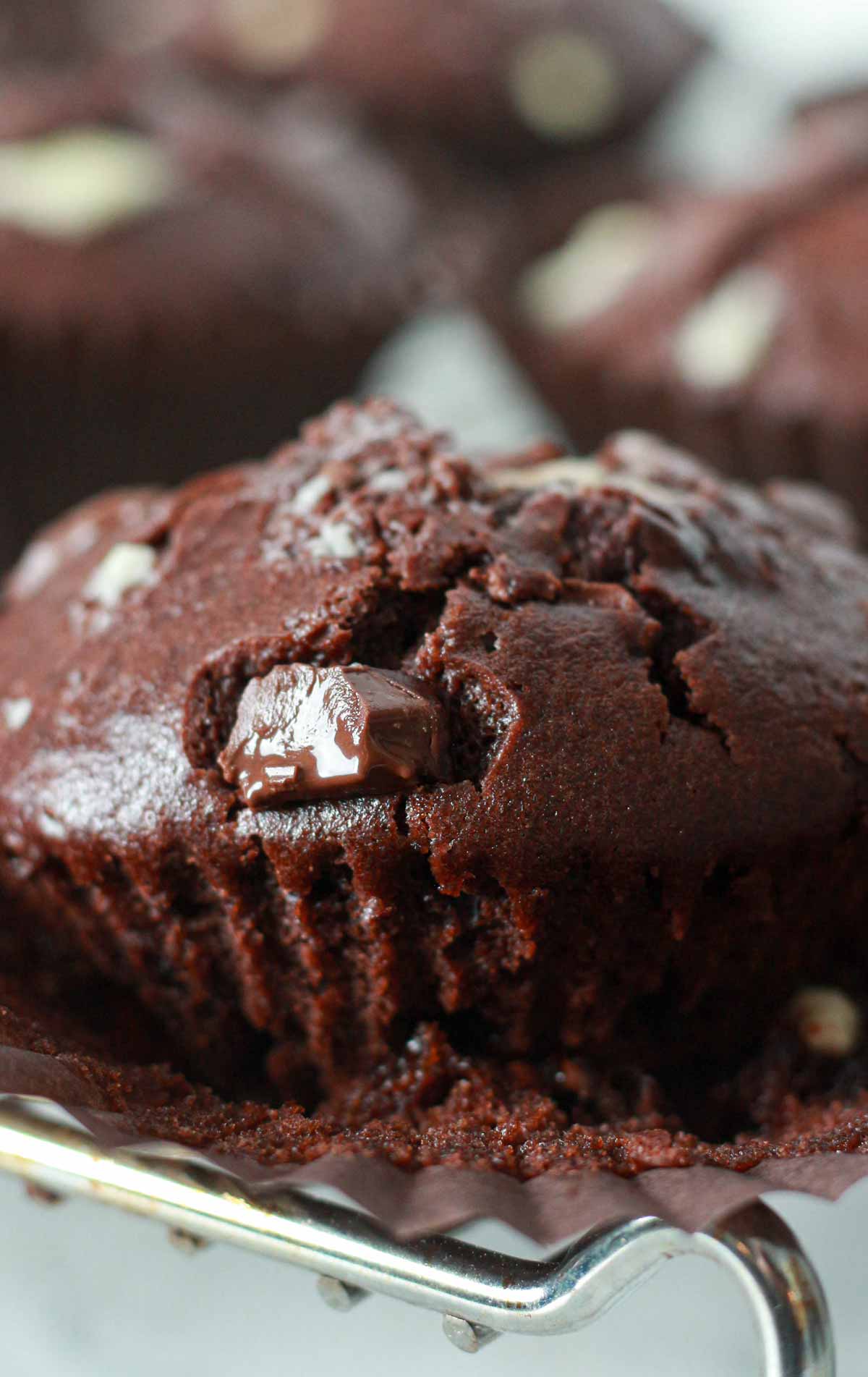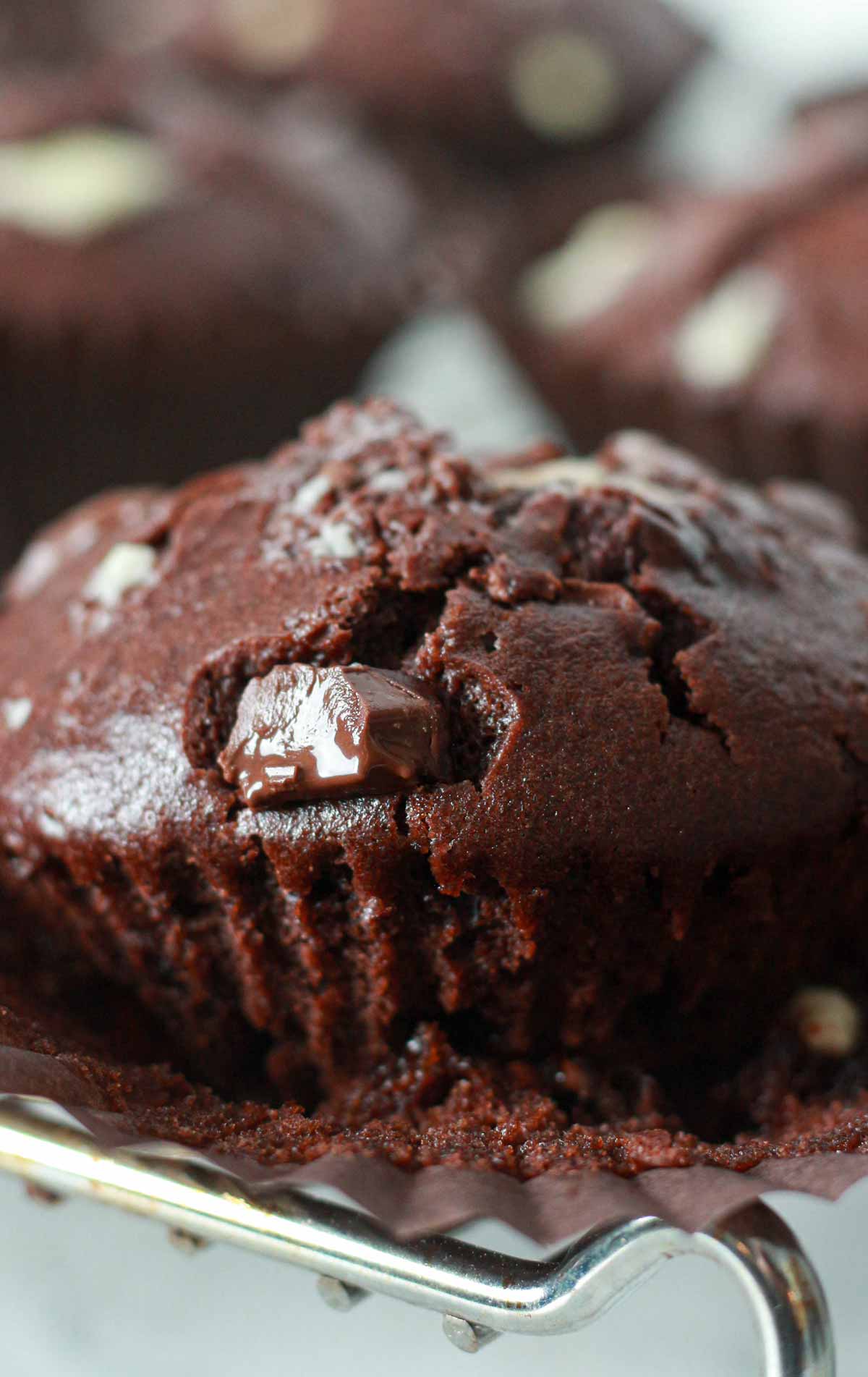 Vegan Double Chocolate Chip Muffins
Soft, fluffy chocolate muffins with white and dark chocolate chips inside. No eggs or dairy needed!
Ingredients
290

g

Self-raising flour

¼

Teaspoon

Baking soda

50

g

Cocoa powder

215

g

Caster sugar

300

ml

Unsweetened soy milk

115

ml

Sunflower or rapeseed oil

1

Teaspoon

Vanilla extract

75

g

Vegan white chocolate chips

75

g

Vegan dark or "milk" chocolate chips

1

Teaspoon

Apple cider vinegar

(sub for white vinegar or lemon juice)
Instructions
Preheat your oven to 180°C/350°F (or 160°C/325°F for fan or convection ovens). Line a muffin tray with 12 liners.

In a large bowl, mix together the flour, baking soda, cocoa powder and caster sugar.

Next, add in the soy milk, oil, vanilla extract and vinegar. Mix well until you have a smooth muffin batter.

Stir in the chocolate chips, leaving a few aside to sprinkle on top.

Divide the batter equally between your muffin cases and sprinkle over the remaining chocolate chips.

Bake for around 20-30 minutes (this will depend on the depth of your tray) or until a toothpick through the centre comes out clean.

Transfer the muffins to a wire rack and let them cool completely before enjoying.
Recipe Notes
Store in an airtight container in a cool, dry place for up to 3 days.
Nutrition Facts
Vegan Double Chocolate Chip Muffins
Amount Per Serving (1 muffin)
Calories 325
Calories from Fat 135
% Daily Value*
Fat 15g23%
Sodium 19mg1%
Carbohydrates 43g14%
Protein 4g8%
* All values are an estimate only and will vary depending on the food brands used.
BakedByClo is a participant in the Amazon Services LLC Associates Program, an affiliate advertising program designed to provide a means for sites to earn advertising fees by advertising and linking to Amazon.com. This site may contain some of these links to Amazon.com & other affiliate programs. If you make a purchase through one of those links, BakedByClo will receive a small commission from the purchase at no additional cost to you.