Vegan Cinnamon Muffins
These vegan cinnamon muffins are soft, fluffy and full of flavour. They're easy to make with simple ingredients, and are naturally eggless with no need for egg replacers. They're perfect for baking all year round but especially great during the festive season.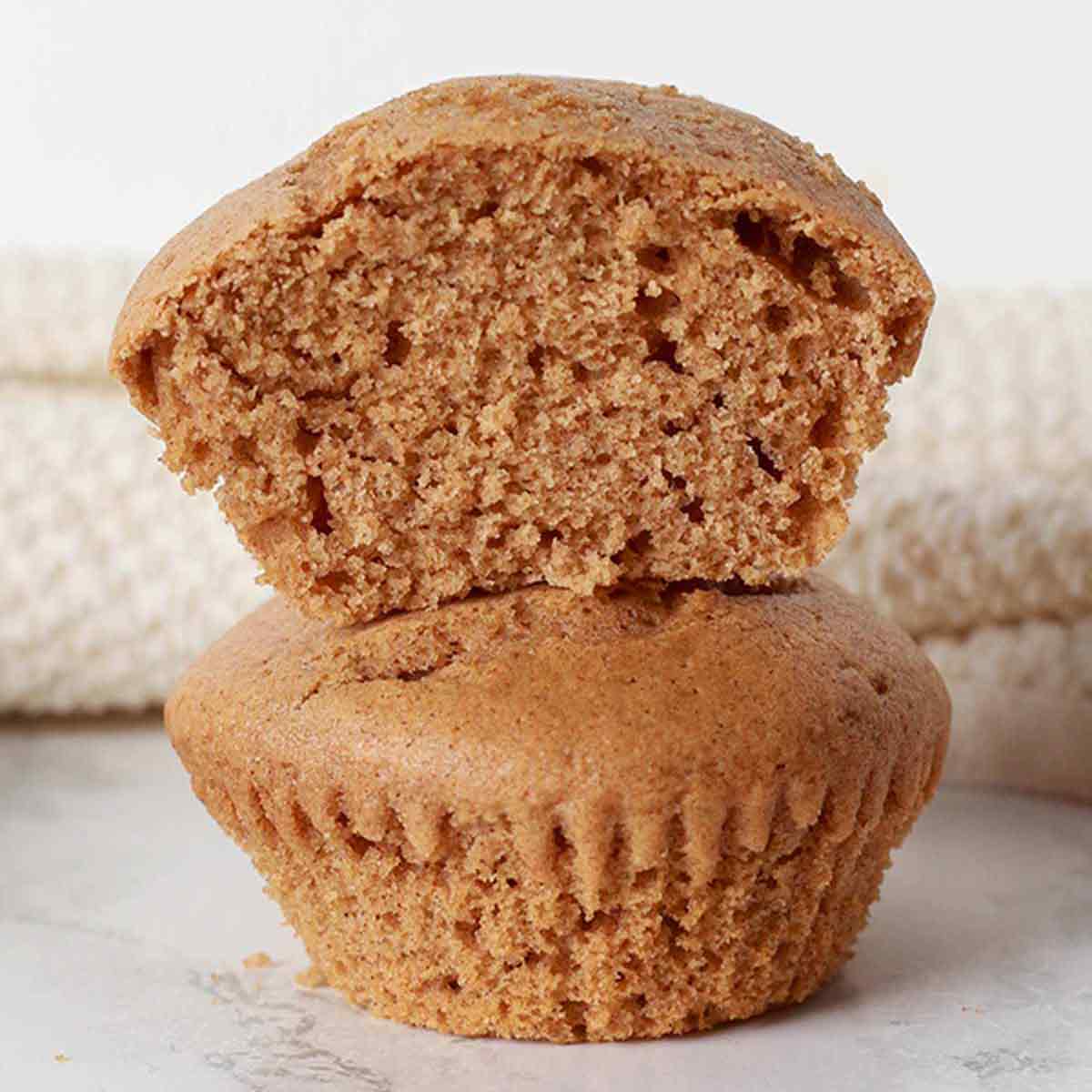 Is there any better flavour for Winter time than cinnamon? I don't think so!
Cinnamon has always been one of my favourite ingredients to bake with in the run up to Christmas, so since we're almost in December, I wanted to start expanding my collection of cinnamon recipes on this blog. Because who doesn't love a cinnamon flavoured dessert?
Today, I'm starting with some moist (yet fluffy) eggless cinnamon muffins. I don't have too many muffin recipes on the blog yet but I'm hoping to change that soon. I've got lots of flavour ideas in mind so keep your eyes peeled. And if you have any suggestions, just let me know by leaving a comment at the bottom of this page and I'll get to work on a recipe.
Only 8 ingredients!
I wanted to make this a super simple, quick and easy recipe, so I followed an old version of my raspberry muffins recipe and made a few changes to it. After the changes, the recipe contains just 8 ingredients! And perhaps with the exception of the dairy-free margarine, all of them are very cheap, basic ingredients that you'll find in pretty much any shop or supermarket.
The first change I made to the recipe was that I added some ground cinnamon. Obviously…
I then switched some of the caster sugar for brown sugar. I did this because I love the extra moisture and flavour that brown sugar gives. And of course, I omitted the raspberries too, because they have no place in a cinnamon muffin recipe.
Lastly, I removed the vinegar as it was no longer needed. The brown sugar is the extra 'acidic' ingredient we need in this recipe. It creates a chemical reaction with the raising agents in the flour and this is what helps the muffins to rise as they bake.
And that was all I had to change! These muffins are eggless naturally, so there's no need to use an egg replacer for this recipe. The moisture from the dairy-free milk and margarine does a great job of binding the muffins together. So, don't worry, there's no flax or chia eggs needed!
If you like these muffins, make sure to try my other muffin recipes too!
Ingredients you'll need for these muffins:
Self-raising flour. I used self-raising flour in this recipe instead of plain flour because it already contains raising agents.
Baking powder. Not to be confused with baking soda (bicarbonate of soda). Baking powder adds a little boost to the raising agents in the flour and helps the muffins to become light and fluffy.
Caster sugar. For sweetness and a slightly crunchy top.
Brown sugar. I used a combination of caster sugar and brown sugar here because I love the caramel-like flavour brown sugar has. It adds a bit of extra moistness too.
Cinnamon. The main ingredient, of course! I added 2 teaspoons to my muffins and was happy with the flavour but you can add more or less, depending on your preference. I like to use this sweet cinnamon.
Vegan margarine. I chose to use dairy-free margarine because it has a better flavour. I used to use oil (vegetable) for my muffins but when there are no other strong flavours like chocolate in the batter, the muffins can end up tasting a bit bland. Vegan margarine adds that classic "buttery" flavour and makes the muffins moist. I recommend using the spreadable type and not the blocky type.
Soy milk. I recommend using unsweetened soy milk for best results. This works alongside the vegan margarine to add moisture to the muffins. I haven't tried it with any other dairy-free milks yet but I think oat milk would be the best alternative to soy.
Vanilla extract. This adds a bit of extra flavour and compliments the cinnamon nicely.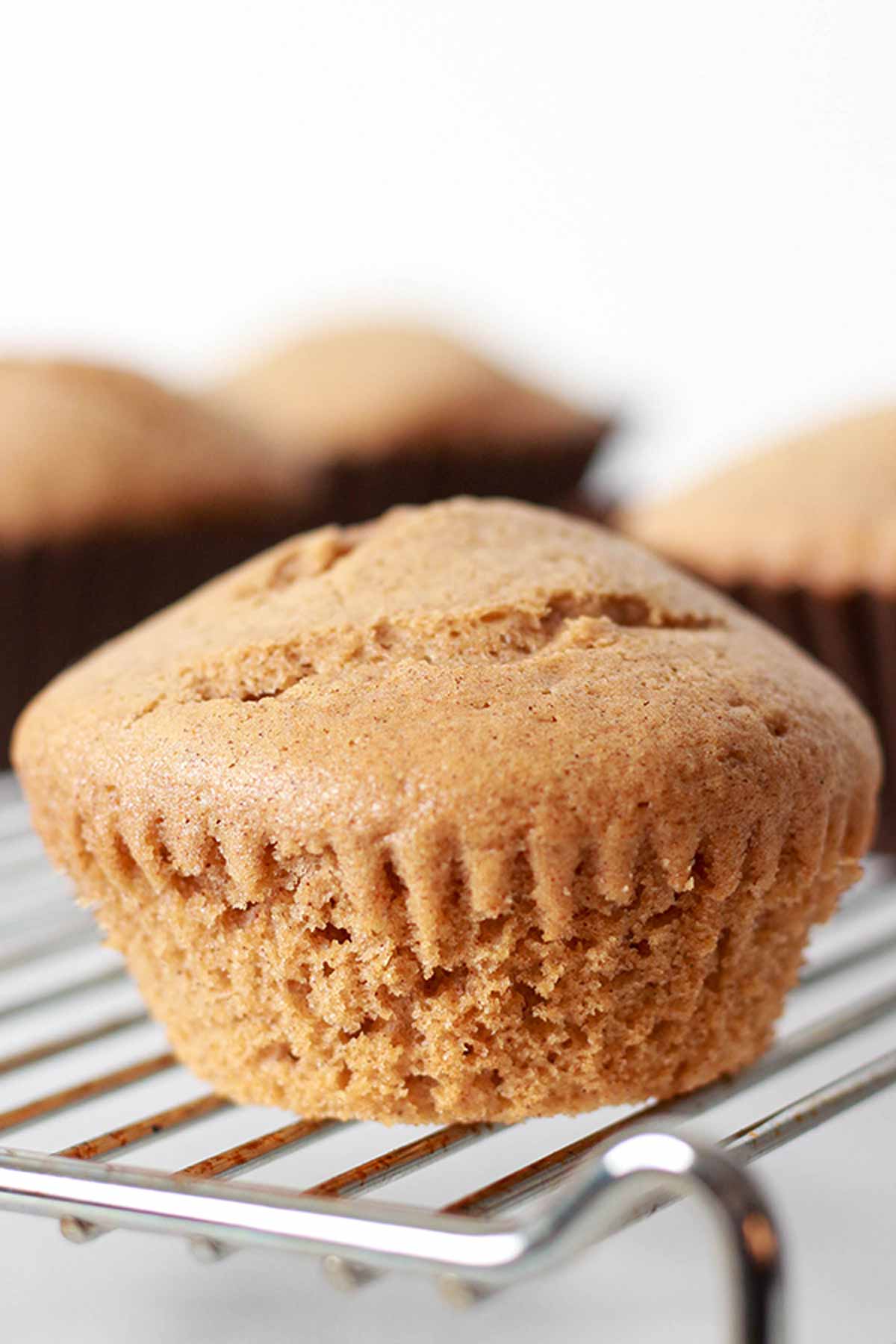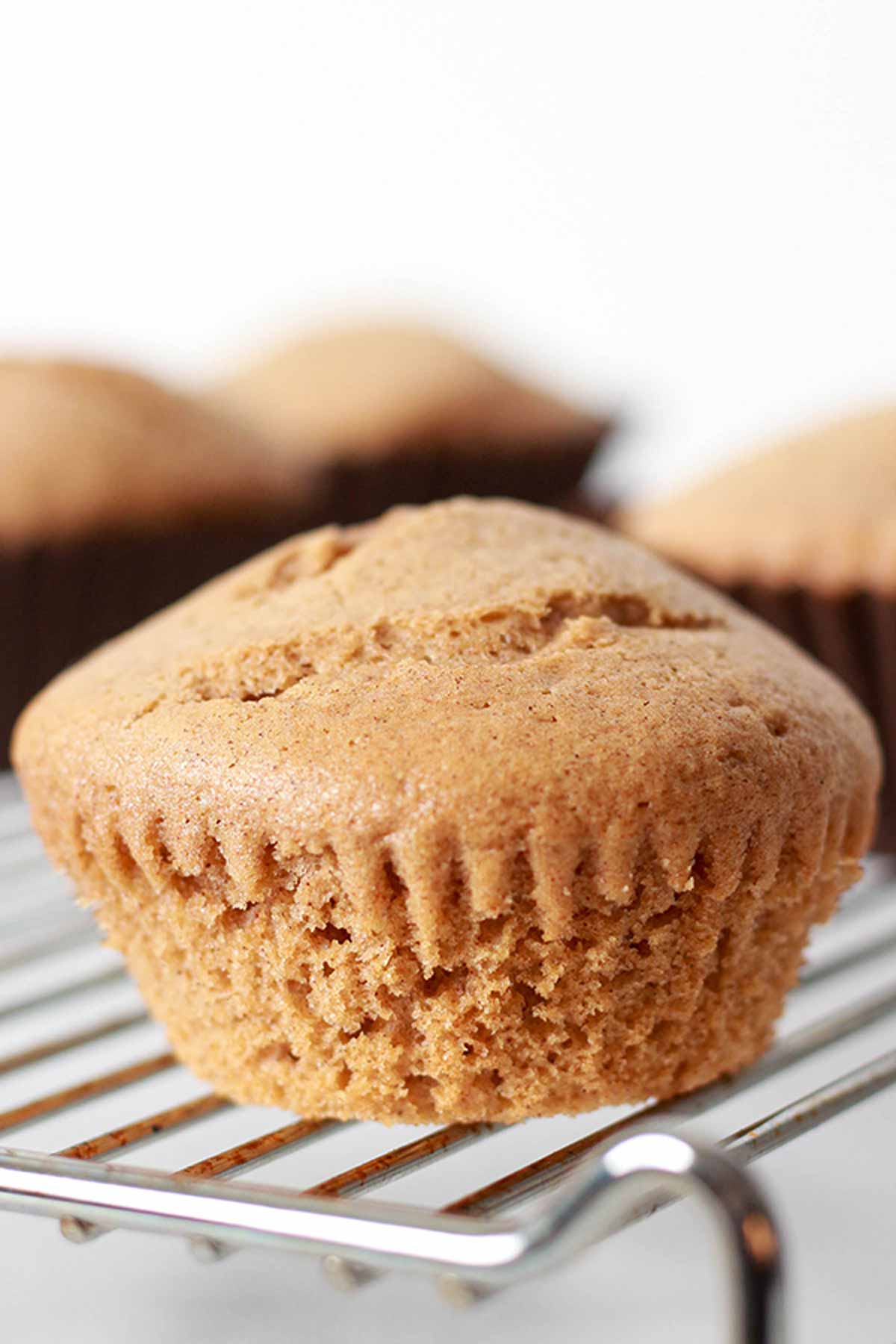 More vegan cinnamon desserts:
How to make vegan cinnamon muffins
Step 1:
Preheat your oven to 180°C/350°F (or 160°C/325°F if you're using a fan or convection oven). Line a muffin tray with 6 muffin liners. You can double the recipe easily if you want to make more.
Step 2:
In a large bowl, mix together 175g of self-raising flour, 1/2 a teaspoon of baking powder, 70g of caster sugar (also known as super-fine sugar), and 50g of soft light brown sugar.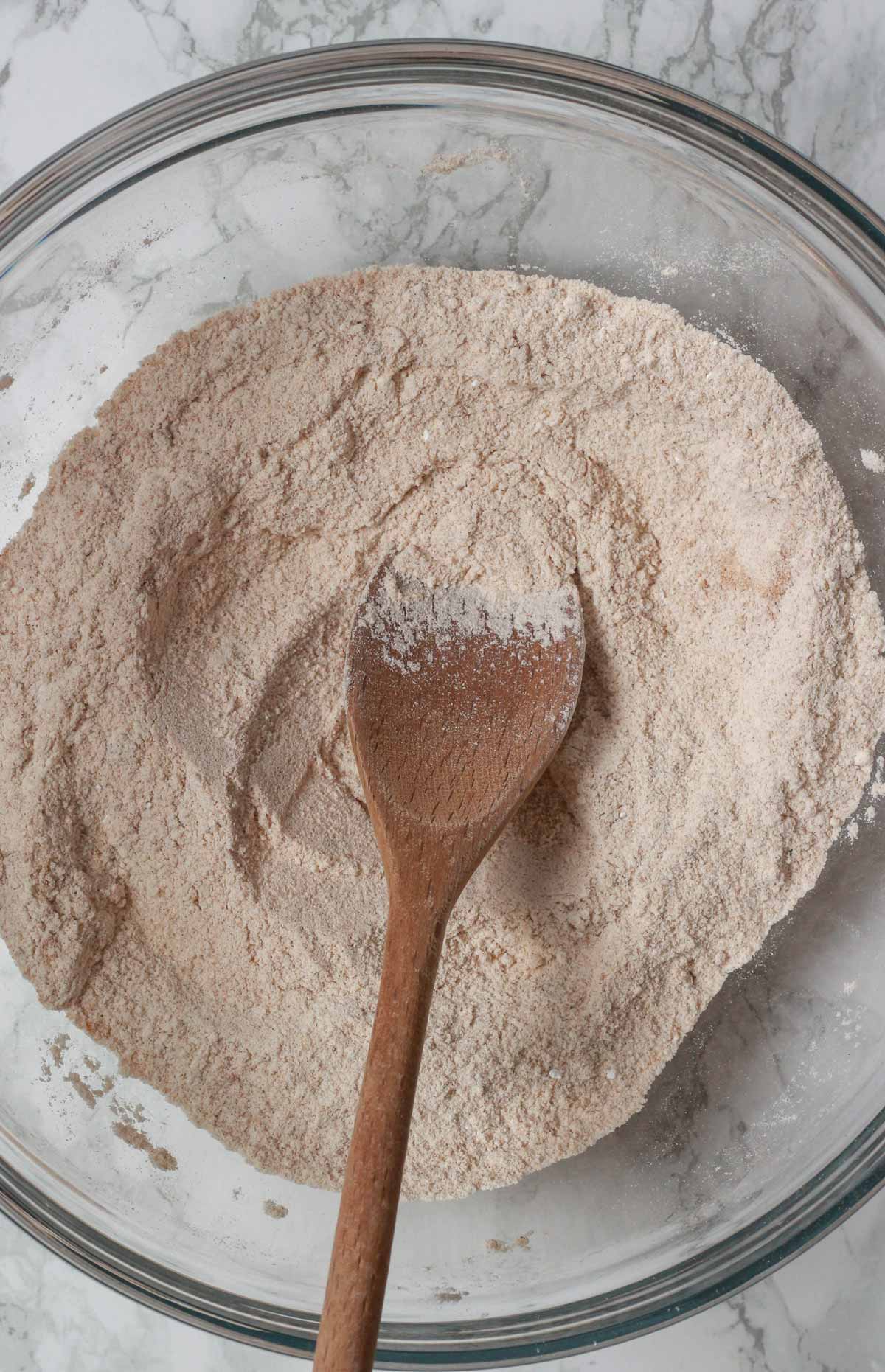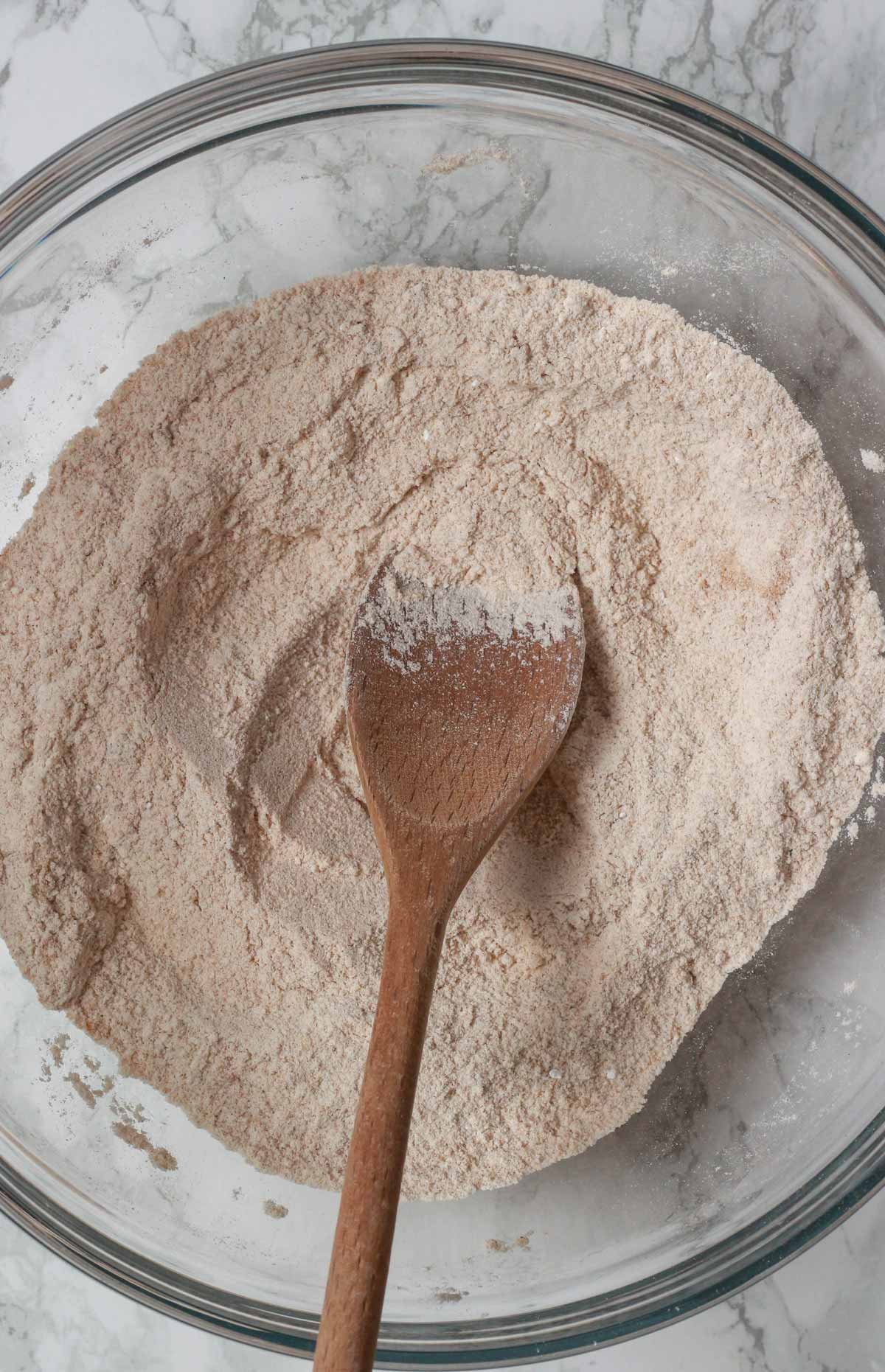 Step 3:
Next, melt 80g of dairy-free margarine in the microwave. Leave it to cool for a few minutes.
Add the melted margarine to the bowl of dry ingredients, along with 135ml of unsweetened soy milk and 1 teaspoon of vanilla extract. Mix well until you have a smooth batter.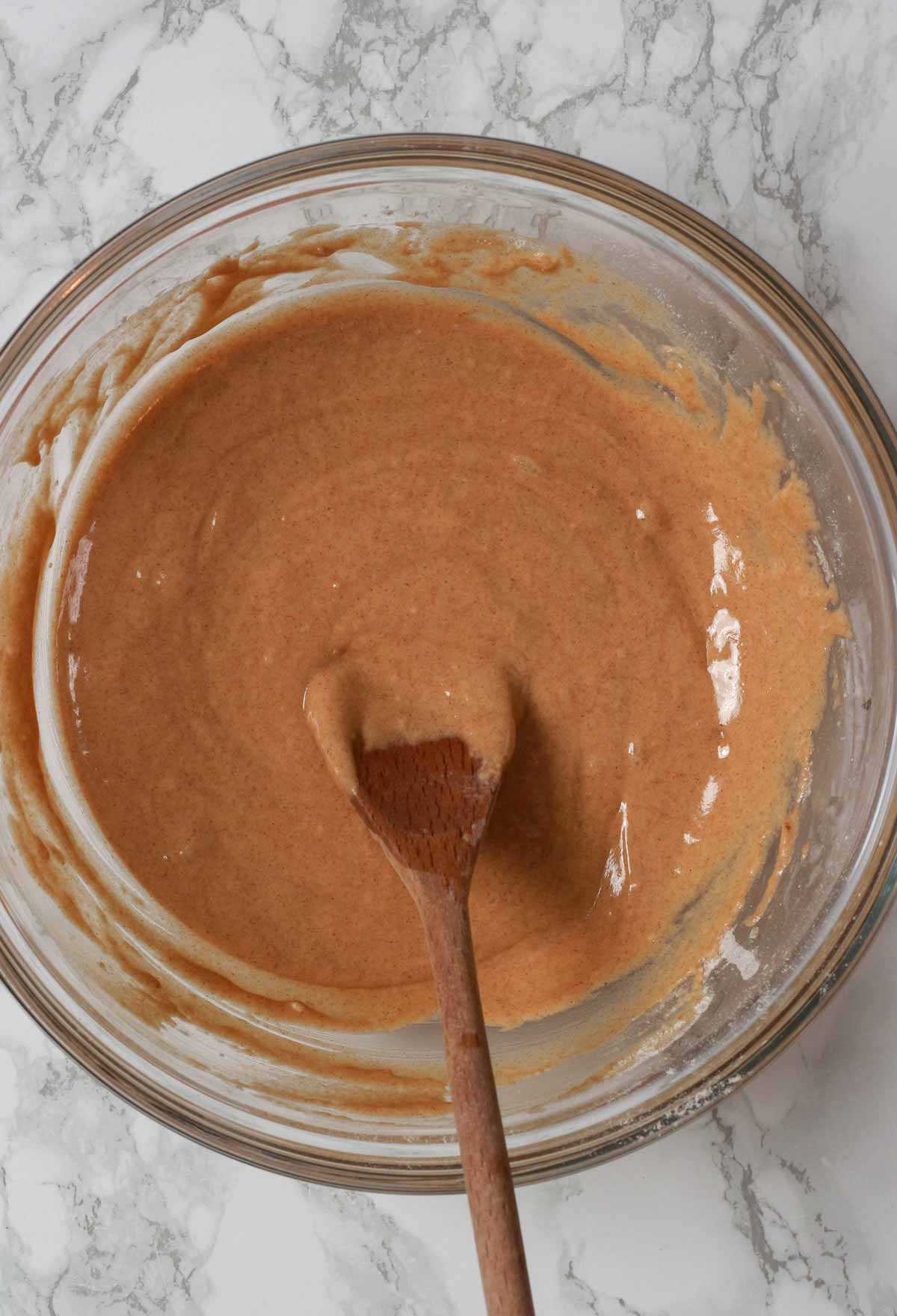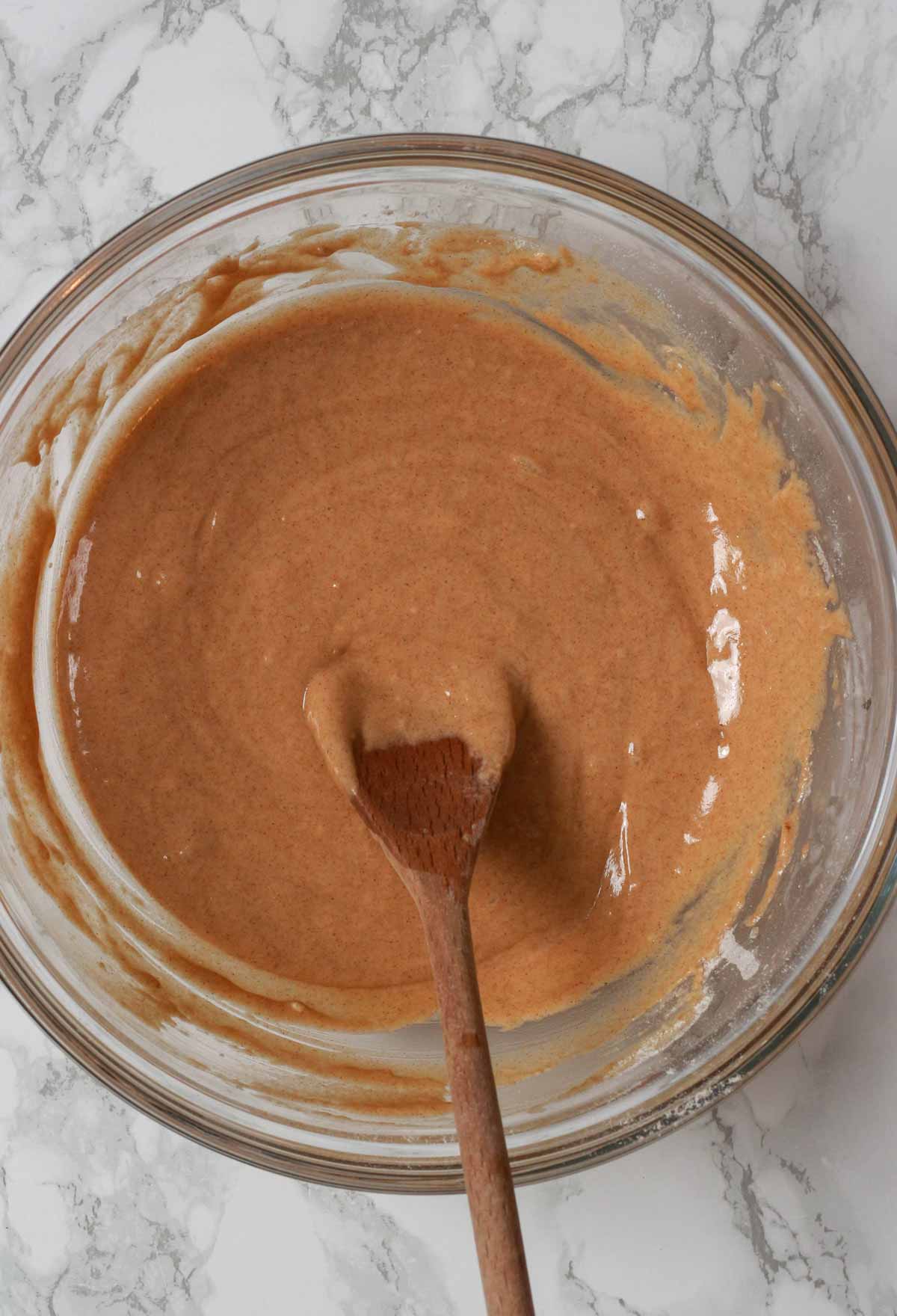 Step 4:
Divide the batter equally between your 6 muffin liners.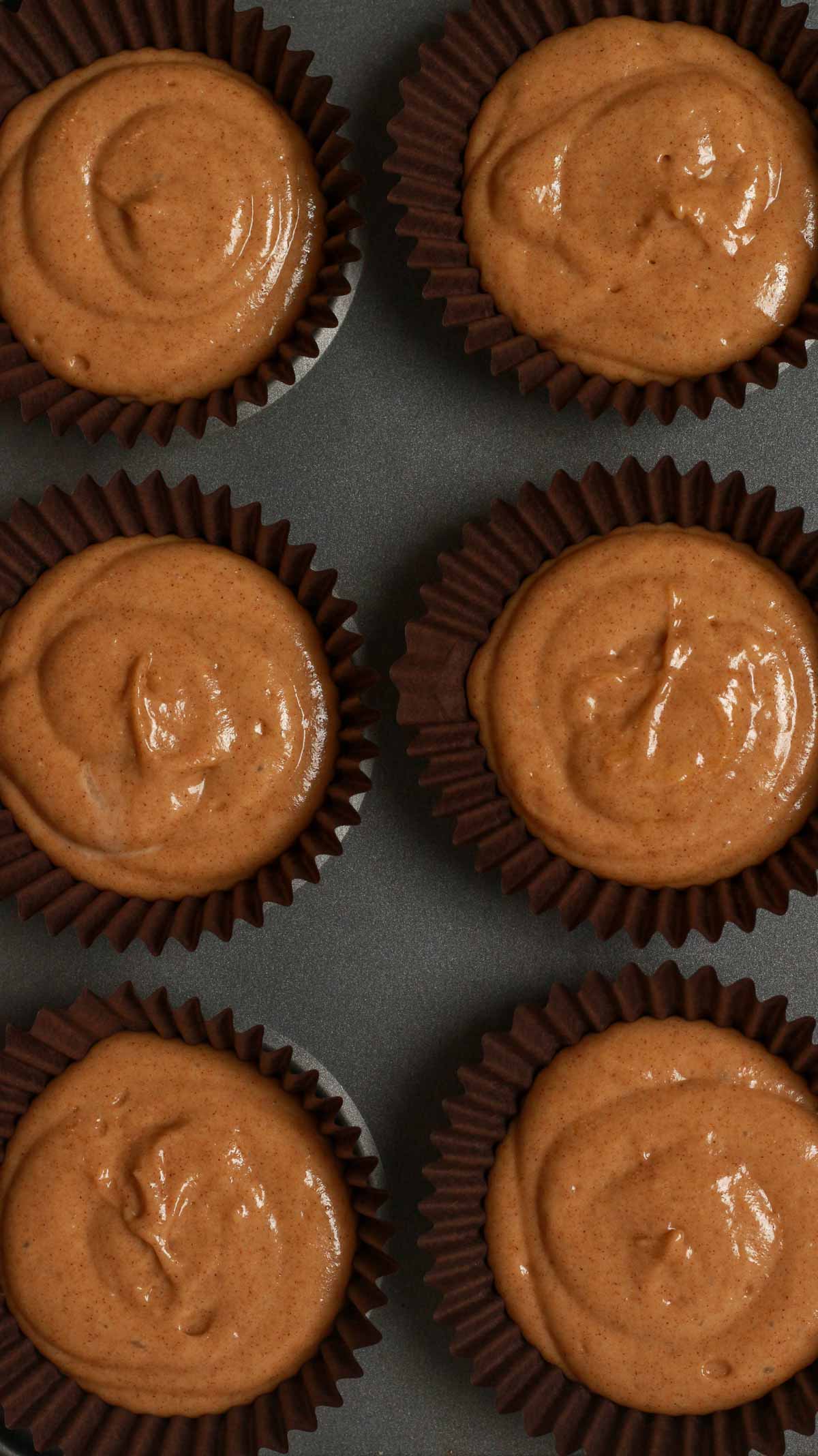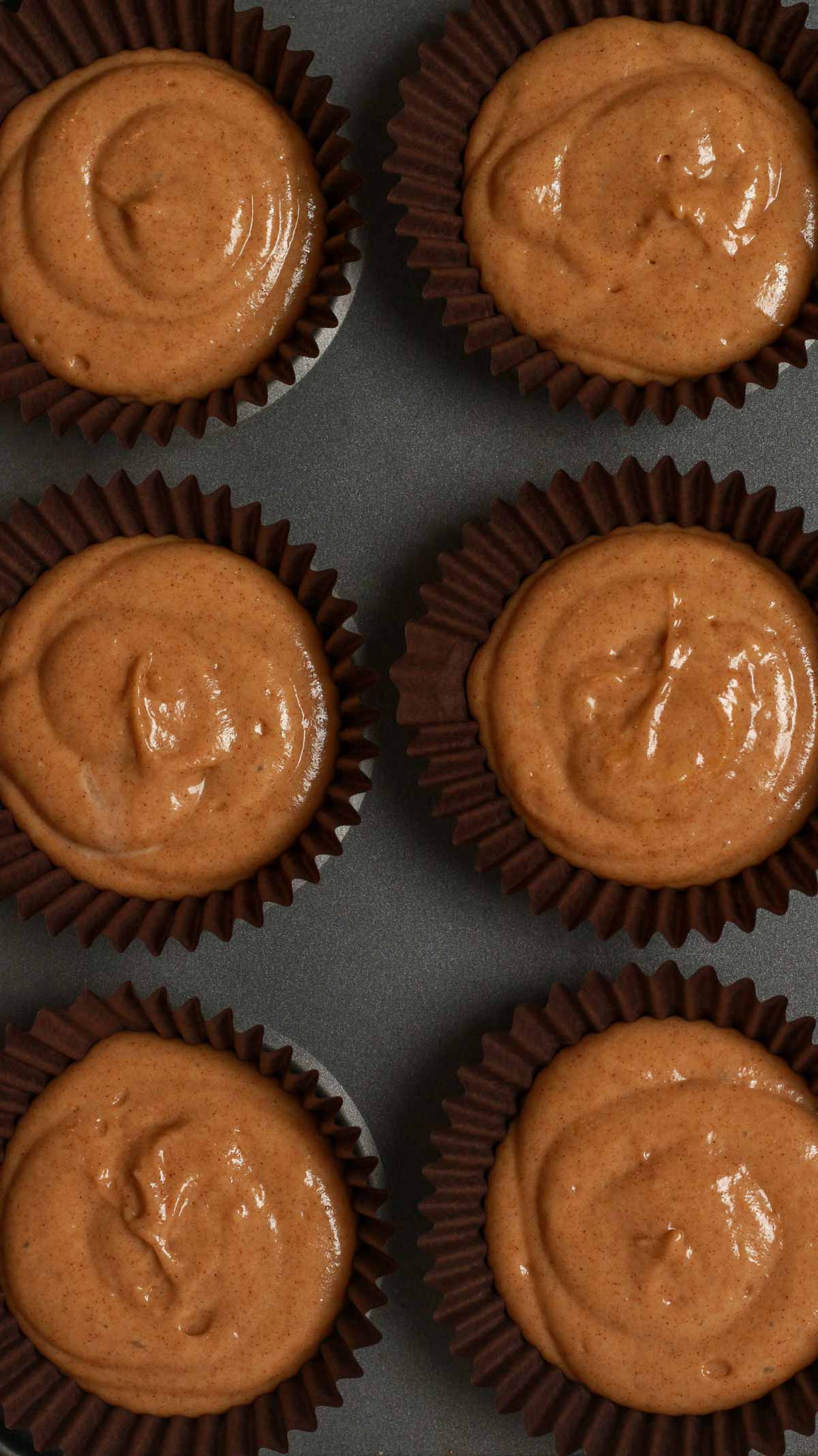 Bake for around 20-30 minutes, until a toothpick through the centre comes out clean. Let them sit in the tin for around 5 minutes before enjoying warm, or transfer the muffins to a wire rack and leave them to cool.
Cinnamon muffin mix-in ideas:
These dairy-free cinnamon muffins are truly delicious as-is but if you want to add a little extra something, you can mix one of the following into the batter before baking:
Chopped apple pieces for apple and cinnamon muffins
Nuts such as walnuts, almonds or pecans
Dairy-free chocolate chips
Other spices such as ginger or cardamom
You could also add a simple water icing glaze on top of the muffins once they've baked, for extra sweetness and texture.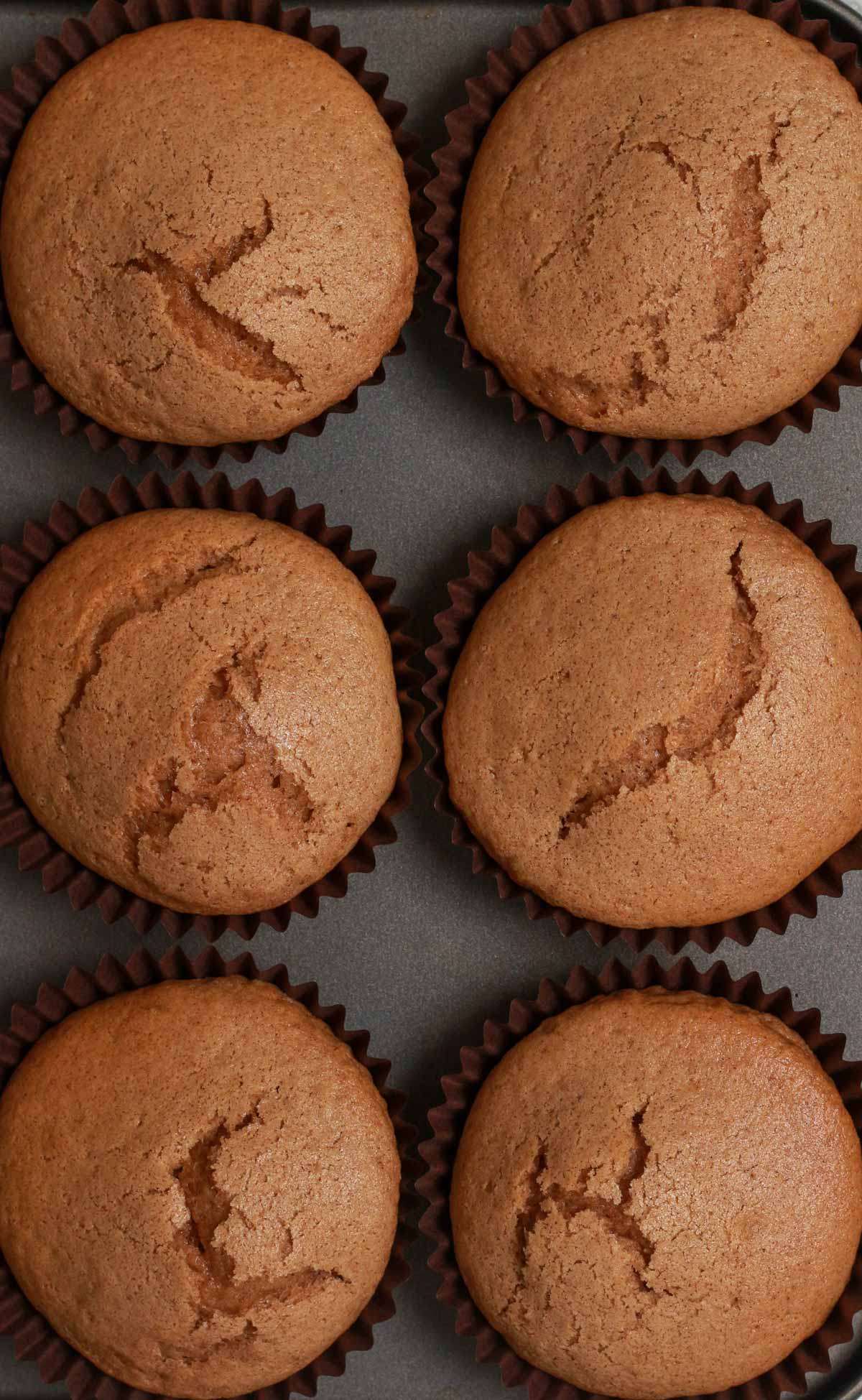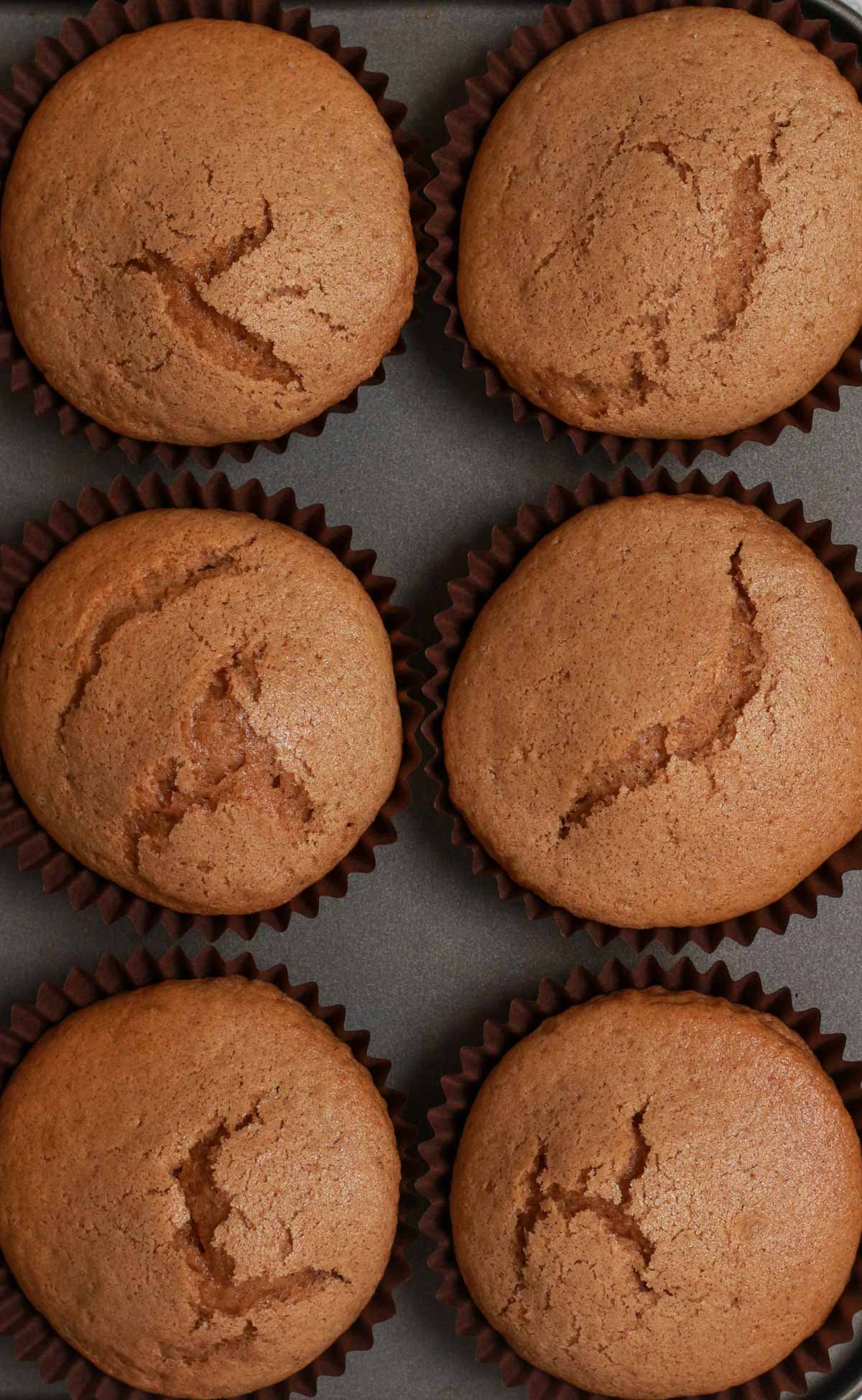 FAQ:
How long will dairy-free cinnamon muffins last?
They'll keep for up to 3 days. Store them in an airtight container and keep them in a cool, dark place such as a kitchen cupboard. Line your container with some kitchen roll to keep them fluffier for longer.
Can I freeze them?
Yes, vegan cinnamon muffins can be frozen. Pop them in an airtight container or ziplock bag and freeze for up to 2 months. When you're ready to eat them, transfer them to a wire rack and let them sit at room temperature for around an hour or so until fully thawed. Do not refreeze.
---
I hope you enjoy the recipe! If you make these vegan cinnamon muffins at home, please let me know what you think by leaving a rating and/or comment below. Happy baking! xo

Vegan Cinnamon Muffins
Light and fluffy eggless cinnamon muffins.
Ingredients
350

g

Self-raising flour

1

Teaspoon

Baking powder

140

g

Caster sugar

100

g

Soft light brown sugar

3-4

Teaspoons

Cinnamon

(depending on preference)

160

g

Vegan margarine, melted

270

ml

Unsweetened soy milk

2

Teaspoons

Vanilla extract
Instructions
Preheat your oven to 180°C/350°F (or 160°C/325°F if you're using a fan or convection oven).

Line a muffin tray with 12 muffin liners.

In a large bowl, mix together the flour, baking powder, caster sugar, brown sugar and cinnamon.

Add the melted margarine, soy milk and vanilla extract to the bowl and mix well until you have a smooth batter.

Divide the batter equally between your 12 liners. Bake for 20-30 minutes (this will depend on how deep your tray is), or until a toothpick through the middle comes out clean.
Recipe Notes
Store in an airtight container in a cool, dry place for up to 3 days.
Nutrition Facts
Vegan Cinnamon Muffins
Amount Per Serving (1 muffin)
Calories 252
Calories from Fat 72
% Daily Value*
Fat 8g12%
Sodium 117mg5%
Carbohydrates 40g13%
Protein 4g8%
* All values are an estimate only and will vary depending on the food brands used.
BakedByClo is a participant in the Amazon Services LLC Associates Program, an affiliate advertising program designed to provide a means for sites to earn advertising fees by advertising and linking to Amazon.com. This site may contain some of these links to Amazon.com & other affiliate programs. If you make a purchase through one of those links, BakedByClo will receive a small commission from the purchase at no additional cost to you.