Vegan Strawberry Muffins
These vegan strawberry muffins are a great sweet treat for summer time. They're light and fluffy, and packed with chunks of fresh fruit. Perfect for picnics and on-the-go snacks!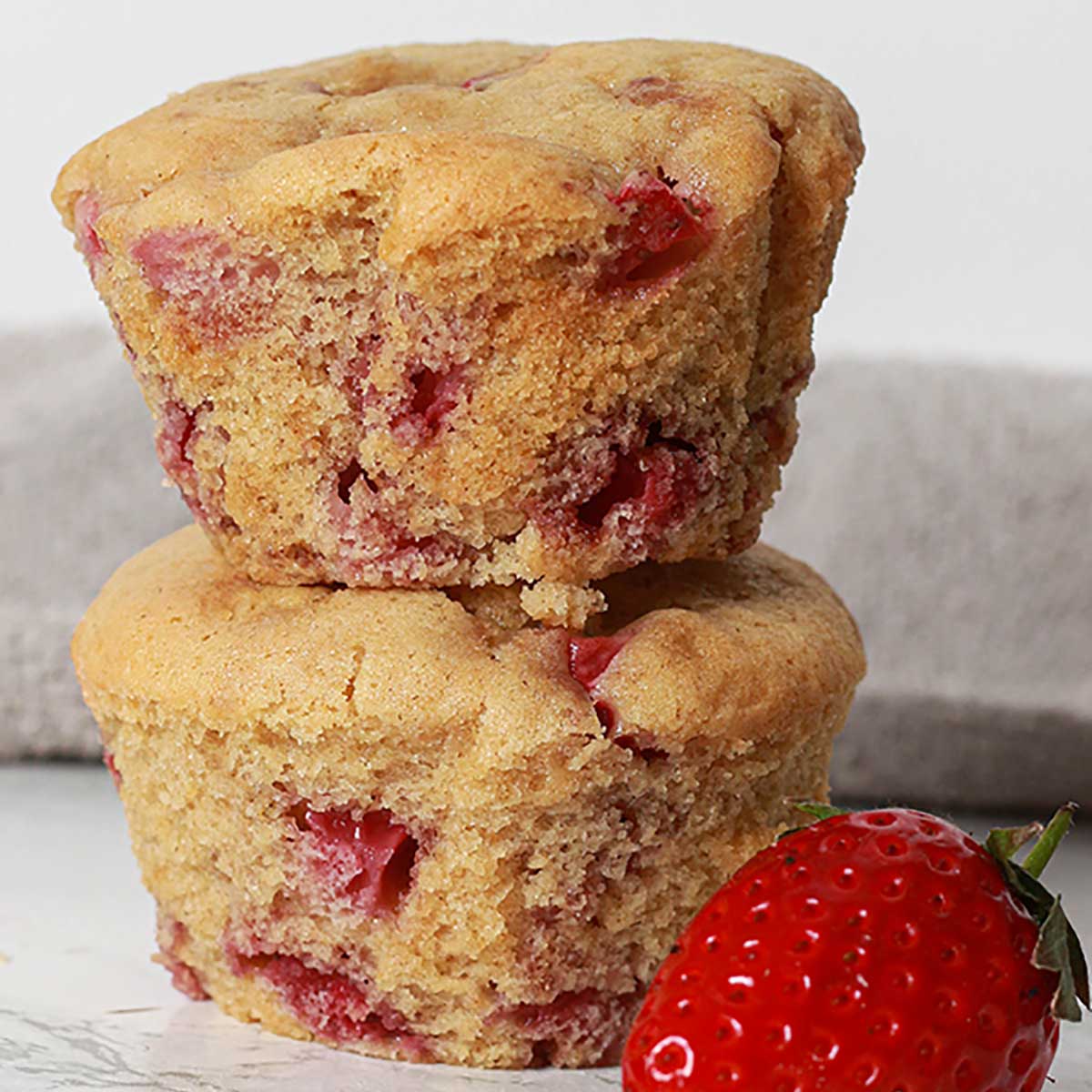 If you're from the UK, you'll know how utterly delicious the strawberries are here at this time of year. They're extra sweet and juicy, making for a refreshing snack.
I haven't used strawberries for very many of the recipes on this blog so I thought it was a good time to share my strawberry muffin recipe with you all. It's the first time I've used fresh strawberries in a baked good and oh my gosh, I was not disappointed!
The great thing about these muffins is that they are SO easy to make. If you've never baked without eggs or dairy before, this is a great recipe to start with. You'll only need 8 simple ingredients and you'll probably already have most of them lying around at home.
How to replace eggs in vegan muffins
There are many egg substitutes out there now, so many that I even wrote a whole post dedicated to vegan egg replacements! For desserts that should have a light and fluffy texture, I love using soy milk. I know many people think of soy milk as a dairy replacement but try this recipe out and see for yourself. You'll be amazed at how light and fluffy yet moist the muffins turn out when using soy milk instead of eggs.
Obviously, soy milk doesn't have the same lifting power as eggs so it's important to add some kind of raising agent to the recipe too. In this case, I used self-raising flour and a little bit of baking powder, for maximum lift and fluffiness. Eggless strawberry muffins? No problem!
Ingredients you'll need for this recipe
Self-raising flour and baking powder. As I noted above, we need to add a little raising agent to the recipe as we're not using eggs. You can use a combo of bicarbonate of soda and baking powder along with plain flour, but I find I get better results using self-raising flour plus baking powder.
Sugar. For this recipe, I used a mix of caster sugar and soft light-brown sugar. The mix of the two helps to create a muffin that is slightly crunchy on top but moist and fluffy in the middle.
Vegan margarine. Using melted margarine also plays a part in keeping the muffins soft and moist inside. Use a spreadable type of vegan 'butter' such as Vitalite or Pure sunflower spread. The blocky butters contain less water and will result in drier muffins.
Unsweetened soy milk. I always use organic, unsweetened soy milk for my bakes as it gives me great results every time. I am not sure if almond or oat milk will work in the same way as I haven't tested the recipe with any other vegan milks.
Strawberry extract. I got my strawberry extract from Amazon. If you can't find any, feel free to use an equal amount of vanilla extract instead.
Fresh strawberries. It's best to use fresh fruit here as frozen will likely cause the muffins to become too soggy. A great tip to prevent soggy muffins is to lightly coat the fruit pieces in a little bit of flour before you add them to the batter. This will help to soak up any excess water.
How to make vegan strawberry muffins
Step 1:
Preheat your oven to 180°C/350°F (or 160°C/325°F if you're using a fan or convection oven). Line a muffin tin with 12 muffin liners. I used these muffin cases from Amazon.
Step 2:
In a large bowl, mix together 350g of self-raising flour, 140g of caster sugar, 100g of soft light brown sugar and 1/2 a teaspoon of baking powder .
Step 3:
Measure out 160g of vegan margarine and heat it in the microwave in short bursts until fully melted. Let it cool for a minute or two.
Step 4:
Add the melted margarine to the bowl of dry ingredients along with 270ml of unsweetened soy milk and 1 teaspoon of strawberry extract. If you can't get hold of strawberry extract, feel free to use vanilla extract instead.
Mix well until you have a smooth batter.
Step 5:
Chop 300g of fresh strawberries into small chunks. Add them to a small bowl with 1/2 a tablespoon of flour and mix briefly. As you can tell, I didn't do this in the image below but doing it will help to prevent the fruit from sinking to the bottom and creating soggy muffins.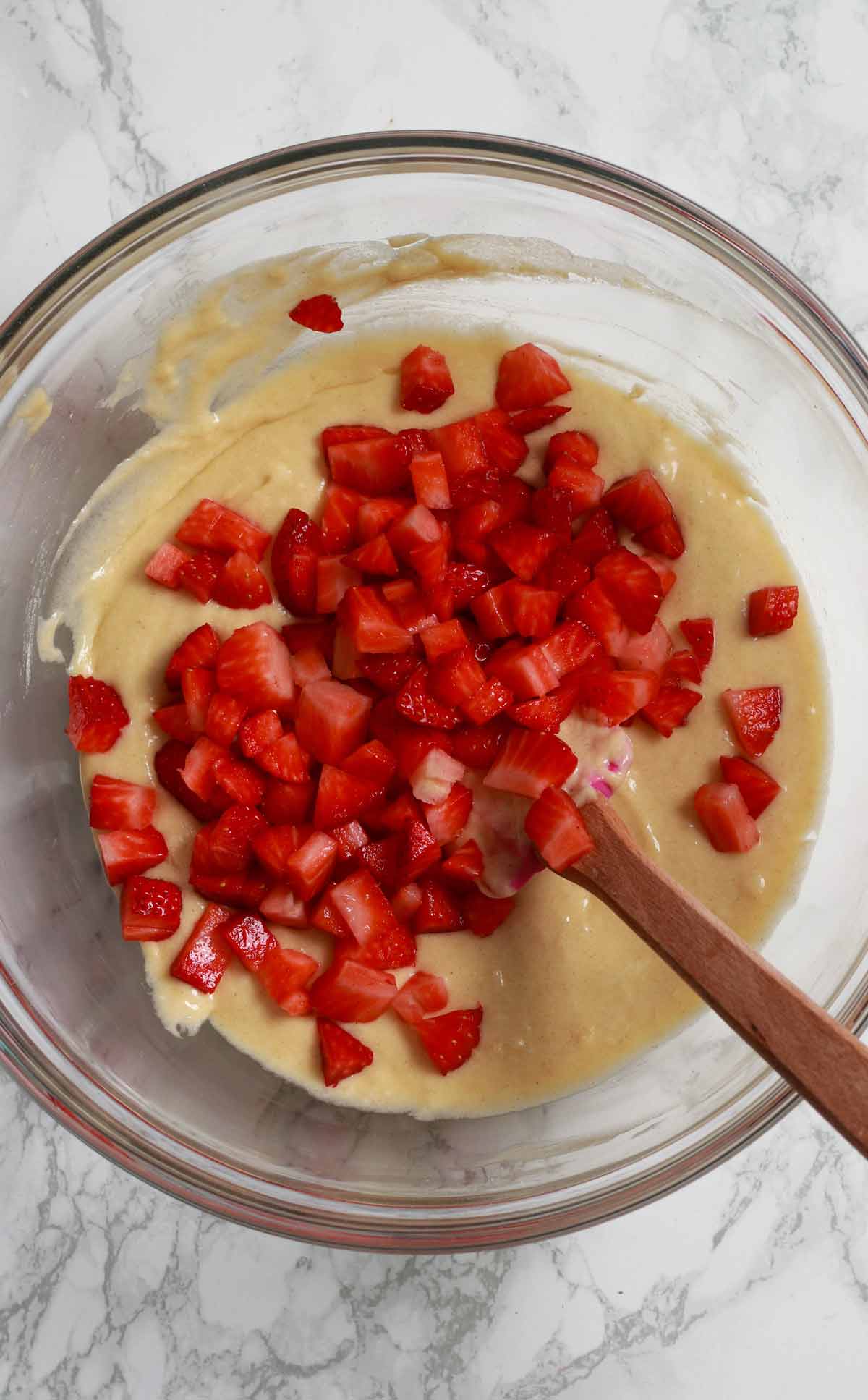 Add the strawberry pieces to the muffin batter and gently fold them in.
Step 6:
Divide the batter equally between your 12 muffin cases.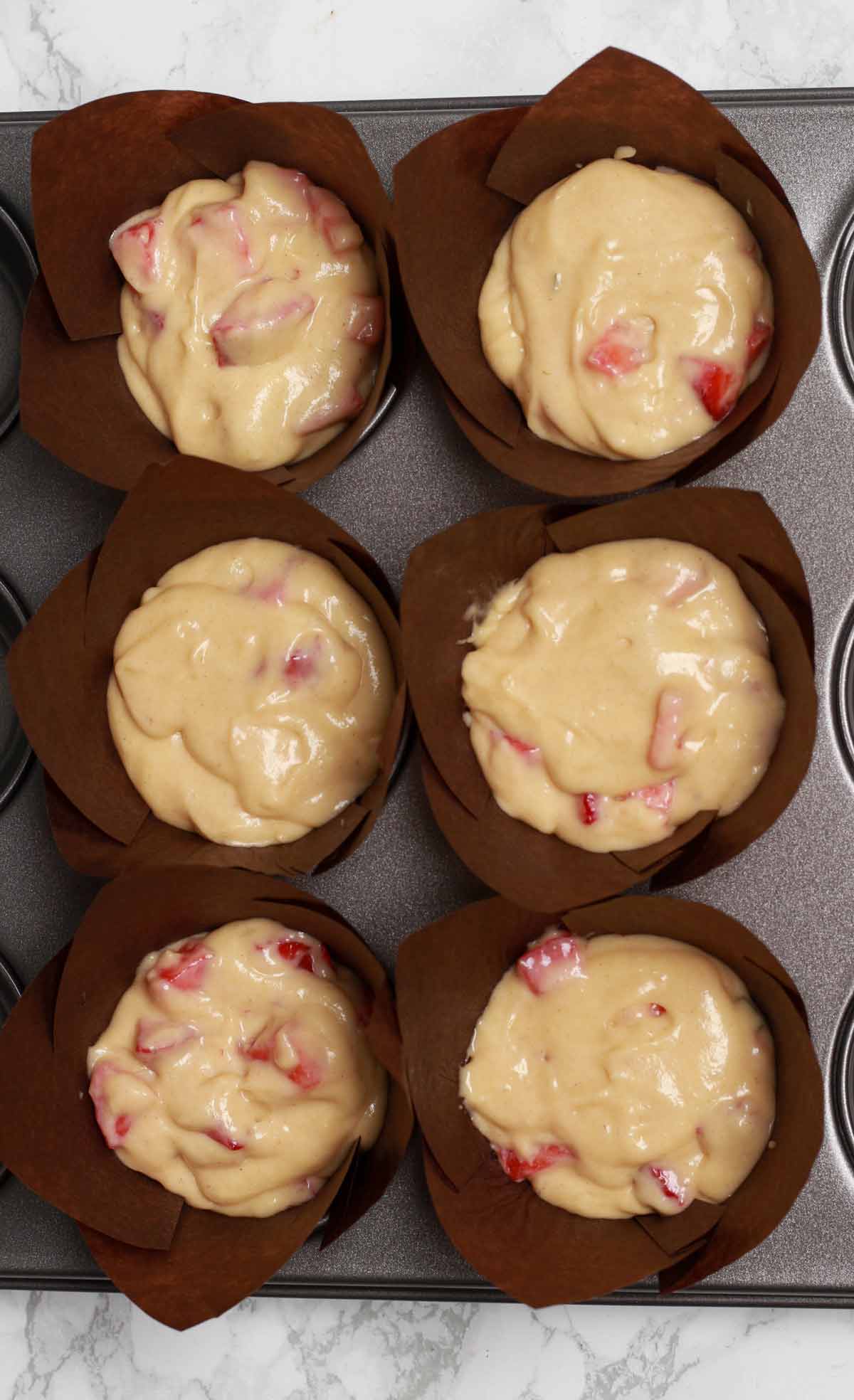 Bake for 25-30 minutes, until a toothpick through the centre comes out clean. Muffin cases that are more on the shallow side will need a little less time, closer to 20 minutes or so.
Step 7: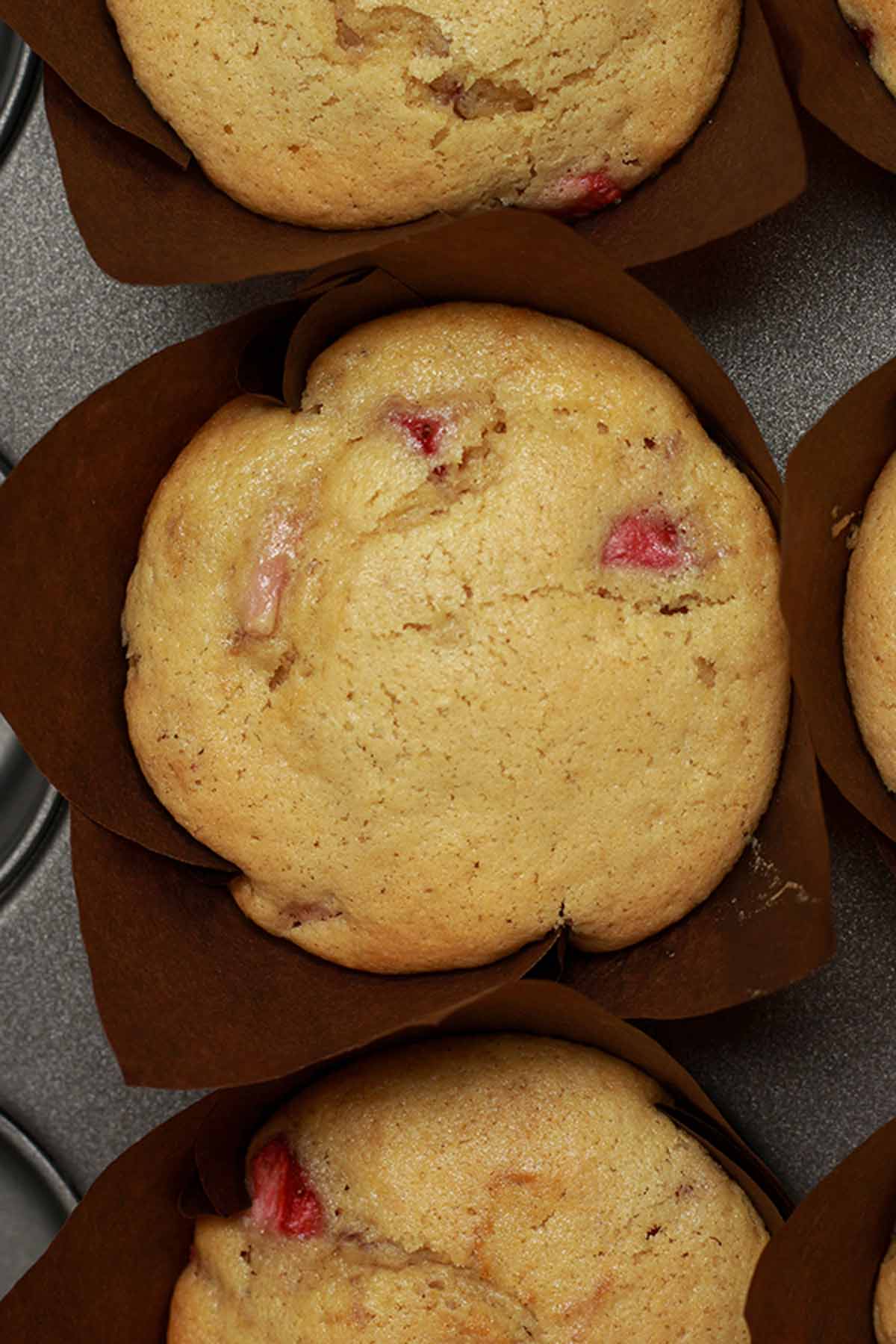 Let the muffins cool in the tin for 10 minutes or so then transfer them to a wire rack and leave them to cool completely.
FAQ:
How long do vegan strawberry muffins last for?
Because they contain fresh fruit, these muffins are best enjoyed fresh, on the same day that you bake them. They can be stored for up to 48 hours in an airtight container lined with kitchen towel.
Can I freeze them?
Yes. If you don't think you'll be able to eat all of your muffins straight away, it's best to freeze them as soon as they cool down. They don't take long to defrost so it's quite handy to be able to pull one out of the freezer whenever you fancy it!

To freeze, pop them into airtight containers and freeze for up to 1 month. When you're ready to eat them, transfer them to a plate or wire rack and let them sit at room temperature for an hour or so until fully thawed. Do not refreeze.
More vegan muffin recipes: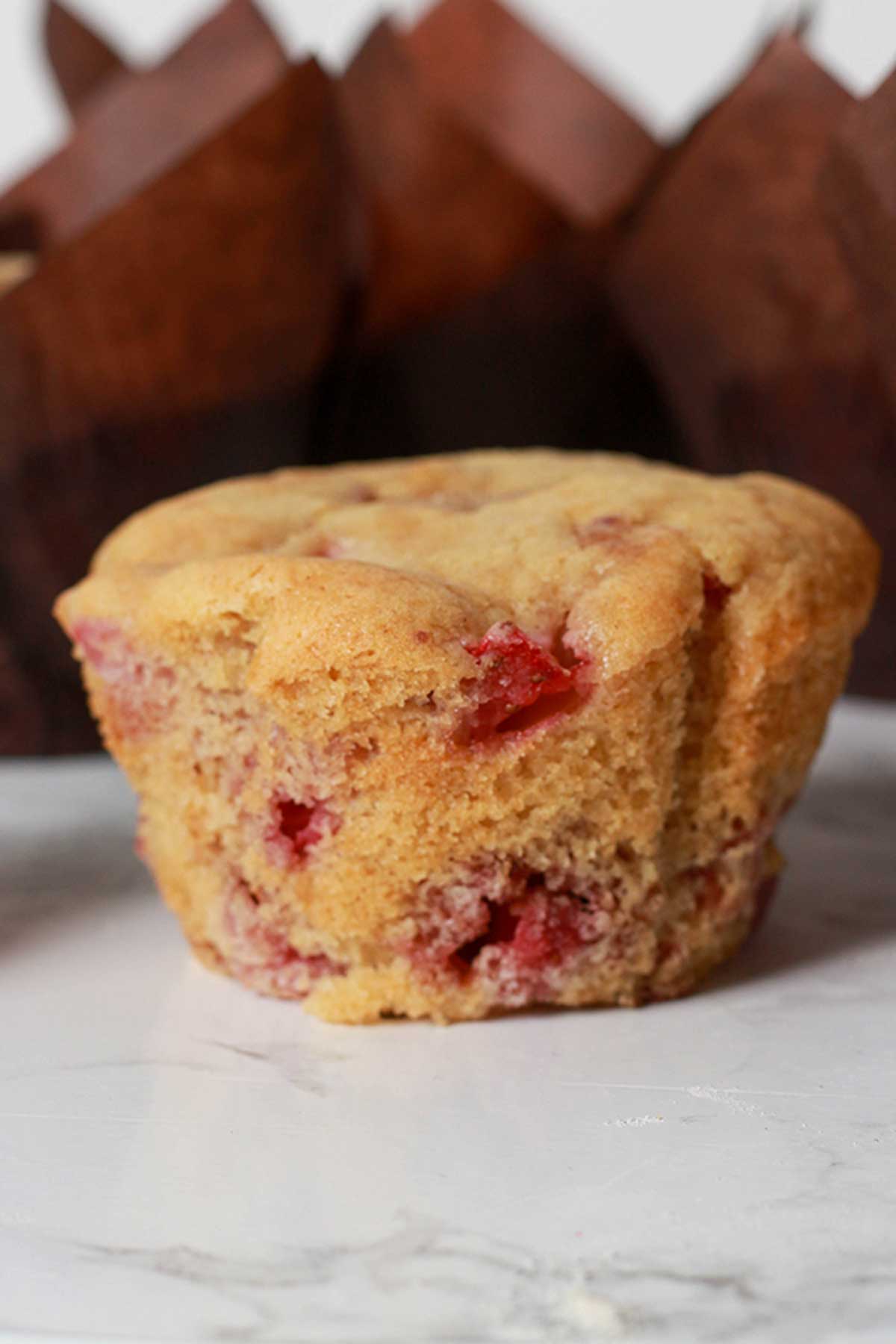 I hope you enjoy my vegan strawberry muffin recipe! If you make these yourself, please let me know what you think by leaving a rating and comment below. Happy baking! xo

Vegan Strawberry Muffins
Eggless strawberry muffins that are soft and fluffy.
Ingredients
350

g

Self-raising flour

½

Teaspoon

Baking powder

140

g

Caster sugar

100

g

Soft light brown sugar

160

g

Vegan margarine, melted

270

ml

Unsweetened soy milk

1

Teaspoon

Strawberry extract

(can sub for vanilla extract)

300

g

Fresh chopped strawberries

(coat them in 1/2 tablespoon of flour to prevent them from sinking to the bottom)
Instructions
Preheat your oven to 180°C (or 160°C if you're using a fan or convection oven). Line a muffin tin with 12 muffin liners.

In a large bowl, mix together the flour, baking powder, caster sugar and brown sugar.

Add the melted margarine, soy milk and strawberry extract. Mix well until you have a smooth batter.

Gently fold in the chopped strawberries.

Divide the batter equally between the 12 cases and bake for 20-30 minutes. Baking time will vary depending on how deep your cases are. You'll know they're ready when a toothpick through the centre comes out clean.

Let the muffins cool in the tin for 10 minutes then transfer them to a wire rack to cool completely.
Recipe Notes
Best enjoyed on the day of baking but can be stored in an airtight container for up to 48 hours.
Nutrition Facts
Vegan Strawberry Muffins
Amount Per Serving (1 muffin)
Calories 259
Calories from Fat 72
% Daily Value*
Fat 8g12%
Sodium 76mg3%
Carbohydrates 42g14%
Protein 4g8%
* All values are an estimate only and will vary depending on the food brands used.
BakedByClo is a participant in the Amazon Services LLC Associates Program, an affiliate advertising program designed to provide a means for sites to earn advertising fees by advertising and linking to Amazon.com. This site may contain some of these links to Amazon.com & other affiliate programs. If you make a purchase through one of those links, BakedByClo will receive a small commission from the purchase at no additional cost to you.