Vegan Gingerbread Mug Cake
This vegan gingerbread mug cake is quick and easy to make in just 5 minutes! It's soft, fluffy and sweetly spiced, and it makes the perfect single-serve dessert for the festive season.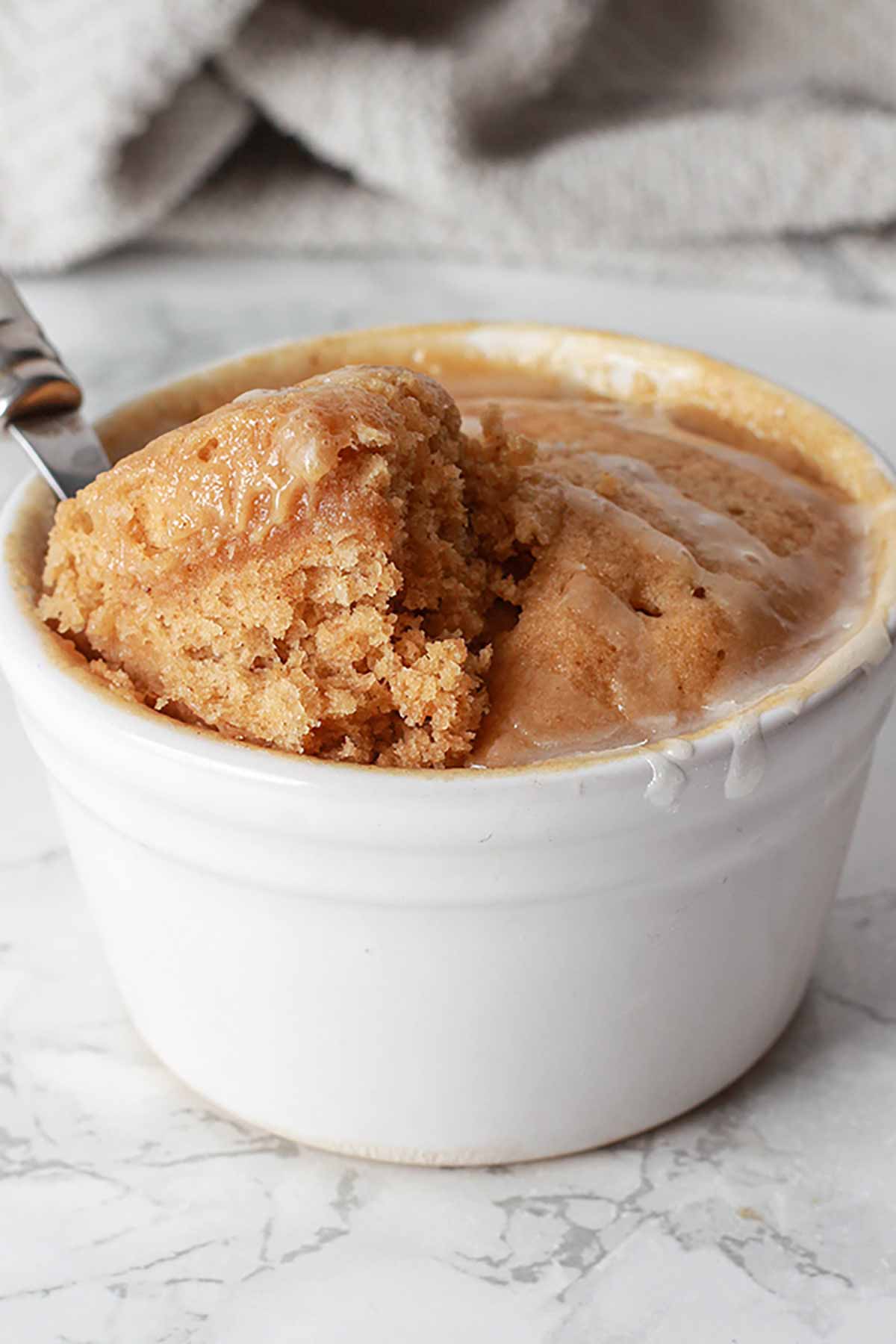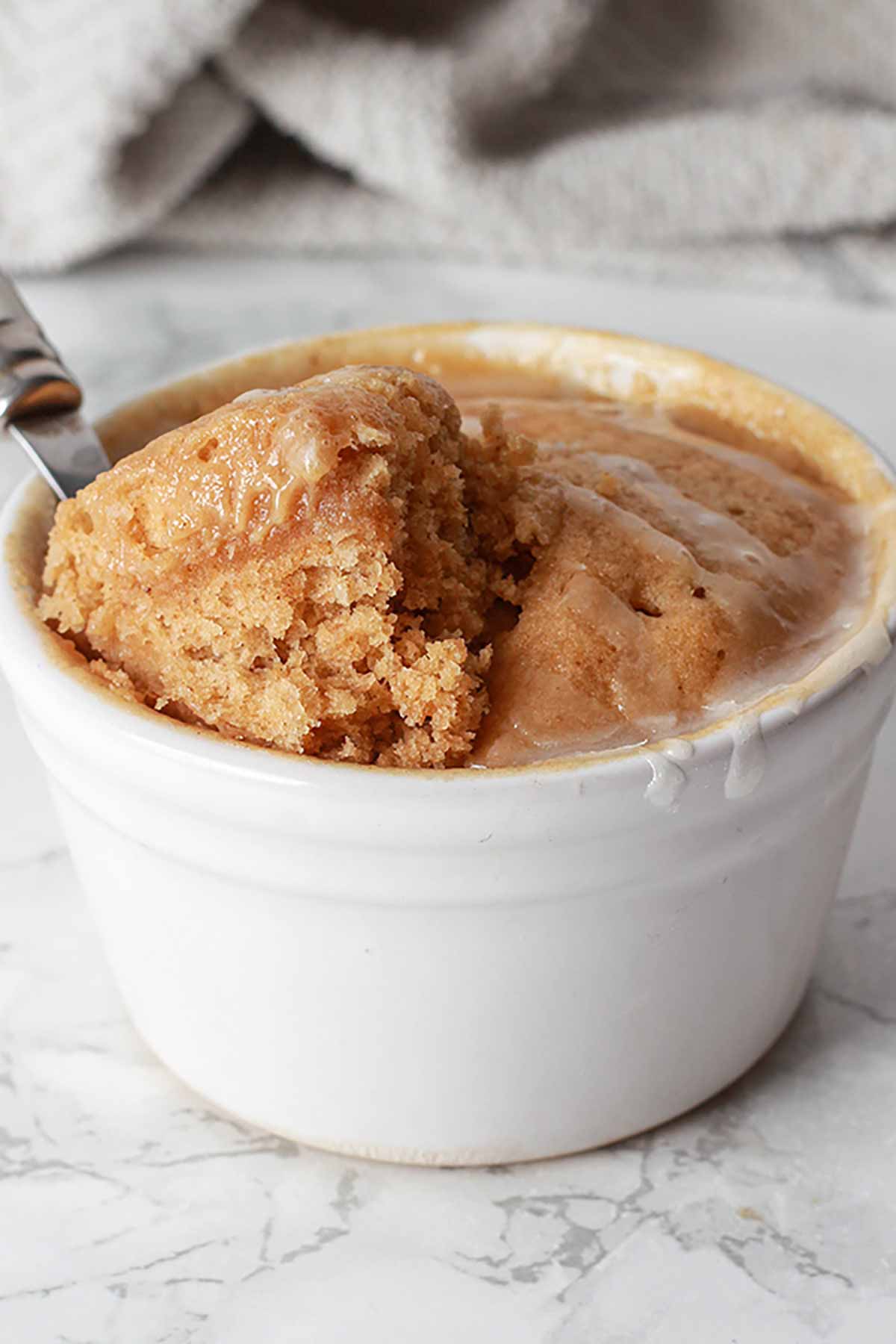 The next mug cake I'm adding to my collection is this lovely gingerbread one!
I thought since it's starting to get chilly outside, a gingerbread flavoured cake would be perfect. There's nothing better than a sweetly spiced warm dessert on a cold night, amiright?
I created this recipe by simply reducing the quantity of ingredients in my ginger cake recipe. I had to add a tad more flour and I switched the vegan butter out for oil to make it easier, but aside from that it's pretty much the exact same recipe in miniature form!
Microwave cakes are fab because they're so simple and can be made really quickly. Plus, it's great to not have to make a whole giant cake if you've nobody to share it with. If you're living alone and fancy a quick vegan dessert for one, this gingerbread mug cake is just the thing.
More vegan mug cakes:
Ingredients you'll need for this recipe:
Soft brown sugar. Adds sweetness and a rich flavour. You can use dark brown sugar for an authentic gingerbread taste, or use light brown sugar for something a little less intense.
Vegetable oil. Provides fat and keeps the cake moist.
Golden syrup. This gives a slightly sticky element to the cake. It also adds extra sweetness. Is golden syrup vegan?
Soy milk. I recommend unsweetened soy milk for this recipe. It's what I use in all my baking recipes!
Self-raising flour. Provides structure. Self-raising flour already contains raising agents so there's no need for baking soda or baking powder in this recipe.
Ginger. The main flavour in this cake! I recommend using half a teaspoon. Any more than that and the cake will start to taste a little bitter.
Cinnamon. Adding a small amount of cinnamon is optional but I think it's delicious alongside the ginger.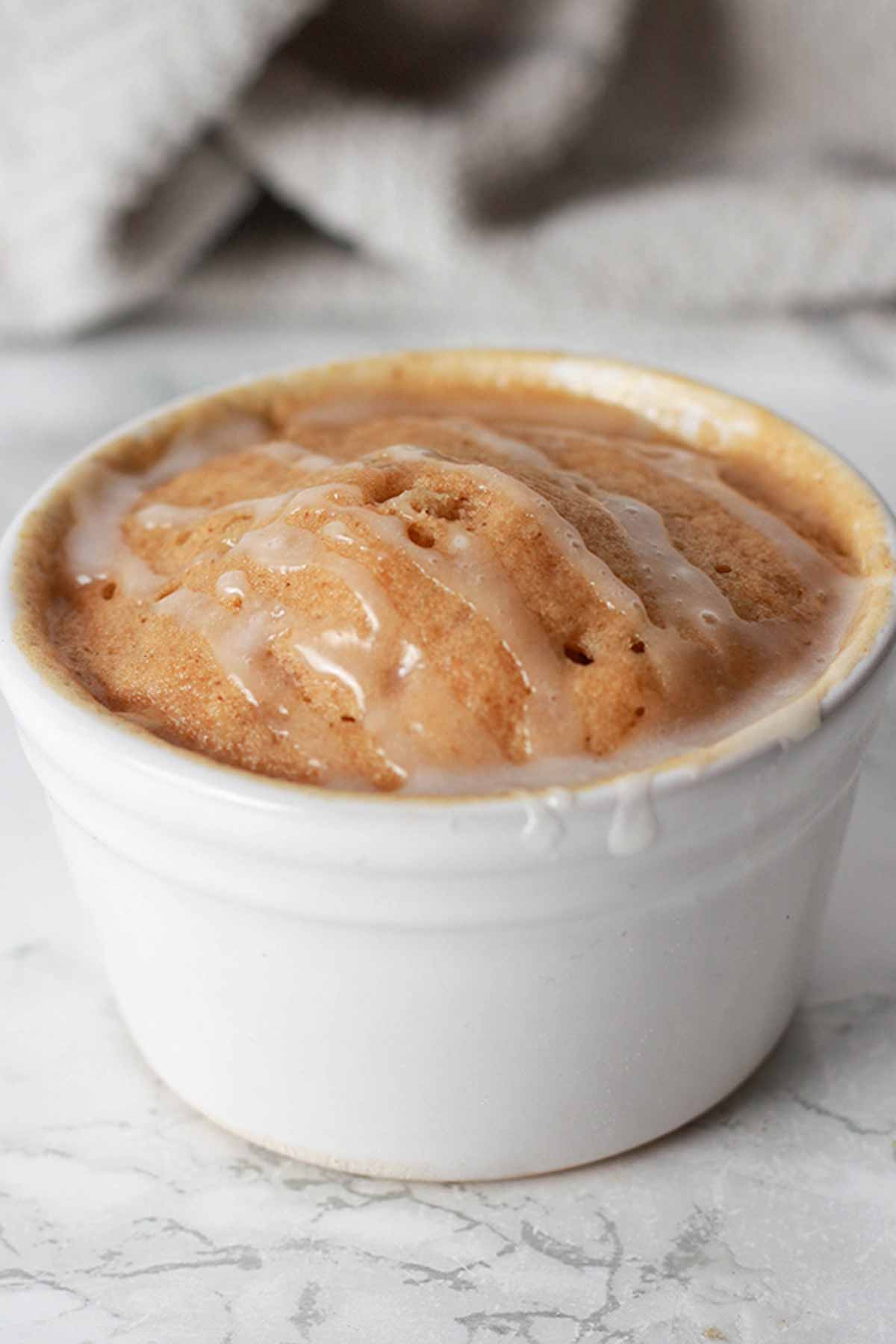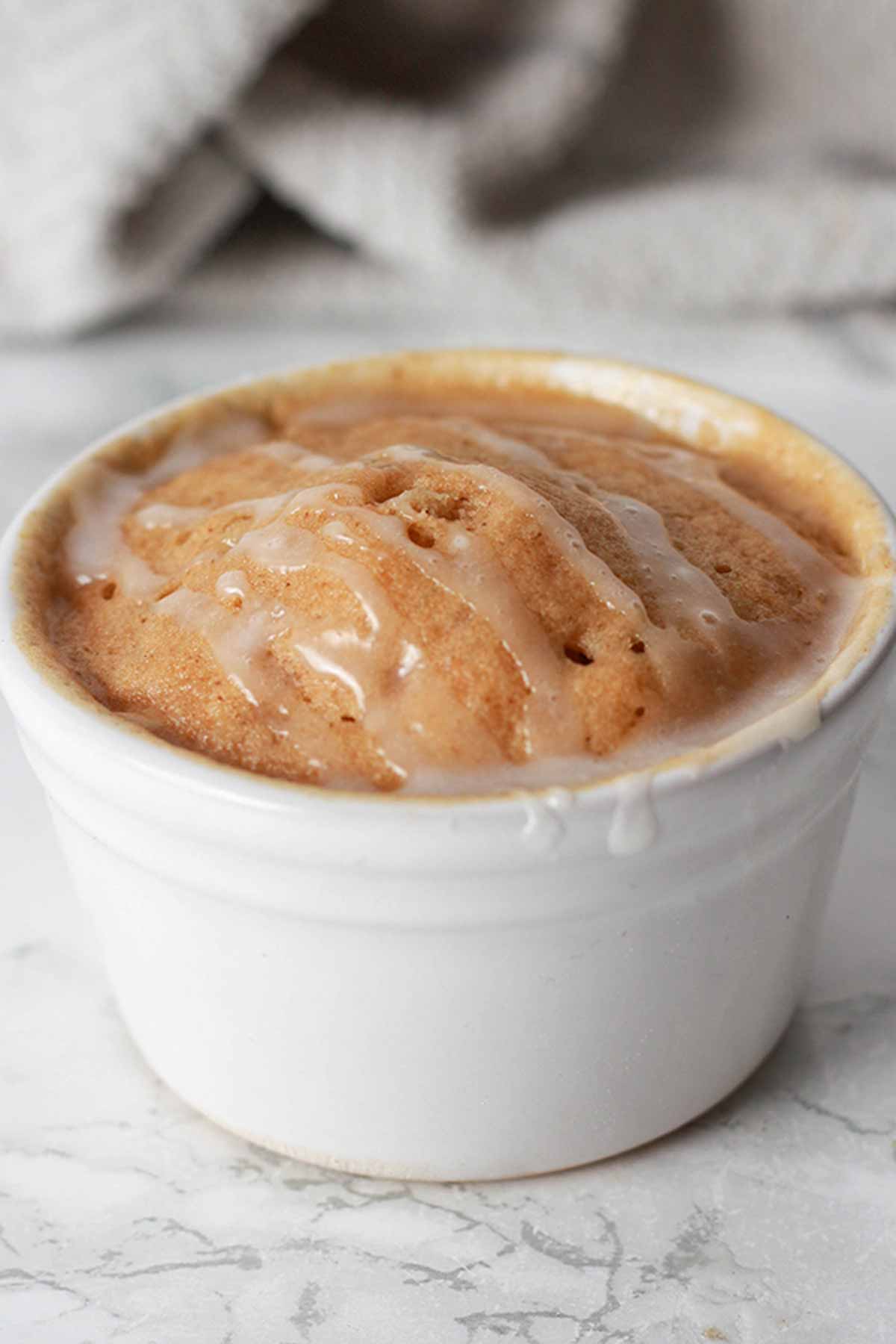 Ingredient substitutions
Oil. I used vegetable oil because it's what I had handy but you can use any type of oil such as coconut, sunflower, rapeseed or even olive oil. You can also use melted vegan butter if you like- this gives a lovely flavour but adds an extra step to what should be a very simple recipe. Apple sauce may work if you're looking for an oil-free version but I haven't tested this.
Golden syrup. If you don't have golden syrup to hand, you can use molasses for a true dark gingerbread cake, or you can use agave nectar. You can also use maple syrup but the flavour is a bit stronger and will compete with the ginger.
Other plant-based milks. I always use soy milk but for this recipe, any other plant-based milk should work fine because the amount you're using is so little. I recommend oat or almond as a good substitution.
Gluten-free flour. I have yet to test this mug cake with gluten-free flour. But I think the best option would be a gluten-free self-raising flour blend rather than a single gluten-free flour such as buckwheat or almond flour. I like Dove's Farm. You may need to adjust the amount of milk in the recipe if you use GF flour (add the flour in slowly), but this will depend on which particular blend you use.
How to make vegan gingerbread mug cake
Step 1:
In a small mug or ramekin, mix together 1+1/2 tablespoons of soft brown sugar, 1 tablespoon of golden syrup, 2 teaspoons of oil or melted vegan butter, and 2 tablespoons of soy milk.
Step 2:
Add 4 tablespoons of self-raising flour, 1/2 teaspoon of ginger, and 1/4 teaspoon of cinnamon. Mix well until you have a smooth batter. Make sure to scrape the bottom of your mug so there's no dry mixture stuck there.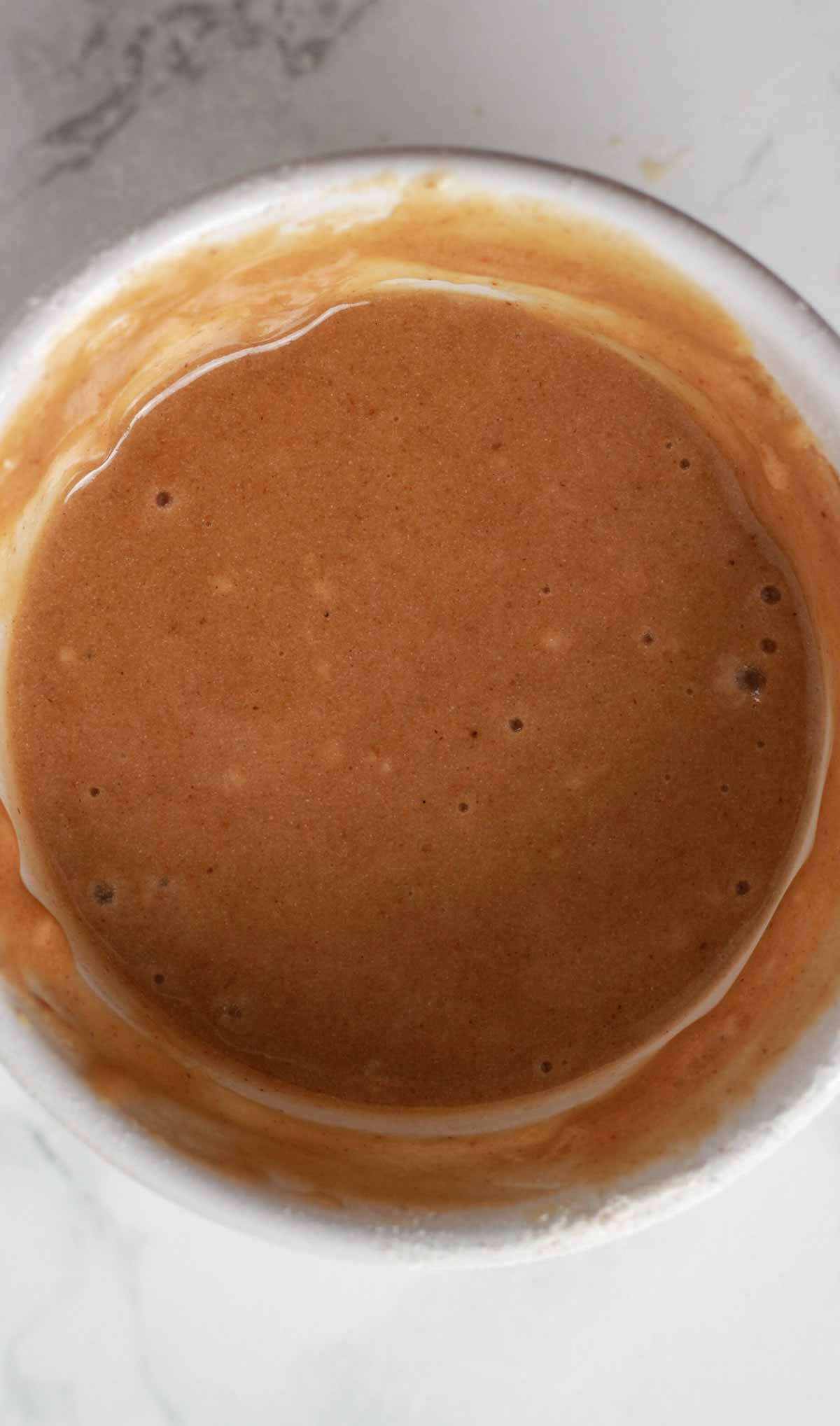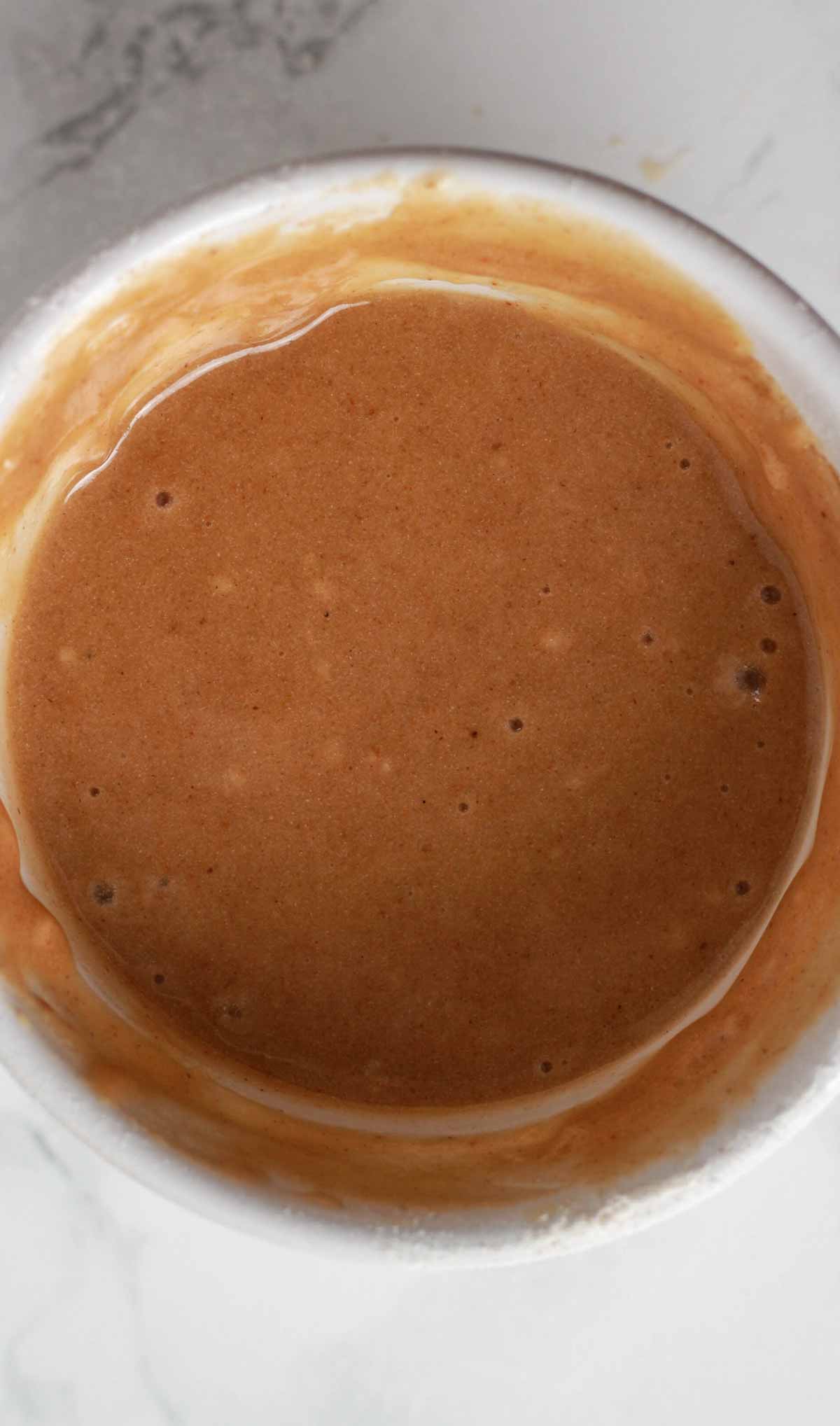 Step 3:
Place it in the microwave for a minute or two to bake and enjoy!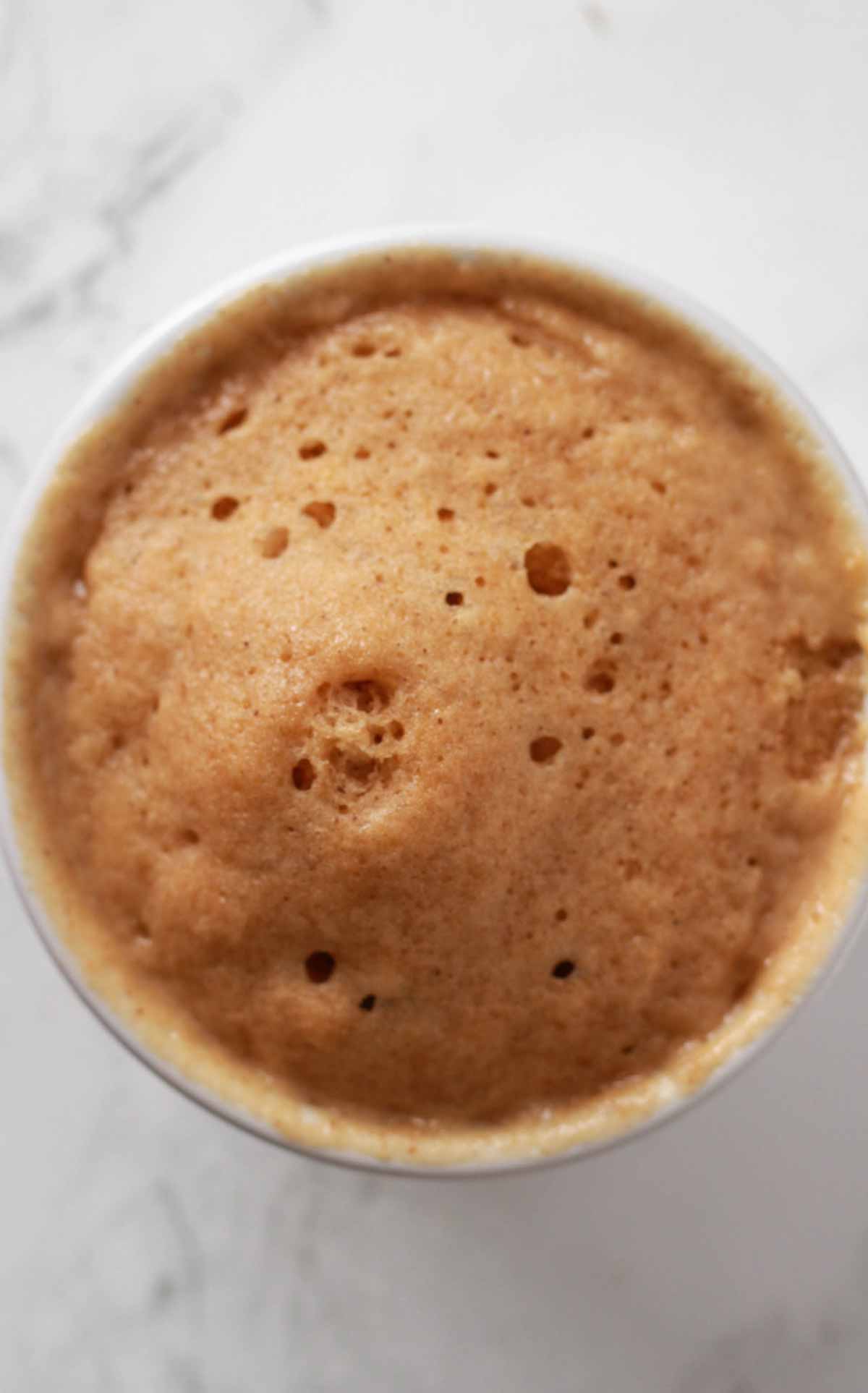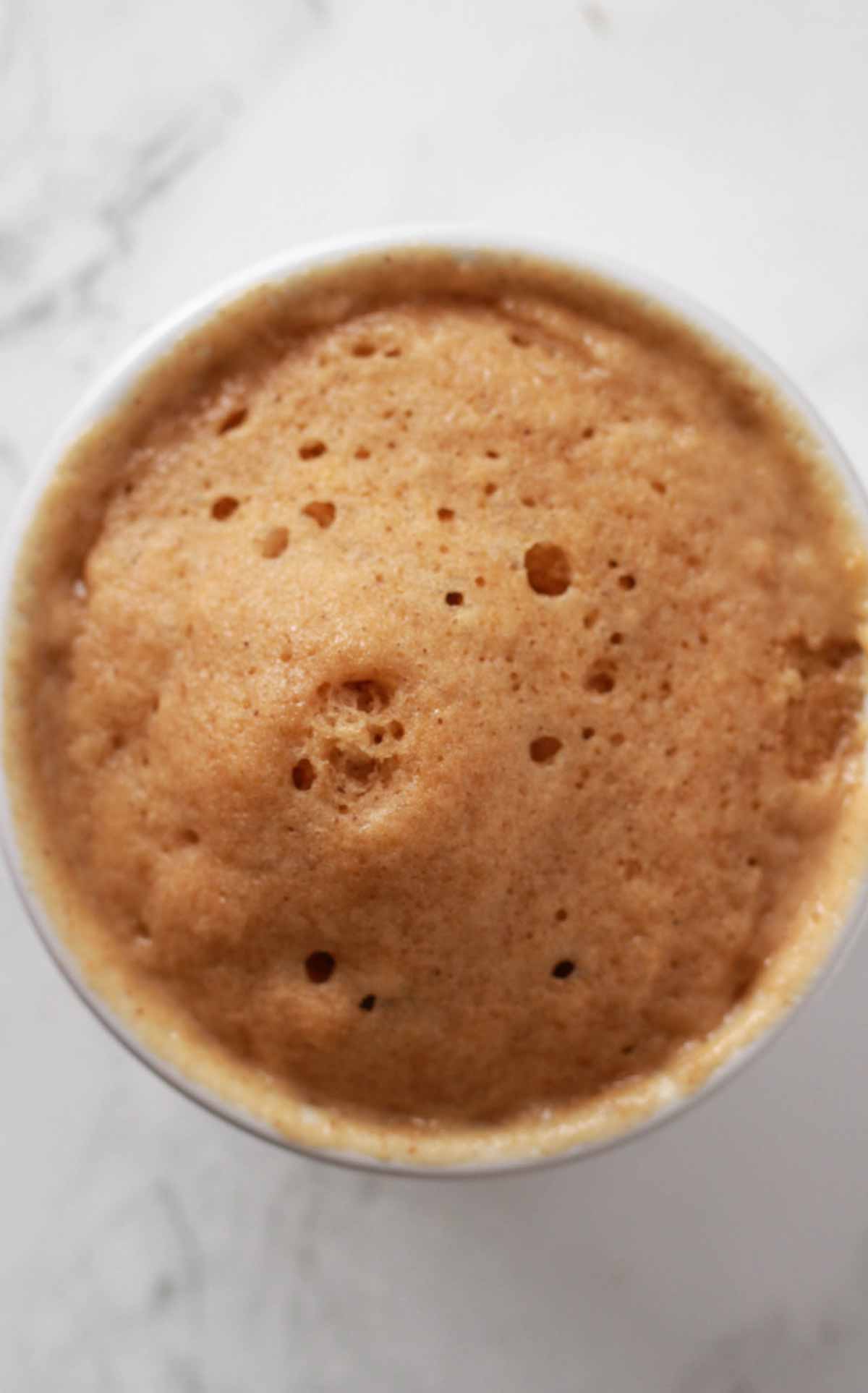 If you like, you can also add an icing glaze by mixing together 2 tablespoons of icing sugar and 1 teaspoon of soy milk. It'll be runny enough to drizzle over your gingerbread cake with a small spoon.
Microwave timings
The time this mug cake will take to bake will vary wildly. This depends on your microwave wattage and also the size of your mug or ramekin. I recommend starting with 45 seconds at first. If it's not done by then, keep popping it back in the microwave for 10 seconds at a time until cooked through. I baked mine for around 90 seconds in a 700W microwave and a 3.5-inch wide ramekin.
---
I hope you enjoy this recipe! If you make it at home, please let me know how you get on by leaving a rating and/or comment below. Happy baking! xo

Vegan Gingerbread Mug Cake
Light and fluffy gingerbread microwave cake that's eggless and dairy-free.
Ingredients
For the cake:
20

g

Soft brown sugar

(around 1+½ tablespoons)

1

Tablespoon

Golden syrup

2

Teaspoons

Oil or melted vegan butter

2

Tablespoons

Unsweetened soy milk

40

g

Self-raising flour

(around 4 tablespoons)

½

Teaspoon

Ground ginger

¼

Teaspoon

Ground cinnamon

(optional)
For the icing glaze (optional):
2

Tablespoons

Icing sugar

1

Teaspoon

Unsweetened soy milk
Instructions
In a mug or ramekin, mix together the brown sugar, golden syrup, oil and soy milk.

Add the flour, ginger and cinnamon. Mix well until you have a smooth batter. Make sure to scrape the bottom of your mug as you mix so that no dry bits get left behind.

Bake in the microwave for 45-90 seconds- this will vary depending on your microwave and mug size. Start at 45 seconds and if it's not done, pop it back in the microwave for 10 second bursts until cooked through.

If making the icing, mix together the icing sugar and soy milk. Drizzle it over your mug cake and enjoy!
Nutrition Facts
Vegan Gingerbread Mug Cake
Amount Per Serving (1 mug cake)
Calories 368
Calories from Fat 90
% Daily Value*
Fat 10g15%
Carbohydrates 63g21%
Protein 5g10%
* All values are an estimate only and will vary depending on the food brands used.
BakedByClo is a participant in the Amazon Services LLC Associates Program, an affiliate advertising program designed to provide a means for sites to earn advertising fees by advertising and linking to Amazon.com. This site may contain some of these links to Amazon.com & other affiliate programs. If you make a purchase through one of those links, BakedByClo will receive a small commission from the purchase at no additional cost to you.