Vegan Vanilla Mug Cake
This vegan vanilla mug cake is soft, fluffy and can be made in just 90 seconds. There are only 5 main ingredients required for this recipe and you can get creative with the mix-ins!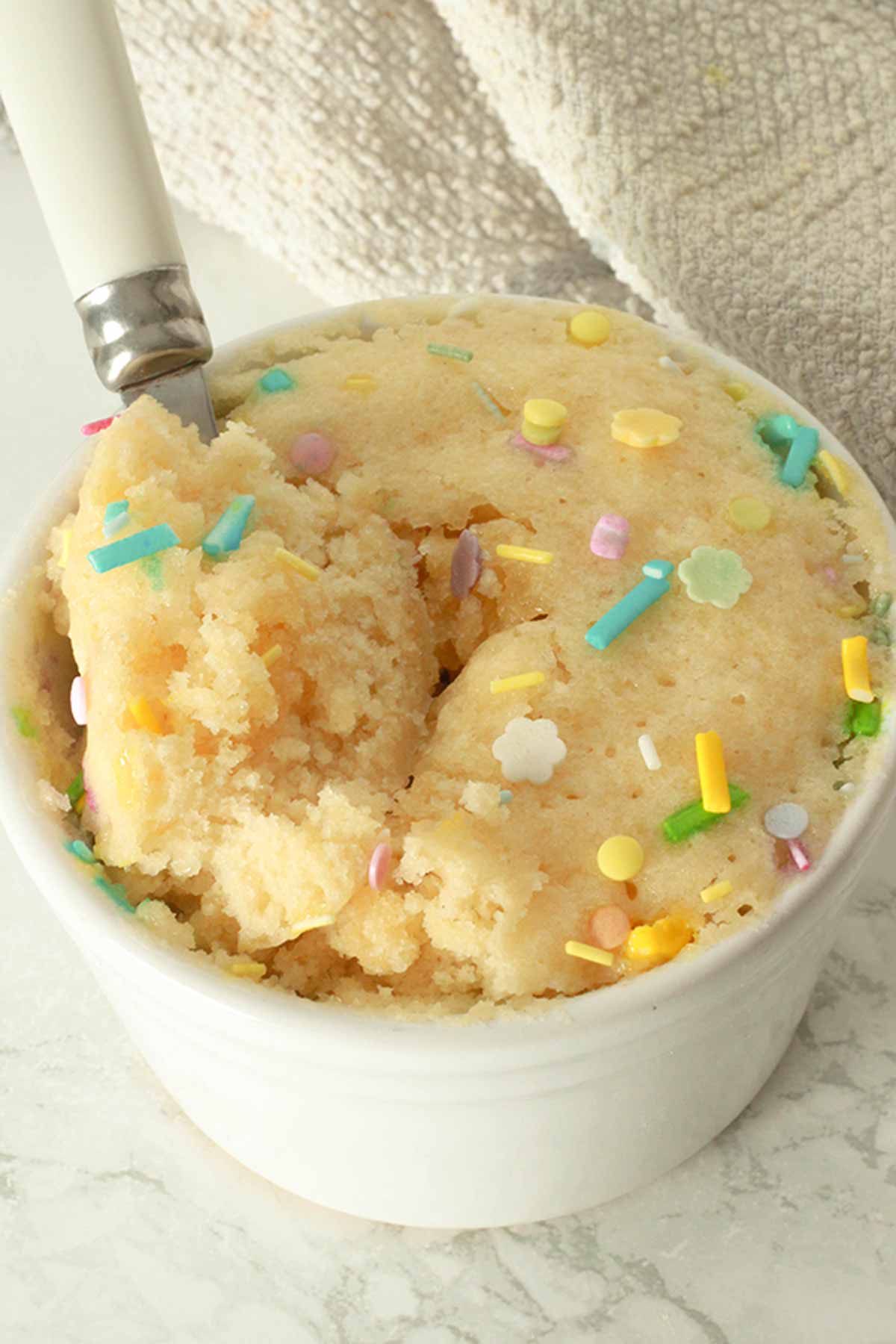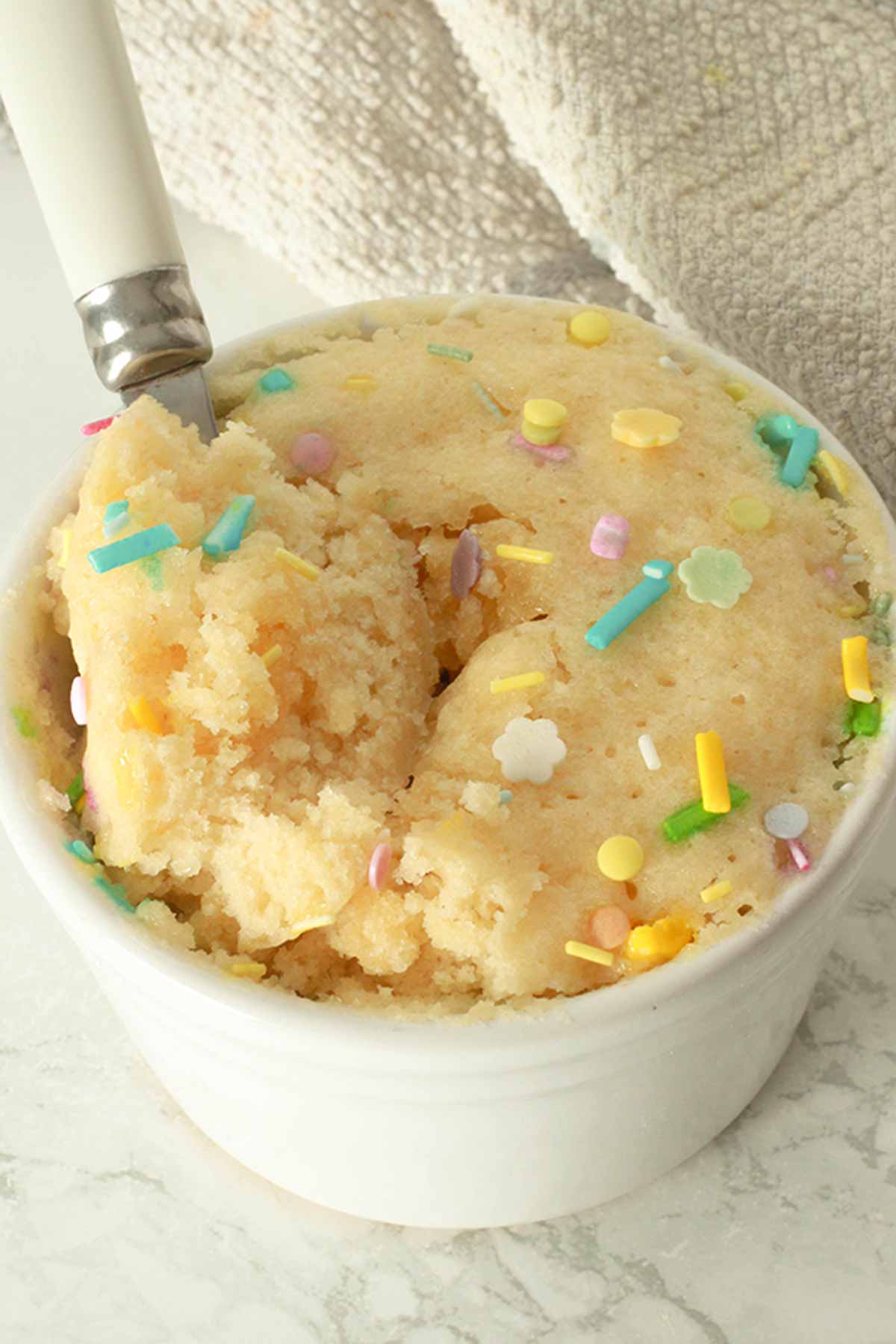 Ever get a craving for cake but don't want to bake a whole one just for a tiny slice? Mug cakes are the answer!
I remember a few years ago a friend of mine jokingly said that he despised mug cakes of any kind. Not even the cakes themselves, just the concept of a cake in a mug, that it was a silly idea.
I agreed with him at the time but since actually making a mug cake for myself, I have to admit I was wrong! They are super convenient, require basically no washing up and they are the perfect size for one person. If I bake a larger cake, I'm often left tempted with leftover cake and end up eating way more than is good for me.
But a mug cake? Just a few spoonfuls and you're done! It's just enough to satisfy a sweet craving but not too much that you feel sluggish later on.
What is a mug cake?
As I mentioned above, a mug cake is exactly what it sounds like, a cake in a mug! Or in my case, a cake in a single-serve ceramic ramekin dish, LOL.
Using a mug or ramekin to make your cake means that cleaning up requires washing only 2 things- your mug and spoon! You do all of the mixing and baking in the same mug so there are no extra bowls or utensils to clean up.
Mug cakes are also typically baked in the microwave, meaning that you can have a delicious, single serve vegan dessert ready in less than a few minutes. What's not to love?!
The cakes come in all different flavours and can be easily adapted according to whatever you're fancying that day. You can add things like chocolate chips, chopped nuts, dried fruit… whatever your heart desires! Check out my "mix-in" at the bottom of this post for more ideas.
More vegan dessert recipes:
How to make a vegan vanilla mug cake
Step 1:
Find a mug or ramekin that you'd like to use to serve your cake in. Make sure that your mug is evenly-sized all the way down and doesn't become narrower at the bottom (like a teacup), otherwise the cake will not bake evenly all the way through. Around 3.5-inches wide is perfect. Also, be sure that whatever you're using is microwave safe to avoid any accidents! I used a white ceramic ramekin from Tesco.
Step 2:
Add 1 tablespoon of vegan margarine and 2 tablespoons of caster sugar to your mug or ramekin. Mix well until the two are creamed nicely together.
Now add in 1 teaspoon of vanilla extract and stir it into the mixture.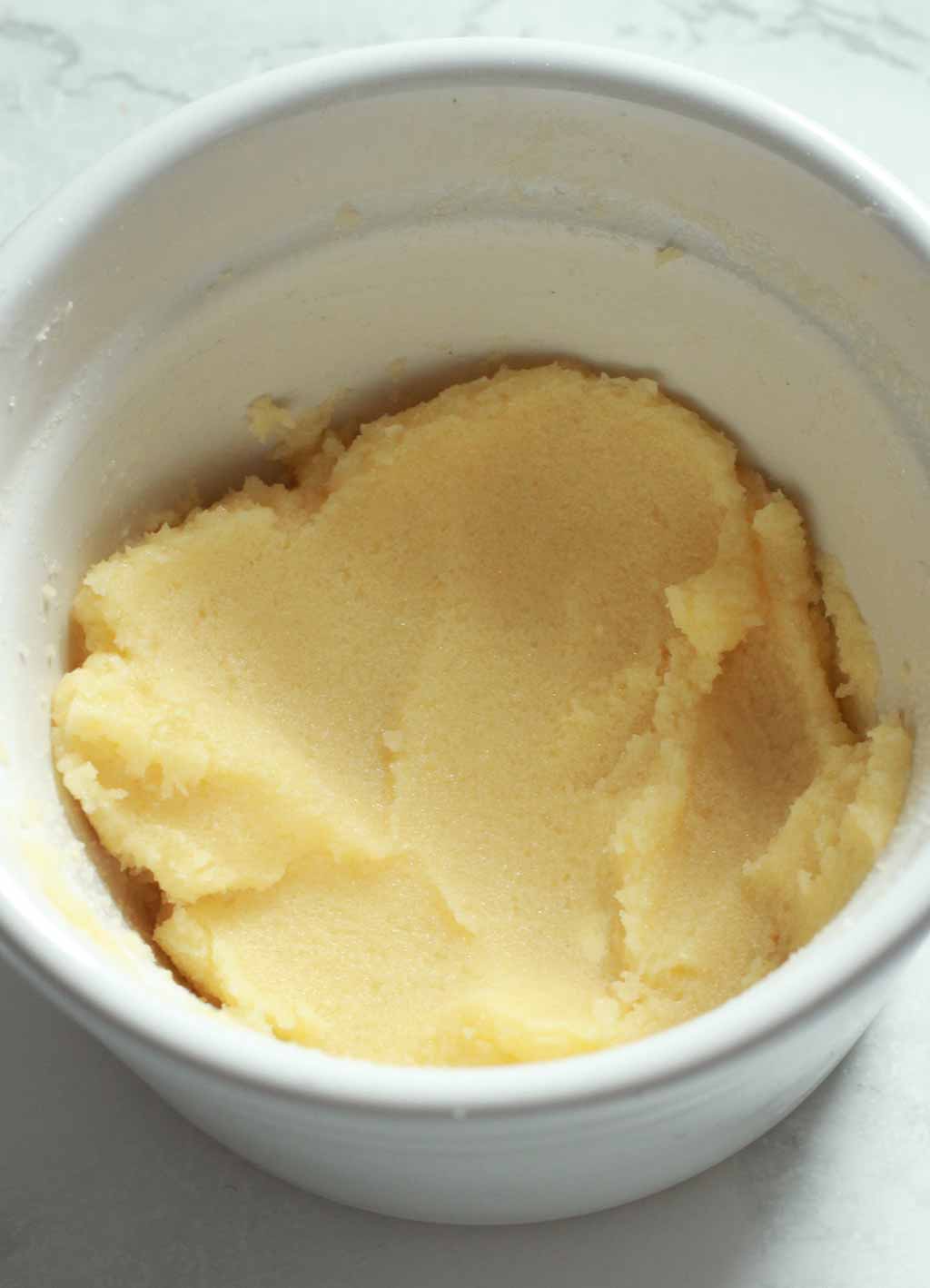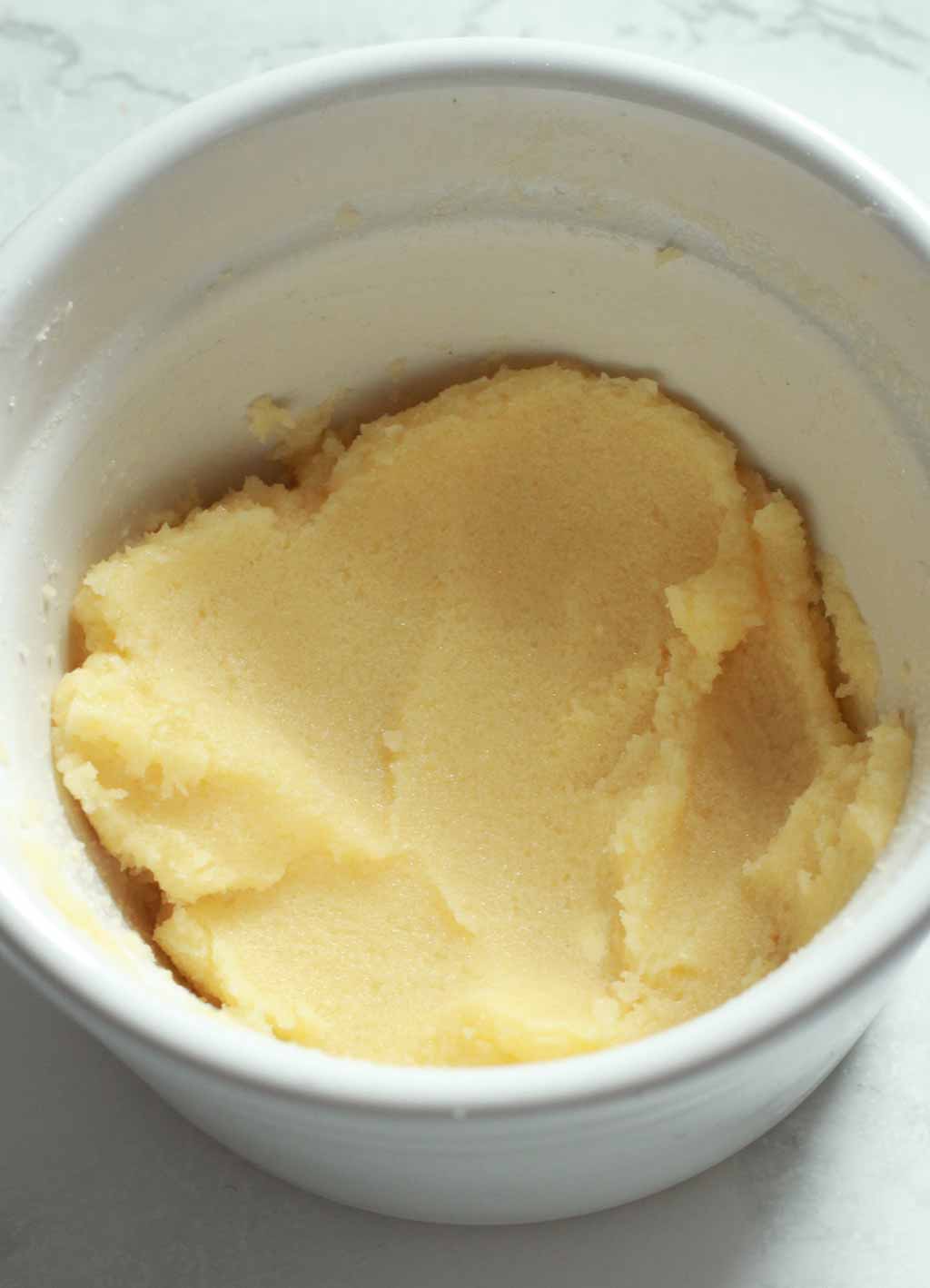 Step 3:
Next, add 4 tablespoons of self-raising flour and 2 + 1/2 tablespoons of plant based milk. I used soy milk but you can use any type of vegan milk you like.
If you don't have self-raising flour, you can use 4 tablespoons of plain flour plus 1/4 teaspoon of baking powder instead. You might also need to add an extra small splash of milk too.
Stir the mixture well until you have a smooth, slightly thick cake batter. Use a teaspoon to smooth out the top evenly.
Step 4:
Add 1-2 teaspoons of vegan sprinkles on to the top of the batter. This part is optional but I think it makes the cake look a little bit more exciting! I used Dr. Oetker unicorn confetti.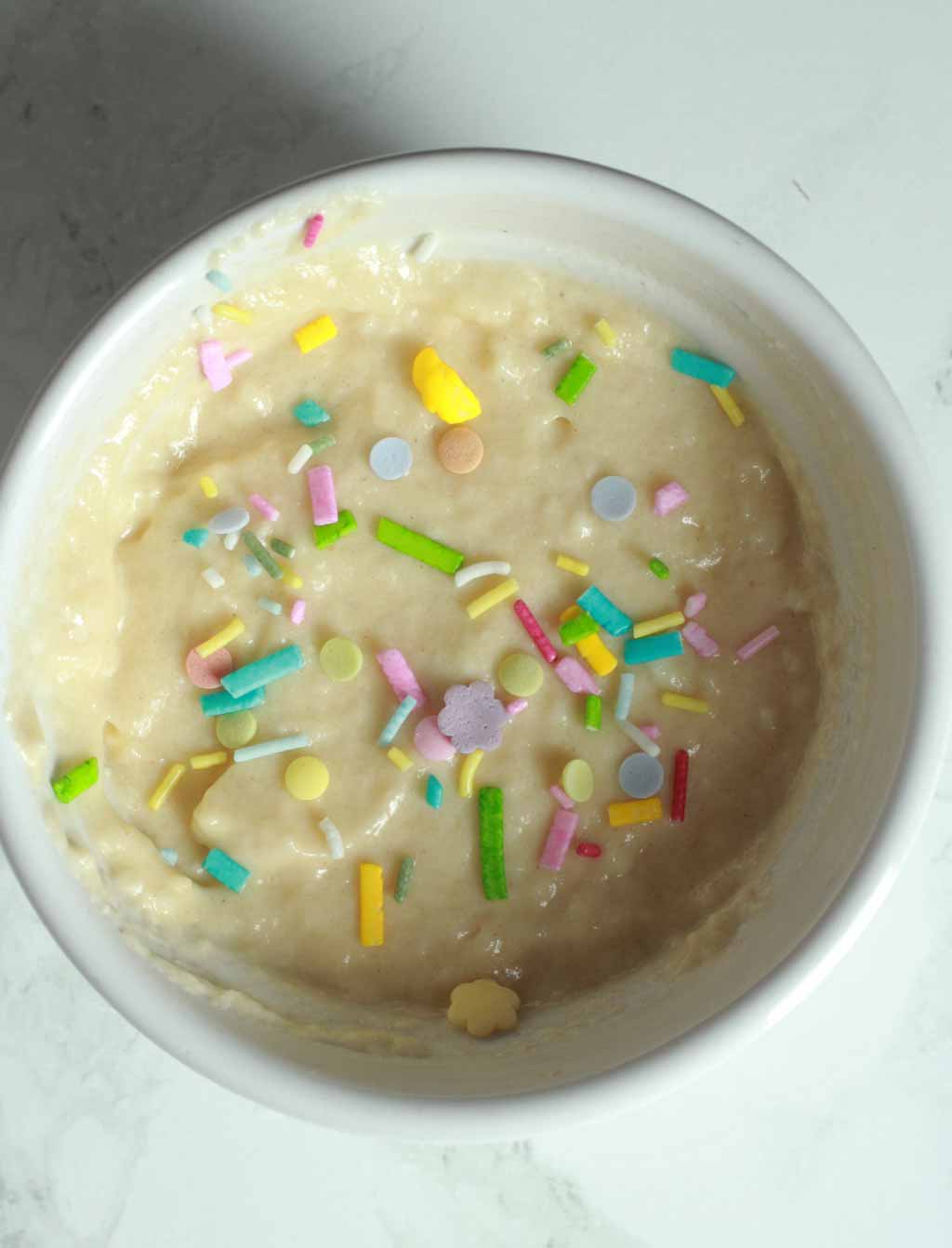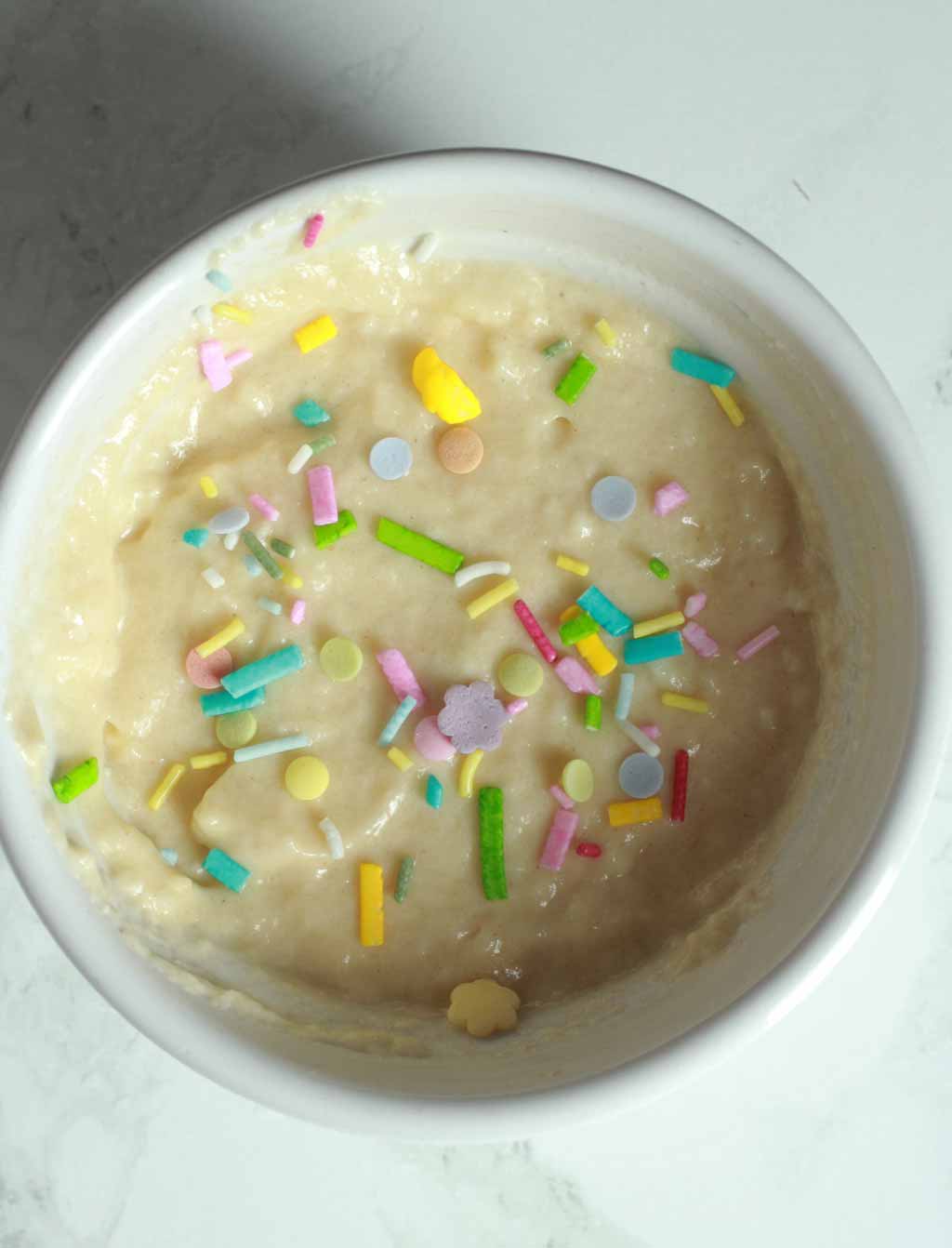 Step 5:
Bake your vanilla mug cake in the microwave for 50 seconds – 1 minute and 45 seconds. Let it stand for a few minutes then enjoy!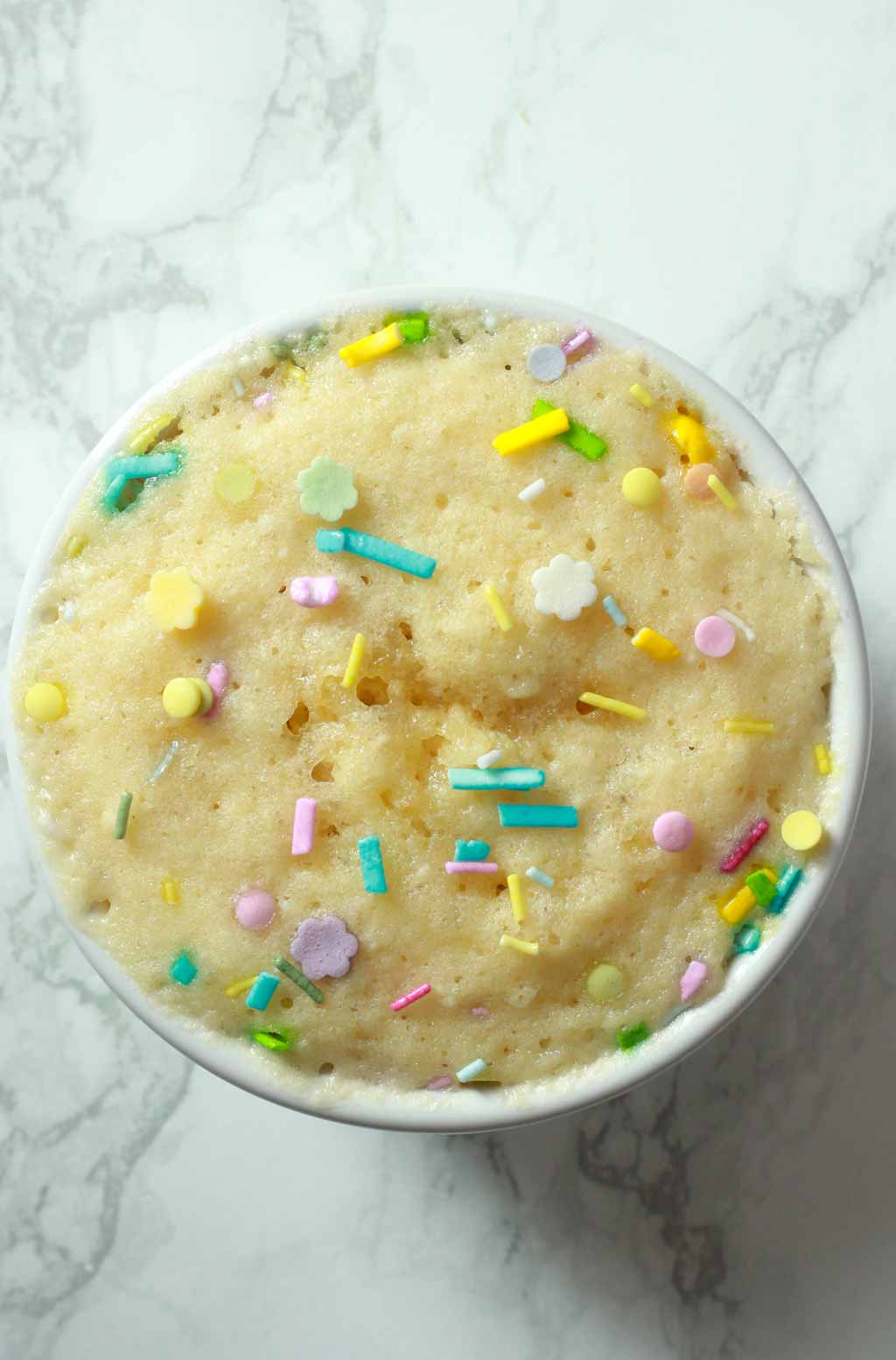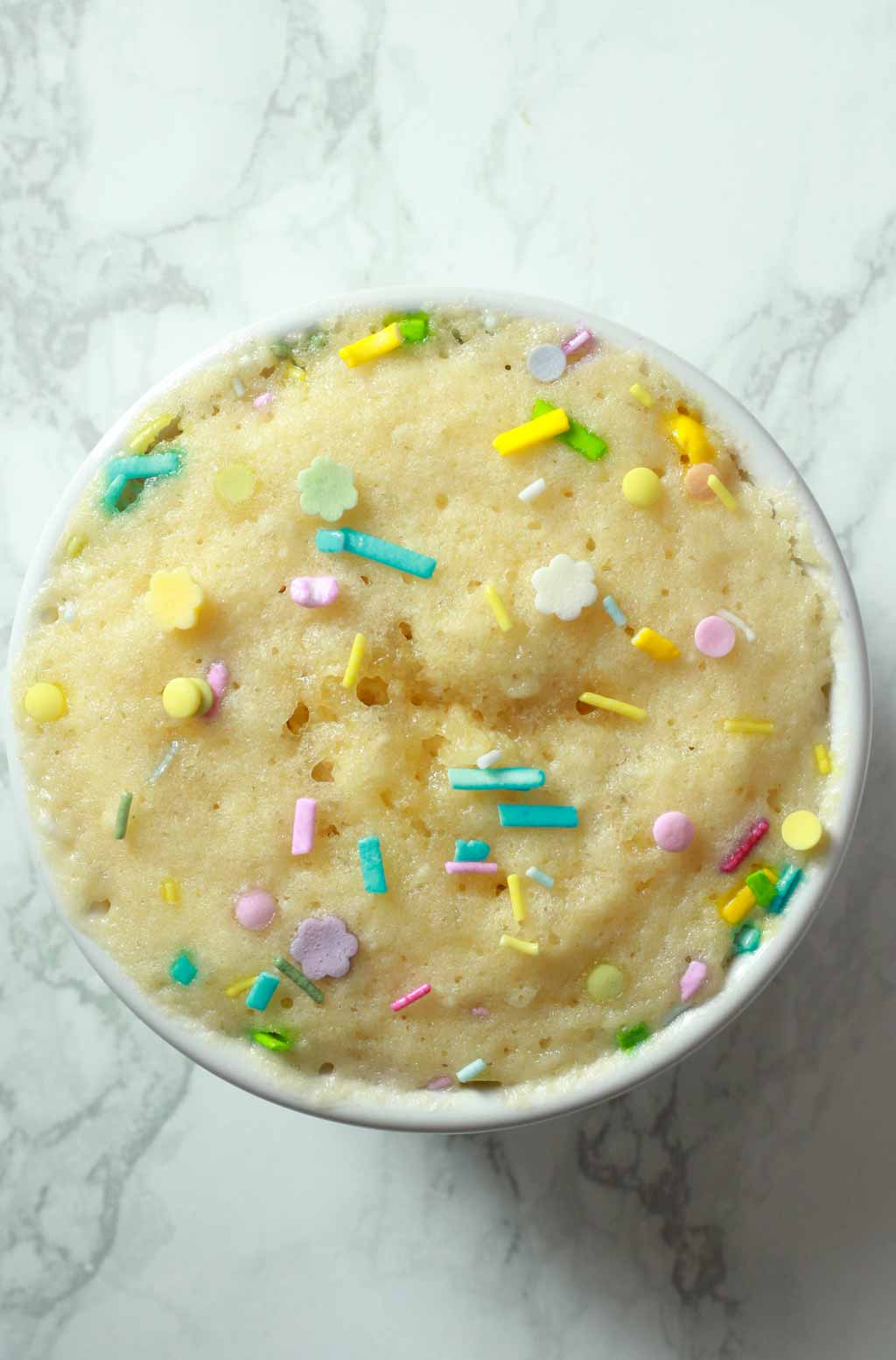 Microwave conversions
Depending on the type of microwave you have, the baking time will vary. The higher your microwave wattage is, the less time it will need to be baked for. I used a 700W microwave to test this recipe and found that 90-95 seconds was perfect. Have a look at your microwave to check the wattage- it usually has a small symbol on the front, along with the W number.
Here are the microwave timing conversions for this vegan mug cake:
| | |
| --- | --- |
| Microwave | Baking time |
| 600W | 1 minute 45 seconds |
| 700W | 1 minute 30 seconds |
| 800W | 1 minute 20 seconds |
| 900W | 1 minute 10 seconds |
| 1000W | 1 minute |
| 1100W | 55 seconds |
| 1200W | 50 seconds |
Mix in options
I mentioned above that adding sprinkles to your vegan mug cake makes it a little more exciting than a plain old vanilla cake. If sprinkles aren't your thing, try out one or some of these mix-in options:
chocolate chips (check out my vegan chocolate guide for options)
dried fruit such as chopped apricots or raisins
chopped nuts
dried spices such as cinnamon or ginger
lemon zest
food colourings or other flavourings such as strawberry extract
FAQ:
Can I use oil instead of margarine?
You can use 1 tablespoon of oil in place of the vegan margarine, yes. But I don't particularly recommend it unless you're in a pinch, especially with a vanilla mug cake, which doesn't have a particularly strong flavour. The margarine really helps to bring a "buttery" flavour that tastes similar to a traditional cake. When you use oil, especially vegetable, sunflower or rapeseed oil, the cake can taste a little more bland, in my opinion. If anything, I think 1 tablespoon of coconut oil would be best to use.
Can I double the recipe?
If you want double the amount of cake, I recommend baking in 2 batches. If you put double cake mix in 1 mug, it will overflow and won't cook evenly all the way through.
What can I serve my vanilla mug cake with?
This cake is delicious served alone but if you want to take it to the next level, you can add a little extra something. A drizzle of homemade icing, vegan chocolate sauce such as Sweet Freedom or melted chocolate, dairy-free whipped cream, or homemade custard are just some ideas! Let me know if you think of any more in the comments and I'll add them to the post!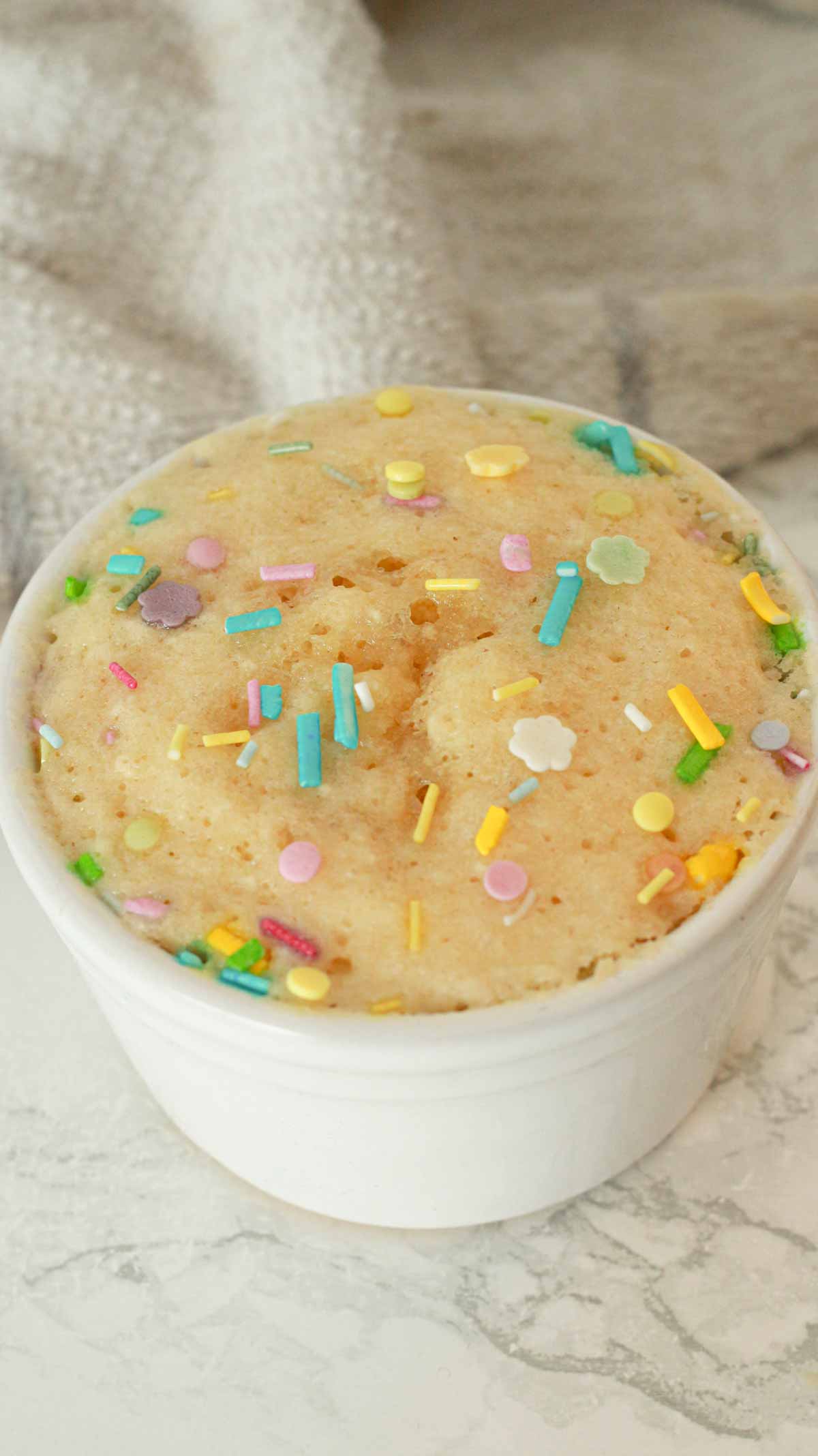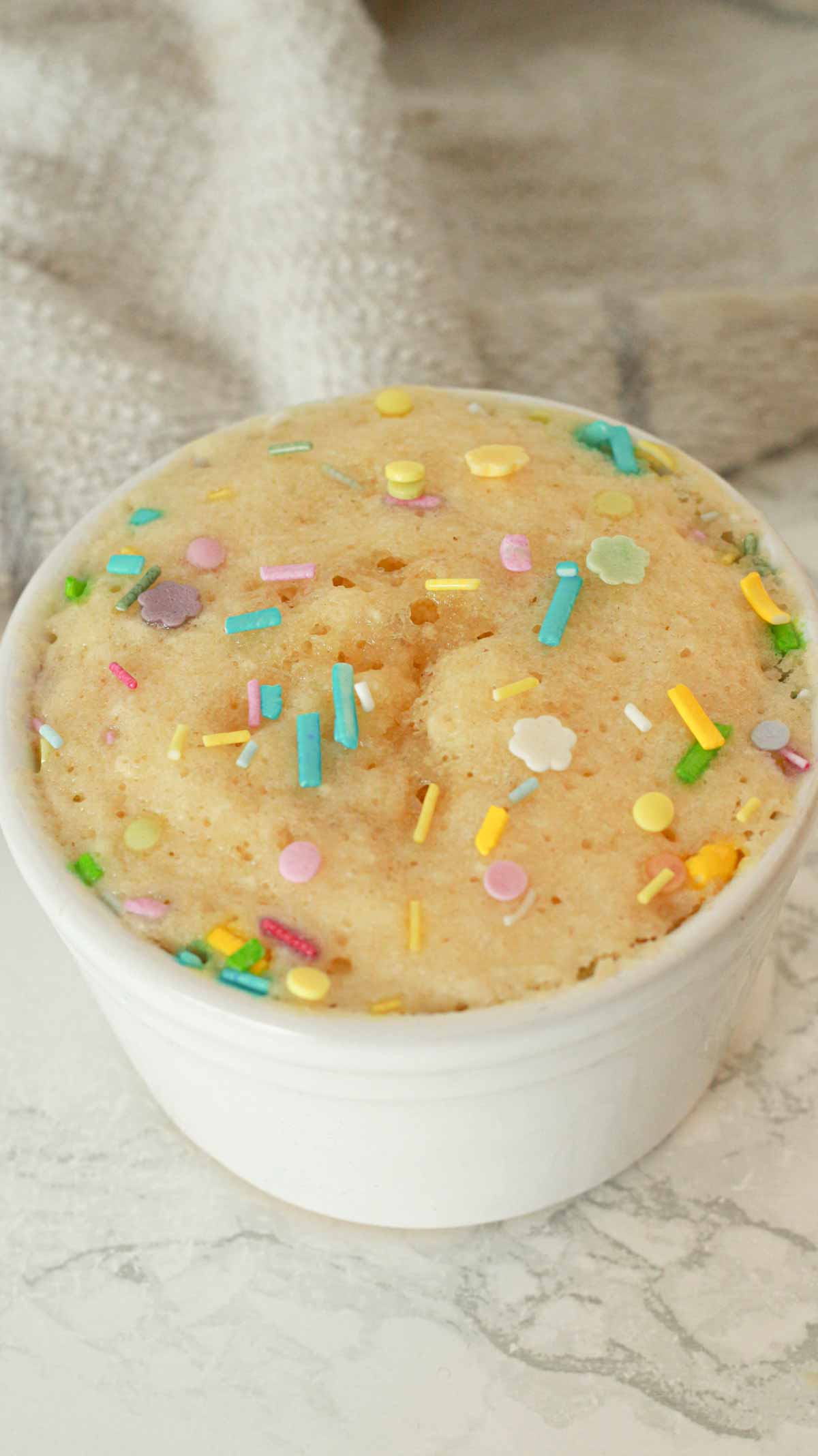 I hope you enjoy the recipe! Please let me know how you get on by leaving a comment and/or rating below. Happy baking! xo

Vegan Vanilla Mug Cake
A soft and fluffy eggless vanilla cake in a mug.
Ingredients
1

Tablespoon

Vegan margarine or butter

2

Tablespoons

Caster sugar

4

Tablespoons

Self-raising flour

2 + ½

Tablespoons

Plant-based milk

(I used soy)

1

Teaspoon

Vanilla extract

1-2

Teaspoons

Vegan sprinkles

(optional)
Instructions
Add the margarine/butter and the sugar to a mug or ramekin dish. Use one that's around 3.5-inches wide (all the way down) to ensure even cooking. Baking time may vary if you use a different size.

Mix the margarine and sugar together until smooth, then stir in the vanilla extract.

Add the flour and the plant-based milk. Mix well until you have a smooth, slightly thick cake batter. Use a teaspoon to smooth the top out evenly.

Add the sprinkles to the top of the batter if using.

Bake in the microwave for 50seconds to 105 seconds (please see notes for the correct baking time for your microwave).

Let the cake stand at room temperature for a few minutes then enjoy!
Recipe Notes
Baking times:
600w = 1 minute 45 seconds
700w = 1 minute 30 seconds
800w = 1 minute 20 seconds
900w = 1 minute 10 seconds
1000w = 1 minute
1100w = 55 seconds
1200w = 50 seconds
Nutrition Facts
Vegan Vanilla Mug Cake
Amount Per Serving (1 mug cake)
Calories 309
Calories from Fat 81
% Daily Value*
Fat 9g14%
Sodium 85mg4%
Carbohydrates 51g17%
Protein 4g8%
* All values are an estimate only and will vary depending on the food brands used.
BakedByClo is a participant in the Amazon Services LLC Associates Program, an affiliate advertising program designed to provide a means for sites to earn advertising fees by advertising and linking to Amazon.com. This site may contain some of these links to Amazon.com & other affiliate programs. If you make a purchase through one of those links, BakedByClo will receive a small commission from the purchase at no additional cost to you.