This vegan brownie in a mug makes the perfect single-serving dessert. It's fudgy, indulgent and super convenient!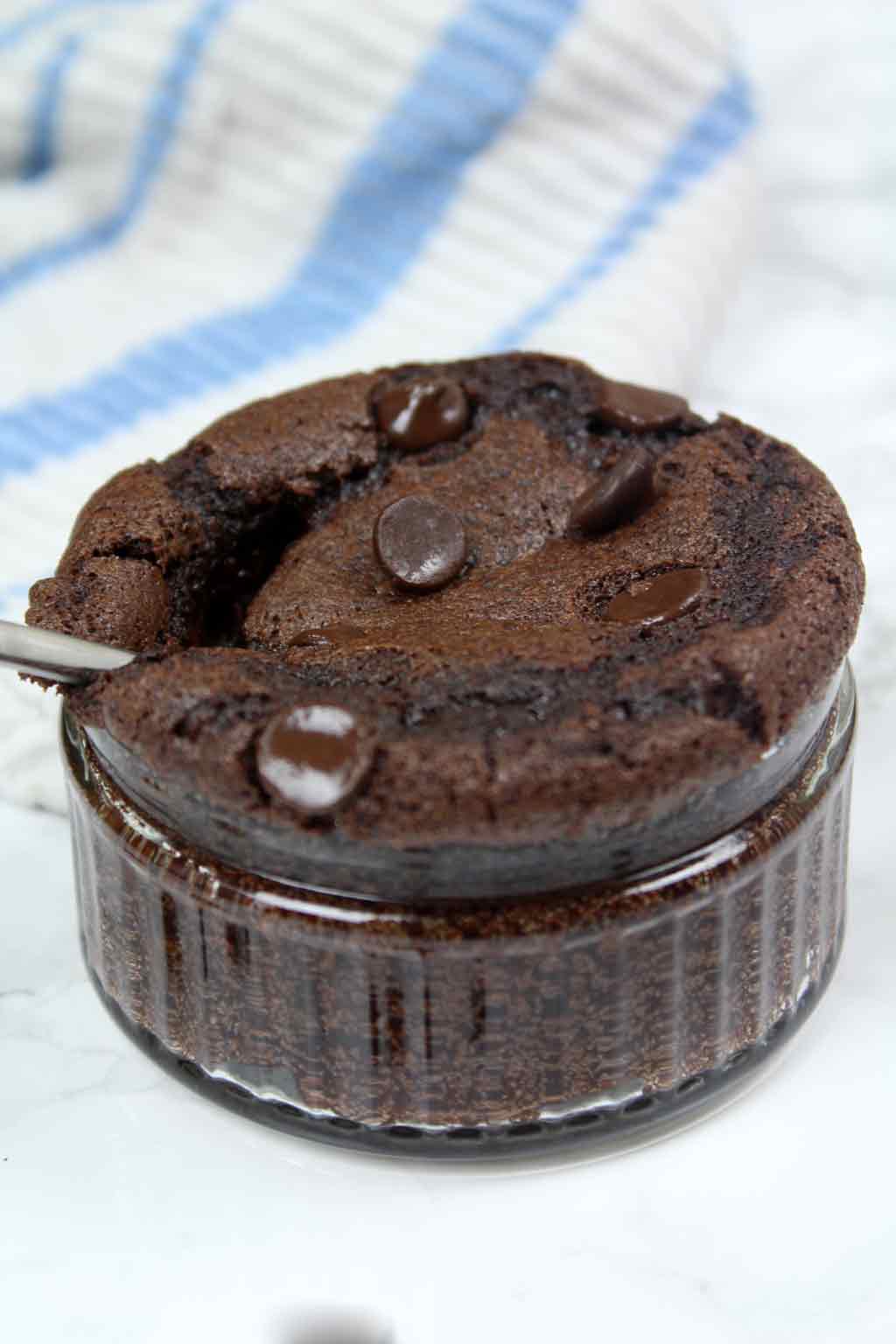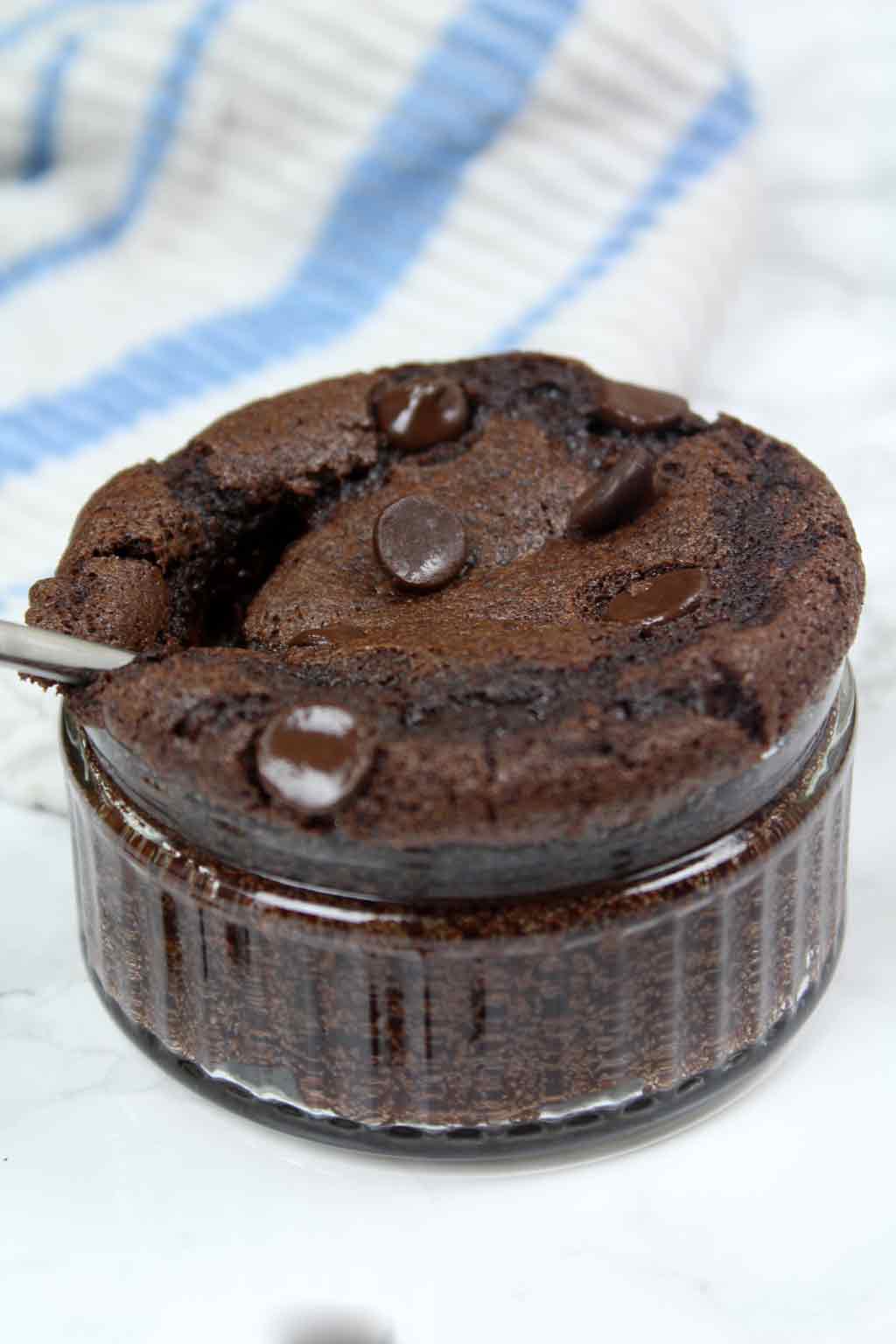 When I first went vegan, I practically LIVED off of mug cakes.
Ok, that's probably a slight exaggeration. But I made them pretty often. At least a few times a week.
At the time, I felt very limited when it came to vegan desserts because I had zero experience with vegan baking. But mug cakes got me through.
They suited my lazy student lifestyle at that time too because they are super quick and easy. Plus, you only have one mug or ramekin to clean once you're done eating- not a huge mountain of dishes.
Once I got more into vegan baking, mug cakes began to take a backseat, replaced by desserts that required a little more effort such as vegan cookies, vegan carrot cakes, and vegan apple pies.
But sometimes you just need something FAST that doesn't require 40 days and 40 nights of washing up afterward. So, I decided it was time for the return of the mug cake- but with a twist.
Instead of your classic vanilla mug cake, I decided to adapt my vegan brownies recipe to make a brownie in a mug. It is every bit as scrumptious as it sounds!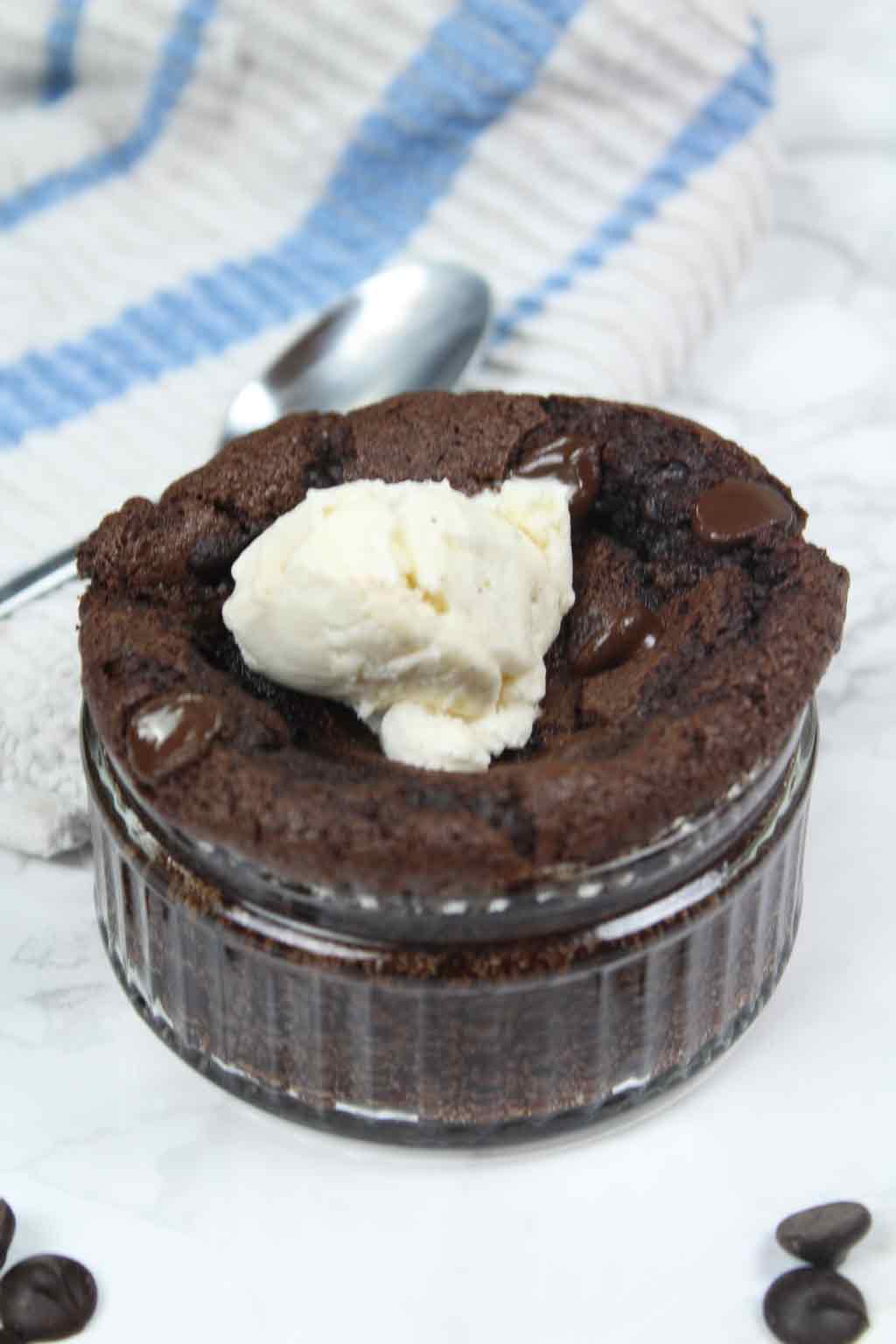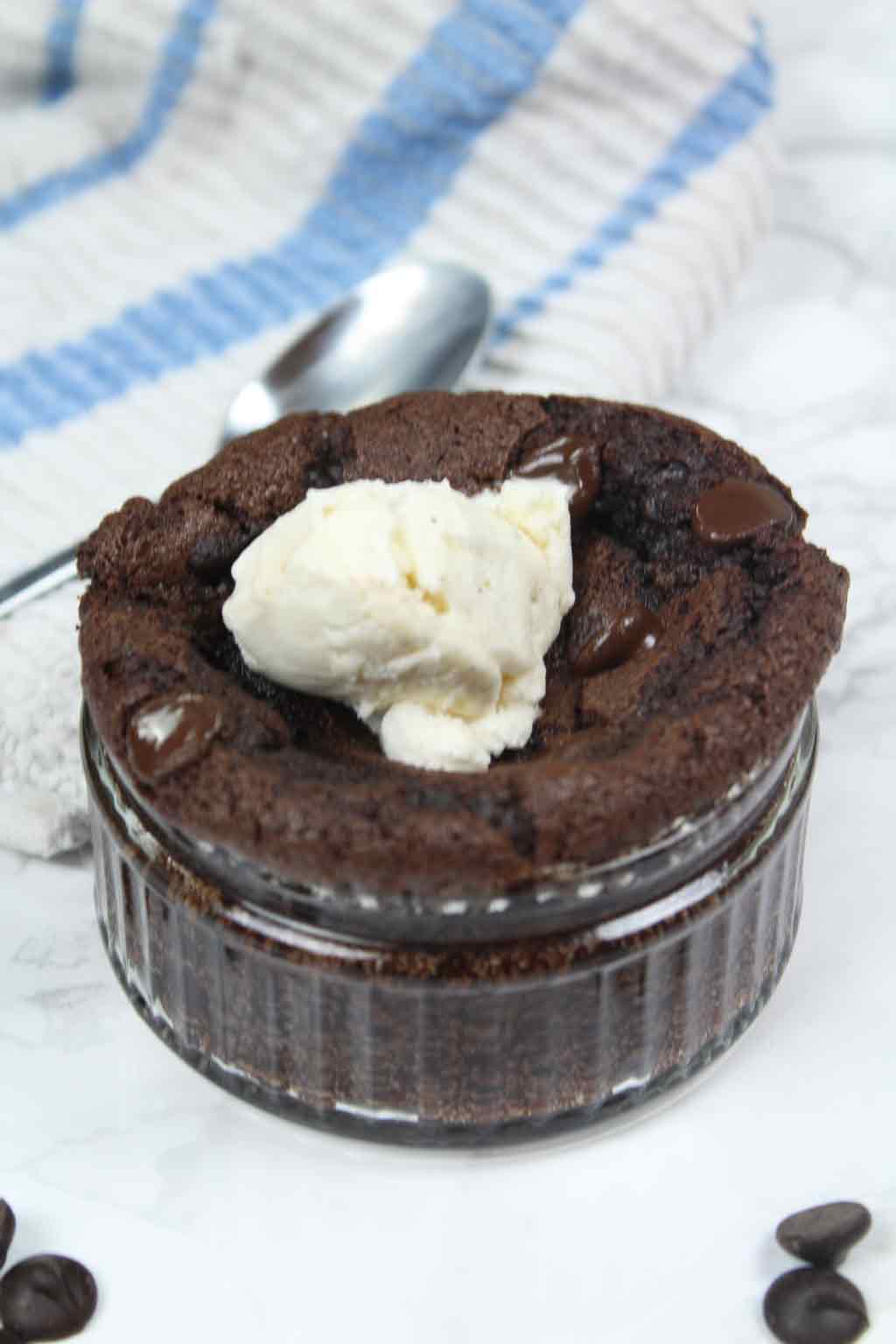 What Is A Mug Brownie?
A mug brownie is exactly what it sounds like: a brownie in a mug.
Instead of baking it in a large tray as you would with regular brownies, you mix the ingredients together in the mug or ramekin and pop it in the oven or microwave.
By dividing a full-batch recipe, you get just the right amount of brownie needed for one person. That means it's perfect for all you single guys and gals out there.
Because let's face it- if you're anything like me, it can be (extremely) hard not to eat the whole tray of brownies to yourself if there's no one else around to help you eat them. Or maybe it's just me who does that…
How Can Brownies Be Made Without Eggs?
When it comes to making sweet treats, there usually isn't much need for eggs. Most dessert recipes can be easily replicated either by using a vegan egg replacer or just omitting the eggs altogether.
This brownie in a mug recipe was one that worked just fine without an egg replacement. By using plant-based milk and vegan butter, the brownie batter holds together very well.
Which Flour Should I Use for Brownies?
Because mug cakes are so small and compact in comparison to a full batch, it's much easier to switch up ingredients without any negative results.
I've made a brownie in a mug using oat flour, all-purpose flour, almond flour, buckwheat flour and spelt flour.
All have worked very well in terms of texture. So, although I haven't tested each and every flour, I'm going to assume that most will work fine in this recipe.
The only exception would be coconut flour, as it is a lot more absorbent than other flours. If you did want to give it a try, I'd recommend adding an extra teaspoon or two.
When it comes to flavour, almond flour or all-purpose white flour always wins for me. But that's obviously subjective and totally a personal preference, so just go with what you feel is right for you!
Can You Make A Mug Brownie in The Oven?
You sure can! I would actually highly recommend baking it this way!
Although the microwave version it totally fab, baking the mug brownie in the oven makes it extra fudgy and flavourful. It also gives the brownie a nice crispy top which the microwave doesn't do.
The only thing is, I wouldn't really recommend putting your mug in the oven just because it will take a bit longer to bake this way. Instead, I'd recommend using a small oven-proof dish- I used a little ramekin.
Yes, it's technically more of a "fast oven brownie" this way, rather than a brownie in a mug. But it's basically the same thing, right?
It will still taste amazing and is a lot faster (and more convenient) than making a full batch of brownies.
How to Make A Vegan Brownie In A Mug
This is one of the simplest vegan recipes I've created to date! There are only 4 major steps.
Step 1:
Add your flour, cocoa powder, brown sugar and baking powder to a small ramekin or mug. Alternatively, you can mix everything in a small bowl then transfer it to the mug/ramekin just before baking.
Mix the ingredients together to make a dry, powdery mixture.
Step 2:
Next, add in the vegan butter. Mix it into the other ingredients by "smearing" it along the sides of the mug or ramekin. Keep doing this until it looks like a soft chocolate buttercream.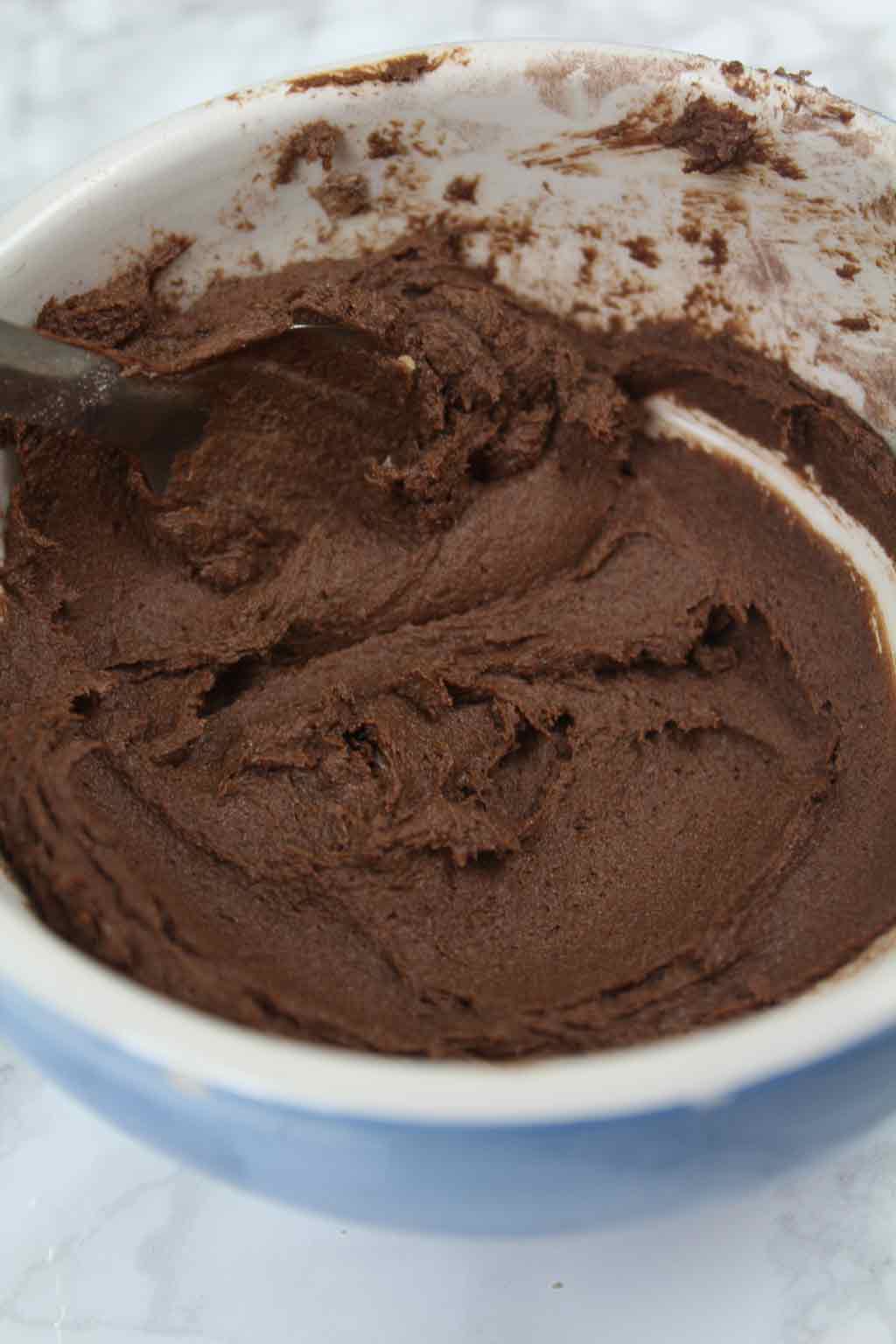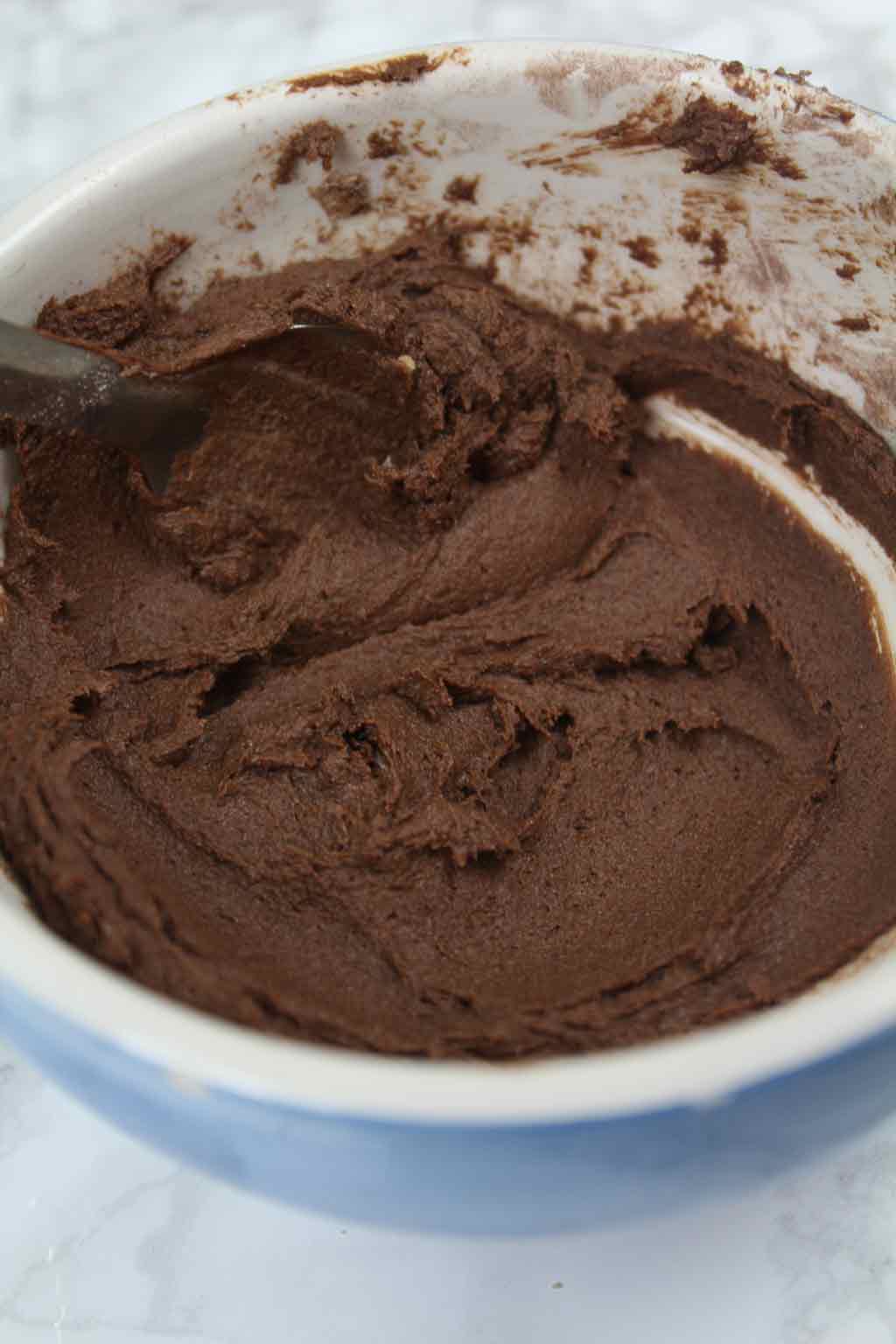 Step 3:
The next step is to add in your plant-based milk. I'd recommend using unsweetened as there's already plenty of sugar in the recipe to keep it sweet.
I used soy milk but you can use any plant-based milk you like, or even water if you're in a pinch.
Combine everything well, and you should end up with a thick brownie batter.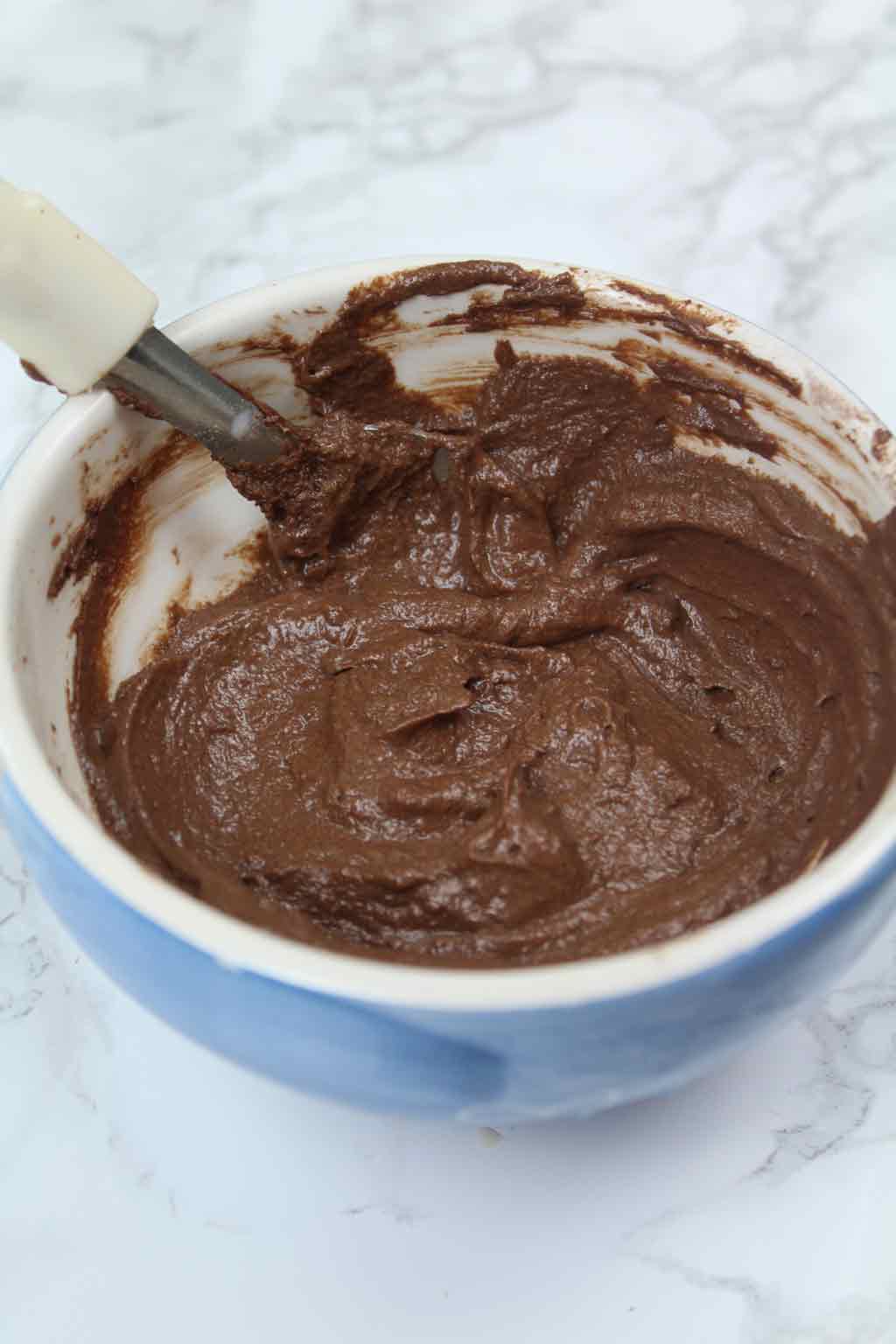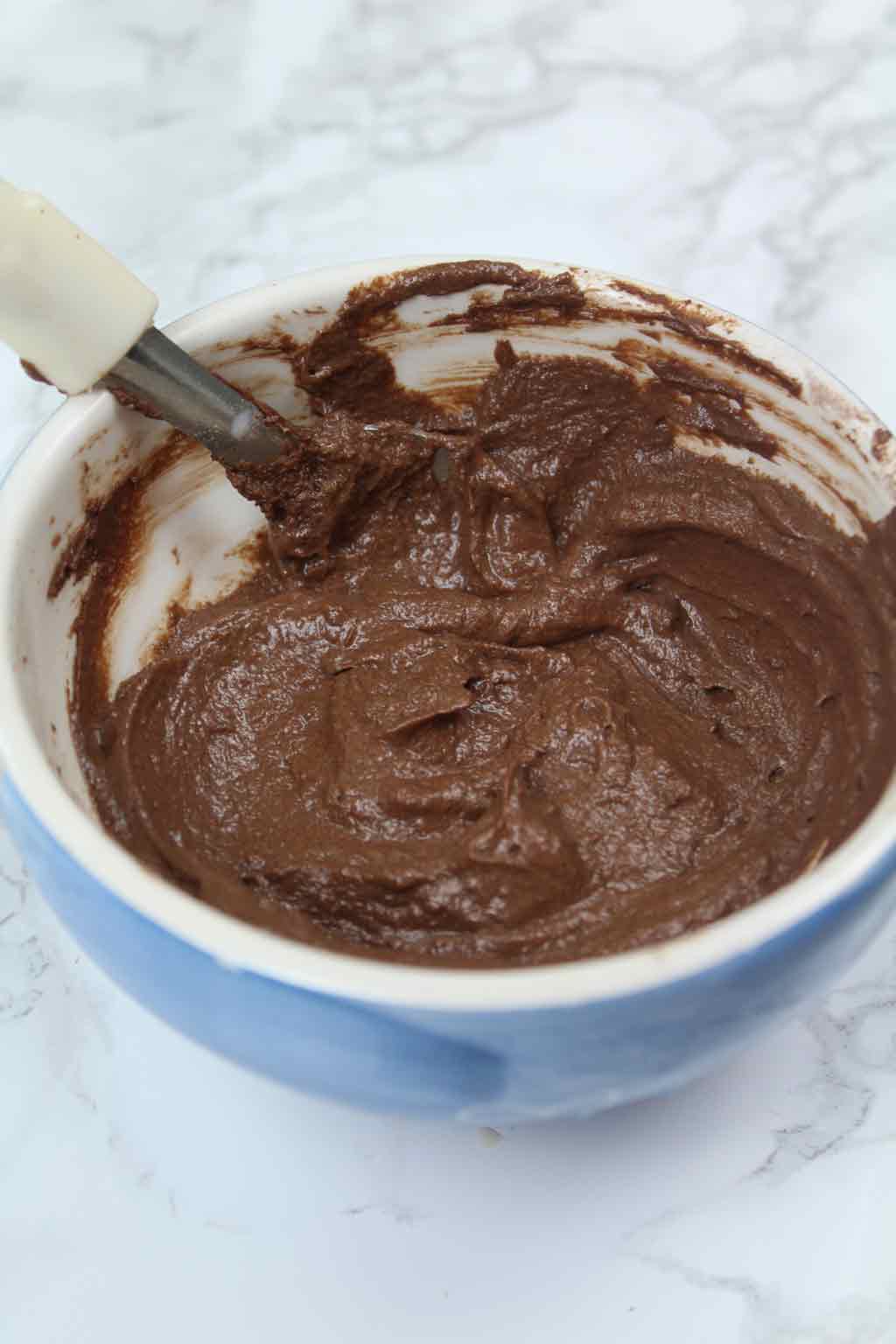 Step 4:
Add in some vegan chocolate chips or chunks. This step is optional but it honestly takes a simple brownie in a mug to a dessert you'll want to make over and over again!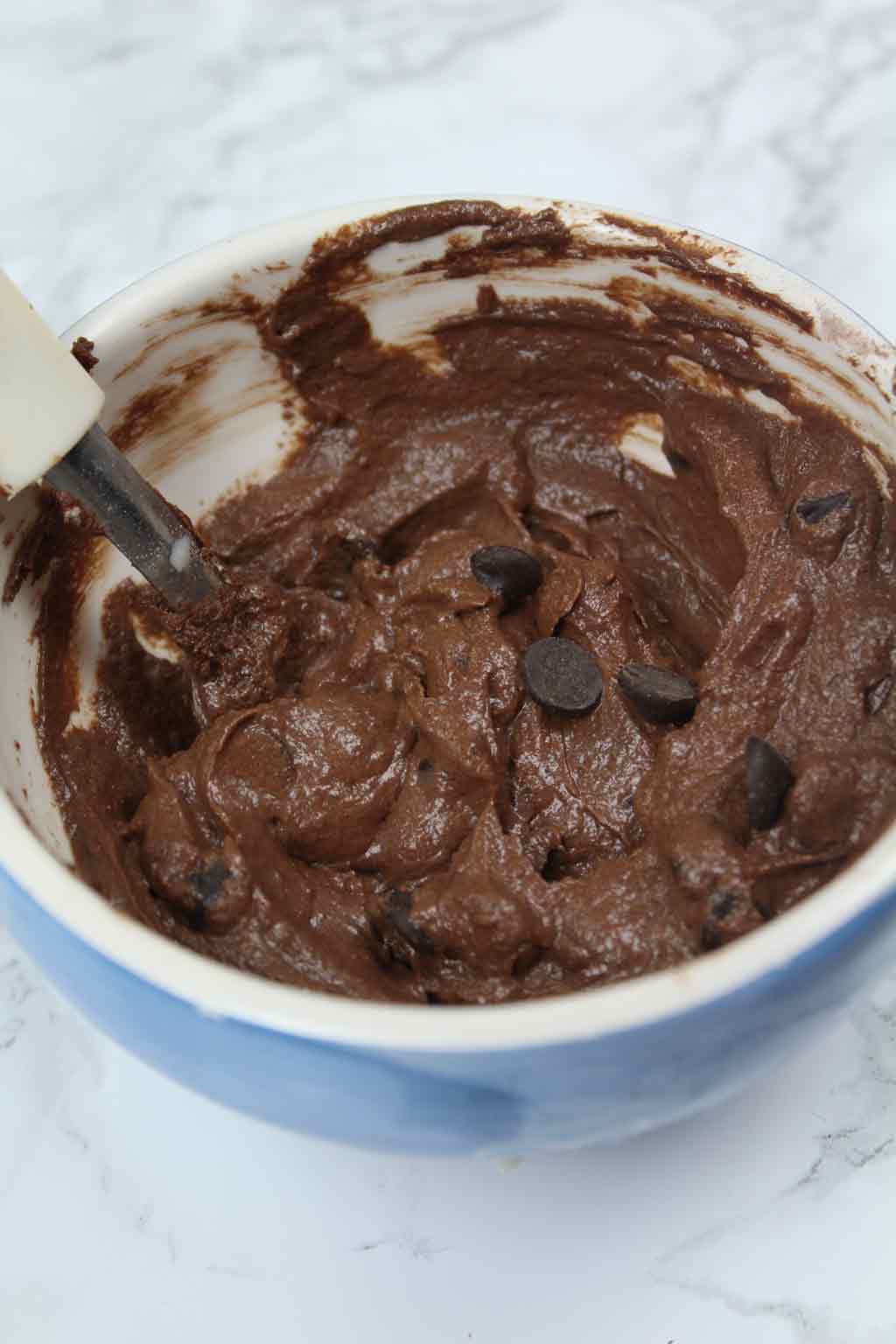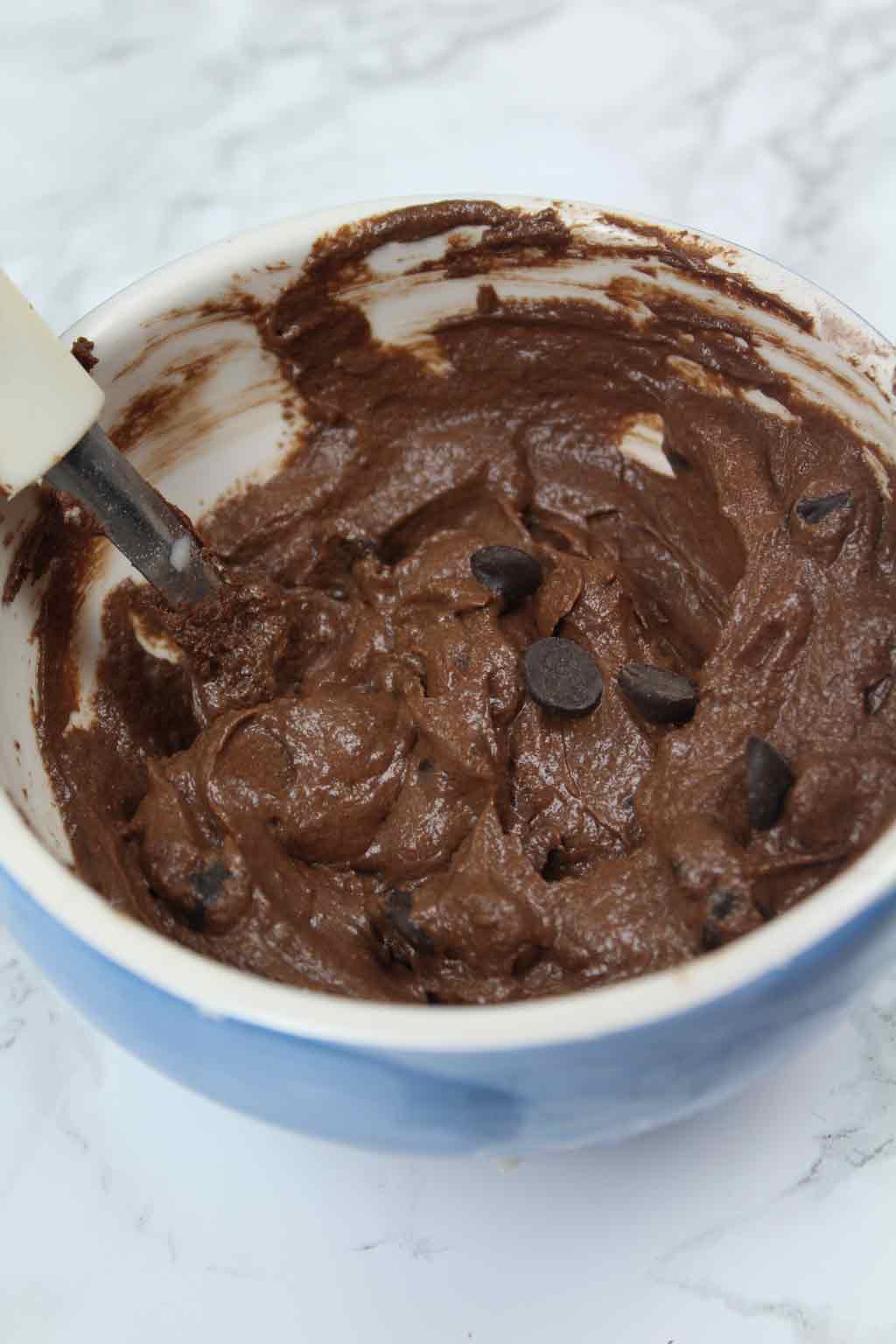 Step 5:
Transfer your batter into your ramekin (if you didn't already use it as your bowl) and bake at 180C/ 350F for 20 minutes. If using a mug, pop it in the microwave for 50-60 seconds.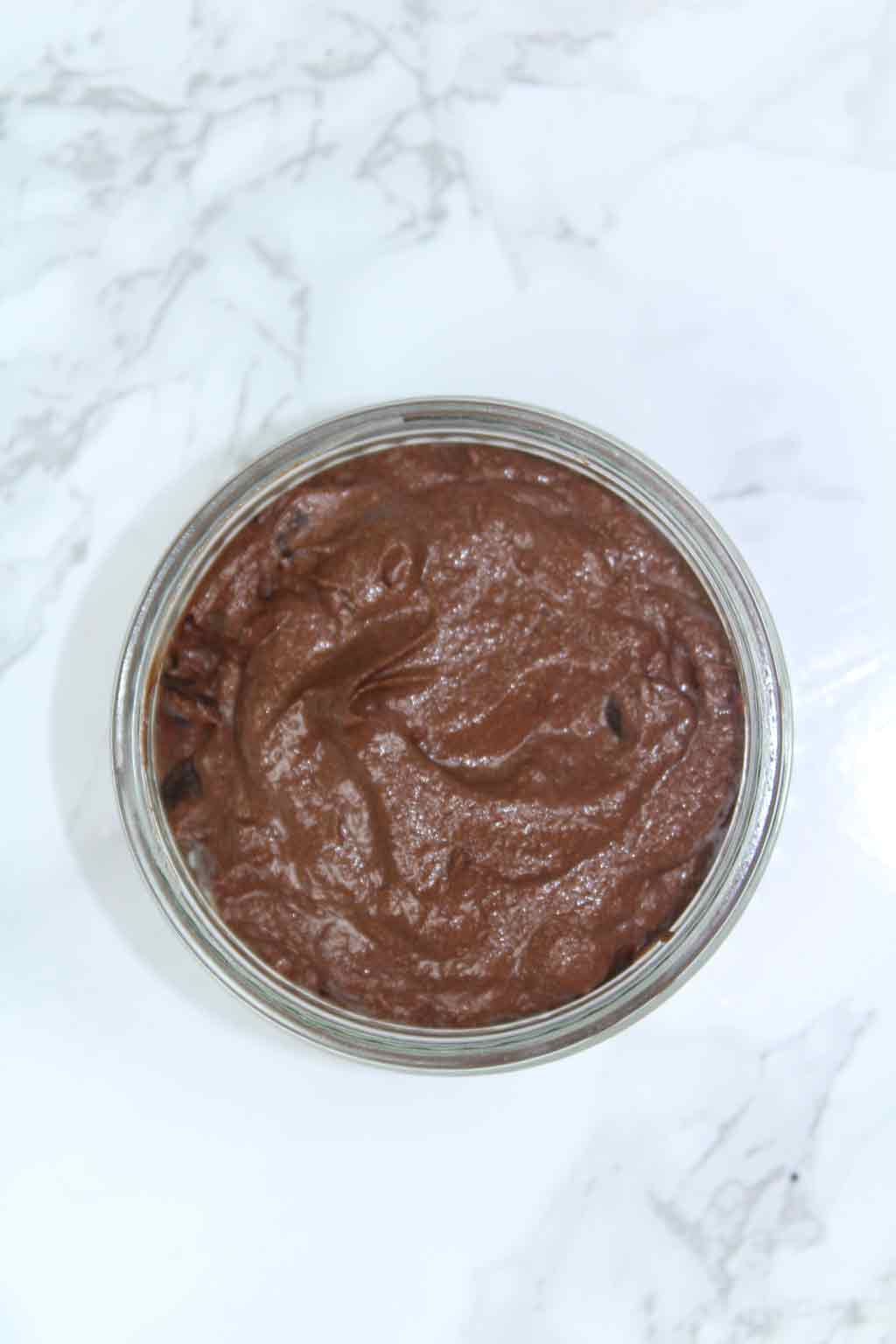 Step 6:
Eat as it is or serve with some vegan-friendly vanilla ice cream.
I'd also highly recommend doubling the recipe quantities for a more indulgent dessert, although the basic recipe is perfect for a mini treat.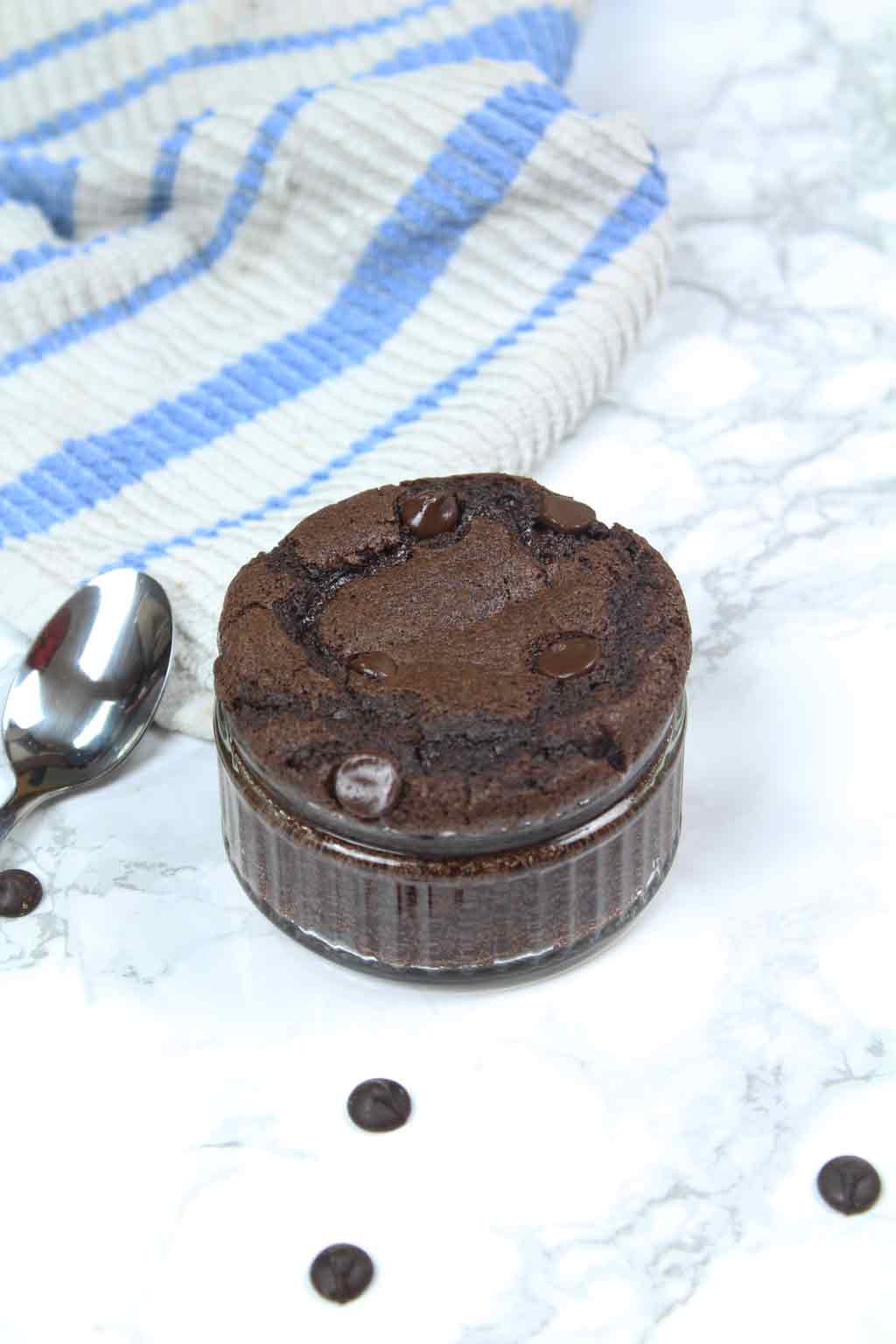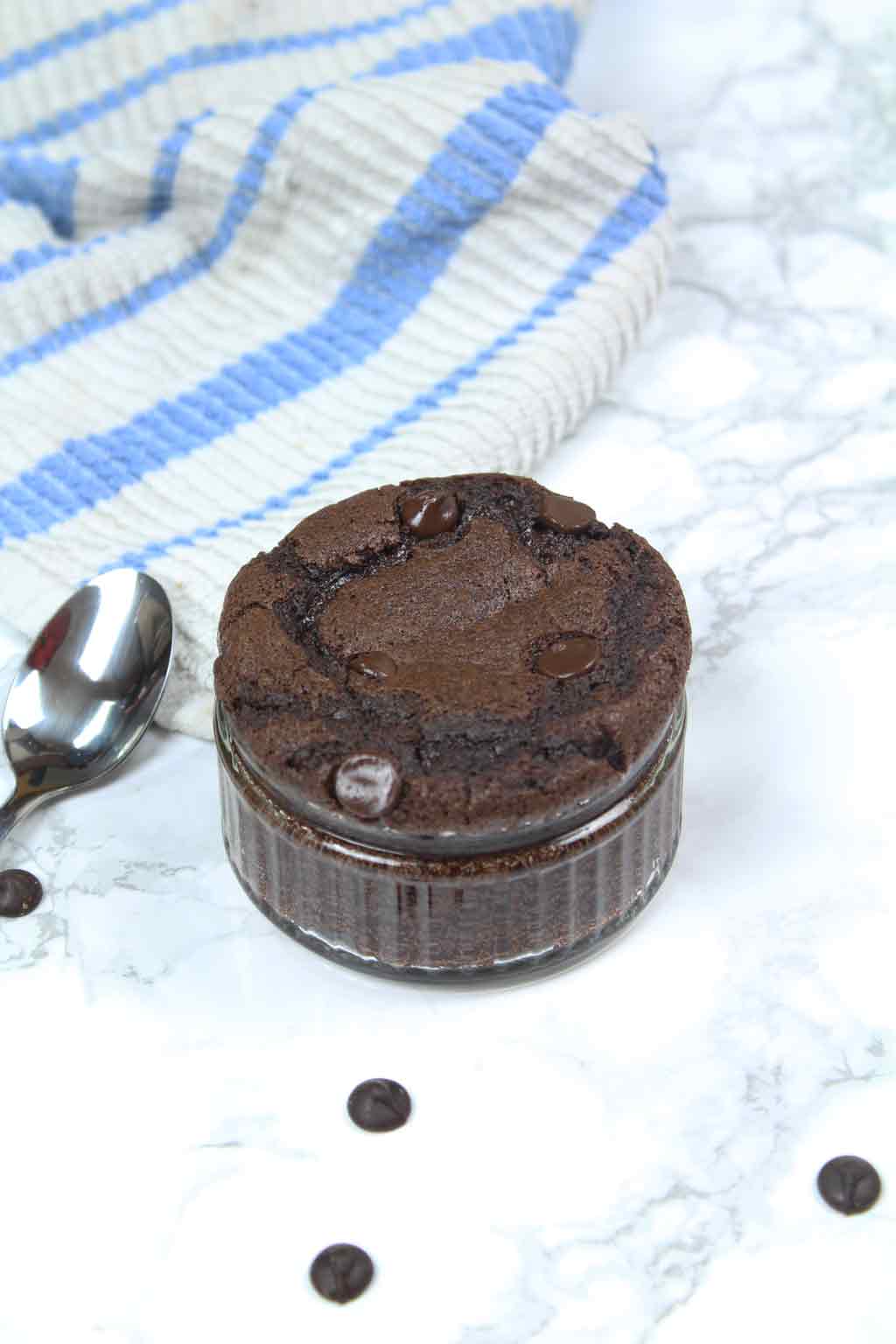 Healthy Mug Brownie Substitutes
I don't like to use too many expensive ingredients when I bake because I want to keep the costs low for my readers. That's why I tend to use things like white sugar and plain flour.
A lot of people can't always afford to purchase things like maple syrup or almond flour, especially if they're first learning to bake and will be experimenting lots.
BUT if you'd like to swap out some ingredients to make a healthy brownie in a mug, here are some substitutes I'd recommend for you:
All-purpose white flour. Swap this for equal amounts of almond flour, whole-wheat flour, buckwheat flour, oat flour or spelt flour.
Vegan butter. Swap this for equal amount of room temperature coconut oil. You'll need it to be semi-solid and not completely melted.
Brown sugar. Swap this for equal amounts of coconut sugar, maple syrup or agave syrup. You could also use honey if you're not vegan.
Vegan chocolate chips. Switch sugary chocolate chips for chunks of low sugar dark chocolate, ideally one that contains 70% cocoa or more. I love using this one from Tesco because it's so rich and creamy.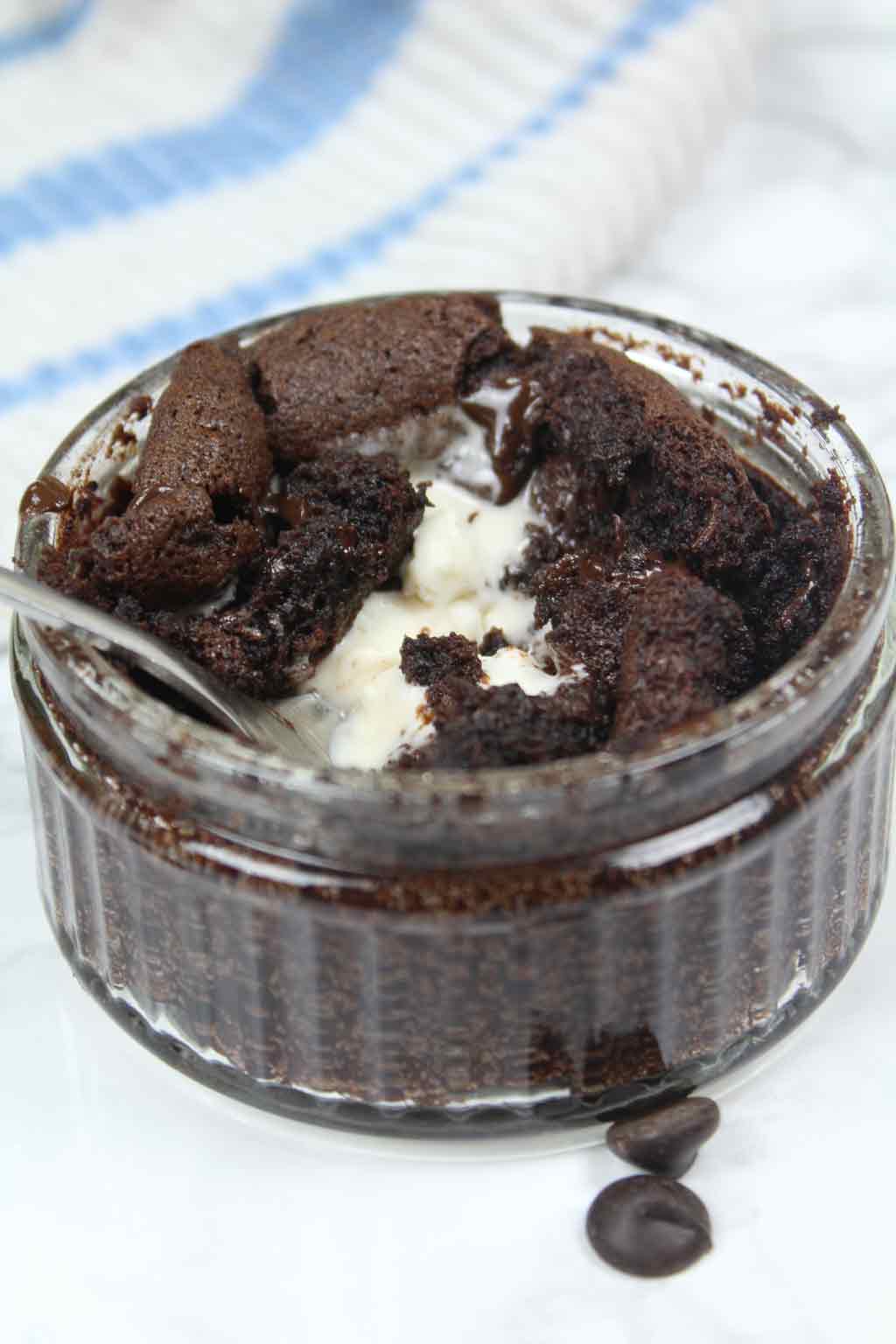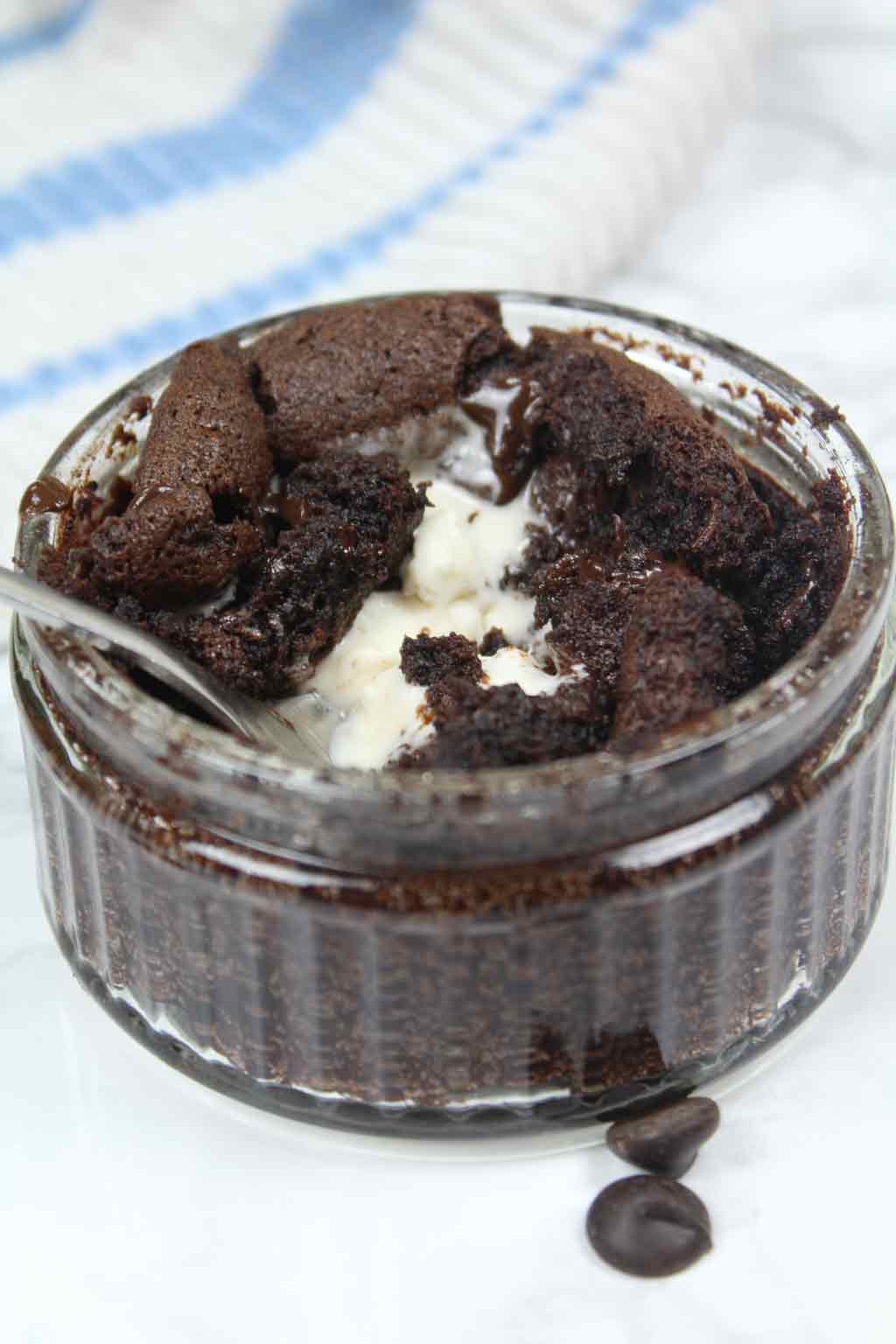 I hope you enjoy this recipe and as always, please leave a rating or comment below if you try it yourself!
Happy baking.
xo

Vegan Mug Brownie
Easy, single serving brownie in a mug recipe.
Keyword:
brownie in a mug
Ingredients
1

Teaspoon

Plain flour

1

Teaspoon

Unsweetened cocoa powder

2

Teaspoons

Soft light brown sugar

1/4

Teaspoon

Baking powder

2

Teaspoons

Vegan butter

2

Teaspoons

Plant-based milk of choice

1-2

Teaspoons

Chocolate chips or chunks
Instructions
Preheat your oven to 180C/350F if baking in the oven.

Add the flour, cocoa powder, sugar and baking powder to a small bowl, ramekin or mug. Mix.

Add the vegan butter and cream everything together until smooth.

Add the plant-based milk and stir again until smooth. The batter will be quite thick. Fold in your chocolate chips.

Bake in the oven for 20 minutes or microwave for 50-60 seconds. The brownie should be firm on top and fudgy inside.

Leave to cool for 2 minutes before enjoying.
Recipe Notes
*Best served with vanilla ice cream
*Double the recipe for a more indulgent dessert.
Nutrition Facts
Vegan Mug Brownie
Amount Per Serving
Calories 120
Calories from Fat 63
% Daily Value*
Fat 7g11%
Sodium 225mg10%
Carbohydrates 14g5%
Protein 1g2%
* All values are an estimate only and will vary depending on the food brands used.