Vegan Mug Brownie
This vegan mug brownie makes the perfect single-serving dessert. It's fudgy, chewy and indulgent. A great bake for treating yourself when you're all alone!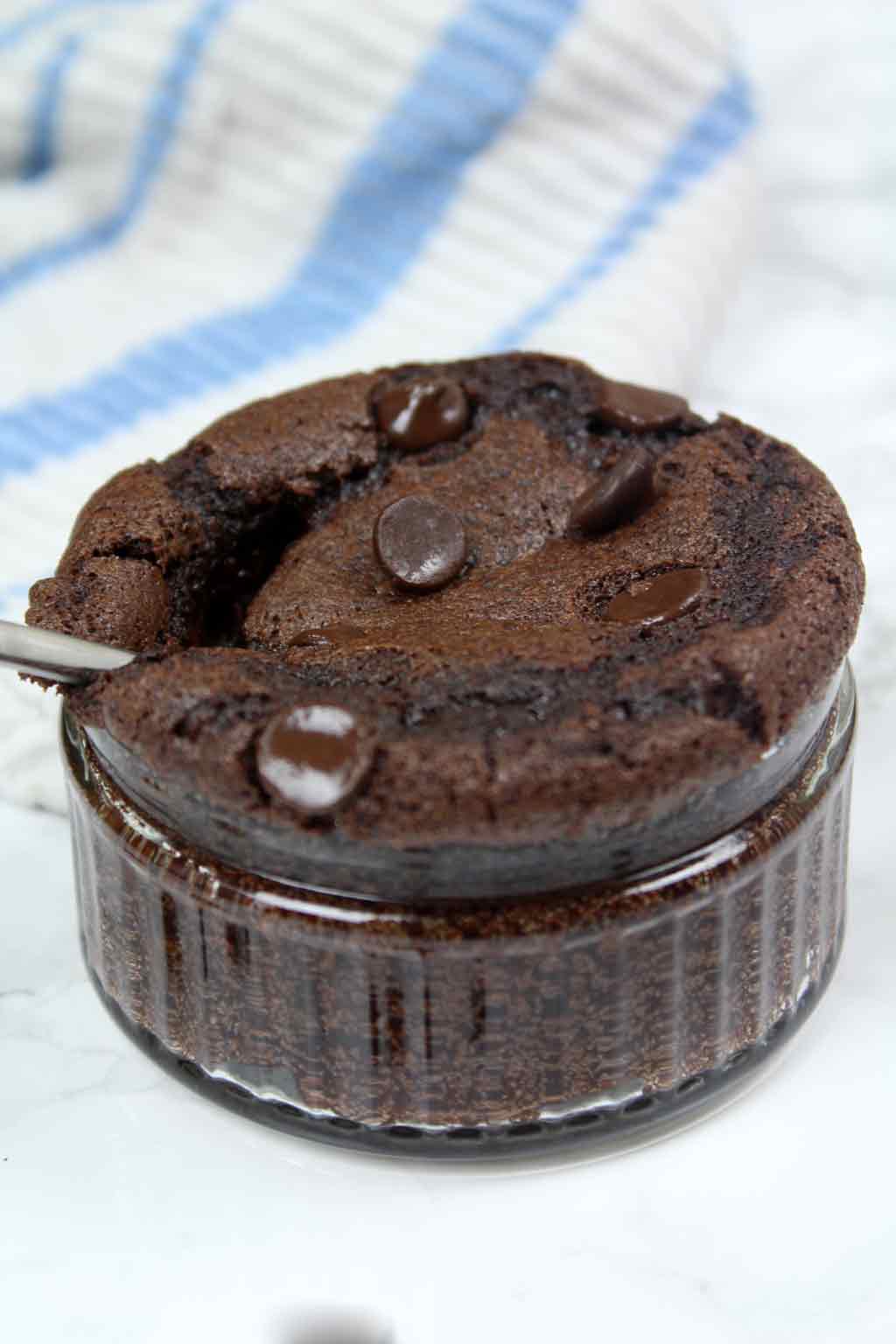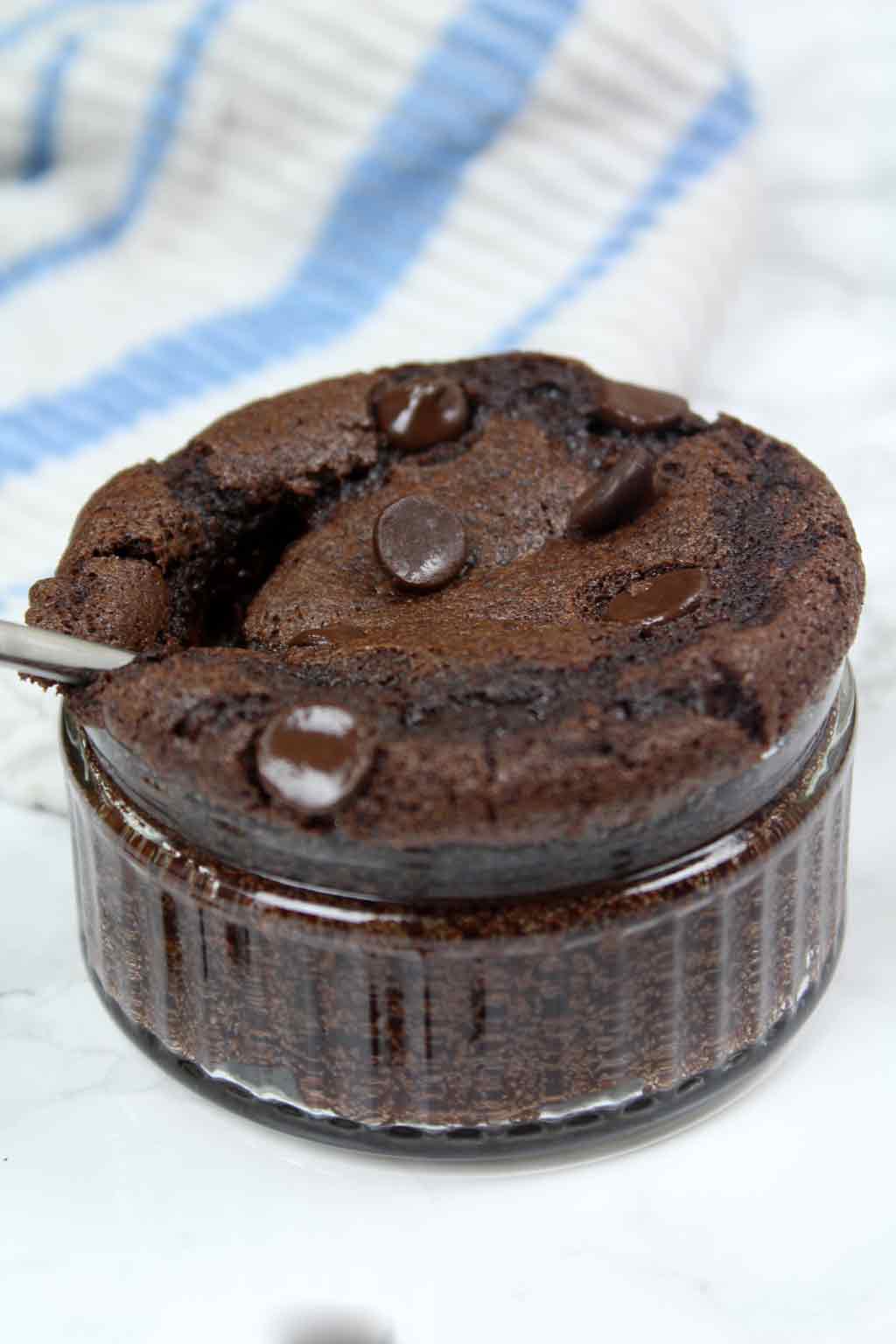 When I first went vegan, I practically LIVED off of mug cakes.
Ok… that's probably a slight exaggeration.
But I made them pretty often. At least a few times a week.
At the time, I felt very limited when it came to vegan desserts because I had zero experience with vegan baking. But mug cakes got me through.
They suited my lazy student lifestyle at that time too because they were super quick and easy. Plus, you only have one mug or ramekin to clean once you're done eating as opposed to a huge mountain of dishes.
Once I got more into vegan baking, mug cakes began to take a backseat, replaced by desserts that required a little more effort such as cookies, full-sized cakes and pavlovas.
Want more vegan dessert recipes? Try these:
But sometimes you just need something EASY that doesn't require 40 days and 40 nights of washing up afterward. So, I decided it was time for the return of the mug cake- but with a twist.
Instead of your classic vanilla mug cake, I decided to adapt my vegan brownies recipe to make a vegan mug brownie. It is every bit as scrumptious as it sounds!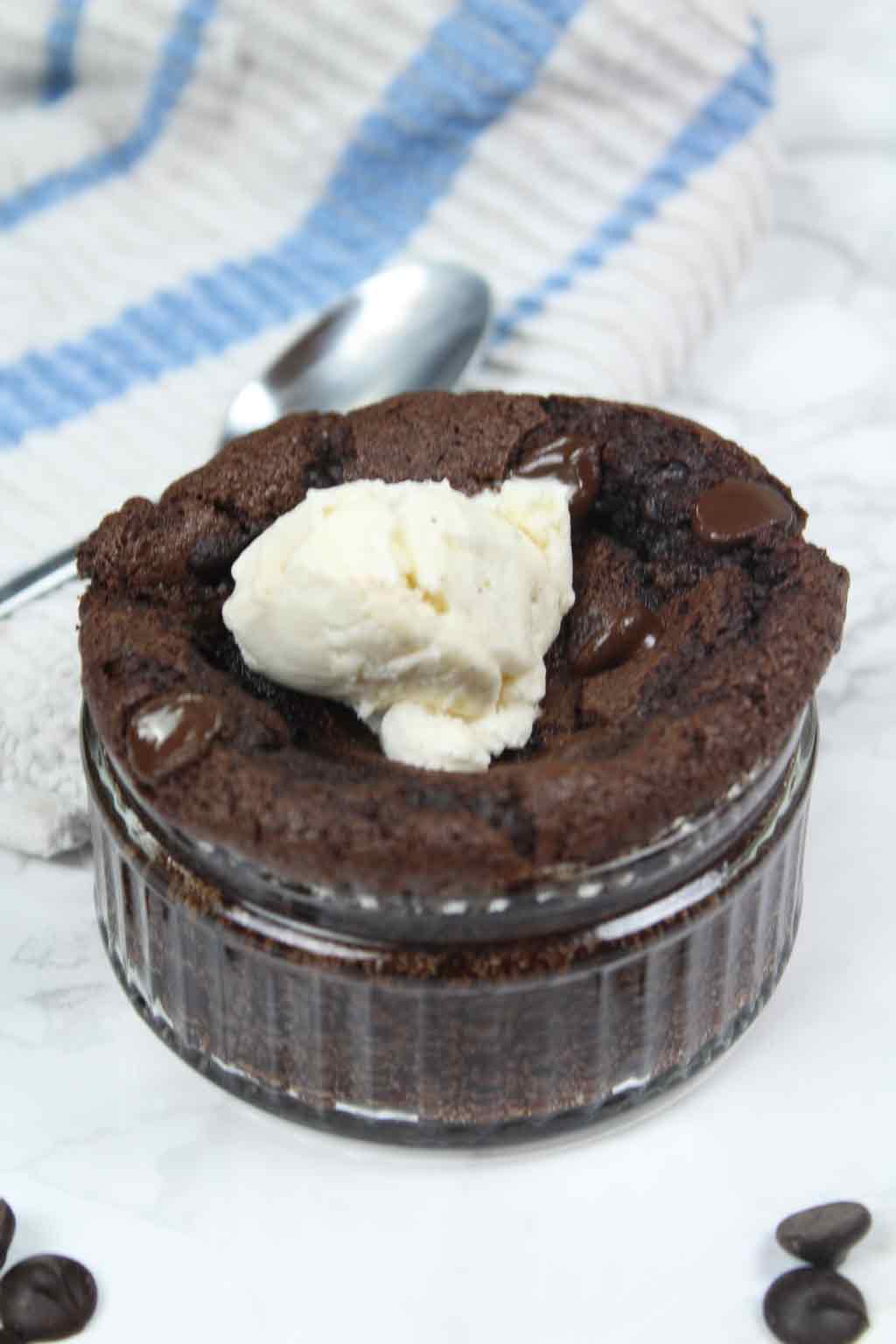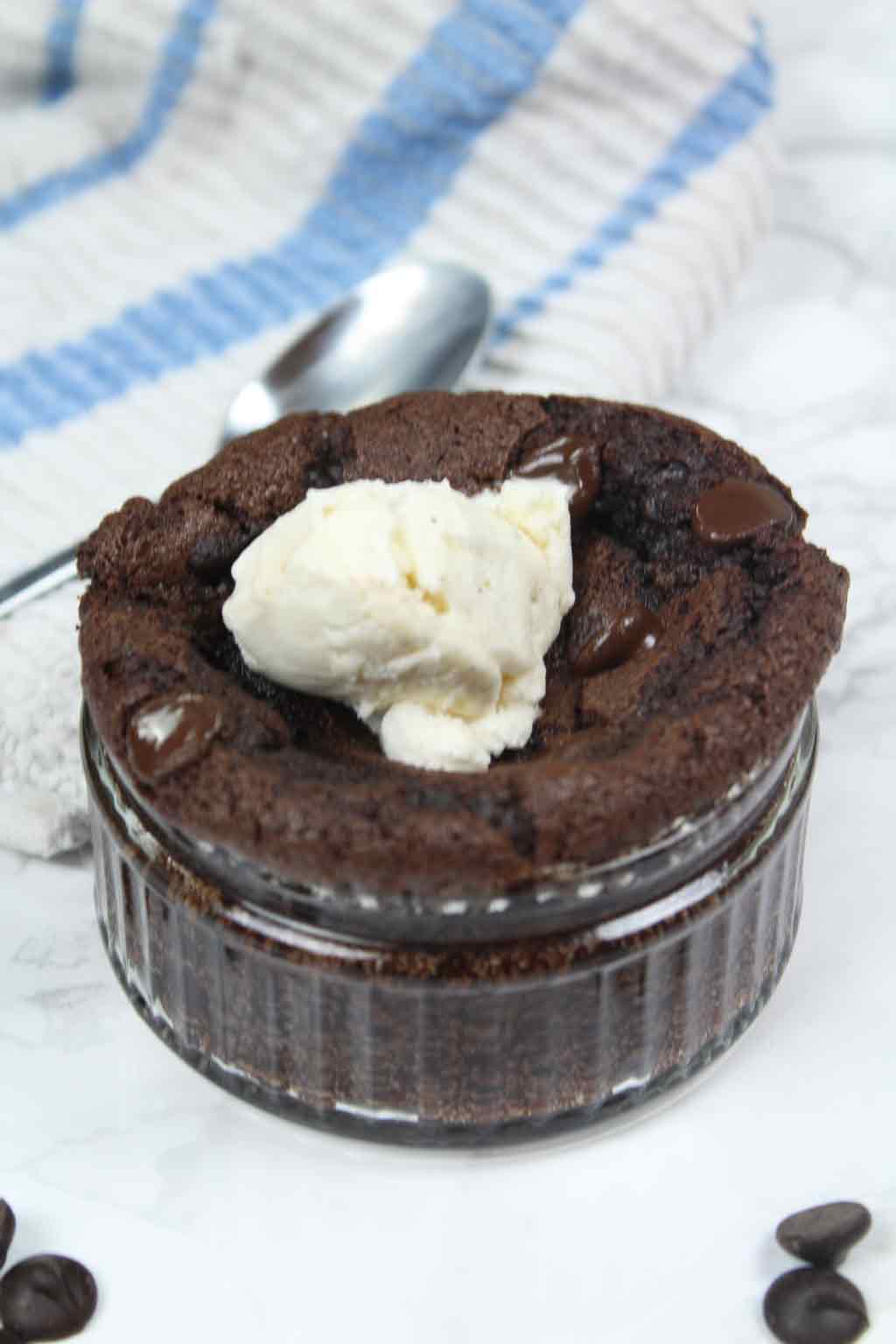 A single-serving vegan brownie
By dividing a full-batch recipe, you get just the right amount of brownie needed for one person. That means it's perfect for all you single guys and gals out there.
Because let's face it… If you're anything like me, it can be (extremely) hard not to eat the whole tray of brownies to yourself if there's no one else around to help you eat them.
Or maybe it's just me who does that…
This recipe is also great if you're running low on ingredients because you need just a tiny amount of each one. And of course, you don't need any eggs or dairy!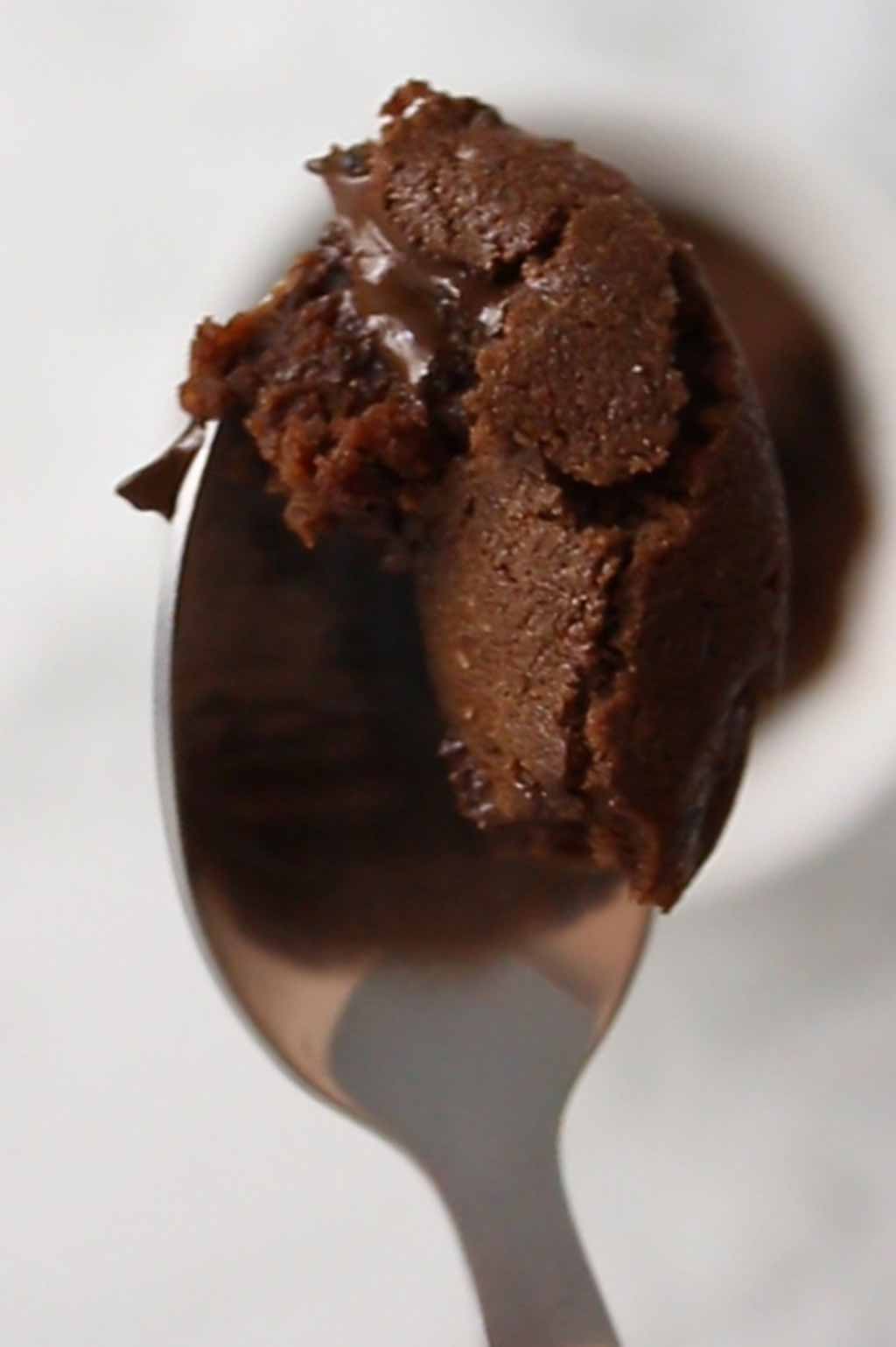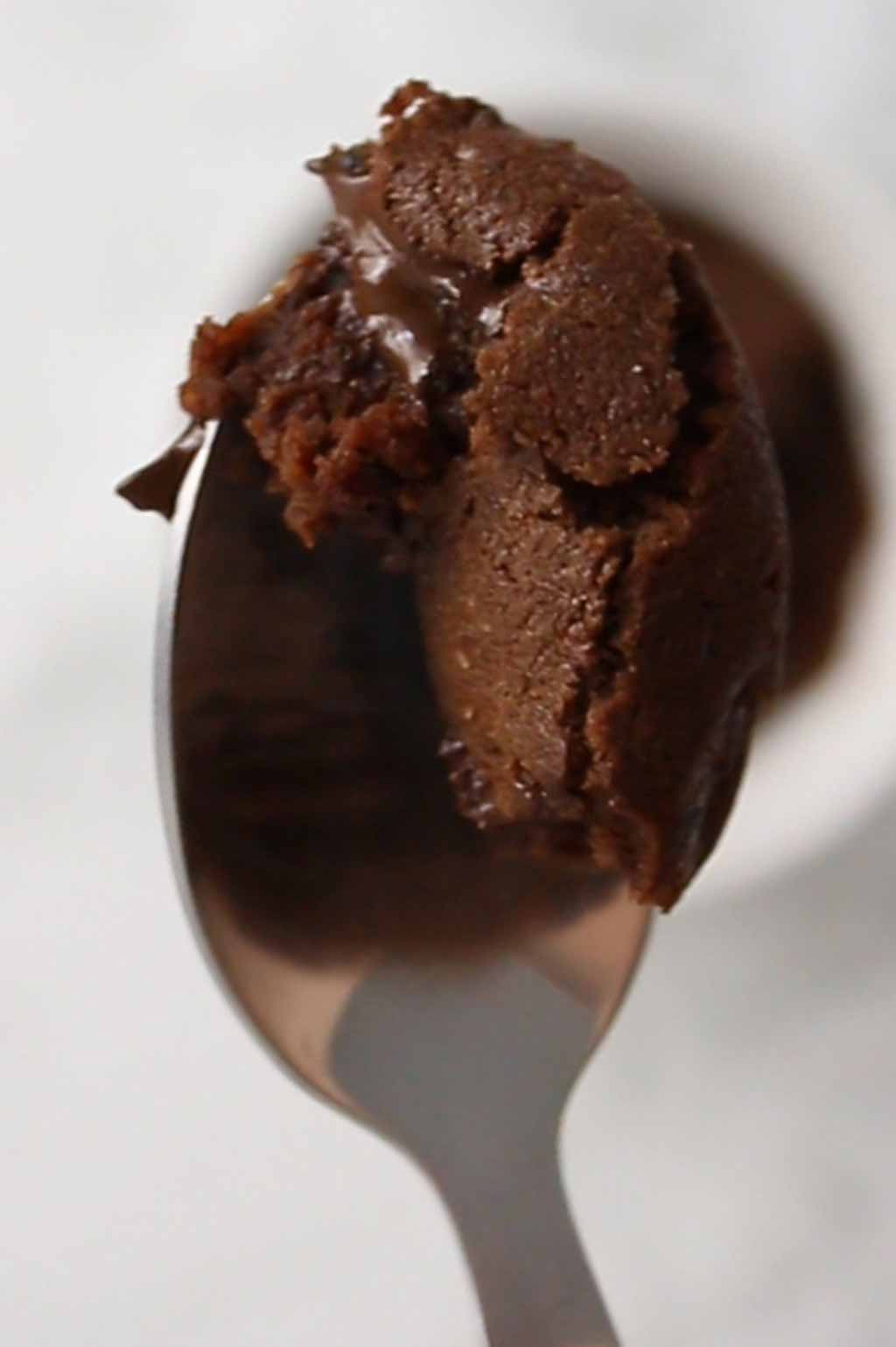 Oven or microwave?
OK, I have a confession… I no longer have a microwave at home which is why I recommend baking this recipe in the oven.
Bias, I know.
Of course the whole appeal of mug cakes is that you chuck them in the microwave and have a delicious dessert in a matter of seconds.
But if you have the patience, I'd HIGHLY recommend baking it in the oven.
Don't get me wrong, it tastes pretty fab baked in the microwave too but the oven just does something magical. It makes the brownie extra fudgy and flavorful, and also gives it a nice chewy top which the microwave doesn't do.
The only thing to note is that I wouldn't really recommend putting your mug in the oven just because it will take a bit longer to bake this way. Instead, I'd recommend using a small oven-proof ramekin. I love these Genware ramekins from Amazon.
So yes, it is technically more of a "single-serving vegan brownie" than it is a vegan mug brownie. But it's basically the same thing, right?
Regardless if you decide to cook it in the oven or the microwave though, it'll still taste amazing and is a lot faster (and more convenient) than making a full-on batch of brownies.
How to Make A Vegan mug brownie
This is one of the simplest vegan recipes I've created to date! There are only a few steps.
Step 1:
Add your flour, cocoa powder, sugar and baking powder to a small ramekin or mug. Alternatively, you can mix everything in a bowl then transfer it to the mug or ramekin just before baking.
Mix the ingredients together to make a dry, powdery mixture.
Step 2:
Next, add in the vegan butter. Mix it into the other ingredients by "smearing" it along the sides of the mug or ramekin. Keep doing this until it looks like a soft chocolate buttercream.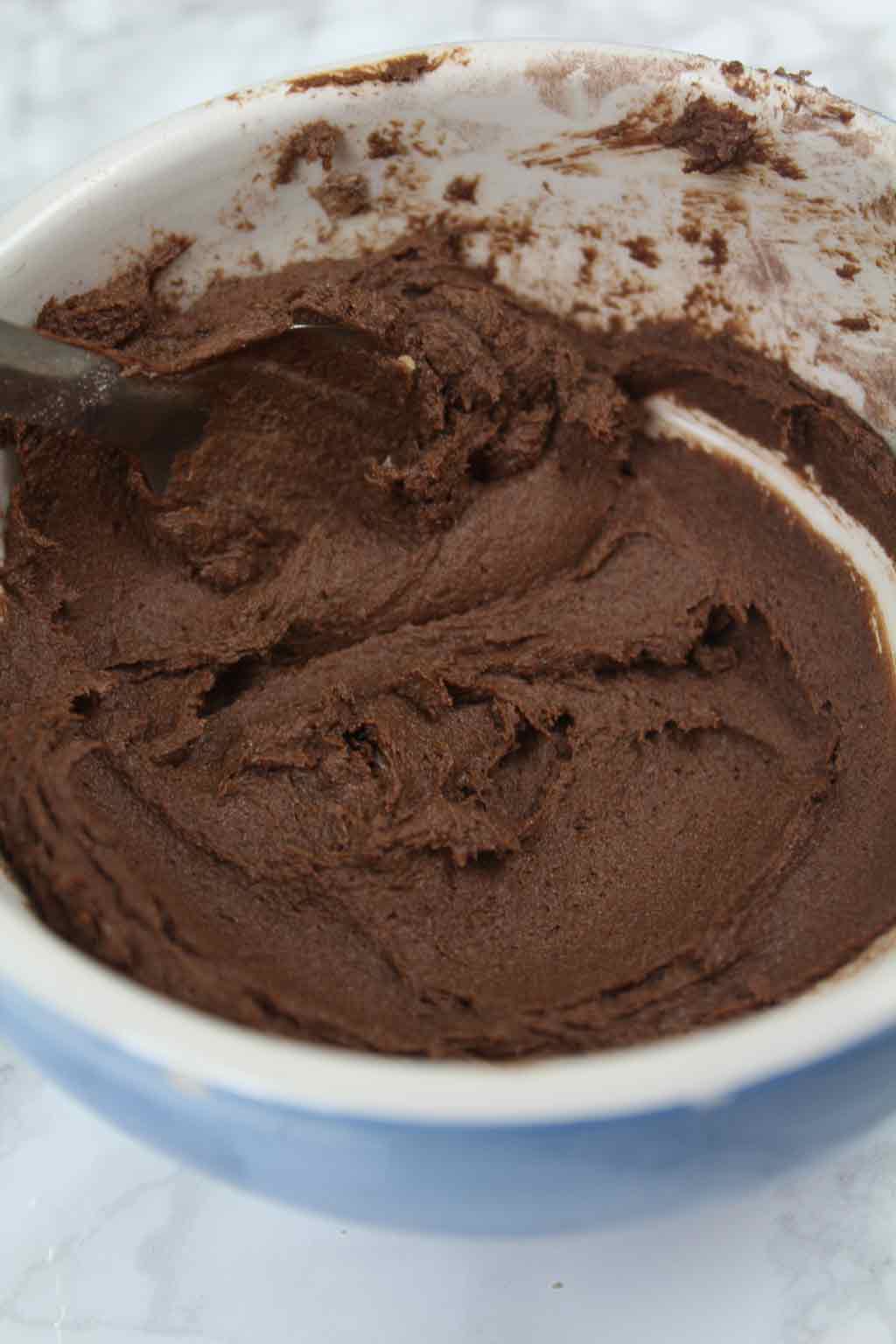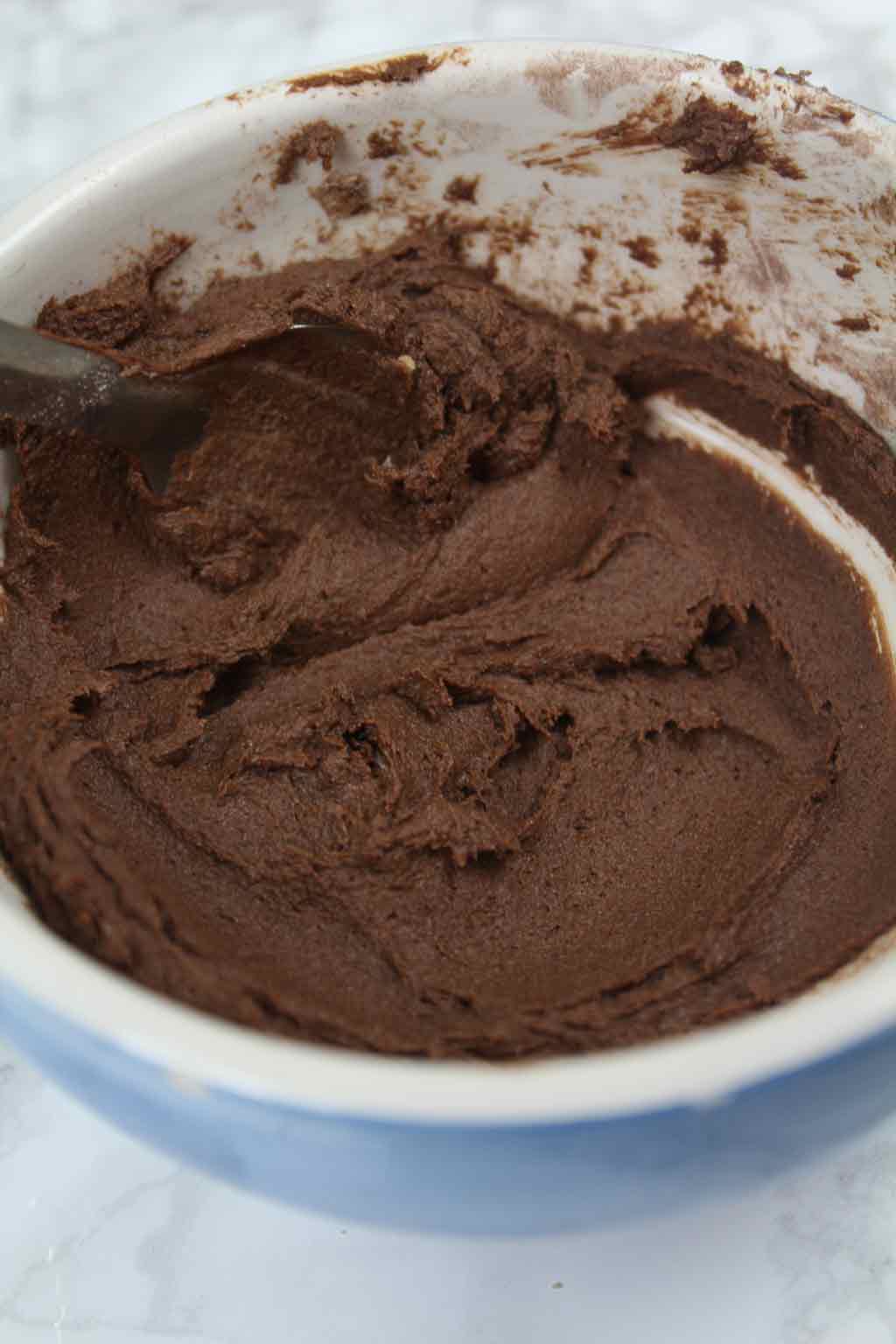 Step 3:
The next step is to add in your plant-based milk. I'd recommend using unsweetened as there's already plenty of sugar in the recipe to keep it sweet.
I used soy milk but you can use any plant-based milk you like, or even water if you're in a pinch.
Combine everything well, and you should end up with a thick brownie batter.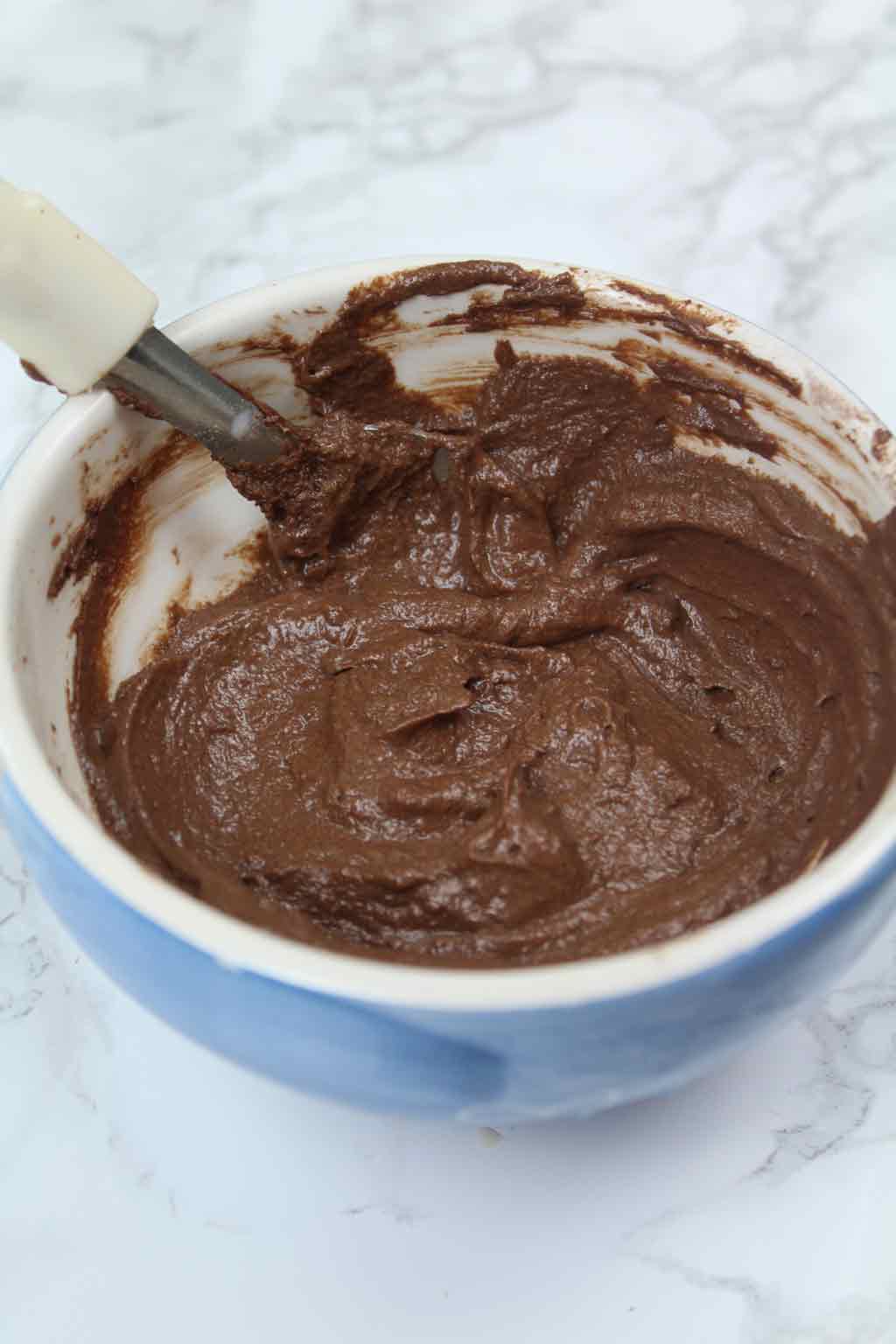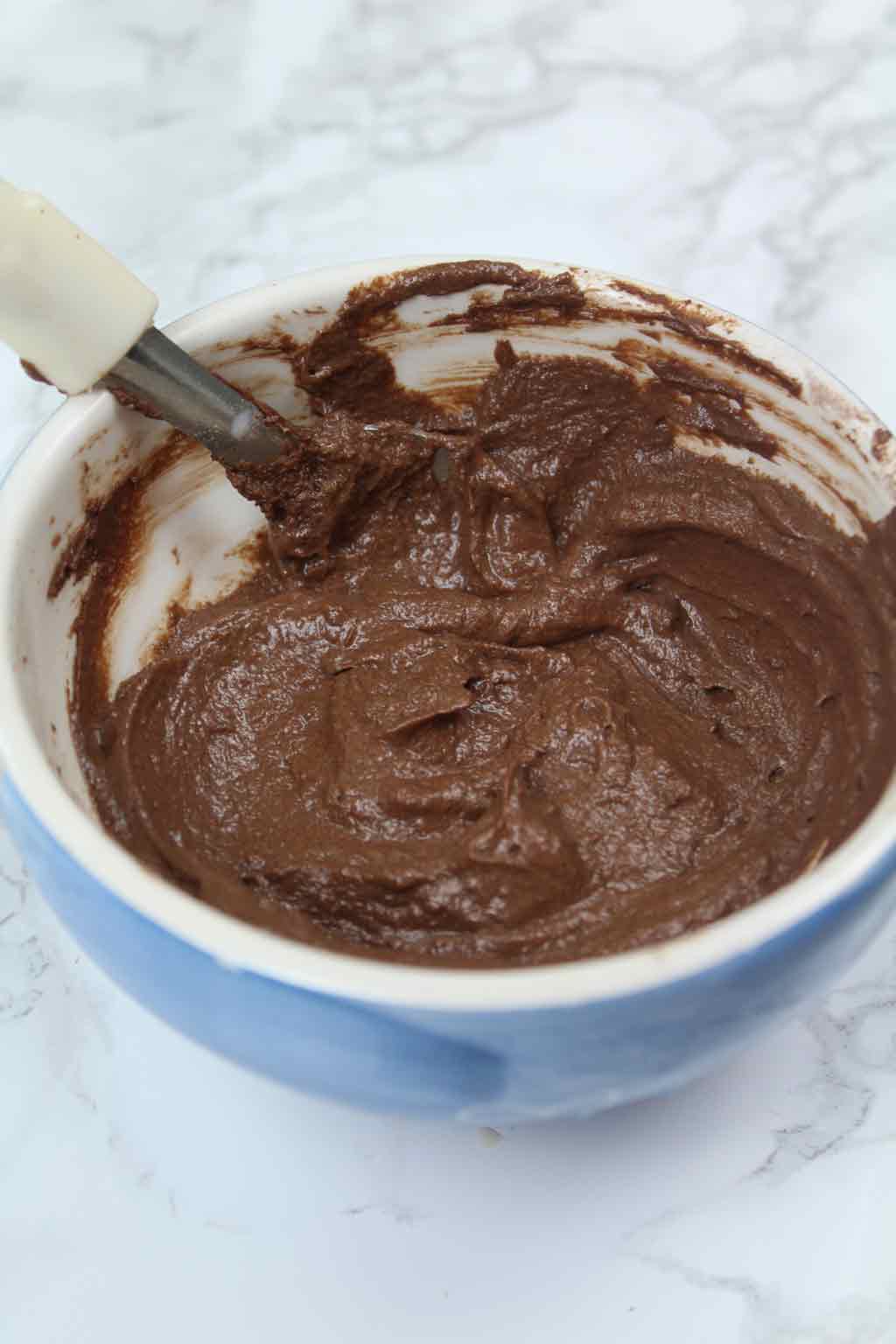 Step 4:
Add in some vegan chocolate chips or chunks. This step is optional but it honestly takes a simple mug brownie to a dessert you'll want to make over and over again! If you're not sure of the options out there, check my vegan chocolate guide.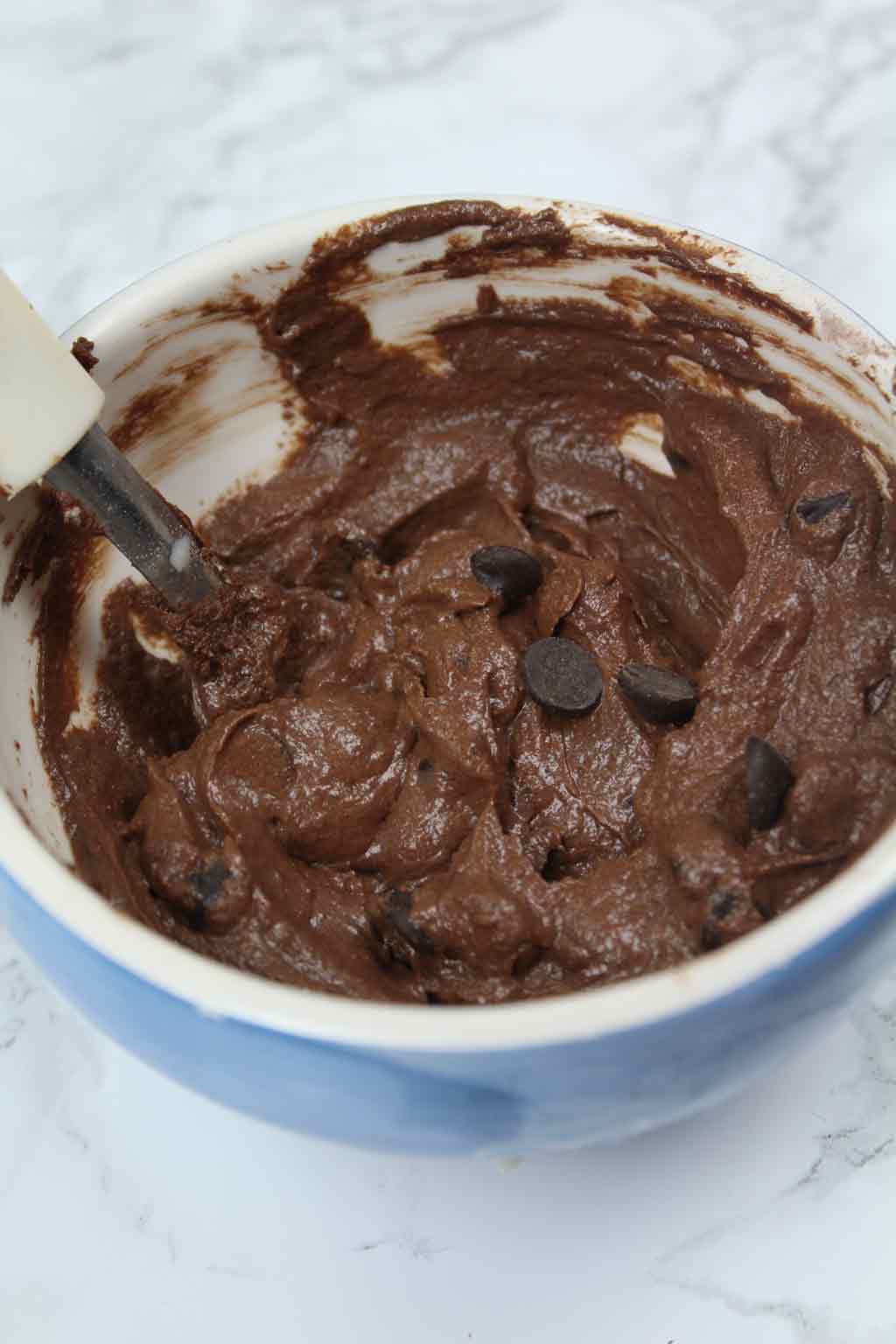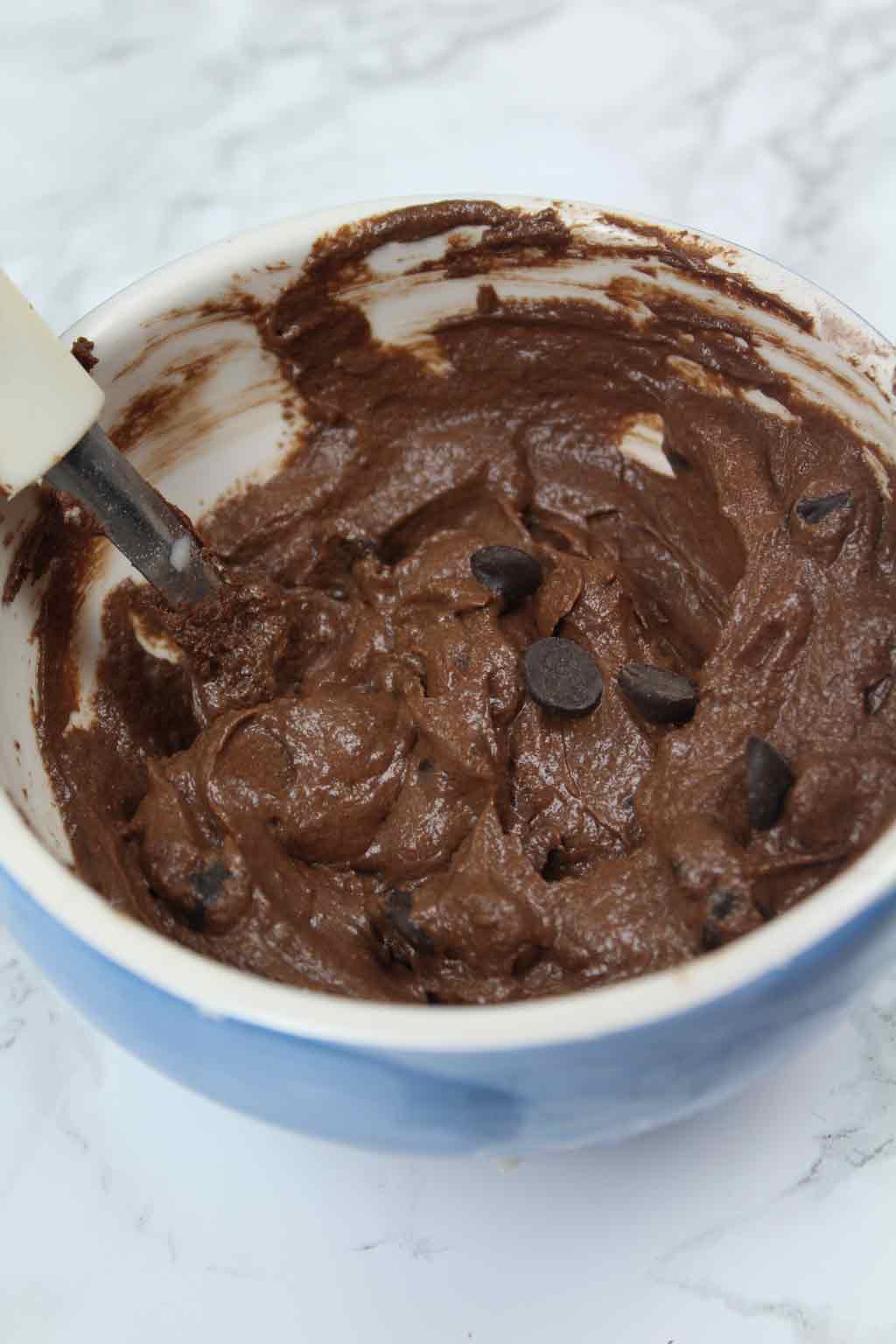 Step 5:
Transfer your batter into your ramekin (if you didn't already use it as your bowl) and bake at 180C/ 350F for 20 minutes.
If using a mug, pop it in the microwave for 45-60 seconds. Microwave baking time will depend on your oven so I'd recommend that you start with 45 seconds. If after this time it's not quite cooked, pop it back in for another 15 seconds and you should be good to go.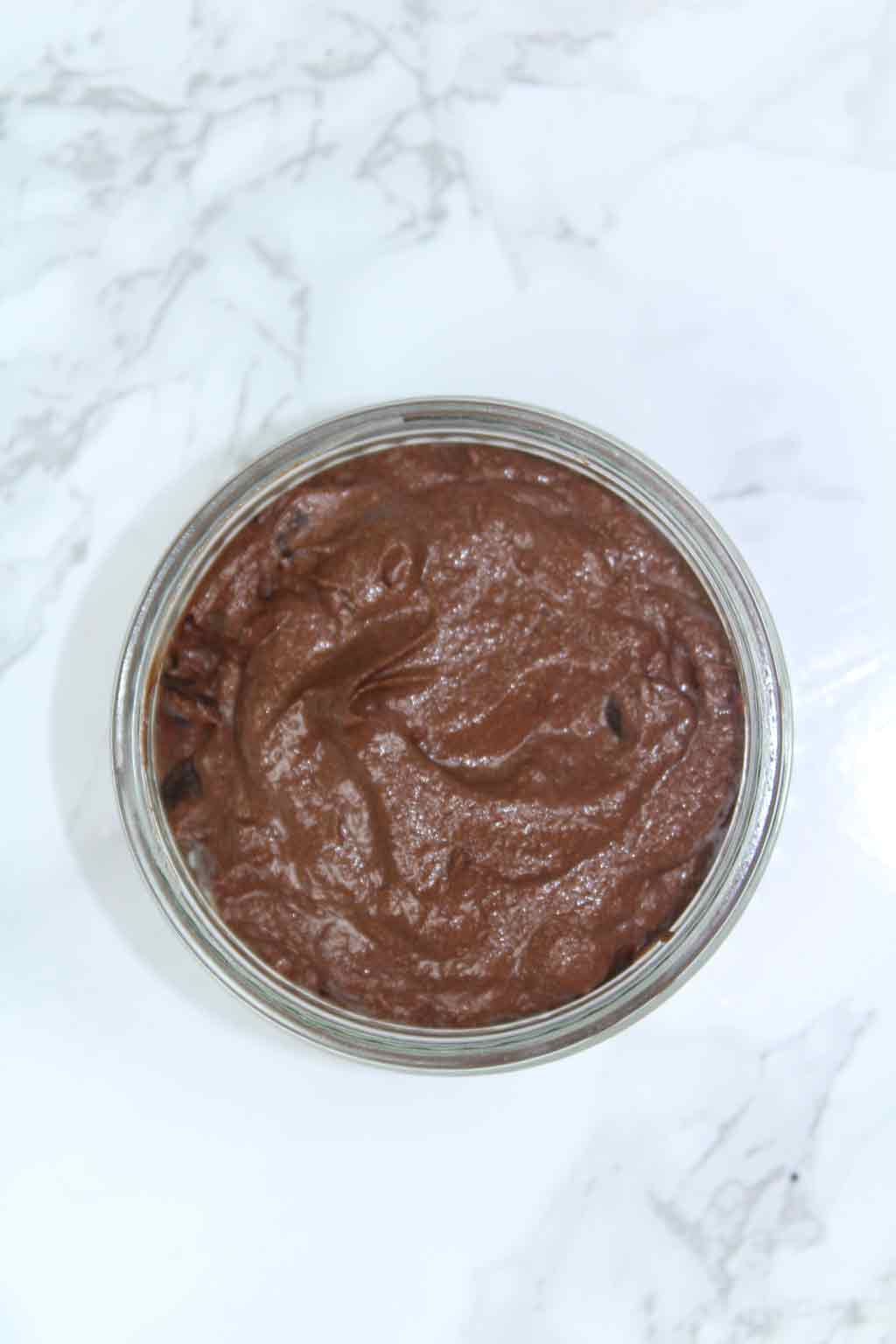 Step 6:
Eat as it is or serve with some vegan-friendly vanilla ice cream.
I'd also highly recommend doubling the recipe quantities for a more indulgent dessert, although the basic recipe is perfect for a mini treat.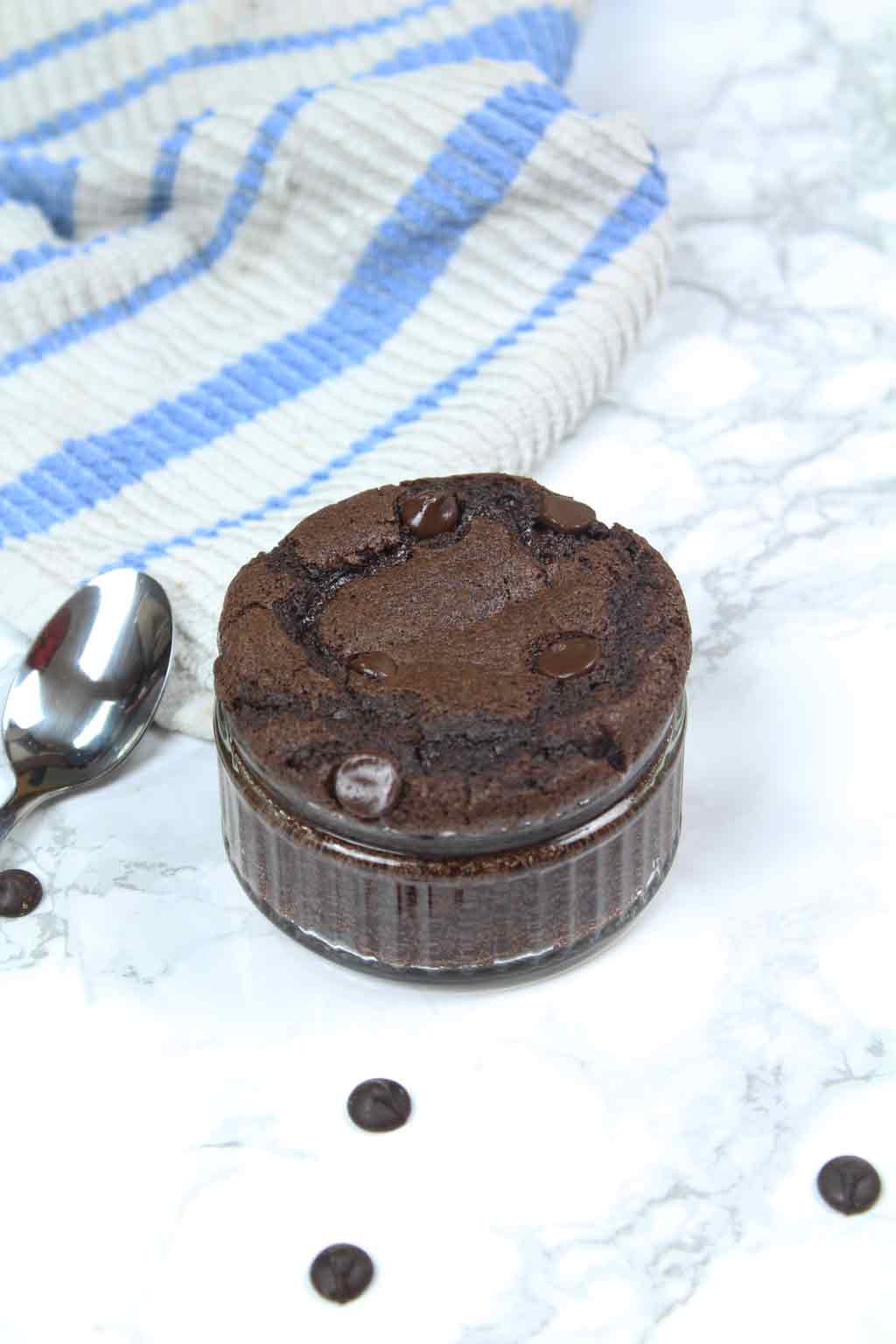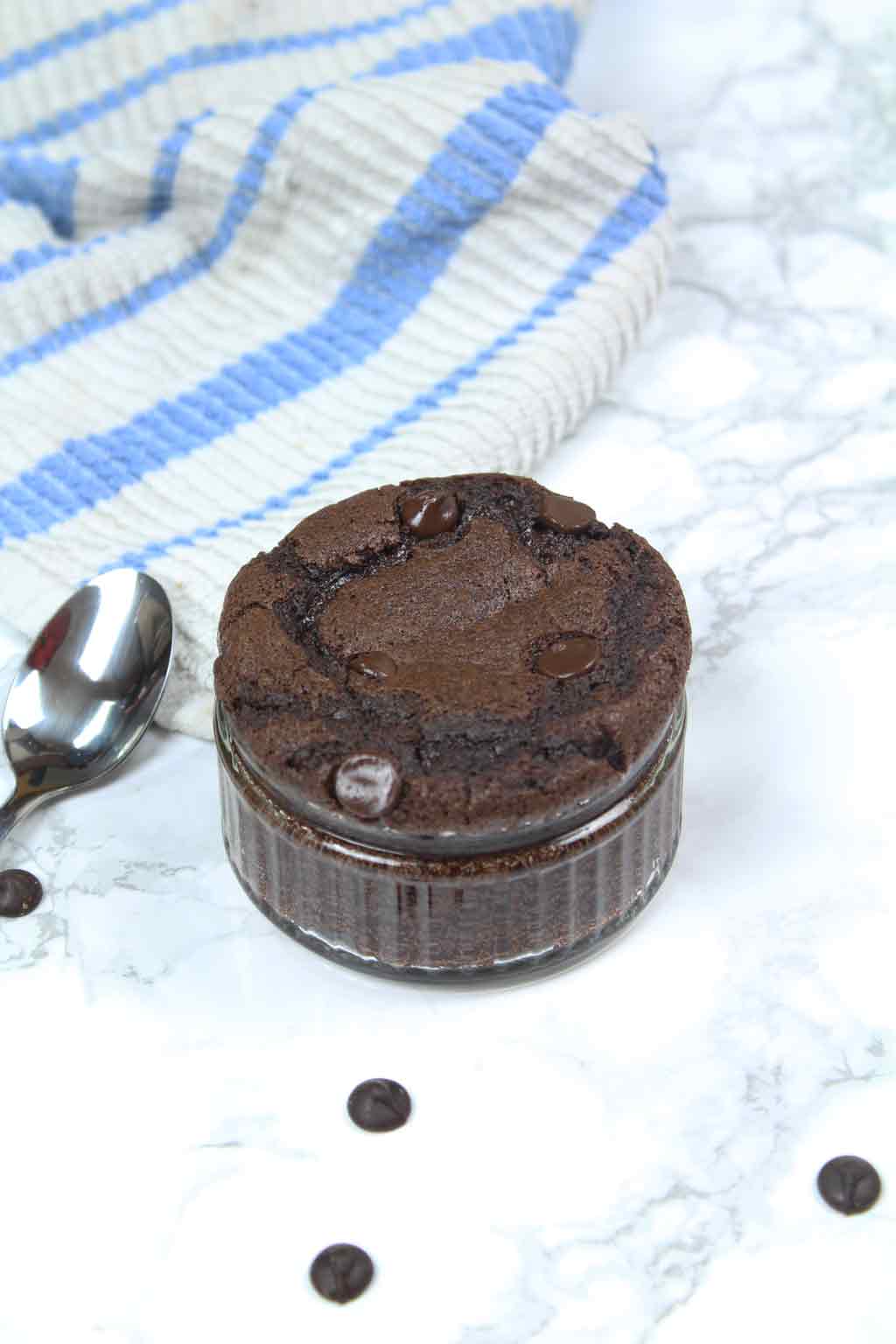 Top tips
Measure the baking powder accurately to avoid a salty, bitter-tasting brownie.
Bake it in the oven instead of the microwave for that classic chewy brownie top. The taste will be the same in the microwave but the texture will be slightly different. I'd also recommend using a ramekin if baking in the oven.
Do NOT omit the chocolate chips! The added flavor and texture they give is not to be missed, I promise.
Add in some white chocolate chips or chopped nuts to your brownie batter before baking if you really want to take your vegan mug brownie to the next level.
Underbake the brownie slightly if you want a gooey, molten-like center!
Leave your mug brownie to cool completely for a truly chewy brownie texture.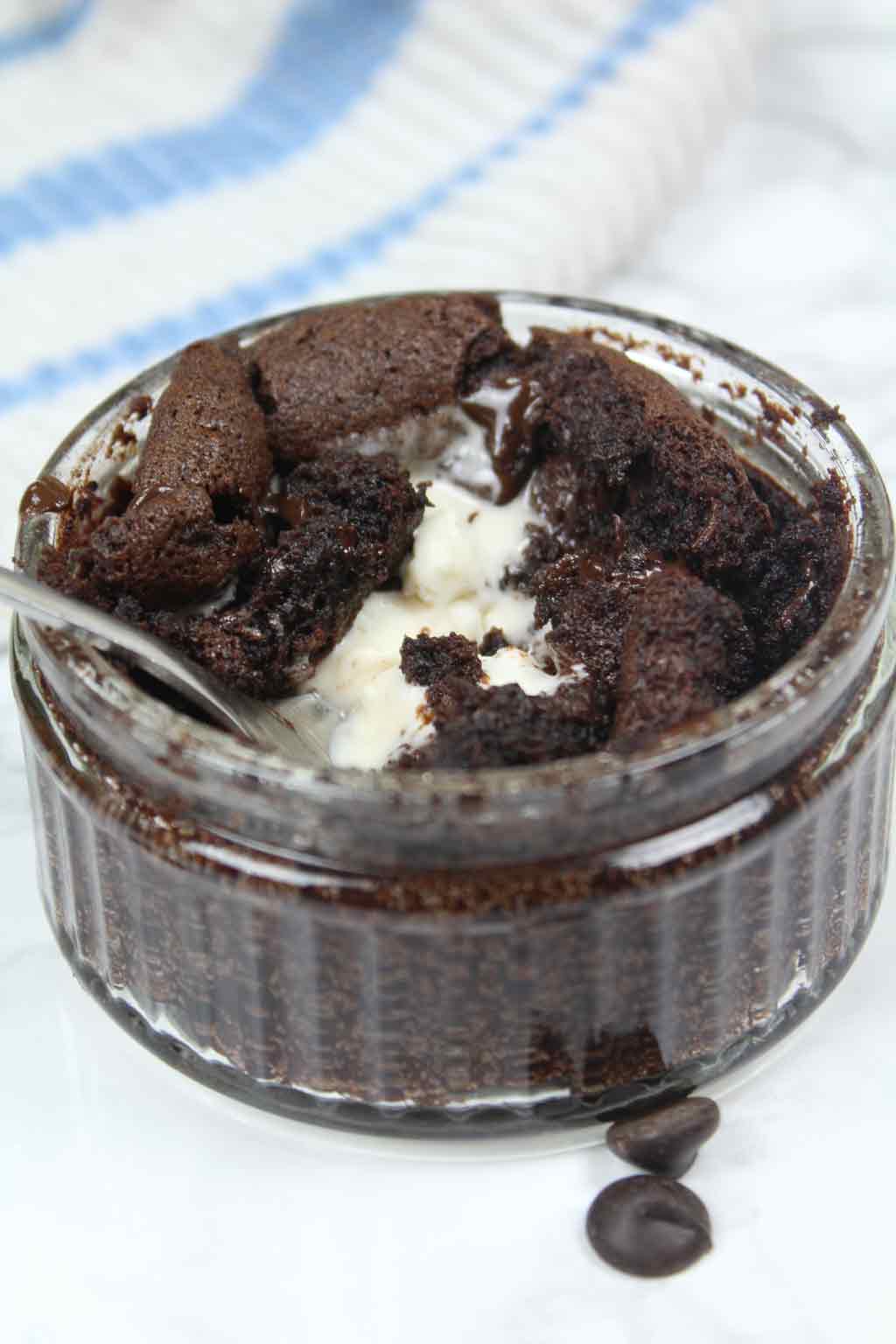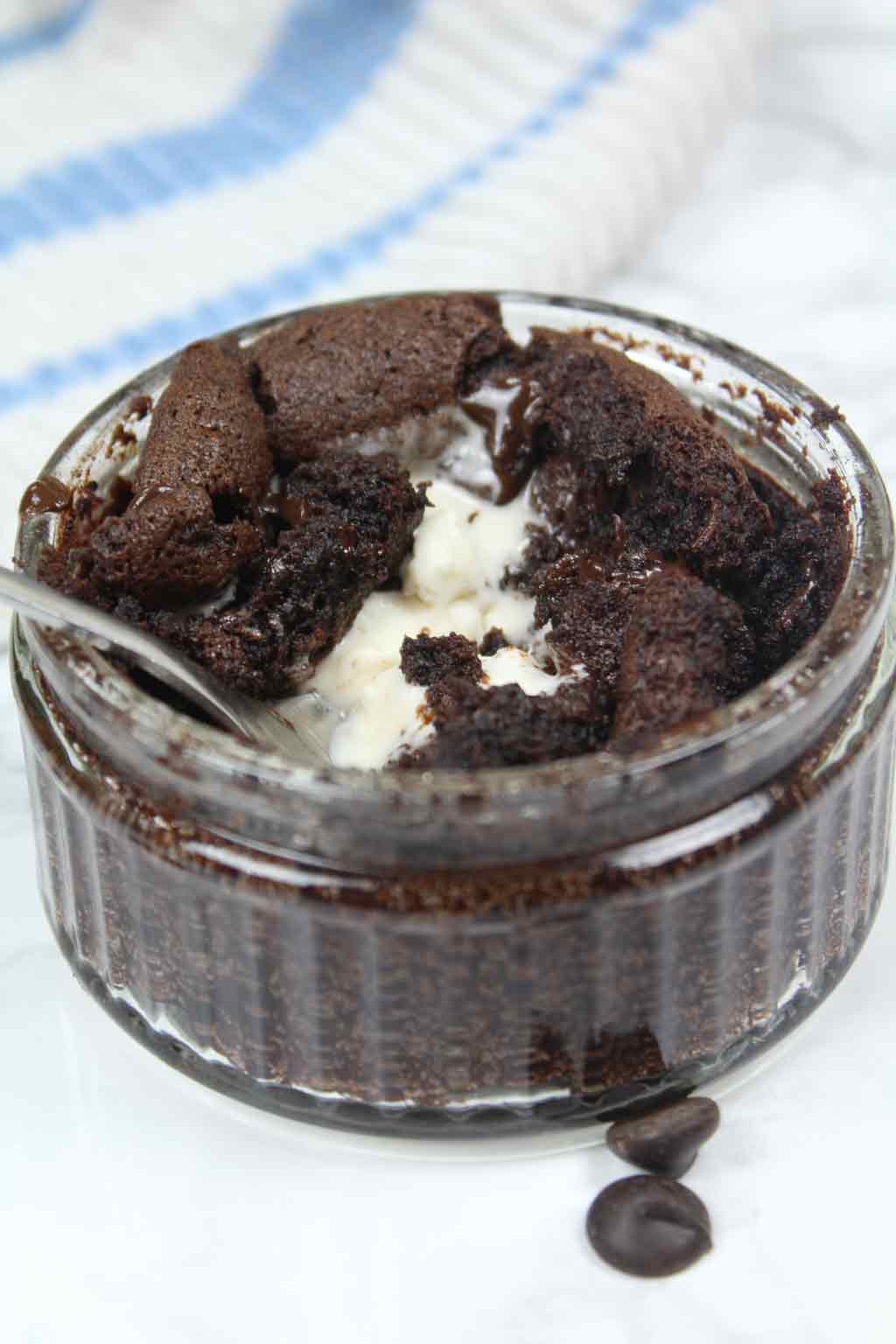 I hope you enjoy this recipe and as always, please leave a rating or comment below if you try it yourself!
Happy baking.
xo

Vegan Mug Brownie
Easy, single serving brownie in a mug recipe.
Ingredients
2

Tablespoons

All-purpose flour

1

Tablespoon

Unsweetened cocoa powder

2

Tablespoons

Sugar

(I used caster sugar)

¼

Teaspoon

Baking powder

2

Tablespoons

Vegan butter

1

Tablespoon

Plant-based milk of choice

(I used soy)

1

Tablespoon

Chocolate chips or chunks
Instructions
Preheat your oven to 180°C/350°F if baking in the oven (highly recommended).

Add the flour, cocoa powder, sugar and baking powder to a small bowl and mix well.

Add the vegan butter and cream everything together until smooth. The batter should look like chocolate buttercream frosting.

Add the plant-based milk and stir again to make a thick batter.

Fold in your chocolate chips.

Bake in the oven for 20 minutes. If using the microwave, fill your mug up no more than halfway and bake for 45-60 seconds.*

Leave to cool for 2 minutes before enjoying.
Recipe Notes
Baking time will depend on your microwave settings so start at 45 seconds and bake longer if needed.

Serve alone or with vegan whipped cream or ice cream.
Eat immediately.
Nutrition Facts
Vegan Mug Brownie
Amount Per Serving (1 g)
Calories 307
Calories from Fat 135
% Daily Value*
Fat 15g23%
Sodium 274mg12%
Carbohydrates 35g12%
Protein 4g8%
* All values are an estimate only and will vary depending on the food brands used.
BakedByClo is a participant in the Amazon Services LLC Associates Program, an affiliate advertising program designed to provide a means for sites to earn advertising fees by advertising and linking to Amazon.com. This site may contain some of these links to Amazon.com & other affiliate programs. If you make a purchase through one of those links, BakedByClo will receive a small commission from the purchase at no additional cost to you.