Vegan Red Velvet Mug Cake
This vegan red velvet mug cake is soft, fluffy and full of flavour. It only contains a few simple ingredients and is ready to eat in under 5 minutes. No egg or dairy required!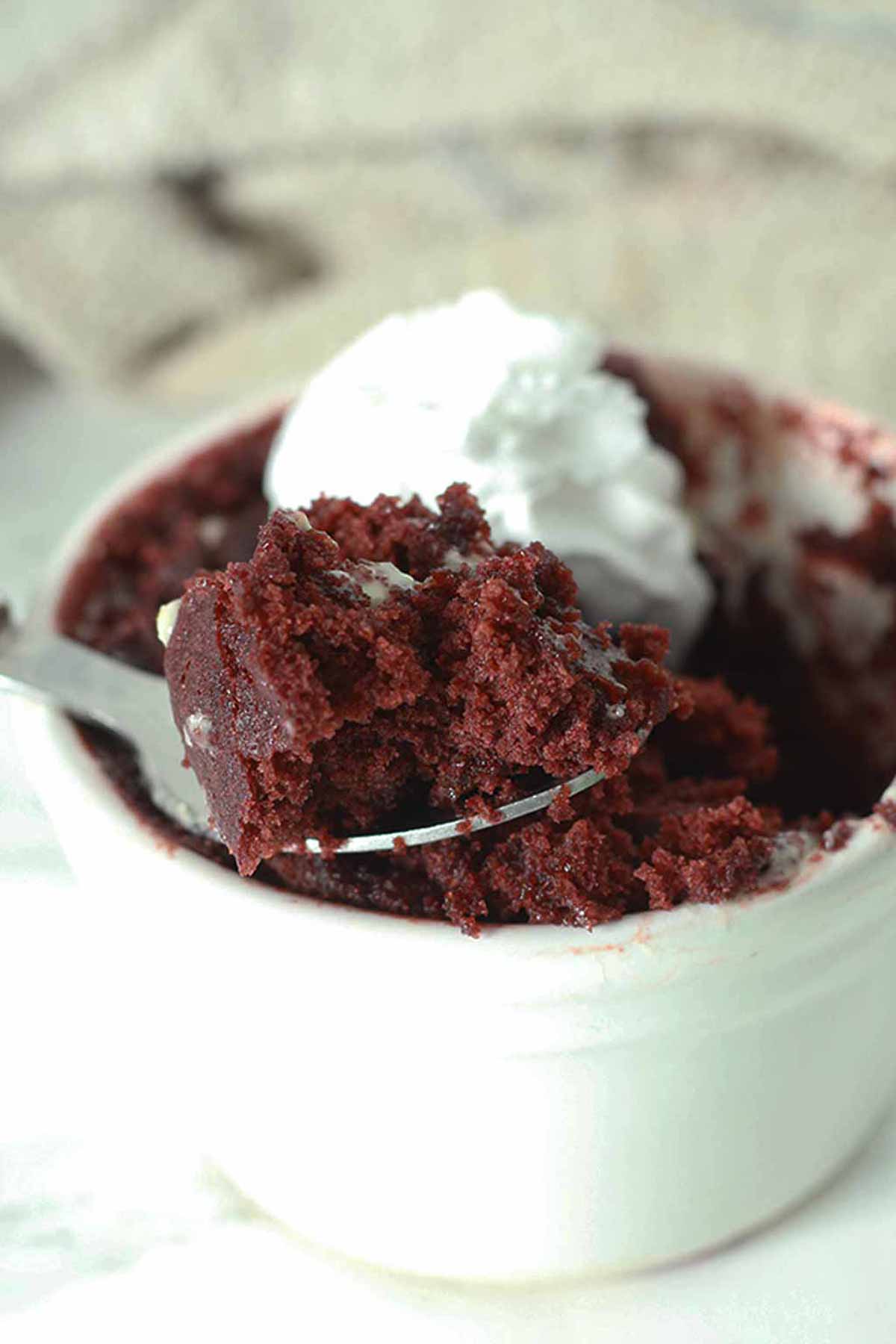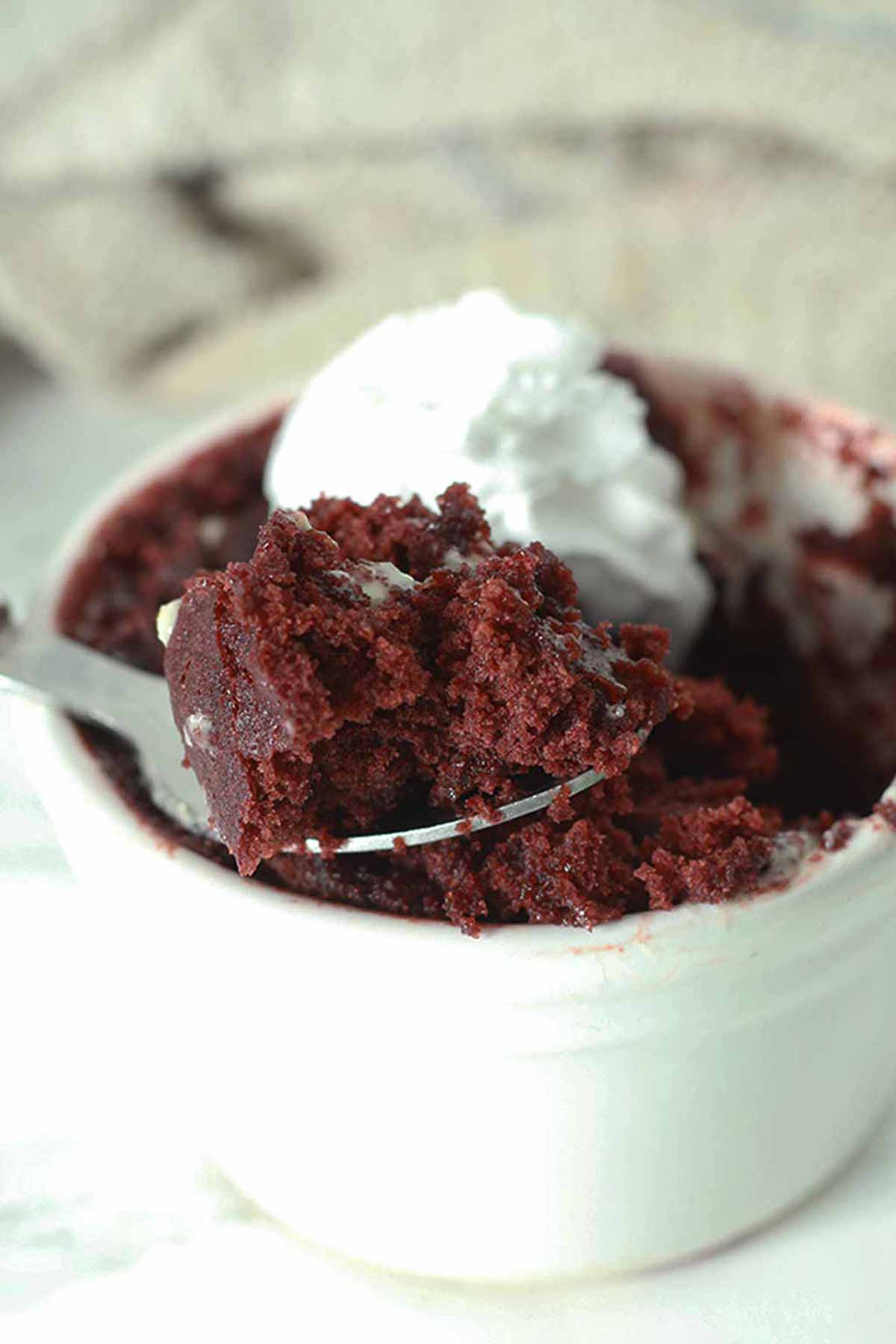 Last month, I started experimenting with mug cake recipes and recently shared my vanilla version and a chocolate version on the blog. I want to keep adding to my microwave cakes collection so I thought I'd add a vegan red velvet one next. Because who doesn't love red velvet?!
In case you're unfamiliar with red velvet, it's essentially a cross between a vanilla cake and a chocolate cake, with some red colouring thrown in there. It's the perfect mix of flavours if you can't decide if you'd rather have vanilla or chocolate, and it's especially delicious when paired with cream cheese frosting.
More red velvet desserts:
Because this is a mug cake, which is something I always want to make quickly and easily, I used dairy-free white chocolate chips instead of making up a whole batch of cream cheese frosting. I used about half of a chopped up Moo-Free white bar for this. I think it gives the same sort of vibe and tastes just as delicious.
Vegan red food colouring
Traditionally, red velvet cake wasn't made with food colouring. The red (more like browny-red) colour actually came from the acidic cocoa powder. But adding a little food colouring will help to brighten up your dessert a little more.
Please remember that not all food colouring is vegan-friendly, especially red ones! Things to check the labels for are carmine, cochineal, natural red 4 or E120. I personally use PME food paste, which I bought in a set. All of the colours in that set are suitable for vegans.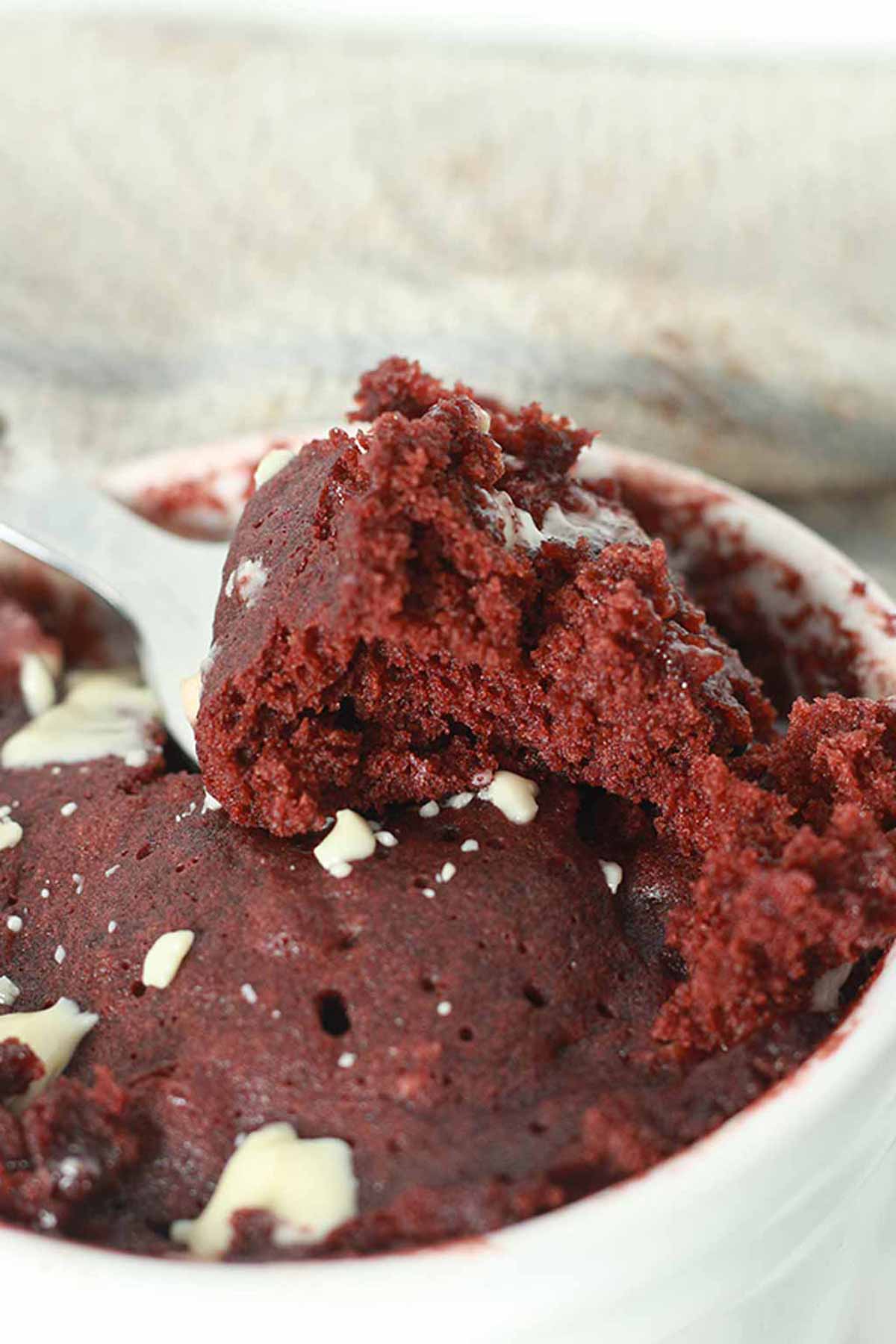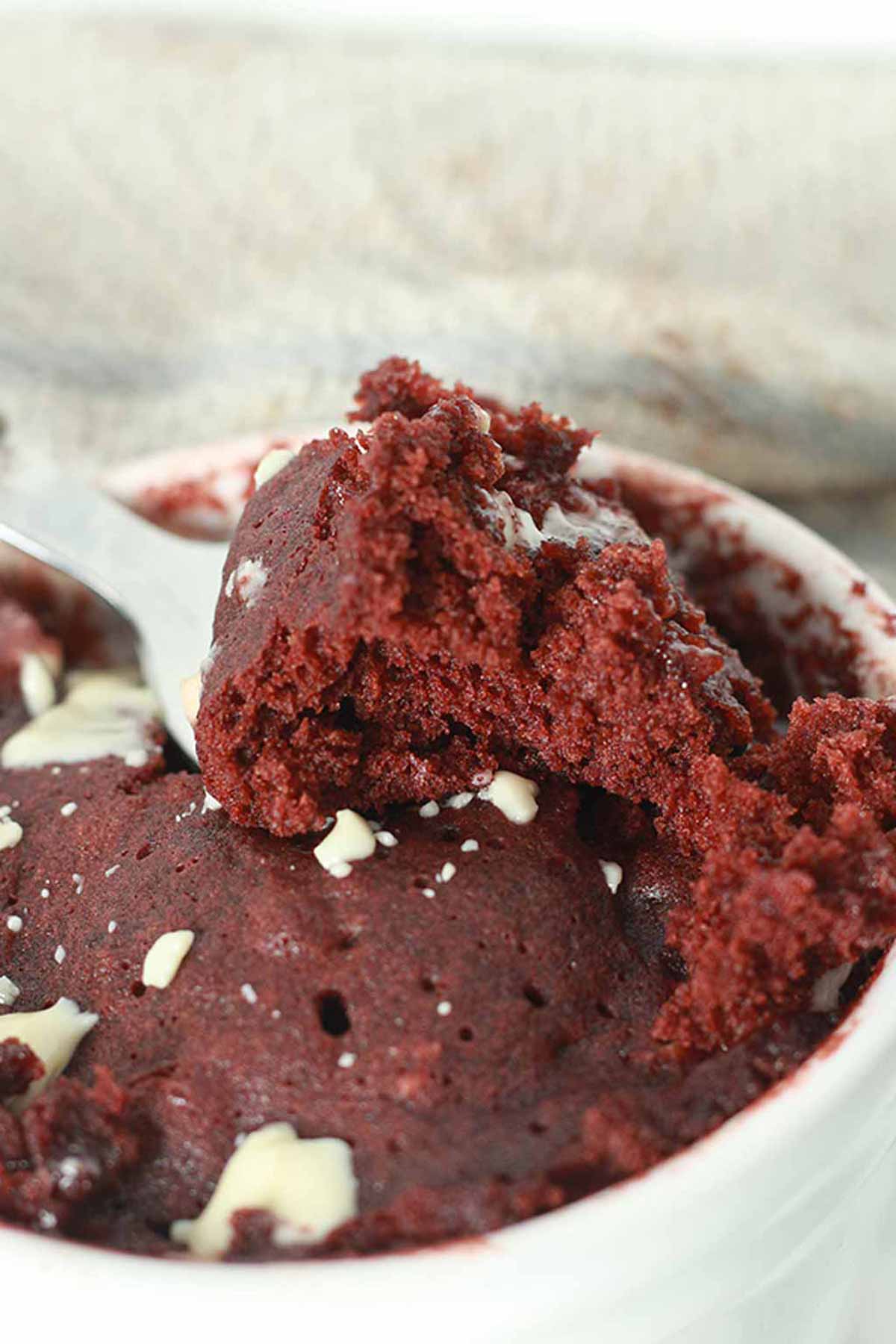 How to make vegan red velvet mug cake
This mug cake is quite similar to my vanilla one! You can stir it up in a bowl first to give yourself more mixing space or you can do it in the mug or ramekin you plan to microwave it in.
Step 1:
Have a 3-inch wide microwave-safe ramekin or mug to hand. Note that if you use a ramekin/mug that is wider or narrower, the baking time will vary.
Mix together 1 tablespoon of vegan margarine and 2 tablespoons of caster sugar. Add 1 teaspoon of vanilla extract and mix again.
Step 2:
Add in a small amount of vegan-friendly food colouring and mix it in. I recommend using a gel or paste for best results.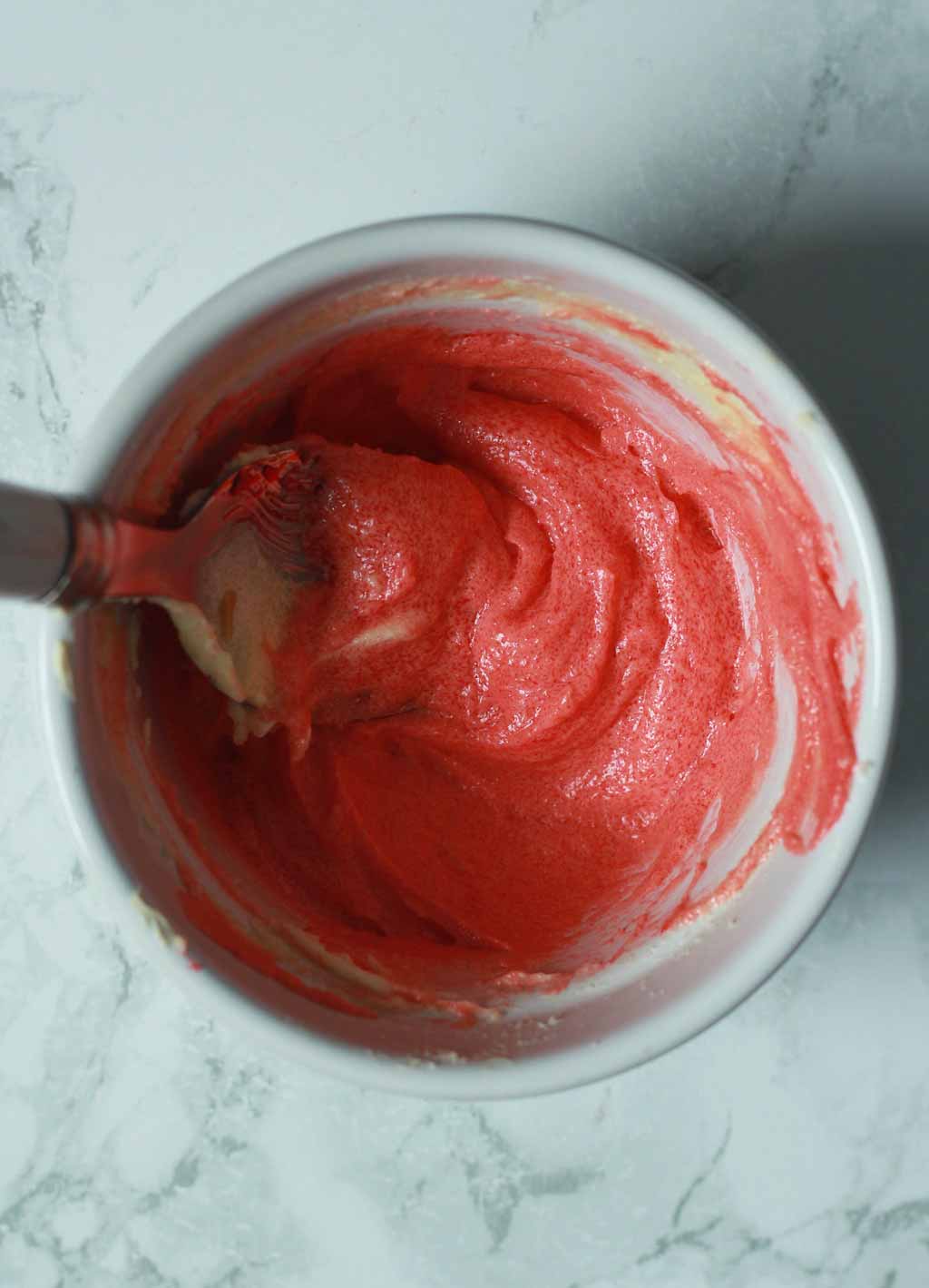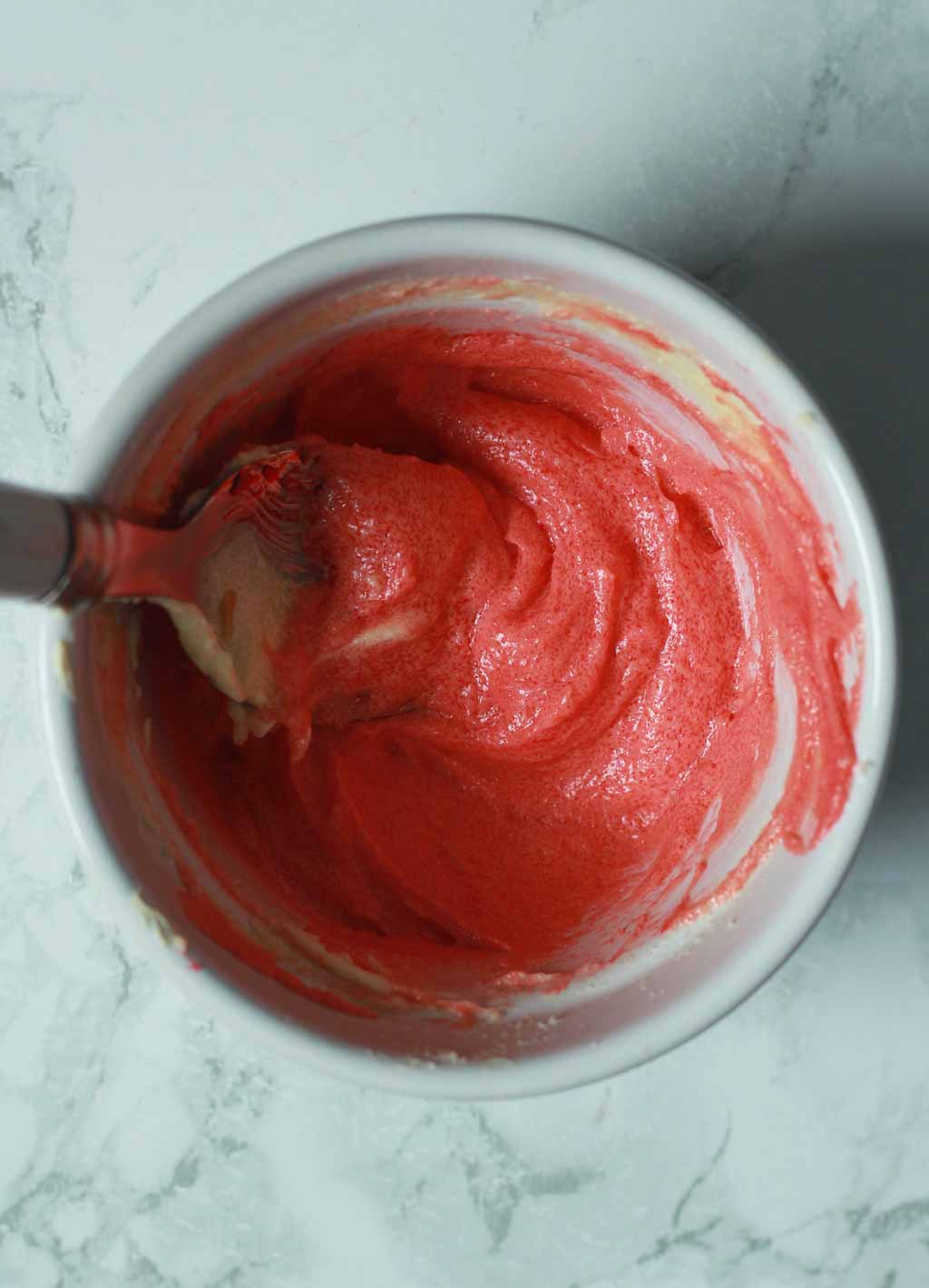 Step 3:
Now add in 3+1/2 tablespoons of self-raising flour, 1 teaspoon of cocoa powder and 3 tablespoons of soy milk. Mix well until you have a smooth red cake batter.
Step 4:
Add in around 20g of dairy-free white chocolate chips or chunks and either sprinkle them on top or gently mix them into your cake batter.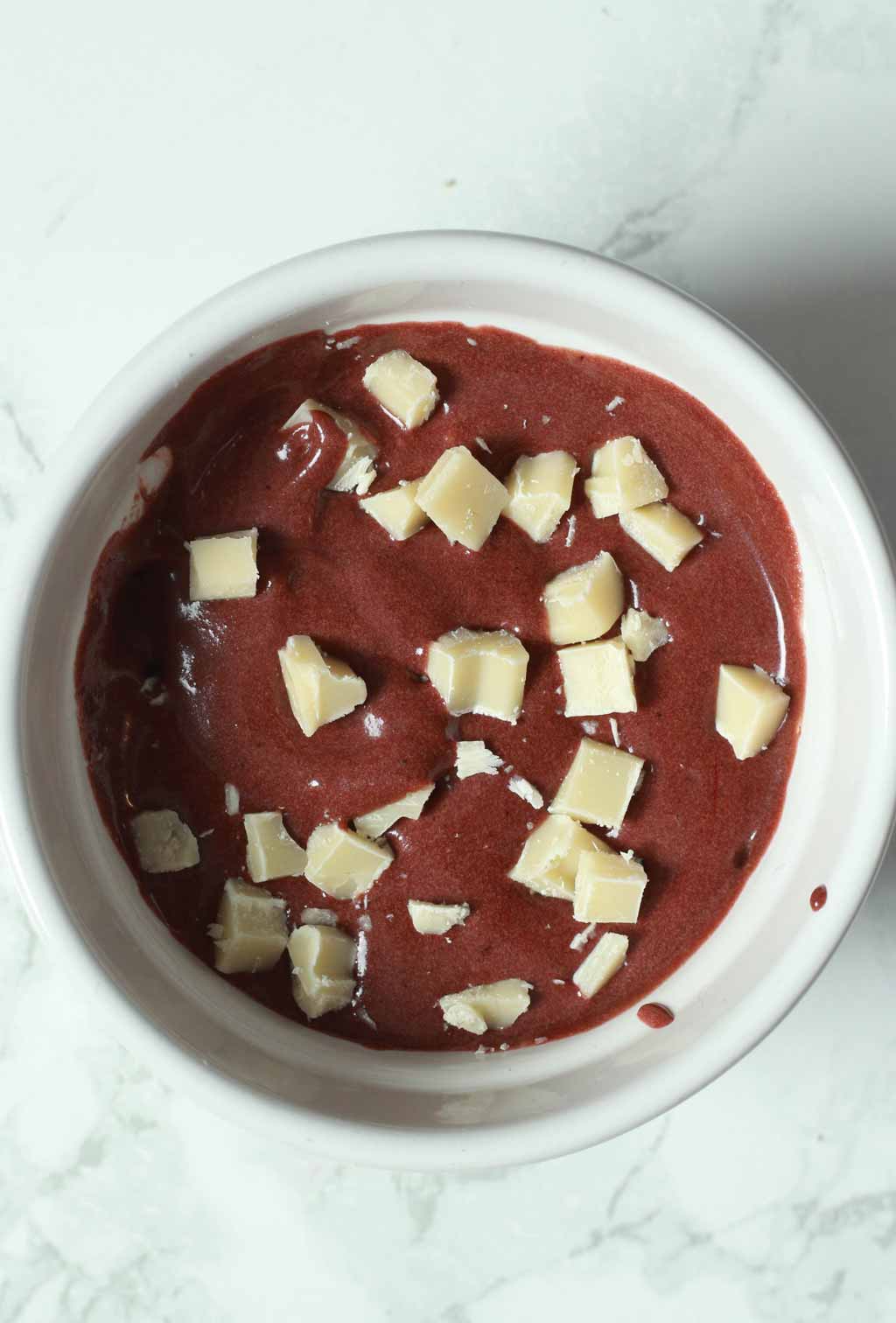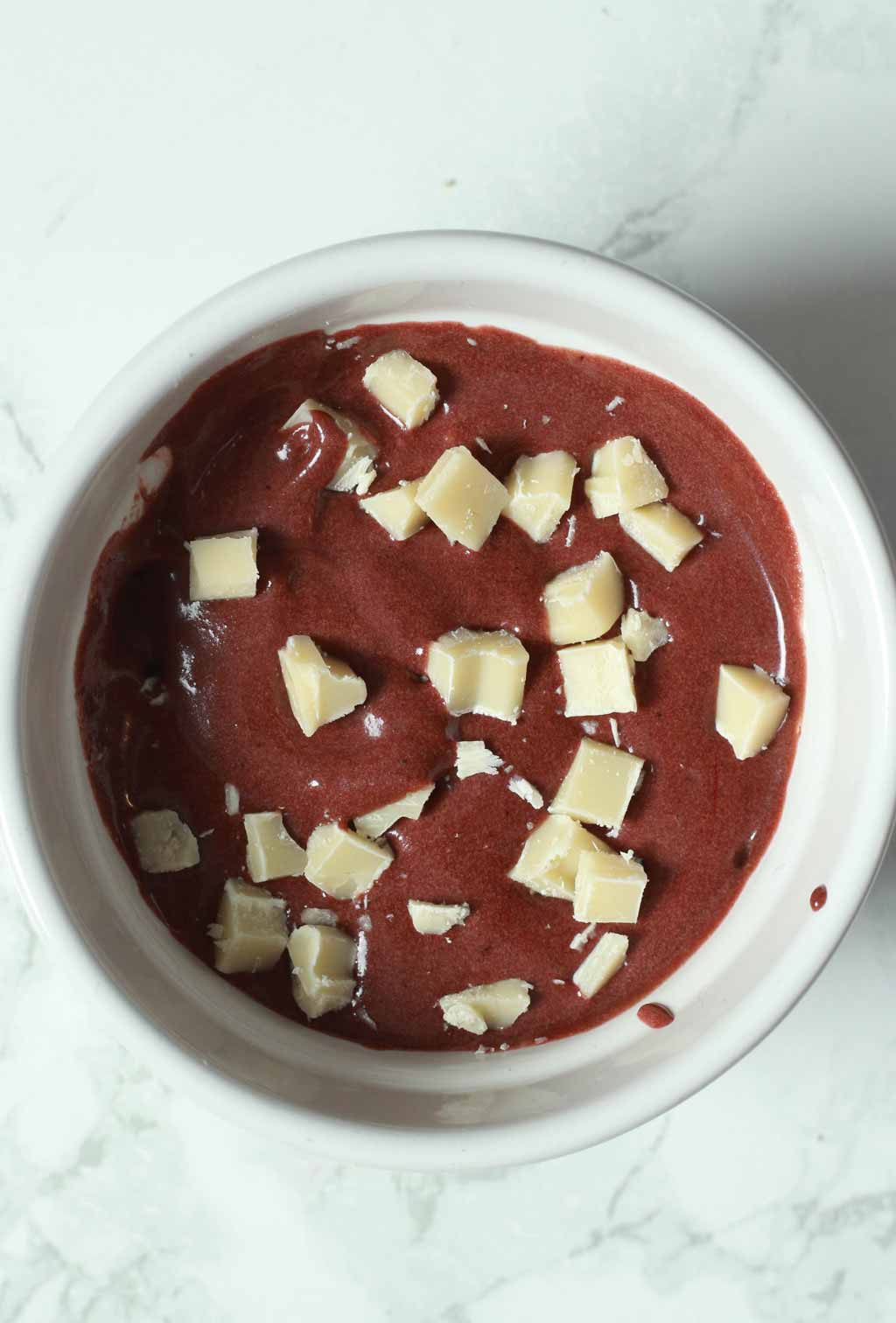 Step 5:
Microwave the cake for 1 minute 30 seconds and enjoy!
*This is the recommended baking time for a 700W oven. Please see time conversions below.
Microwave baking times
| | |
| --- | --- |
| 600W | 1 minute 45 seconds |
| 700W | 1 minute 30 seconds |
| 800W | 1 minute 20 seconds |
| 900W | 1 minute 10 seconds |
| 1000W | 1 minute |
| 1100W | 55 seconds |
| 1200W | 50 seconds |
That's all for now! I hope you enjoy this recipe. If you make it yourself at home, please let me know how it goes by leaving a rating and/or comment below. Happy baking! xo

Vegan Red Velvet Mug Cake
Red velvet microwave cake with no egg or dairy!
Ingredients
1

Tablespoon

Vegan margarine

2

Tablespoons

Caster sugar

Vegan red food colouring

(I used about ⅛ of a teaspoon of gel colouring)

1

Teaspoon

Vanilla extract

3+½

Tablespoons

Self-raising flour

1

Teaspoon

Cocoa powder

3

Tablespoons

Soy milk

20

g

Dairy-free white chocolate chips or chunks

(⅛ cup)
Instructions
Mix the margarine, sugar and vanilla together in a ramekin or mug that is around 3-inches wide. Please note baking time will vary if the mug is wider or narrower than this.

Mix in the red food colouring.

Next, add the flour, cocoa powder and soy milk. Mix well until you have a smooth red cake batter.

Sprinkle the white chocolate chips over your cake batter.

Bake in the microwave. See notes for the correct timing for your microwave.
Recipe Notes
Baking times:

600w = 1 minute 45 seconds
700w = 1 minute 30 seconds
800w = 1 minute 20 seconds
900w = 1 minute 10 seconds
1000w = 1 minute
1100w = 55 seconds
1200w = 50 seconds
Nutrition Facts
Vegan Red Velvet Mug Cake
Amount Per Serving (1 mug cake)
Calories 420
Calories from Fat 126
% Daily Value*
Fat 14g22%
Sodium 86mg4%
Carbohydrates 63g21%
Protein 7g14%
* All values are an estimate only and will vary depending on the food brands used.
BakedByClo is a participant in the Amazon Services LLC Associates Program, an affiliate advertising program designed to provide a means for sites to earn advertising fees by advertising and linking to Amazon.com. This site may contain some of these links to Amazon.com & other affiliate programs. If you make a purchase through one of those links, BakedByClo will receive a small commission from the purchase at no additional cost to you.