These vegan red velvet cupcakes are soft, fluffy and perfectly paired with some cream cheese frosting!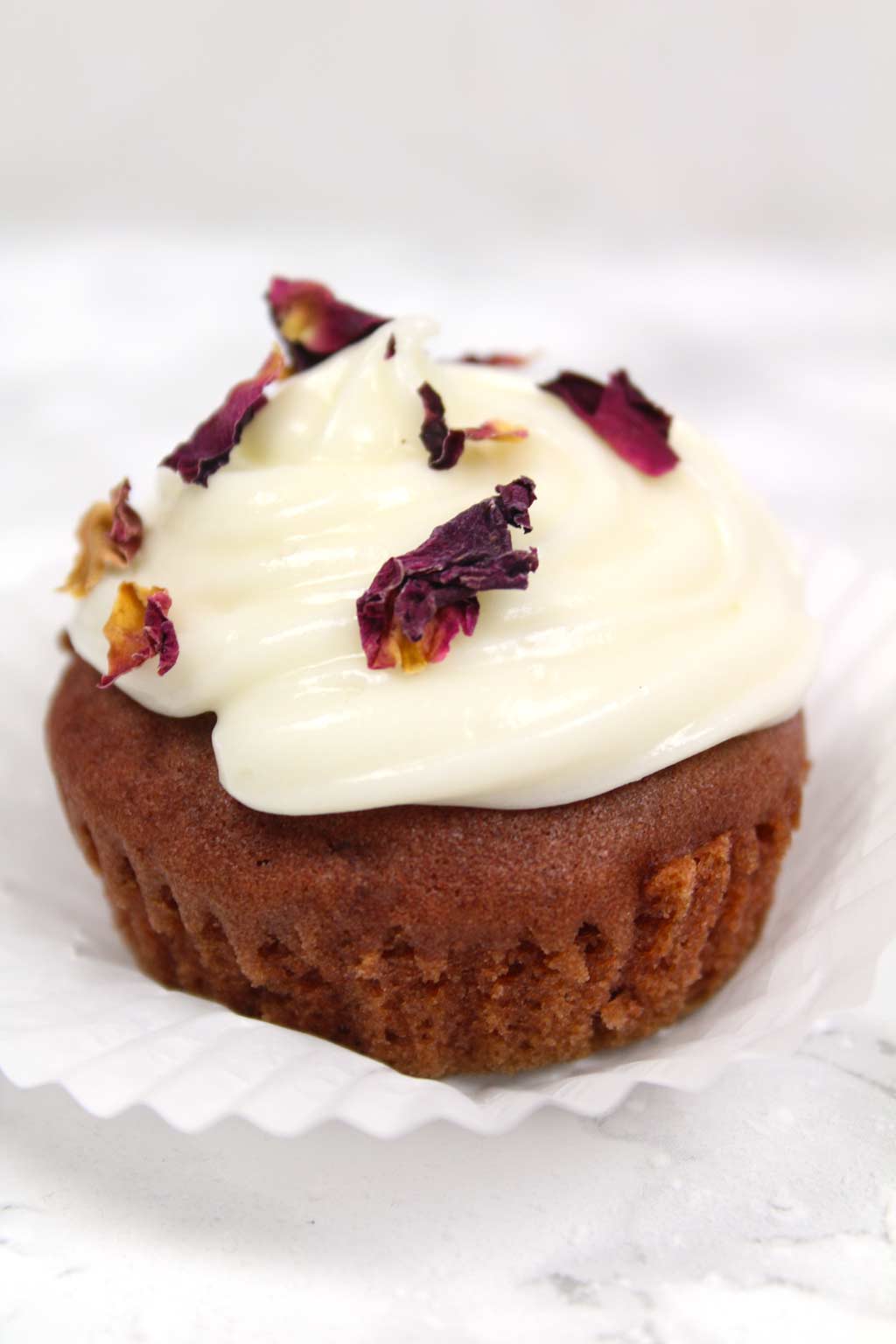 Following on from my vegan chocolate covered strawberries for Valentine's, I decided to make a cuter, smaller version of the vegan red velvet cake I made last summer.
Cupcakes are one of my favorite things to make because they are so quick, easy and don't make a lot of mess. Usually they can be made in just one bowl!
Cupcakes are also the thing that started my love for baking when I was a child. But (shockingly!) up until the grand old age of 27, I'd never made red velvet cupcakes. Not even once!
So I decided now would be the perfect time. With the holiday of love fast approaching, it just made sense to make more of my desserts red, pink or heart shaped. Because that's the whole point of Valentine's day, right?
What Gives Vegan Red Velvet Cupcakes Their Color?
As anticlimactic as this may be, the red color in red velvet cakes simply comes from food coloring. At least, the majority of it does.
There is somewhat of a chemical reaction that goes on with the acid in the buttermilk (vegan buttermilk in this case!) and the cocoa powder, which brings out slightly red/maroon tones.
But I wanted my cupcakes to look a bit more red than this reaction makes them so I just added some food coloring too.
I would highly recomend using gel over liquid food coloring as liquid can sometimes affect the flavor of cupcakes. As I've mentioned in a few of my previous posts, PME food gels are my favorite vegan-friendly colors at the moment and they're available on Amazon US and UK.
I recently discovered them and ever since then, everything I've baked has been dyed one color or another, LOL.
Aside from assisting with the color, adding buttermilk to these vegan red velvet cupcakes helps to make them moist and flavorful. It also activates the baking soda in the recipe which gives you soft and fluffy cupcakes!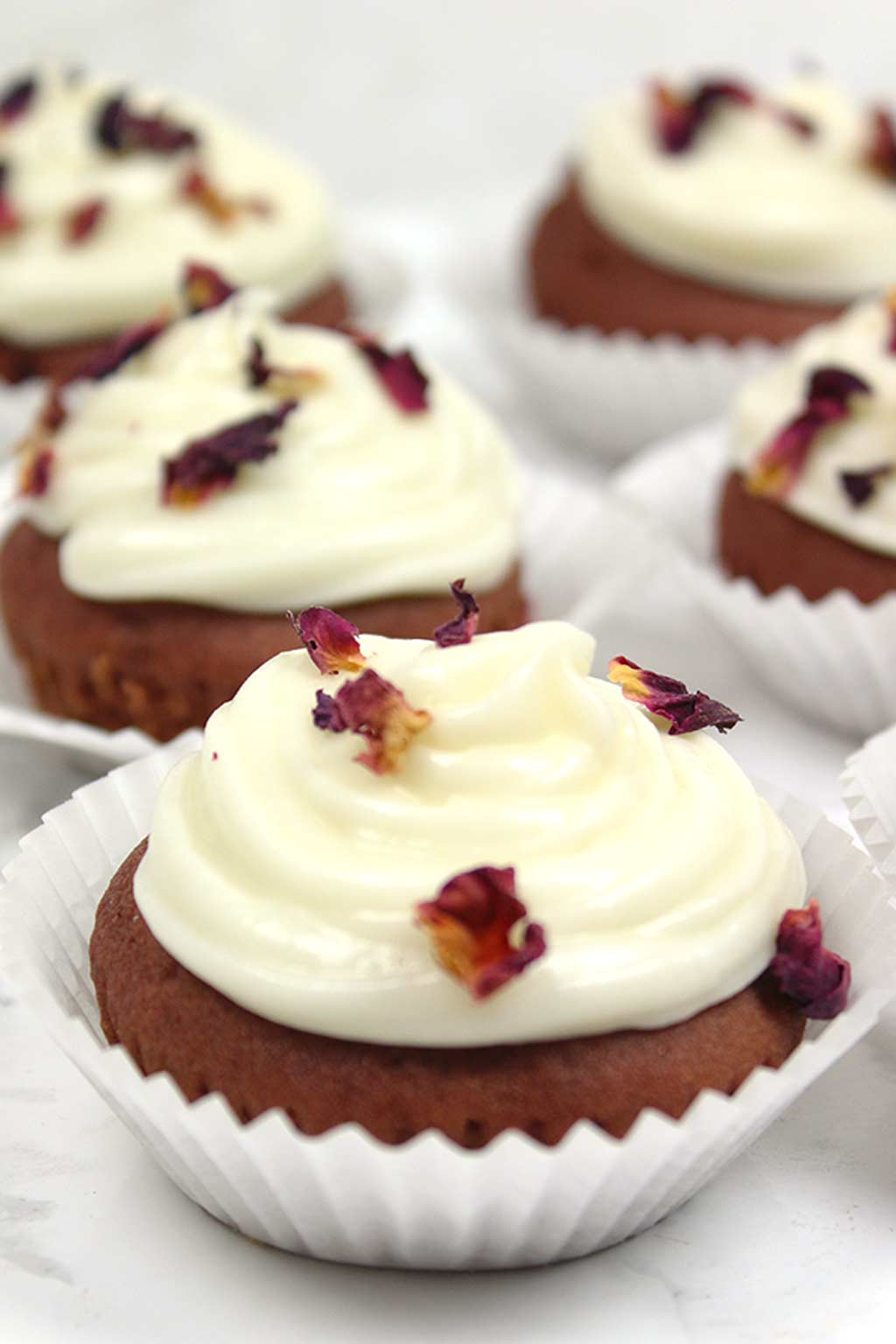 Can I Use Beets?
When making my first ever batch of red velvet cake, I tried using beet juice in place of food coloring. It didn't work AT ALL.
I actually used so much beet juice to try to produce the red color I was after that it completely ruined the taste and texture of the cake. Plus the color only really stayed on the outside- the inside didn't have even a hint of red in it.
However, I have heard of other people who have had great success using ground, dried beet powder in place of red food coloring.
I can't comment on the results as I haven't tried it myself but I'm going to take a guess and say that the food color gel will produce a more vibrant result than beets will.
If you do try the beet powder, please leave me a comment to let me know how it went so I can add it to the recipe notes!
How To Make Vegan Red Velvet Cupcakes
Step 1:
Before we get started on the cupcakes, you'll need to make sure to have a cupcake tin lined with 12 paper cases. You'll also want to preheat your oven to 200ºC / 390ºF.
Step 2:
The first step to making delicious red velvet cupcakes? The buttermilk! Now, obviously, this is a vegan recipe so we can't just use regular old buttermilk.
Instead, you can make your own by mixing any type of plant-based milk with vinegar. My favorite type of milk to use is soy milk as I find it to be the creamiest.
To make your buttermilk, mix 160ml (1/2 a cup + 2 tablespoons) of plant-based milk with 2 teaspoons of vinegar of choice. I like to use apple cider vinegar.
Use a fork to mix it together well then set aside for now.
Step 3:
In a separate large bowl, mix together your dry ingredients.
You'll need 160g or 1+1/4 cups of plain (all-purpose) flour, 1 tablespoon of unsweetened cocoa powder, 100g or 1/2 a cup of caster (super-fine) sugar, 2 teaspoons of baking powder and 1/2 a teaspoon of baking soda.
Mix the dry ingredients together until well combined and there are no lumps of cocoa powder or flour left.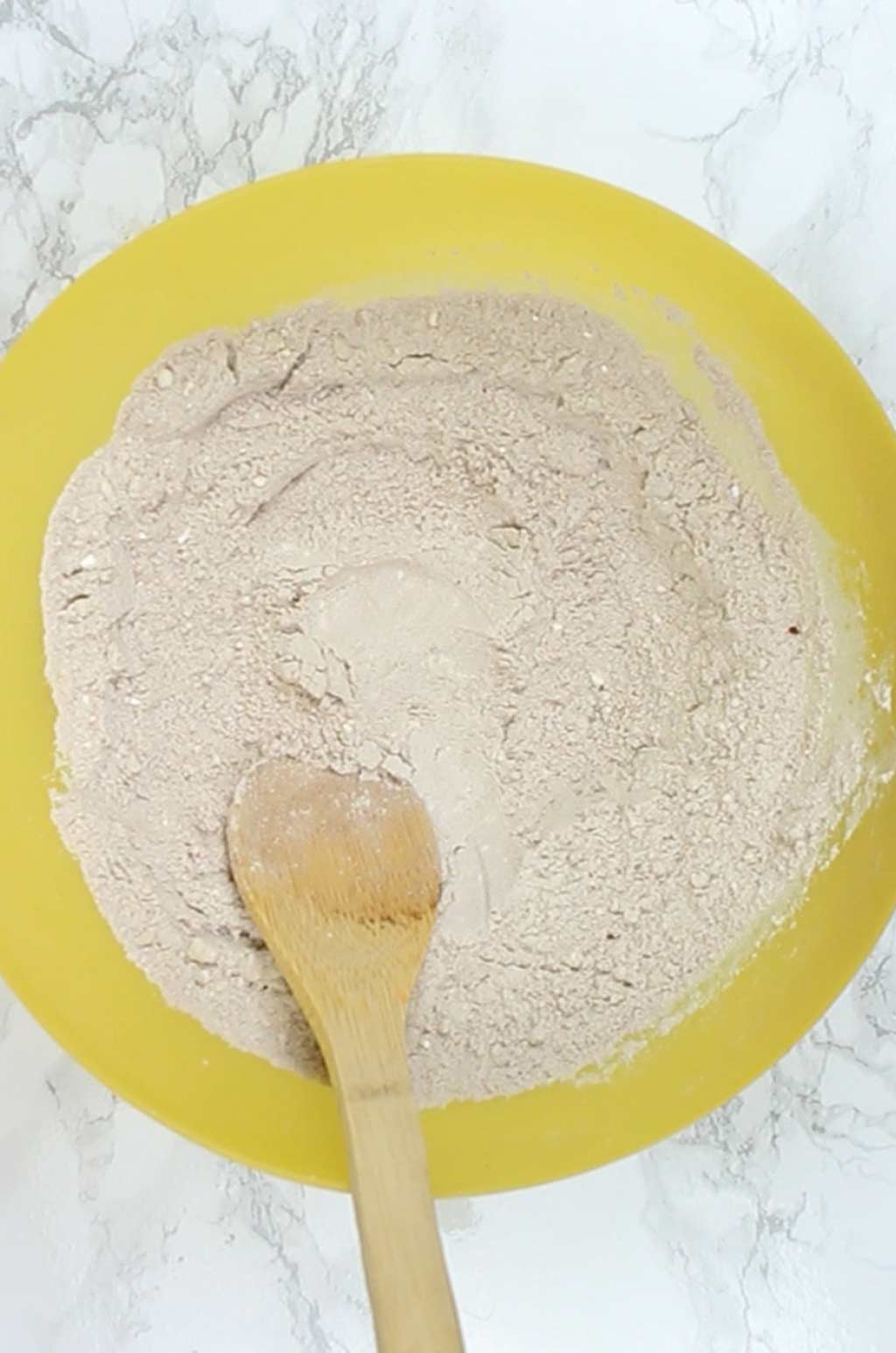 Step 4:
Next, measure out 90g or 3/4 of a cup of vegan butter and melt it quickly in the microwave. Leave it to cool slightly for a minute or two.
Step 5:
Add the melted butter to the bowl of dry ingredients, along with the vegan buttermilk from earlier and 2 teaspoons of vanilla extract.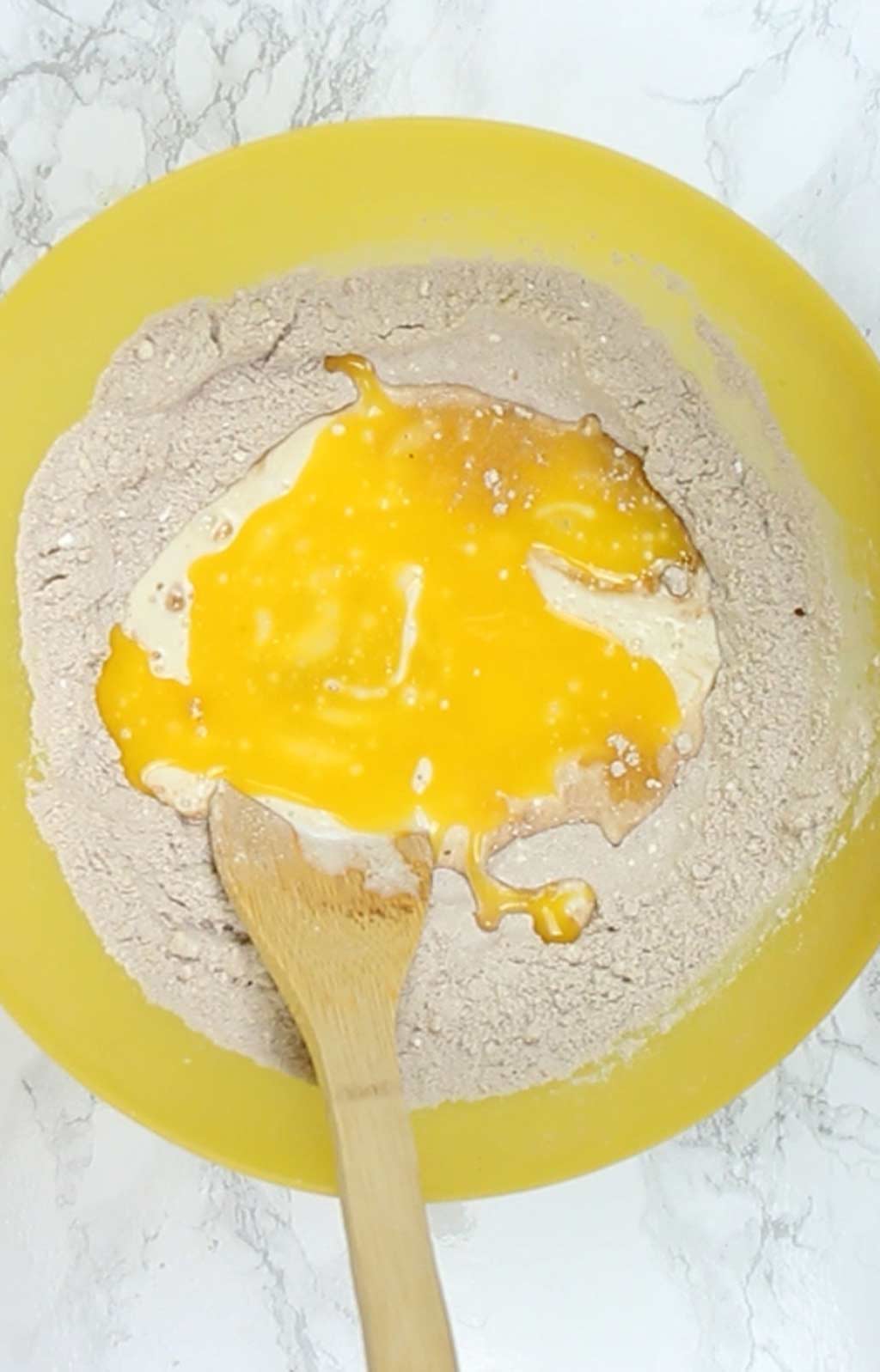 Mix everything together until well combined and smooth.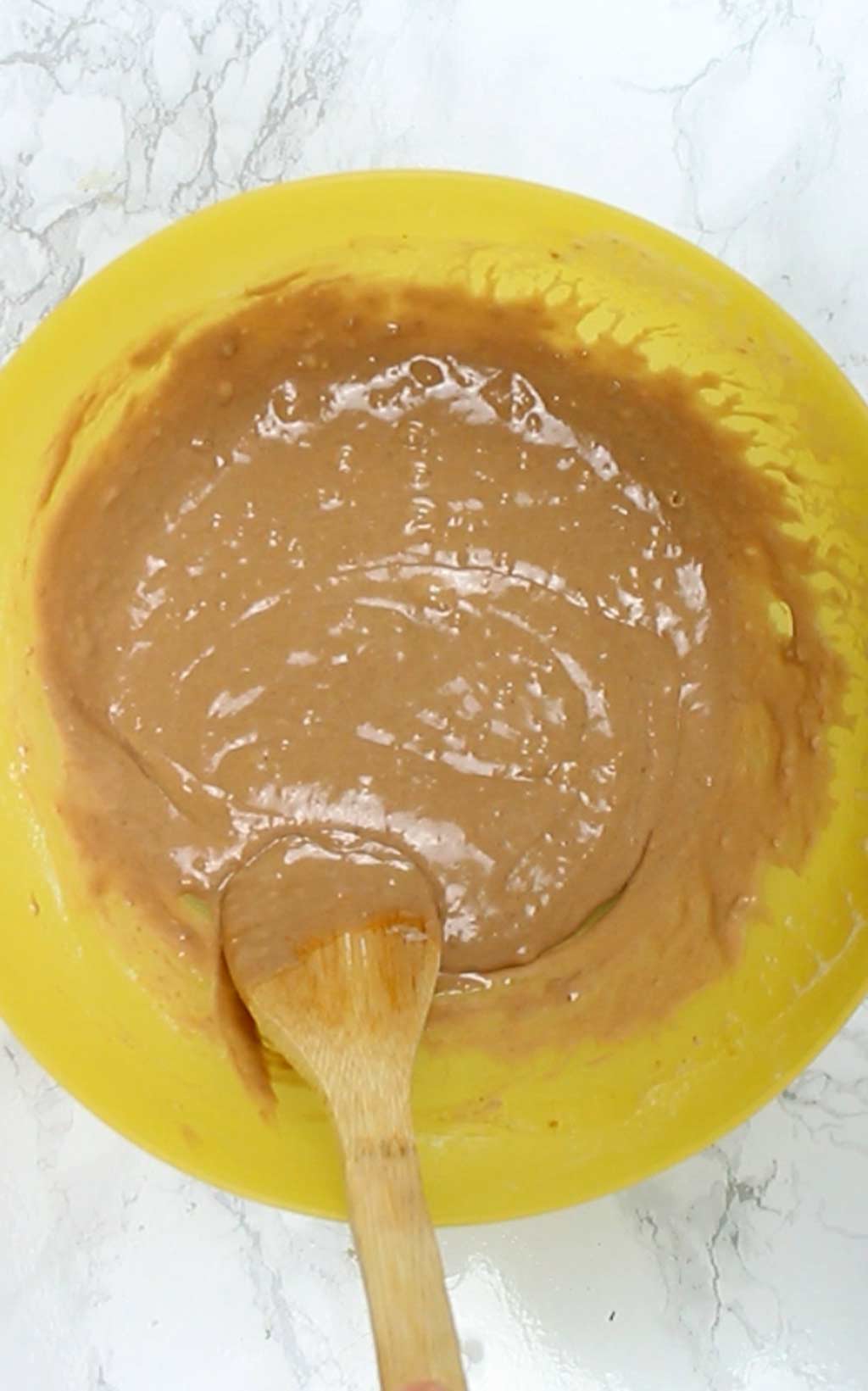 Step 6:
Add in around 1/4 of a teaspoon of red gel food coloring. Mix well until there are no more streaks of color left. The mixture should now be a maroon color.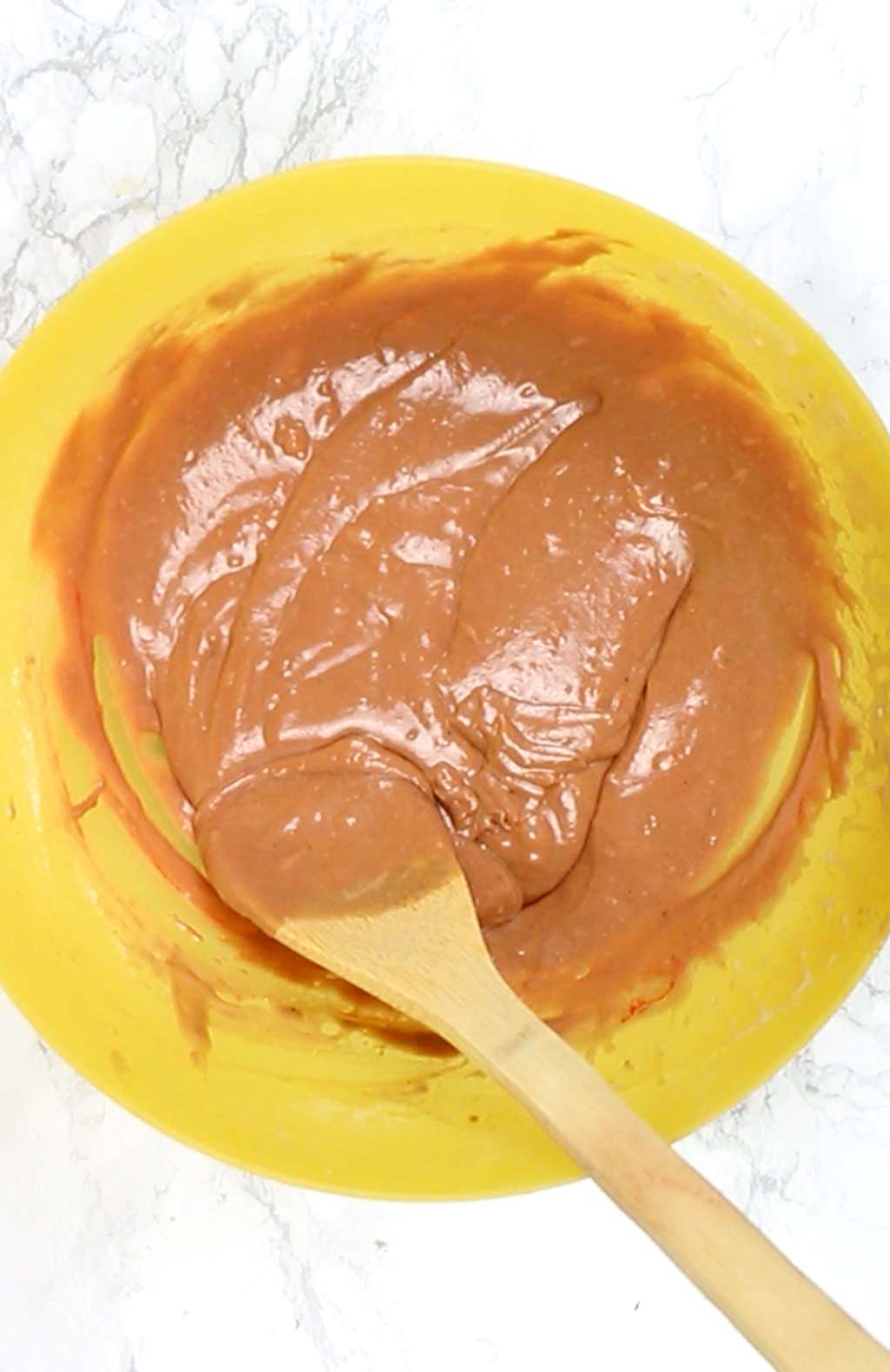 Step 7:
Divide the cake batter between the 12 cupcake cases and bake for 18-20 minutes. You can check if they're ready by inserting a toothpick through the center- it will come out dry if they're ready.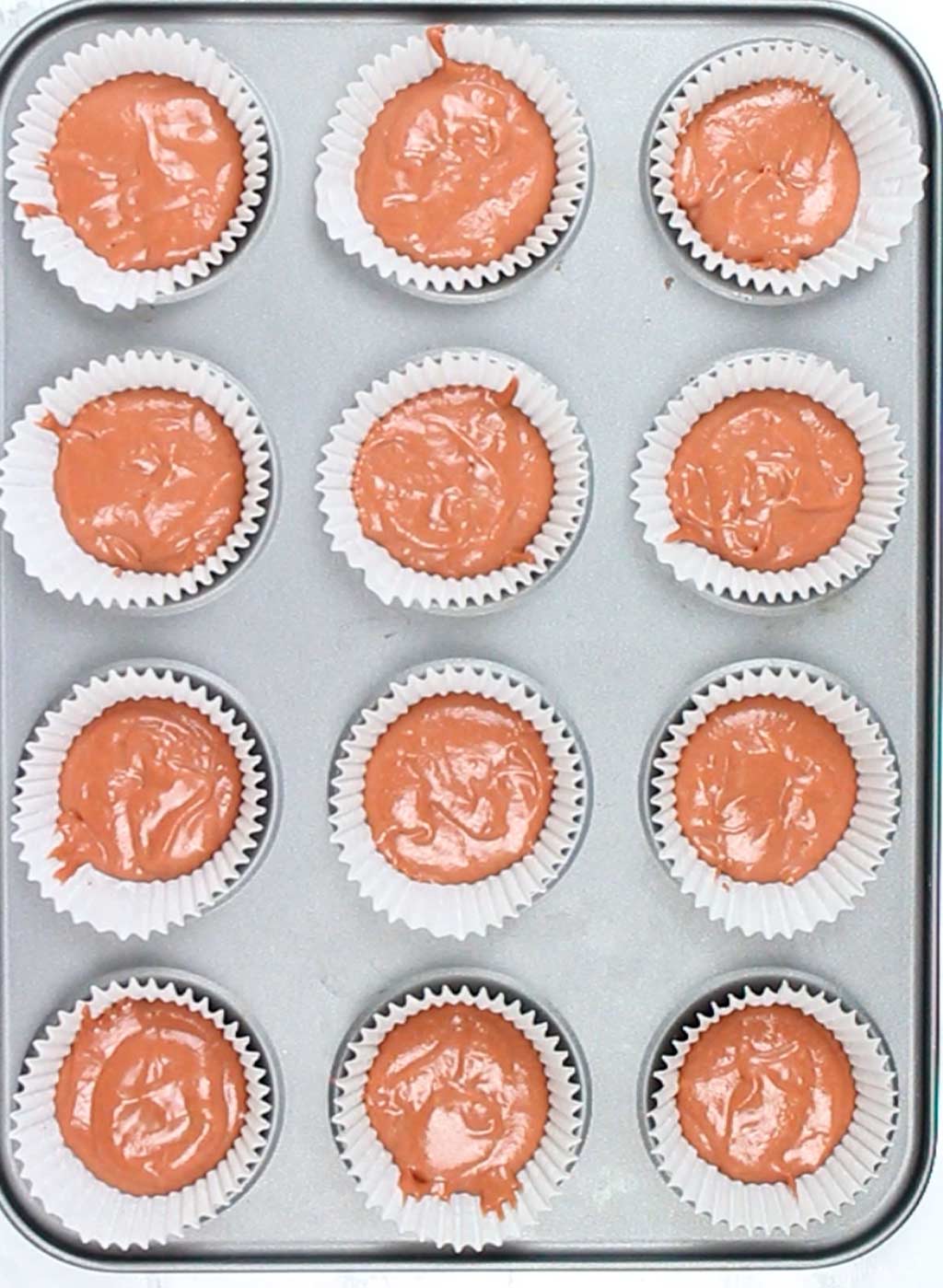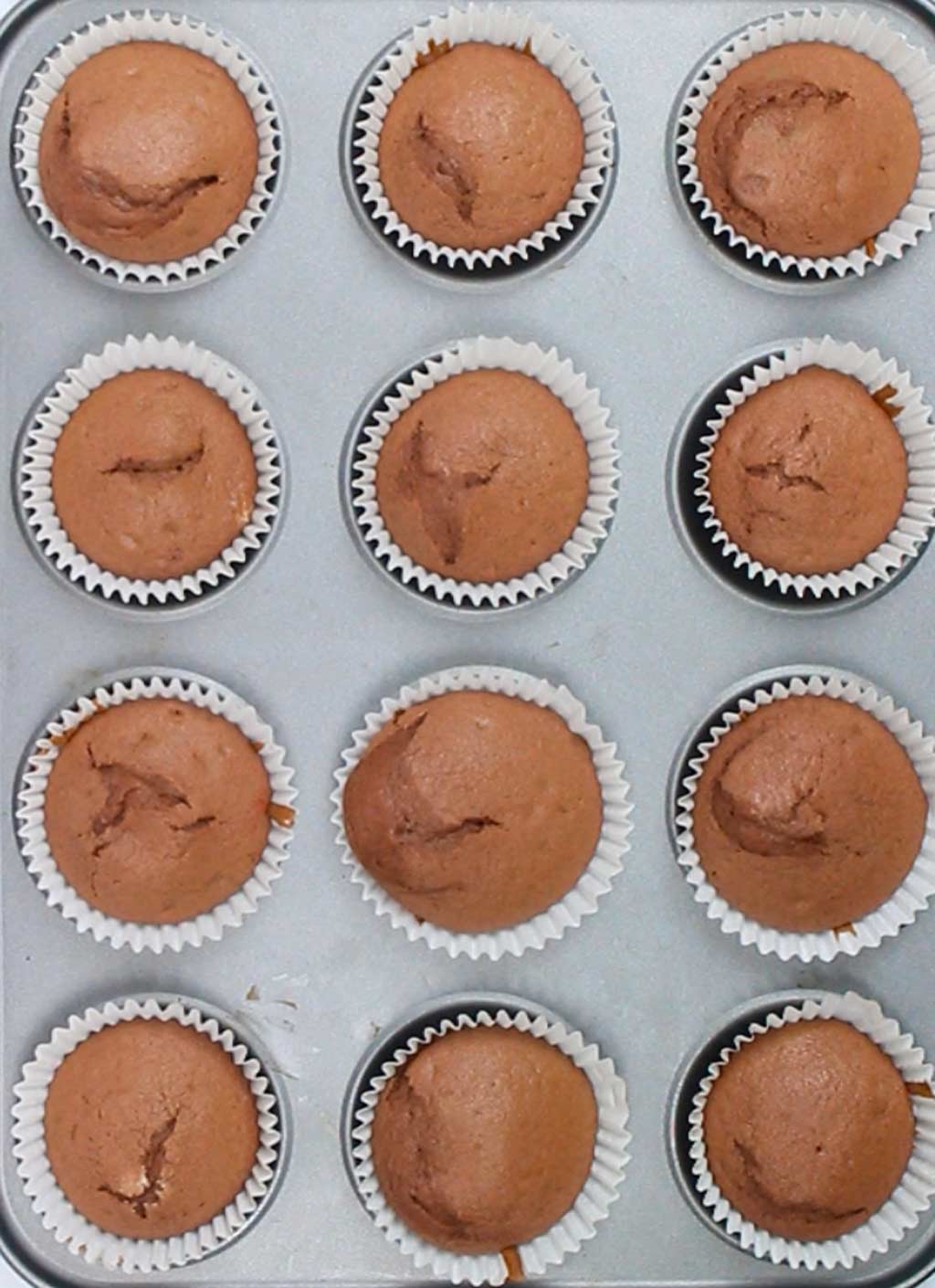 Step 8:
Transfer the cupcakes to a wire rack to cool completely.
Step 9:
Prepare your frosting then pipe or spoon it onto the cooled vegan red velvet cupcakes.
Looking for more vegan dessert recipes?
What Frosting Goes Well With Red Velvet Cupcakes?
I highly recommend my vegan cream cheese frosting! It's sweet, smooth and tangy, and tastes just like the real deal.
If you're not a fan of cream cheese, you can use vegan buttercream frosting, chocolate frosting, or vanilla frosting. Anything your heart desires! Because the flavor of red velvet is quite simple, it goes with lots of things.
You can even eat these cupcakes just as they are, because they taste pretty damn delicious without any frosting.
I also added some edible dried rose petals on top of the frosting for decoration. I think they look pretty and match the cupcakes well!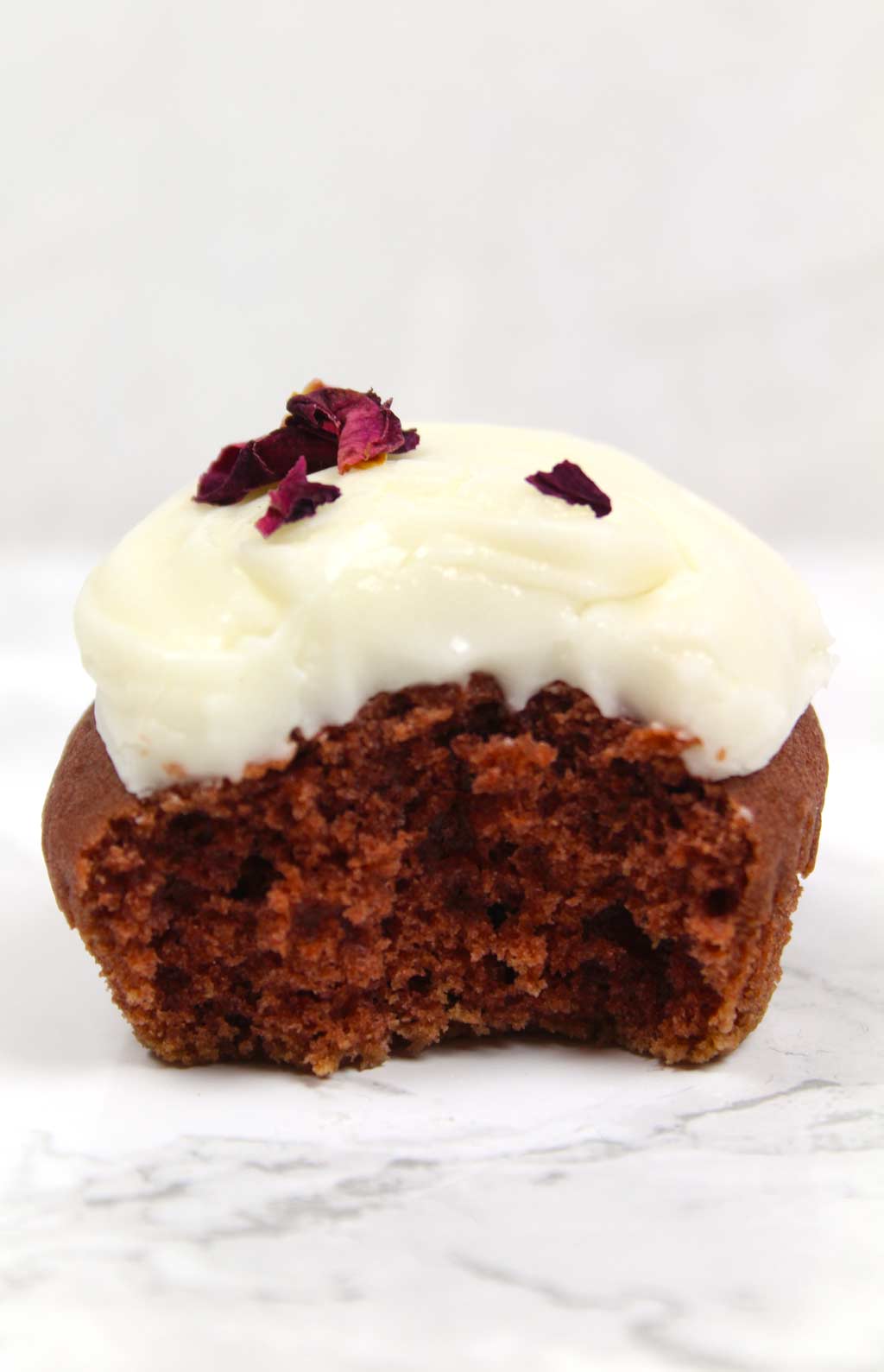 Top Tips For The Best Red Velvet Cupcakes:
Use soy milk to make thick and creamy buttermilk
Red food gel works best for a vibrant color
Beet powder can be used as a natural alternative to artificial color
Check that your baking soda is fresh and in date to ensure light and fluffy cupcakes
Allow cupcakes to cool completely before adding frosting
Store vegan red velvet cupcakes in the fridge in an airtight container for up to 4 days

Vegan Red Velvet Cupcakes
Light and fluffy vanilla cupcakes that are vibrant in color with a hint of chocolate.
Ingredients
For the cupcakes:
½

Cup + 2 Tablespoons

Soy milk*

(160ml)

2

Teaspoons

White or apple cider vinegar

1+¼

Cups

All purpose flour

(160g)

1

Tablespoon

Unsweetened cocoa powder

½

Cup

Caster sugar

(100g)

½

Teaspoon

Baking soda

2

Teaspoons

Baking powder

6

Tablespoons

Vegan butter, melted**

2

Teaspoons

Vanilla extract

¼

Teaspoon

Red gel coloring

(Make sure it's vegan friendly. I like PME)
Instructions
Line a cupcake tray with 12 paper cases and preheat your oven to 390°F / 200°C.

Mix the soy milk with the vinegar, mix well using a fork and set aside.

In a large bowl, mix together the flour, cocoa powder, sugar, baking soda and baking powder until there are no lumps left.

Add the melted butter to the bowl along with your buttermilk from earlier and the vanilla extract. Mix until well combined and smooth.

Add the red coloring and mix until there are no color streaks left. The mixture should now be maroon in color.

Divide the batter between the 12 cupcake cases and bake for 18-20 minutes. Check they're done by inserting a toothpick through the center- it will come out clean when the cupcakes are ready.

Allow the cupcakes to cool completely before adding the cream cheese frosting. Store in the fridge in an airtight container for up to 4 days.
Recipe Notes
*Soy milk works best but feel free to sub for any other vegan milk alternative.
**Melt the butter after measuring.
Nutrition Facts
Vegan Red Velvet Cupcakes
Amount Per Serving
Calories 125
Calories from Fat 45
% Daily Value*
Fat 5g8%
Sodium 130mg6%
Carbohydrates 18g6%
Protein 2g4%
* All values are an estimate only and will vary depending on the food brands used.