Vegan Biscoff Cupcakes
These vegan Biscoff cupcakes are light, fluffy and subtly spiced. An easy, eggless cupcake recipe that is topped with dairy-free Biscoff buttercream for an extra special treat!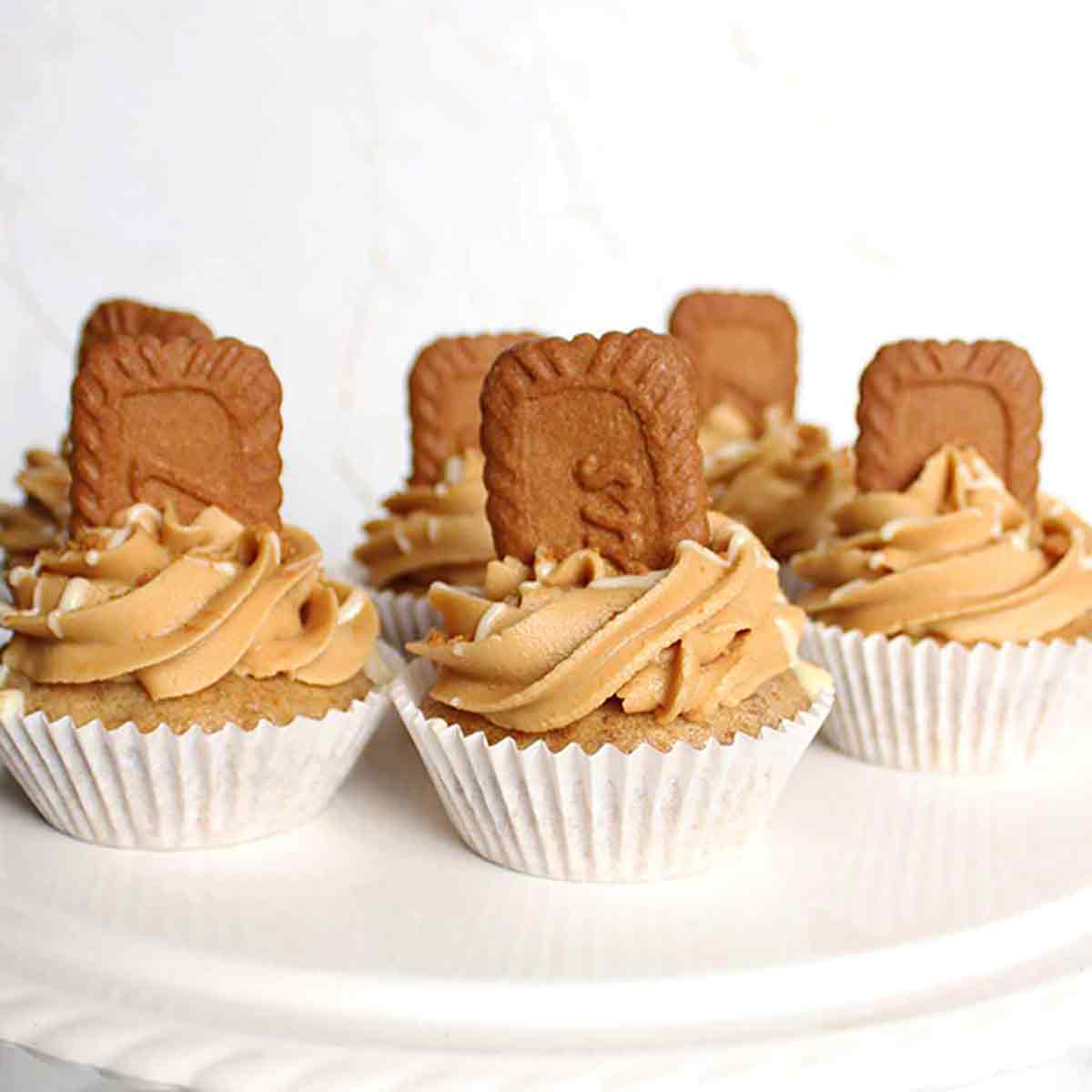 I created a Biscoff layer cake recipe back in February and oh my gosh, it has been SO popular ever since!
I never expected it to blow up so much but I have seen so many of you tagging me in your pictures of it on Instagram and the recipe has received so many lovely reviews! So I felt it was only right to make some dairy-free Biscoff cupcakes to compliment the original recipe.
If you're not too confident making larger cakes or just want something quick and easy, these cupcakes are a great option. I promise you, even if you've never baked anything vegan before, you will find this recipe super easy!
There are no flax seeds, chia seeds or other unusual egg replacements used in this recipe. All of the ingredients can most likely be found in your local supermarket.
It took a lot of work and many failed attempts, but I am so happy with my current cupcake recipe. It is SO easy, requires very little baking time compared to other recipes, and comes out light and fluffy every time!
Plus, there are no ingredients used that you wouldn't find in a typical baking recipe, with the exception of vegan butter for the Biscoff buttercream.
I used my vanilla sheet cake recipe to make cupcakes one day and I discovered that it's so easy to adapt for different flavours. So expect more exciting cupcake recipes in the future!
How to make vegan Biscoff cupcakes
Step 1:
The first step is to preheat your oven to 180°C or 350°F. If you're using a convection or fan oven then reduce the temperature to 160°C/325°F.
You'll also want to line a cupcake tray with 12 liners at this point, to save time later.
See also: How to avoid greasy cupcake liners.
Step 2:
Now it's time to make your vegan "buttermilk". Don't worry, this isn't as wild as it sounds. Because these are eggless Biscoff cupcakes, the batter needs a little bit of help to rise.
All you need to do is measure out 280ml (1 cup + 2 tablespoons) of dairy-free milk and add 1 teaspoon of apple cider vinegar. Give it a good mix and set it aside for 5 minutes or so. The vinegar should sort of curdle the milk and make it a bit thicker than it was before.
I'd highly recommend using soy milk for this as I test all of my recipes with soy and know that it gives the best results. However, if you can't have soy for any reason, then I'd recommend using oat or coconut milk (the drinking kind, not the tinned kind) instead.
Step 3:
In a large bowl, mix together 230g of self-raising flour (1 + 3/4 cup), 1/2 teaspoon of baking soda, and 180g of caster sugar (3/4 cup + 2 tablespoons).
You can also add 1/2 to 1 teaspoon of cinnamon if you like but this is not required. I found 1/2 a teaspoon to be a good amount for a subtle spiced taste and 1 teaspoon if you want a stronger cinnamon flavour coming through.
Step 4:
To that same bowl, add in the buttermilk that you made earlier, along with 90g of melted vegan margarine or 6 tablespoons vegetable oil (I used rapeseed), and 2 teaspoons of vanilla extract.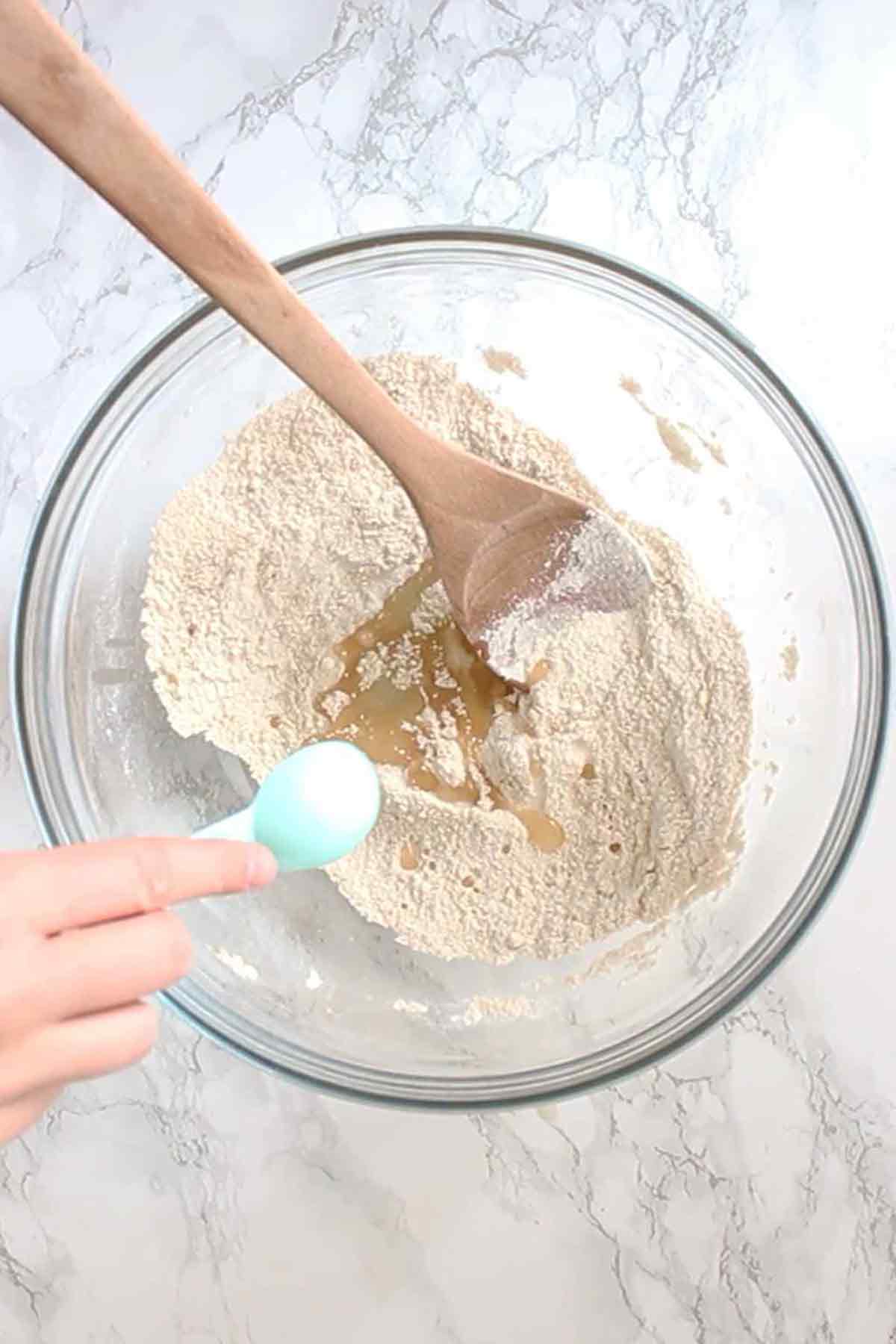 Mix everything together until you have a smooth cake batter. Make sure to scrape the bottom of the bowl so that you don't have any lumps of flour left in the mixture.
Step 5:
Crush up 12 Lotus Biscoff biscuits until you have fine crumbs. Add them into the cake batter and mix in gently.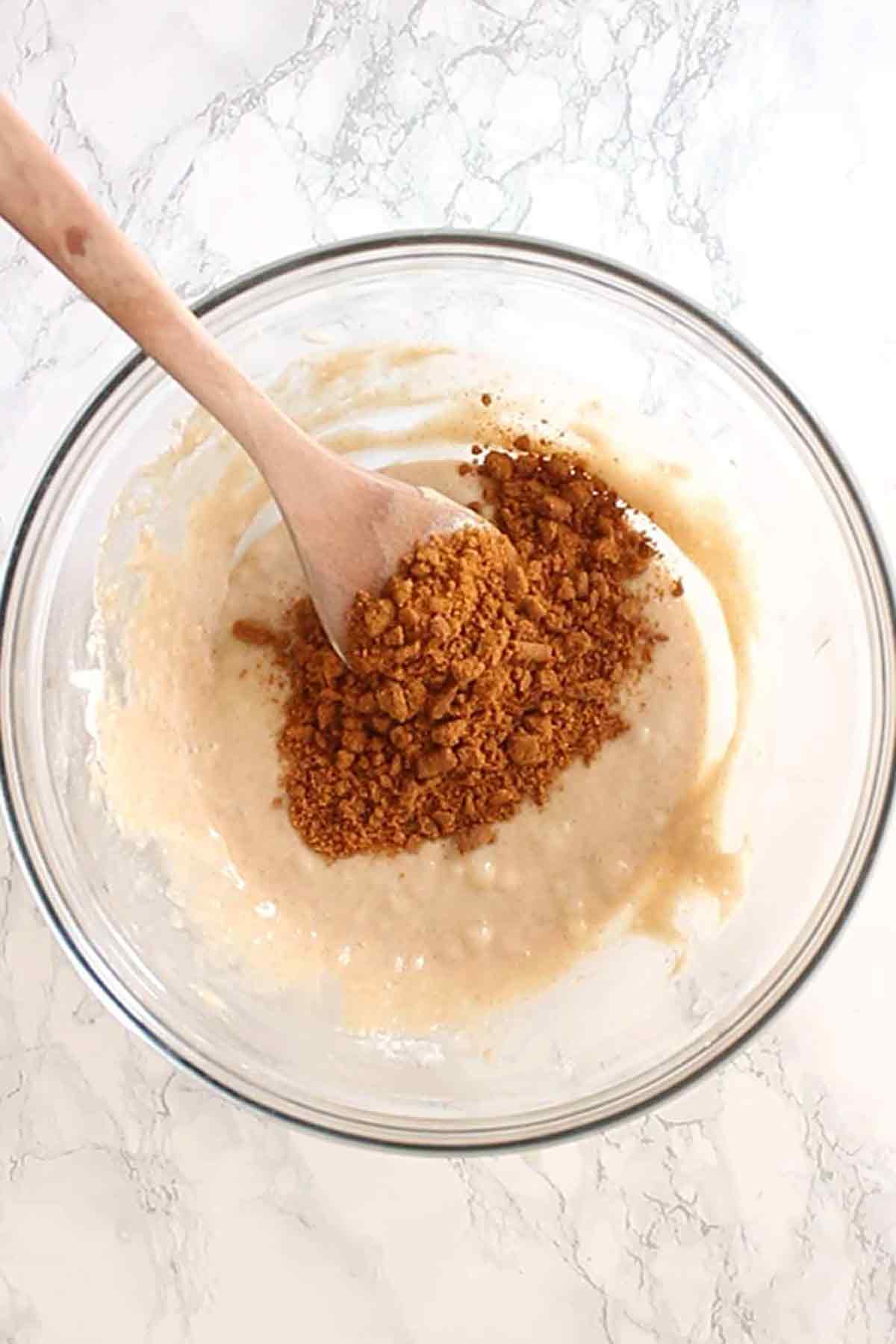 Step 6:
Divide the batter equally into the 12 cupcake cases.
Bake for 18-20 minutes. You can check that they're ready by inserting a toothpick through the centre- if it comes out clean, they're done.
Let them cool in the tin for 5 minutes then transfer them to a wire rack and leave them to cool completely.
For the Dairy-Free Biscoff Buttercream
To make the buttercream, add 250g of vegan margarine (around 1 cup) into a large bowl with 250g (1 cup) of smooth Biscoff spread. Mix until combined.
Measure out 500g (4 cups) of icing/powdered sugar.
Add the icing sugar in a little bit at a time, mixing as you go. Once all of the sugar is mixed in, you will have a smooth Biscoff buttercream ready for piping!
The consistency of this buttercream will depend on which brand of vegan margarine or butter you use. If you find that it's too stiff, you can add a splash of plant-based milk to loosen it. If it's too runny, just add more icing sugar until it's firm enough to pipe without losing its shape.
Assembling the cupcakes
Transfer the buttercream into a piping bag with a large star nozzle and pipe a swirl onto each cooled vegan Biscoff cupcake.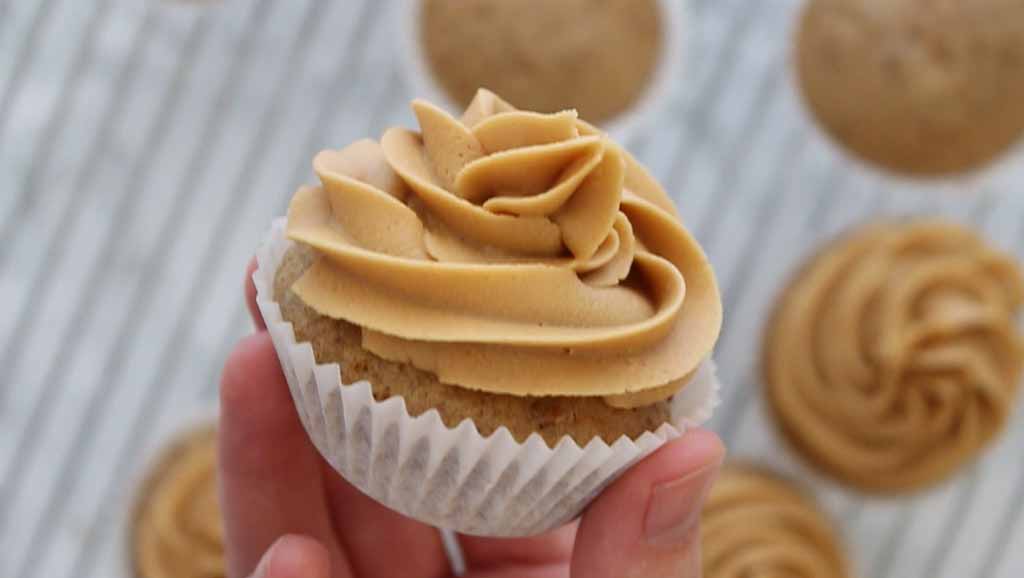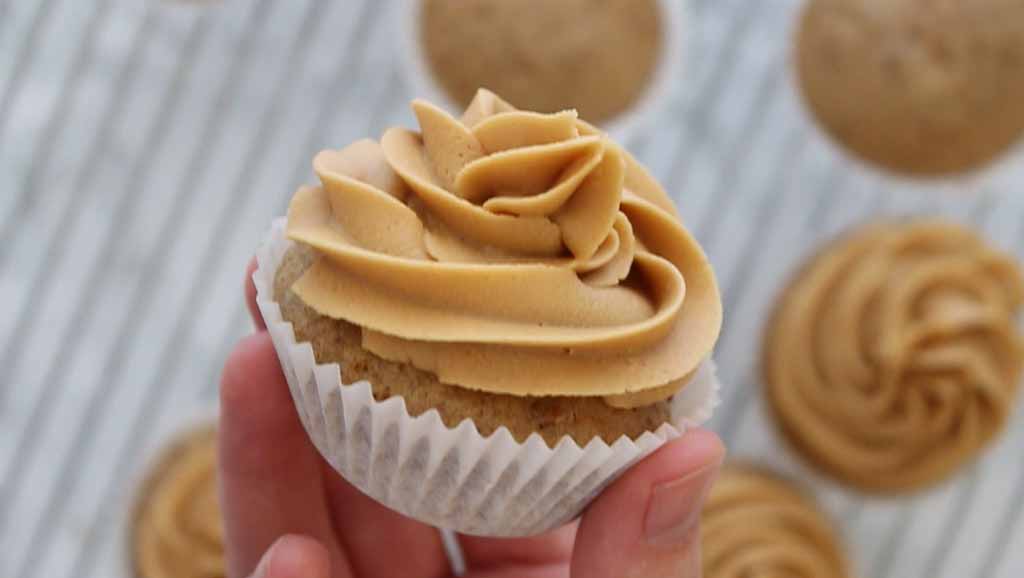 Crush up some more Biscoff biscuits into crumbs and sprinkle some over each cupcake. Then drizzle melted vegan white chocolate or melted Biscoff spread.
Finally, snap 6 Biscoff biscuits in half so you have 12 pieces. Push each piece into a cupcake so they stick out as pictured. I'd recommend doing this just before serving as it can get a little soggy otherwise.
Top tips
As with all baking recipes, use a scale for best results.
Soy milk works best in this recipe but oat and coconut milk are good substitutes.
Use Smooth Biscoff spread instead of crunchy to prevent lumps from getting stuck in the piping bag.
Add the Biscoff biscuits on top just before serving the cupcakes to prevent them from becoming soft.
If drizzling Biscoff spread over the cupcakes, melt it in the microwave for 10 seconds to loosen it first.
FAQ
How should vegan Biscoff cupcakes be stored?
Store them in an airtight container in a cool, dark place such as a kitchen cupboard. They'll keep well for around 4 days this way.

The buttercream will hold up perfectly well at room temperature but if you live somewhere warm, you can also store them in the fridge.
Can I freeze them?
The cupcakes alone will freeze just fine.

You can also freeze the cupcakes with the frosting on top if you'd prefer but I'd recommend adding toppings such as biscuits and biscuit crumbs on the day that you plan to serve the cakes.

Freeze them in an airtight container. To defrost, let them thaw at room temperature on a wire rack for a few hours.
Where can I find Lotus Biscoff spread?
In the UK, it's available at most popular supermarkets such as Tesco, Asda, Morrisons and Sainsbury's.

If you're elsewhere in the world, I can't point you to exact locations but I know that it's widely available on Amazon and sometimes called Biscoff cookie butter. You'll want to order the "smooth" version for this recipe.
I don't have self-raising flour, what can I use instead?
Use the same amount of all-purpose flour and add 2 teaspoons of baking powder to the recipe.
My buttercream is too thick/thin, how can I fix it?
So simple! Just add more powdered sugar if it's too runny and add a splash of plant-based milk if it's too thick!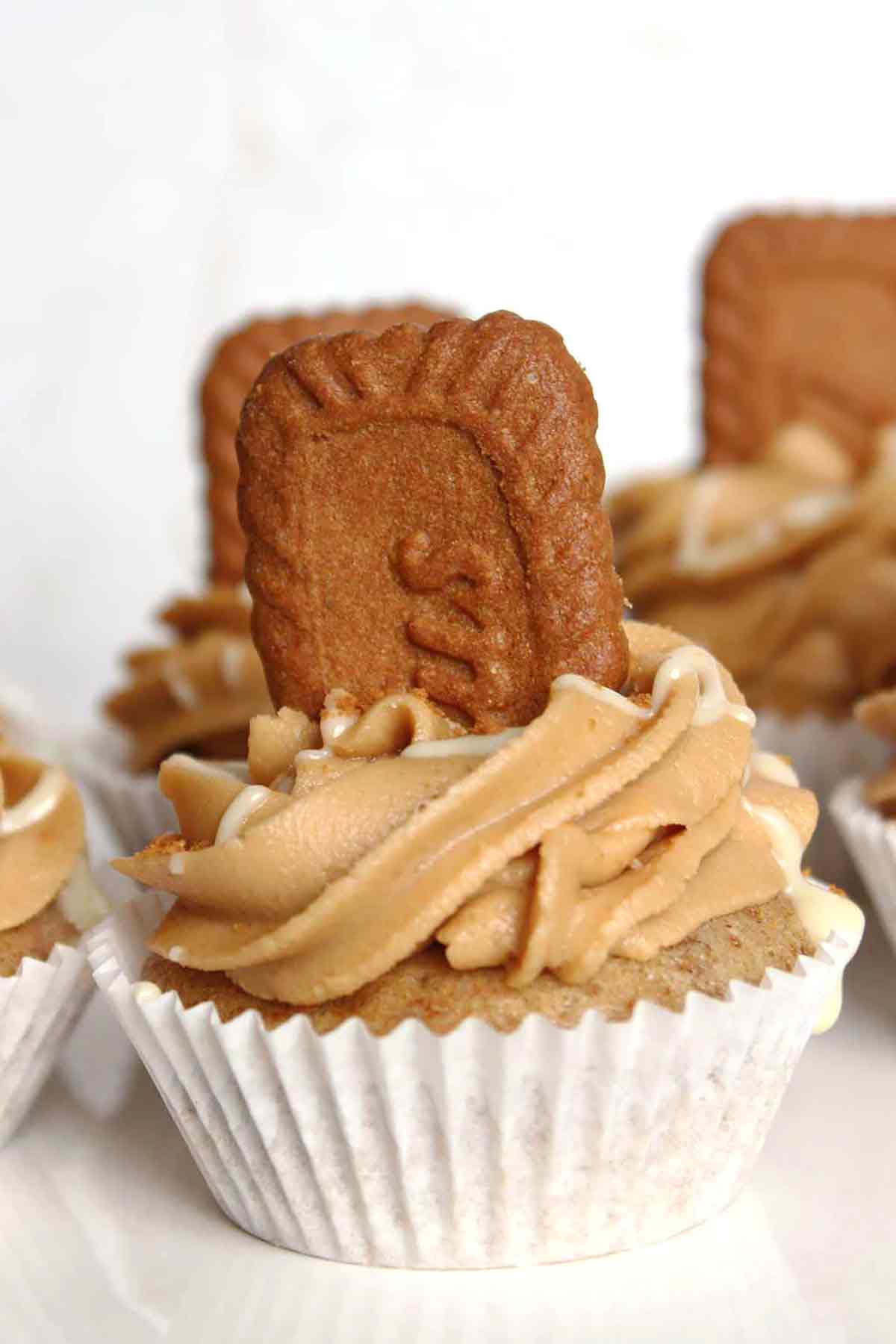 More Biscoff desserts:
I hope you love this eggless Biscoff cupcakes recipe! Let me know how you get on by leaving a rating and comment below. Happy baking! xo

Vegan Biscoff cupcakes (Eggless)
Eggless Biscoff cupcakes topped with dairy-free Biscoff buttercream.
Ingredients
280

ml

Unsweetened soy milk

(1 cup + 2 tablespoons)

1

Teaspoon

Apple cider vinegar

(or white vinegar)

230

g

Self raising flour

(1+¾ cups)

½

Teaspoon

Baking soda

½

Teaspoon

Ground dried cinnamon

(optional)

180

g

Caster sugar

(¾ cup + 2 tablespoons)

90

ml

Melted vegan margarine or vegetable oil

(6 tablespoons)

2

Teaspoons

Vanilla extract

12

Biscoff biscuits, crushed into crumbs
For the dairy-free Biscoff buttercream:
250

g

Vegan margarine

(1 cup)

250

g

Smooth Biscoff spread

(1 cup)

500

g

Icing sugar

(4 cups)
To top (optional):
6

Biscoff biscuits, snapped in half

Biscoff crumbs

Melted Biscoff spread and/or melted vegan white chocolate

(to drizzle)
Instructions
Preheat your oven to 180°C/350°F (or 160°C/325°F if using a fan or convection oven). Line a cupcake tray with 12 liners.

Mix together the soy milk and apple cider vinegar. Set aside.

In a large bowl, mix together the flour, baking soda, cinnamon and sugar.

Add the milk/vinegar mixture to the bowl along with the melted margarine and vanilla extract. Mix well, making sure there is no dry mixture stuck to the bottom of the bowl.

Fold in the Biscoff crumbs.

Divide the cake batter between your cupcake cases and bake for 18-20 minutes. You can check that they're ready by inserting a toothpick through the centre of one cupcake.

Let the cakes cool in the tin for 5 minutes then transfer them to a wire rack and leave them to cool completely.
For the buttercream:
Mix the vegan margarine and Biscoff spread together in a large bowl.

Add in the icing sugar, a little bit at a time, until you have a smooth buttercream. If it's too thick, add a splash of plant-based milk to loosen it slightly. Add more icing sugar if it's too runny.
To assemble:
Transfer the buttercream to a large piping bag with a star nozzle and pipe some onto each cupcake.

Sprinkle the Biscoff crumbs then drizzle vegan white chocolate or melted Biscoff spread over each cupcake.

Top each cupcake with half of a Biscoff biscuit just before serving.
Recipe Notes
Store in an airtight container at room temperature for up to 4 days.
Nutrition Facts
Vegan Biscoff cupcakes (Eggless)
Amount Per Serving (1 cupcake with buttercream)
Calories 533
Calories from Fat 216
% Daily Value*
Fat 24g37%
Sodium 115mg5%
Carbohydrates 76g25%
Protein 4g8%
* All values are an estimate only and will vary depending on the food brands used.
BakedByClo is a participant in the Amazon Services LLC Associates Program, an affiliate advertising program designed to provide a means for sites to earn advertising fees by advertising and linking to Amazon.com. This site may contain some of these links to Amazon.com & other affiliate programs. If you make a purchase through one of those links, BakedByClo will receive a small commission from the purchase at no additional cost to you.